In the first part of this series, we talked about how metal parts are made using the MIM process.  In this next installment, we're going to discuss the Pros and Cons of using MIM to manufacture gun parts.
MIM Advantages–Cost
We'll start by addressing the advantages that MIM parts bring to the table, and the first one is cost. While the setup costs for MIM can be steep (engineering, metallurgy, molds, etc.), manufacturing parts using a MIM process can actually be less expensive than forging and machining them, in some cases.
There's a fair amount of waste involved with machining processes, since a lot of the expensive, raw stock material is turned into chips and dust, but with MIM, there's a potential to save expense on raw materials, because you're not starting with a big chunk of metal and "cutting away everything that doesn't look like a hammer," or trigger, or whatever. MIM molds get filled with an exact amount of material, and there's just less waste involved in the carefully metered process.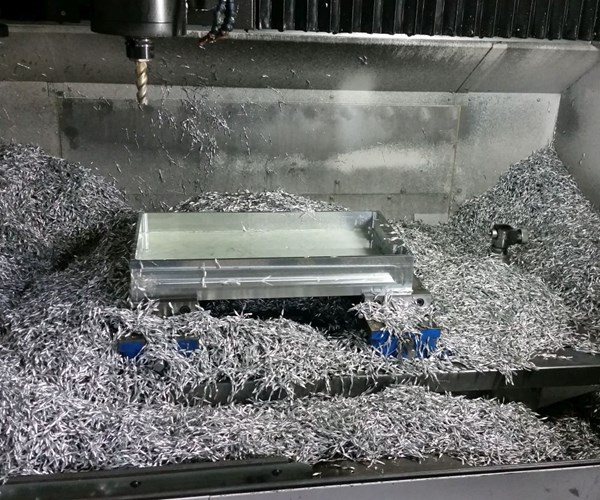 When humans operate machine tools as part of a manufacturing process, some of the finished parts wind up being out of spec—due to factors like worn tooling, human error, or mechanical issues–and have to be scrapped, which can get expensive, very quickly.  While modern CNC machining, with its incredible precision and self-monitoring, eliminates virtually all of that out-of-tolerance scrap, there are still continuous expenses associated with replacing worn and broken tooling (which usually breaks at the worst time, when the part is nearly finished, because Murphy lives in factories, too), or performing preventive maintenance on the complex machines. Sometimes, these expenses can tilt the math in MIM's favor, for a given job.
MIM Advantages—Small Parts
A significant advantage of MIM over CNC machining is the ability to work with very small, irregularly-shaped parts.
To obtain the legendary precision that CNC machines are capable of, parts must be properly secured in a fixture so that they won't move, during machining. If you can't hold the part still, then the finished tolerances will be all over the place, and you'll probably break some tooling, too.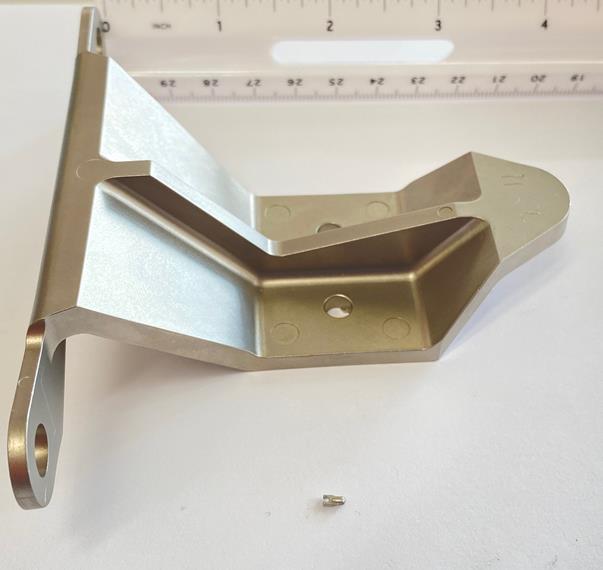 It's difficult to secure and stabilize very small parts, though, especially if they are irregularly-shaped and don't have a large, even, or strong enough surface for a fixture to grip. A cylinder stop, for example, doesn't lend itself well to fixturing, and would be extremely difficult to CNC.
However, MIM excels at handling small and irregularly-shaped parts, like this. A good mold can readily accommodate them and turn them out with greater ease, less cost, and better precision than CNC machining ever could.
MIM Advantages—Accuracy and Precision
While there's a nostalgic attraction to the days when armies of skilled laborers worked machines to produce the classic revolvers we loved, a good MIM process can deliver parts that are much more accurate and precise than those were.
With manual machining, the range of tolerances is much broader, because the machines and the people who use them are incapable of the kind of consistency you can get from a dialed-in MIM process. With manual machining, some parts will be at the high end of spec (+) and some will be at the low end of spec (-), but a number will be so far out of spec that they're just scrapped.
The cost of scrap was not insignificant back in the days when Smith & Wesson used the old methods. Nor was the cost of sorting and inventorying +/- parts on the back end of the machining process.
With a good MIM process, you get much tighter adherence to specs than is possible with the older method. Modern CNC machining will always best MIM for accuracy on parts big enough to be CNC'd, but as we've already mentioned, MIM has a clear advantage when it comes to making smaller, irregular parts that are incompatible with CNC machining due to fixture limitations.
MIM Advantages—Strength
MIM can also provide a strength advantage, in certain applications, compared to other forms of manufacture.
For example, back in the days when Smith & Wesson stamped hammers and triggers out of low-carbon steel, and case hardened them, the parts had a thick skin about 12 thousandths ("12 thou") thick, but a soft core. Once you broke (or wore) through the hard "egg shell" of the 1018 carbon steel, the part was ruined, because the soft steel underneath wasn't tough enough to do the job.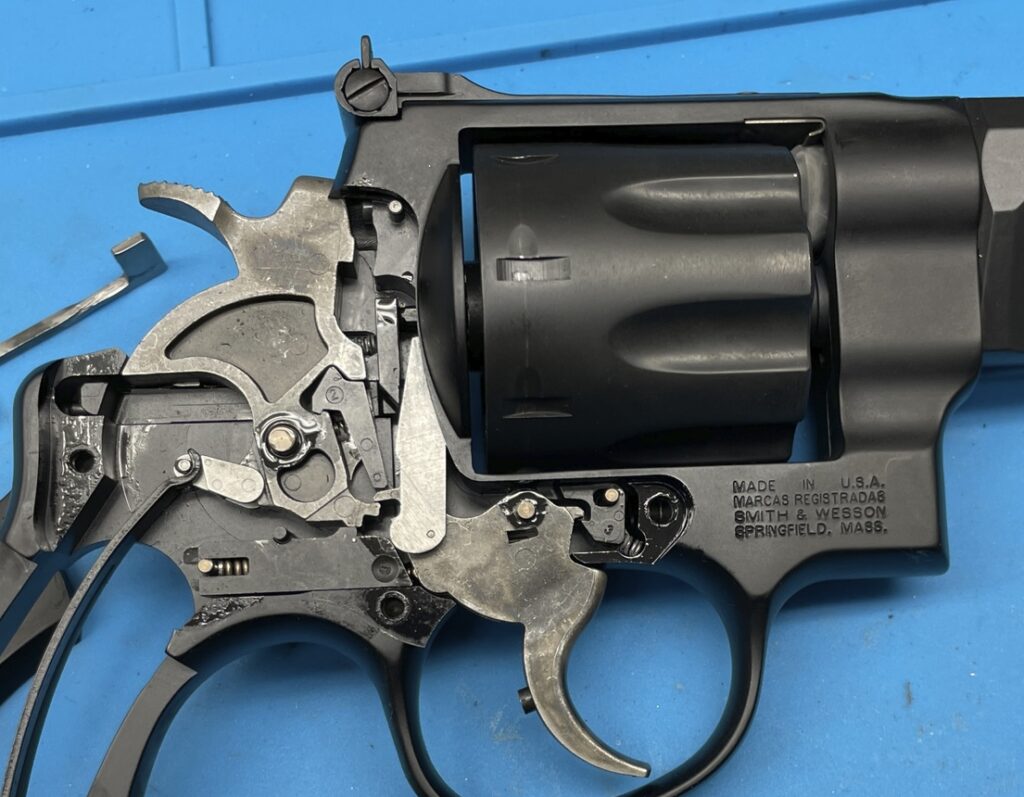 A modern, MIM'd hammer or trigger can be made much, much stronger, by comparison. While the best hardness for a "hard" MIM part is still in the top eight-to-ten thou of the part, the part is hard all the way through, to the core.  There's a slight gradient to the hardness, which decreases towards the center, but it's still hard at the core, and bad to the bone (cue George Thoroughgood, here).
You'll see this if you ever try to bob a MIM hammer spur.  Cutting through the MIM'd part will be more difficult than getting through the earlier, case-hardened part, with its egg shell surface and soft center.
It's an advantage of MIM that this quality can be controlled or "programmed" through changes in compounding, sintering, and heat treating. If you need a high stress part that's hard all the way through (like many revolver hammers), you can do that. You can also build a part that has a harder surface and softer core (like some other hammer designs, such as the AR-15 hammer), or a low stress part that doesn't have to be very hard at all (like a thumb piece). The ability to easily "program" these characteristics is a significant advantage of the MIM process.
MIM Advantages—Design Flexibility
The MIM process gives a designer great flexibility, because molds can be created with pockets, odd or complex shapes, and internal spaces that you couldn't possibly machine.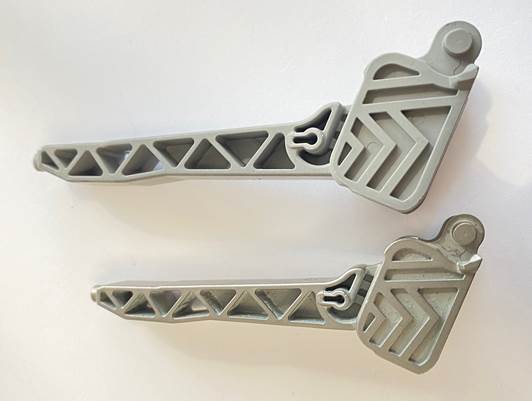 These capabilities can be used by a savvy designer to simplify a part. For instance, parts can be made with interlocking surfaces, or male-female interfaces, that allow a designer to eliminate pinning them together.  This not only removes an extra part that can be easily lost (how many of us have done the "gunsmith's prayer," looking for a small pin that fell out?), it can help to reduce the scrap that results from drilling holes to the wrong tolerance, or bungling pin installations during manufacture.
Similarly, parts can be built with recesses for springs that eliminate the requirement to pin them into place.
The new, angled thumb piece on Smith & Wesson revolvers illustrates this MIM advantage. It's more ergonomic than the old design, but the complex shape couldn't be manufactured affordably if it had to be machined. It's easy and cost-effective to MIM the part, however, so that's what S&W does, and the customer benefits.
MIM Disadvantages—Set Up
The advantages of using MIM are significant, but there are downsides that must be considered as well.
One of the most significant disadvantages was hinted at in the prior segment, when we discussed the time, expense and energy required to set up for MIM production. Getting a MIM mold, recipe, and process ready for production can take as long as a year, and involve costs that near a hundred thousand dollars, or more, for a single small part. This is a very deliberate method of manufacture, which requires careful planning—it's not well-suited to rush jobs, tinkering, and prototyping / experimentation.
Remember, too, that every time you create a new mold (perhaps to replace a worn one, or to manufacture a different kind of part), you have to start over from the beginning, with engineering, flow analysis, inspections, x-rays, shooting the parts, cutting the parts open for metallurgy tests, refining the mold, and so forth. Those are sunk costs that you can't avoid, if you want a good part. The manufacturer may not have to perform all these tasks themself, if they purchase their parts from a MIM house, but the work still has to be done by somebody before manufacture can begin.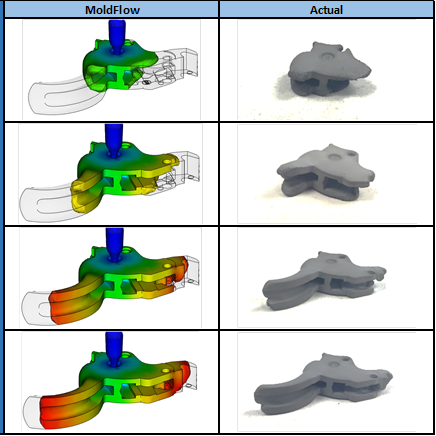 This can make it a little more complex to scale up MIM manufacture. If you want to make more parts than a single mold / machine can produce, you could build additional molds, or build multi-cavity molds, but since every mold represents a significant investment in time and expense, and has its own bell curve of tolerances to manage, you can't increase your output at the drop of a hat. It takes some time to make it happen.
There are significant time and energy costs associated with compounding, as well. To get a good result, you need to custom blend the powder mix to meet the specific requirements of your application, and this takes some effort and expense to do the metallurgy. An "off the shelf" mix might be less expensive and offer the promise of shorter lead times for production, but it may not be suitable for the job, and the parts may suffer durability issues or other problems.
Of course, once the recipe is perfected (powder blends, binder, temperature, time, etc.), you can't change it without changing the final product, so a manufacturer must stick with the formula if they want consistent parts. Part of the effort to set up MIM production then, involves securing reliable contracts with suppliers for your metal powders, binders, etc., because the MIM process is not amenable to using substitutes for the key ingredients.
MIM Disadvantages—Scale Efficiency
Considering all of this, one can understand how it's not cost-efficient to use MIM for small scale production.  If you want to prototype a part, or do a limited run of a special offering, then it probably won't make sense to manufacture it by MIM. It also doesn't make sense to use MIM for small, infrequent batches of parts.
MIM Disadvantages—Design Challenges
We've previously discussed some of the design challenges associated with making a good mold for MIM.
For example, hiding the gate and pin marks so they won't show up on a cosmetic surface can be difficult to balance with keeping those same marks away from a working surface.  On a hammer, for instance, you have to keep the part that interacts with the sear nice and smooth, without any gate or pin blemishes, but you also can't afford to have those blemishes visible on the sides or top of the hammer, which will be exposed outside of the frame, because the customer doesn't want to see those unsightly marks. Trying to satisfy these competing priorities can present difficult challenges for engineers, especially on very small parts.
There are other design challenges with MIM, however. For example, MIM is not a good process for large parts.  Although shrinkage is tightly controlled in MIM manufacturing, and can be highly repeatable, it's still not linear and 100% repeatable every time. You can get differences in dimensions that would be acceptable in a small part, but would be unacceptable when you scaled them up to a larger part.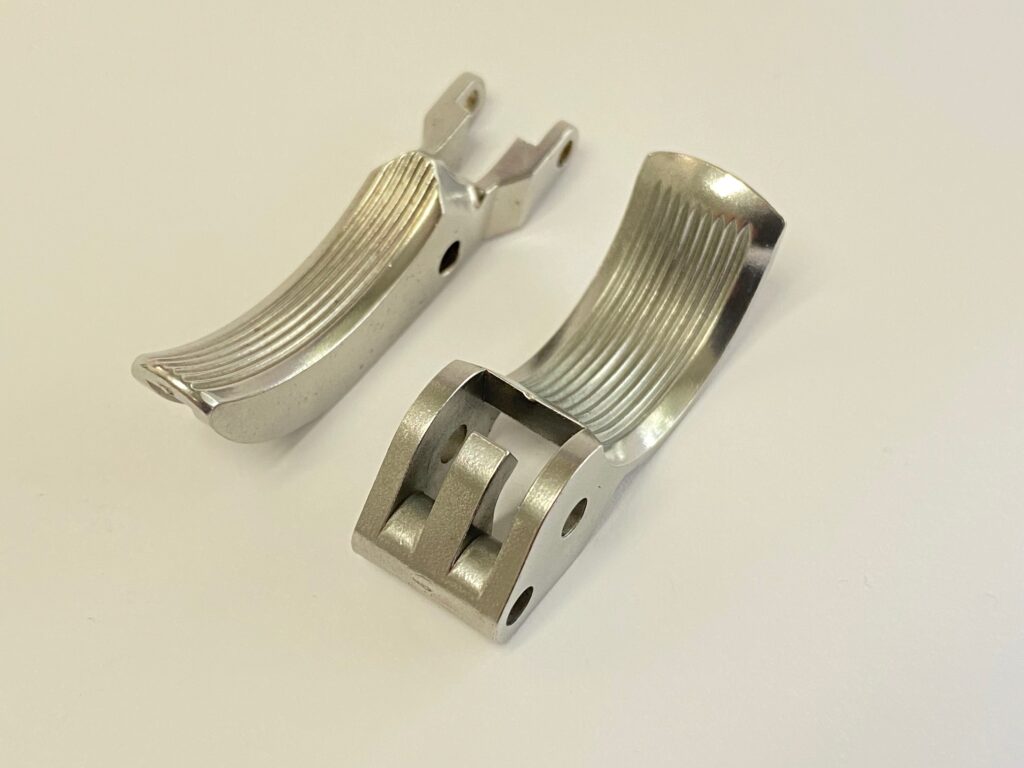 Additionally, large parts can warp more easily during the sintering process, and sagging is a bigger issue. The furniture that holds the part must support the part as it shrinks and moves across the surface of the supports, and this is a tougher job for a big part.  Small parts are easy to support, because there's not much weight in between the supports to cause sagging, but a larger part can quickly sag between the points of support and wind up out of tolerance.
Workarounds like ceramic holders or supports inside the furniture are troublesome, and of limited utility for big parts. In some cases, it might make sense to add some support pads to the part itself to help prevent sagging, which could be machined off later.
Another design challenge with MIM is designing a tray that will allow it to slide smoothly across the surface of the furniture, without warping, as it shrinks during sintering. Sometimes this can be achieved by designing the part with a flat surface, but more frequently, it's achieved by incorporating supports into the custom, ceramic tray. As you can imagine, the difficulty of properly supporting the shrinking part increases when the part has an irregular shape, and it can take a lot of work to perfect the sintering tray/furniture.
MIM Disadvantages—Required Production Changes
Sometimes, it's necessary to make adjustments or changes in the production process to accommodate MIM.
As an example, when Smith & Wesson's rear sights were made from stock, it took about ten minutes in the solution to blue the carbon steel, but their new MIM carbon steel sights didn't behave the same.  After ten minutes, the MIM carbon steel sights were left with a reddish hue, and S&W determined the parts had to be left in the solution for another 15 -20 minutes before they could achieve the same color as the old part.
That was an easy change for Smith & Wesson to make, but it highlights the fact that there's a learning curve which comes with the new process, and sometimes a manufacturer will have to make small adjustments to the way they normally do business, to accommodate MIM.
MIM Disadvantages—Cosmetics
The biggest hurdle for MIM though, is cosmetics.
A MIM'd part won't accept bluing like a carbon steel, and will look different after case hardening/coloring. The attractive, blue and purple hues that you're used to seeing on carbon parts will normally be absent on MIM metals, which tend to take on darker, gray and brown hues.
Additionally, the MIM metals used in firearms don't always polish up bright and shiny like other steels do. They often tend to have a flat or satin appearance, not a glossy one. It's possible for a MIM manufacturer to produce gold plated parts,  nickel Teflon-coated parts, polished black hard coated parts, and painted parts that look attractive, but it's more difficult to get a "mirror bright," polished finish on the stainless steels used in revolver manufacture, using MIM.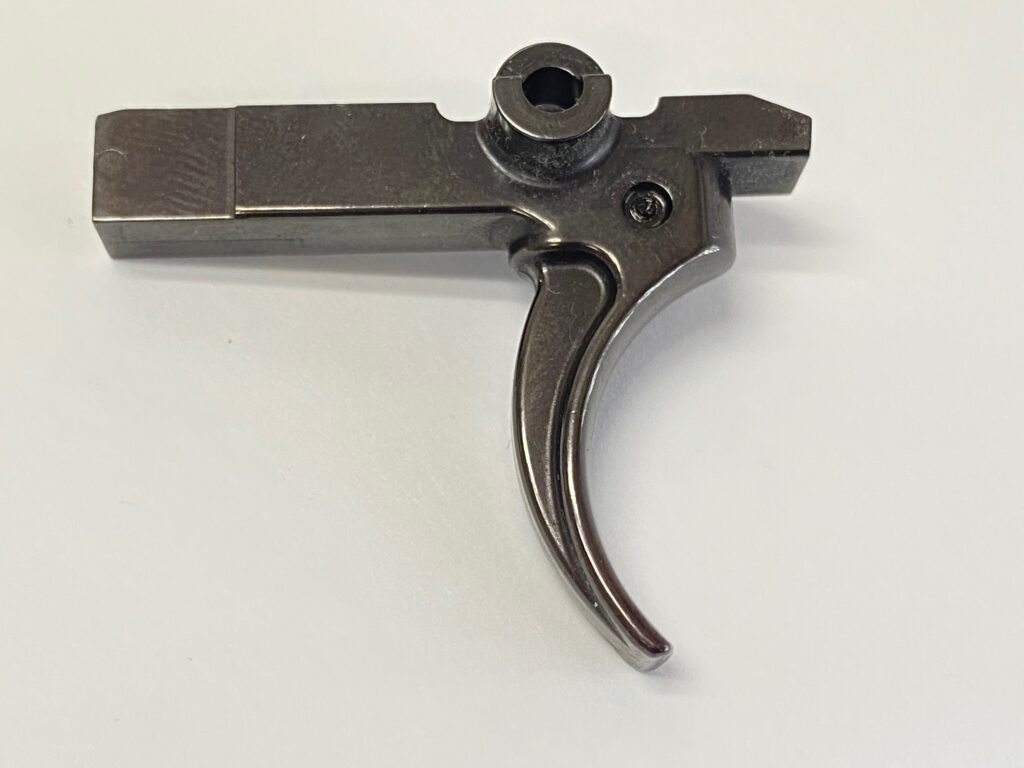 MIM parts will also suffer the indignities of mold marks from gates and pins, as we've previously discussed. A good designer can hide most of them, where they won't be readily seen, but they can't be eliminated.  You'll still see them if you know where to look, and if the designer did a poor job (like they did on a particular maker's trigger that I'm thinking of), they'll be highly visible.
These cosmetic issues are not a problem for interior parts, that are hidden from view, but a manufacturer has to consider if MIM is an appropriate process for parts that will be visible. A well-designed, MIM part isn't necessarily unattractive, but it won't look the way that traditionalists might expect or want it to, so there may be occasions when a manufacturer will avoid MIM to preserve a certain appearance. Similarly, there will be other applications where a small change in appearance is worth all the other advantages that MIM provides.
MIM Disadvantages—Customer Acceptance
The cosmetic issue contributes to another disadvantage of MIM parts, which is the challenge of getting the customer to accept products made with the new method.
Gun buyers are a conservative lot, as a whole, and revolver buyers are perhaps the most conservative segment of the group. Sometimes, it has been hard for manufacturers to sell MIM to traditional-minded customers that are more comfortable with older production methods, even if the parts made in those older processes weren't as consistent or as durable as the new MIM parts can be.
Some of that is certainly due to the cosmetic differences of the MIM parts. To many eyes, the old case-hardened hammers and triggers were more attractive than today's MIM alternatives, for example.  Too, the older carbon parts sometimes featured more attractive styling, and even sounded a little different when you cycled the action (am I the only one who thinks some of the new MIM actions make a tinny, "tink" sound, compared to the deeper "thunk" sound that you got in the older guns?).
So, cosmetics is certainly a reason why MIM is not popular in some circles, but a lot of the antipathy towards MIM is just distrust of the new technology.  Some of that distrust has its roots in the early struggles with MIM, when the industry was still on the steep part of the learning curve, and making mistakes that they would later learn from.  Some of the distrust was generated from the actions of manufacturers who didn't "do the work" early on, and produced low quality MIM parts that tarred the budding technology's reputation.
The MIM process has matured though, and the people who work in the industry tell me that the various MIM houses are making very good quality parts these days, across the board. However, it's a difficult challenge to change the minds of some consumers, who decided long ago that they didn't like MIM, and have an emotional attachment to "the old ways."
One of the things that makes customer acceptance more difficult to achieve is that the manufacturer is the one who's most likely to see and derive the benefits of MIM.  The average consumer doesn't know about, and wouldn't care about, the concerns that the manufacturer has over things like parts consistency, tooling costs, reducing scrap, design improvements, production efficiencies, and so forth. Those are things that make MIM very compelling to a manufacturer, but are largely invisible to the consumer.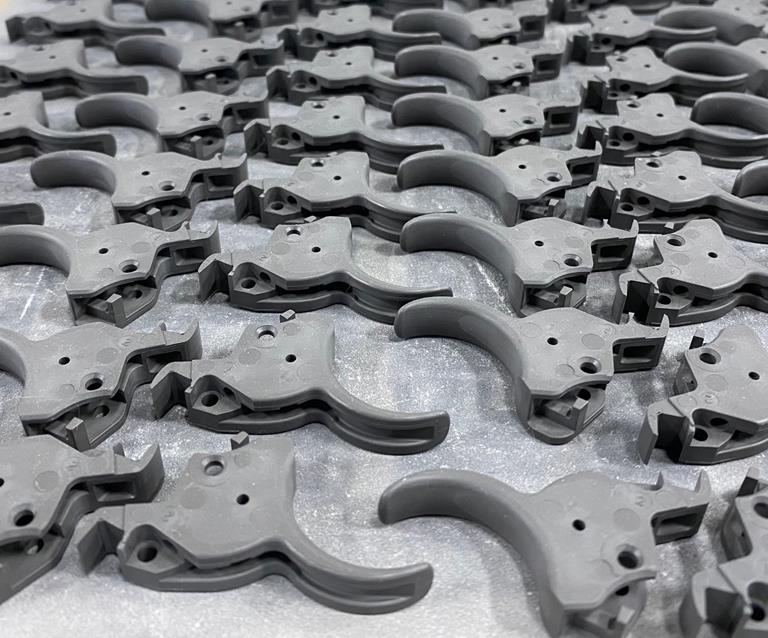 The consumer, for example, knows that his older, machined revolver has a slightly better action than the average new MIM gun, but he doesn't realize that he was rather lucky to get it, because the older manufacturing process was inconsistent, and he could just as easily have purchased a gun with a lesser-quality action.
He doesn't know that several parts may have been scrapped before they finally made a good one for his old gun, or that guns like his old one had a higher rate of warranty returns than the new guns made with MIM parts.  He doesn't know that the old guns were hand-fitted, because they had to be, as it was the only way to get a collection of +/- machined parts to work together—it wasn't as much a mark of craftsmanship, as it was an admission that the manufacturing process struggled to deliver parts with consistent tolerances!
Those aren't the consumer's concerns. Efficiency, consistency, logistics, and production cost savings are headaches for the manufacturer, but not for him. He is more likely to care about cosmetics, and doesn't understand how the other advantages of MIM might offset the less attractive appearance of some MIM parts, and allow the manufacturer to produce a stronger, more consistent product, at a more affordable price point, than the older methods would allow.
They Don't Understand
That's perhaps the greatest disappointment for the employees who work hard to make today's guns, because the consumer, "doesn't know what we know, doesn't see what we see."
It's possible that if the average consumer understood more about the manufacturing process, and the advantages offered by new technologies like MIM, they would be much more accepting of the new guns made with these parts.
It's also possible that if the consumer understood more of the engineering behind the production changes, he'd understand that all of the changes were meant to improve the gun, not to cheapen it, as he may have been led to believe.
We'll address more of this in the next segment, which will focus on the changes which occurred in Smith & Wesson revolvers over the last several decades, and the reasons for them.  We hope you'll come back to check it out, here at RevolverGuy.com.
*****
RevolverGuy would like to thank Craig Mariani (the former Team Leader of the Smith & Wesson Revolver Engineering Team) and Norm Spencer (a Smith & Wesson Machinist, Model Maker, and Manufacturing Engineer) for their assistance with this project. The education they provided was critical to our understanding of MIM technology and the manufacturing changes that occurred at Smith & Wesson during their tenure. We would also like to thank the team at ARC Group Worldwide, for their information and assistance. Thank you, gentlemen, for sharing your experience and knowledge with us!