Renowned Texas Ranger, Frank Hamer, and five other officers stopped the Barrows—permanently–on a country road outside Gibsland, Louisiana on May 23, 1934.  Three years later, in 1937, one of the country's great state police organizations was reorganized as the Arkansas State Police (ASP).
So, if the Barrows were killed in a shooting by Hamer and his fellow officers in 1934, how did the newborn ASP get into a gunfight with a remnant of the Barrow Gang, many years later?
I'm glad you asked!
The Early Days
The Arkansas State Police was preceded by the State Road Patrol, which was formed under the State Highway Department in the late 1920s.  For various reasons, the Road Patrol was transferred to the Department of Revenue and charged with enforcement of traffic and revenue laws.  The Road Patrol was not the only state-level law enforcement organization in Arkansas–in 1931, Arkansas organized and fielded a Bureau of Criminal Identification and investigation, but it only lasted a couple of years.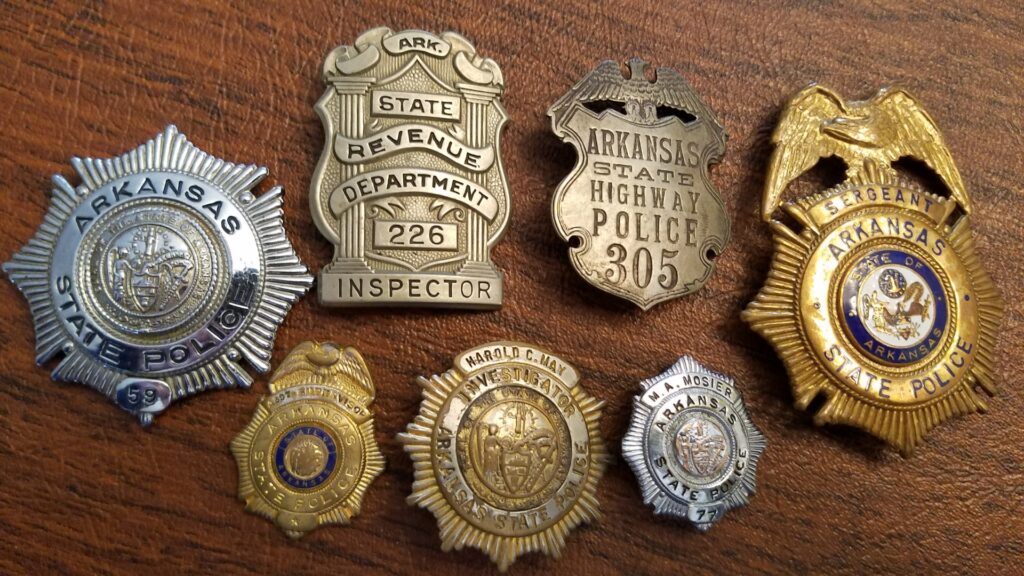 On March 19, 1935, the first true statewide police force was established. The Arkansas State Rangers, initially staffed by 13 Rangers, came into being.  Thirteen men to cover the entire state was a huge job.  The choice of issued sidearms for this agency was a bit unusual for any state police organization.  Colt 1911A1s in .38 Super were procured from an unknown government agency (Note:  To date, no examples are known to exist).

The Birth of a New Agency
The demand on this new, overworked agency was tremendous, and would soon lead to an expansion and a new name for the force.  In 1937, the Arkansas State Rangers became the Arkansas State Police, and their authorized number grew by 51 troopers.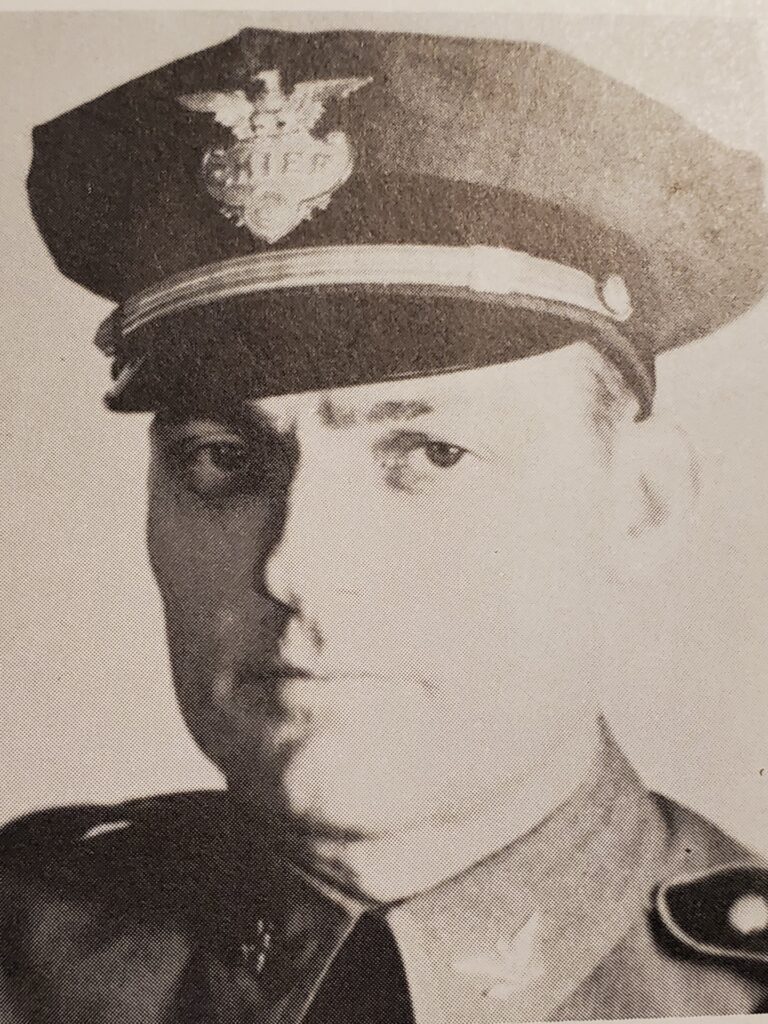 The new Arkansas State Police hit the highway running as soon as their initial Troop School was completed.  Not only were they responsible for traffic safety and enforcement, they were also enforcing all the laws in the state.
Vicious Killers
The Barrow Gang got their inauspicious start with minor crimes, but they quickly graduated to bigger crimes.  They were not known for their criminal expertise and professionalism.  Instead, they were soon known for their homicidal tendencies, especially toward law enforcement officers.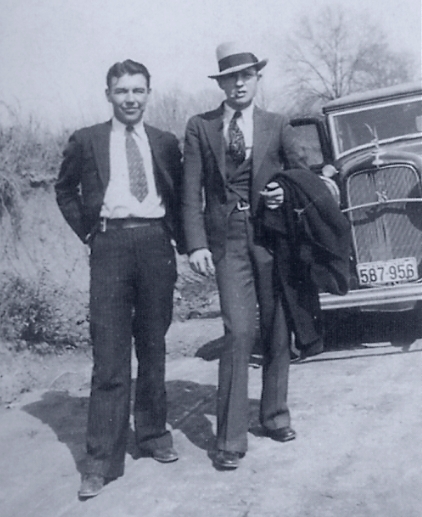 Their short-lived (but too long) criminal career lasted about two years, but in those two years they were known to have killed eleven victims, and nine of those were law enforcement officers.
The known victims of the Barrow Gang include:
April 30, 1932 — J.N. Butcher, owner of a store in Hillsboro, Texas, shot during a robbery;
August 5, 1932 — Eugene C. Moore, Atoka County Deputy Sheriff, Atoka, Oklahoma, shot and killed while trying to make an arrest at a dance in Stringtown;
October 11, 1932 — Howard Hall, owner of a store in Sherman, Texas, shot during a robbery;
December 26, 1932 — Doyle Johnson, shot while trying to prevent the theft of his vehicle, in Temple, Texas;
January 6, 1933 — Malcom S. Davis, Deputy Sheriff in Tarrant County Texas, shot and killed while on a stakeout;
April 13, 1933 — Harry L. McGinnis, Detective, Joplin Police Department, shot and killed in an encounter with the Barrow Gang;
April 13, 1933 — J.W. "Wes" Harryman, Constable, Shoal Creek Township, Joplin, Missouri, killed in the same incident as McGinnis;
June 26, 1933 — H.D. Humphrey, City Marshal, Alma, Arkansas, shot and killed while trying to arrest part of Barrow Gang;
January 16, 1934 — M.J. Crowson, Guard, Texas State Prison, Eastham Unit, killed during a jail break by the Barrow Gang;
April 1, 1934 — Edward B. Wheeler, Texas Highway Patrol, shot and killed in Grapevine, Texas in an encounter with the Barrow Gang;
April 1, 1934 — Holloway D. Murphy, Texas Highway Patrol, shot and killed in Grapevine, Texas in the same incident as Wheeler;
April 6, 1934 — William C. Campbell, Constable, Commerce Oklahoma, shot and killed in an encounter with the Barrow Gang.
An Awful History
The story of the Barrow Gang is intense.  They practiced a lot of evil in a short time. The number of slain law enforcement officers speaks volumes about how deadly and dangerous these criminals were.  Their lives and criminal careers are well covered in a multitude of books and articles (see the References section, below, for recommendations).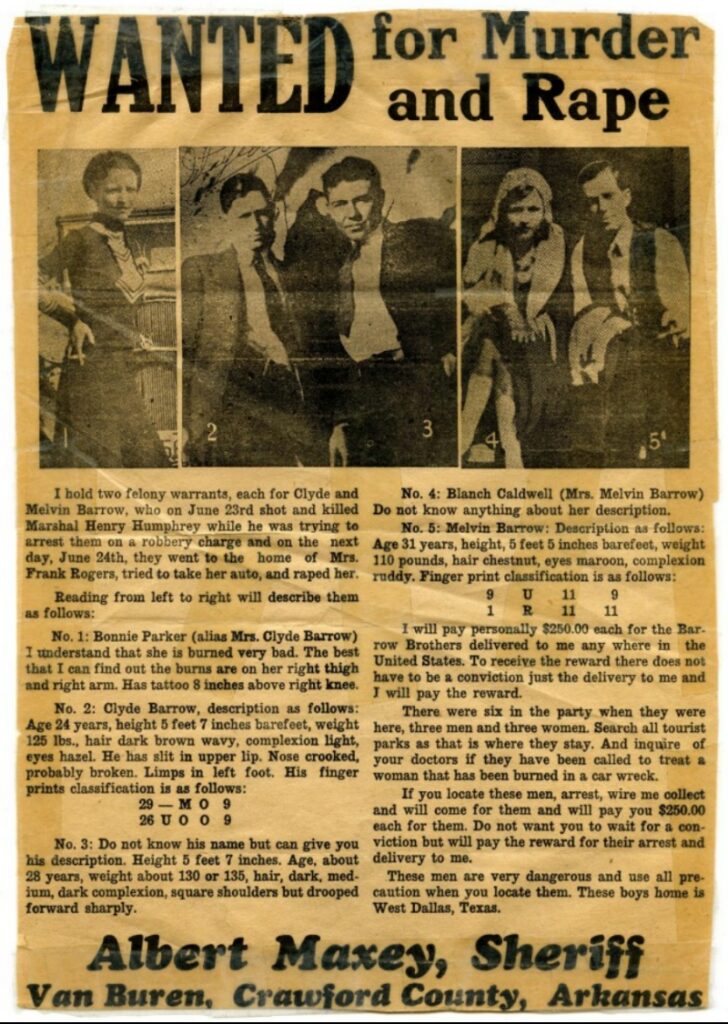 Clyde Barrow and his girlfriend Bonnie Parker (who was actually Mrs. Roy Thornton–Roy was in state prison, at the time) started on their path of crime shortly after they met and became a couple.  Before their partnership, Clyde was on the way to becoming a thug with a series of crimes.  He was often accompanied by friends from the Dallas area.  Throughout their brief career, Clyde and Bonnie were joined at times by other like-minded folks.  When Hamer and posse stopped them in Louisiana, they were alone.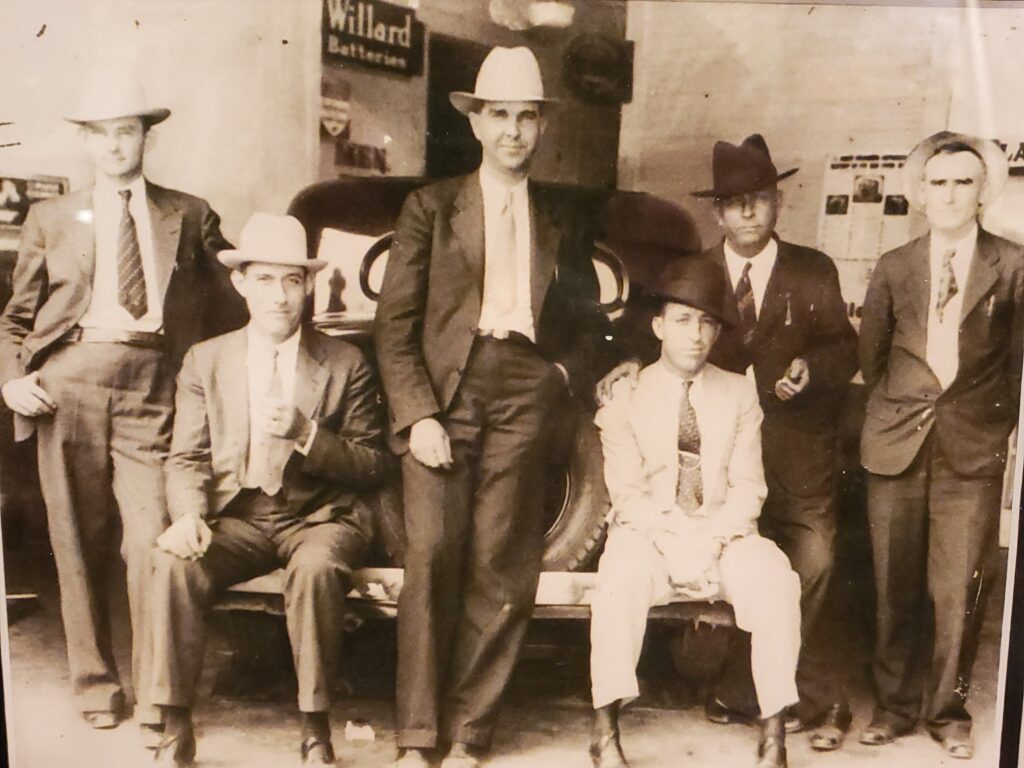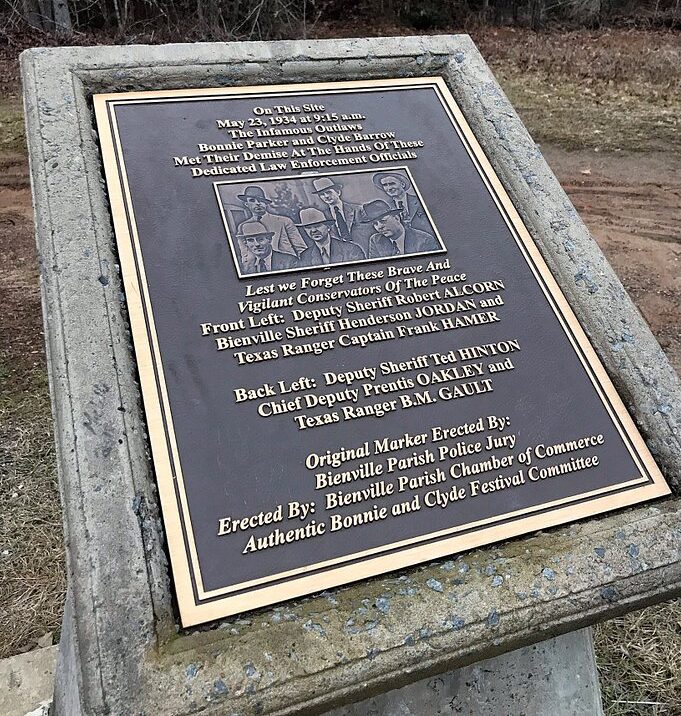 Clyde and Bonnie made numerous trips through Arkansas and one of them cost the life of Alma City Marshal, Henry D. Humphrey.  He tried to arrest Buck Barrow and W.D. Jones as they were returning from a penny-ante robbery of a Piggly Wiggly grocery store in Fayetteville, Arkansas, to their hideout at a tourist court in Fort Smith, Arkansas.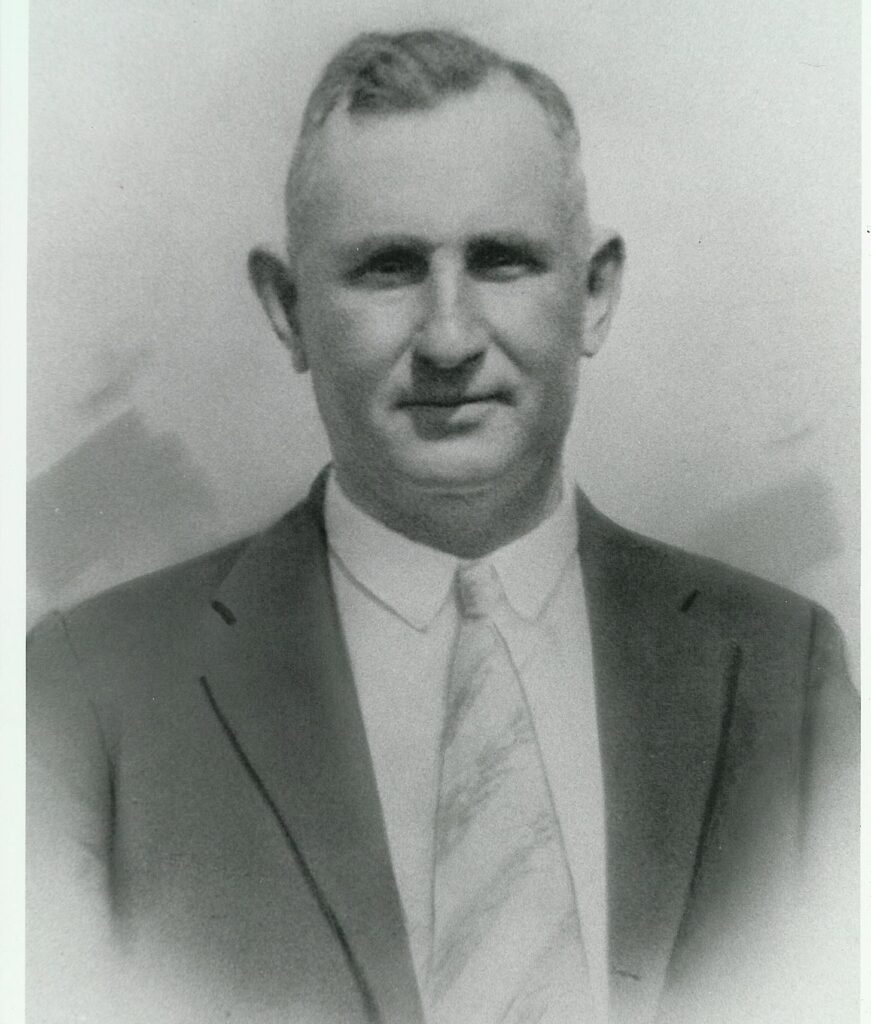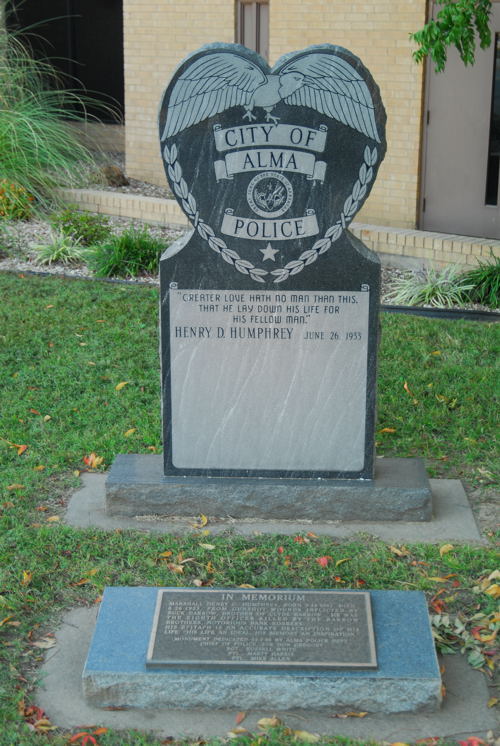 The outlaws took Marshal Humphrey's Smith & Wesson Military & Police .38 Special with them.  It was later recovered after a shootout with the gang in Iowa, in which Buck was captured. Buck had been wounded in a police raid earlier in a tourist court north of Kansas City, and was wounded again in the Iowa shootout. He later died in a local hospital.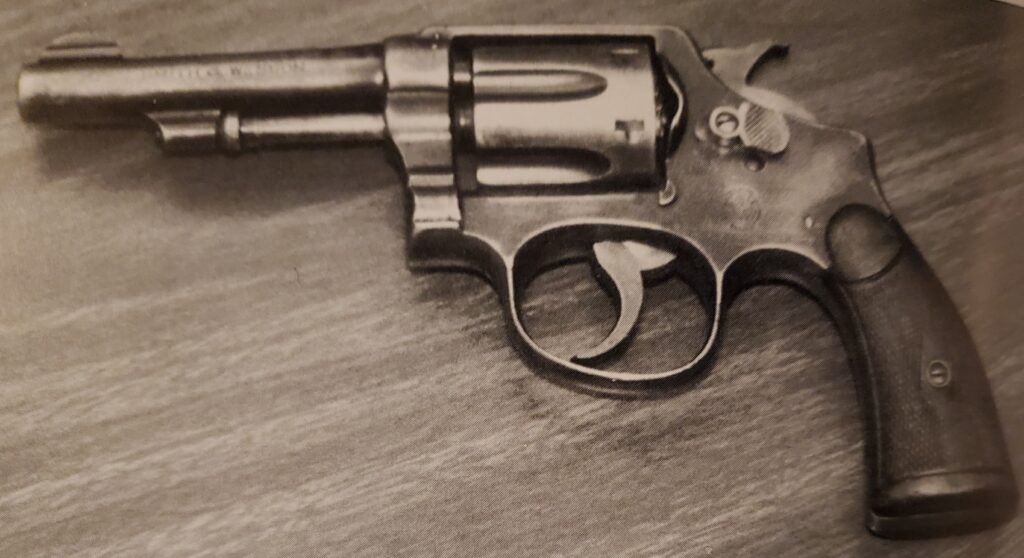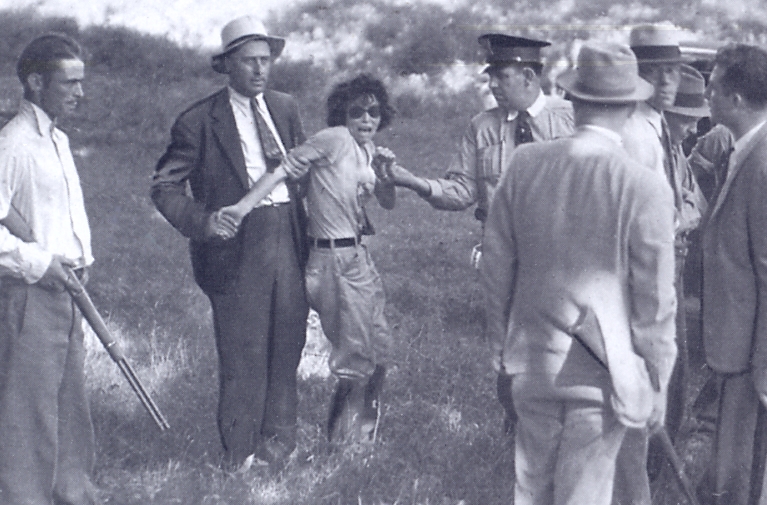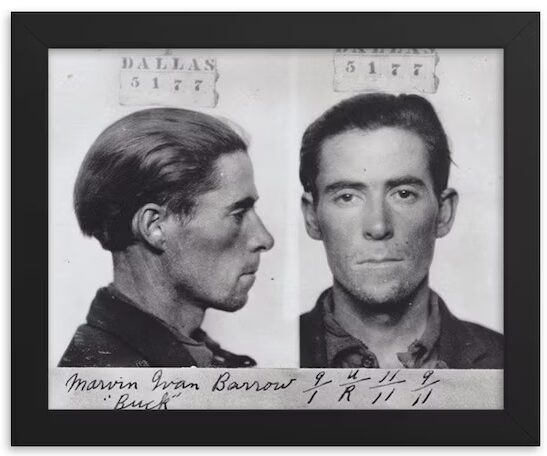 Barrow Gang Weapons
Clyde preferred to steal his favorite weapons from small town, National Guard armories. One example of the gang "borrowing" from the United States Government occurred on July 7, 1933, when they broke into a National Guard Armory in Enid, Oklahoma, in a theft that netted them 46 Model 1911 pistols, and several Browning Automatic Rifles.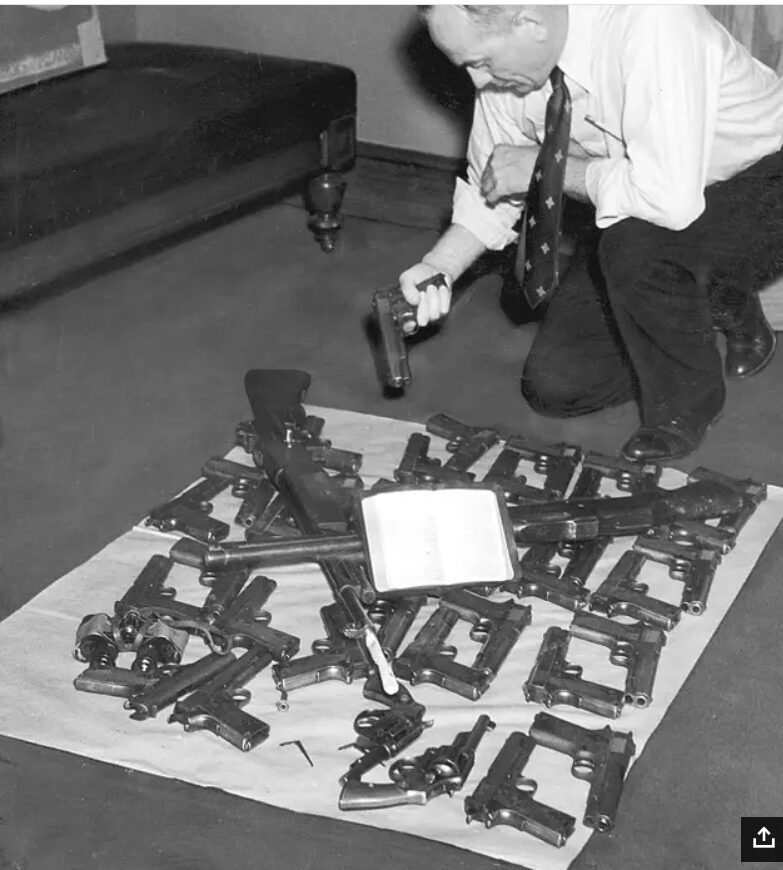 Clyde also obtained some of his weapons by taking them from officers he had captured or killed, as with Marshal Humphrey's .38 Special S&W Military & Police. Another example occurred in January of 1933, when Springfield, Missouri, Police Department Motor Officer Thomas A. Persell noticed a vehicle moving in a suspicious manner.  He followed the car to the Benton Street viaduct, where he pulled the car over.  As Persell was dismounting from his motorcycle, the driver of the car, Clyde Barrow, stepped out with his sawed-off shotgun, took the officer captive, and removed the officer's revolver from his holster. Persell was placed in the car with Barrow, Bonnie Parker, and W.D. Jones.  It was close to 6:00 p.m. when he began an unwilling ride with the outlaws.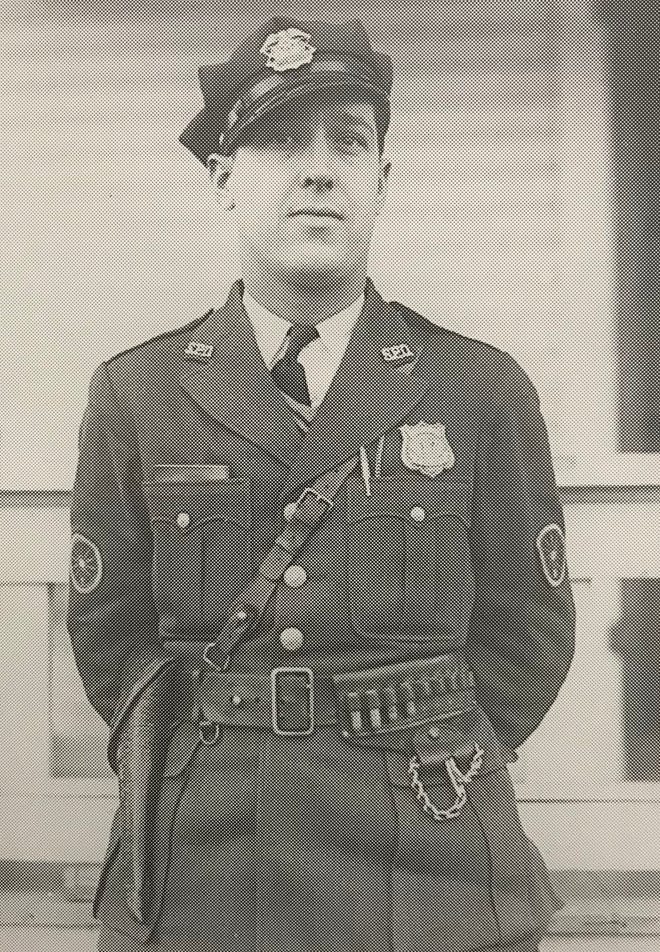 During the ride, Officer Persell noticed a large collection of weapons in the vehicle. Clyde stopped the car at 12:30 a.m., put Persell out, and told him to walk to the intersection they passed a while back.  Persell, relieved that they were not going to kill him, asked if he could have his revolver back.  Clyde said he was keeping it.  After a hike of about 8 miles to the store at the intersection near Joplin.  Persell called Joplin Police and they returned him to Springfield.
Years later, Persell would recount his experience in an interview with a Springfield newspaper. He also spoke of the guns in the car.  He saw a Thompson submachine gun, a Browning Automatic Rifle (Clyde's weapon of choice), several short shotguns, rifles, numerous pistols, and several revolvers, including his own.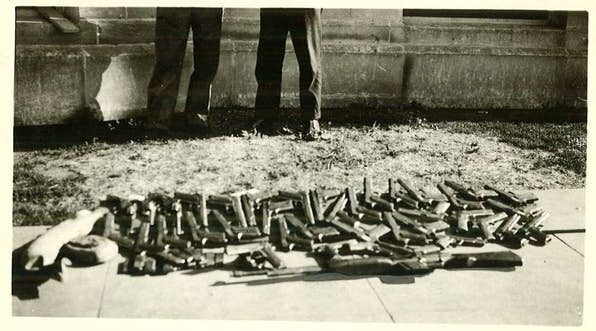 In March of 1933, Clyde's brother Buck had been pardoned and released from the Texas Department of Corrections. The brothers arranged to meet in Joplin, Missouri where they rented a garage apartment.  They, along with Bonnie, W.D. Jones, and Buck's wife, Blanche, set up housekeeping.  The suspicious behavior of the renters soon aroused the local authorities. Their visit resulted in the deaths of Joplin Police Detective Harry McGinnis and Constable Wes Harryman.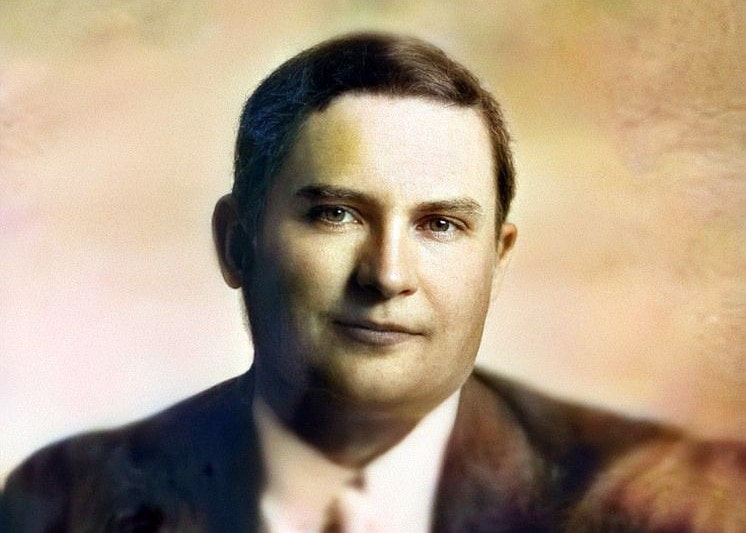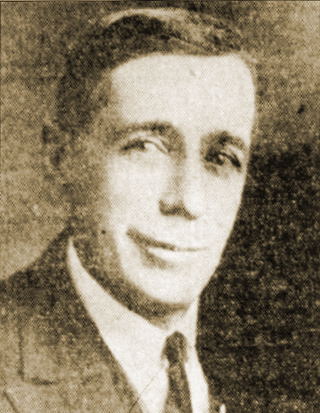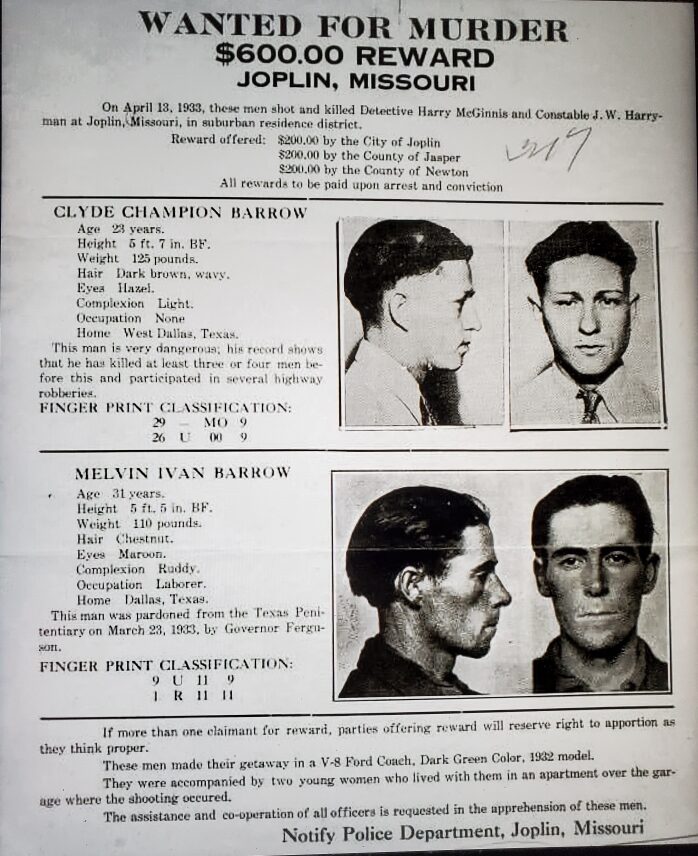 The Barrows fled with great haste, leaving behind many items that were valuable in identifying them.  Included was a roll of undeveloped film that, when printed, showed what looked like typical tourist images.  The difference was, there were guns in several of the images.
One of the stars of the photos was officer Persell's 6-1/2 inch barrel, Smith & Wesson First Model Hand Ejector (also known as the Triple Lock), in .44 S&W Special caliber.  The revolver is seen wearing distinctive jigged bone grips that have grooves cut into them, to simulate Sambar stag.
a Krag and a clue
Another firearm shown in one of the images may well be the only gun Clyde Barrow ever paid for.  One of the firearms left at the Joplin apartment was a Krag-Jorgensen carbine.  It appears to be a U.S. Military version.  As the Joplin PD, led by Chief of Detectives, Ed Portley, tried to build information from items left behind in the apartment, the background of the Krag carbine came to light.
Law enforcement in those days did not benefit from the many technological advances that are enjoyed today. Telephone calls, letters, wanted flyers and personal visits were the primary means agencies shared information with other agencies around the country.
Chief of Detectives Ed Portley of the Joplin Police Department, conducted a mass mailing seeking information of the slayers of Detective McGinnis and Constable Harryman.  Specific letters were sent to specific agencies based on leads developed in items left behind by the Barrows.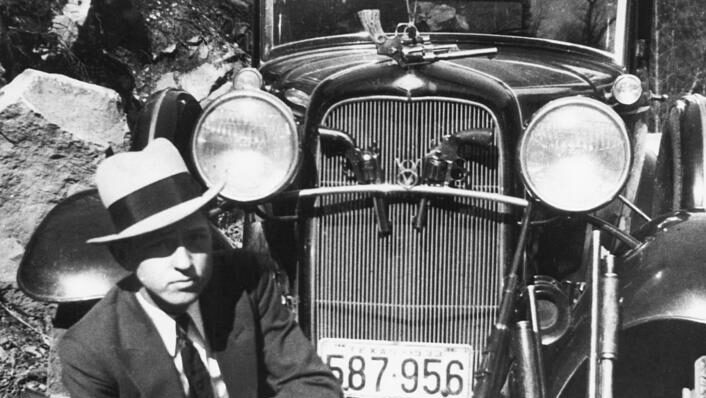 One such letter dated May 2, 1933 was sent to the Sheriff of Scott County Arkansas, Mr. Theo Money. In the letter Chief Portley sought information on a hunting license issued to a Scott County resident that was found inside the butt stock of a rifle left in the garage apartment.
Sheriff Money replied with information about the person who left their Arkansas hunting license inside the rifle. That individual, Mr. Alva Hall, stated that two men and a woman came to his house around the first of March, to purchase whiskey (Mr. Hall was a known bootlegger). While there, they saw his Krag-Jorgenson carbine on the wall and they began to seek a trade with Mr. Hall. They accomplished the trade by giving him a .22 Hi Power rifle and seven dollars, to boot.
Law enforcement investigations usually involve putting pieces of a puzzle together. This was an important piece.
Breakout!
There is one more crime to make mention of, with regard to the Barrow Gang.  Of his friends and associates, probably one of the closest was Raymond Hamilton. Raymond was born in Oklahoma and raised in Dallas, Texas, in the same neighborhood as Clyde.  They were together when Atoka County, Oklahoma Deputy Sheriff Eugene C. Moore was shot and killed, and Sheriff Charlie Maxwell was wounded, having been shot multiple times.
Hamilton and Barrow were at odds, at times, mostly over Hamilton's girlfriend.  During one of the times Hamilton was working on his own, he was captured and sent to the Eastham Unit of the Texas Prison System.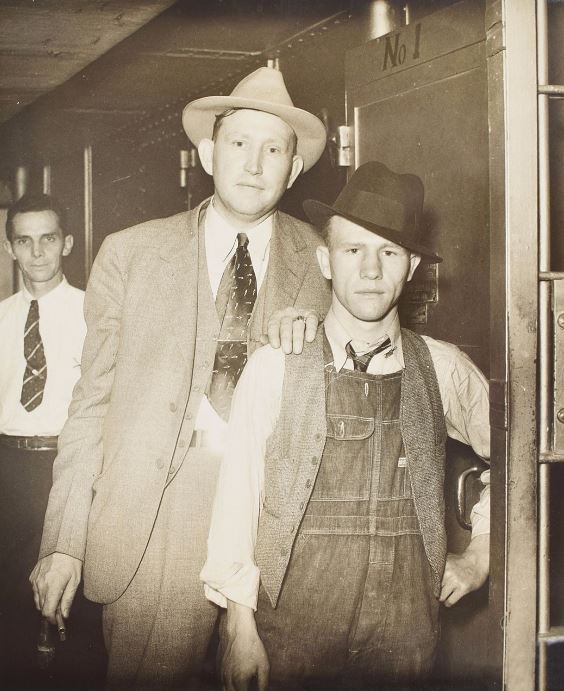 On January 16, 1934 a preplanned prison break took place with Barrow freeing his friend and other convicts. Two Colt 1911 .45s had been secreted on the grounds. Raymond Hamilton and Joe Palmer grabbed the pistols and opened fire on the guards of the work gang. Prison guard M.J. Crowson was struck in the stomach and head, fatally wounded.  The other guard was wounded.
Hamilton, Palmer and three other convicts (J.B French, Henry Methvin, and Hilton Bybee) ran for the getaway car.  Clyde and gang member James Mullins provided covering fire.  This incident prompted the Texas Prison System to hire former Texas Ranger Frank Hamer to track down and stop the Barrow Gang. Hamer accomplished his mission on May 23, 1934 near Gibsland, Louisiana, with the help of former Ranger Manny Gault, and Dallas County, Texas Deputy Sheriffs Ted Hinton and Bob Alcorn.  They were also joined by Bienville Parish Sheriff Henderson Jordan and Deputy Prentiss Oakley.
A Bybee Detour
The criminals that Clyde and company broke out of the pen soon separated from the gang and continued on with their own lives of crime.
One of these criminals was Hilton Bybee (William Hilton Bybee to be exact), who was born in 1911 in Montague County, Texas.  His parents were Omer Ellsworth Bybee and Bula Margaret Hoffman.  Omer was shot and killed on September 20, 1937 in Roswell New Mexico, supposedly over a debt.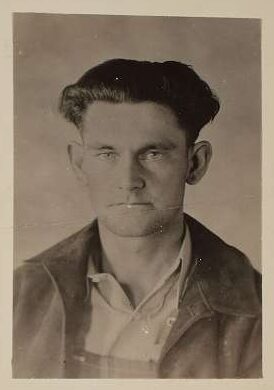 Hilton Bybee seems to have taken to the path of a criminal and stayed on it, until the end. In the company of a man named Roberts, he attended a dance in Breckenridge, Texas on March 16, 1932.  During the dance, Roberts dropped a pistol onto the floor.  He snatched it up, and he and Bybee began to leave.  As they descended the stairs to street level, Deputy Constable Ollie Park and his nephew Jack Ellington, a night watchman, attempted to arrest Roberts on the staircase.  A gunfight broke out and Park was struck four times with rounds from a .45 caliber pistol, in the forehead, side, shoulder and one that severed his spine.  Constable Park still managed to get three rounds off, striking Roberts in the leg.  Park died at 12:15 a.m. on the way to the hospital.  Roberts was captured twelve hours later by Sheriff J.B. Foster.  Both he and Bybee were sentenced to 99 years for the murder of Park.
The murder of Deputy Constable Park is the crime Bybee was locked up for, when the Barrow Gang freed him and the other convicts from the state prison on January 16, 1934. Bybee stayed with the gang a short time after the breakout (long enough to rob a bank in Iowa), and went on his way.  He was soon recaptured and returned to prison.
Family Trees
Two of the Arkansas State Rangers later became sergeants in the new Arkansas State Police. Neil Shannon had served as a deputy warden and special officer for the Arkansas State Prison.  Eugene F. Mooney had served as a deputy sheriff and as state game warden in Baxter County, Arkansas.
The Mooney name is one that has been closely associated with law enforcement in Arkansas, since before statehood. Daniel Mooney served as one of the first sheriffs of the Arkansas District of Missouri in pre-territorial days.  He later served multiple terms as Sheriff of Phillips County.  Another ancestor, Jesse Mooney, served as Sheriff of Marion County in the 1840s.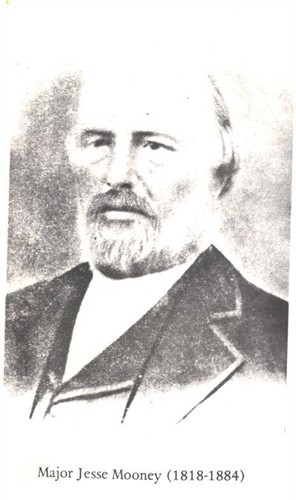 Two other Mooneys served as Sheriff of Baxter County, as well. Eugene Mooney was elected in 1906, and died of an accidental, line of duty gun shot in Holdenville Indian Territory, while transporting a prisoner back to Baxter County on a train.  His revolver fell out of his holster, striking the hammer, and firing the fatal shot.
His brother, Leon Mooney, was appointed sheriff in Eugene's place.  He served until 1912, then went to medical school to become a doctor.
Trooper Eugene F. Mooney, son of Sheriff Leon Mooney, followed in his father's, his grandfather Jesse's, and his other ancestor's footsteps into a career in law enforcement.
Hero Troopers 
In 1937, when the State Rangers transitioned into the Arkansas State Police, Mooney (along with Ranger number Six, Neil Shannon) was promoted to the rank of sergeant. Other Rangers were also promoted to higher ranks.  The first training class (or Troop School, as the course is known) began April 19, 1937, and lasted for four weeks. The Texas State Highway Patrol helped with the Troop School.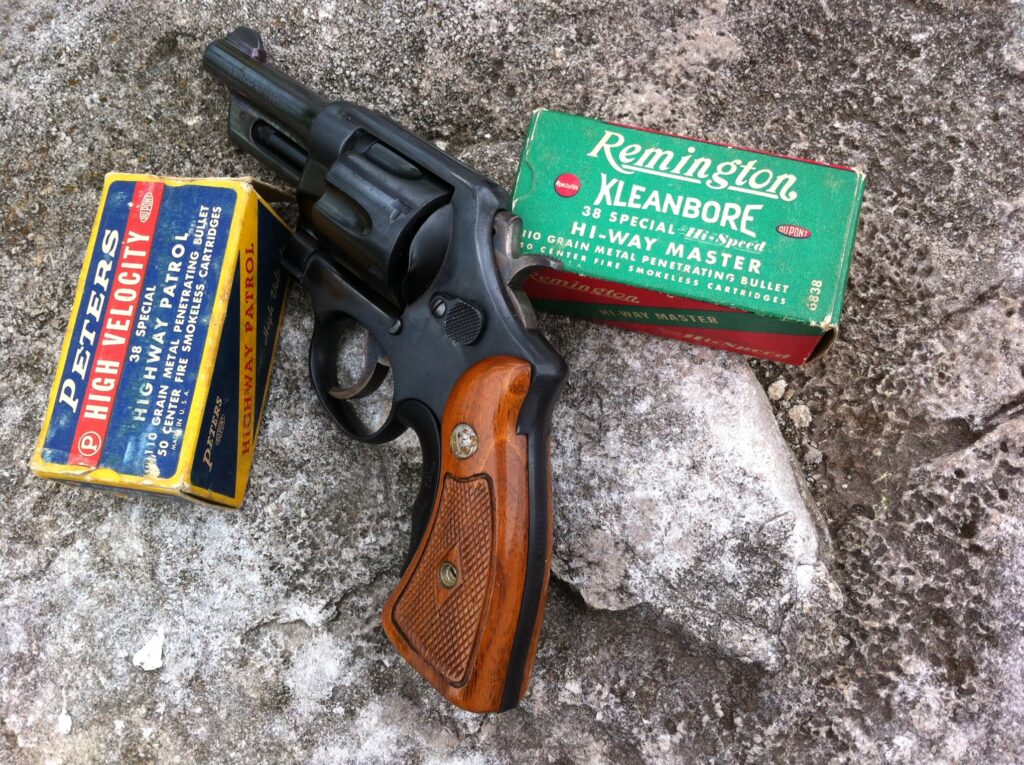 A new handgun was issued to the troopers. Fifty S&W .38-44 Heavy Duty revolvers were ordered with a five-inch barrel and a lanyard ring, and roll-marked ARKANSAS STATE POLICE on the back strap. This revolver, in various configurations, served ASP from 1937 to 1966, when the department changed to the S&W Model 28 Highway Patrolman in .357 Magnum.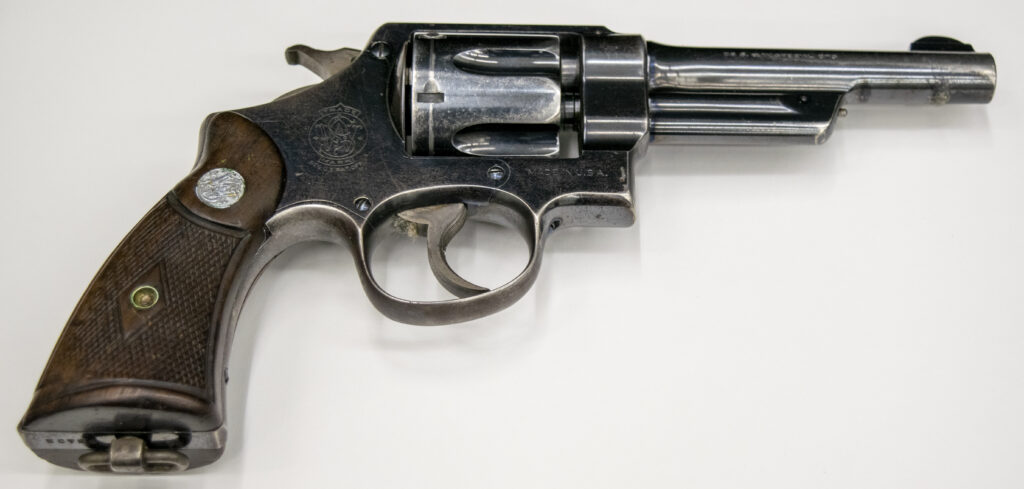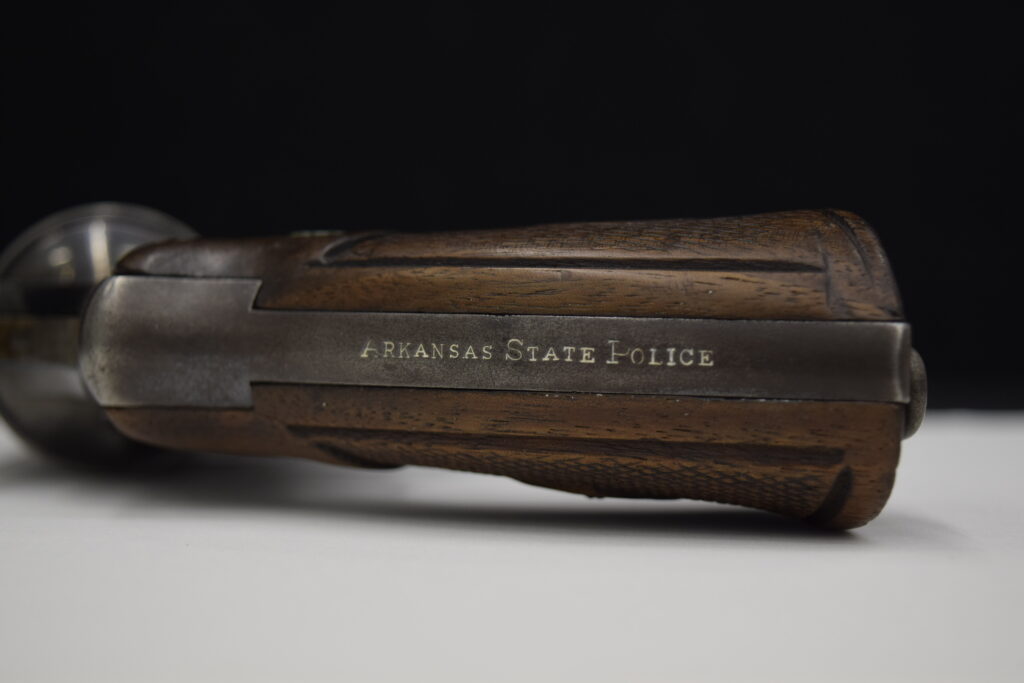 In 1955, while in southeast Arkansas for a concert, a young musician with a fondness for firearms and law enforcement was photographed holding Trooper Kenneth McKee's S&W .38-44—Elvis Presley.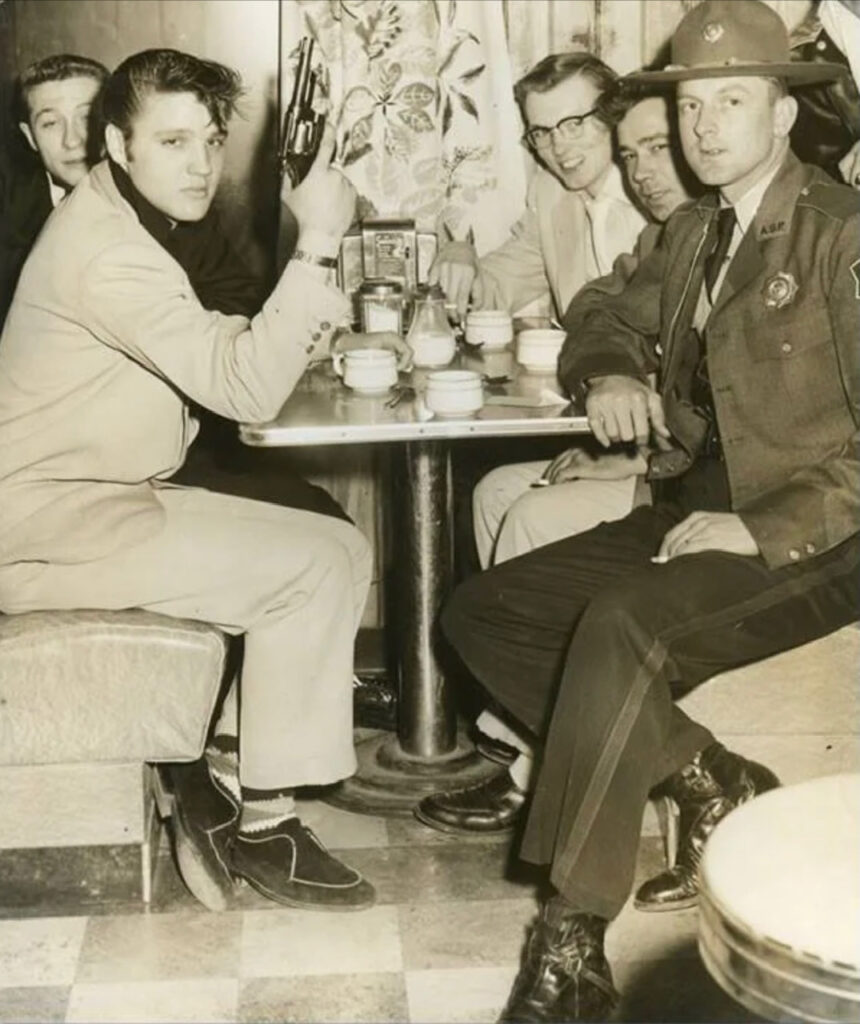 Back in 1937, a bank in a small community in northeast Arkansas, Weiner, was robbed on the 8th of July.  The manhunt for the robbers had shifted to southern Arkansas.  On July 20th, Sergeants Shannon and Mooney spotted the vehicle the robbers were driving, and when the fugitives saw the State Police vehicle, they took off.  The chase was on. Near the community of Selma, in Drew County, the robbers turned down a dirt road. High speed travel on dirt roads produces a significant amount of dust.  It became so thick that the troopers had to slow down a bit.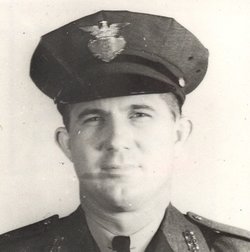 All of a sudden, they broke free of the dust cloud. What they saw was the vehicle sideways in the road, with the fugitives leveling long guns and handguns at them.  Shannon braked and both officers exited the patrol car.  Shannon was immediately struck with a gunshot to his chest that critically wounded him.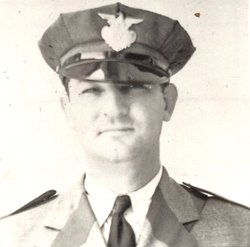 Mooney was armed with one of the department's Thompson submachine guns (Author's note: I had an opportunity to purchase one of the ASP Thompson SMGs in 1995, but could not come up with the $10,000 price!).  Sergeant Mooney's initial burst of fire struck one of the fugitives in the head.  His second burst struck another of the criminals in the hand, knocking his handgun out of service.  The other criminal decided he did not want to keep engaged in this gunfight and fled into the woods on foot.  More members of the posse, led by Drew County Sheriff W.C. Cruce, arrived on the scene.  Mooney had taken one of the fleeing convicts in custody; James Rice. The other, identified as Harry Roberts, remained at large.
Sergeant Shannon was taken to the hospital for medical help. Thankfully, he recovered from the serious wound and returned to duty.  He left the Arkansas State Police in January 1940 for a position with the U.S. Secret Service, later serving in the presidential protection detail.
The Connection
The deceased robber was identified as the aforementioned Hilton Bybee, of Barrow Gang notoriety.  His former partners, Bonnie Parker and Clyde Barrow, had been permanently rehabilitated by Hamer and crew three years prior, and now the Arkansas State Police had tied up the loose end.
Legacies
The Barrows and their associates live on in history books, on websites, in films and documentaries.
Bonnie Parker and Clyde Barrow are buried in the Dallas area.  Others that associated with them in their lives of crime are buried throughout the southwest. Yes, this group of folks are remembered today, but they're remembered for bad, and not for good. Hilton Bybee is buried in Drew County, Arkansas, probably in an unmarked grave.  He is not remembered like the Barrows are, but he leaves behind a legacy of crime.
Not many folks have heard of Gene Mooney, who's lying in a cemetery in Mountain Home, Arkansas.  Those who have heard of him, which now includes those who have read this story, know that Game Warden, Ranger, and Trooper Eugene French Mooney stood for law and order, and dedicated his life to it.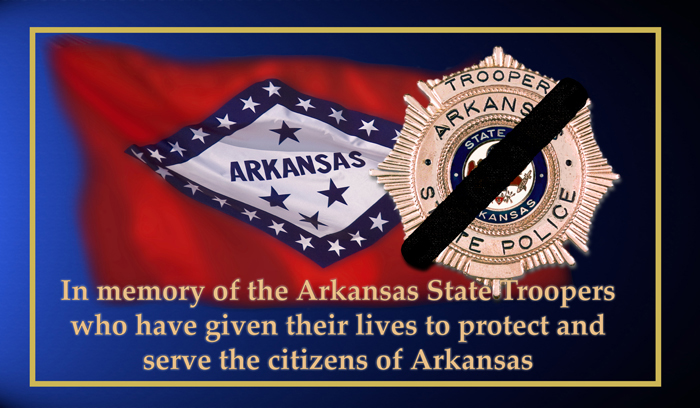 Today's level of criminal activity matches or exceeds that of the 1920s and '30s and we hope that soon folks will say, "enough", and turn the trend around.
When they do, the Arkansas State Police will be there to help them. The Arkansas State Police has grown into a top-ranking state police force that enjoys an excellent reputation.  Friends tell me that the members of ASP are "YouTube Stars" when it comes to chasing down criminals, especially those that run fast.
Thank God there are still men and women that are willing to pin on a badge, as Troopers Shannon and Mooney once did, to combat the tidal wave of crime that is occurring.
Law and order or anarchy?
Stay Safe!
*****
The author would like to dedicate this article in memory of Arkansas State Trooper John E. Purcell, a Shootist.
Resources:
ARKANSAS STATE POLICE
All four of these books are excellent:
The Big Hat Law: Arkansas and its State Police 1935-2000, by Michael Lindsey
Arkansas State Troopers, a Breed Apart, by Lt. (Ret.) Dempsie Coffman
Arkansas' First State Police, Recruit Training School, by Capt. (Ret.) Steven A. Coppinger
Thompkins, Woods and Cook, Arkansas' First State Police Commissioners, the Founding Fathers of the Arkansas Police Department, 1935-1937, by Capt. (Ret.) Steven A. Coppinger
THE BARROWS
Books:
Texas Ranger: The Epic Life of Frank Hamer, The Man Who Killed Bonnie and Clyde, by John Boessenecker
On the Trail of Bonnie and Clyde, Then and Now, Editor Wilton G. Ramsey
Bonnie and Clyde, a 21st Century Update, by James R. Knight
Ambush, by Ted Hinton
Website:
Texas Hideout   texashideout.tripod.com
There is an abundance of books, magazine articles and web presence on this couple, who, through their evil deeds, are etched in the history of the United States.
Author's Note
My interest in the history of crime and law enforcement came about in the 1960s and has continued, unabated.  When my interest first began, there was very little information about the Depression Era lawmen and outlaws.  Thankfully, today there is plenty on the subject.
Thank you to all of the authors and researchers that have contributed greatly to the body of knowledge on this subject.
I would like to add a special note of thanks to Gail Stephens  &  Sarah Cohen, of the Old State House Museum, for their assistance with the article.