Taurus announced that it was releasing optics ready revolvers days before the 2023 SHOT Show. They had put an optic platform on two small frame revolvers; the 605 (a five shot .357 magnum) and the 856 six shot .38 Special. Props to Taurus for choosing carry guns as their first revolvers to be so equipped. I read somewhere that they asked their customers late last year what they would like to see the company build. The response was strong for red dot-capable carry revolvers, so that's what Taurus built. That deserves repeating; they asked their customers what they wanted. What a concept!
not vaporware!
Mike confirmed from the 2023 SHOT Show that Taurus wasn't teasing an introduction sometime down the road- the guns actually existed! He spoke with Caleb Giddings, Taurus' Media Director, and expressed our interest in securing a sample to test. Caleb was good enough to get a stainless 856 T.O.R.O. (Taurus Optic Ready Option) headed my way.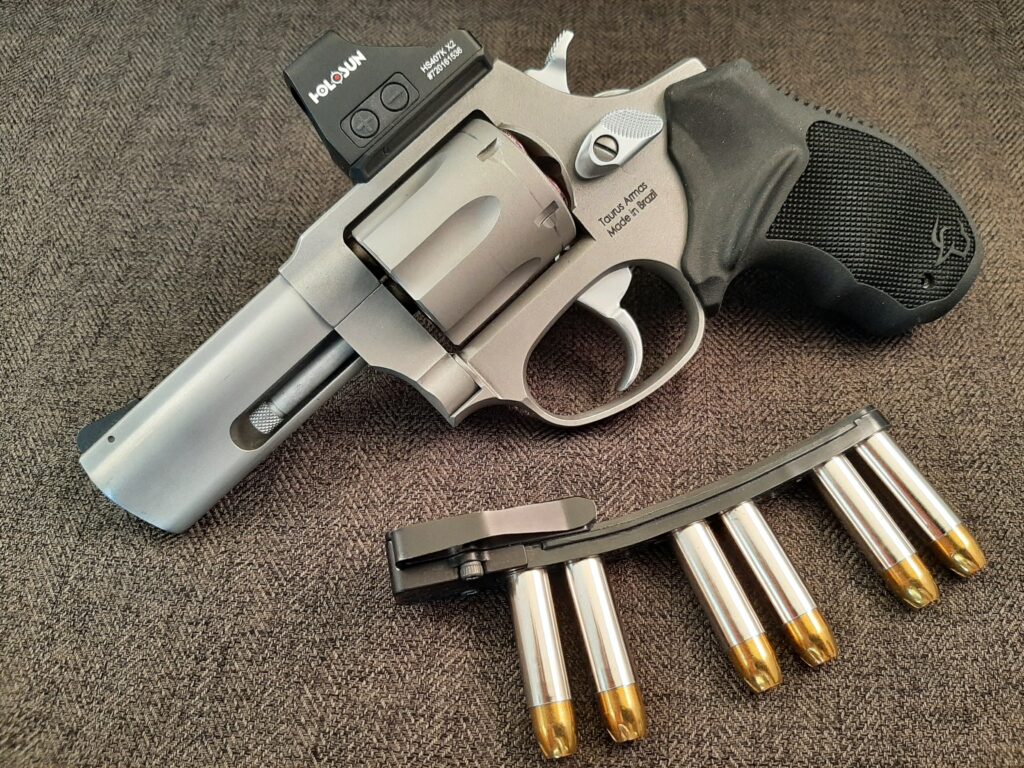 The gun arrived at my FFL a week into February. Unpacking it revealed a no-nonsense, but handsome, compact revolver. The utilitarian, bead-blasted finish contrasted nicely with the shiny trigger, hammer, and thumb piece.  The three-inch barrel permitted a full-length extractor rod and had an underlug running its entirety. The gun sported a checkered hammer and a smooth trigger, the width of both were right for a gun of this purpose. It wore rubber grips secured by a roll pin near their base. The grips had molded checkering on the sides and back strap along with a shallow thumb rest on both sides. The sideplate had the Taurus trademark bull head silhouette on it along with "Taurus Int'l Mfg Bainbridge, GA." The serial # was scribed on the right side of the barrel, and on the frame above the "856" designation. The left side of the frame was branded with "Taurus Armas Made in Brazil". The caliber designation ".38 SPL*" was engraved on the bottom surface of the underlug.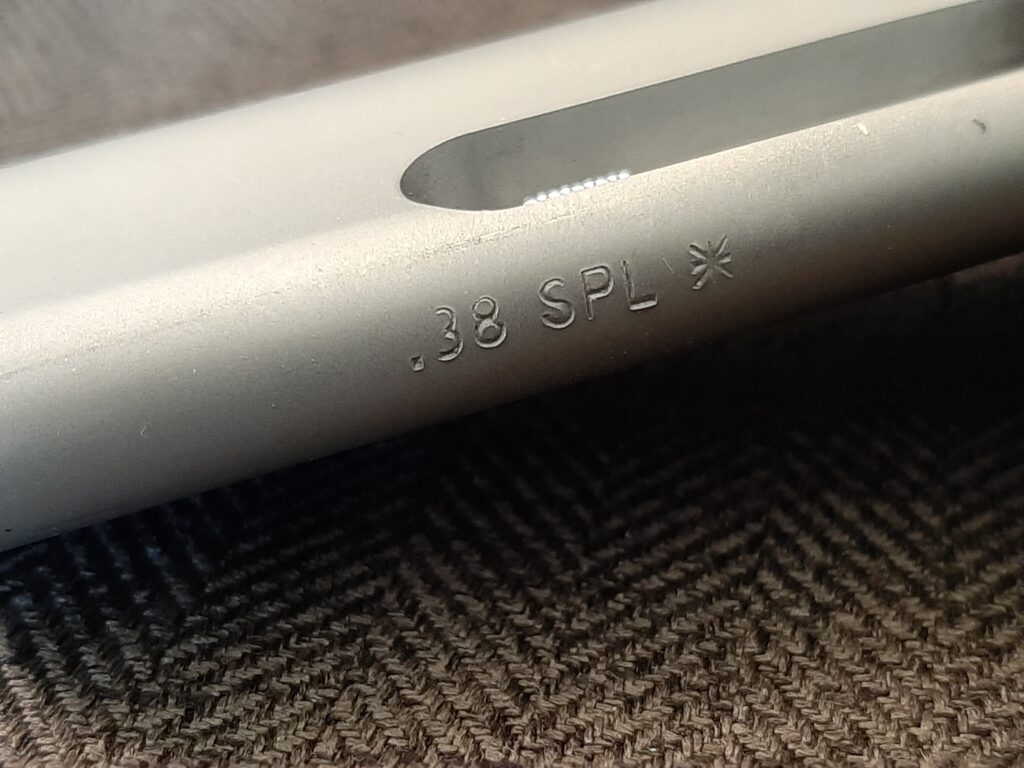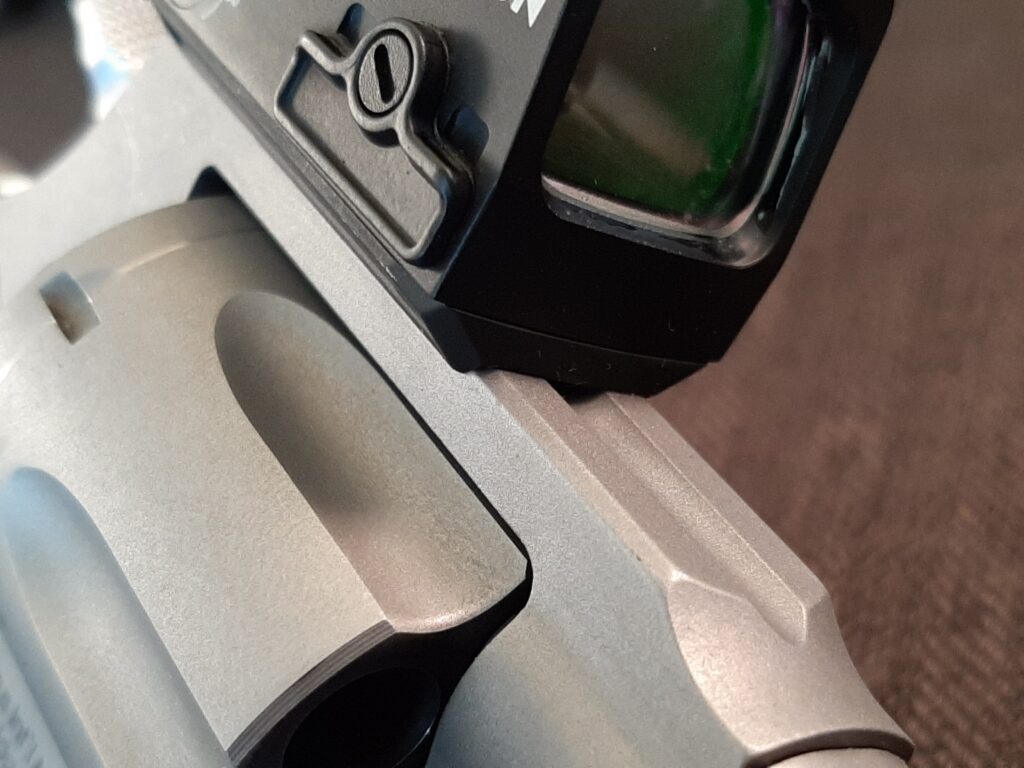 The flat rib atop the barrel ended with a pinned in front sight, a black serrated ramp. Like all 856's, the fixed rear sight was a notch milled into the top of the frame. Like no 856 before it, this one had a plate low mounted like a saddle just in front of the rear sight opening. It's affixed to the frame with hex head screws fore and aft in the center of the plate. The bottom of the plate is relieved to sit as low as possible; milling the top strap for an ultra-low mount (like on an auto slide) isn't prudent. The screws ran down the center of the rear sight track and obscured visual access to the front sight; the plate's coming off if you want to use the iron sights.
Optics
I purchased a Holosun 407K after Giddings confirmed he was sending the gun. Taurus designed them to be compatible with optics sharing the Shield RMSc footprint, and the Holosun 407K is built to that standard. Selecting an optic in this class insured that the cylinder would still be the widest part of the gun for concealment purposes. The dimensions of Holosun's K series match up well with the size of the 856.
The Holosun 407K lined up perfectly with the screw holes and raised circular tabs that index and secure the optic. It's a perfect match for the T.O.R.O. mounting plate.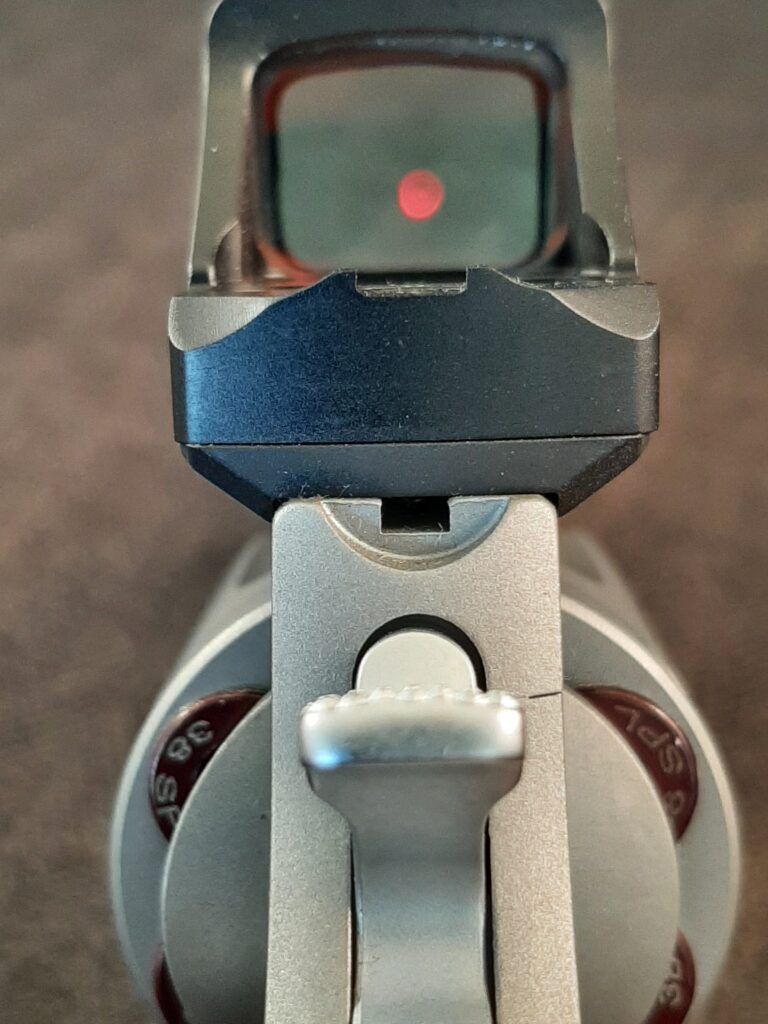 There was one mounting hiccup, though. Holosun provided two sets of mounting screws with the 407K, and unfortunately they were too long to use with the T.O.R.O. plate. Searching through my meager stash of accumulated screws produced no winners, either.  A buddy who uses lots of pistol optics loaned a toolbox full of all things RDS. I rummaged through it, and after trying many, found a ziplock bag with two small screws meant to secure a MOS cover plate on a Glock slide (M3x.5x8mm). They were a perfect fit. Blue Loc-Tite was applied, and the screws were torqued to Holosun's specified inch pounds.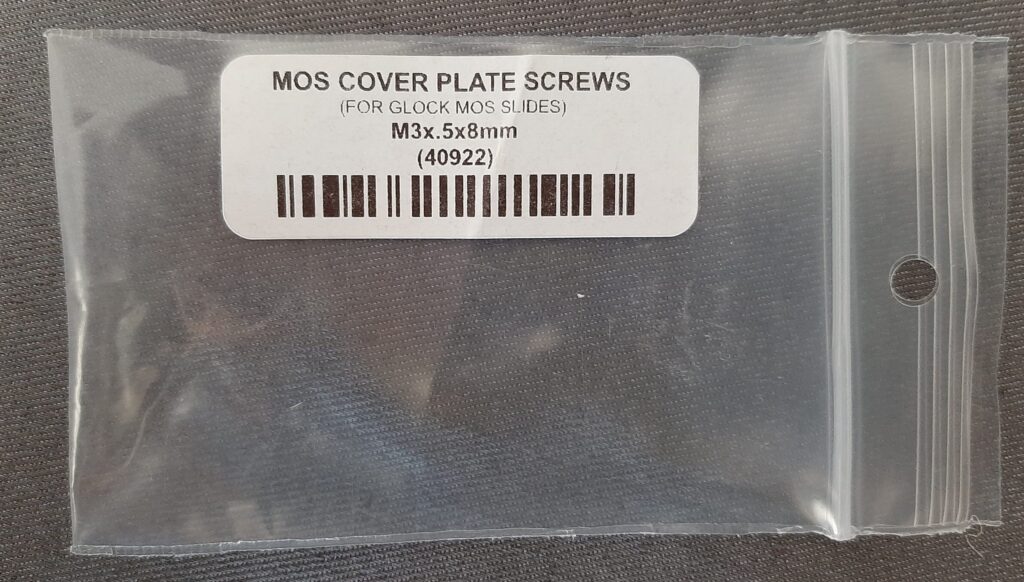 bench test
Once mounted, I spent the evening doing dry presentations from a ready position and was able to consistently find the dot if I didn't get sloppy. The empty 856 with optic installed weighed 25.4 ounces, according to my scale. The look and feel of the optic were proportionate to the gun, and they handle well together. It doesn't look awkward or feel clumsy.
The extractor rod had a generous throw of 13/16" and its end was well shaped for use, as Justin noted in his review of the 856 in 2019. The rod's travel was a little gritty at first, but it settled in nicely with a little use. The cylinder lock-up was firm and tight, the yoke latch provides solid contact up front. The trigger wasn't great, but it was good; the double action pull was smooth when rolled straight thru. A slow, deliberate press revealed a little hitch near the end that gave a perfect staging point if so desired. The thumb piece was comfortably shaped and gave positive function.  The overall fit and finish of this sample was outstanding.
live fire
The next day, I stopped at an indoor range to zero the optic. I shot some Federal 130 grain FMJ stuff to familiarize and get the sight in the ballpark. Impact was initially high, and I had to dial the elevation down quite a bit.  I fine-tuned it with 125 grain Remington Golden Saber +P loads. It got close to bottoming out the optics range of vertical adjustment, but a zero was achieved with the 125's at ten yards.1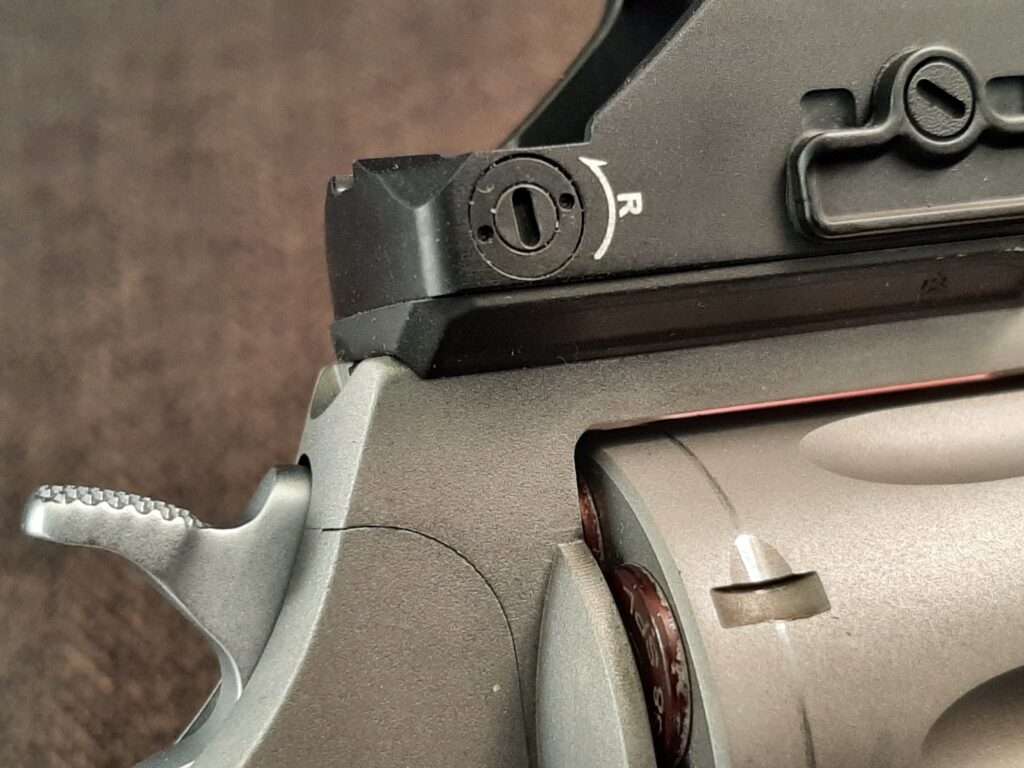 The 856 delivered tight groups on demand at that distance. The +P loads were pleasant to shoot and controllable through the steel-framed gun. I shot from 5 to 20 yards, confirming the zero, and put 77 rounds through the gun on the brief trip.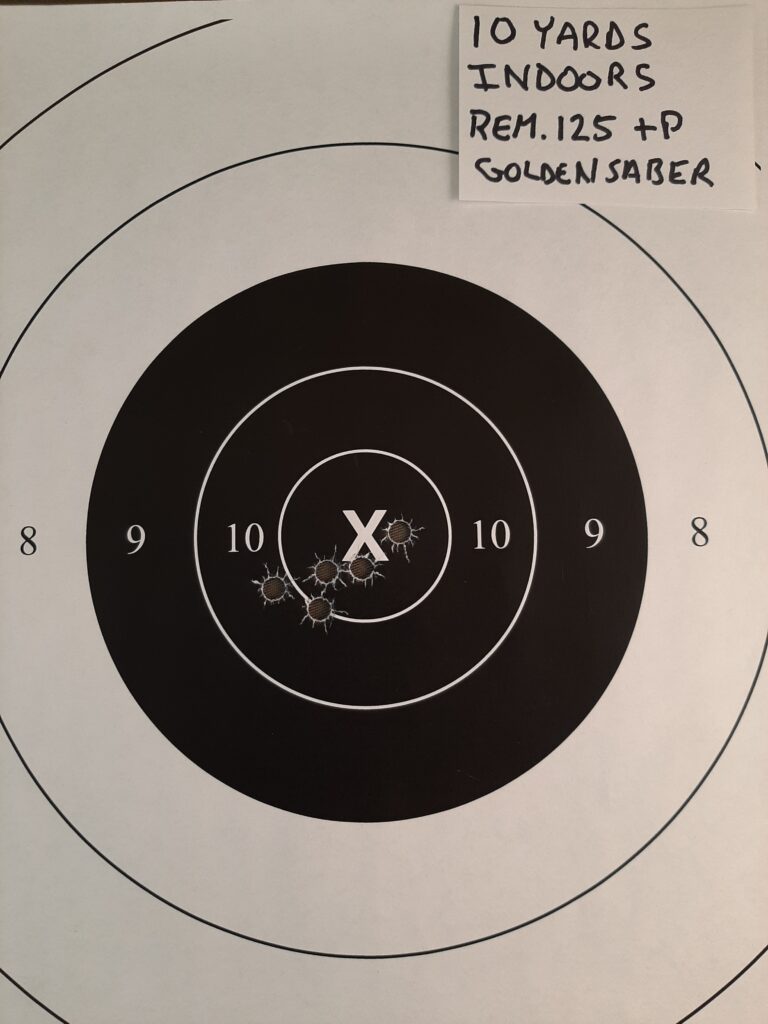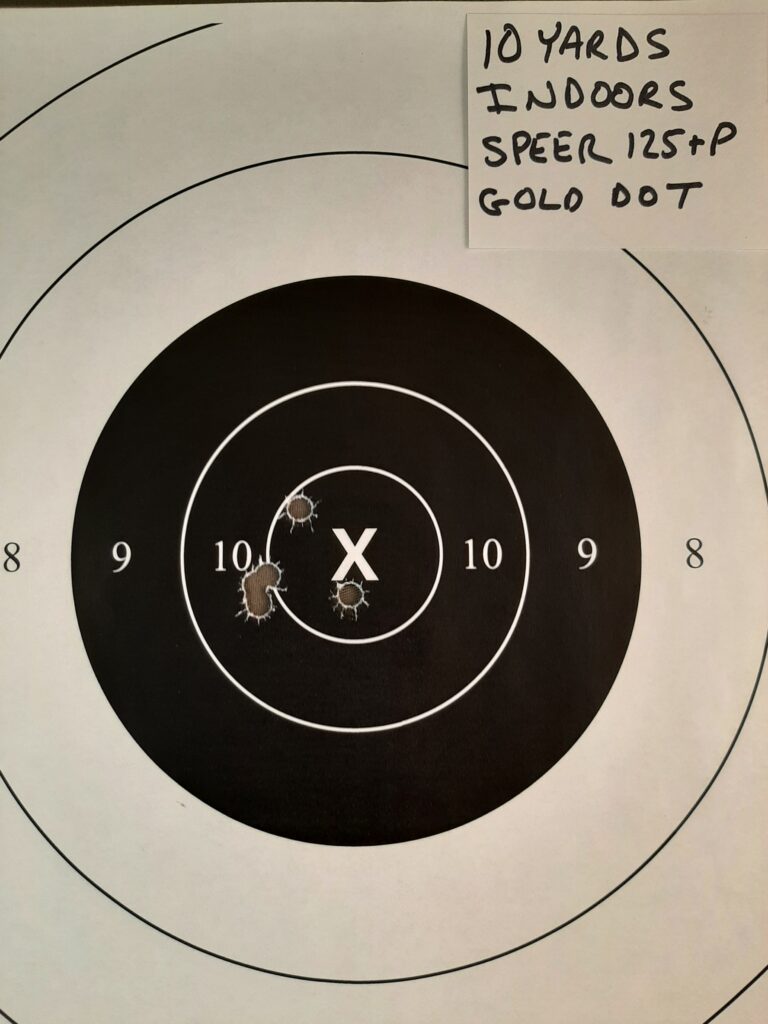 These days, I avoid indoor ranges unless I have no choice because of the lighting. It's difficult to acquire a good sight picture under indoor lighting with iron-sighted handguns, as my eyes age. The eye doc tells me it's normal, but it's surely frustrating.  The hazy sight picture typically produced on black B8 targets with iron sights disappeared that day. The 6 MOA red dot gave a distinct, clear aim point. It's hard to overstate how rewarding it was to be able to hit with confidence in that light.  Sending 125 grain bullets exactly to point of aim with a small, short-barreled .38 was a welcome bonus. Palpable mirth!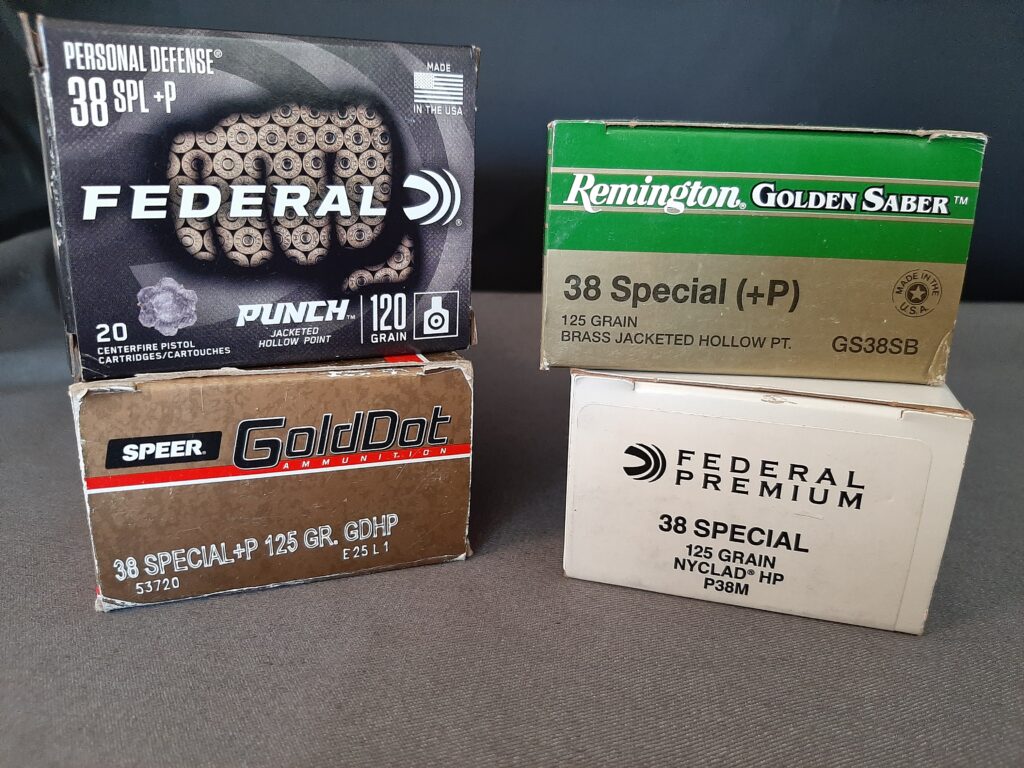 I shot the 856 outdoors in mid-February, the temperature was about 40 degrees Fahrenheit. Various loads were chronographed; The 3" barrel delivered significant velocity improvements over 2" .38's.

Because of the way the mounting plate sits, using the iron sights in the event of optics failure isn't an option. I turned the red dot off and used the outline of the "tv screen" to bracket the body of an IPSC silhouette at 10 yards. Six, rapid-fire rounds resulted in four hits in the "A" zone and two just left into the "C" zone, basically centered. Employing the same technique at 5 yards for headshots resulted in 3 out of 3 just below the "credit card" zone. If the red dot goes AWOL, using the window of the screen as your "BUIS" still allows acceptable hits out to intermediate ranges.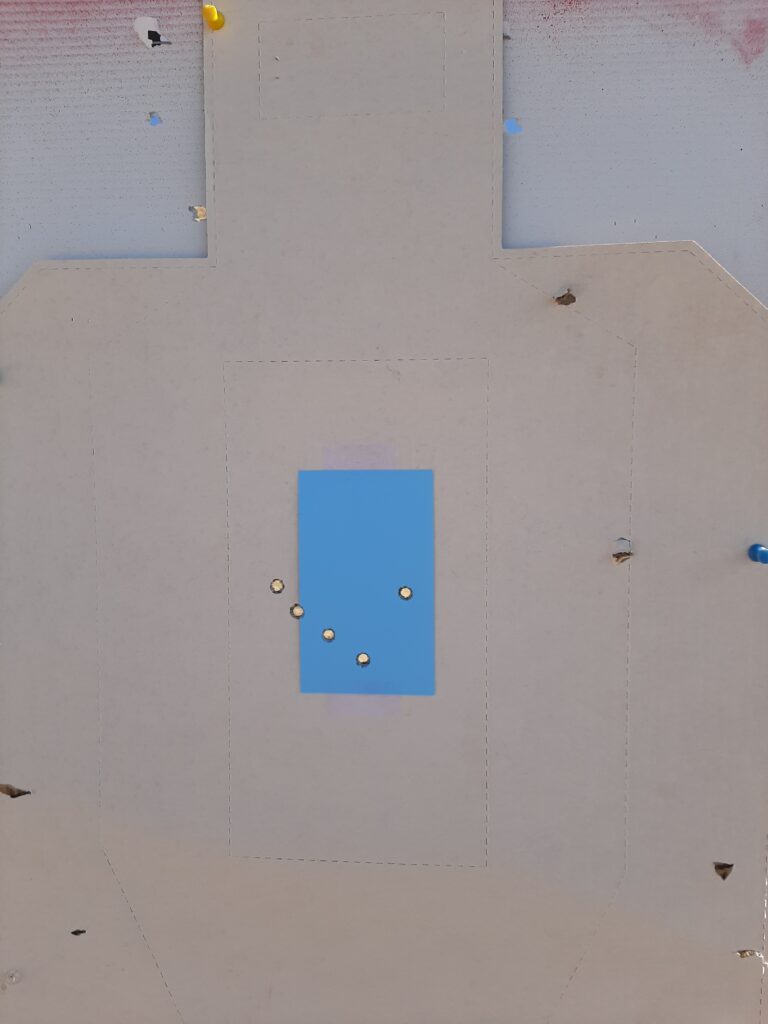 The 856 and Holosun combined to produce great results shooting one-handed drills, headshots and failure drills, and controlled pairs on multiple targets.  I taped an index card in the "A" zone and shot five, 125 grain Golden Sabers at it from 25 yards. The rounds hit to point of aim in a group that would do a service revolver proud. The 856 ran perfectly, with no extraction or ejection issues for a total of 118 rounds. The grips remained comfortable and assisted with recoil management.
The 856 can be recharged with HKS K Frame (#10) or Colt Detective Special (DS) speedloaders, but both would hang up a bit during reloading. Scrutinizing the grips revealed they were relieved more on the left side than the right for speedloader use.  I removed the grips and the loaders worked smoothly (including Safariland K frame Comp II's). If this gun were mine, I'd relieve the left side of the grip a bit more.
an important lesson
The 856 had 195 rounds through it, so a cleaning was in order. The owner's manual gave no info on removing the cylinder, something I habitually do when detail cleaning revolvers.  I removed the yoke screw and discovered that it was a three-piece assembly. No problem. I pulled the yoke from the frame and found that it was meaningfully connected to the cylinder. Not like a Smith & Wesson, but I could now give the bore and cylinder a proper cleaning.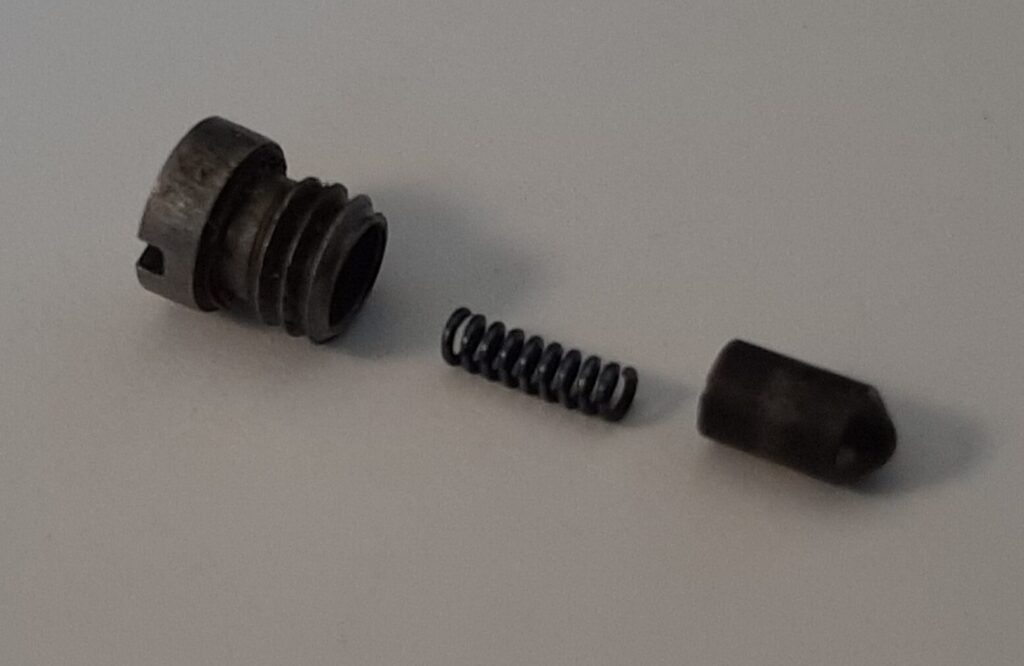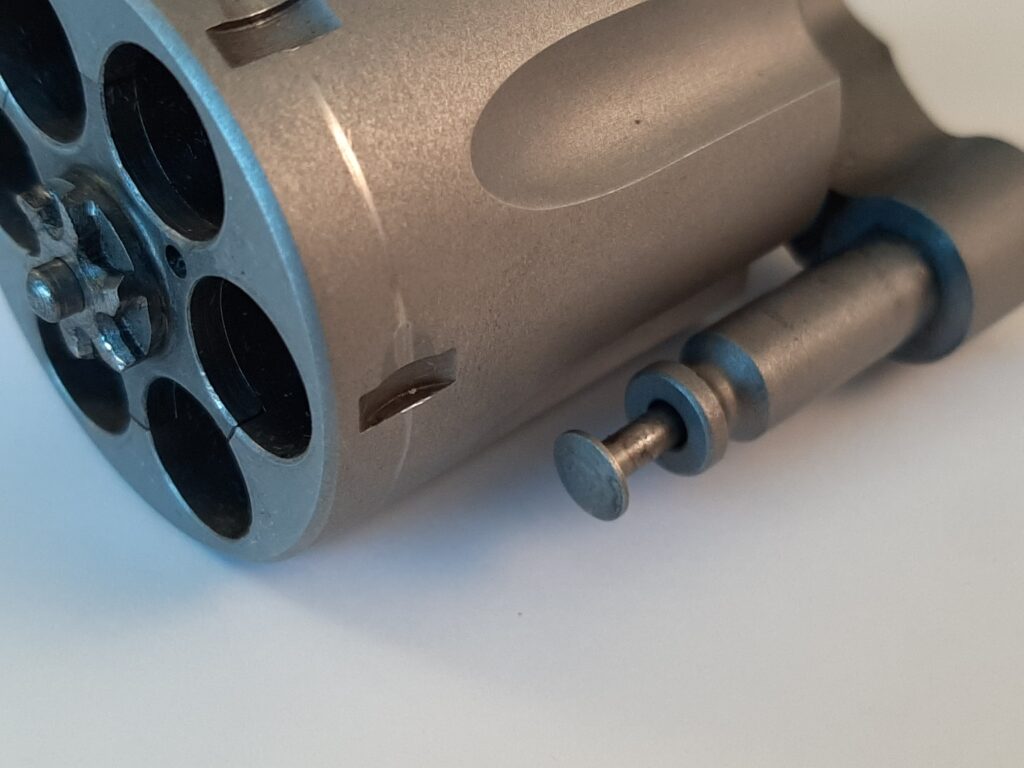 Upon reassembly, I discovered the cylinder stop had become quite flaccid. Hmm. I spent some time on U-Tube to no avail. Referring to the exploded parts diagram in the owner's manual indicated that there should be a spring and plunger extending from the rear of the yoke barrel. Mine had a gaping, mocking, black hole. Drat. Those two parts exist to provide needed upward tension on the cylinder stop.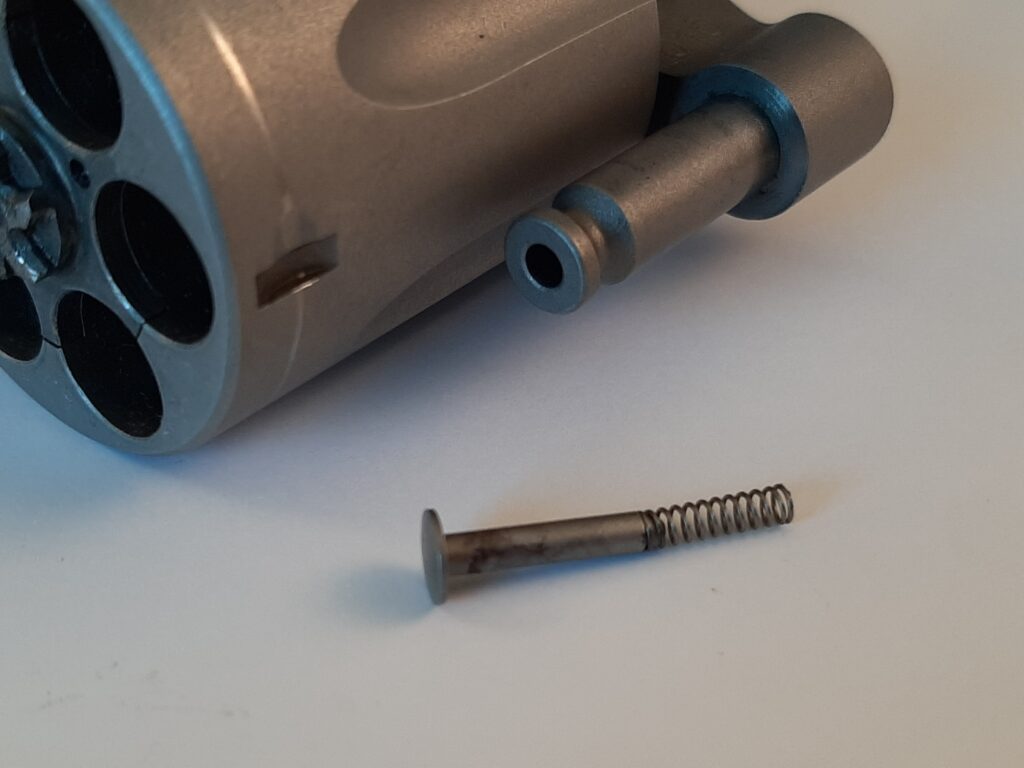 I performed the "armorer's crawl" in all parts of my residence that the disassembled revolver had travelled. After two fruitless hours, I admitted defeat and shamefully emailed Caleb Giddings for a bail out. Thanks to him (also to Cody Osborn and Alejandro Delgado from Taurus) for getting these parts swiftly sent- and my apologies for being an idiot. Externally, the 856 manual of arms is identical to a S&W, but they differ internally. The "yoke screw assembly" parts are small and easy to lose. Launching the cylinder stop plunger and spring will render your trusty 856 unserviceable, as I discovered. I share my ignorance to prevent you from having to learn these lessons the hard way!
More shots fired
When I can find it, 125-132 gr. FMJ ammo has been running 55-70 cents a round. To alleviate cost a bit, I loaded some Missouri Bullet Co. 125 grain coated RNFP's for practice stuff. Loaded on a max charge of Hodgdon's low pressure Trail Boss powder, the Missouri bullet averaged 822 fps from the 856. It shot cleanly and pleasantly and hit to the zero; the slick RNFP's gave trouble free loading from strips and loaders.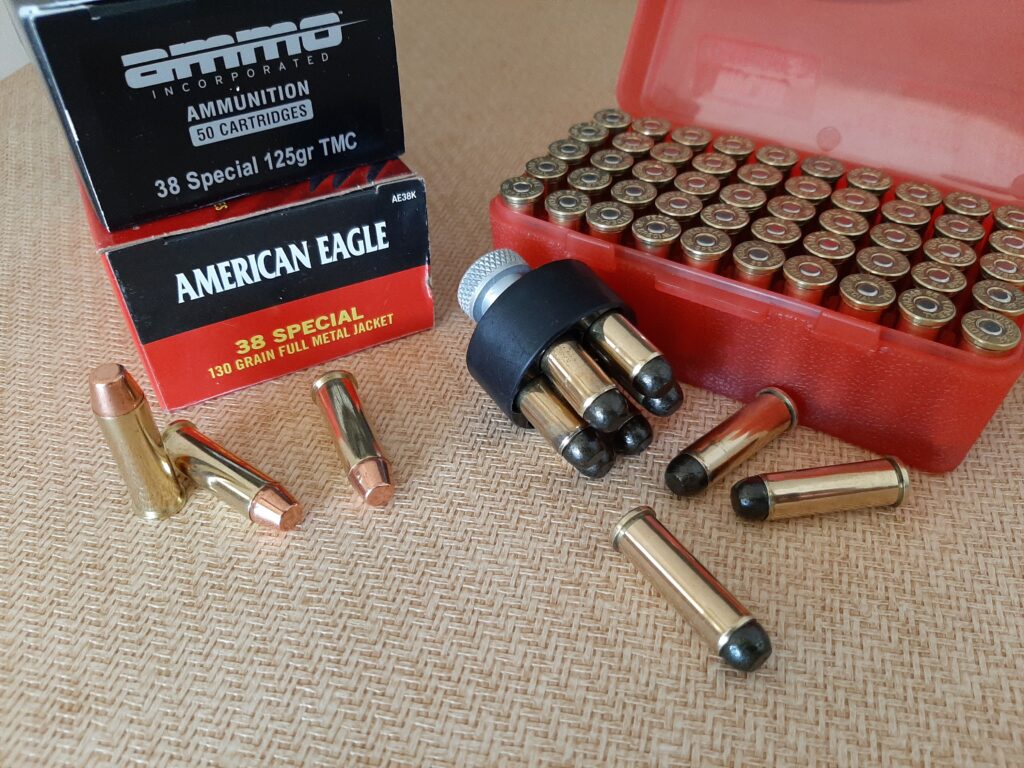 While testing handloads, I shot five Golden Sabers at a B8 taped to a Silhouette at 50 yards. There was a noticeable cross wind, and it was a struggle to not chase the red dot as it wobbled on and off the black. Even so, all five stayed on the 8 ½ by 10" paper the B8 was printed on. Again, I felt like the optic made the 856 perform like a bigger gun. The 10 yard zero had proved practical from 5-50 yards.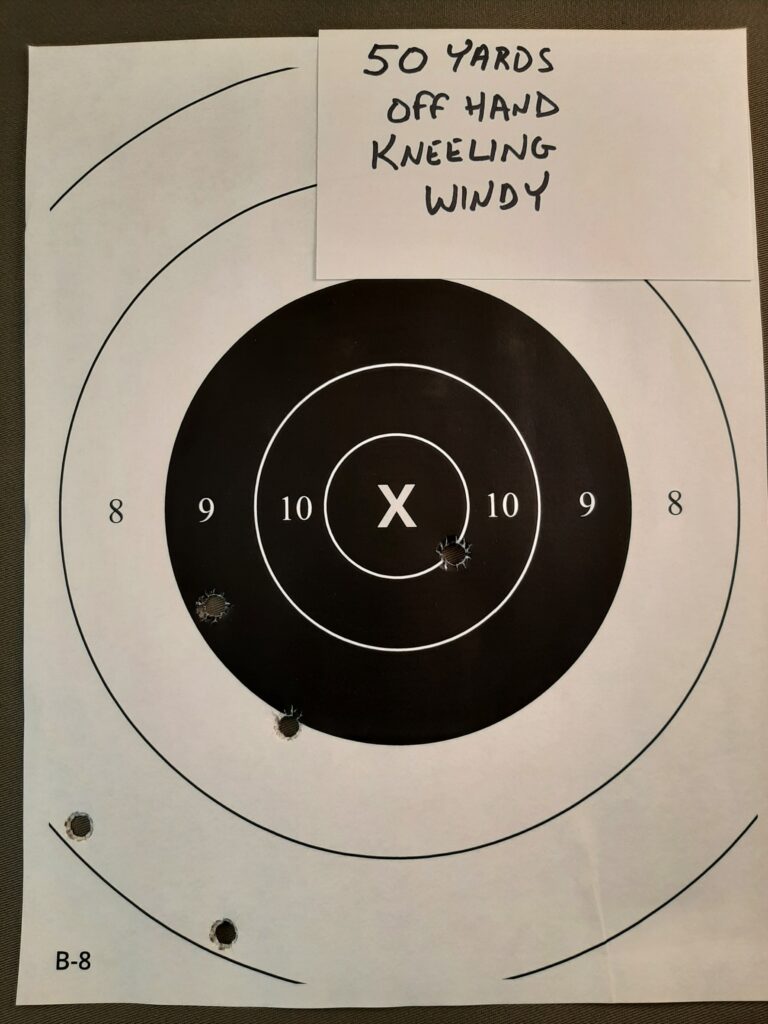 I had snagged some of Federal's new +P 120 grain Punch ammo to try out. It delivered velocity in the 1,000 fps range and grouped well. It had less blast and flash than the older generation Golden Saber and showed great promise as a carry load for the 856.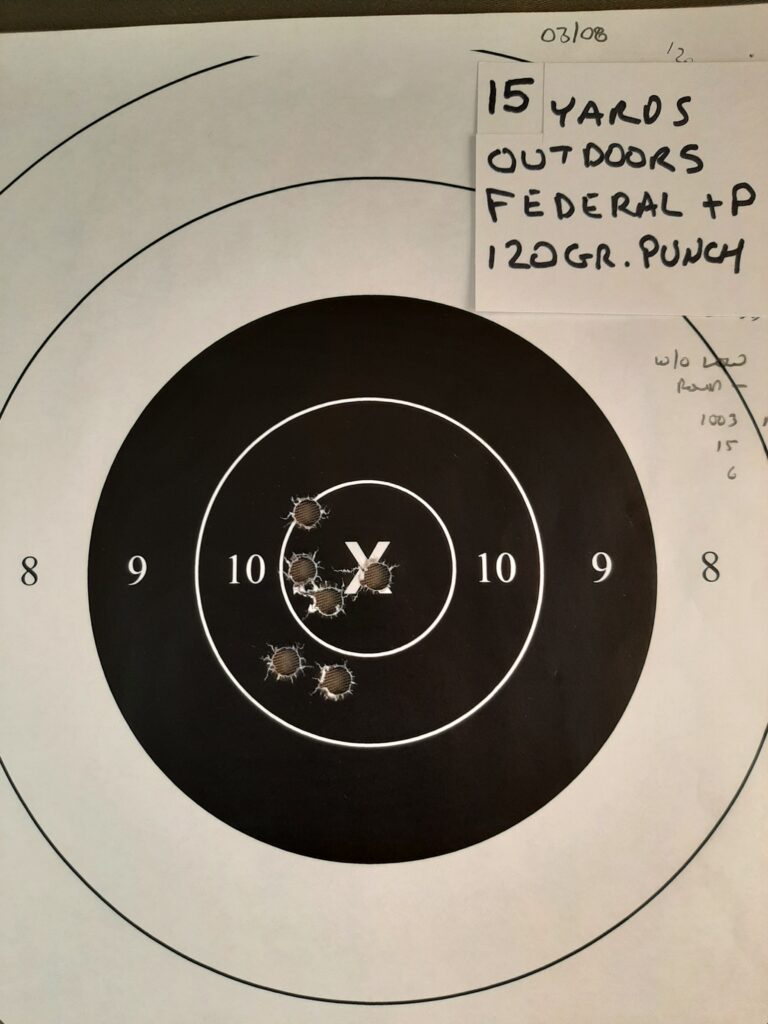 An informal comparison was conducted against a slightly larger S&W Model 65 K frame, also a 3" gun with fixed sights. I had previously painted the front sight orange and the rear black to make them more visible. This gun has a factory double-action-only hammer with a respectable trigger pull. The Taurus held its own against the Model 65. The 856 shot tighter groups indoors with all three rounds fired at 10 yards and with the Golden Saber at 15 yards. The 65 shot a slightly better group at 20 yards, but the 856 hit to point of aim, where the 65 hit high. My sight picture in the dim light with the 65's iron sights was awful as usual- I think muscle memory had a lot to do with the 65's hits being as good as they were. If you're suffering from old guy eyes, I'll say it again- shooting the T.O.R.O. indoors is a borderline revelation.
I'm now at 376 total rounds fired (83 of them, .38 Special +P) through this sample, with zero problems. I think that's a very credible performance. I know I've seen other, factory-new guns quit well before that mark.
support Gear
Giddings advised holsters should be available within a few weeks from at least three respected manufacturers- Dark Star Gear, Harry's Holsters, and Phlster.
BlackPoint Tactical's website showed that they offer their Standard OWB holster for a 3" 856. I emailed them about one for the RDS equipped T.O.R.O. version. They were quick to respond and advised they could build their Mini WING IWB for the optic equipped revolver. At least for now, the OWB can be had only for the iron-sighted 856.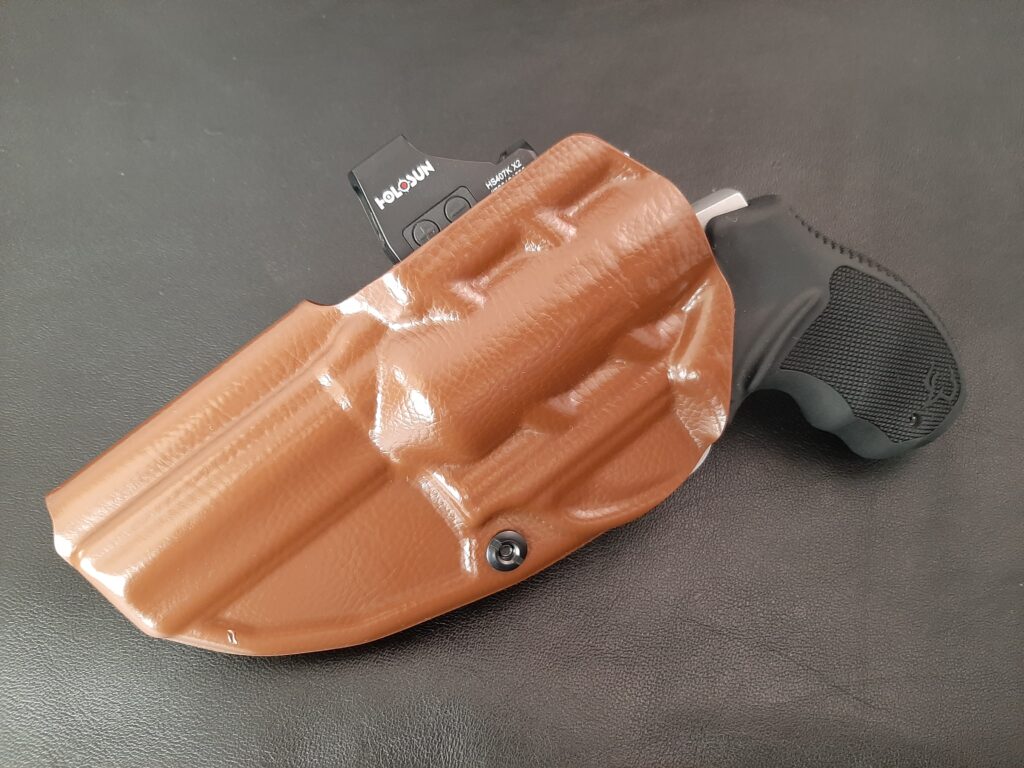 Harrison Jones (the president of Harry's Holsters) sent me a pre-production prototype of their aptly named "Monocle" AIWB holster to look at. Jones was waiting to get his hands on an actual gun for thorough testing when I wrote this. He had 3D printed an optics plate and superglued it on a non-T.O.R.O. 856 to mold prototypes.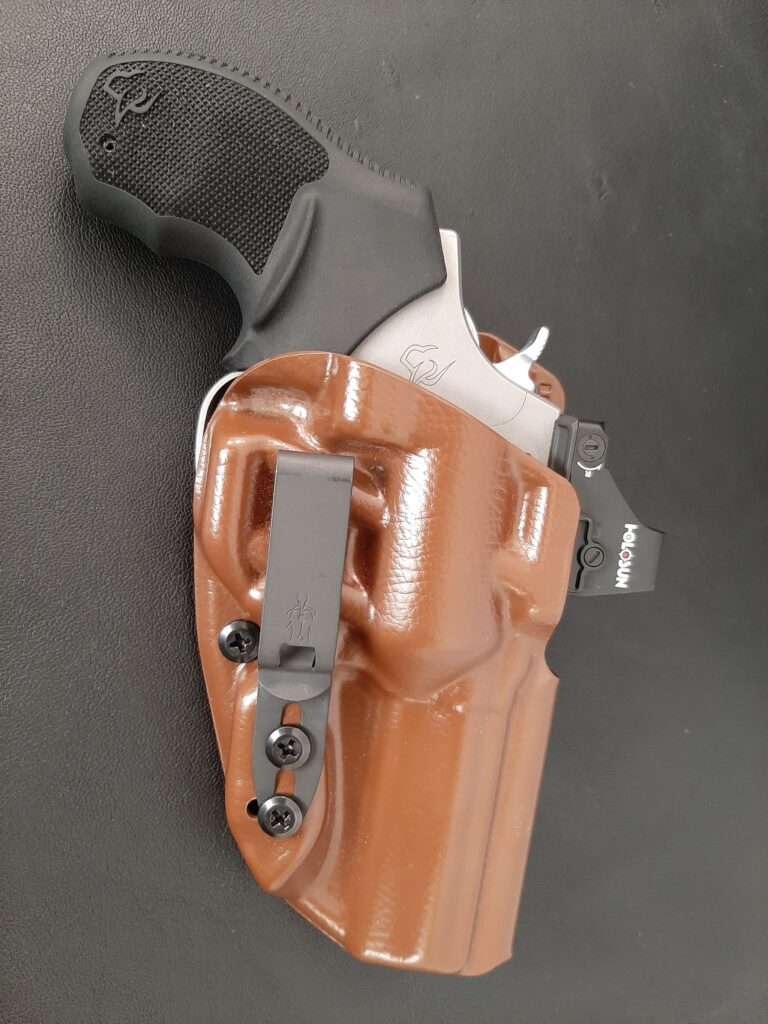 Jones pointed out that adding a dot changes ride height and weight distribution on a revolver more so than a semi auto, and he wanted to get it right before releasing a holster. Bravo on that. His holster arrived as I was finishing this article and I got to wear it for a few days. I'm pleased to report that it's comfortable, hides well, and optimally positions the optic equipped 856 for this mode of carry. It offers a little adjustment with the belt clip to balance and position the holster to individual preference.  Jones knows what he's doing, and it shows with this holster. I believe he has gotten it right and the Monocle will be an excellent choice if you favor AIWB carry.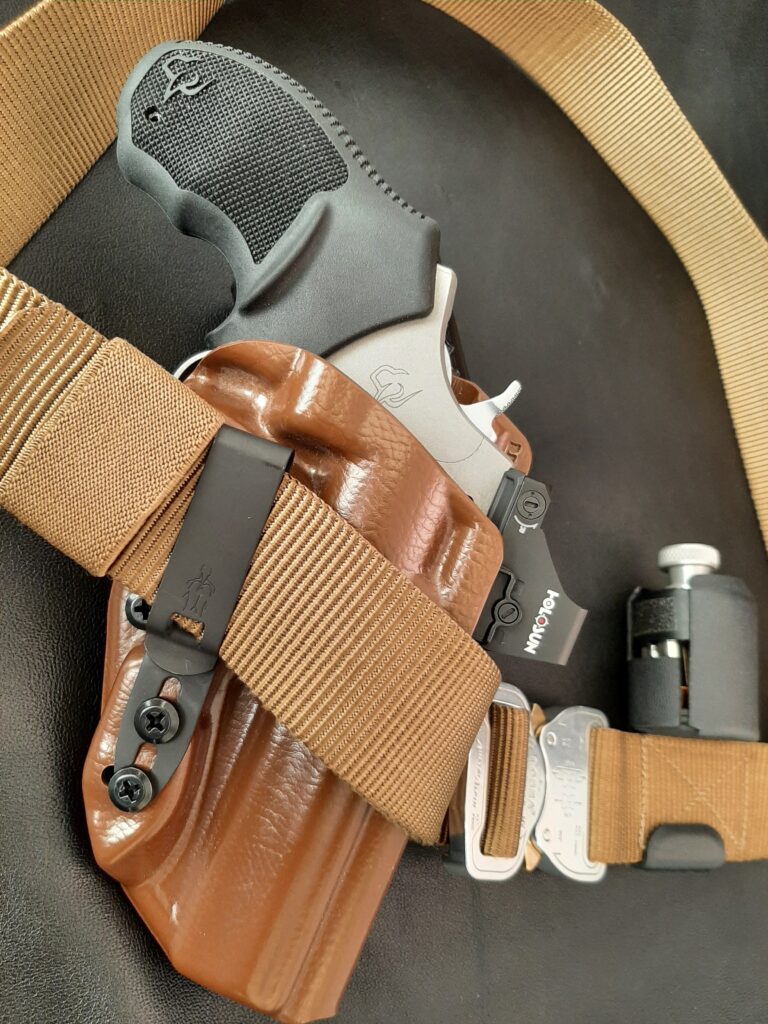 Handling
Normally, I'd opt for a bobbed hammer on a gun this size, the optic's higher profile diminishes its benefit. I have no intention of ever shooting the 856 in single action mode, but the external hammer has another use. Pulling it back a quarter inch will disengage the cylinder stop and allow the cylinder to be manually rolled around its orbit. This confirms there are no high primers on chambered ammo that could drag or even lock up the gun. It's nice to have that peace of mind if you carry a revolver in harm's way.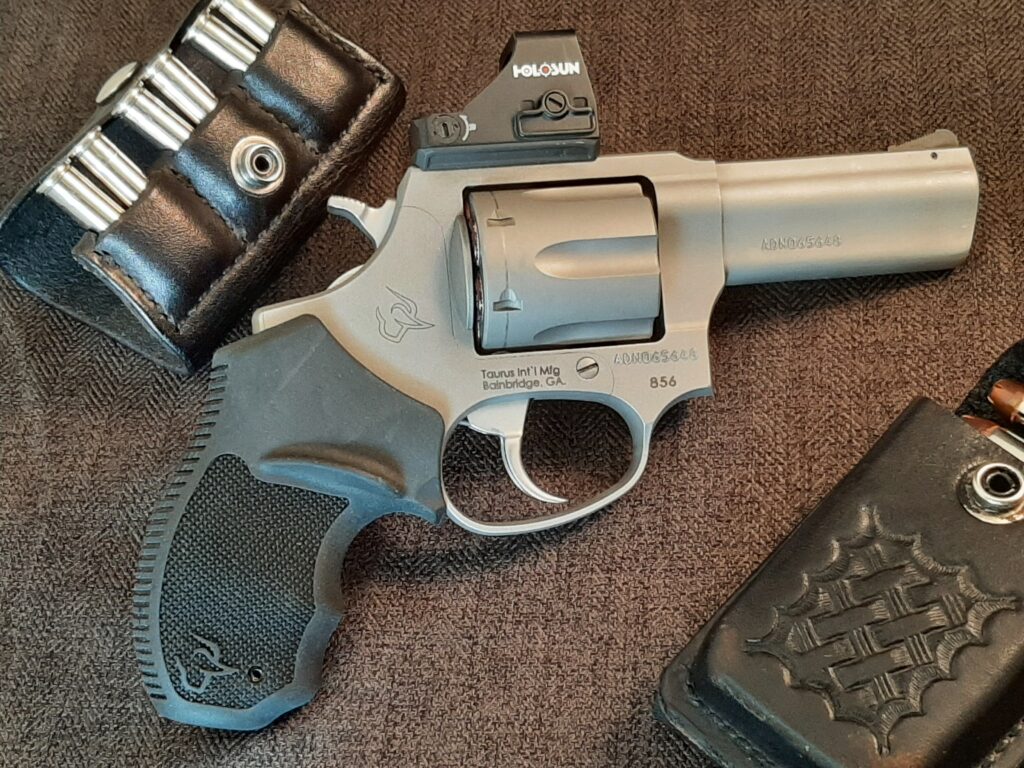 The 856 Defender is basically a 3" J frame sized gun with a 6 shot K frame cylinder. It's the perfect size and weight for a carry .38 in a holster at your midsection. I have nothing against the .357 Magnum, but I sure like this gun in a .38 Special. It's easy to shoot well, and you can shoot it all day without developing early onset arthritis. The 3-inch barrel facilitates launching modern 120-130 grain JHP's at 900-1,000 fps: an excellent balance between ballistic effectiveness and controllability in a gun of this weight.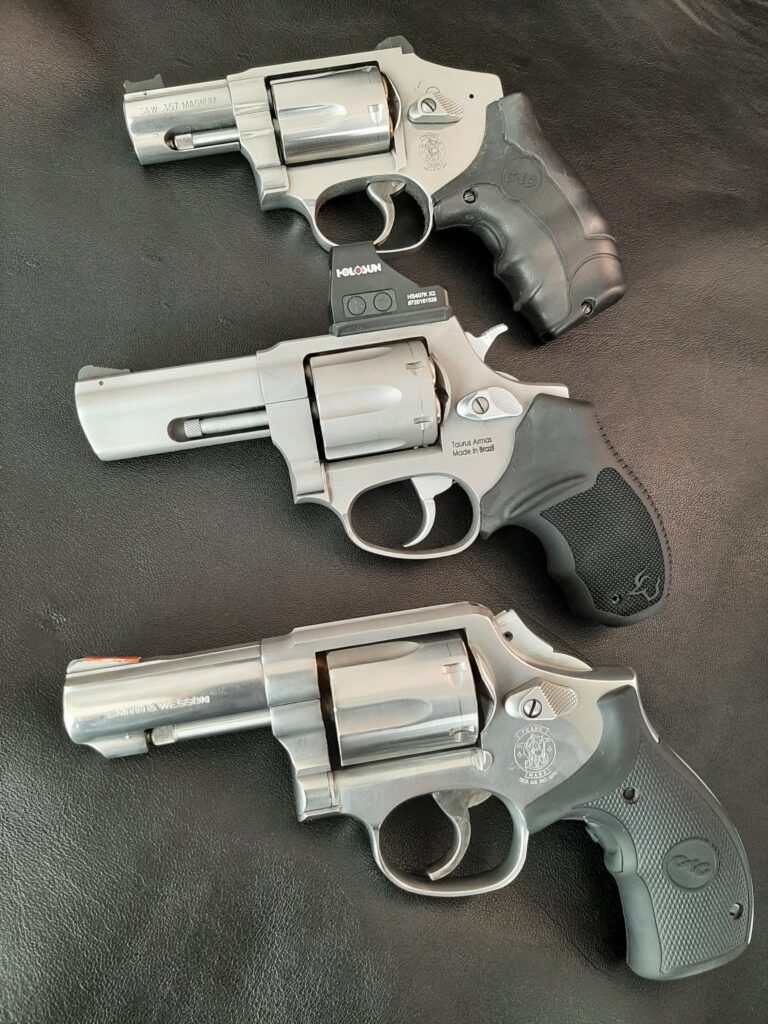 The 856's trigger was decent from the first press and has gotten better with live and dry fire. If you want a match trigger, buy a match gun. This trigger is better than those in many revolvers that cost twice as much. The 856 T.O.R.O. is an unpretentious but extremely capable revolver that yields exceptional value at its 460.00 retail price. The Holosun 407k will set you back another 225.00. For 685.00, you have a concealable revolver like no other right now. Mounting that optic handily deals with the two biggest (and almost universal) gripes we have with snub revolvers: crappy sights and chosen ammo not hitting to the sights.  
If you followed Caleb Gidding's writings before he hired on with Taurus, you'll recognize his fingerprints all over this T.O.R.O. project. Hats off to him and the Taurus crews in Georgia and Brazil- they've given us a great gun in the 856 Defender. The T.O.R.O. model makes it even better.
*****
endnotes
1. Editor's Note:  Justin is busy testing a Taurus 605 T.O.R.O. revolver for RevolverGuy as we speak, and discovered his Holosun optic had insufficient internal adjustment range to zero the gun at longer distances. His optic was grouping about 18 inches high at 20 yards with the .38+P ammo he was using, and he had insufficient adjustment range to lower the point of impact.
This data point, combined with Kevin's experience of nearly running out of elevation adjustment with his 856/Holosun setup, prompted me to reach out to Taurus' Caleb Giddings for more info about Holosun compatibility.
Caleb confirmed they started to receive similar reports about the Holosun optics  running out of elevation adjustment from media and consumers after the SHOT Show, and he's currently testing a variety of optics to learn more about the issue.  As of press time, Caleb reports he's had no problems with the Primary Arms Micro Reflex Sight, and would be comfortable recommending it as a consumer-grade option. He's also working with optics from Shield, Swampfox, and other companies, and we expect to get more feedback from him about their performance, soon.
For what it's worth, the guns I fired at the 2023 SHOT Show Media Day were all equipped with the Riton Optics 3 Tactix MPRD, and seemed to be properly zeroed for us. Riton supplies Taurus with optics for their GX4XL and TX22 pistols, among others, so Taurus already had them available to slap on the T&E guns for SHOT. They seemed to w0rk well, over an intensive day of shooting.
Caleb reports that Taurus is already looking at an engineering fix to eliminate the issue, and ensure the sight base is properly angled to support popular choices like the Holosun. For now, though, RevolverGuy readers need to be aware that some optic/ammunition combinations may not be compatible with the T.O.R.O. series revolvers, and they may need to pursue alternatives to attain the desired zero. -Mike
2. All images courtesy of the author, Kevin McPherson.