Those of you who have read my review of the Kimber K6s are aware that I gave the gun high marks with just a few exceptions. One of those gripes was that the grips didn't give enough clearance for a speedloader.
This is not just a Kimber problem–unfortunately, it's a common complaint with many grips these days. It shouldn't be, because shooters have been complaining about this bugaboo since speedloaders first became popular accessories in the 1960s, but I guess some folks in the industry haven't been paying attention for half a century.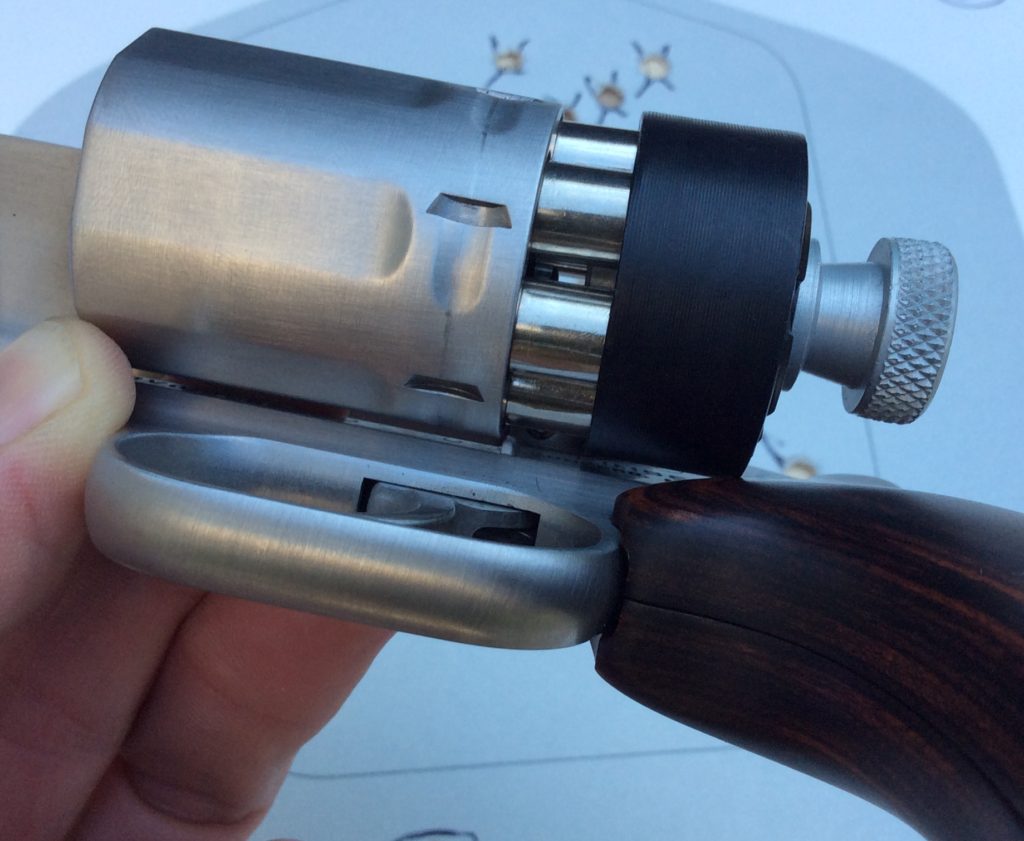 Interestingly, many manufacturers make an attempt to relieve their port side grip panels, but they just don't go far enough. Some relief cuts are just token efforts, while others are almost there, but not quite. This was the case with the K6s. The walnut stocks on my 3" stainless version and the G10 grips on my 2" DC model were both relieved, but the cutaway wasn't aggressive enough to provide adequate clearance for most loaders. A member of the RevolverGuy test team reported the same thing about the black rubber grips found on his 2" stainless model.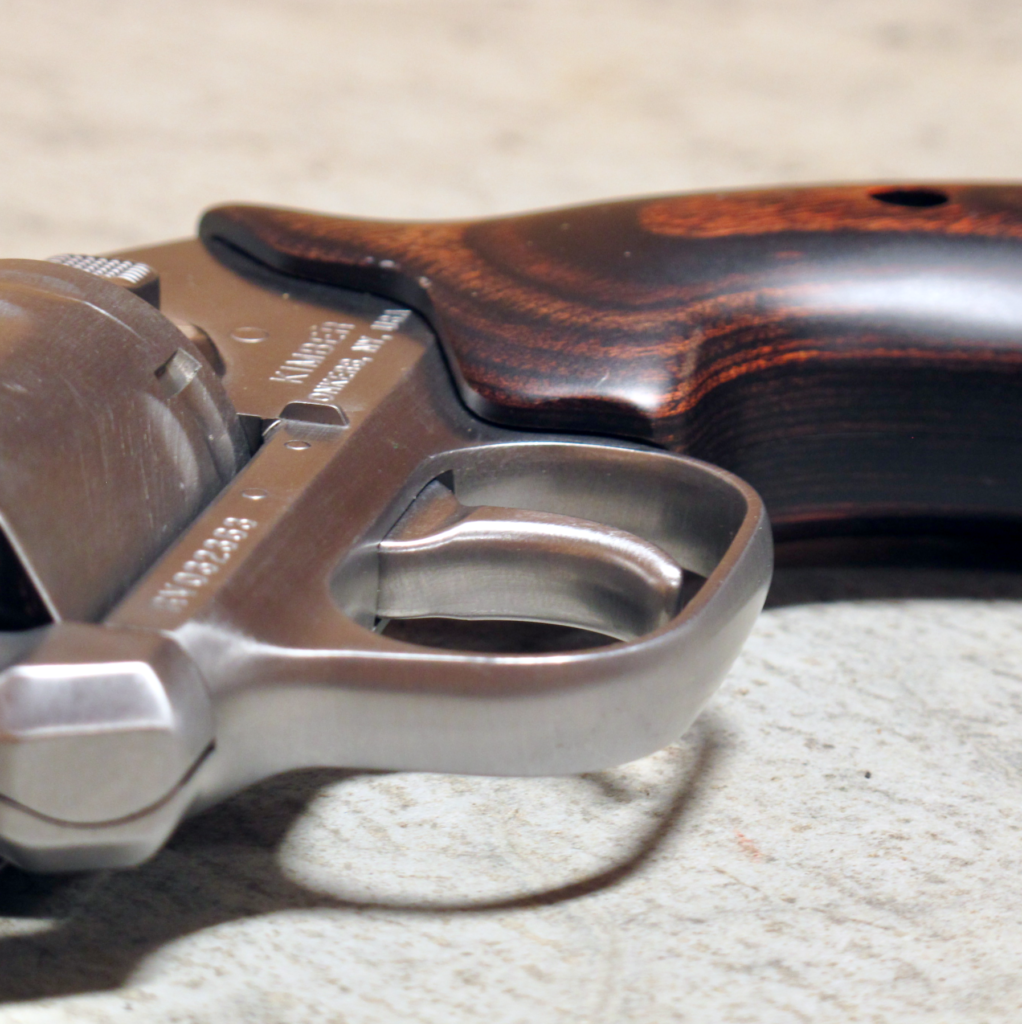 Because speedloaders come in various shapes and sizes, you can sometimes rectify this by choosing a different loader, but I was unsuccessful with this tactic for the K6s. The Kimber-branded loader–which appears to be made by 5-Star Firearms–works with the K6s factory grips, but I didn't have one available and don't care for the design anyhow, due to it's counter-clockwise release. A collection of various S&W K-Frame loaders didn't fit, and the HKS DS-A loader (designed for the D-Frame Colts, which makes it a proper size for the Kimber) didn't work either. It didn't take long before I started to suspect why Kimber supplied a DeSantis Swift Strip with each gun.
Loading from the strip-style loaders is fine, but I'd much rather use a speedloader, so there were only two ways I could go: First, I could replace the grips; Second, I could modify them.
GETTING A GRIP
Since Justin was done experimenting with his set of stippled G10 VZ Grips for the K6s, I tried that first. Unfortunately, while the interference with the HKS DS-A loader was reduced, there was still enough material in the wrong place to allow a good fit.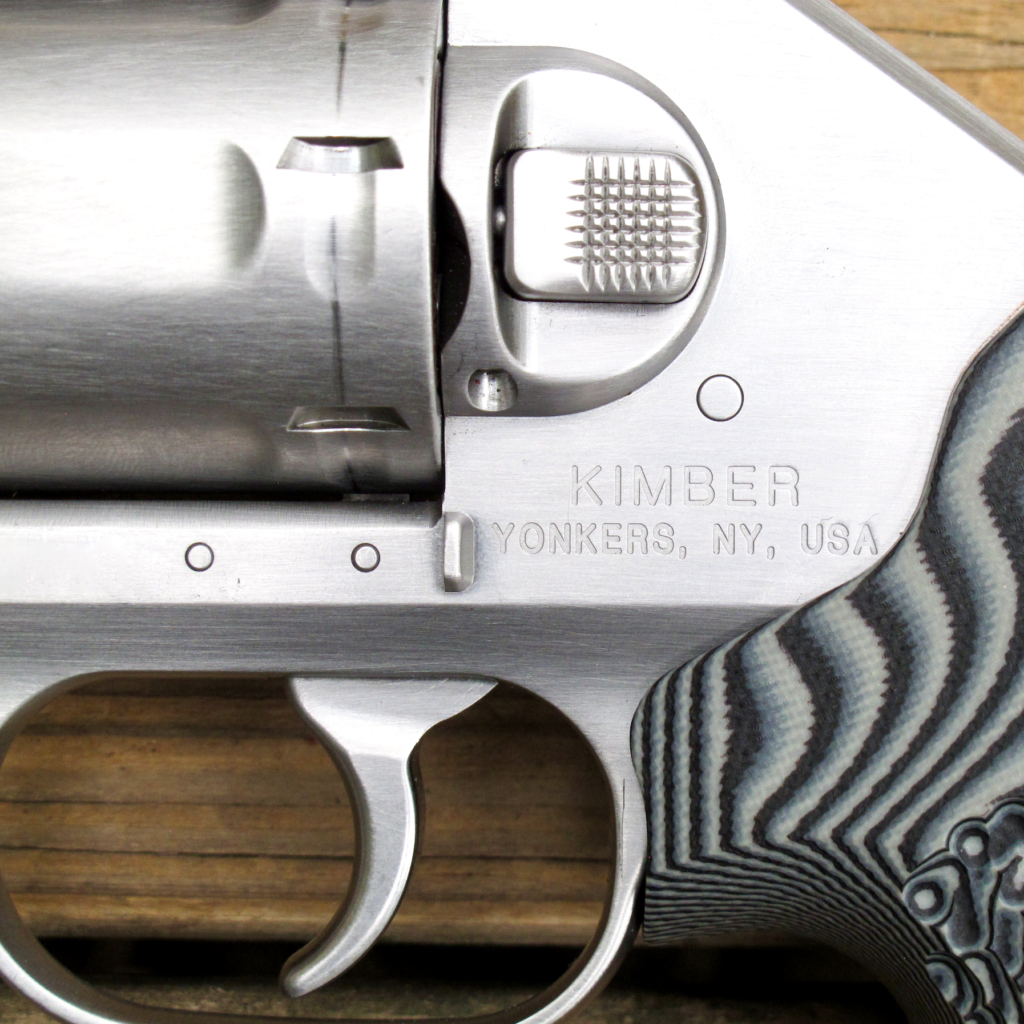 I thought about giving one of the beautiful looking Altamont Altai grips a try, but I couldn't tell from the photos if the speedloader relief was good enough, and I didn't want to spend that kind of money without knowing.
NARROWING IT DOWN
So, I decided that I would take the second route, and try to modify the walnut and G10 grips so that they would work. I did this with a little trepidation, because the factory panels were beautiful specimens and – despite the family name – I'm not a talented woodworker. However, in the end I believe function trumps fashion, so I got out the tools.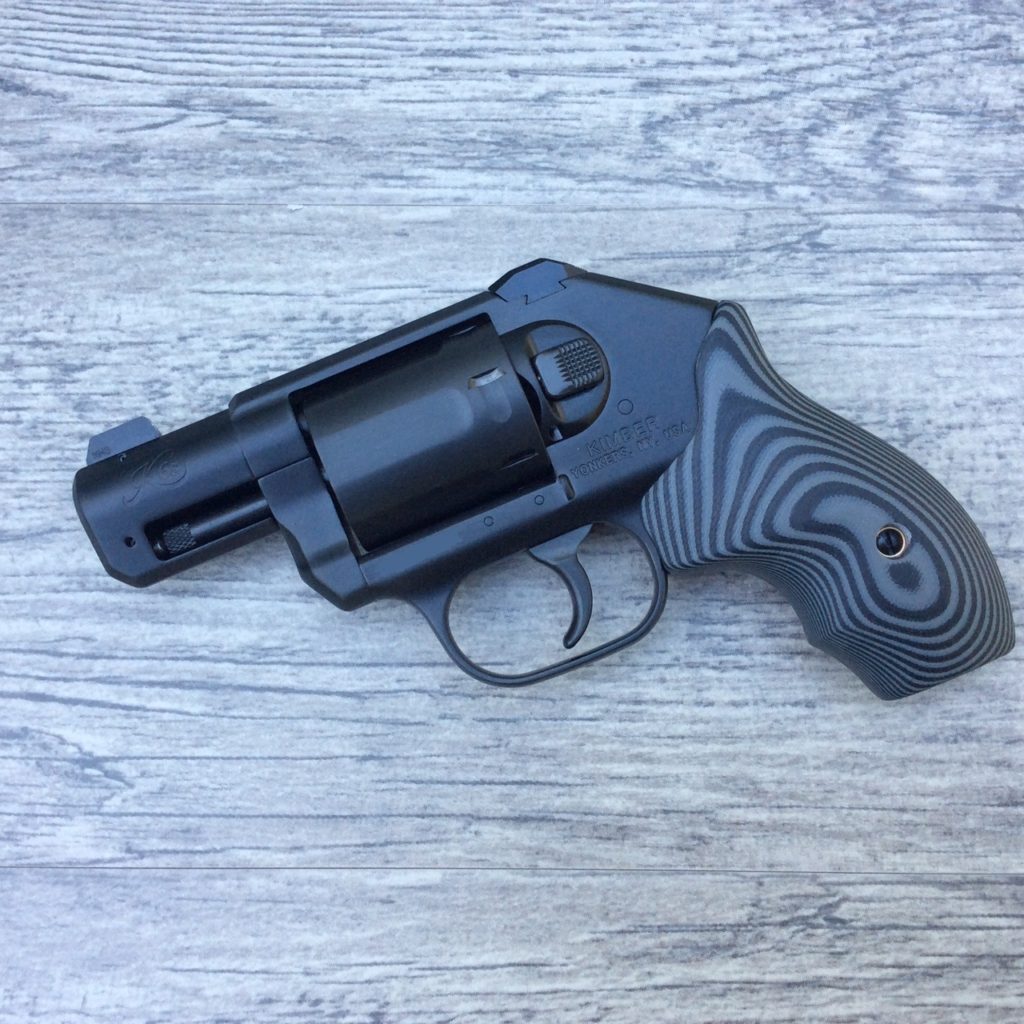 Now, those of you who are skilled in the woodworking arts might cringe at the process I'm about to describe because you know a better way, and I won't take issue with you at all. I make no claims about this method other than to say that it worked for me and gave me a reasonable result. If you have any suggestions for the RevolverGuy audience on how to improve things, please don't be bashful in the comments below. I'd be happy to hear and learn from you.
Step by Step: Revolver Grip Modification
As for the rest of you, here's what you can do if you want to follow my lead on a set of grips that are giving you problems:
1. Load a speedloader with the longest cartridges suitable for the gun. For instance, if you have a .357 Magnum like the Kimber, load up with those instead of .38 Specials. Also, consider loading cartridges with a longer ogive (i.e., heavy bullets with long noses, instead of lighter ones with short, blunt tips);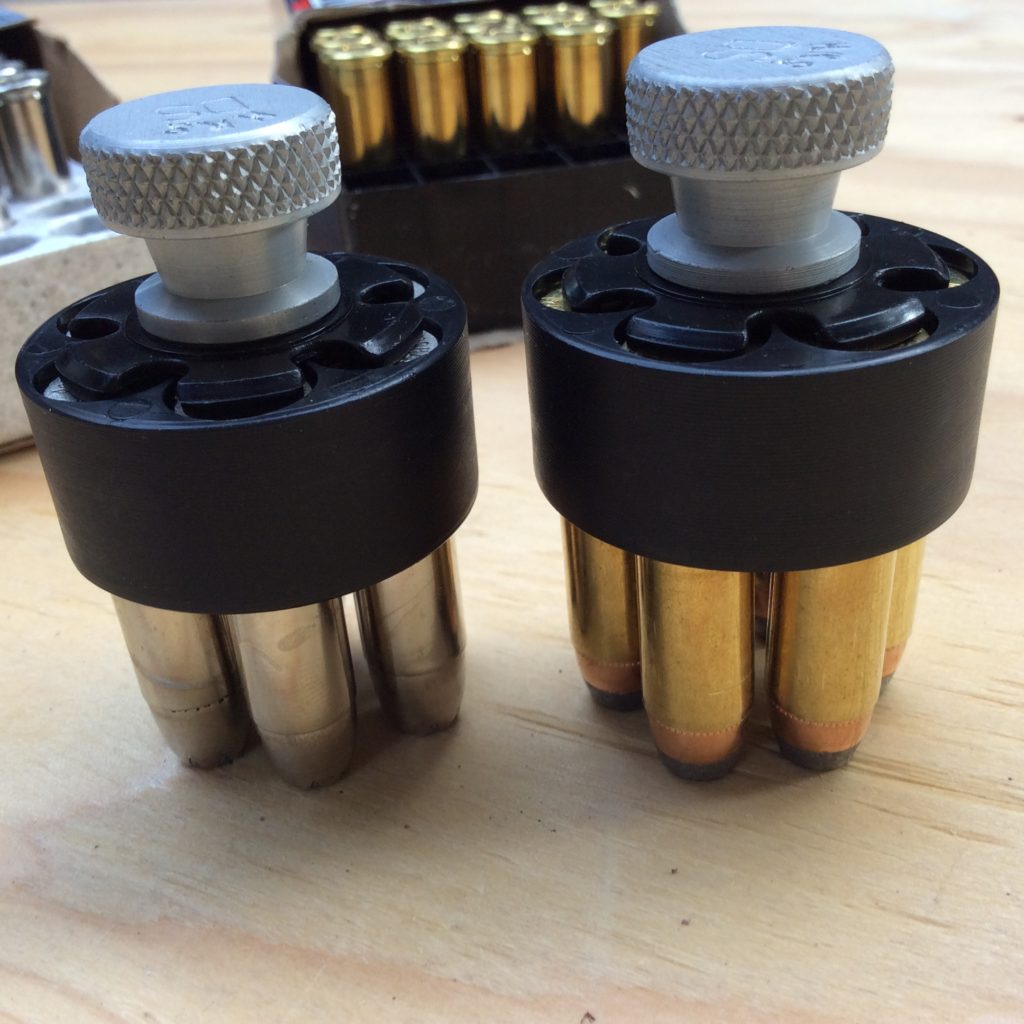 2. Mate the loader to the cylinder and insert it until it starts to bind. With a pencil, trace a "backwards L-shape" on the grip panel to mark the aft and bottom edges of the loader;
3. With the loader still in place, take a look from the side to get a feel for how much material needs to be removed to attain a good fit. You'll probably need to remove more material on the aft end of the grip due to its taper;
4. Remove the grip panel from the gun (remember to use the proper size screwdriver!) and mask off the areas outside of your marking with painter's tape (since it leaves no residue). Don't go right up to the edge of your marks—leave a space about ¼" wide around it. Also, don't wrap the tape over the edges and onto the backside of the panel, since that will interfere with your ability to reinstall the panel flush later on, and check for fit. I'll be honest enough to say that I considered masking the grips but got lazy and skipped this part. My reward was a few extra scratches that I had to take care of later, so take the time to do it right;
5. Using a Dremel tool with an appropriate tip (you could use a sanding barrel I suppose, but I used a diamond-coated, burr-style cutter) start making your cuts along the pencil lines and hog out some of the extra material in the high spots that you noted during your fit test and inspection. Don't get too aggressive at first—you can always go back and do more, but you can't put the material back!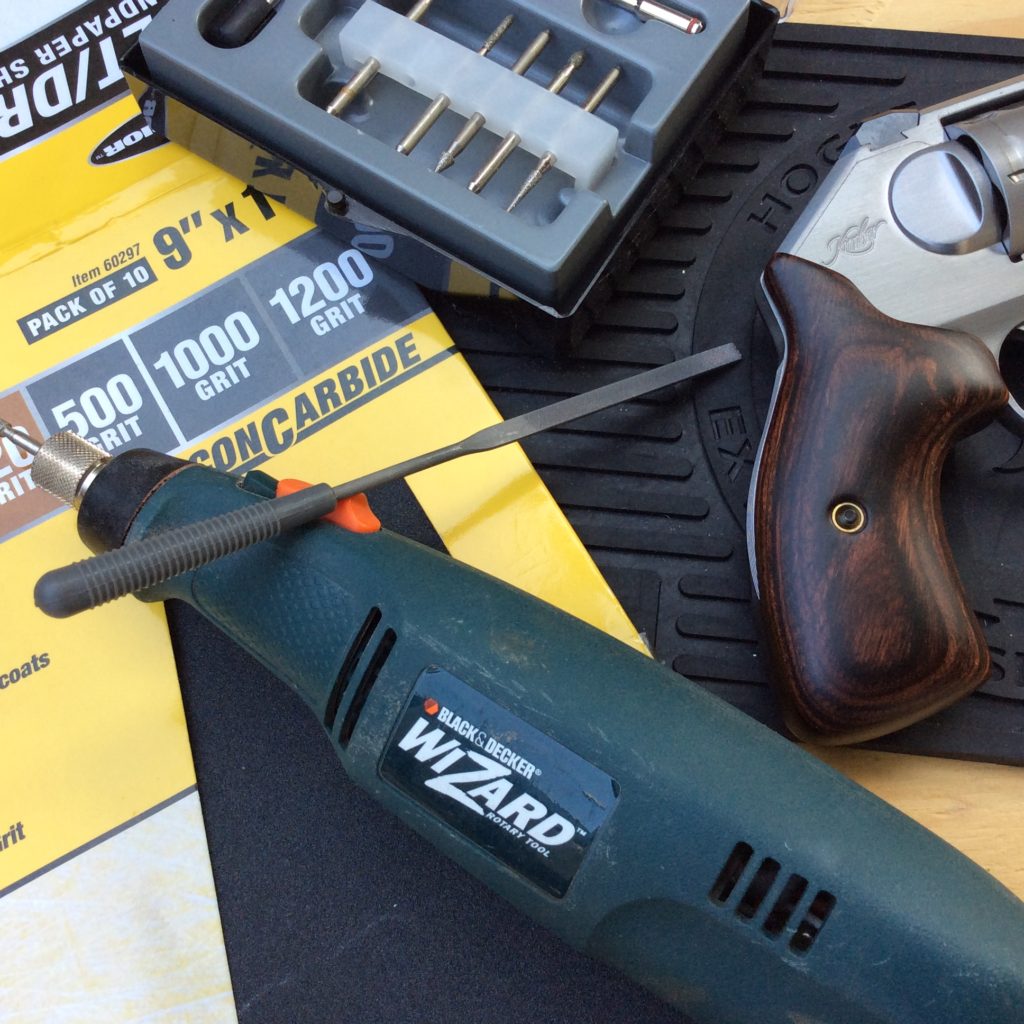 6. Switch out the Dremel for a file. Use the file to even things out and get a flat surface without any big gouges, valleys, or peaks. Also, use the file to bevel the edges of your cutout, so that you don't have an abrupt shoulder along the sides;
7. With some sandpaper, clean up the area to make it relatively smooth. I used some 500 and 1000 grit here;
8. Reinstall the grip panel and check your progress with the charged speedloader. Use your pencil to mark high spots, or expand the border of your cutout;
9. Repeat steps 5 through 8 as necessary, checking fit more frequently as you go along. The goal is to have a "90% solution" with the Dremel and file, so you can clean up the last bit with sandpaper;
10. When you've got that "90% solution," clean up the area and sand it to a smooth surface with increasingly finer grades of sandpaper. I started with just a bit of 500 grit, but quickly switched to 1000 grit for most of the work and finished things off with 1200 grit. It might help to wrap a flat piece of wood or a dowel with the sandpaper to get a flat and even surface;
11. Once you've got a good fit and a smooth surface, remove the tape and wipe the panel clean with a cloth to get all the residue off it;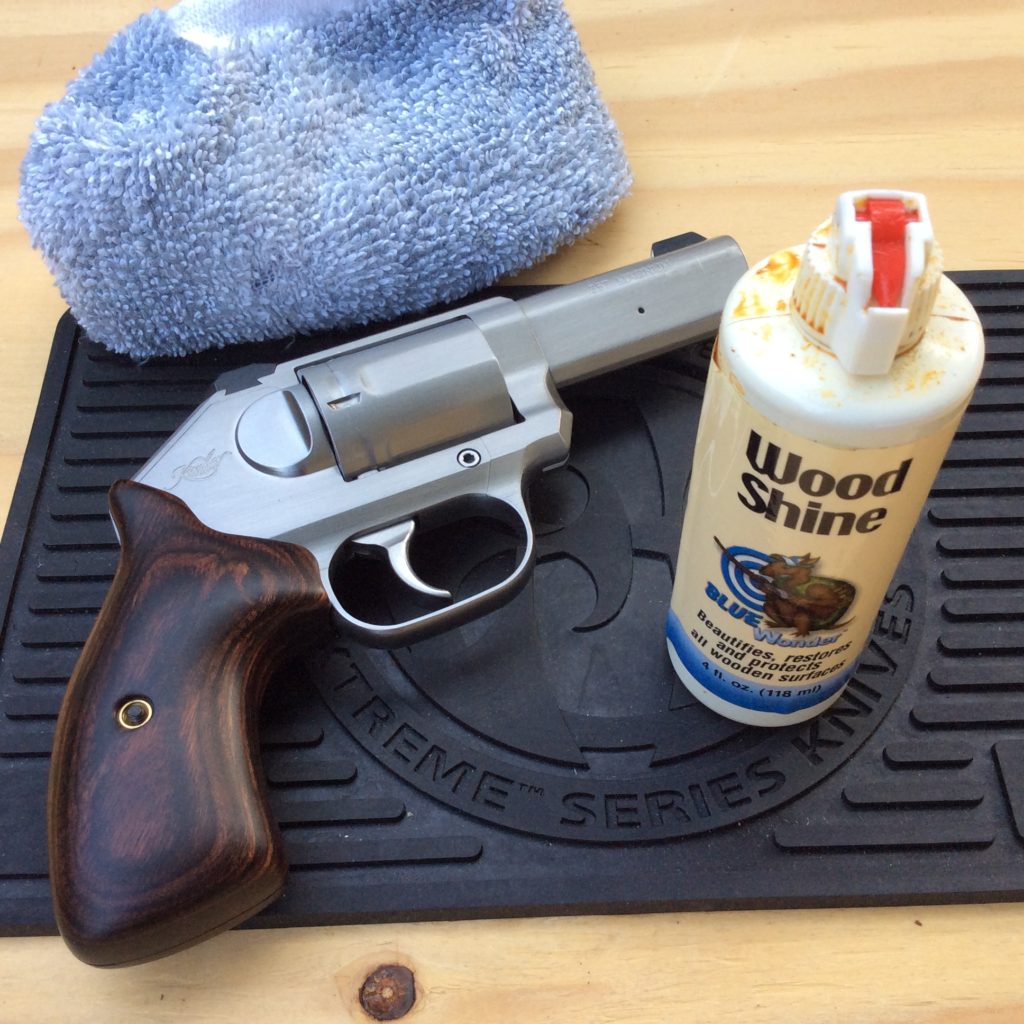 12. Put some Blue Wonder Wood Shine on a clean piece of cotton cloth and rub it into the wood, using a few coats to treat it well. While you're at it, treat the unmolested twin from the other side, too. Buff them to a shine with a clean piece of cotton cloth. Note: I used this product on the sanded area of the G10 grip as well, but didn't apply it to the remainder of the grip—it worked great, even though it was designed for wood, not G10;
13. Reinstall your panels, and enjoy!
LESSONS LEARNED
This process worked well for me and gave me a good result. I did have one small disappointment with the G10 panel though—I rubbed through the material in a small spot where the underside of the panel had been relieved and the material was thinner. This resulted in a small pinhole in the panel. It might have been unavoidable, because I needed to thin out that area for the speedloader to fit, but I would have preferred this not to happen. If I was interested, I could probably fill it with epoxy and sand it back down again, but I'm not that worried about it.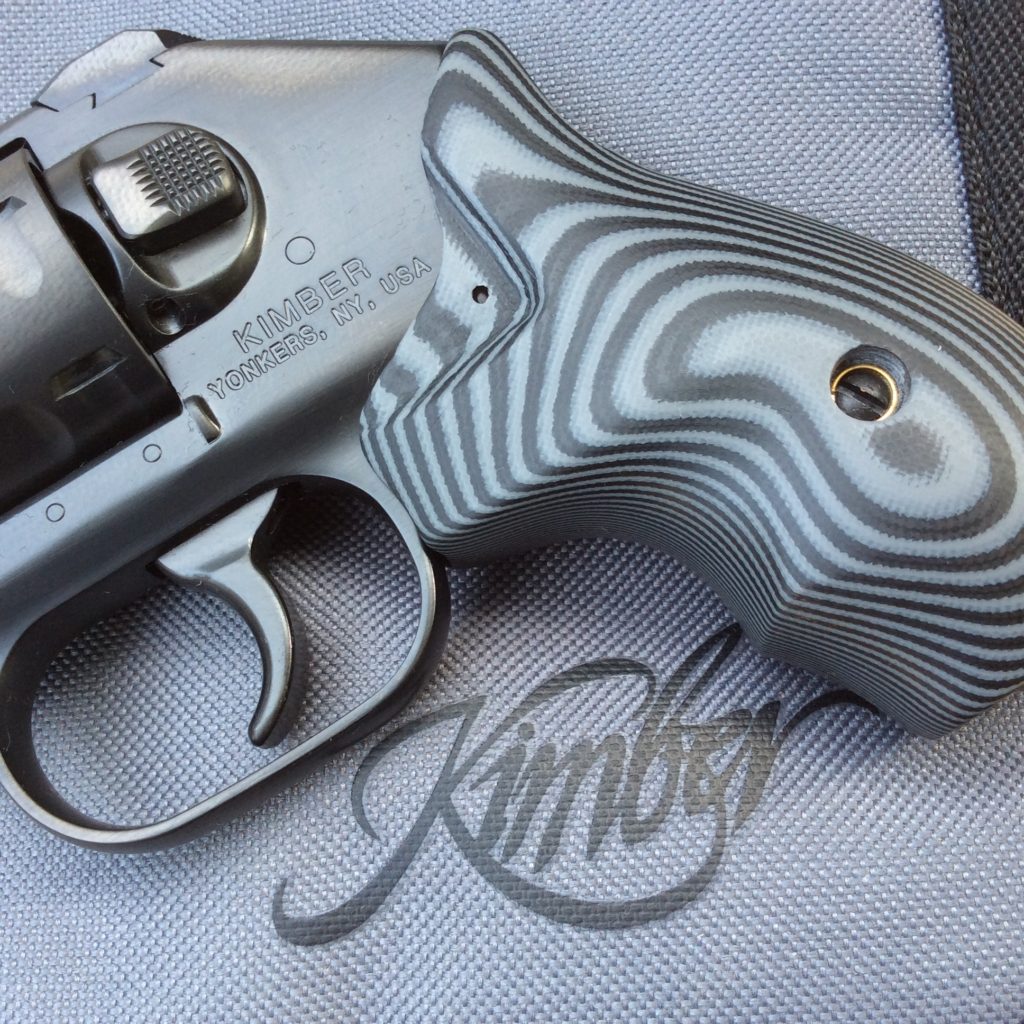 I hadn't worked with G10 before, but found out very quickly that it disappears much quicker than the wood, so go easy with that Dremel, file, and sandpaper. The G10 dust is probably not a great thing for you to be inhaling, so a dust mask a good idea.
If I'd wanted to, I could have completely cut away the offending areas of these grip panels instead of thinning them, but I thought I'd try to preserve as much of them as possible. The K6s frame has some angular lines in that area, and I thought it would look nicer and be more comfortable if I kept some coverage there. I think the end result looks nicer than just cutting away that spot completely, but the latter would certainly have been less work.
If you had to do this kind of operation on a rubber grip, I'm not sure how it would go. I suppose it's possible that you could sand the rubber and get a reasonably smooth surface, but I suspect it would be a lot easier (and less messy) to just trim the area away completely with a heated X-Acto knife, held carefully at an angle to create a beveled edge. If you've had to do this kind of work before, let us know about it in the comments.
IN THE END
I was pretty happy with how things turned out on my grip modifications. A more skilled person could have done a better job, but the result was good enough for me.
The grips look pretty good and they feel good as well, with no sharp edges to bite. In fact, the recess acts a bit like a thumb rest, and conceivably gives me a bit more control of the gun during recoil.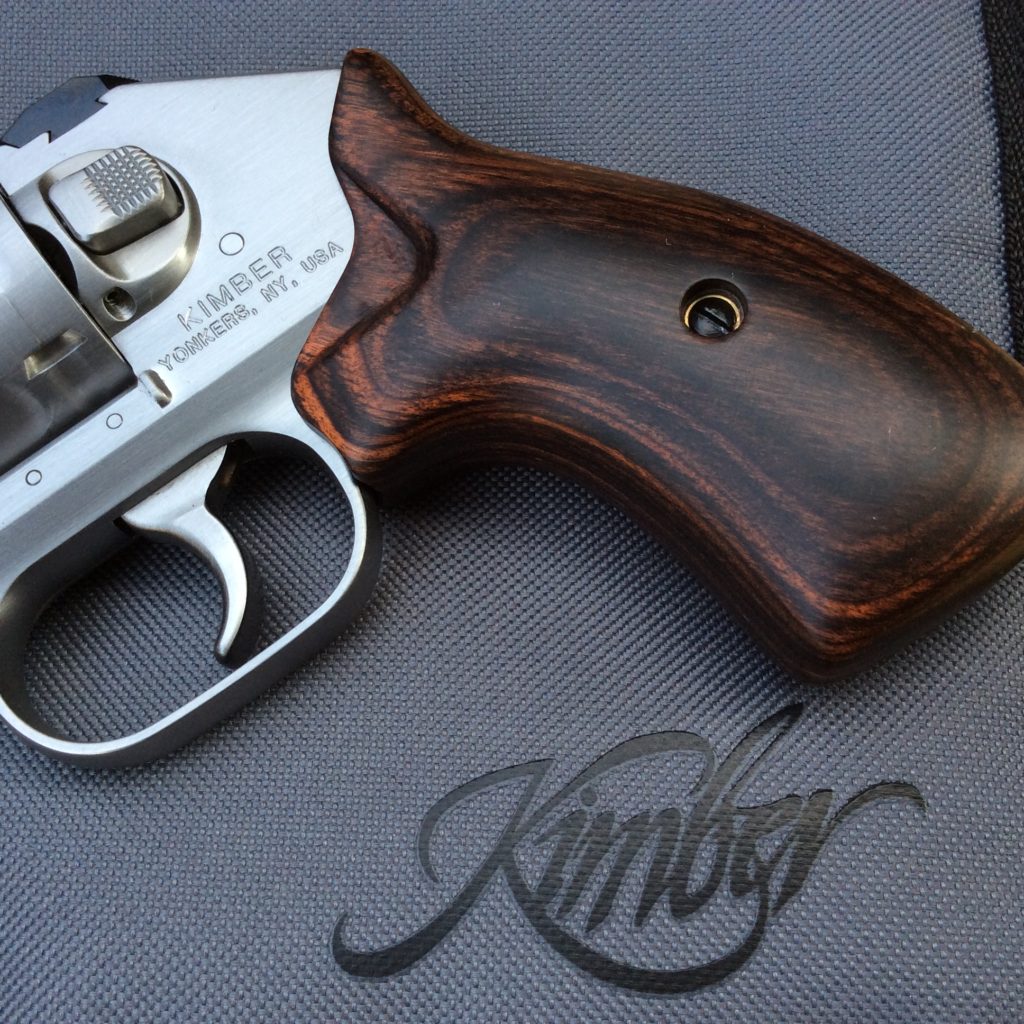 Most importantly, I can now use my ready supply of HKS loaders to feed the K6s. The various K-Frame loaders fit much better than before, but the spread of the cartridges is just a little too far apart for reliability in the K6s, so they're still a no-go. I really wish Safariland would dust off their old molds for the Colt-sized Comp II loaders! If you agree, drop them an email and tell them so.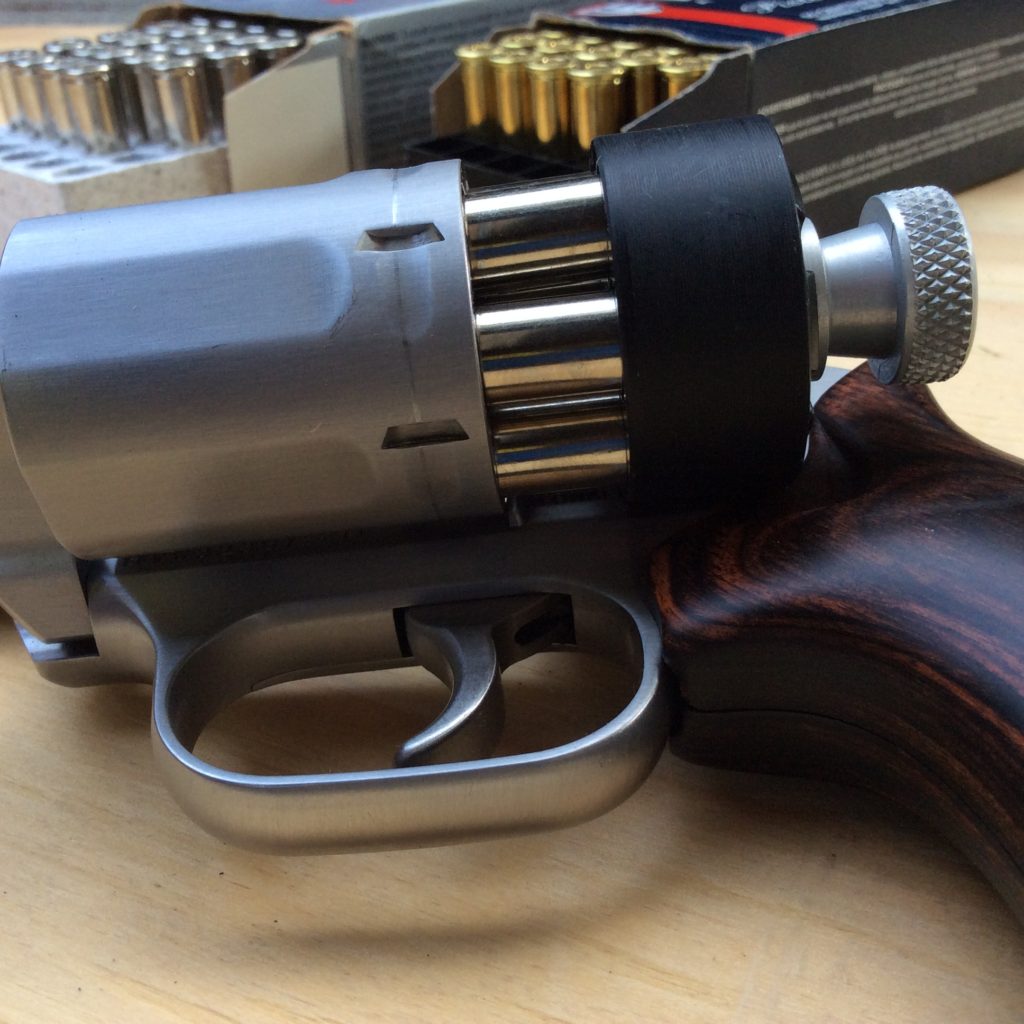 I insist on being able to use a speedloader to recharge my revolvers, and now that I have these modifications complete, my brace of Kimbers is good to go. If you have a revolver in your collection that gives you fits with loaders, you might consider giving this a try. I was glad I did.
Liked it? Support RevolverGuy on Patreon!