It's speedloader time again! A few weeks ago I reached out to 5-Star Firearms to ask for a sample of their loaders to review. They got back to me promptly and got a package on its way. I've had three or four weeks to play with these things, so here goes my review of the 5-Star Firearms speedloader.
Full disclosure: 5-Star Firearms sent me two speedloaders and a loading block for review. Some of the links on this page are Amazon affiliate links. Otherwise, I receive no compensation for the sale of 5-Star Firearms products.
The 5-Star Firearms Speedloader
When I opened the package I was greeted by two L6-357/38 speedloaders and a loading block. I happened to be hanging out with a friend when I opened the box. He is no revolver fan, and I am no fan of twistie speedloaders, but we were both in awe. The whole set was absolutely beautiful, but I'll get to that in a minute.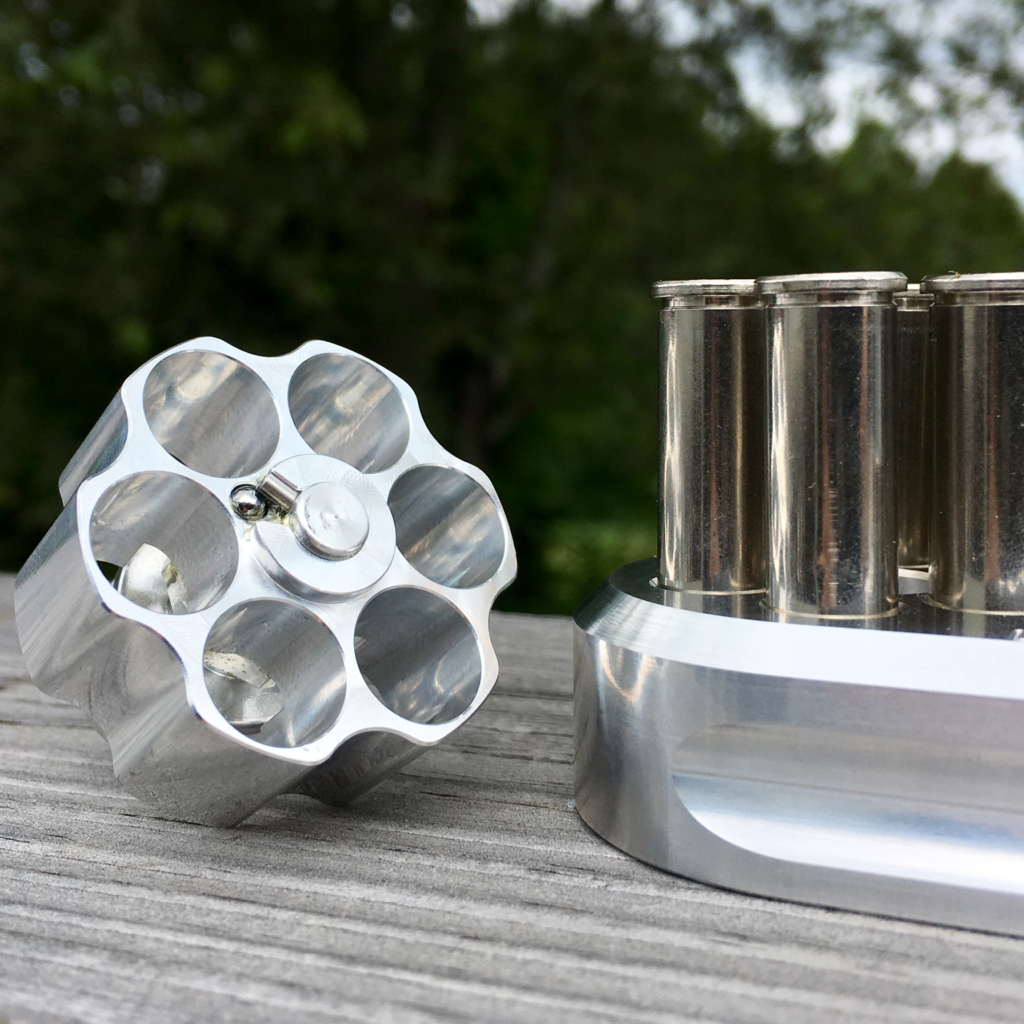 The 5-Star Firearms speedloader is your basic "twistie" loader. Loading the loader involves inverting it and dropping rounds into the holes. Ensuring they are all correctly seated, rotate the knob clockwise to lock them into place. The 5-Star loader has a very positive audible and tactile "click" when the rounds lock into place, and the big ball detent does an excellent job of holding onto the rims. To recharge your cylinder, align the cartridges and twist the knob counter-clockwise.
The loading block is billed as a bedside speedloader holder. Right upfront, I'm not going to use 5-Star speedloaders for my defensive reloads. I will absolutely be using this loading block, though. It holds two speedloaders upright, where they won't get knocked over and roll around. It is also really handy for loading up your speedloaders: drop rounds in, press speedloader down onto said rounds. As with the loaders themselves, the block is beautifully machined and engraved.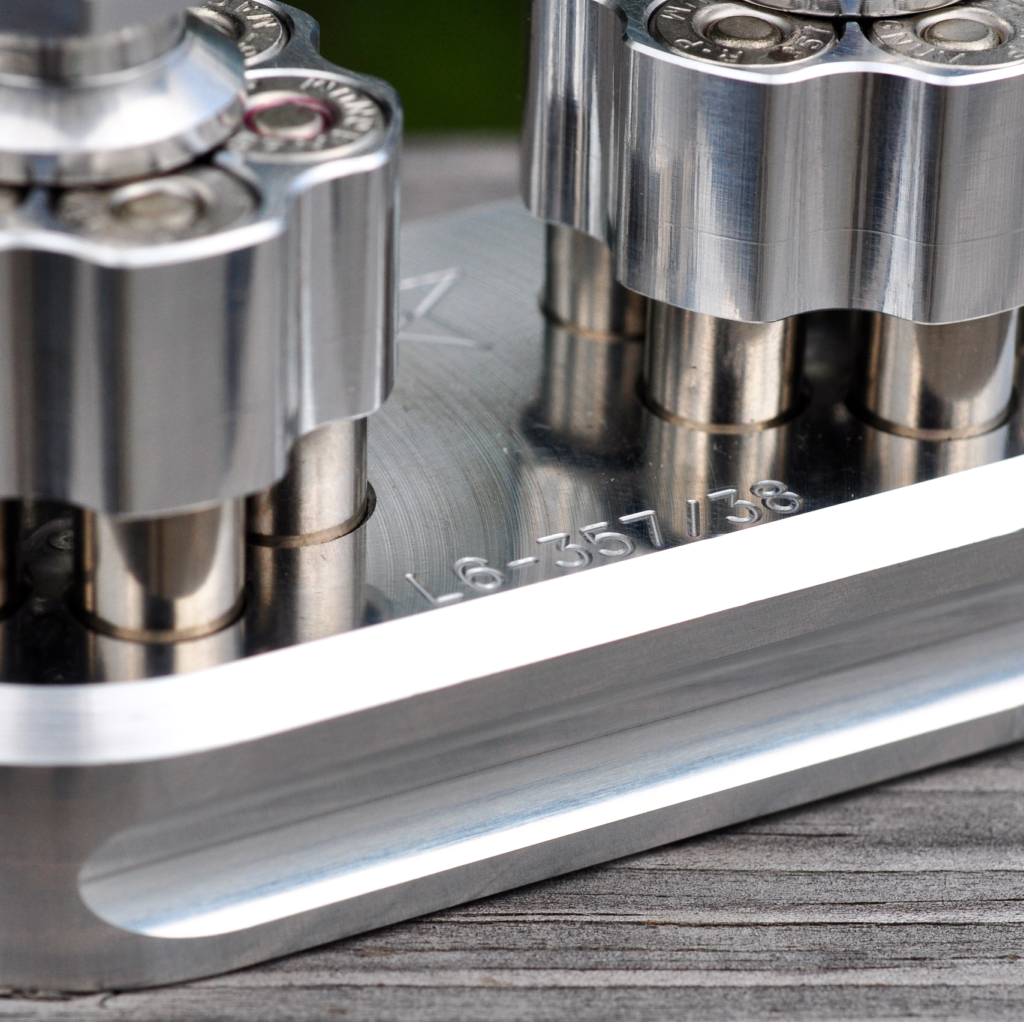 The Good
Quality & Craftsmanship: I was fully prepared to be unimpressed by the 5-Star offering. Sure, I've seen them in magazines and on the internet and they seemed…meh. My actual reaction was totally different: I was extremely impressed. If there's one word that jumps out at me, and one that I could easily oversue in this review, it is "craftsmanship". The 5-Star loaders are CNC-machined from solid aluminum stock. All of the machining is very nicely finished, with not a rough edge to be found. Though these loaders come in a variety of colors, my "in-the-white" exemplars are brightly polished, smooth, and stunning to look at. This speaks to me of a company that cares about the stuff it sells.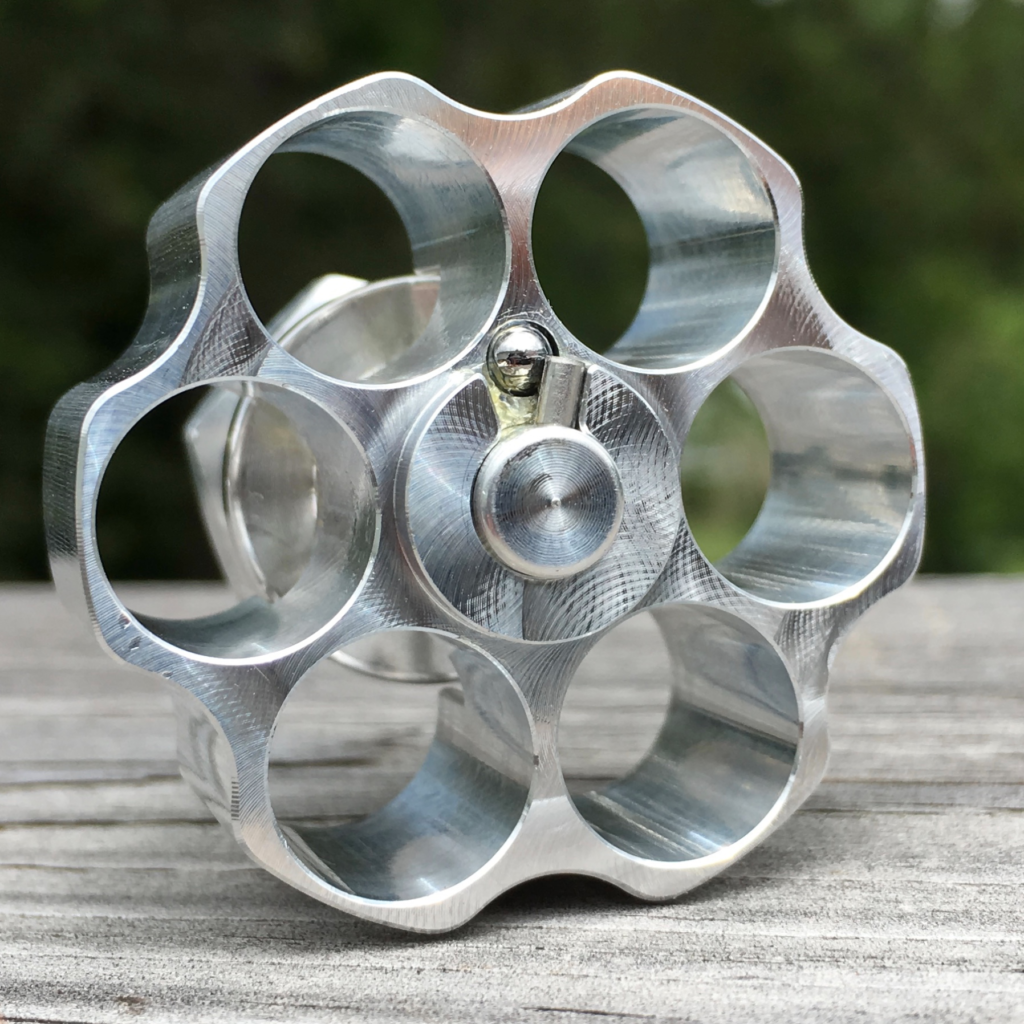 Shooting this loader was a pleasure, although it got dinged up a bit on the gravel. The rounds drop free smoothly and the knob detent is extremely positive. I also really like the scalloped design, which helps the loader overcome bulky grip panels and align with the cylinder.
Availability: The 5-Star Firearms speedloader is available for a huge array of calibers, including .22, .32/.327, .38/.357, .41, .44, .454, .460, .480, and .500. It is also available for a bunch of guns, including 5, 6, 7, and even 8-shot revolvers. They even make an appropriately hexagonal model (and a loading block to match) for the Chiappa Rhino. Though not many of us own Rhinos, this is demonstrative of the company's overall attention to detail.
I really appreciate the availability aspect, even though my guns are mainstream. It's nice to know that if I buy a K6S or a Rhino or something in .327 Federal, I'll be able to get a speedloader or two for it. Though I love SL Variant, good luck finding one! I also really like the JetLoader, but it only comes in 3 sizes. Even the Comp II is hard to come by if you shoot a non-mainstream gun or caliber.
The Bad
Though I generally fell in love with this loader, there is also some bad news to report.

Operation: I do not like twistie loaders. Because they require a non-linear motion to activate, I find them much slower and more dificult to use. I particularly don't care for the twist-knob on the 5-Star Firearms speedloader. The knob is a bit narrow, and it is smooth. This can make it difficult to achieve proper purchase, especially in a hurry. I wish the knob were slightly knurled or otherwise textured. Because this is also a pure gravity-feed design, you have to get the gun vertical to ensure the rounds fall fully into the charge holes. For some of you this is ok, but it is not my preferred technique.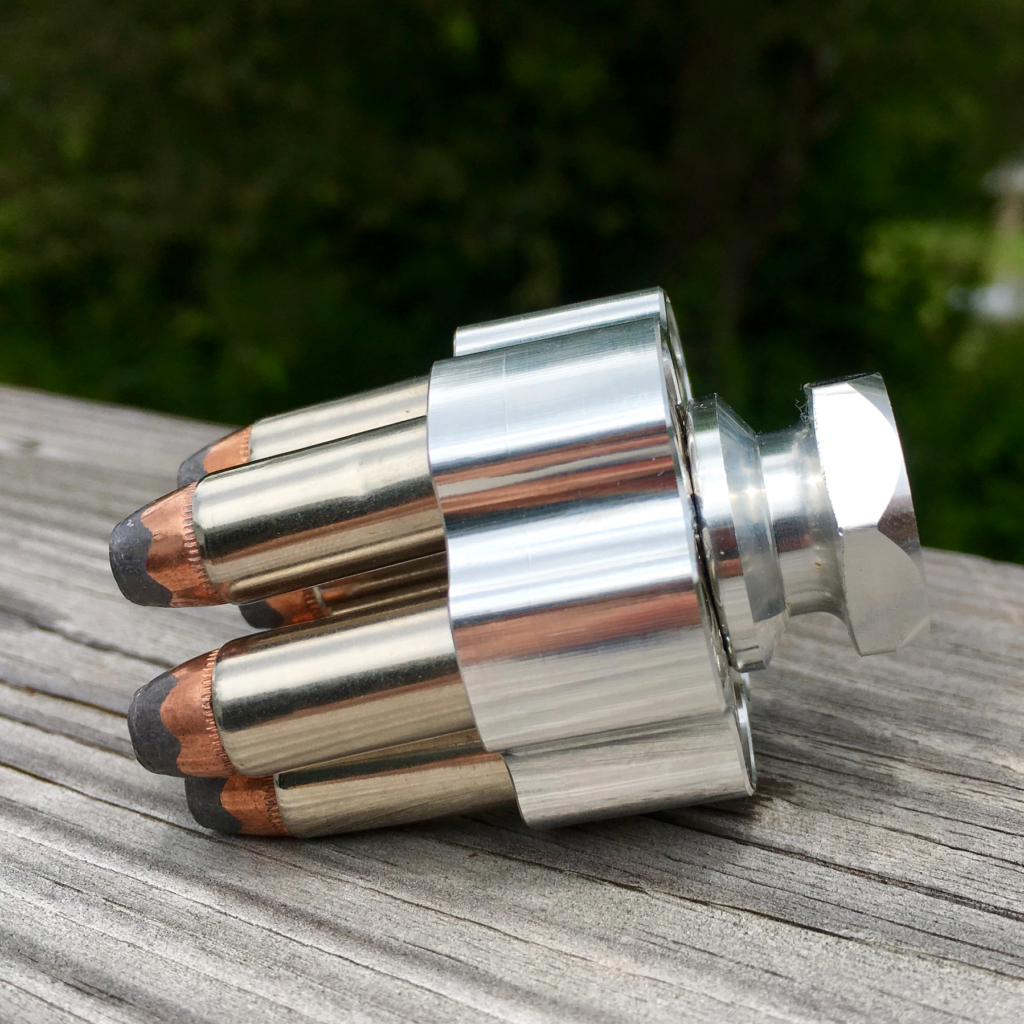 I don't like that this loader rotates counter-clockwise to release the rounds as I am more accustomed to the HKS design. This can be overcome with training if this is your desired loader, but you should pick one design and stick with it.
Round hold: This is my second biggest complaint about the loader: the rounds are held somewhat loosely. By "loosely" I don't mean they're about to fall out – they aren't. Instead, I mean they aren't held tightly and unmovingly in the loader. They jangle around noisily (at least my .357 samples did). The photo below shows the rounds sitting against one another when the loader is sitting on its side. Initially I though this might cause an issue with misalignment of some of the rounds with their respective charge holes, but the necessity to get the gun vertical to reload prevents this. In the vertical orientation all rounds hang straight down.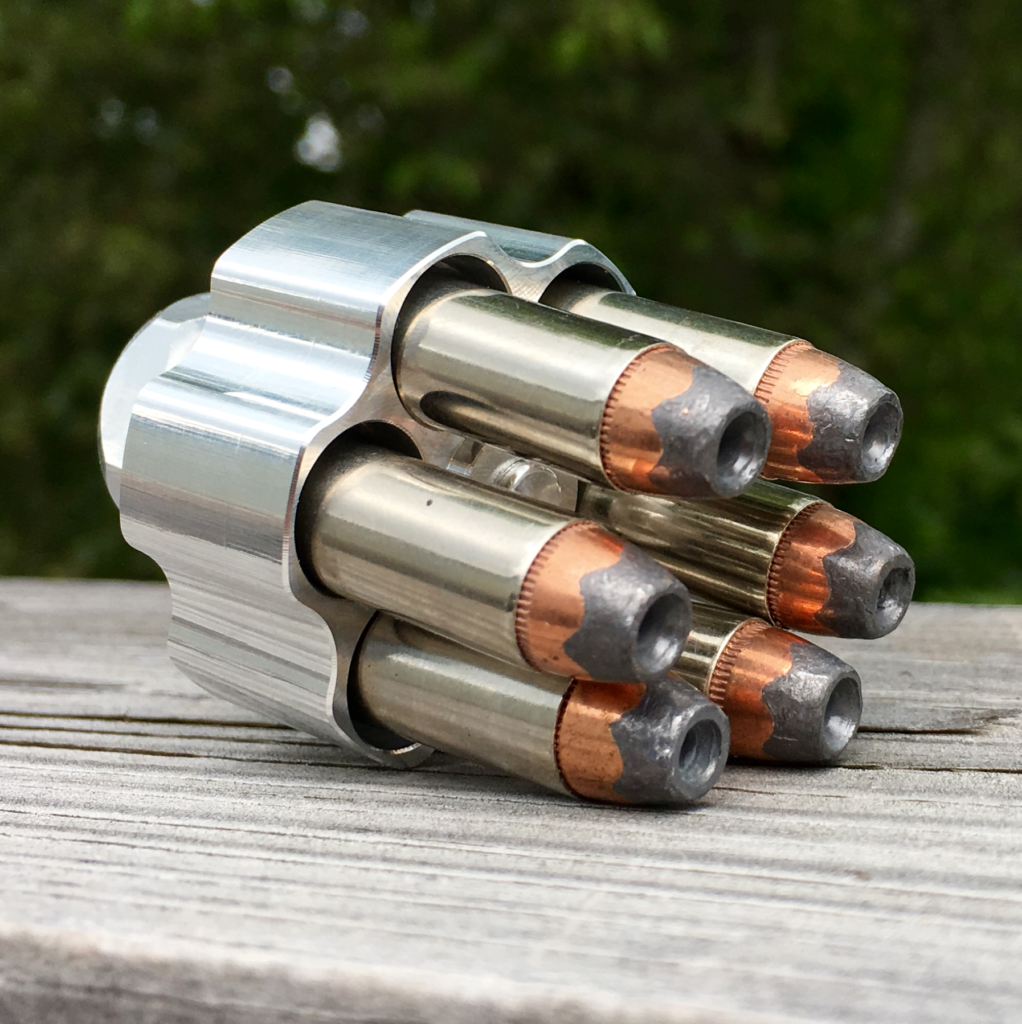 Price: 5-Star Firearms speedloaders are considerably more expensive than their nearest competitor, the HKS. With the HKS 586 running between $8 and $10 on Amazon right now, a 5-Star costs 2 to 3 times as much. I do think these are a big upgrade over the HKS loaders, but I'll do a fair review of those later and reserve my final verdict until then.
The Bottom Line
Imagine cruising the gun stores and running across that perfectly preserved, pinned and recessed Model [insert favorite model here] with a pristine blue finish that you can get lost in. By itself that finish doesn't mean anything at all about how the gun will actually function, but we love it anyhow. Now imagine showing your buddy a picture of that same gun in a magazine. It wouldn't quite translate for him, right?
That's how I felt about the 5-Star Firearms speedloaders. I had seen them online, but I had to put hands on one to really understand what they were about. Though they are expensive and don't quite satisfy my defensive requirements, I deeply appreciate the craftsmanship that has gone into them. If Smith & Wesson still had this kind of pride I wouldn't have penned the post I wrote last week that generated so many comments.
If you have a mainstream revolver in a .38/.357, I recommend the push-type loaders over this one for defensive use. However, if you are outside of the mainstream guns and calibers, or if you are outfitting a range-toy, check out the 5-Star Firearms speedloader (also available on Amazon.com). I don't think you'll be disappointed.
Liked it? Support RevolverGuy on Patreon!