The revolver was the mainstay defensive handgun in America through the mid-to-late 20th Century. While a variety of autopistols (many of them John Browning designs—all rise!) were popular with American gun carriers as well, and eventually supplanted the revolver as King, it was the revolver that filled most holsters, pockets, and nightstands.
One of the reasons for this supremacy was the widely-held opinion that the revolver was more reliable than the auto.1 When the inevitable Revolver Vs. Auto comparison was made, it was generally conceded that a well-made revolver suffered fewer stoppages and malfunctions than the equivalent autopistol, and was more "trustworthy" as a defensive arm. The autos generally boasted greater capacities and faster reloads, and had triggers (at least, in the single action format guns) that were easier to work, but the revolver's reliability often trumped all of that for most users.
In the friendly (and not so friendly) arguments between the two sides, revolver advocates frequently resorted to the shorthand that "revolvers don't jam" as a way of promoting the general reliability of their choice, and over the years, it became so commonplace to hear that claim around the gun counter, stove, and campfire, that many folks actually started to believe it!
Guess what?
There aren't many places out there on Al Gore's internet where you'll find a more spirited defense of the revolver than here, in these pages, but since we place a premium on truth and accuracy 'round these parts, we have to admit that revolvers most certainly do "jam," from time to time.
In fact, sharp RevolverGuys know there's a lot of ways that a revolver can go down, mid-stride.  Some are the fault of the gun, many are our fault, and others can be blamed on the ammo we stuffed into the chambers (making it our fault, again, sometimes).
Since we'd like to avoid hearing one of the two "loudest sounds in the world" (a "click," when we're expecting a "bang," or the equally-shocking opposite), it's probably a good idea for us to do a quick rundown of the various ways a revolver can burp. Some of these are true malfunctions (where the machine doesn't work as designed because it's broken, or has some kind of defect), while others are stoppages (where the machine doesn't work as designed because we failed to maintain, operate or feed it properly), but neither one of them are good. The latter (stoppages) can usually be fixed on the spot, by the shooter, but the former (malfunctions) usually require tools and the help of an armorer or gunsmith to correct.
So, without further adieu, here's a brief look at some of the more common ways you can have a bad day with your revolver.
Malfunctions
There's a lot of different parts that can break on your revolver, but here's some of the more common failures (and a few uncommon ones) to keep an eye out for:
Broken spring. A broken mainspring, sear spring, trigger return spring, rebound slide spring, firing pin spring, extractor rod spring, extractor bolt spring, or cylinder stop spring can make your revolver stop revolving. Sometimes these springs fail due to cumulative fatigue, but other times they fail because we monkey with them, in an effort to "improve" something.  The best ways to avoid a spring problem are to inspect them regularly, replace them at the appropriate intervals with an OEM or high-quality aftermarket spring, and stop futzing with them! Also, use a spring of appropriate power for the task—some of the lighter replacement springs that are offered to "improve" revolver actions will break prematurely because they're not robust enough for the job;

Broken firing pin. A broken firing pin, or "hammer nose," can also stop making your gun go "bang." Although live fire will certainly degrade this part over time, it seems like most of the damage I've encountered has its roots in dry fire. The firing pin will sometimes break in both rimfire and centerfire guns if you aren't using some kind of "snap cap" or dummy ammo to cushion the pin's strike during dry fire.  In the case of the rimfires, the tip of the pin may strike the edge of the chamber and break. In the case of the centerfires, a frame-mounted firing pin may slam into the firing pin bushing with too much force if the pin doesn't encounter the resistance it normally gets from the primer, and break along a stress riser. Once again, your best solution is to inspect them regularly, use the right ammo (ammo with excessive pressure may accelerate wear), keep the channel clean, replace the firing pin spring (as equipped) at the appropriate interval, and use some kind of snap cap or dummy round when dry firing;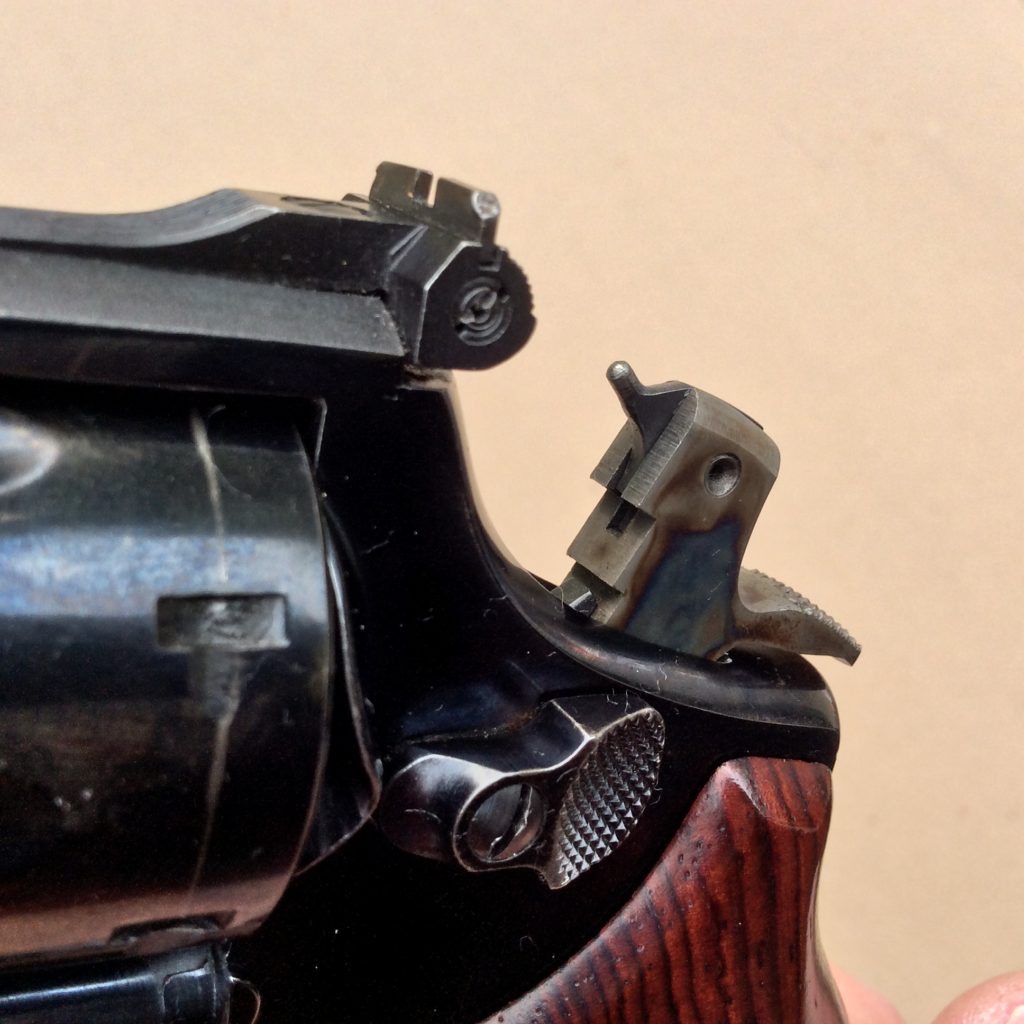 Broken or worn hand. The hand is a high wear part, particularly in the Colt revolvers, and will eventually wear or deform to the point that it doesn't turn the cylinder in proper fashion, causing a timing issue.  In an extreme case, it may even break, outright. The best way to care for the hand is to keep the hand and ratchet clean, inspect the hand regularly, and replace it at the proper interval;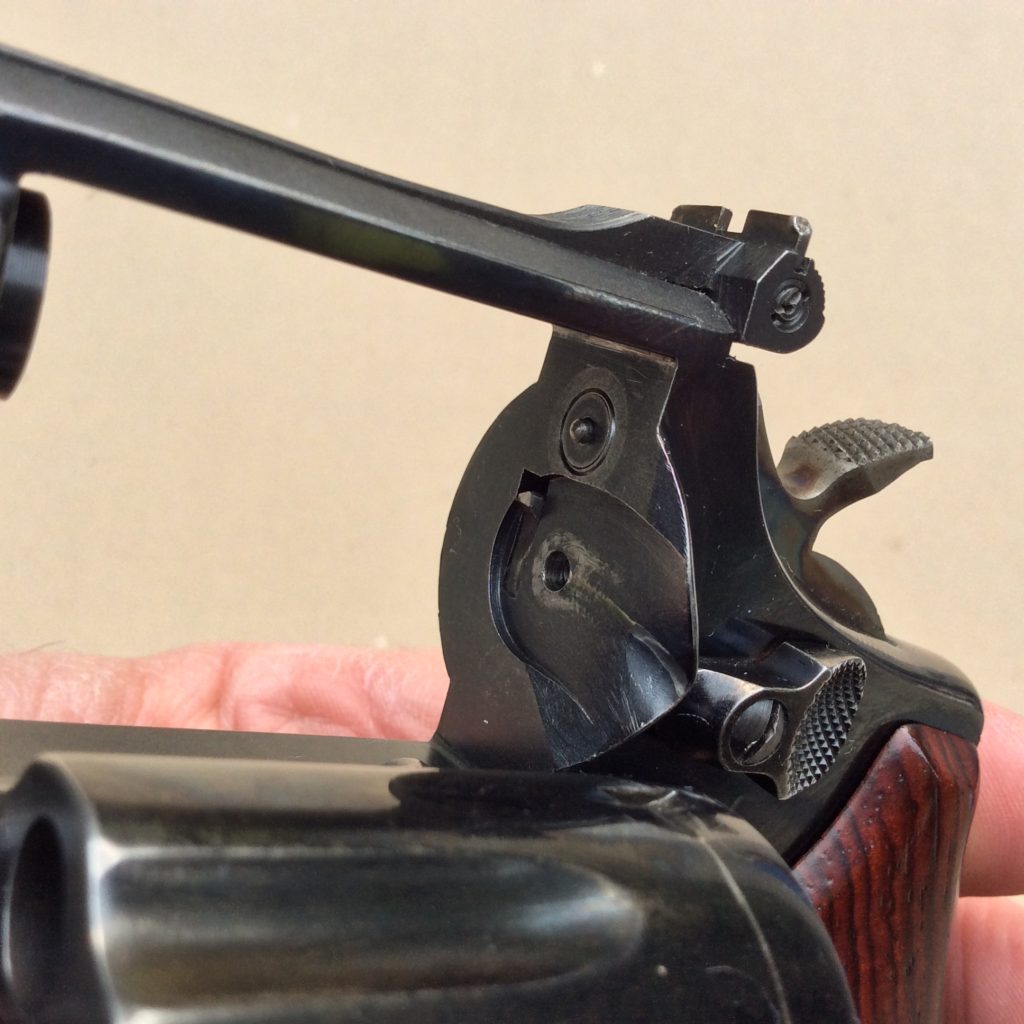 Worn ratchet. The ratchet gets worn from the hand bearing against it in normal operation, but can also be damaged if the cylinder develops excessive endshake.  In the latter case, the ratchet gets smashed into the breech face at the end of the cylinder's rearward thrust during firing, and can be deformed.  A worn or damaged ratchet will produce timing errors that are best avoided. The best ways to protect the ratchet are to keep it clean and free of debris, use the right ammo (ammo with excessive pressure will accelerate the development of endshake), and monitor the gun for endshake.  If excessive endshake develops, correct it before you shoot the gun again;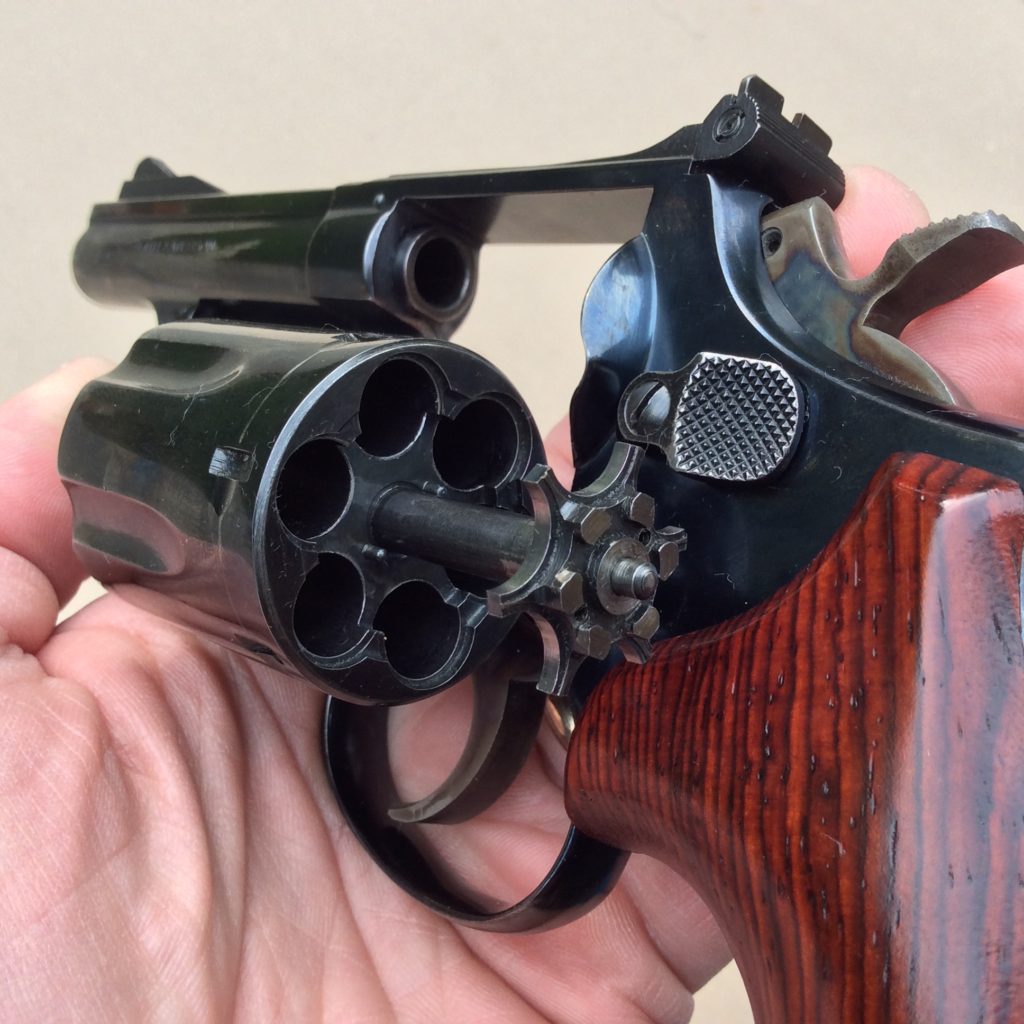 Broken or worn cylinder stop. The cylinder stop (or "bolt") is another high wear part, which can deform to the point that it doesn't lock up the cylinder properly, and cause a timing issue. Firing a revolver quickly in double action will accelerate the wear on the bolt, because it has to stop the inertia of a rapidly rotating cylinder. The same occurs if you "fan" the hammer like a movie cowboy. The best way to care for the bolt is to keep it and the cylinder notches free of debris, inspect it, replace it at the proper interval, and stop watching all those B-westerns;
Endshake. We've mentioned this already, but if the cylinder is allowed to develop excessive fore-aft play, it could eventually beat the gun to death. The ratchet could be damaged, and the center pin/bolt hole in the breech face could be damaged. Additionally, the headspace could be increased to the point that the gun has ignition problems. This condition is easily detected if the gun is properly inspected, and easily fixed by a qualified armorer or gunsmith;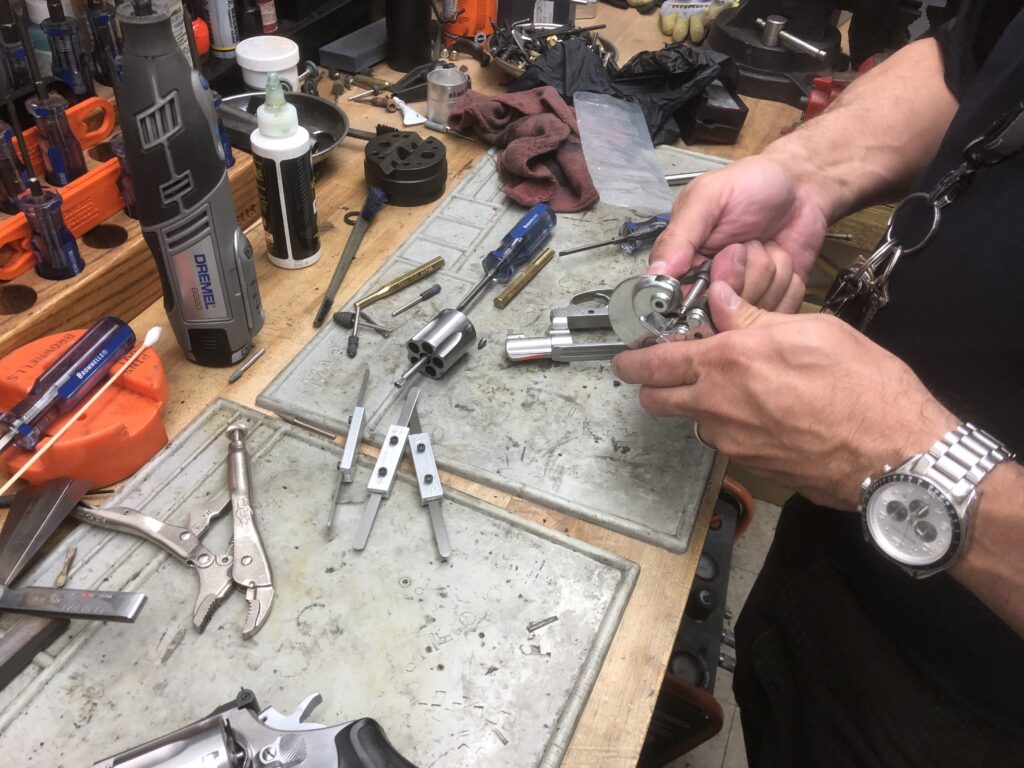 Internal lock failure. Fortunately, this one is rare, and it can usually be avoided through careful ammunition selection.  A hard-kicking load in a lightweight S&W revolver may cause a locking flag, or the lock mechanism itself, to jam, so that combination should be avoided if possible, or at least tested until reliability can be established. The small handful of folks who actually use the lock should also be careful to ensure the key is fully turned before it's removed, to ensure the internal mechanism is parked in the right place;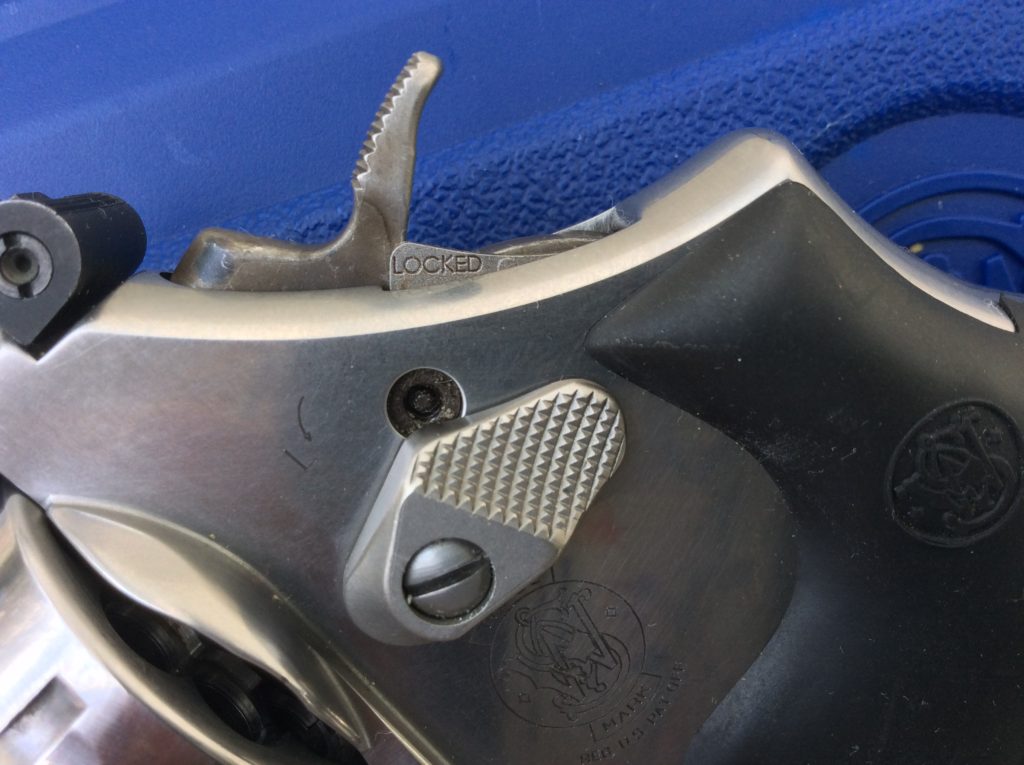 Broken hammer, trigger, or rebound slide stud. These malfunctions are problematic, because there's really very little you can do to prevent them. A broken hammer, trigger, or rebound slide stud will usually kill the gun on the spot, but you might get lucky for a short while and only suffer a heavy and rough trigger pull, until all the internals finally get out of alignment. The most common of these is the hammer stud failure, and in Smith & Wessons, this seems to occur most frequently in aluminum-framed guns, because the hammer studs in those guns are made of a weaker material (aluminum) and are installed with a less robust method (they are staked in place).  Older, steel-framed guns may suffer a hammer stud failure because of stress-risers in the old, collared-stud design, but S&W changed to a new stud design (which lacks the collar) and installation process (which includes pinning and brazing the stud into place) on current-production, steel-framed revolvers, which has virtually eliminated the issue in the new guns. Trigger stud failures are rare, as are rebound slide stud failures, unless you happen to damage them during disassembly, but they do happen occasionally. The best preventive measures involve proper cleaning and lubrication, and using proper care and tools when you disassemble and reassemble the gun. It's unlikely you'll detect any cracks during inspections, but it won't hurt to try. The best mitigation strategy is to carry a backup gun;

Cracked forcing cone. A cracked forcing cone can result in cylinder binding, velocity and accuracy issues, and, eventually, a frame failure. Certain designs, like the older K-Frame Magnums, are more susceptible to this problem, especially when they are fired with Magnum ammunition loaded with light-to-medium weight bullets. The best way to avoid this problem is to be careful with ammunition selection, and conduct routine inspections;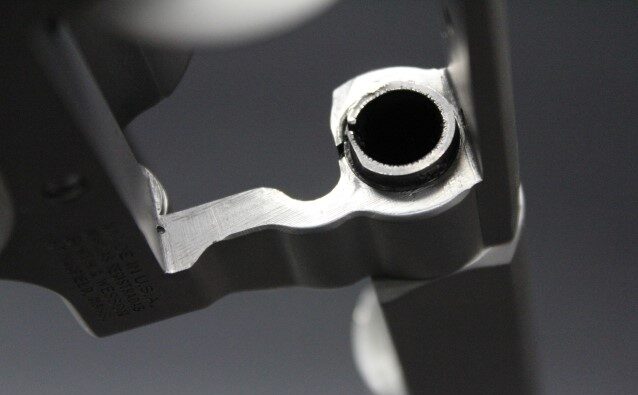 Broken rebound lever. This part may break on an older Colt DA revolver, because it's a weak area in the design and the part must be hand-fitted during assembly (which may potentially weaken the part). RevolverGuy Dean Caputo advises that fixing this issue is difficult, due to a lack of suitable replacement parts, and the requirement to hand-fit them. Outside of keeping the gun clean and lubricated, and conducting periodic inspections, there's really not much you can do to prevent this malfunction from occurring, which is why a lot of these older Colts need to be babied. Get yourself a new Colt if you want to carry one or shoot it hard.
Stoppages
Since stoppages are mostly attributable to either the shooter or the ammo, it's helpful to break them down this way.
Common shooter-induced stoppages:
Failure to clean. If a shooter fails to keep critical parts and areas clean, the gun will stop working. A buildup of crud (including carbon, unburned powder residue, lead, etc.) under the extractor star, on the cylinder face or forcing cone, on the cylinder yoke barrel, in the firing pin channel, in the action, in the hammer channel, or in a recessed chamber mouth, can all shut a gun down. The solution here is simple—keep it clean! Use proper tools, products and methods during routine maintenance, do a quick clean with a brush or rag during extended range sessions, and use clean ammo that doesn't leave a lot of extra fouling, lead deposits, and unburned powder behind in the gun;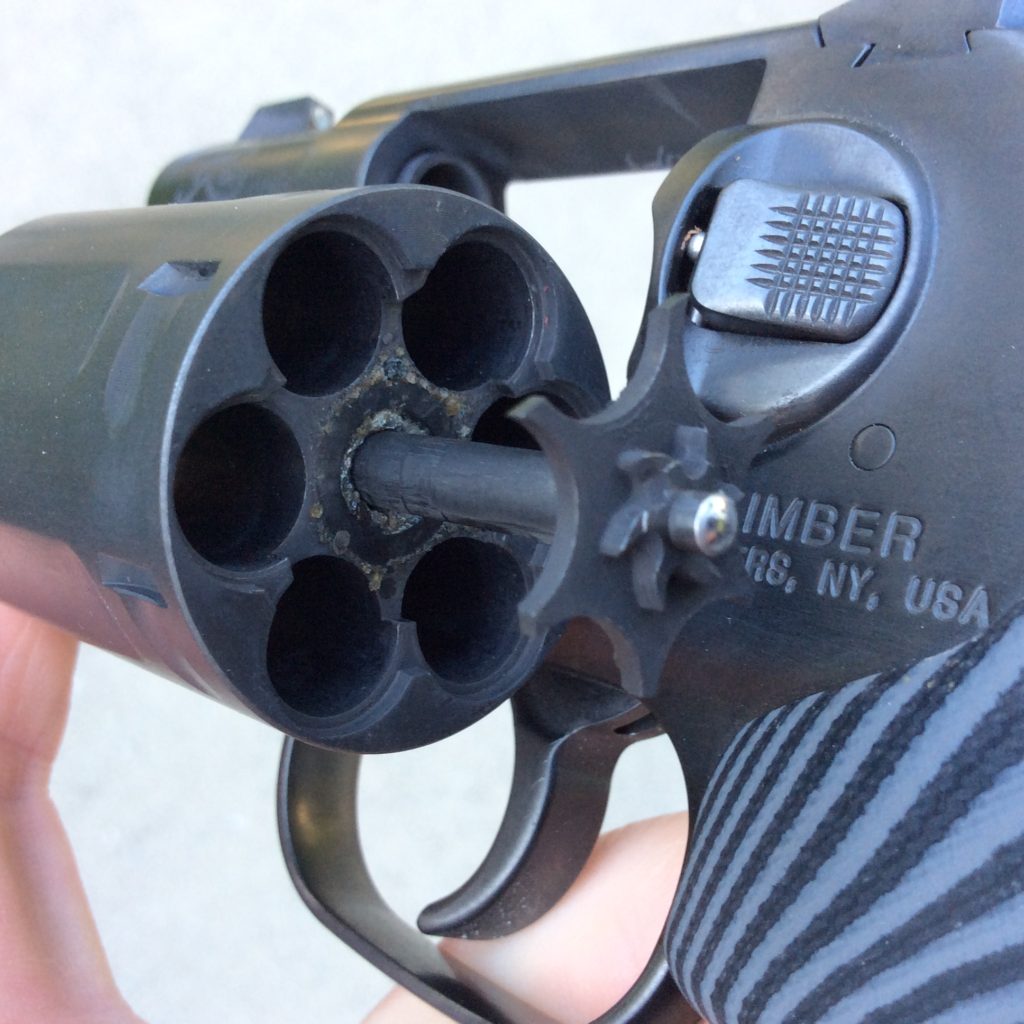 Failure to lubricate properly. Like any machine, a revolver needs lubrication on the right parts to avoid excessive wear and make it run smoothly, but in most cases, revolvers don't burp from a lack of lubrication.  Instead, they burp when they have been lubricated too much, or have been lubricated in the wrong places.  Oil will attract dirt, and an excess of it, or the presence of oil in the wrong place, will gum up the works. To avoid this, use a needle oiler to put the lube in the right place, in the right amount, and don't oil places that should be kept dry, like the area under the extractor star;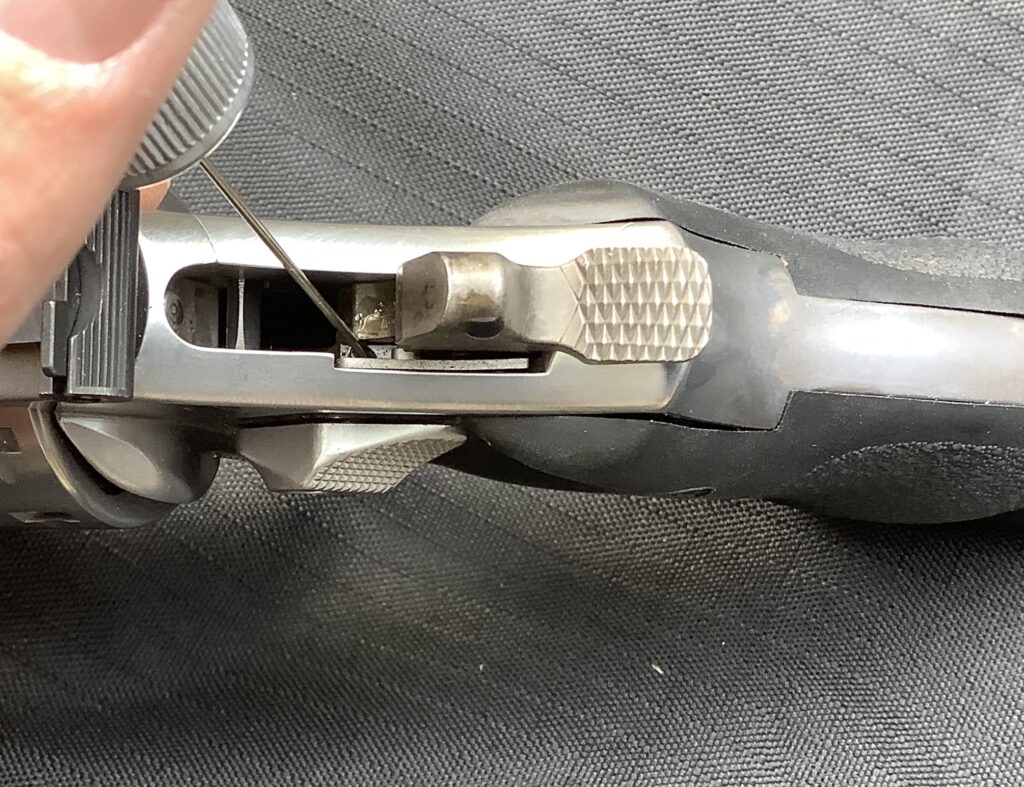 Failure to maintain. Revolvers are simple to operate, but they do require some attention to keep them in working order. One of the most common lapses is a failure to keep screws tightened.  An extractor rod that unscrews, a yoke/crane screw that unscrews, or even a sideplate screw that unscrews, can all bring a revolver to a grinding halt. We mentioned endshake before as a malfunction, but it has its roots in a failure to maintain the gun in good order. Avoiding these problems is simple. Revolver shooters should routinely check and tighten screws (with a screwdriver that fits properly) during maintenance and before shooting activities. They should also conduct regular inspections, and have their gun serviced at the proper intervals by a qualified armorer or gunsmith;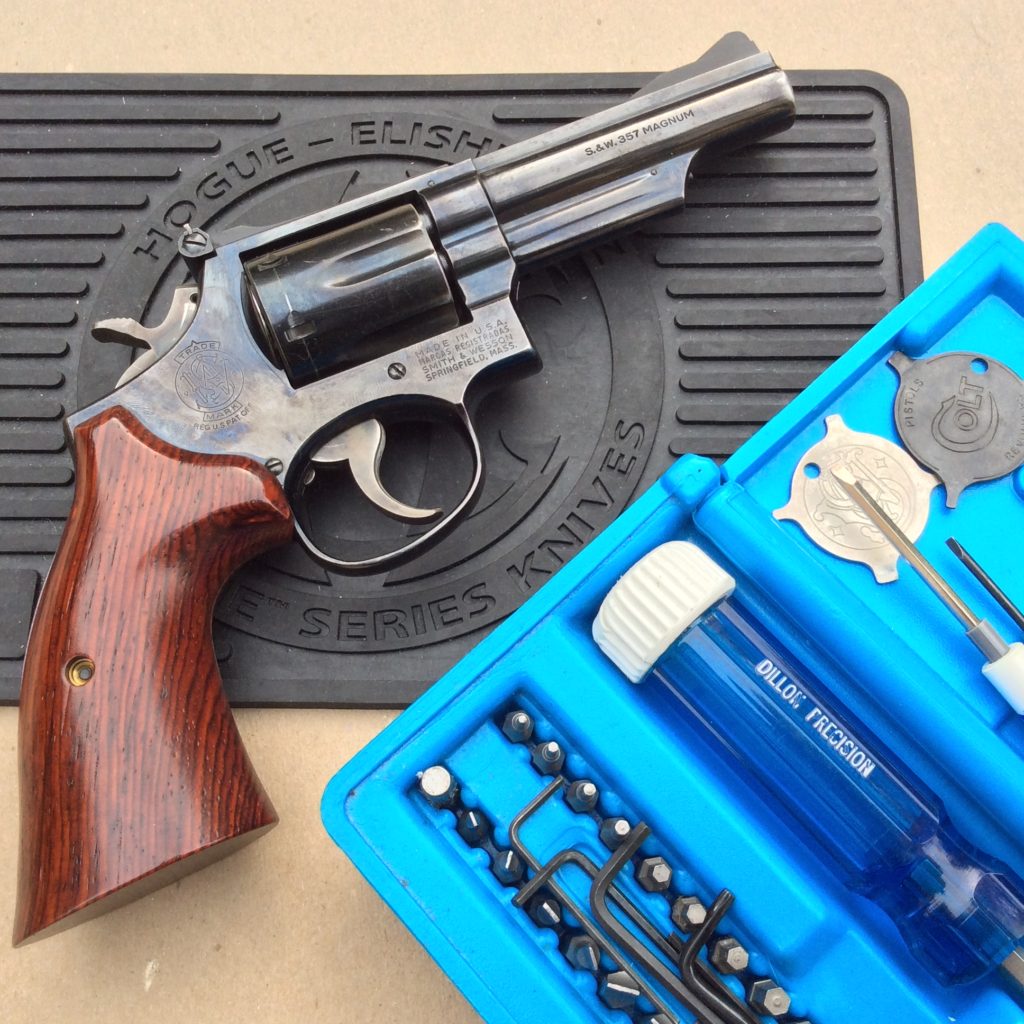 Failure to maintain—crane / yoke screws. These screws deserve a special mention because there are several ways things can go wrong with them. In the older Smith & Wesson designs, installing a sideplate screw where the yoke screw is supposed to go (a common error) can allow the cylinder and yoke assembly to slide forward, off the frame (as when using a push-feed speedloader design). The same can happen on Colt revolvers (and newer Smith & Wessons, which use a similar screw design) if the crane screw has a worn spring or plunger (we even had one RevolverGuy reader who encountered this issue on a brand new King Cobra, because a weak, OEM spring allowed the plunger to retract too far). Keeping your parts straight, and replacing worn/out-of-spec parts is the cure for these issues. By the way, some Ruger SP101s have a related issue with their cranes, where they can slide forward when the cylinder is open and pressure is placed on the rear of the cylinder—this displacement will prevent the crane and cylinder from closing, until you "bump" them back to the rear, and into place;
Operator error—short stroke. If a shooter doesn't allow the trigger to return forward far enough after the gun is fired, he may "short stroke" the gun and interrupt the operating cycle. Shooters who have a habit of "riding the sear" or releasing the trigger to "reset" on their autopistols are particularly likely to short stroke a revolver trigger and not have the gun fire when they want it to. The cure here is practicing and executing good technique, which involves letting the revolver trigger return fully forward before pulling it again, instead of feeling for the "reset." Some revolvers, just like some autos, have a "false reset," so don't get tricked by that—let the trigger return fully forward before you start pulling it again;

Operator error—open cylinder. Failing to close the cylinder all the way, or holding the gun in a manner that the cylinder release is inadvertently actuated while firing, will cause the gun to stop working. A good grip, good reloading technique, and keeping the area under the extractor star clean, will be the cure for this issue;

Operator error—bent extractor rod. A sloppy, off-center, or angled strike on the extractor rod can bend it and prevent the cylinder from closing or turning. Good reloading technique is the key to avoiding this problem;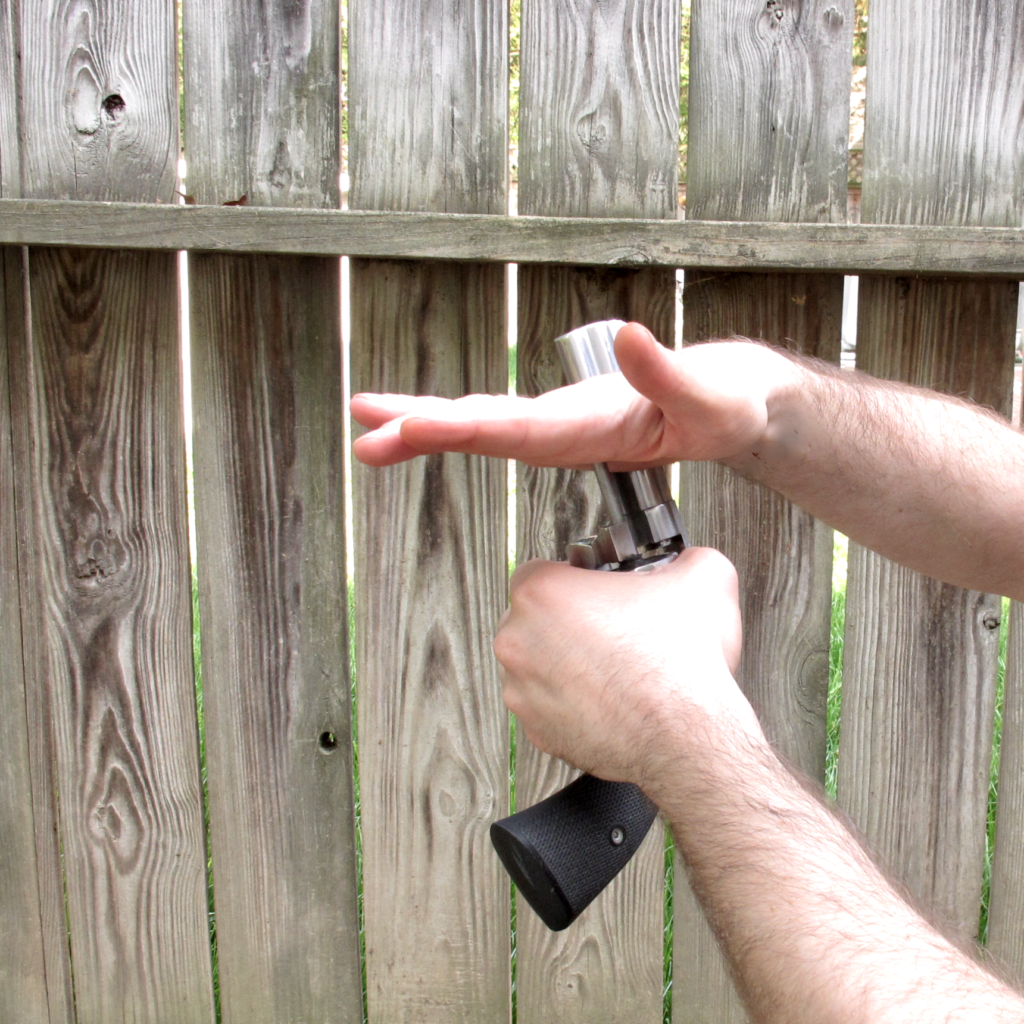 Operator error—sprung yoke/crane. A cylinder that is slammed shut or flung open can bend the yoke/crane, or damage the center pin/hole, and cause all kinds of problems with lockup and timing. If you don't abuse your equipment, you won't have this problem, so avoid the "Hollywood flip" when you're opening or closing the gun, and you'll be OK;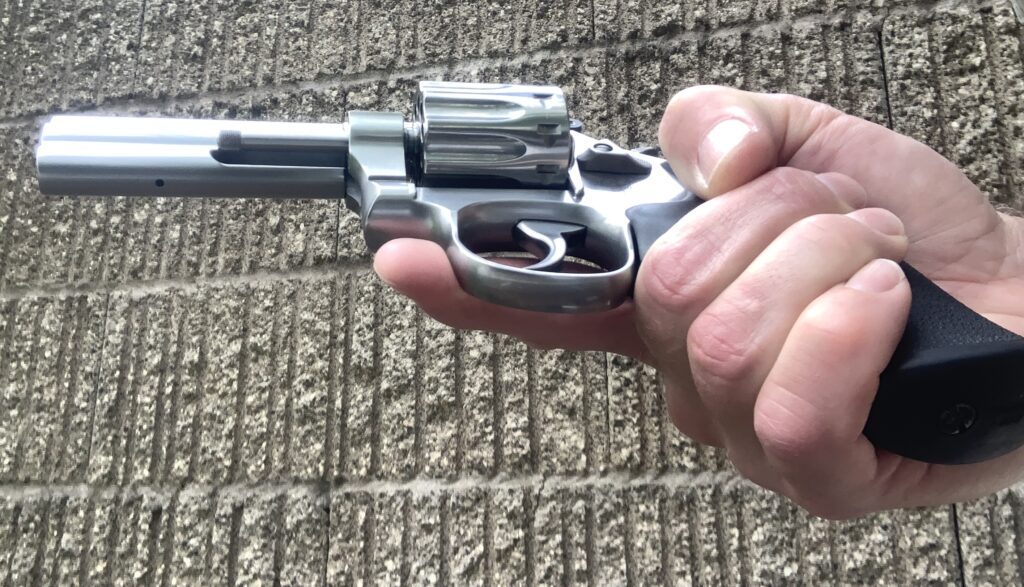 Operator error—case under star. A case that's not fully extracted can angle outboard enough that the rim slips underneath the extractor star, and the case is rechambered, underneath it. This will completely deactivate the gun until the case is removed from the chamber with fingers or a tool. This stoppage typically occurs when the shooter fails to deliver a full-power, full-length stroke to the extractor rod, as when "pumping" the extractor rod. Proper reloading technique is the solution, here.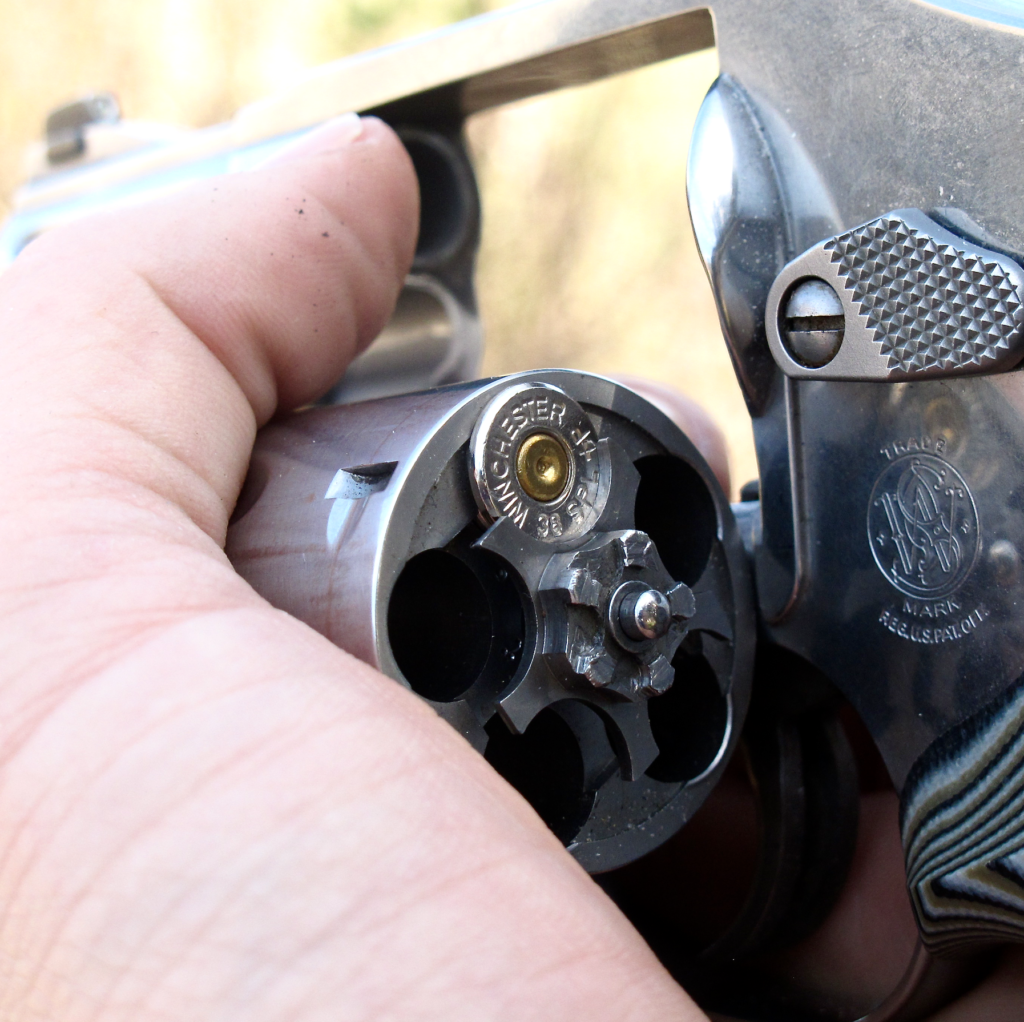 Common ammo-induced stoppages:
Bad primer. Of all the ammunition problems I've seen, the most common culprit has been the primer. A missing primer, a backwards primer, or a "dud" primer will prevent ignition when the hammer falls. The first two are manufacturing errors, but the third may be the fault of either the manufacturer or the shooter. How can a shooter kill a primer? By not storing the ammunition appropriately (dry and cool), or by getting sloppy with a penetrating solvent/oil when cleaning the gun (pro tip: WD40 is NOT for cleaning guns!). Fortunately, a fresh, new primer/round is usually just a trigger pull away with a revolver . . . unless it's just not your day, and you've got another bad round, or a fired case, up next.  In that case, a backup gun or a good reload is your salvation. One other strange primer issue is a primer, or piece of primer, that falls out of the case's pocket, and binds the action. This rarely happens, but if it does, you may have to force the cylinder open and clear the debris to get your gun back in action. Again, you may not see this in a lifetime of shooting, but there's a few guys who have encountered it, courtesy of our friend Murphy.  Most primer issues are fixed through a proper inspection protocol, and keeping your ammunition clean and dry—easy stuff;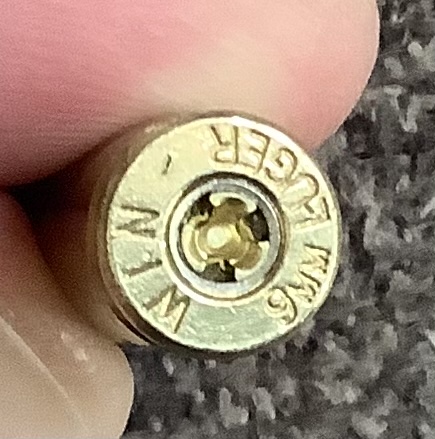 High primer. A primer that isn't seated flush into the primer pocket can stick out far enough to prevent cylinder rotation. A proper inspection will usually allow you to detect this problem before the ammo goes into your gun (pro tip: pull the tray of loaded cartridges out of the box, and eyeball the whole tray—anomalies will be easier to detect when all the cartridges are stacked together, in a row). Additionally, there's an operational check that involves holding the hammer back far enough that the cylinder stop is disengaged, and spinning the loaded cylinder to check for unwanted drag (you won't be able to do that with your "hammerless" gun, though). If a primer starts to work its way loose as you're firing, you may have to force the cylinder open and reload, to get the gun working again;

Primer flow. Yep, that pesky primer is acting up, again. In this case, the primer material actually flows backwards into the firing pin hole/bushing in the frame, which will prevent cylinder rotation. This usually occurs as a result of very high pressure (or overpressure) ammo rupturing the primer while the firing pin is still in contact with it, but RevolverGuy readers may recall that manufacturing defects in the gun can also contribute to it. It's amazing how little material is necessary to completely tie up the gun—just a little shard can exert enough leverage to bring things to a halt. This condition is usually avoided through proper test and evaluation of your ammo, but if it occurs in the field, the gun's cylinder may have to be forced open to shear off the offending material, before the gun can be returned to action. Sometimes you can accomplish this with more force on the trigger, but usually the cylinder has to be forced open to break the jam;

Bad powder. It's rare to get a factory case that wasn't charged with powder, but it happens more frequently than we'd like with handloaded ammunition (which raises a related concern, that there's another case with TWO charges of powder lurking in your supply, and maybe your cylinder).  Improperly stored and maintained ammunition can also suffer powder contamination from water, solvents, or oils that kill the powder and prevent ignition. A shooter should always be alert for that small "pop" which warns you that the primer was good, but your powder was not, and you might have a bullet stuck in the bore, or the barrel-cylinder gap.  The latter prevents the cylinder from rotating or opening, which is both a curse and a blessing—a curse because it's harder to fix, but a blessing because it prevents you from firing another round behind the squib and blowing up the gun.  Again, proper inspection protocols and keeping your ammo clean and dry are the best solutions for this problem. If you do get a bullet stuck in the bore, as a result of contaminated powder (or a contaminated primer), you'll need a tool to fix it, like a squib rod or "dejammer"—a backup gun would be helpful, in the interim. By the way, did you know this problem was one of the reasons why Fitz liked to shorten barrels? The ammunition of the era wasn't always reliable, and it was more likely that a squib would clear a short barrel, and not get stuck;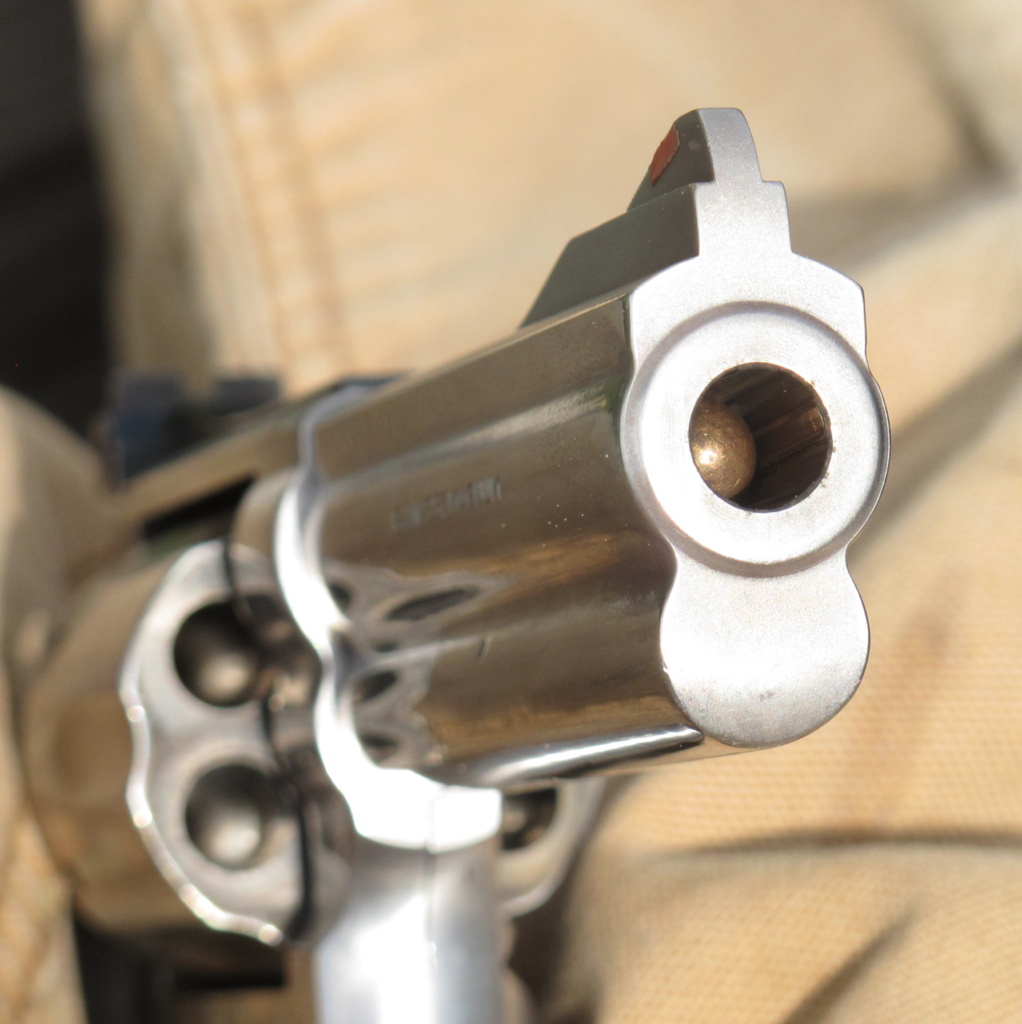 Pulled bullet. A related condition is a bullet that "walks" out of the case as a result of inertia, then binds against the frame, preventing cylinder rotation. We see this most frequently in the revolvers that fire autopistol ammunition with a taper crimp, but it can also happen with revolver ammunition loaded with moderate-to-heavy bullets in lightweight revolvers. Careful ammunition selection (paying attention to things like crimp style and whether or not the bullet is cemented/sealed with Black Lucas), and a proper test and evaluation process, will allow you to avoid this problem. If it happens in the field, the creeping bullet will have to be forced back into the case with a tool, to get the cylinder to turn or open—not something that you'll want to do in the middle of a fight;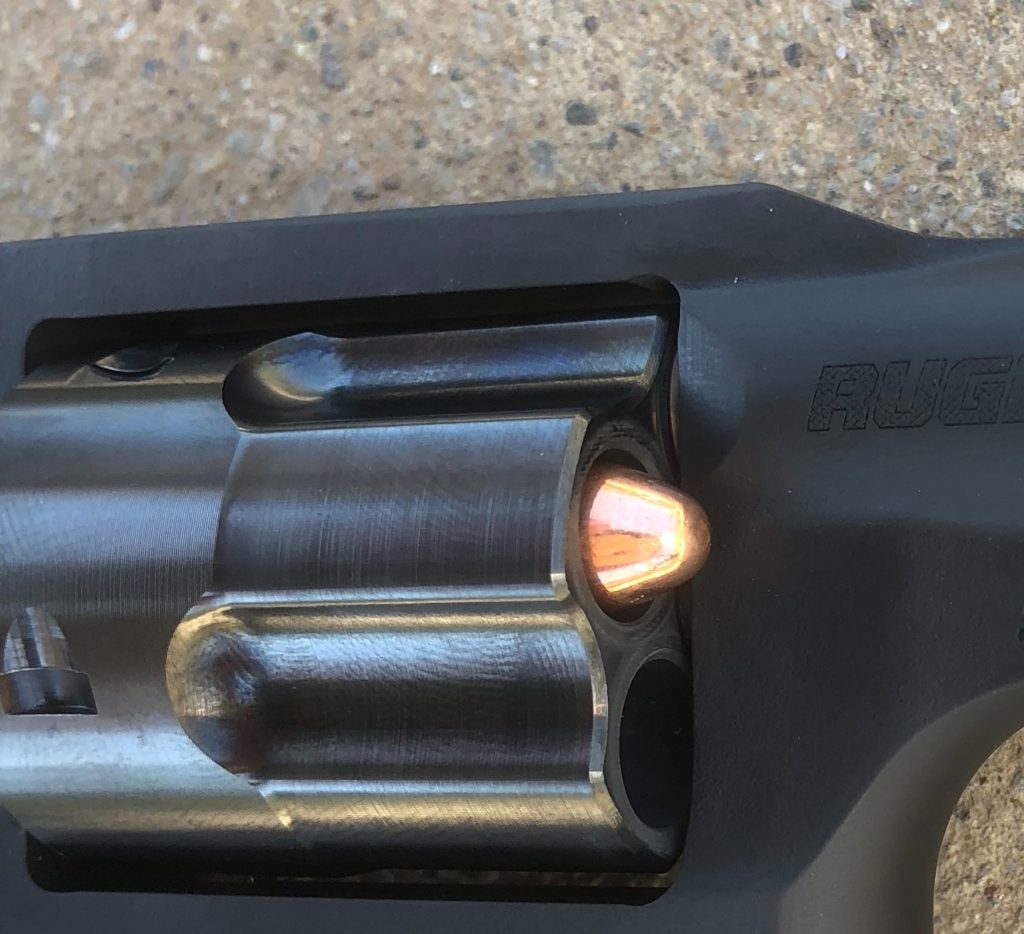 Bent clip. The "moon" and "half-moon" clips used in some revolvers may bind the cylinder and prevent it from rotating if they are bent. These clips are relatively fragile, and are prone to being bent when cartridges are loaded into the clip, and fired cases are removed from it. They may also bend if they are not protected in transport/carriage.  The best way to avoid this problem is to buy robust clips, use a dedicated tool for "demooning" clips, inspect the clips regularly for defects, and carry them in a pouch that's designed to protect them from damage;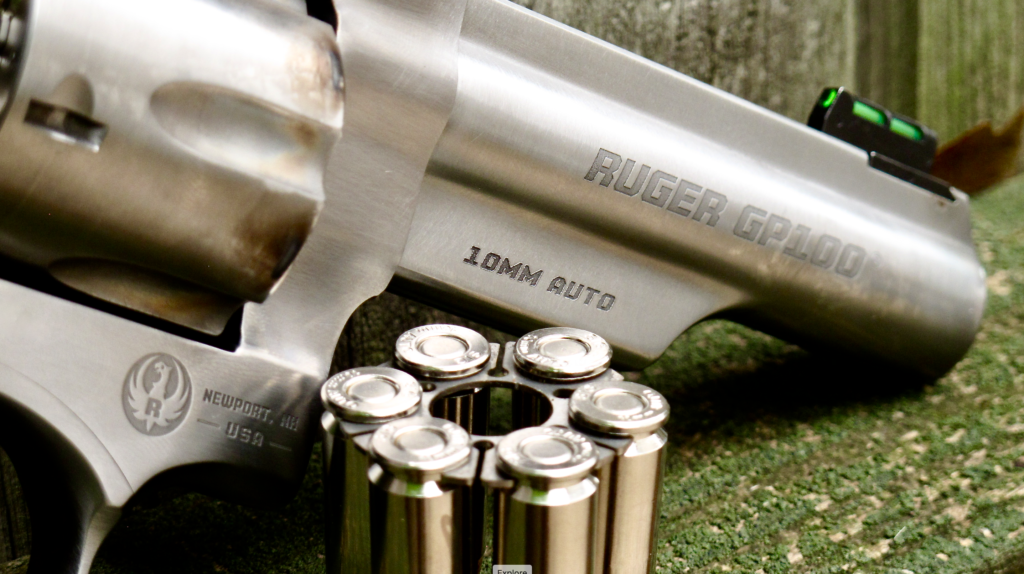 Crushed case. A case mouth that has been crushed during the loading process (usually when a bullet is seated) or a case that has been crushed/dented during transport/carriage may prevent the ammunition from loading into the chamber. This is a particular problem for reloads that are carried loose in pockets, instead of in carriers that are designed to protect the ammo from damage. If you're able to force one of these deformed cases into a chamber far enough to fire it, the flaw may prevent the case from being properly extracted, after it expands from being fired. The solutions here are to do routine inspections of your ammunition, and carry reloads in a manner that they are protected from damage;

Incompatible ammo. Both the ammo and the shooter are at fault, here. While some ammunition types may technically "work" in a given firearm, they may be poor choices due to their tendency to leave excessive amounts of lead, fouling, and powder residue behind, in the gun. This is especially common in rimfires and centerfire snub revolvers. A change to a load with a jacketed bullet, or a powder charge that is more completely consumed, may be in order to prevent a stoppage.
That's all, folks!
That seems like quite a list for a gun that "doesn't jam," doesn't it?
It's certainly a longer list than you might think of, at first, but the good news is that most of these malfunctions and stoppages can be prevented with proper inspections, maintenance, and shooter techniques.  With just a little effort, you can ensure that your revolver demonstrates a level of reliability that would make most autopistols jealous!
So, care for your gear, pay attention to what you're doing, and be safe out there!
*****
Endnotes
We hesitate to call it more than an "opinion" here, because it's hard to make such a general assertion without some additional context. With the guns and ammunition of the period, the revolver was indeed generally more reliable than its autopistol counterpart for most users, but varying conditions could change the results. In the trench warfare of World War I, for example, the "closed" auto was probably more reliable than the "open" revolver. This begs a conversation we've had before, about how the revolver is generally more resistant to neglect, and the auto is generally more resistant to abuse. Reliability, then, is not an absolute, as much as it is a sliding scale that's dependent upon conditions (environment, ammo, shooter technique, maintenance, etc.).