I encountered this dud round in the middle of a shooting competition at the range recently.  Even though it's from one of those bottom feeders—Eek!—it provides a good opportunity to make a few observations that are universal in nature, and not related to any particular weapon type.
What happened?
As you can see from the lead image, the round is a 9mm cartridge with a primer that's installed backwards. This round was not factory-new, but had been reloaded by a commercial reloading outfit that sells remanufactured ammo in bulk.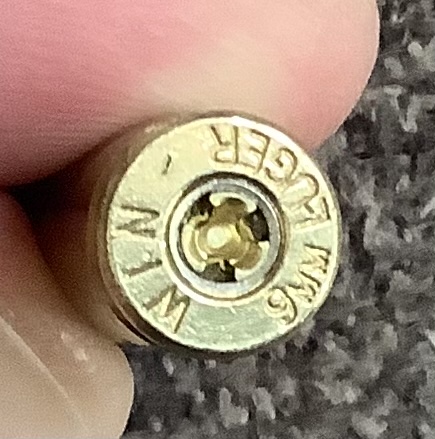 I attempted to fire this cartridge on a stage where the shooter was required to draw and shoot an 8″ steel plate at a distance of 15 yards, obtaining a single hit. At the sound of the timer, I drew from concealment, aligned the sights, and pulled the trigger on my pistol, only to get the dreaded "click." I moved right into performing Immediate Action ("Tap, Rack") and was able to hit the target with the next shot, stopping the timer at just under twice the average stage time—not bad, considering, but certainly not good, if I'd been making this shot for real, to save my skin.
Thoughts
Quality Control.  When there's a lot of stress on the system, quality control can take a hit. Ammunition manufacturers are struggling to keep up with record-breaking demand right now, and running their equipment and people hard. In an environment like this, it's not uncommon to see an increased number of manufacturing mistakes like this one. In fact, I've seen several mistakes like these over the years, especially during past ammunition crises, so it pays dividends to inspect your ammunition closely. Even the best manufacturers will accidentally let a round like this slip out the door from time to time, and I'm seeing them with increasing frequency in the present situation.

Pay attention. In this case, I was loading from an ammo can full of loose rounds, and I simply scooped up a handful and stuffed them into magazines without inspecting each round closely. It's easy (yet still not advisable) to get into that mode during high volume training or a match, but I strongly encourage you to pay close attention when you're loading your gun for duty.  Take the time to do a thorough inspection of your duty ammo, before it goes into your defensive gun. Check each round for defects, shake it to verify there's a powder charge (better yet, weigh it with an appropriate scale), and test its fit in the chamber(s) of your gun.  Consider it a cheap form of life insurance.
Immediate Action.  While I deserved an "F" for my lack of attention to detail in preparing magazines, I was pleased with how quickly I fixed the problem. Once I got that "click," I immediately went into my "Tap, Rack" without undue delay. One of the ways that I've heard "Immediate Action" expressed is to call it a "non-diagnostic clearance," and I like that expression because it conveys what we want.  The objective is not to pause and diagnose the exact nature of your stoppage, but to immediately perform the action that is most likely to clear it (your "Tap, Rack"), once you get the proper stimulus (the "click").  No detailed investigation or analysis is required here, just react to the "click" with your "Tap, Rack" and attempt to fire again. If that doesn't work, then we go down another branch of the tree to remediate.
I've been diligent about training this over the years, and I was glad that I did everything on autopilot when I encountered this unexpected stoppage. It was a good testament to my training, even if it didn't say much about my attention to detail when preparing magazines.
Note that the nature of your non-diagnostic action will vary depending on your weapon. Our response to a failure to fire is different in an autopistol than it is in a revolver or pump shotgun. If you work with multiple types of firearms, make sure you put in the reps to program the right response with each type. It won't do you any good to reflexively tap the bottom of your revolver grip!
Revolver Advantages. This event brings us back to a point we've discussed here before: It's one of the revolver's greatest advantages that it doesn't rely on the ignition of the cartridge to operate the gun's mechanism. If I'd been shooting my revolver instead of my auto, I wouldn't have been required to spend as much time fixing the problem before firing again. A simple pull of the trigger would have solved my problem, in much less time.
Every gun represents a compromise of some sort, and we have to take the bad with the good. There's a lot of folks out there who disfavor the revolver because of its (comparatively) low capacity, but it's only fair to note this disadvantage is offset by other benefits.
Consider, if you will, how this scenario might have turned out different for me, if I'd been engaged in a close-contact battle with an opponent. Is it possible that I may not have had the space, time, or ability to clear this stoppage and resume firing? Would it be an advantage to be able to make the weapon fire again simply by pulling the trigger a second time?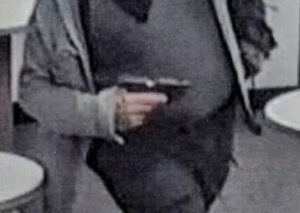 Trainer Greg Ellifritz has previously documented how auto stoppages are relatively common in real-world encounters, when stress, chance and Murphy take their toll. While we recognize the substantial benefits offered by autos, it's important to understand their weaknesses as well, and consider what we can do to mitigate their effects. Certainly, part of that is to conduct appropriate, high quality training, like the training that helped me to recover from my mistake during the match.
There are equipment issues to consider as well, though. Could it be that the revolver isn't "dead" after all, and there's a still a good case for it in the polymer age?
Sometimes there's a lot that can be learned from a simple mistake in training.