In today's world, the idea of anyone recommending or advocating the carriage of a revolver as a primary defensive handgun is usually met with scorn and ridicule by self-appointed firearms "experts."
Editor's Note: We're happy to welcome Darryl Bolke back to our pages, with his thoughts on where revolvers fit into landscape of defensive handguns. Enjoy!
The modern, compact and service size semiautomatic service pistols are preferred by most people, because they're incredibly reliable and size efficient.  This size efficiency is why I usually carry one every day. With the higher capacity guns, I can stay in a fight longer, with less manipulations required to keep the gun running.
Yet, for all the benefits that the modern semiautomatic pistol brings to the table, an equally good case can be made for today's modern defensive revolver. The modern defensive revolver offers benefits that may appeal to some people, and be a better fit for their needs than a semiauto.
Advantages
My favorite aspect of the modern defensive revolver is that they are incredibly easy to operate, administratively.  I can get a very good idea of its condition simply by looking at it, and can easily confirm its condition by opening the cylinder. It's easy to manipulate the revolver and check its condition in a safe manner.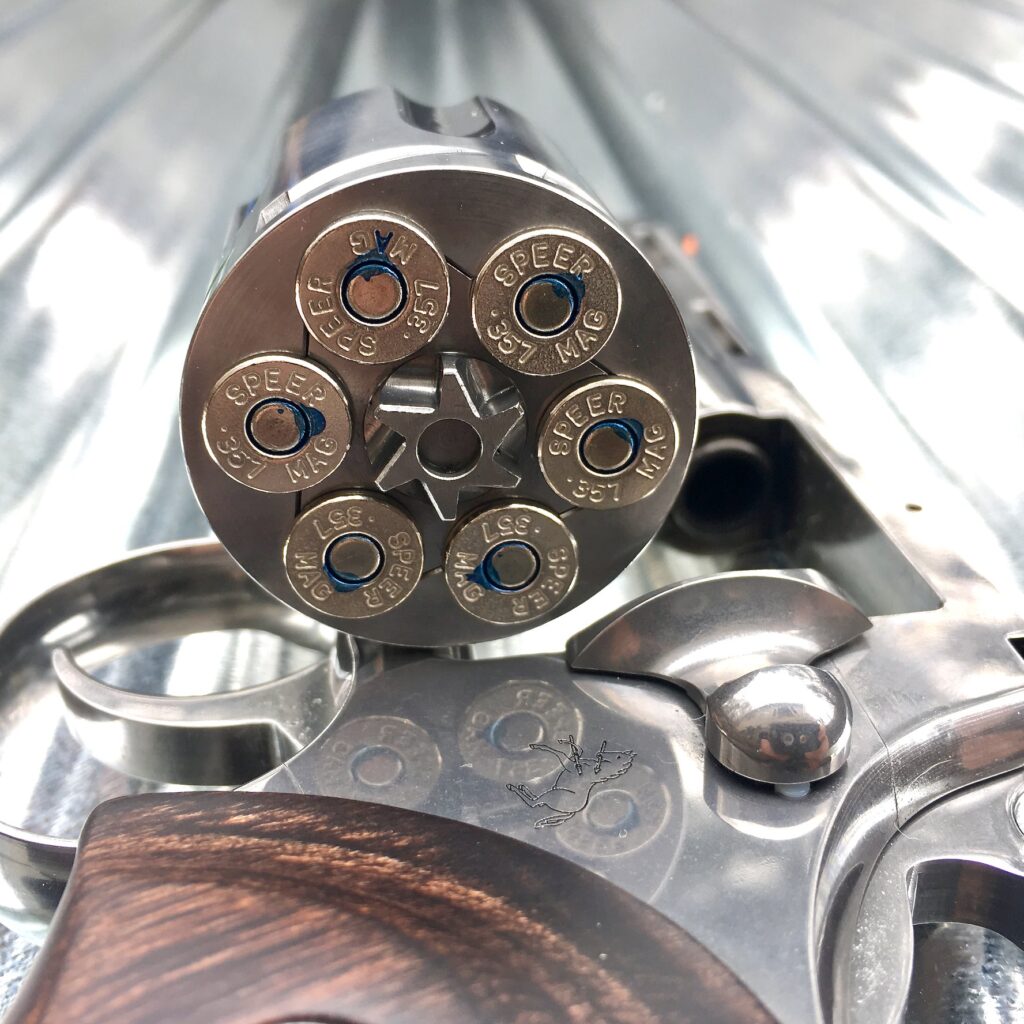 This is not the case with the modern, striker-fired semiautomatic pistol. The basic design of a semiauto pistol makes it more difficult to verify its condition, and more prone to safety violations in the hands of the poorly trained or disciplined shooter. Many folks are carrying and using guns like this who cannot perform a loaded chamber verification, clear the weapon, or conduct a simple status check safely.  They would definitely benefit from the simplicity of a revolver's manual of arms.
Another benefit of the revolver is that it's easier to use as a training tool. I have a revolver nearby most of the time for my dry practice work.  Before conducting dry practice, I remove the ammunition on board, which is often held in a moon clip, and replace it with either a moon clip or a speedloader full of snap caps.  I use these inert training tools to provide an extra layer of protection against leaving a loose round in the gun.  Anytime we have an extra fail safe against human error is a benefit, and the simplicity of a revolver makes it easier to avoid those mistakes.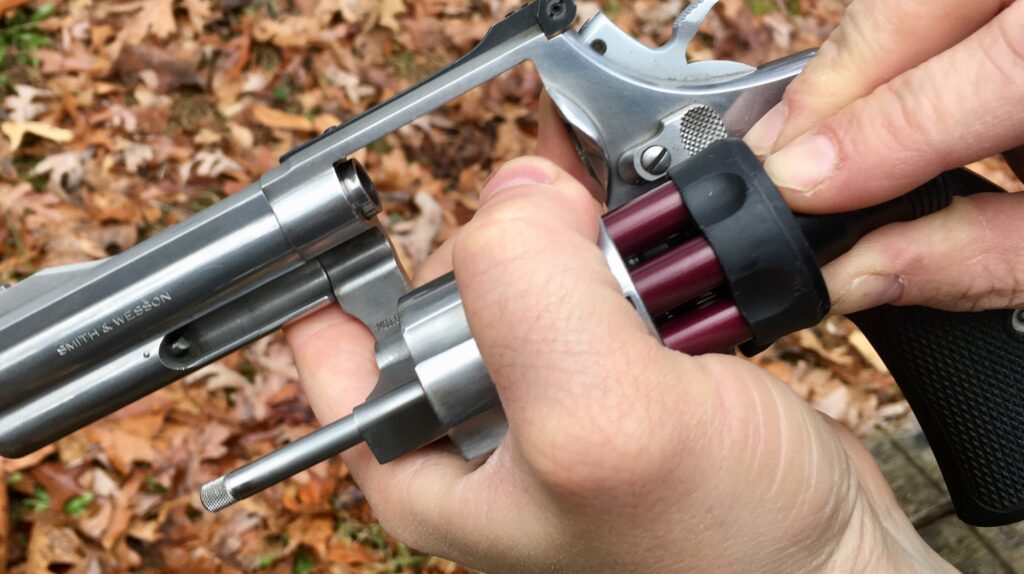 With the current ammunition shortage, it's important to avoid unnecessary wear and tear on your duty ammunition. Constantly unloading and loading the premium defensive ammunition in your semi-automatic pistol is really bad for it, and can lead to major issues, such as bullet setback, damaged hollowpoints, or damaged case rims. Since it's not as abusive to repeatedly load and unload revolver ammunition, most of my dry practice time is spent with revolvers. They're just easier to set up for safe dry practice.
Primary Choices
For primary carry, and home or vehicle defense, I usually use a 7-shot Smith & Wesson L-Frame, or a 6-shot Smith & Wesson K-Frame, with a 2" to 3" barrel.  Currently, a 3" ported S&W Performance Center Model 586 L-Comp 7-shot, a 2.5" S&W Performance Center Model 686 7-shot, or an older 2.5" S&W Model 19 are what I've been using the most.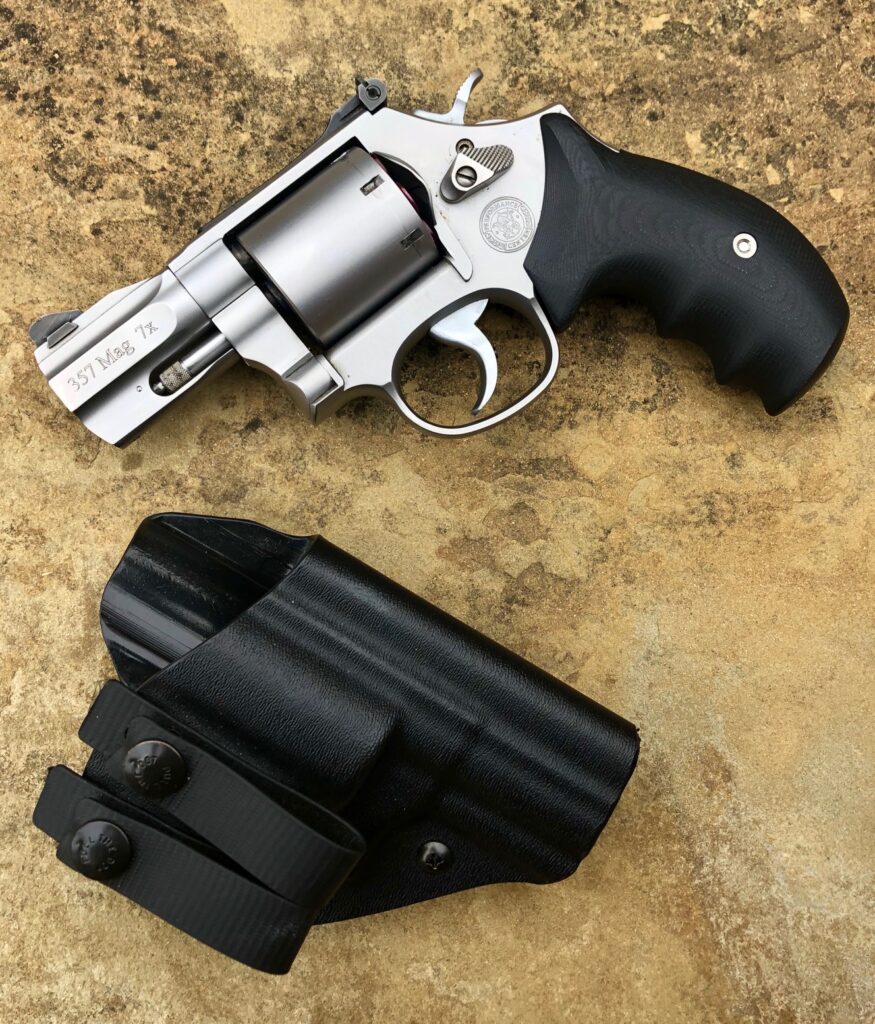 However, I have many different Medium or Medium-Large frame revolvers to choose from, and my choices change regularly, depending on my mood.  There are a number of good sources for these kinds of guns, with Ruger, Colt, Kimber and others all making suitable guns in this category.
As much as I live with a modern 9mm polymer pistol daily (usually a Langdon Tactical Beretta PX4 Compact Carry), and a small lightweight snub revolver as a backup, I do love having access to a modern defensive revolver close by.
Practical Considerations
If I am carrying a revolver as a primary gun, I prefer a 6 or 7-shot gun for Inside the Waistband (IWB) carry.  At times I will use a smaller, steel, 5-shot J-Frame, but do prefer the larger guns.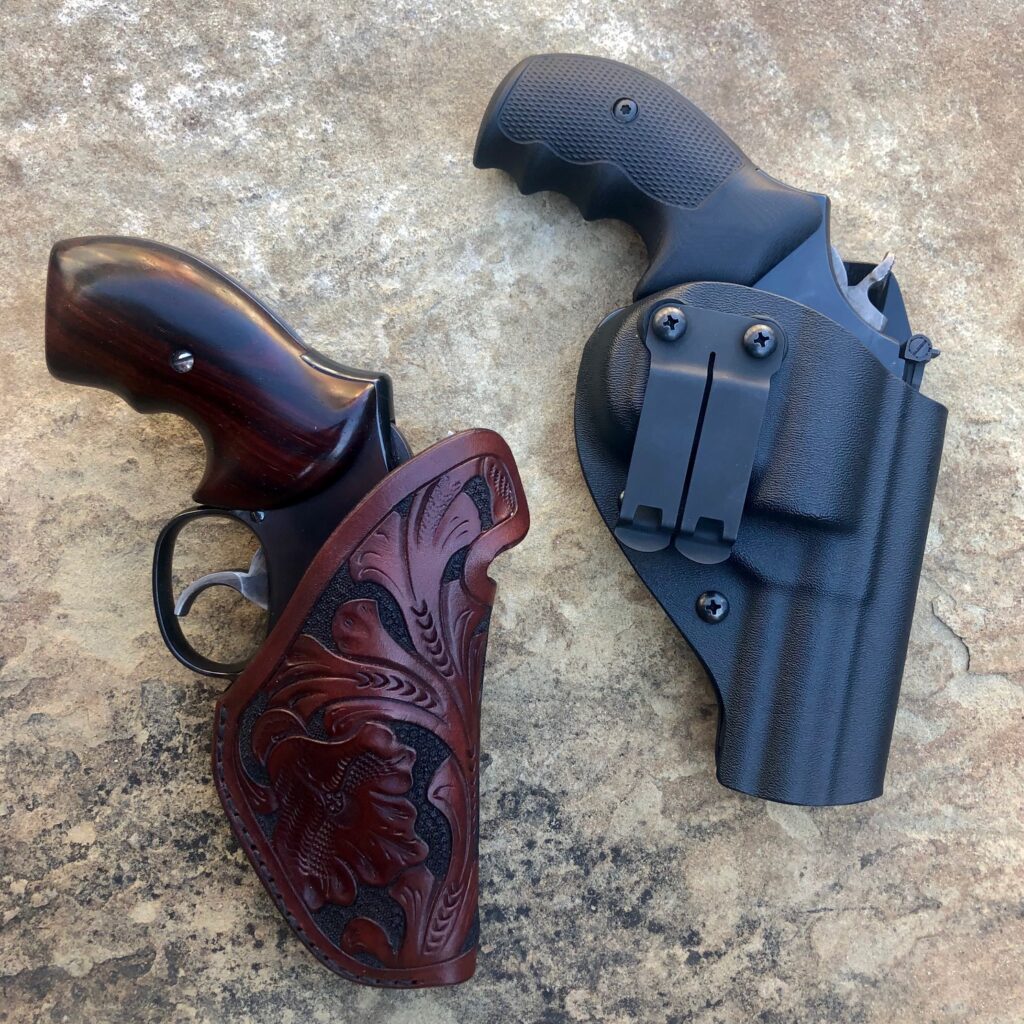 One area where I really like a revolver is when working inside a car.  In my experience with actual shooting investigations, interior vehicle work is where we see a ton of semiautomatic pistol malfunctions and failures. Guns are often shot "in space" inside a car (floating and not in a locked firing position) and this type of shooting is where revolvers rule the roost, because they don't need a firm support to operate reliably.  They also work well for contact shots, or when you're entangled with an opponent, whether in a car, or during a street or home assault.
Revolvers work well for those who are not extremely proficient with firearms, who can make tragic mistakes during unloading and clearing by simply getting the steps out of order.  Their simplicity of operation is an added safety feature for these under or poorly-trained people.
"Thinking Triggers"
The long, double action triggers on revolvers really help with managing people at gunpoint, especially for folks who are not experienced at pointing guns at other people, or having a gun in their hand when dealing with threats. Under stress, people may reflexively start to pull the trigger when they're surprised or startled, lose their balance, or get knocked around. The relatively long and heavy travel in a double action trigger is a good insurance against this, and makes it a bit more forgiving of human error.  Human error and Murphy are very likely to show up in complex use of force problems, and it's wise to carry a gun that helps to protect against these threats.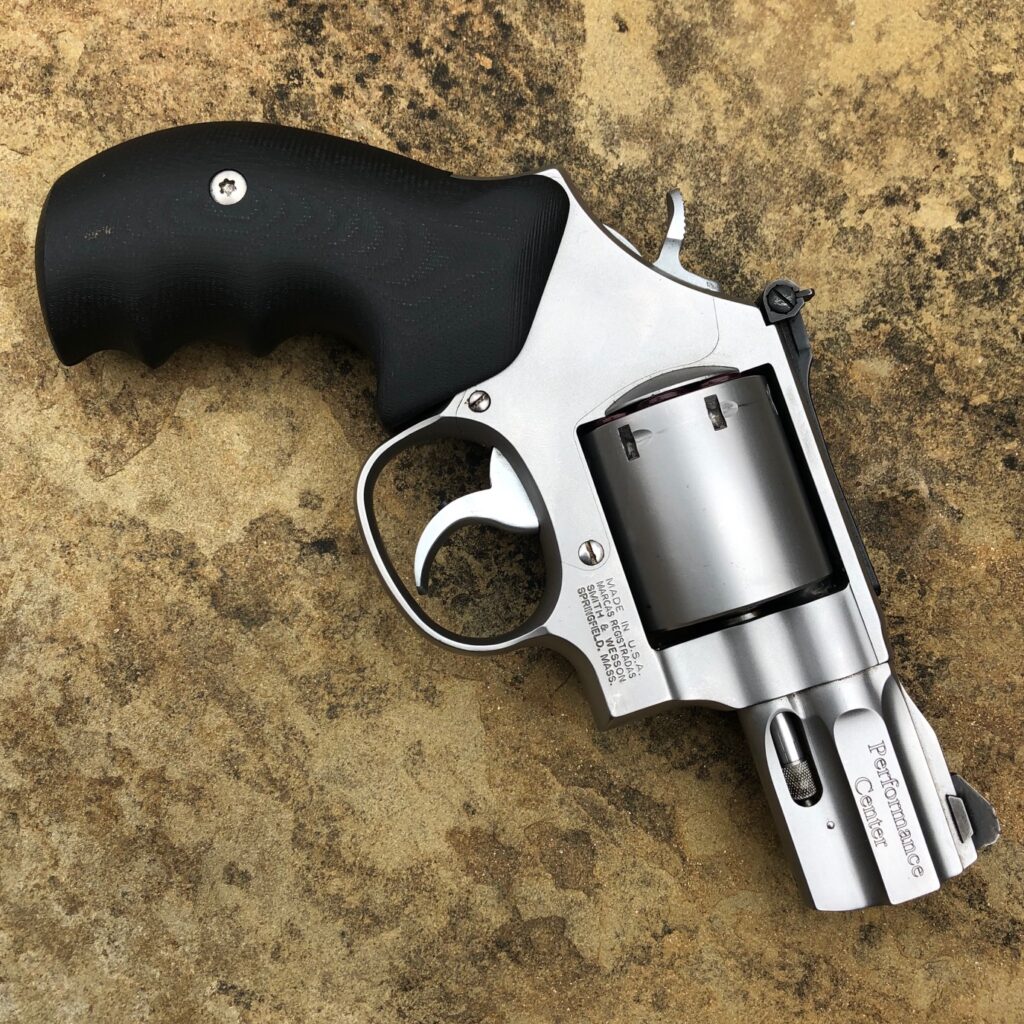 I also believe that double action, modern defensive revolvers lend themselves well to deliberate shooting, at what I term, "assessment speed".  Assessment speed is the speed at which you can receive and process information, then make good decisions, while shooting, and it's slower than the fastest pace you can shoot at. Nobody seems to want to make social media and YouTube videos about shooting at true assessment speed, but this is the speed that will allow you to succeed in the field during a lethal force application.  I tend to shoot my revolvers at very deliberate speeds.  It was drilled into my head very early that you absolutely have to get everything done with the initial load in the cylinder, so accuracy and fire discipline were highly emphasized.
Political Considerations
The limited capacity of a revolver may also provide an unexpected advantage for some people, depending on where they live.
Sadly, many Americans live in states with magazine bans and a negative perception of guns. The citizens, district attorneys and law enforcement agencies in metropolitan areas and blue states may be hostile towards the ownership and use of semiautomatic firearms with normal capacity magazines, believing they fall outside of the scope of the Second Amendment.  While I find that abhorrent, it's a reality for a ton of people.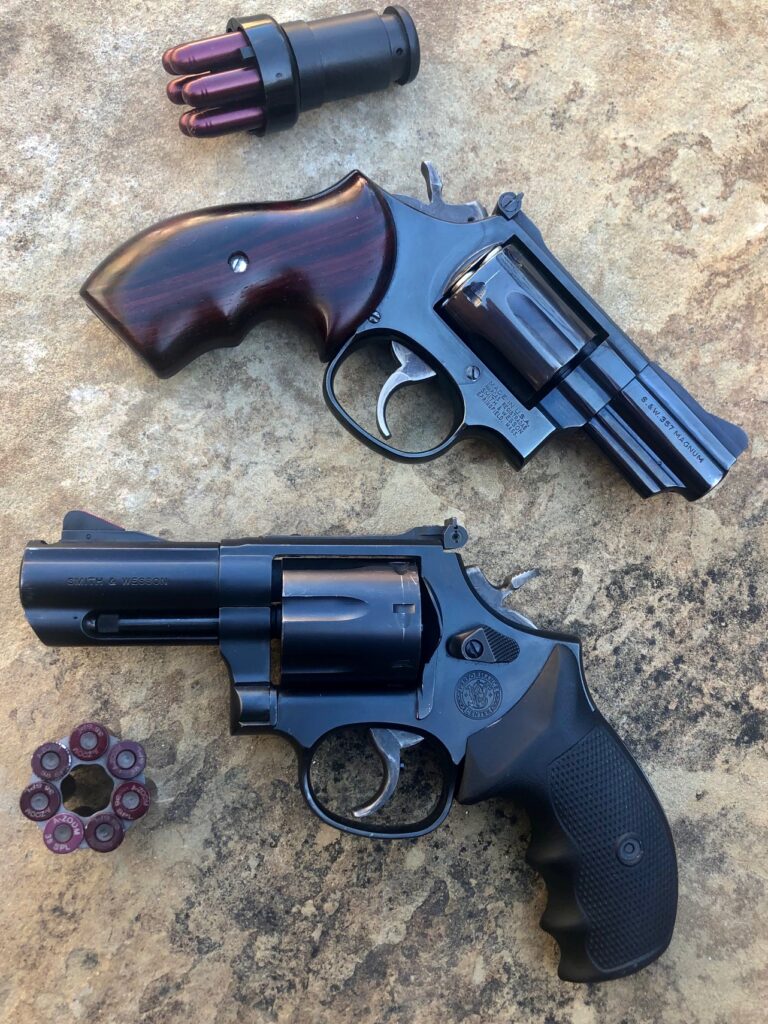 These anti-gun people may not object to the ownership and use of revolvers. It's wrong, but it is reality in many places.  In example, several years ago, I was supposed to go to New York on a security contract.  To prepare for the trip, I bought an 8-shot, S&W Performance Center Model 627 snub and a Milt Sparks PMK holster for that detail, to avoid any issues with New York's "SAFE Act," and the other draconian state and city gun laws in that area.  The revolver would have been legal, whereas most semiauto pistols with normal capacity magazines would not have been. I would not have felt under-gunned, even remotely, with an 8-shot .357 Magnum that I shot really well.
ICE: Break Glass
These guns also make really good home defense guns where they tend to sit for very long periods with no attention or maintenance.  They excel in the "fire extinguisher" role for many people, and are easier for an untrained or under-trained family member to use in a crisis.
A classic example of the "fire extinguisher" gun is a never-fired, 3" Colt Detective Special, that I purchased new-in-the-box for my collection.  It was originally purchased by a prominent member of the Dallas elite for his wife in 1965, after she was the victim of a criminal attack in their home.  The gun was loaded and placed in a nightstand drawer in 1965, and sat there in that condition for the next 50 years. Despite the fact that it never received any maintenance, it was completely functional with no issues.  For that lady that owned it, the revolver was a comfort, and she would have had a very good chance of being able to operate it, and have it work, if she had ever needed it–even with no training or shooting practice at all.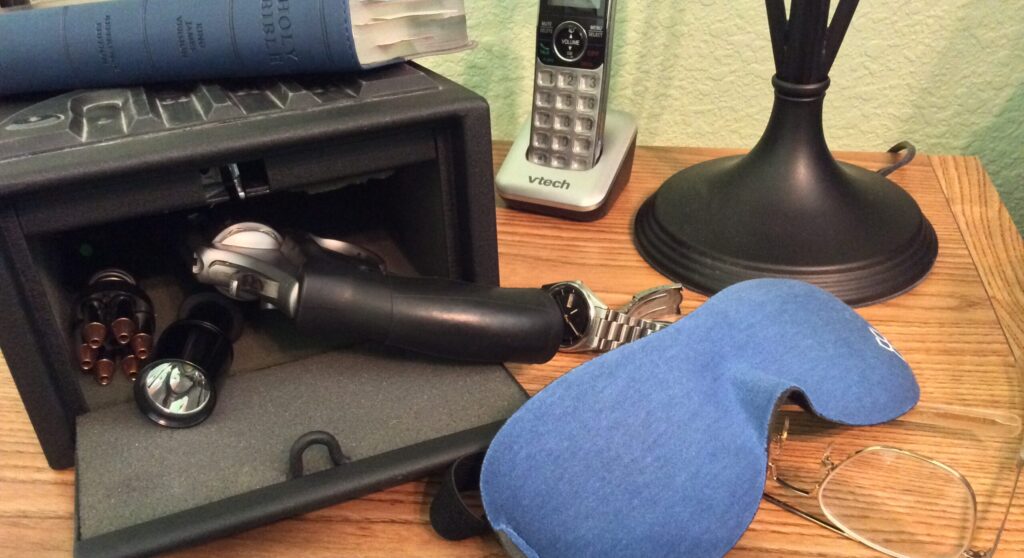 Would this be the type of person we would want grabbing a striker-fired pistol, with a short and light trigger, out of that drawer in a crisis?  I doubt she would have been capable of safely checking the condition of a pistol like this.  Sometimes a gun that is "really easy to shoot" is not necessarily a positive.
Total Package
For many folks, all of these factors are big advantages that may outweigh the revolver's disadvantages in size-efficiency and capacity. The revolver may not carry as many rounds as a semiauto pistol for the same size and weight, but their simplicity, tactical reliability, "thinking triggers," resistance to neglect, and cultural and political acceptance make them a useful alternative to consider for many shooters.
So, there is still a place for the modern, defensive revolver.  If you shoot them a lot, they'll require strict attention to cleaning and maintenance routines.  However, if they remain unused, they literally need nothing.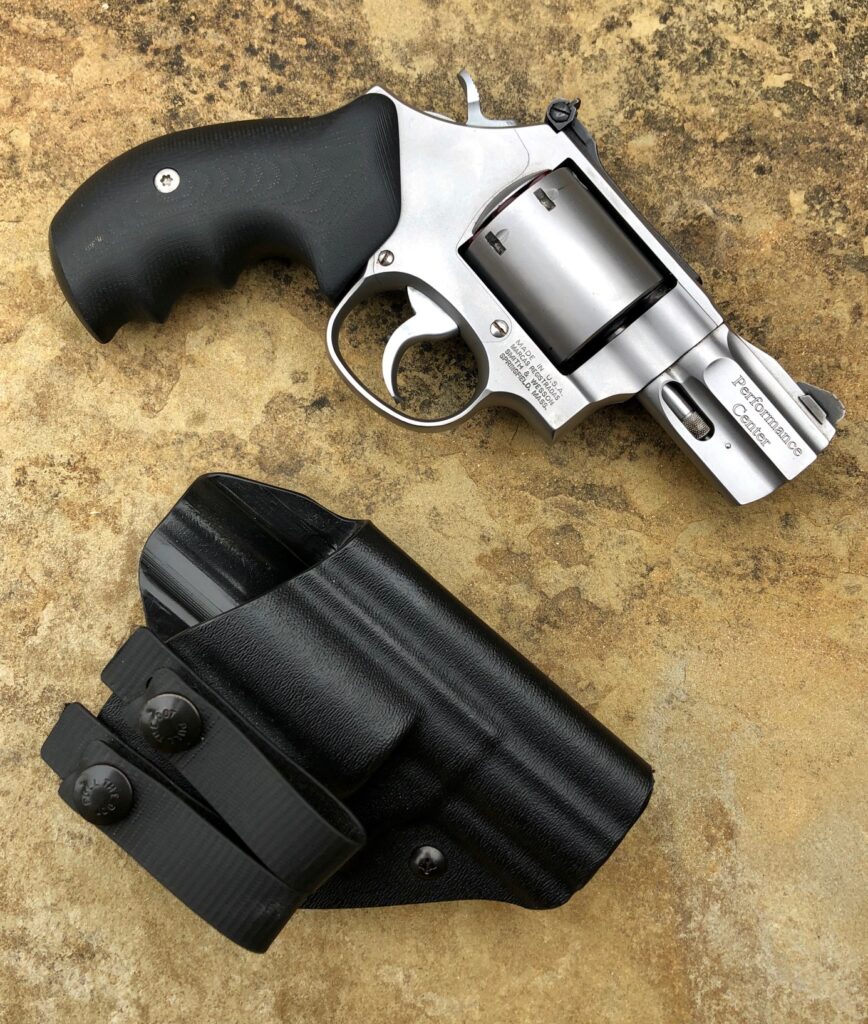 Looking ahead, I believe that politics and the erosion of Second Amendment rights will heighten interest in revolvers in the future.  Personally, I do not like the least qualified people on the planet making my self-defense tool choices for me, but sadly, we live in a reality where that is fast-becoming the rule, rather than the exception.  I hope we will be able to protect our Second Amendment rights and our freedom to select our own defensive tools, but if we're forced into a revolver decision, I am prepared for it. I think it would be smart for others to prepare for this possibility, as well.
On a positive note, they'll find that if they can master a revolver trigger, they will generally shoot everything well.
The modern defensive revolver might be considered a niche tool by some, but it solves a lot of problems, for a lot of people. I think it will be around for some time to come.