As regular readers here know, I've taken up the revolver only recently. In years past I've carried the Beretta M9, the MEU(SOC) .45 1911, and the Glock 17 and 19 in harm's way. I've invested hundreds of hours of training on these platforms, both at work and at my own expense. So when I made the switch from flat guns to round ones I tried to bring some of that knowledge with me, including how I grasp the gun. It turns out that I didn't know what I didn't know and inadvertently adopted the thumbs-forward revolver grasp. 
Criticism of the Thumbs-Forward Revolver Grasp
My decision could have been drastically different. Had I done some research on the topic first, I might've adopted a proper revolver grasp. There is a lot of alarmism about shooting a revolver with a thumbs-forward grasp. If you watch this video from Hickok45 you're led to believe that you are risking limb (if not life) if your thumb ventures anywhere forward of the recoil shield. The reason is that hot gasses escaping through the cylinder gap have the potential to injure the straying digit.
Fortunately for me, my thumb isn't made of a folded paper target as depicted in the video. The worst effect I've had from shooting with this grasp is a blacked thumb at the end of the shooting session, with everything from the mildest .38 wadcutters to the romping, stomping Magnums. My experience doesn't seem to be peculiar, either.
Does that mean you should be cavalier about your thumb placement on a revolver? Absolutely not! In heavier calibers (the 40-something through .500 Magnums, for instance) I would be extremely cautious about the placement of my thumbs in relation to the cylinder gap. Todd Brown is an example of what can happen with the heavier magnums. Mr. Brown lost 1/3 of his thumb shooting a .460 Magnum, and later sued Smith & Wesson for his trouble. The larger the caliber and the hotter the cartridge, the more gas that escapes. This translates directly to an increased risk of injury.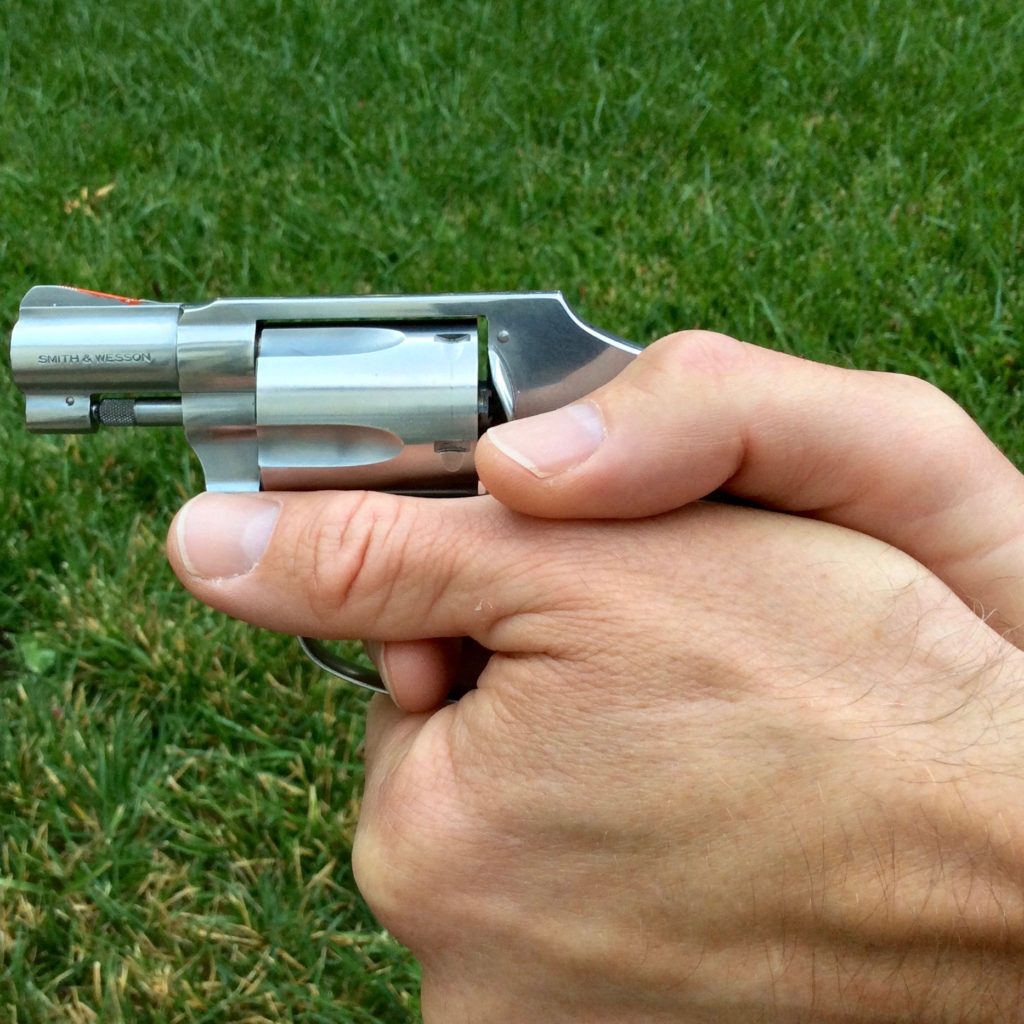 There are also a couple of other instances in which you should exercise a little more caution. If you have exceptionally large hands (like Mike Wood, shown above) and are shooting a very small revolver, it is possible for the thumb to get dangerously close to the forcing cone area of the frame-window. Likewise if you are shooting an oddball like the Chiappa Rhino, with its forcing cone on the bottom of the frame window. This places the thumb very, very close to the forcing cone.  Caution is recommended.
Praise for the Thumbs-Forward Revolver Grasp
Personally, I find that there are a couple of things I happen to like about the thumbs-forward revolver grasp. The first is interchangeability with semi-autos. I know that statement borders on sacrilege here on RevolverGuy (this blog is about revolvers, isn't it?) but some of you carry semi-autos on duty or for defense and shoot your wheelies only recreationally. If so, having two distinctly different grasps can be confusing (on both platforms) and doesn't lead to strong myelinization of your neural pathways.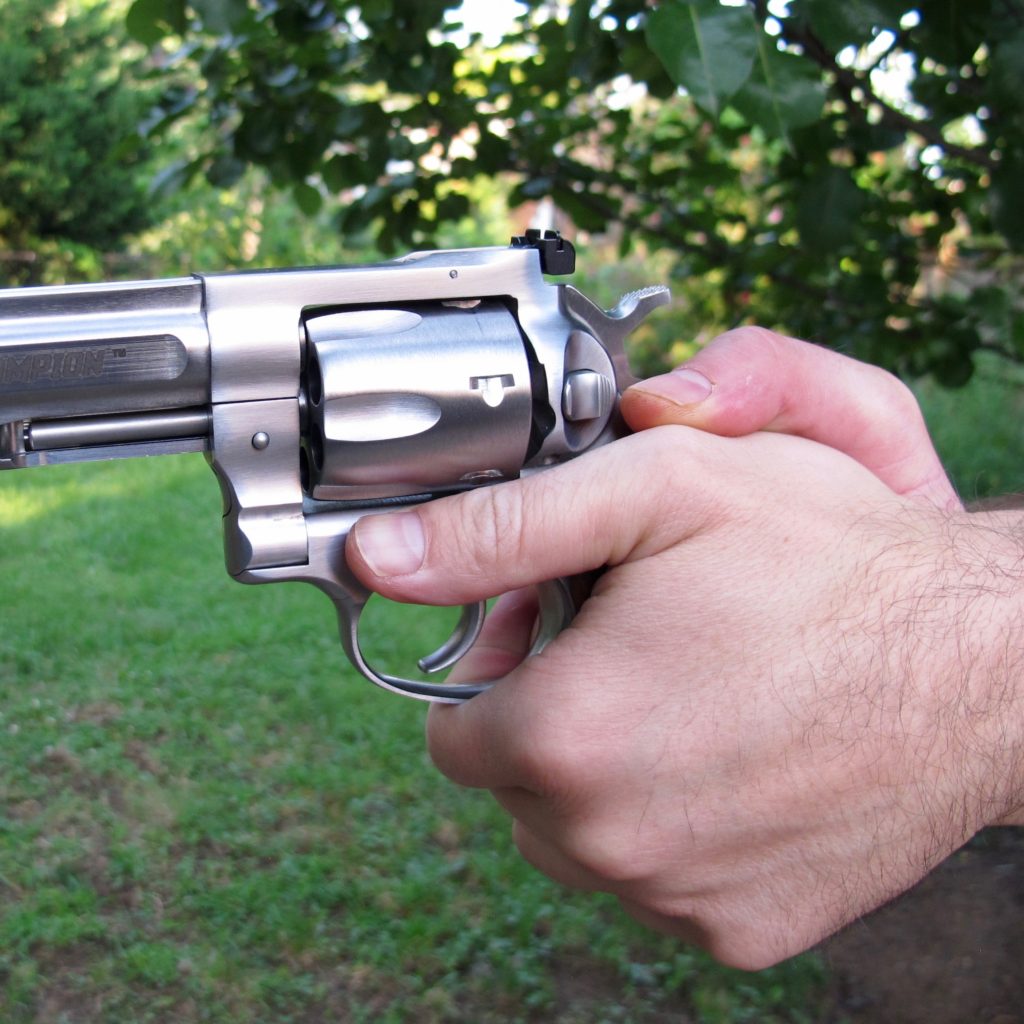 Secondly, the thumbs-forward revolver grasp gives me good control of the revolver. Better control, in my opinion, than either of the more traditional revolver grasp techniques. Much like shooting a semi-auto handgun, I roll my elbows outward which forces the palms together. This doesn't work as well with the thumbs-tucked technique because the meaty portions of the palm don't connect up, and I feel I end up mostly relying on finger strength alone. With the thumbs-forward grasp I'm actually pinching it between the meaty portions of my palms, and get meat all the way around the grip. In my opinion, this helps with  managing recoil and contributes to faster follow-ups.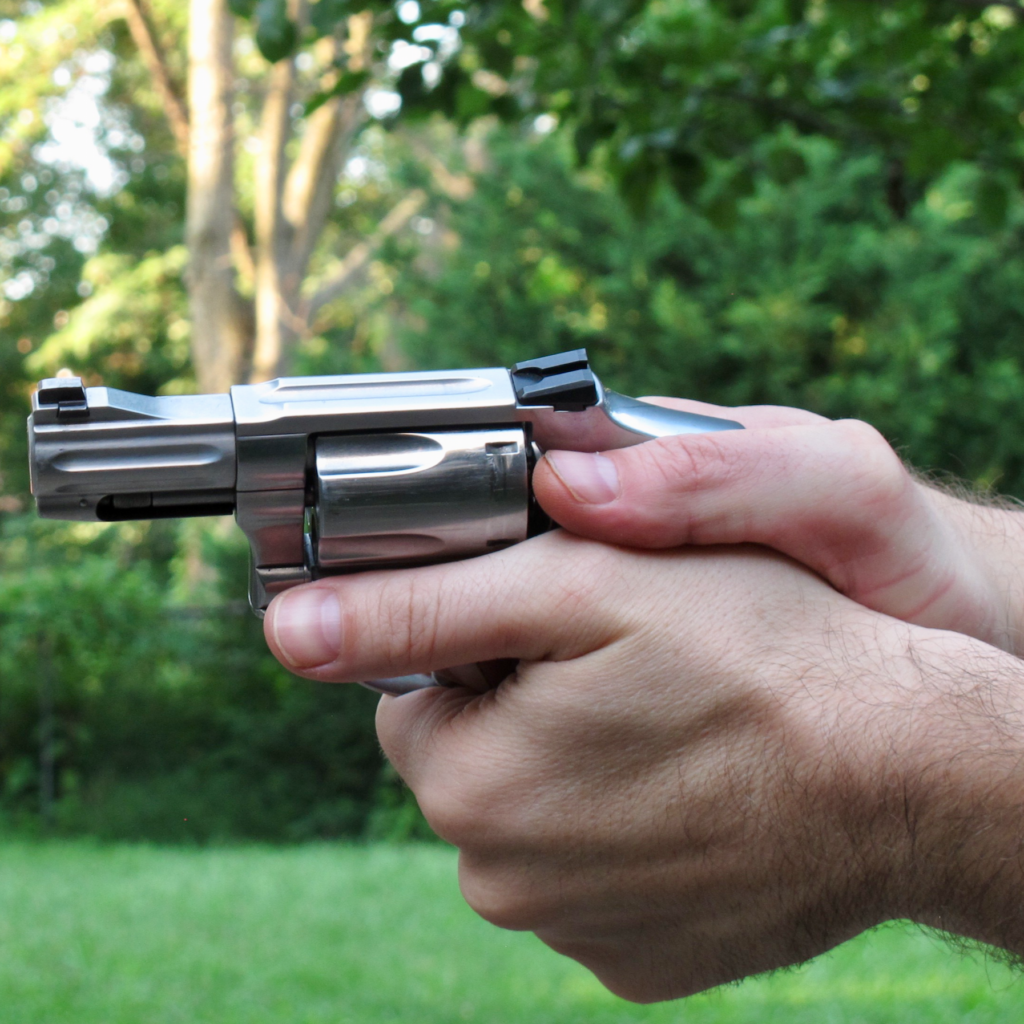 The Bottom Line
If there's one thing I hate it is broad, overly-generalized, sweeping statements. "If you put your thumbs forward you will injure yourself," is an example of such a statement. Remember my buddy's kid I mentioned in the squib load article? After having seen a bunch of these videos he was afraid to shoot my 686. He will happily blast away with his dad's Glock all day, but I had to coax him into shooting my revolver because this has, I feel, been blown somewhat out of proportion. He's seen the YouTube videos and is scared of revolvers. Which is a real bummer.
If you aren't comfortable shooting with a thumbs forward revolver grasp, I'm not saying you need to run out and try it. But… maybe we could tone down the "you're gonna shoot your thumb off, kid" rhetoric just a bit? I know at least one or two of you guys out there use a thumbs-forward revolver grasp. What about the rest of you? Weigh in with a comment and let us know!
Liked it? Support RevolverGuy on Patreon!