If you've been reading this blog for any length of time you've doubtlessly noticed that with the exception of Steve Tracy's recent article, I haven't given Ruger much love. That changes today! After Mike and I visited the Ruger factory in Prescott, we were generously offered access to T&E samples of Ruger revolvers – an offer we wasted no time taking them up on. The first gun I wanted to get my hands on is the one reviewed here: the GP100 Match Champion.
I know we're late to the party – there are tons of reviews covering the GP100 Match Champion that already have a little dust on them. What I hope to offer is a review from someone who runs wheelguns on a daily basis as a primary defensive handgun, and for that matter, his only handguns. Not that this makes me an expert or any better judge of a gun's worth than anyone else, but I do think it gives me a unique perspective on the matter. In reviewing this gun I'll probably contradict some of those other reviews out there. Not purposefully, mind you – I'm just going to call this one like I see it.
First Impressions
Opening the grey Ruger box revealed a fine-looking revolver, a lock, disassembly pin, and the instruction manual. After getting a few intial photographs, I pulled out the chunky gun and began getting familiar with it. My first impression of the revolver is that it is made to a reasonably high standard. Now you might be thinking, "Justin, it's a revolver from a well-established manufacturer – of course it's made to a decent standard!" Unfortunately I've had the opportunity to handle the new Colt Cobra and some Smiths of recent vintage. The finish on these guns seems to be trending toward a cheap-looking bead blast that looks more at home on a bargain-basement blaster than on products supposedly produced by leaders  in the industry*. And quality control (especially on revolvers for some reason) seems to be a remnant of a bygone era.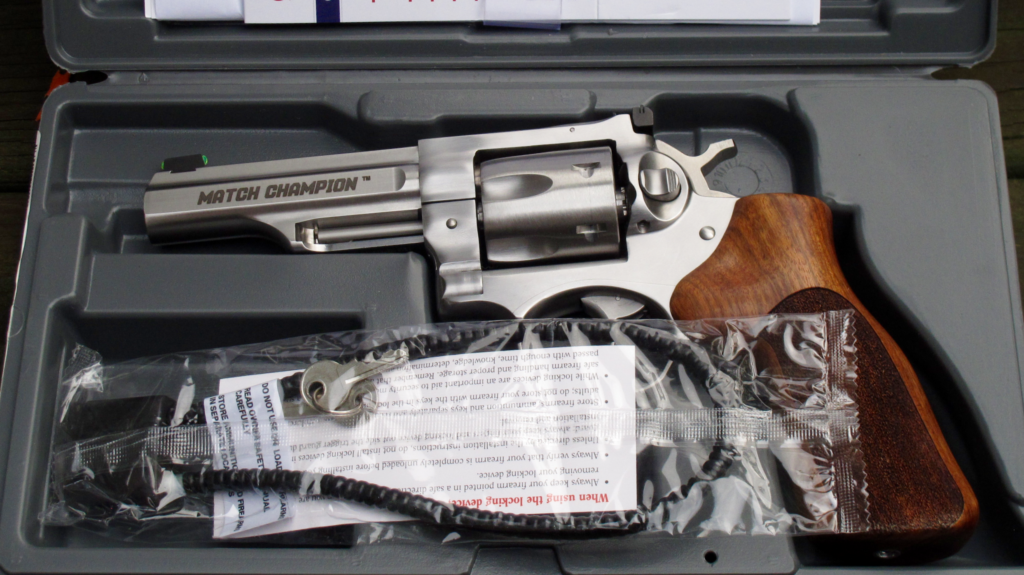 Not so with the Ruger, or at least it doesn't scream "cheapness." This gun is stainless steel and proud of it. The fit, finish, and overall quality of the GP100 Match Champion seemed to be outstanding and free of much of the corner-cutting that is becoming industry standard. Working with the GP100 Match Champion over the next several weeks would prove to me that this gun is far from perfect, but it mostly lived up to my initial expectations. I'll talk about what I found – good and bad – and give you my verdict at the end.
Trigger
One of the first things I am interested in with a new gun is the trigger, and this trigger was initially pretty atrocious. Admittedly I am a little spoiled with revolver triggers, so this one took some getting used to. The bang-switch on the GP100 Match Champion is close to a pound and a half heavier than anything I own, coming in right around 12 lbs. Aside from being heavy, the trigger also had some pretty horrendous grit and hitches, at least initially. The pull would be fairly smooth for the first two-thirds of its travel, then hit another wall concurrent with cylinder lockup.
"I know how to fix that," I thought, and immediately dropped in a set of A-Zoom Snap Caps. I got serious about dry firing it. After a few hundred dry-reps over over several days, the trigger pull began to smooth significantly. I also began to notice some visible wear on both the trigger and hammer as exhibited in the photo below. It seems that the parts needed to wear in together, and this contributed to smoothing the lockwork substantially. A carefully placed drop of CLP here and there didn't hurt none, either, and soon enough the trigger actually felt pretty good.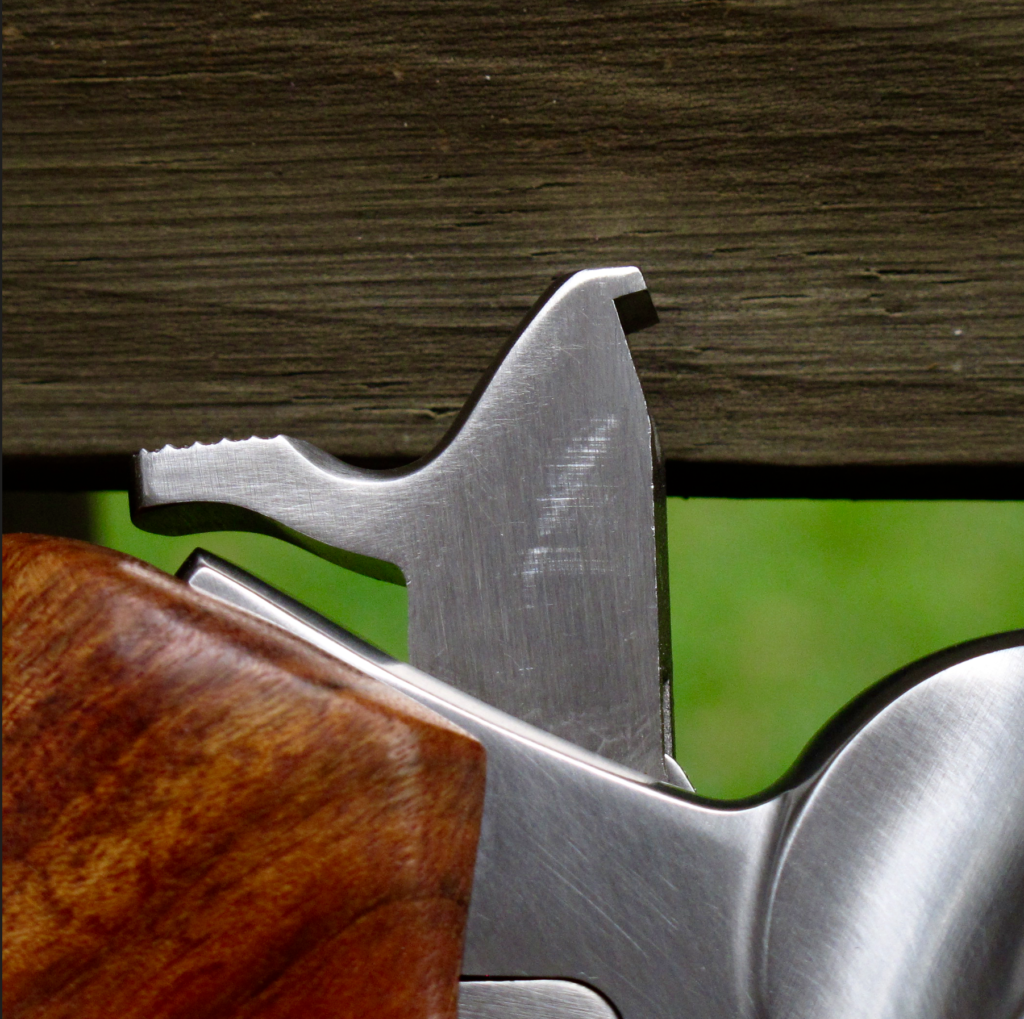 The single-action pull never got great, but here's the thing: I'm being really, really snobby about it. That is to say, I am judging it against an unrealistically high standard that is probably meaningless in the real world. However, I will tell you what I felt. On this exemplar there was a very small, slightly distracting amount of creep before hitting the "wall" of the SA trigger. Realistically speaking this is an extremely slight amount of superfluous travel and I rarely use the single-action function on my revolvers (including this one), reserving it only for long shots of let's say, 50 yards and greater. I do prefer to keep the single-action capability on revolvers that might be carried in the woods or desert for these longer shots, but I doubt this bit of trigger creep would make a huge difference one way or the other in those environs. Still, it's worth mentioning in case you're looking for a target gun or long-range hunting handgun.
Sights
The GP100 Match Champion sports a fiber-optic front mated to an adjustable rear sight. I'm not a fan of fiber-optics and this gun didn't change my opinion on that. The front sight is fantastic for pushing speed but something less-than-fantastic for precision work. I found that the large, melted green dot obscures the square of the front sight, especially in bright sunlight. Lining up the sights for a precision shot felt like attempting the center a round peg in a square hole. With the fragility inherent in the fiber-optic rod itself, I applaud Ruger's shrouded design, but I'd still rather see a tritium or gold-bead front – or at least a more refined fiber optic design.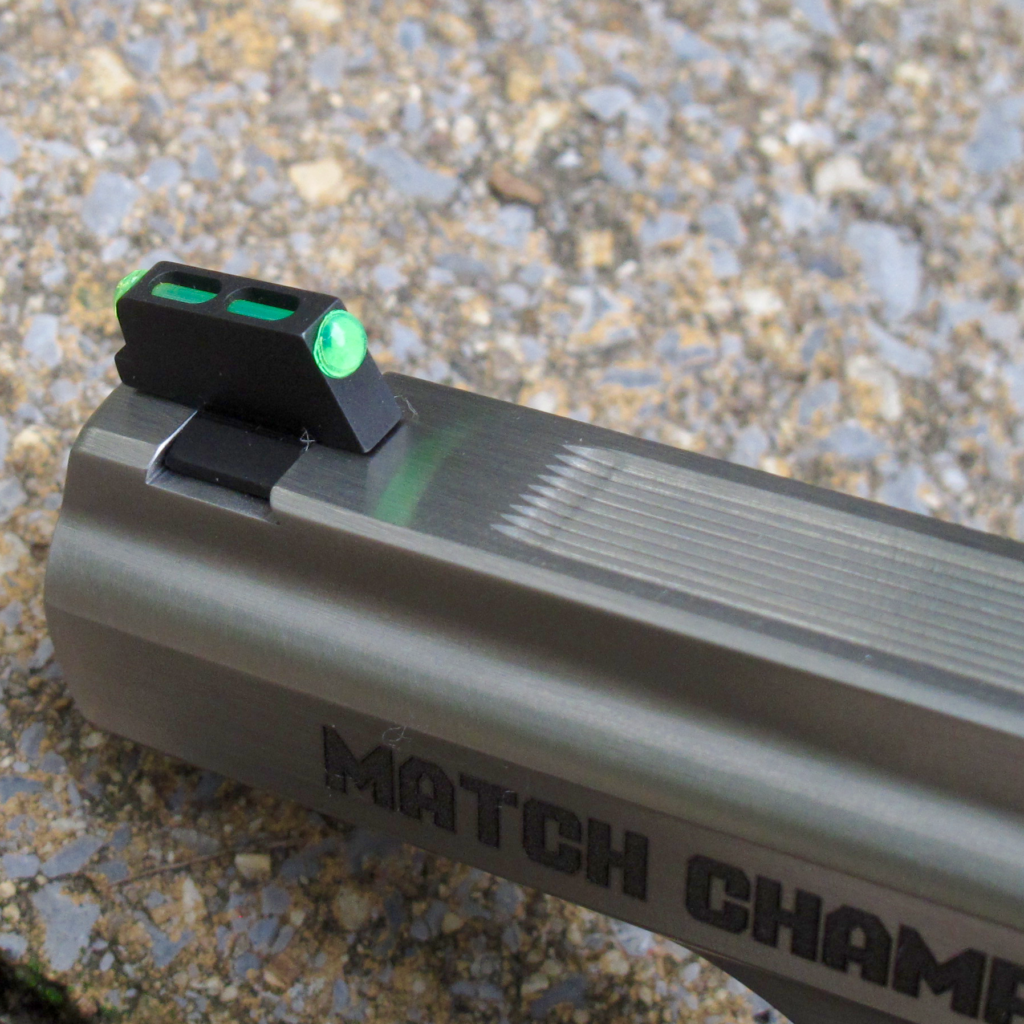 Out of the box the gun printed about 4″ high at 10 yards. This was no issue at all with the excellent adjustable rear sight. This set can be maniuplated for both windage and elevation through two set screws. Getting the gun printing on target was quick and painless. The rear sight blade has a white outline and the notch is of an ideal depth for me. Best of all, the sight is recessed well into the receiver, lessening any concerns about it being knocked out of alignment or broken during hard use. The GP100 Match Champion is also available with a fixed Novak rear sight, but I was glad to have the movable option.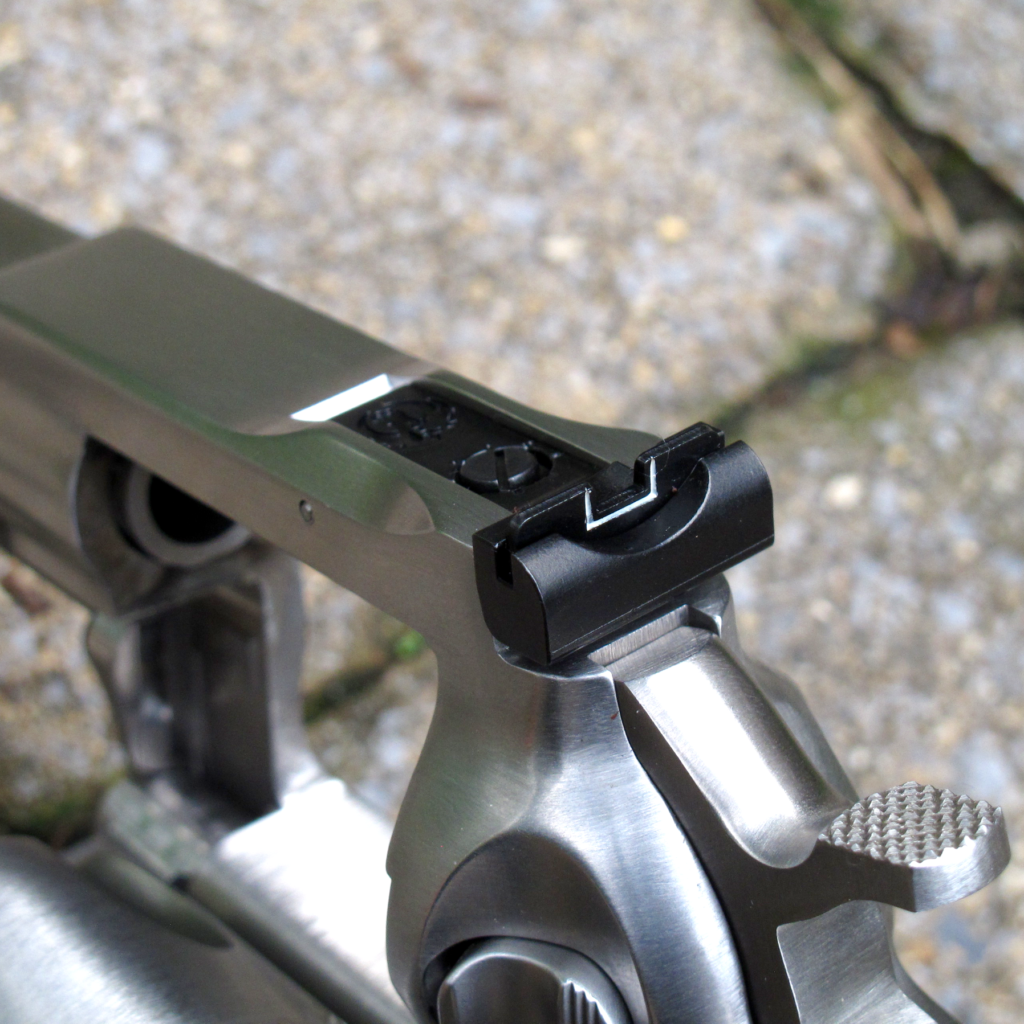 My complaint about the rear sight: the assembly is pinned rather than screwed onto the gun. After the first 100 rounds fired, the pin began to walk itself out. It had come out to an shocking extent (roughly 1/8″) by the time I noticed it. Checking the position of this pin 100 rounds or so became a ritual throughout the remainder of my shooting with GP. Sometimes it needed to be pounded back in, and sometimes it didn't, but it never ceased to nag at me; a revolver isn't much good if the rear sight falls off.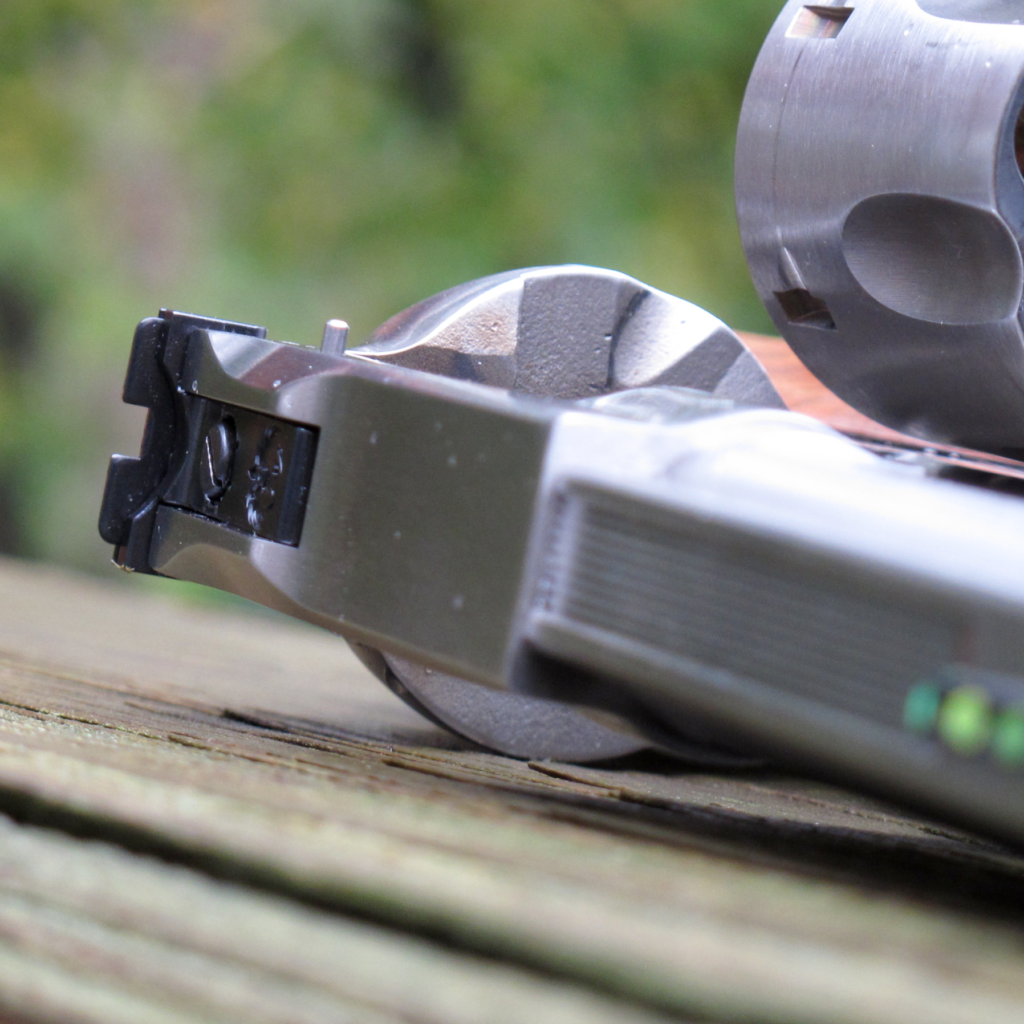 Grips
The grips on the GP100 Match Champion are very visually distinctive. Intially I wasn't the biggest fan of their aesthetics and preferred the old rubber-with-rosewood-insert models. This was before I handled the gun significantly. After my first range session I reached the conclusion that these grips are excellent! First, the angle: it is very vertical and straight in comparison to most revolvers. If not for the subtle contouring of these wooden stocks you could almost close your eyes and imagine yourself holding a 1911.
This 1911-ish angle was evident when I first began running this revolver. If I closed my eyes and presented the gun, I would open them to find the front sight nowhere in attendance. My familiarity with more traditional revolver stocks had me pressing the muzzle down far too low upon presentation of the firearm. This was remedied in short order (again, with some dry practice) and had been more or less fully resolved by the first time I got the Ruger out to the range.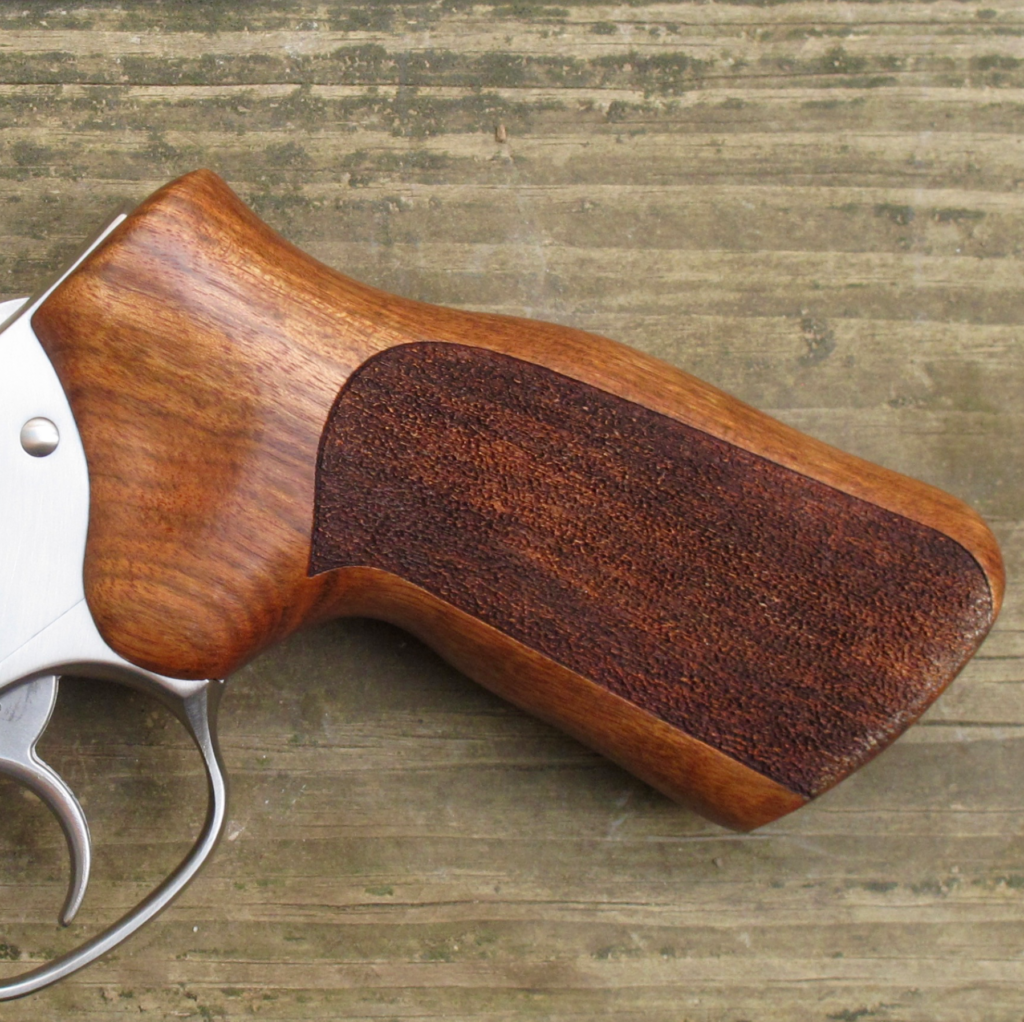 The stippling is also a very nice touch, and not just for looks. I generally avoid wooden revolver stocks because diamond-checkering tends to wear and loose its bite pretty quickly. Smooth wooden stocks just don't quite give me enough friction, and I feel that the gun can slide around in my hand too much. The stippling on these grips splits that difference nicely. It offers outstanding purchase (I never wanted for more) and I doubt they will lose their "grippiness" much over time. Despite their atypical appearance, Ruger has done something right with these grips and I'd like to see them available for more revolvers.
If I have one complaint about the furniture on the GP100 Match Champion it would be the length of the stocks. They make the gun big. If it is to be used for home defense, hunting, competition (all venues where the handgun would doubtlessly perform well) this isn't a concern. If you fancy concealing the GP100 Match Champion, this will be an issue. And with my small-to-medium-sized hands the extra length was wasted on me and I would have preferred a more compact overall package.
Cylinder, Barrel, and Frame
The GP100 Match Champion's cylinder is visually interesting. If you look at it directly, you notice that the flutes are curved, making them look ovoid and frankly, a bit odd. This is due to the narrower front end of the cylinder, which is intended to ease the transition of the width of the cylinder into a leather holster. On many revolvers I would chalk this up mostly to aesthetics; on the GP100 Match Champion I think this might actually be a worthwhile feature. Because of the versatility of this handgun, it may be used for competition, home-defense, carry on the street or afield, as a hunting or competition piece, or all-of-the-above, by the same person. In Kydex this contouring won't make much difference, but this gun might actually see some time in leather.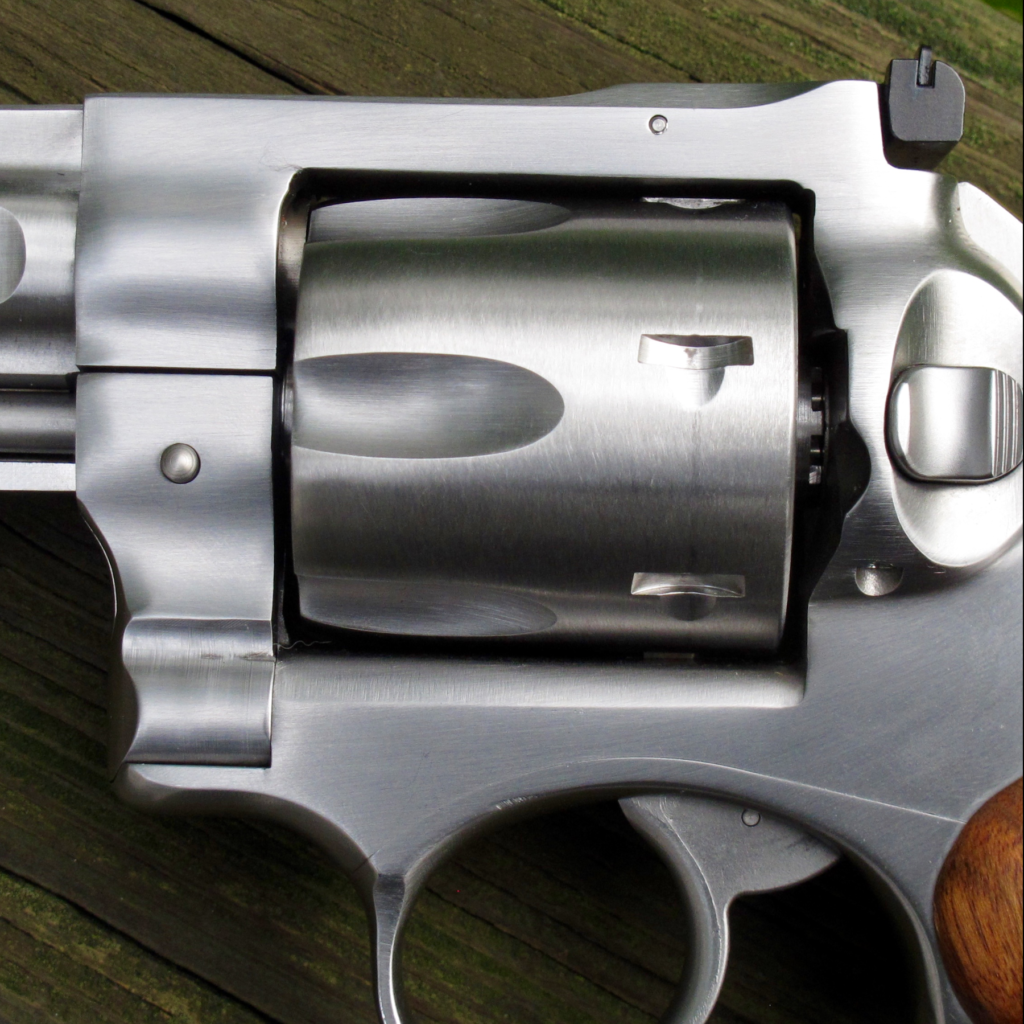 The other neat thing about the cylinder, and one that you will doubtlessly appreciate if you spend any time at all practicing reloading your wheelgun: the chambers are chamfered. The 90-degree angle on each chamber wall is only slightly broken to allow rounds to find their mark more easily. You can see this subtle angle in the photo below. This might not seem like it would make much of a difference, but it does, and I wish all revolvers came from the factory with this finishing touch.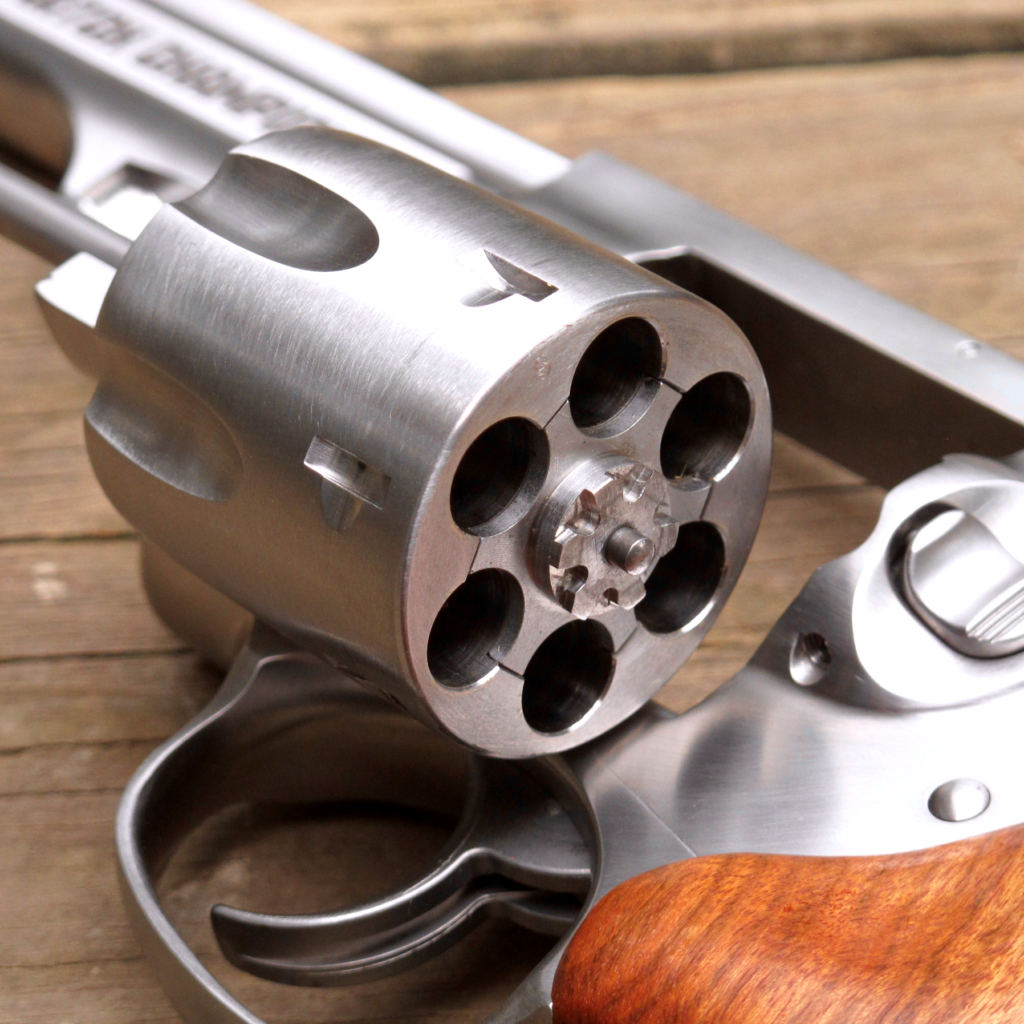 The barrel is another highly distinctive feature of this gun. In a most unusual move, Ruger decided to grace the Match Champion with a slab-sided barrel. Practically I don't think this does a whole lot, but it sure makes the gun unmistakeable, as does the large "MATCH CHAMPION" emblazoned down the left side of the tube, and the "RUGER GP100" down the right. Thankfully, Ruger chose to provide the ubiquitious owner's manual disclaimer in a discrete location under the ejector rod shroud. The high-visibility branding marks are touches I can live with, but could also live without.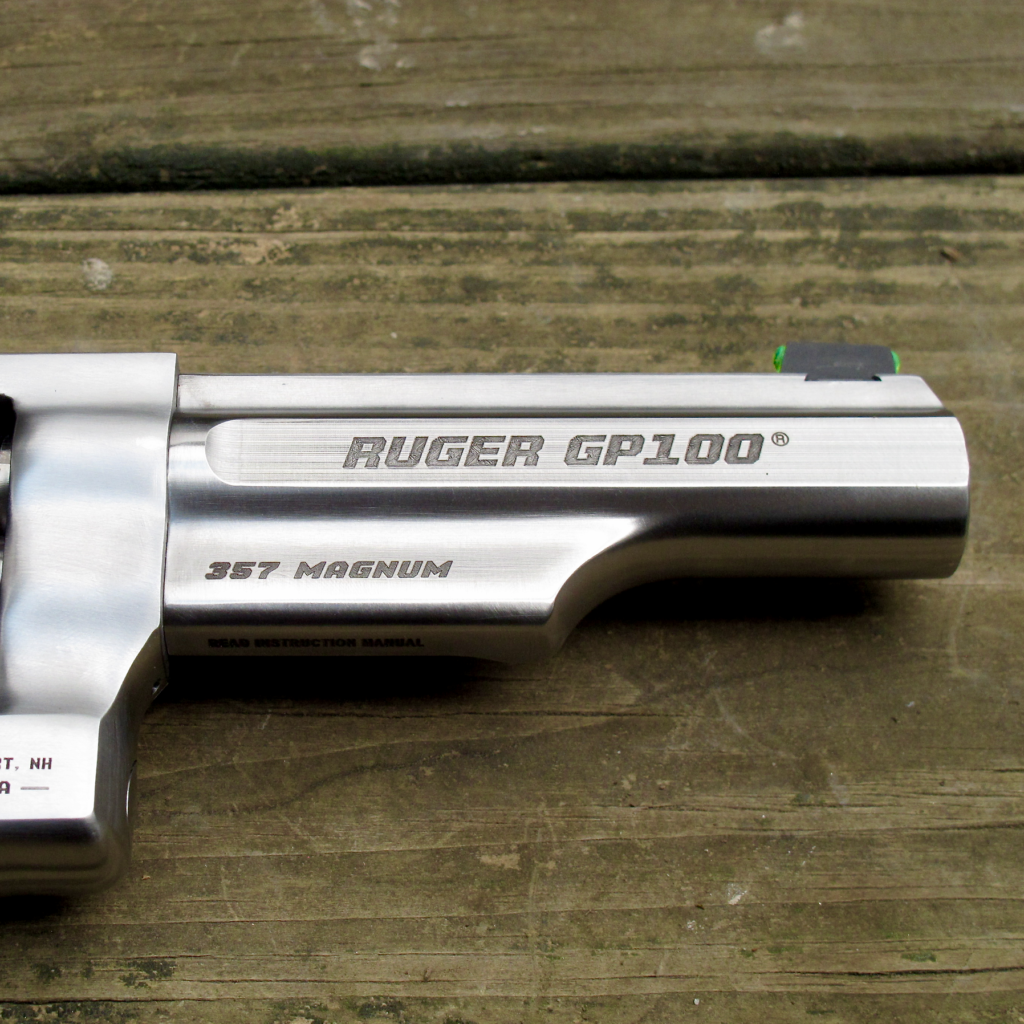 The top of the barrel is adorned with nine sharply cut lines to reduce glare. The muzzle crown is also well recessed. Neither of these features are strictly necessary, but both are appreciated by me. Another feature that I really got used to is Ruger's cylinder release latch. It's no secret that I am a (pre-lock) Smith & Wesson guy, through-and-through. I have trained with that latch system so much that initially I missed it a little.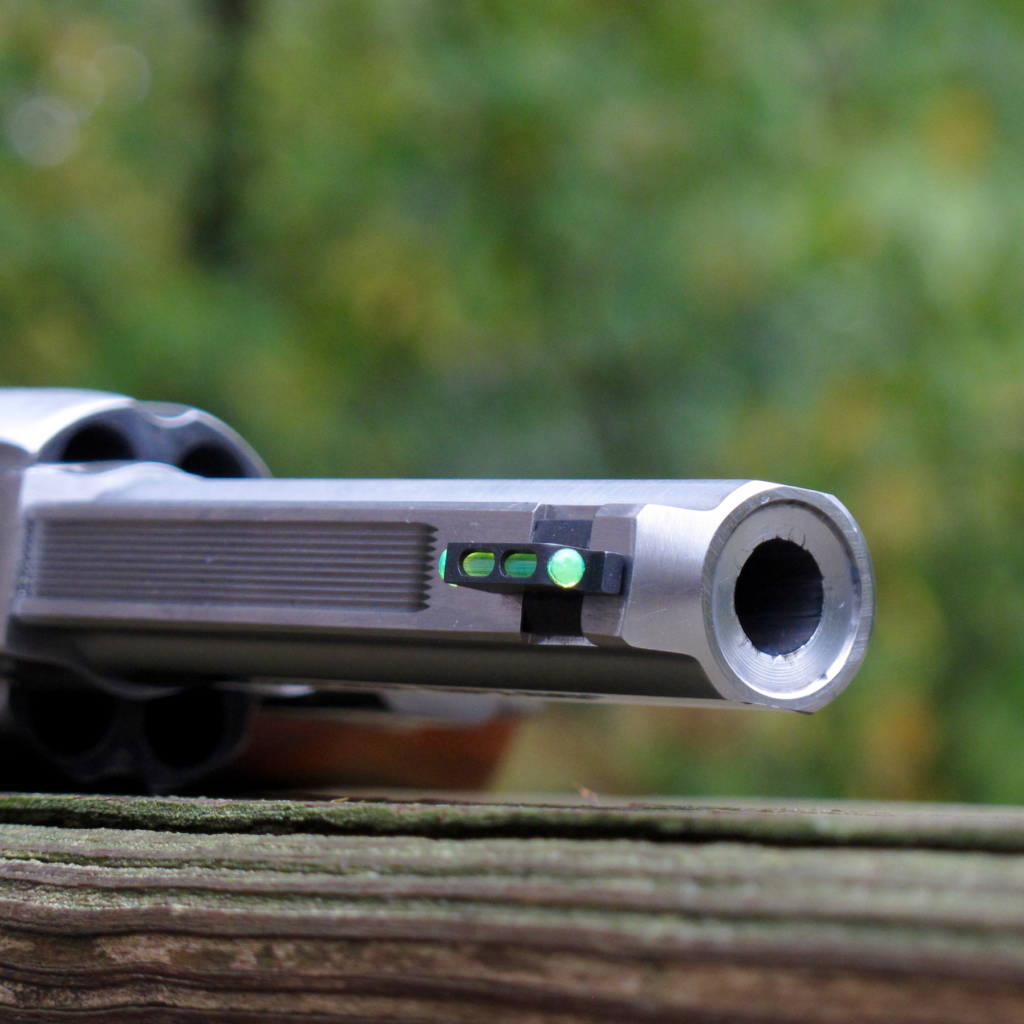 I've shot Rugers before but it took shooting one a lot (and dry-firing it a lot more) to really get comfortable with the latch. And pretty soon…I started to love it. The motion to unlock the cylinder began to feel natural. At the end of this test I actually feel that this is a more positive motion that is less prone to the thumb slipping off than the S&W-type latch.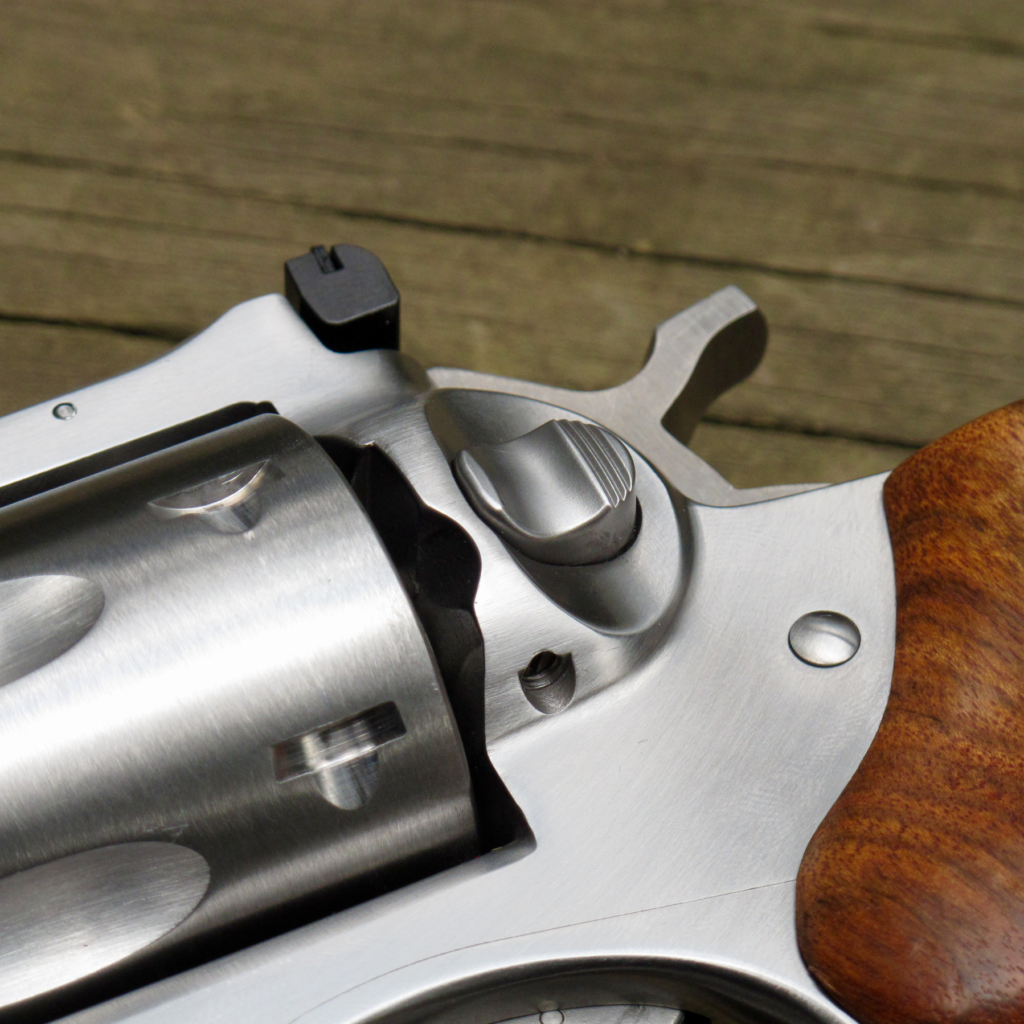 Shooting the GP100 Match Champion
Before I talk about what I did do with the GP100 Match Champion, I'll tell you want I didn't do. I didn't bench rest the gun and try to shoot tiny groups. Mostly this was because I think there are other people out there that could do a better job of that kind of testing than I could. I will say that the gun exceeded my acceptable standard of accuracy (and you can ask Mike, I am pretty demanding in that regard) but it didn't knock my socks off. I think this is largely due to being unable to acquire a precise sight picture with the large green front fiber. I recorded no results that will be meaningful to present here.
What I did do is run about 500 rounds of .357 Magnum (and maybe 3 cylinders-full of .38 Special) ammo through the GP100 Match Champion. I ran it slow, I ran it fast, I pulled it from leather, and I reloaded it like my life depended on it. I shot it at distances from contact to fifty yards. I didn't clean it once in the time I had it, save adding a couple of drops of oil here and there, and immediately before sending it back to the good people at Ruger.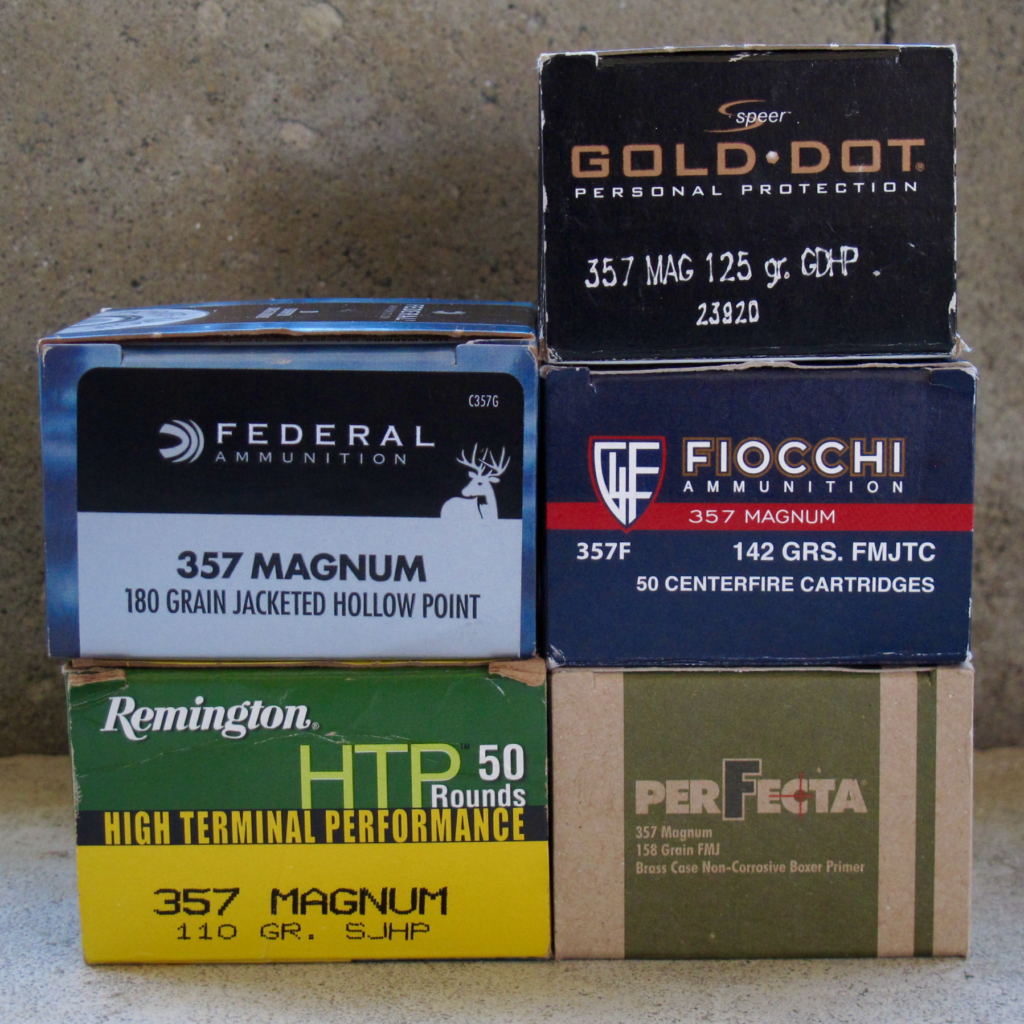 Though the bulk of the ammo I put through this gun was Perfecta 158-grain FMJ, I also fired it with Remington 110-grain SJHP, Speer 125-grain Gold Dot, Fiocchi 142-grain FMJ-TC, and Federal 180-grain JHP. The gun fired everything I threw into it and the grips did an admirable job taming recoil, especially with the heavier Speer loads (the hardest-thumping of the bunch). The only issue I had with the revolver (other than the sight pin backing out) was a failure of a few cases to fully extract. In fairness this was toward the end of an extended range session when the gun was hot. It was also toward the end of my testing and the chambers were filthy. I did find that being aggressive with the ejector rod seemed to solve this issue, and a good cleaning would doubtlessly help in this regard. Still, the chambers feel a bit rougher internally than I am used to.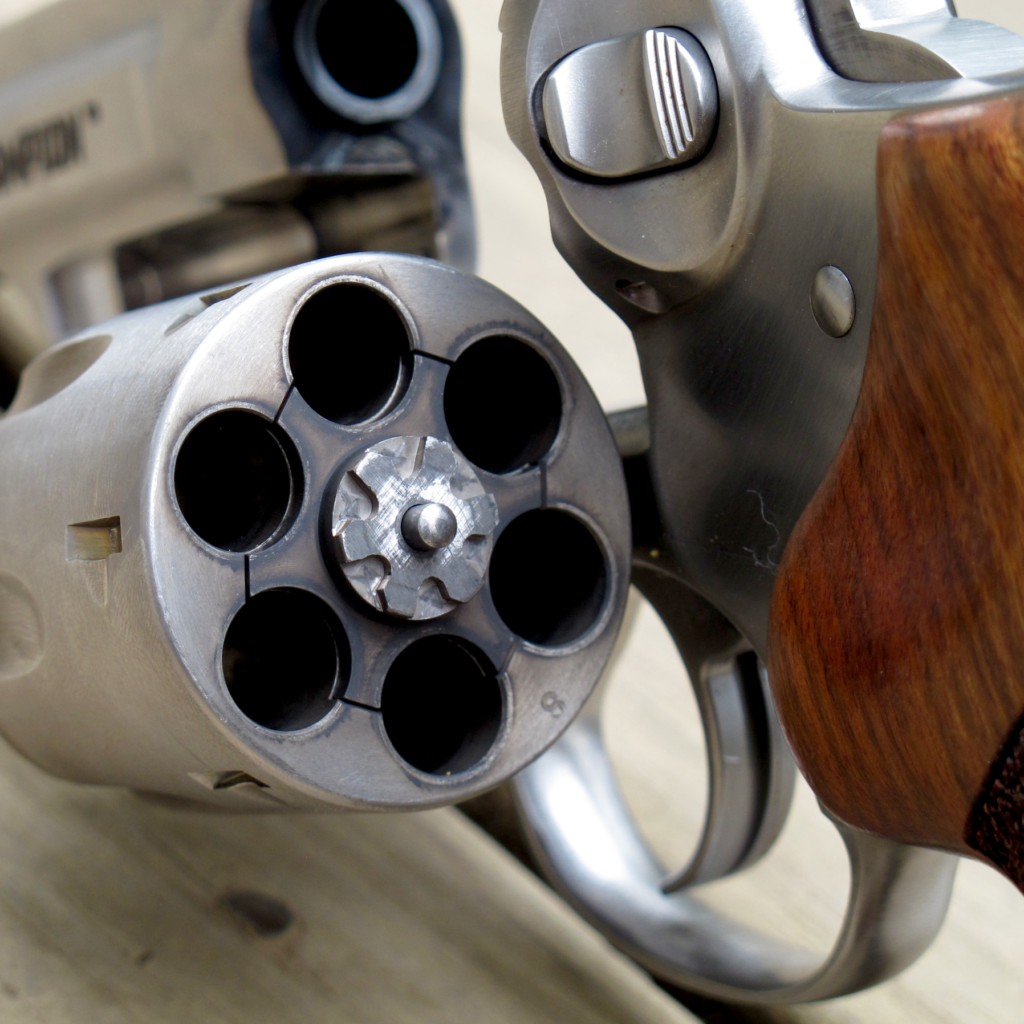 The Bottom Line
I've done a lot of nit-picking here, pointing features I like and the ones I don't particulary care for. On that score you can consider this a connoiseur's review. To conclude this article, I won't mince words: the GP100 Match Champion is one of the best current production revolvers money can buy. It is built on a bomb-proof platform. It has some innovative and clever design features. It is rugged and reliable and will likely outlast most of its owners – including those who subject it to heavy use.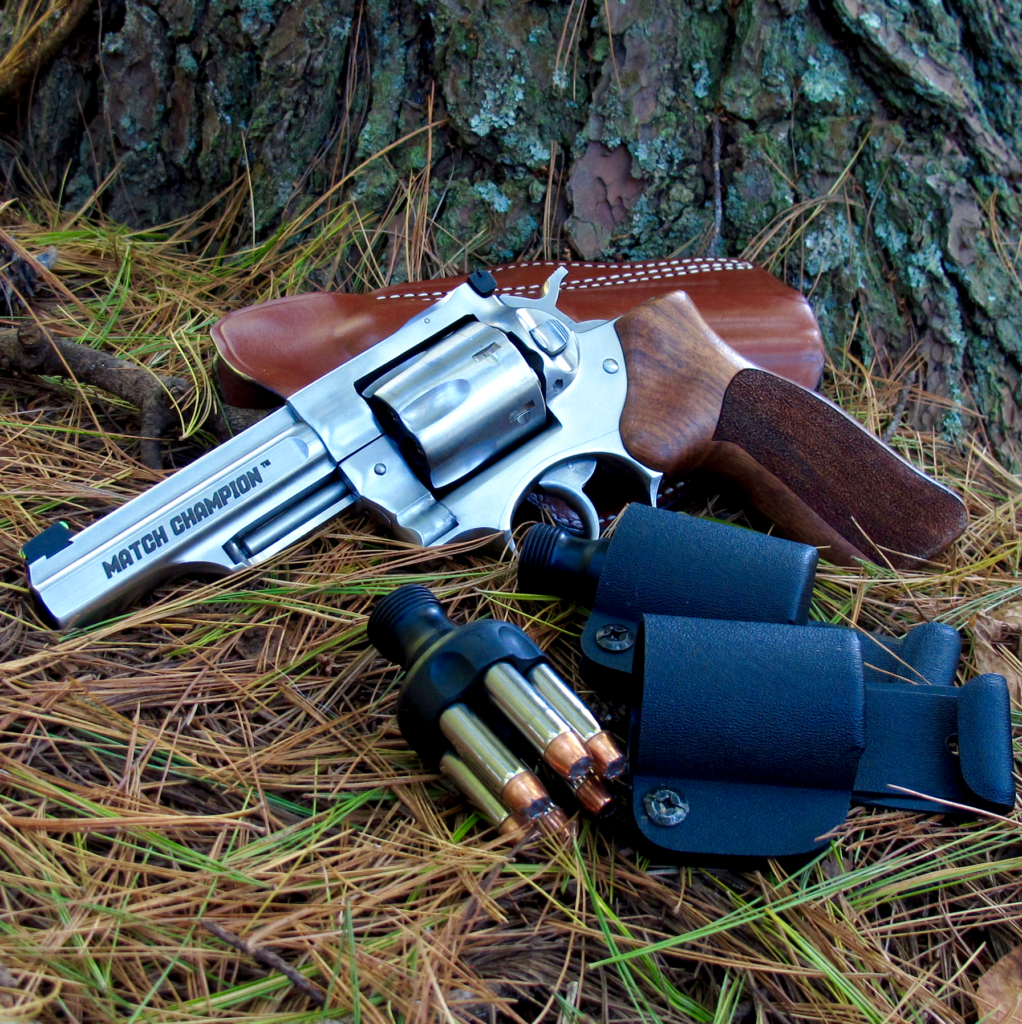 At this point you're probably asking the questions that I would be asking: "would you buy one" or "would you bet your life on one?" The answer to both is yes. To address the first question, I'll say that unless something major changes on the revolver market, my next full-sized revolver will be a GP100 in some form or fashion (I would like to hang on to this one, but it's not in the budget right now).
To address the second question, I did rely (albeit only partially) on the GP100 of some portion of the time I possessed it. During that time I had to make a road trip of around 1,200 miles round-trip. Normally, when embarking on such a trip I throw a larger handgun in the car…just in case. This time instead of my 686 I packed the GP100 in a DeSantis Speed Scabbard, a couple S.L. Variant speedloaders in JOX Loader Pouches, along with 50 rounds of 135-grain Gold Dots. I never doubted my ability to defend myself on that trip for a second. This is hardly a definitive test, but assuming I could fix that rear sight pin, I'd use this gun for anything I'd use any other revolver for.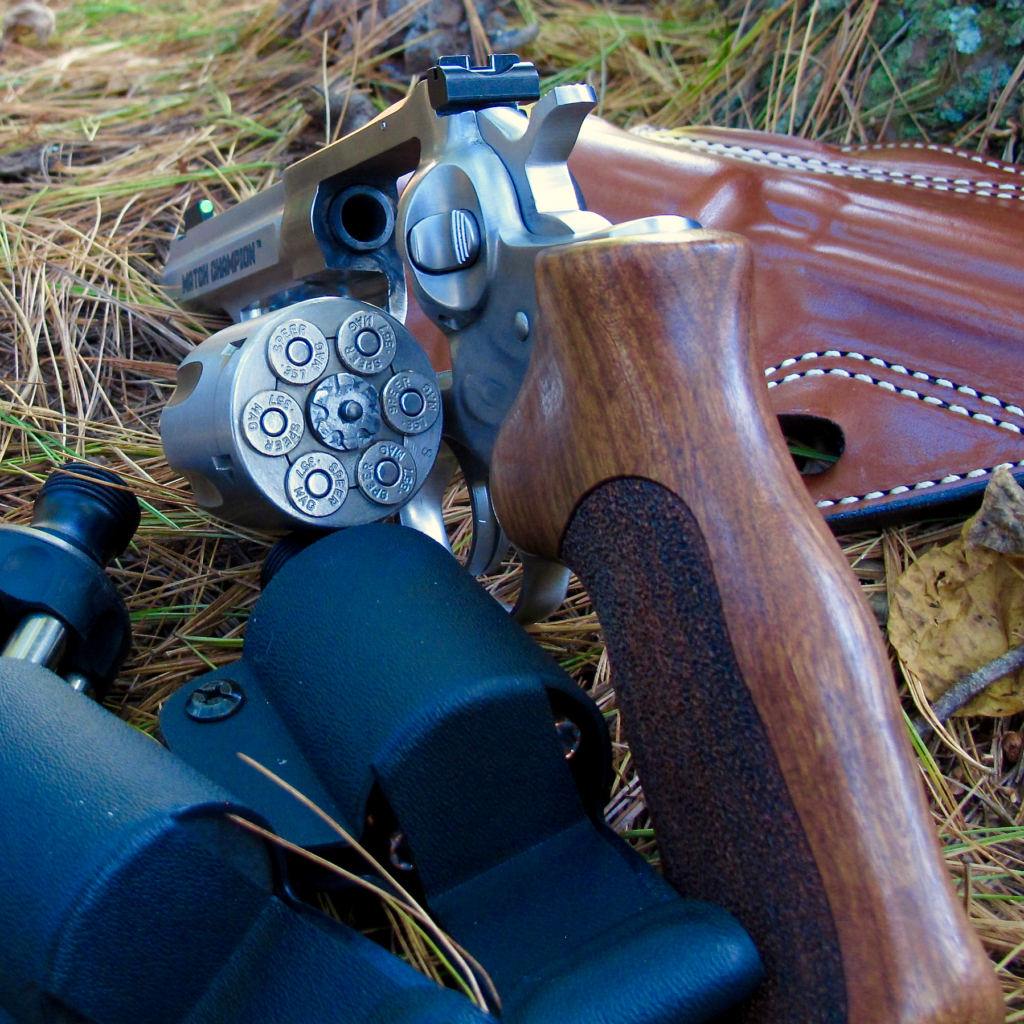 Though the .357 Magnum Match Champion is the gun that Ruger sent, the GP100 comes in a bunch of other variants, too. You can have a GP100 in .22 LR, .357 Magnum, or .44 Special, wearing a blued or stainless finish, with a barrel ranging from three to six inches. You can get it with old-school fixed sights (a rear trench), adjustable sights, or drift-adjustable Novak sights. Ruger revolvers are also nicely supported by the aftermarket and share most L-Frame speedloaders. If you're looking for a "gun to ride the river with" from today's offerings, I don't think you could do any better than the Ruger GP100 – it's one heck of a good revolver. For more information visit http://www.ruger.com/products/gp100/overview.html.
*Though to be fair, one of these "industry leaders" (who shall remain nameless) did blatantly and, in my estimation embarassingly, copy a manufacturer (who shall also remain nameless) that made its name copying other manufacturers by producing a revolver that chambers shotshells. Discerning who is the real industry leader here can quickly become an exercise in futility.
Liked it? Support RevolverGuy on Patreon!