Ok, guys, I have a confession. I'm one of those shifty, self-centered, good-for-nothing Gen-X'ers. It's true. In addition to the other flaws inherent in this condition, I am also one of those guys that doesn't really know leather. Sure I like the smell of it, but beyond that I'm pretty much lost. Take a look at the photo below. Does that look like a guy that knows the first thing about leather? Nope! So when Gene DeSantis offered to send me DeSantis Speed Scabbard, I said "sure!" but I knew I had to get smart on animal hide pretty quickly.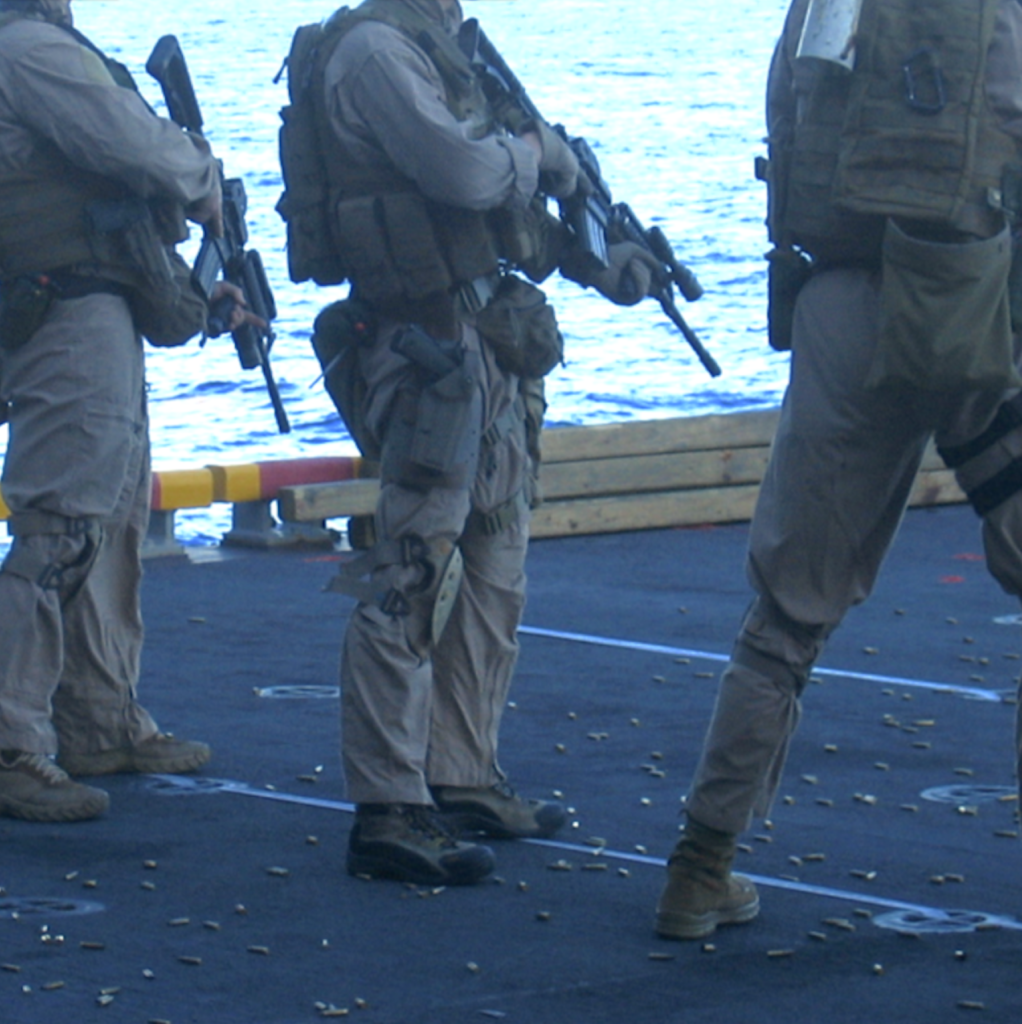 Getting Educated
So, I called up a guy that knows leather like the back of his hand – none other than acclaimed author and noted revolver nut Mike Wood. Right out of the gate Mike was way more excited about this holster than I was. Like a kid who sees a revolver and automatically thinks "cowboy", I look at leather and my mind immediately jumps to "outdoors". Mike saw something different and quickly set me straight. Though you can wear it outside, this is a concealment rig, he told me. So, I started carrying it.
First, I started carrying it around the house. A 4″ L-Frame is no small gun, and I'm not a big guy so I questioned my ability to conceal it. After several days I was confident enough to take it out for the milk run. I threw on my loosest t-shirt and headed to the grocery store. Much to my amazement, I was actually able to conceal 39 ounces of steel pretty well. This made me a little more impressed with the DeSantis Speed Scabbard, so I started carrying my 686 a little more often. Now I try to get it out of the house a couple of times a week, and here's what I've learned.
The DeSantis Speed Scabbard
First things first: this is a beautiful holster. The cowhide is evenly dyed, hand-boned, and wax finished. The edges are burnished, and the thread is a durable waxed nylon that is doubled up in some critical areas. The cut is sharp-looking and precise, and mated near perfectly to its intended cargo. Looks are great, and I like good-looking gear. Looks alone won't win  the day, but as I pointed out in my post about 5-Star Firearms loaders, good looks can be indicative of overall care and attention-to-detail. I can really get behind that.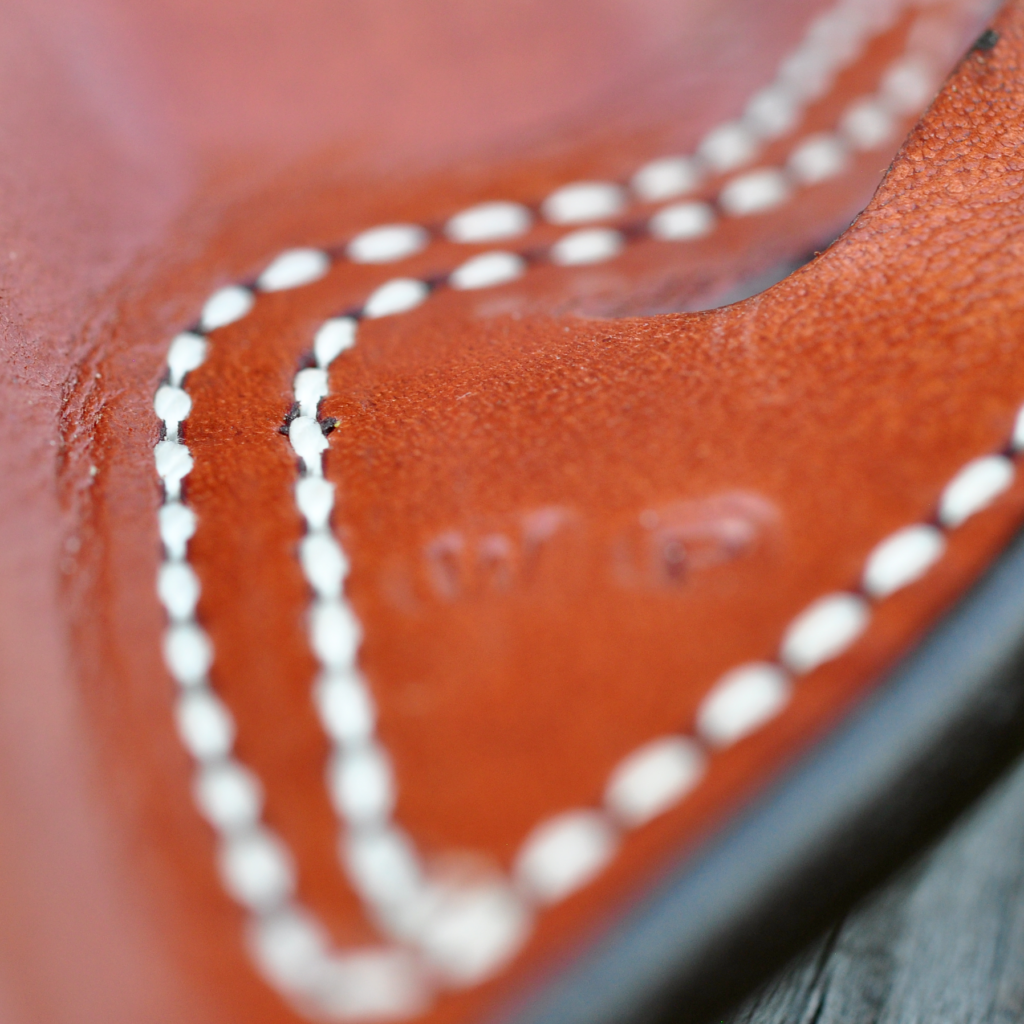 Throwing it on the belt it becomes apparent this is a thoughtfully designed rig. The first thing I noticed is how tightly this holster holds the gun to my body. With a gun this big, that is a really important factor. The Speed Scabbard also places the cylinder just above the belt line, which helps reduce its thickness on the waist. Another feature, and the one that really gave me some confidence in carrying a big gun, is the forward "FBI" cant. I am a fan of canting holsters because they let a little guy like me hide some pretty decent hardware. I also happen to like the draw stroke with a canted holster.
The "Wings"
The other big thing about The DeSantis Speed Scabbard: the "wings" that cover the hammer area. These are visually distinctive, and you've probably noticed them. The purpose of these wings is twofold. First, the have an inboard bias and provide some passive retention. This doesn't slow the draw, and it doesn't require an additional motion to master. Second, the wings protect the cover garment from the sharp hammer and rear sight. All of that is impressive enough, but – they do it without impeding a strong firing grip.
The standard technique levied by holster-makers wishing to leaving the grip accessible is to cut down on material at the top of the gun. That's cool, but DeSantis seemed to want their cake and eat it, too – the protective/retentive wings, and no interference with the grip. And they have nailed it as far as I'm concerned. I can still come in for a high, firm grip without having to worry about the holster getting in the way. This is no small feat in my book.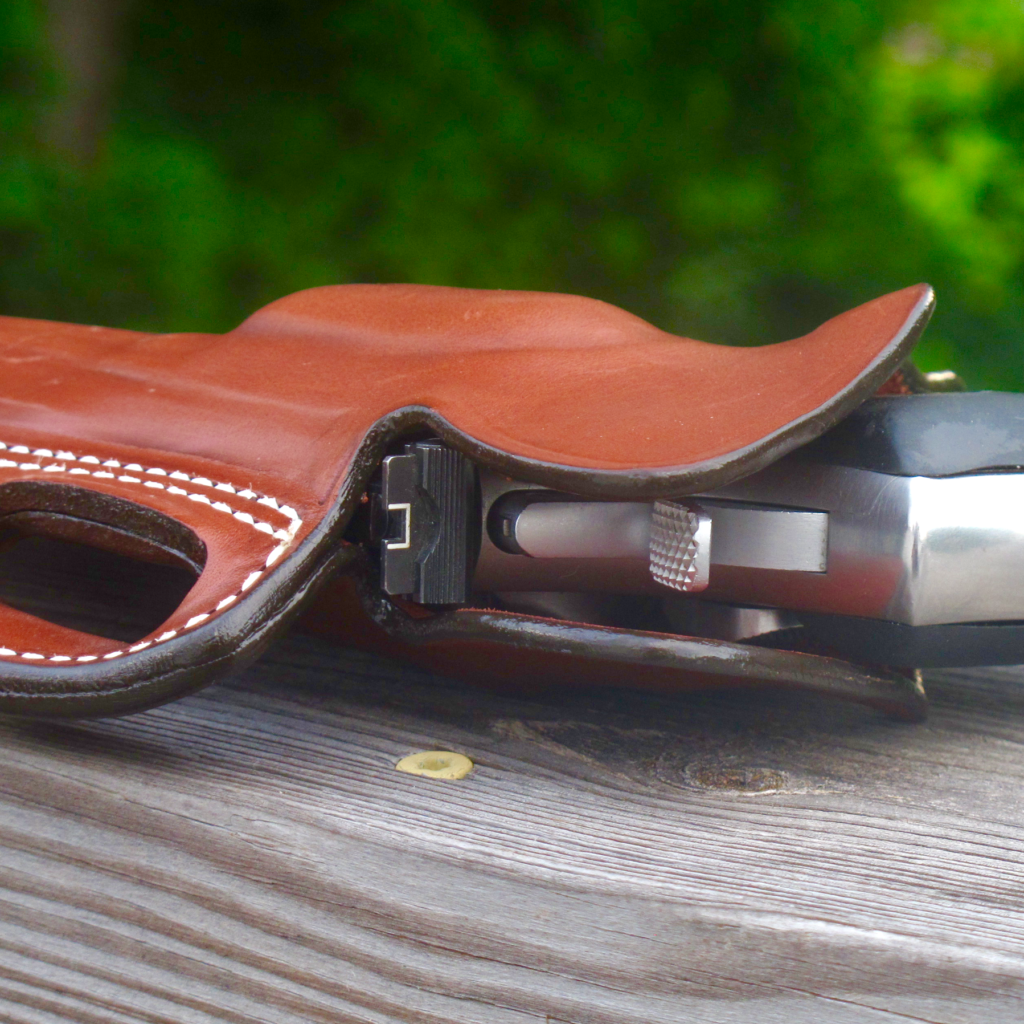 Important note: the "wings" don't appear on all models of this holster. They do seem to come on most of the revolver models, however. Some of the semi-auto versions of the Speed Scabbard come with a tension screw instead. I feel pretty lucky that this model has them because they really do add value.
The Bottom Line
Color me impressed. I've carried my 686 concealed occasionally, but never in jeans and a t-shirt. Packing the old L-frame is usually a winter sport facilitated by a long, bulky coat more than anything else. To be able to throw this rig on in the middle of summer and leave the house is pretty cool. That said, the 686 isn't replacing my 640 Pro for everyday carry. However, I am hanging onto this holster and carrying the big gun is now a viable option.
If you're looking for a rock-solid, American-made, leather OWB check out the DeSantis Speed Scabbard. It comes in and brown and black, for both right- and wrong-handed people. It's available for a ton of revolvers including S&W J, K, L, and N Frames, Ruger SPs, GPs, and LCRs, the Kimber K6S, and several Colt revolvers. Oh, and they make it for a slew of those newfangled "jam-o-matics" if you lean that direction.
The DeSantis Speed Scabbard lists at around $80 bucks†, but you can pick them up beginning closer to $50 on Amazon. When I realized I could get a holster for what I'd spend on two double-half-caf-soy-lattes and a six pack of organic, cage-free, grass-fed, micro-brewed beer in biodegradable cans, that felt like a steal to this Gen-X'er!
†For a 20% discount on orders from DeSantisHolster.com, use offer code GAF20 (I receive no compensation for the sale of any DeSantis products). Thanks, Greg!
Liked it? Support RevolverGuy on Patreon!