Cops still carried revolvers as the norm when I was commissioned in 1987. My first duty gun was a 6" Smith & Wesson 686 that a gunsmith shortened to 5".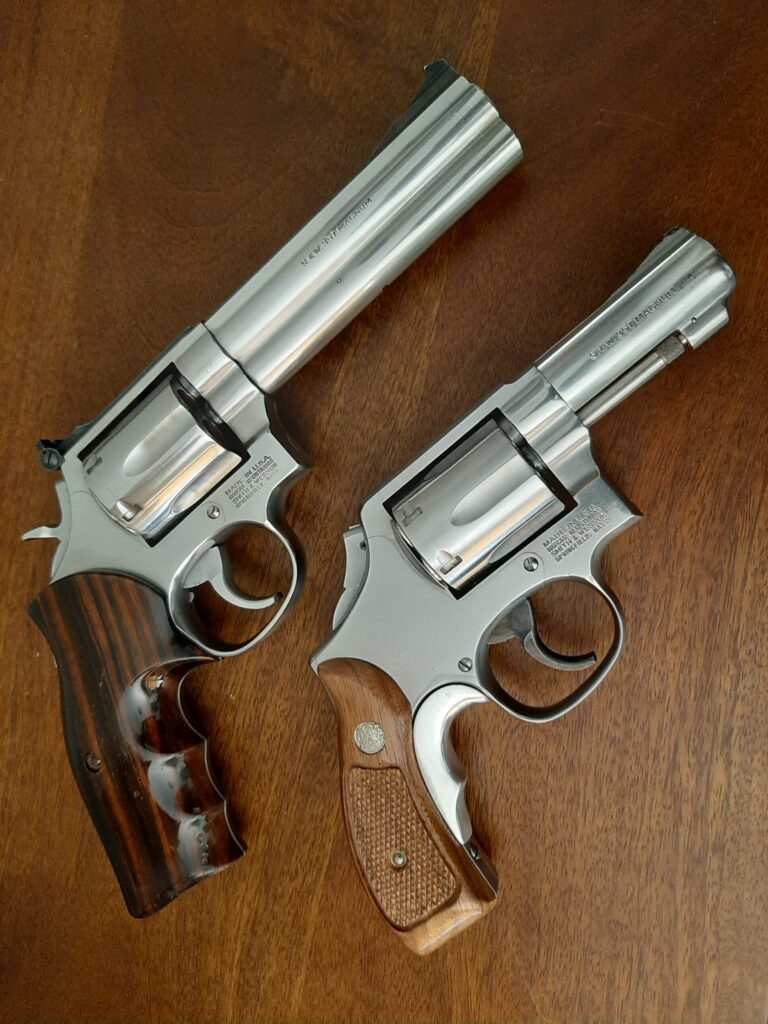 The seasoned officers that I looked up to (most of them Vietnam Veterans) advocated carrying off duty. Their doctrine was to carry the biggest gun you could hide, and carry it in the same location that you did when in uniform. That meant a 3" or 4" S&W K-Frame in an outside-the-waistband (OWB) pancake, or a Milt Sparks inside-the-waistband (IWB) holster at about 4 o'clock. Even after my agency transitioned to autos, the K-Frame remained a favored off duty gun, as it still does in retirement. Sometimes spelled by a Commander-sized 1911, or later, a striker-fired plastic compact, the round butt K-Frame was a trusted companion.
Carrying those big guns behind the hip definitely required dressing around them. Untucked shirts, vests or jackets were mandatory cover garments. This was not ideal in the warm southwest climate, nor the most comfortable when seated in a vehicle for long periods. As my lower back aged, I frequently found myself storing my sidearm under the seat when traveling, which was also not ideal.
New Demands
I took a part time job last summer that resulted in some major changes in everyday carry (EDC) methods and armament.  That job had a dress code of khakis and a t-shirt. The t-shirt didn't have to be tucked in, but a Commander or 3" Model 65 still wasn't hiding underneath. The workplace was hot and called for close contact with other employees, and lots of bending over and reaching up high. It wasn't a particularly permissive environment, and if a gun was to be carried, downsizing looked like the only option.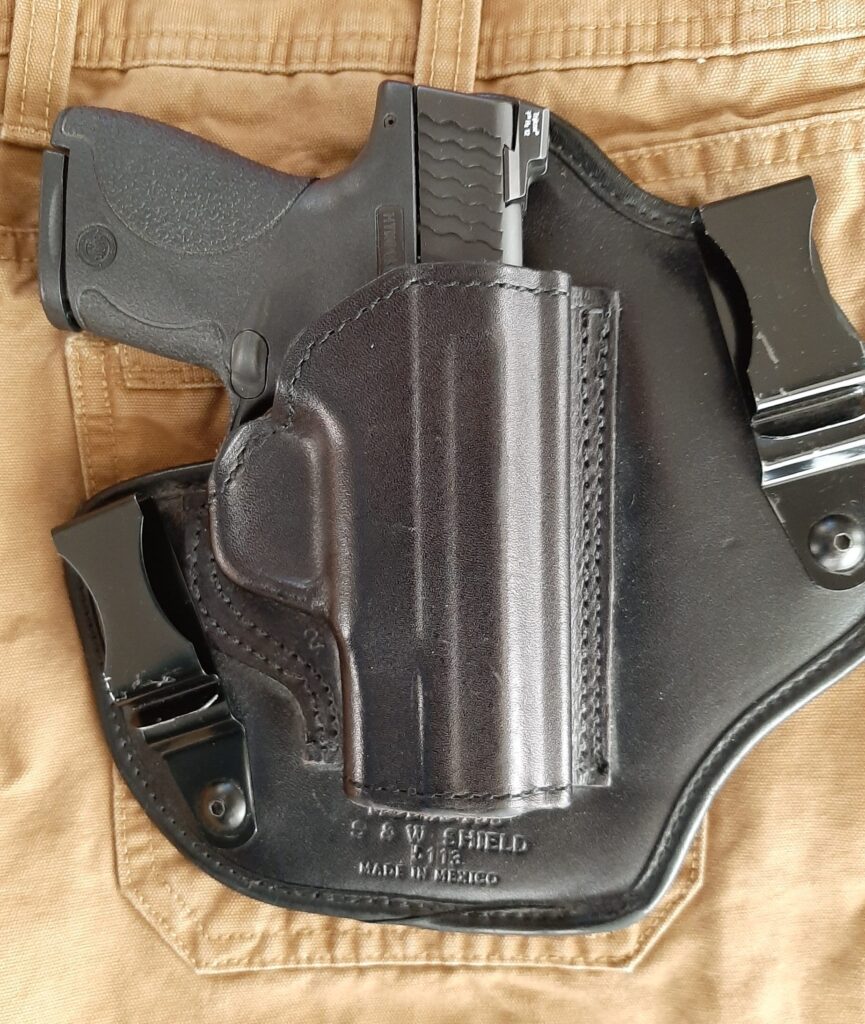 Considering my available choices, the decision came down to a S&W Shield or a J-Frame. The Shield hid okay in a 4 o'clock IWB rig when standing and walking. However, it failed the "mirror test" for printing under the t-shirt when bending over or rotating my torso, so it looked like a J-Frame or nothing. With the right pants and shoes, Galco's Ankle Glove will conceal a small revolver comfortably, but the required khakis were a little "skinny," the Airweight printed unacceptably, and access was slow. The bottom of the holster tended to show when kneeling, too. Pocket carry didn't agree with those trousers. A pocket holster barely fit in the front pocket, and, once there, the concealment wasn't adequate.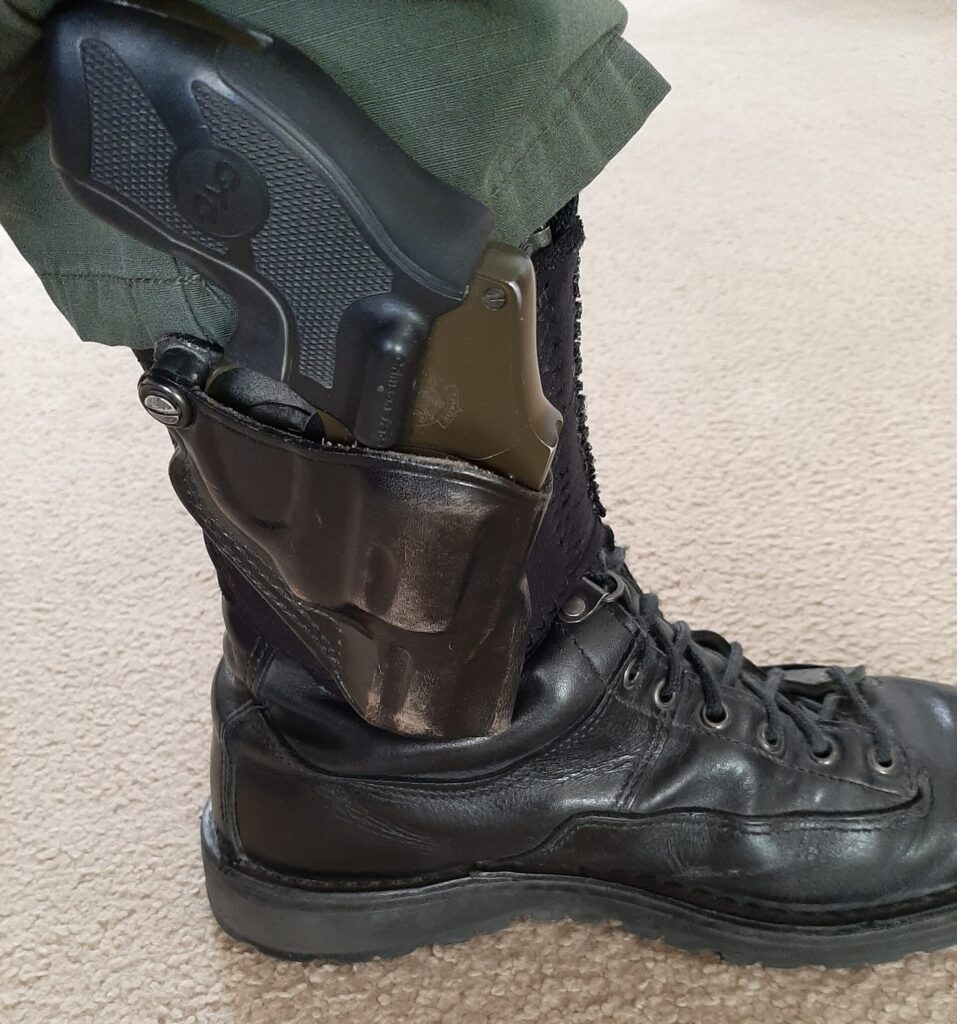 New Solutions
Searching my available inventory produced several J-Frame holsters, mostly OWB models. All printed to some degree. A treasonous thought began manifesting itself as my frustration built—Appendix IWB (AIWB) carry.
Youngster carry!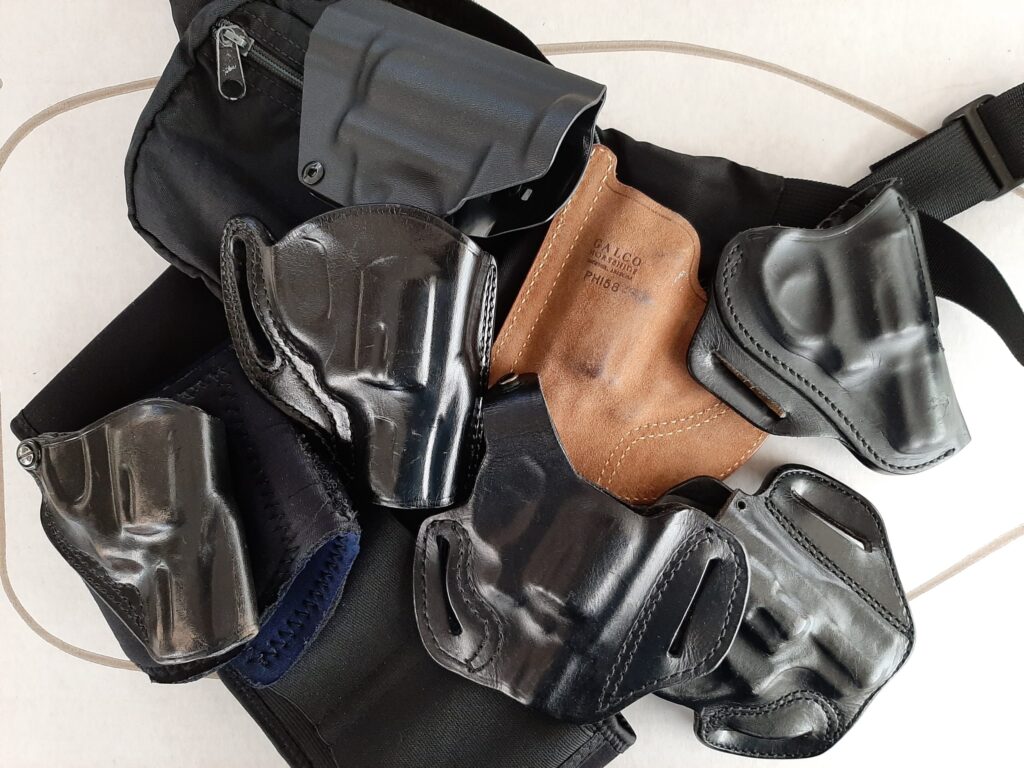 Out of desperation, I dusted off an old, floppy Uncle Mike's nylon IWB holster with a wimpy plastic belt clip. It'd been tossed in the graveyard drawer 20 years prior because it collapsed when the gun was drawn. I placed my unloaded Model 442 into the flimsy holster and stuck it in the front of the khakis just to the right of the button. An ancient Eagle nylon rappelling belt was fed over the holster with the buckle offset left of center and snugged down.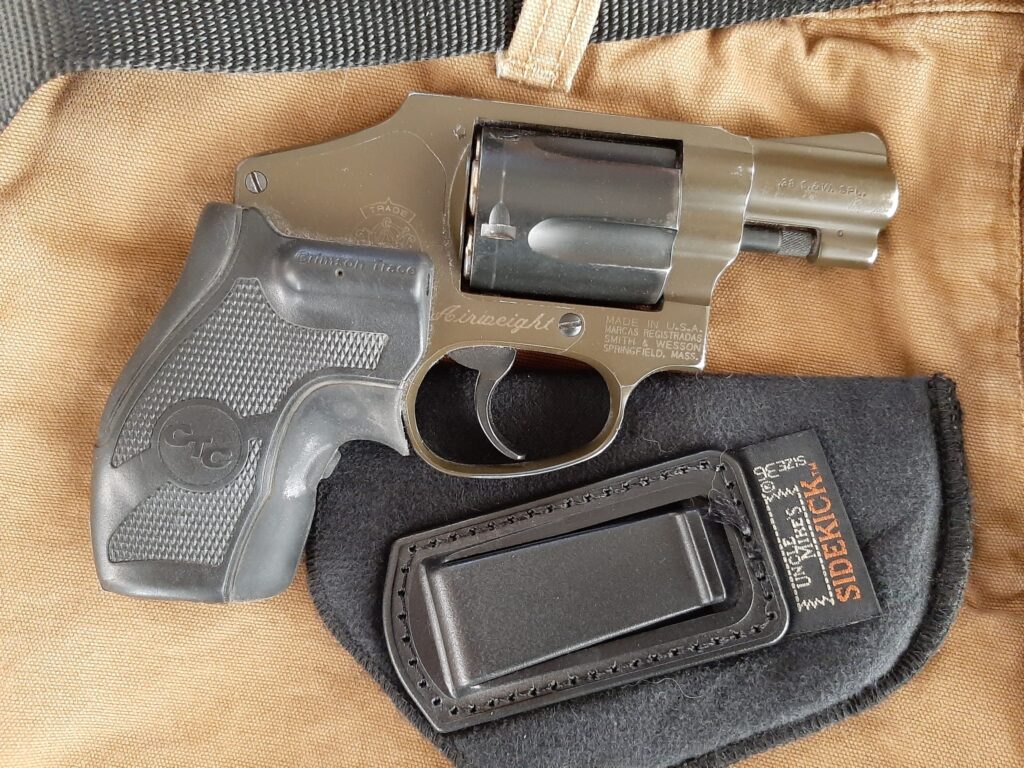 When the t-shirt was pulled over the J frame, its round butt disappeared into the "soft cover" of my waistline. Holstering was still a chore, but at least the gun was hidden. It felt foreign, but not uncomfortable. I could sit, squat, bend over and kneel without drama. The 442 rode in the Uncle Mike's on the first shift with decent results, backed up with a solitary speed strip. I had to fight the urge to adjust the holster, as repeated kneel-downs and get-ups pushed it up from its assigned position at my waistline. A trip to the bathroom showed that the belt clip's lack of retention was allowing it to slide up with repetitive motion.
A trip to a local gun store produced a Galco Tuck-N-Go 2.0. The belt clip design was better and it had a reinforced mouth. Those two features made the reasonably priced holster imminently more useful. It served well for the duration of that job, keeping the 442 secure and hidden, and allowed for safe one-handed holstering. The clip worked better with a stiffer 1 ½" belt so that change was made.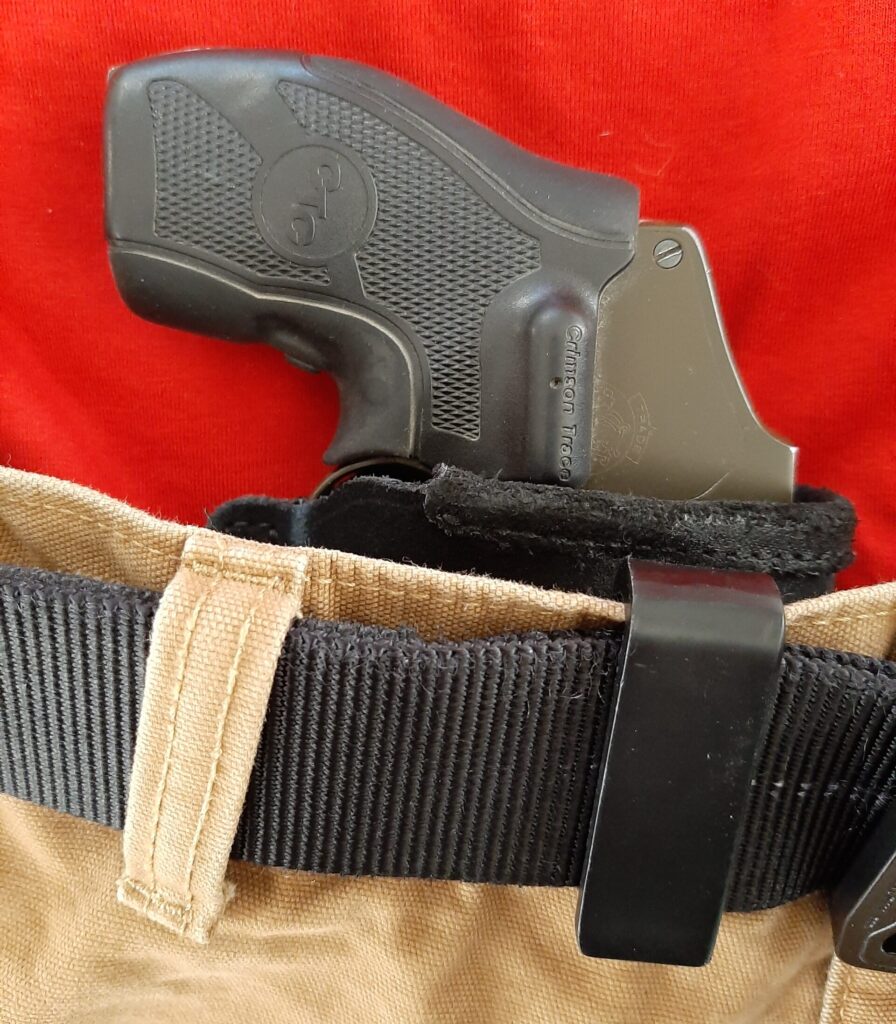 The J-Frame again made sense on a family trip to the Midwest. Suitcase space and weight were at a premium for the journey. The little gun, in its FAA-compliant case, a box of ammo, and a zip lock bag of accoutrements was manageable. We spent long hours in a gym watching my kid play sports, packed like sardines in bleachers without back rests. The close quarters again validated the concealment virtues of AIWB carry, the J-Frame remained undetected where a K-Frame carried OWB would've been trouble. I was bumped by people sitting behind me often; their knees contacting me right about 4 and 8 o'clock on my waistline. Bending over to pick up a fallen water bottle, or even a temporary slump of posture would've been very likely to silhouette a handgun carried behind the hip. Our itinerary involved taking a rental car to another large city several hours away to visit family before flying home. The 442 rode comfortably AIWB under the seatbelt, but the long drive gave me time to ponder how minimally I was armed.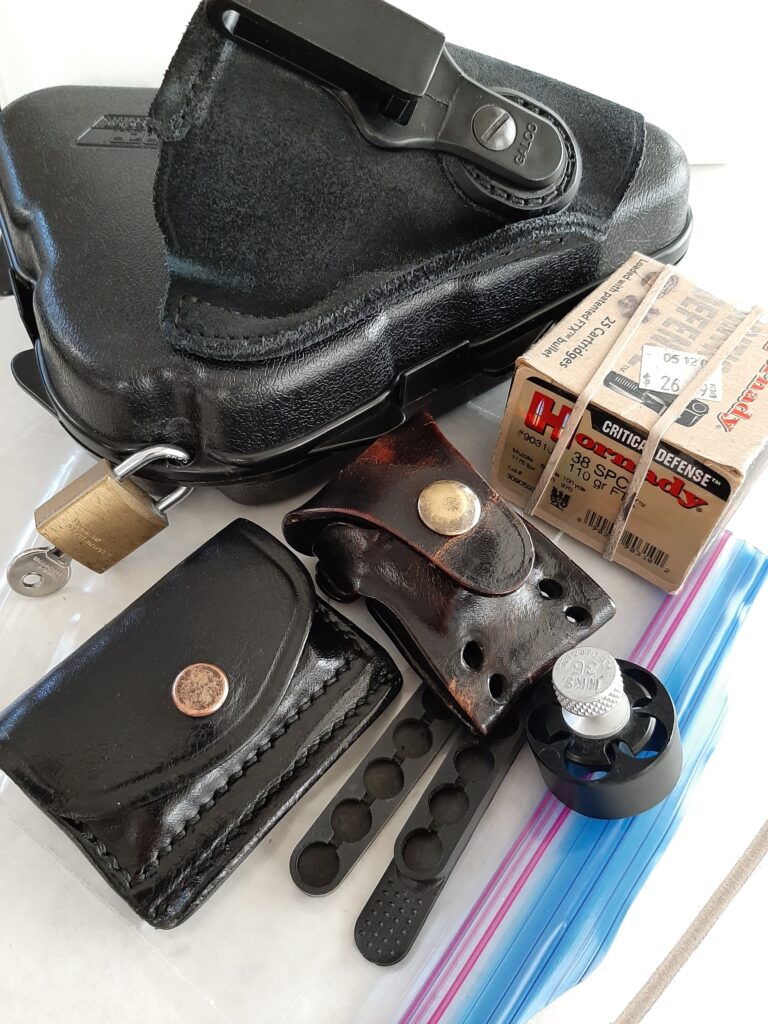 New Challenges
Carrying a .38 Special J-Frame as a primary had always struck me as a last resort because of the small gun's handicaps. The five-round capacity was a big deal when you were so used to having six. The .38 Special fired from a 1-7/8" barrel doesn't perform like it does from a 4" tube–even with +P help. The puny sights and short extractor rod added to my lack of confidence in my 442 in "other than back-up gun" status.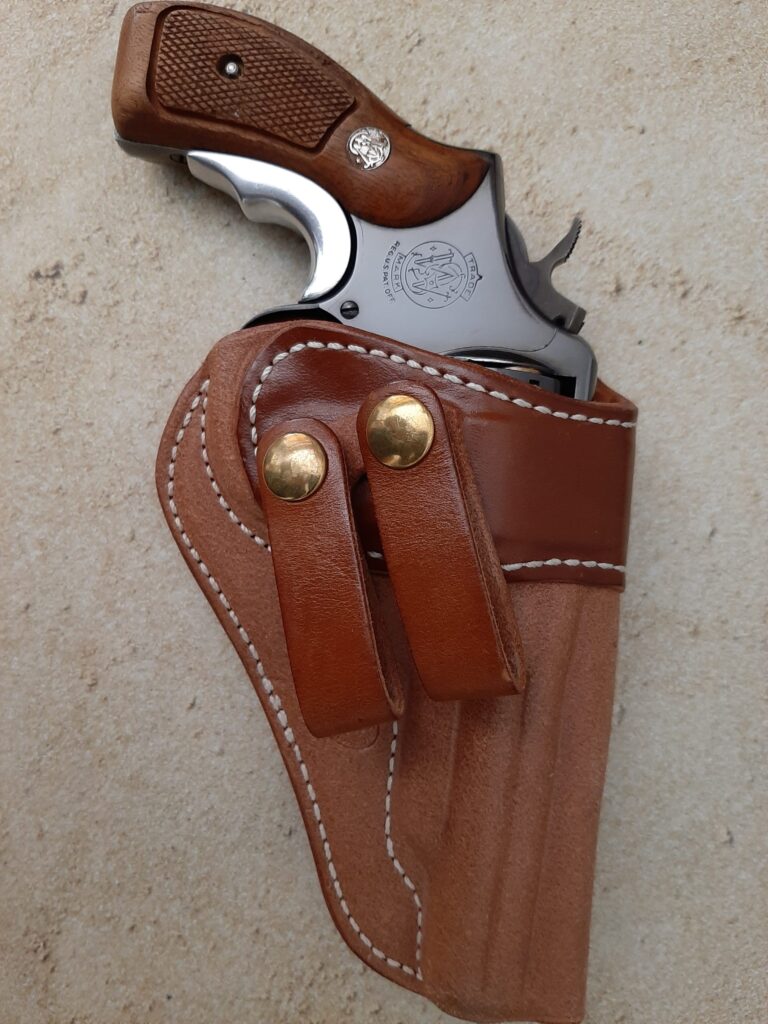 There are folks I respect that carry J-Frames as primaries daily, but it's considered an expert's gun for good reasons. I'd been carrying a six shot .357 Magnum for a long time and had confidence in its capability to hit at 25-50 yards. I didn't want to give that up, nor did I want to start the fight with a "one bad guy" gun.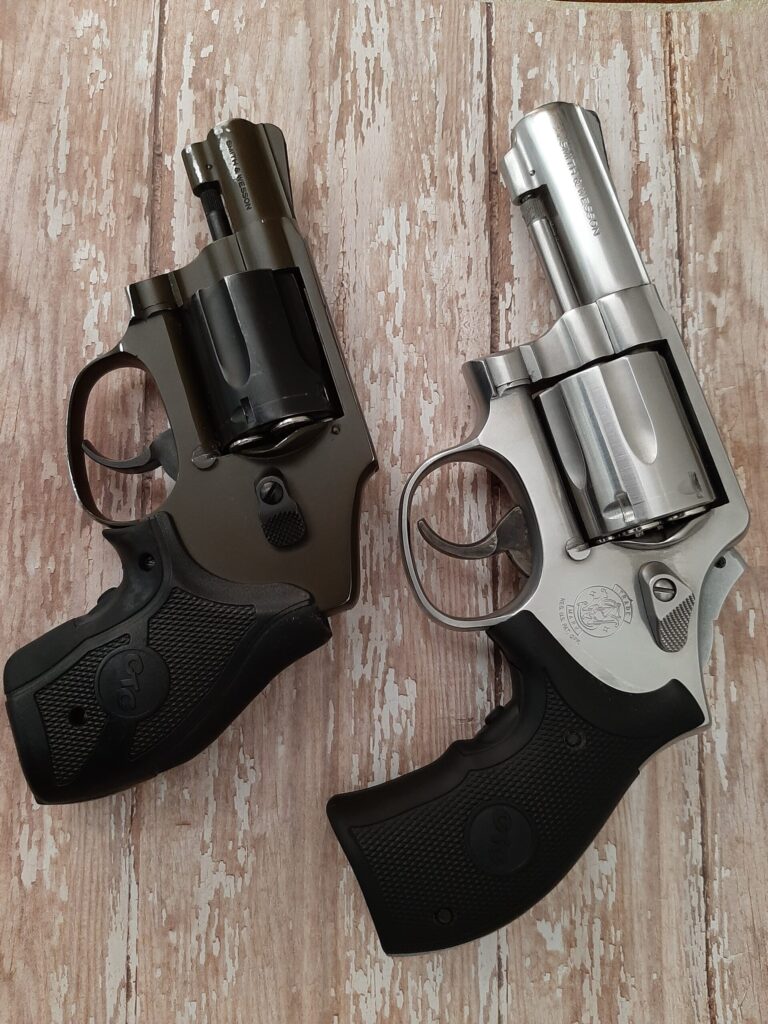 Back home, I tried AIWB with my 3" K-Frame Model 65 and it just didn't work. Holster selection was pretty slim, and the ones I tried were very uncomfortable and didn't hide the gun well. I bought a hybrid appendix rig for the Shield with similar unsatisfactory results. The gun isn't that big, but it seemed like the straight lines kept betraying it. Mine's a first-generation model with a heavy trigger and a small manual thumb safety, but I still had some reservations holstering it. There are those that can comfortably carry and hide a full-size auto thusly, but so far a 2" barreled small revolver has been my limit. The internal hammer, short barrel and round butt of the J -Frame just worked. It hid well and was comfortable there for extended periods of time, even when driving. I appreciated the additional safety margin given by the DAO system, I just wished for a six shooter that fit in the J-Frame box.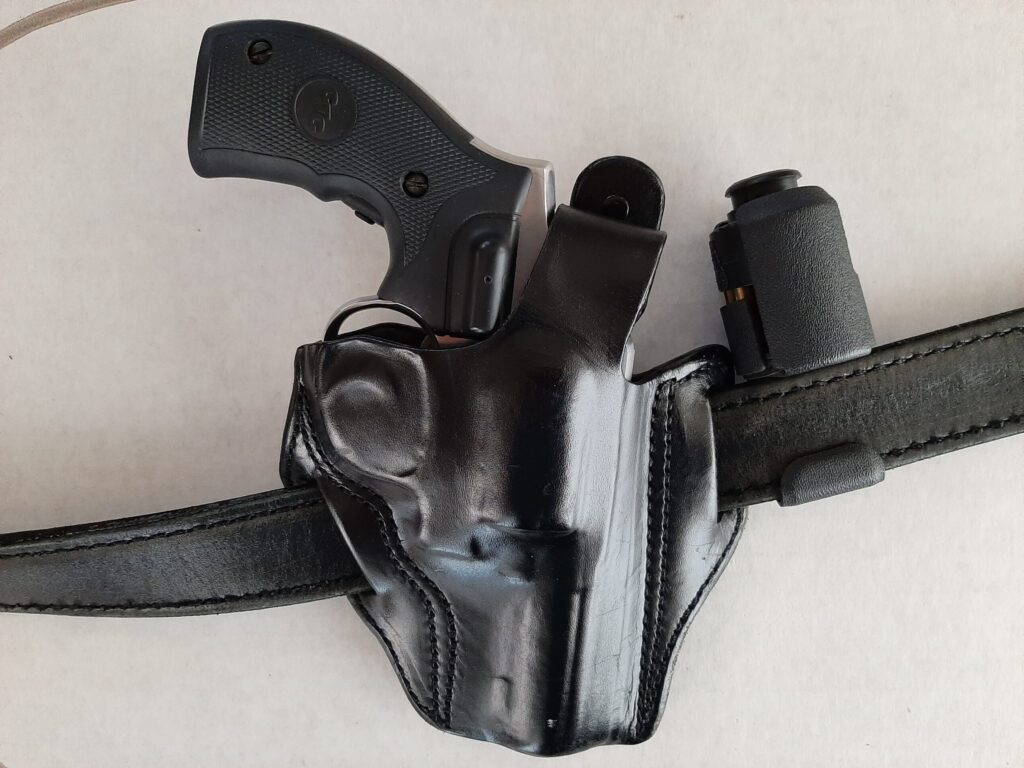 Going back to carrying the Model 65 in its traditional location at 4 o'clock was interesting. A trip to the range wearing a stiff, synthetic, open top, high ride holster emphasized some shortcomings. That holster had a bit more forward cant than the DeSantis Thumb Break Scabbard or Simply Rugged pancake I normally used.  Presenting the gun, I was struck with how much movement was necessary to draw, and how awkward it felt to break my wrist to acquire a firing grip with the holster's FBI cant. It also felt like I was having to pull the 3" gun into my armpit to clear leather. I had become accustomed to the economy of motion that presenting the 442 from AIWB provided. Appendix carry was definitely growing on me.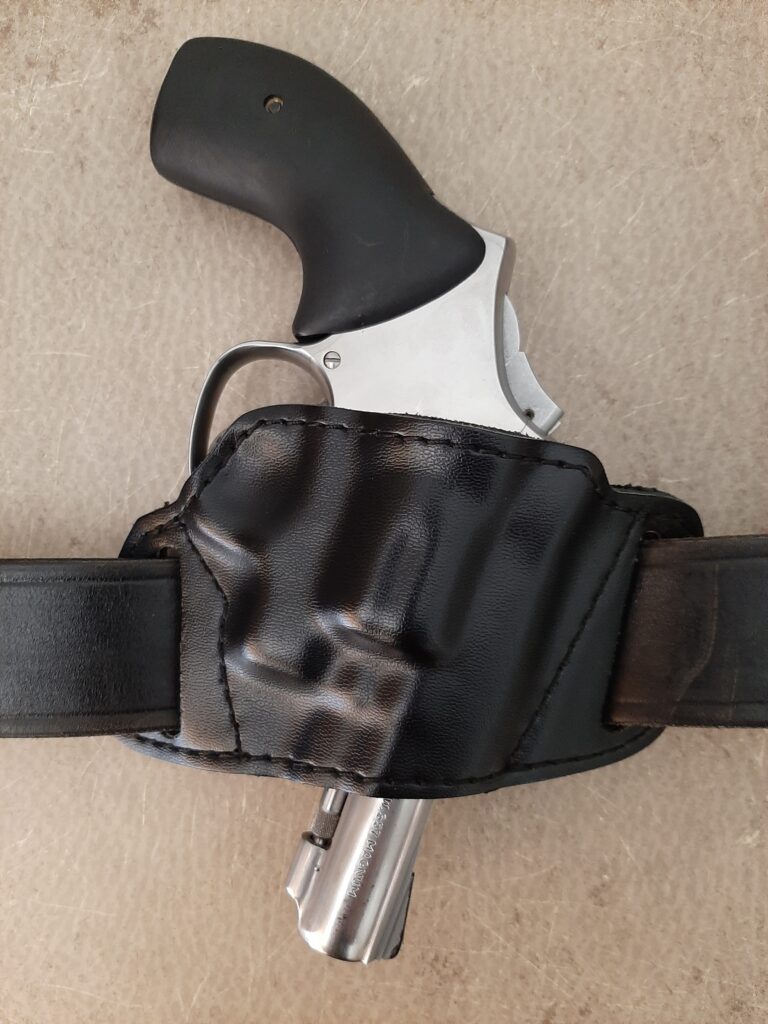 New Tricks
That's a late in life acknowledgement from an opinionated curmudgeon that AIWB carry is effective. This is a classic example of old dogs learning new tricks, albeit kicking and screaming.
Another example would be that guy raised on print media who resisted using the internet for firearms information for a long time. I (umm, I mean that guy) was greatly pleased to stumble upon the common sense information provided by sources like Justin and Mike here at RevolverGuy, Greg Ellifritz at Active Response Training,  and Chris Baker at LuckyGunner. The comments from RevolverGuy readers have also provided insight and led me to other valuable resources of which I was unaware.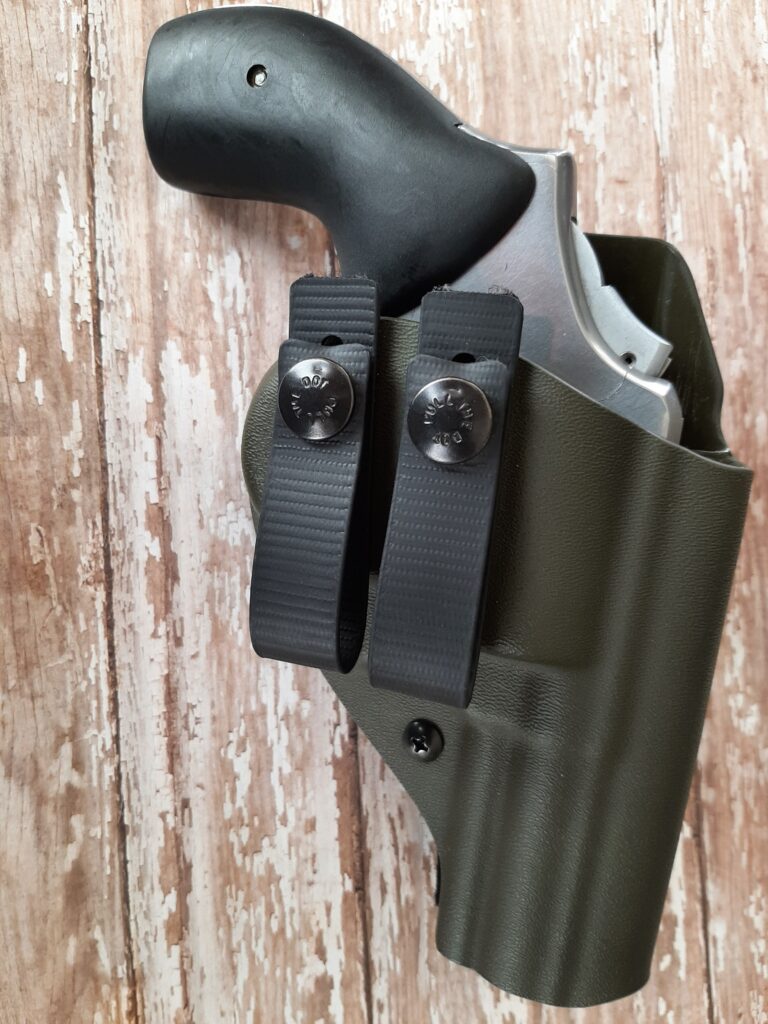 I didn't know what I didn't know about AIWB carry. The retention and accessibility advantages that come from keeping all of your fighting tools in front of your hips make a lot of sense. I have learned a little about what makes an appendix holster hide well thanks to all you folks. I'm confident I could find a holster to conceal that Shield now- but I'm gonna stick with trying to find the perfect revolver instead.
I'll keep you posted!