I recently had one of the more obscure revolver malfunctions: the under-the-extractor-star malfunction. It didn't happen anywhere bad. It wasn't during a competition, it certainly wasn't in a gunfight, and it didn't even inconvenience one of my range sessions. It happened while I was cleaning the grit and gunk from the darling of my collection, my 686-3.
the Under-The-Extractor-Star Malfunction
True to its name, this malfunction occurs when particulate matter accumulates under the extractor star. The accumulation of matter becomes so great that the star cannot fully seat. When the star can't seat, the cylinder won't close. At best this can slow down your range session; at worst this can prevent you from reloading in-extremis. The debris under the star doesn't have to lift it very much. Quality revolvers are finely-tuned instruments. Even a few thousandths of an inch is enough to prevent the cylinder from closing.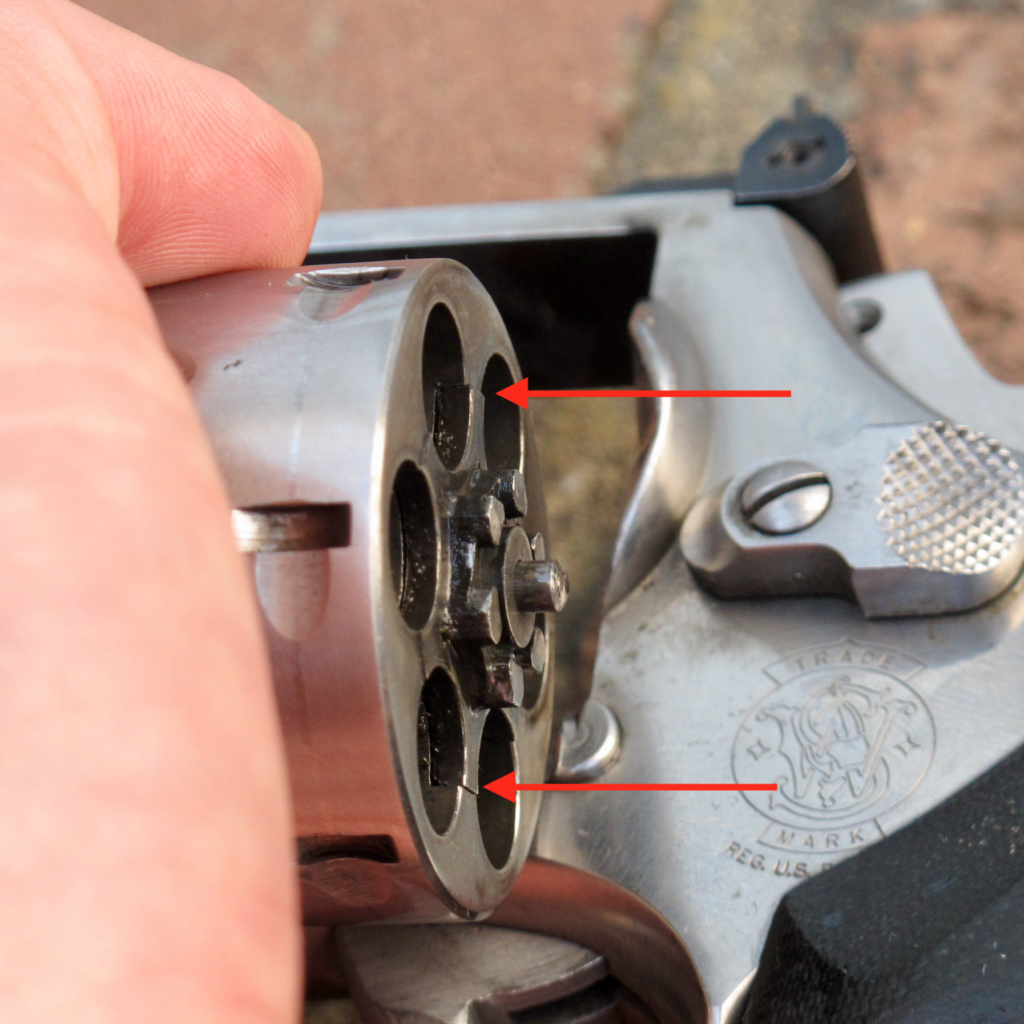 The under-the-extractor-star malfunction is immediately recognizable. Your cylinder will not fully close, or is very hard to close. Under non-life-and-death circumstances I caution against attempting to force your cylinder closed. Close inspection will reveal that the extractor star is just ever so slightly out of battery, as illustrated above.
Clearing the Under-The-Extractor-Star Malfunction
Unfortunately, I don't have any great news here. The biggest problem with this malfunction is that occurs mid-reload. This assumes that you have been in a fight and have expended all your ammunition without having successfully resolved the situation. By the time you notice the under-the-extractor-star malfunction you have already loaded cartridges into the revolver from your speedloader or Speed Strip. Let's look at two potential courses of action for this malfunction, both of which are far from ideal.
Clean it out: The most obvious course of action is to clean out the junk under the star. This creates a big problem – the ammunition in the cylinder. To clean the offending debris from the gun requires getting the ammo out of the cylinder. You may be able to clear the mess by blowing and/or wiping with your fingertip, but you still find yourself in the unenviable position of holding loose rounds and an unloaded revolver. Obviously if you are not threatened with imminent death, this is the preferred technique.
Make it work: This is probably what I would be most inclined to do under a real-life threat: slam, bang, slap, and kick the cylinder until it went into battery. Be warned: there are a couple of MAJOR downsides to this technique! First, you may damage the ejector rod, crane, or other parts of your revolver, completely dead-lining it. You also risk getting the cylinder stuck half-closed with an identical end-result: your revolver is inoperable.
Preventing the Under-The-Extractor-Star Malfunction
Because this malfunction is such a devil to deal with, the primary antidotes are preventative in nature.
Keep your revolver clean. The most important step you can take to prevent the under-the-extractor star malfunction is to keep your revolver free from debris that can fall under the star. When you invert the revolver to eject empties, this matter can free itself, and fall onto the extractor star. Because most of the matter than would lift the star sufficiently to cause a malfunction is (relatively) large, this is as simple as brushing your revolver free of any unburned powder, dirt, and other detritus after each range session
Use lubricants sparingly. The cause of my under-the-extractor-star malfunction was drowning with lube while cleaning. Too much oil will do two things. First, it will allow dirt and debris to stick much more readily, and cause an unacceptable level of accumulation. Secondly, it can cause dirt and debris to "bunch up" into a large, malfunction-inducing mass. You should clean your revolver, but ensure that excess lube or solvent doesn't accumulate under the extractor star. Fortunately, because most carry revolvers are carried muzzle-down, excess lubricant tends to flow away from the extractor star rather than toward it. Still, I like to err on the side of keeping this area pretty dry.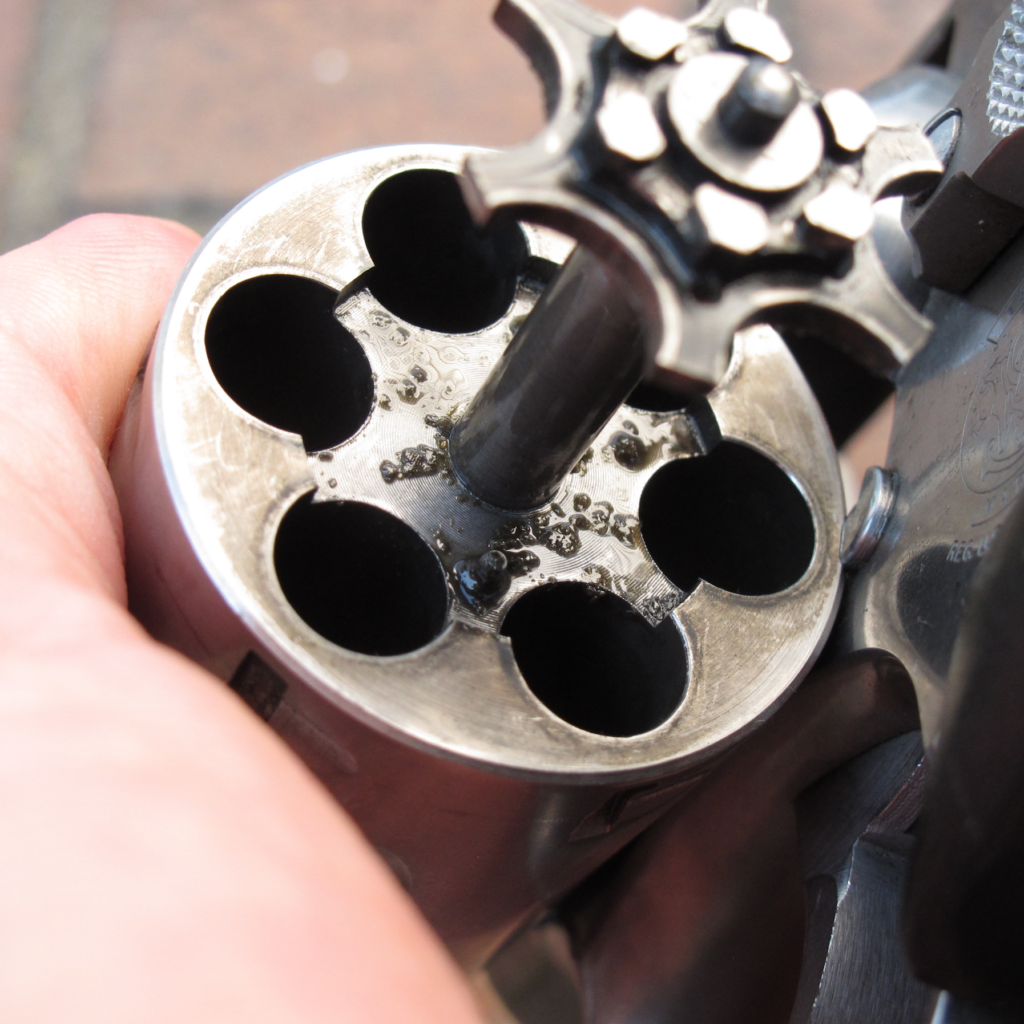 Use clean ammunition. I place this step last because I think it is the one of least concern. I have shot ammunition in my revolvers ranging from boutique, high-end stuff, to bottom-of-the-barrel reloads and re-manufactured ammo with no ill effect. However, if your chosen defensive ammunition produces a surfeit of unburned powder residue, you may want to reconsider carrying it. If your range ammunition is excessively dirty keep shooting it, but adhere closely to steps 1 and 2 above.
The Bottom Line
Revolvers aren't magic and contrary to popular belief, they DO malfunction and "pulling the trigger again" doesn't resolve all of them. The under-the-extractor-star malfunction is not one you want to experience in a self-defense situation. Fortunately for us, occurrences of this malfunction are relatively rare and are easily prevented. Keep your revolver clean, use high-quality ammunition, and inspect your equipment regularly.
Liked it? Support RevolverGuy on Patreon!