If you've never heard of Lee Jurras, I'd be a little surprised. Maybe I shouldn't be, but I would. Lee Jurras was the father of the modern hollowpoint. Way back in 1963 he founded a company called Super Vel and began developing not only hollowpoint bullets, but also shoving them out of guns at then-unheard-of velocities. In the intervening decades we have seen all sorts of advances in hollowpoint design, but they all owe to an idea Mr. Jurras had a long time ago.
Mr. Jurras passed on just a little over a year ago, and his company, Super Vel Ammunition went belly-up long before I was born. Fortunately, his spirit and his company name both live on, thanks largely to the work of Cameron Hopkins. Hopkins spent many years (1984 to 2001) as the editor-in-chief of American Handgunner, and in 2015 bought the Super Vel name. I won't attempt to retell the whole story, but Hopkins set about recreating and modernizing Jurras' concept: light, expanding bullets driven to eye-popping velocities.
Full Disclosure: Super Vel provided five boxes of ammunition for this review, and a couple of t-shirts (one of which I really happen to like!). We have received no other compensation for this review and we don't get anything from the sale of Super Vel ammunition.
Super Vel Super Snub .38 +P
Mr. Hopkins was kind enough to send me a few boxes of the new Super Vel ammunition. The new Super Vel Super Snub load is packaged in bright yellow boxes reminiscent of the original packaging. The box lists the caliber and bullet weight and what on its face seems like an optimistic claim: 1,300 FPS from a 1 7/8″ snubby barrel!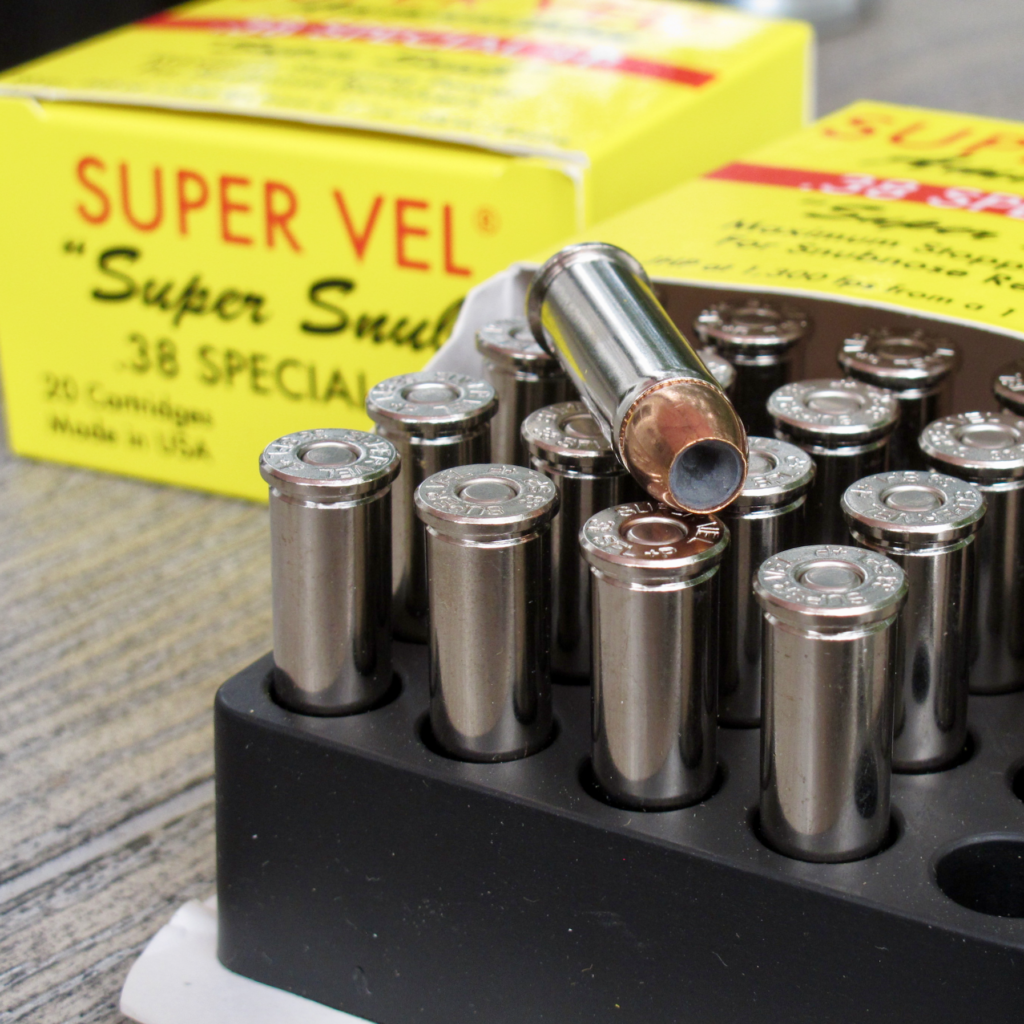 Though the original Super Vel .38 loading offered a  110-grain bullet, the updated .38 +P version is tipped with a 90-grain projectile. The projectile is a conventional cup-and-core hollowpoint with a gently curved ogive. An experienced shooter will immediately notice that these cartridges feel light in the hand. The cases are nickel-plated and stamped "SUPER VEL" and ".38 SPC +P".
Super Vel Super Snub Velocity
In working on my ongoing series of articles about 10mm handguns, I've spent a lot of time looking at manufacturers' published velocities. I've also spent a little time running these loads over the chronograph. Mostly I've been disappointed. I was especially curious about the Super Vel Super Snub, especially since velocity long been a part of Super Vel's claim to fame. Naturally I was a little skeptical at the outset but as it turns out, I shouldn't have been!
I fired the Super Vel Super Snub load over my chronograph in two revolvers: the 3″ Kimber K6s and my S&W 640 Pro. Velocities from both guns exceeded advertising and my expectations! The Kimber fired a stunning five-shot average of 1,349 FPS, while the stubbier 640 Pro produced a five-shot average of 1,310 FPS. This is the only load I've fired in recent memory that produces velocities that actually exceed the manufacturer's claims. Color me impressed.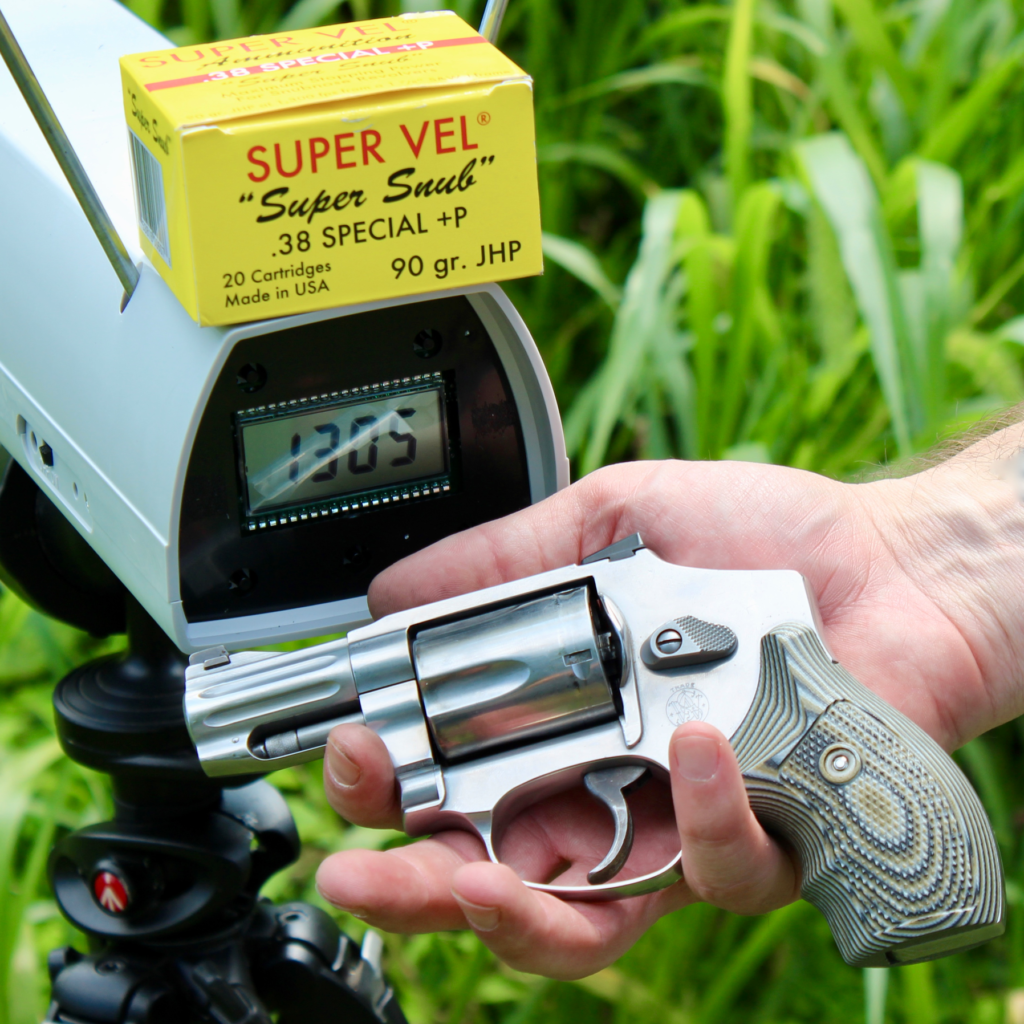 I would like to see some terminal ballistics data about the bullet loaded in this cartridge. There are some recovered bullet photos on Super Vel's site, but the site is silent about the test conditions. If Mr. Hopkins is as forthcoming about the bullet's performance as he is about its velocity, I feel pretty good about that. I'm generally not a fan of light-for-caliber bullets, but I'd feel OK carrying this one.
Shooting The SuperVel Super Snub
Accuracy with the Super Vel Super Snub is my only concern, especially in snubby revolvers. Because this load is so light and so fast, it exits the muzzle very early in the muzzle's climb. This causes these rounds to generally impact low (see the target in my Kimber K6s review). Of course, if your revolver fires these to point-of-aim you can disregard this criticism. Likewise if  your revolver has adjustable sights.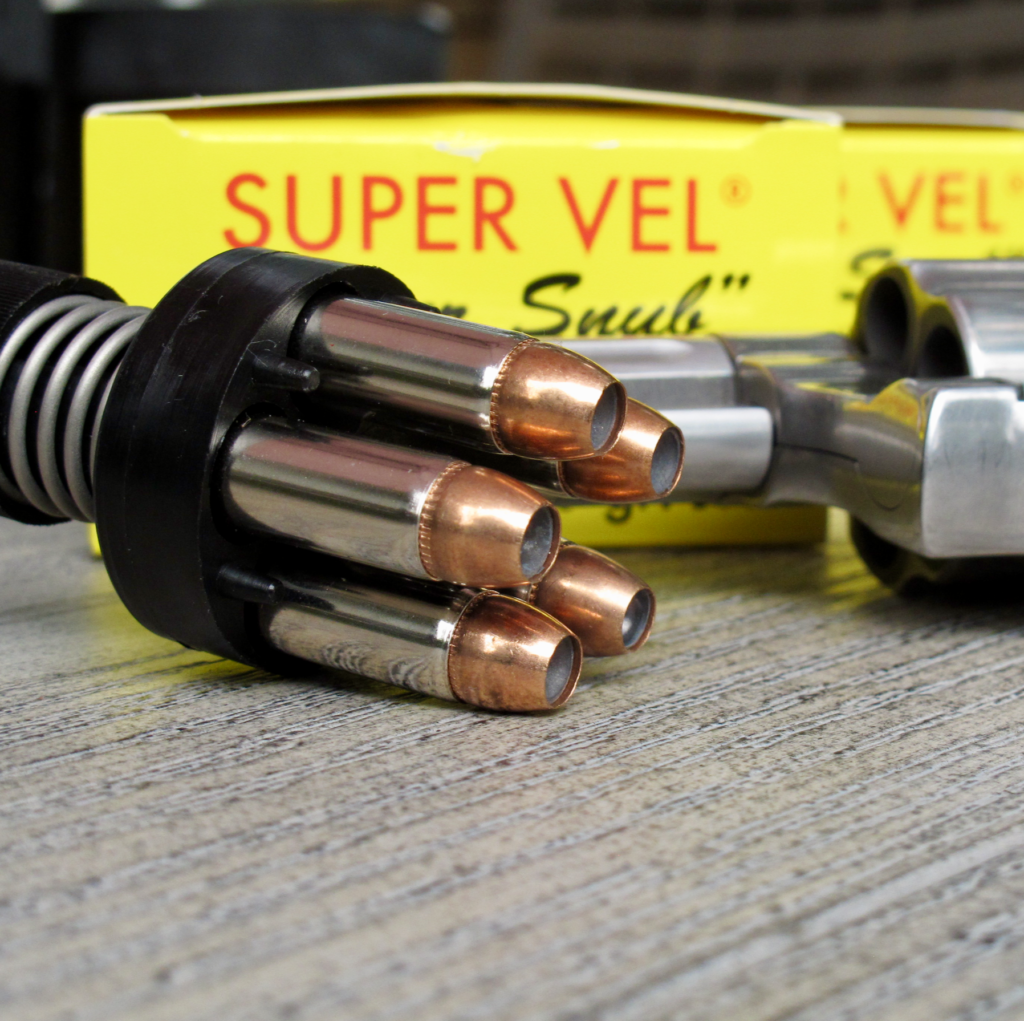 I fired 60 rounds of this ammunition through a variety of revolvers, but most through my 640 Pro and the Kimber. I noticed two distinct characteristics. The first: this ammunition is LOUD! The second: recoil is light, owing mostly the light bullet. All rounds fired functioned flawlessly and extricated themselves from the cylinder smoothly. The rounded bullet profile and smooth cases aided loading from speedloaders.
The Bottom Line
If you're looking for a light-recoiling .38 +P cartridge that hits with some authority, the Super Vel Super Snub might be for you. I am nothing but impressed with the velocities generated by this little load. Super Vel is also making interesting loads in .380 ACP, 9mm Luger, and .45 ACP, so check them out!
Liked it? Support RevolverGuy on Patreon!