As the the sun sets on 2017, I wanted to talk about my experience with the perfect J-Frame Revolver: the S&W 640 Pro Series. I've carried this gun day-in/day-out for almost two and a half years now. It has been a special gun in that it has taught me an awful lot about the revolver. I'm going to talk about the accessories and solutions I've found to make this the most viable self-defense option possible, and my thoughts on going forward into the 2018. This will also be a bit of a reminisce over some of the changes I've made over the last year, and some things you can expect in the coming year.
The Perfect J-Frame
I opened this blog up with a two-part review (Part I, Part II) of the perfect J-Frame. Most of what I said about the gun still holds true, and the reasons I selected it are still important. I won't re-hash all of them, but the following are the factors that convinced me to pay a premium for the 640 Pro Series rather than go with some other wheelgun.
The first is the all-steel construction. I believe the ultra-light revolvers have a place, but that place isn't in my waistband. The ultra-lights are easy to carry but hard to shoot, and I am a shooter. As J-Frames go the 640 is at the portly end, weighing more than many semi-autos. That's alright with me though – it still packs easy and the weight pays disproportionate dividends in recoil management. I think this also probably gives a longer life-expectancy than most J-Frames, and this one needs it; not to repeat myself, but this gun gets shot a lot.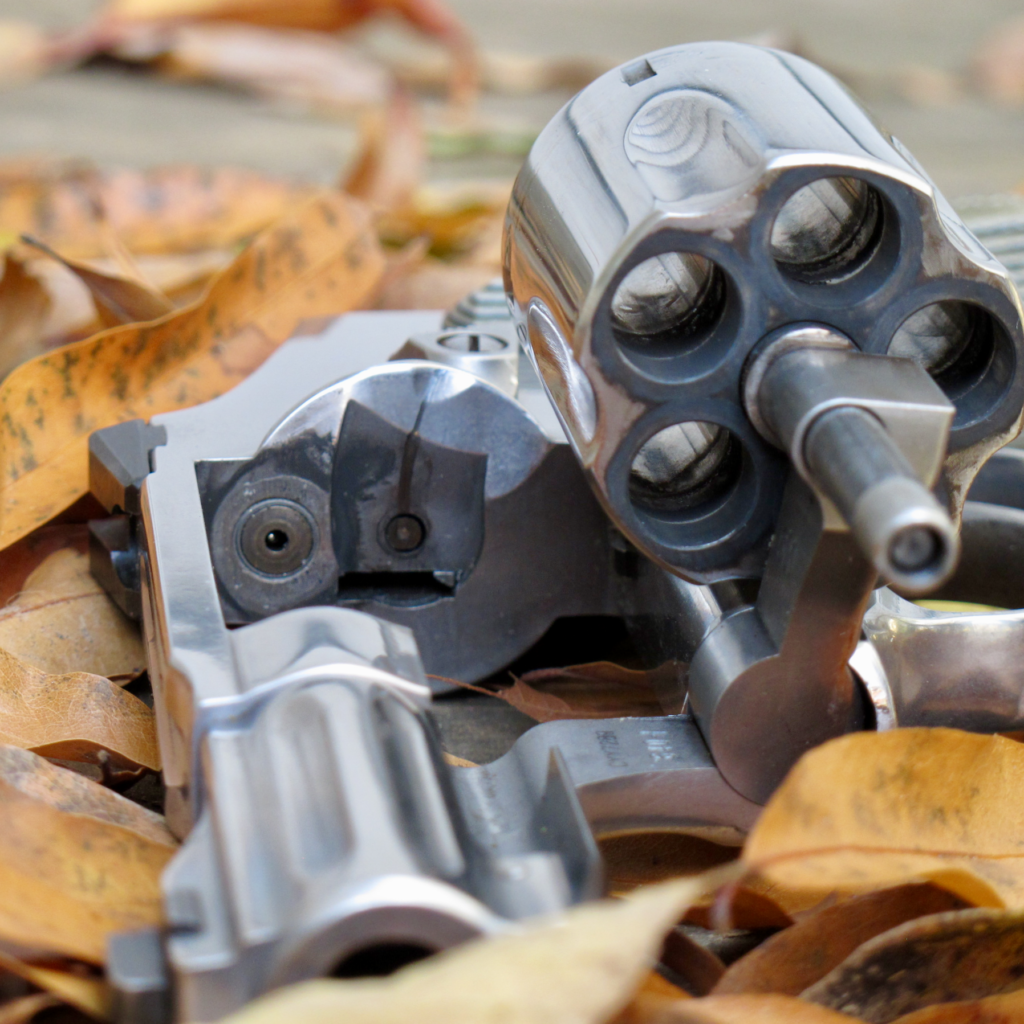 The second factor is the sights. I can overlook a lot of things but I suppose I am a bit snob when it comes to sights, in that I require a gun have some. The nubs that pass as sights on most J-Frames just don't do it for me on a primary carry arm. The sights on this gun are not only full-sized, grown-up sights – they're also night sights. Though I did have to file the front blade down over half a year ago, these are very good sights. This is also one of the only J-Frames you can get good sights on.
I added a few accessories to make this gun a bit more of a shooter. First, I dropped in an Apex Duty/Carry Spring Kit. Next, I shot this gun a lot and dry-fired it a lot more. I am not engaging in hyperbole when I say that the trigger in this revolver is as smooth as that of an old K-Frame. Helping matters on both the trigger control and recoil management fronts are the VZ Grips I installed.  These let you get enough purchase to stroke the trigger without moving the gun, and something grippy to hang onto during recoil.
Accessorizing The Perfect J-Frame
I have spent hours upon hours in the last two years working on mastering the revolver reload. I've also dedicated a ton of time to testing the various speedloaders on the market (I still have a few I need to write about). I've come to the conclusion that the JetLoader speedloader is the best money can buy, both because it's a great speedloader, and because you can actually buy one! The odds of needing a reload are pretty low, and the odds of successfully accomplishing one in a fight are even lower. Maybe it's like a reserve parachute on a low-level static line jump – it gives you something to do on the way down, and I wouldn't feel quite right without one.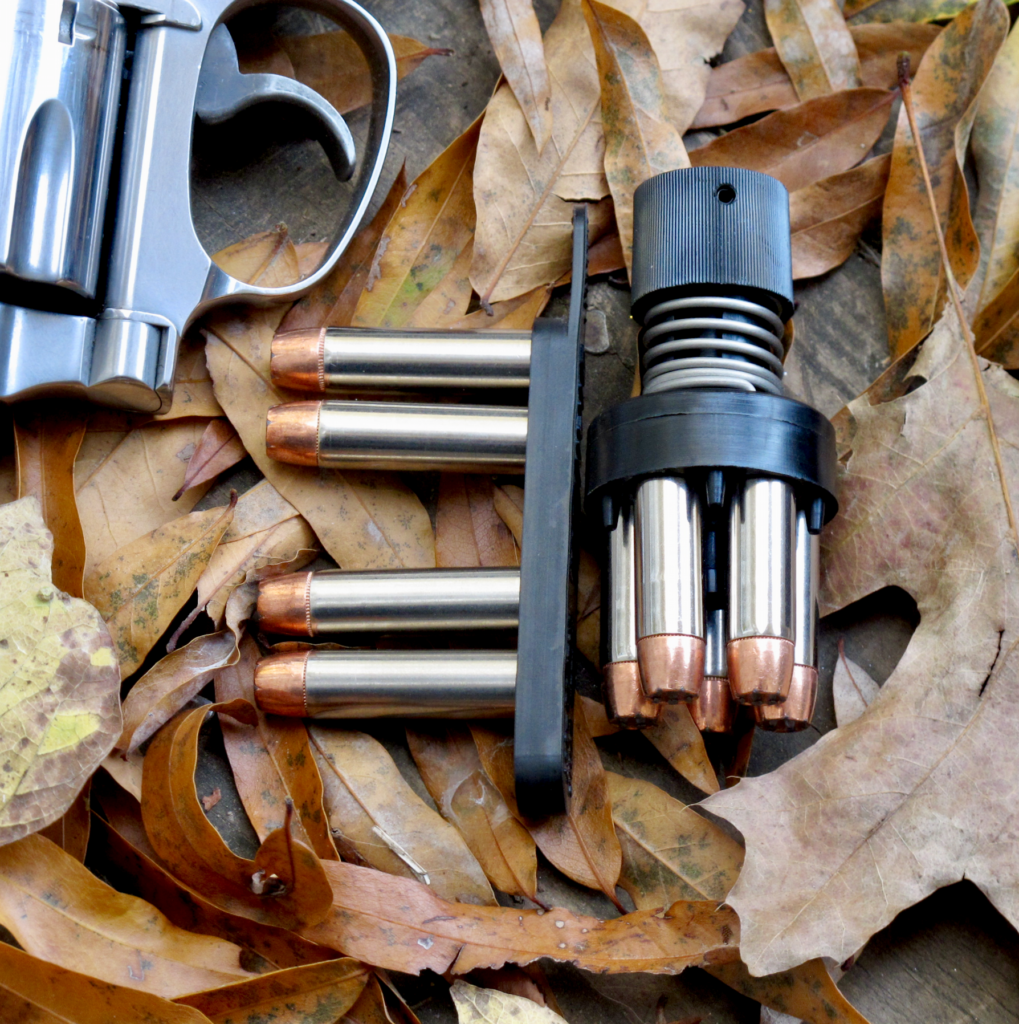 The perfect ammo for the perfect J-Frame? For me it is the Speer 135-Grain Gold Dot (Short Barrel) 135-Grain JHP in .357 Magnum. I wouldn't recommend this for lighter guns, or for inexperienced shooters, but it works for me. I wrote about my calculus in selecting this round here.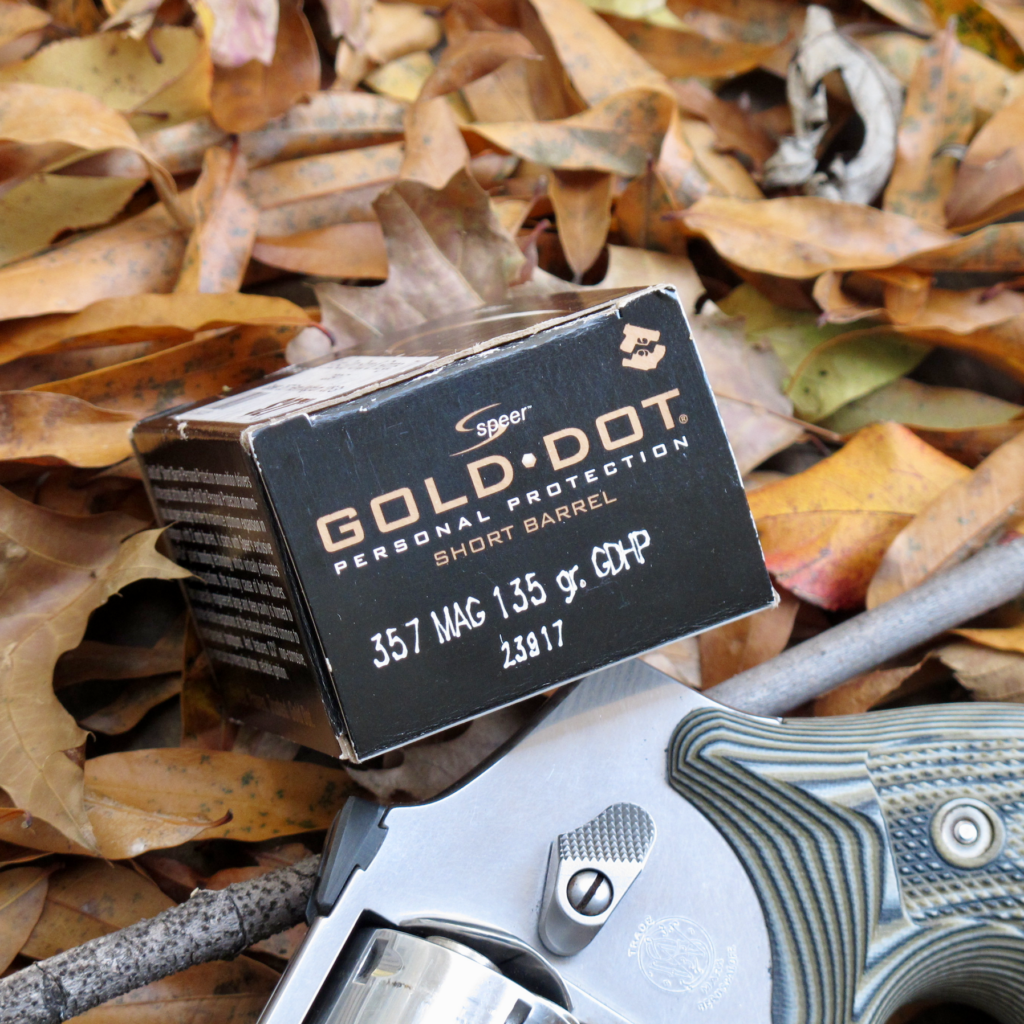 A revolver isn't much good without a holster to put it in. Though I wasn't too pleased with it originally, I have come to love the Dark Star Gear AIWB holster. It is constantly at the 1 o'clock position in my waistband. It holds the gun securely, anchors securely to my belt, and gives me a fast, consistent draw.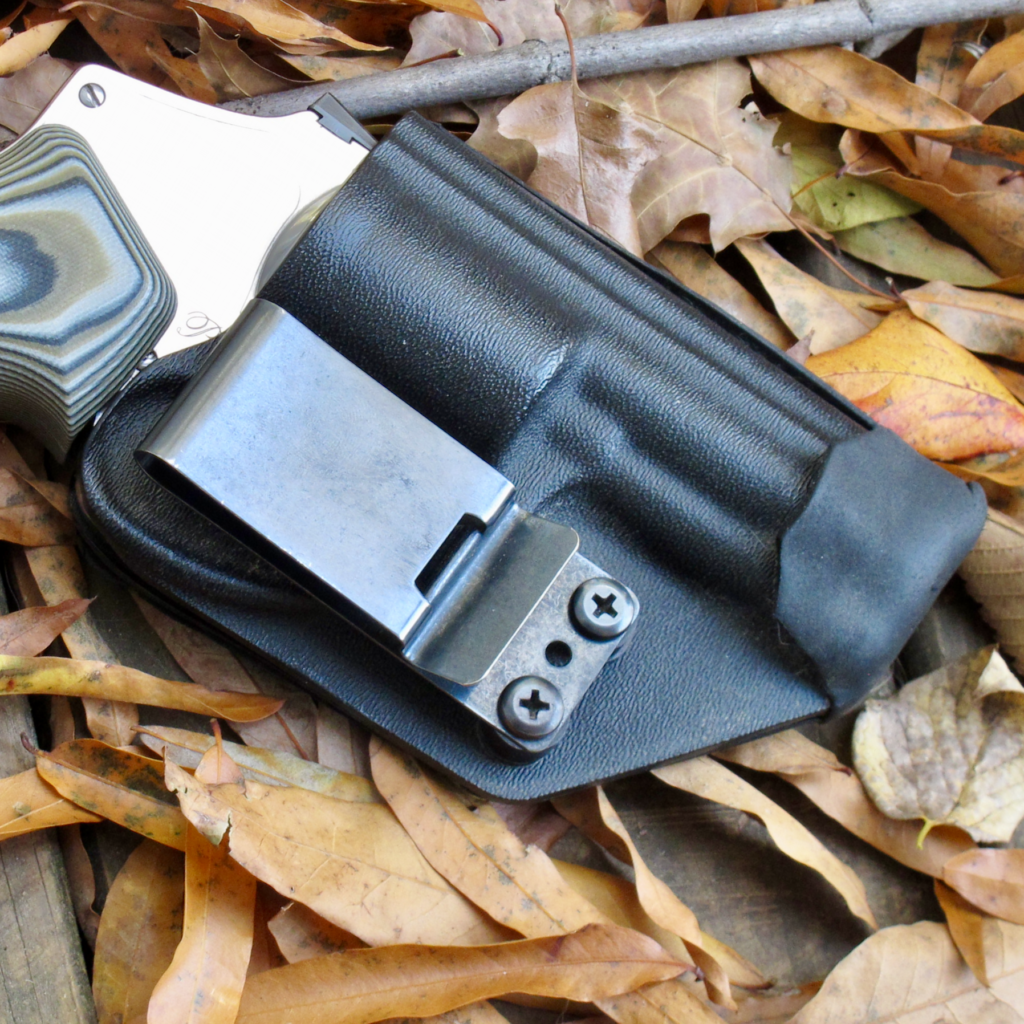 Initially I didn't love this holster. It has some very hard edges on the interior side that made it really uncomfortable. I wasn't quite ready to give up on it because it had a lot of good attributes, too, so I modified it slightly, adding some padding to the interior side. This has been a heck of a good fix and has held up well.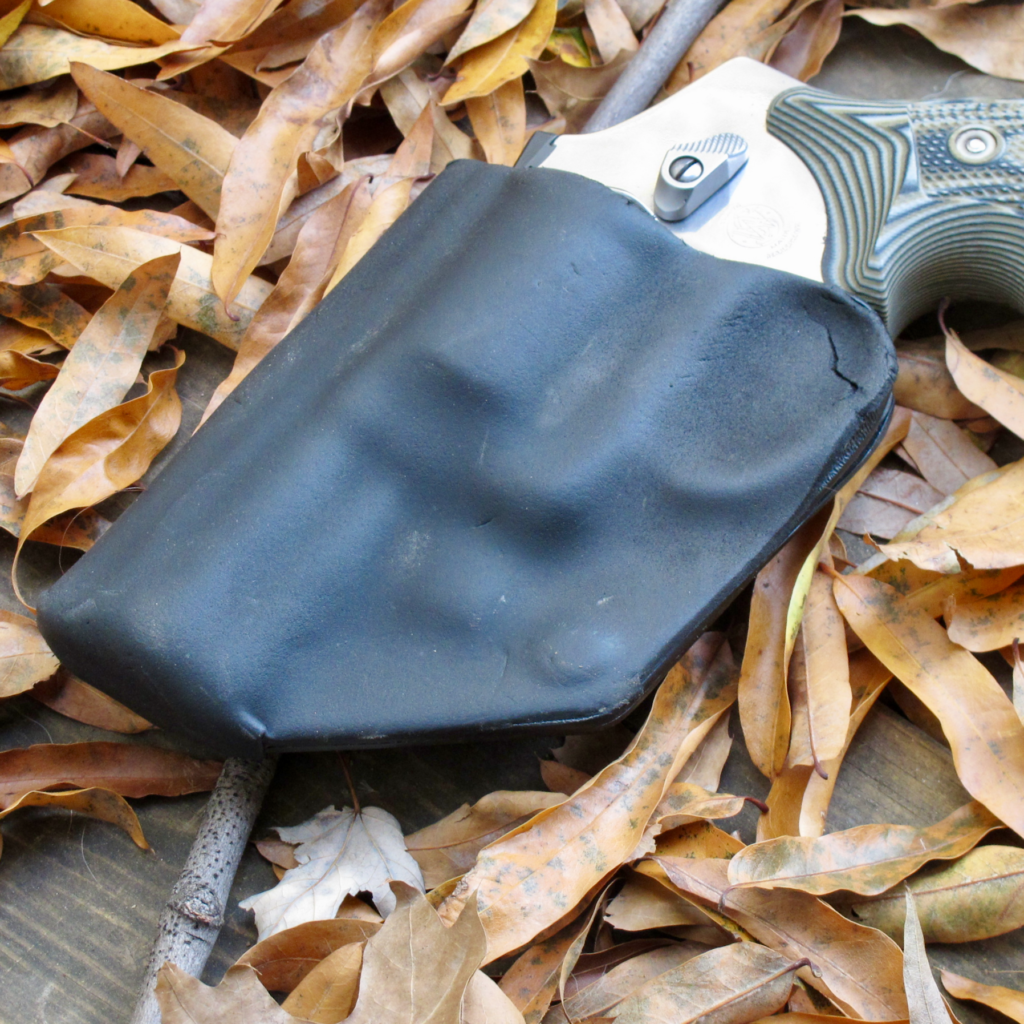 In summary, the perfect J-Frame setup for me is:
Shooting & Training with The Perfect J-Frame
When Mike Wood was a guest on the American Warrior Show, he talked about skill and "mindset" being two  of the key ingredients of surviving a lethal-force encounter. He also mentioned equipment, and that we – as gun guys – spend way too much time focusing on equipment. And that's exactly what this article is – a deconstruction and examination of the firearms equipment I believe in.
Where I have failed in the past year is in training. I have dry practiced fairly religiously. I've also fired about 1,500 rounds through this gun, and a bunch more through other guns. What I have not done is get any formal, external training. I could make excuses about why I didn't accomplish this, but I'd rather just take my licks and promise to do better next year.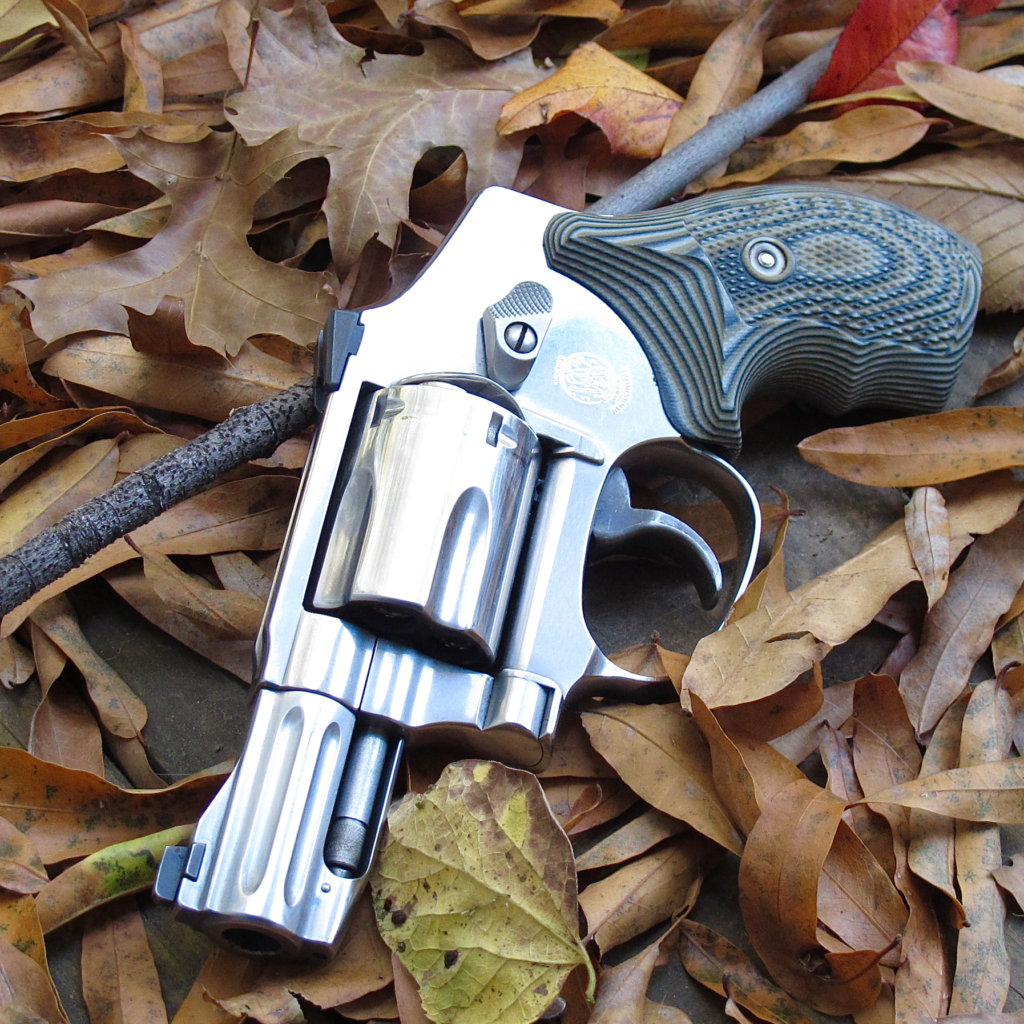 There's a lot of good training out there for RevolverGuys. That's an article you can expect from me sometime in Q1 of 2018 – a rundown of training from RevolverGuys you can trust. I also hope to get you at least two class reviews in 2018. I will review any courses I take here, so hold me to it!
Rethinking The Perfect J-Frame
I came to this gun through the Lucky Gunner Lounge. Chris Baker reached the same conclusion that I did – that the 640 Pro is the Best J-Frame…but that it's still a J-Frame. I am in agreement with Chris that the S&W 640 Pro Series is the perfect J-Frame revolver. I'm also in agreement that it is "still a J-Frame." As those close to me know I've made the decision to go with a semi-auto for "chores" but I haven't executed that decision yet. So for the next few months (at least) you can sleep soundly knowing I am carrying a round gun (and RevolverGuy.com isn't going anywhere!). I'll also be carrying a round gun into 2018, but it might not be the Perfect J-Frame. What will it be? I'll open up 2018 with the answer to that, so stay tuned!
Liked it? Support RevolverGuy on Patreon!