I mentioned a while back that I have been working with appendix carry. I recently purchased a Dark Star Gear J-Frame AIWB holster. Dark Star Gear products generally get very good reviews, so I was anxious to try this one out. After a few weeks of working with it, here is my review:
NOTE: Please see the update on this review HERE.
Dark Star Gear J-Frame AIWB Holster
I really wanted to like this holster. My first draft of this review gave it a lot of the benefit of the doubt. I had carried my 640 in this rig for about a month. Since that first draft I've continued to carry it for another three weeks or so, and recently realized this isn't a holster I would recommend. There are a couple of reasons, but the main one is, this thing is sharp and pokey.
Complaints
The biggest problem for me is how tightly the Kydex is wrapped around the leading edge of the frame and cylinder. This causes a couple of steep ledges and sharp corners – "poke points" if you will – that dig into one's side. I carry my revolver from the time I get out of bed until I'm crawling back into bed, and this holster makes me keenly aware of it the entire time. I would love to see the inner side of this holster more gently beveled.
Another issue is that this holster is reversible for right-hand or left-hand wear, simply by switching which side the clip is on. Because it is reversible, this holster lacks a sweat guard. Carrying in the 2 or three o'clock position this wasn't a huge deal for me. In the appendix carry position it becomes an issue because the rear sight on my 640 Pro Series is very sharp. Each time I bend over I get poked by the sharp corner of the rear sight.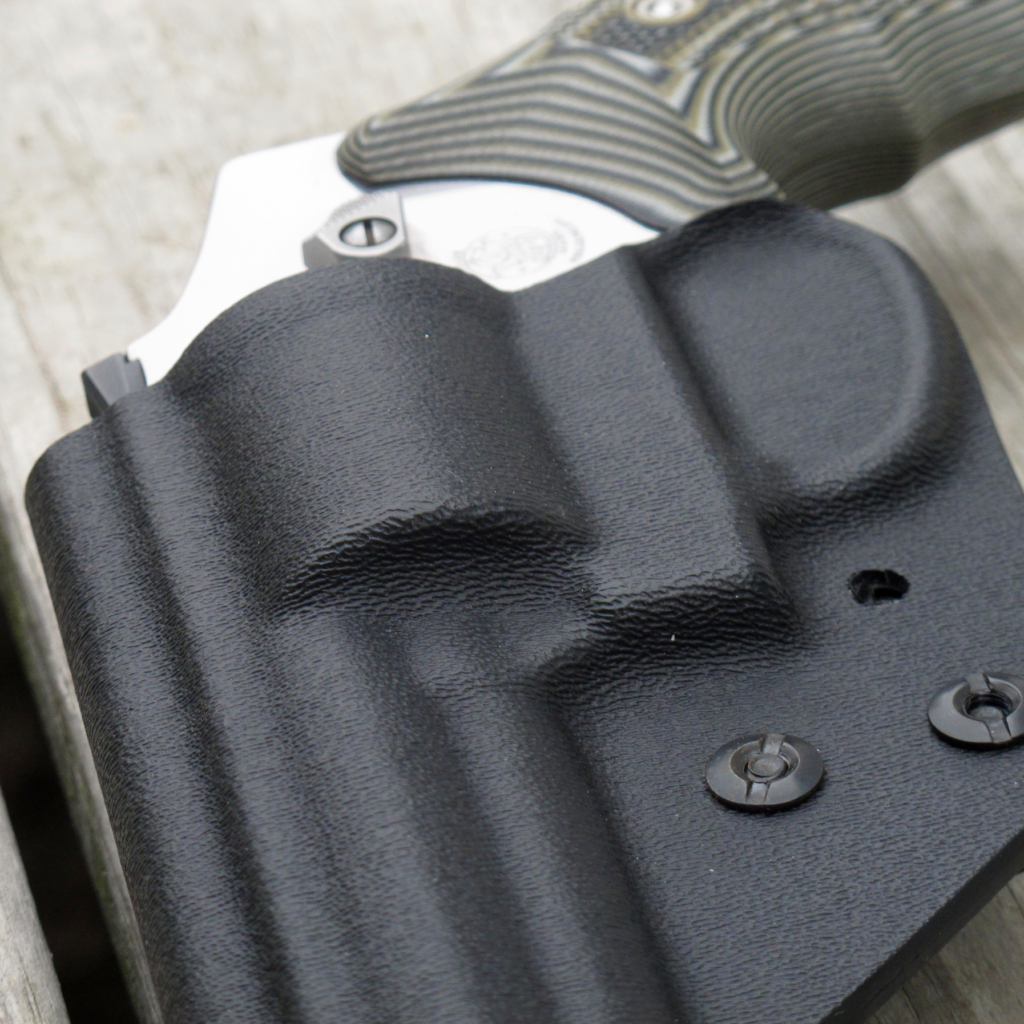 Reversibility is cool from a manufacturing standpoint as it probably helps keep prices down to some extent. Other than that, it doesn't really help me. I don't routinely switch my gun to the left side, and I seriously doubt many others do. It seems that the J-Frame AIWB holster is the only one in the Dark Star line that is reversible and lacks a sweat guard, so I'm kind of curious about this choice.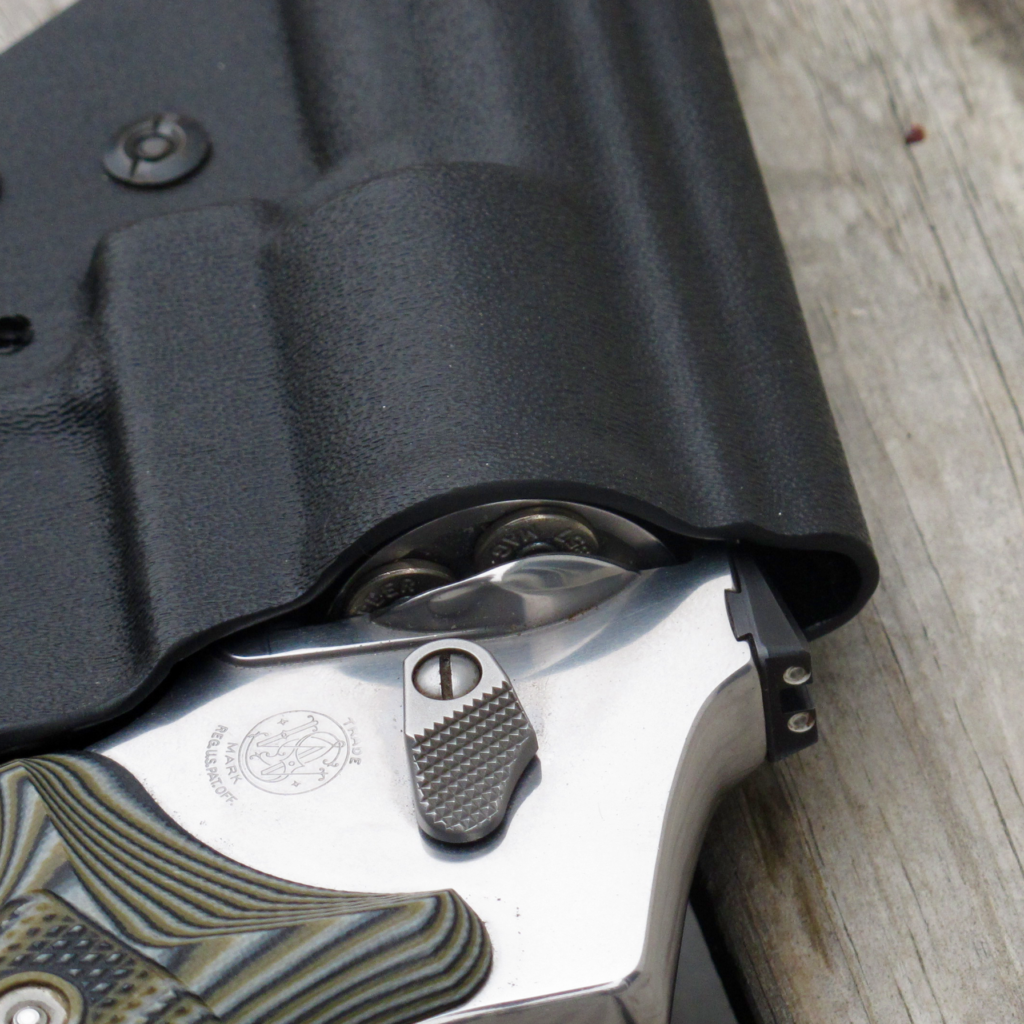 Finally, this is a "universal" fit holster for J-Frames with barrels "up to" 2.5″. Again, this is cool for easing manufacturing and making ordering easy. However, it makes the holster longer than it needs to be for my gun, and MOST J-Frames. I don't know of very many J's that come with a 2.5″ tube (I was sadly disappointed that a 3″ Model 60 would not fit – see photo below). The added length places the bottom edge of the holster in the crease of my leg when seated. Unfortunately, a foam wedge is not available for the Dark Star Gear J-Frame AIWB holster.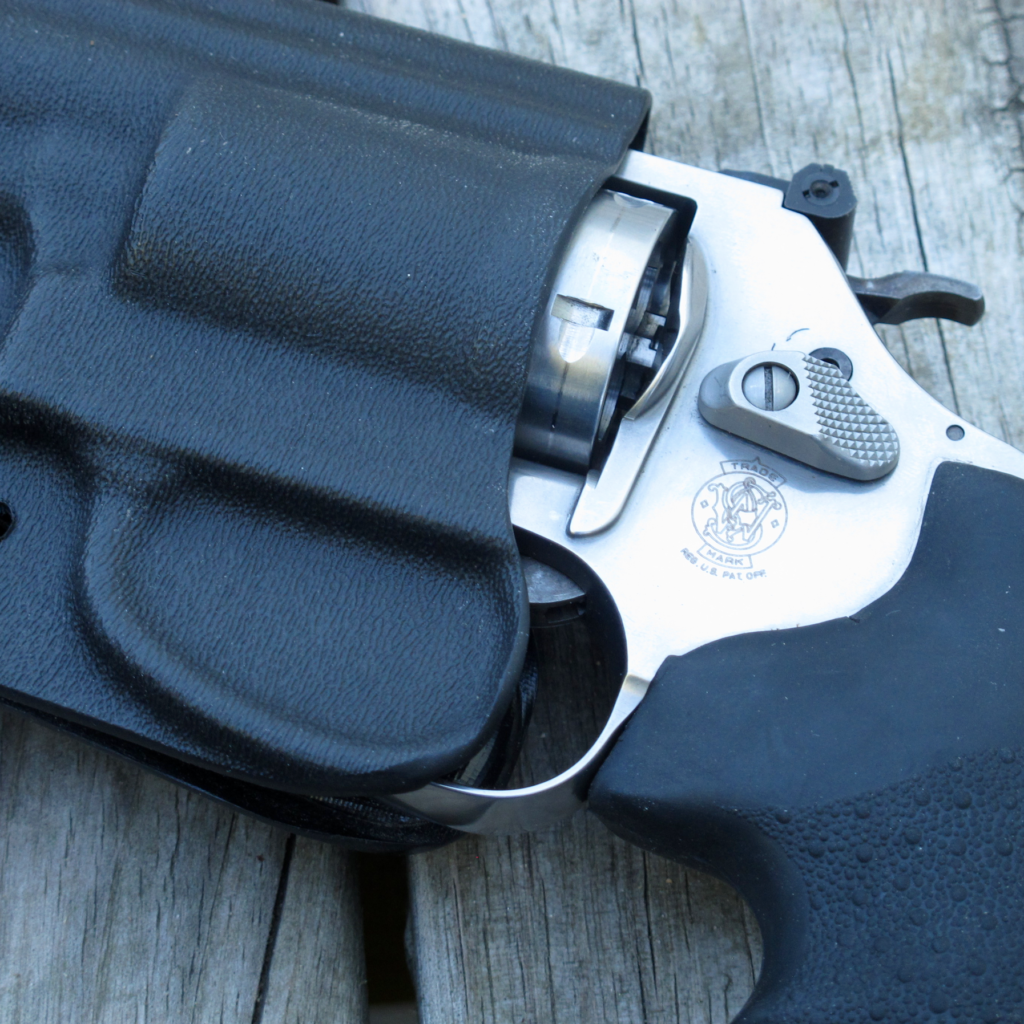 Praise
It might sound like I am completely down on the Dark Star Gear J-Frame AIWB holster, but I'm not. There are some things I really appreciate about it. First, it conceals well, especially in the appendix position (where it is intended to be worn). Next, the clip on this thing is robust, and does an outstanding job of keeping everything in position. This promotes good concealment and a reliable, smooth draw stroke.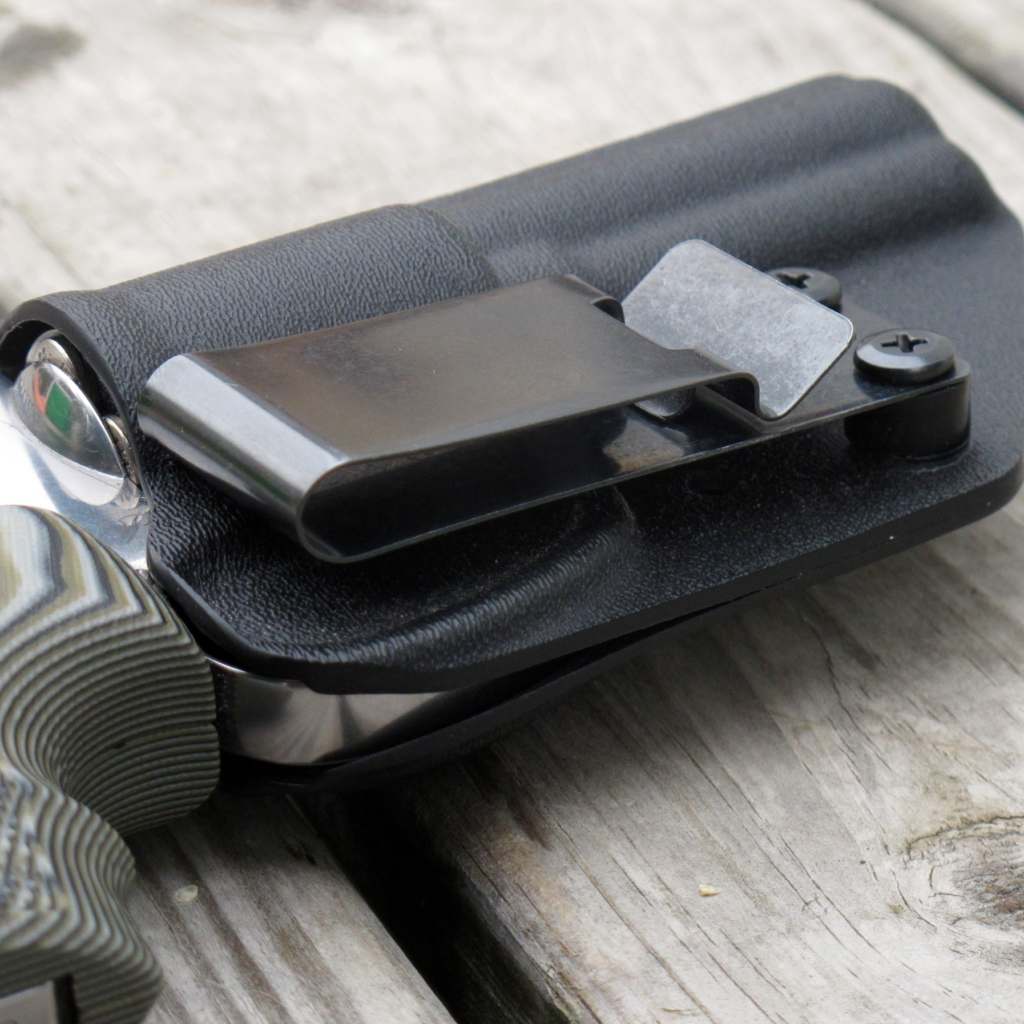 The clip is also has an undercut, which keeps it on the belt. I find it easy to put on, and hard to take off. As it should be. Tension is adjustable by tightening the two screws that hold the clip on. The Dark Star Gear J-Frame AIWB holster provides a very secure fit for your revolver – you don't have to worry about it falling out. All of the individual pieces and parts of the holster are high-quality and well-finished.
The Bottom Line
This isn't an inherently "bad" holster. It holds the gun securely, allows a slick draw, and conceals well. However, I cannot overlook or understate how uncomfortable it is. I am constantly, painfully aware of its presence. This leads to constant shifting around, and trying to discretely adjust the holster. And worse, it also leads to me taking it off when I'm in the car for long periods, or when I come home. In my opinion, this is unacceptable.
I know that a carry gun is supposed to be "comforting, not comfortable" but it's also isn't supposed to just-plain-hurt. Especially at the asking price (with shipping) of just over $80. The Dark Star Gear J-Frame AIWB holster isn't super high end, but it isn't the bottom of the barrel, either. At this price point the design can and should be refined a bit.
Liked it? Support RevolverGuy on Patreon!