Undoubtedly the coolest thing about starting this blog is how much I've learned since. Most of this knowledge is centered around the use of a roundgun, but but a considerable portion is about guns themselves. Some of that is through research and reading, some of it comes from Mike setting me straight, and a lot of it comes from you guys in the comments section. Some of it is gained first hand, though, as was the case with the Taurus family of firearms to which I recently got acquainted through the Taurus 856.
Prior to this review I'd never (to my knowledge) fired a Taurus handgun. Due to a lot of the negativity around the brand, I didn't have super high expectations, either. However, Taurus does enjoy brisk sales of revolvers so those guns are in the hands of someone (many thousands of someones) out there. With this in mind, and the fact that not everyone can afford to sink $700+ on a revolver, Mike got to work trying to get us a T&E sample. I became determined to write a fair, honest review of what is generally considered a budget-minded wheelgun, and mostly I'm pleasantly surprised.
This review will begin with a look at the gun, followed by the results of our Revolver Testing S.O.P., and close out with my thoughts and opinions.
The Taurus 856 Revolver
The Taurus 856 comes in several variations.  The version I received is constructed of carbon steel finished in a matte black finish. Another all-steel model is available in stainless steel, and two UltraLight (UL) versions, one black and one polished aluminum/stainless are also available. At it's heart, though, the Taurus 856 is a small frame, .38 Special (+P) revolver.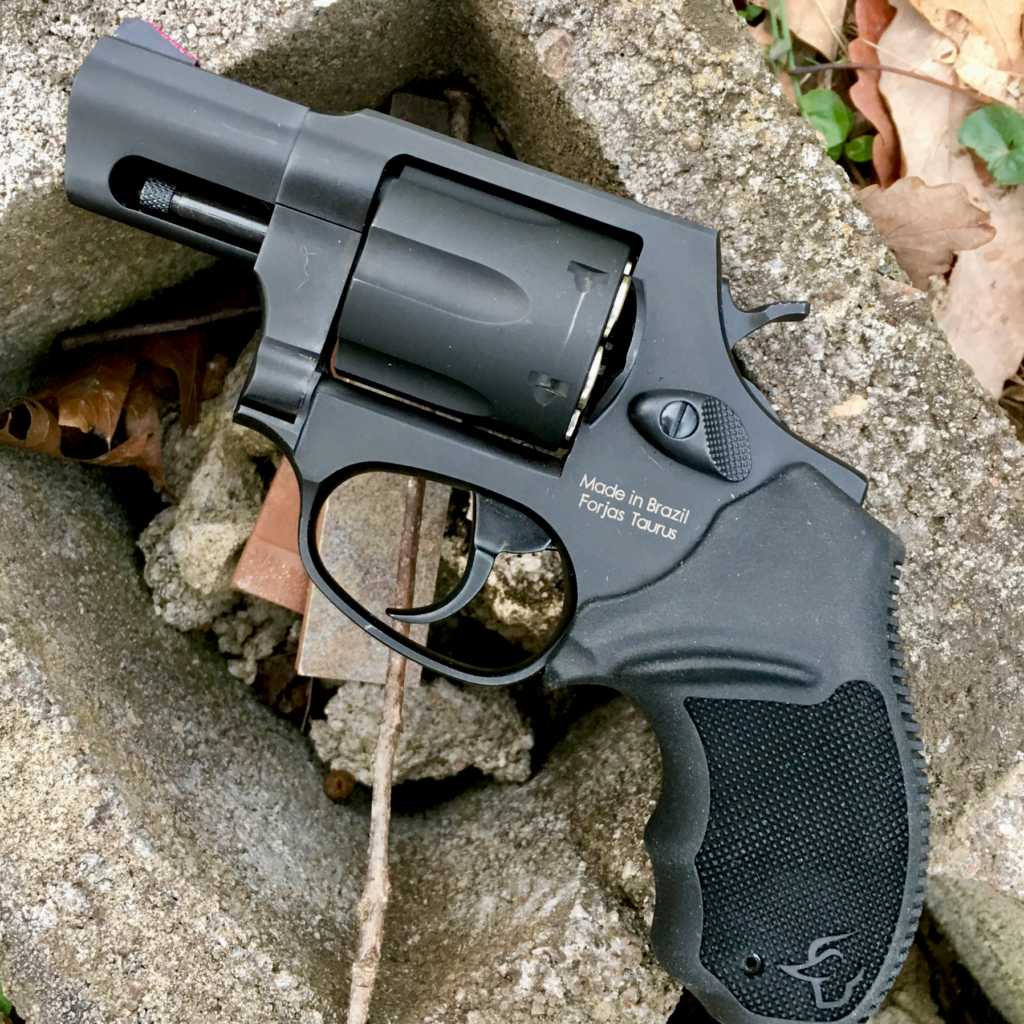 The 856 is almost exactly what one expects when hearing the term "snubnose revolver". It sports a 2-inch barrel with an integral front sight, and and a full underlug. A S&W-style cylinder release opens the counter-clockwise rotating cylinder with a partial-length ejector rod. The rear sight is the standard milled top strap groove, and the gun features an exposed hammer and single action capability.
Taurus has chosen to break radically with some things we've come to expect from a snubbie revolver, however. The most obvious distinction: the 856's carbon steel frame supports a six-round cylinder. This is a most welcome change in the domain where the five-shot revolver has dominated for so long. Another break from convention is less noticeable: the cylinder lockup is via a plunger-and-detent system. A detent is milled into the frame, which mates with a plunger installed in the yoke.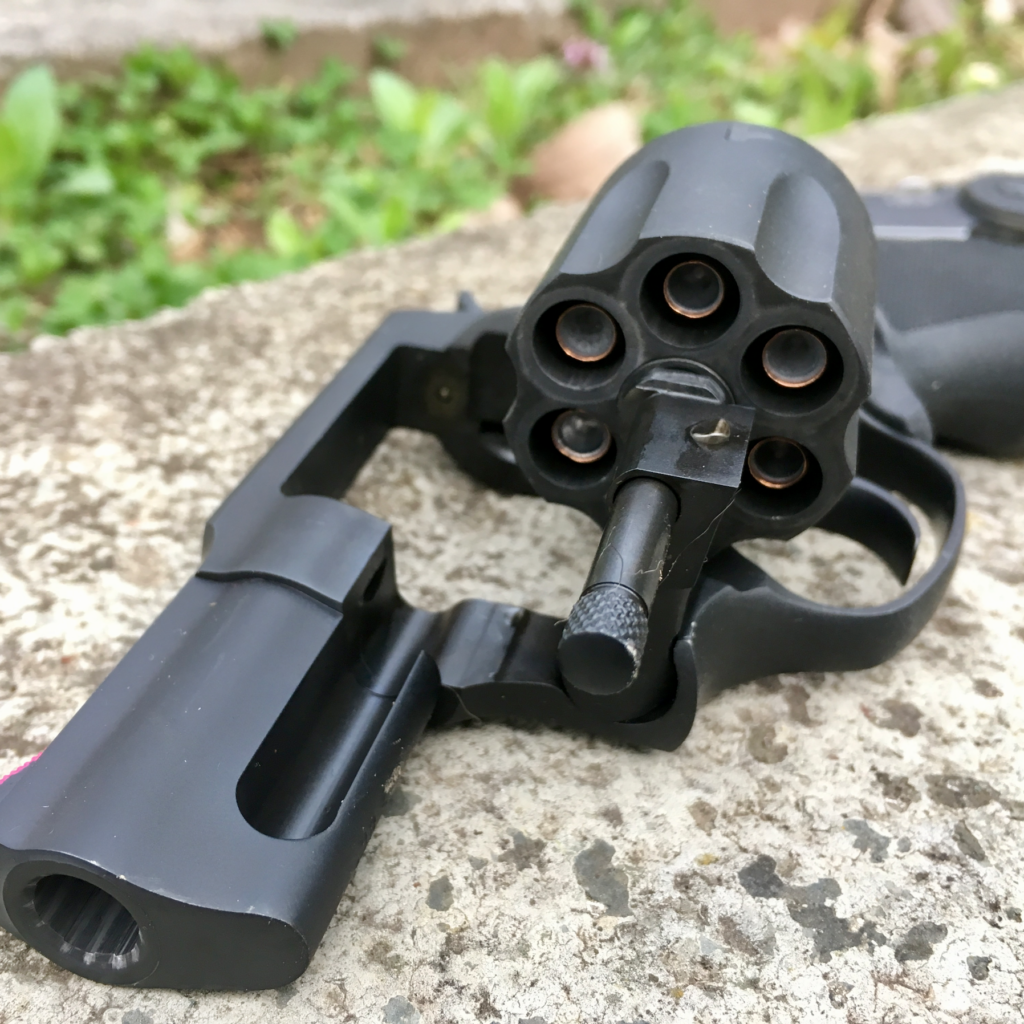 If you're like me you probably don't care too much how the frame locks up, as long as it locks up. This system does allow Taurus to do something really cool, however. Look at the tip of the ejector rod in the photo above. It is wide, solid, and slightly rounded. I wouldn't be mad if some other manufacturers looked to this ejector rod for inspiration. Slapping this thing is significantly more comfortable than the sharp ejector rods on many other revolvers.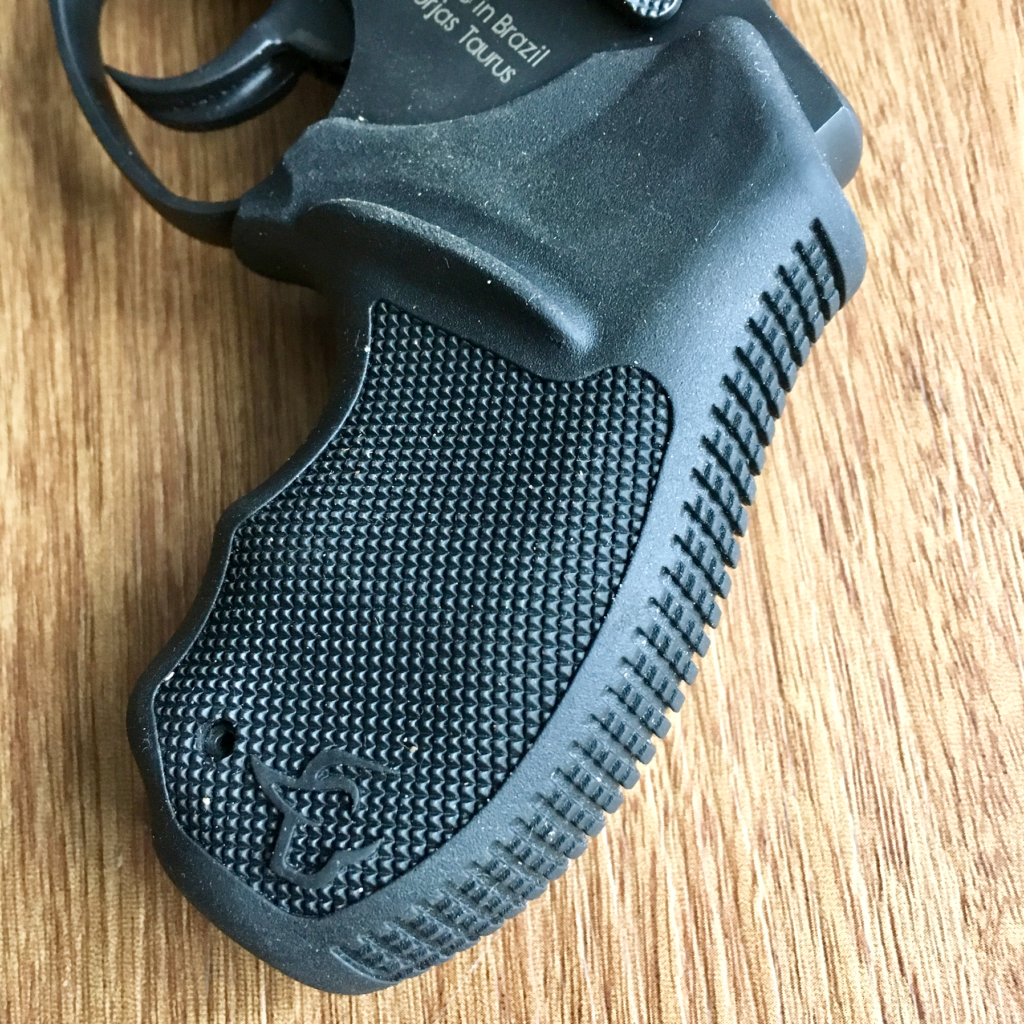 The Taurus 856 ships with a slightly oversized rubber grip. I found the grip did a fantastic job of taming recoil. In another break in convention though, the grip is attached to the frame via a pin. Since this was a loaner gun I was uncomfortable tapping the pin out for fear I wouldn't get it back in, and I'm unsure how this affects the use of aftermarket grips.
Fit and Finish
I choose to review the black, non-UltraLight version of the Taurus 856. This is the version I consistently see on gun shop shelves selling for under (sometimes well under) $300. The fit on this gun is certainly nothing amazing. There is some side-to-side play in the hammer, which sometimes seems to sit ever so slightly off center. This has caused some visible wear on the hammer. The mating of the frame and sideplate leaves a visible seam.
There are a few other clues that this isn't a hand-built gun but overall the fitment isn't awful and the revolver is serviceable. The fit is sufficient that it will work, and that's what this gun is intended to do. It may not blow up the skirts of enthusiasts and it's no work of art, but that's not the 856's mission statement.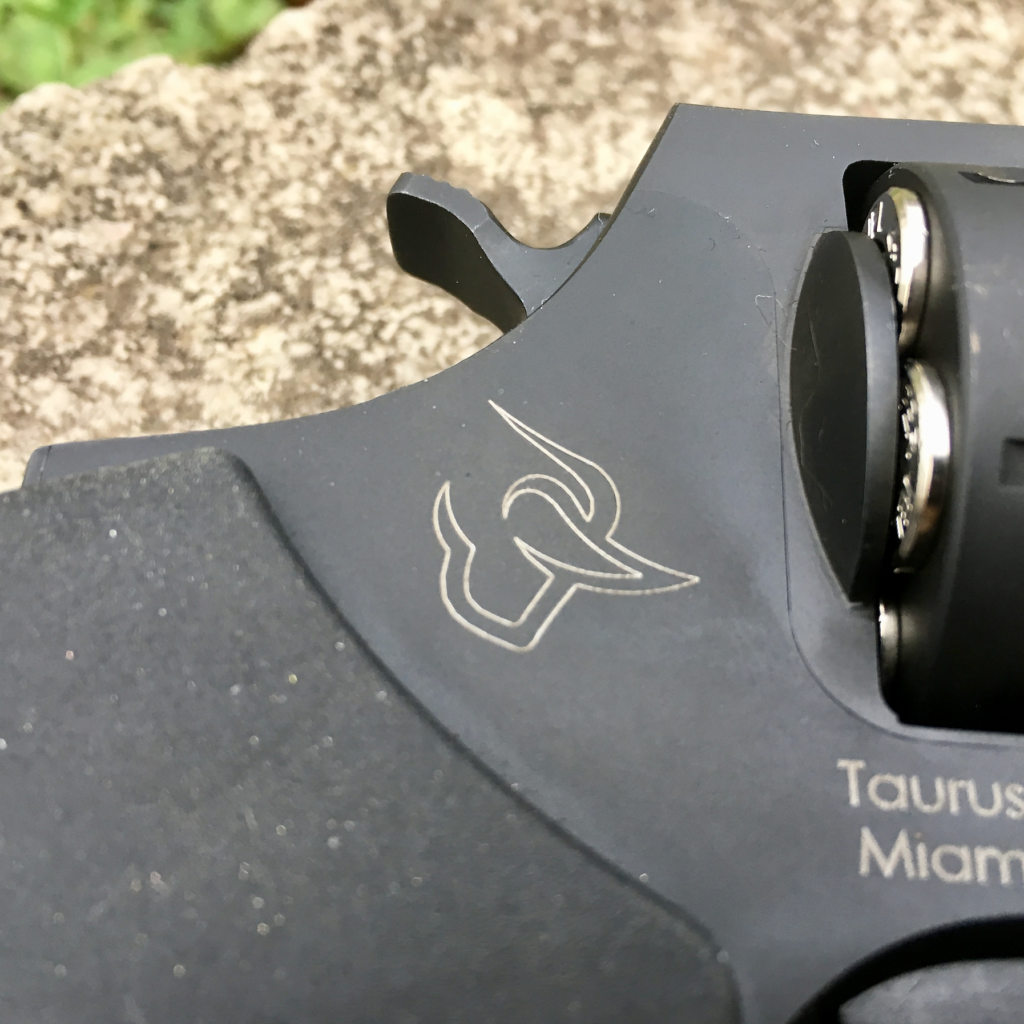 The matte black finish is also acceptable. I took longer to review this gun than I did the King Cobra (I received both on the same day) so it spent some time traveling around in my range bag. Though the finish shows a bit more wear than it did when I received it, it has held up well.
The sideplate features a stylized Taurus logo and "Taurus Intl Mfg, Miami, FL-USA" embossed in white lettering. The right side of the frame and barrel both provide the gun's serial number. The serial engraving is pretty rough but this doesn't affect function and again, this is no work of RevolverGuy art.
Function: Sights
I am steadfast in my criticism of revolvers with "fixed sights" and the Taurus typifies this description. The front sight is a small, integral blade milled into (or probably more accurately out of) the barrel. The rear sight is a simple trench in the top strap†. My chief complaint about this arrangement is how shallow and small they are.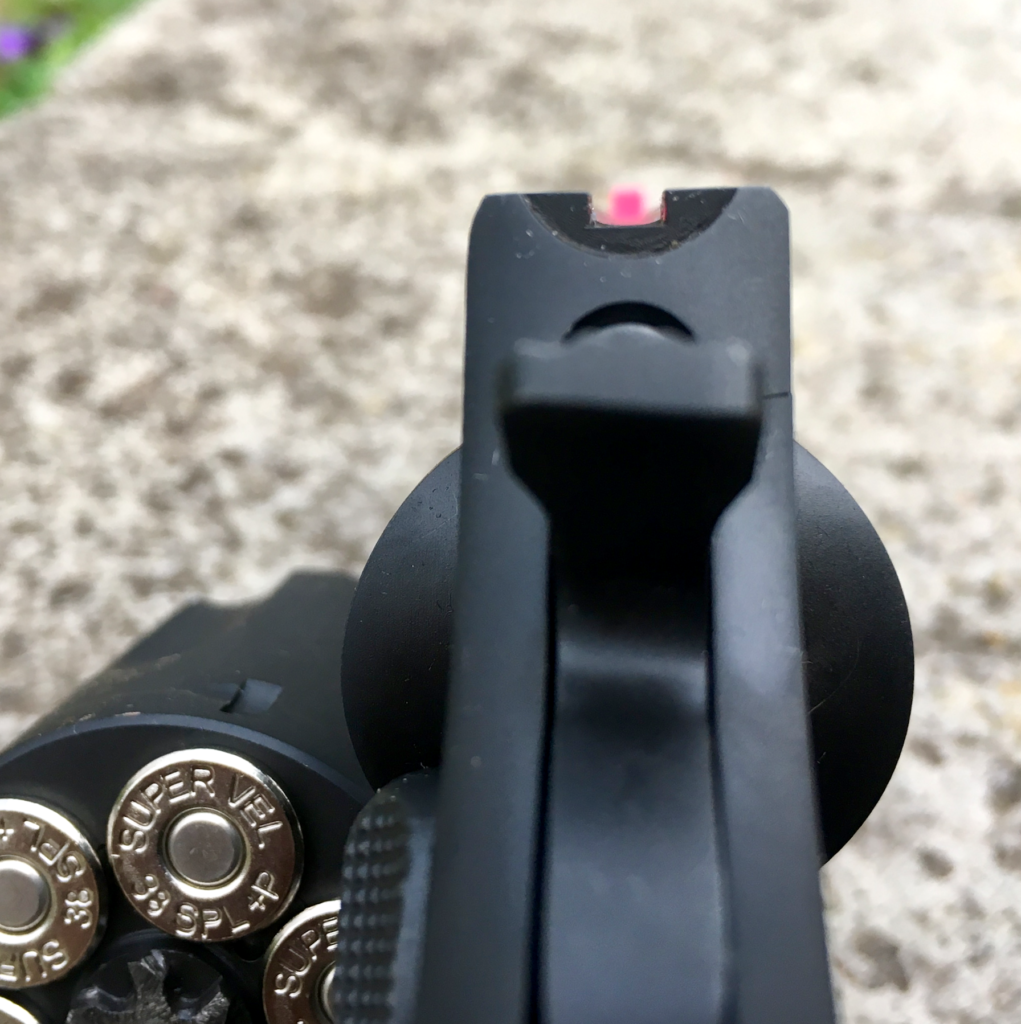 A decently good sight picture can be achieved with these sights but they take time to find and mate with each other. In the interest of trying to speed this process up I borrowed some hot pink nail polish and painted the front sight. I did find that this helped some, but probably not as much as just having bigger sights would have. Such is the nature of the snubnosed revolver, though, and the small sights and short radius made pinpoint accuracy difficult to achieve.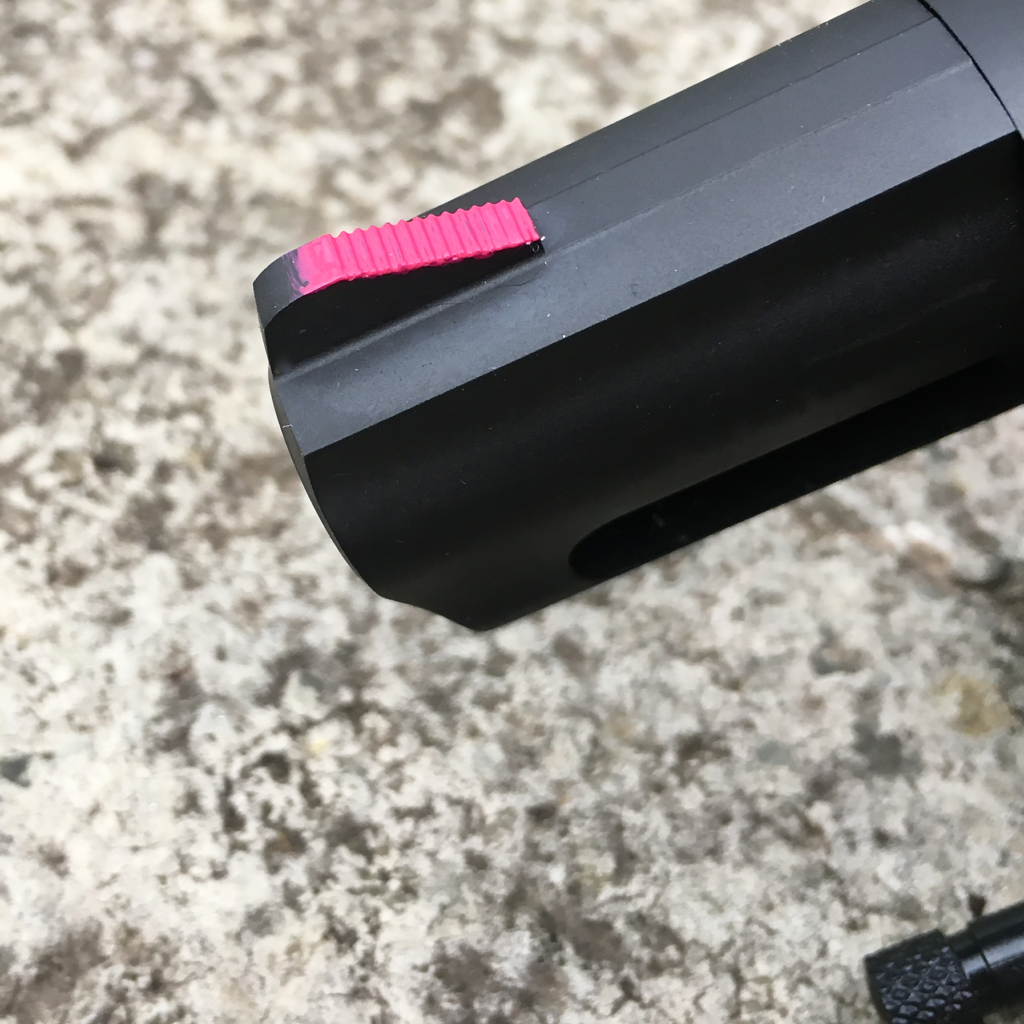 Another problem I had with the sights was in regulation. Every load I fired through the 856 printed low. I fired a few groups with a couple loads at 15 and 20 yards. At these distances the drop in point-of-impact was substantial enough to require significant offset aiming.
Function: Trigger
The Taurus 865 features a double action trigger and an exposed hammer for single action capability. The trigger itself is well designed, being both wide and smooth. The trigger pull leaves a bit to be desired. The double action weight is a consistent and somewhat surprising 11 3/4 pounds, as measured with my Timney Trigger gauge. This isn't all that heavy compared to most J-Frames, but I found it would actually begin to tire my trigger finger after 50-75 rounds. For this reason I kept most of my range sessions with the Taurus fairly brief.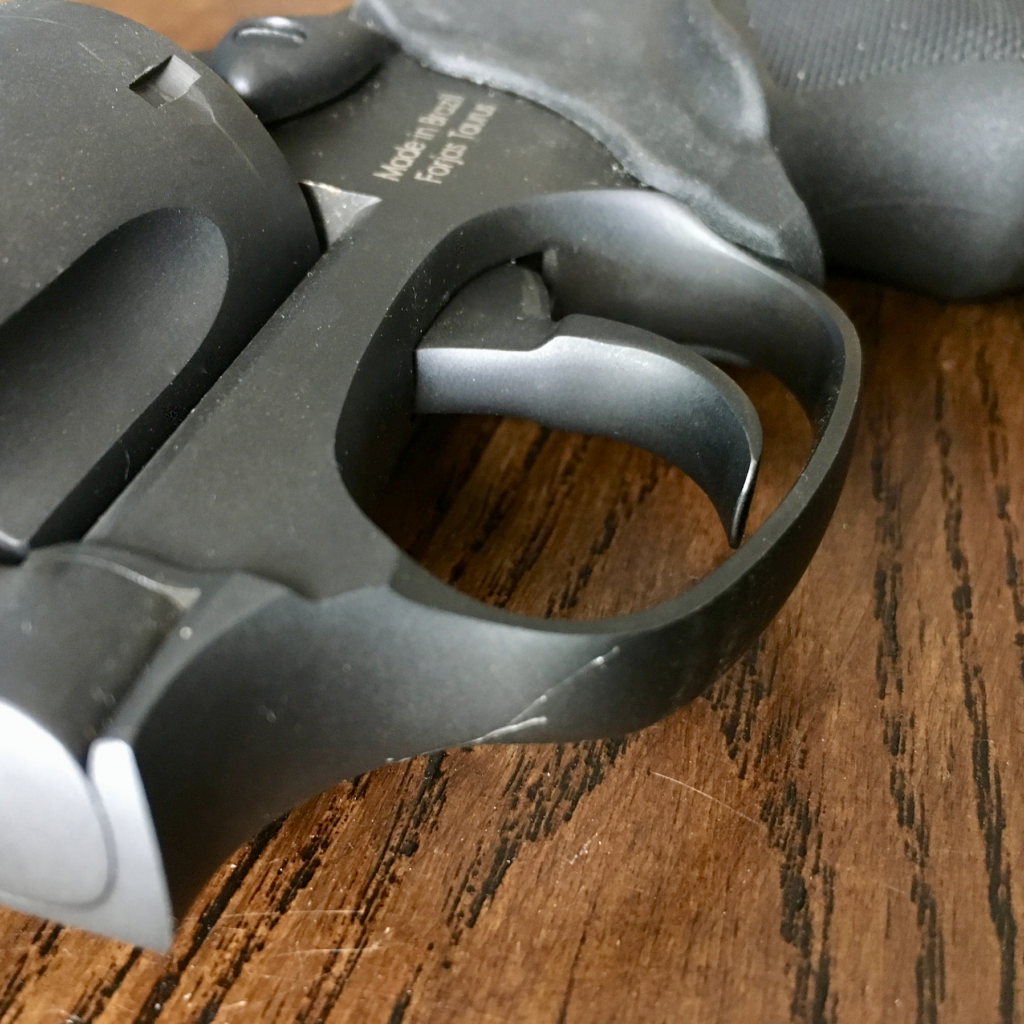 Overall the trigger is pretty smooth – smoother than I expected it to be. When rolling through the trigger's travel at "normal" speed it actually feels pretty good. If one is trying to squeeze the ultimate in accuracy from this little gun and rolling through the trigger very slowly, he or she will notice a bit of grittiness in the last bit of travel. Overall, though, the trigger isn't bad and is perfectly usable.
I doubt there is a compelling case that could be made for using a revolver this small in single action, but I didn't really mind the Taurus 856's exposed hammer. The single action trigger pull varies from 5 1/4 pounds to around 5 3/4, with some noticeable creep. The hammer spur is wide and sharply checkered. I mention this only for curiosity's sake; again, the usefulness of single action on a small frame revolver is dubious.
Function: Extraction & Ejection
Like most of its kind, the little Taurus revolver is equipped with a short ejector rod. I measured the ejector rod's throw at a very short .55 inches. Revolver mavens (like myself) tend to get really hung up on ejector rod length, preferring longer ones in the interest of positive ejection. I don't work with a lot of revolvers with an ejector throw this short, so I half-expected some problems with this little revolver.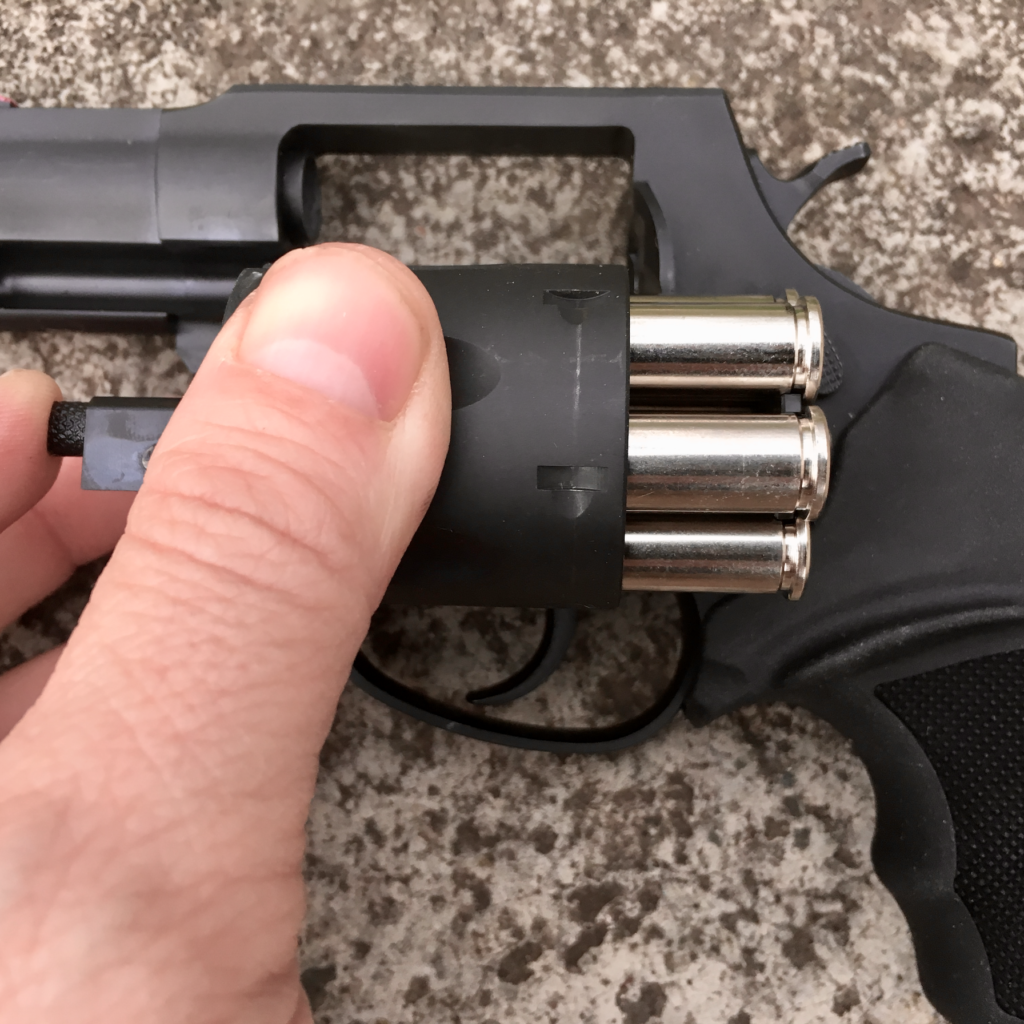 Again I was pleasantly surprised. I had no issues whatsoever ejecting empties from the Taurus revolver. From the first cylinder, all the way until the very last, I never experienced a single stuck case. And this is in spite of the revolver having a short ejector throw and being dirty. While I'll still gravitate to revolvers with longer ejectors, I'll not be so quick to turn up my nose at guns that lack one.
Function: Reliability
I followed our RT-SOP here, firing exactly 500 rounds of ammunition, from mild standard pressure stuff, up through +P loadings. This ammunition came from a total of seven different manufacturers and was fired over six range sessions. My range sessions with the Taurus 856 broke down thusly:
25 March: 100 rounds, no malfunctions of any kind

100 rounds Winchester "Service Grade" .38 Special 130-grain FMJ
08 April: 100 rounds, no malfunctions of any kind
15 April: 65 rounds, no malfunctions of any kind

50 rounds Prvi Partisan.38 Special 130-grain FMJ
15 rounds Winchester "Service Grade" .38 Special 130-grain FMJ
19 April: 35 rounds, no malfunctions of any kind

35 rounds Winchester "Service Grade" .38 Special 130-grain FMJ
24 April: 100 rounds, no malfunctions of any kind

17 rounds SuperVel Super Snub .38 +P 90-grain JHP
10 rounds Federal .38 Special +P 130-grain Micro HST
23 rounds "Field & Stream" (Perfecta) .38 Special 158-grain FMJ
50 rounds Blazer Brass .38 Special 125-grain FMJ
26 April: 100 rounds, no malfunctions of any kind

50 rounds Prvi Partisan.38 Special 130-grain FMJ
14 rounds Federal .38 Special +P 130-grain Micro HST
36 rounds Winchester "Service Grade" .38 Special 130-grain FMJ
During this period no maintenance whatsoever was performed on the Taurus 856. I had no issues at all with the gun. It consumed 500 rounds with aplomb and I have little doubt it would continue to run just fine.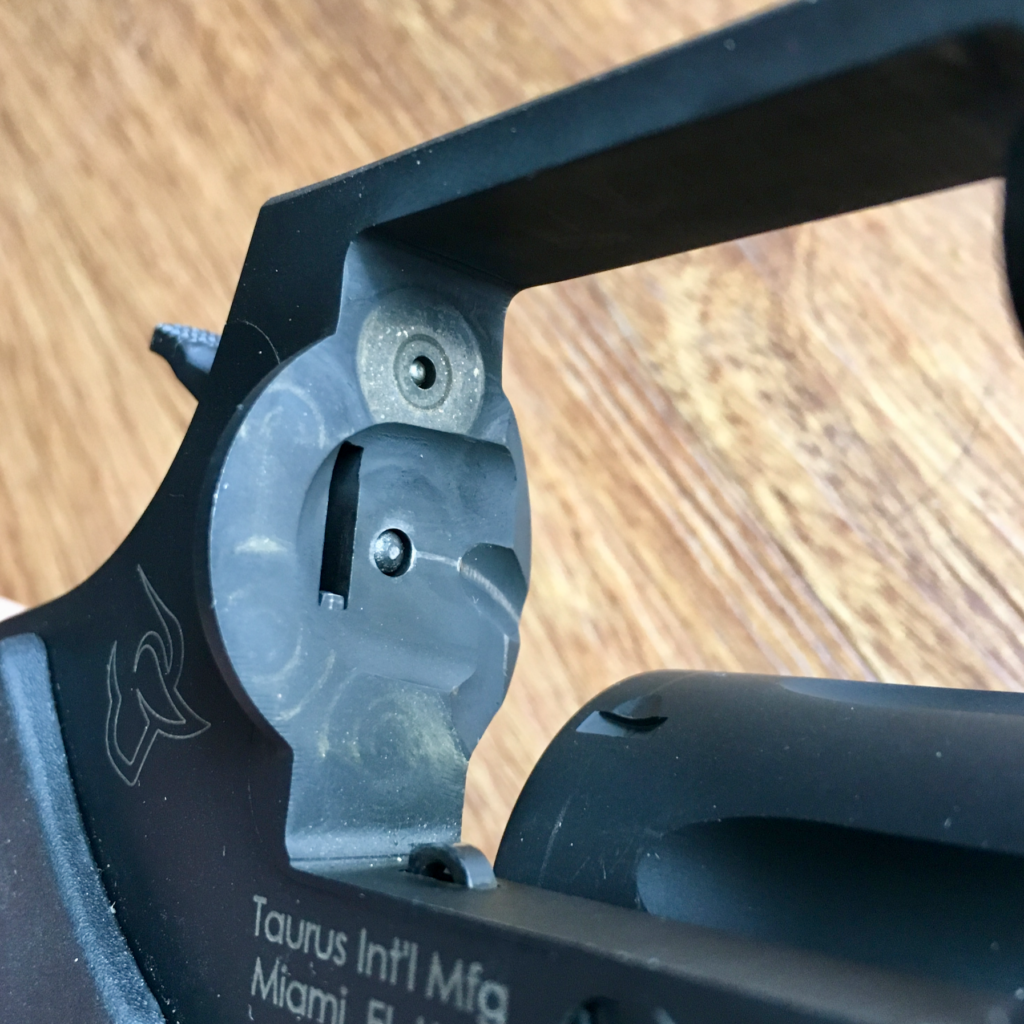 Handling
Handling was tested via our S.O.P. by firing the Dot Torture drill twice: once during the first 100 rounds and once during the last 100 rounds of 500 overall. Reloads were conducted using Safariland Comp II speedloaders (K-Frame) and Bianchi Speed Strips.
My first Dot Torture session with this gun was not encouraging. I shot a 43 out of a possibly 50 at three yards, which is pretty low for me. Working with the gun over the next couple of months saw me improve with it quite a bit, and achieve what I consider to be an acceptable score.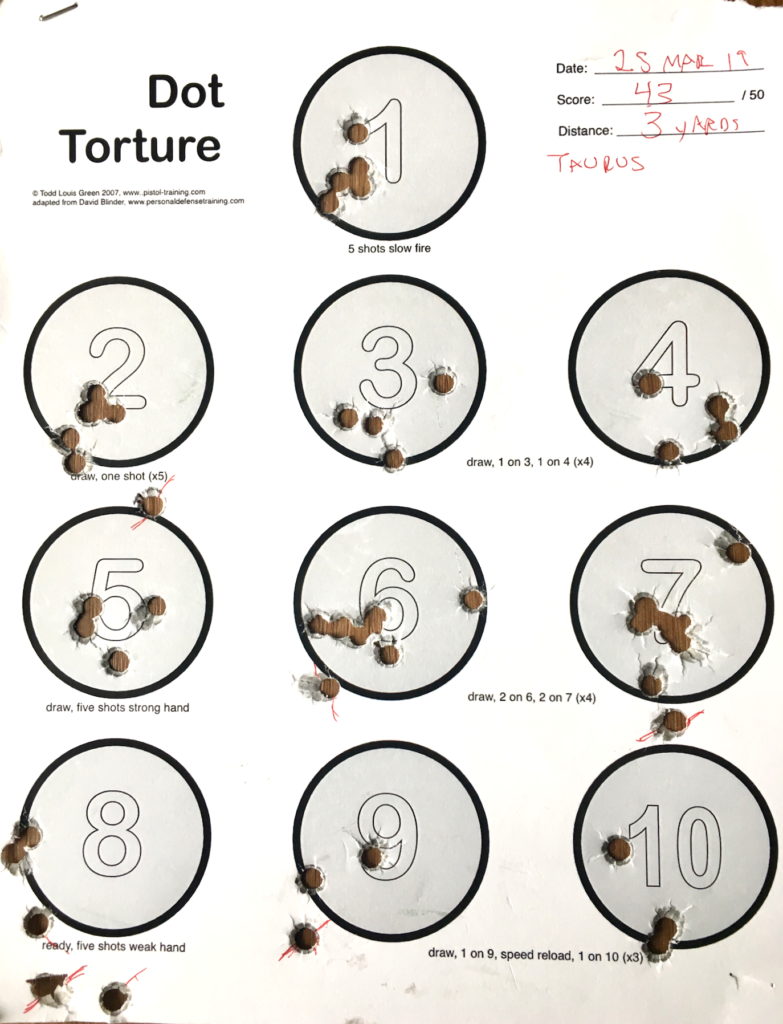 My second Dot Torture session saw a four-point improvement for a final score of 47. You'll also notice that my groups generally seem tighter, and my misses. . . well, they're still misses but they're closer misses on the second round than on the first. Two of my three misses were on the weak hand only stage; that heavy trigger was really tough to master.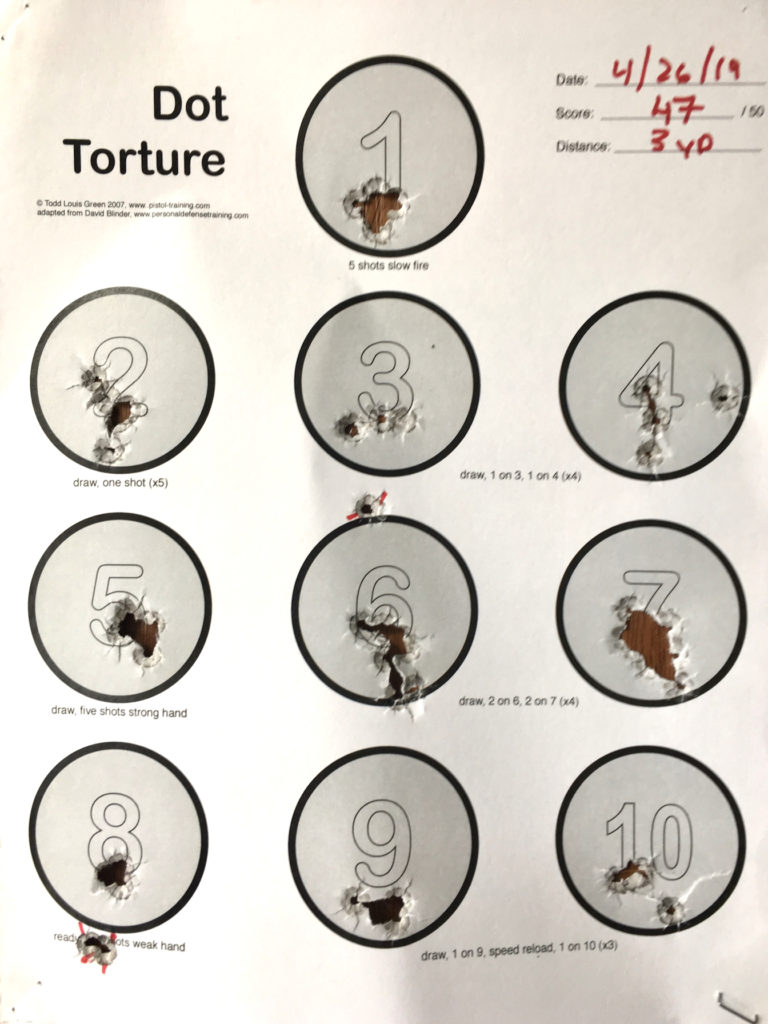 The handling of this revolver wasn't bad at all. The rubber grip on the 856 didn't seem overly large, but it felt really large. Side-by-side with my 640 Pro it looks similar in size, but I found I actually preferred the Taurus grip; it placed my finger in exactly the right place to operate the trigger. The grip also permitted a stable grasp during recoil, and permitted surprisingly good control during rapid fire strings.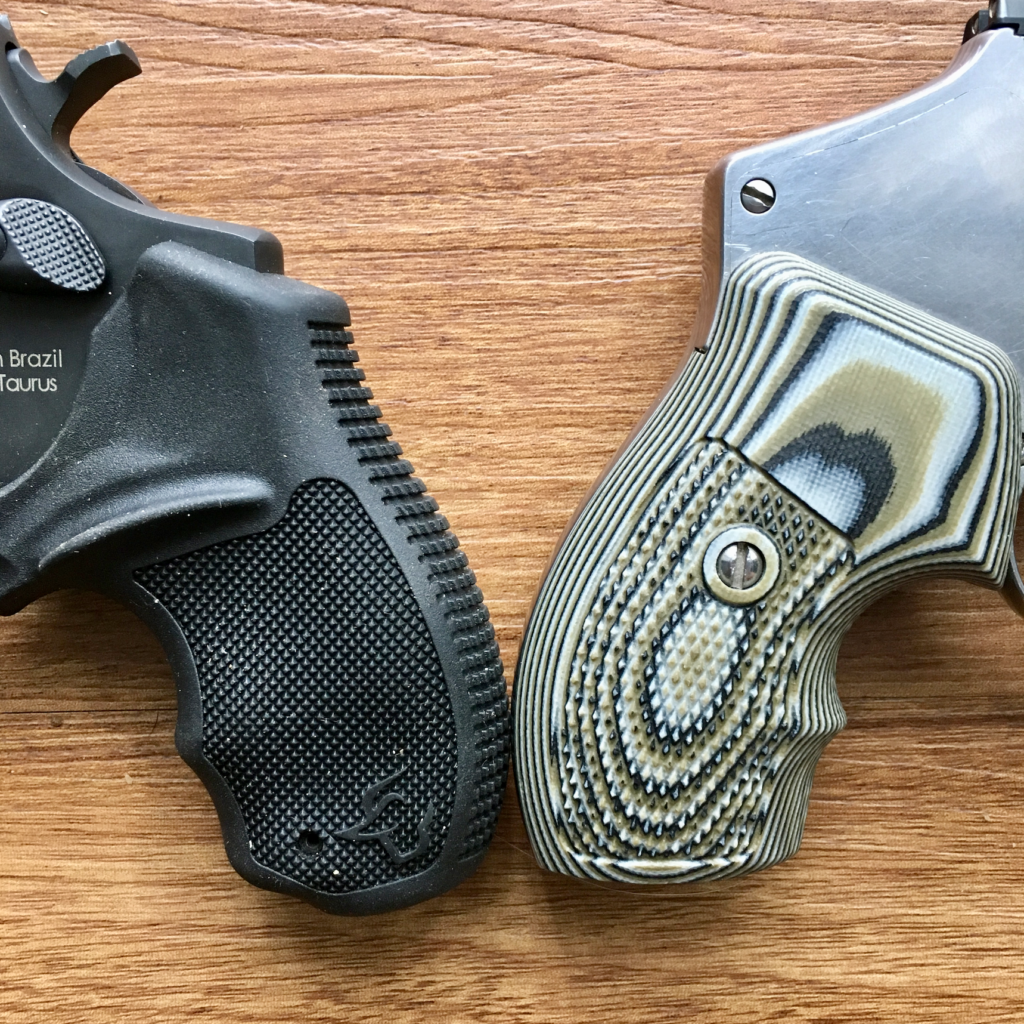 Accuracy
My troubles with the small, fixed sights were coupled with the aforementioned propensity to shoot low. You can see this evidenced in the groups below, as well as in my performance on the Dot Torture drill (above) where most rounds impacted in the lower half of the dots. It is very likely that some of this was due to my difficulty with the heavy trigger, but I don't believe all of it was. Even when I was taking great pains to shoot accurately I still found groups printing low.
I fired four groups in accordance with our S.O.P. The loads used in these groups were the Federal 130-grain +P HST Micro, Federal 125-grain +P JHP, Hornady's Critical Defense 110-grain standard pressure, and the Sig 125-grain +P V-Crown JHP.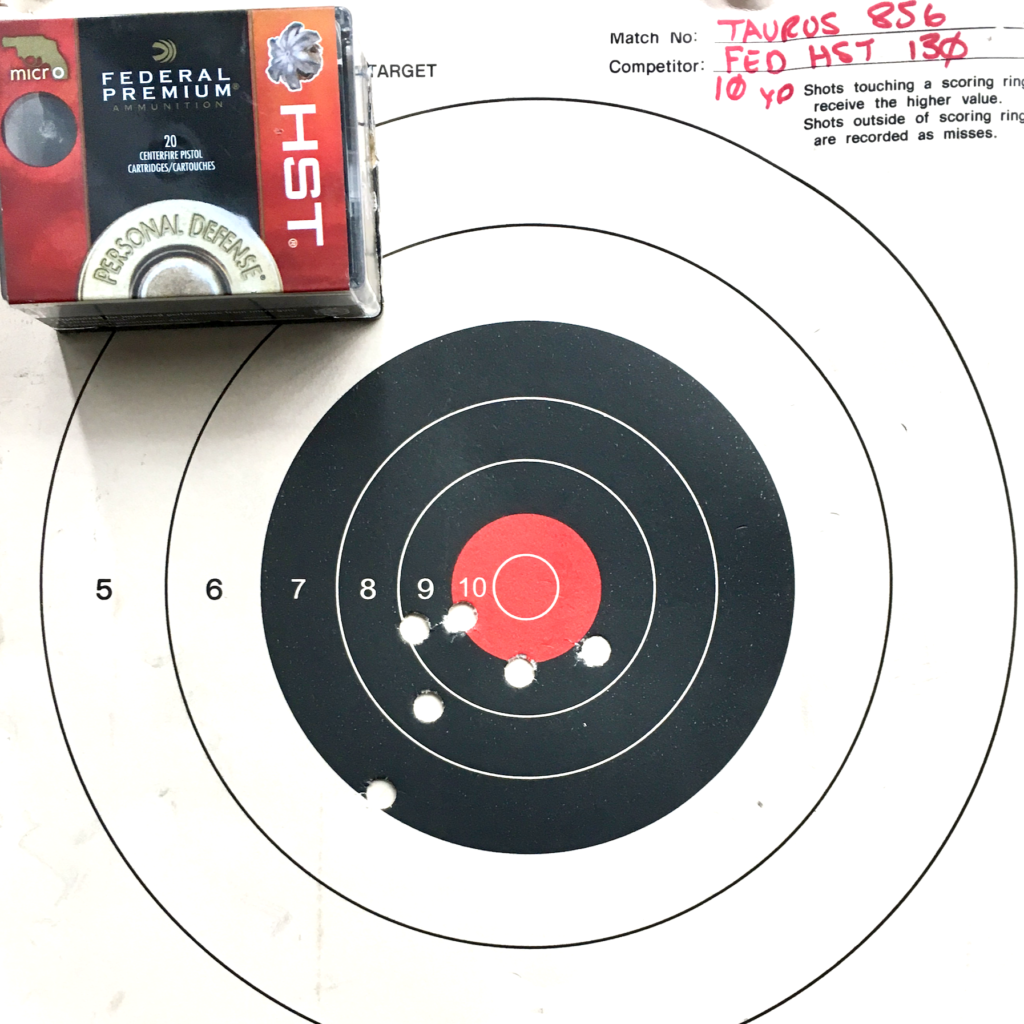 Though I had a tough time getting Federal's revolver HST load to group with the Colt King Cobra, it performed pretty well in the Taurus. It also shot close to point-of-aim at the 10-yard line. Groups were held reasonably tight at further distances but the point of impact drooped significantly to about 8″ below point of aim at 20 yards.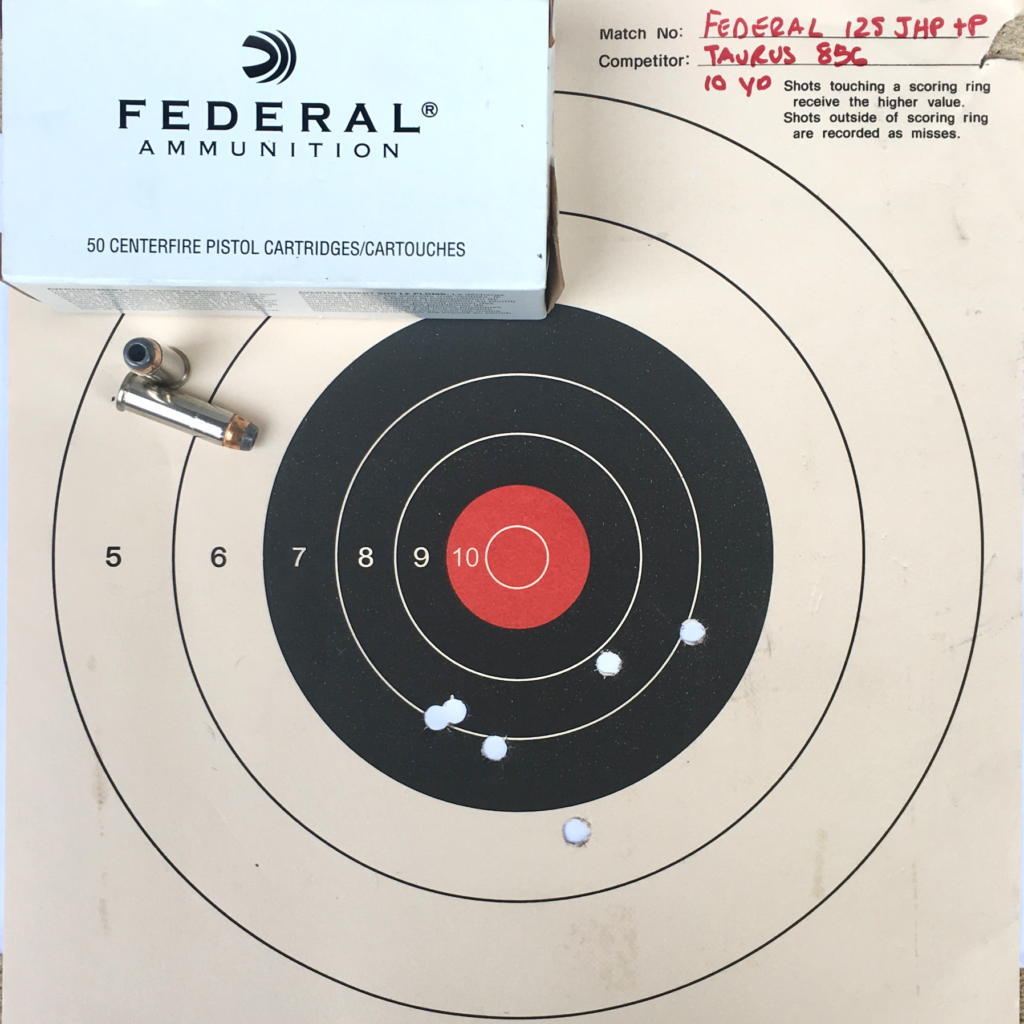 Typical of most loads, Federal's old school, +P semi-jacketed hollow point shot slightly below point-of-aim.
The Taurus 856 didn't seem to enjoy Hornady's standard pressure Critical Defense load. This could be more my fault than that of the gun.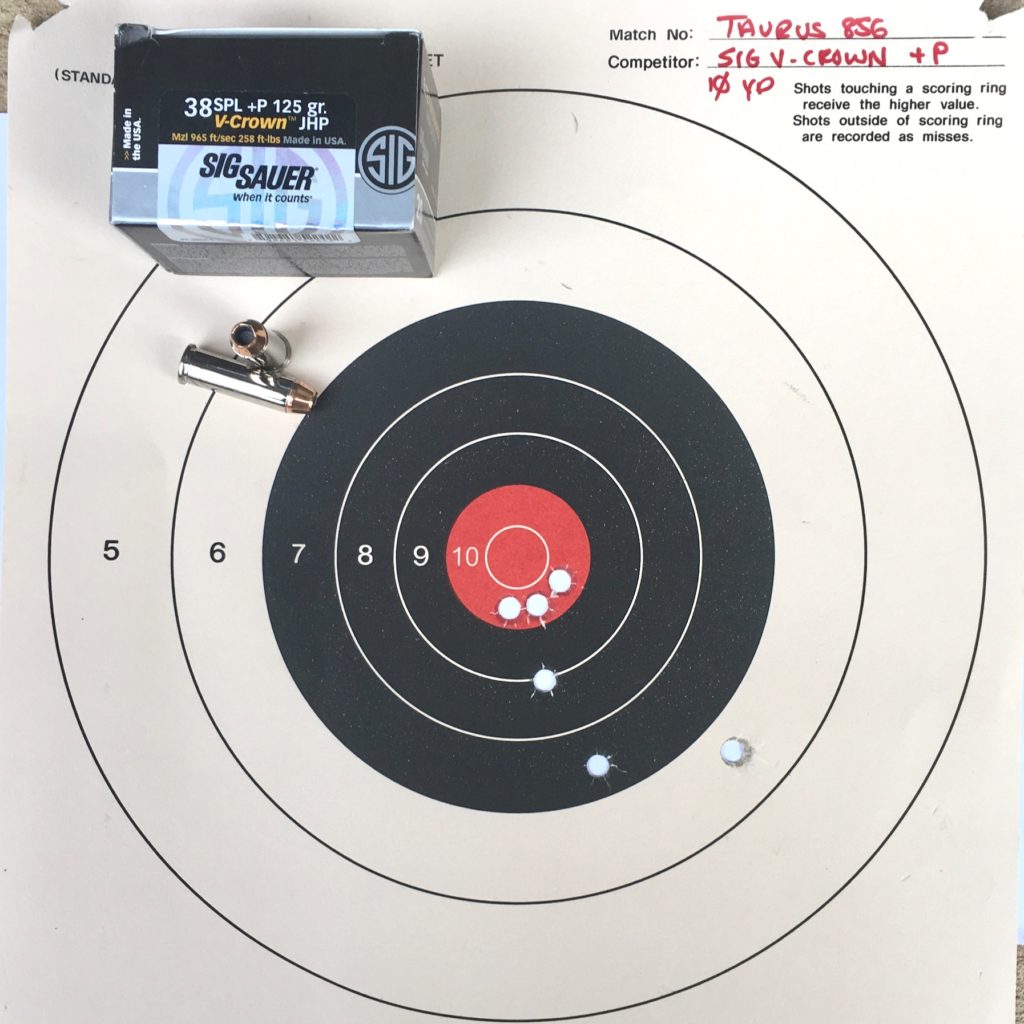 None of my groups, even at ten yards, are nothing to write home about. I know this says little about the gun's inherent accuracy, but it does say a lot about its usable accuracy. This is a tough gun to shoot with extreme accuracy. Achieving proficiency with this revolver would require a serious investment practice (both live and dry) and finding a load that works well in it. Then again, for what gun is that statement not true?
Carry

I found carrying the Taurus 856 to be something of a challenge. Not because the gun, but because holsters for it were difficult to come by. I imagine this has something to do with the gun's low cost; it is unlikely that someone spending under $300 on a gun will turn around and spend $100 on a holster.
Mike suggested that I try out a K-Frame holster since the diameter of the two cylinders are very similar (~ 1.41″) and K-Frame Comp II speedloaders with with the Taurus 856. He sent me a K-Frame holster from Aker Leather but I found the fit left something to be desired. Though the cylinder is the same size, frame of the Taurus 856 is considerably smaller than that of a K-frame revolver, and the gun was too loose for comfort. I found this holster acceptable for conducting the Dot Torture drill but did not feel comfortable carrying it in the street.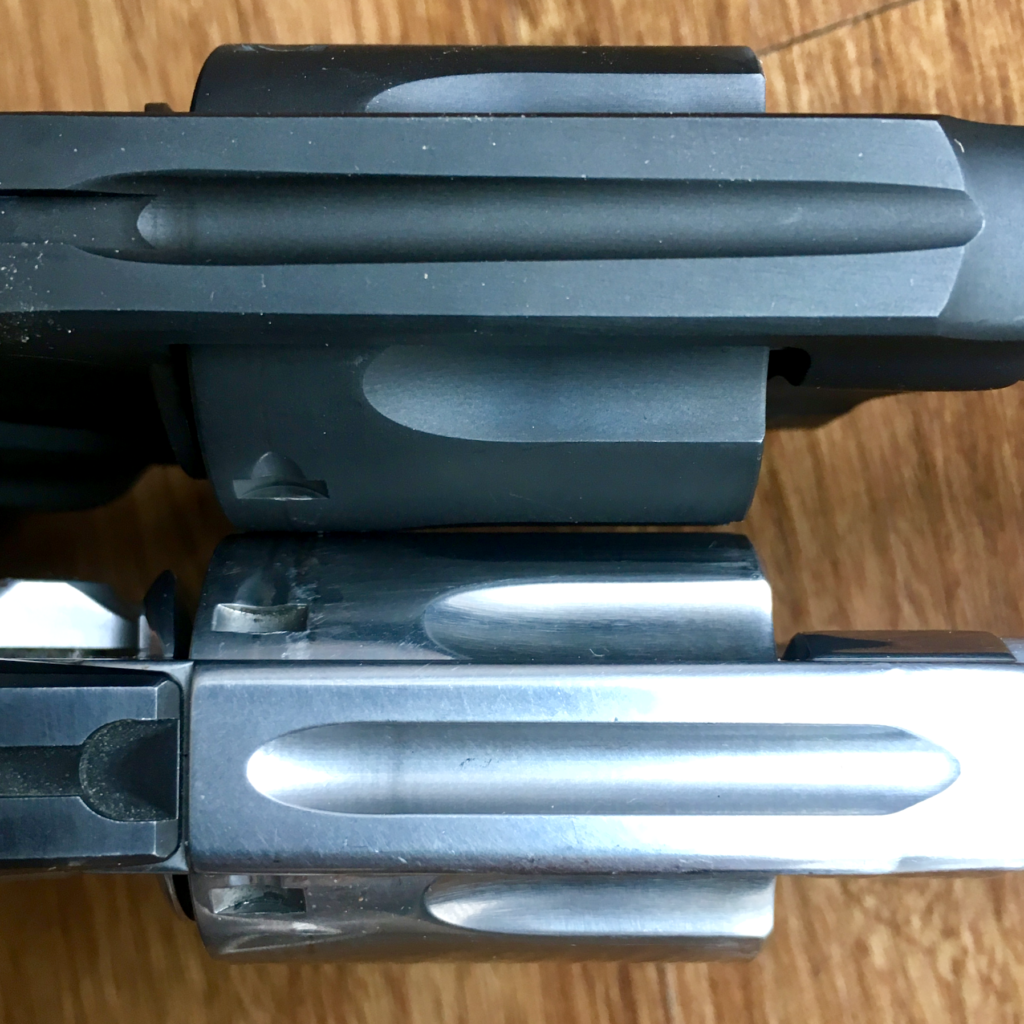 Despite not having carried it, I have no doubt that this revolver would carry well. It is small, lightweight (22 ounces), and of a traditional form factor. The wider six-shot cylinder of the Taurus may make inside-the-waistband and pocket carry more challenging, however.
The Bottom Line
The Taurus 856 isn't going to win any beauty pageants. The trigger was heavy and a little rough, and it's certainly no hand-fitted marvel. However, I found it to be a capable handgun. Though the snubnose revolver is not my preference for daily carry, if it were I'd feel comfortable carrying the Taurus 856. It exhibited excellent reliability, good ergonomics, and quite honestly was more comfortable to shoot than a lot of other small revolvers I've worked with.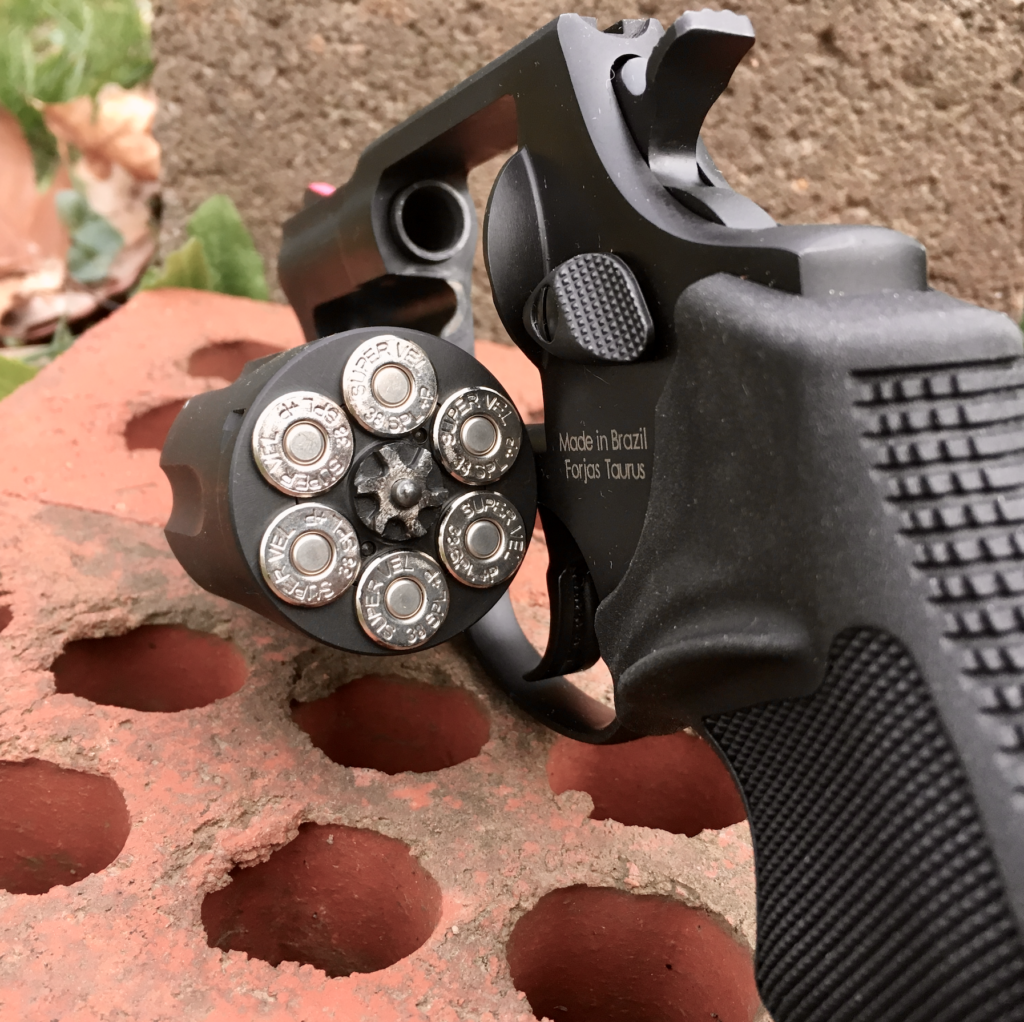 If you're in the market for a snubby revolver you won't be ill served by the Taurus 856. Listed MSRPs on Taurus' website range from $364 to $462 but Actual prices on gun store shelves seem to average closer to $260-280 for the exact model I had on loan. Sweetening the pot and demonstrating confidence in their product line, Taurus has also chosen to reinstate their lifetime warranty. This warranty is available to the original owners of all Taurus firearms.
The introduction to Taurus that I referenced in my opening paragraph has been a positive one. Impressed as I am, I will be exploring more of Taurus' product line in these pages in the future. Stay tuned!
---
†I'd like to ask you guys to permit me a quick sidetrack here. Recently I've been thinking that if manufacturers are going to continue putting fixed sights on revolvers, at least they could leave a bit more material on the topstrap and form a deeper rear sight. As it turns out, on manufacturer has done this on at least one revolver: Taurus. Everyone's favorite gun to hate is the Judge, and I'm no fan, either, but I will happily give credit where credit is due. The Public Defender version sports a prime example of what I'm talking about: a raised area on the rear of the top strap to provide more rear sight material. I wish some other manufacturers would take note of this excellent idea and improve the sights on fixed-sighted revolvers. For that matter, I wish Taurus would implement it a bit more broadly. Rant out!
Did you Get something Out of this post? Support RevolverGuy on Patreon!