The idea that led to Smith & Wesson's Mountain Gun started as a conversation between two world class shooters. The conversation took place back in the 1980's, when these shooters were known for their prowess with semiautomatics in action pistol competition.
Tommy Campbell and Ross Seyfried discussed their thoughts on the perfect revolver. They took what they considered to be the best features of guns from the past and combined them with the advancements of that day.  It's gratifying to know that they were RevolverGuys at heart…
History
They agreed that the aesthetics and light weight of the pre-war .44 Hand Ejectors were peerless. The term ".44 Hand Ejector" referred to the size of the frame, not necessarily the caliber. They were typically .44 Specials, but were also chambered in .44-40, .38-40, .45 Colt, and .455, among others. Regardless of the chambering, all the large frame guns wore tapered barrels up until 1955. This tapered "pencil" barrel kept the weight of the 6 ½" barreled guns around 38 ounces, with the rarer shorter barrels (4", 5", and 5.5") even less.
The Hand Ejectors culminated in the 4th Model in 1950. That change incorporated the newly developed short throw hammer, known today as the short action. Target variants were typically delivered with a 6.5" barrel and were equipped with Smith's micrometer click-adjustable rear sight and a Patridge front sight. The shorter barrels had the micrometer rear, but wore a Baughman ramp front sight. All were square butt frames with .265" serrated triggers and .400" hammers.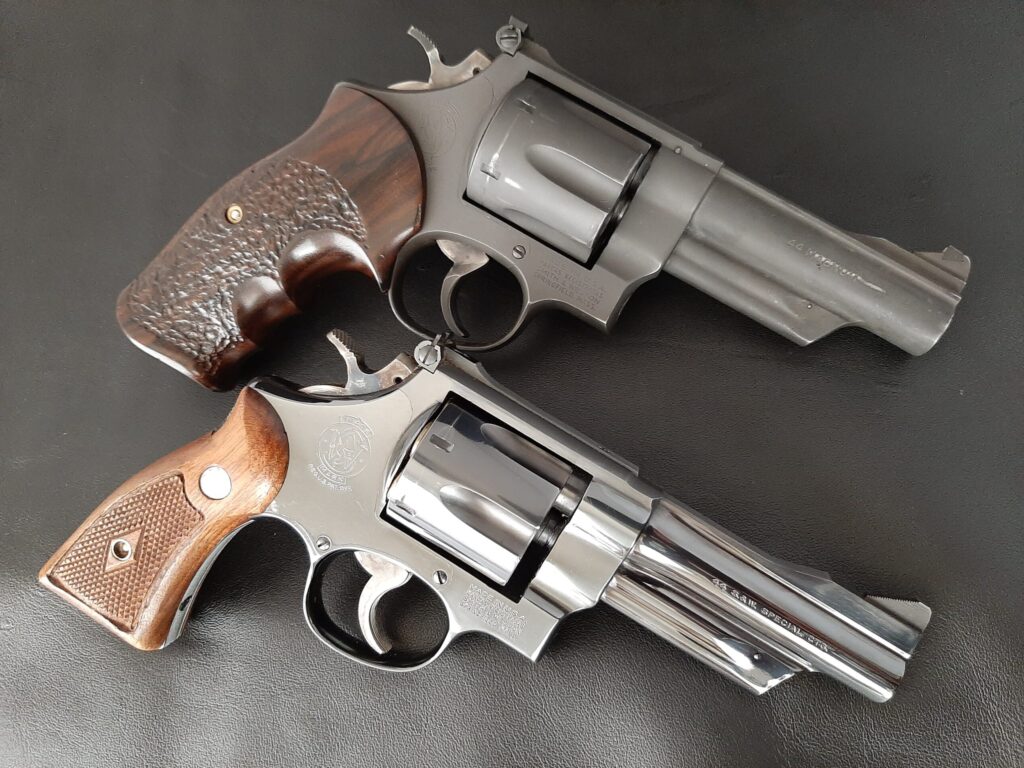 The Target Model of 1950 with a 4" barrel was the epitome of a practical sixgun. The balance created by the slim, short barrel was just right. It carried comfortably in a belt holster and earned favor with savvy lawmen and outdoorsmen. Chambered in .44 Special, it could be sanely handloaded to drive a cast 250-grain Keith bullet to 950-1000 fps. That load was powerful enough for almost any need and was controllable in the handy 1950. It made a great combination of gun and cartridge. This was the type of revolver Campbell and Seyfried wanted.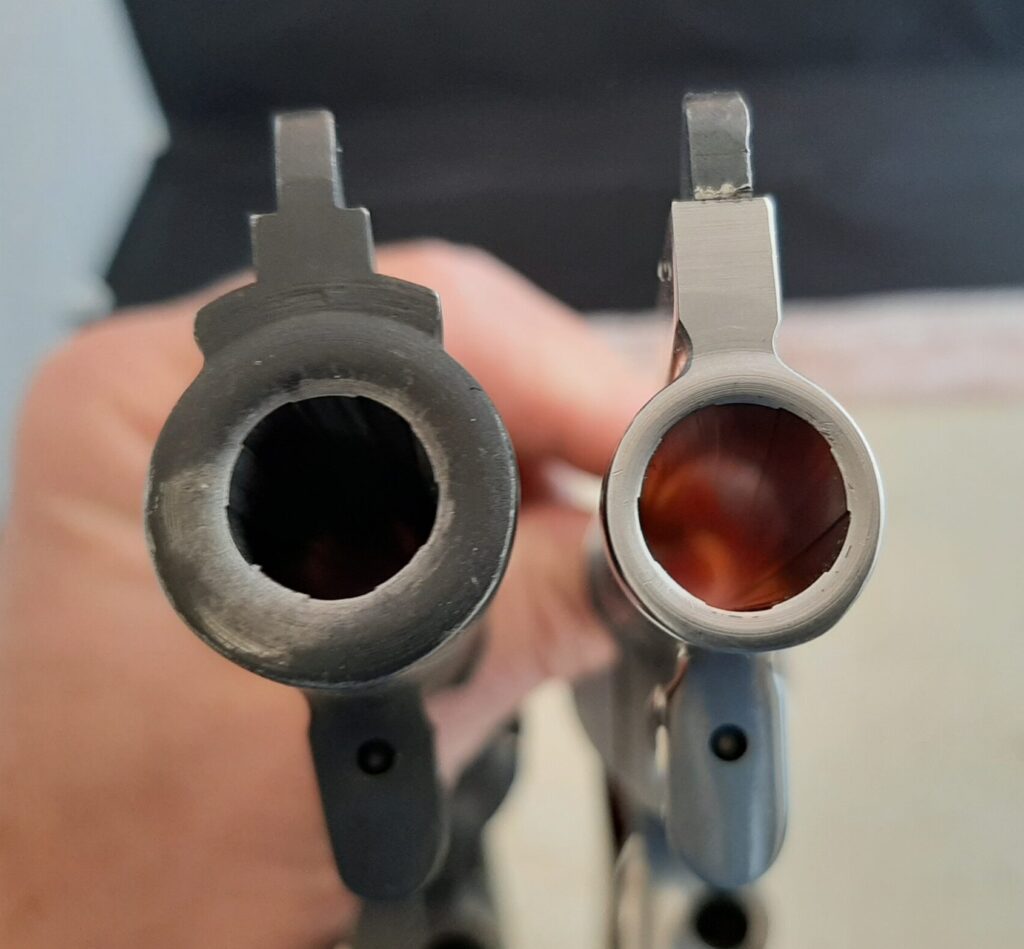 The .44 Magnum was introduced in 1955 and brought a new level of power. It also ushered in a shift in the way N-frames were built. It shipped with a .800" diameter bull barrel which added weight up front to help deal with the recoil the magnum produced. The extra weight changed the gun's balance and robbed it of some of its nimble handling qualities. The new target trigger and hammer were fully 1/2" wide. Coke bottle grips and sights with white outlines and red ramps became the norm. The .44 Magnum with a 6 ½" barrel weighed in at nearly 48 ounces. With rare exceptions, big bore N frames followed this trend going forward.
The Skelton Intervention
When S&W went to their numbering system in 1957, the 1950 .44 Special became the Model 24, and the .44 Magnum was designated the Model 29. They existed side by side- for a while. Some thought that since the Magnum would also chamber and fire .44 Specials, there was no real need for the Model 24. Sales weren't great, and this line of thinking eventually resulted in the Model 24 being discontinued in 1966.
Skeeter Skelton was one of many sage shooters who was dismayed with the loss of the Model 24. He embarked upon a long, patient crusade to convince S&W to bring it back. They finally conceded and released the Model 24-3 in 1983. It was available for about 2 years before production ceased in 1984.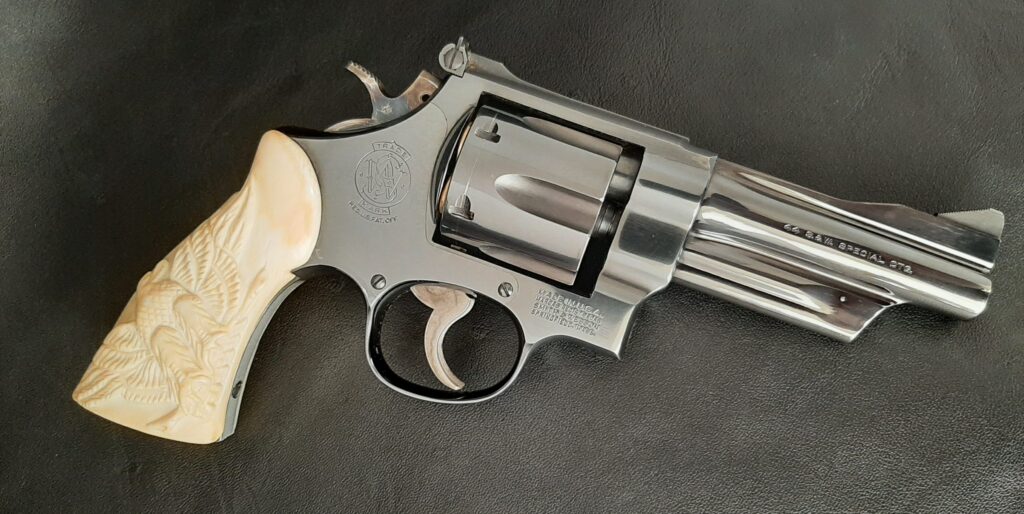 Skelton had often hinted that the only way a Model 24 could be better was if it was made of stainless steel. Smith & Wesson again honored Skelton's request, and released the stainless Model 624 in 1985. The 4" gun could be had with a .312 smooth-faced combat trigger, making it even more "shootable" for most people.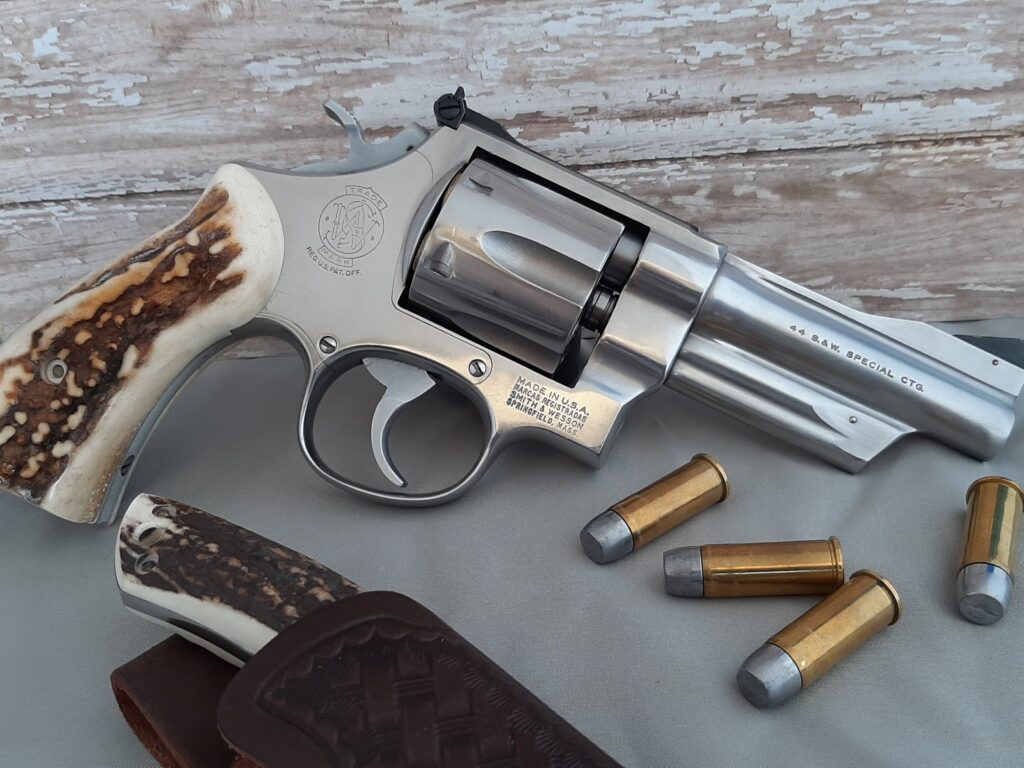 Things were right in the world for a few years. The 624 was as good as the guns of old. Smith & Wesson ended production on the "Target Model of 1985" in 1988.
Campbell Steps Up
Tom Campbell was in a unique position to make the gun he and Seyfried dreamed about a reality. He had worked for many years at S&W; First as a model maker and then as a test technician. He also represented them at the highest levels of pistol competition in the late 70's and 80's. He was consistently a high finisher (usually in the top 5) in the big matches he competed in–the IPSC Nationals and Worlds, the Bianchi Cup, and the Steel Challenge, to name a few. Campbell taught at the S&W Academy and instructed his own classes on IPSC competition. He was instrumental in developing the Model 745 Pistol, which was based on "Super Gun II," a .45 version of the Model 459 that he created and competed with. His experimental pistol also led to the development of the Model 645 that truly got S&W into the .45 semiauto business. He was a hunter and an all-around handgunner; He was (and is) a gentleman respected by his peers.  Fortunately for us, he loved revolvers.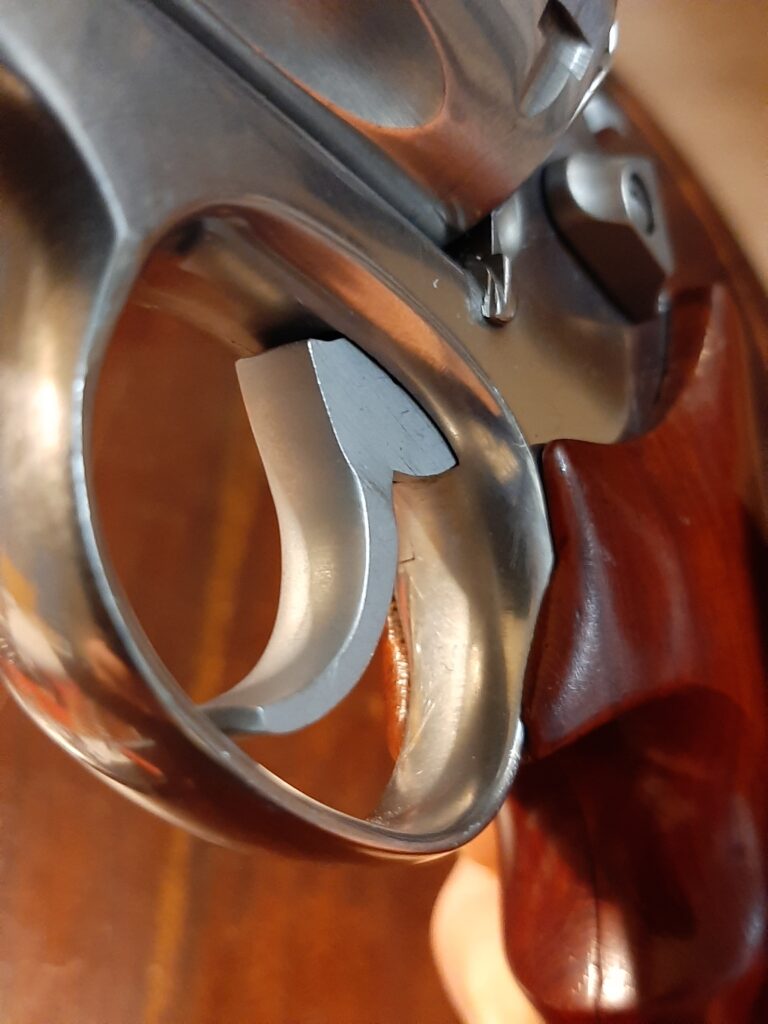 Campbell built the first Mountain Gun essentially by hand in the model shop (located in the original Springfield Armory testing facility and range). He used the Target Model of 1950's barrel and rib profile as the template for his barrel. Campbell selected the then-new round butt frame for the project. The narrow .400 hammer of old and the 624's smooth trigger were chosen for the lockwork. Smith's proven micrometer adjustable rear, and a plain, black, Baughman serrated ramp (pinned in) were chosen for sights.
Seyfried Adds a Signature Element
Seyfried was a rancher from Colorado and fellow competitor who won the IPSC World Champion title in 1981 (with a lightly customized 1911 Government Model in Milt Sparks carry leather, no less). Seyfried wore out a couple of Model 29's mastering the .44 Magnum cartridge when he was younger, and carried a 4" Model 29 daily on his ranch. That .44 was a constant companion during his days as a professional hunter in Africa, too. It accounted for many trophies there and fed his crew faithfully. Few people have the experience with a .44 Magnum that Seyfried does.
A couple of his friends had a custom Model 629 built to commemorate his world championship. It was highly embellished, but the most distinctive feature was the radius applied to the front edge of the cylinder. It was chamfered, in a nod back to the early revolvers—a feature originally done to keep the cylinder from tying up with black powder fouling. It gave a distinct look, not seen on a S&W revolver in a long time. Seyfried sent the cylinder to Campbell so he could reproduce it for his project gun.
Finishing Touches
Campbell appreciated the graceful look the chamfer provided on Seyfried's 629. He also studied first-generation Colt Single Action Army cylinders to make sure the cylinder had the correct radius for the cylinder diameter. He created a special fixture to grind the black powder scallop on the leading edge of the cylinder. He ground each chamber's leading edge to shape one at a time on a surface grinder. When the cylinder was complete, he assembled the gun and tuned the action. The gun was vapor blasted to an all-business, "no shine" satin finish. Campbell put a set of Pachmayr "Gripper" stocks on the gun and test fired it.
Satisfied with his work, he shipped it to Seyfried for him to behold and enjoy. Seyfried was thoroughly impressed with the prototype, and he appreciated its significance. He wrote an excellent article about it in the October 1989 edition of Guns & Ammo magazine.
Production
S&W wisely decided to catalog the Model 629-2 Mountain Gun as a production gun, and made 5,000 of them in the initial run. This was the first time a .44 Magnum had been released with a tapered barrel, and it was well-received by the shooting public.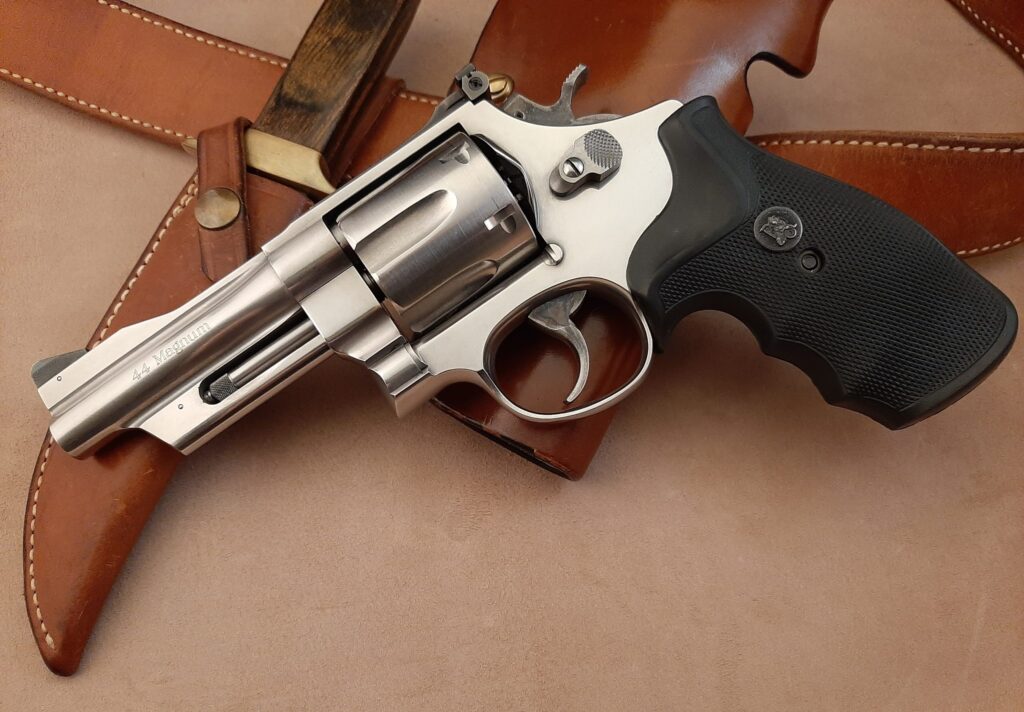 Tom Campbell's masterpiece was validated- it was a smashing success. He left S&W and went to work for Safariland shortly after production started, but the gun he left behind was a hot seller. The gun's popularity demanded additional runs in 1993, 1994, 1999, 2002, and 2005.
The vapor-blasted finish was replaced with the now common, matte stainless finish soon after the first run. The Mountain Gun was subject to the same engineering changes as any other Model 629: The endurance package; The transition to Metal Injected Molding (MIM) parts; Floating firing pins; New-style thumb pieces, and; Internal key locks. Smith & Wesson made one run of Model 29-8 blued Mountain Guns in 2003.
My Experience With the .44 Magnum Mountain Gun
I had many rounds down range from various Model 29's and 629's and was no stranger to .44 Magnum recoil when I acquired a Mountain Gun. Full-house magnums are best fired in moderation through a 4" Model 29, even more so with a Mountain Gun. Looking back through my loading data, I ended up basically duplicating heavy .44 Special field loads for a 624, only in magnum cases.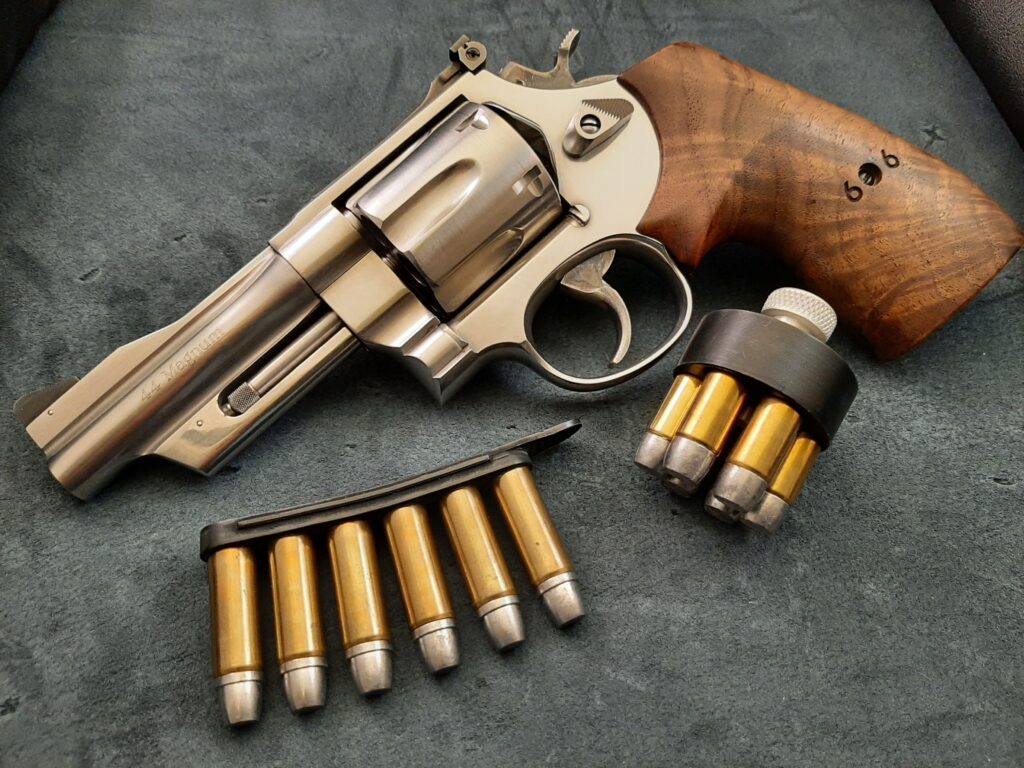 That's the sweet spot for controllability in a revolver of this weight. Keith bullets at about 1,065 fps and 280 gr. WFN's around 980 fps work just fine for woods loads. Launching these bullets faster will improve trajectory, but the performance gained is not worth the price paid in recoil. Looking back, Seyfried gave that blueprint for ammo choices in his 1989 article, amongst many other bits of wisdom. My .44 Mountain Gun has also seen some time in a duty holster loaded with 200 gr. modern JHP's.
The .45 Colt Mountain Gun Arrives
Seyfried also opined that as good as the .44 Magnum gun was, a Mountain Gun chambered in .45 Colt might be better. It could drive 250-300 grain bullets to reasonable velocities (800-1,000 fps) with less pressure than the magnum.
Smith & Wesson paid attention and released a Model 625 .45 Colt Mountain Gun in the mid 90's. It was identical to the original except for the chambering. They followed this with one chambered in .45 ACP soon after. Smith & Wesson did at least one additional run of 625 Mountain Guns in each .45 caliber. They also did a blued Model 25-13 .45 Colt in 2004.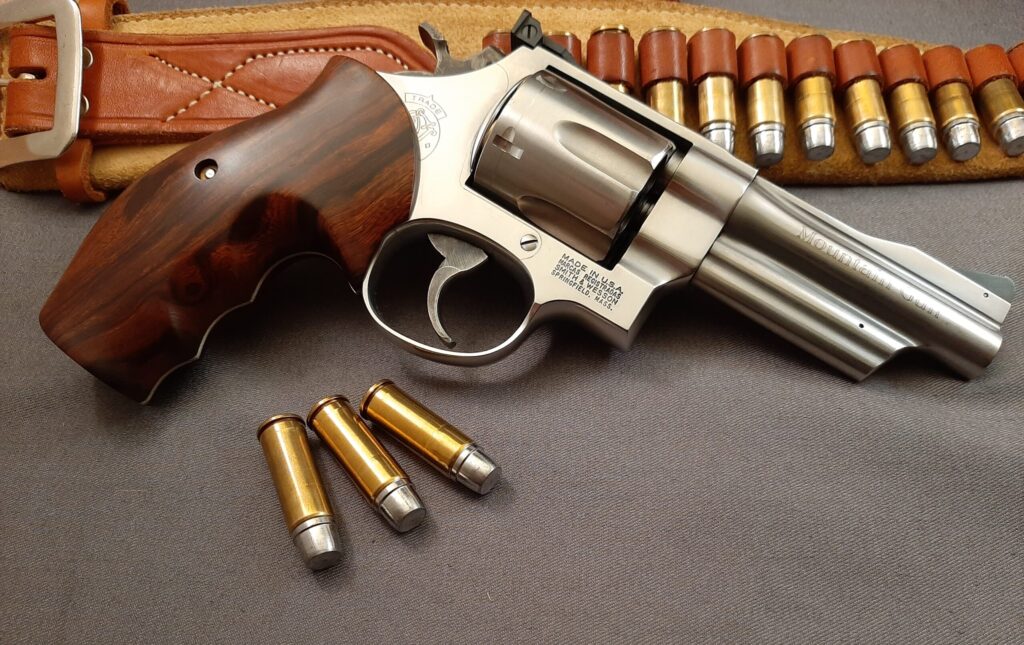 I've never owned one in .45 ACP, but I bought the first .45 Colt model I found in a local gun shop. My initial experience with factory .45 Colt ammo was disappointing. Velocities were anemic and accuracy was only mediocre with 200-250 gr. jacketed bullets. Handloading with cast bullets completely transformed this gun's performance. Loading a 280 gr. Keith-style SWC from RCBS mold .45-270-SAA, sized for the guns chamber throats, on a nearly-max charge of Hodgdon Titegroup, yielded an extremely consistent average of 900 fps. Accuracy was exceptional, stacking these big bullets into a grapefruit-sized group at 50 yards from field positions.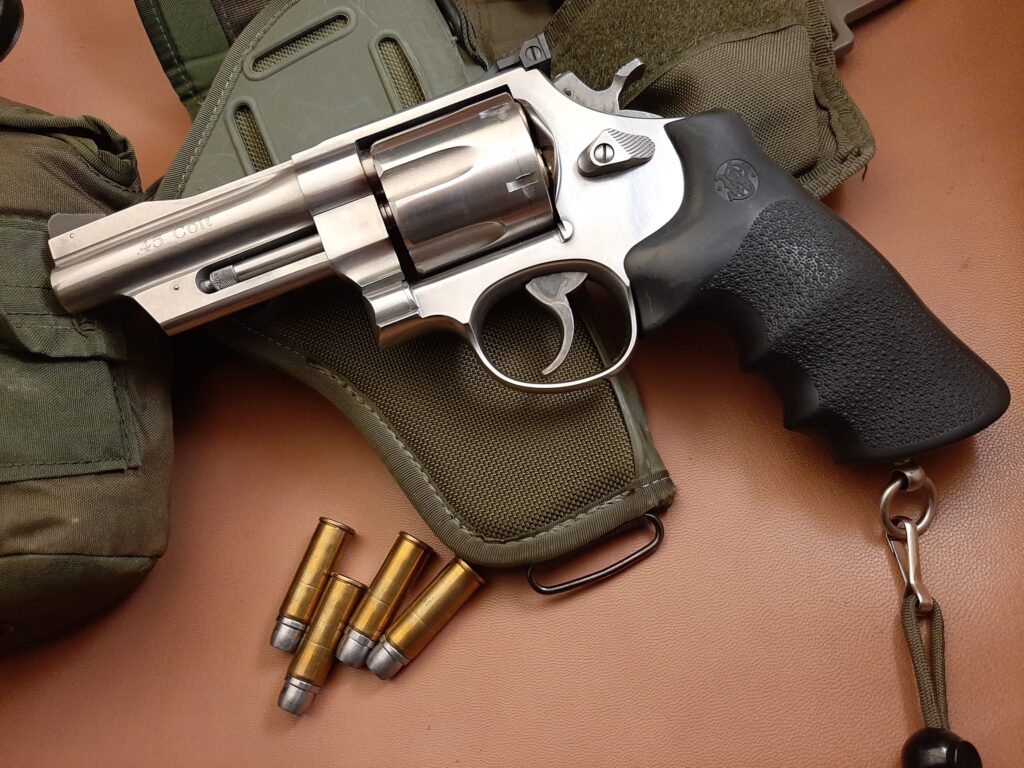 True Keith bullets, from two Lyman molds, as cast by my friend Mark, have been outstanding, too. Alliant's Unique will safely propel the 256 gr. #452423 to 946 fps and the 273 gr. #452424 to 920 fps. They give deep penetration and cut big sharp holes. Seyfried nailed it back in the 80's–this is plenty of power, with mild manners, in the .45 Colt Mountain Gun. This performance level can also be achieved in the .45 Auto Rim case loaded within .45 ACP +P pressures, if you happen upon a .45 ACP Mountain Gun.
Even the .41 Magnum Gets a Little Love
S&W made a stainless Model 657 Mountain Gun in .41 Magnum in 1998 & 1999. This was also the first time a .41 Magnum had left the factory without a bull barrel. Sightings of these guns are few and far between. As far as I can determine, there was only one production run of the 657 Mountain Gun.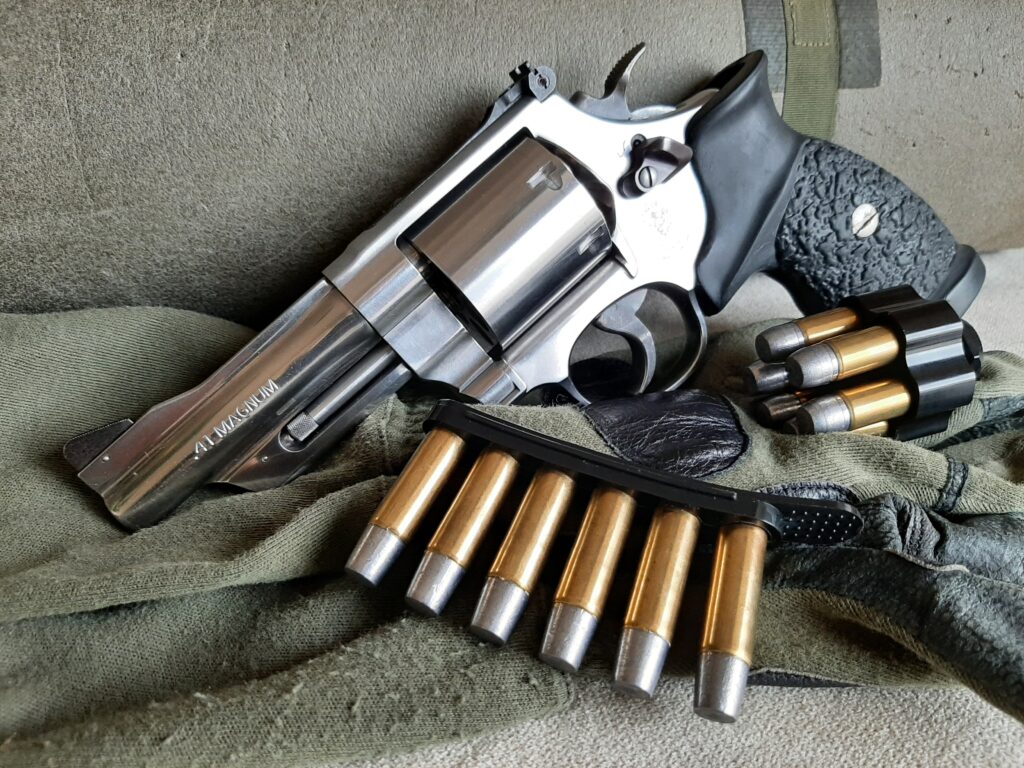 In 2005, they also released a blued 57-5 Mountain Gun. Upon discovering this, I ordered one directly from the factory. Like most S&W revolvers at that time, this Model 57 had a MIM trigger and hammer, and a frame mounted firing pin. It was equipped with the internal lock and the bluing looked black, in comparison to older revolvers.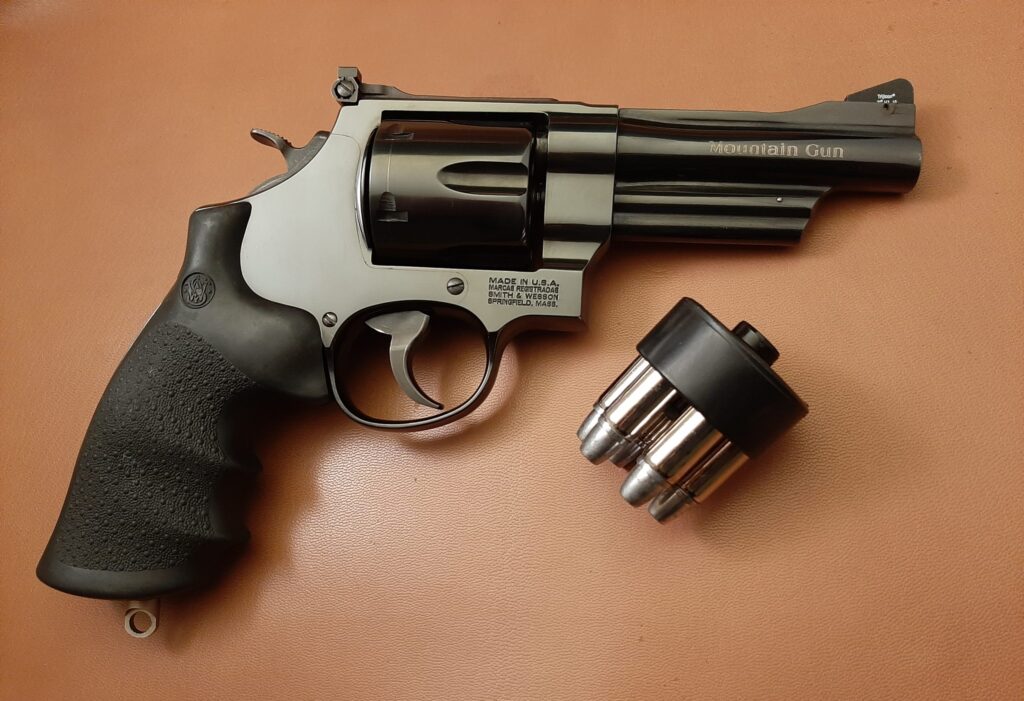 Thankfully, the action was as good as any MIM parts action I had felt. It was accurate with everything fired, but most factory .41 ammo was geared towards the hunting market and gave significant recoil and blast from the little gun. Winchester's Silvertip, and a 170 gr. JHP from CORBON, were the only game in town for controllable Mountain Gun loads.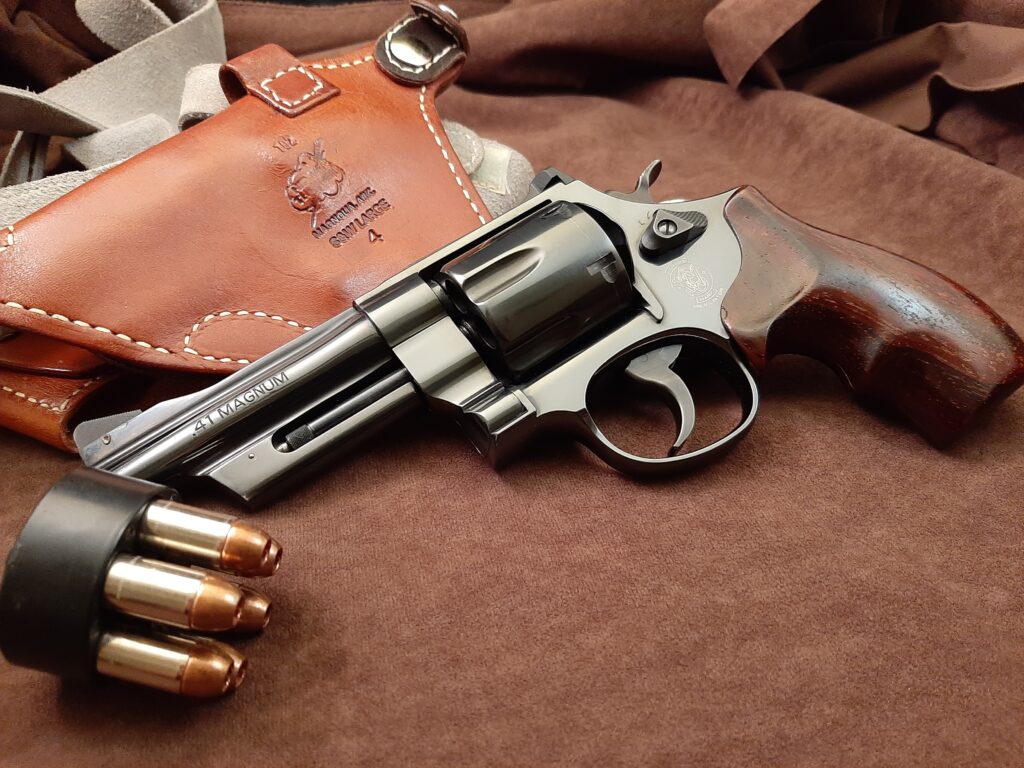 Keith's Lyman #410459, sized to .411, weighs 208 grains as cast by my buddy Mark. Its accuracy is noteworthy, and it makes a superior everyday round when fueled by Unique or Power Pistol to 1,050-1,115 fps. Cast bullet choices to provide "thumpers" (as Seyfried called the slow-moving heavy bullets) are out there for the .41 Mag as well. Wide Flat Noses and heavy-for-caliber Keith bullets can be had from 250-275 grains. My handloads with these types of bullets end up in the velocity window that Seyfried suggested back in the day- go figure.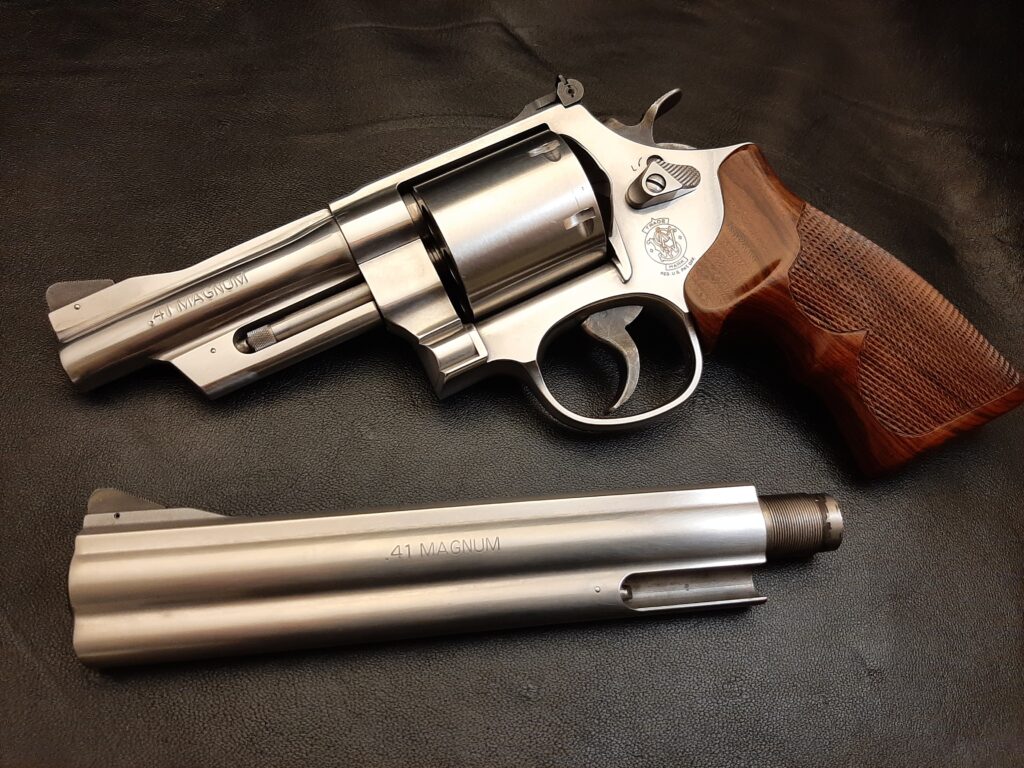 In 2007, I purchased a 657 Classic Hunter with a 7.5" barrel that belonged to an old lawman who had gone on to his reward. I decided to have it converted into a "Mountain Gun" and carry it in his honor. I contacted Jim Rae, who was running S&W's Performance Center at the time, and asked if he could dig up a barrel. Rae told me to send the big gun east. Gunsmith John Seifert swapped barrels, chamfered the charge holes, and had it laser engraved with a simple sideplate inscription to honor its former owner.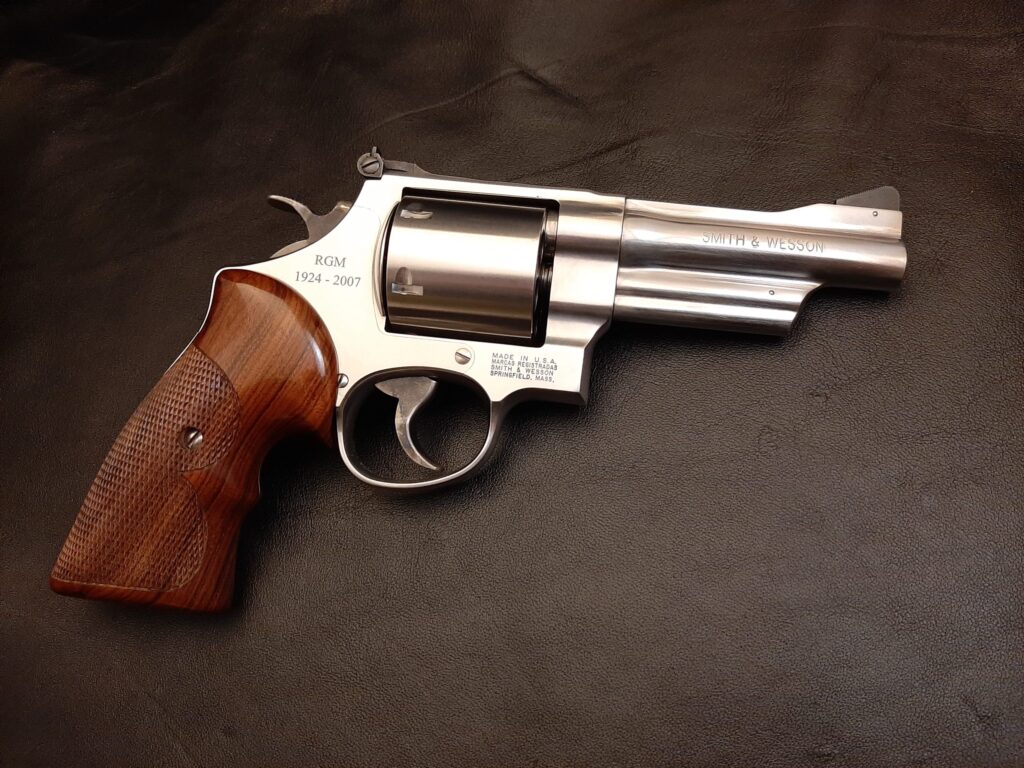 I was very pleased with the custom revolver they crafted. The non-fluted cylinder gives it a "one of a kind" look. Holstering it makes you realize the chamfer on the cylinder front of factory Mountain Guns isn't just cosmetic- it definitely makes them holster easier in a tight leather rig.
The Present Day
We got kind of spoiled with the wealth of Mountain Guns released from 1989 -2005. I took it for granted that Smith would just keep surprising us with new versions of this amazing six-gun. That blued .41 appears to have been the unannounced finale- the Mountain Guns quietly disappeared.
Today's S&W catalog shows only two revolvers with tapered barrels- both from the "classic" line. One is the Model 27 in .357 Magnum, the other is the Model 25 Classic .45 Colt which is (inexplicably) only offered with a 6.5" barrel. This proves that they can still make them if they choose to.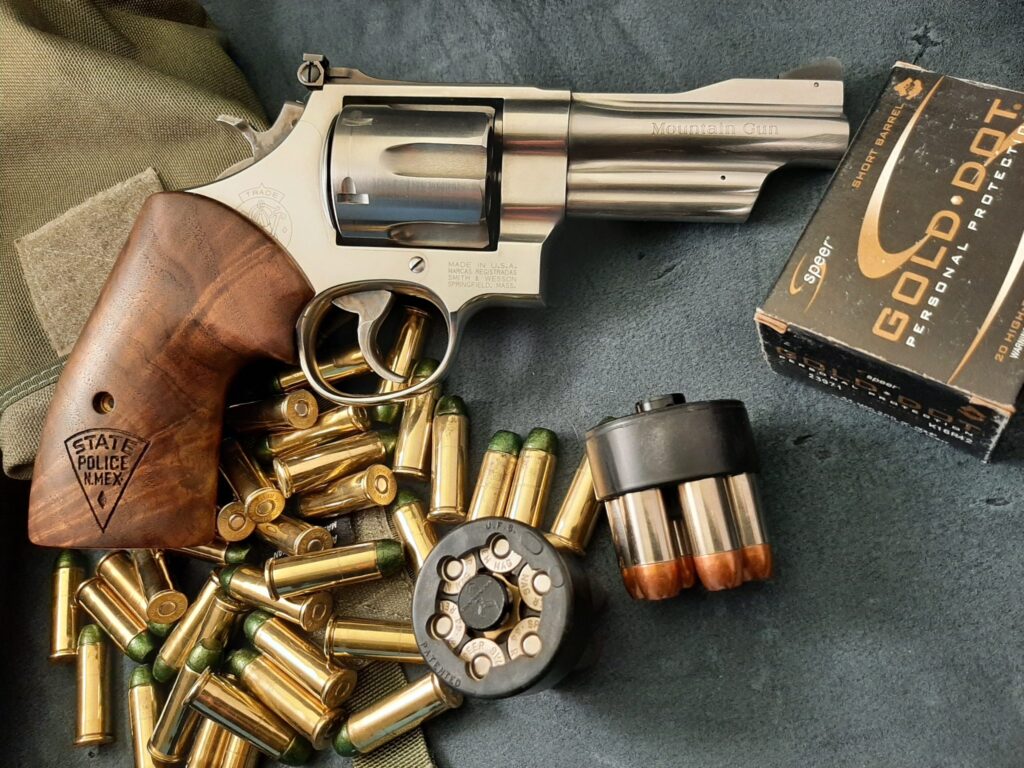 The woods of the U.S. may not be as wild as they used to be, but these big bore, skinny barreled guns still make sense. A Mountain Gun of some sort has been on my hip for hunts and hikes for over 30 years now- I have trusted my life to them on many occasions. Thanks to Tommy Campbell and Ross Seyfried for the impact they have made on the industry, and on me.