A RevolverGuy shared these older Colt ads with me, and I really enjoyed looking at them.
More than just beards, tattoos, helicopters and lipstick
Perhaps one of the things that I liked the most about them was their tone. The Marketing guys were definitely trying to sway your opinion and endear their products to you, but they did it in a way that seems very different from most advertising today.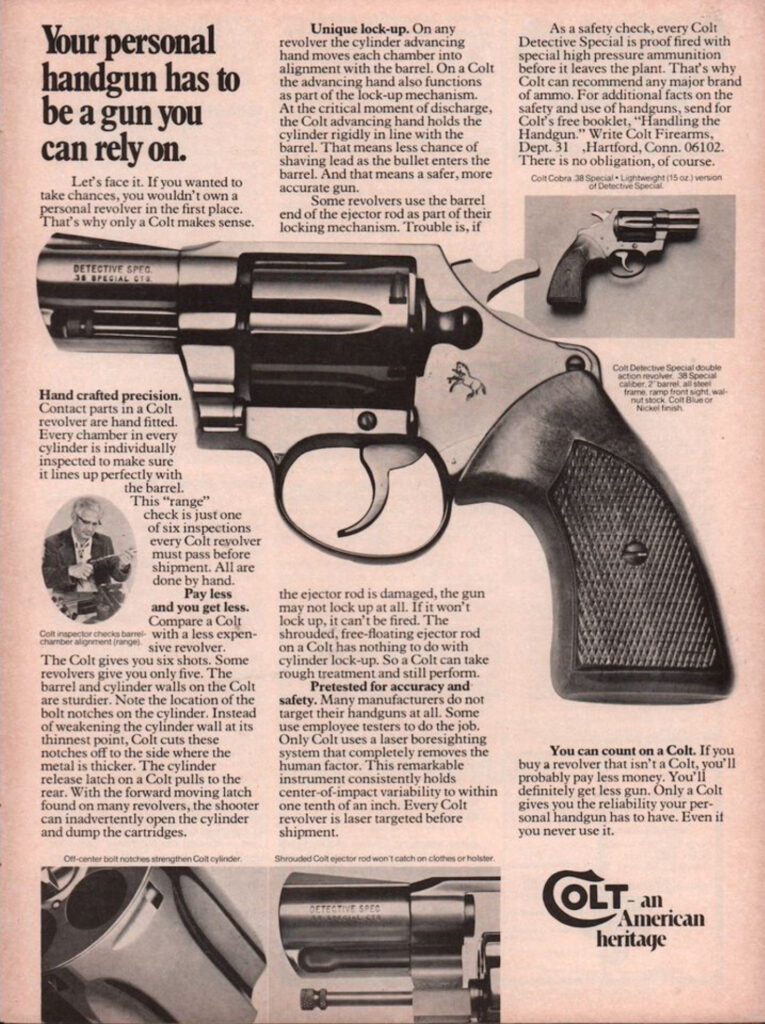 In these ads from the '70s to the '80s, the reader is treated like an intelligent person, and is presented with a technical argument that explains why the product is superior. There's actually some substance in these ads—something which is sorely lacking in most advertising today, which seems to be more focused on flashy images and cosmetics. Could it be that the marketers of previous eras had more respect for their customers? That they once felt a need to appeal to your reason, more than your emotions?
Color me crazy, but I think the older model is a lot more useful than the colorful, but superficial ads you're likely to see in a gun magazine these days, and it's certainly far better than some bizarre ad that says I'd have to be willing to drink my own urine to qualify to buy the product.
Interesting details
One of the most interesting things about the old Colt ads is to see some of the arguments they made in favor of their design (beyond the obvious benefit of having six shots in a small frame). In an era where competition was stiff between Colt and Smith & Wesson,   the Colt team did a good job of highlighting what they perceived as the advantages of their guns over the other marque, to include:
A barrel with more lands and grooves, which they claimed made the guns more accurate;

An ejector rod that didn't have a forward lockup at the tip. Colt argued this made the gun more reliable, because a bent rod wouldn't prevent the cylinder from closing or locking up;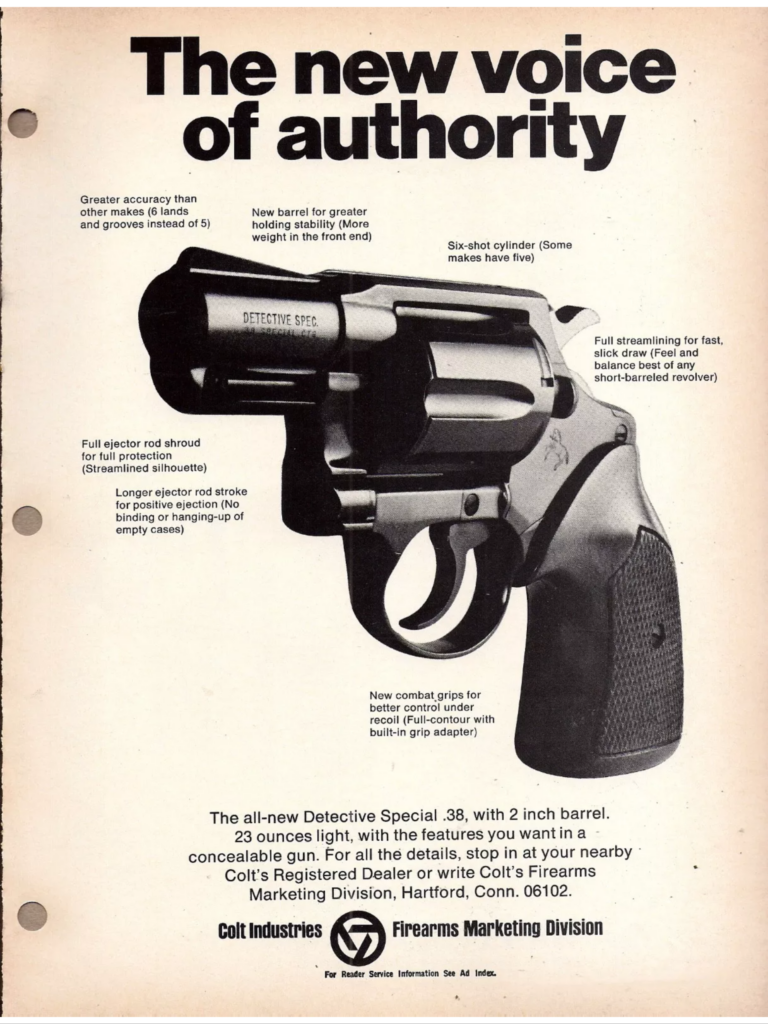 A longer ejector rod stroke, for more positive ejection;

A cylinder release that was activated by pulling it to the rear, which made it less likely to be inadvertently bumped during recoil, thus opening the cylinder and disabling the gun;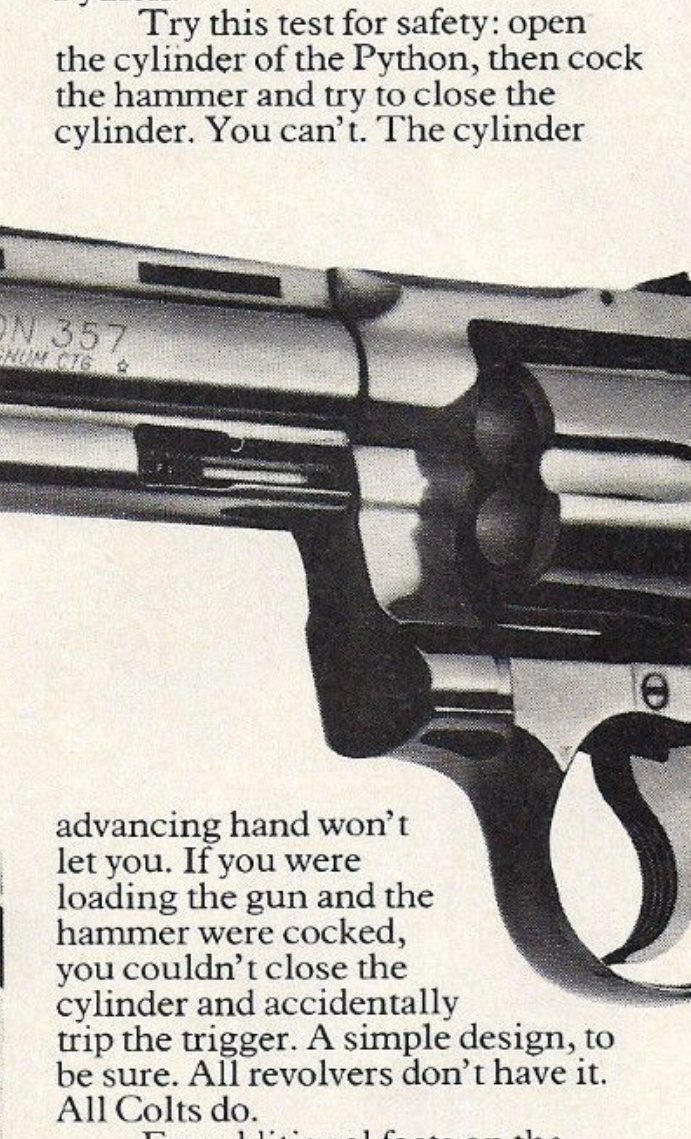 Cylinder bolt notches that were cut in between chambers, where the cylinder walls were thickest, instead of on top of the chambers, which eliminated a potential weak spot;

A locking system where the hand helped to hold the cylinder in place during ignition, thus making the lockup stronger and more repeatable, which enhanced safety and accuracy, and;

A cylinder which could not be closed while the hammer was cocked, for enhanced safety.
Pride
There was also a genuine pride in craftsmanship that was displayed in the old ads. Colt emphasized the quality of their materials, the precise manner in which their guns were fitted, and the beauty of the woods and metal finishes you'd find on your gun.  Today, we might expect an ad to boast how a serviceable, but dull and unattractive, finish is "maintenance free," but the Colt ads of the era recognized that these guns were more than just tools; They were functional works of art, that were to be appreciated for both their performance, and their aesthetics.
better times
We don't see technical and craftsmanship differences like these being discussed as much in today's advertising, and I think the audience is poorer for it. We also don't see ads that are nearly as entertaining as the clever face off between Smith & Wesson and Ruger, back in the 80s.
Wouldn't it be neat if we saw some useful and fun ads like these make a comeback, someday?
A RevolverGuy can always hope . . .