I am both a coffee drinker and SOF veteran, so my interest is always piqued when I run across a company that has an interest in both. I recently reached out to Black Rifle Coffee Company, asking if I could do a review of their coffee. They got back in touch with me in short order and said it would be no problem. I know most of you probably aren't interested in reading about me doing sometime I do four times a day (drink coffee) but I tried to have a little fun with this one, so check it out!
Black Rifle Coffee Company
If you aren't familiar with BRCC, let me introduce you. Black Rifle Coffee Co. is located in one of my favorite cities in the country: Salt Lake City, Utah (true story). BRCC does all its roasting locally, on a per-order basis. What BRCC is really known for, though, is their support of military veterans and Second Amendment causes. Come to think of it, why am I telling you who Black Rifle Coffee is? Take five minutes and watch this video and let them tell you (trust me, watch the video!).
One thing you will notice on the BRCC website is that all of their blends  have a silhouetted rifle on the front of the bag. The four flagship blends are Just Black (JB, adorned with a stubby AR*), Silencer Smooth (SS, with a picture of a canned Glock), Beyond Black (BB, scoped, 7.62 AR), and appropriately-illustrated "AK47 Blend". Obviously, being a RevolverGuy these modern firearms depictions might as well have been hieroglyphs to me…so I emailed them and asked what they suggested for my first bag. They asked a little bit about my brewing apparatus (obviously they know coffee, and coffee people) and made a recommendation.
*As an interesting side-note, the rifle on the front of the JB coffee is a depiction of a real rifle. It is an SBR'd AR-15 that belongs to BRCC CEO, Evan Hafer. Evan is a former Special Forces soldier, current coffee roaster, and proud member of the firearms owning community. It's fitting that this carbine adorns the roast that started it all at BRCC.
Black Rifle Coffee AK47
As I'm sure you've guessed from the title of this article, they sent me the AK. And, very nicely, they explained the reasoning behind it which will make a lot of sense to you coffee nerds out there. The AK is an espresso blend. This just happens to work very well with how I make coffee: in an AeroPress. The AeroPress might sound fancy but it's really just a huge syringe that spits out espresso. You load it up with a little coffee, pour some hot water in, and squeeze it out through the filter. I could wax philosophical about how great the coffee tastes, but the real benefit is you can make a really amazing coffee anywhere you can get hot water.
Making My First Cup
In the spirit of making this review a little bit more interesting than just talking about me drinking coffee, I decided to take my  first cup of Black Rifle Coffee in the wilds of my back yard. So, I wandered around the yard for about 5 minutes and collected some twigs and fired up the Ohuhu rocket stove. If you aren't familiar with the Ohuhu, you should check it out. It's a stainless steel, wood-burning stove that is insanely efficient. Once it's going it produces almost zero smoke and will boil 24 ounces of water in about 4 minutes. And the best part? It's under $20 and doesn't require any specialized fuel. This thing literally runs on twigs! It will run on wood pellets, denatured alcohol,  Esbit fuel tabs, or even charcoal, if you happen to live in a twig-free zone. Like possibly the Antarctic, or the no-kidding desert.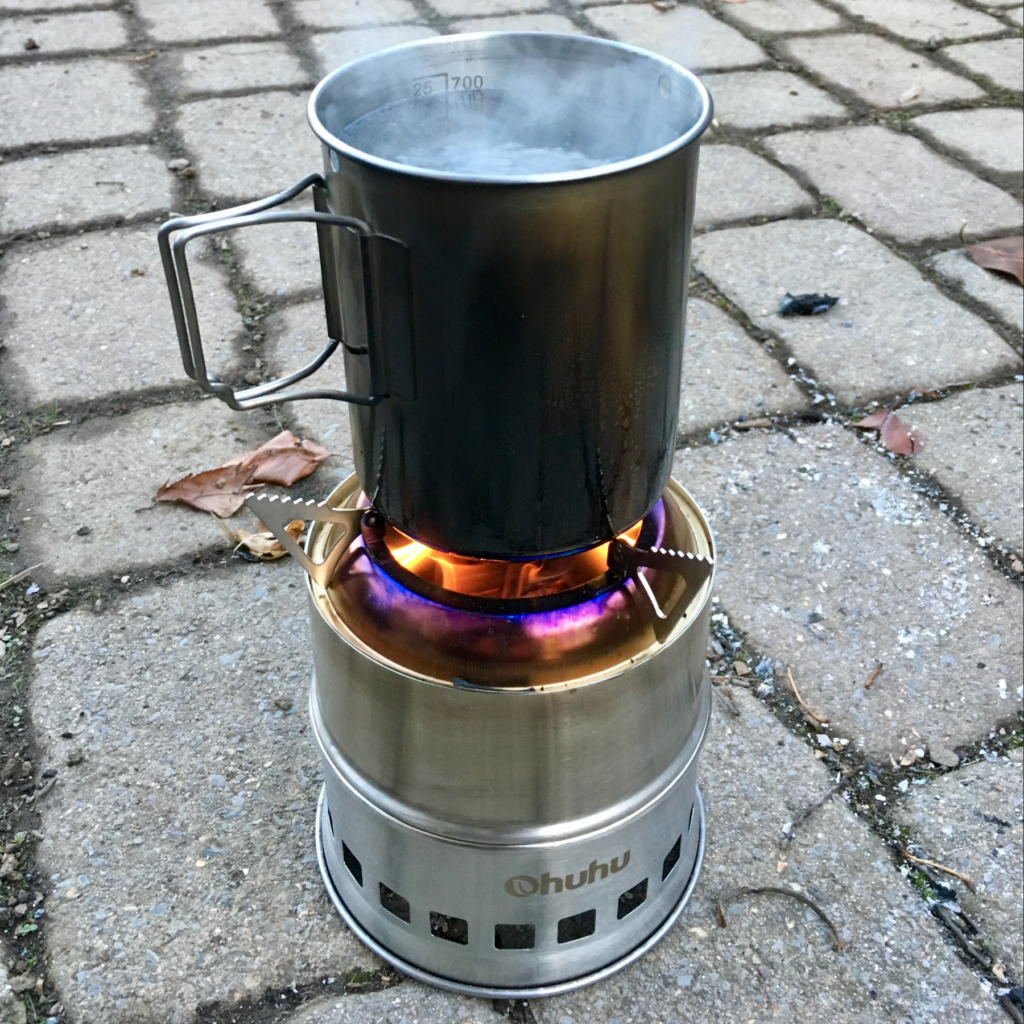 I threw my stainless steel campfire cup on there and got some water going. While the water was heating, I tore open the bag of coffee and inhaled that sweet, sweet coffee aroma. I took the time before the water was hot as an opportunity to hand-grind some of those beans. Yes, I hand-grind. I could tell you that it's because the conical-burr grinder produces more consistency in the size of each particle… but for now let's just say I bought it because it doesn't take electricity to operate.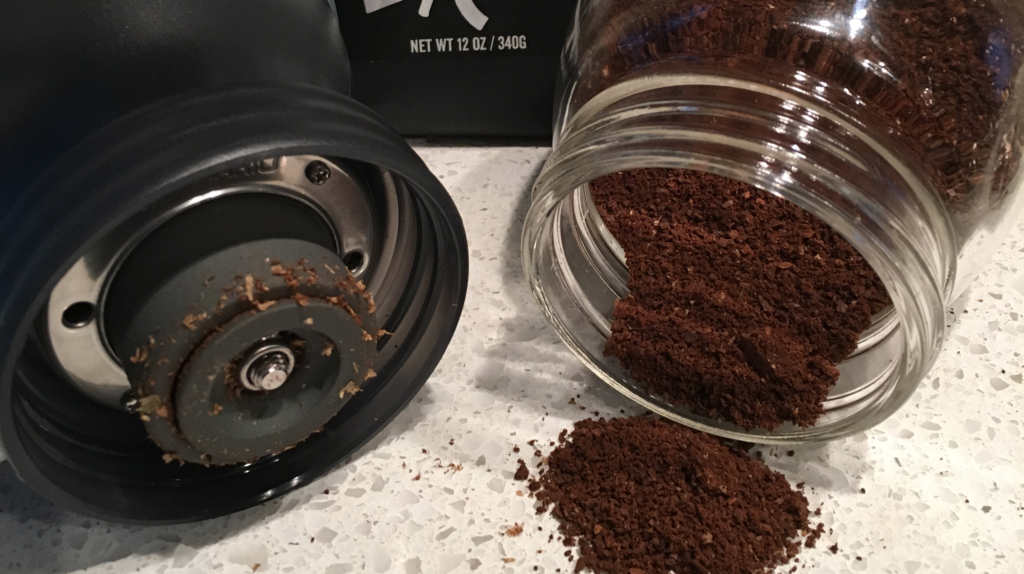 Once the water was hot, I set the AeroPress on the double-wall  insulated mug that Black Rifle coffee was also kind enough to send out. I dumped in a big scoop of that black gold. When the water was hot (another benefit of the AeroPress is the water can be much cooler than boiling, which results in fewer tannins being leached from the grounds, which results in a less bitter brew…but I digress) I filled the AeroPress up. I gave the mess a vigorous stir, and began to push the plunger.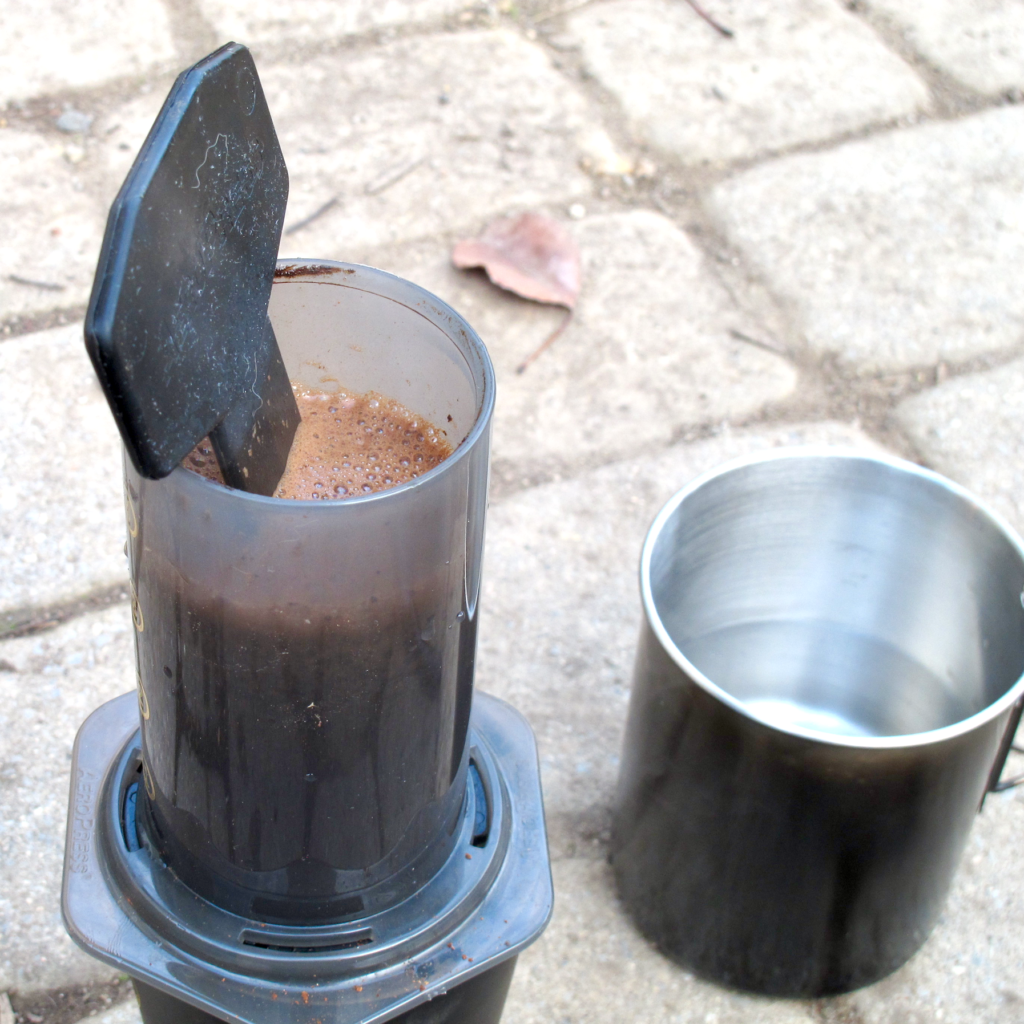 The first Sip
When I was finished pressing the shot of espresso, I added water to turn it into a caffè Americano. The end result is a cup with similar strength to a cup of coffee, but with a different character. Kinda like how 9mm and .357 Magnum run at right around the same chamber pressures, but are different experiences altogether. What I got when put my lips to the mug was an excellent cup of coffee. No hyperbole, no kidding, just a really fantastic cup of coffee. Just to be sure I wasn't unduly influenced by the ambiance, I also made a cup indoors later that same morning, and it was every bit as good.
The Bottom Line
Head on over to https://www.blackriflecoffee.com/ and start supporting our veterans and your Second Amendment rights today! You can get your coffee as whole bean, ground coffee, and even as "coffee rounds" that will fit in your Keurig. As a dyed-in-the-wool RevolverGuy I guess I feel a little slighted that there's no CC (Cowboy Coffee, Colt SAA), CB (Campfire Blend,  4″ S&W 686), or Lawman's Dream (I don't need to explain that one to you RevolverGuys, do I?). It wouldn't take much to make, either. Start with some ground AK and sprinkle liberally with creek sand…
C'mon Black Rifle! Your coffee is great, but give us something with a revolver on the bag!
Liked it? Support RevolverGuy on Patreon!