Lt Col Jeff Cooper needs no introduction to serious RevolverGuys, but for those who didn't get the memo, El Jefe' was the man who, among other things, codified and popularized the Modern Technique of the Pistol, and ushered in the concept of a "gunfighting school" that was open to the public, instead of just to members of the military and law enforcement. His American Pistol Institute later morphed into Gunsite, which is famous in its own right, and still an industry leader in training armed Good Guys.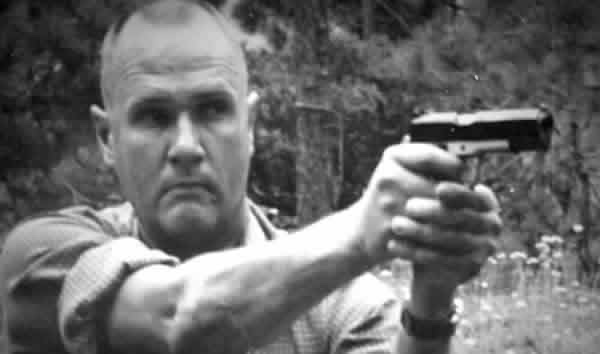 Cooper was a thinker, and an eloquent and influential writer. Among his many pearls of wisdom, he was frequently cited for declaring that "good sights and a manageable trigger" were the principal features that were necessary on a fighting handgun.  Author Mike Detty remembers Cooper putting it this way:
 "A fighting handgun should have everything you need and nothing you don't. Fundamentally a worthy gun should have good sights, a good trigger and an extended thumb safety. That's all you need." 
As RevolverGuys, we don't have much need for the thumb safety, but a good trigger and good sights are definitely concerns for us.
The Lay of The Land
Yet, while serious shooters appreciate a set of quality sights on their revolver, it seems manufacturers have been neglecting this need for a very long time.
We've previously discussed our general frustration with the sights found on most production revolvers, these days. If we didn't know any better, we'd think that most of the engineering departments at the majors simply don't understand that they're important.
On many guns, particularly the small-frame snubs, the sights are crude, small, and offer little or no contrast. Blades and notches are too narrow and too short, and the lack of color contrast between front and rear makes it difficult to pick them up and use them with any kind of precision beyond the closest distances.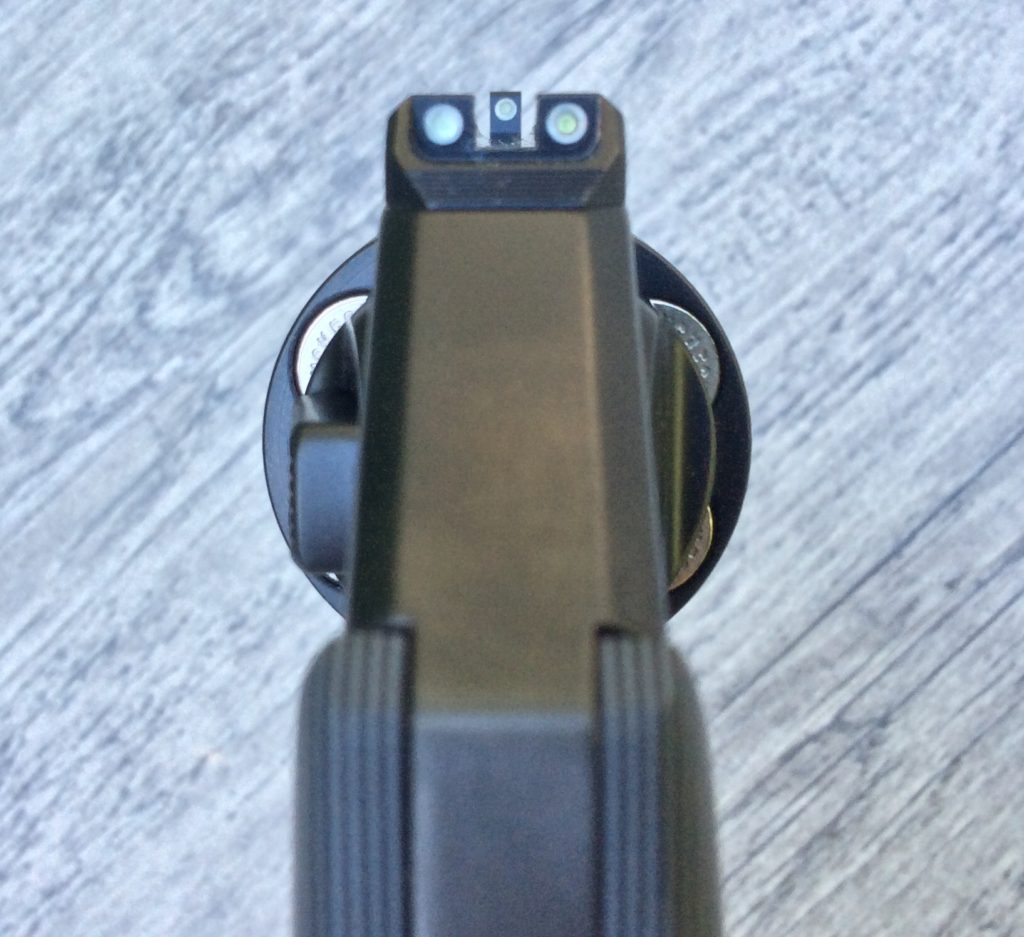 Things get slightly better with some of the upgraded snub models, but even then, problems persist. The enlarged, contrasting sights used on guns like the Smith & Wesson 640 Pro-Series and Kimber K6s are welcome improvements, but, as we've discussed, they are not properly regulated for the ammunition most commonly fired in them.  The fiber optic sights that adorn some models help with the contrast, but are frequently not rugged enough to endure the rigors of carry, and suffer from their own regulation problems.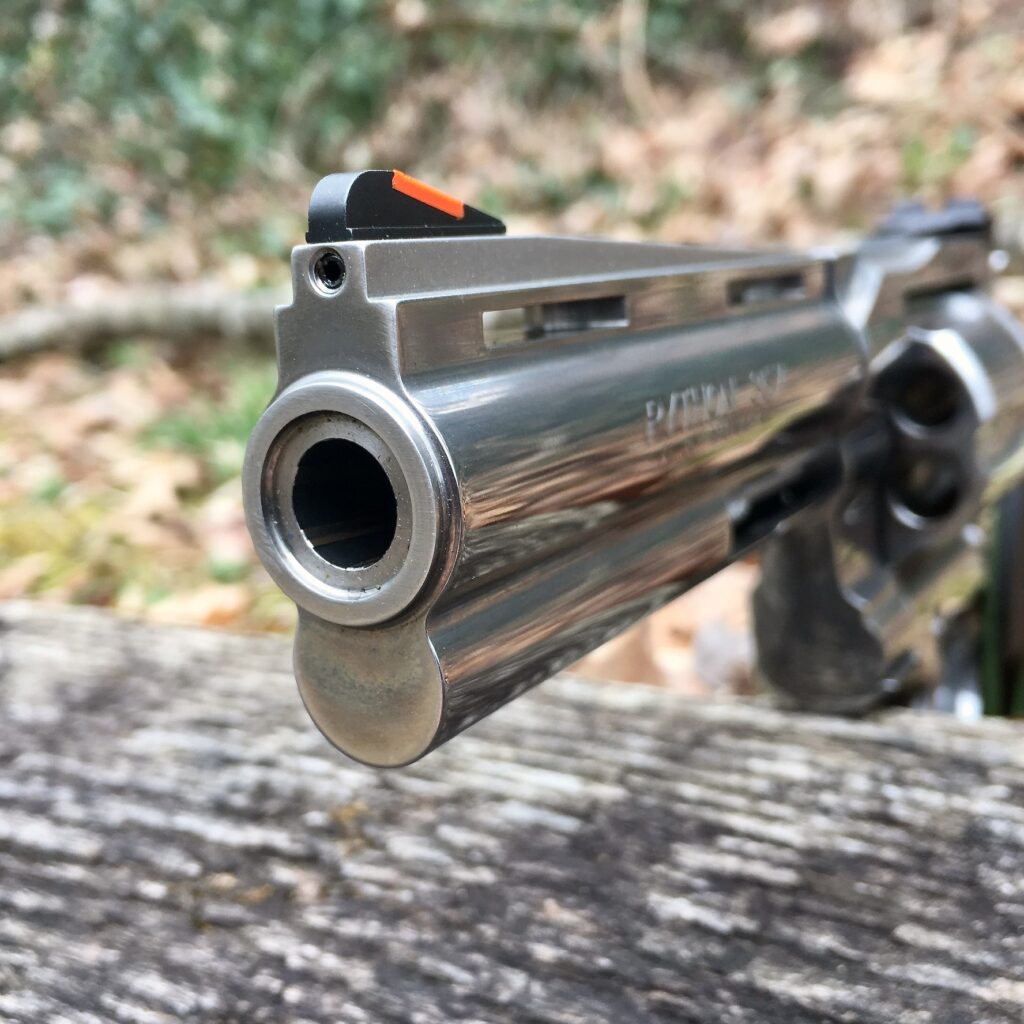 Even the medium-to-large frame guns have their issues. While Colt did all of its customers a huge favor with the easily-replaceable front sight on their new, 2020 Python (remove a screw, change the sight, replace the screw. Brilliant! Thanks guys!), the rear sight is a miserable failure for a target-grade revolver, with a rear notch that's much too shallow, and a crude system for adjusting windage. Where are the fine click adjustments that this wonderful and accurate gun deserves?
Our autoloading brethren are generally offered much better sights from the factory than we are, and it's frustrating. Revolvers deserve rugged, easy to see, properly-regulated sights just as much as autos do, and can probably take even better advantage of them than the bottom-feeders.
If only we could get the people who built these guns to understand that.
Been There, Done That
Fortunately for us, one guy who does understand that is acclaimed gunsmith Dave Lauck.
We've featured Dave's work in these pages before, but he deserves a solid introduction. Perhaps the most important thing to know about Dave is that he deeply understands the environments that his guns will be used in. As a former police officer with extensive SWAT experience, a law enforcement armorer, a military/police firearms instructor, an award-winning shooting sports competitor, and an avid hunter, Dave knows the rigors his firearms will be subjected to, and the demands that will be placed on the shooter.  As such, Dave is uniquely qualified to build specialized guns for defensive, competition, and sporting uses.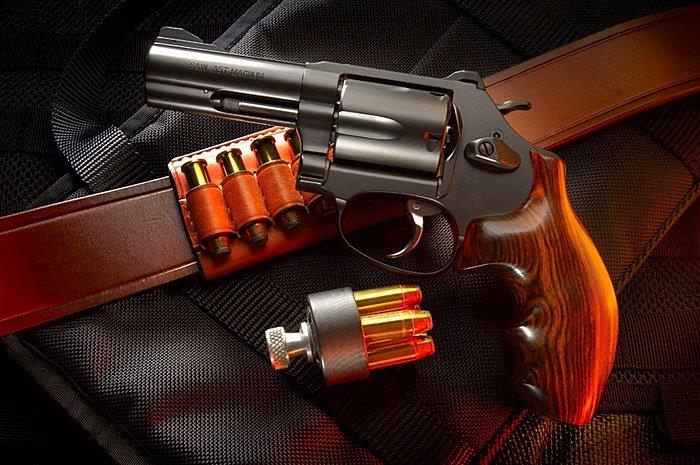 As a Gunsite alumnus who knew Cooper well, and shot with him on the range and in the field, Dave clearly understands and shares the departed Colonel's opinion that a good trigger and good sights are essentials (along with unspoken items, like reliability). In fact, Cooper's guns wore some of the first improved N-Frame sights to come from Dave's shop, in the 1980s. Dave also counted neighbor, friend, and shooting great, Bob Munden as one of his earliest customers—a man who certainly knew his guns, and appreciated the modifications that made them more accurate, dependable and useful.
While many of Dave's creations are stunningly beautiful examples of the gunsmith's art, even his fanciest work is designed with performance in mind, first. The beauty of a Lauck Custom is much more than skin deep.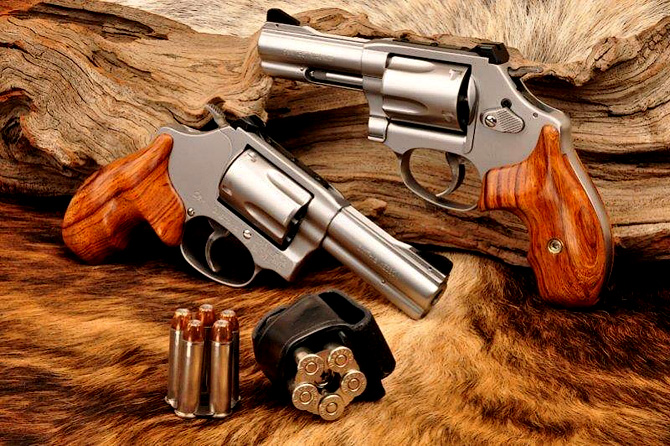 Origins
Dave's interest in fixing and upgrading revolver sight pictures dates back to his law enforcement service, which began in the 1970s. The Smith & Wesson K-Frames (particularly the Model 10) ruled the roost back then, as the profession's most commonly-used guns, but their plain black front and rear sights left a lot to be desired in the low light conditions common to police work.
To help him see the front sight better, Dave affixed some stick-on, luminescent material that would glow for about 30 minutes after exposure to the light. A little shine from a flashlight would give it enough of a charge to make it useful for a half hour, and even if it didn't glow, the whitish-stripe was still easier to see in dim light than the plain black of the OEM blade.  When his fellow officers asked Dave to do the same modification on their own guns, he was "in business."
I Can See Clearly Now . . .
Dave's dissatisfaction with the sight picture on Smith & Wesson J-Frames eventually motivated him to design a set of custom sights for these popular snubs, and the success of these products paved the way for similar sights that were designed to fit Smith & Wesson K, L, N and X-Frame revolvers.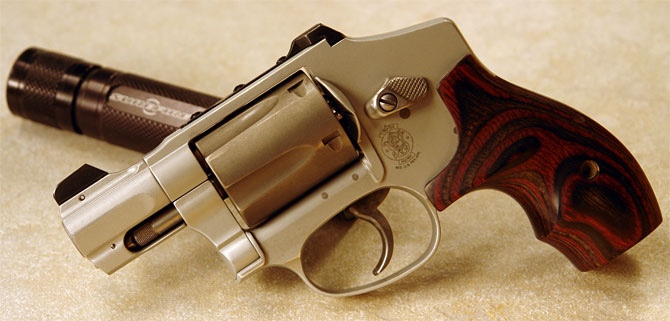 Dave's J-Frame rear sight is an extremely rugged, fixed sight that allows for an excellent sight picture. It's machined from solid bar stock, and mounts to the gun's top strap via a three-screw pattern that ensures it will stay in place in the worst conditions. The gun's top strap, and the top, rear corner of the frame, are machined to facilitate a low-profile mount of the sight that reduces the gun's overall height and snag potential.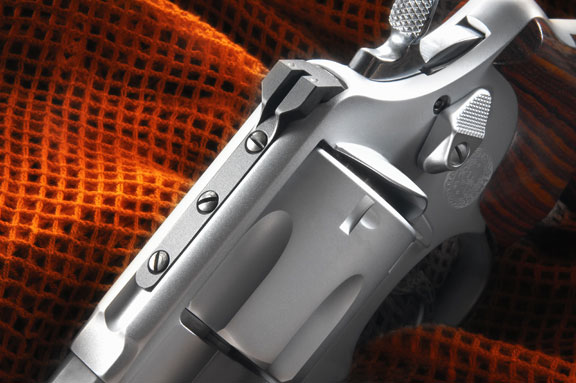 The rear face of the sight is serrated, to reduce glare, and the notch is cut to the customer's specifications, to provide the desired light and picture. Dave explains that his rear sights are initially cut with a 0.125" wide notch, which he considers to be "narrow," but can be widened to 0.140" (the Novak standard), or even 0.150", which he feels is the best choice for self-defense (and the leading favorite of customers who are left free to select their favorite from amongst the options, without coaching). This wider notch allows plenty of light on either side of the front sight, aiding the shooter to rapidly acquire a good sight picture in fast-breaking circumstances.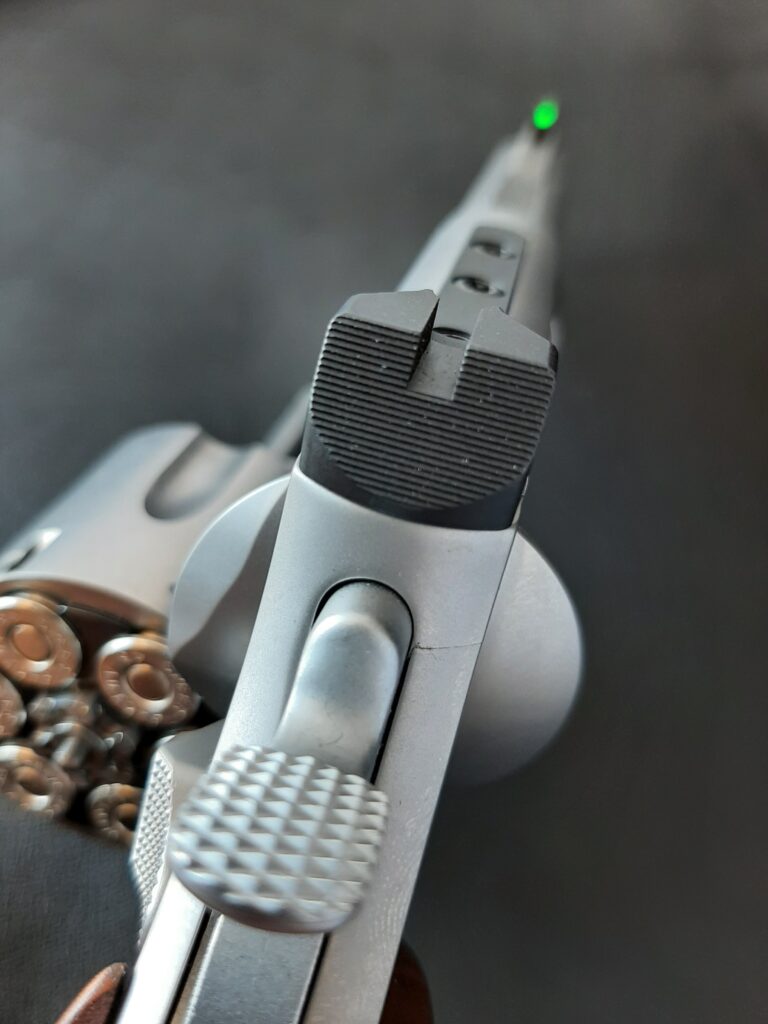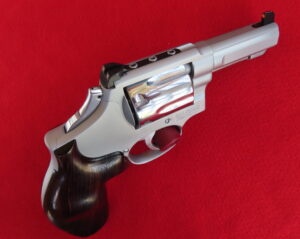 Cutting the rear notch is a custom enterprise, though, for Dave. Because of variations in guns, ammunition, and shooters (technique, physiology), it's not good enough to cut the notch to the desired width and slap the sight on the gun. Instead, Dave mounts the sight to the gun, then shoots it with the specified ammunition to determine if windage adjustments are necessary. If they are, the rear notch can be asymmetrically widened to correct the azimuth error.  Once the windage is correct, then the notch can be further machined to obtain the desired width. "it requires some extra effort to do it this way, some extra trips back-and-forth to the range" says Dave, "but it's the only way to achieve the desired performance. If you do the work up front, you wind up with a sight picture that's perfectly zeroed and won't ever move on you."
More customization
The rear notch can be cut with a squared bottom, to mate up with Patridge post or Baughman-style ramp front sights, or it can be cut with a U-notch for the increasingly-popular fiber optic front sights, dotted night sights, or the more traditional gold beads.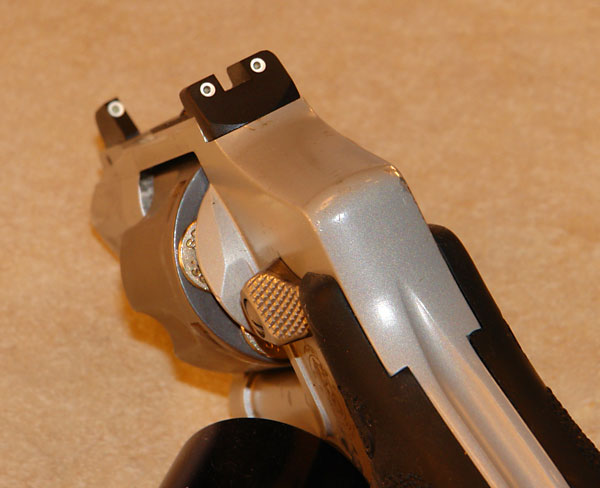 Dave's process for installing the night sight lamp modules is as exacting as the rest of his work. After the plain rear blade is installed, corrected for windage, and cut to the desired notch width, Dave will then shoot the gun with the customer's specified ammunition, to determine the placement of the night sights. Each of the lamp modules is insulated from shock with a silicone circle around them, and Dave advises that while their intensity is guarantied for 12 years, as the tritium element breaks down and dims, they will provide a sufficient glow to be useful for as long as 25 years.  When the time comes to replace them, it's easy work for Dave to remove the old lamps and install new ones in the already-zeroed rear sight.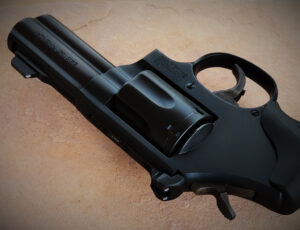 Front end work
If a customer wishes to retain the factory front sight blade, they certainly can, and Dave offers rear sights that are built with the correct profile to provide the proper elevation for zeroing, but most users will want to install a custom front blade to go with the custom rear.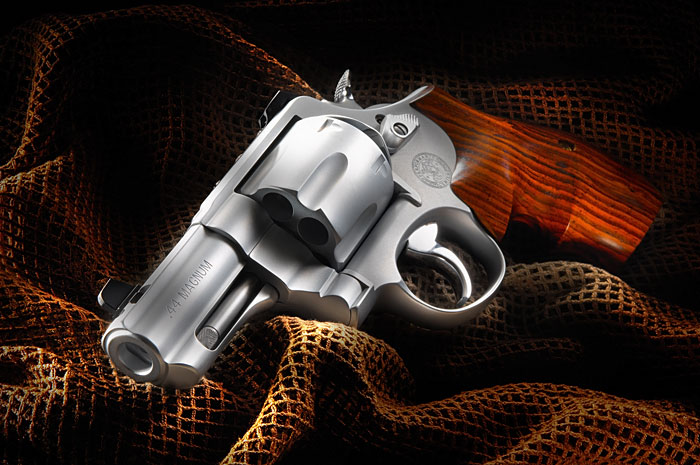 Dave offers plain black, gold bead, fiber optic, and night sight options (with or without a colored ring) for his front sights, which are also mounted to provide the lowest possible profile. Dave can sink the front sight into the top strap with a dovetail mount, and pin it into place for security, to provide a low profile that still provides an outstanding sight picture.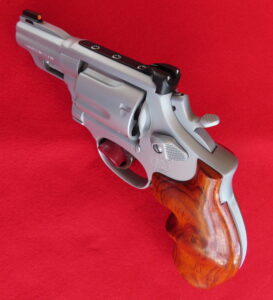 In some custom installations, Dave can even machine the barrel and install a front sight base that allows the user to remove and replace the front blade with ease, by simply removing an Allen screw.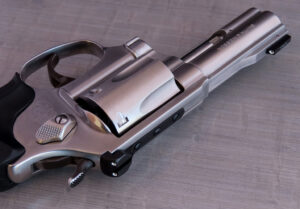 Dave's personal preference is for a Patridge front sight blade, because it provides the best sight picture.  He acknowledges that ramped front sights are popular in many circles, because they reduce the potential for a snag ("Cooper always liked them, because they wouldn't hang up on his Yaqui Slide holsters"), but his thought is that, "you should try to get the best possible sight picture, first, then build the holster to accommodate it—one with a good sight track, that will make it all work."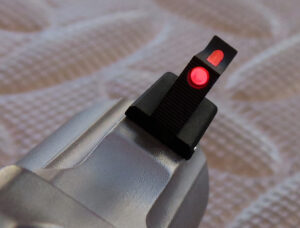 When I asked Dave about the fiber optics, and their propensity to "flare" in certain lighting conditions, in my experience, he said the issue has more to do with the design than the technology, itself. "Most fiber optic sights on the market have problems with flaring because they use a pipe that is too large in diameter," he said. To combat the issue, Dave uses a reduced diameter pipe that reduces flare potential, and provides an increased degree of precision. "My fiber optics provide a sight picture that's like looking at an Aimpoint dot—very precise," Dave says. He has received no reports of the fiber optic pipe breaking in his sights, and has only had to repair a few sights that were damaged when their owners decided to melt the pipe ends and botched the work.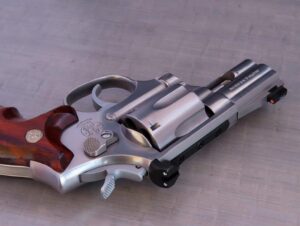 Old and new, pinned and milled
Dave's custom Smith & Wesson sights will work on both old and new-pattern Smith & Wessons. The newer (circa post-1993) guns have top straps that are already tapped for scope mounting, and Dave's sight shares the same three-screw pattern, to allow for a simple drop-in of his rear sight, if desired.
The older guns aren't tapped, and have a different screw pattern, but Dave can easily install his sight on these guns. "The tiny (sight base) hole up front, on the older guns, doesn't get in the way," he says.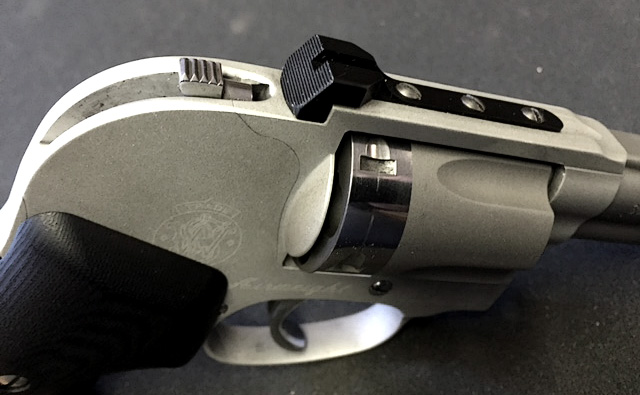 When Dave first started working on his custom sight installations, he shied away from working on the J-Frames with integrally-machined front sights, like you'll find on the popular Model 442 and 642. It was easier to work on the models with pinned front sights, because they could be easily removed and replaced, but Dave discovered a sizable number of customers who were dissatisfied enough with their integral sights, that they were willing to shoulder the extra cost associated with machining them to accept a replacement, so he started working on them, too.
new releases
Likewise, Dave has also responded to the needs of customers who found their Colt and Ruger OEM sights left something to be desired. The significant demand for his S&W sights slowed the development of sights for these other brands, but he's now offering rugged replacements for guns like the 2020 Python and GP100.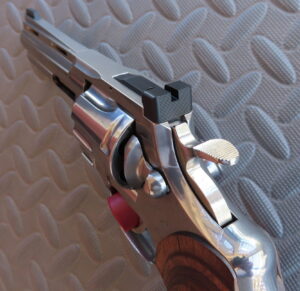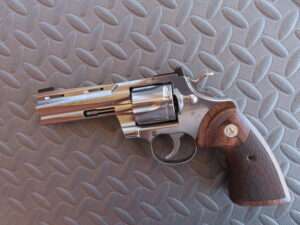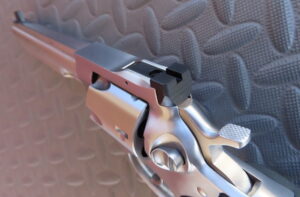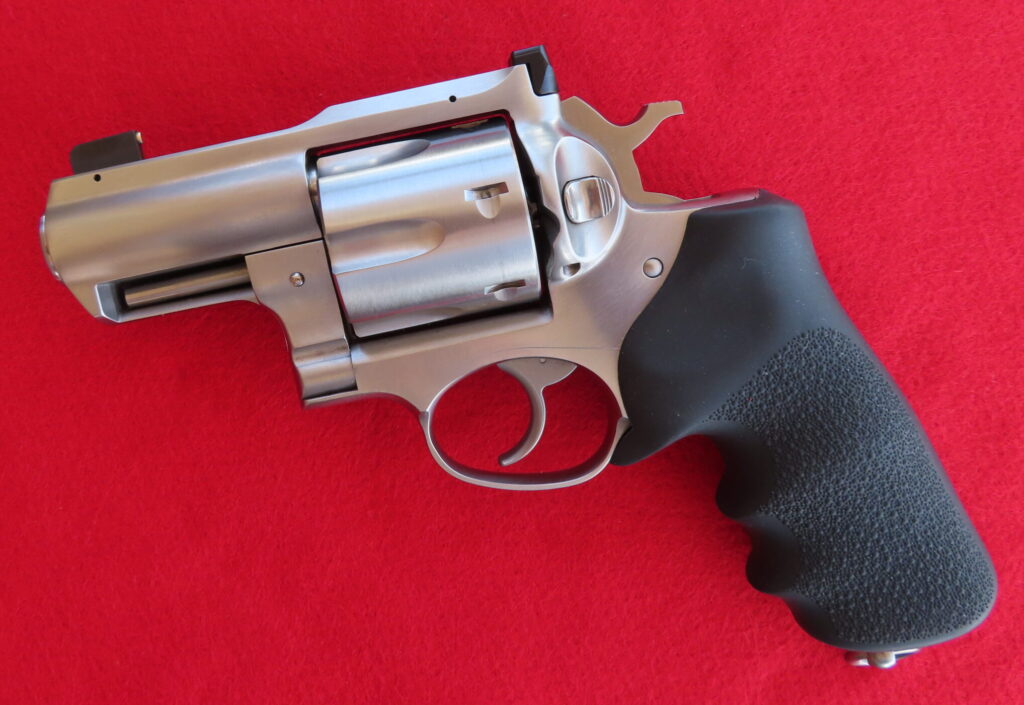 R&D
Dave is constantly experimenting with new and improved sight installations, and some of the projects he described were very interesting.
One of them involved a Model of 1955 N-Frame in .45 ACP that he cut the barrel back on, just in front of the ejector shroud, to give it a 3.5" to 3.75" barrel. Dave machined the barrel and added a sight base that allowed the user to easily change front sight blades to adjust point of aim for various loads, or change the sight picture for expected conditions. This snubbed, clip-fed, .45 caliber revolver sounds like it would be an outstanding carry gun, for those so inclined to carry a large frame revolver.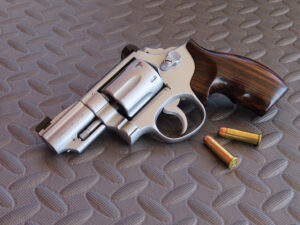 Dave is also working on a rear sight design that incorporates a 2.5" section of Picatinny rail that would allow the user to solidly mount a red dot sight of their choice. Who says revolvers can't keep up with technology?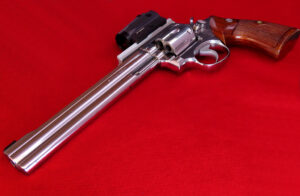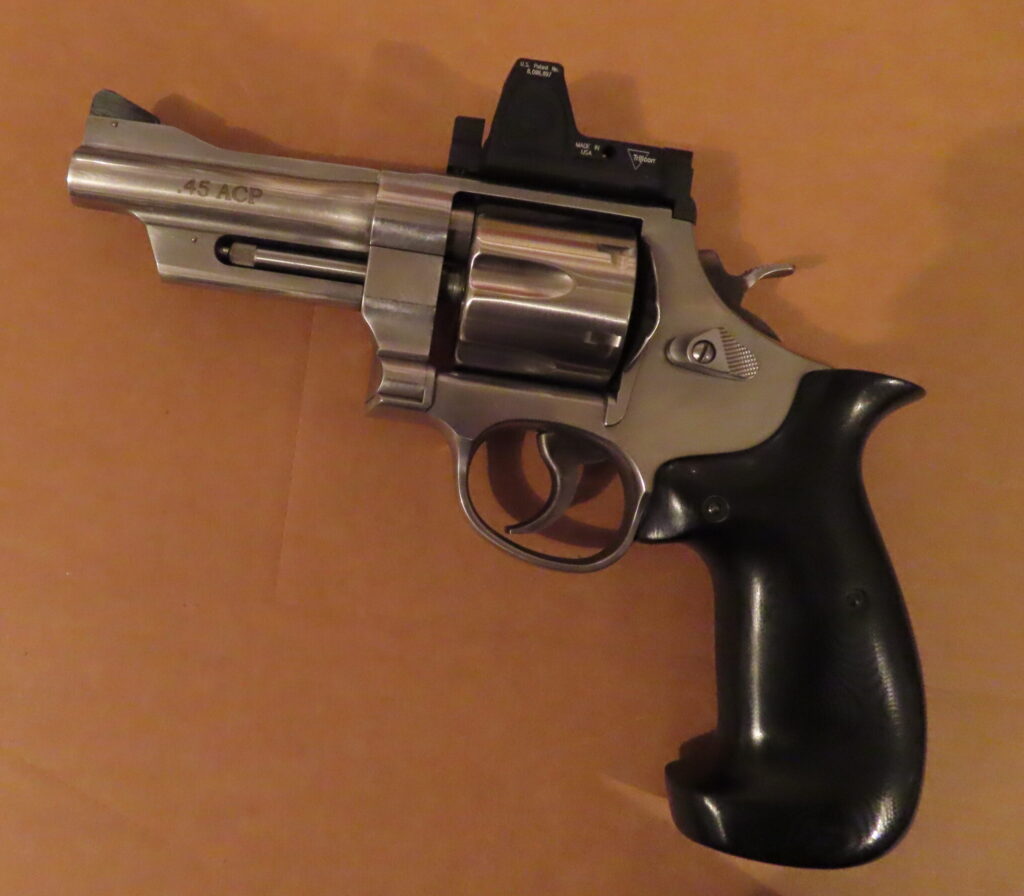 There's also a new Performance Revolver Grip in his catalog, which is designed to allow a proper sight index with a locked wrist grip. A shooter using these new grips will no longer have to "break" their wrists to get the sights to line up, which allows a stronger and more natural grip. A flare at the bottom of the grip, coupled with a generous beavertail, aids in controlling muzzle flip and distributing recoil. You'll see more on these innovative grips in the pages of RevolverGuy later in the year.
Dave's got more cooking in the kitchen, I'm sure, but these projects give you an insight to the fertile mind of one of our most talented custom gunsmiths.
Say hello!
We'd encourage our readers to check out Dave's excellent work at his D&L Sports website. We're sure that you'll find lots to drool over there, beyond just sights, as Dave is a true artisan!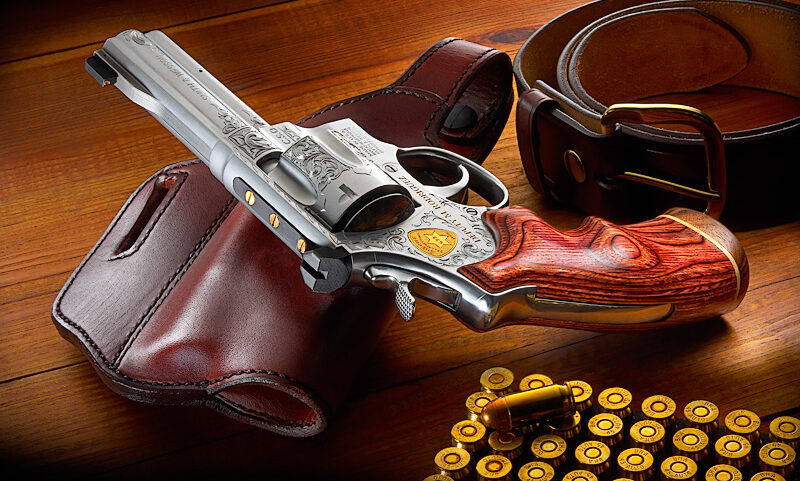 If you decide to pull the trigger on a new set of sights, or some other custom work, please be sure to let him know we sent you. In the meantime, keep those revolvers turning, and be safe out there!