If ever there were a revolver that could be considered "mythical" it would be the Colt Python. The Python has been the "Grail gun" for some, the warmest of memories for others, or some combination of both for many a revolver enthusiast. I must admit the reputation of the Python makes the new, 2020 Colt Python an intimidating gun to write about, especially for a guy with no experience with the original. But I'll try anyway.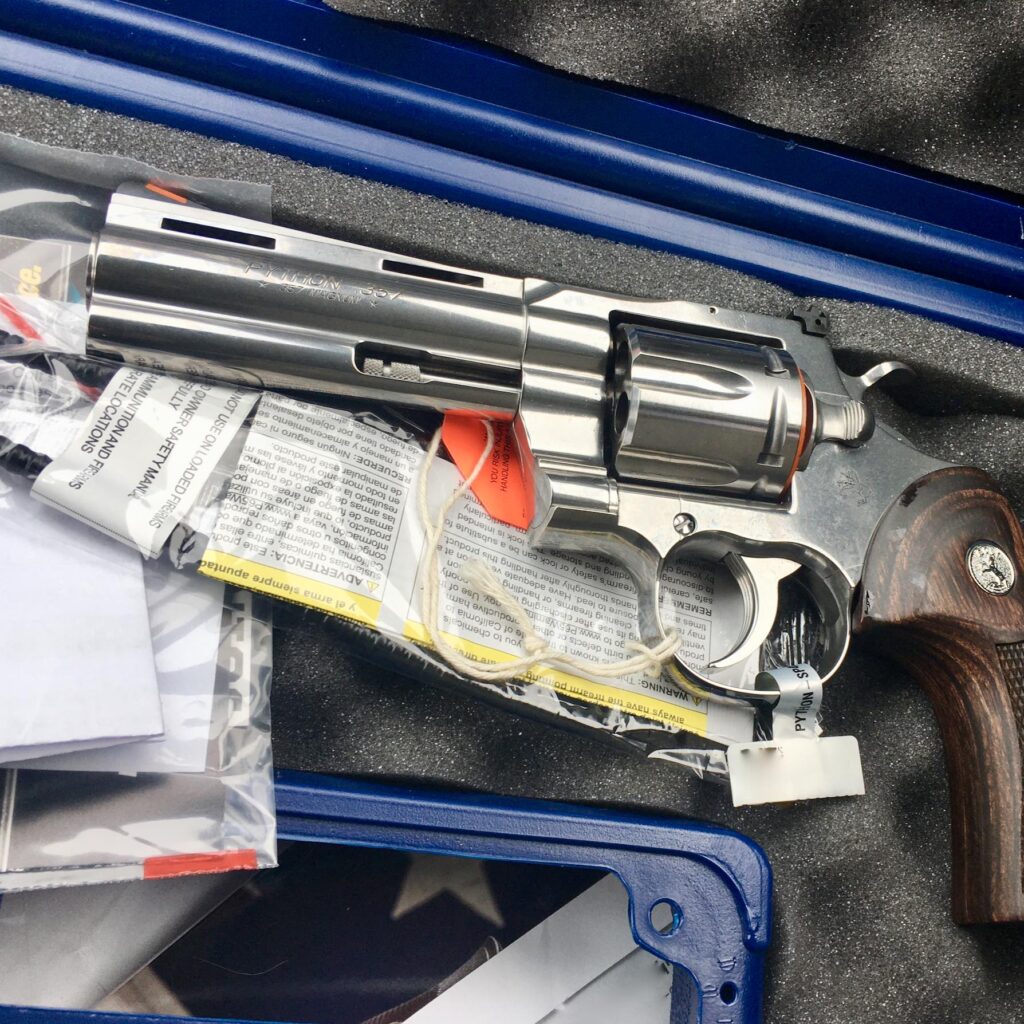 The 2020 Colt Python has big shoes to fill. As I said, I have exactly zero experience with the original Python, so this won't be a comparison between the two – I just don't have the requisite knowledge. This will be a review of the new, 2020 Colt Python on its own merits.
2020 Colt Python
The 2020 Colt Python is a six-shot, stainless steel, double-action revolver chambered in .357 Magnum. The barrel comes in two lengths: 4.25 inches and 6 inches, and we were loaned the shorter of the two. Like the King Cobra and the King Cobra Target, the Python bears a recessed muzzle crown below an interchangeable front sight blade.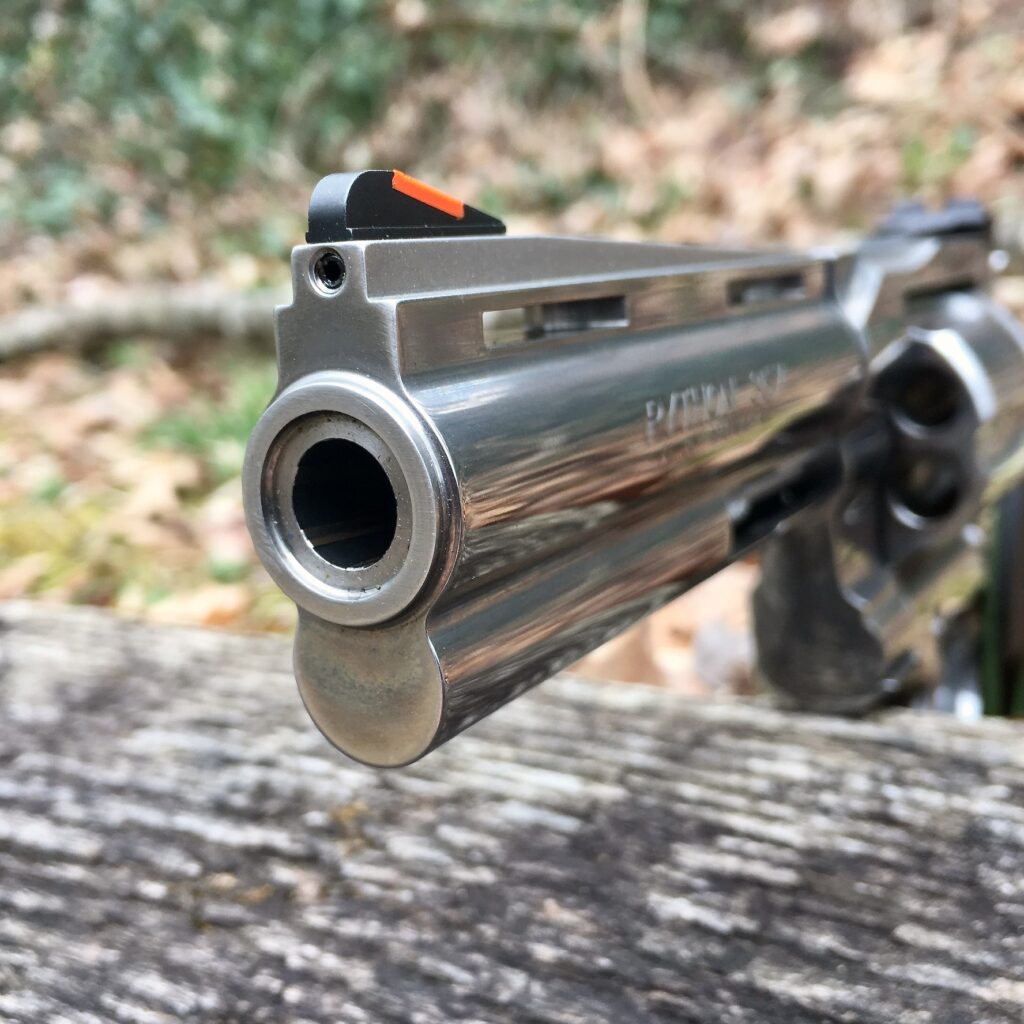 The most visually striking and immediately identifiable  feature of the Python is the famous ventilated rib over its heavy barrel. I'm not going to lie – this has never been a look that appealed to me but as with most things aesthetic it took a backseat to function, and soon I found myself appreciating it. The inferior margin of the barrel is bounded by a heavy, full-length underlug.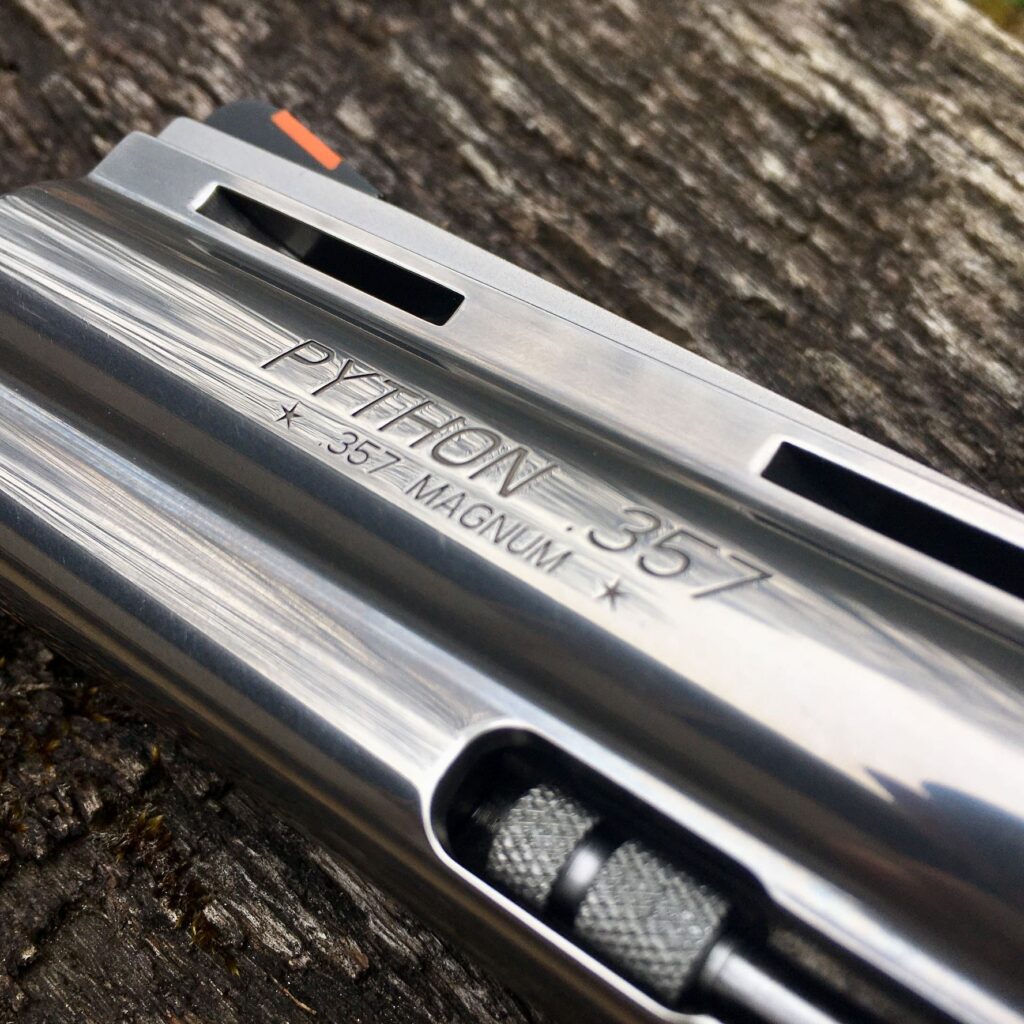 Combined with the rib and and barrel's existing heavy profile, this adds up to a good bit of weight forward on the gun. This is one of my very few – and very minor – complaints about this revolver: for some reason the it "feels" heavy. The first time picked up my 686 after shooting the Python for a while I though the S&W revolver was light. It felt almost wispy – puny even – compared to the Snake gun. As it happens, the Python is actually about 4 ounces lighter than the Smith but feels heavier, again, possibly due to the greater forward mass.
It's hard to tell where the weight savings in the Python are coming from. The Python's frame looks extremely thick, both in the forward, crane area (compare with the 686 above) and in the top strap. For a gun that is sometimes criticized as delicate, it certainly doesn't look it from external appearances.  Unlike newer offerings from Colt's, the Python's trigger and trigger guard are unmarred by progress and of the classic, familiar shape.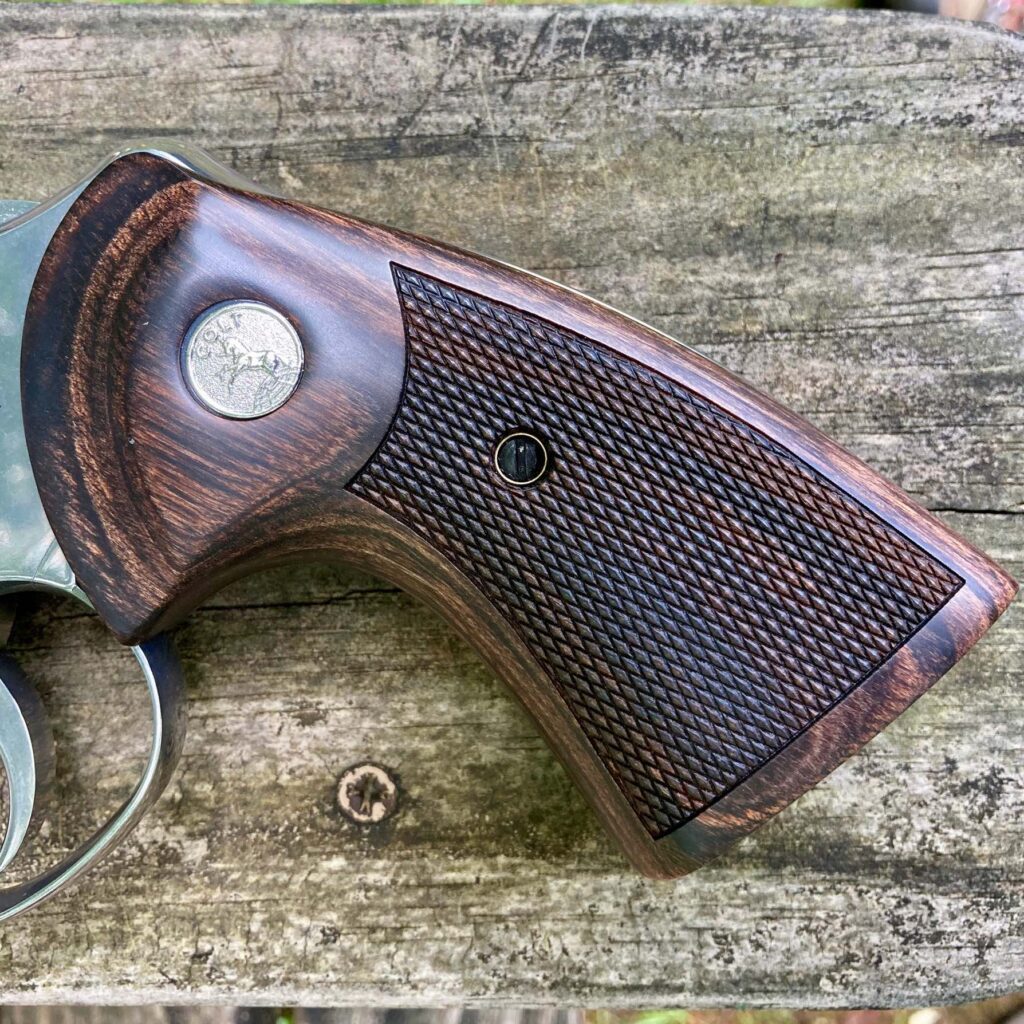 Likewise the grips. The wooden grips are an open backstrap design with Colt's Rampant Pony medallions and checkering. While I didn't find aesthetics of the grips objectionable in the least, I also didn't find them ideally suited to shooting. More on that in a moment.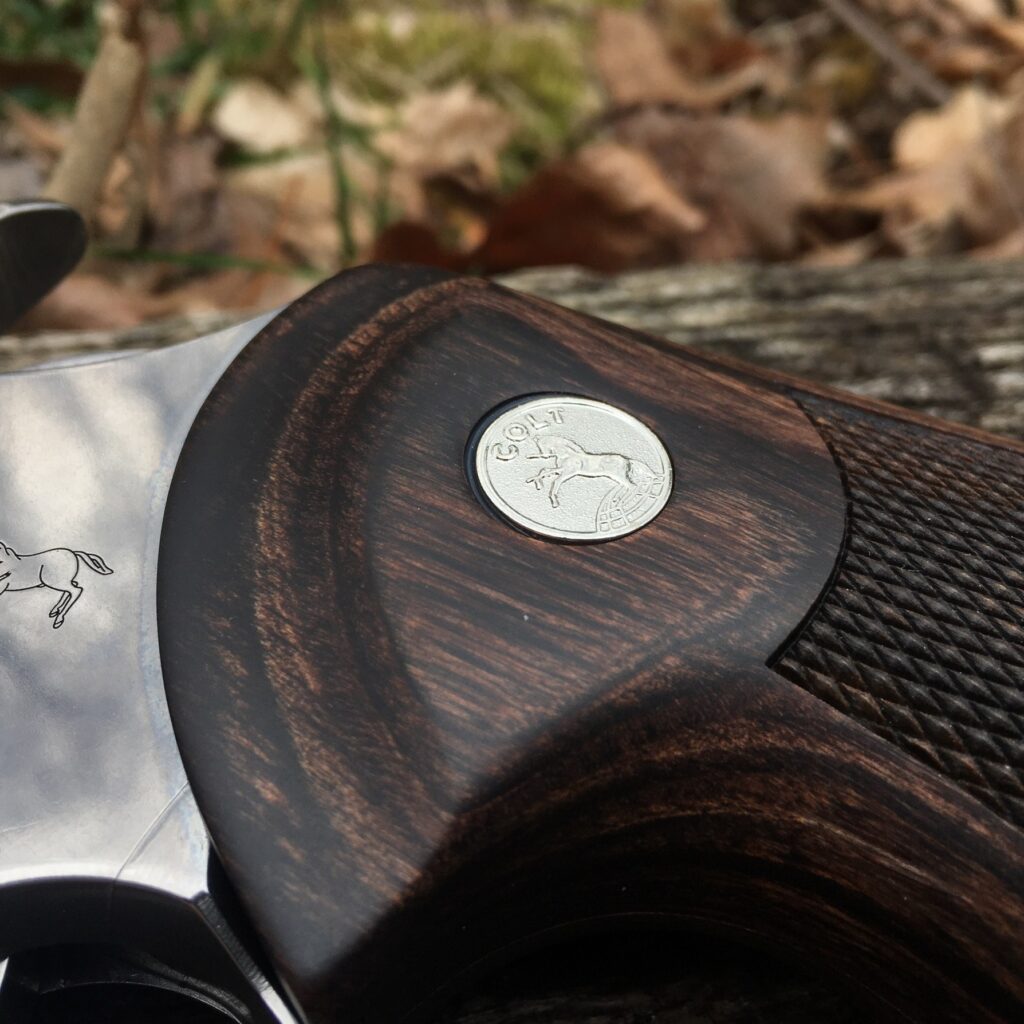 Fit and Finish
And here is what most of you probably want to know about, and the question I can't possibly begin to answer: how does the finish live up to Pythons of days past? I have no idea, but I can certainly speak to this one. I'm going to be honest, when Mike and I initially got word of a new Python through an invite to Gunsite (unfortunately I got sick and couldn't make it, and Mike had a previous obligation) I immediately pictured a blued model.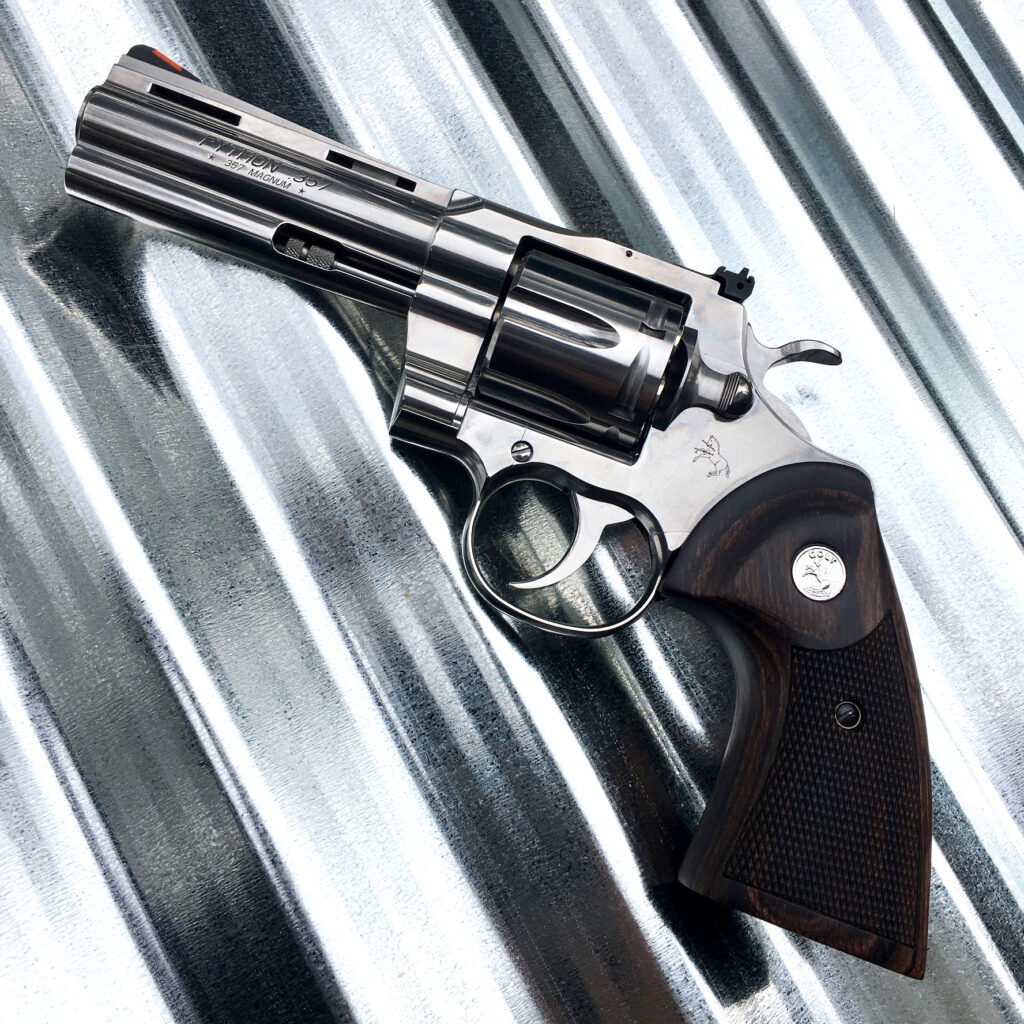 When the new Python was introduced in stainless I wasn't terribly surprised, but when I picked this gun up I was surprised at the quality of the finish. It is outstanding. It is polished to a mirrored finish that is incredibly smooth. To be honest, I found it challenging to take photos of this revolver without including my own reflection. The finish – something I normally don't care about all that much – is truly impressive.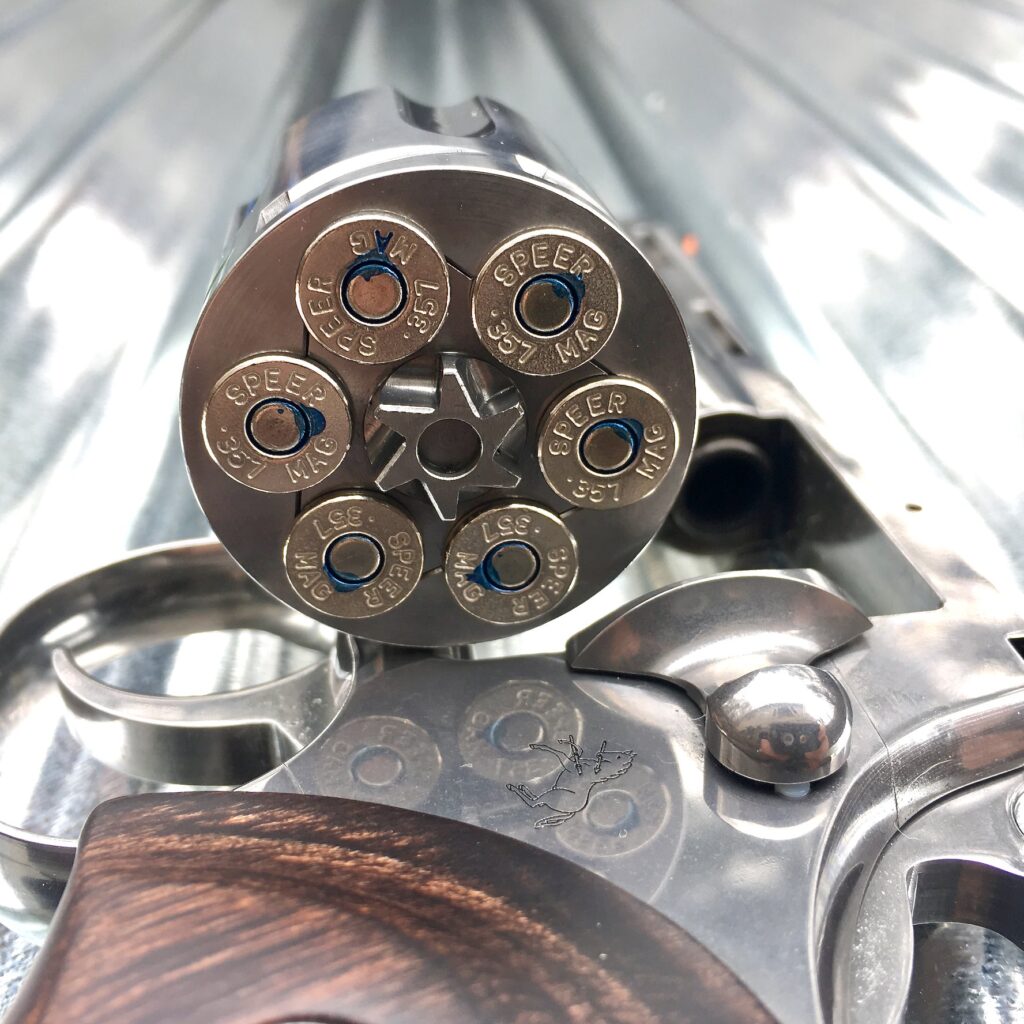 And likewise with the fitment. There is no undesired movement anywhere; lockup is extremely tight. It's hard to say which Colt is better – this or the King Cobra series – when it comes to smoothness of action. It's hard to overstate. Swinging the cylinder open would lead one to believe it was rolling on ball bearings. With my King Cobra there was an annoying misalignment of the sideplate, but not so with the Python – everything mates up perfectly. As fit and finish goes Colt has done an amazing job with the new Python.
Trigger
Since the trigger is one of the most oft-cited pinings for the legendary Python, let's talk about the trigger a bit. Raw numbers up front: I recorded seven double-action trigger pulls. They came in at 10 lbs, 1 ounce, 9 lbs, 14 ounces, 10 lbs, 0 ounces, 10 lbs, 3 ounces, 9 lbs, 14 ounces, 9 lbs, 15 ounces, and 9 lbs, 15 ounces, for an average of 9.98 pounds. While I understand it may be slightly heavier than some of the very early, new-model Pythons, ten pounds is about where I want a double-action revolver to be. I have absolutely no complaint in this department.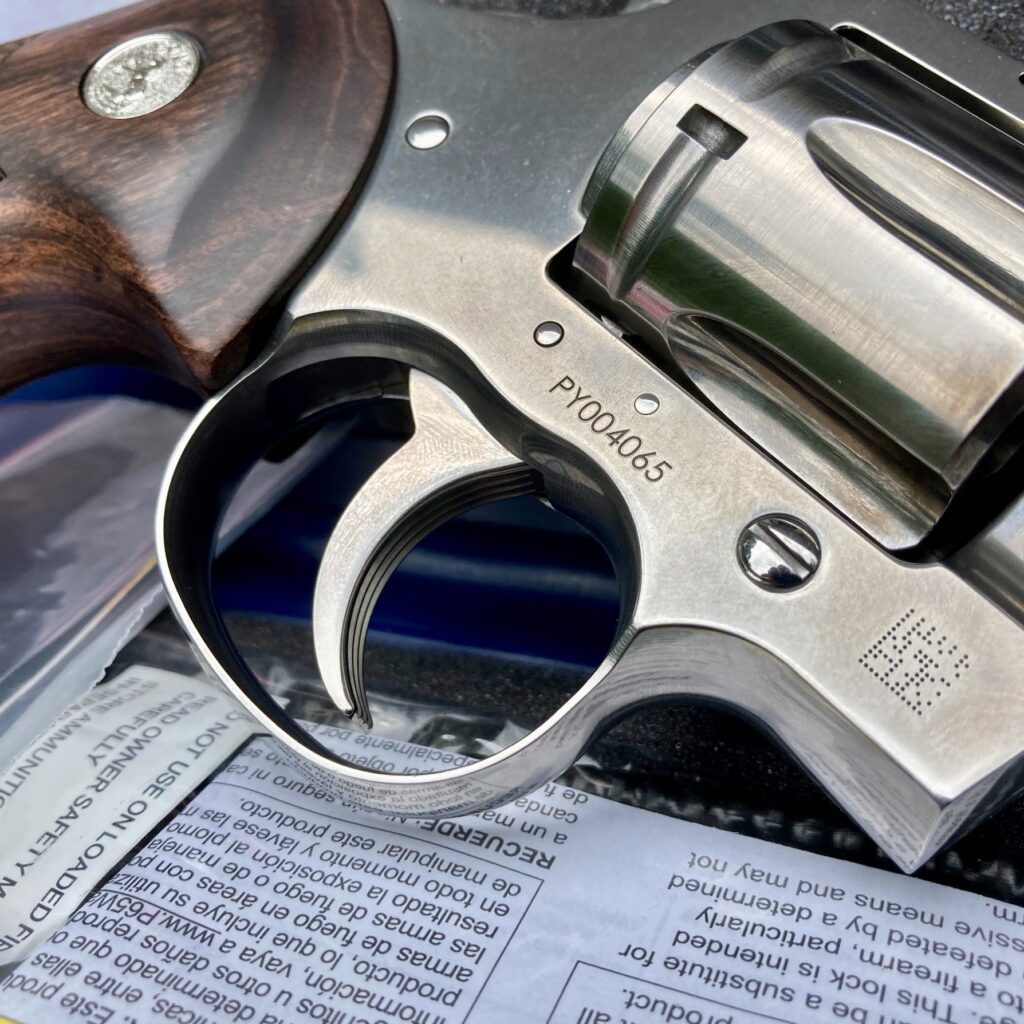 Cocking the hammer on this revolver reveals one of the smoothest actions I have ever been privy to. Hesitant to engage in hyperbole as I am, I don't quite feel like that goes far enough, but I'm not sure how else to express myself – it is just incredibly smooth. And this is no anomaly. If you read my King Cobra and King Cobra Target reviews you'll find the same, glowing review of the trigger weight and smoothness. The single action trigger was also smooth, with zero creep. In fact, there is zero movement of the trigger at all until to breaks.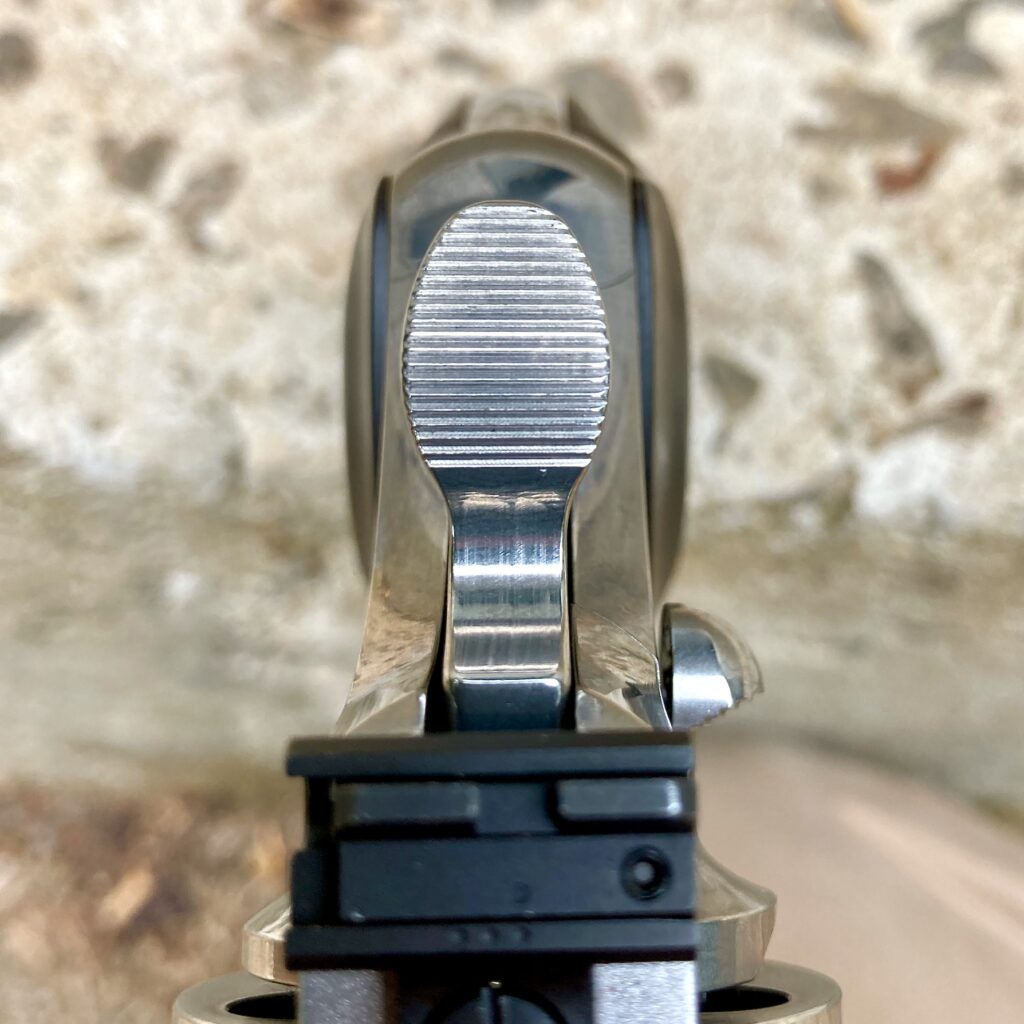 The Python has a narrower-than-normal window between it's single- and double-action trigger weights. Again, this is a trend I have observed in the other two Colt revolvers I have reviewed. This resulted in single action pulls came in quite a bit heavier than expected: 5 lbs 11 ounces, 5 lbs 12 ounces, 5 lbs 12 ounces, 6 lbs, 5 lbs 13 ounces, 5 lbs 13 ounces for an average of 5.80 pounds. I do have a bit of complaint here; five point eight points is quite a lot in a single-action revolver trigger. I would find myself wondering if the trigger was ever going to go.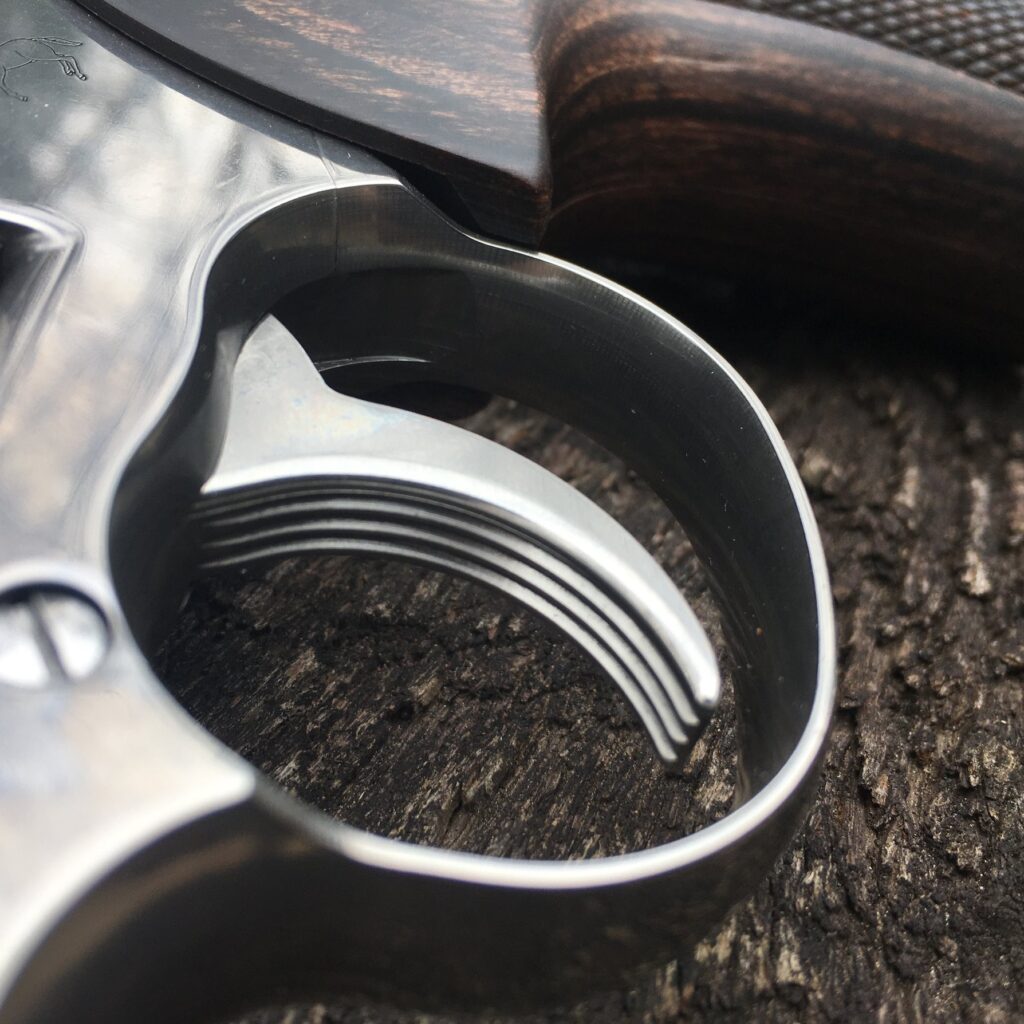 And finally, let's talk about he trigger itself. Colt's elected to equip the 2020 Python with a narrow, serrated "service-" style trigger. I don't believe I have fired very many rounds through revolvers with serrated triggers, and I now completely understand the desire for a smooth "combat" trigger. Overall I could live with this trigger (which is, for the record, comfortably wider than the King Cobra's) but if I had my 'druthers I'd prefer a wider, smoother, rounded "combat" trigger.
Sights
The sights on the Python are an adjustable rear sight mated to a fixed (but interchangeable) front sight. The front sight is a black ramp with a serrated, red, plastic insert. I have no problem at all with this style and actually appreciate that it's black rather than stainless, as is the case with my 686. The front sight may be removed, like all of Colts' new crop of revolvers, by removing a set screw that appears just over the muzzle.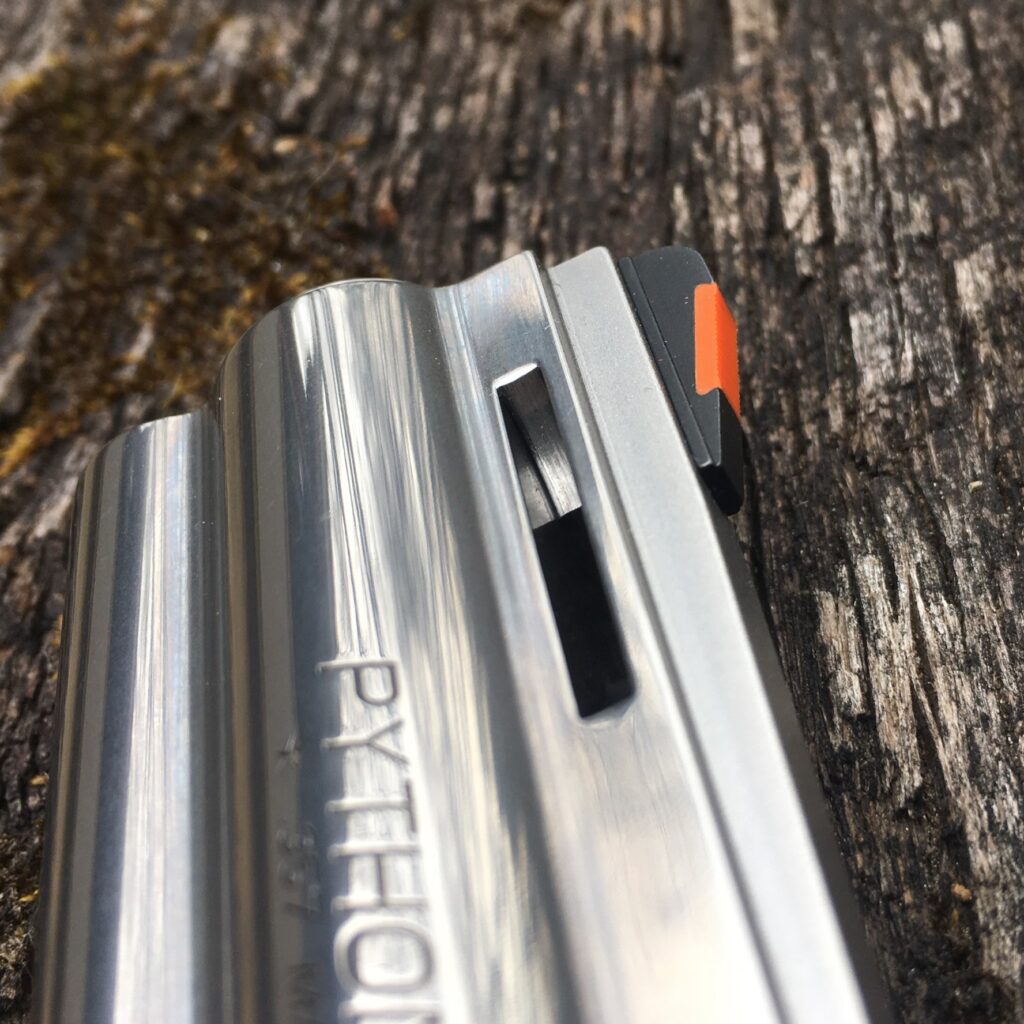 The rear sight is a very traditional windage- and elevation-adjustable unit. Adjustments are made via adjustment screws, and once sights are properly regulated set screws are necessary to preserve regulation. These set screws are not optional, at least on the windage; I found that if I shot before tightening the set screws the rear sight blade would quickly, and significantly drift.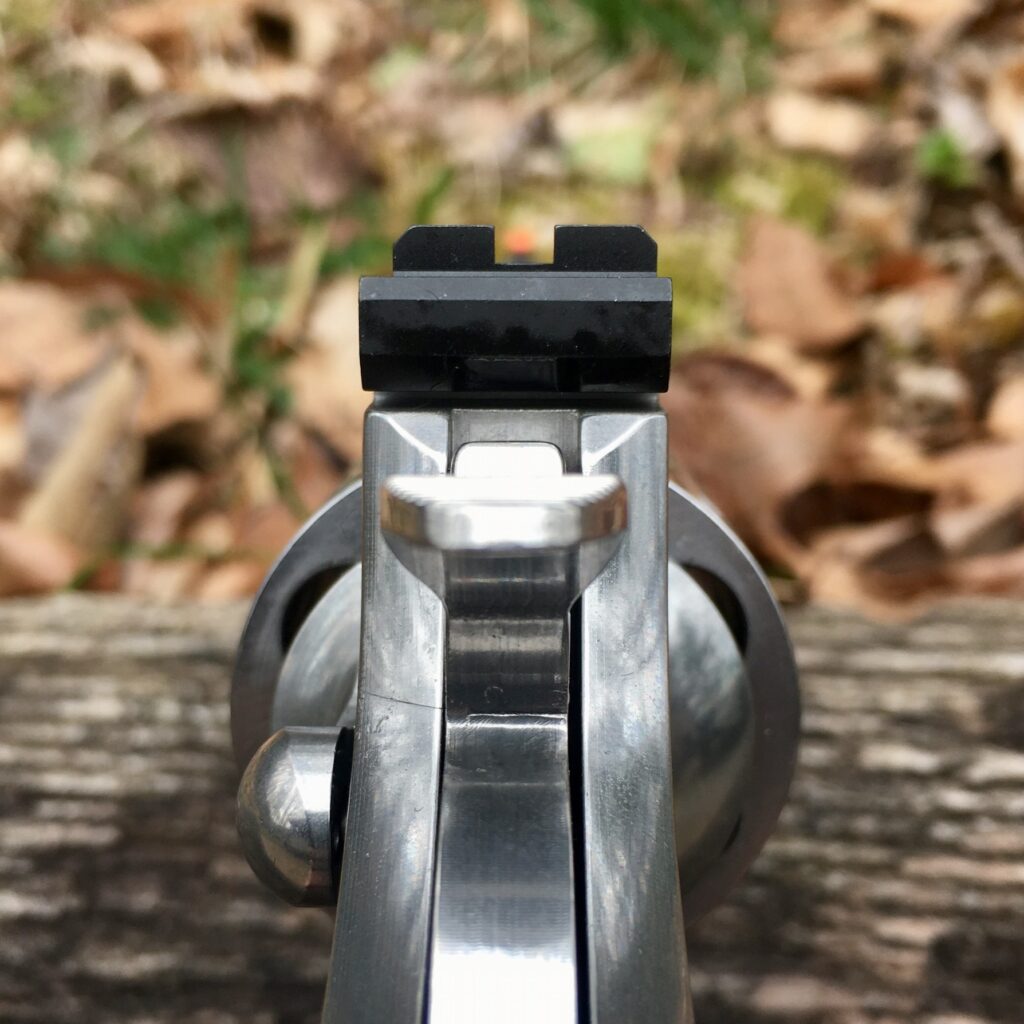 Sights were crisp, clean and as you'll see shortly, permitted excellent accuracy. I don't believe I would change a thing about the sights.
Elephant in the Room: Reliability
All told I fired 508 rounds. They came from 9 manufacturers: Federal, Fiocchi, Geco, Hornady, Perfecta, Remington, Sig, Speer, and Winchester. Of those, over 340 (66%) were .357 Magnum loads. Bullet weights ranged from 110 grains to 158 grains. In addition to firing just over 500 rounds, I pulled the trigger on a snap cap at least three times that amount.  During all this time no maintenance of any kind was performed (lucky for me the rainy day was my last range session!).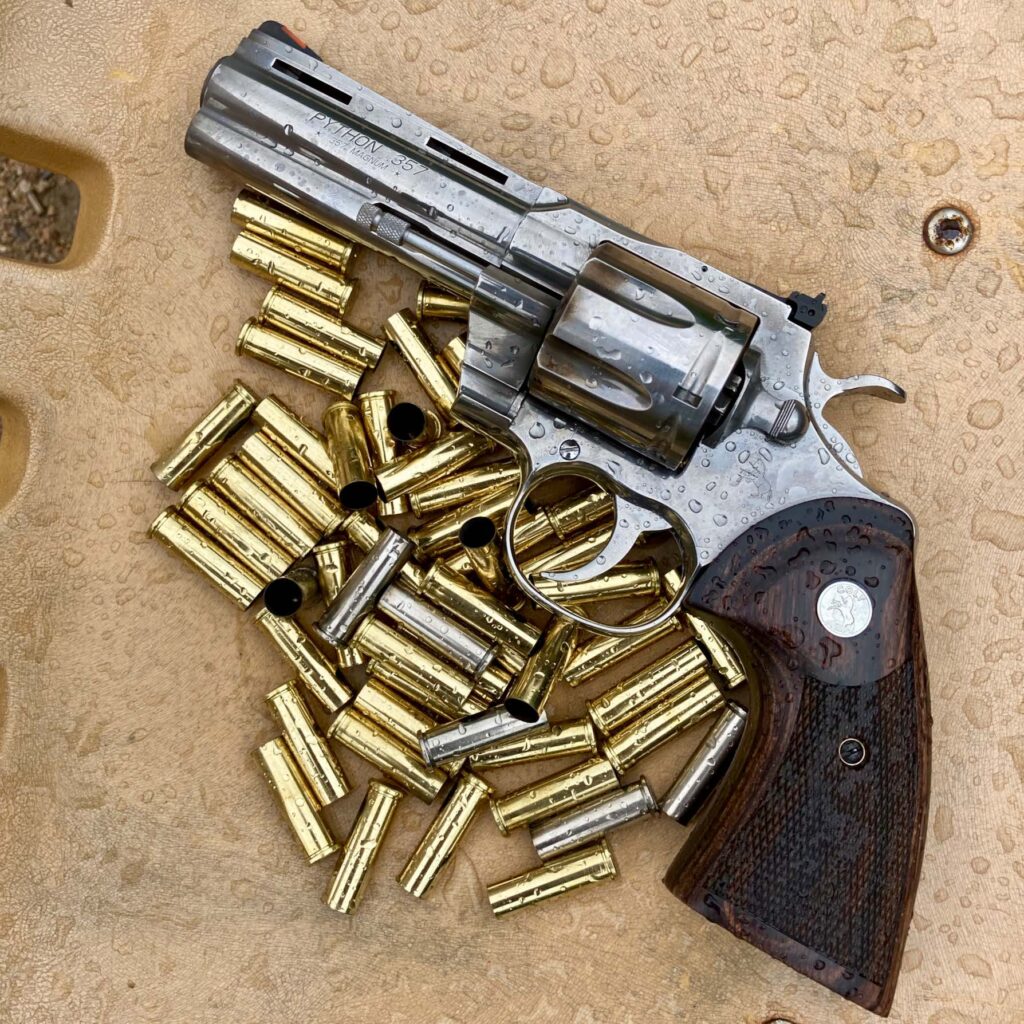 13 May
99 Remington .357 Magnum 110-grain HTP JHP
19 Perfecta .357 Magnum 158-grain JHP
50 Fiocchi .357 Magnum 142-grain TC-FMJ
30 Geco .38 Special 130-grain FMJ
19 May 2020
12 Geco .38 Special 130-grain FMJ
6 Speer .357 Magnum Gold Dot 125-grain JHP
6 Federal Classic .357 Magnum 125-grain JHP
6 Remington .357 Magnum Golden Saber 125-grain JHP
12 Sig .38 Special +P V-Crown JHP
8 Hornady .38 Special Critical Defense 110-grain Flex-Tip
20 Federal .38 Special +P HST JHP
27 May 2020
12 Geco .38 Special 130-grain FMJ
12 Speer .357 Magnum Gold Dot 125-grain JHP
6 Federal .38 Special 148-grain wadcutter
18 Remington .357 Magnum 110-grain HTP JHP
6 Remington .357 Magnum 158-grain HTP JHP
50 Fiocchi .357 Magnum 142-grain TC-FMJ
02 June 2020
18 Remington .357 Magnum 110-grain HTP JHP
6 Federal .38 Special +P JHP
3 Perfecta .357 Magnum 158-grain JHP
59 Winchester .38 Special 130-grain FMJ
50 Fiocchi .357 Magnum 142-grain TC-FMJ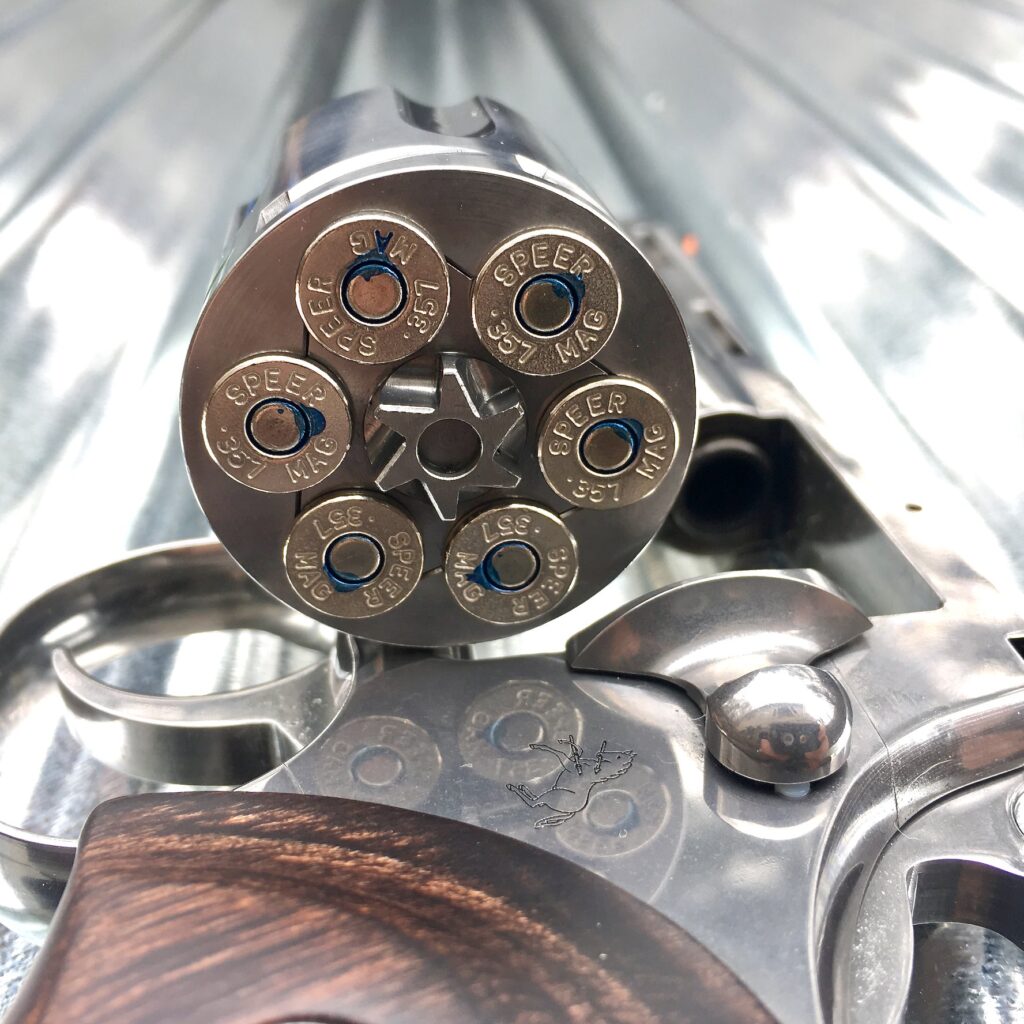 The performance of the Colt King Cobra was admirable. She fired every round with aplomb. I know that still doesn't address the elephant in the room, though. Some early models of the 2020 Colt Python had some reliability problems which became very, very prolific in the hands of a few writers and YouTubers.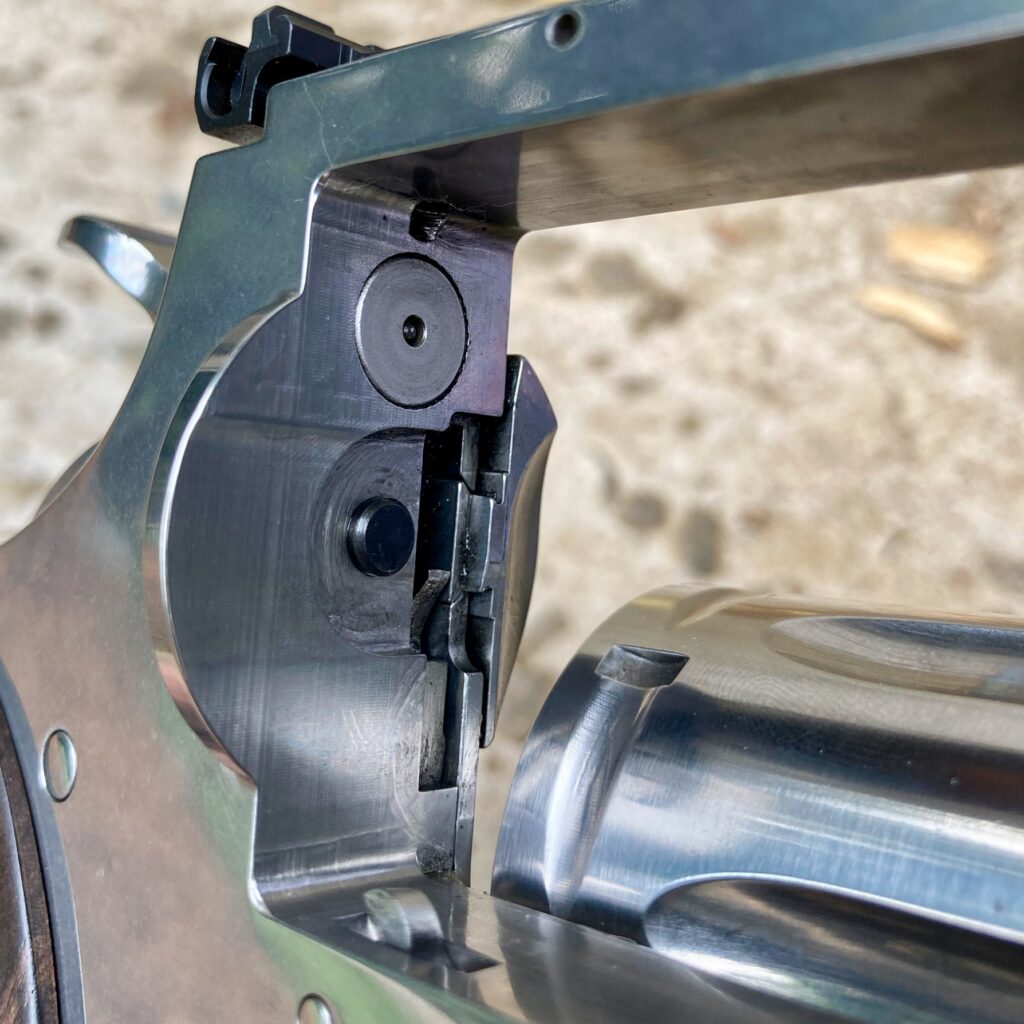 I've always thought that a gun must be proven to work. For example, one credible complaint of pervasive reliability issues should be thoroughly disproven before commending a gun as reliable. My belief is that just because my exemplar works isn't a justification for discounting those whose guns didn't work. My exemplar did work and admirably so, but I accept that one sample doesn't really prove much.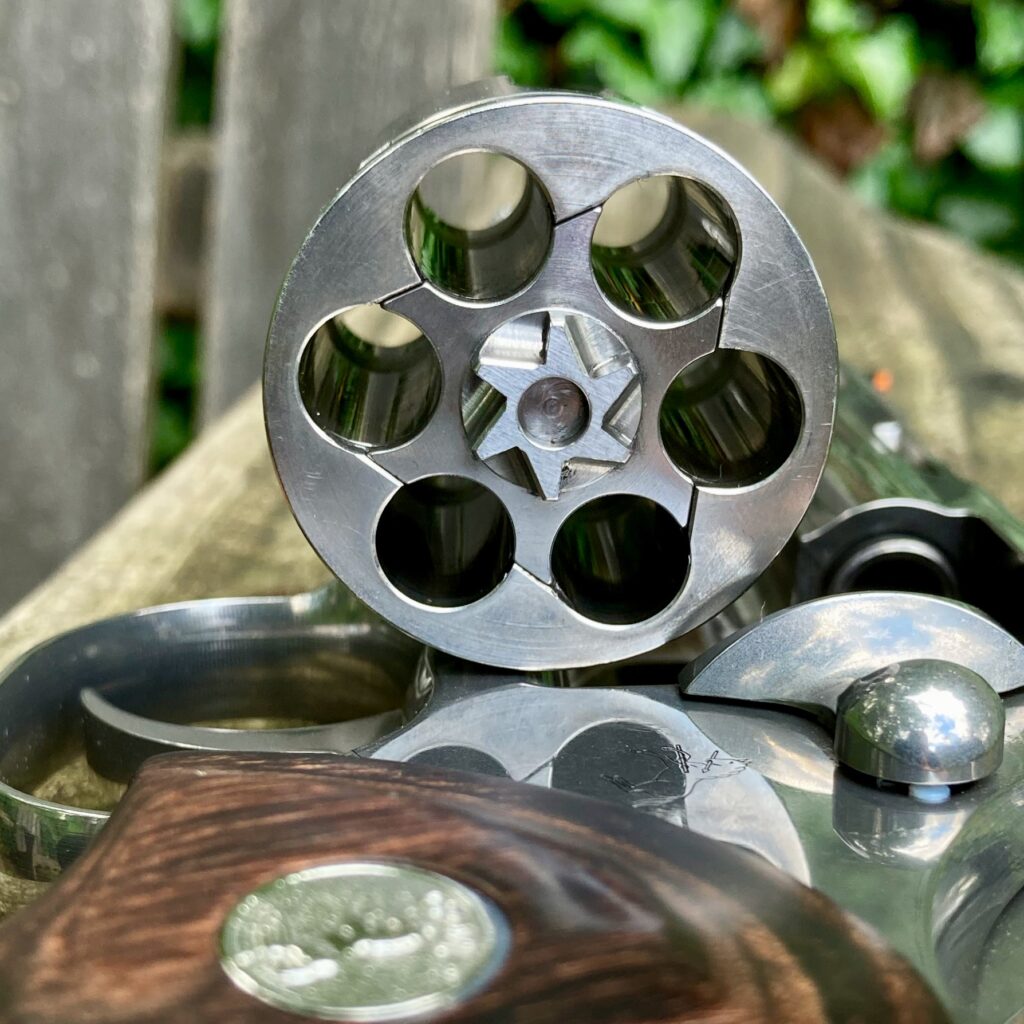 My personal take, however, is that Colt's has acknowledged the issue, which was a loosening the sideplate. The loosened sideplate allowed the hand to fall out of alignment with the star, resulting in a cylinder that did not turn. Colt's claims to have added Loctite to the sideplate screw. Upon removing the sideplate screw in the exemplar loaned to me I did observe something in the threads that appears to be thread locker. Simply knowing what the issue is alleviates my concern with this particular issue.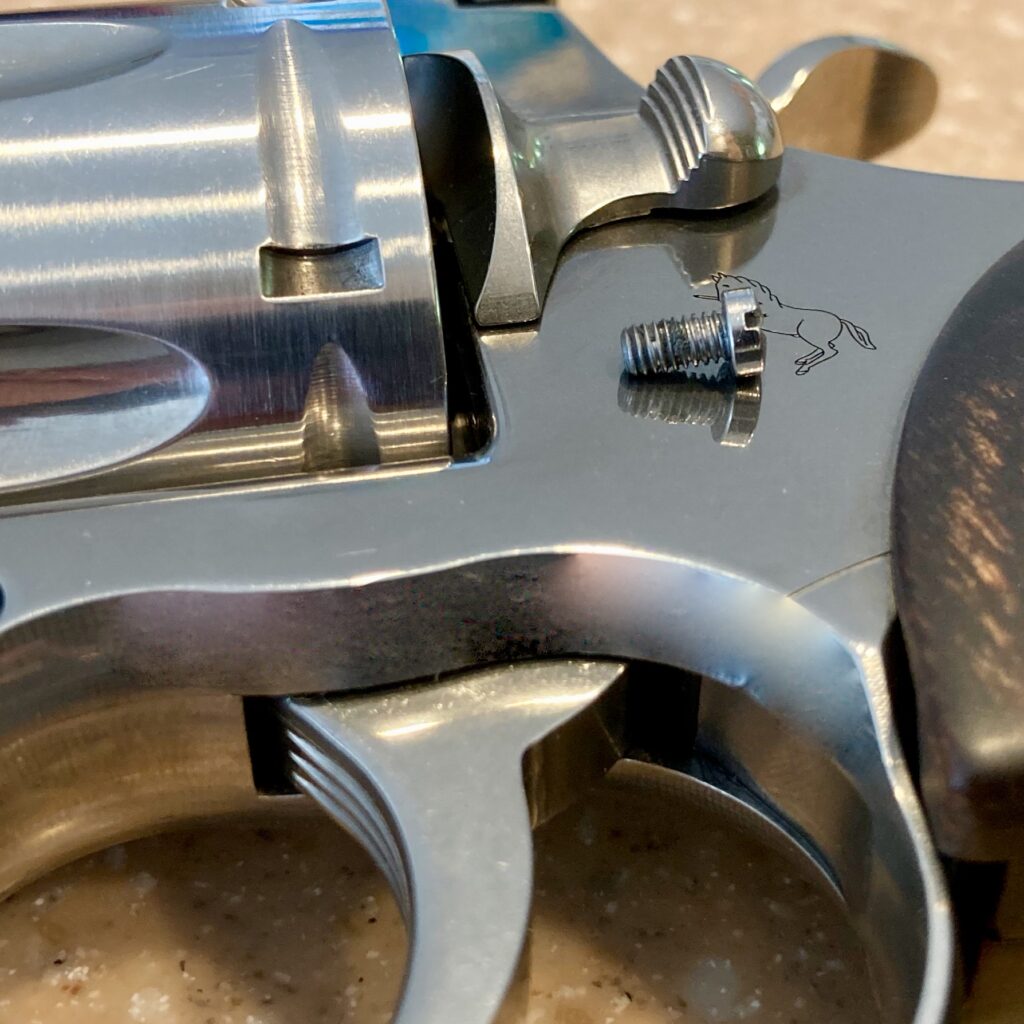 Extraction and Ejection
Opening the cylinder is the same as the old-model Python: pull the latch to the rear. Though I consider myself a S&W man, I am very quickly finding myself adapting to the Colt's release latch, and to a clockwise rotating cylinder.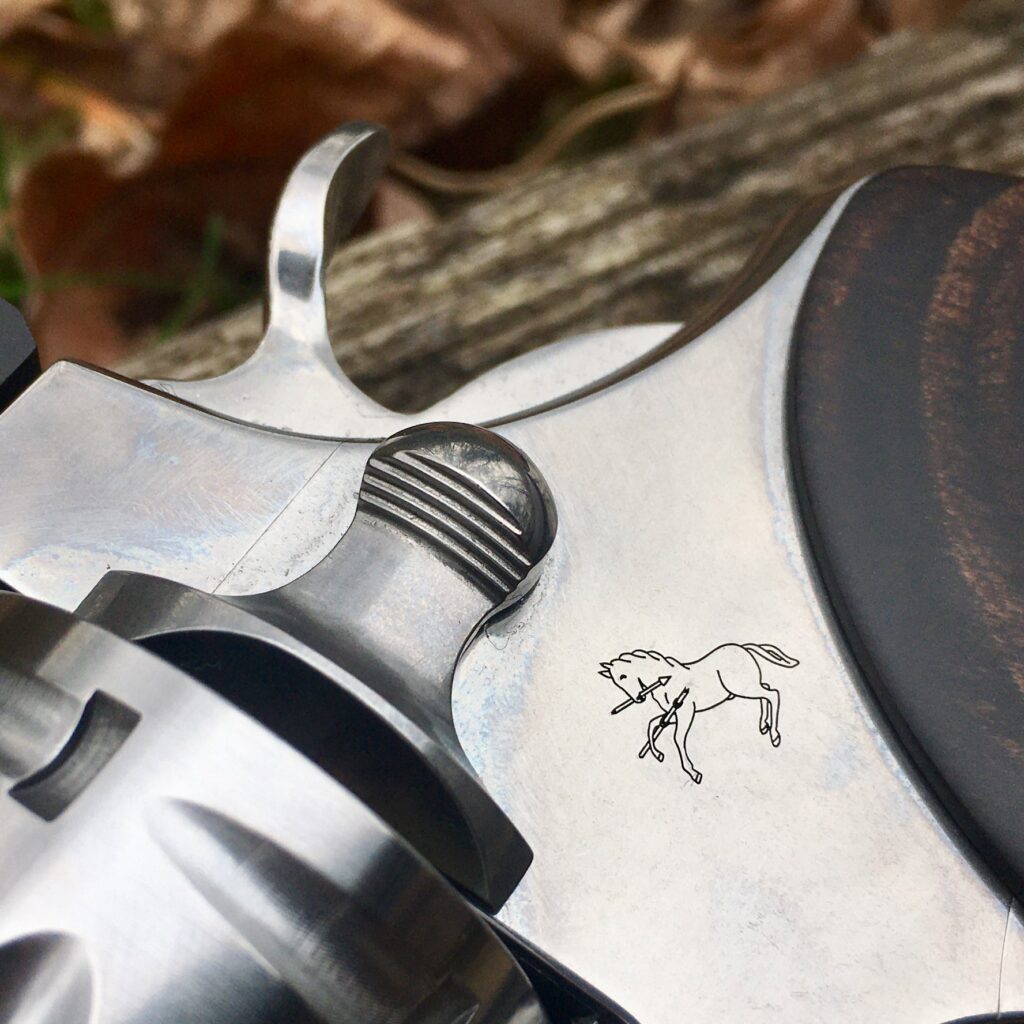 The 2020 Colt Python's ejector rod is a dream come true. First, the tip of it is nicely rounded, preventing the pain of a sharp, poorly designed ejector rod. Secondly, unlike the early King Cobra's ejector rod, the tip is much wider than the body of the ejector rod. This prevents potential overtravel of the rod, as well as preventing the ejector rod from becoming stuck in its channel in the crane (something that can happen with the King Cobra).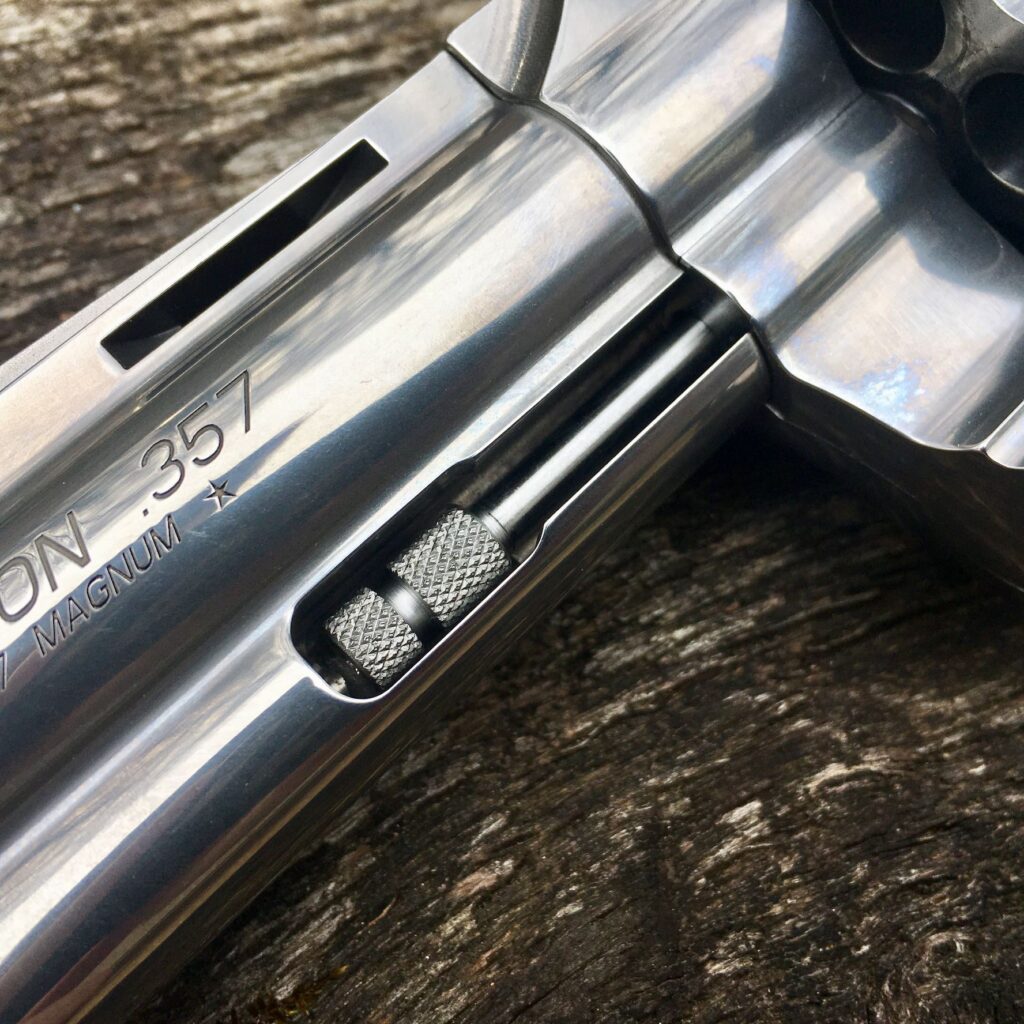 Also note that the ejector rod's channel in the underlug isn't just a bland oval. Colt's machined it to match the contours of the ejector rod itself. This is the kind of little touch that a RevolverGuy can get really excited about!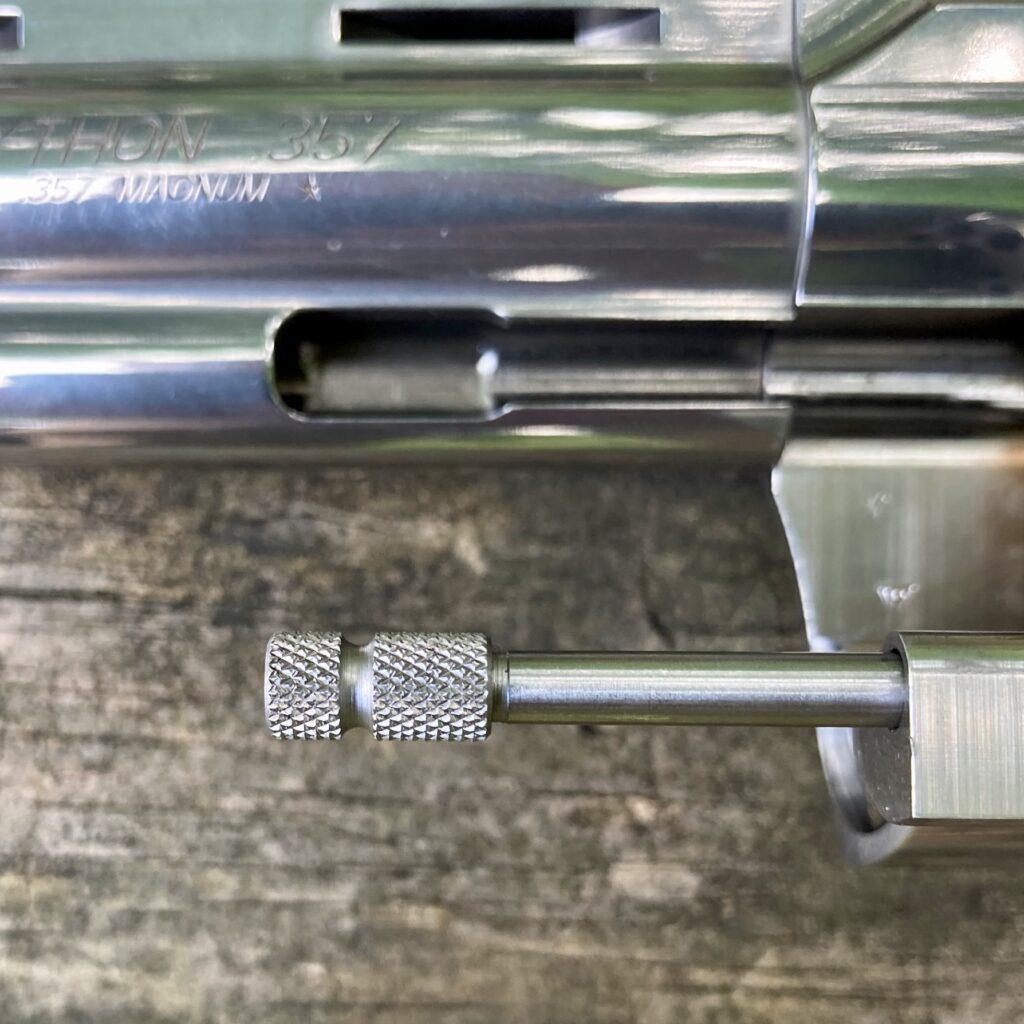 Third, the Python's ejector rod is a very capable length. I measured the length of throw at 0.885 inches. According to our informal survey of ejector rod throw across popular revolvers, this is right in the middle of the pack and perfectly adequate.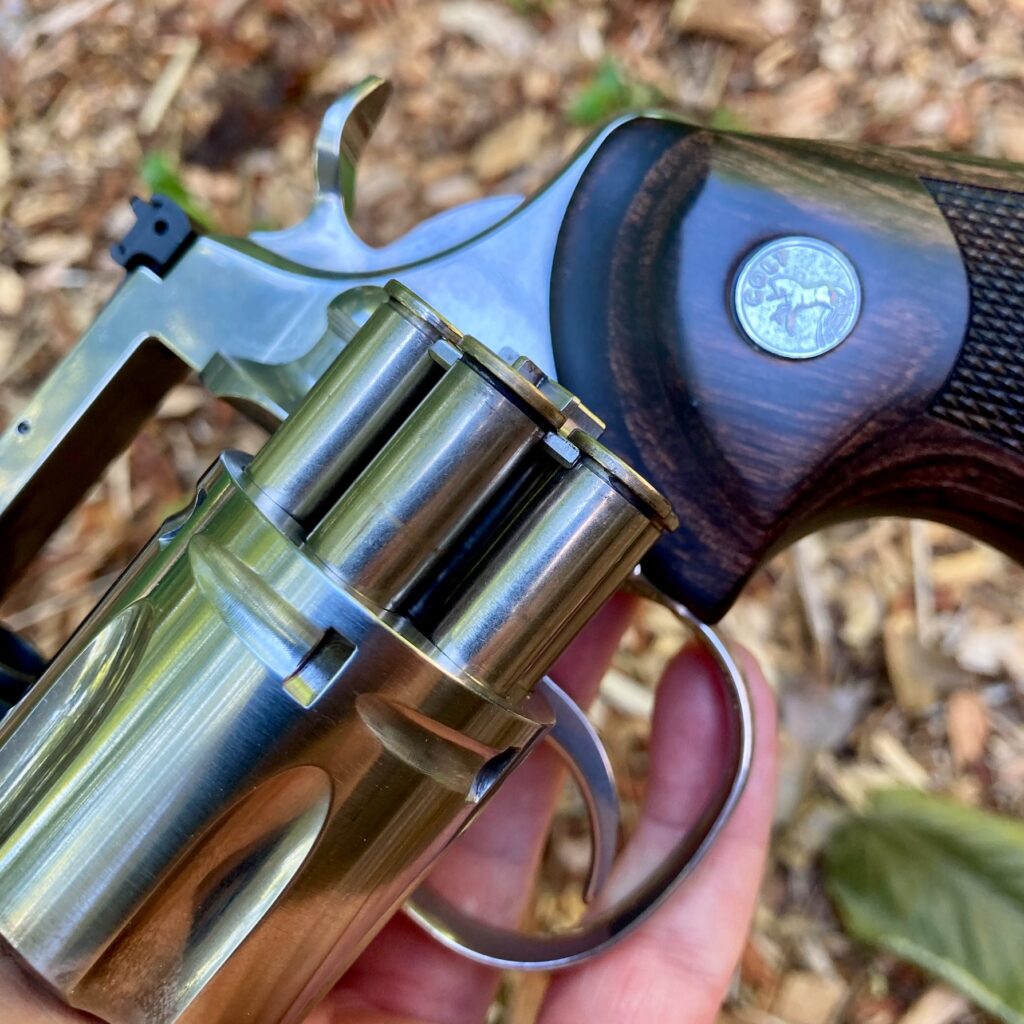 One minor issue did crop up here and there with ejection. There was a tendency of the left grip panel to hang onto a round if I did an "admin" eject. This ever once occurred when I stroked the ejector rod properly: that is, firmly, and with the gun oriented vertically.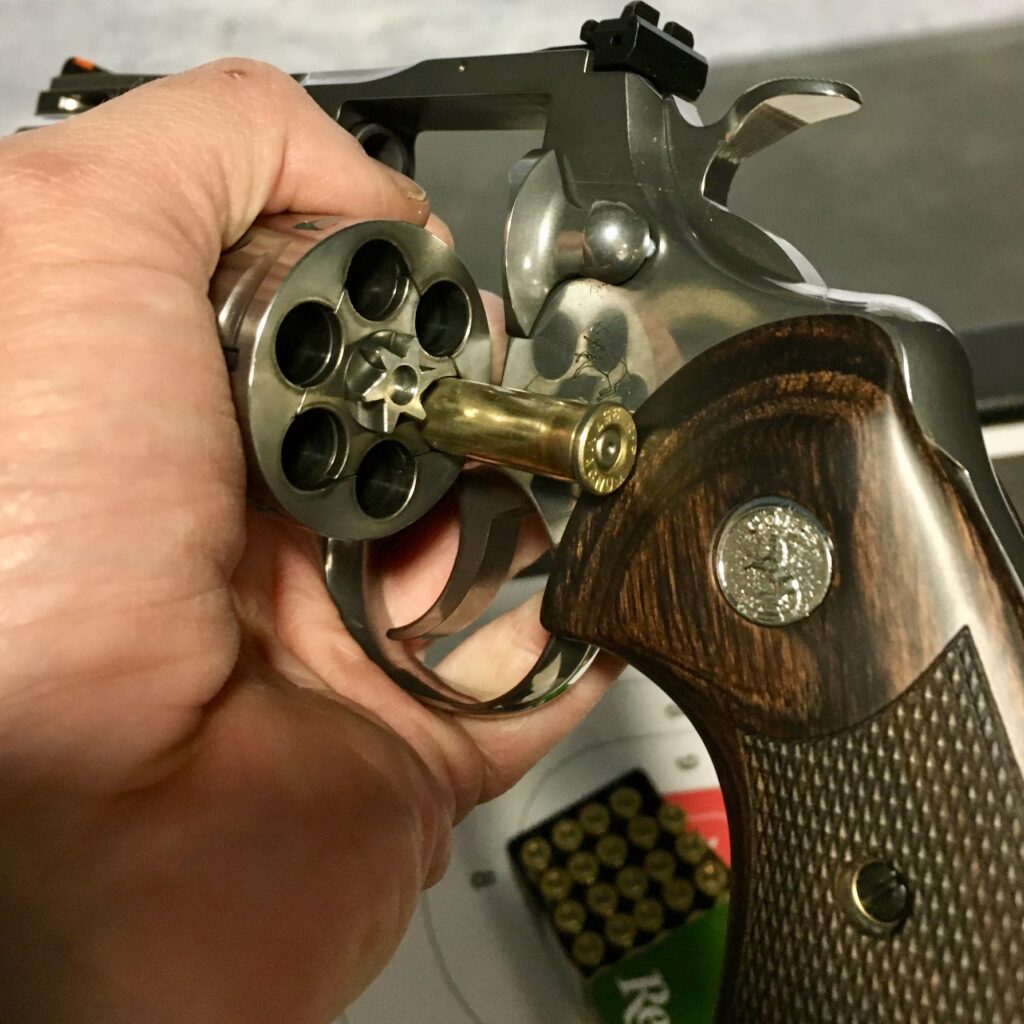 Handling: Not Just a Pretty Face
I did break with our normal revolver testing S.O.P. here. I told you guys I would fire two iterations of Dot Torture – one within the first 100 rounds of testing, and the other within the last 100 rounds – when reviewing any revolver intended or suitable for defensive use. I intended to, but did not fire the first one. Apologies, but I forgot my Dot Torture target on that range day and with the limited range availability I have had I simply couldn't afford to postpone that session. I did fire a round of Dot Torture as the very last thing I did with the 2020 Colt Python, though. Not only did I fire it, I fired it at five yards, in a steady, soaking rain. Here are my results: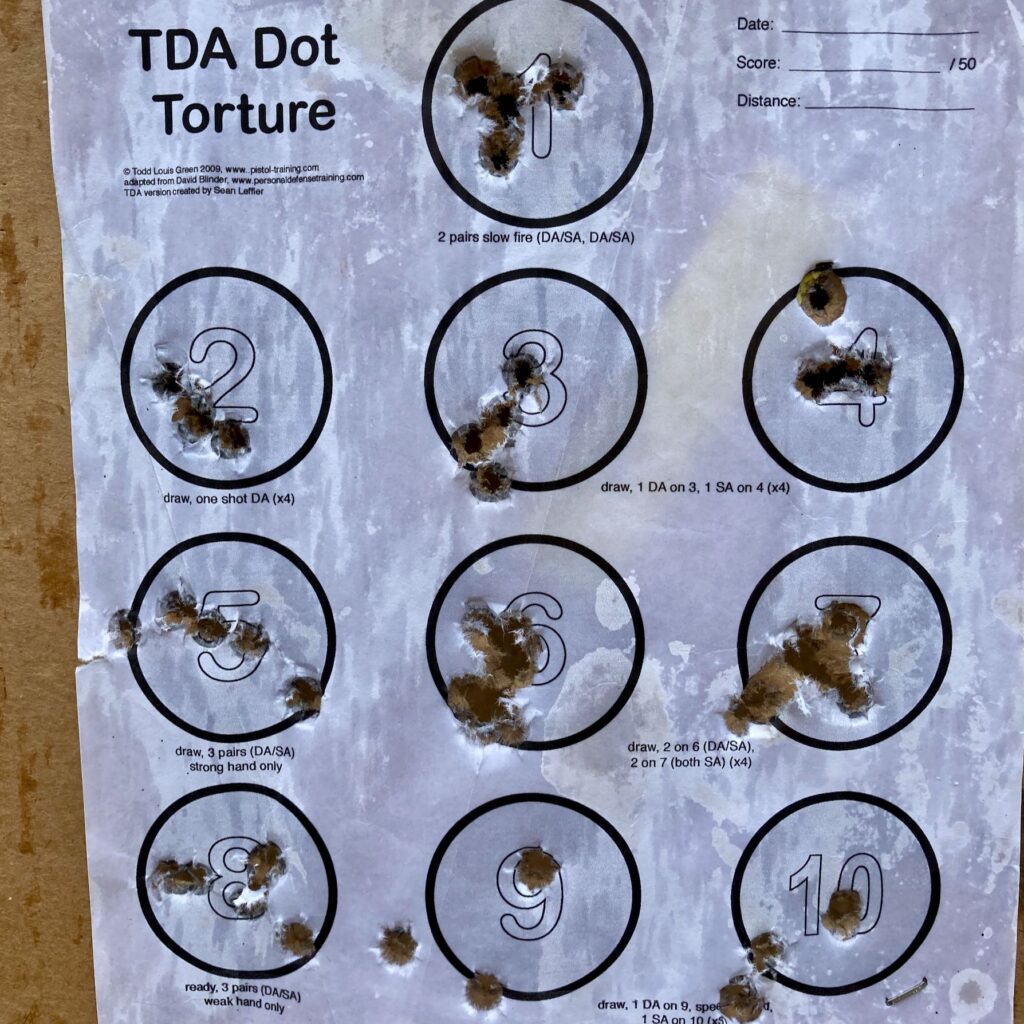 Not bad, considering the weather conditions. Counting broken lines I would score this at a 47. For some reason I dropped two on the last stage, something that is unequivocally my fault. Again, I understand perfectly that Dot Torture isn't intended to be a test of a firearm, but it does go some distance in demonstrating what a competent shooter is capable of with this gun. Dot Torture was fired from a DeSantis Speed Scabbard using a L-Frame SL Variant speedloader carried in a Jox Loader Pouch.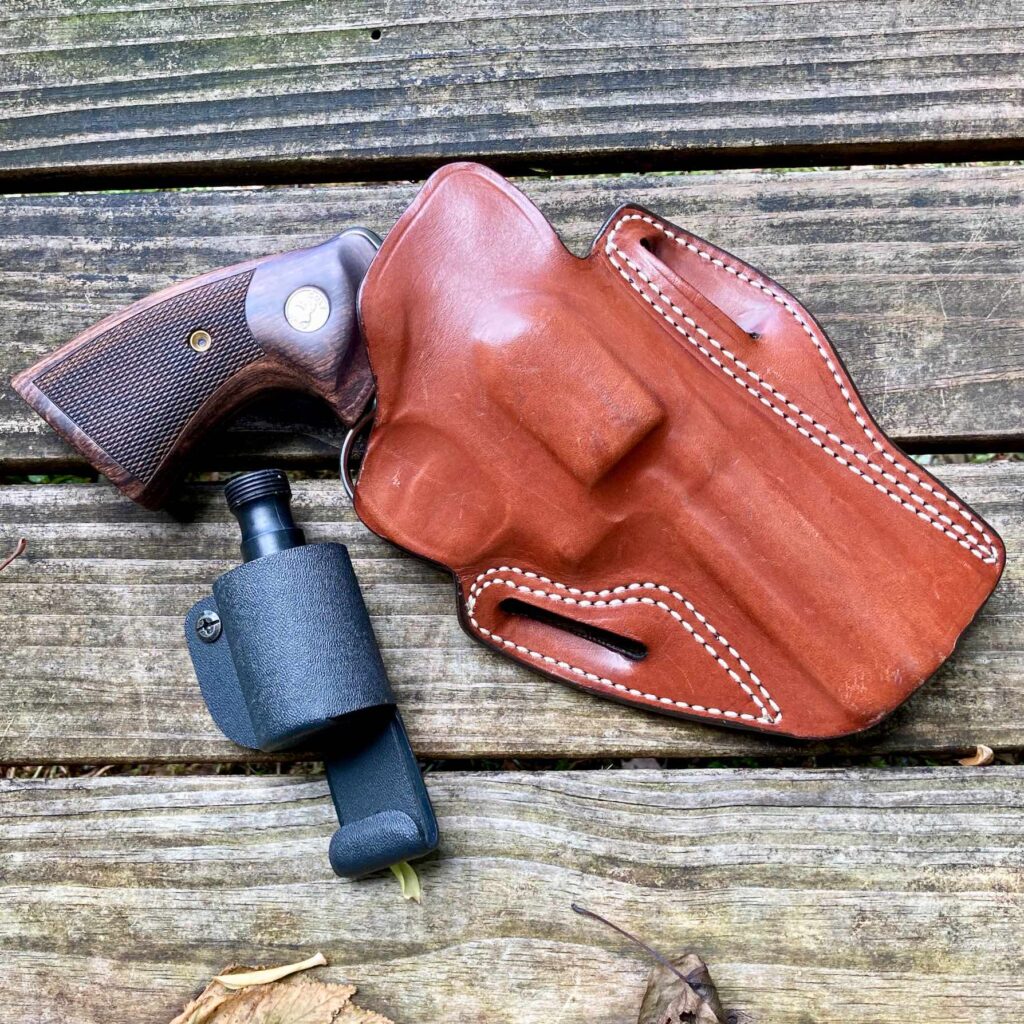 The one minor complaint I have with handling is the grips. While beautiful, I don't feel that they fill in enough area behind the trigger guard. This leads to my hand rising higher and higher with each shot, until my fingers feel bunched up around the neck of the grip frame. I think this could easily be corrected.
Accuracy
I did some more formal tests for accuracy. For each of several loads I fired a six-round group at 25 yards, offhand, in double action. In many of the groups below you will note the presence of one flier that spoiled an otherwise excellent group. Chalk those up to me because this gun was phenomenally accurate. Let's take a look at some of the groups below.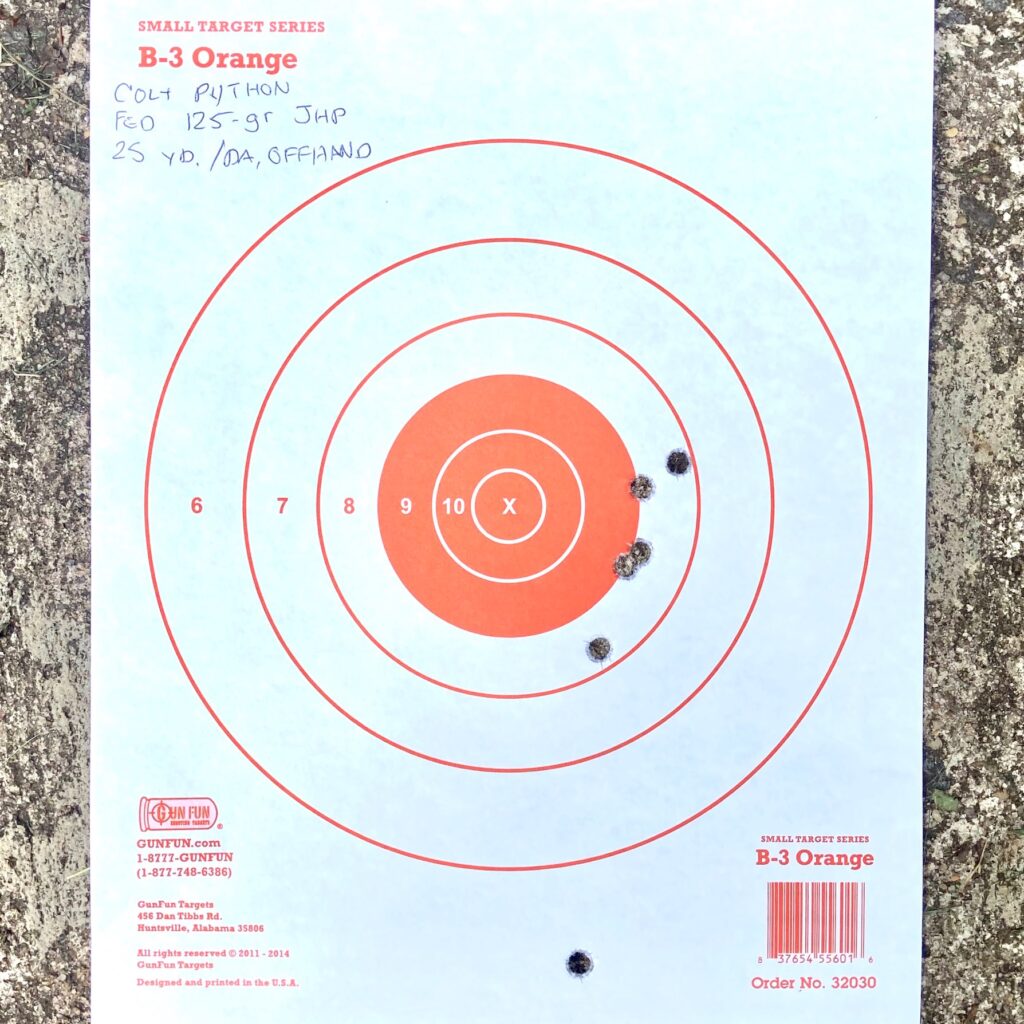 The flier in this group was the second round and was absolutely my fault. I anticipated and pulled it low. That Federal 125-grain JHP loading is the Genuine Article and after the "BANG" and flash of the first one I was jerked the second. Otherwise this is a great group.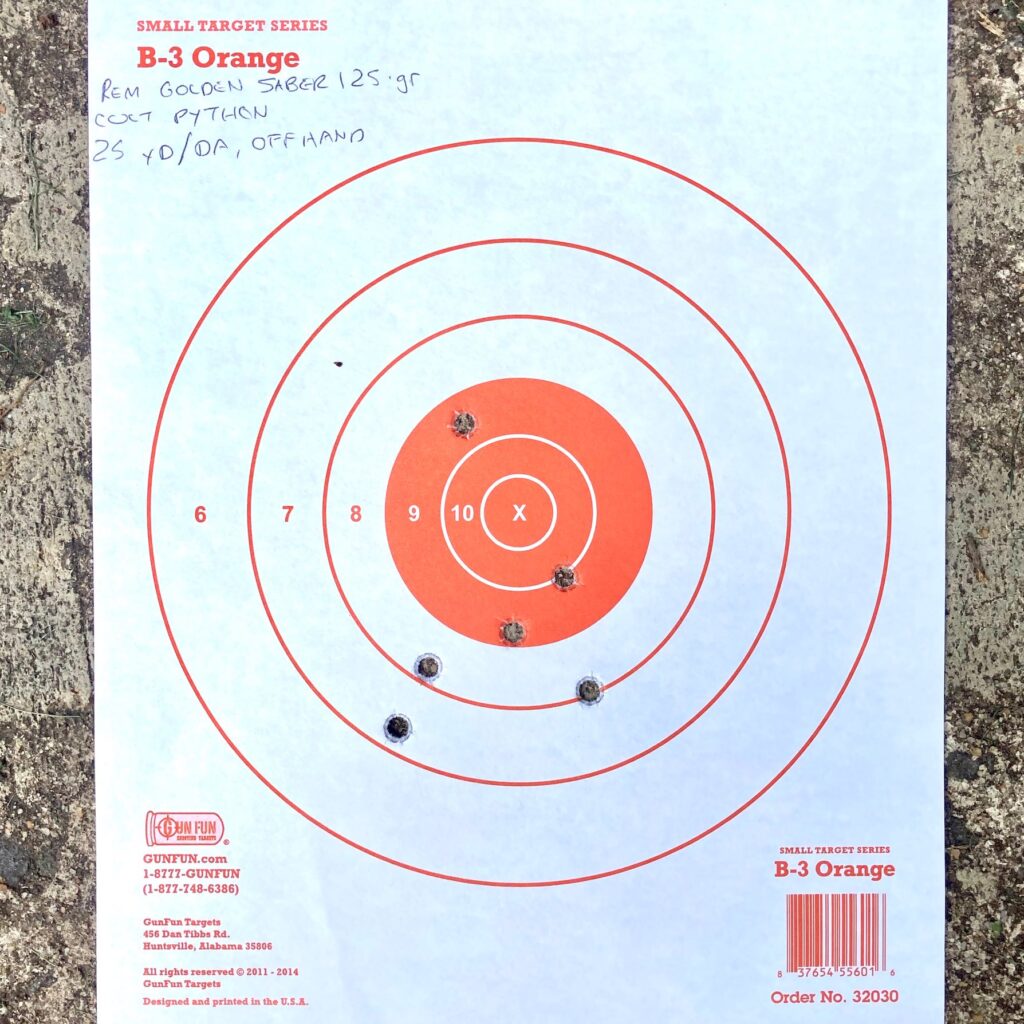 Even with the flier this group with Remington's 125-grain Golden Saber i .357 Magnum isn't bad. This is a good loading, having mild(er) recoil, and not insanely expensive.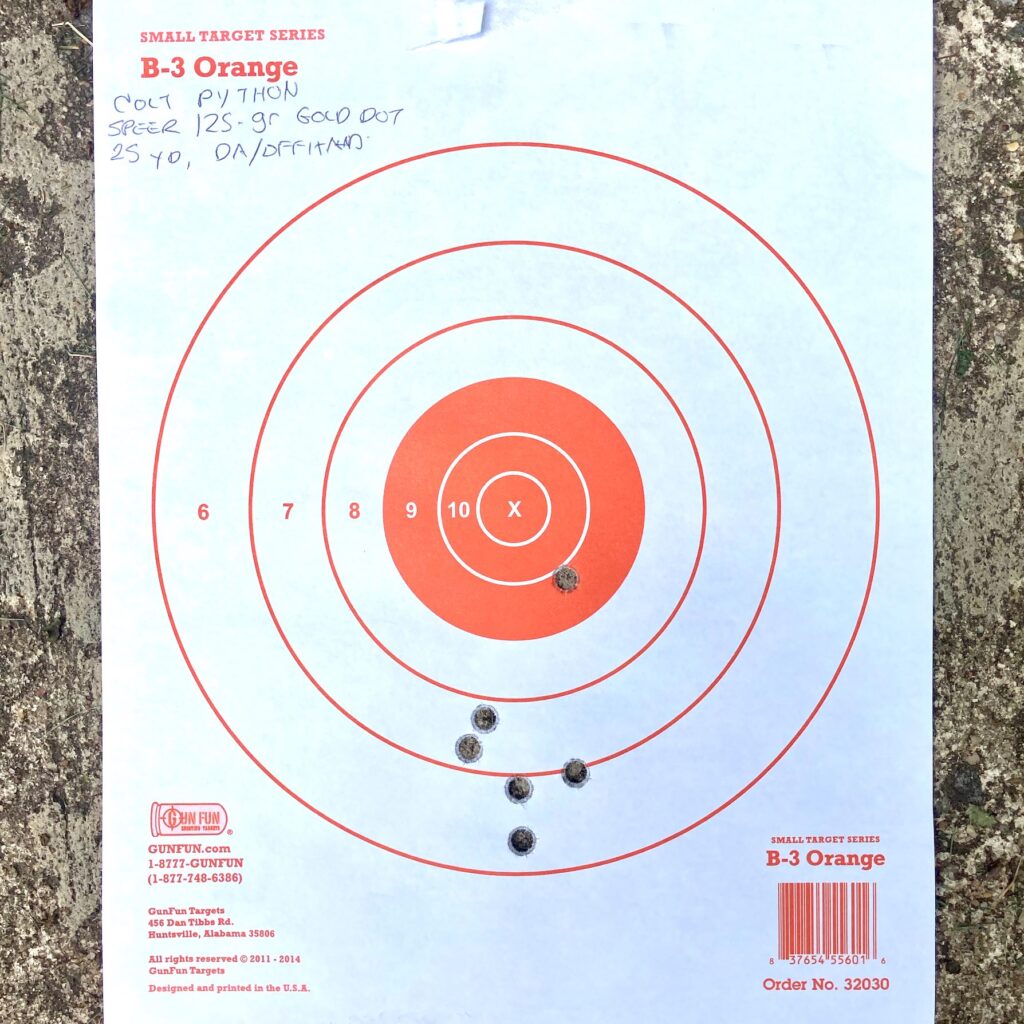 If it weren't for that one flier… Still, I'm happy with this group from Speer's 125-grain Gold Dot.  I did have a bit more difficulty getting nice, tight groups with .38 Special loadings. I only managed to record a couple: the Sig V-Crown below, and below that a couple groups with the Federal HST.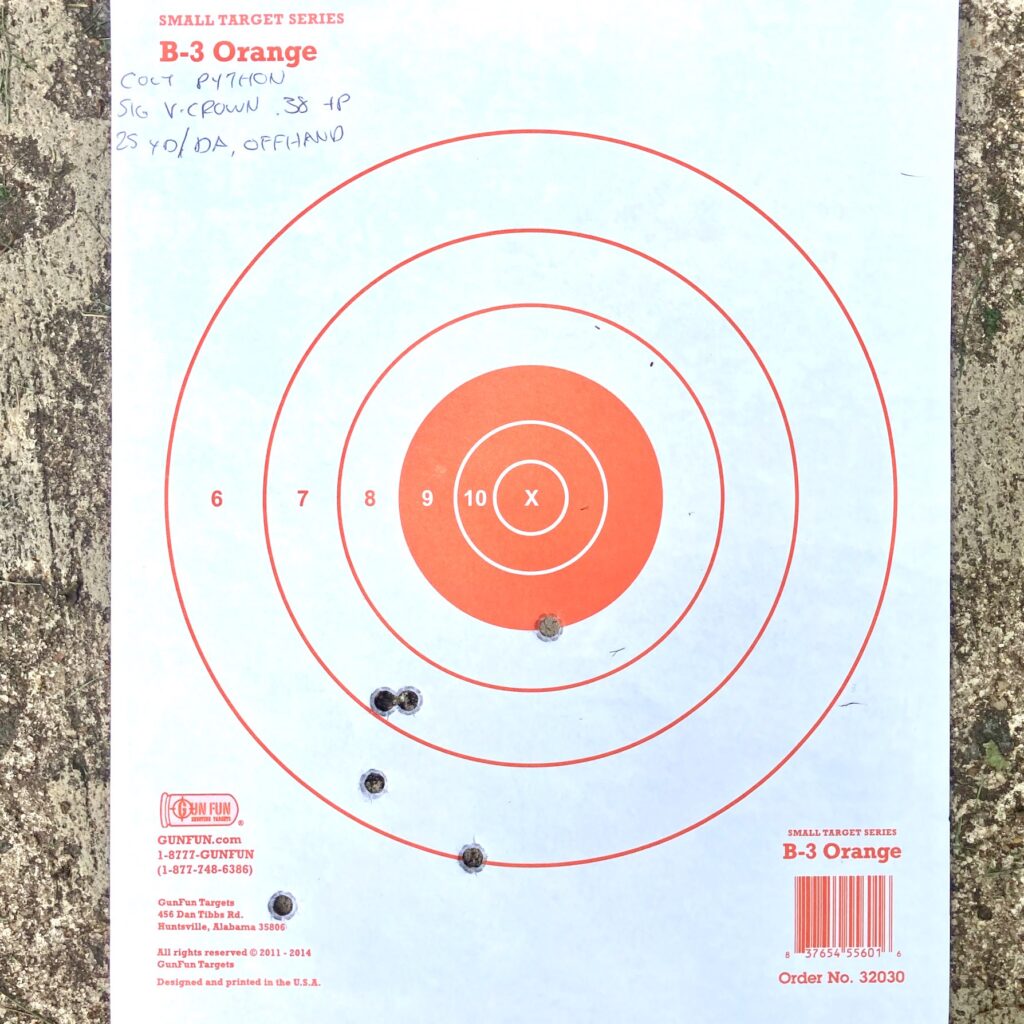 Results with the Federal 130-grain HST were interesting, and this is not the first time I have had difficulty with the Federal loading at extended distance.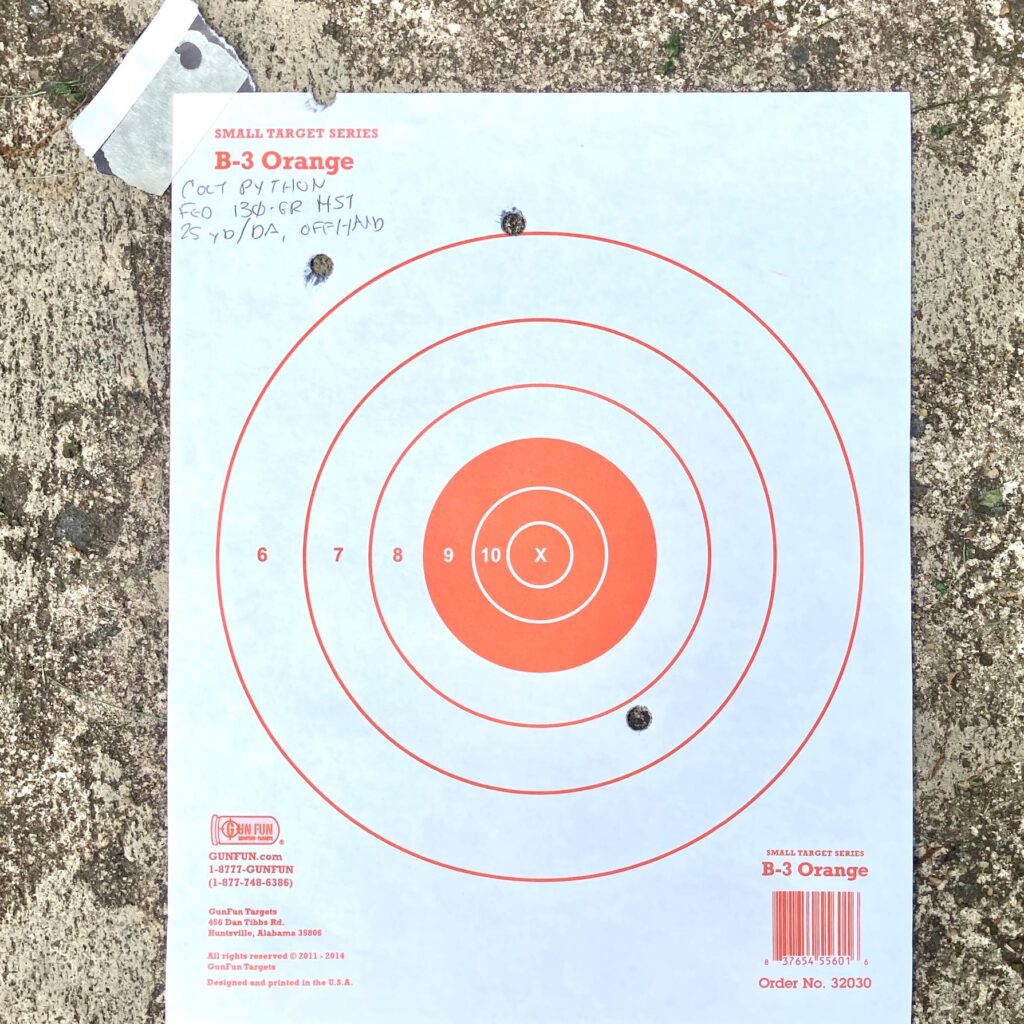 The first group strayed off the page. I did preserver the tape used to hold the target because it does represent one impact with this loading (I added some black paper behind it both to make the hole more visible, and to keep the tape from tearing or sticking to itself on the way home from the range). Not only was I unable to keep it on the paper, it is stringing high and left – almost opposite behavior of the other loads, all of which were tested on the same day with the same sight adjustments. With this dismal group in mind, I decided to shoot one more, with a larger paper backer.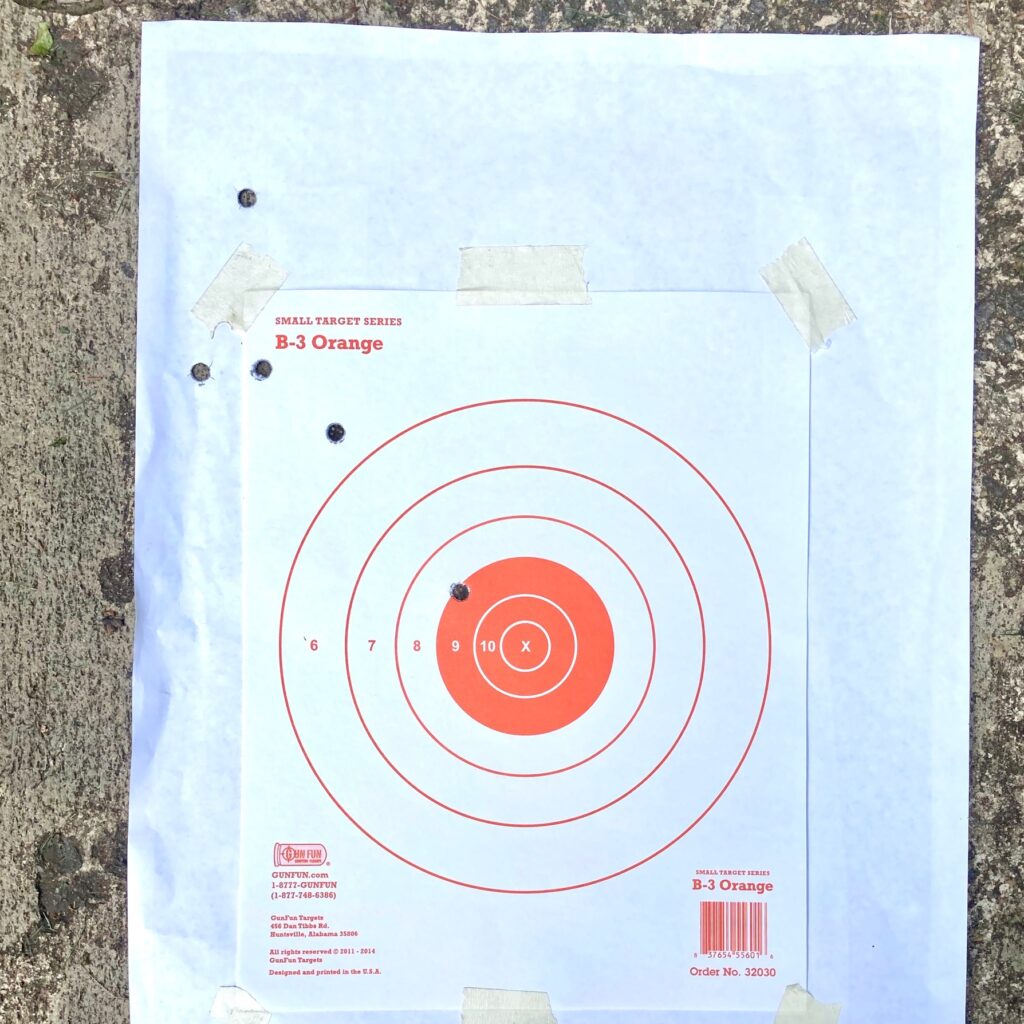 Technically this group is better, but I still only captured five rounds, with no impact/no idea about the sixth one. This is not the first time the premier .38 load from Federal has given really head-scratching results. In my initial review of the King Cobra I recorded some groups with this loading and noted that the published result was definitely a "best of" group. There may be more to follow on this, ammunition permitting, but as of now I would not be comfortable with this load beyond 15 yards.
But that's all slightly off-topic. Back to the subject at hand: the 2020 Colt Python! To put it briefly I am more than impressed with the accuracy of the Python. It is plenty practically accurate and undoubtedly quite a bit more inherently accurate.
Carrying the 2020 Colt Python
Another thing we promise in our revolver testing standard operating procedure is some amount of carry. I did carry the new Python, on and off for about two weeks. The results, honestly, were pretty predictable: carrying the Python is a whole lot like carrying any other full-sized revolver. It's big and heavy and takes a solid gun belt and a good holster to hold it up.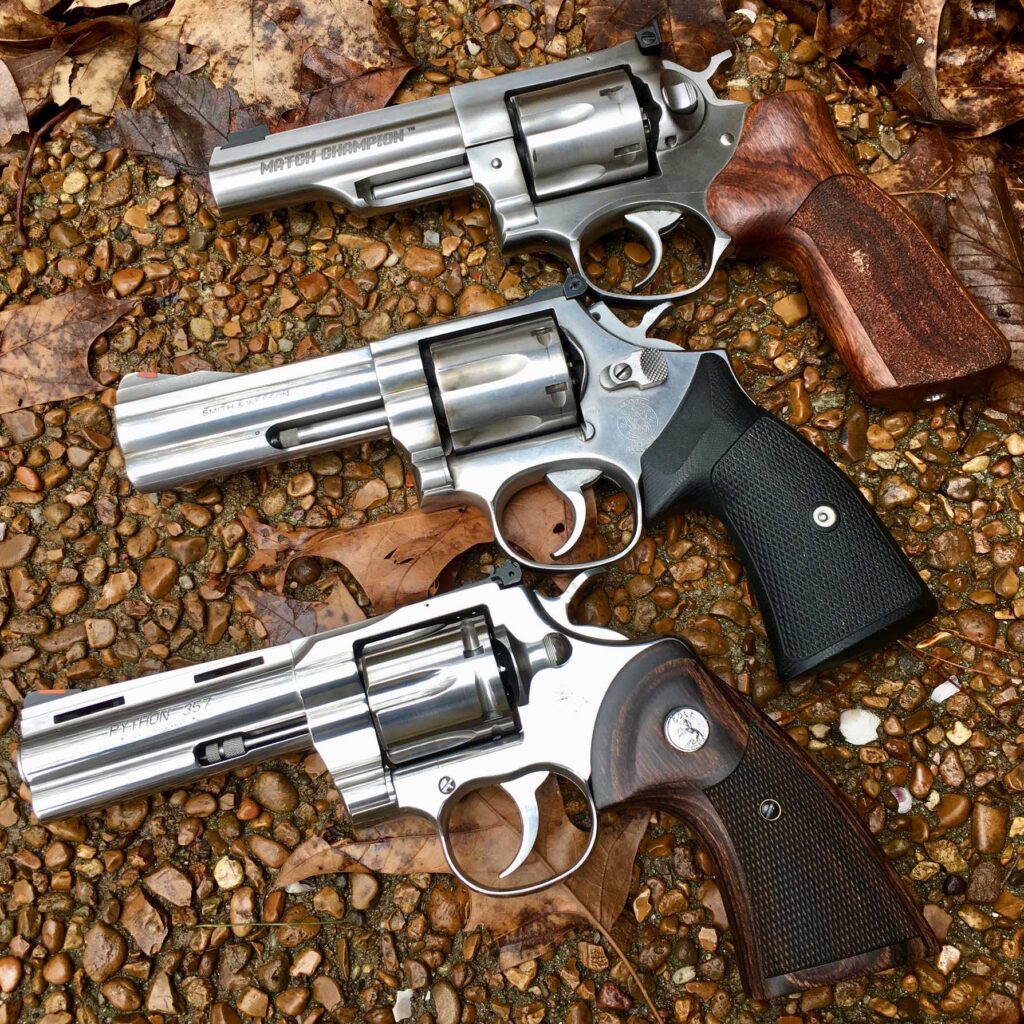 Fortunately – unlike many new revolver models – a plethora of aftermarket accessories exists for the Python. This is because it is compatible with many S&W L-Frame accessories. This makes it really simple to outfit.
The Bottom Line
I have always heard the rumor that, "if they made a Python today like they did then it would cost $5,000 to 6,000." Now, I don't know if that's true or not. The bottom line is I can't tell you how the 2020 Colt Python stacks up to the old, hand-fitted Pythons. What I can tell you is this is one fine revolver. I think Colt's has done a tremendous job with this gun. Is it a faithful reproduction? I don't know, and if you've been reading this blog for any length of time you'll probably know I don't really care. But the thing works and it shoots phenomenally well. And for that matter it looks really good. I think the 2020 Colt Python is absolutely worth its asking price, and for a guy who doesn't know better, have a hard time seeing how the old model could be any better than this one.