I don't think I've made it any secret, but I am no fan of the .22 Long Rifle.  It's just generally not my cup of tea. Nothing against you if it's yours, but it has never really blown my skirt up. Though the Ruger Wrangler has found a place in my collection, I remain sort of generally unimpressed with the .22 Long Rifle.
Sometimes getting your hands on a thing can alter your opinion of it, though. When I pulled this gun out there were a lot of echoes of the Taurus 856 I reviewed about a year ago – a lot of the same features, in fact. I really ended up liking the Taurus 856 and honestly wish I'd held on to it. With that in mind I was completely prepared to set my bias aside in my review of the Taurus 942.
The Taurus 942 is a newly-released, double-action revolver holding eight rounds of rimfire ammunition. The 942 comes in both blue and stainless, in .22 LR and .22 WMR, and with 2- and 3-inch barrels. Currently only 2″, 22 LR versions are listed on Taurus' website, but 3″ guns and .22 WMR versions are starting to pop up for sale online. The sample we were sent was the 2″, .22 LR, matte stainless steel version.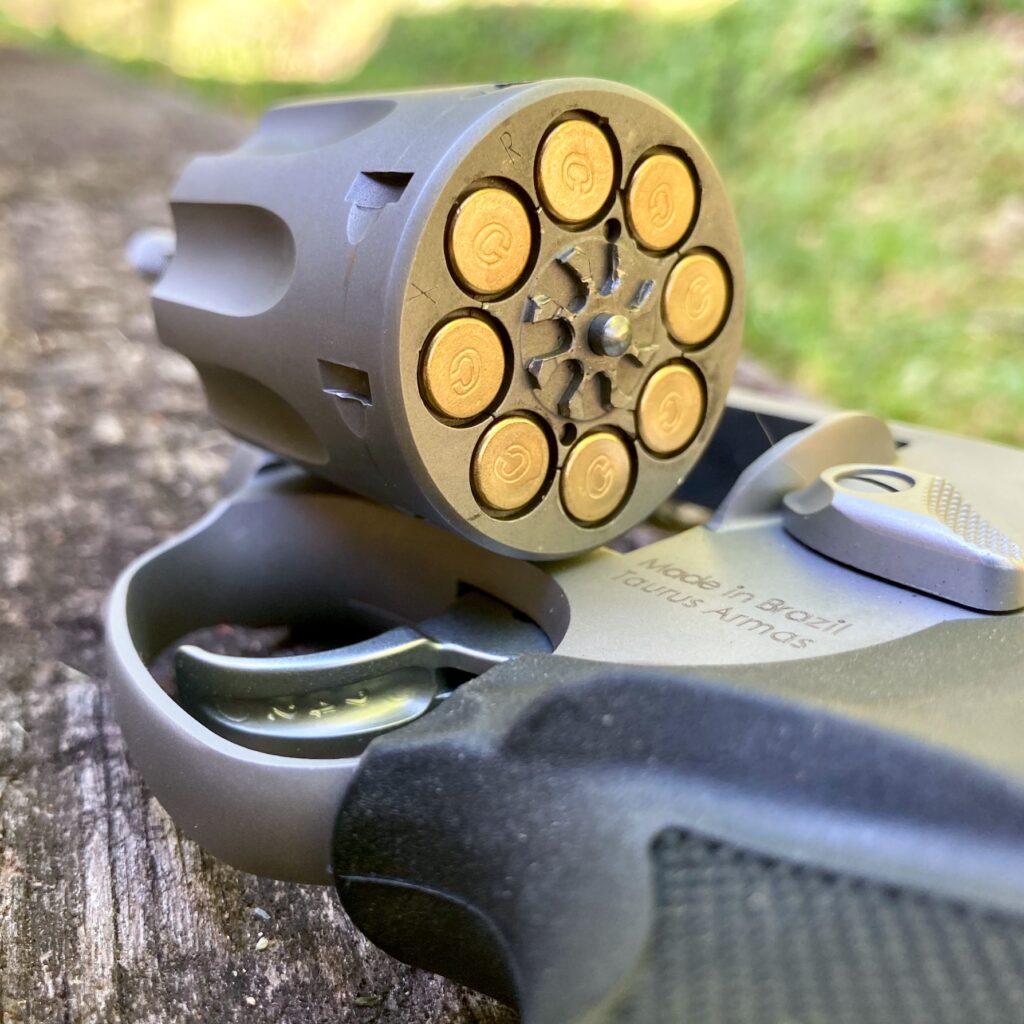 My initial impressions weren't bad. Fit and finish were about what I expected: nothing to write home about, but also perfectly functional. Additionally, the Taurus 942 has a few features that best some other, much more expensive revolvers. One of which is the ejector rod.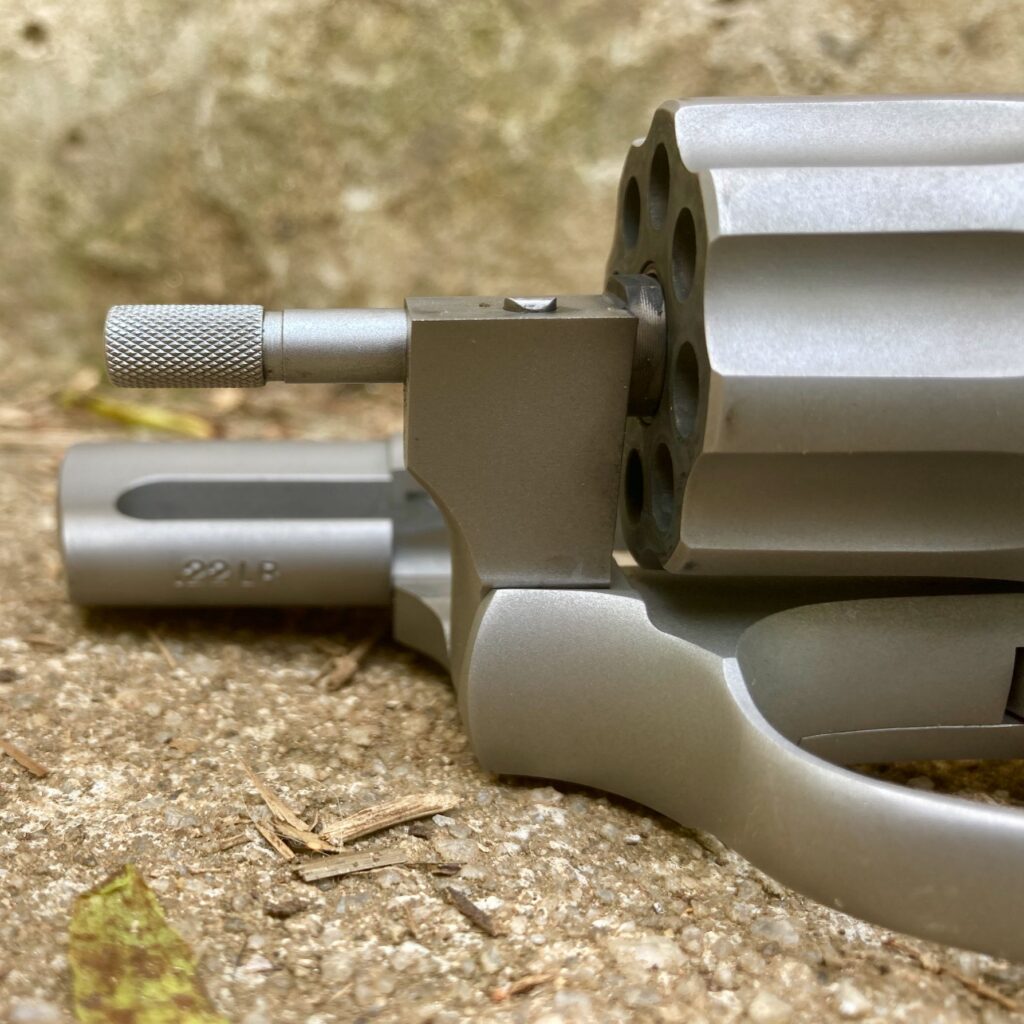 The Taurus 942's ejector rod has features I would like to see in all revolver ejector rods. It features a very nice, knurled portion. I don't think the knurling is all that important – it's really only used to tighten or loose the rod. On the other hand, it does look very nice. Much more importantly is the rounded tip. The tip is both wide and rounded, preventing the mildly perforated palm common with other, often much more expensive revolvers. Honestly, Taurus has nailed this feature.
Though it probably doesn't matter much in practice, I had one of the very few brass-under-the-star malfunctions I have ever had with the Taurus 942. This was completely my fault as I didn't get the gun vertical before depressing the ejector rod…and I was shooting .22 Short ammo. Still, this malfunction is uncommon enough that I was interested to see it.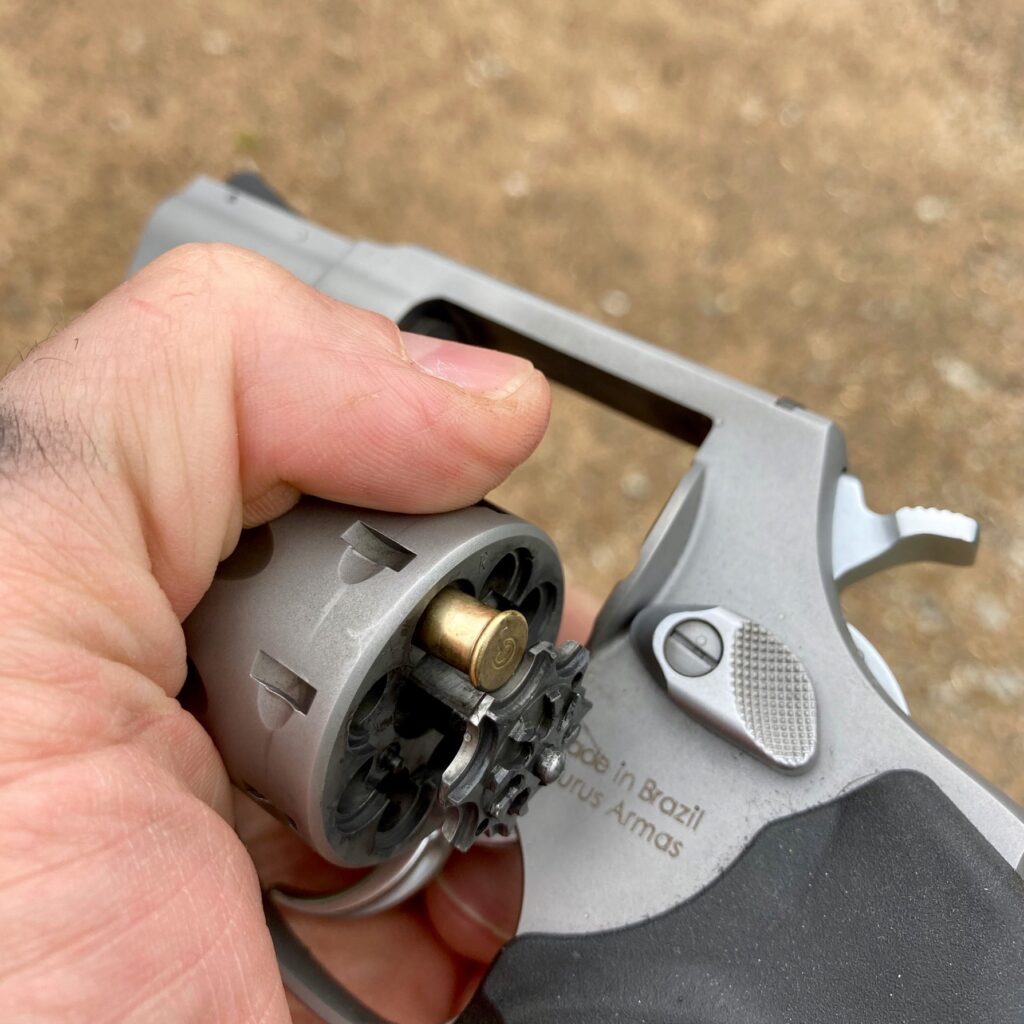 Sights
At this point I am usually settling in to write about how I don't like the tradition fixed front/rear trench. But not this time – the sights on the Taurus 942 are completely unique. The front sight on the Taurus 942 really isn't any surprise. It's a serrated black blade, pinned to the barrel. The serrations are nice and sharp and the sight is a nice ramp. Nothing to see here. The rear sight is something else, though.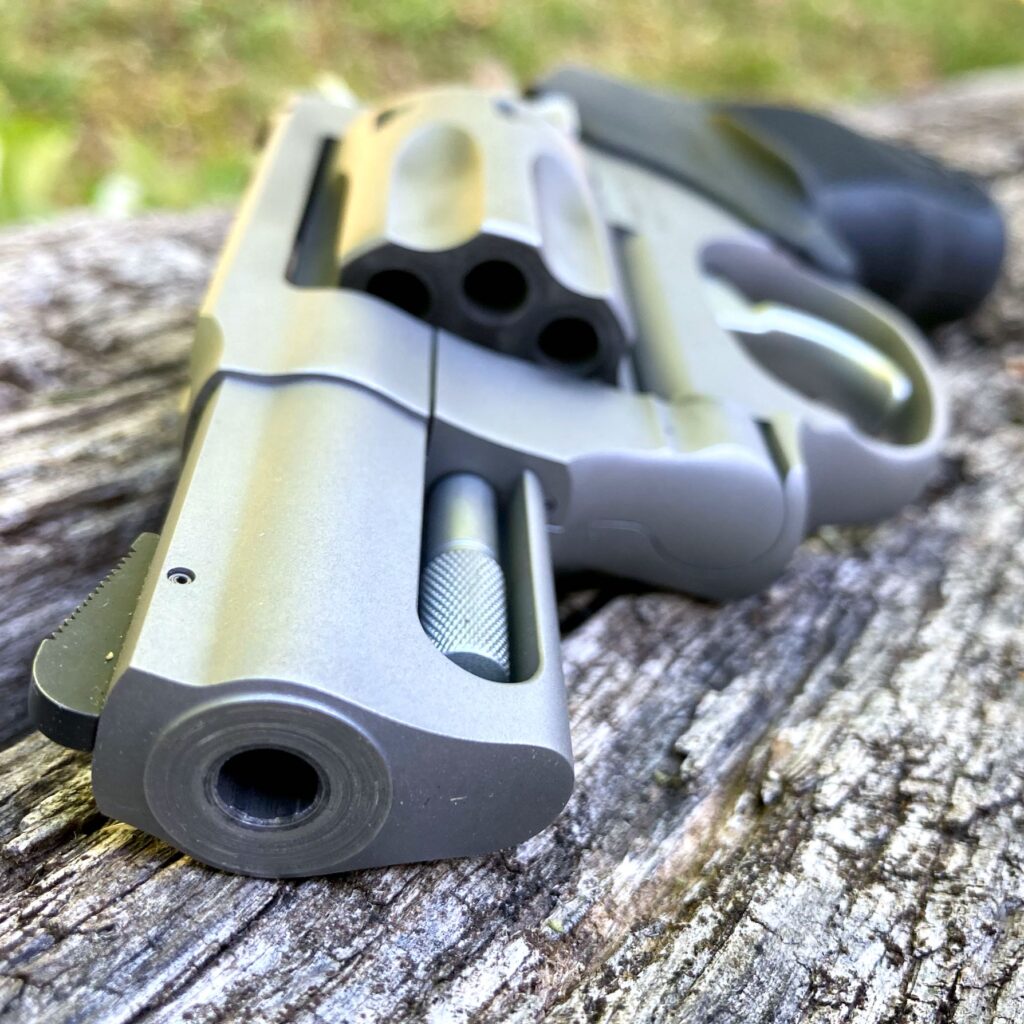 Rather than a simple trench, Taurus actually gave this revolver a windage-adjustable rear sight! A horizontal groove is milled into the top strap that contains a rear sight blade. Just below it is an adjustment screw permitting left and right movement of the rear sight blade. This is a pretty nifty system, and I was actually very thankful for the ability to center up impacts quickly and easily. I don't think it is perfectly executed but I very much appreciate the concept.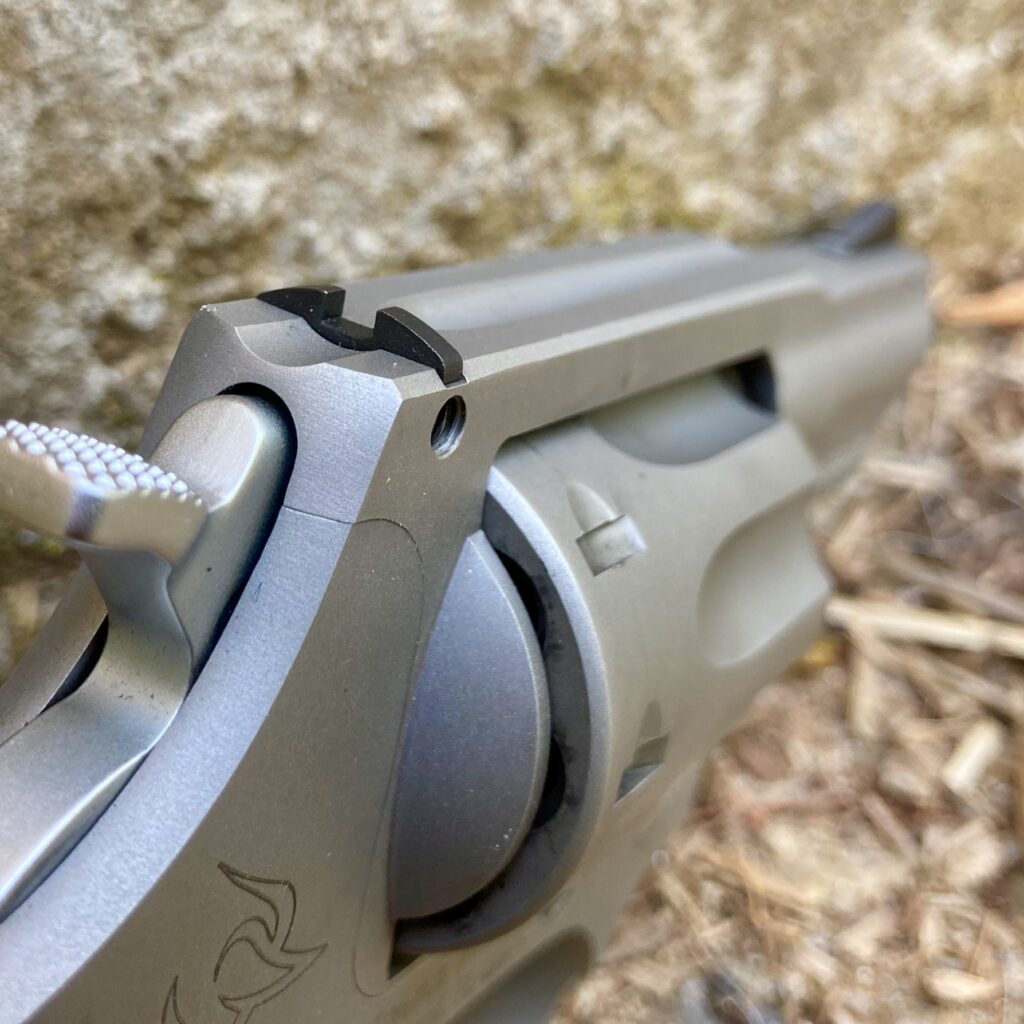 Aside from being adjustable, these sights are also, in my opinion, more visible. They sit just a bit higher than the standard gutter-style sight. I honestly wish more revolver manufacturers would take a cue from Taurus and be willing to try new things.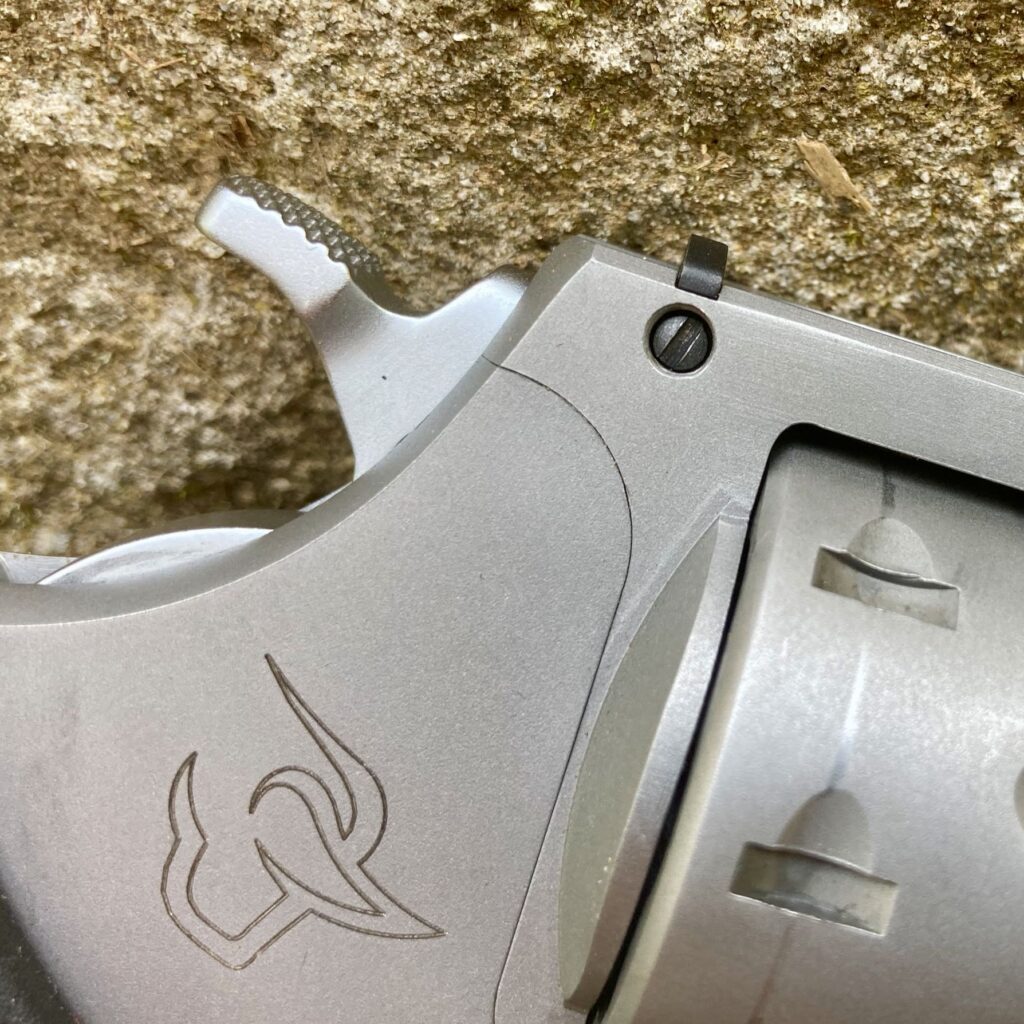 The one minor problem I had was a tendency of the screw to drift. During one shooting session the blade could move enough to alter impact by several inches. Were this my revolver I would probably attempt to get some light thread locker onto the screw. This certainly is not the only revolver I've reviewed requiring some post-purchase Loctite application.
Trigger
The double action trigger is fairly heavy. There's not really any getting around it, and that's one thing I don't like about rimfires – it takes some force to reliably ignite them. This trigger comes in at an average of 11.625 pounds. That's enough to feel fairly heavy but it's far from the worst DA revolver trigger I've experienced. Unfortunately, the trigger doesn't generate quite enough force to render the gun reliable; I'll expound upon this more later.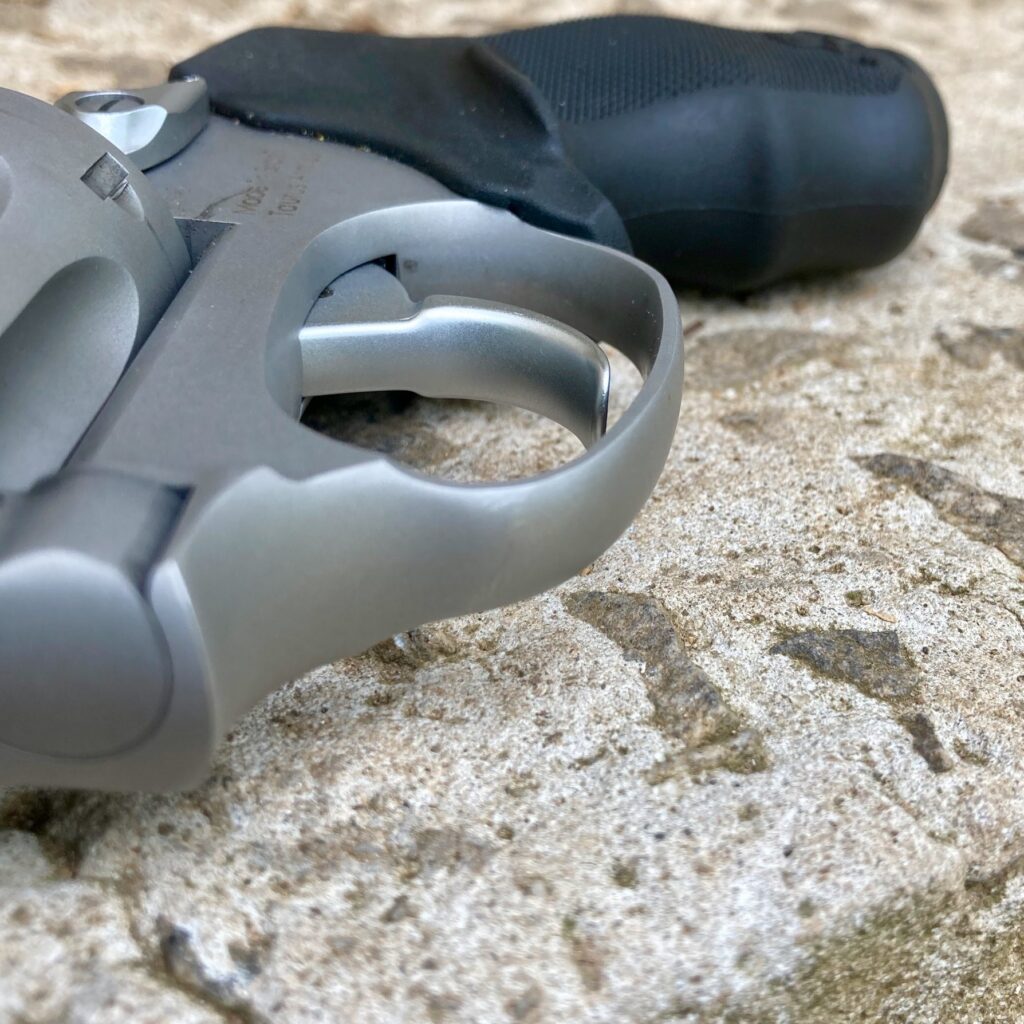 The trigger itself is nearly ideal in size and shape, though. An ongoing complaint I have with the otherwise near-perfect Colt's revolvers is the trigger design. The Taurus' trigger is of an appropriate width. The edges are nicely rounded, and the face of the trigger is polished very smooth. Along with the sights and the ejector rod, this is another greatly appreciated feature of the Taurus 942.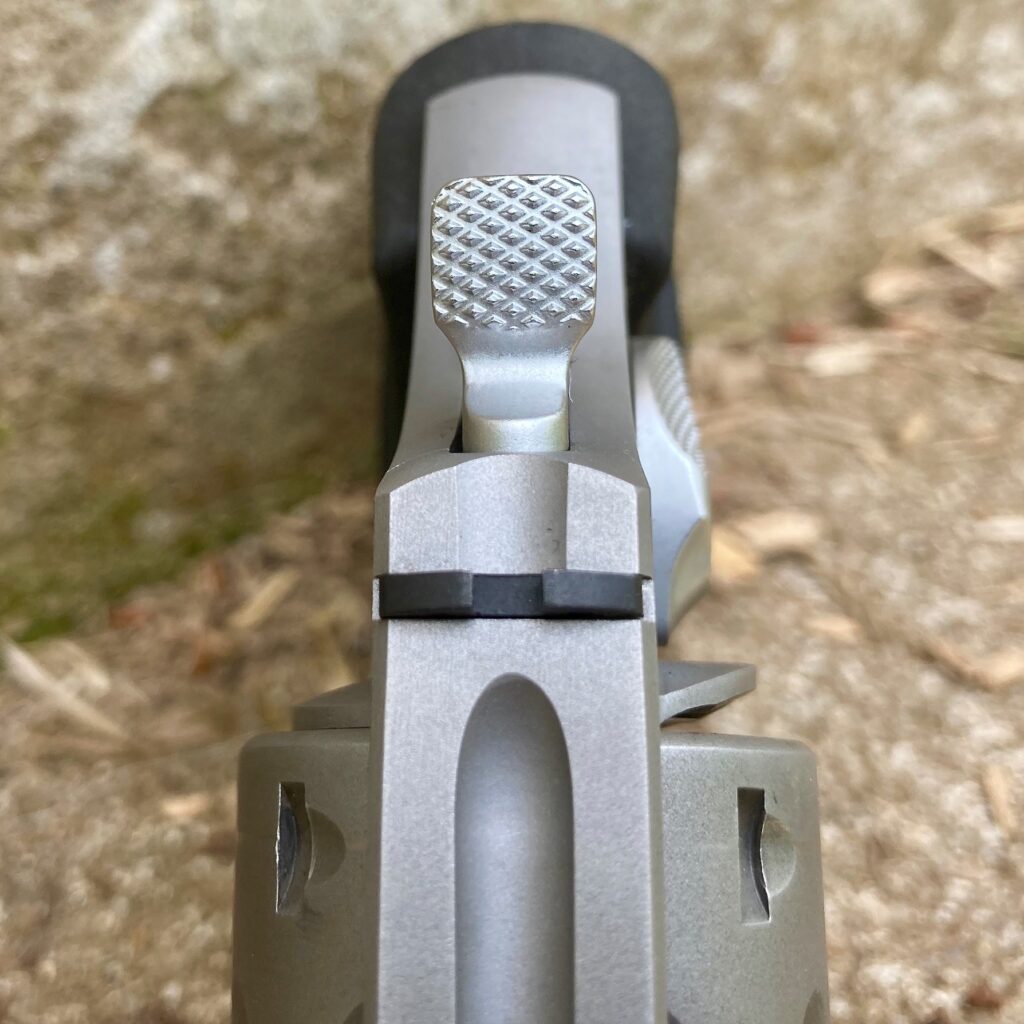 The Taurus' single action trigger was actually quite impressive at almost exactly 4 pounds and very crisp. Though I probably wouldn't use this gun in single-action, the hammer is well-designed, too.
Shooting the Taurus 942: REliability and Accuracy
This is my big beef: I'd have a very hard time calling this gun reliable. Now, like many .22s this one was ammunition sensitive. It was more reliable with some .22 ammunition, and less reliable with others. Out of all the loads I fired – from Aguilla, CCI/Speer, Federal, Remington, and Winchester – only one single load was 100% reliable. That was the CCI Stinger which isn't terribly surprising, though I only had enough ammo on hand to fire 32 rounds of it – hardly a comprehensive test.
The CCI Velocitor, Remington Viper, and Winchester Varmint HE were in the second tier of ammunition fired in the Taurus 942; I had two malfunctions with each in 56 rounds of Viper and 32 rounds of Velocitor. Out of those four unfired rounds, 50% ignited on a second strike.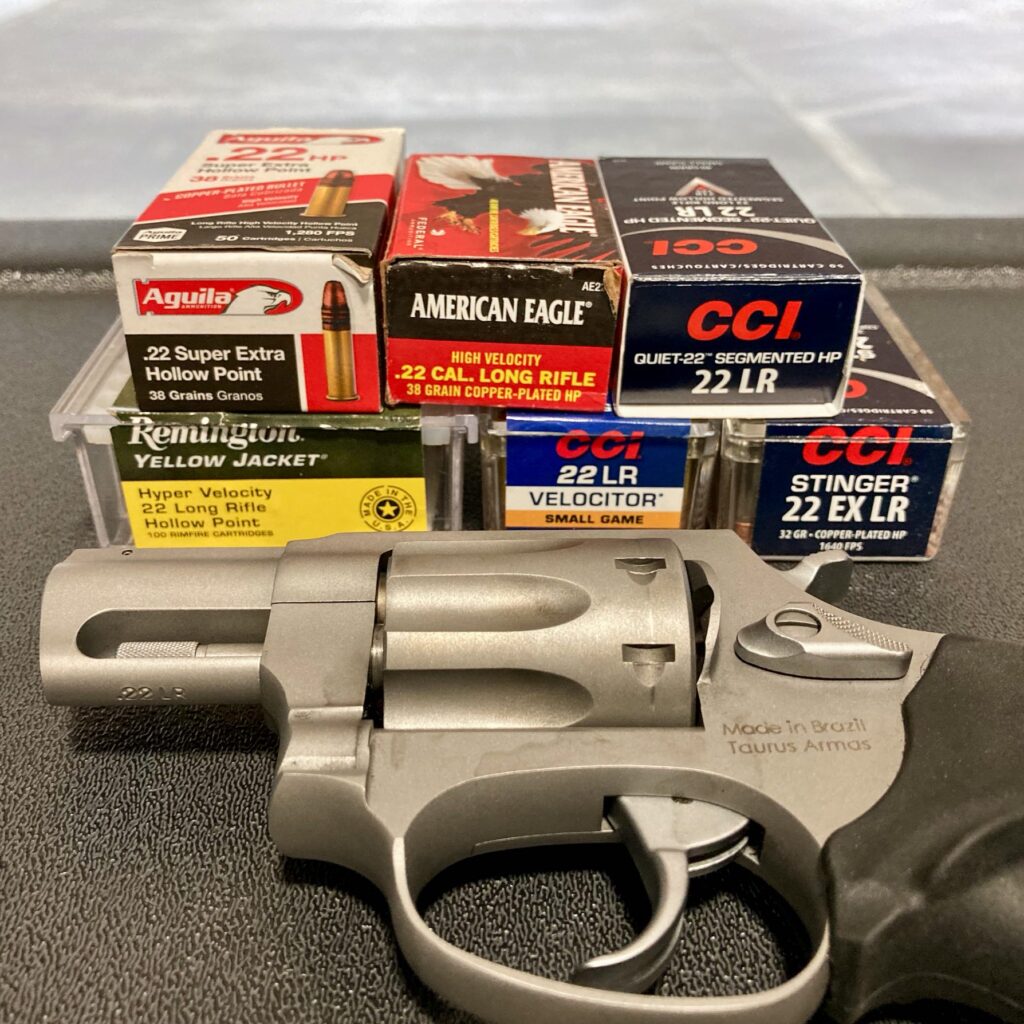 The Aguilla and Remington Golden Bullet were the worst of the bunch. For every eight rounds chambered, three or four would fire on the first time around, and one or two of the remaining cartridges would fire on a second strike. The only cartridge I would feel remotely comfortable loading up for any serious purpose would be the CCI Stinger.
Overall, out of over 350 rounds fired, I experienced a reliability rate of – generously – somewhere around 70%. The rate of unreliability made shooting a bit of a headache, and somewhat limited the scope of this review.
Accuracy with the 942 wasn't terrible. I fired several groups at five yards, shown below for comparison. This isn't a statement on the inherent accuracy of the gun or the ammunition – just a demonstration that a decent group at a realistic range is possible.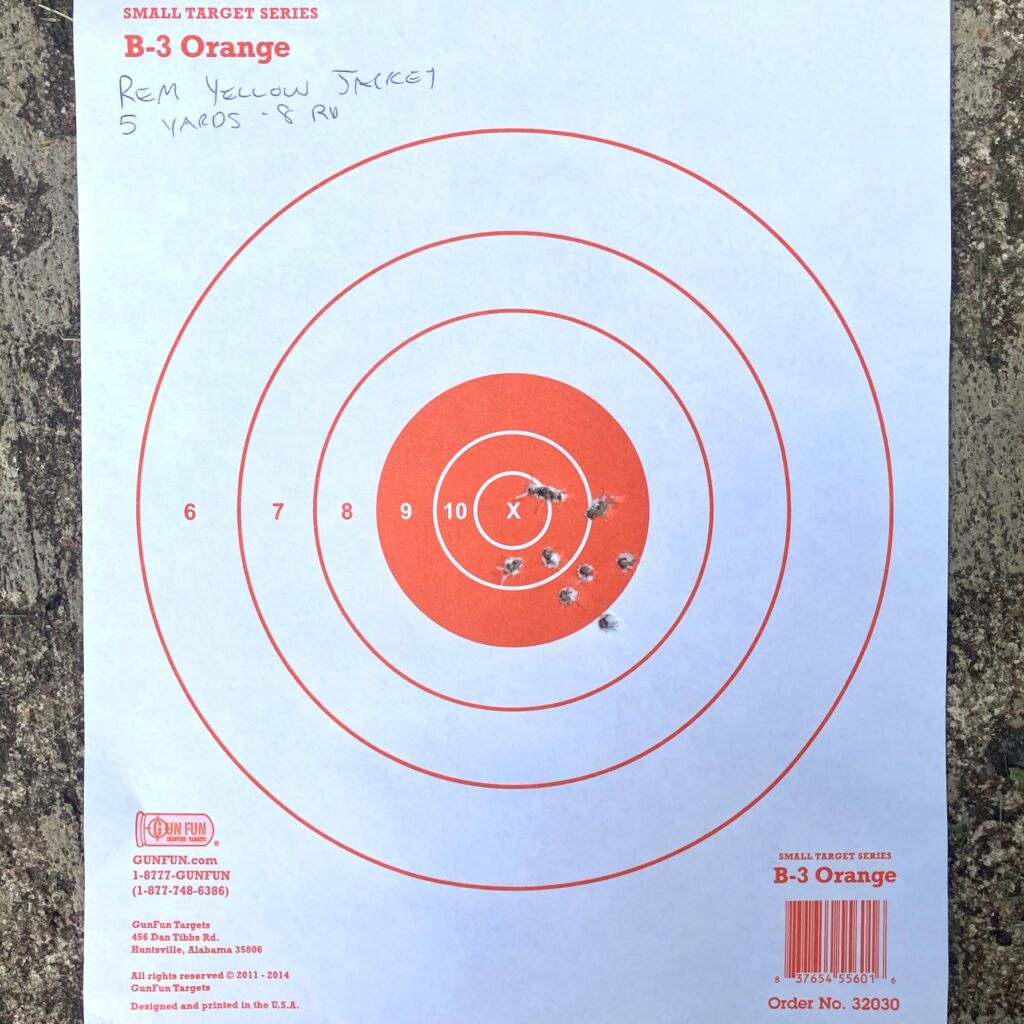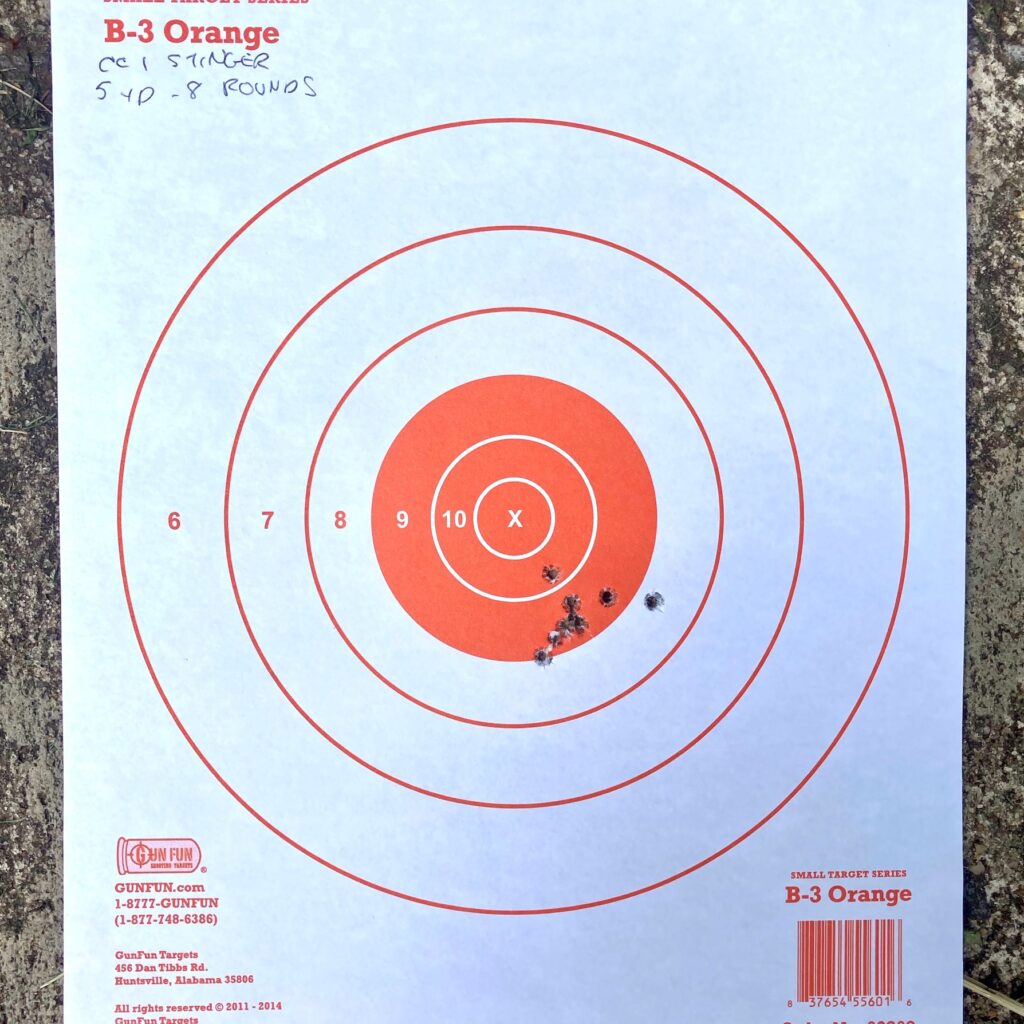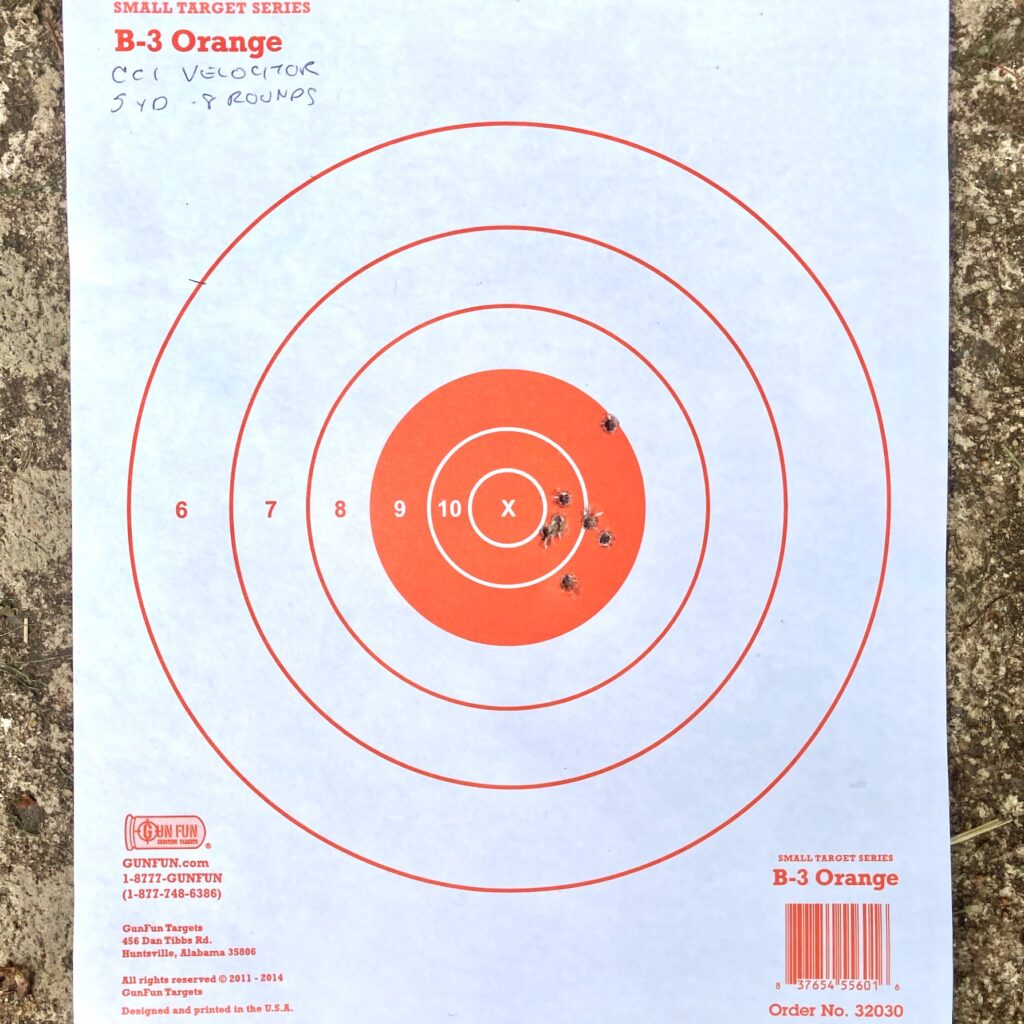 There is a reason I fired these groups at five yards; they tended to open up pretty dramatically beyond that distance. I can't swear to why, but I will call your attention to the forcing cone.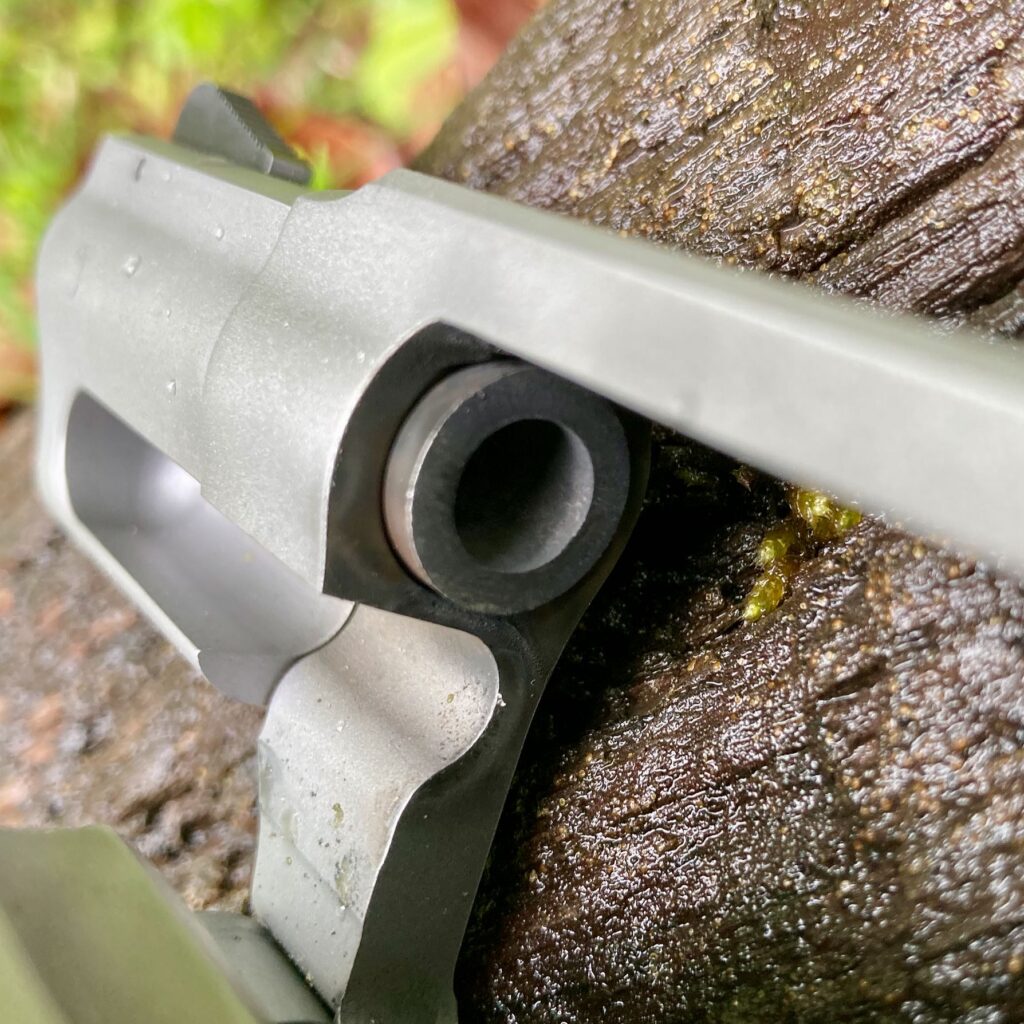 It is very large. How large? The photo below should answer that question better than words can. The forcing cone is extremely generous, perhaps to make up for a wide tolerance variation in cylinder timing/lockup. Again, I can't swear that this impacts accuracy, but it certainly can't help anything.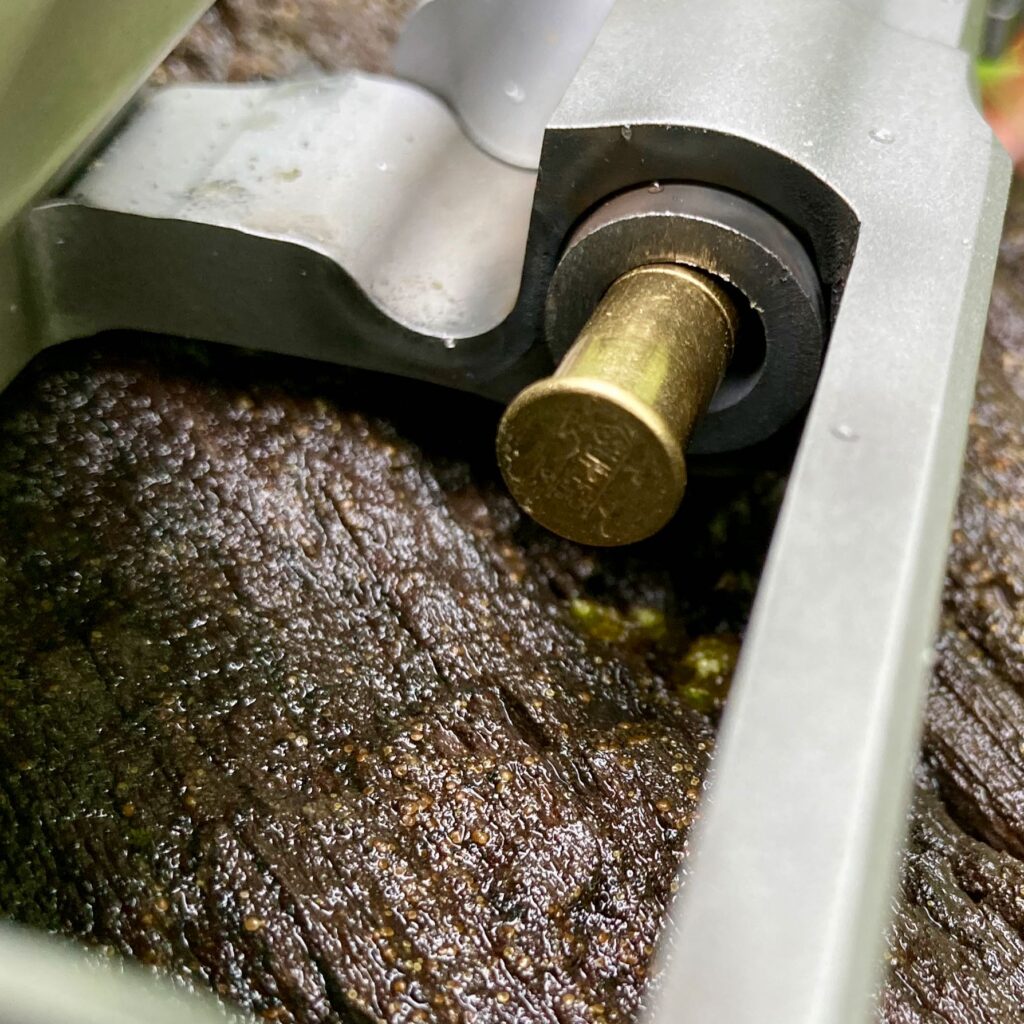 A Comparison: Just for Fun
The 942 seems designed as a self-defense revolver. Just for the fun of it I decided to compare it to another self-defense handgun of about the same size and costing in the neighborhood of the same money: the Bersa Thunder. Keep in mind this is just an informal comparison, just for the fun of it. If I had $300 and needed a gun RIGHT NOW, which would it be?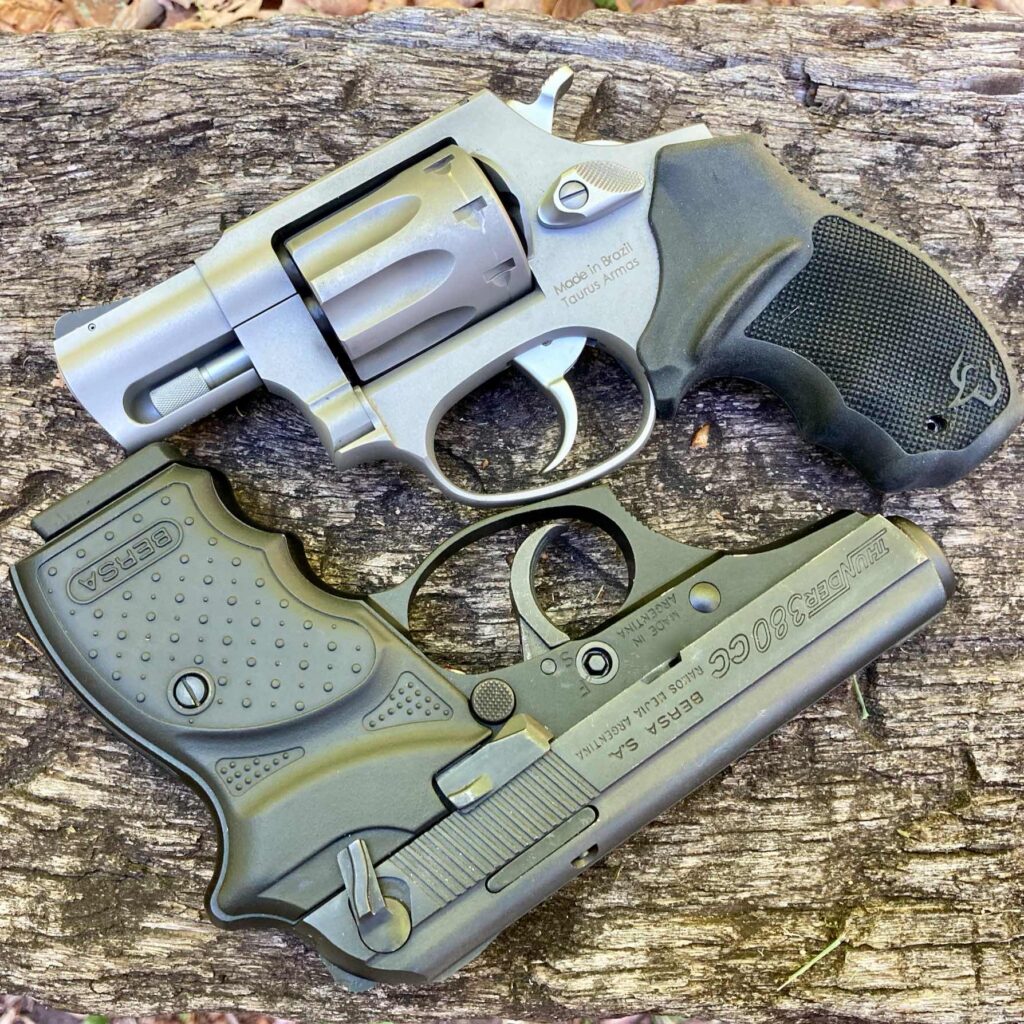 The size of the two is real close. Both are 4.6″ in height, with the Taurus being just a tad longer at 6.6″ versus a clean six inches. Obviously the Bersa is quite a bit slimmer, as well. The capacity edge goes to the Bersa at 8+1, as does the caliber edge: .22 LR just doesn't hold up against .380 ACP. Which brings up the topic of recoil. The small .380s are sort of infamous for their punishing recoil. In fact, I owned an early Ruger LCP that I let happily sold, but the Thunder's 16-ounce weight (and larger grip) makes recoil somewhat more manageable. Your mileage may vary. The Taurus is also a much heavier gun, at 23 ounces unloaded.
As a counterpoint to the Bersa's recoil is the Taurus' heavy, 12-pound trigger. It's tough to shoot quickly. As a counter-counterpoint is the Bersa's complicated action: a DA/SA with a decocker. Also, the version of the Bersa that I have on hand (I am housing it for a friend who moved to England) has a very thin safety/decock lever, making removal of the safety somewhat difficult. And believe it or not, the sights make the Taurus' sights look pronounced. The point? Neither of these guns are ideal for a defensive role, but I was compelled to mess around with them anyhow.
Accuracy was probably about the same with both. The group below was fired with the Bersa Thunder at 5 yards. That's about as good as I could do with the Taurus, and honestly quite acceptable.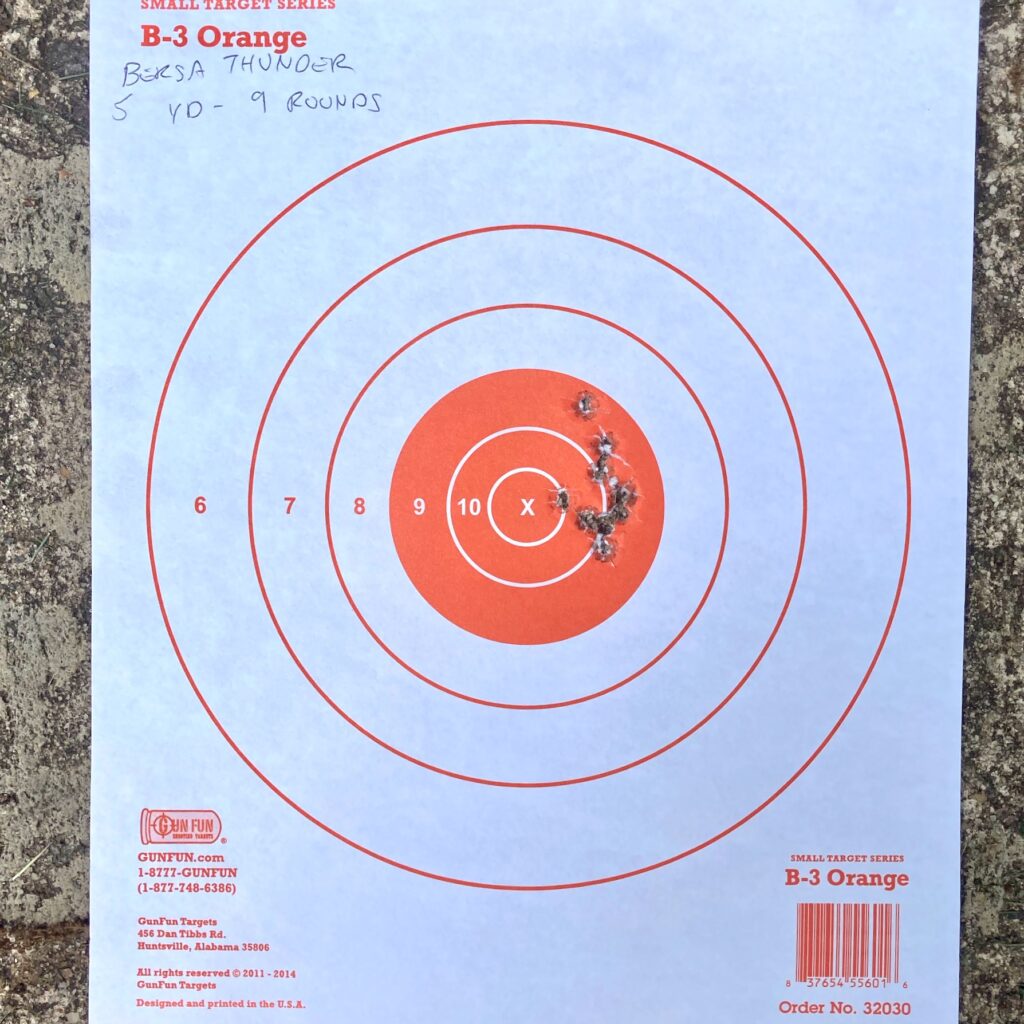 I decided to mess around a little more. I ran two targets out to three yards. I set a timer with a random delay, and began at a position of retention. On the beep I presented and emptied each gun as quickly as I could. The results?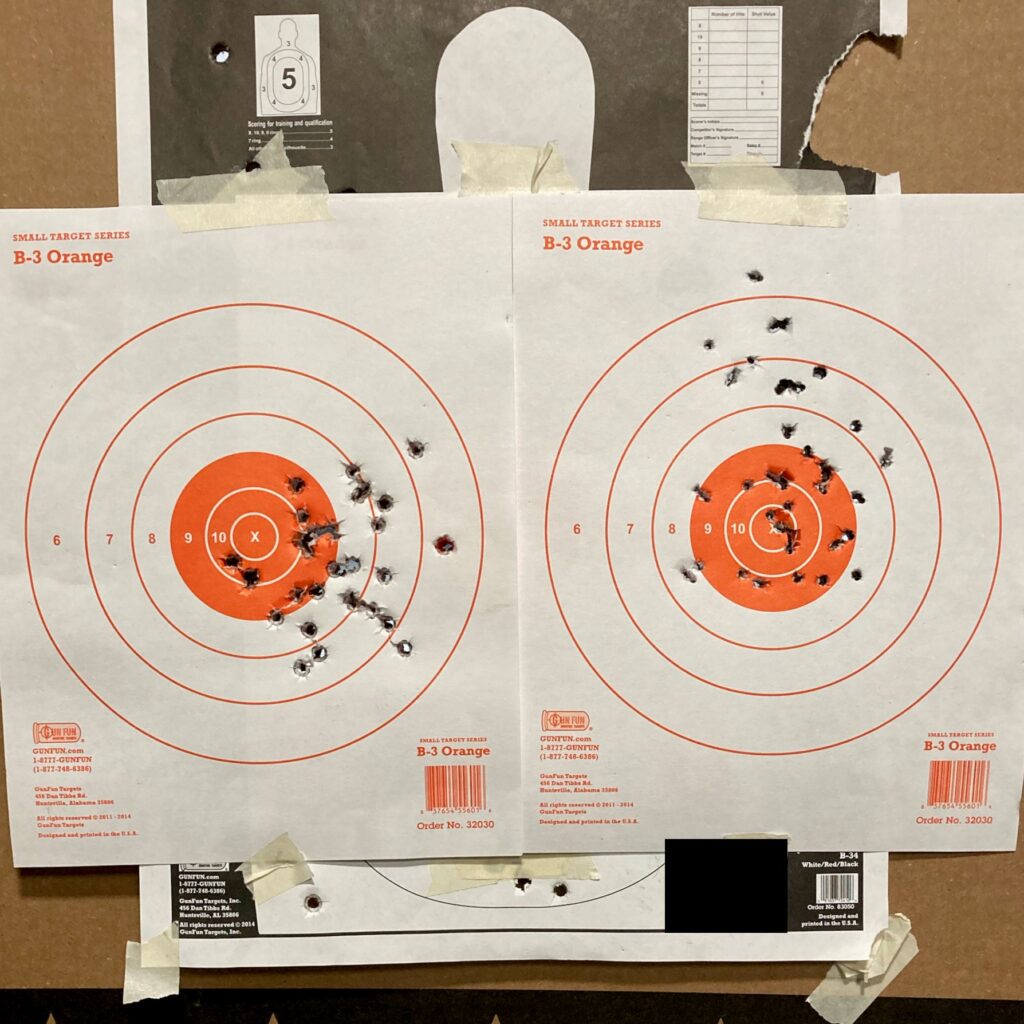 The results on paper were not terrible. For some reason I had a tendency to shoot to the right with the Bersa. With the Taurus, the faster I tried to go, the higher my shots strayed. What about the time? I ran each gun three times. You will noticed that times dropped with each repetition, as I got used to the guns. I definitely hit a wall with the Taurus, though. The times were:
| | |
| --- | --- |
| Bersa | Taurus |
| 4.41 sec | 4.07 sec, 1 light strike |
| 3.26 sec | 3.43 sec |
| 2.91 sec, 1 malfunction | 3.26 sec |
| 2.87 sec | 3.16 sec, 2  light strikes |
Times with the Thunder started out a little slower but picked up and pretty easily bested the DA revolver. One other caveat to that: I was firing 9 rounds from the Bersa rather than eight. Unfortunately, I reached a hard limit with the Taurus 942 in pulling the trigger as fast as I could physically manage.
Let's also talk briefly about reliability of the Bersa, as I've thoroughly explored the Taurus' reliability. In a word, it malfunctions, and frequently. Fortunately, in all the rounds I've put through it (not many) every malfunction has occurred on the last round in the magazine. Most people would rule it out entirely because of that. Let's think about it for a second, though. The Taurus is an eight-round gun that I seriously doubt anyone is planning to reload in a fight. I would treat the Bersa similarly: it holds nine total. If malfunctions consistently occur only on the last round, it, too is effectively an 8-round gun.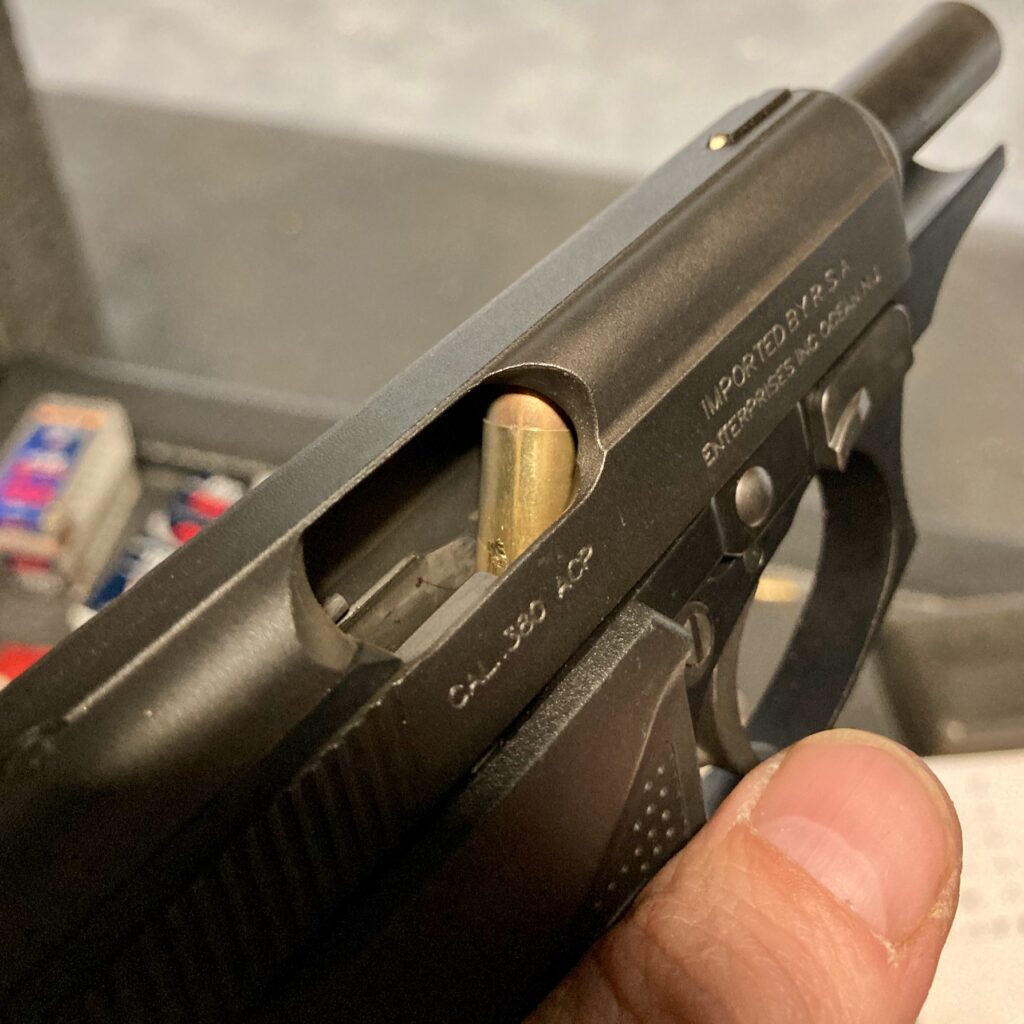 I honestly don't think either of these are outstanding carry options, and I'd probably try to discourage anyone from carrying either of these. The Taurus is big, heavy, hard to shoot, and extremely unreliable for what it is. If I had $300 bucks and these were my options I'd have to go with the Bersa. If the Taurus 856 were in the running this would be a completely different conversation, though.
The Bottom Line
If you want a .22 just to have a .22, I think there are better options out there for less money, like the Ruger Wrangler. If you want a defensive handgun, I'd consider the Taurus 856 in .38 Special. If you need a .22 revolver because of recoil sensitivity I'd stretch the budget a bit and go for a Ruger LCR. Alternatively, I'd maybe consider the Taurus 942 in .22 WMR, as the Magnum cartridges tend to be a bit more reliable (and I would certainly be open to reviewing the Magnum-chambered 942).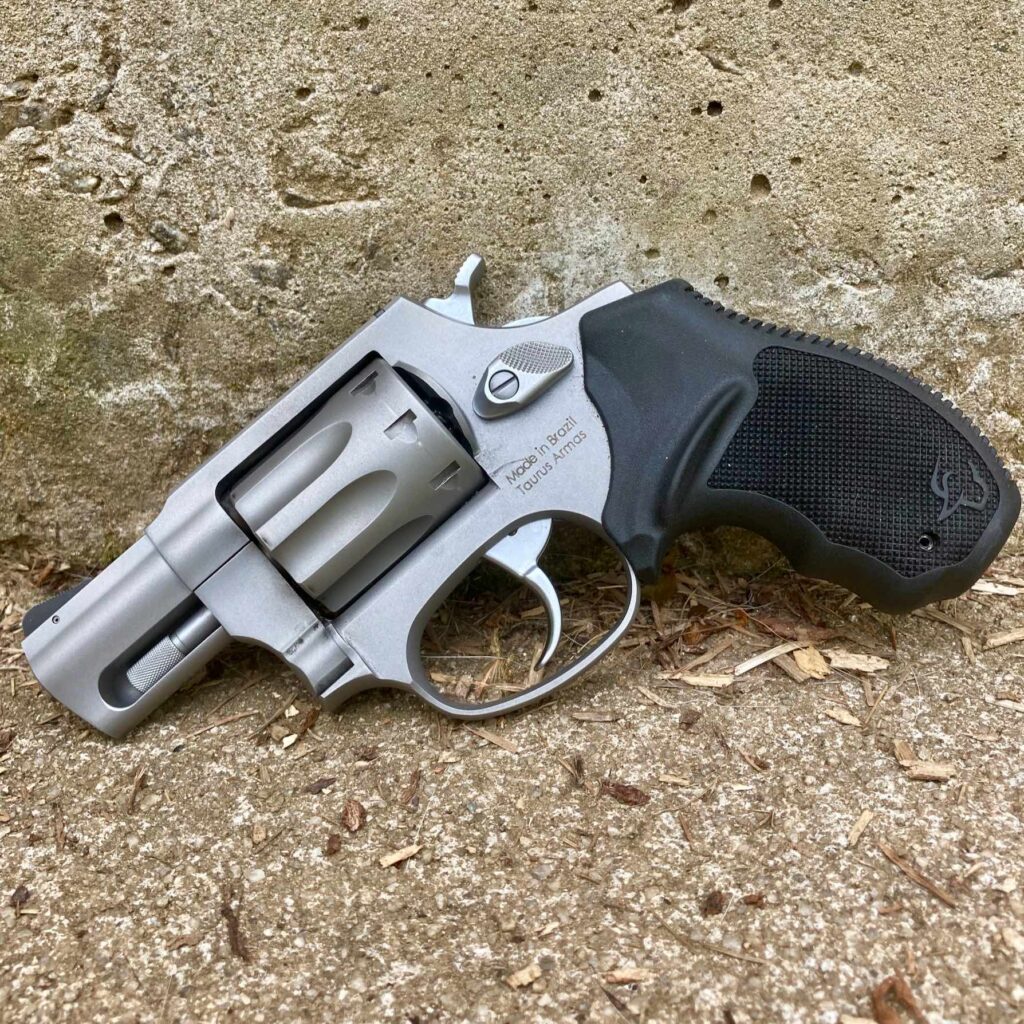 It doesn't please me at all to write an unflattering review. I expected to be just as happy with this revolver as I was with the Taurus 856, but I can't give an enthusiastic review of this revolver. The value is just not there for me on this one. I'd be very hard-pressed to recommend the Taurus 942 for anyone. That said, this isn't an indictment of Taurus revolvers generally. As I've said, I really enjoyed the Taurus 856, and I am completely open to exploring other options from Taurus. This one just wasn't it, unfortunately.
The Taurus 942 comes with an MSRP of $392 (matte black) to $410 (matte stainless). As with all Taurus firearms, the 942 enjoys Taurus' lifetime warranty, so if you do experience an issue you can get it resolved, free of charge.