A valued member of the RevolverGuy team recently reported an incident in which a police officer friend misidentified a live, .38 Special wadcutter cartridge as a "blank," while the pair was looking for something else in the ammo locker. Fortunately, this mistake was immediately corrected, on the spot, by our friend, and the young SWAT officer learned a valuable lesson that might prevent a terrible tragedy, down the road.
Editor's Note: As a public service announcement, this article is a little different than the typical RevolverGuy fare, but it's an important message that applies to a broad audience, so we need to share it. It's a good warning for those new to the gun culture, but also applies to experienced shooters who are inexperienced with revolvers (which describes a lot of shooters these days, including most cops). It's no less applicable to our seasoned RevolverGuys. It's often the experienced guy who makes a careless mistake, when he forgets to slow down and do things by the numbers. In addition, we've all got people in our lives (family, friends, coworkers, fellow shooters at the range) who could benefit from the message, so please be sure to pass it along to them.  We'll get back to our regular programming next time. Thanks!
No joking matter
That "tragedy" bit is not hyperbole, either. RevolverGuy readers may recall how, in August of 2016, a 73-year old woman was killed in a citizen's academy training exercise, by a Punta Gorda, Florida, police officer who had made this exact mistake. The young officer loaded five, CCI Blazer .38 caliber wadcutter cartridges (a full cylinder's worth) into his Smith & Wesson Model 637 revolver, mistakenly thinking they were blank rounds, and shot the woman twice during a training scenario where the officer was playing a "bad guy" whose role was to attack the hapless woman.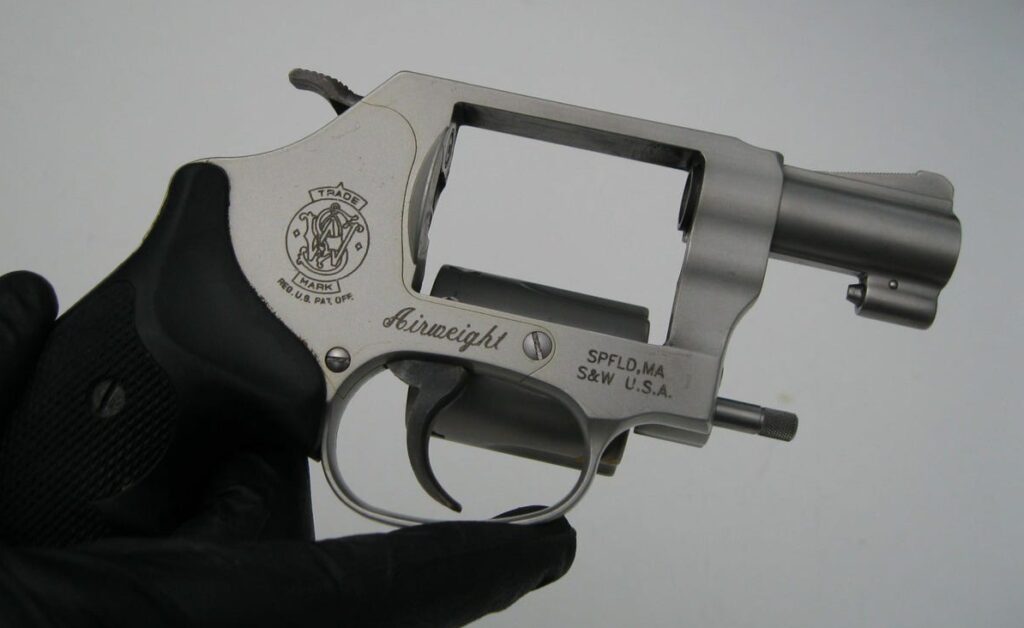 More recently, a famous (now, infamous) Hollywood actor shot two people, killing one, when he fired a prop gun on a movie set that had been negligently loaded with live ammunition, instead of the blank rounds it should have contained.
A cascade of errors
Having participated in, directed, and instructed others in scenario training myself, I can confidently say that a long list of safety precautions were violated in each of these instances, and the ammunition confusion was only a single, regrettable link in the chain of events that led to these needless deaths. These tragedies could, and should, have been prevented at so many points prior to the trigger being pulled, that it would be incomplete and irresponsible to focus solely on the ammunition error.
In the Punta Gorda case, for example, there was no reason for a blank-firing gun to be used at all. The scenario could have been effectively executed with inert simulators ("blue guns" or properly deactivated training weapons) without introducing a projectile-firing gun into the exercise, with its attendant risks. Additionally, if proper training site sterilization, access control, equipment and role-player inspections, "rules of engagement," and other vital safety protocols had been implemented, the loaded gun would have been caught in the net, early on.
Although the setting and circumstances were quite different, the same goes for the movie set shooting–it was totally preventable, at so many junctures.
A critical error
Still, perhaps the most damning of all the mistakes made in these incidents was loading live ammunition into a gun, thinking it was "only a blank." Had this error, borne of ignorance and sloppiness, been prevented, several people would still be alive today.
So, let's do what we can to interrupt this cycle, and prevent other well-meaning, but ignorant, people from mixing up wadcutters and blank ammunition.
The wadcutter
The first place to start is with an explanation of what a wadcutter is.
A wadcutter is a type of bullet that is roughly cylindrical in shape, with a sharp-cornered edge around the circumference of its face, to make a clean, full-caliber cut in the target.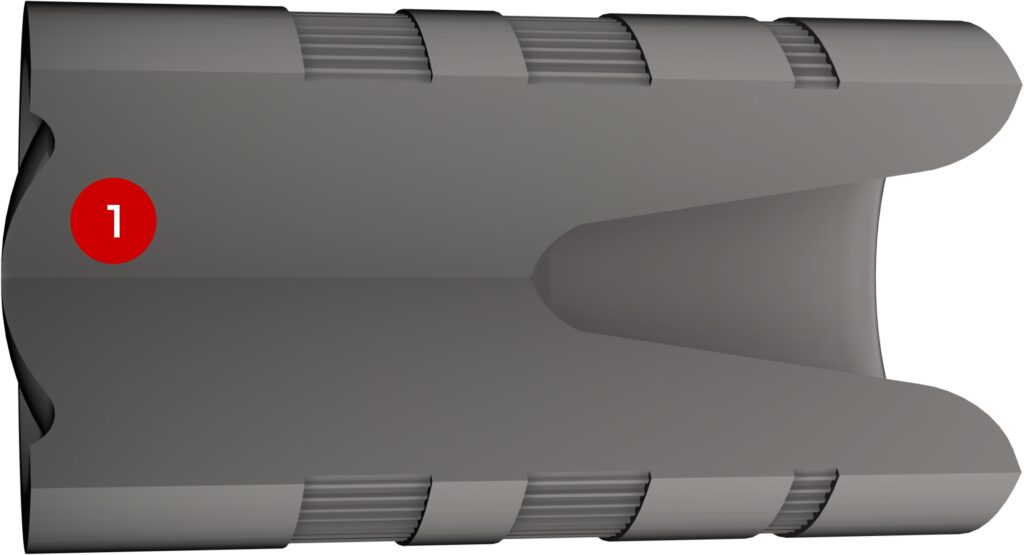 Cartridges loaded with this kind of bullet are frequently used by revolver shooters for target shooting, where the large and distinct hole left behind in the paper makes it easy to score the target.1 Bullets with more traditional, rounded profiles leave less-distinct marks in the paper, by comparison, with tears in the paper radiating out from a smaller diameter hole, but the wadcutter cores out an even chunk of paper, like a cookie cutter being pressed into dough. The full-profile, clean-edged hole left behind by a wadcutter makes it easy to tell if the bullet pierced an adjacent scoring ring that would earn it additional points, so this type of bullet is often preferred for shooting paper bullseye targets.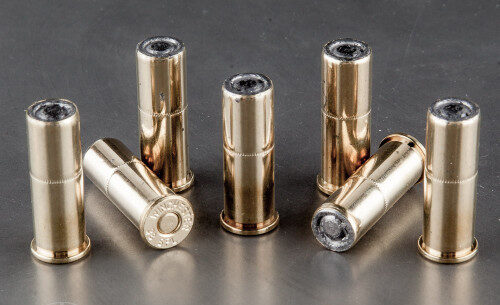 Unlike bullets with rounded profiles, which are typically loaded so that they protrude beyond the end of the case, wadcutter bullets are usually loaded flush, or nearly flush, with the case mouth. This gives the loaded wadcutter cartridges a short, stubby look that is unlike most ammunition.
Wadcutter cartridges are usually loaded to modest pressures and produce low recoil for the caliber. This is an advantage in the target shooting games where accuracy is prized, and additional recoil could jeopardize a shooter's ability to deliver a precise shot.  Although these cartridges are typically mild to shoot, they are still capable of great lethality—a wadcutter bullet can easily injure or kill, and are actually a preferred choice for defense in many circumstances. This ammunition must be treated with the same respect and caution as all other live ammunition.
Blank cartridges
In contrast to wadcutter cartridges, blank cartridges are not designed to shoot a projectile of any sort. They are not loaded with bullets, because their sole purpose is to create noise.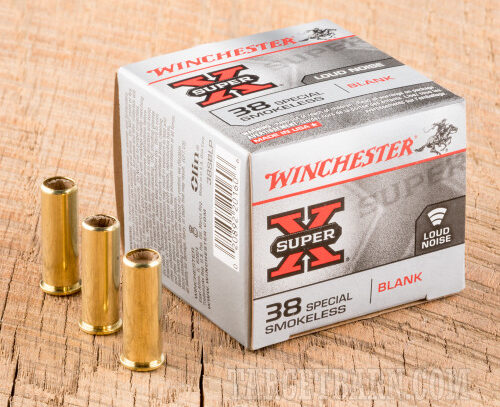 To create the noise, a blank cartridge is loaded with a small gunpowder charge, which is held in place, inside the case, by stuffing a paper or fiber wad on top of the powder (some blank cartridges are simply pinched and folded closed, at the mouth, instead, which makes them unlikely to be confused with a wadcutter). This wad is visible if you look down into the case, but does not extend beyond the mouth of the case.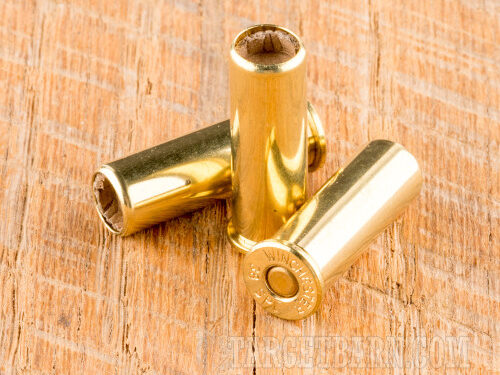 The purpose of the wad is strictly to keep the gunpowder from spilling out of the case. While it is not intended as a projectile, it still exits the gun with sufficient energy to cause injury, or possibly death, at short distances. Additionally, the high-pressure gas which is created by firing a blank round can be very dangerous in itself, so blank rounds definitely require careful handling and a strict adherence to safety protocols.
A casual resemblance
Because wadcutter and blank cartridges are typically built so that nothing (or almost nothing) extends beyond the mouth of the case, they bear a resemblance to each other at first glance. They both look like stubby cartridges, with a rolled crimp at the end to hold their contents inside the case.
Looking at the mouths of these cartridges will reveal the difference between them very quickly, however.  In the case of the wadcutter cartridge, the gray-colored, lead bullet is visible inside the case, whereas the paper or fiber wad (which is often a brown color) is visible down inside the mouth of the blank cartridge.
Too, there is a difference in the weight of the cartridges, with the heavy lead wadcutter bullet making the wadcutter cartridge much heavier than a blank cartridge.
False labels
While you might be tempted to rely on the box or packaging to determine what kind of ammunition you have, it can be dangerous to rely on this alone for identification, because an inattentive or sloppy person could inadvertently mix things up (in example, by returning some loose, unfired cartridges back to the wrong box, by mistake).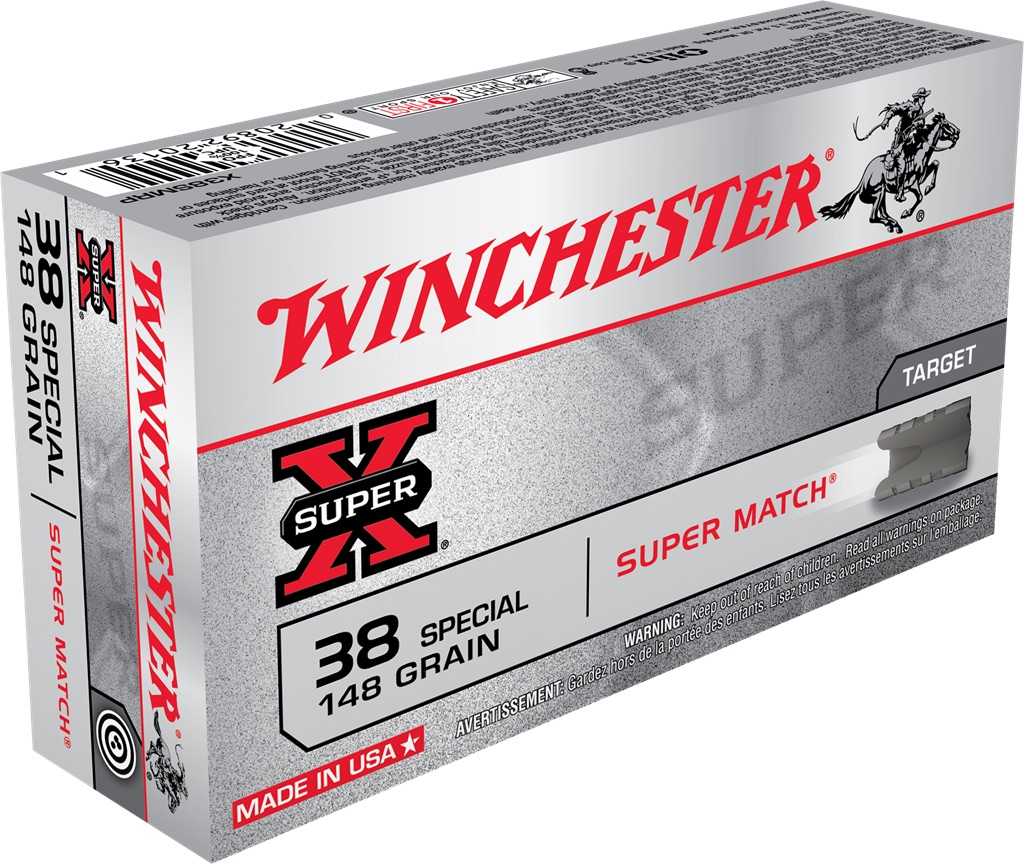 It's far better to examine the case mouth for the presence of a lead bullet or a paper/fiber wad, to determine what kind of ammunition you have. If necessary, use a probe to get down inside the case and verify what kind of material you're seeing on top—paper, or lead.
No doubts
If you've checked, though, and you still can't tell what you're dealing with, caution is recommended. There's a common saying that's especially appropriate here—"If there is a doubt, then there is no doubt."
In this context, if you're not sure what you have, then assume you have live ammunition, and treat it appropriately. Then, seek the assistance of someone who is qualified to help you.2
Other tricks
We'd be remiss if we didn't mention there are other types of live ammunition that can be easily confused for "blanks" by uneducated or inattentive people.
One example is the Federal Personal Defense Micro HST cartridge in .38 Special +P. In other calibers, the HST bullet is loaded in a traditional manner, with just the base of the bullet hidden inside the case, and the majority of it visible, outside.  However, in the .38 Special +P version of this round, Federal seats the bullet deep into the case, so that its nose barely peeks out beyond the mouth of the case.  Someone who doesn't know any better might mistake the cartridge for either a traditional wadcutter or a blank, instead of recognizing it as a dedicated self-defense cartridge.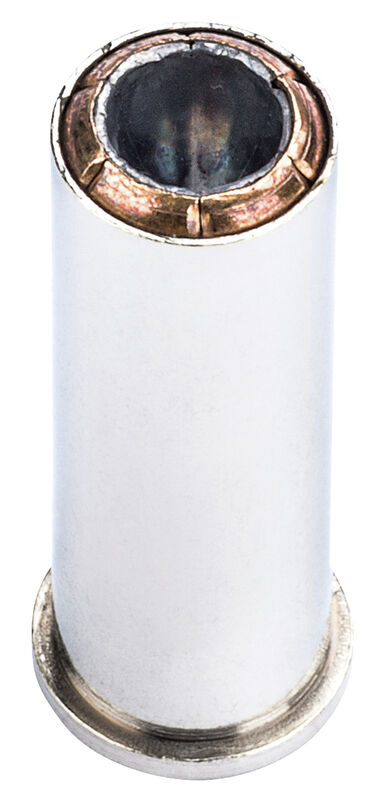 Another example of a cartridge that could be mistaken for a blank is the "shotshell" type of cartridge loaded by CCI. Instead of being loaded with a single bullet, these cartridges are loaded with a small amount of miniature shot pellets, that exit the gun in a pattern when the cartridge is fired. These pellets may be retained in the case by use of a colored plastic cap (in the case of revolver cartridges), by folding the case mouth closed (in the case of some rimfire and autopistol variants), or by crimping the case mouth over a wad (in the case of other autopistol cartridges).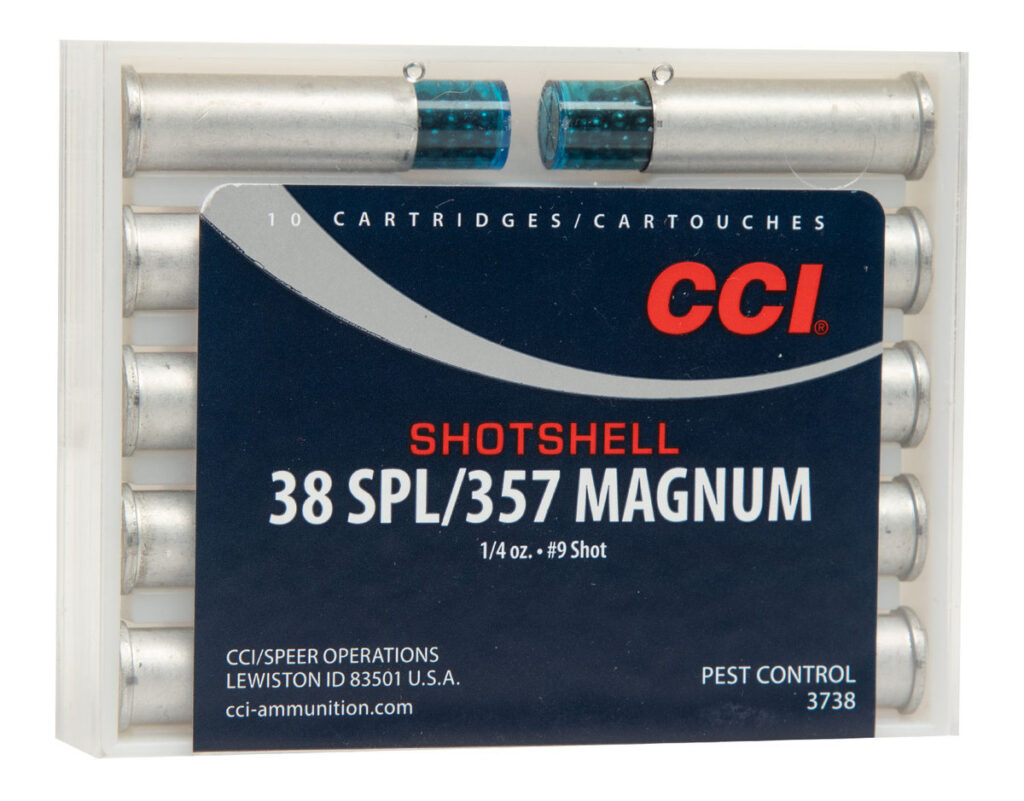 These shotshell cartridges are intended for small pest control, but can still be lethal to humans, and deserve the same respect and caution as all other live ammunition, even if their appearance is non-traditional.
No changes
Regardless of whether you're using live ammunition or verified blanks, your gun handling and safety procedures should not change a bit. The "Big Four" safety rules always apply when you're handling firearms, no matter what type of ammunition you intend to use.
To wit:
Treat all guns as if they are loaded;
Never let the muzzle cover anything you are not willing to destroy;
Keep your finger off the trigger until your sights are on target and you have made the conscious decision to shoot;
Positively identify your target.
None of these rules change when you're using blank ammunition in a firearm, and adhering to them will prevent needless tragedy, particularly in the event that live ammunition is mistakenly and unknowingly loaded into a firearm.
Be safe
So, once again, to make sure the point gets hammered home, wadcutters are not blanks and you cannot treat them as such. Furthermore, blanks are not harmless, and are capable of causing severe injury or death, so the same safety rules apply to them, as we would use for live ammunition.
Pay attention to what you're doing, and be safe out there!
*****
Featured image from:
https:/www.luckygunner.com/lounge/wadcutter-bullet/
Endnotes
While Smith & Wesson built a unique autoloader, the Model 52, to fire .38 Special wadcutter cartridges from 1961 to 1993, these cartridges are almost exclusively shot in revolvers, these days. The rimmed case and blunt nose of a wadcutter cartridge make it particularly inappropriate for use in autoloading pistols;
A fair warning: In this day and age, that may not be a police officer, as the experience in Punta Gorda showed us. Sadly, at least three different police officers misidentified the wadcutter ammunition used in that incident as "blanks," even after it was "tested" on a shooting range, so a uniform is no guarantee of firearms expertise.
That's not intended as a slight to the many professional police officers who protect our communities, it's just a simple statement of fact. In many cases, the people who become police officers have very little gun experience before they enter the profession (a situation that's become increasingly common in America, since the mid-20th Century). Additionally, police training programs are very limited in their scope and depth, due to budget and time constraints. Thus, the chances are good that a young, urban police officer may know very little about firearms and ammunition, other than what their employer taught them about their issued equipment (and this rarely includes revolvers and their ammunition, these days). This might make them a bad choice to answer your firearms questions.
There are certainly some genuine firearms experts in uniform, of course, but the uniform doesn't guarantee anything by itself, so be cautious, and seek appropriate counsel.
Who might that be? A customer service representative from the company that made your ammunition would be a good first choice, in most cases. You might also find appropriate help from a gunsmith, an experienced employee at a reputable gun store, or an experienced instructor at a shooting range. Ask lots of questions, pay attention, and be cautious.