I admit it, I'm a bullet nerd. I've always been fascinated by ballistics, and particularly terminal ballistics. I enjoy learning about how bullets do their work, and studying the minutiae of expansion, penetration, retained weight, permanent and temporary cavities, testing protocols, and all the numerical measures of bullet performance.
Some of you are probably bullet nerds too. If we were sitting together around a campfire, we'd probably keep each other entertained into the wee hours with animated discussions about sectional densities, stories of hunting bullets that brought down game, or the best carry loads for our gats.
That's all good fun, and sometimes it can even be useful (for more than starting bar fights). Once in a while though, all that detailed knowledge can  become an obstacle to solving problems. We bullet nerds sometimes have a tendency to lose the forest through the trees.
Death Rays,stopping power, and Other Lies
Consider the case of a budding RevolverGuy who contacted me recently, seeking a recommendation for a defensive load.
Our RevolverGuy was relatively new to shooting and had been shooting a steady diet of mildly-loaded, standard pressure, .38 Special ammunition in a Ruger LCR with Magnum chambers. Before finding us, our RevolverGuy had sought advice from local experts, and the bullet nerds in the community insisted that 125 grain, .357 Magnum loads were the way to go. All their graphs, charts, tables, and slide rules told them that the .357 Magnum was the King of "stopping power," so why would anybody choose something less?
Our shooter reached out to us here at RevolverGuy, after discovering the blog, and asked what we thought of that advice. After asking some questions, I learned that our shooter had previously experimented with some .38 Special +P, 125 grain loads and things didn't go so well. Our shooter's formerly tight, well-centered groups turned into shotgun patterns with a bunch of low, 6 O'Clock hits that betrayed some recoil anticipation. The shooter admitted to being uncomfortable with the recoil, and had left the majority of the box of +Ps unfired. In police work, that's called a clue.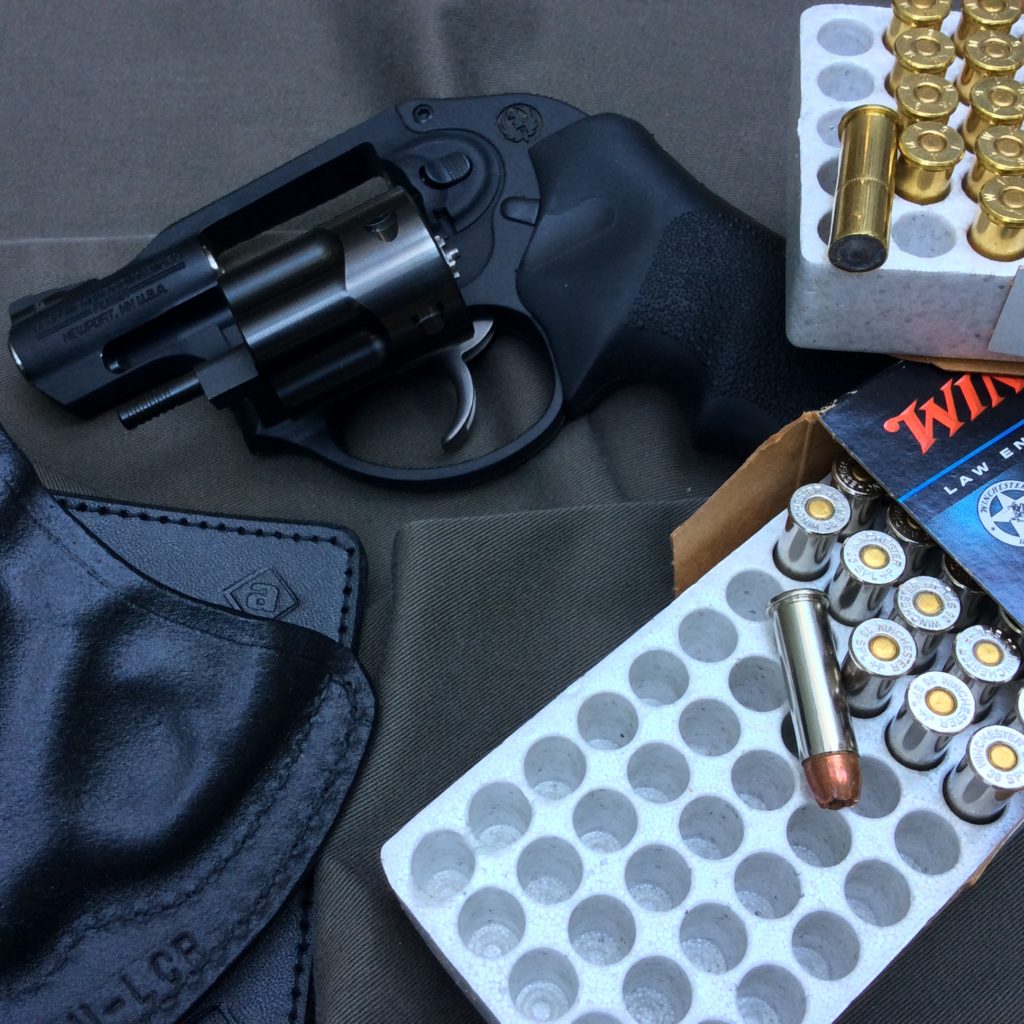 After the experience with the .38 +P loads, the thought of shooting .357 Magnum had our shooter concerned. I could almost hear the sigh of relief through the wires when I told our friend that it wasn't necessary to carry Magnum ammo in a Magnum revolver, and that I wouldn't do it myself in the Ruger LCR.  Instead, I'd look for a .38 Special load that I could control well enough to guarantee accuracy and fast follow-ups.   No Magnums for me in a lightweight snub, thank you very much.
Reality Check
The bullet nerds were trying to be helpful, but they didn't do a very good job of reading the situation and tailoring their advice for our friend. Sure, some .357 Magnum loads have developed a pretty fierce reputation as manstoppers over the years, but in the quest to choose the best numbers from a table or spreadsheet, the view of the big picture was lost.
Our RevolverGuy didn't need the biggest and the baddest bullet on the block. The .357 Magnum earned its laurels when fired out of heavy, steel frame revolvers with 4 and 6 inch barrels, but when you put that much horsepower into a flyweight snub, it takes a very accomplished shooter to hang onto the reins and control it. Our friend isn't there yet, and if we had stuffed the chambers of that LCR full of Magnum ammo, I can guarantee it wouldn't have been pretty or effective.  The most powerful and capable bullet does you no good if you can't connect with it, eh?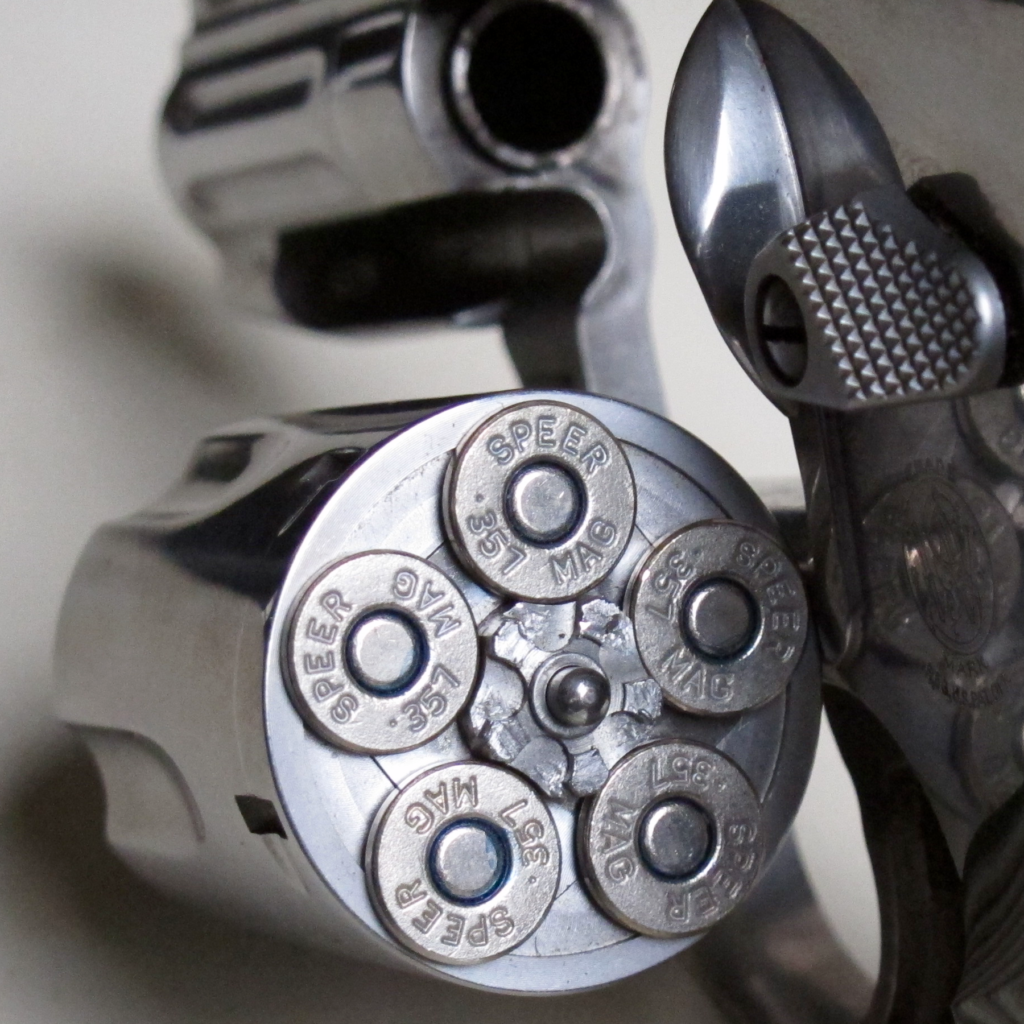 Right. So, after some discussions and some testing, we found a better solution for our friend, and that solution was about as far from the fire-breathing Magnum as you could get.  In fact, it was the polar opposite. The solution was the .38 Special, 148 grain wadcutter.
Priorities
Some of my fellow bullet nerds are thinking that I lost my marbles right about now.  In an era of hi-tech hollowpoints, why in the world would I recommend a low speed, solid lead, soup can of a target round for defense?
To explain, we start with establishing some priorities for choosing defensive ammunition:
1. Reliability. The first priority of defensive ammunition is reliability.  It must absolutely go "BANG" when we want it to, and it must not interfere with the proper function and operation of the gun;
2. Accuracy. Here, we take a broader look than just precision. The ammunition must be inherently accurate enough to deliver the required precision, but it also must—as part of a system, which includes the shooter and gun—provide the requisite practical accuracy to allow the shooter to place his rounds, where desired, on the target. This is not just a measure of raw precision, but of control.  A hyper-accurate load with vicious recoil that is too stout to manage will not allow the required practical accuracy that we need;
3. Terminal Effectiveness.  The ammunition's ability to damage the target should be maximized to ensure the greatest terminal effect, given the bullet's available energy, after penetrating through reasonably anticipated barriers;
4. Logistics.  The ammunition must be sufficiently affordable and available to merit consideration;
5. Other Considerations.  Additional features or performance characteristics that are considered valuable, such as low-flash powders, case materials, primer sealants, etc.
Evaluating the field
When we looked at the most likely jacketed hollowpoint options in .38 Special and .357 Magnum, none of them fared well when we measured them against these priorities for our friend. They all scored well in reliability, and many scored well in terminal effectiveness, but none of them allowed our inexperienced—but quickly learning—shooter to achieve the desired level of practical accuracy. Our shooter's level of strength, skill and experience didn't currently allow them to control these powerful loads sufficiently enough to rely on them for defensive duty (including the .38+Ps).  Since even the most sophisticated hollowpoint can't do anything for you unless you can put it in the right place, we had to look for another option.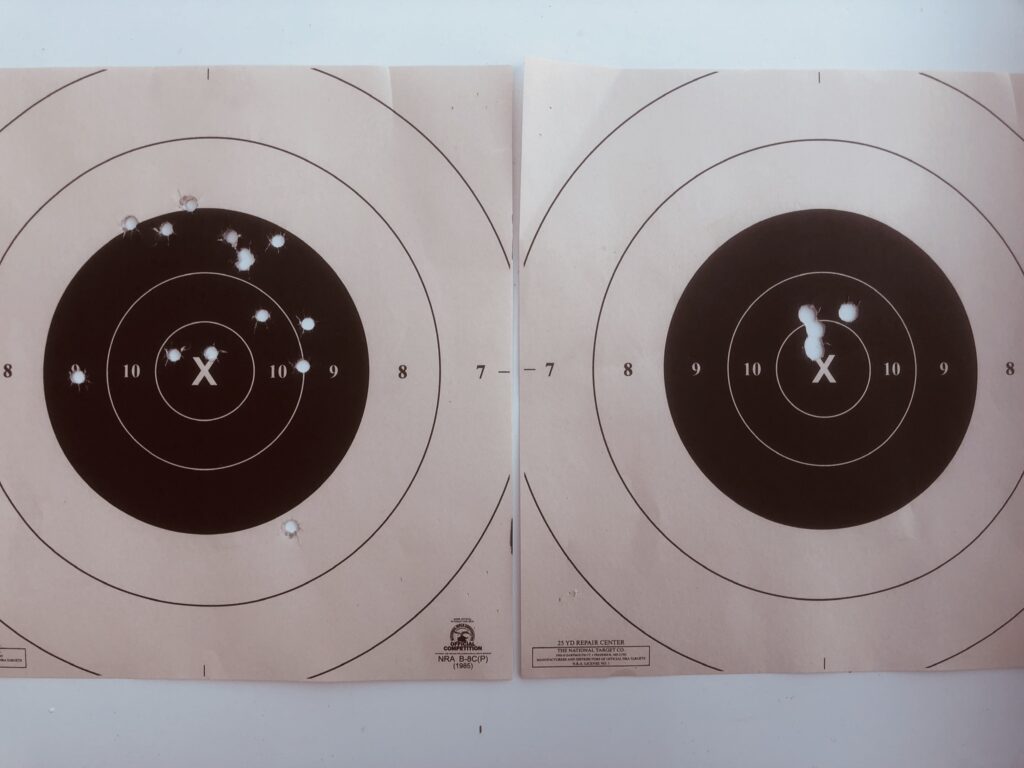 Some of the "low recoil" hollowpoints that are commonly touted as solutions for recoil-sensitive shooters were considered, but found to be lacking. In some cases, the "low recoil" label seemed to be more marketing hype than reality, and in others, the terminal effectiveness of the round was compromised by the changes that were made to enhance control. 
The wadcutter alternative
In contrast, the lowly wadcutter was a much better fit for our shooter, when we evaluated it with the priorities in mind.
Factory wadcutters offer reliable ignition and operation in a revolver. In fact, the abbreviated power of a 148 grain wadcutter might conceivably offer a greater level of mechanical reliability than a high-pressure round that abuses the gun with greater force (causing problems like timing issues or endshake) and increases the risk of primer flow, bullet pull, internal lock engagement, or sticky extraction.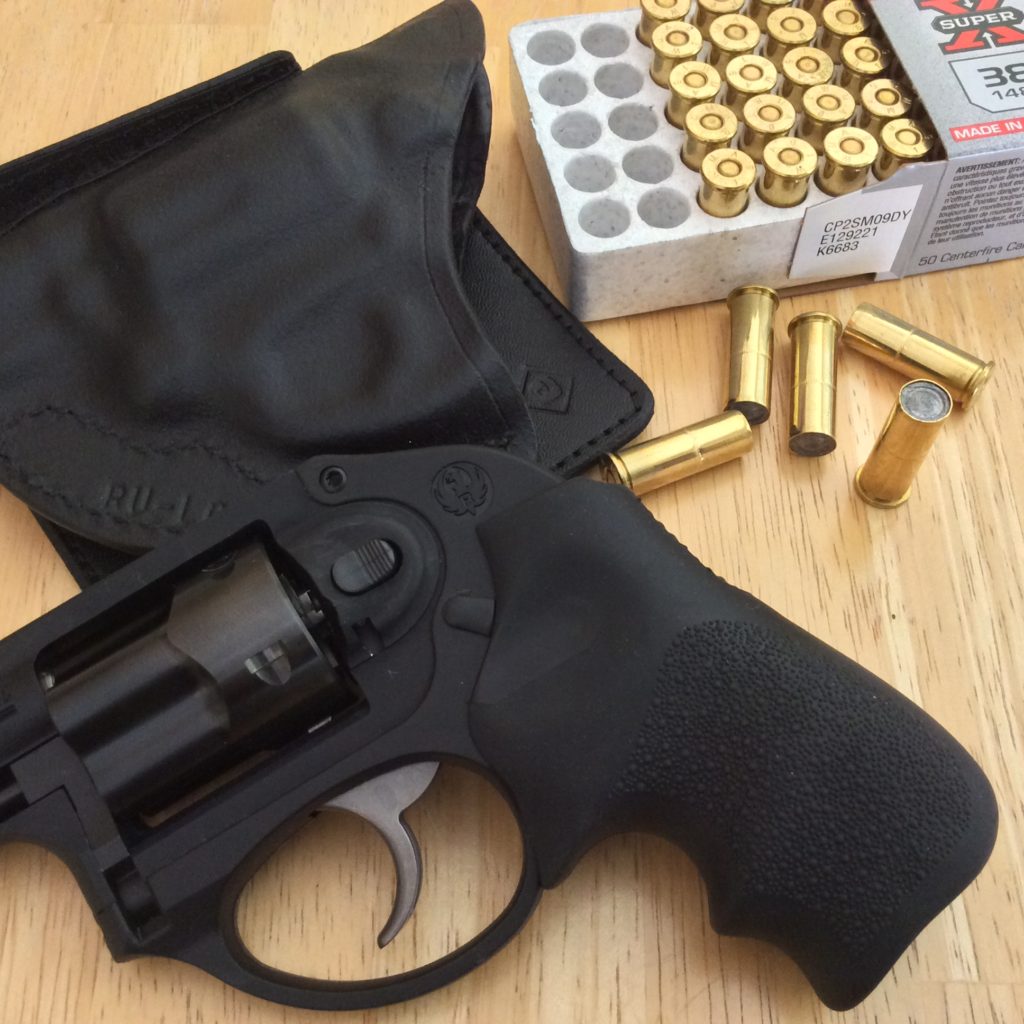 The .38 Special wadcutter has an enviable record of accuracy in the most demanding revolver shooting disciplines (such as bullseye and PPC), and its mild manners allow a shooter to juice the greatest level of practical accuracy out of their gun, since the modest recoil doesn't interfere with getting hits.  Furthermore, the .38 Special, 148 grain wadcutter frequently shoots to point of aim on fixed sight guns, which eliminates the need for manual corrections by the shooter, and enhances the likelihood of precision under stress.
But what about terminal effectiveness? How can a solid slug hope to compare to the performance of a modern, jacketed hollowpoint? Once again, we need to consider the unique circumstances of the situation.
The special nature of the .38 snub
Like the .380 ACP cartridge, the .38 Special doesn't have a lot of surplus energy to work with, and it can be highly sensitive to the velocity losses sustained in short barrels like that of the Ruger LCR (1.87").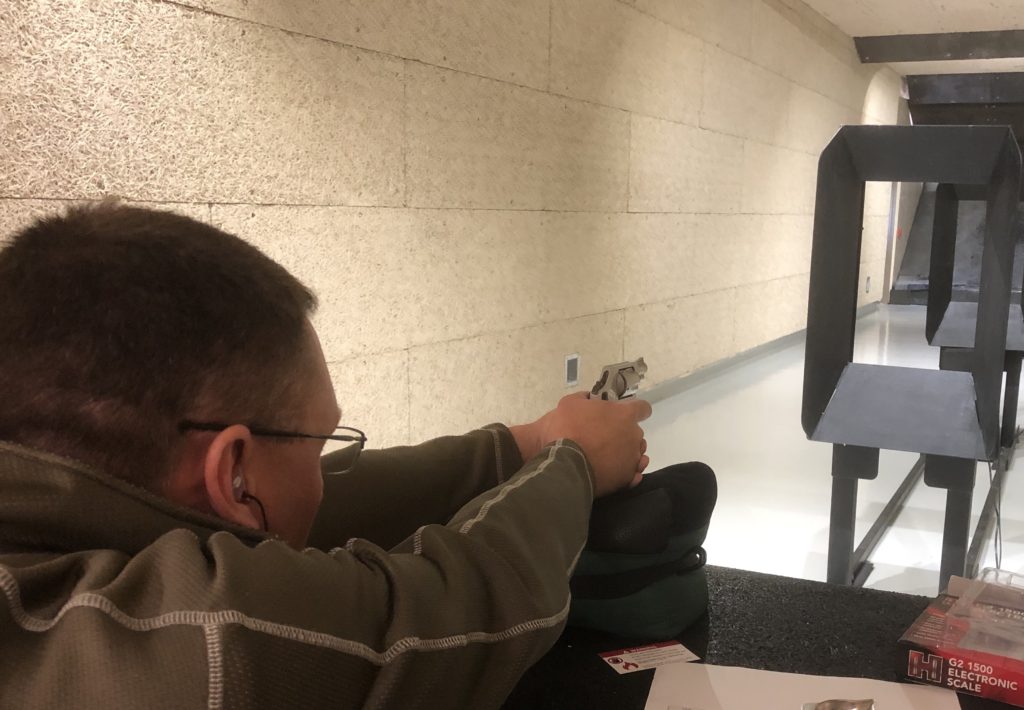 When you go from a 4" barrel to a 2" barrel, it's not uncommon to lose around 100 feet per second (fps) in many .38 Special loads.  Normally, a loss of this magnitude wouldn't be all that critical for a handgun round, but in the case of the .38 Special fired from a 2" revolver, that loss can move the bullet out of its "performance envelope" and rob the bullet of the minimum energy needed to perform as its designed. A round that expands well when it's fired in a longer barrel may fail to expand much at all when fired through the shorter tube of a snubby, because the bullet strikes with insufficient energy to open up the hollowpoint.
You can increase the pressure of the round (SAAMI +P, or non-SAAMI +P+), to drive the same slug at a greater velocity and promote expansion, but this comes with an attendant increase in recoil energy, and makes  the ammunition harder to control—particularly for a recoil-shy shooter.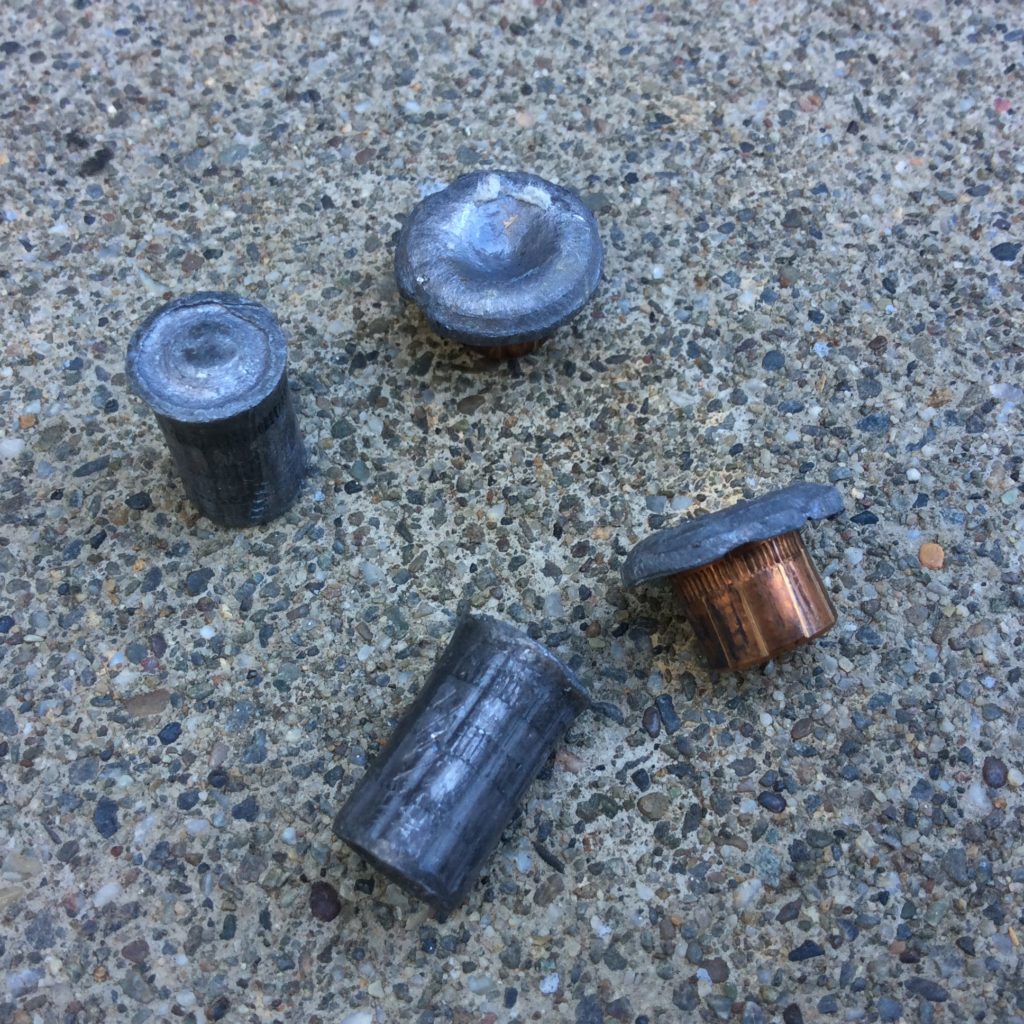 To solve this dilemma and keep recoil at a reasonable level, some designs use a lighter and faster projectile to promote expansion, or use some clever engineering (most often, with a light-for-caliber bullet) to get the bullet to open up out of a short barrel.
Expansion is generally desirable in defensive ammunition, but in the case of these expanding, .38 Special loads, it may also lead to shallow penetration.  Most .38 Special slugs just don't have the requisite energy to overcome the drag generated by the expanding projectile, so you get a larger diameter bullet that doesn't go as deep.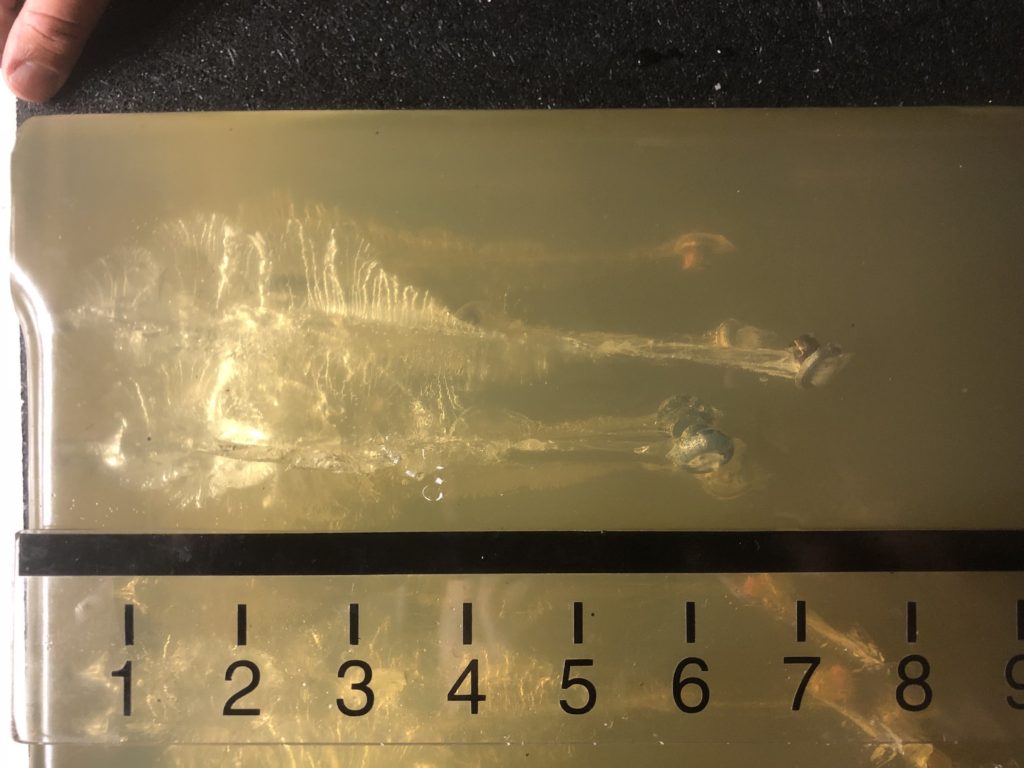 There's no free lunch in ballistics–especially in .38 Special snubby ballistics. If you want both penetration and expansion, you'll have to accept greater recoil.  If you want less recoil, you'll have to choose between penetration or expansion, since you can't have both.
What the wadcutter's shape can do
The 148 grain wadcutter is as soft-shooting as it gets in .38 Special.  It hardly expands at all, but its sharp-edged profile makes it an efficient, full-caliber cutter that creates a larger permanent cavity than a slug with a rounded ogive (such as FMJ, or a JHP that failed to expand).  The pointy, rounded bullet will slip through tissue and leave a wound track that's smaller in diameter than the bullet itself, because the tissue will temporarily stretch to allow the passage of the bullet, then recover.  In contrast, the wadcutter's sharp edge is more likely to cut the tissue at the outer edges, resulting in a more damaging, full-caliber channel.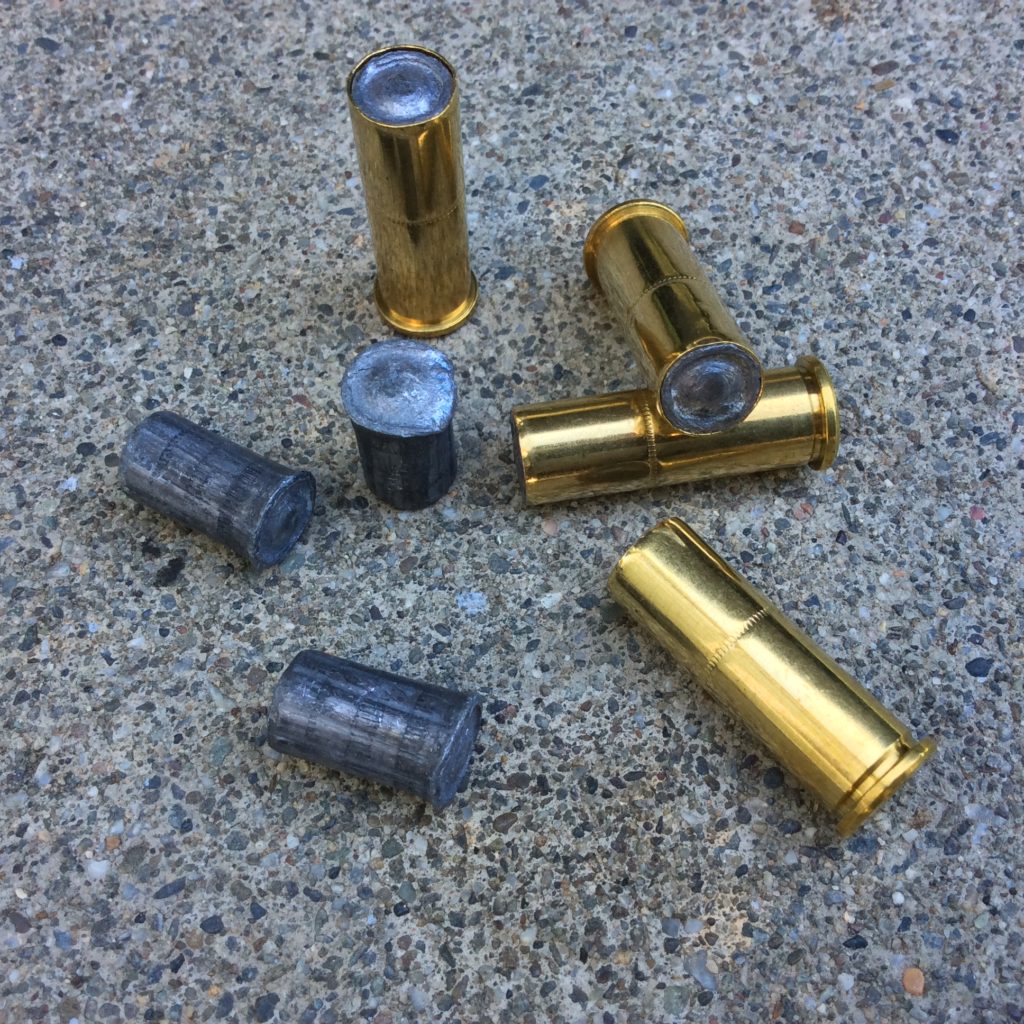 The sharp corner of the slug also allows the bullet to "get a bite" and "dig in" when it hits a rounded or angled surface (like a skull, or other bone), instead of glancing off harmlessly, like a bullet with a rounded profile might. In fact, veteran police gunfighter Jim Cirillo incorporated this feature into a bullet of his own design, after seeing how the square corner could grab hold and allow the bullet to do some work.
It's interesting to note that when American police were carrying lots of .38 Special revolvers loaded with solid projectiles, there was a belief in some circles that the square-shouldered wadcutters and (to a lesser extent) semi-wadcutters did a better job than round nose lead bullets. The flat meplat and square shoulders of the wadcutters were thought to deliver greater shock and create more trauma than the rounded profile bullets with their pointy noses.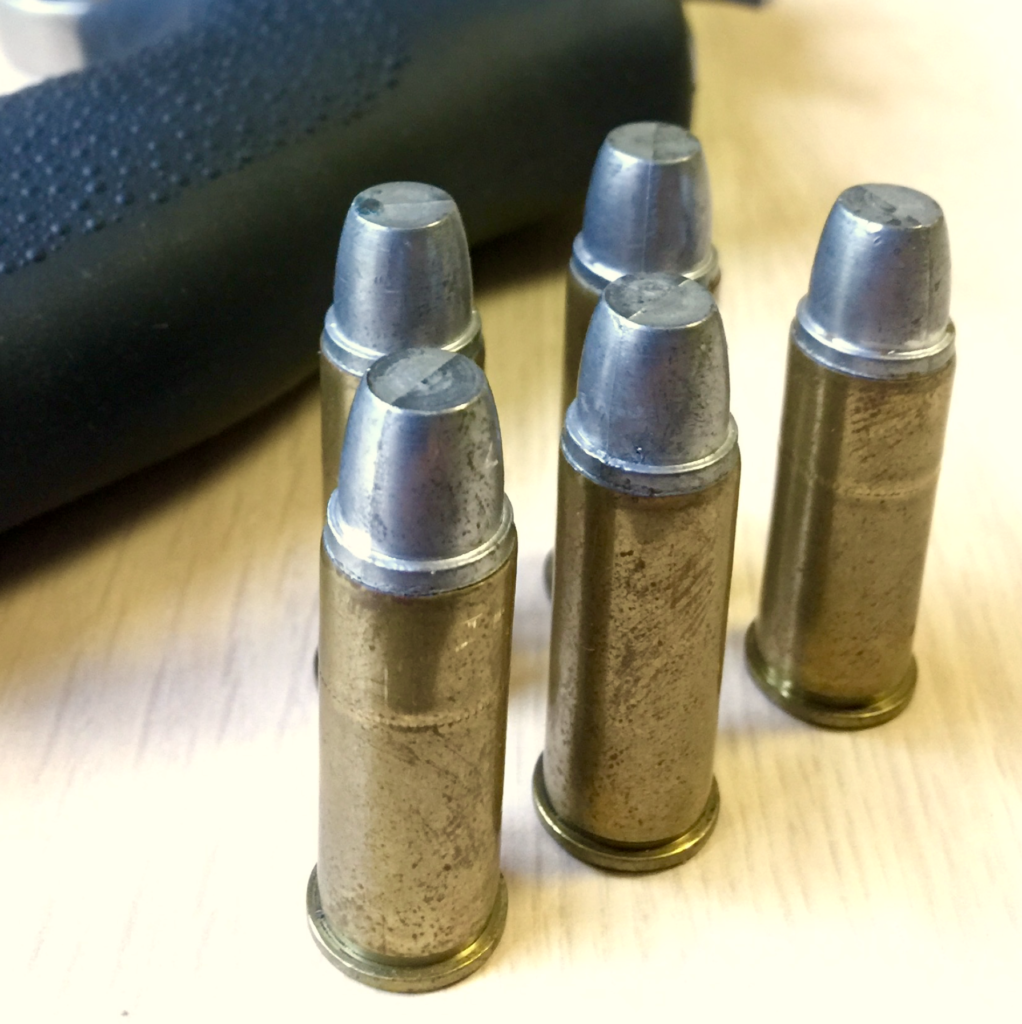 Anecdotal evidence and testimony indicates that the police officers in New York City who were issued semi-wadcutters generally had a more favorable impression of their ammo performance than the officers in Los Angeles  who were issued round nose lead bullets.  In fact, several credible sources have told me that the really "switched on" officers in many Southern California agencies would load their duty guns with 148 grain wadcutters in lieu of the issued, 158 grain round nose lead, because they were more effective at stopping bad guys. If questioned about the non-regulation ammunition, they simply planned to claim the wadcutters were left in the guns accidentally, after training. The risk of being punished for a policy violation paled in comparison to the perceived advantage of having more effective ammunition in the gun for duty.(1)
Jello Junkies and penetration
In the wake of the horrific 1986 Miami Firefight—in which two FBI agents were killed, three were grievously wounded, and another two were injured—the Bureau conducted a series of Ballistic Workshops to enhance our understanding of terminal ballistics and develop improved  standards for duty ammunition.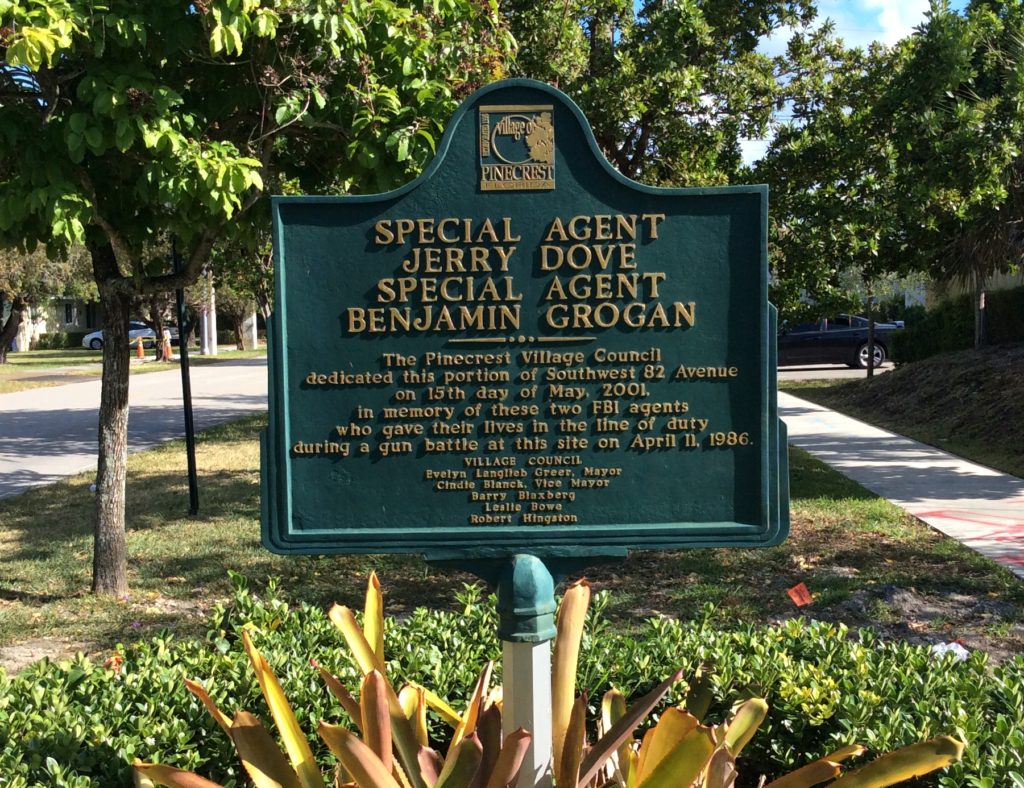 One notable result of this work was the development of a new ammunition testing protocol, which used 10% calibrated ordnance gelatin as a tissue simulant.  In the new FBI test protocol, a handgun bullet was evaluated for its ability to penetrate, expand, and retain weight after being fired through a series of intermediate barriers into calibrated gelatin.
The protocol revolutionized the way that manufacturers designed and tested their ammunition, and gave the industry a common standard for the very first time. While the protocol isn't perfect, it's still the best measuring tool available, and has served well as the industry's standard for decades.
With respect to penetration, FBI standards penalize a bullet that is unable to consistently penetrate a minimum of 12 inches in the calibrated gelatin (including after barrier penetration). In the FBI's estimation, a bullet that penetrates less than 12 inches of calibrated gelatin risks being unable to reach the vitals, and is unfit as a police duty round.(2)
By this measure, many .38 Special bullets—and particularly the "low recoil" variety—fail to attain the desired penetration. They struggle to reach a depth of 10 inches in bare gelatin, particularly if any bullet expansion occurs, because they lack the energy to overcome the drag created by the expanding projectile.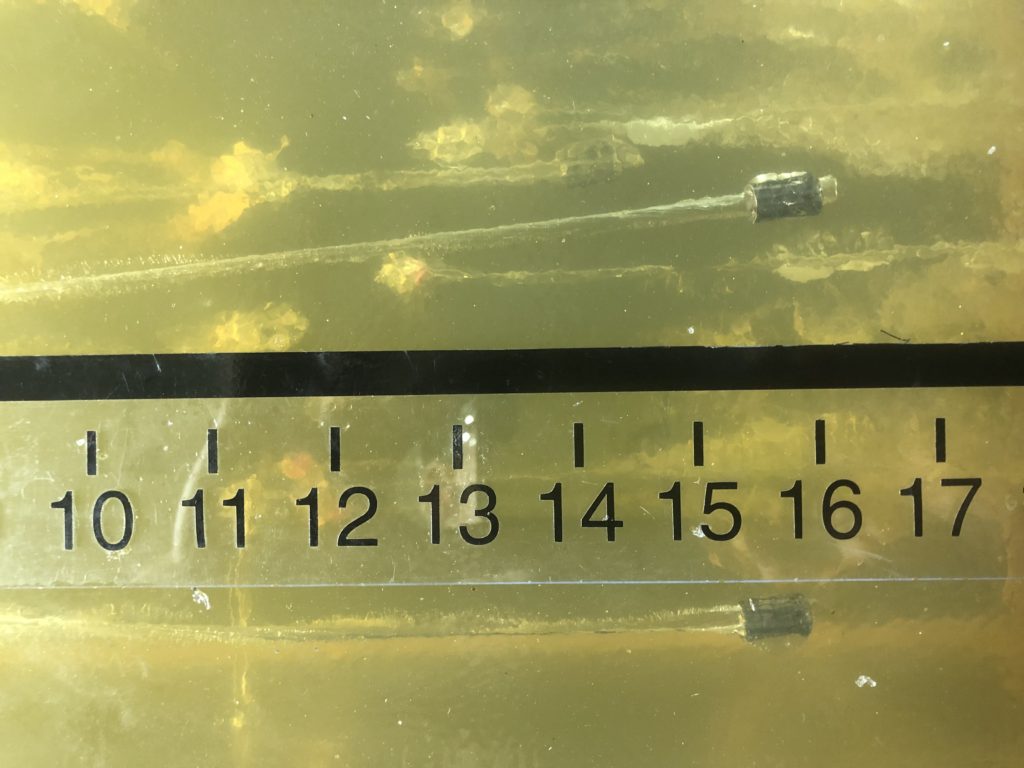 In contrast, the wadcutter easily goes deep enough to pass muster.  It can reach the desired 12 inches of penetration in bare gelatin without difficulty, even when fired from a snubby.  It won't expand much at all, but it also won't run out of steam prematurely.
The FBI protocol also penalizes a bullet that penetrates too deeply. Bullets that penetrate more than 18 inches in calibrated gelatin are deemed undesirable, since they're considered inefficient and may overpenetrate the target, endangering an innocent.
The lowly, 148 grain wadcutter fares well against this standard, too. The typical, low power, soft lead, target load does around 600-700 fps out of a snubby revolver, and penetrates around 16 inches in bare, calibrated gelatin.(3)  Some varieties of wadcutters are loaded hotter than others, and some wadcutters are cast from a harder material, which may cause penetration beyond 18 inches in calibrated gelatin, but this may not be an actual problem in the real world. While 10% calibrated ordnance gelatin is a reasonable tissue simulant, it's not perfect–bullets often act much differently in bodies than they do in gelatin.  A bullet that looks like an "overpenetrator" in gelatin might turn out to be just fine in the real world, where it has to defeat a non-homogenous, clothed target.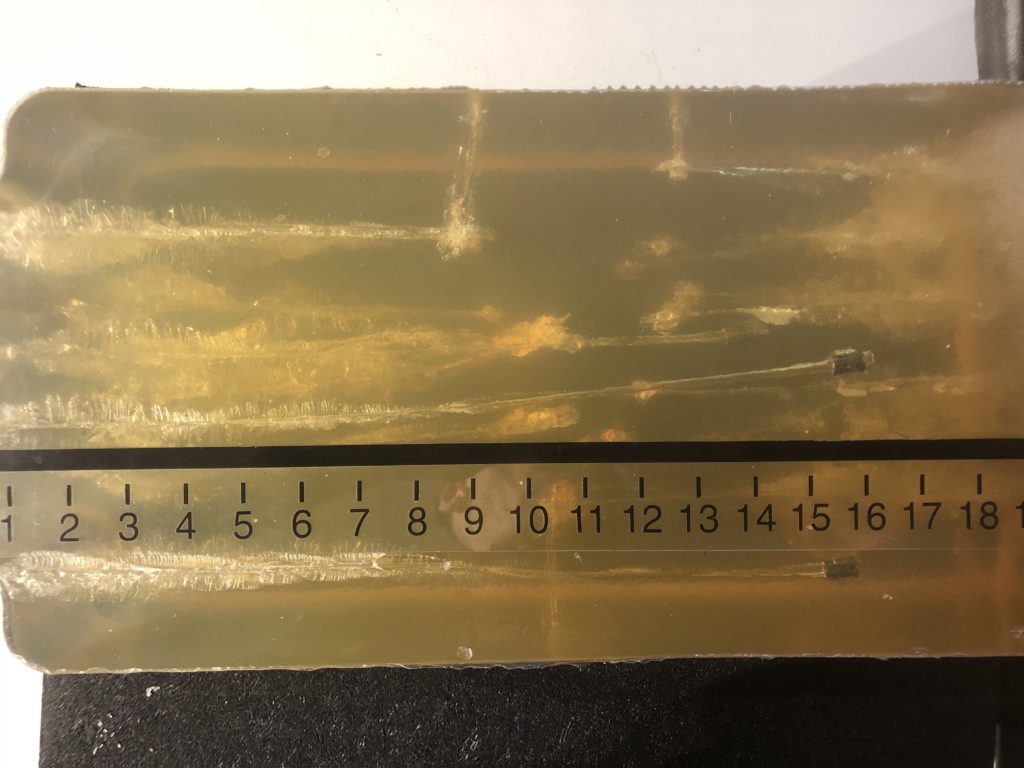 A medium-sized, Southern California police agency's experience is instructive, here. This agency issues 1911-pattern pistols to its officers, and for many years their issued round was 230 grain FMJ, or "hardball."  The "Jello Junkies" would have you believe that hardball is a reckless choice for a duty round, because of its propensity to penetrate deeply in calibrated gelatin, but this agency's actual experience in the street was quite different.  In actual shootings, the agency found that the bullet usually stayed within the target. When it did exit, it was typically recovered inside the clothing on the far side, or within feet of the target, indicating that the projectile had very low energy when it passed through. The laboratory tests indicate that hardball should have poked through like an ice pick, but the reality on the street was quite different.
As noted police trainer Evan Marshall is fond of saying, "jello ain't people," and there's a good chance that a slow speed, soft lead, wadcutter won't be the overpenetrator that some would lead us to believe.
a tradeoff
One inescapable fact about the wadcutter is that its profile makes it more difficult to load into the chambers of a revolver.  The longer, pointed shape of the typical hollowpoint bullet helps to guide the cartridge into the chamber, but the squared-off shape of the wadcutter is more likely to hangup on the edges of the chamber and give you fits.
A speedloader full of wadcutters can be a real pain to align with the chambers, so it's not recommended to carry wadcutters as an emergency  reload.  Load your gun's cylinder with wadcutters for carry, but choose a load with a more friendly ogive for your speedloader or ammunition strip.
Since reloads are a statistical rarity in armed citizen confrontations, this limitation might not be as significant as it first appears, but it's still an  important consideration when choosing wadcutters for defense.
Bottom Line
So, am I saying that target grade wadcutters are always the best choice in defensive ammunition for .38 Special revolvers?  
Absolutely not. We know there are more sophisticated bullets and loads out there which can squeeze every last bit of performance out of the .38 Special, particularly out of service-size guns.  These loads will generally expand more, and deliver more energy to the target, even after going through heavy clothing.  The wadcutter can't achieve what they do, with its solid construction and low velocity.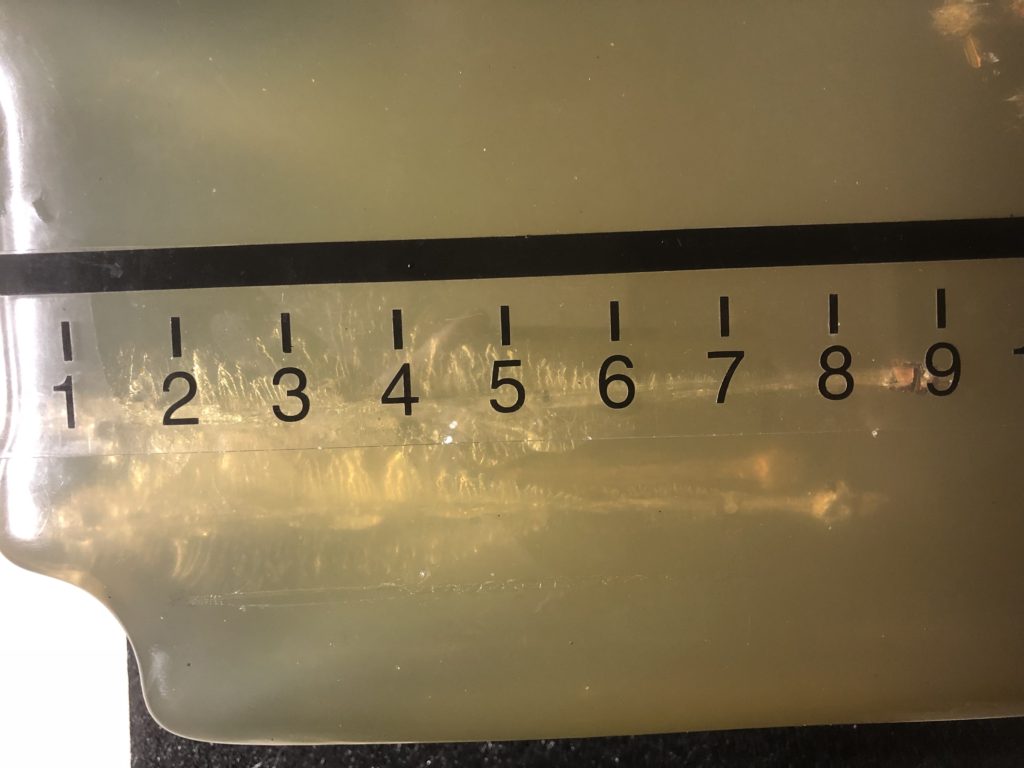 However, the wadcutter can also do things that they can't. The wadcutter can be fired in flyweight, alloy/polymer guns without causing you pain and physical damage, and can also be safely fired in guns that are not rated for +P pressures (like many older Smith & Wesson and Colt revolver models). It can also be easily managed by someone who lacks the strength, technique, physical health, or experience to manage a harder kicking cartridge, and provide them a reasonable defensive alternative.  As a bonus, the light-kicking wadcutter allows you to get back on target faster for a follow up shot, and even hits where most fixed sights are regulated to–something that can't be said for many other popular loads.
The wadcutter isn't just a defensive load for neophytes. There's some pretty serious professionals out there who rely on it in their own guns, mostly because it has little recoil and they're not convinced that the terminal ballistics are significantly handicapped.(4) The wadcutter allows them to shoot fast and straight with their snub revolvers, and since bullet placement is the most important element of terminal ballistics, that's not an advantage to be overlooked.
The wadcutter may not be the "ultimate manstopper" of gun magazine cover lore, but for some shooters, it hits the sweet spot between penetration, power, accuracy and speed.  The bullet nerds may not like it much, but it will do the job if you can do your part.So, don't be too quick to dismiss the .38 wadcutter as a defensive round. It might be just the ticket, depending on your needs.
Be safe out there!
---
Support Us on Patreon!
First of all, a huge THANK YOU to our Patrons. If you're not a patron, please consider supporting us – we can't do this work, at this level, without your continued support.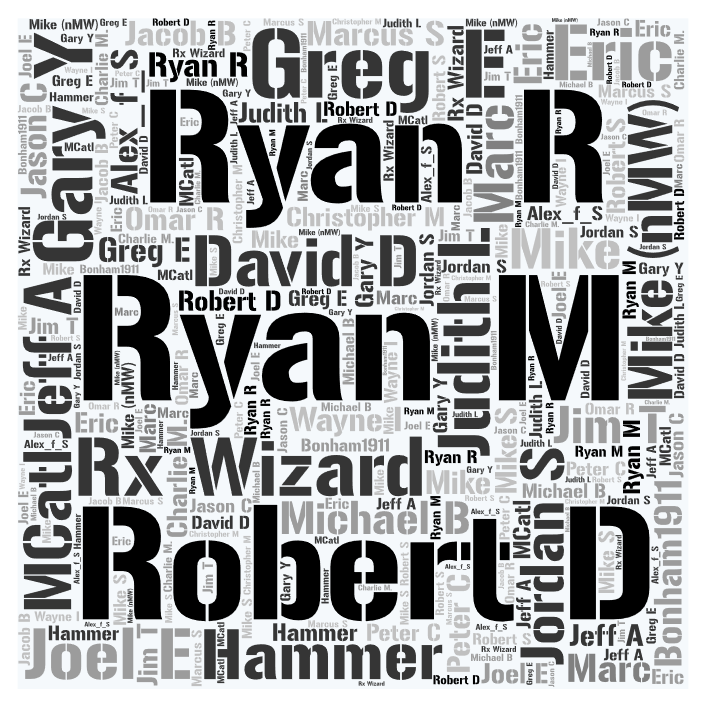 ---
Notes
1. We hasten to note this was a different era, and policy violations of this type were handled much differently than they would be today—this is not a recommended practice for today's officers, who serve in a much different legal environment. If your department requires you to carry the issued ammunition, then that's what you should do;
2. I'll note that while the FBI's 12″ minimum has become the de facto industry standard, there are still reasonable disagreements about it. Some loads (like Federal's 9BPLE–a 115 grain, 9mm+P+ jacketed hollowpoint) regularly fail to meet the 12″ gelatin penetration standard, yet have excellent track records in actual police shootings. This has led some people to discount the 12″ standard as arbitrary. I won't attempt to referee that discussion in these pages, but will simply note that the FBI feels 12 inches of penetration in 10% calibrated gelatin is an appropriate minimum for a law enforcement bullet, and the industry has responded with ammunition that meets the expectation. Armed citizens may come to different conclusions about the requirement to penetrate 12″ in gelatin (including after intermediate barriers), but the greater law enforcement community has accepted this standard for police duty ammunition, so that's what the manufacturers are building;
3.  In a test I conducted using bare, 10% calibrated gelatin (0.177 inch steel BB fired at 592 fps with penetration of 3.175″–the FBI Spec is 2.95″ – 3.74″ for a 0.177 inch steel BB fired at 590 +/- 15 fps), three 148 grain wadcutters were fired from a S&W 637 at a distance of 10 feet.  The three projectiles penetrated 15.0, 16.0 and 16.5 inches with minimal expansion (.405″, .401″, and .386″, respectively), easily besting a host of 90, 110, 125 and 130 grain projectiles that were fired alongside it, which penetrated around 9 inches, on average;
4.  Friend Mas Ayoob points to such notables as Duncan MacPherson, Dr. Gary Roberts, and Chuck Haggard as examples. You can also count Daryl Bolke in that group.