Once issued by both the New York State Police and the FBI, the Smith & Wesson Model 13 is K-Frame .357 Magnum. Like its little brother (the Model 10) the 13 is a blued steel model and features a bull barrel and fixed sights. It is functionally identical to the stainless steel Model 65. I recently got to spend a little time with this revolver and I'm glad that I did. I thought you all might enjoy a look at this retro revolver here!
Smith & Wesson Model 13
Though also made with in a 3″ round butt configuration, the one I got my hands on is a Model 13-4 with a 4″ barrel and square butt. This model is somewhat lesser known than the Models 10 and 65 but typifies the 4″, K-Frame's quick-handling and balance. I do really appreciate the aesthetics of the bull-barrel on the Model 13.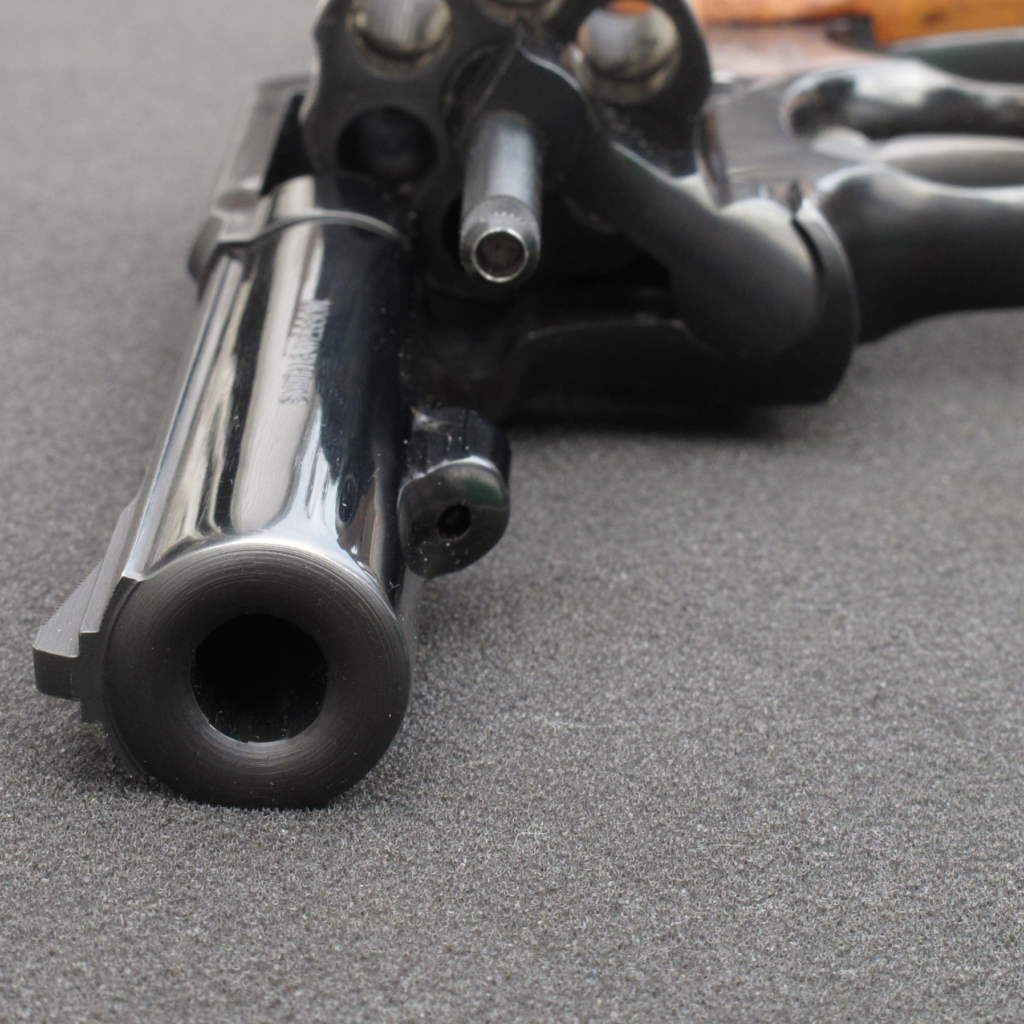 Though not especially well-suited to rapid acquisition, the fixed sights on this model do lend an attractive flat-top profile to the revolver. Also note the blueing on this particular gun. It is absolutely gorgeous and work like this is seldom seen these days. it is hard to believe finishes like these were once standard from the factory. Unfortunately such a beautiful finish picks up every little smudge and fingerprint…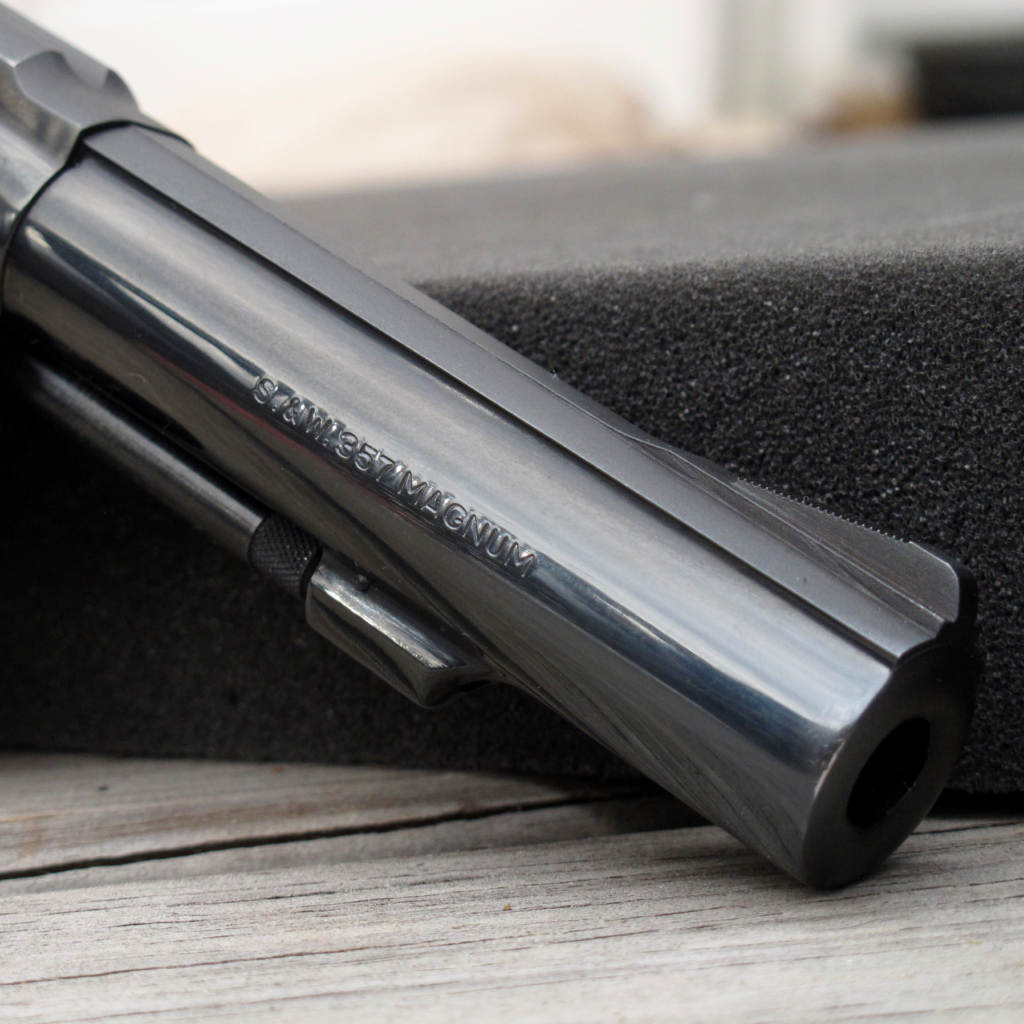 This revolver is reminiscent of a simpler time, for better and worse. The rear sight on this gun  was once acceptable – even preferable in some circles – to the larger adjustable sights we are used to today. Adjustable sights were once perceived as being fragile and prone to breakage. Were I relying on this revolver, I would  definitely have to do something to the sights to make them a little more visible. On the range I found the combination of black-on-black, getting completely lost in the black target.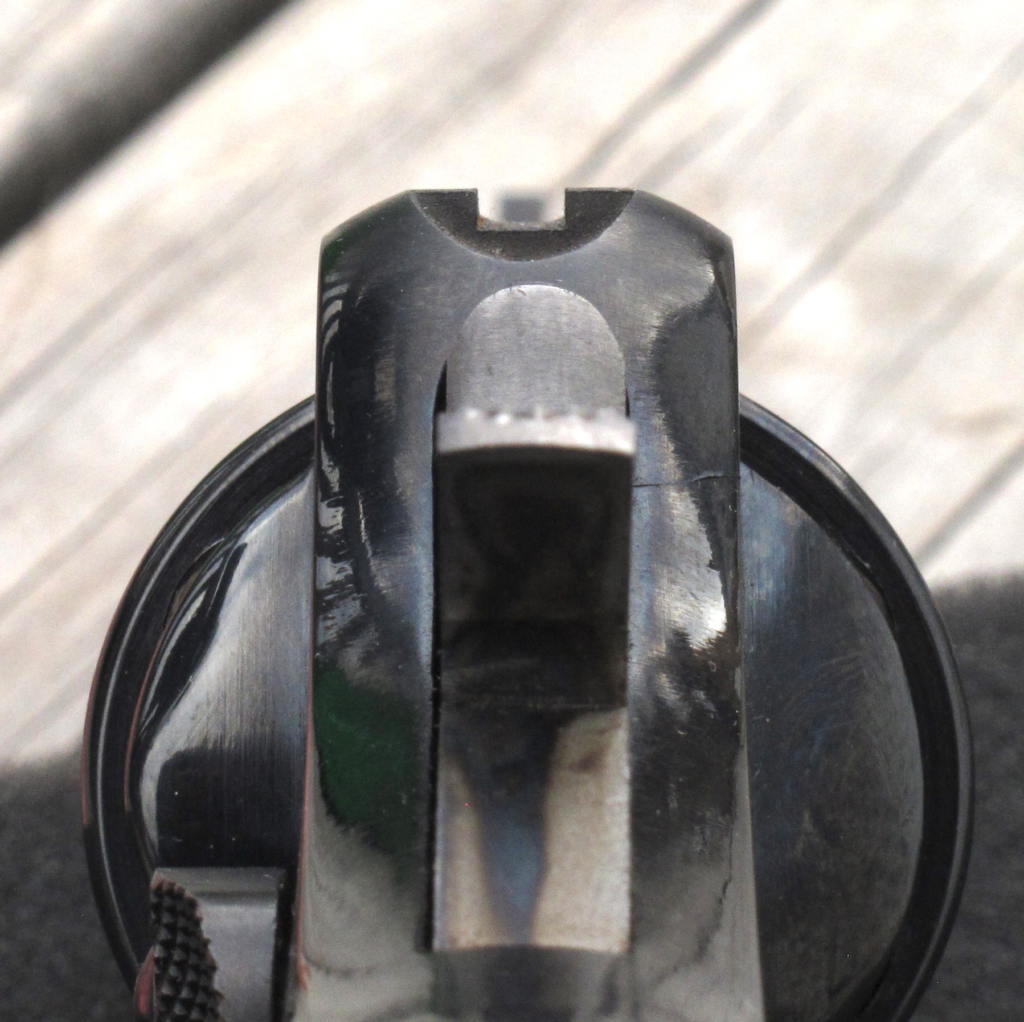 The factory wooden "splinter grips" with inset S&W medallions are gorgeous and the gun owes a lot of its looks to them. Designed to optimize trigger reach back in the days when single-action firing was the preferred technique, these grips are tremendously awkward  during double-action fire. They place the knuckle of your middle finger directly behind the trigger guard where it gets pummeled by recoil. These should come off before a range session and get replaced with a set of Pachmayr Presentation Grips.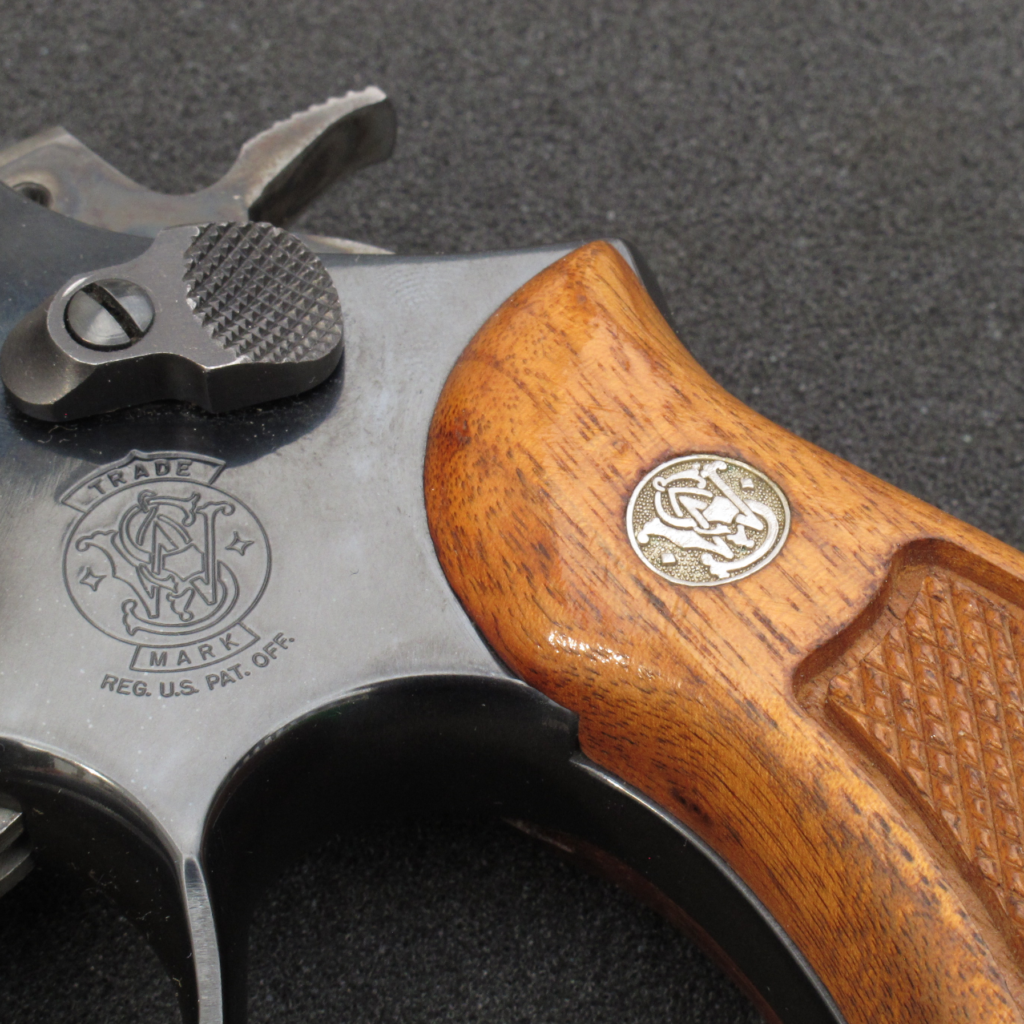 This Model 13 is a pre-lock gun with a hammer-mounted firing pin. The lockup on this particular revolver is one of the tightest I've ever personally experienced. Looking this hammer it is obvious that this gun is of the pre-MIM era.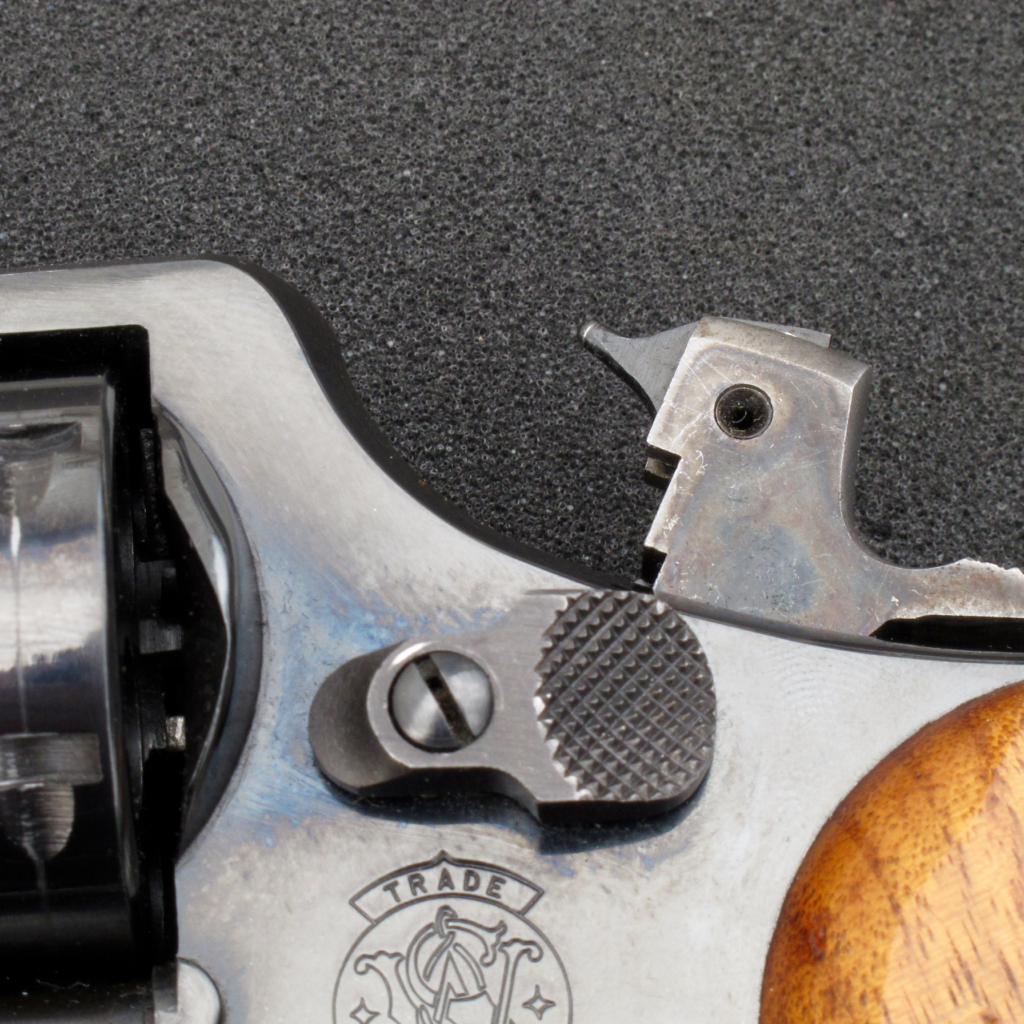 Shooting the Smith & Wesson Model 13
I fired a handful of rounds (literally one cylinder full) with the factory wooden grips before giving up. I love the look of these grips, but couldn't abide their awkward feel on the range. Instead, I threw on a set of Pachmayr Presentation Grips. The gun was far more usable with quality grips installed. Though lighter than my preferred range revolver, the M13 is a pleasure to shoot with the new grips installed.
Accuracy is quite good despite the sights. The revolver hits point of aim at 20 yards with just about every .357 Magnum load I try in it, and just a bit above point of aim with most .38 Special loads. Reliability to this point has been 100%.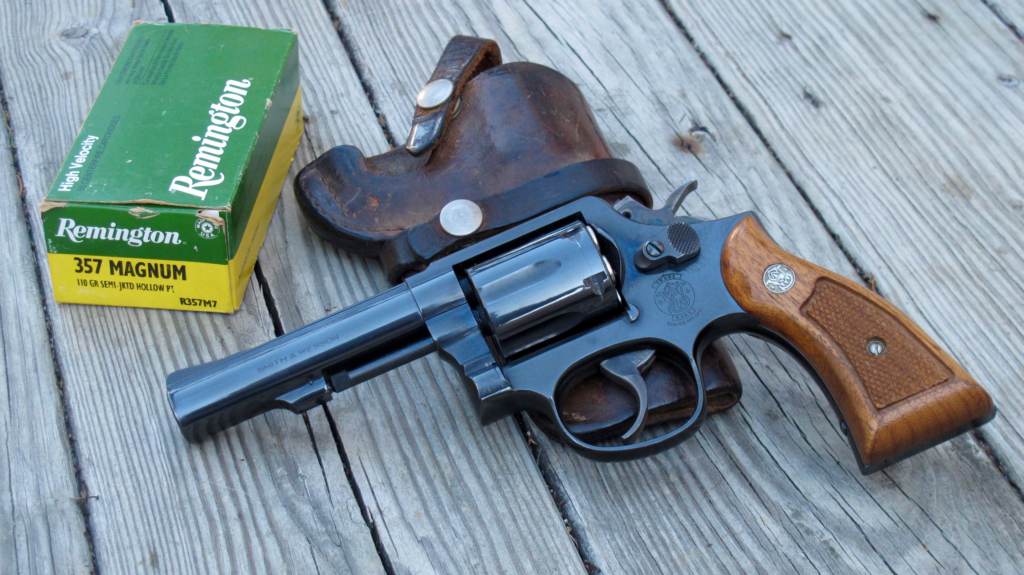 I'll be honest – I really wanted to love the Smith & Wesson Model 13. It is absolutely gorgeous and the lockup is as tight as any I've ever seen. It shoots like a dream and has that perfect, K-Frame balance. However, the grips and old sights on this thing are unacceptable. Still, I was fully prepared to give them the benefit of the doubt. Believe me, I'm no sight snob and I'm fine with black-on-black as long as they are sufficiently large and defined. My conclusion: I don't know how those FBI agents and NY State Troopers did it but they did – out of necessity. This gun would make a fine collector's piece or range toy. And though I wouldn't consider myself defenseless with this Model 13 and a couple of speedloaders, I'm not going to be trying to buy one for my primary defensive sidearm.
Liked it? Support RevolverGuy on Patreon!