My first post of this year briefly discussed my goal of doing 3,650 minutes of dry practice in 2019. These posts are mostly for my own accountability. Here are my results to this point in the year:
January 1 – 11: 200 minutes, January 12 – 31: 140 minutes
February 1 – 15: 140 minutes, February 16 – 28: 130 minutes
March 1 – 15: 160 minutes, March 16 – 31: 160 minutes
April 1 – 15: 140 minutes, April 16 – 30: 160 minutes
May 1 – 15: 140 minutes, May 16 – 31: 170 minutes
June 1 – 15: 180 minutes, June 16 – 30: 160 minutes

July 01: 10 minutes presentation w/ S&W M13 from Aker 137 holster
July 02: 10 minutes presentation walk-back w/ EDC setup
July 03: 10 minutes fam-fire with M&P9 Shield from DSG AIWB and
10 minutes shotgun shoot 1/load 1 and shoot 2/load 2
July 04: 10 minutes reloads w/ EDC setup
July 05: 10 minutes presentation w/ Colt KC from Kramer Belt Scabbard
July 06: 10 minutes presentation walkback w/ EDC setup
July 07: 10 minutes reloads w/ EDC setup
July 08: 10 minutes reloads w/ EDC setup
July 09: 10 minutes presentation w/ EDC setup
July 10: 10 minutes reloads w/ EDC setup
July 11: 0 minutes
July 12: 10 minutes presentation w/ EDC setup
July 13: 10 minutes presentation w/ 640 Pro from DSG AIWB
July 14: 10 minutes presentation w/ EDC setup
July 15: 10 minutes fam-fire w/ M&P9 from war belt
Monthly Target: 310 minutes
Monthly Actual To Date: 150 minutes
Cumulative Target: 2,130 minutes
Cumulative Actual to Date: 2,020 minutes (33 hours, 40 minutes)
Focus Areas
During this period I decided to do something a little different. I want to  be competent and capable with a wide array of firearms. Though I am very dedicated to building intimate familiarity with my EDC gun, I need to spend at least a little time maintaining other platforms. Unfortunately, I had to travel a lot this month. On most of these trips my EDC gun is the only firearm I brought with me, so I focused on an area where I am striving for improvement: reloads. I also treated myself to new snap caps this month!
Fam Fire

When I conducted a fam-fire session with a semi-auto handgun I would begin the session with two minutes of presentation and trigger work. Next, I would perform five sets of reloads (alternating slide-lock reloads and tactical reloads as described here). After that I did five repetitions of Type I (tap, rack, reassess) malfunctions, and used whatever time remained for presentations. This made for a pretty well-rounded session with autoloaders. For revolvers I simply worked presentation and trigger control. This is good for my familiarity with revolvers, and for working trigger control with everything else.
Reloads with EDC

I also worked quite a bit attempting to speed up and smooth out my reloads with my EDC gun. I may do a full two weeks focusing on that soon. The par time I have been working with is 1.8 seconds with the gun at slide lock, drawing magazine from concealment. To be honest I didn't think such a time was within my reach before I picked up Dry Fire Reloaded by Ben Stoeger. Ben's recommendation is 1.6 seconds (not from concealment). Having an aggressive goal to work toward definitely lit a fire under me.
I'm not nailing a reload in 1.8 every time, but I am getting it sometimes, so it's possible. I need to smooth out a couple things. First, I ran a bunch of micro-drills focusing on getting the magazine consistently out of the pouch. That seems to slow me down a lot. Next, I worked on taking a quick pause to ensure the magazine makes that initial transition into the magazine well. This is easy to screw up when going very fast (especially on a single-stack). Screwing it up ends up costing as much as an additional second.
New Snap Caps

I did permit myself a little indulgence during this period: a new set of snap caps. I have been running with the same set of 10 red A-Zoom snap caps since I began this little project. Actually, five of them were already pretty well used prior to this year. I was a little on the fence about new ones. The set I have are still in working condition. I wanted to see run them until at least one broke to see how long a set of 10 caps would last, and how many hours of training you could get out of them.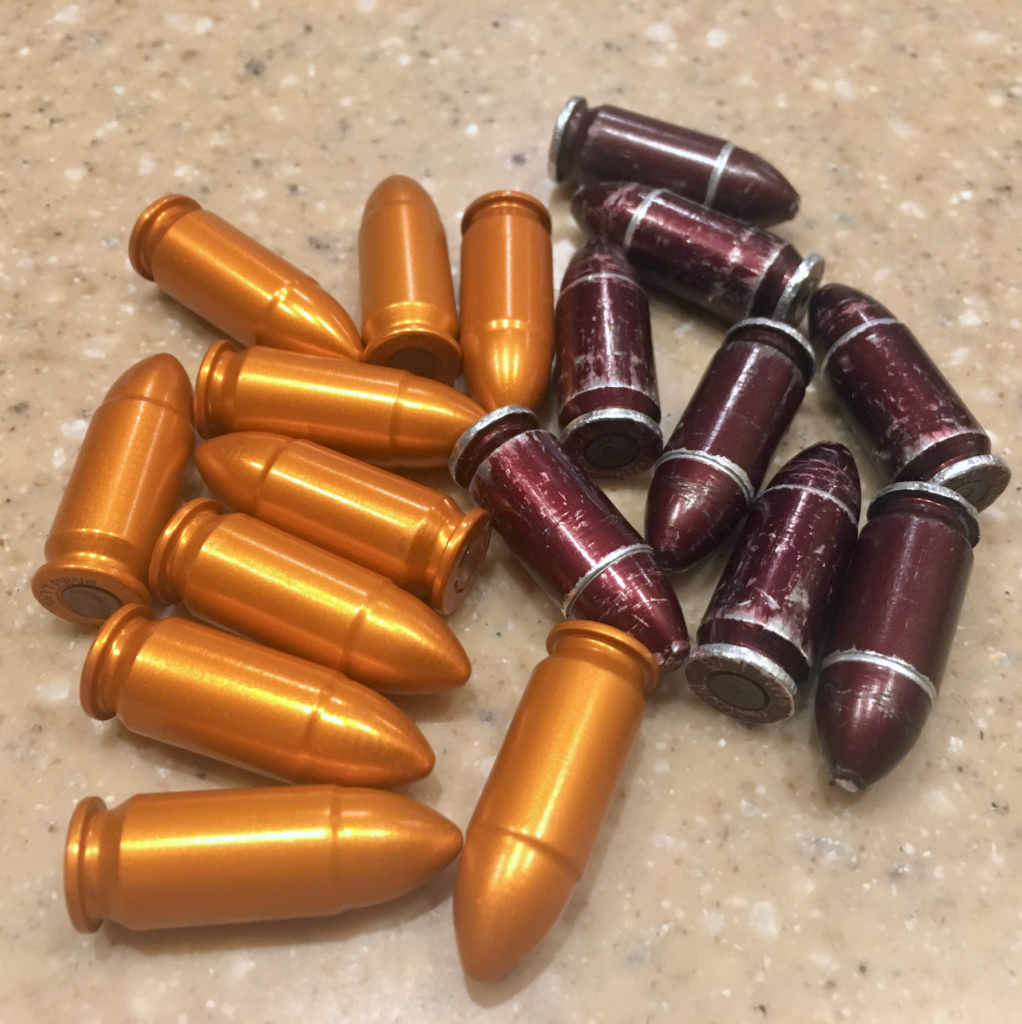 They haven't broken or deformed to the point that they won't function. The problem I have is that I have started losing them. You'll notice there are only eight in the photo; I lost one in a hotel room (that one still baffles me) and one in my yard doing malfunction drills. I had lost another one, too (and was down to seven) but my girlfriend found one while we were outside throwing tomahawks (stay tuned!).
I decided to upgrade to a set of brand new set of A-Zoom snap caps, but this time I got a 10-pack in orange. Hopefully they'll be a little easier to see on the ground. At this point I am a big, big fan of A-Zoom snap caps. A mere $20 for 10 buys an awful lot of dry practice.
If you aren't dry practicing. . . WHY NOT? It's not hard to find 10 minutes a day to dry practice, and it's COMPLETELY FREE. Take ten minutes you'd be spending vegging out on Instagram or in front of the TV and turn it into a tangible skill.
---
Did you get something out of this post? Support RevolverGuy on Patreon!