Choosing a concealed carry handgun is serious business. There are a host of factors to consider, including reliability, caliber, capacity, practical accuracy, and  the ever elusive "carryability". There's also a bunch more, but you get the idea. I don't make such decisions lightly and I've recently made a pretty big one about my daily carry revolver. I've agonized about it, I'd driven Mike half mad endlessly reciting pro-and-con lists, and I spent hours at the range seeking some ballistic therapy…
Ditching The Daily Carry Revolver
And I have finally decided to retire my 640 Pro and carry a semi-automatic handgun as my everyday sidearm. Since writing my Revolver Math Problem article a while back I've developed an affinity for the M&P line of handguns. Though Smith & Wesson disappoints me on a weekly basis with their revolvers, their autoloaders have thoroughly impressed me.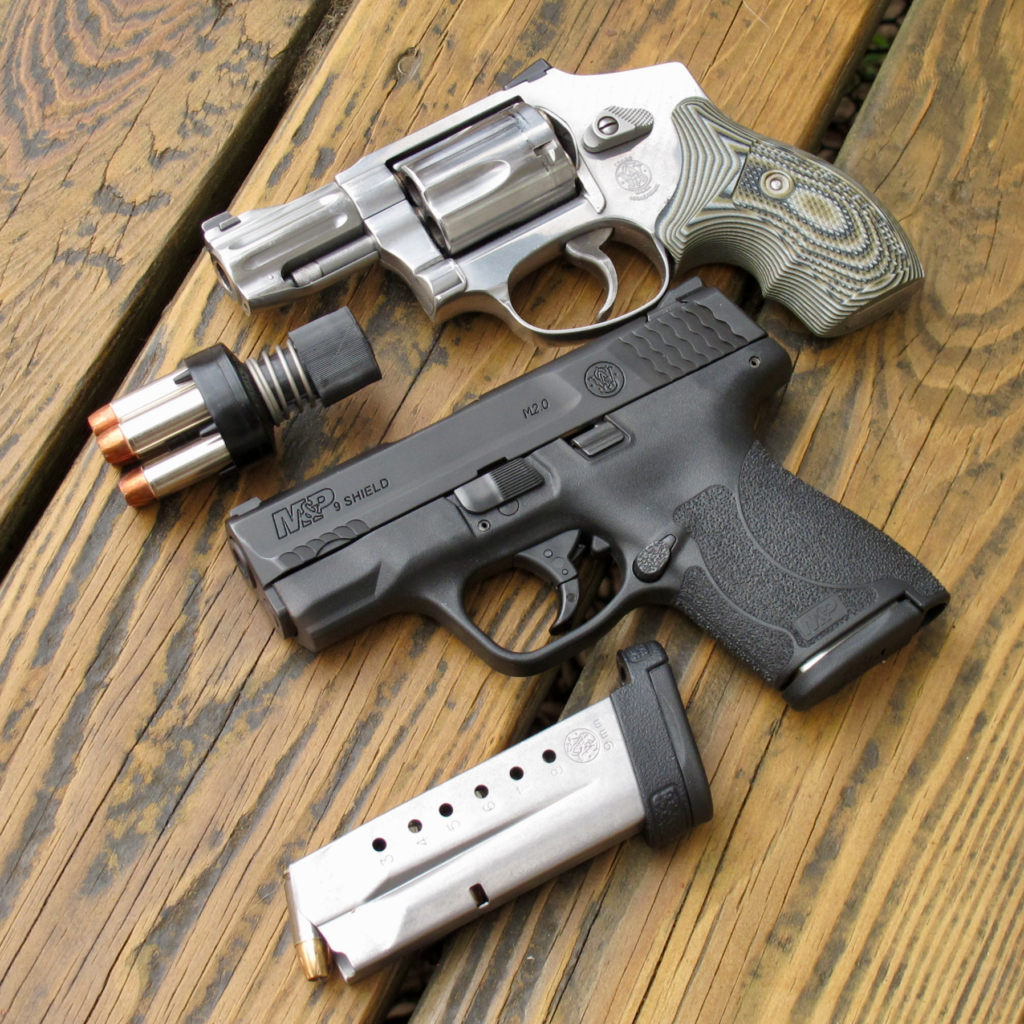 In the hopes that you guys won't totally disown me, I'm going to spend this post explaining my decision. This article has been a tough one to get onto the page. It has undergone two complete, ground-up rewrites and a whole bunch of revisions. I tried to find some clever way to frame this topic, but came up short. Instead, I'm just going to present this as some straightforward list of observations I've encountered since making that decision, and the reasons I made it.
There are definitely some things I won't miss about packing the old 640. Among them:
Won't Miss: J Frame-Class Accuracy
I'm no Wayne Dobbs, but I consider myself a pretty fair hand at working the double-action revolver. The 640 Pro Series I carry is arguably one of the best compact revolvers in current production, but one thing prevents it from being perfect. Namely, that I cannot get the level of accuracy from it that I expect in handgun. I don't think the gun is inherently incapable of it, but there are some organic factors that make it practically difficult.
Human/Hardware Interface: The small grip is one such factor. Even with my small hands, this forces a LOT of finger up toward the trigger. This causes either too much finger to wrap around the trigger, or too much finger protruding out the right side of the trigger guard, resulting in an extra hinge point. Either condition makes it even harder to get a straight press to the rear. This is exacerbated by the exceptionally long press required by the double action revolver. I like to think I've mastered it but my targets usually indicate otherwise.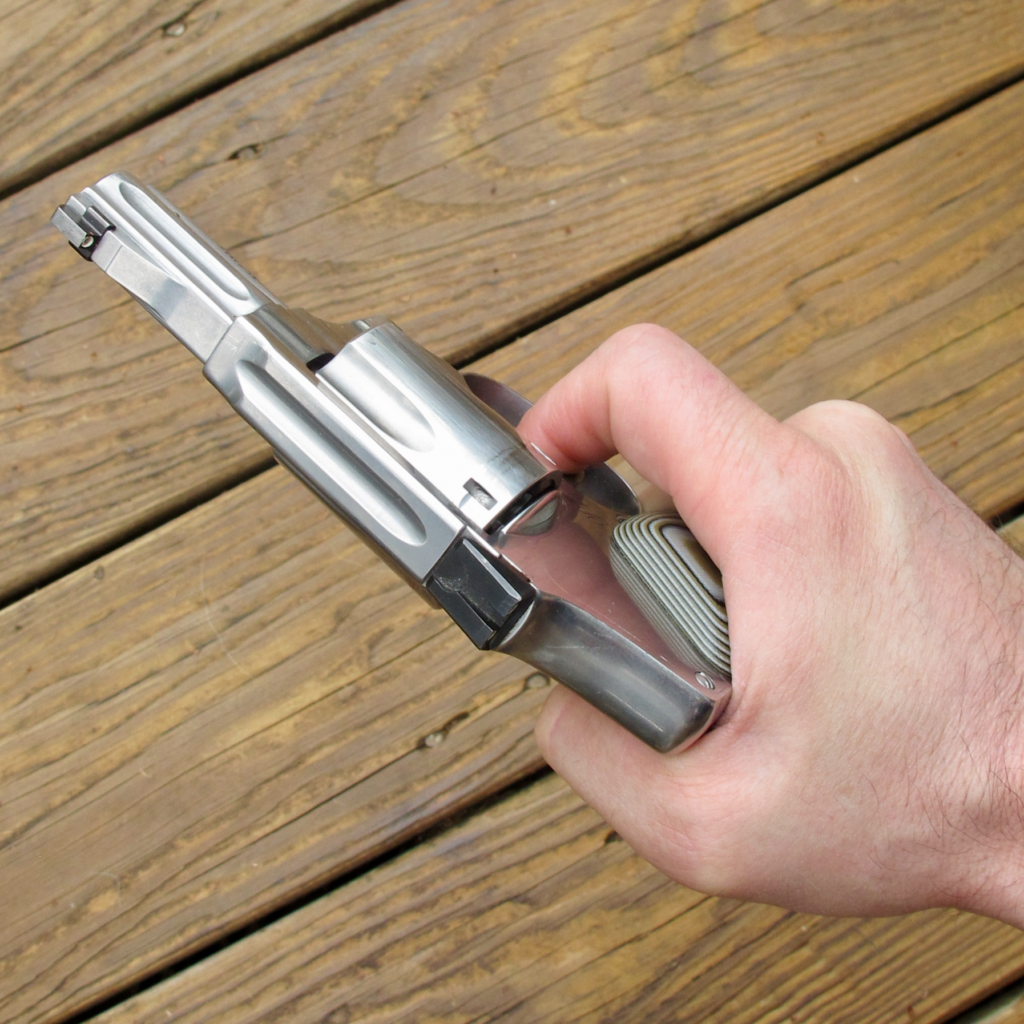 Sight Regulation: Even though I have filed the front sight about as low as I can comfortably go, the gun still prints low. Quite a bit low. I've tried all manner of ammunition, from .38 wadcutters to full-on .357 powerhouse stuff, and to some degree it all hits low. This means I always have to guesstimate elevation, which often precludes me from choosing a precise aiming point, which in turn precludes a precise group. On the flip side, I've shot a ton of semi-autos in the last three years (some rented, but most owned by friends). Most don't suffer this problem, at least not to this extreme. And if they do, guess what? There are a host of aftermarket options to choose from, which leads me to my next point…
Won't Miss: (Non)Support
Thanks to the hard work of Mike and Steve at SHOT 2018, we have quite a few new revolvers up for review this year. I'm not going to let the cat out of the bag just yet, but they run the gamut from "just-released" to "household name", and from top-end of the price range to the bargain-basement. I expect a couple of them to knock my socks off. But there's still that one tiny detail…
One of these guns is inbound to my FFL as we speak. When I got the email from the manufacturer's PR rep I was beside myself. I immediately started shopping for holsters and speedloaders and immediately hit a familiar snag. You've probably guess where I'm going with this: if I'm going to carry this gun I'm going to have to search high and low for a suitable holster, from a greatly truncated list of options. If I want to carry a speedloader (and I do), it's not going to be one that I really like. Speaking of speedloaders, they also usually need a pouch. The make and model of pouch depends on the make and model of speedloader being carried, so outfitting the daily carry revolver gets complicated fast.
Support also extends to ammunition. It's a cruel fact that the major self-defense manufacturers are putting most of their efforts into short, rimless cartridges. Some of this technology like the Speer G2 hasn't been released in a revolver cartridge, and might not ever be. Even my beloved 135-grain Gold Dot was treated as an afterthought; while virtually every other Gold Dot loading could be found in 50-round law enforcement packaging, rimmed rounds were relegated to expensive 20-packs. Practice ammo isn't much better. A case of .38 (or .357, there isn't a huge price difference) will cost you almost twice the price of an equivalent-quality case of 9mm ball.
I hate to blame the gun for my aftermarket woes. However, finding an effective holster, reloading devices, and pouches to carry them in is an important component of carrying a firearm. As the red-headed stepchild of the concealed carry market, revolvers get overlook by a lot of manufacturers. Could I make a new revolver (that hits point of aim) work if I really wanted to? I'm sure I could. But as I concluded in my revolver math problem, making a daily carry revolver work flat-out is a lot of work.
The Things I will Miss
Paradoxically, carrying a striker-fired gun for a few days actually taught me quite a bit more about the daily carry revolver. It has certainly underscored some things I love about them. Here is what I will miss about my daily carry revolver:
Will Miss: Double-Action Trigger
That long, heavy DA trigger that I have taken for granted so long is a thing to be appreciated! I didn't think I'd be this guy, but the first time I holstered that flat little 9mm in the appendix position, I was super cautious. With hips thrust forward I gingerly pushed the muzzle into the holster. I pushed my hips forward a little more and tried to get my eyeballs into the trigger area. And I finally overcame the resistance on the holster…and let out a sigh of relief.
A couple of weeks on, that fear hasn't subsided, not even a little. It never really should, I just didn't realize I'd be this nervous about it. With my 640 I'm not cavalier about reholstering. I always "look" the gun into the holster. I always roll my hips forward. And I'm always aware of any resistance that shouldn't be there. But with this thing I'm almost paranoid. This anxiety has already helped me understand why we're seeing DA/SA guns make a bit of a comeback of late, and made me sorely miss the carefree days of J Frame carry!
Will MIss: Round Gun Roundness
The second thing I immediately missed is the "roundness" of the revolver. Grant Cunningham talked about this quite a bit in Protect Yourself, and I didn't pay a ton of attention until it was gone. Generally when I hear someone refer to a revolver as "round" I am prone to thinking about the cylinder. But there are a lot of other round surfaces on the older rotator, as well. The grips themselves are rounded rather than flat. The backstrap is rounded, and the butt of my carry revolver is rounded. This is in extreme contrast to the lines of the autoloader where some surfaces might be dehorned, but everything is ultimately flat and angular. The rounded nature of the revolver does two things.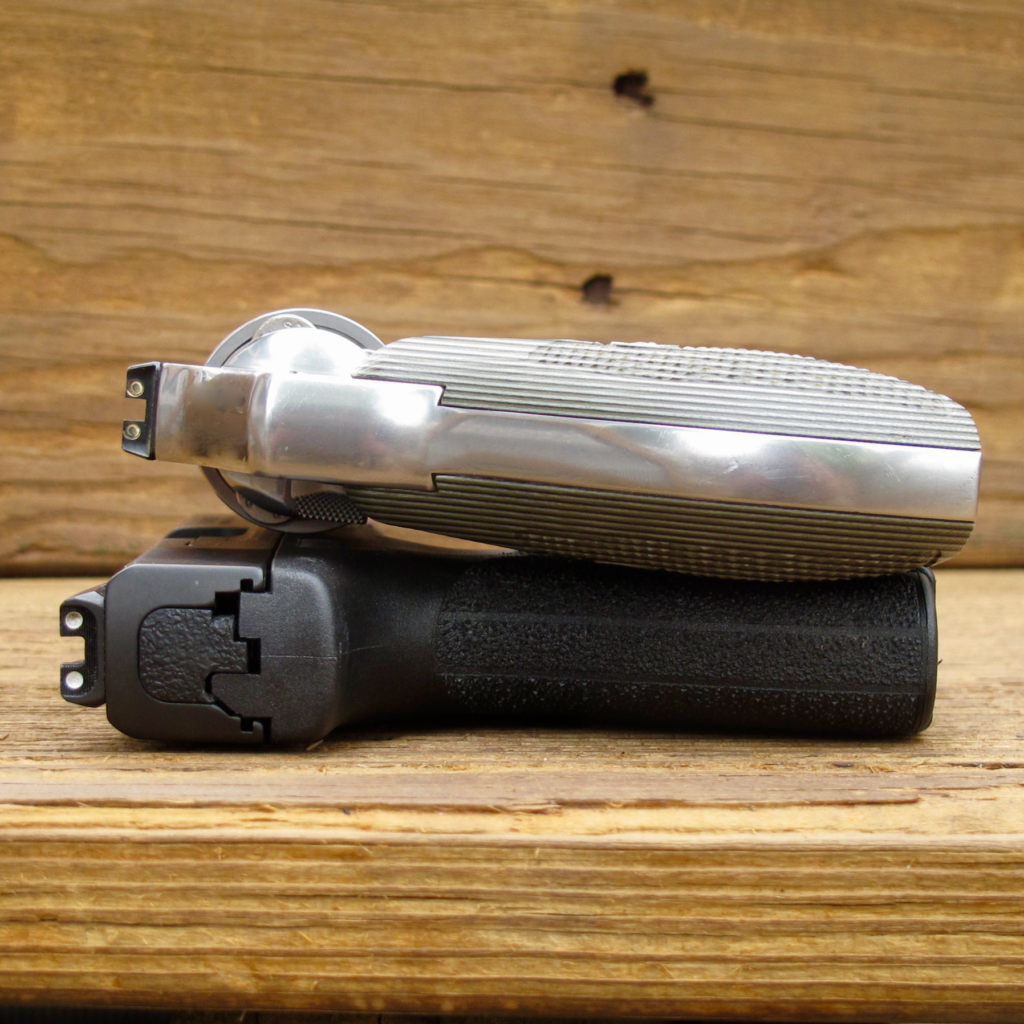 Printing: First, it pretty much eliminates printing. I know there's a lot of fuss about whether printing does or does not matter. I'll leave the arguing to those guys, but in my case it does. To an extent I fall into the category of people Grant mentions in this article where he hits the nail on the head. I work in an environment where guns are permitted, but where they absolutely cannot be seen, especially by our clientele. This means that printing in my office attire presents a serious occupational hazard to me. With the rounded handle of the J-Frame, I haven't even thought about this concept in a long while. But with the flat butt of the M&P magazine I'm remembering what the fuss is all about.
Comfort: Second, the smoothly flowing surfaces of the revolver make it comfortable to carry. The portion poking you in the ribs is that nice, curved grip instead of the twin sharp points of the beavertail and butt of the grip. I have a German Shepherd who loves playing Frisbee, and until she learns to throw it for herself I'll be doing a lot of bending over to pick it up. This can be downright painful with those sharp points poking me in the ribs.
Grip Acquisition: Finally, the revolver's wide cylinder that everyone complains about is a blessing in disguise. I bet you didn't see that one coming, and neither did I! It presses the frame of the gun away from the body, or at least keeps it from being tightly pressed against the body. In turn, this prevents the grip from being tightly pressed against the body. This facilitates a good, full-hand firing grip by letting the thumb get in on the inboard side of the grip. The gun isn't flopping around out in thin air, but there is enough standoff to easily come up with a good firing grip.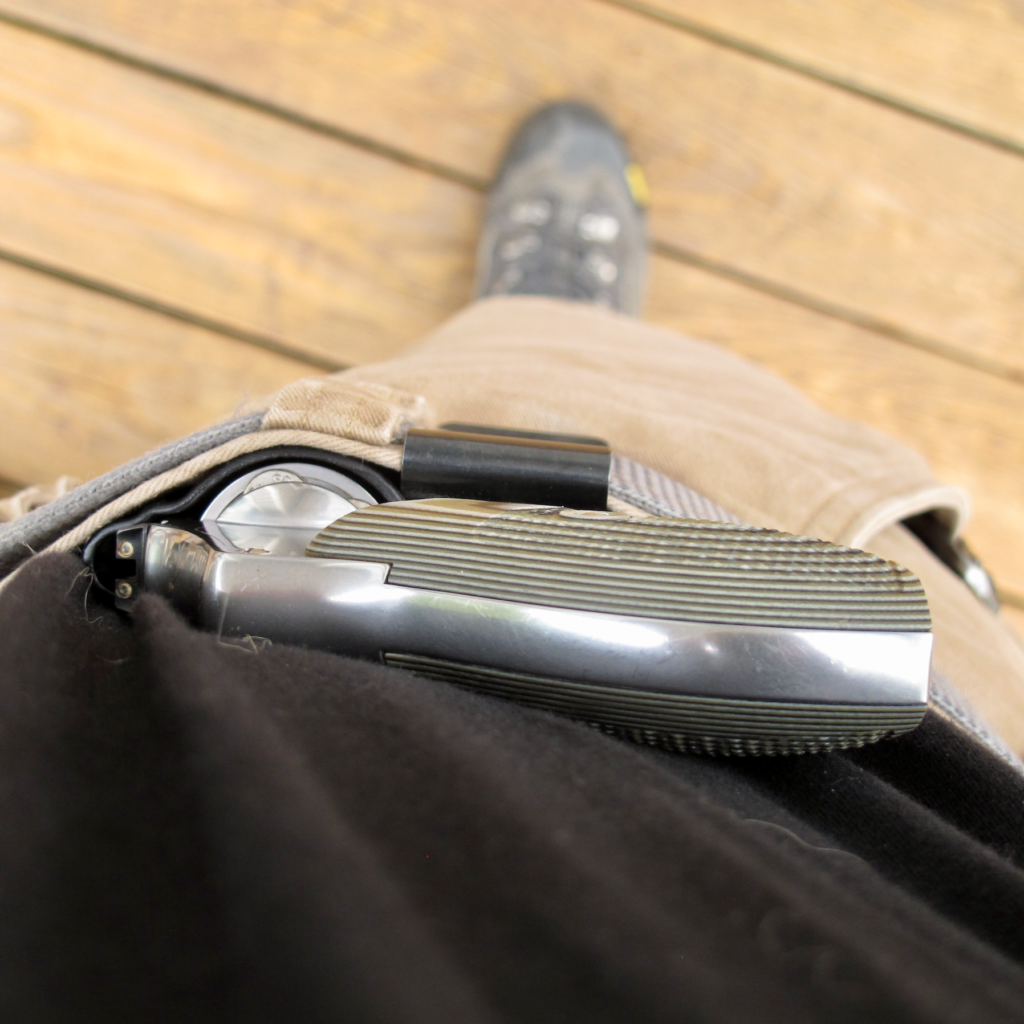 Stray Rounds
So, I admit that I haven't been as overwhelmed with joy in carrying this new gun as I thought I would be (it's not a Nighthawk 1911, after all!). But, I console myself with the benefits I am getting. They aren't inconsiderable.
First, I'm upgrading to a gun I can shoot better. The little Shield is as controllable as the 640 stoked with my preferred Gold Dots, and maybe a bit more so. It is also far more practically accurate, at least in my hands. I can create groups with it that I just can't duplicate with the J Frame. Part of this has to do with the short trigger movement, and some with the extra inch and three eighths of sight radius, and the fact that the sights are regulated correctly. Whatever the reason I feel far more confident in the Shield. With this little 9mm I can actually shoot what I'm hittin' at (so to speak), on demand. In fact I'd say switching to this gun has doubled my effective engagement range.
Even though it's not one of my top considerations, I do get a big boost in capacity. With the 7-round stick installed in the M&P Shield I get 8 rounds on board. Those three rounds might not seem like a lot, but that is a 60% increase over the 640's five. And I get all of this in a package that is about the same size, and a little bit lighter than my stainless steel pride 'n joy.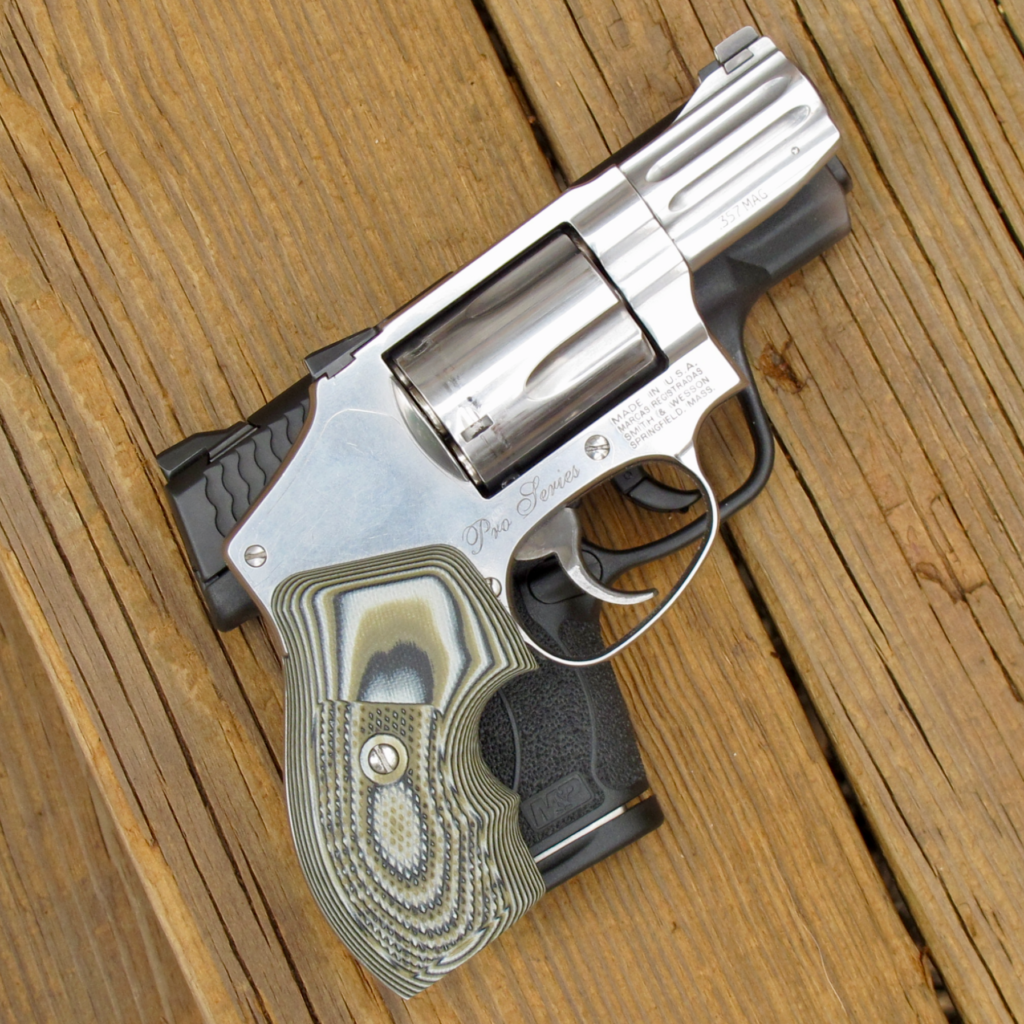 Finally, I get amazing aftermarket support that was unimaginable to me a few months ago. This topic is always skipped in the traditional revolvers vs semi-autos articles, but it shouldn't be. Support gear is important. With the M&P Shield, one of the most popular carry guns on the market, I can count on excellent support. In this instance I purchased everything in reverse. Before I even had the gun I already had sights (Heinie Straight-8s), a holster (Dark Star Gear), and a slew of magazines. And if I decide there's some other accessory I can't live without? I can probably find it in half a dozen styles and eight colors. Oh, and I also decided to buy the Shield's big sister: the full-sized M&P. It was easy to find the exact same sights, appropriate holsters, and even a weapon-mounted light.
Since I mentioned magazines, I should probably address feeding devices. I thought revolvers would simplify this aspect of my life. After all, I wouldn't need dozens of magazines to keep things running smoothly…right? What I learned is that choosing a revolver often involves deciding which speedloader models you can and can't live without. Though I do have to buy magazines to support these bottom-feeding beasts, the process is simple. Google "M&P magazine", pay $25 per unit, and open the box when it shows up on the porch. Picking a revolver speedloader involved me testing at least half a dozen different models and weighing the merits and disadvantages of each.
The Bottom Line
Though at times it might have seemed like it, this wasn't really a revolvers vs semi-autos debate. This was more of a personal examination of a few of the things I am discovering in my re-transition period from cylinder-fed guns to magazine-fed ones. Why am I writing about it here on RevolverGuy? Well, you guys probably get where I'm coming from, as most of you have a foot in both camps. I was singing the praises of my M&Ps to one of my (let's say, "less enlightened") non-RevolverGuy shooting brethren the other day. His response? "Yeah, bro, semi-autos are awesome. Where ya been?"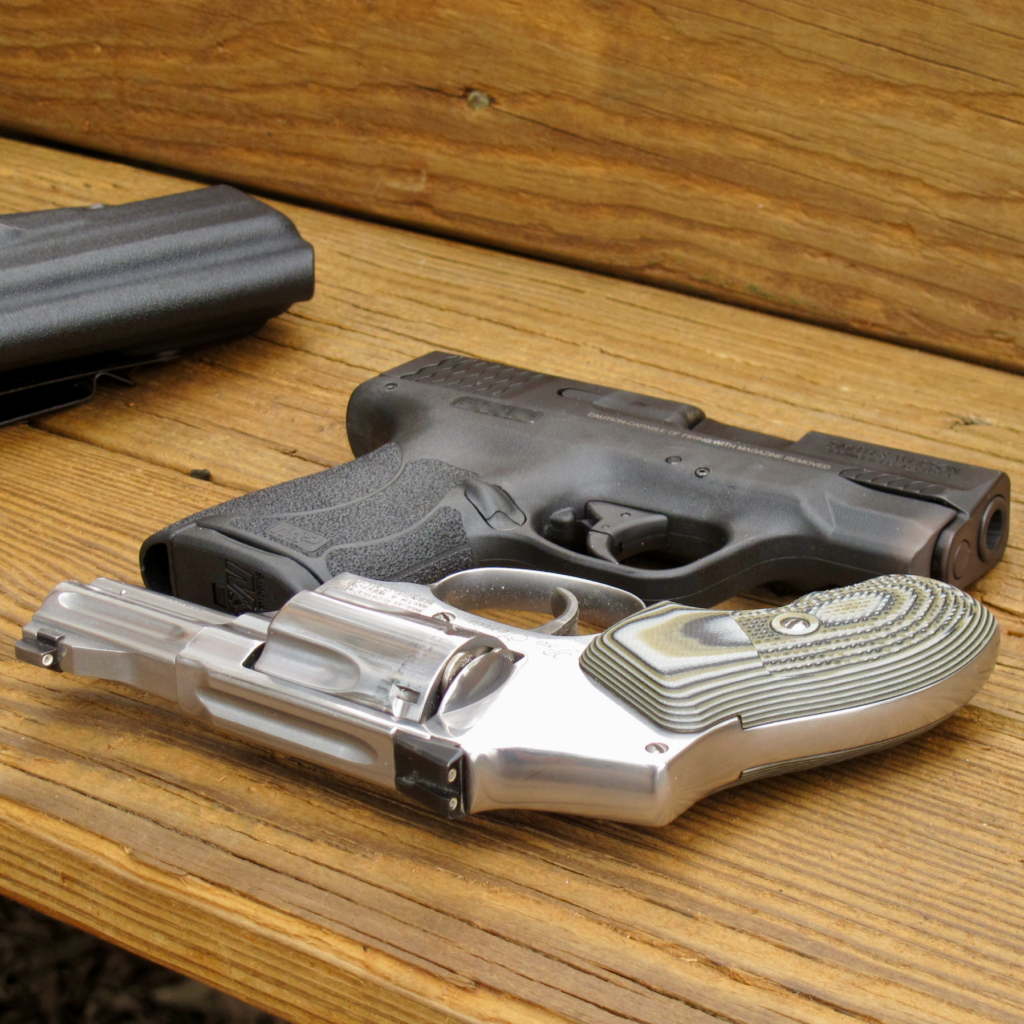 And what does all this semi-auto nonsense mean going forward? For me personally, it means I have a new carry gun and  a couple new range toys. But, the old 640 isn't going away. She might be in retirement, but that doesn't mean she won't get called out here and there on an as-needed basis. As The Standard by which all others are judged, she'll also make some cameos in coming months here, too. It also doesn't mean that I'm giving up on revolvers. I'm still as excited about them as anyone, and the only thing being replaced here is my daily carry revolver.
And what does all this mean for RevolverGuy.com? Well, I can promise you this: we aren't changing the masthead to "SemiAutoGuy" anytime soon! We won't start littering the feed with reviews of a bunch of ugly bottom-feeding guns (unless you really want us to). As I mentioned earlier, we have some really exciting new revolvers inbound that span the gamuts of caliber, price, and manufacturer. You can expect reviews on those in the coming months. I'm working on a couple of bigger revolver-related projects, and I am still signed up for Chuck Haggard's revolver class in August (who's coming with me?!). You can count on reading about all of that stuff soon. So don't go anywhere – we aren't!
Liked it? Support RevolverGuy on Patreon!