The 40th annual Shooting, Hunting, Outdoor Trade (SHOT) Show was held at the Sands Expo Center inside the Venetian resort in Las Vegas this past January 2018. The massive event was attended by over 60,000 industry professionals and two of your RevolverGuy cohorts. Mike Wood certainly looked professional, especially at the Kimber shooting range stall as he took notes from Kimber's engineers. This was my seventh SHOT Show, so at least I was able to keep the huge grin off my face…most of the time. Let's make it at least 60,002 professionals.
Editor's Note: Mike and Steve traveled to Las Vegas and attended SHOT Show 2018 on their own dime(s). I know they both had a heck of a lot of fun, but they also worked their butts off and got us some awesome contacts that will be putting revolvers in our hands and reviews on these pages. Please let them know how much you appreciate their willingness to spend their own cash, take photos, and pass out cards, and special thanks to Steve for writing up this awesome article. I know I appreciate it! ~Justin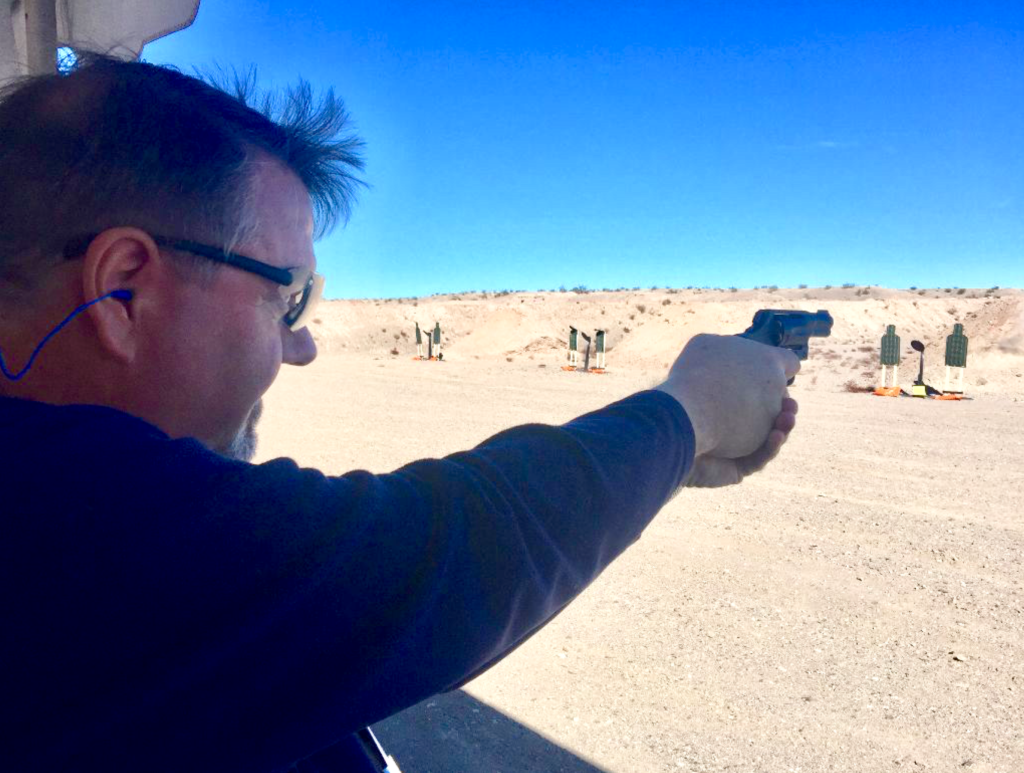 The SHOT Show starts on Tuesday and runs through Friday.  However, the Monday preceding the show is the Industry Day at the Range, hosted at the Boulder Rifle and Pistol Club.  It's an impressive range with too many bays to count, each with a firearms manufacturer gladly letting media and licensed FFL holders shoot the newest guns. Free ammo and we don't even have to clean the guns. The ranges start at 7 yards and continue all the way out to more than 1200 yards in the gorgeous tan desert backed by magnificent mountains.
Mike and I enjoyed shooting new revolvers at the 100-yard steel targets instead of the up close 7-yard paper targets. We cheated a bit, spotting for each other to see where the sand kicked up and then using a bit of Kentucky windage to adjust our holds. On the show floor, we tried to ignore the new slab sided semi-auto pistols and focus just on handguns with cylinders. We found some neat new guns and revolver accessories.  Here's the report:
Altamont
The Altamont Company in Illinois has been making custom grips since the early 1980s when I helped my father and grandfather sell them at local gun shows (full disclosure, I love their products!).  I always enjoy stopping at their booth to see what they have new.  Their wood handles for the new Colt Cobra feature an actual Cobra snake in the grip along with the Colt and NRA logos.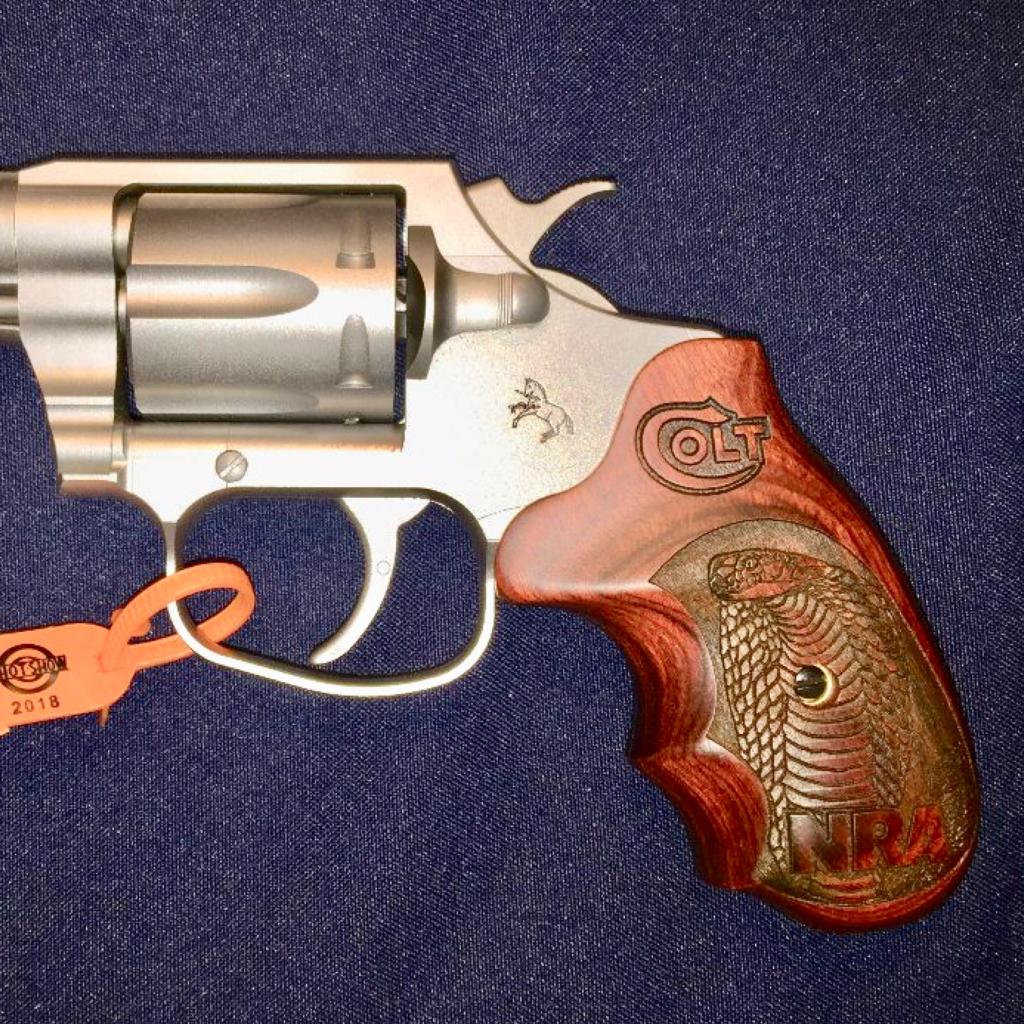 They also showcased a new Roper style handle in olive wood that was stunning to look at and even better to hold.  At $89, it's about one third the price of comparable grips.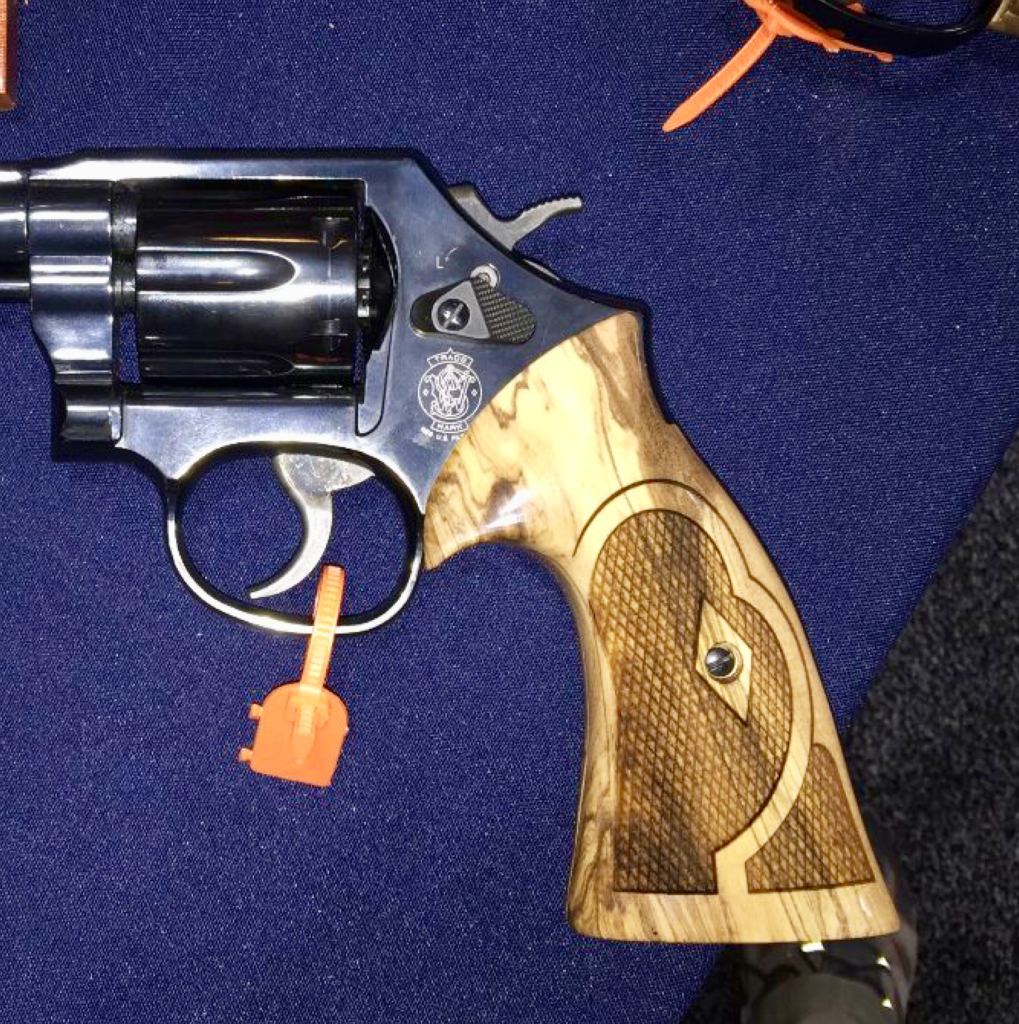 Cimarron
Cimarron imports some of the finest single action Italian revolvers made to their own specifications.  They were showing off their new Doc Holliday single action in stainless steel.  It has a birdshead style grip and short barrel.  Cimarron can also furnish a replica of Doc's special, low slung shoulder holster and a boot knife with faux ivory handles to match the ones on the handgun.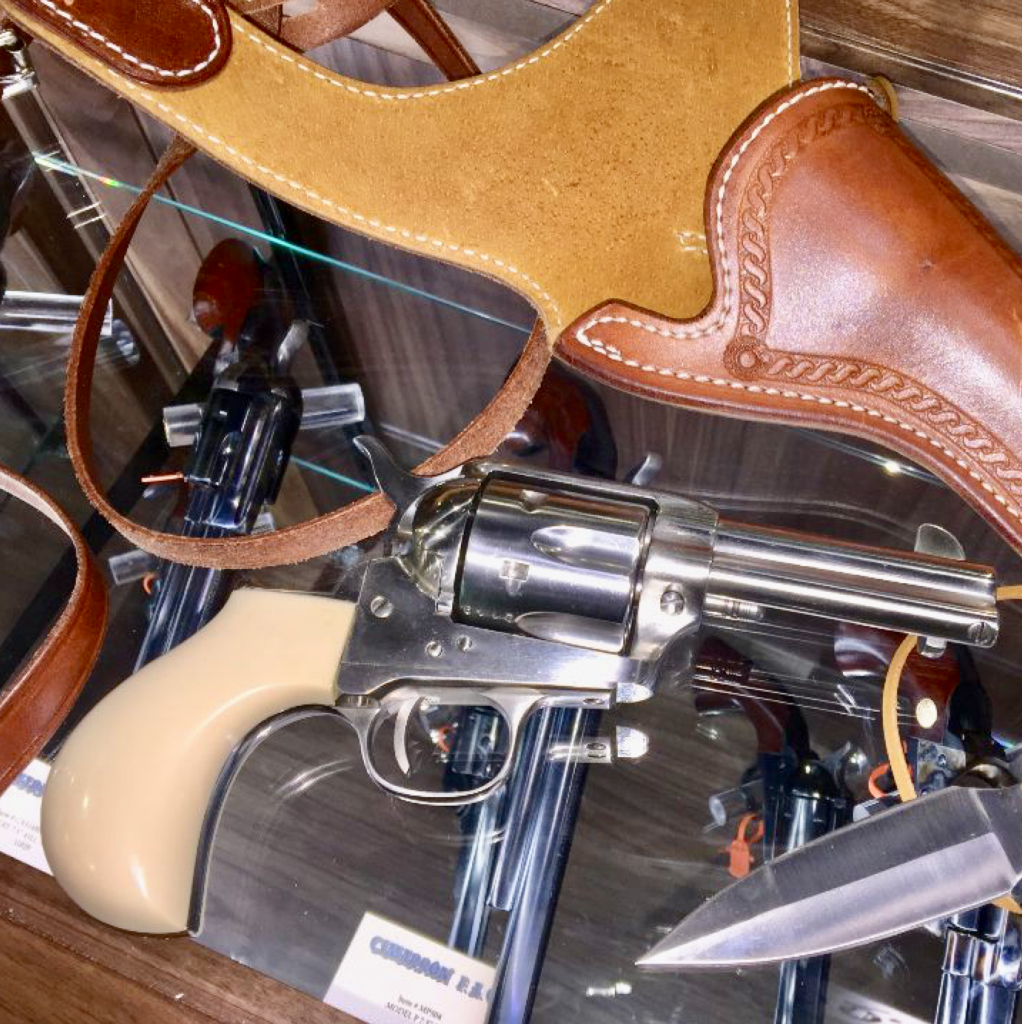 Colt
There was talk concerning Colt's much smaller booth space at this year's SHOT Show.  I believe they're maintaining cost effectiveness and they'll be just fine for many decades still to come.  Their Colt Cobra, introduced last year, has a new stable mate in the Colt Night Cobra with a matte black coating over its stainless steel finish.  The hammer is bobbed so it won't snag on clothing during your draw and new G10 grips line up the front night sight for an instinctive grip.  We shot this gun at the range and it was impossible to miss with on steel targets.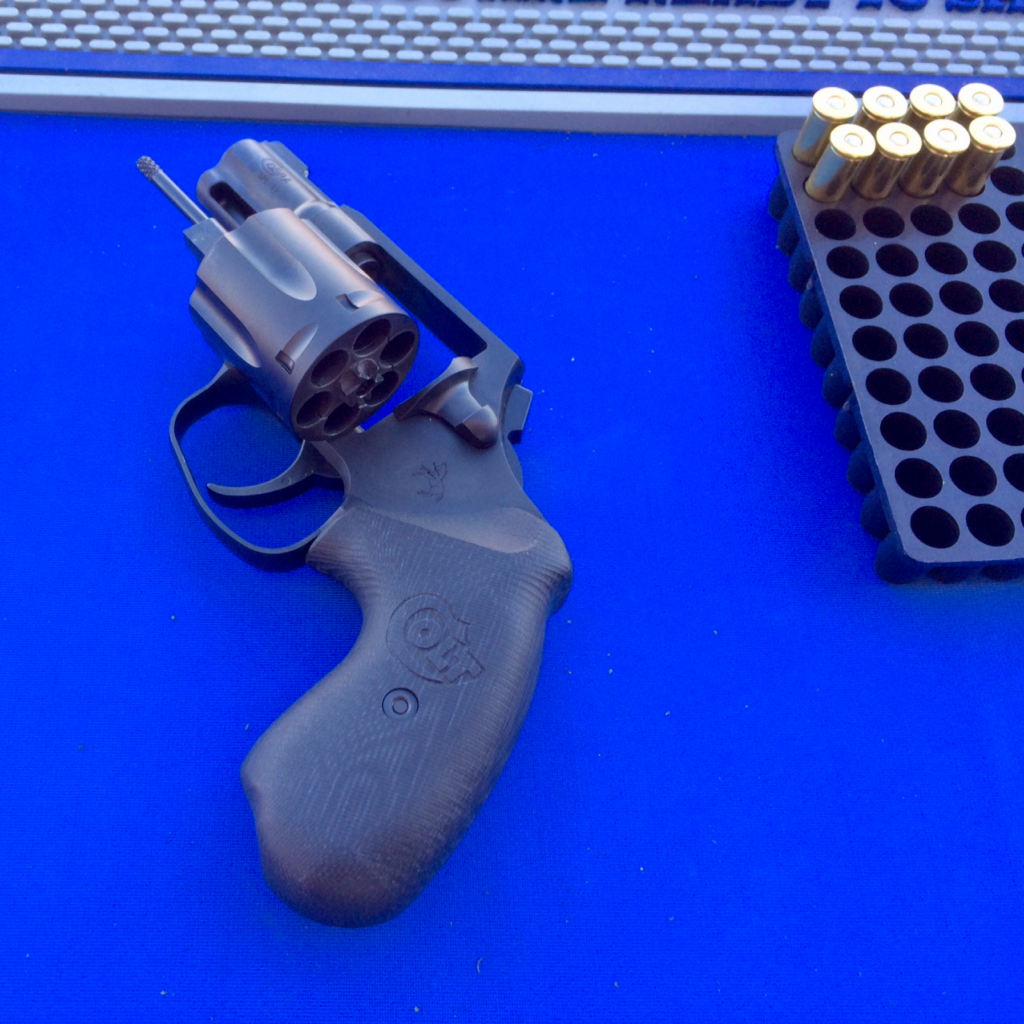 Kimber
Proving that its K6S revolver wasn't just a fun distraction from making 1911s, Kimber introduced three new versions of its 6-shot .357 Magnum revolver.  The K6S DC (Deep Cover) has a black DLC finish, tritium front night sight, and dark G10 grips (hmmmm, sort of a Chicken/Egg thing with the new Colt Night Cobra?).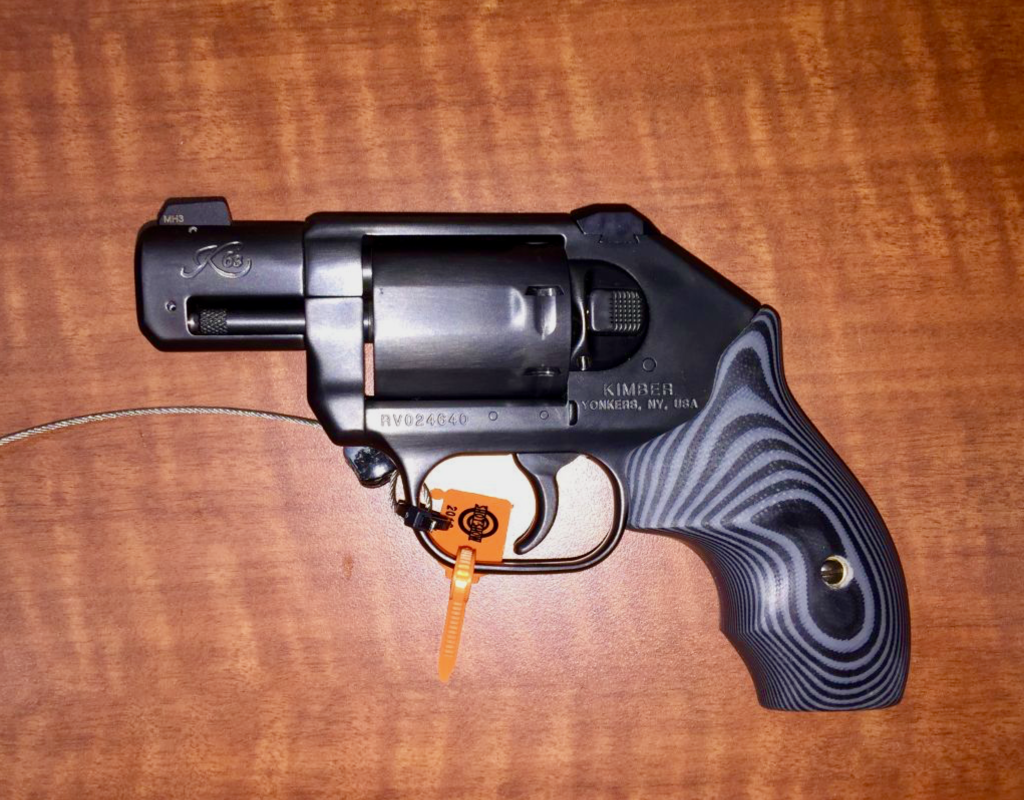 The CDP (Custom Defense Package) comes with the DC black frame, but the rest of the revolver is brushed stainless steel and it has rosewood grips and a tritium front sight.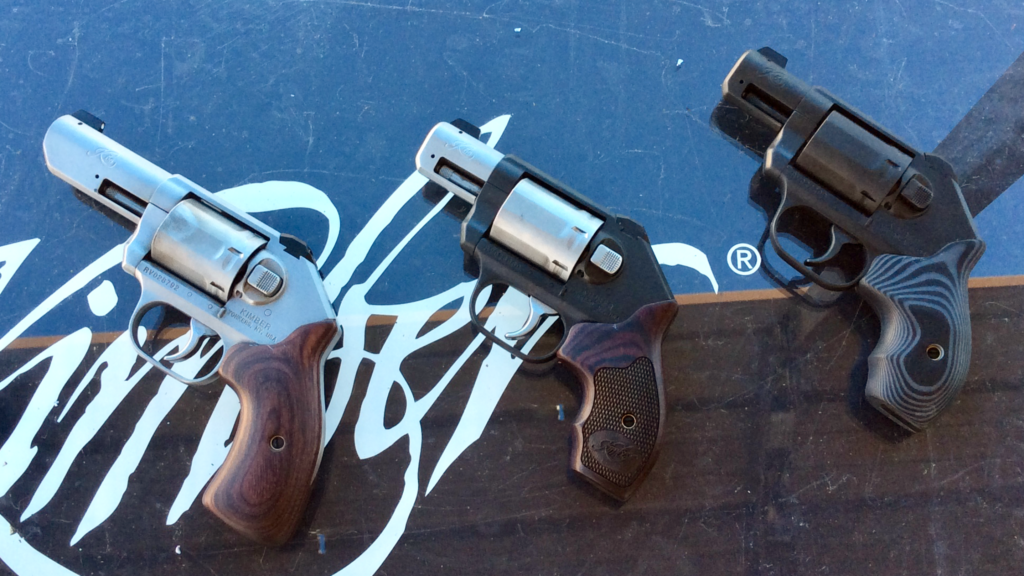 Kimber also presented a 3-inch barreled version of the stainless steel K6S.  Its trigger pull is smooth and the slab sided cylinder helps keep the revolver's width low profile.  The sights are outstanding with a low mounted black rear sight that is easy to see with its wide notch that lines up well with the tritium front bead.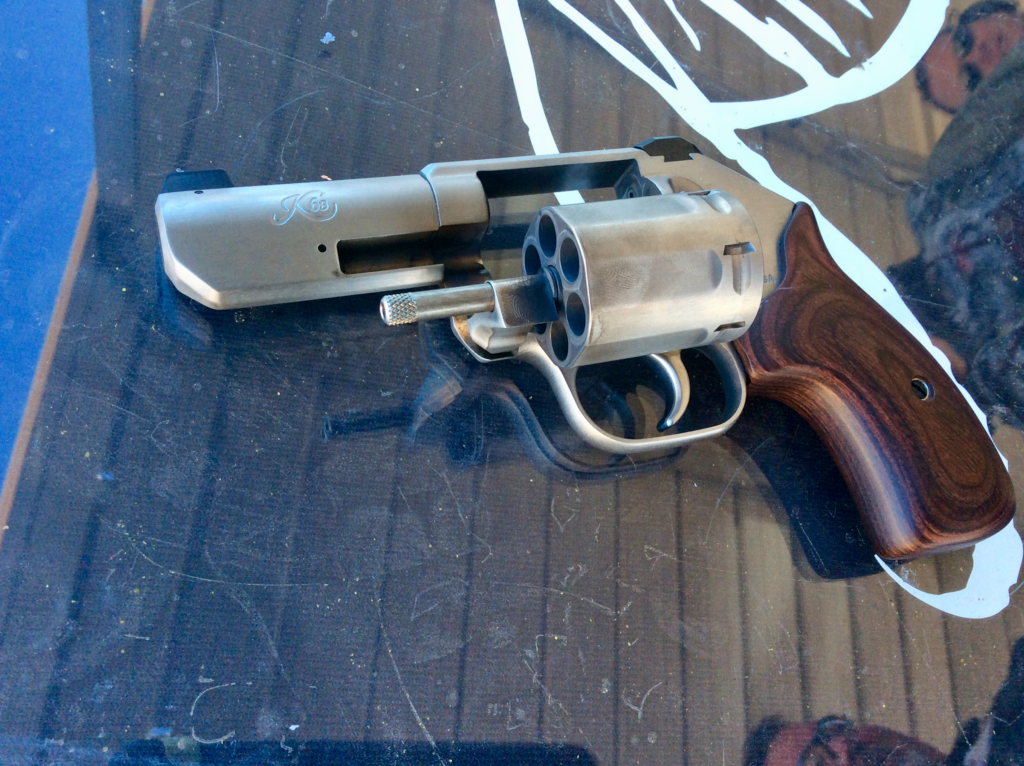 Korth
Germany's Korth is the Rolls Royce of double action revolvers.  The actions, fit, and finish are all hand fitted and provide for a unique range experience.  They're also beyond the price most of us can afford.  At the SHOT Show, Korth displayed a new left-handed revolver.  It is a true mirror image of their standard .357 Magnum with interchangeable (by just the push of a button) 9mm cylinder.  I mention this innovation as it would not be beyond contemplation for a company like Kimber, Ruger, or S&W to come out with a lefty revolver themselves in a few years.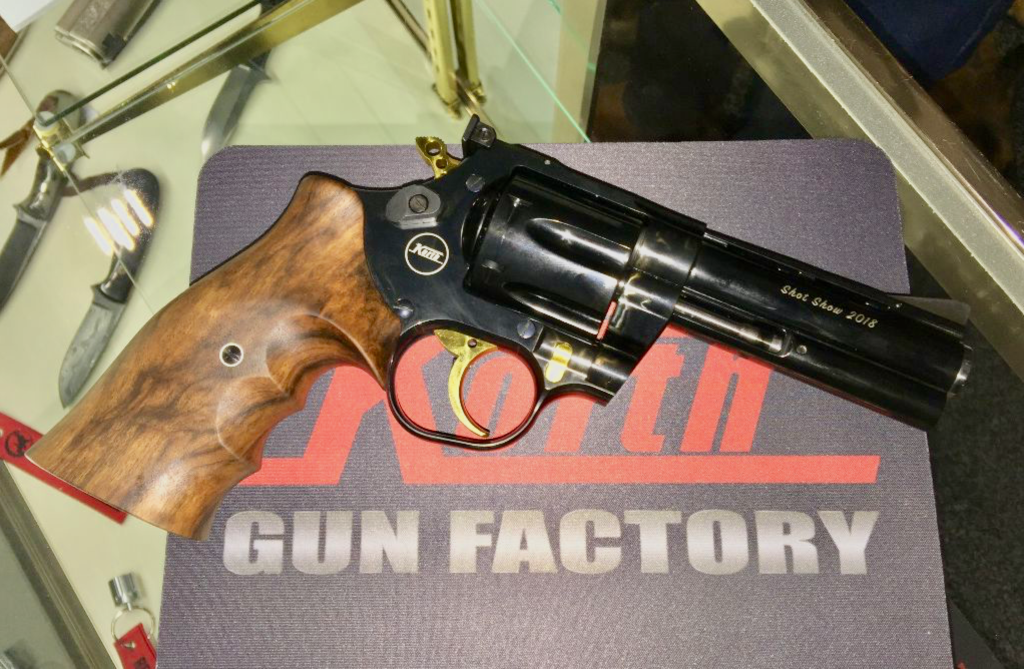 Korth also displayed an over-the-top engraved and inlayed dragon motif version of their handgun.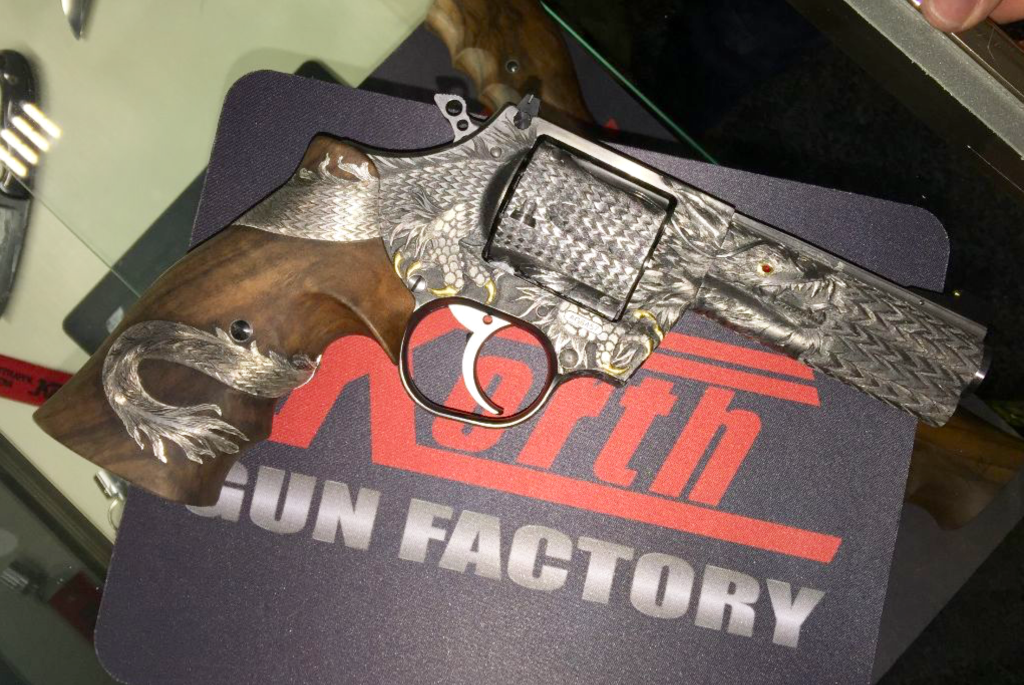 Nighthawk (know for their custom 1911 pistols) has also teamed up with Korth to market the German guns through Nighthhawk, with models like the Sky Hawk, Mongoose, and Super Sport.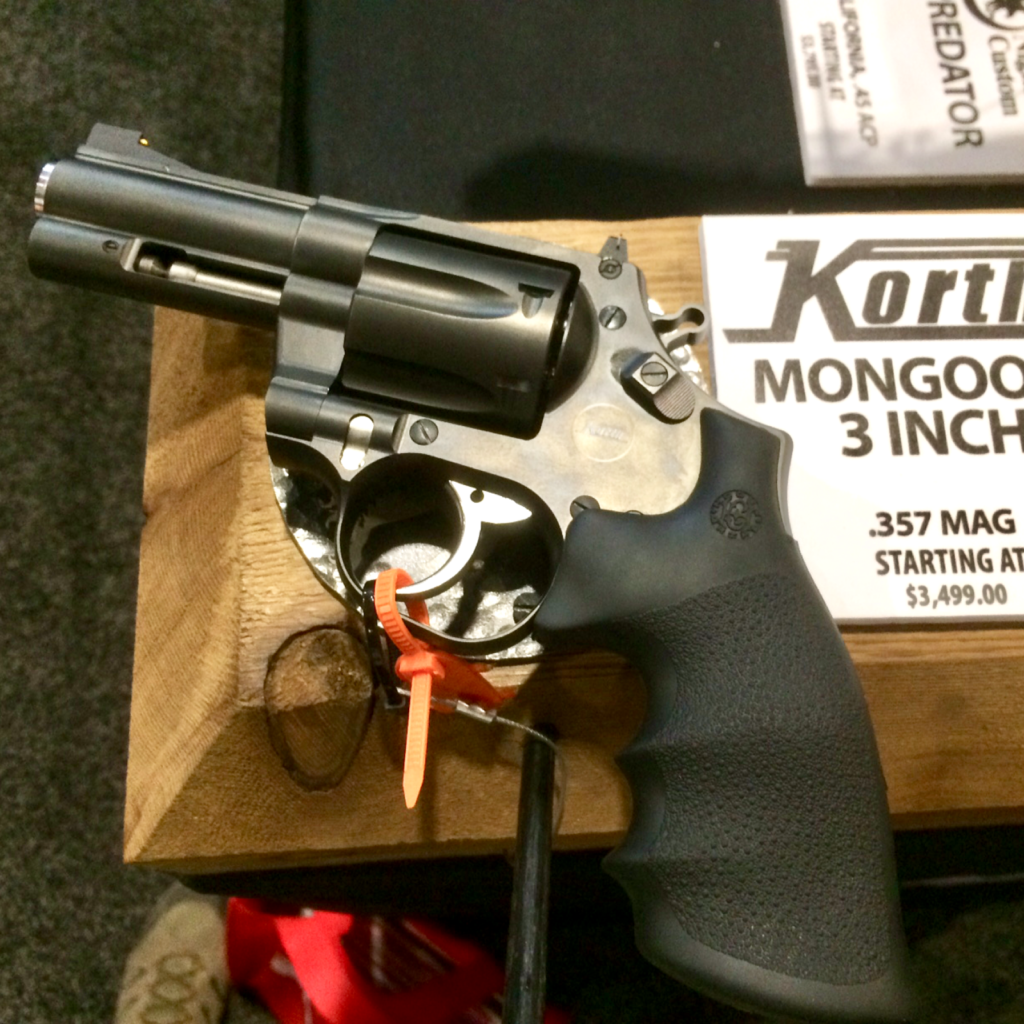 Lipsey's
Not every gun made by Ruger is listed on Ruger's website.  Lipsey's is a large distributor that orders versions of firearms made to their own specifications.  Due to their large buying power, Lipseys can talk a gun maker into almost anything.  While they market dozens of other firearms makers, they had Ruger make a 5-inch GP100 with a half lug ejector rod housing in blued steel with a new style walnut grip.  The grips had Ruger medallions and an understated oil finish.  The grip feels great and the 5-inch barrel balances superbly no matter which caliber it shoots.  This Lipsey's exclusive is available as a 5-shot .44 Special, a 6-shot .357 Magnum, or a 7-shot .327 Magnum.  A 4-inch, full lug, .44 Magnum Redhawk with a round butt and black Micarta handles was another notable Lipsey's exclusive on display.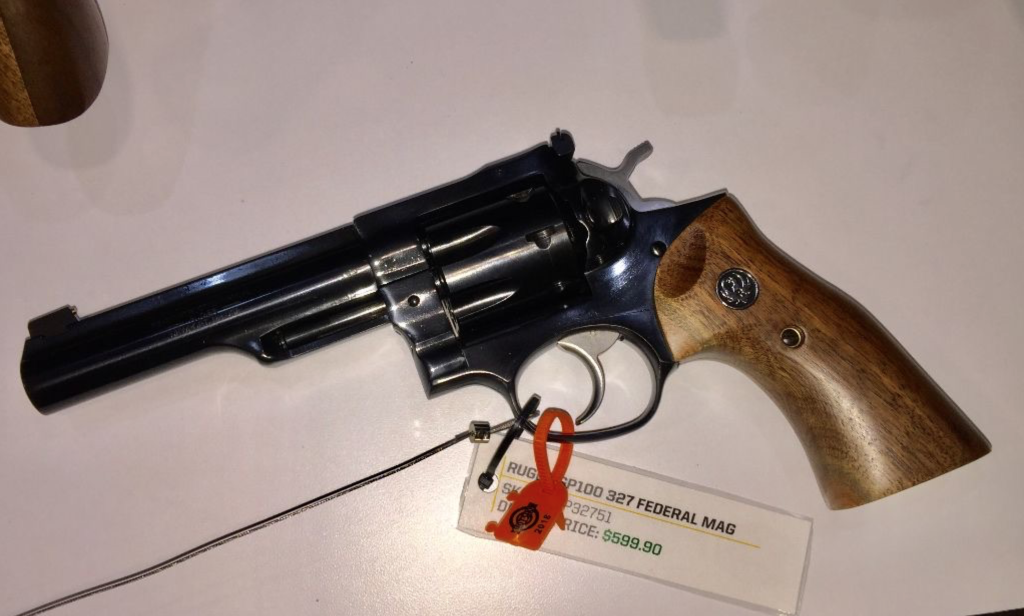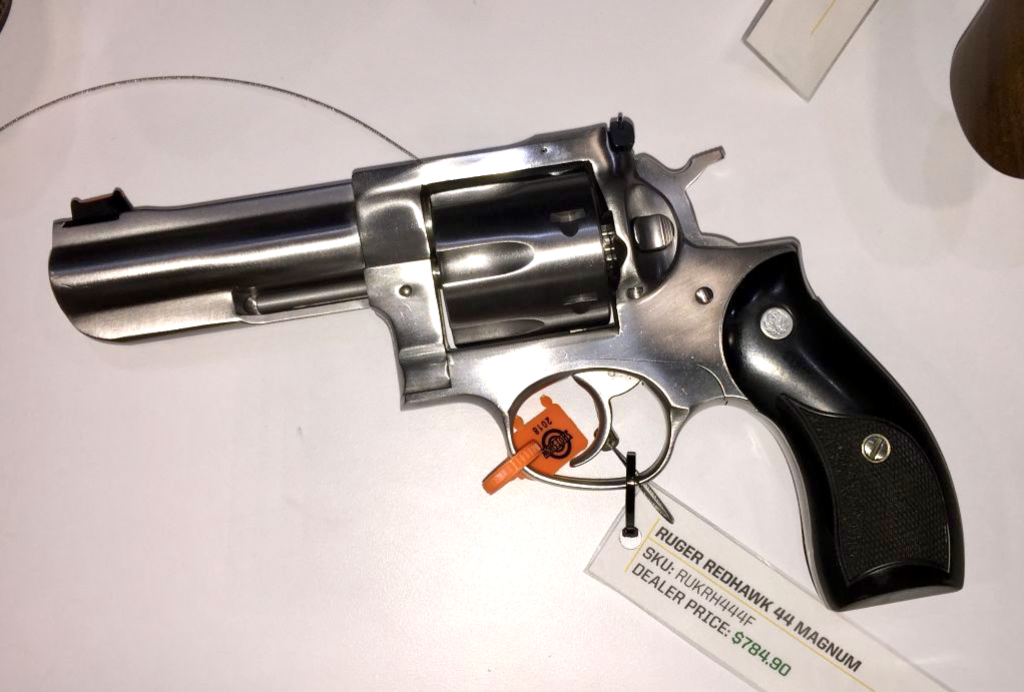 Lyman
Lyman had an unusual new product on display and a bit out of their usual wheelhouse of reloading products.   It's a black polymer revolver grip for S&W J-frames that appears to be a simple boot grip for easy concealment.  However, when gripped and drawn, a small pressure switch up under the grip behind the trigger guard releases a spring-loaded extension.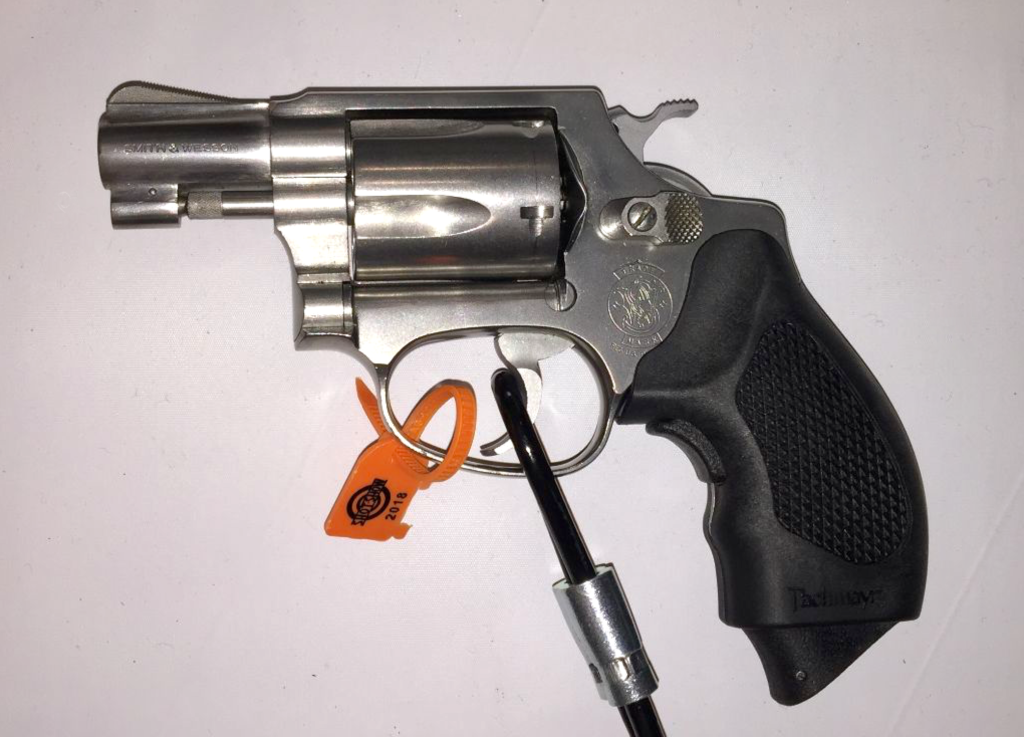 This extra bit of grip length gives the shooter a better, longer grip to hold on to the little snub nose.  Mike and I both thought it was a unique idea.  We wished the grip material was a bit softer and noted that we had to reposition our grip once the extra length was deployed.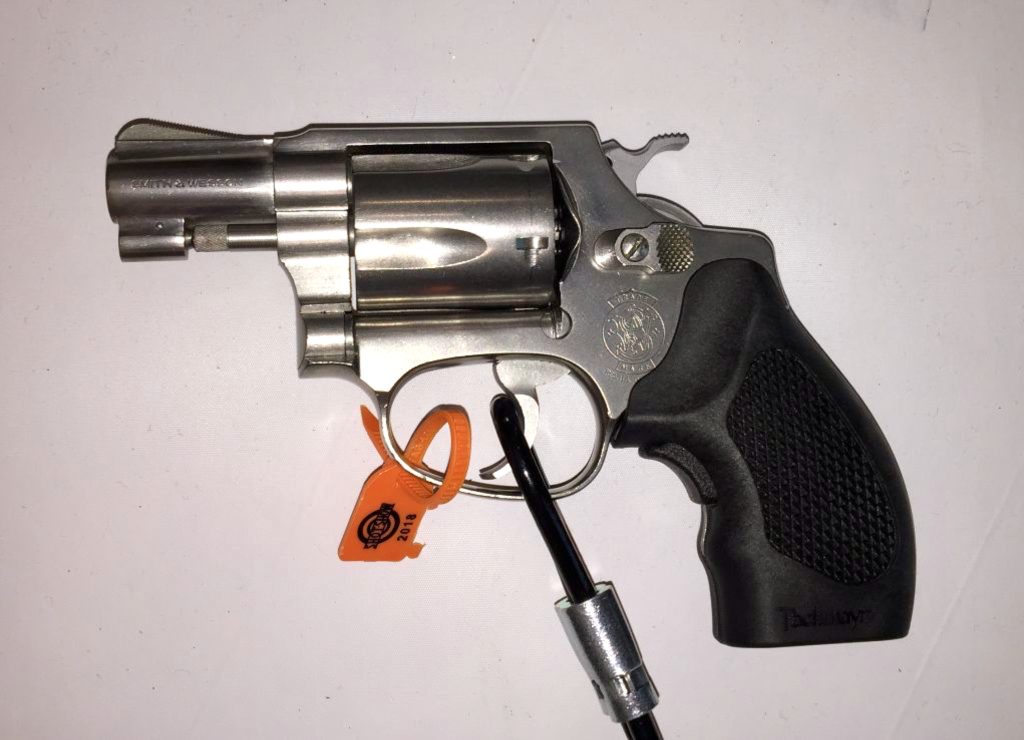 North American Arms
Known for their miniature single action 5-shot .22 revolvers, North American Arms displayed their new Ranger II break-top in .22 Magnum with a .22 Long Rifle interchangeable cylinder.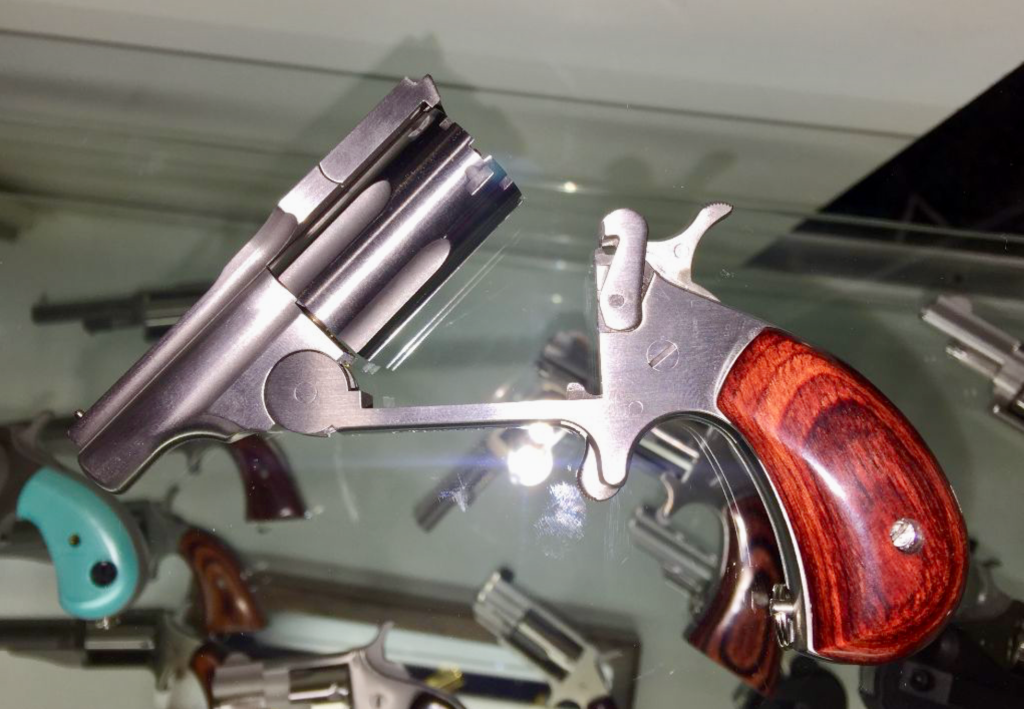 Standard mini-revolvers need to have their cylinder pin removed and their cylinder taken out to punch out empty cases and reload the cylinder.  This nifty little gun uses a break top mechanism to simply tilt the barrel forward to empty and reload.  Their holster grip will work on these new revolvers as well.  I've got one on my standard .22 LR NAA and it works well, providing a much larger grip.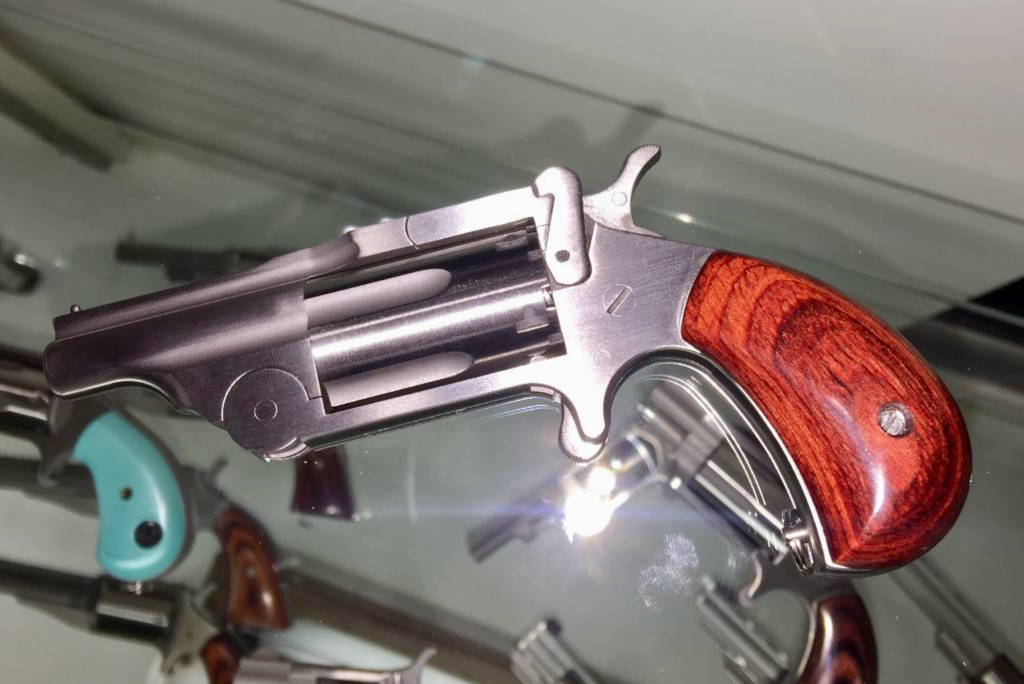 Ruger
Ruger continues to amaze with their new product releases.  They seem to be capable of filling every firearms niche knows and creating some that are unknown.  At the range, we were very interested to try the new Super Redhawk 10mm double action revolver.  Everything about it felt familiar in that it's a big, bulky gun designed to shoot the .454 Casull and the .480 Ruger.  But dropping full moon clip holding six 10mm semi-auto pistol rounds into the cylinder was a unique experience.  Recoil was minimal compared to the big boomer revolver cartridges this 6.5-inch gun usually sends downrange.  It was terrific fun to watch Mike hit the steel target 100-yards away with this Super Redhawk that can also fire all that .40S&W ammo you have laying around that you were never going to use.
Ruger also introduced their 5-shot SP101 .357 Magnum in a Match Champion version.  The stainless steel, 4.2-inch barrel revolver fully adjustable sights with a green fiber optic front sight and finger groove wood handles.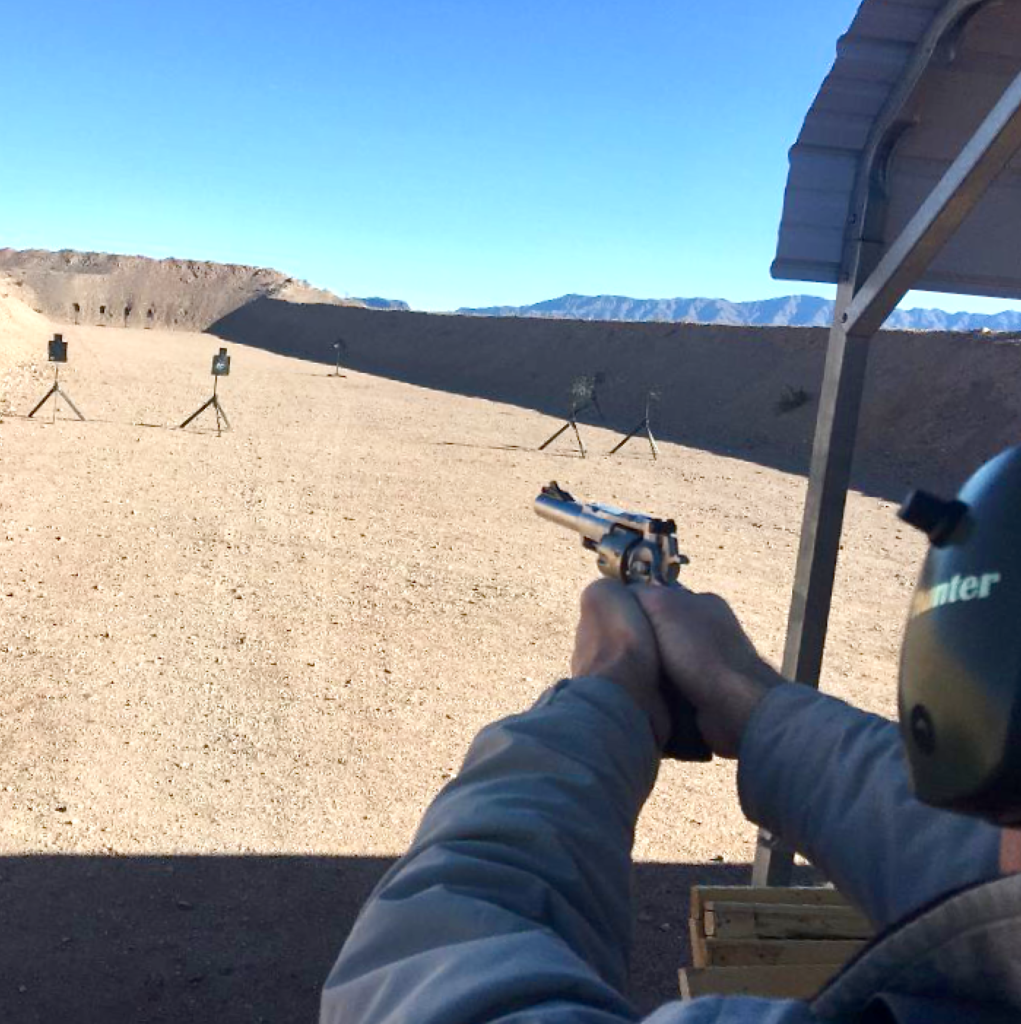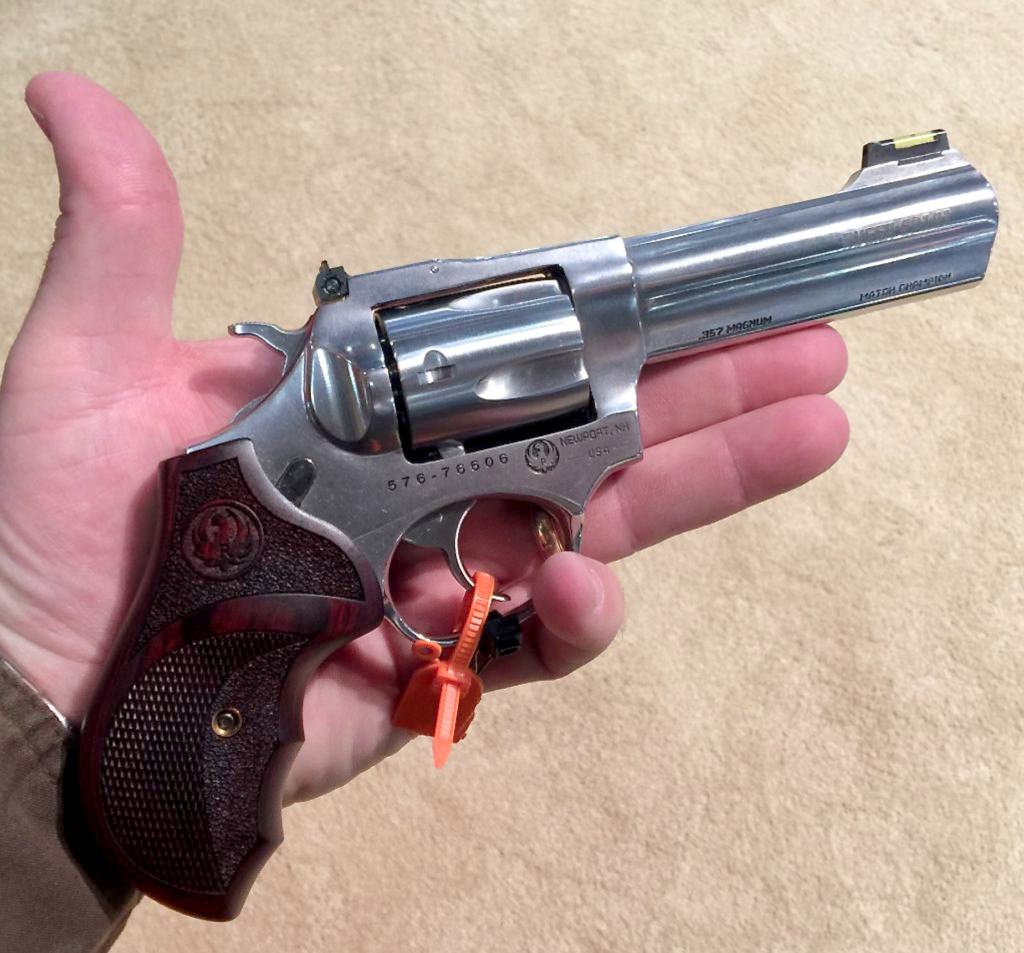 Smith & Wesson
S&W proffered 4- and 6-inch models of their 686 Plus .357 Magnum revolver from the Performance Center.  Both of these 7-shot guns come with an unfluted cylinder, blaze orange front sight, and an oversized/extended cylinder release lever.  Shooting the 6-inch barrel gun, I couldn't miss the steel targets up close so I tried for the 100-yard steel instead.  I still hit, but found the big cylinder release lever a bit odd.  After a few tries, I got used to it, but this gun is intended for competition.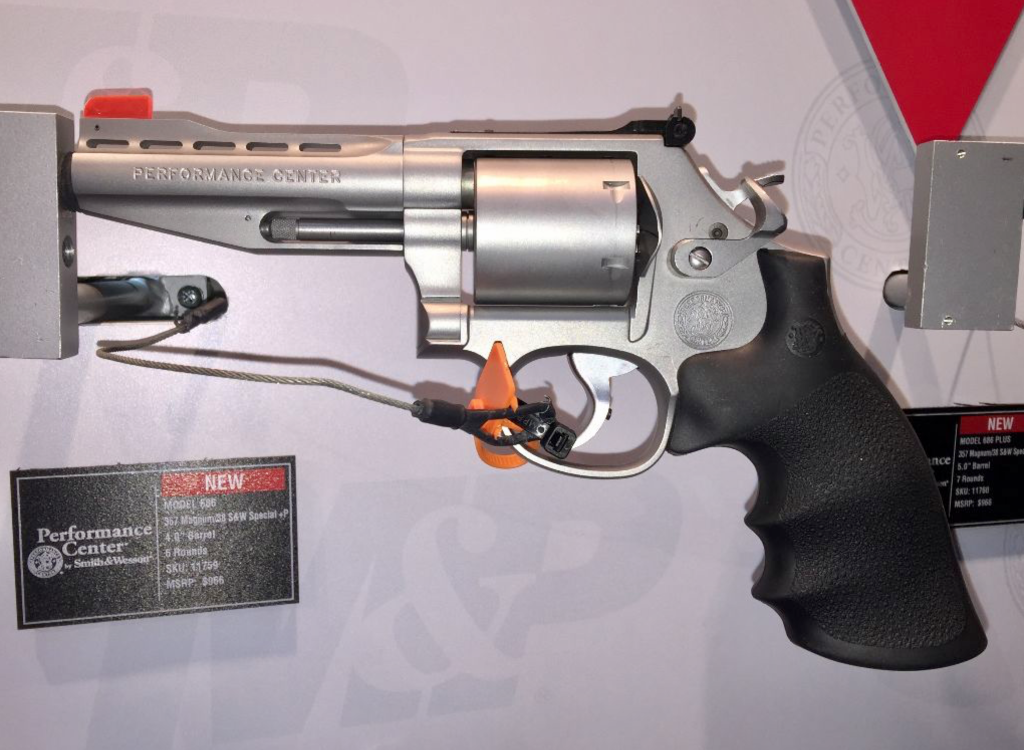 Liked it? Support RevolverGuy on Patreon!