It was a great disappointment when the 2021 SHOT Show was canceled, so I was very eager to travel to Vegas, in mid-January, for the 2022 SHOT Show. I was really looking forward to linking up with all my industry friends, and seeing what the manufacturers had up their sleeves for us RevolverGuys this year.
Changes
Alas, as the date approached, it became apparent that the 2022 show was going to be a much different animal than we expected. For the better part of a year, we had operated under the assumption that everything would be pretty close to "ops normal," but in the two weeks prior to the industry's premiere gathering, a number of major companies made the hard decision not to attend the show. Most openly discussed their concerns about employees getting sick, and how that would impact operations, but behind closed doors, I'm sure the conversation also included the significant expenses, low expectations of attendance, and dissatisfaction with the anticipated working conditions (working a booth, in a mask, for nine hours straight, is nobody's idea of fun).
So, in the days before the show, companies started falling like leaves off a tree, and I spent a lot of time comparing notes with industry friends, trying to track who was coming and who wasn't.  I was disappointed that many of our favorite brands would not be participating, but knew that there would still be plenty to see and experience at the show.
Different, but good
The show was indeed different this year, but how could it not be, considering the year the industry just went through, and our present circumstances?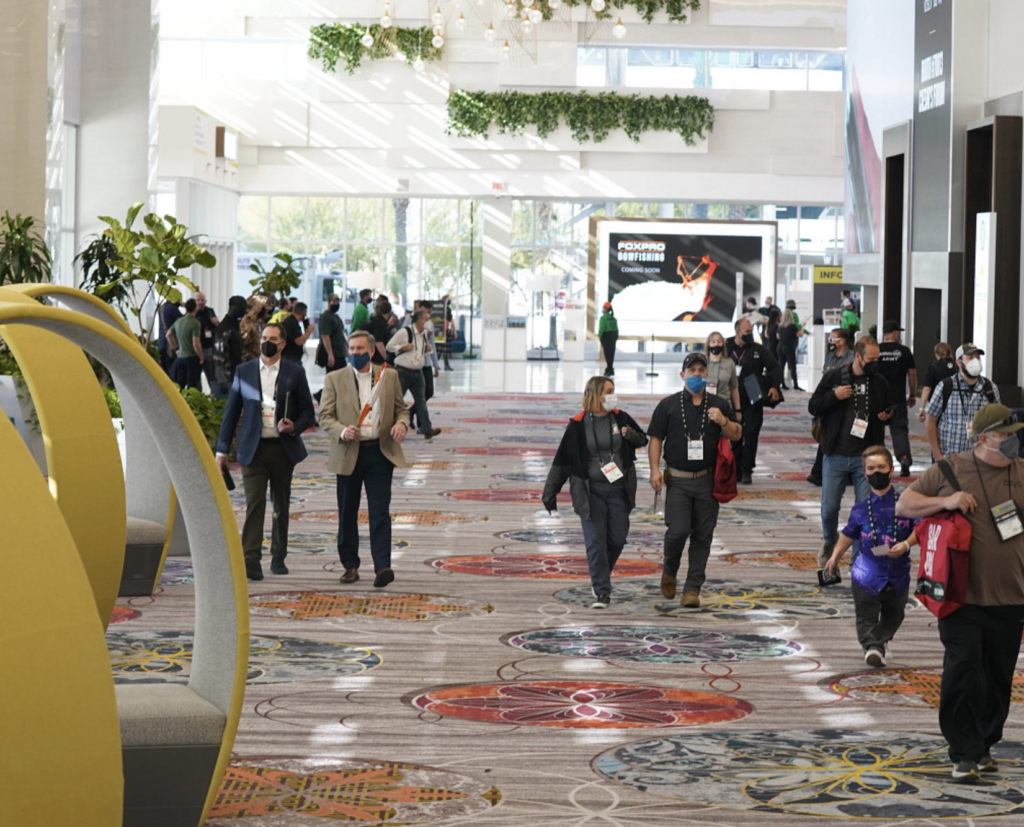 We've already noted many of the major players were absent, but things were different for the companies that showed up, too. Many of them chose to reduce their footprint, and left their large, fancy display booths at home. Instead, they came with smaller, "traveling booths" that were manned by fewer people and didn't display as much of the product line.
That made sense, since many of these companies had very little to offer that was new for 2022. They'd been busting their humps all year long in 2021 to keep up with demand for existing products, and there just wasn't much energy left to develop new products for the coming year.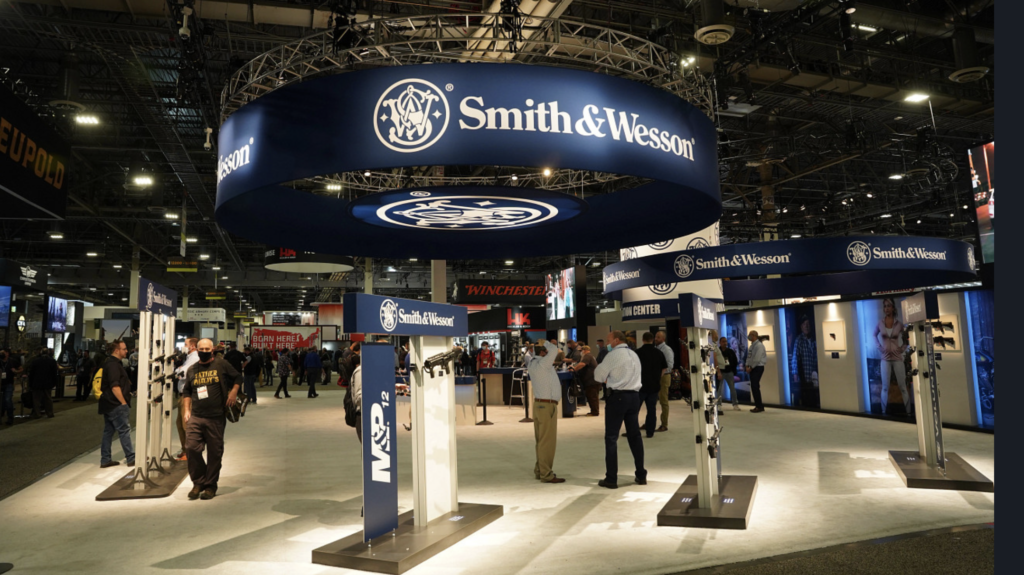 Many of the participating companies were actually still trying to get some attention for the 2021 launches that got neglected when the show canceled a year ago, and manufacturing plans changed.  Some of those products really never made it into the pipeline, because the industry couldn't afford to switch off the machinery, even for a second, to retool for the new, 2021 widgets.
Drumroll, please
So, please keep these things in mind as you go through this roundup of products from the 2022 SHOT Show. It wasn't a traditional year, and this won't be a traditional roundup, but I do think you'll find it interesting.
So, without further adieu, let's get to it.
Cimarron
Cimarron Firearms, a perennial favorite, has expanded their popular Hollywood collection in 2022, with several guns that are bound to capture the imagination of movie buffs, cowboy action shooters, and single action fans, in general.
Following Cimarron's very popular 1851 "Man with No Name Conversion Revolver," which pays tribute to the gun carried by Clint Eastwood in the classic Spaghetti Western, "The Good, The Bad, and the Ugly,"Cimarron introduces the "Angel Eyes (TM) Model 1858 Conversion" and "Tuco Special (TM) 1860 Conversion" revolvers to complete the trilogy.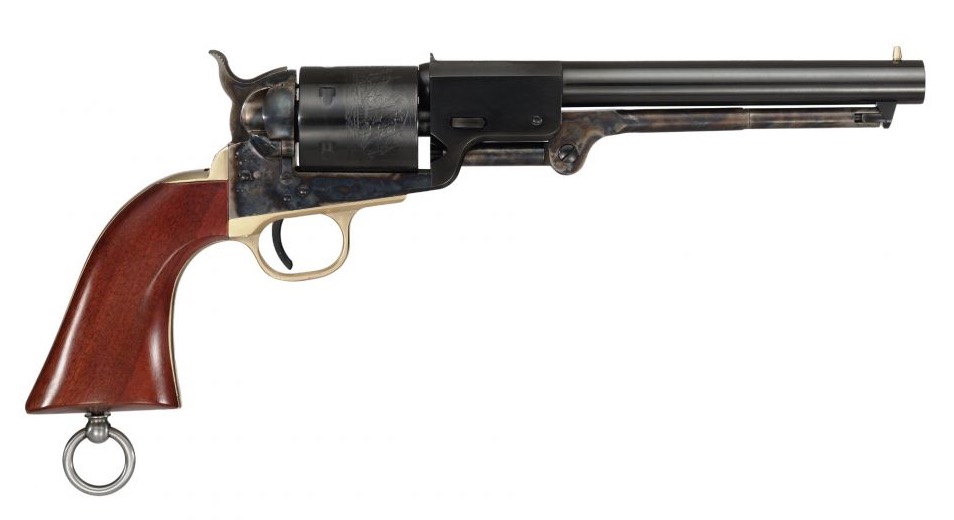 The Tuco Special (TM) 1860 Conversion is a reproduction of the gun assembled by the character, from parts, in one of the movie's best scenes for gun cranks. It's a conversion revolver in .45 Colt with a Leech and Rigdon-style 7.5" round barrel with a loading level. The brass grip frame (with lanyard ring) and trigger guard are offset by a color-case hardened blue receiver.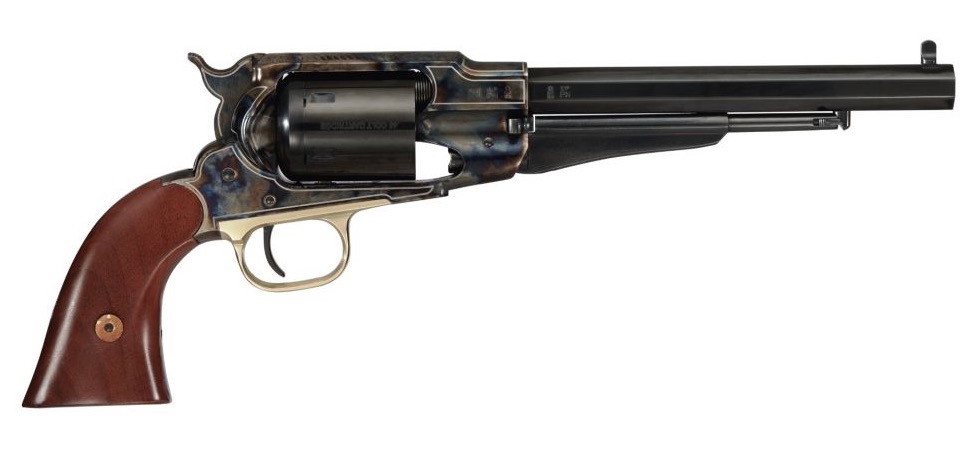 The Angel Eyes (TM) Model 1858 Conversion is a reproduction of the gun carried by the steely-eyed mercenary. To wit, it's an 1858 Remington-style, blackpowder gun with a .45 Colt / .44 caliber dual cylinder and an eight-inch octagon barrel. The gun has a brass grip frame and trigger guard, and the color-case hardened receiver has Angel Eyes engraving on the frame.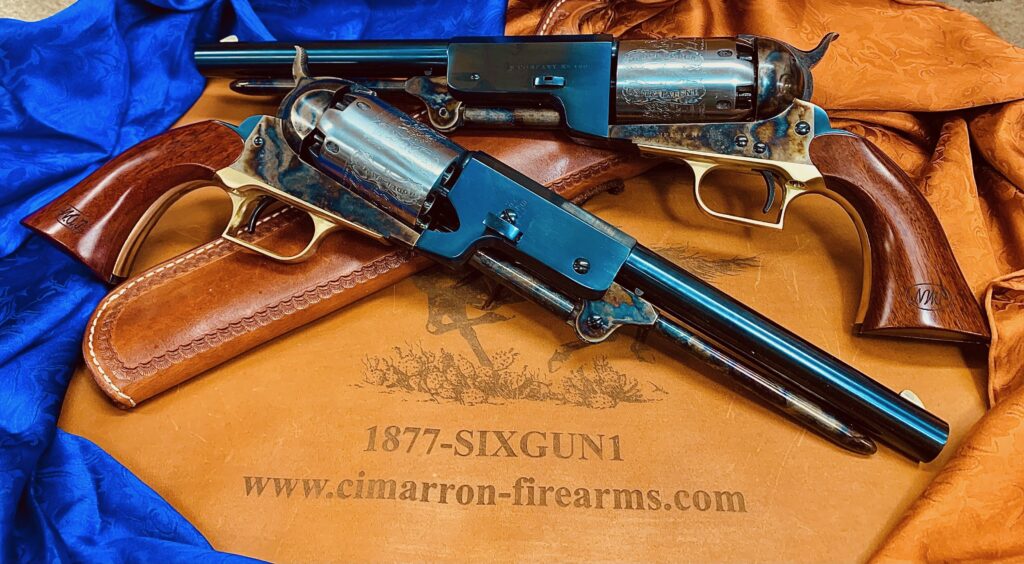 Switching gears, Cimarron is also offering a set of Lonesome Dove-inspired Walkers in .44 caliber, with 9-inch barrels. The trigger guard and grip frame on these revolvers are brass, and the backstraps are steel, with the buyer's choice of Capt. Augustus McCrae or Capt. Woodrow F. Call markings. The guns are color-case hardened on the frame and hammer, and the barrels are finished with a beautiful charcoal blue. The walnut grips are marked with appropriate cartouches, and the cylinders are left "in the white."
Colt
Colt wasn't at the show, but we were exceptionally pleased to learn that a three-inch variant of their beautiful 2020 Python has been announced!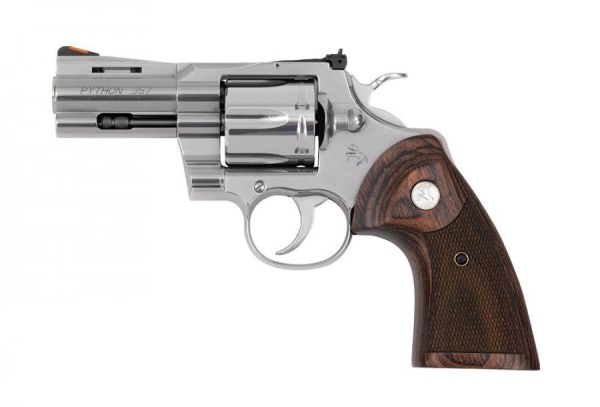 This was one of our top Christmas Wish List items, and we'd like to thank both Santa and Colt for making it come true. We missed seeing the Colt gang at the show, and hope they'll be back next year, with more great revolvers.
Crimson Trace
The LG-952 Rosewood LaserGrips for the Kimber K6s revolver are now available with a green laser option in 2022, and are a very attractive addition to the gun. I really liked the feel and look of these grips, and value the green laser option, as it's definitely easier for the eye to pick up in most lighting conditions.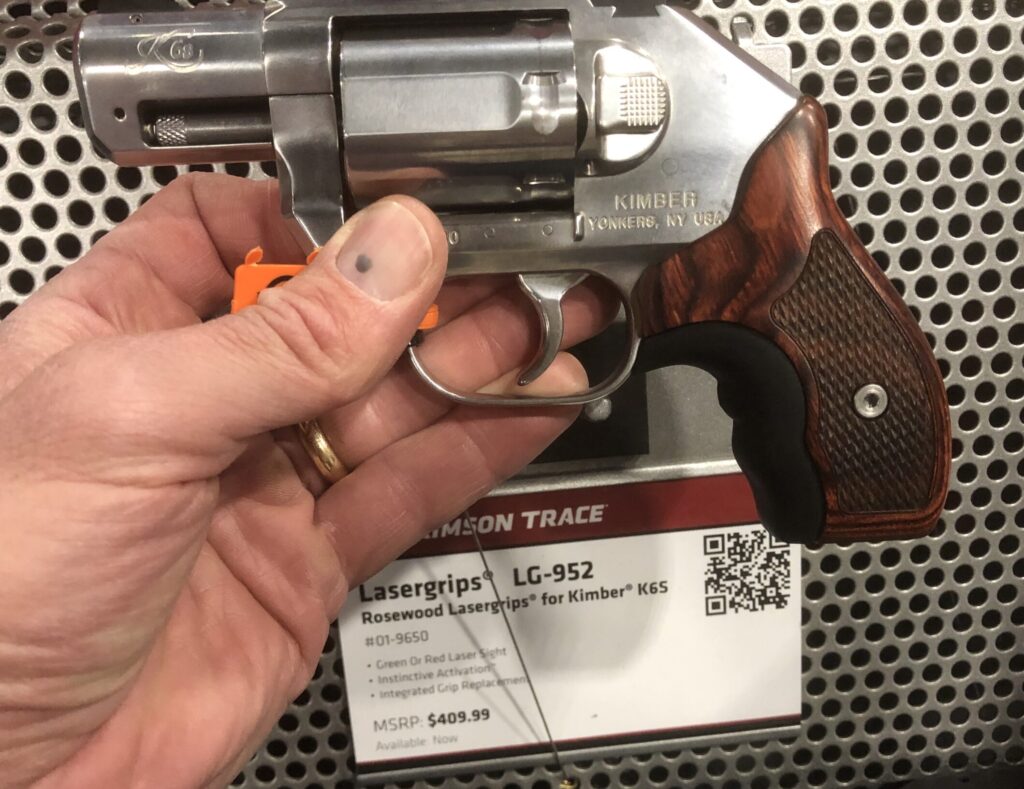 Incidentally, I was pleased to meet the gentleman who created the non-laser-equipped, Kimber-marketed, Control Core Grip for the K6s, but was disappointed to learn that the concept will not be expanded to other platforms. Crimson Trace makes a really good grip, and I'd love to see them expand their non-laser options, because they could really compete in that market. As I've said before in these pages, I like the shape and feel of my LG-405 LaserGrips so much, that if the laser ever decides to give up the ghost (and I doubt it ever will, because Crimson Trace makes a great product), I'm not taking them off the gun!
Diamondback
The Diamondback Firearms Sidekick is a fun little gun that will appeal to the kid in you. It's a double action rimfire with a swing-out cylinder that actually looks more like a single action revolver.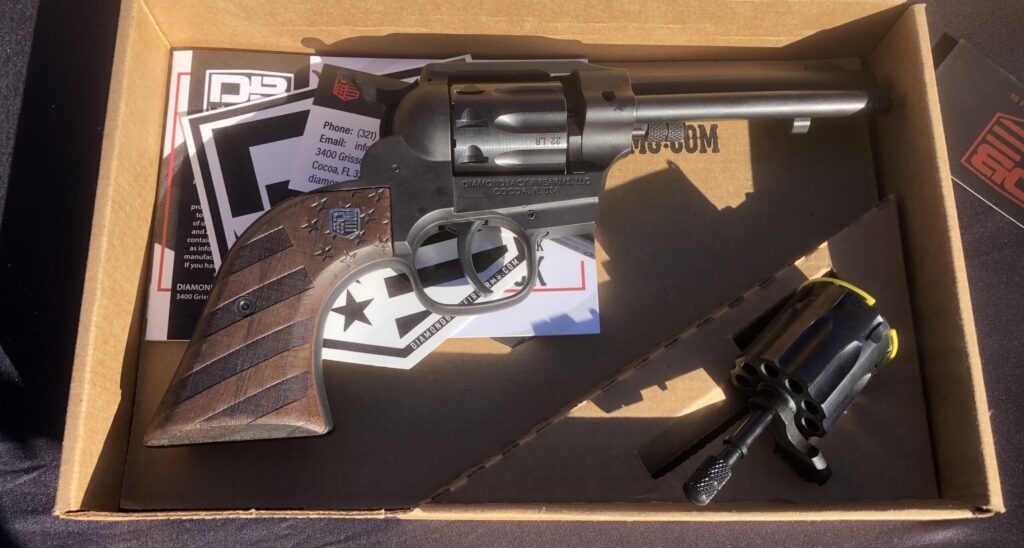 The gun is shipped with both .22 LR and .22 Magnum cylinders that each have a 9-shot capacity.  Swapping the cylinders out for each other is an easy exercise, but you have to use a little caution to prevent the spring-loaded, link pivot pin from launching into space when the crane is removed from its recess (Diamondback representatives told me they are working on an upgraded system that will keep the pin captured when the crane is removed).  Like the High Standard Double Nine that inspired it, the Sidekick cylinder has notched chambers to help prevent firing pin damage if the gun is dry fired—a nice touch, that more rimfire revolvers should incorporate.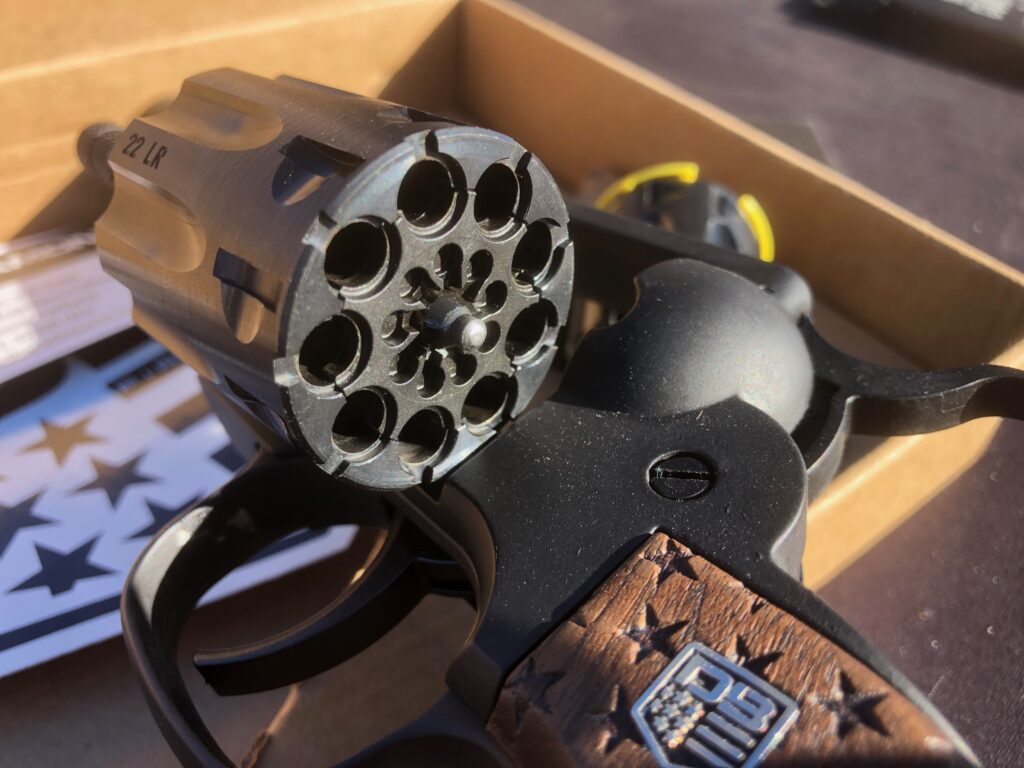 The Sidekick's barrel is 4.5 inches long and has fixed sights that aren't fancy, but will get the job done. I shot the Sidekick with a .22 Magnum cylinder in place and learned that this gun is best enjoyed in single action fire, because the double action is heavy (I'm guessing at least 14 pounds), drops off quickly, and has a lot of overtravel.  In single action though, it's a hoot, and the ejector rod on the swing-out cylinder makes it much easier to empty out the cylinder, than punching each chamber individually, in the traditional manner of single action revolvers. In fact, that's how I think this gun is best viewed—as a single action that can be unloaded and reloaded very easily.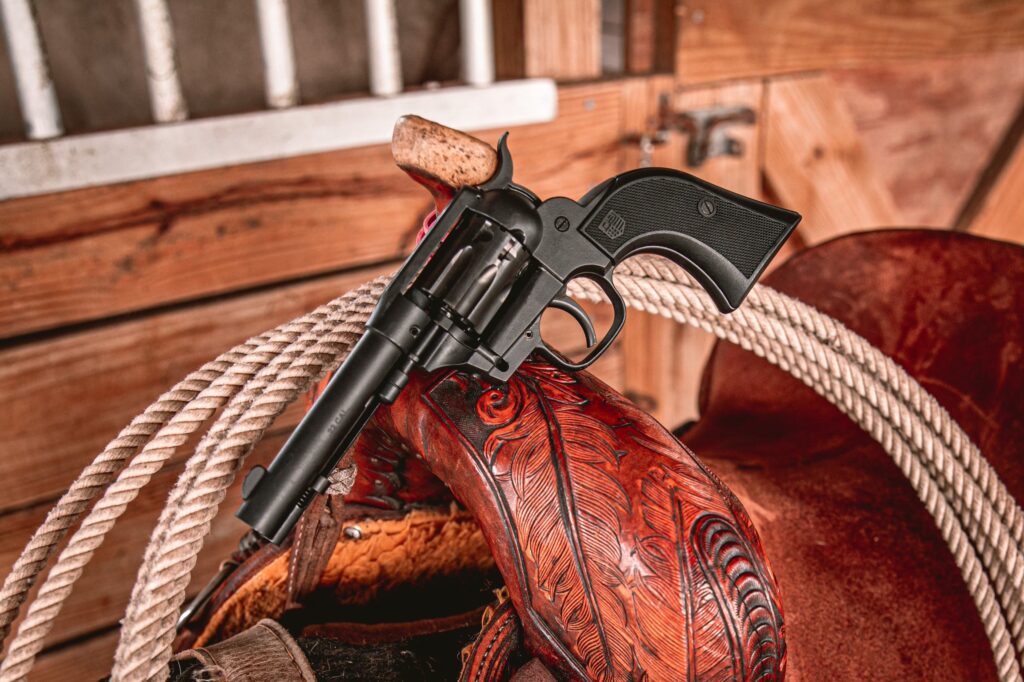 EMF
EMF is one of the most trusted sources for Italian-made replicas of the classic western guns, and they had a handful of great new designs to announce at the 2022 show.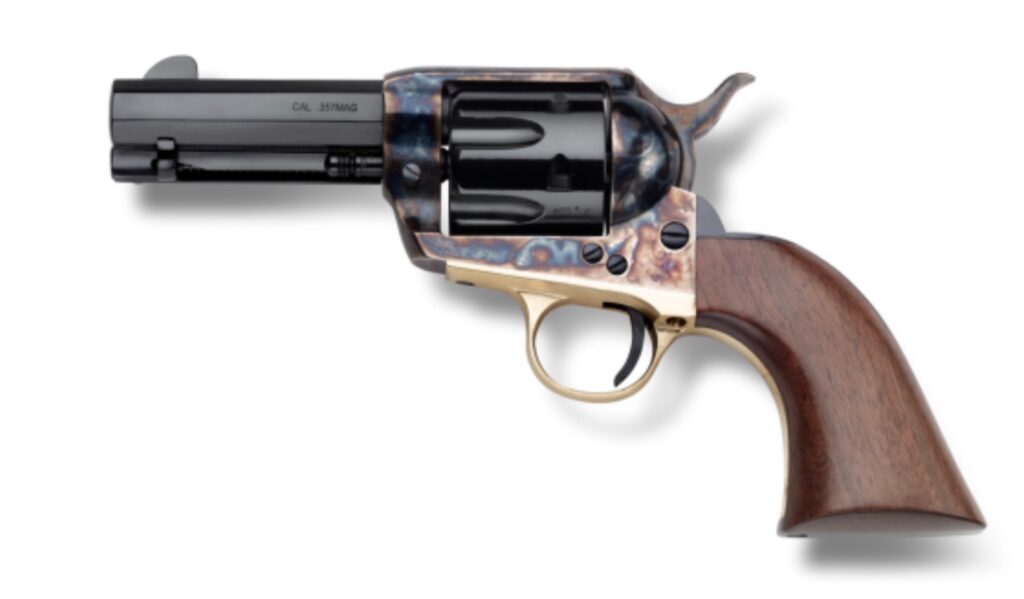 The first is the "Posse II," a gun from the Great Western II family of sixguns that's the latest in a series of 3.5" guns that started with the "Sheriff" model.  The .45 Colt Sheriff features a 3.5" barrel with no ejector rod beneath, as popularized by the "Sheriff's Models" or "Shopkeeper's Models" of the late 19th Century. The .357 Magnum Posse added an ejector rod and housing to the Sheriff's slick barrel, with a means of rotating the ejector rod head out of the way to allow the cylinder base pin to be removed.  This year's Posse II changes the previous Posse by using an octagonal barrel, instead of a rounded one, for a unique and beautiful look.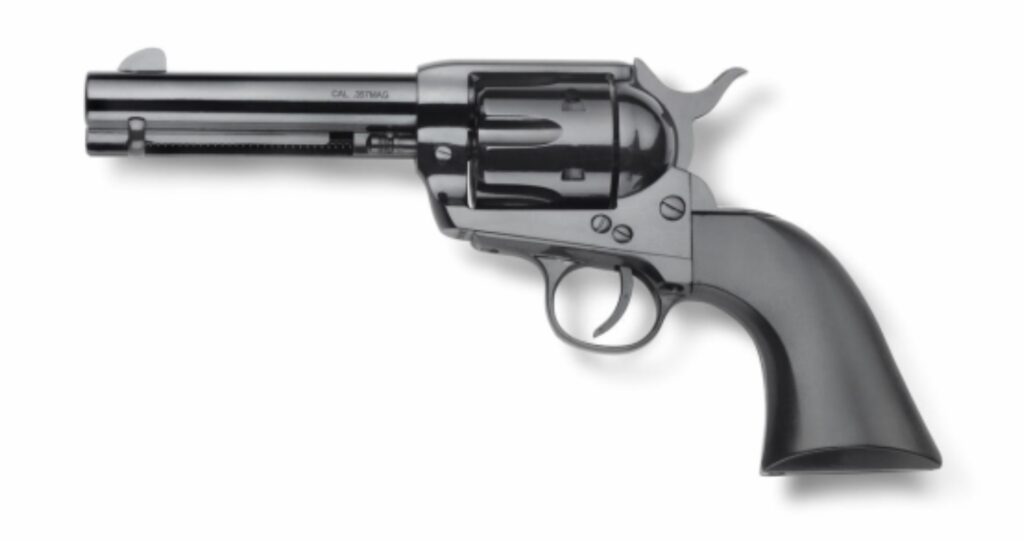 The "Midnight Special" is another gun from the Great Western II family, which is notable for its black color scheme. The frame, hammer, backstrap, trigger guard, and one-piece polymer grip are all black on this 4.75-inch-barreled gun, which is available in either .357 Magnum or .45 Colt.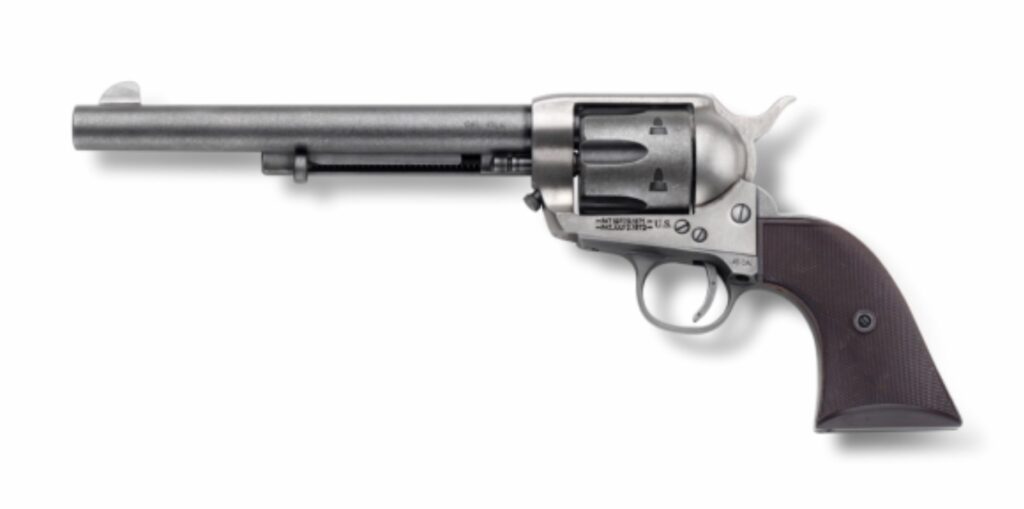 The "Last Stand" is the last of the new guns, and is built on an "old model" frame (where the cylinder pin is retained by a screw). This .45 Colt sixgun has a 7.5" barrel, a traditional Colt-style hammer with floating firing pin, and a silvery, "Old West" finish.
If your heart doesn't skip a beat when you go through EMF's catalog and see all those beautiful sixguns, then you just aren't a full-blooded RevolverGuy!
European American Armory
They aren't new for 2022, but we haven't talked about them in these pages before, so they may be new to some members of the audience. European American Armory is importing the Hermann-Weihrauch manufactured, Arminius revolvers to the United States, and they seem to be well-made revolvers, even if their styling is decidedly German.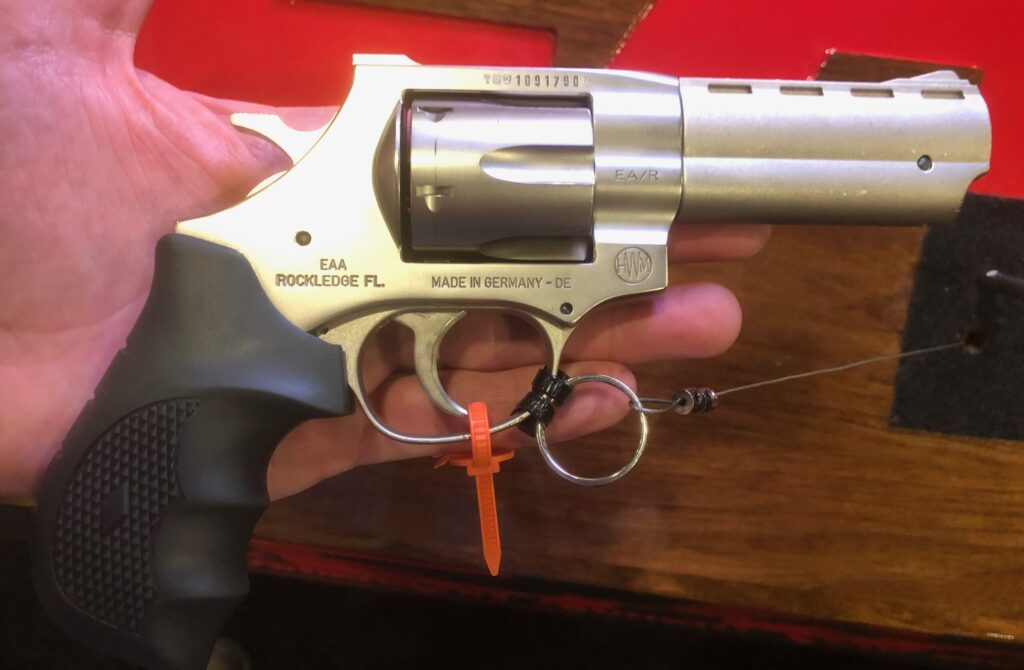 The double action guns come in a variety of models, offering two, four and six inch barrels, .38 Special and .357 Magnum chamberings, and alloy or steel frames.
The single action guns come in a variety of barrel lengths, from 4.5 inches to 7.5 inches, and a choice of alloy or steel frames with various finishes. The single actions can be chambered for .22 LR, .357 Magnum, .44 Magnum, or .45 Colt cartridges.
I thought these guns displayed a good level of fit and finish, and would be interested to see how they run. Maybe we'll get a chance to send a few through their paces, and report to you on them, later.
Federal Ammunition
Our good friends at Federal made a few more of our Christmas wishes come true in 2022 with some updated defensive and sporting ammunition for oft-neglected revolver calibers.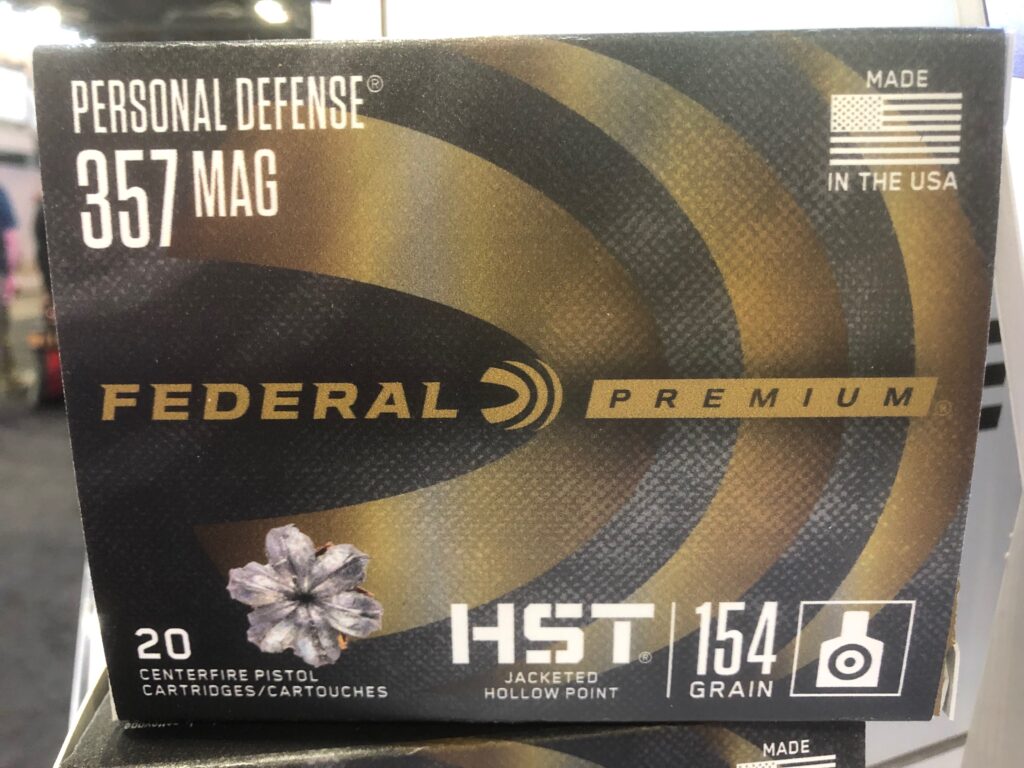 Federal's outstanding HST bullet will be loaded in the .357 Magnum and .327 Federal Magnum, and will do an outstanding job of protecting those who carry it. The .357 Magnum bullet will weigh-in at an unusual 154 grains ("because that's the weight that just happened to work best in our testing") and the .327 Magnum slug will weigh 104 grains (for the same reason).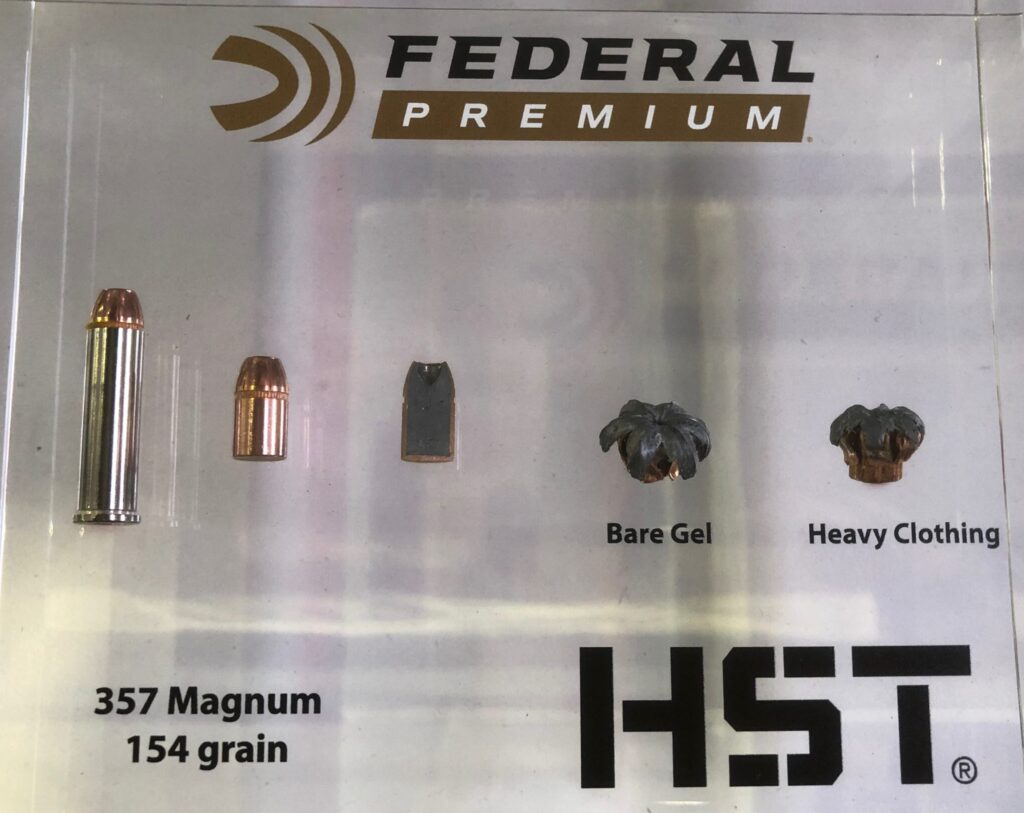 The .327 Fed Mag HST load was the beneficiary of Federal's massive effort to develop a new autopistol cartridge, the .30 Super Carry. Like the .327 Federal Magnum, the .30 Super Carry is loaded with a 0.312" diameter bullet, and Federal's Chris Laack told me that work on the new Super Carry, "opened a door for us to develop the .327 Federal Magnum HST at the same time."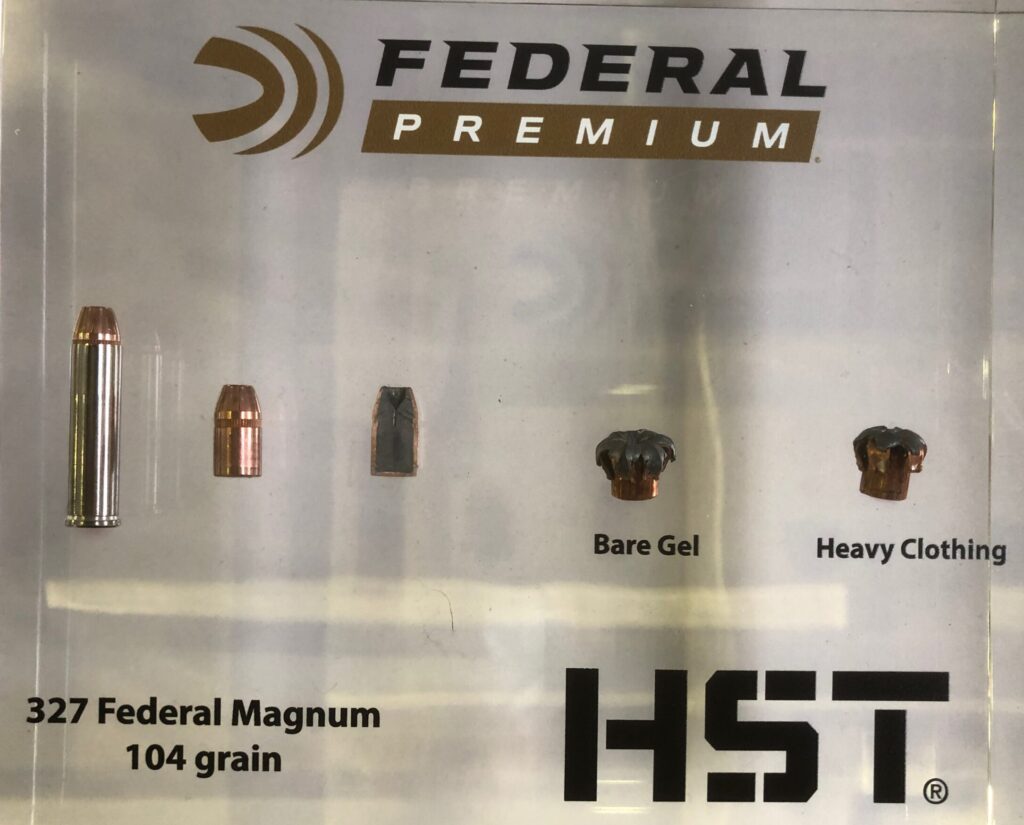 We don't have much in the way of ballistics info on the .327 Fed Mag HST yet, but the advertised numbers for Federal's new .30 Super Carry HST should give us a good indication of how the revolver round will perform. The .30 Super Carry HST shoots a 100-grain bullet at around 1,250 fps to develop 347 ft-lbs of energy. It reportedly penetrates 15.5 inches in 10% calibrated ballistic gelatin covered by FBI-standard Heavy Clothing, while expanding to 0.530 inches in diameter.  That's pretty good performance, and we should expect the .327 Fed Mag HST to meet or exceed that performance, with its heavier, 104 grain bullet travelling about 200 fps faster (the .327 Fed Mag Speer Gold Dot load shoots a 100 grain bullet at 1,500 fps, and the new HST should be in the same ballpark, energy-wise).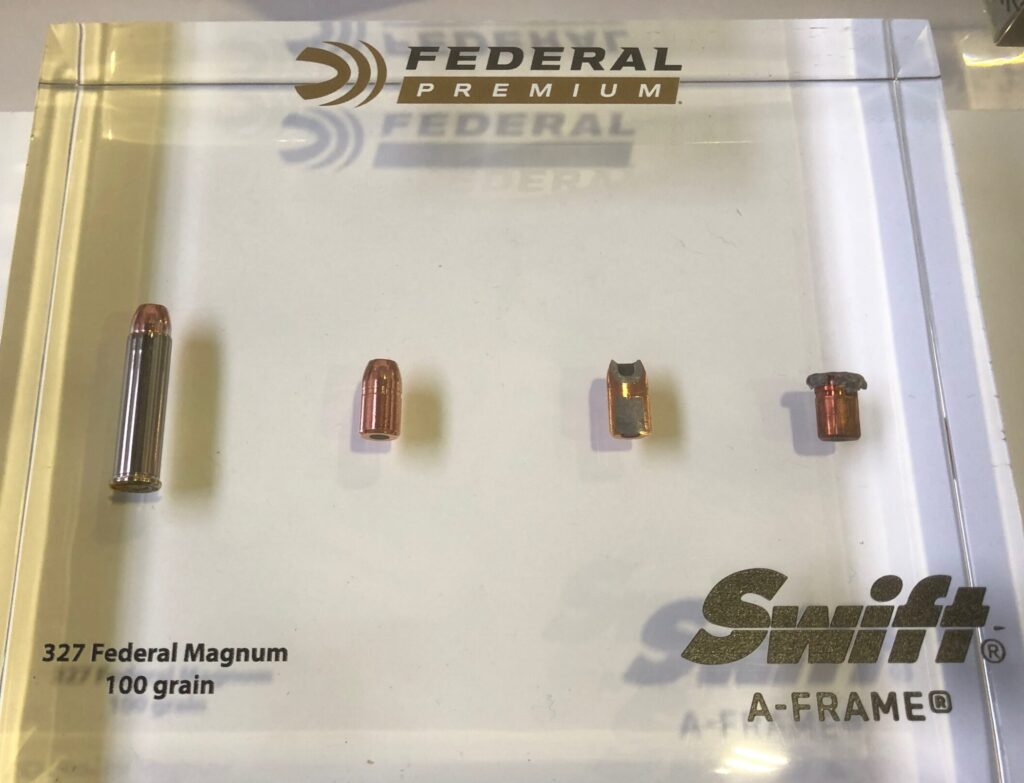 Federal also launched a 100 grain, .327 Federal Magnum Swift A-Frame load in 2021 that didn't get much attention, due to the show being canceled. This dedicated hunting bullet controls expansion of the bonded front half of the slug, while the back half remains intact to ensure adequate penetration. This excellent bullet should offer superb performance on medium-sized game.
Another set of hunting bullets that didn't get a lot of attention in 2021 are the HammerDown loads tailored for optimum performance in lever-action guns. HammerDown cartridges in .327 Federal Magnum, .357 Magnum, .44 Magnum, and .45 Colt are available, and while Federal engineers had rifle-length barrels in mind when they developed this family of cartridges, I'm sure they will give excellent performance in long-barreled, hunting handguns, too.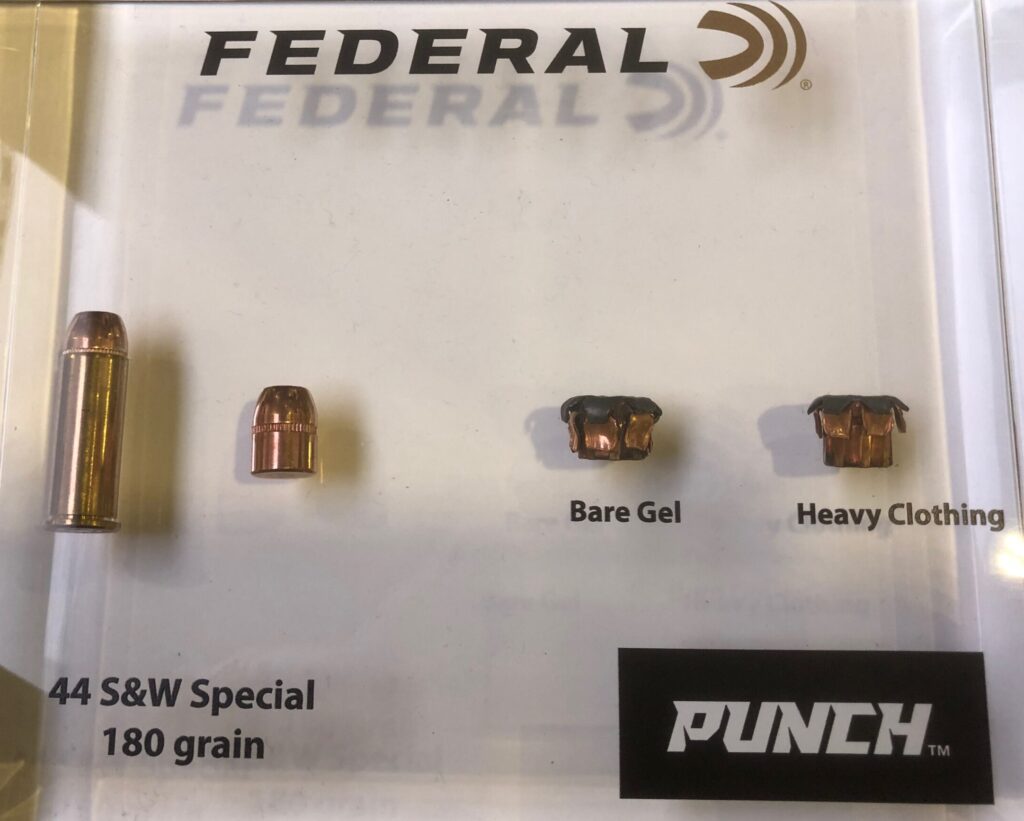 The venerable .44 Special gets some love from Federal this year as well, with a new 180 grain Punch JHP load that dramatically improves bullet performance in this classic caliber. Federal Handgun Ammunition Product Manager Chris Laack notes, "we looked at specifications from our Hydra-Shok Deep, HST and other bullet designs, and took what made sense for Punch. We modified the thickness of the jacket, skive depth, hollow point geometry and even differences in lead cores to build the recipe for Punch in .44 S&W Special." The new Punch bullet combines the right materials, engineering and design to control expansion and penetration, and will be just the right medicine for a gun like Ruger's GP100 in three-inch, four-inch, or five-inch trim, or Charter's Bulldog.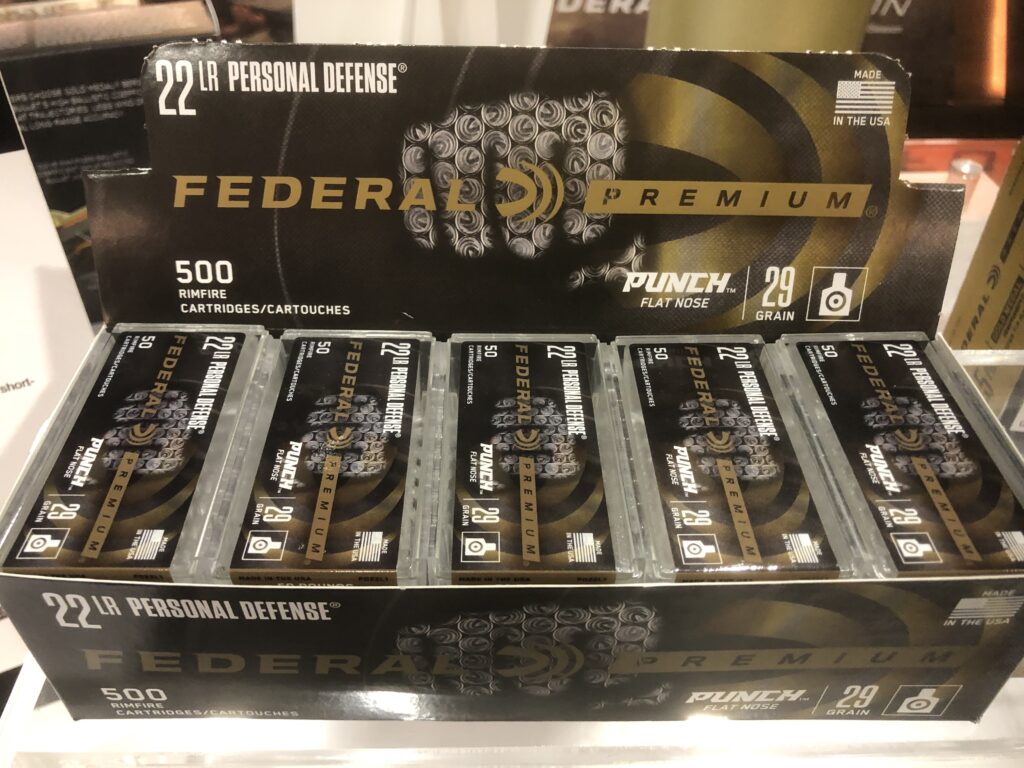 Another Punch bullet, in .22 LR, will be sure to please, as well. The .22 caliber Punch was actually a 2021 introduction, but we didn't get the chance to report on it then, and want to make sure you're aware of this excellent round.

The rimfire Punch is designed for maximum velocity and minimum expansion, to promote deep penetration. It pushes a 29 grain, nickel-plated, flat nose bullet at 1,070 fps out of a two-inch barrel, sending it 12-plus inches into bare, 10% calibrated gelatin (13.5 inches on average, depending on barrel length). That's pretty good for a rimfire, and a worthy load to consider if you're going to use a .22 for defense.
Galco Holsters
It was a light year for new Galco introductions, but one of them is very interesting and might be an attractive option for those of you who need deeper concealment, or want to carry without a belt.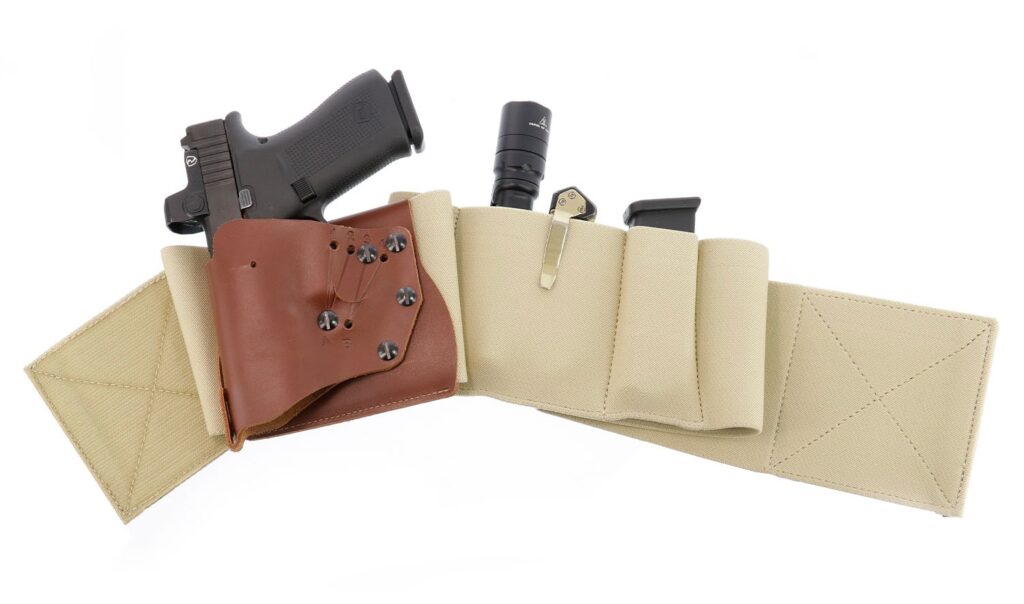 The Galco UnderWraps Elite is a belly band-style holster with a leather holster body that features an adjustable, internal welt, so you can tune it to fit and retain your particular gun. The holster's cant can be adjusted to facilitate strong side, crossdraw, or appendix carry, and it's also reversible, making it suitable for right or left-handed shooters. The elastic belt has additional pockets for items like OC spray, a speed strip or magazine, a knife, a wallet, etc.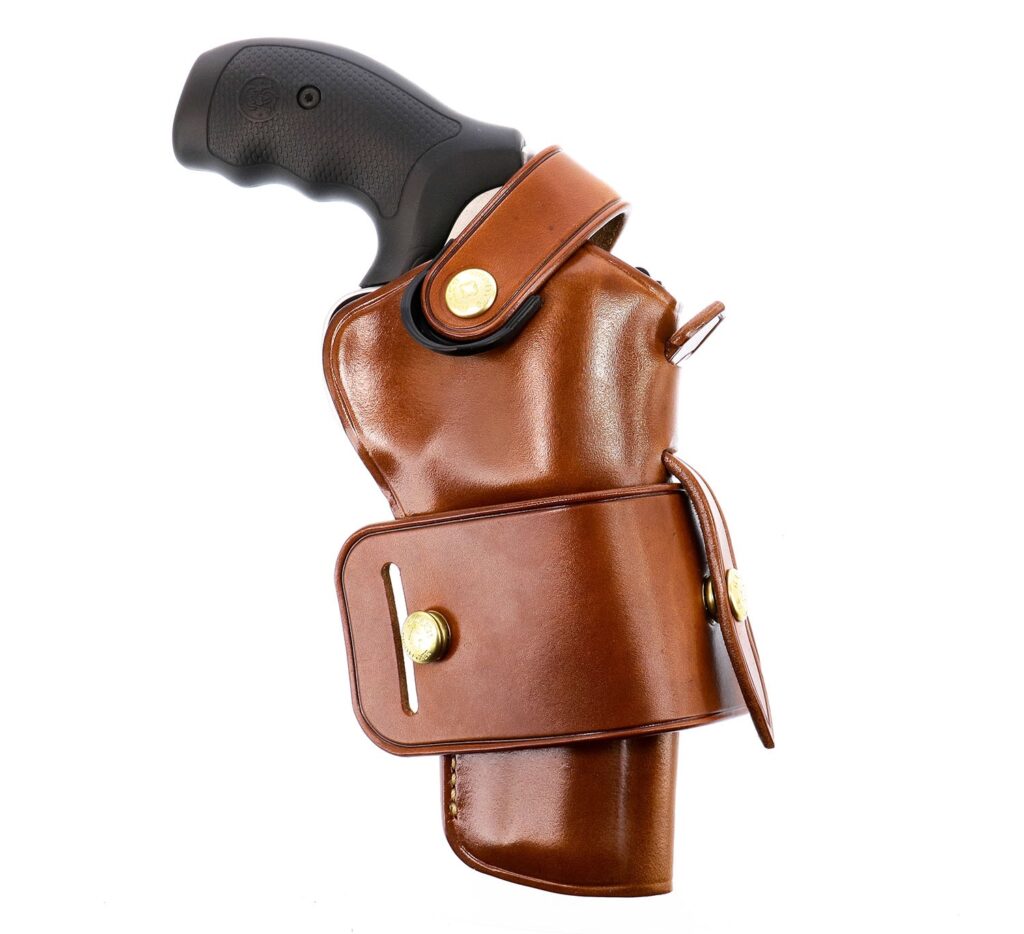 Galco also released their Wheelgunner 2.0 holster, which allows you to carry a medium or large-frame revolver like a Marine's haircut—high and tight! The Wheelgunner 2.0 looks like a great sportsman's holster, and offers the ability to quickly don and remove the holster by unsnapping it from the belt slide that it mounts to.  The Wheelgunner 2.0 can be worn on the right or left side, and has a reversible retention strap (with a glove-friendly, polymer tab) to keep your gun in place.
Heritage Manufacturing
Heritage did not display at the show, but we received press releases that detailed two new products for 2022 that might interest budget-priced, rimfire single action fans.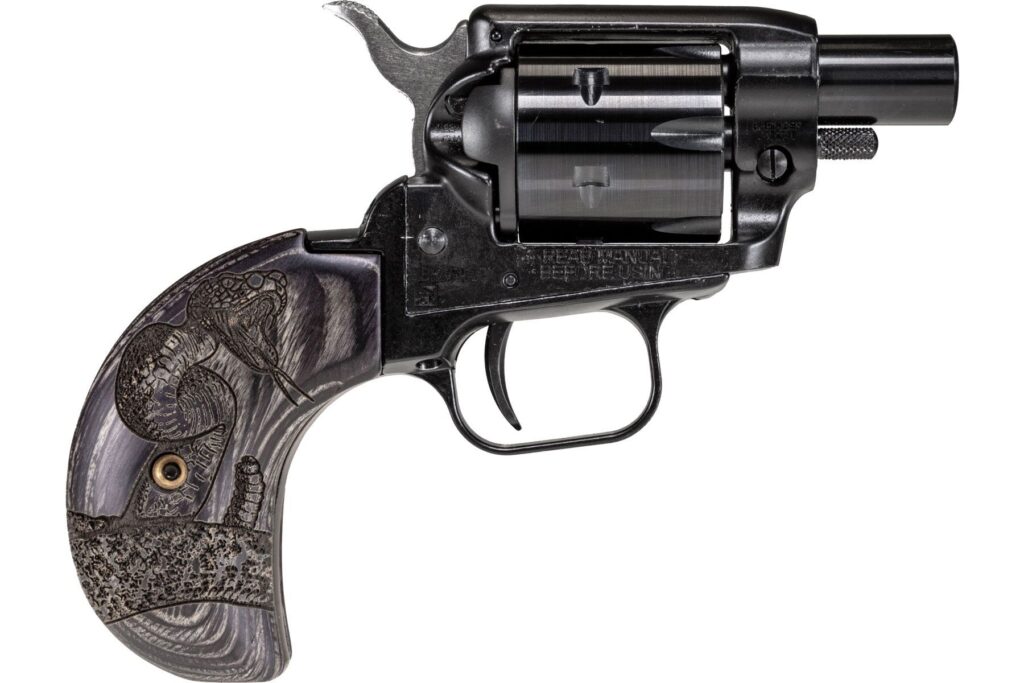 The first is the "Barkeep Boot" –a stubby, downsized version of their relatively-new Barkeep revolver.  Whereas the Barkeep comes with a choice of a two or three-inch barrel, the new Barkeep Boot comes with a one-inch tube and a bird's head grip, in lieu of the traditional SAA-style grip. A choice of grip options are available, including a laminated wood grip engraved with a rattlesnake logo, and the gun comes with a wood-handled ejector rod for punching out spent cases.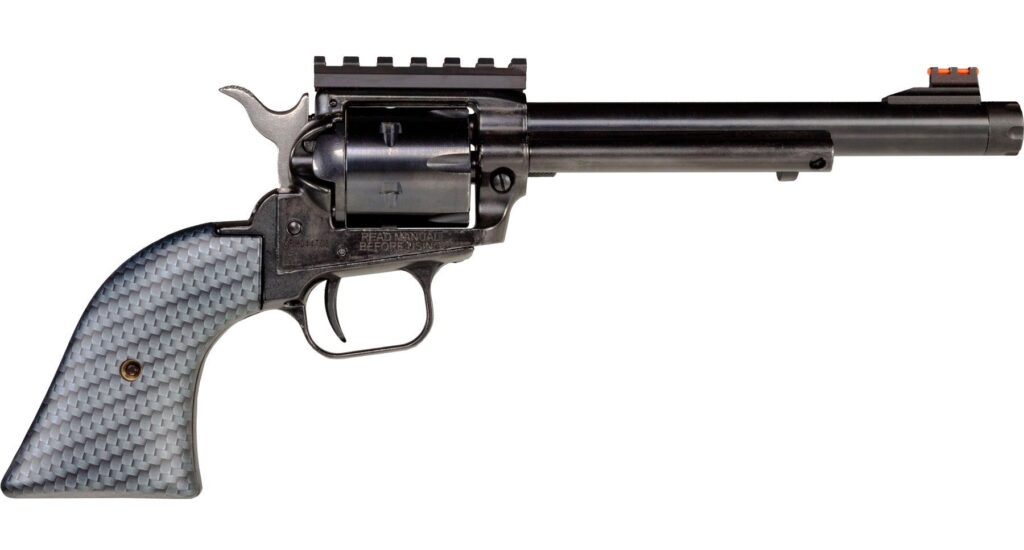 The second Heritage gun is the "Tactical Cowboy," a six-shot, 6.5-inch barreled, Rough Rider with a Picatinny rail, elevated front sight (to see over the rail), and threaded muzzle (with a thread protector cap). You'll definitely turn heads at the range with an RDS-equipped, single action sixgun with a can hanging off the end of it!
Hogue Grips
Hogue didn't really have new introductions for 2022, but their black rubber, OverMolded Monogrip for the Colt Python caught my eye, since I've been looking for a replacement for the beautiful, but overly-thin OEM grips on my 2020 Python.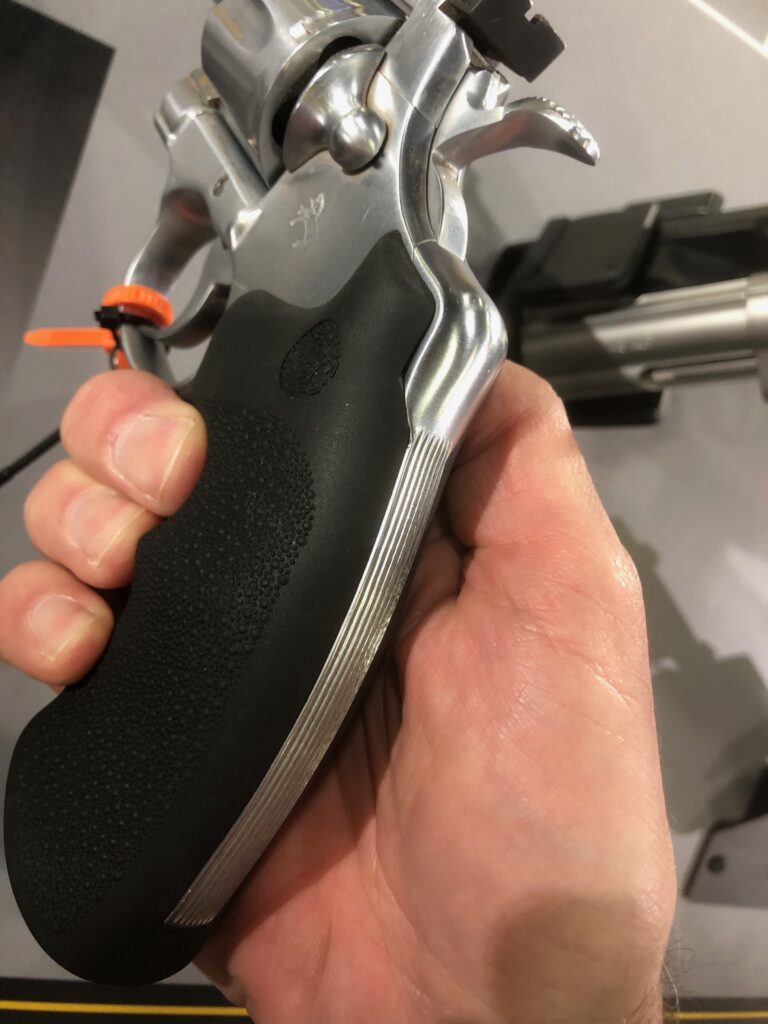 The Hogue display also featured their G10, Bantam Piranha grip for the S&W J-Frame.  The Piranha grip has a texture that looks a bit like honeycomb to me, and it's enough to anchor the gun in your hand, without being miserably irritating, when it's carried next to your skin.  The sample on display was colored in G-Mascus Green, and was quite attractive, but there are a host of other colors available to choose from, including subdued colors like black and gray, or more vivid colors like red, pink, and blue "lava."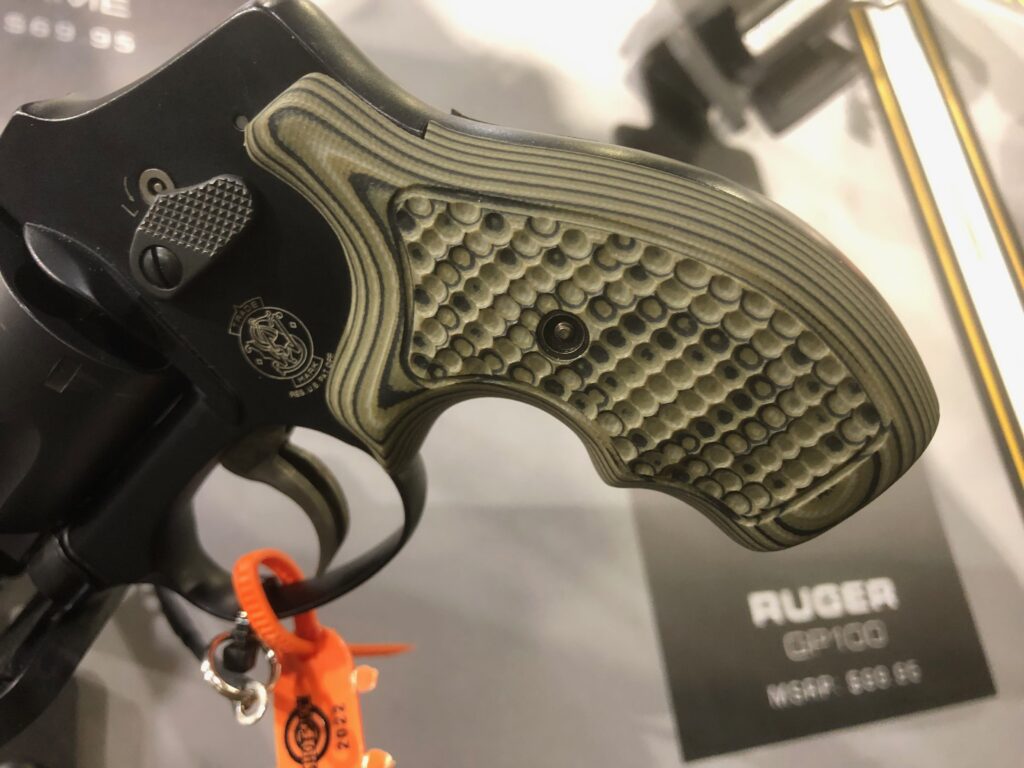 Kimber
Kimber was not present at the show this year, and, as of press time, there were no announcements about the anticipated, aluminum-alloy, .38 Special version of the K6s which had been leaked earlier in 2021.  We're in touch with Kimber and will keep you posted as the embargo is lifted and we find out more about this welcome addition.
KSD Handgun Grips
Dedicated RevolverGuy readers may remember my excitement when I discovered KSD Grips at the 2020 SHOT Show, and I'm happy to report that I finally established solid contact with the company this year.
KSD Grips is a Turkish company that manufactures some very attractive revolver grips using Turkish Walnut, Rosewood, Amboyna Burl, Thuya Burl, and Cocobolo woods, in addition to acrylic materials. You'll find classic Presentation, Finger Groove, and Nill-style Target designs in their catalog for both S&W square and round-buttframes, with your choice of functional and attractive checkering patterns. Ruger and Colt designs are available as well.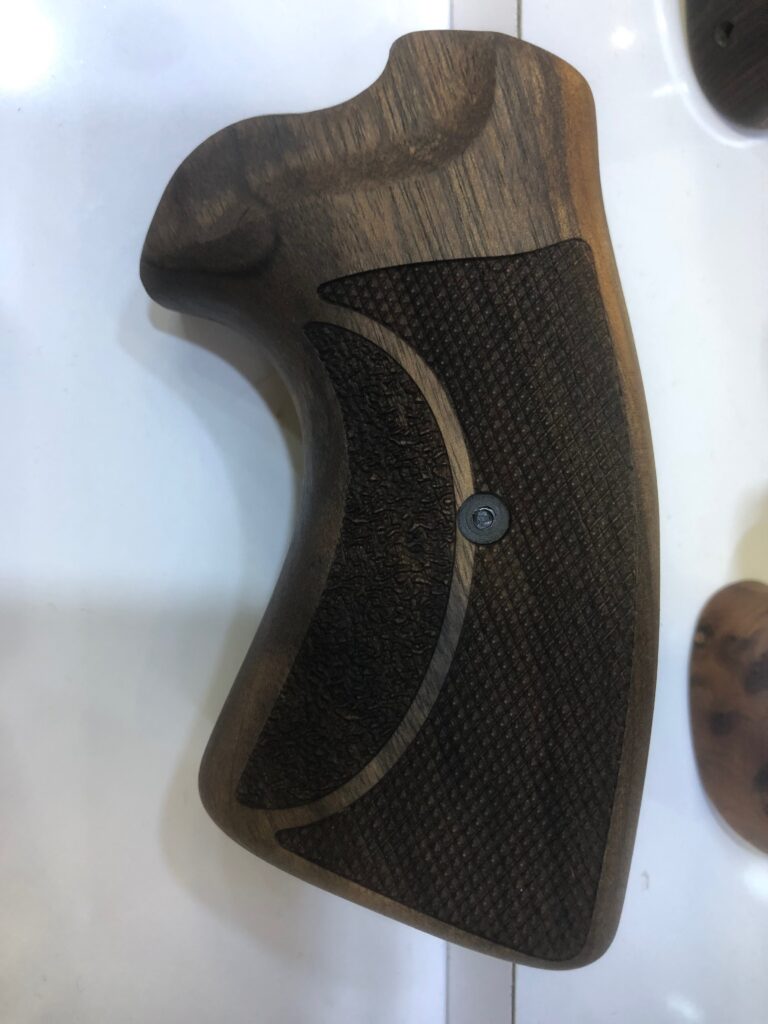 The craftsmen at KSD Grips offer a level of customization that is rarely found at this price point. They will customize any grip design, according to your wishes, and will take specialty orders for grips or fits that aren't listed in the current catalog. If you've got a revolver, then KSD wants to fit a pair of grips for you, built according to your request. Special inlays, scripts, designs, logos, checkering, and grip features can all be requested.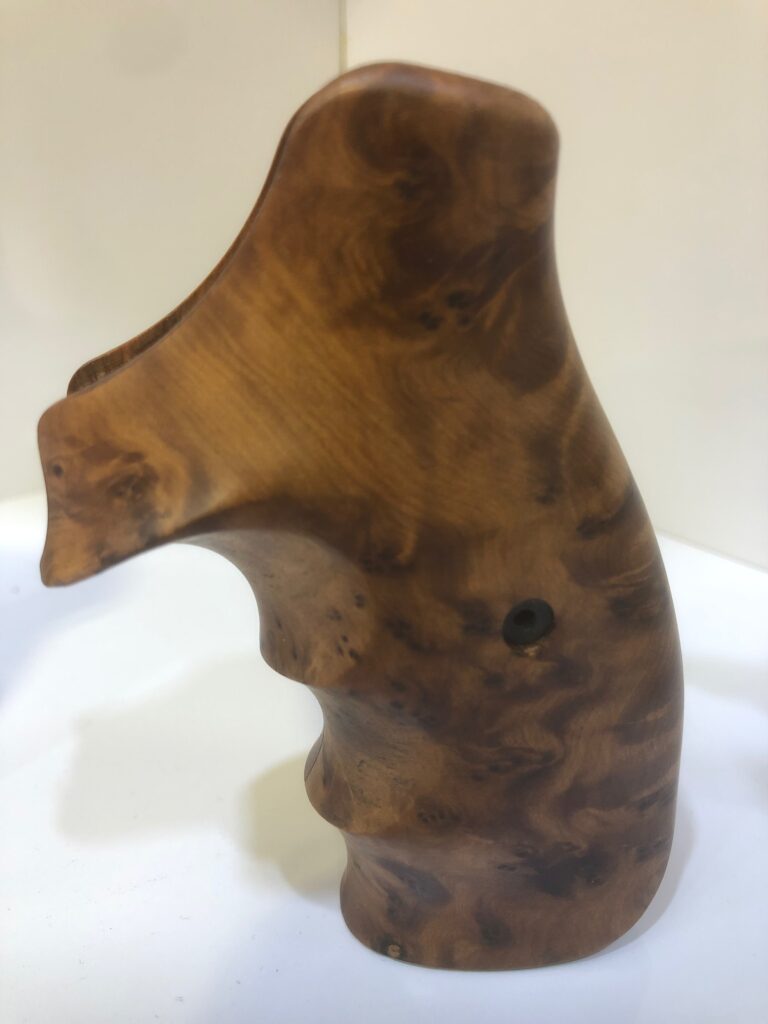 Since I first discovered them at SHOT 2020, KSD Grips has established an office in the United States, so customers will be communicating with someone based here, and won't have to worry about sending funds overseas.  Your path to a new set of custom grips begins with an email to the U.S. representative, who will work with you on your order.
I was impressed with the samples I handled at the show. The designs were solid, the materials were beautiful, and the execution was great.  I'm eager to report back on my own experience with KSD Grips in a future article.
Live Fire Tactical Training
I think you guys will forgive me for sneaking an autopistol product—eek!—into the roundup when you see how cool this is. Besides, I know most of you love your autos as much as I do!
The Type3MalfunctionRound was introduced last year, but didn't get the notice it was due, so I'd like to help shine some light on it. The Type3MalfunctionRound is a nylon training round that's designed to safely simulate a "Type 3 malfunction" during live fire training.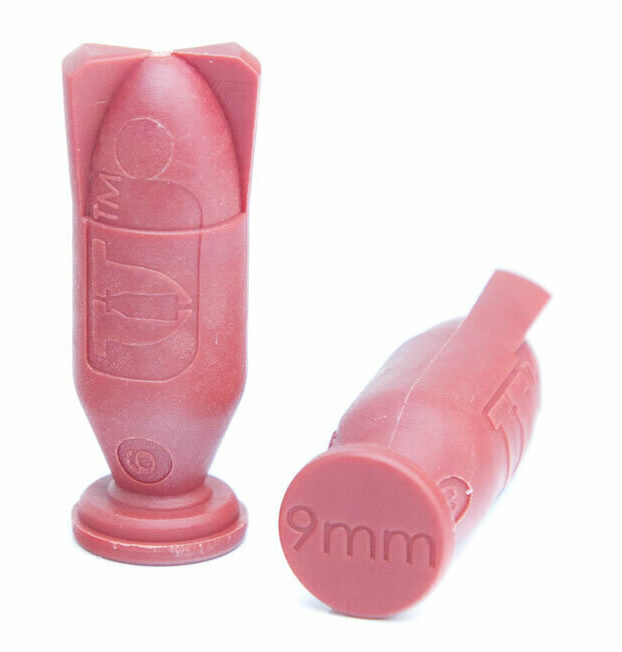 For those unfamiliar with the terminology, a "Type 3 malfunction" typically occurs when there is a spent case in the chamber, and a live round is trying to feed into the chamber, behind it. Because the chamber is already occupied, the live round cannot feed properly, and the gun gets tied up, out of battery, with the nose of the live round jammed against the base of the spent case in the chamber, while its tail end remains trapped by the feed lips of the magazine (insert snarky joke about how revolvers don't suffer this malady, here).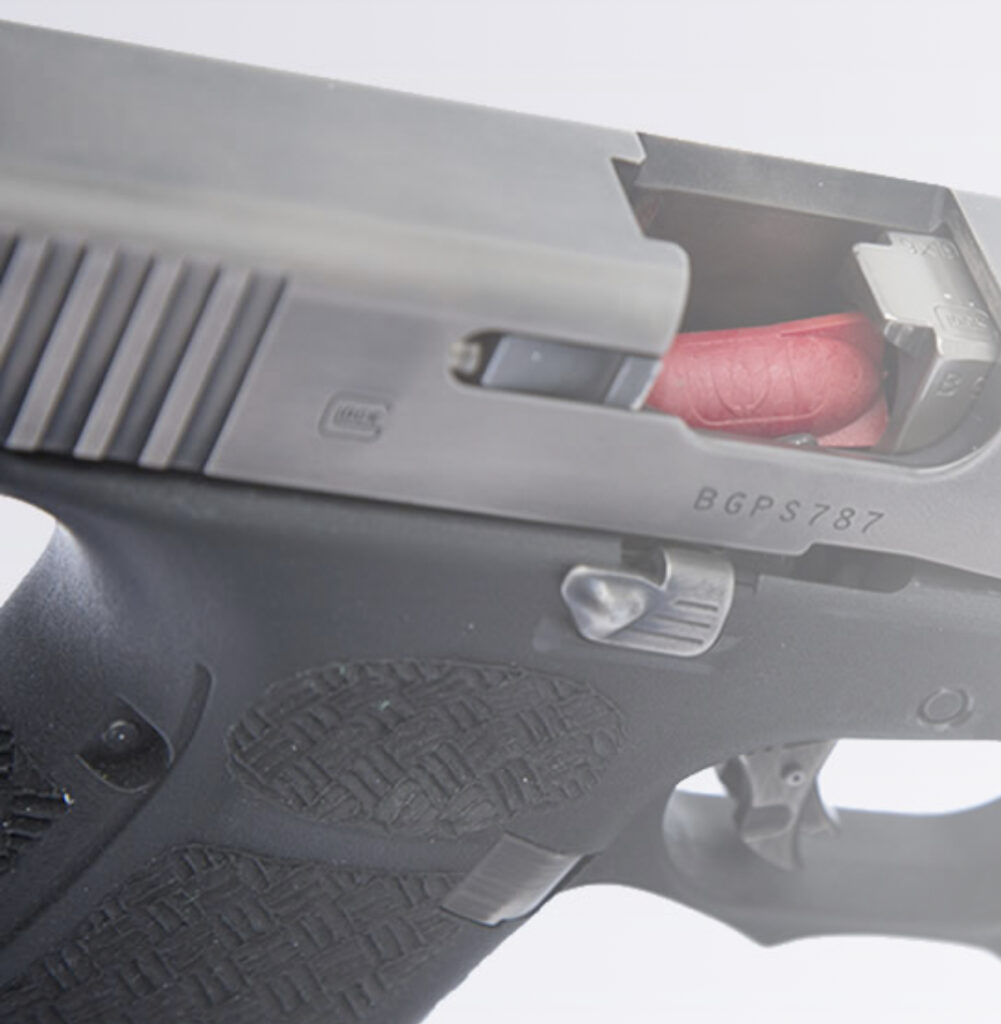 There are a couple techniques you can choose from to clear this kind of stoppage, and if you carry an auto for defense, you'd be very wise to practice them, to ensure you can perform them efficiently, under stress. For training purposes, you could set up the stoppage with some "dummy" rounds, and practice clearing the gun from there, but it would not be possible to set things up so the stoppage would occur unexpectedly, as you fired. While starting with a failed gun is a useful way to practice, there's even more training value in experiencing a simulated Type 3 in the middle of a string of fire, because the latter allows you to experience the whole process, from start to finish—the stoppage, the recognition, and the remediation.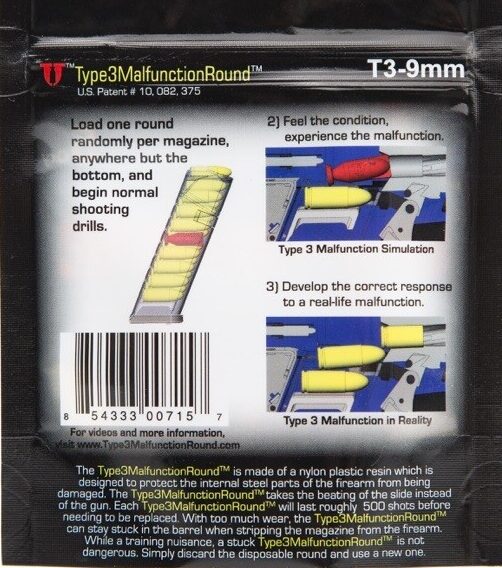 The Type3MalfunctionRound allows you to do that. Load it into your magazine at random, and shoot the pistol until the stoppage occurs. Recognize and confirm the stoppage, clear it using your preferred technique, then resume firing. Voila! A safe, realistic, and complete training experience.
I've been using the Type3MalfunctionRound with my students for a year now, and I love it. They do, too—I always get positive feedback from them when we incorporate these into training. There's never been a better way to train this skill, and this product gets a hearty endorsement from this RevolverGuy. When I first started using this product, it was only available in 9mm, but the line has since expanded to include .380, .40 and .45 offerings, so no matter what you carry, you're probably covered. 
LOK Grips
I have to admit I wasn't familiar with this company, prior to running into them at the show. LOK Gripsspecializes in CNC machining of G10 grips for autopistols, but is branching out into the revolver arena in 2022.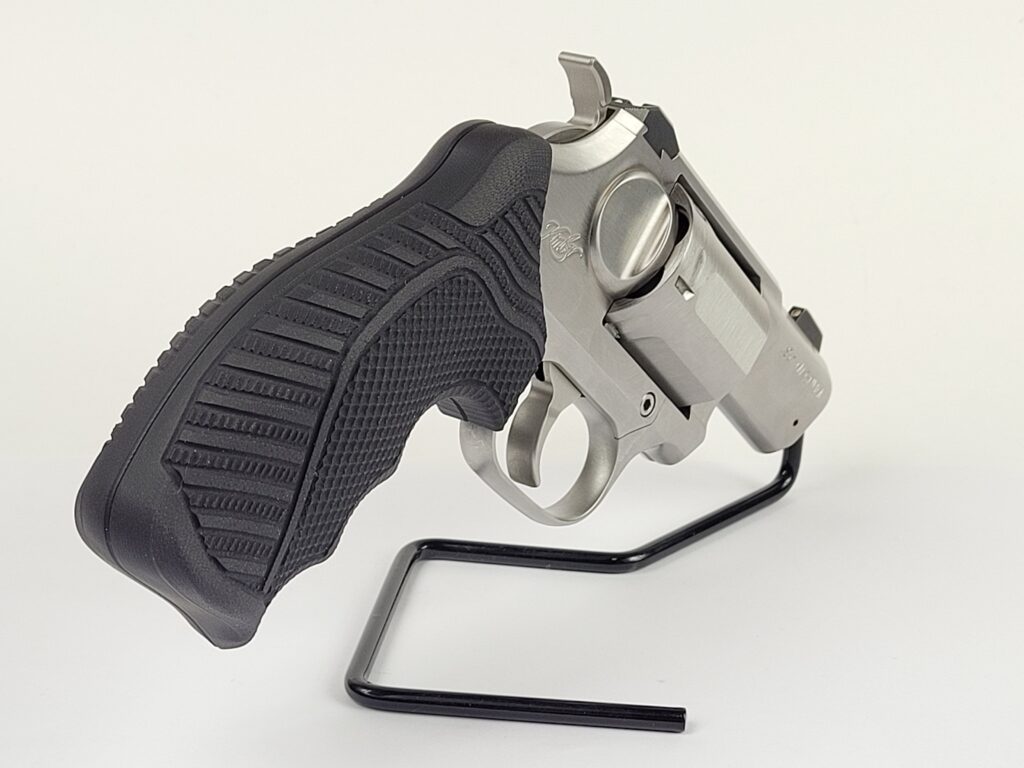 Interestingly, their first revolver grip will be for the Kimber K6s, which hasn't received as much attention as we'd like from grip makers. The LOK Grips prototype that was displayed at the show has a nice palm swell and a sophisticated texture that's aggressive without being irritating. I won't have to take sandpaper to these grips to knock them down.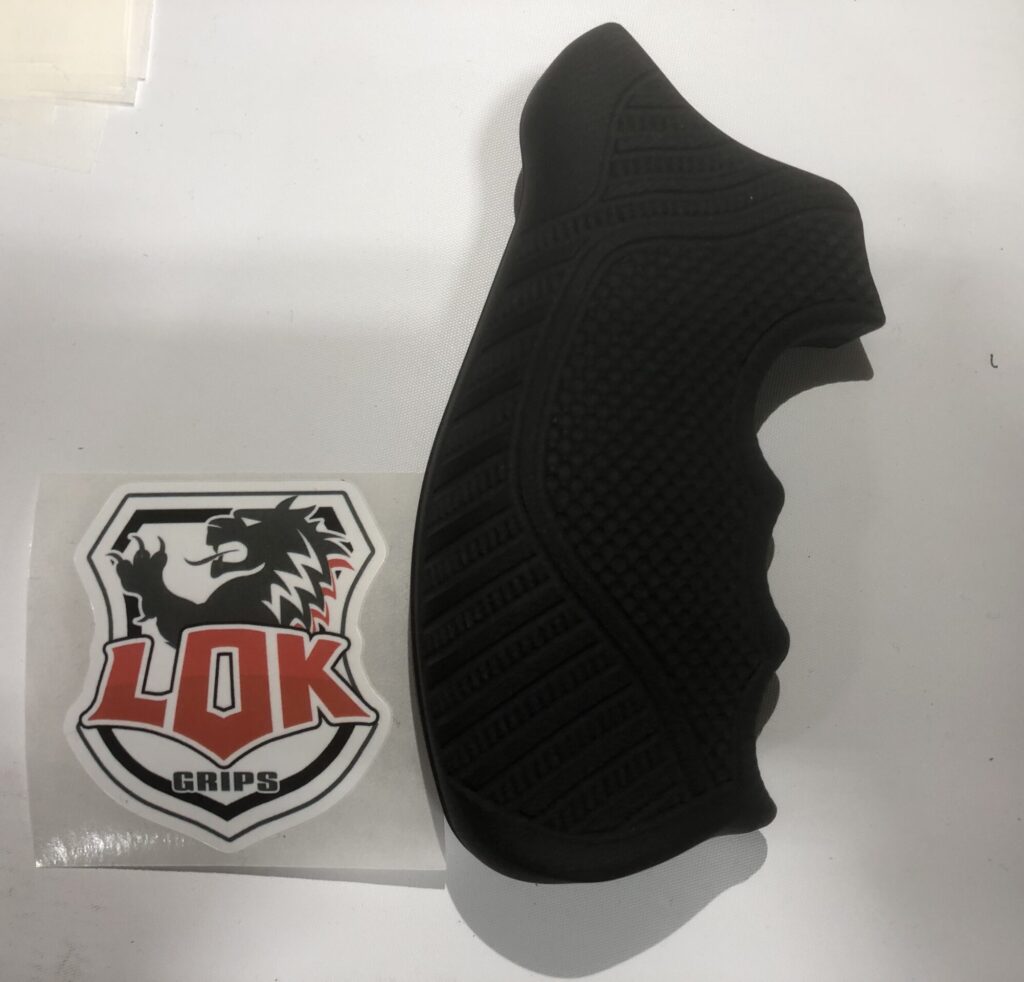 I spoke at length to the LOK Grips owner and director of marketing and was impressed with their questions and their genuine interest in learning more about what makes a good revolver grip. I gave them a short course on some of the issues that RevolverGuys encounter with new production grips, and they were definitely taking notes.  We parted with an agreement that we'd be in touch to discuss more details, down the road, so stay tuned to these pages for more news about this company and their new revolver products. (JULY 2022 UPDATE—These grips are now in production and can be found on the LOK Grips website)
Magnum Research
The Magnum Research Biggest, Finest, Revolver (BFR) family will expand to include a Lipsey's GunsExclusive that will certainly turn some heads. This brute of a gun is chambered in .460 S&W, and is outfitted with a 5-shot cylinder, a 5.5-inch barrel, and a Bisley grip. The stainless gun sports rugged sights, and stuffs about as much power as you can into a gun that you're still able to wear on your hip.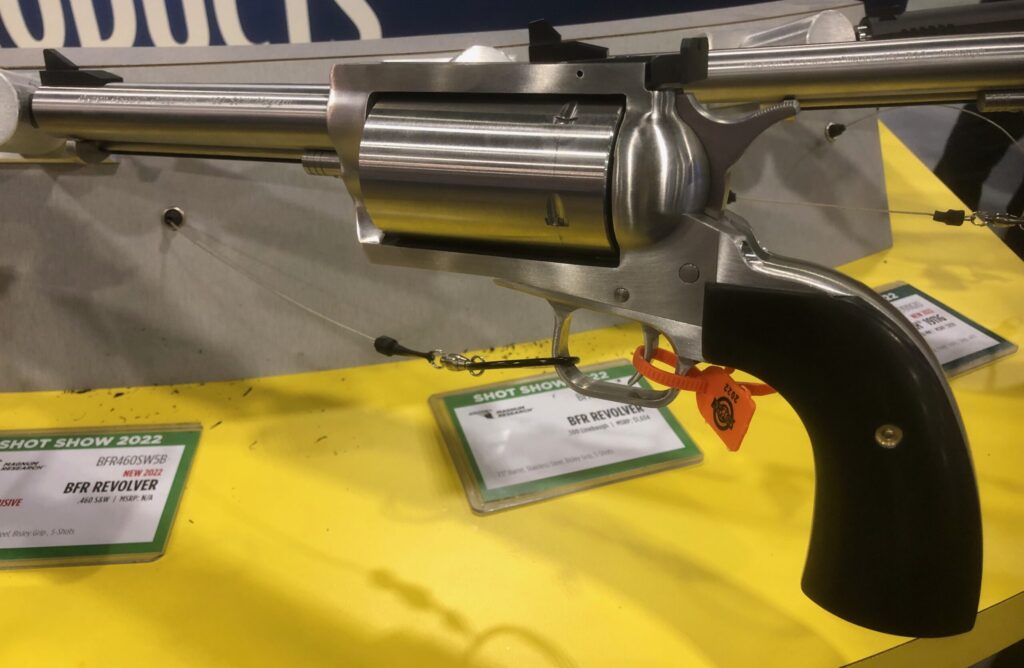 Some RevolverGuys may not be aware that Magnum Research has been part of the Kahr Firearms Group for over a decade, now. Kahr Founder and CEO Justin Moon is a true patriot and a stalwart supporter of not only our precious Second Amendment, but our entire Constitution.  It was my distinct pleasure to shake his hand at the show, and thank him for all that he's done for our industry, and for all that he's done to further the cause of freedom in America. When you cock the hammer on one of his massive revolvers, an enemy of liberty shudders, somewhere.
Mantis
Since most of you share my appreciation for "America's Rifle" and enjoy shooting it like I do, I don't think you'll mind me adding another non-revolver product to the review, especially when it's as useful as this one.
The clever folks at Mantis have introduced the Blackbeard training system for the AR-pattern rifle, which allows you to conduct effective dry-fire practice with the platform. At the heart of the Blackbeard system is a replacement bolt that serves two functions: First, it automatically resets the trigger after you pull it, and; Second, it "shoots" a laser (your choice of green, red, or infrared) that allows you to see where your round would have impacted the target, downrange.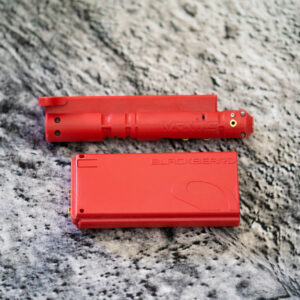 The Blackbeard "bolt" is very easy to install. You simply remove the bolt carrier group and charging handle from your upper receiver, slide the Blackbeard replacement bolt into place, then close up the receiver. A Blackbeard "magazine" (which is actually a rechargeable battery pack, that allows you up to 100,000 trigger presses with a full charge) is inserted into the mag well and the system is now ready to go.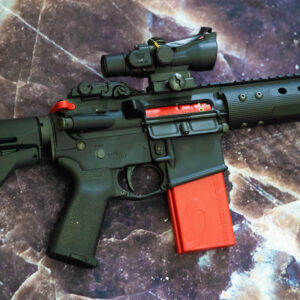 With the Blackbeard in place, you can dry-fire your AR to your heart's content, without having to work the charging handle to reset your trigger for each shot. Every time you pull the trigger, the hammer and trigger are reset by the Blackbeard, allowing you to maintain your firing stance and continue "shooting" without interruption.
The laser in the Blackbeard can be user-adjusted, if necessary, to ensure it lines up with the bore and gives you a clean dot downrange. It can also be tweaked to make elevation adjustments for desired point of impact. The factory setting has worked well on the unit I've been testing in my own rifle, but you can make necessary adjustments with a small Allen wrench if desired.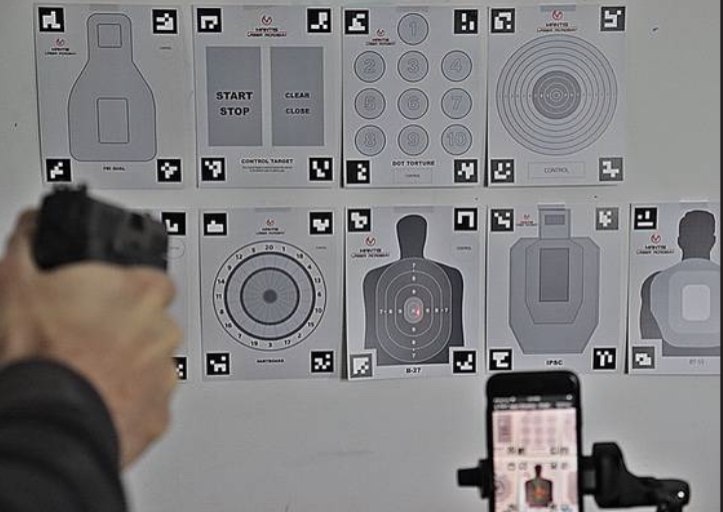 The Blackbeard's laser gives you an indication of where your round would have hit, but if your focus is on your sights, you might need a spotter to call it for you. Better yet, you could use it in conjunction with one of the laser target systems on the market, like the popular Laserlyte Quick Tyme target, or . . . drumroll, please, the MantisX Laser Academy, which is almost cooler than the Blackbeard, itself.  The MantisX Laser Academy allows you to use your smartphone or tablet to track and evaluate your laser hits as you shoot on a physical target, and when you pair it with the Blackbeard, it's like having a portable range that lets you "shoot" anywhere you want to. Truly impressive tech!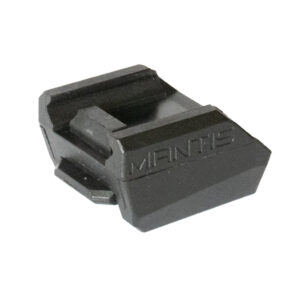 If you want to complete the package and maximizing the training value of the Blackbeard, you could add the MantisX X2, X3, or X10 sensor that tracks the gun's movement and reports it to you on your smartphone or tablet. With the info provided by the MantisX, you can diagnose your trigger pull and see where you need to clean it up. You can even analyze the gun's movement during presentations from low ready, or as you track between multiple targets in your dry-fire practice routine.
That auto-resetting trigger is really the cat's meow, though. If you ever got frustrated with dry-fire training with your AR because you had to break your stance down to work the charging handle, or pretend that you were making follow-up shots with a "dead" trigger, then the Blackbeard is going to leave you grinning from ear-to-ear. It definitely tips the scales towards "fun," instead of "work."
Nexbelt
RevolverGuy Dean Caputo had previously turned me onto these unique gunbelts, but I hadn't seen one in person until the show. The Nexbelt is a ratcheting belt system that adjusts in quarter-inch increments without the use of holes. The buckle releases with a button system that makes it easy to doff the belt.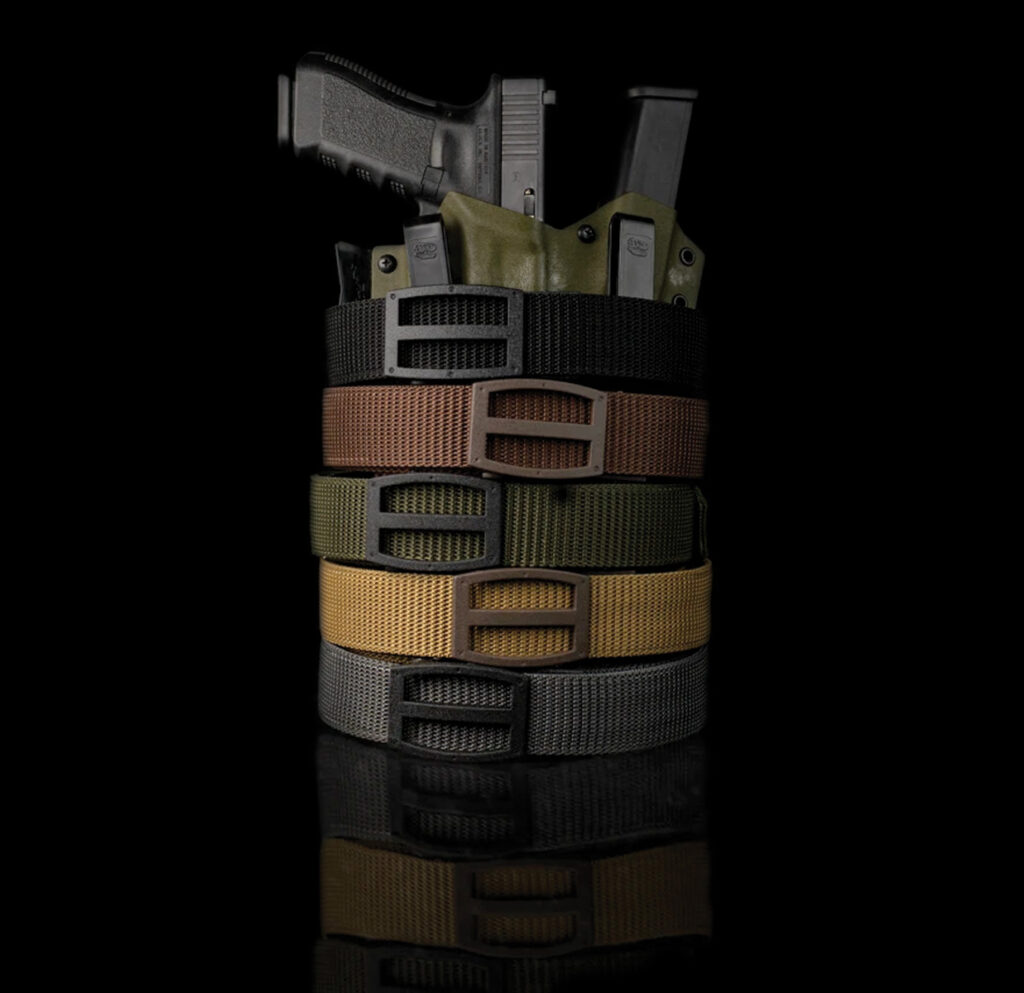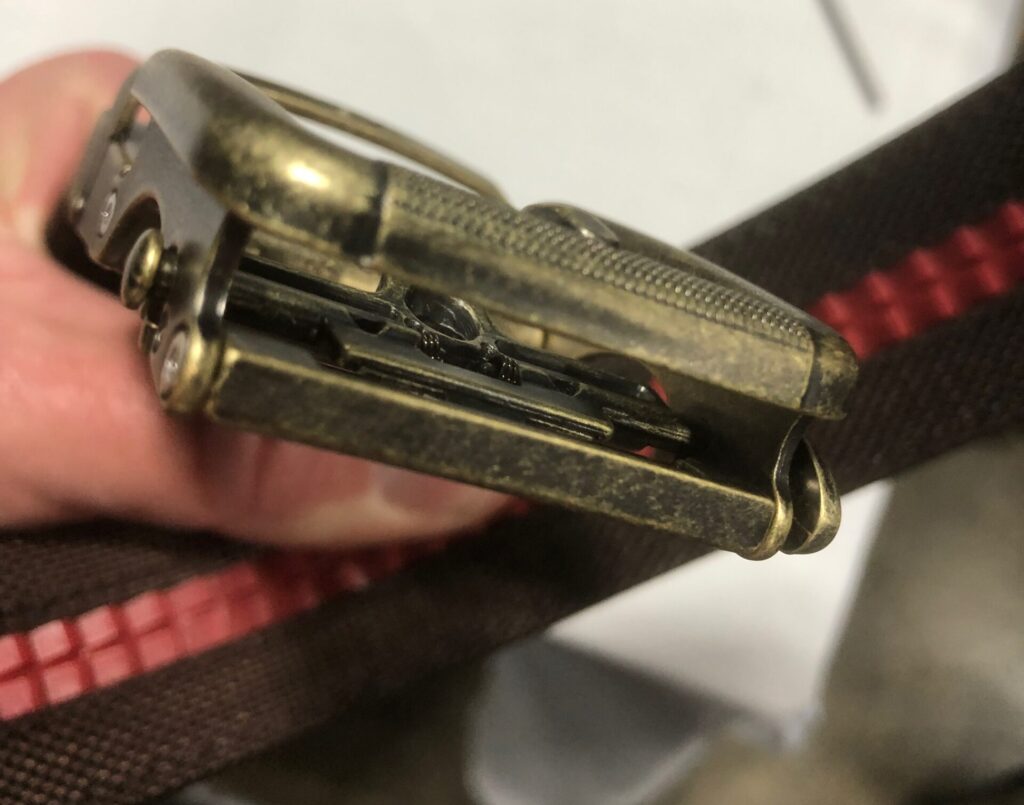 The first versions of the Nexbelt I'd seen were nylon versions with utilitarian-looking buckles, but at the show I got the chance to see their leather belts and dress buckles, which were quite nice. You could wear one of these with dress pants or a suit and not look like you're wearing a gun belt.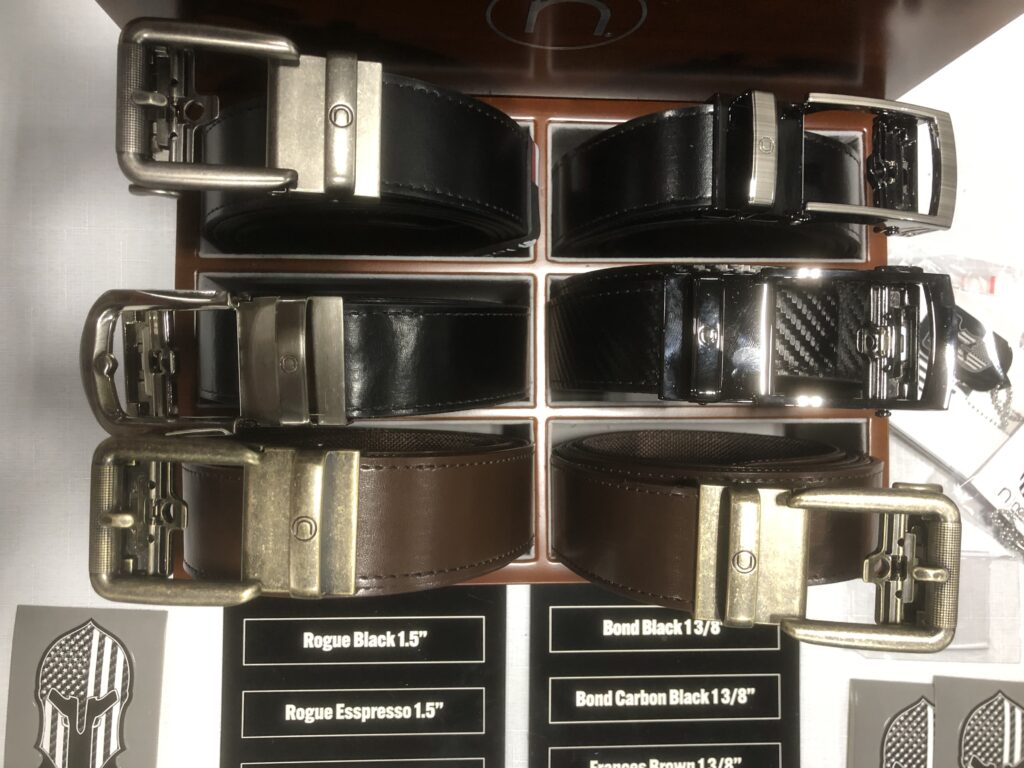 As a traditionalist who only recently started experimenting with a nylon belt for everyday carry, the Nexbelt looks pretty sophisticated, but also very attractive. I'm looking forward to experimenting with this system and take great confidence in the positive reviews these belts are getting from friends who are serious gun-guys.
North American Arms
On the opposite end of the scale from Magnum Research's behemoths, North American Arms is still making the finest "mini-revolvers" on the market.
Although they were too busy trying to make good on orders in 2021 to develop anything new for 2022, there are still RevolverGuys who haven't had the chance to get eyes on their neat Ranger II Break-Top revolvers and Sidewinder swing-out cylinder revolvers. You won't be challenging Jerry Miculek for any speed records with these guns, but they are a LOT easier to load and unload than the standard NAA models that require you to remove the cylinder, and poke out cases individually with the base pin.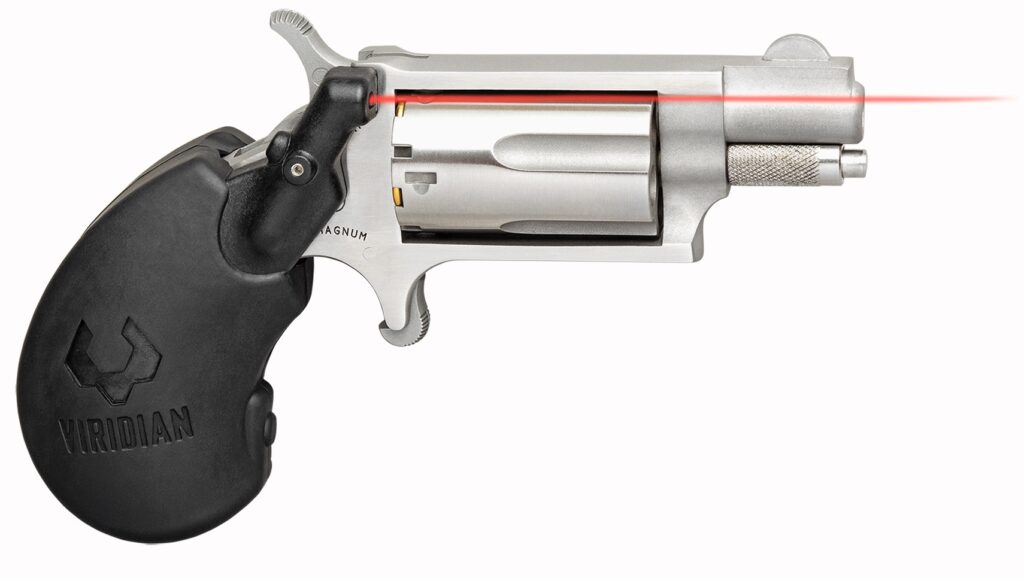 The Viridian-manufactured laser grip has been a popular accessory with owners of .22 Magnum models, and does a better job of giving the shooter something to hold onto, than the standard stocks do.
Remington
One of the biggest gun stories of 2020 was the Remington bankruptcy, and the sale of assets which followed. Although the brand had been raided and mismanaged for years by owners and executives who didn't understand the true value of this iconic American company, "Big Green" was too important to die, and we are fortunate that the industry rescued it from oblivion.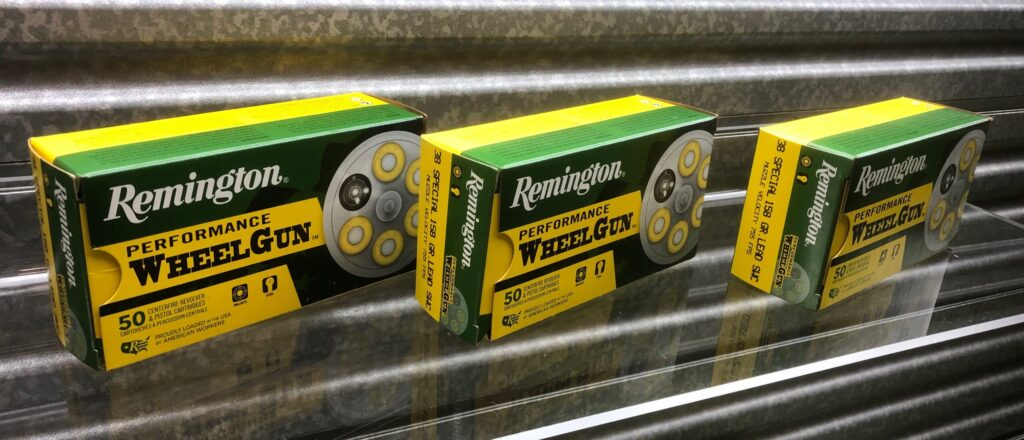 The ammunition side of Remington was purchased by Vista Outdoor, and they quickly set about getting the Lonoke, AR plant back in business. By the end of 2021, consumers were seeing Remington ammunition on the shelves again, after a painful hiatus that couldn't have come at a worse time—smack dab in the middle of the biggest ammunition demand crisis in our nation's history.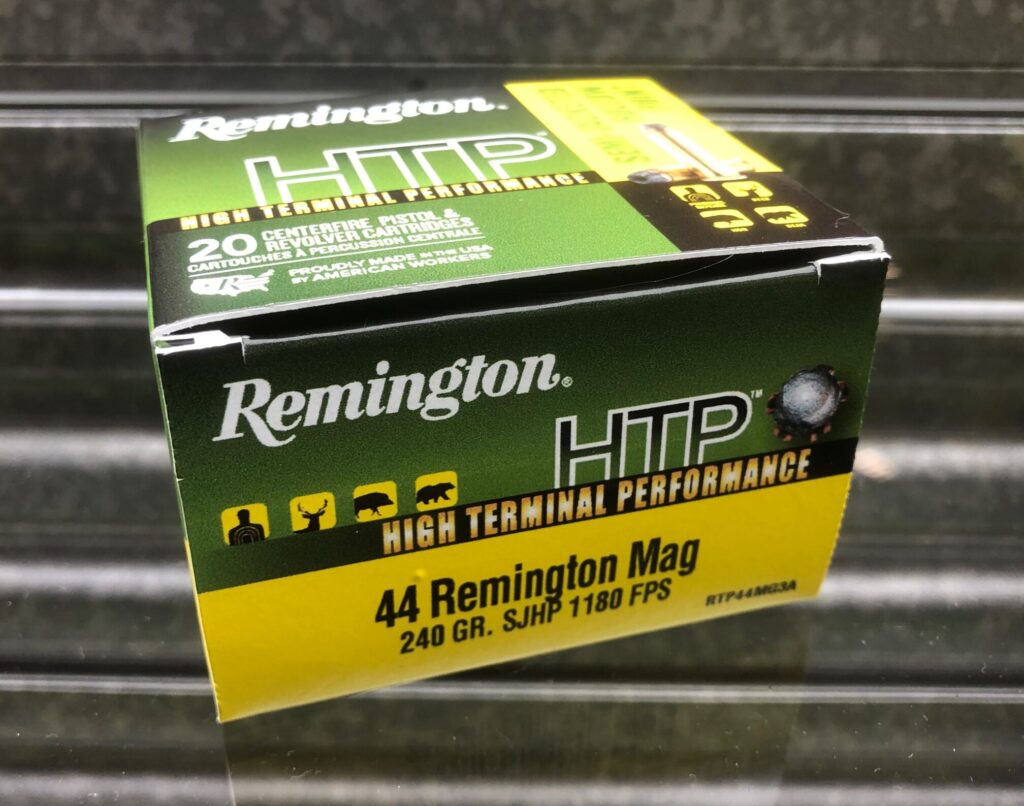 RevolverGuys will be glad to see many of their favorite Remington centerfire revolver products have returned in the High Terminal Performance, Performance Wheelgun, and Remington UMC product lines. Additionally, they will be pleased to see some new products added for 2022, to include a 100 grain JHP UMC load in .327 Federal Magnum, the return of the Golden Saber Defense in 125 grain .38 Special +P (both Full Size and Compact versions) and 125 grain .357 Magnum, and 20-round packs of HTP in .41 Magnum, 44 Magnum, and 45 Colt.
RevUp Action
This is a startup company that did not display at SHOT, but I want to feature them as part of this roundup because I think their product will interest you.
The RevUp Action Hammer is a replacement hammer that changes the quality of your double action trigger pull, such that the trigger pull actually gets lighter as you pull the trigger to the rear, until it reaches the weight of the single action trigger, right before the hammer falls.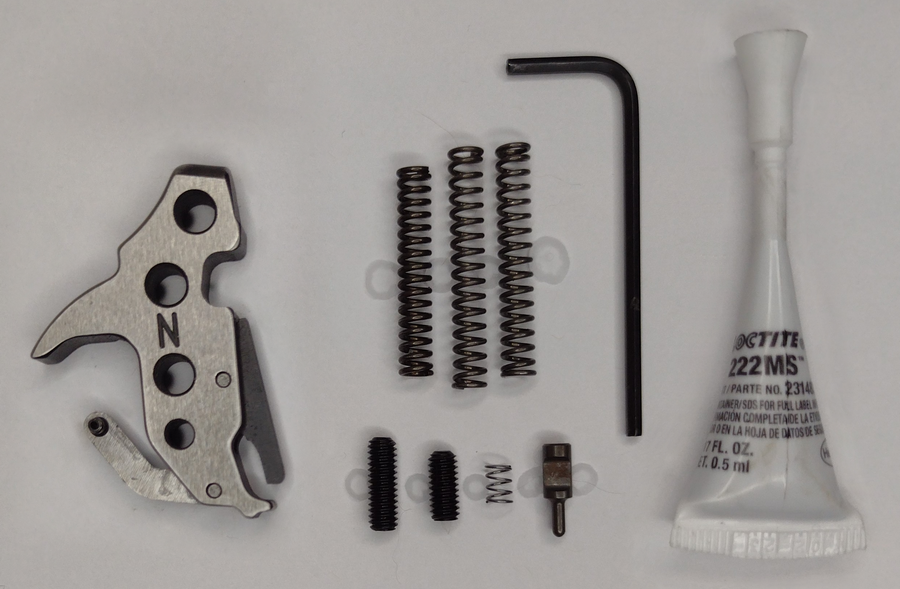 To quote the RevUp Action press release:
New-style Smith & Wesson K-,L-, and N-frame revolvers fitted with the RevUp Action hammer and with factory springs can see a linear reduction in trigger pull weight over the course of the trigger pull by up to 8 pounds. This means that if you start with a 12-pound trigger pull weight, then the trigger pull at let-off is 4 pounds.
I bet you're interested now!
The RevUp Action Hammer has no spur, and is intended for double action use only, on S&W K-L-N revolvers equipped for competition and recreational use. Although it should drop in without adjustment on most guns, the hammer is labeled a "semi-drop-in" part, because it might require minor fitting on some guns.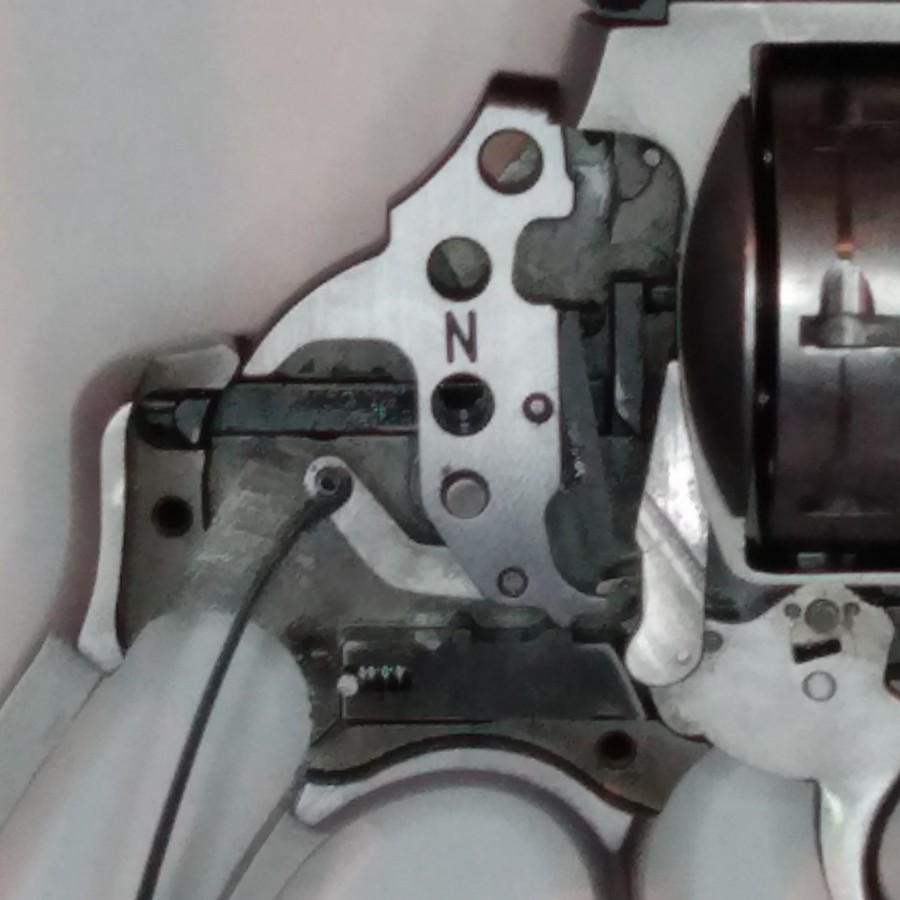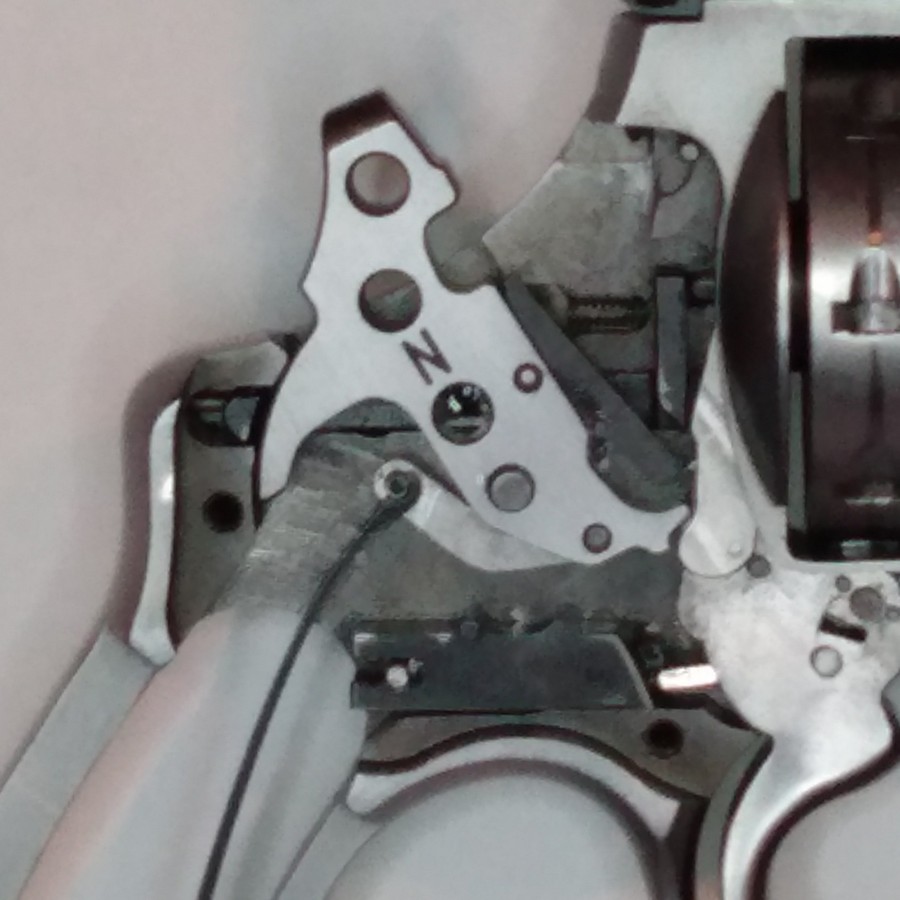 As a startup company, RevUp Action is trying to generate pre-sales of their hammer kits to help fund the production effort. We have a member of the RevolverGuy Team who should be getting one of the pre-production samples to evaluate, and we hope to give you a detailed report on this interesting product later in the year. Until then, check out the demonstration videos on the RevUp Action website, which show the trigger in action.
Rock Island Armory
The highlight of my time at Monday's invitation-only, Media Day At the Range occurred unexpectedly, when I discovered the Alfa-Proj revolvers imported by Rock Island Armory from the Czech Republic.
The AL-series guns are medium-frame revolvers that look and operate like Smith & Wesson K-Frames. The guns are built with a variety of sight, barrel length, finish, and caliber combinations, and I was a little hard-pressed to pick out my favorite of the bunch.
The AL3.0 Standard is a six-shot, blue steel, fixed sight, two-inch barreled, .357 Magnum reminiscent of a shortened S&W Model 13, and the AL3.1 is the stainless version of the same, analogous to a snub Model 65. I didn't shoot these particular models, but liked the samples that I inspected very much. They appeared to be well-made, and had good actions.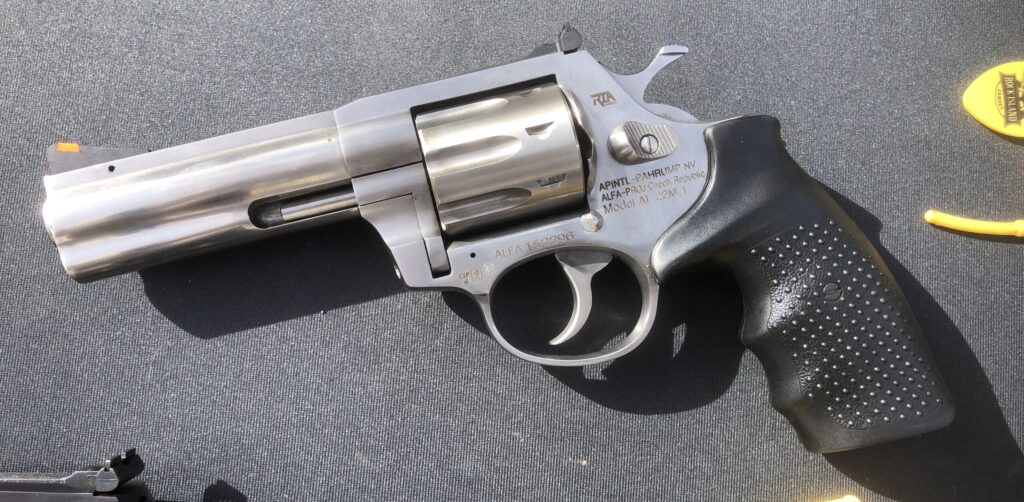 The AL22 is the 9-shot, .22 LR rimfire version of the Czech gun, and comes with adjustable sights and a four-inch barrel in either blued or stainless configurations. The AL22 has a big brother in the 8-shot AL22M, which upgrades the caliber to .22 Magnum in the same formats. The stainless Magnum sample I shot was a nice gun, with a smooth action and my favorite front sight–a ramp with a red insert. As I emptied the cylinder on this handy revolver, my mind was actively scheming about how I could get one of these into my stable, to keep my Model 617 company.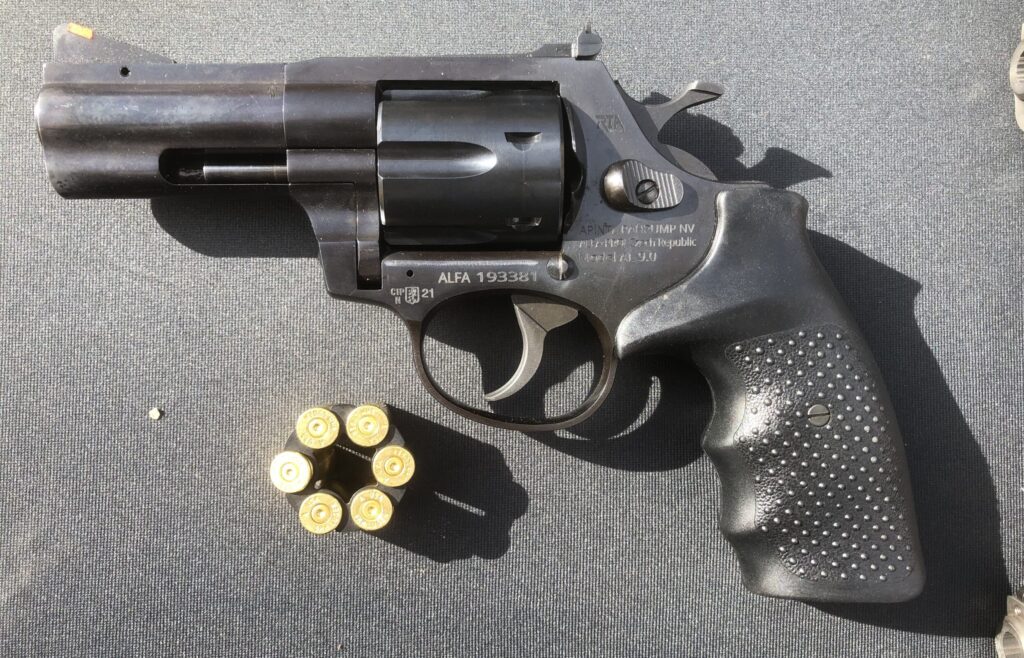 The gun that really tickled me though, was the AL9.0 Standard, a six-shot, moon clip-fed, 9mm Luger gun with a three-inch barrel and adjustable sights. The AL9.0 had a matte blue finish and a smooth action that made me forget the excess of manufacturer and importer markings on the left side of the frame. It also featured the red ramp that I like so much, which allowed a good sight picture for fast, defensive use.
The steel, medium-sized frame and comfortable, Hogue-like, textured rubber grips made shooting rapid pairs on steel an easy feat, and the ejector cleanly punched out the moon clip of empty 9mm cases when I was through. I know moon clip-fed revolvers can be a pain sometimes (although the included de-mooning tool made the task much less arduous), but I was still very attracted to this gun, which strikes me as an "average-man's Model 547."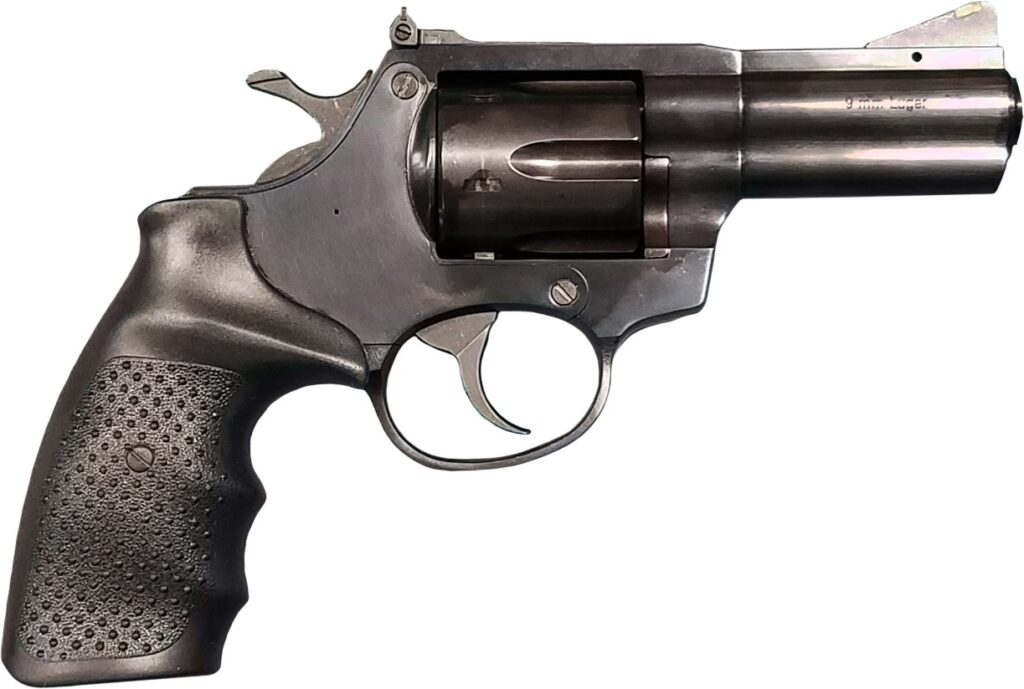 The Alfa-Proj guns may not rival the appearance or construction of more expensive, domestic brands, but the guns I shot and handled had good actions, good sights, and ran flawlessly. Rock Island Armory seems to be selling them at a competitive price, and I'm looking forward to spending some more time with these. If they prove to be as accurate as I expect them to be, then they're a mighty good value.
Ruger
Our good friends at Ruger were not at the show, which was a disappointment, because they had a lot of exciting new introductions to show off (not the least of which was their first Marlin lever action, the Model 1895 Stainless Big Loop, in .45-70).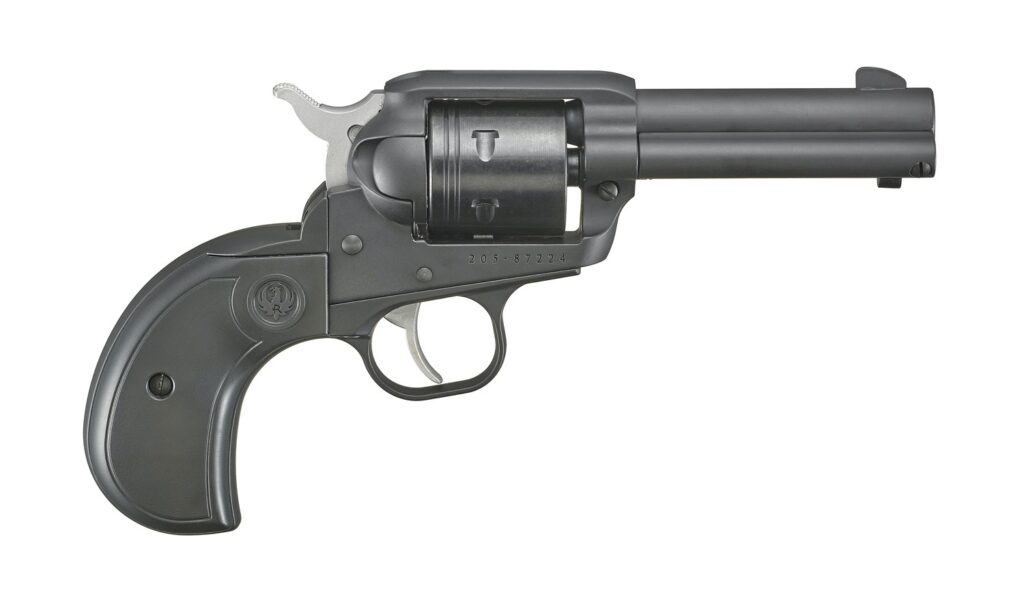 However, at the end of 2021, Ruger brought a Birdshead version of their wildly-popular Wrangler revolver to market, in black, burnt bronze, and silver Cerakote. This dandy little sixgun offers a lot of performance for the price, and is sure to become a favorite of RevolverGuys, big and small.
SL Variant
This is another one of those Christmas Wish List items that came true in 2022!  If you read the comments to that article, you already had a heads up that the world's best round-body speedloader had made a comeback, but for everyone else, we're mighty pleased to announce it right here.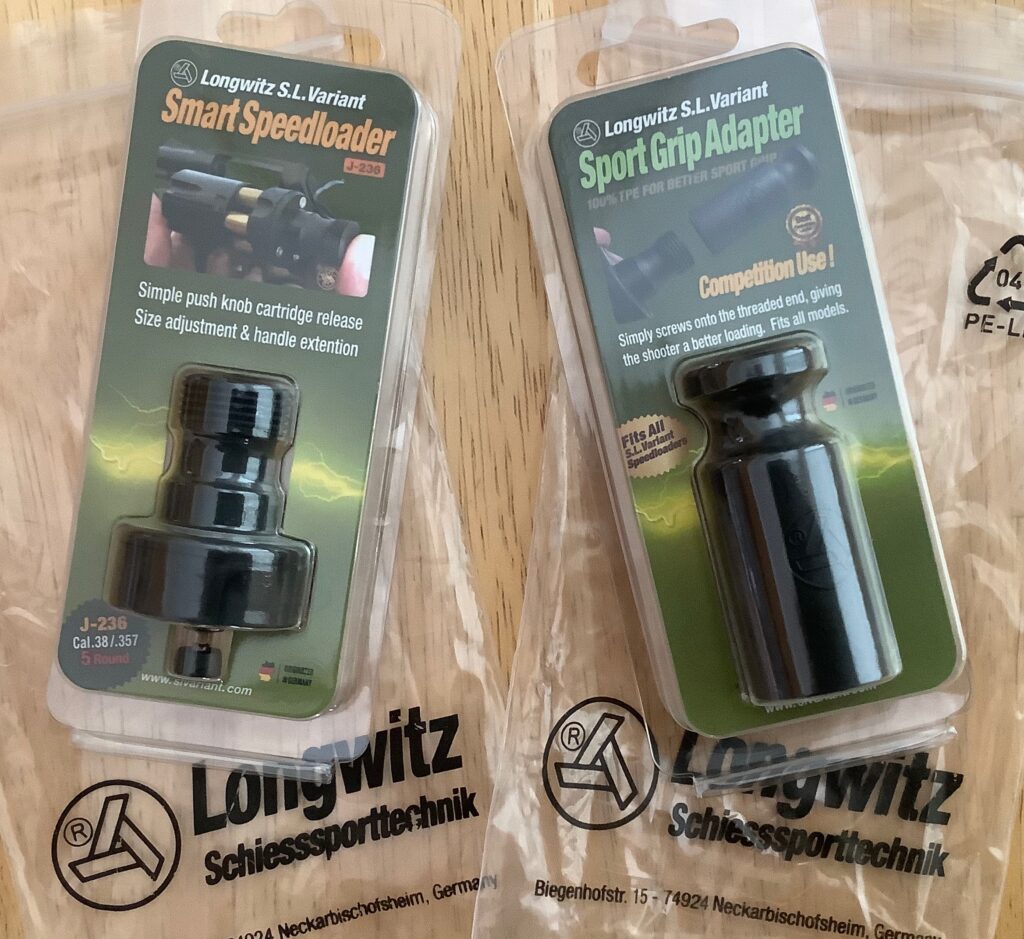 Replicas of the SL Variant loader are now available for 5-shot J-Frames and 6-shot K-Frames chambered in .38 Special or .357 Magnum via the new website,  SLVariant.com. Wait, "replicas," you say?  Yes, these are new-production copies of the SL Variant, whose patent has expired.  The original manufacturer was content to let this excellent design die, but it has been faithfully resurrected by a shooter who loved them as much as we did, and we can all be grateful for that.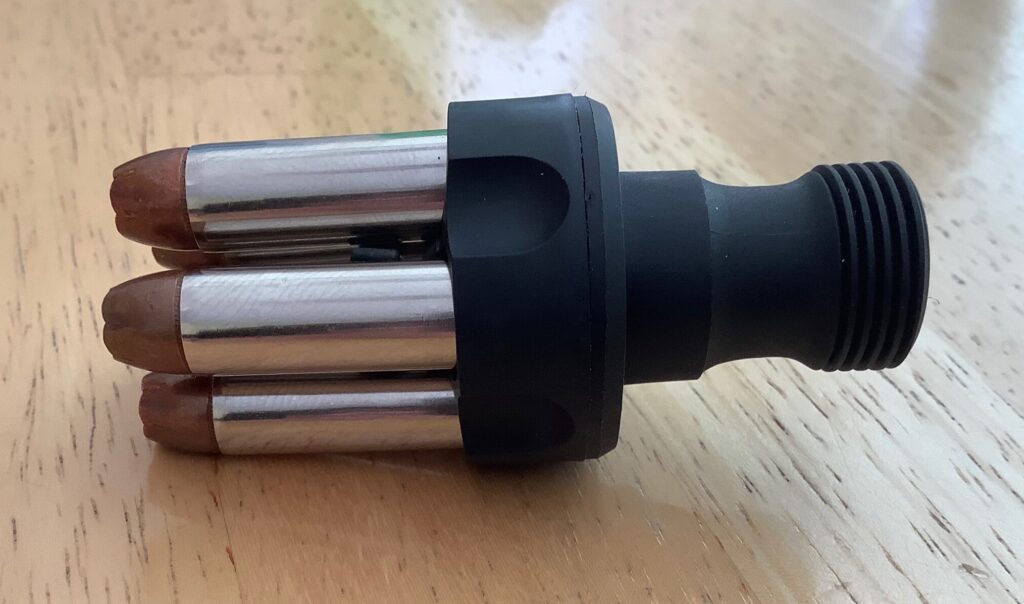 I've examined the new version, side-by-side with the original product, and cannot find a meaningful difference between them. All of the details have been faithfully replicated, right down to the markings, and I suspect that neither you, nor your gun, will know the difference between old and new. Standby for a more detailed field report on these in a future article on RevolverGuy.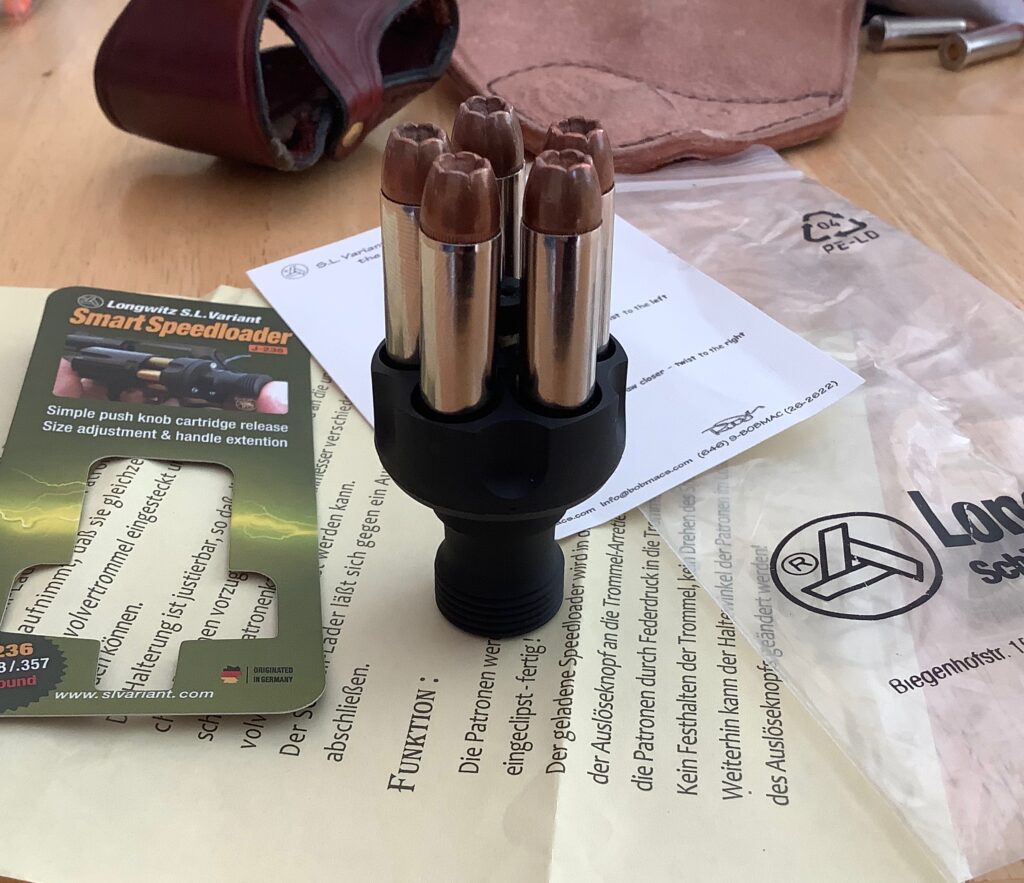 We're VERY excited to have these excellent loaders back on the market for a reasonable price, and look forward to seeing the line expand to cover L-Frame and N-Frame revolvers as well.
Streamlight
This is a bit tardy, and it's not typical RevolverGuy fare, but the product is so good that it shouldn't be overlooked, and we're all "flashlight guys" here anyhow, aren't we?
In January of last year, the lighting experts at Streamlight introduced the Stinger 2020 rechargeable flashlight, which was a radical improvement on the Stinger series of lights that had served me and others so well, for so long.  Unfortunately, with the cancellation of the 2021 show, it didn't get the attention it deserved, and I need to make that right, here.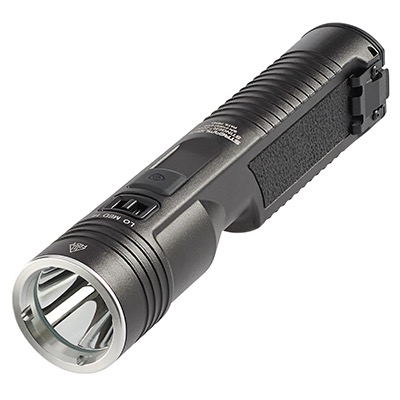 The new Stinger 2020 features an aluminum body with rubberized side panels for comfort and increased grip. The body has a deep finger groove that makes the light easy to control, retain and hold, and features an oblong shape that provides a convenient, anti-roll feature.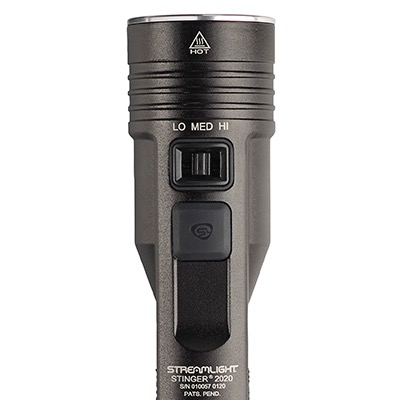 My favorite feature of the Stinger 2020 is the sliding switch near the head that allows you to easily adjust the intensity of the light. The switch is easily moved with your thumb, and allows you to choose from Low (100 lumens), Medium (850 lumens), and High (2,000 lumens) output settings without having to cycle through a bunch of settings, or use awkward combinations of short and long button pushes to obtain the desired intensity.
Streamlight advertises an impressive two-hour run time at the High setting of 2,000 lumens, but you can stretch out the light to four hours on Medium, or 24 hours on Low. The light can be turned on via a power switch on the head of the light, or one on the tail.  A strobe setting is available, if you want it, with a double click of either switch.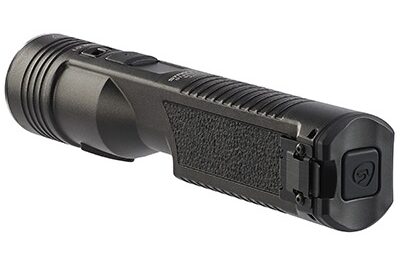 Like all Streamlight products, this light is a tough piece of gear, and it won't let you down. I've been running mine for over a year now, and it's easily the best duty-sized flashlight that I've ever owned. It's robust, powerful, and simple to operate. At a recent night-shooting class that I taught, the Stinger 2020 blew away all the other lights that were present, and my students loved the switch arrangement, beam quality, and handling characteristics. You can check out the features of this improved Stinger on the Streamlight website.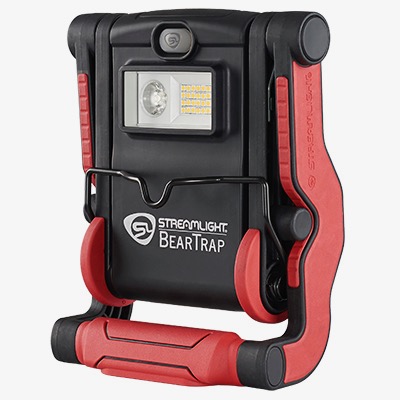 While you're there, check out the new, 2000 lumen, Bear Trap rechargeable work light, which would be just the ticket to light up your workspace, project, campsite, or roadside tire change. It's another quality, functional product from a company that I've trusted for decades.
Tandy
I was really taken aback when I stumbled across the Tandy Leather booth at the new SHOT Show Supplier's Showcase on Monday evening, after Media Day At the Range. I hadn't had any contact with the brand since the 1970s and frankly thought they had dried up and gone away.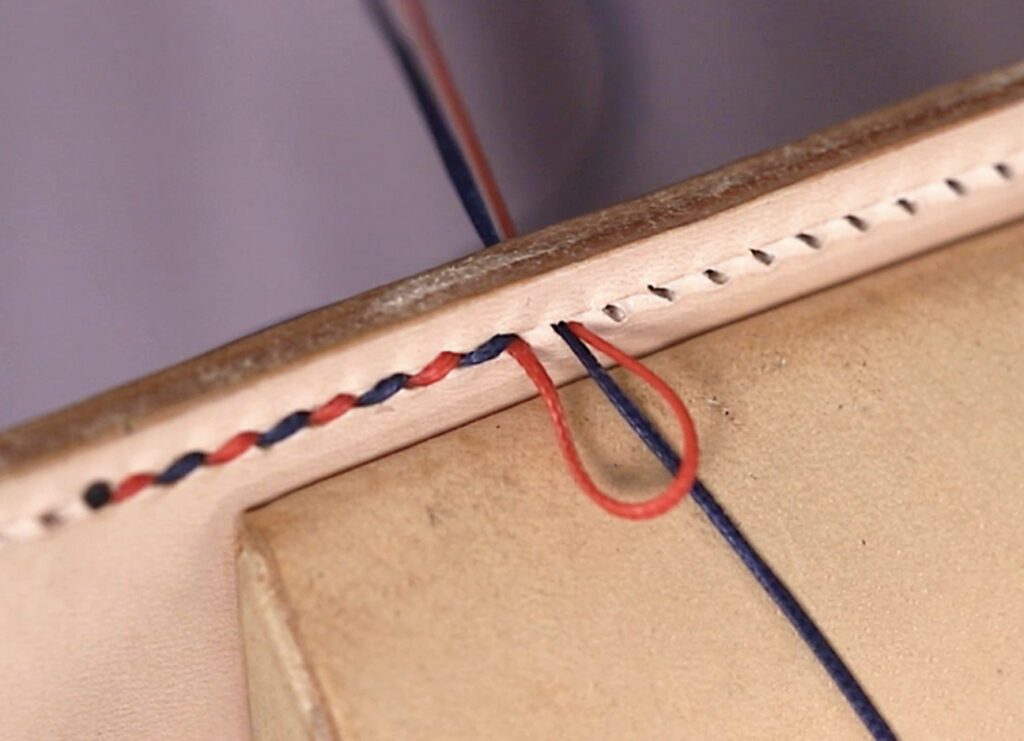 Thankfully, Tandy Leather is still with us, and they're still supplying the materials, tools, hardware, and instructions necessary for do-it-yourselfers to try their hand at repairing, modifying, and making leathergoods. RevolverGuys may appreciate Tandy's kits for making belts, knife sheaths, or holsters, and even if you don't have the skill or patience to craft your own accessories, you'll appreciate Tandy's supply of leather careproducts, that will allow you to keep your favorite holsters, pouches, sheaths, boots and belts in good condition.
Taurus
Taurus moved their American home to Bainbridge, GA a few years back, and they've been busy, ever since, turning out great firearms that are manufactured right here, in the USA.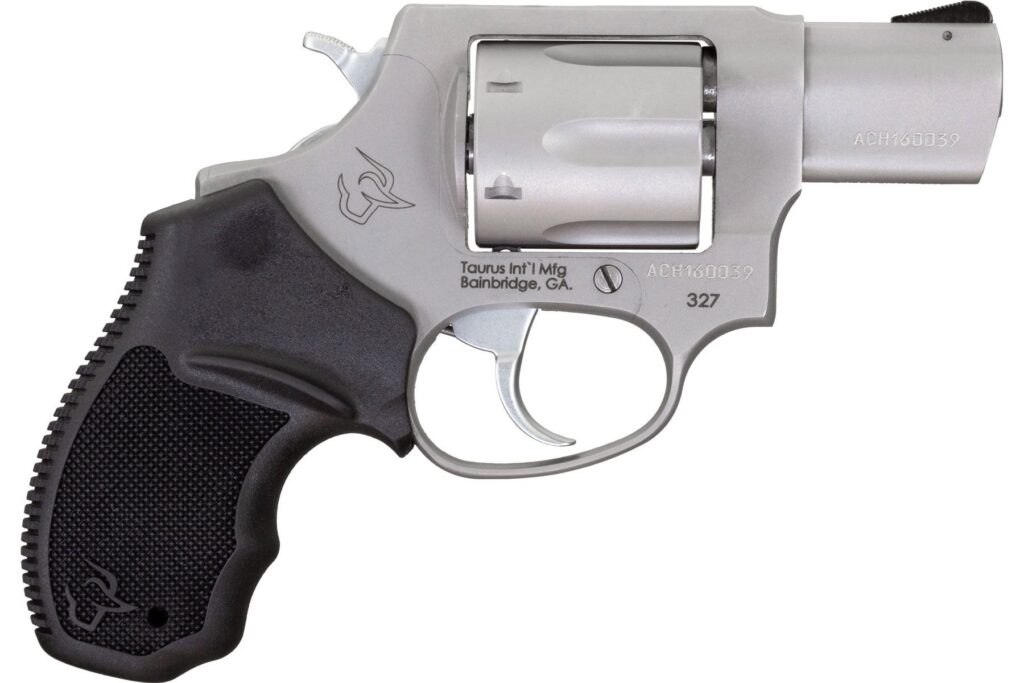 This year, Taurus answered one of our Christmas Wish List requests with a small-frame, six-shot revolver in .327 Federal Magnum, that's based off of the popular Model 856. The new Model 327 is an external hammer, two-inch or three-inch-barreled gun, that comes in either matte black carbon steel or matte stainless.  As a .327 Federal Magnum, Taurus' new snubby is capable of shooting the entire family of .32 cartridges, from the (true) Magnum-level .327, to the lighter-recoiling .32 H&R Magnum, and the soft-shooting .32 S&W Long.  This is going to be an excellent choice for those wanting a sixth round in a small-frame gun.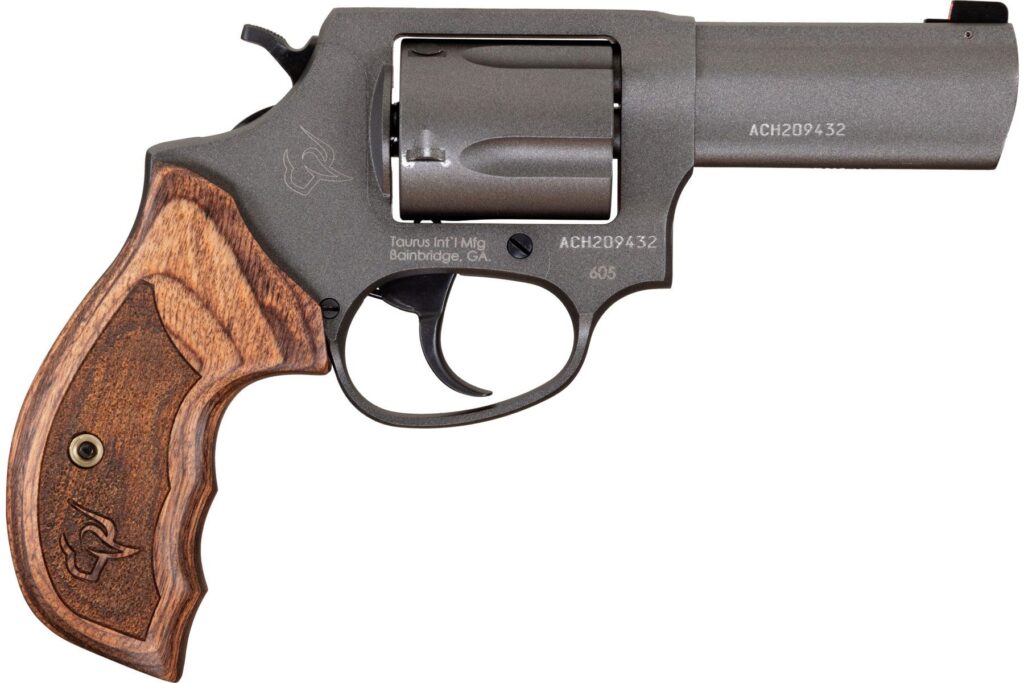 Taurus answered yet another of our Christmas Wish List requests by adding another three-inch gun to their stable.  The Model 605 Defender is a five-shot .357 Magnum with an external hammer, and an orange-outline, tritium night sight perched atop its three-inch barrel. The Taurus engineers, God bless them, saw fit to add an extended ejector rod under that longer snout, for more positive case extraction—a thoughtful detail that manufacturers often overlook when they stretch out a two-inch gun to three inches.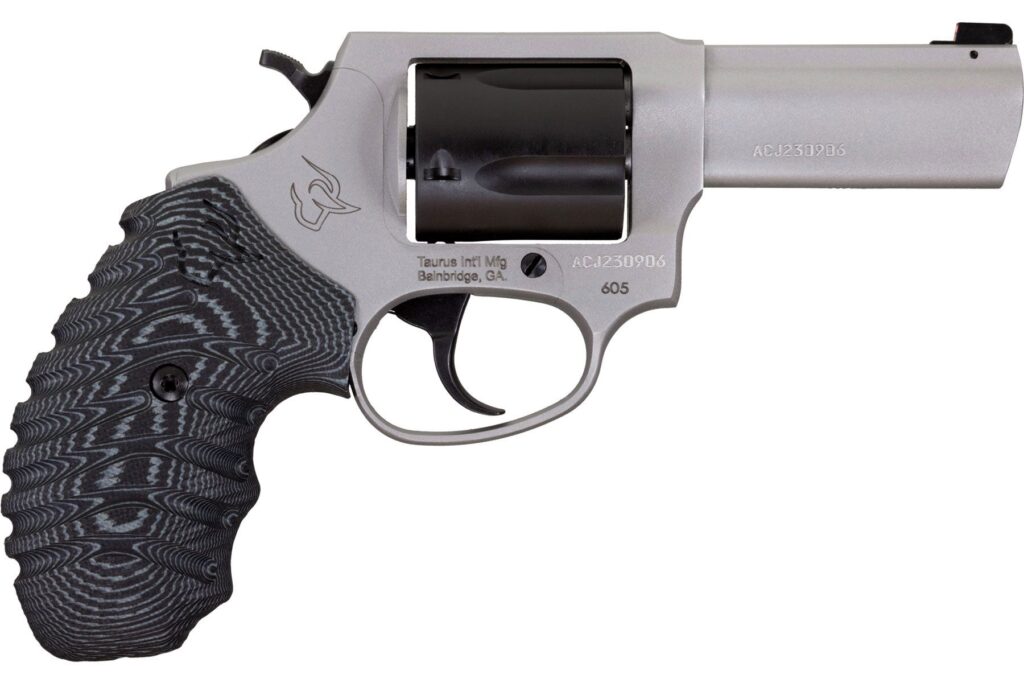 There are four grip and finish combinations to choose from, and you're guaranteed to find one that floats your boat. I thought the Altamont wood grip with the Tungsten Cerakote finish was particularly handsome, but liked the feel of the VZ Grip and Hogue Grip options even more.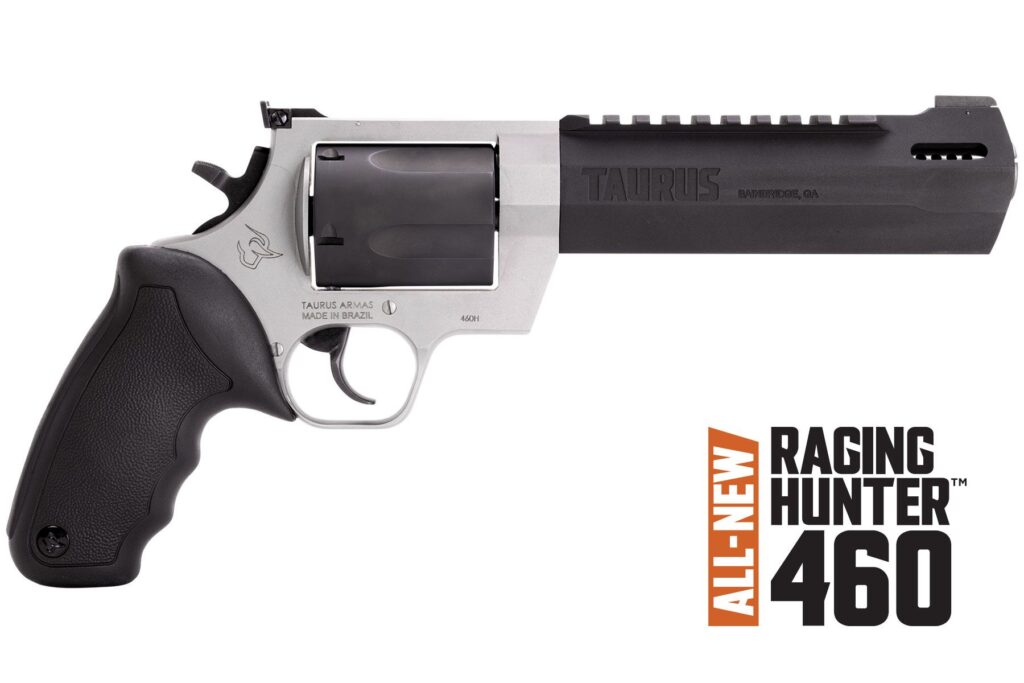 For those of you who might have raging elephants or runaway dump trucks in your neighborhood that you need to stop, Taurus is also introducing a Raging Hunter in .460 S&W Magnum. That's five-shots of powerful medicine, right there. The compensated barrel has a section of rail on top, for the mounting of optics, and you'll probably appreciate the extra weight when you touch off one of those cartridges.
Taylor's & Company
Taylor's & Company is a highly-regarded outfit that's known for their improved versions of classic, historical firearms, and every time I hover around their booth at the SHOT Show, I'm afraid they're going to kick me out for drooling on the glass display cases.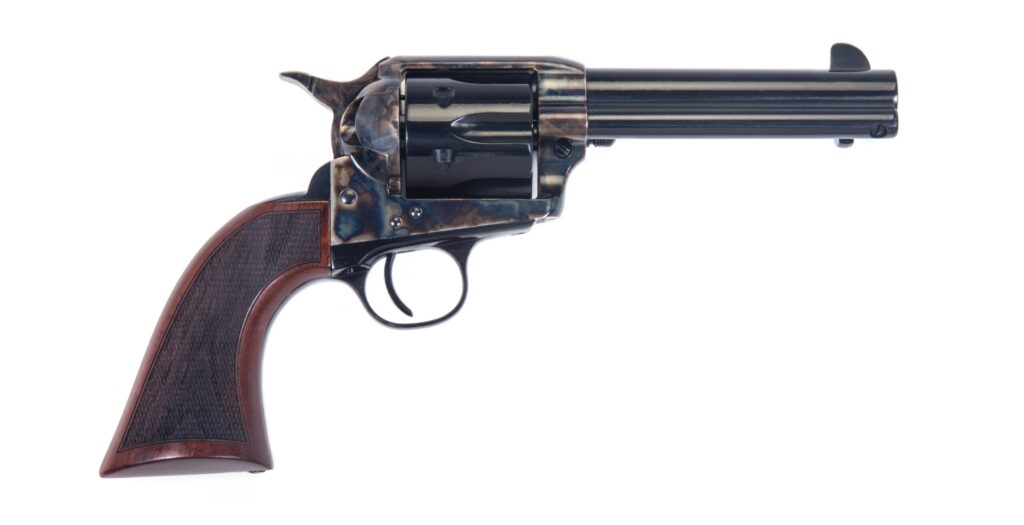 In revolvers, Taylor's big news for 2022 centers on the Gunfighter Defender, which is an 1873-pattern revolver with upgraded features that improve the handling characteristics of this beautiful sixgun. Taylor's starts with a color case-hardened, New Model frame Cattleman, and mounts the longer, wider 1860 Army grip to improve the gun's feel and looks, and enhance the large-handed shooter's control of the gun. Additionally, a flat, lowered "Runnin' Iron" hammer is installed on the gun for faster sight acquisition.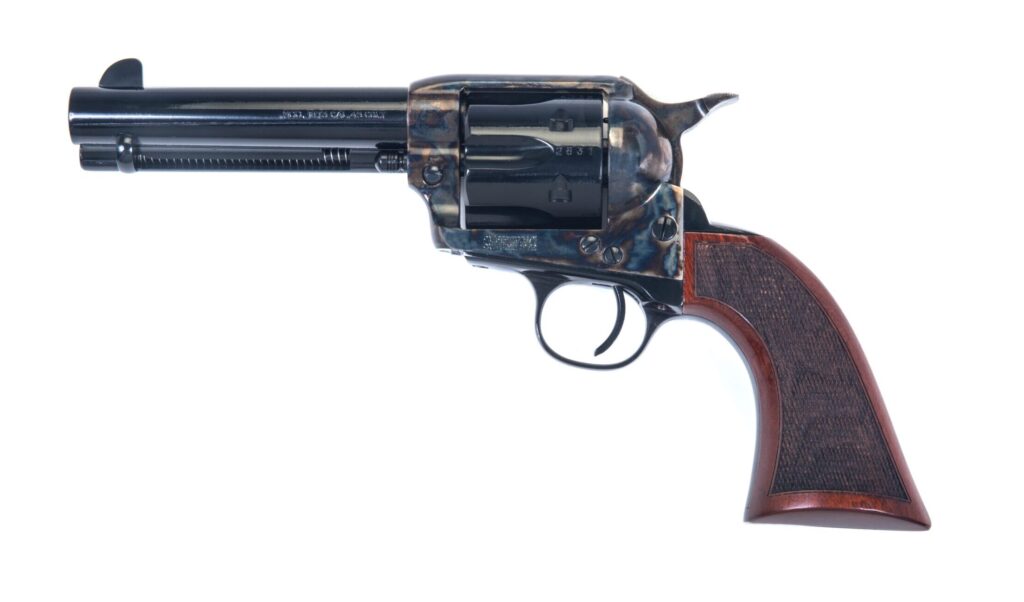 The Gunfighter Defender features a checkered grip, blued steel parts, and comes with your choice of 4.75" or 5.5" barrel, in either .357 Magnum or .45 Colt. Taylor's adds custom springs and a hand-polished action for the best shooting experience. There's a new Gunfighter Nickel version, as well, that sports (you guessed it) a beautiful nickel finish.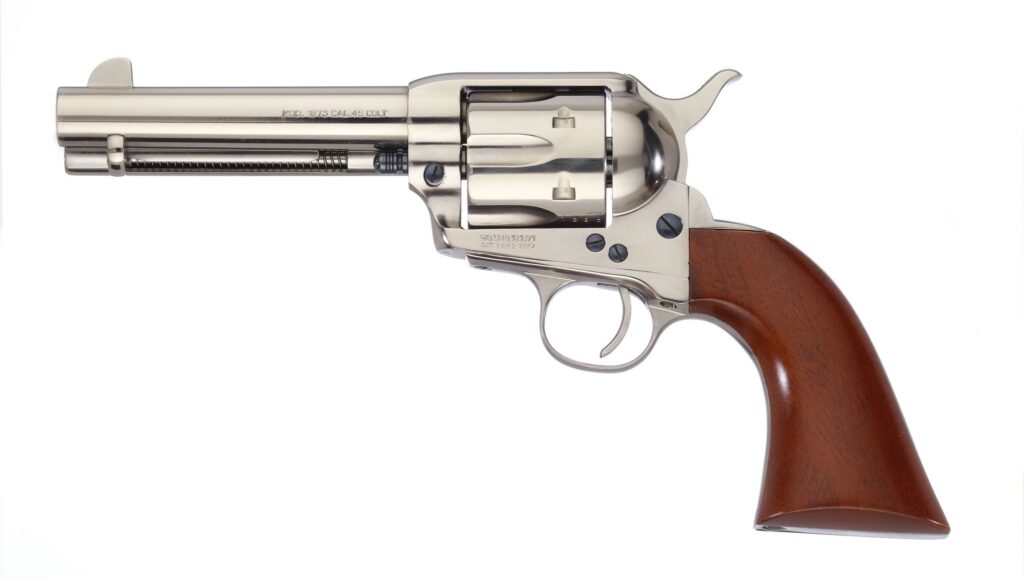 As a guy with a big hand, I love the way the longer Army grip feels in my paw, and appreciate the striking-good looks of these sixguns.  If they shoot half as good as they look, you'll be a happy cowboy, indeed!
Winchester
Like most ammunition companies, Winchester spent 2021 scrambling to keep up with orders, but they did manage to put together a few new products for 2022.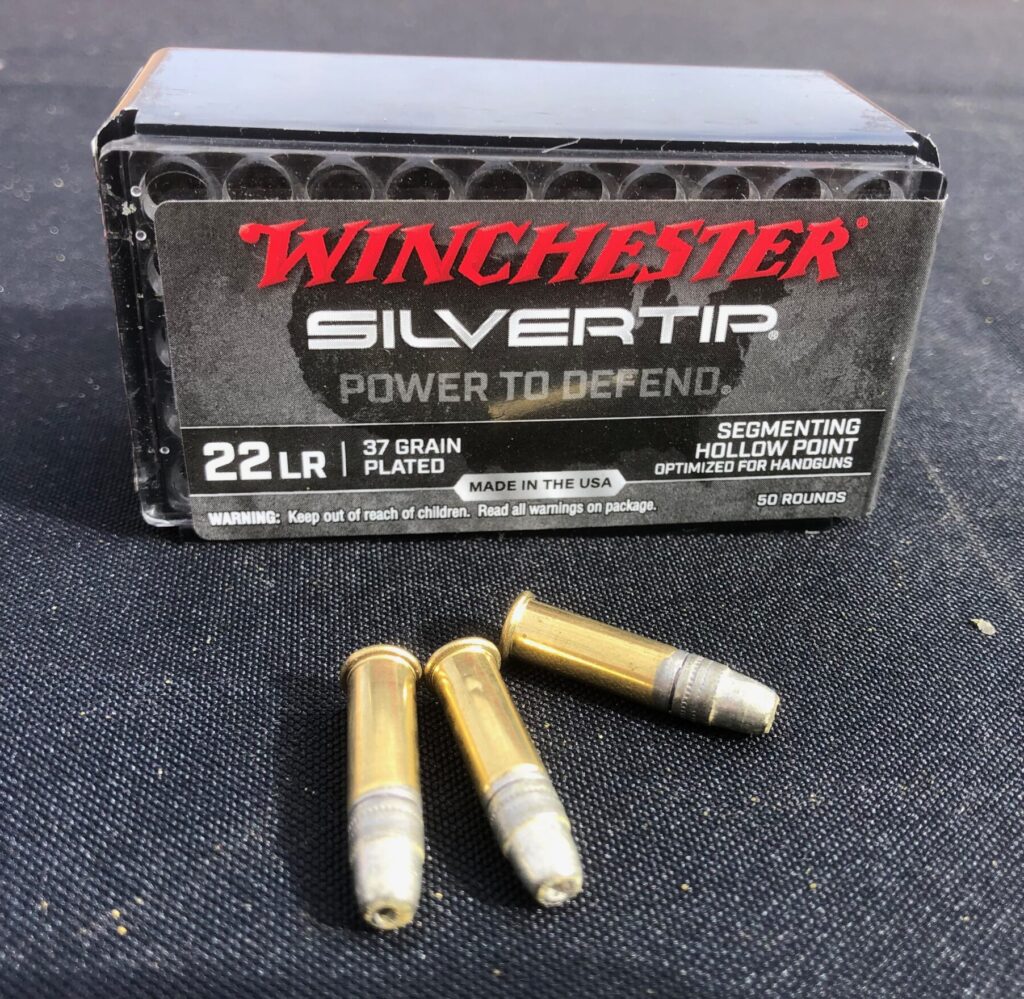 One of these is a Silvertip loading of the venerable .22 Winchester Magnum (".22 Magnum"), designed for self-defense duty. The rimfire Magnum Silvertip has a 40 grain, nickel-plated, jacketed hollowpoint bullet that exits the muzzle at an advertised 1,240 fps, generating 137 ft-lbs of energy. That's almost 200 fps faster than the 36 grain, segmenting, .22 Long Rifle version of the Silvertip, introduced in 2021.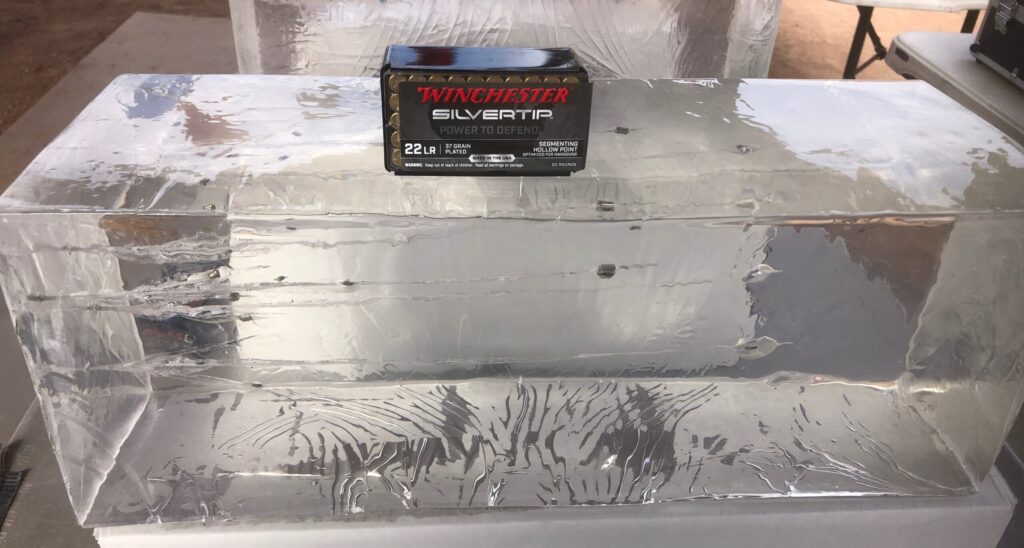 That .22 Long Rifle Silvertip, by the way, is an interesting design. Winchester engineers tell me the bullet comes apart in the target, with three petals breaking off early in the wound track, leaving the 24 grain core to travel about 12 to 16 inches in calibrated gelatin.
RevolverGuys might also be interested to learn that Winchester's 125 grain .38 Special +P Silvertip, 210 grain .44 Magnum Silvertip, and 225 grain .45 Colt Silvertip will be available in 20-round boxes, starting in 2022.
XS Sights
The good folks at XS Sights didn't necessarily have any new sight options for revolvers, but their Ruger LCR revolver sights sure caught my eye—literally, because the glow attracted my attention as I passed the booth!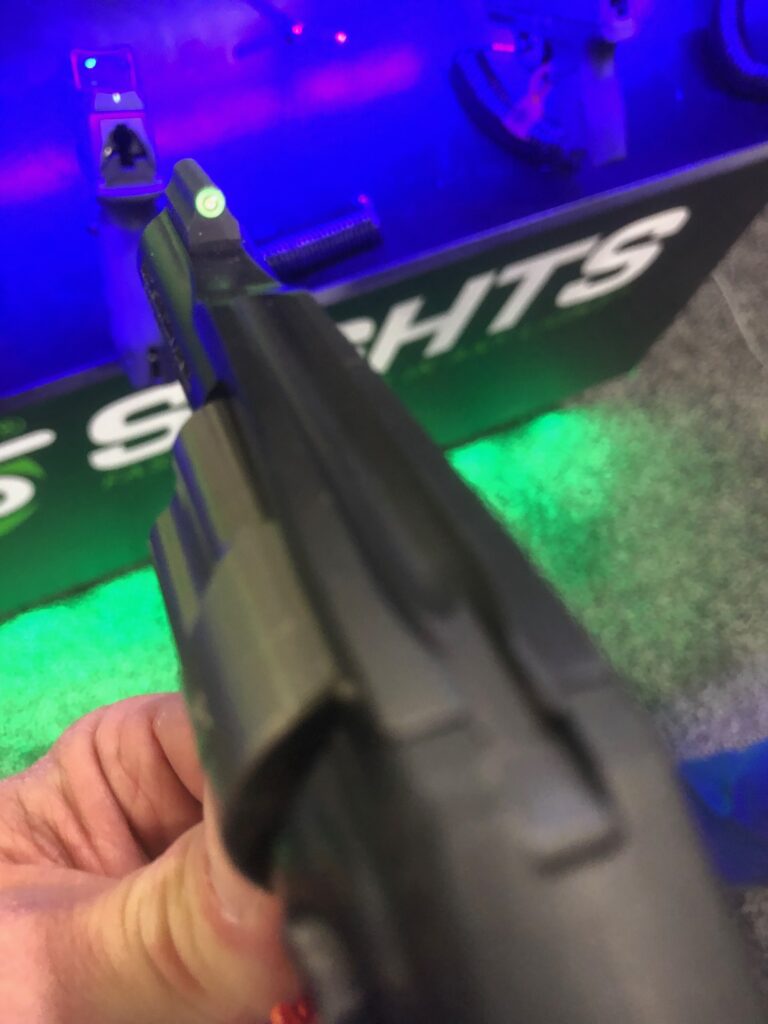 One of their helpful, highly capable technicians explained that the .38 Special and .357 Magnum versions of the LCR can be equipped with a tritium-powered, standard dot up front, because the sight blades are tall, but the 9mm, .327, and .22 caliber versions of the gun have a shorter blade, which doesn't leave enough room for the tritium insert and shock-absorbing insulation around it, so those calibers are restricted to a photo-luminescent dot, instead.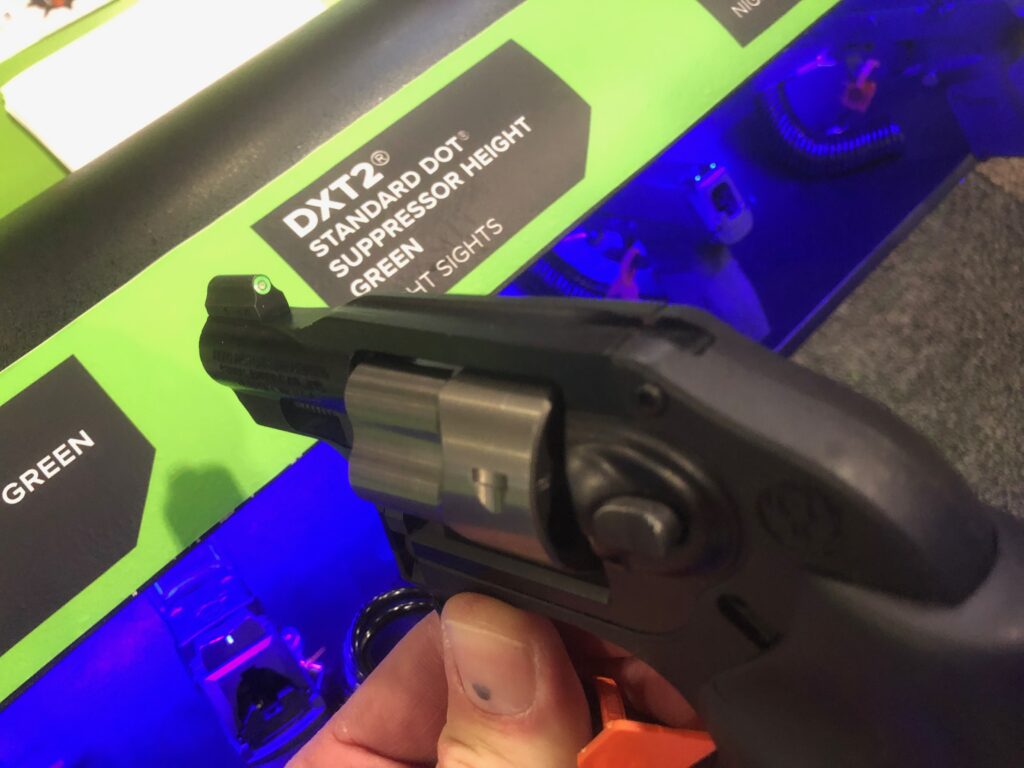 If you have an adjustable-sight Smith & Wesson K-L-N revolver, the sight masters at XS can replace your rear blade with an express version that will mate up nicely with their interchangeable big dot or standard dot sight, up front. Don't worry—there's a J-Frame big dot option available for you, too.
The gunsmiths at XS can do all kinds of complicated work, to include milling front sight blades to accommodate a replacement sight, or milling rear blades to accept a tritium insert, so if you have any questions, be sure to give them a call—they can probably do it, whatever you're thinking of.
That's a wrap
Well, that's about all I could scare up for you in my time at the show, but I think that's a pretty good start on the year.  Make sure to tell these folks you heard about them at RevolverGuy if you do business with them, and be safe out there!