I recently purchased a can of pepper spray for my girlfriend. I decided to grab an extra can and carry it myself. I've known I should be carrying a non-lethal option for years. . . but I haven't. Like most of the firearms industry I've overlooked this important facet of comprehensive self-defense. In the past couple of months I've really come to appreciate the benefits pepper spray brings to the table.
Before we get to them, though, let me accept some responsibility here. Pepper spray is incredibly overlooked in the firearms media, and RevolverGuy is no exception. This blog currently has over 120 articles and only one of them specifically recommends carrying pepper spray. We're no outlier – I'd say that stat is probably on the high end for just about any firearms blog/site/magazine/Youtube channel on the internet. I'm not going to start writing about pepper spray every week, but you can probably expect to see a bit more emphasis on this tool in the future.
Also, let me say that I am not the expert on pepper spray. I've never sprayed anyone. My experience is limited to having been sprayed . . . a couple of times. The first was an accident; I was in my early teens and my mother was test-firing her pepper spray. I happened to be in a downwind area and got a decent dose. Lesson learned. The second time was in training to become a Marine Corps Martial Arts Instructor. This was no accident; trainees were given a full blast, right in the face. I know enough to know that it sucks!
Legality
Chicago, Illinois. Newark, New Jersey. San Diego, California. Washington, D.C. If you're an average citizen (like me) and not a LEO or some other federally-privileged class, you can't carry a firearm in all of the places listed above. You might be licensed in one of them, but you're almost certainly not good in all of them. In the past year I've had to travel to all of these places and, due to the reciprocity agreements that pertain my my concealed carry permit, I can't carry a gun in any of these places. But guess what I can carry?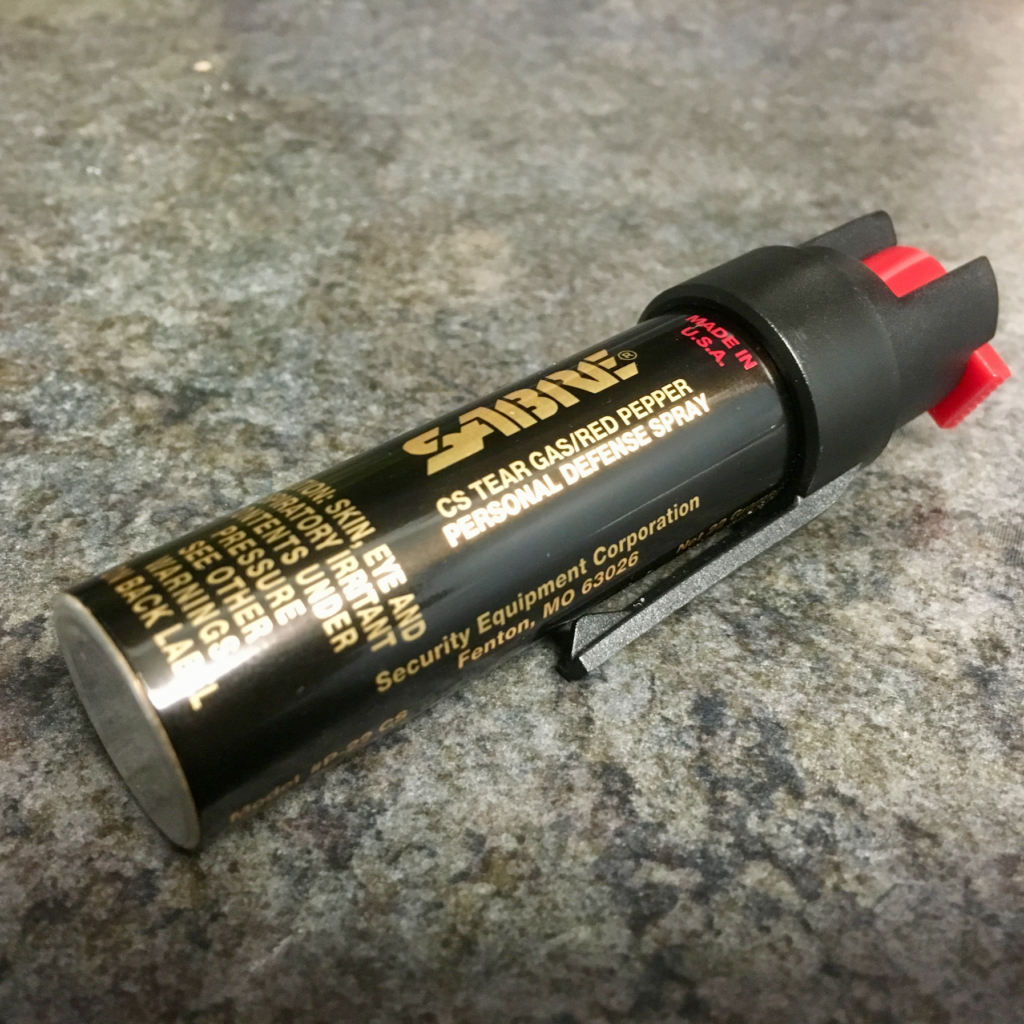 Pepper spray is legal in all 50 states in the country. This doesn't mean you can go anywhere with pepper spray. You can't, for example, go into an airport's sterile area with it (federal offense), but you can carry it in a lot of places you can't bring a firearm. You also need to check your local and state laws. Some jurisdictions regulate the legal size, form-factors, and formulation of self-defense sprays. I travel a lot for work and I'm constantly surprised at where pepper spray is legal for possession, use, and carry.
Less Lethal Force
Because pepper spray is considered less lethal force, the bar for its deployment is lower than that of a firearm. I can't shoot someone for assaulting me with non-deadly force, but I can defend myself with non-deadly force. . . like pepper spray. This expands your options considerably and gives you something, "between a profanity and a pistol," to quote Chuck Haggard.
Even if you're not concerned about these intermediate-force scenarios (you should be), consider this. Using a firearm in self-defense will very likely cost you tens of thousands of dollars. It is plausible that it could cost you hundreds of thousands of dollars. It is even possible that mounting a successful legal defense could cost you in excess of a million dollars. I know, I know – I'd rather be alive and in debt than dead and rich. But if I can have my cake and eat it, too, I'd rather be alive and financially intact. Pepper spray gives me a tool that offers serious defensive capability and imposes far less legal and financial jeopardy upon the user.
There's another facet to this, too. There are times when deadly force may be justified, but that doesn't necessarily mean it's "right" as Greg Ellifritz elucidates in this story. I bet that woman wishes she'd used some level of force below gunfire. If I have another, viable option at my disposal I'm going to take it. Shooting someone is quite literally the last thing in the world I want to do. I will if forced, but otherwise I'd prefer to avoid the legal, financial, and ethical implications of using deadly force on another.
Pepper Spray Carry
It's already chilly where I live, so the jackets have come out. I have simply been carrying a compact can of Sabre Red in my coat pocket. I like this for a couple of reasons. First, it's lightweight and I doesn't drag my coat down like a pistol would. Like a pocket pistol, I can keep my hand on the spray for quick use. Unfortunately, like pocket carry without a holster, the can is also loose and prone to changing its orientation. This led me to develop the index points I talk about in the next section.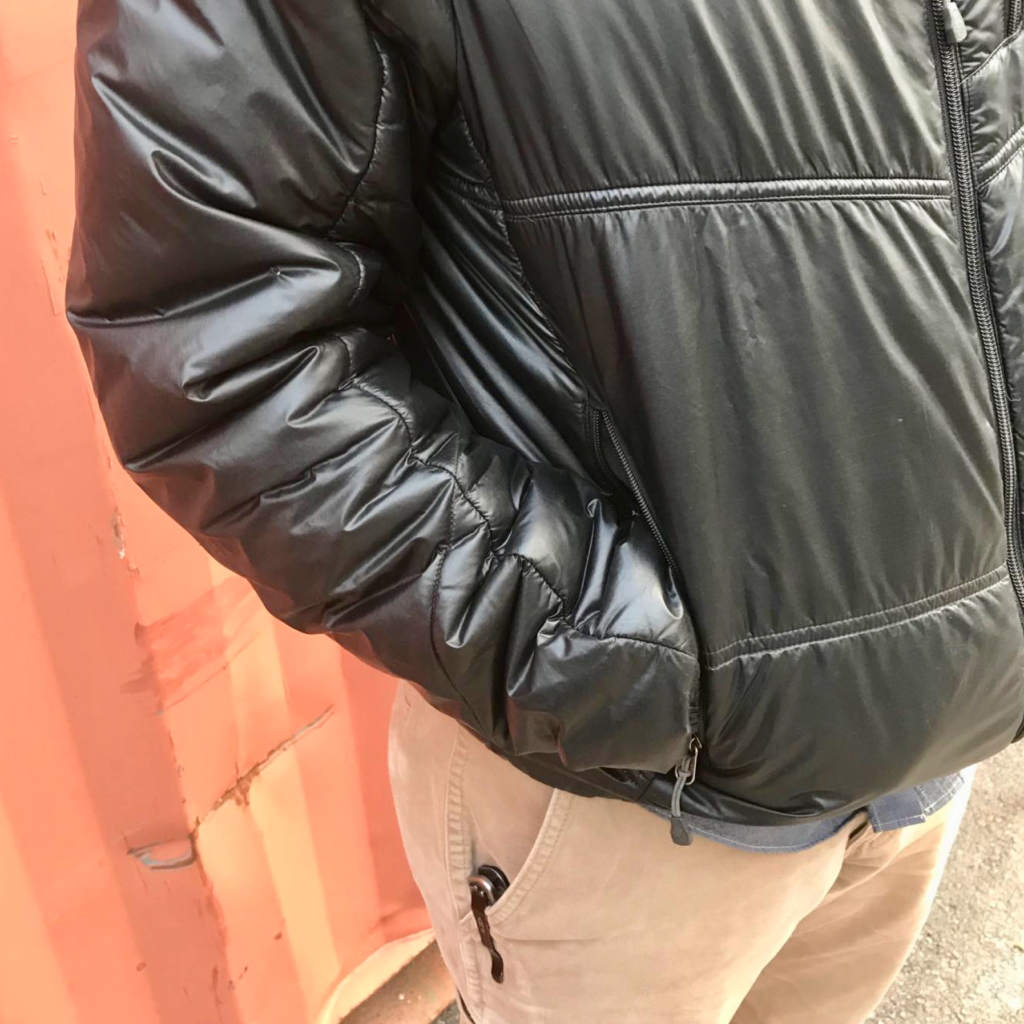 When spring rolls back around, I'm not sure what I'm going to do. Like a firearm, pepper spray must be quickly available to be effective. Ideally I'd like something that provides a consistent draw. I don't love pants-pocket carry, so we'll see what I come up with.
Pepper Spray Deployment
I'm sure I'm not going to cover anything that is new to LEOs or those of you that have been carry pepper spray for years. And if I'm being honest, I'm still learning the ins and outs of this defensive tool. I still think this is important to cover because I don't think I've ever read an article that really digs into pepper spray carry. Here's what I've come up with.
To aid in quick deployment from my jacket pocket, I have developed a few index points. This helps to ensure that if I present the spray it is oriented correctly for operation. This is one problem with pocket carry; the canister is constantly rolling around. This makes these index points extremely important. Since the sizes and exact features of various pepper spray cans vary, you will have to find your own indexes.
First, I ensure that the edge of my index finger is against the lip created by the plastic top. This gives me a full, four-finger grip on the can but ensures my finger is not obstructing the spray's path. Next, I reference the provided pocket clip (which otherwise seems mostly useless) with the tips of my index and middle fingers. This ensures the spray is oriented with the business end out.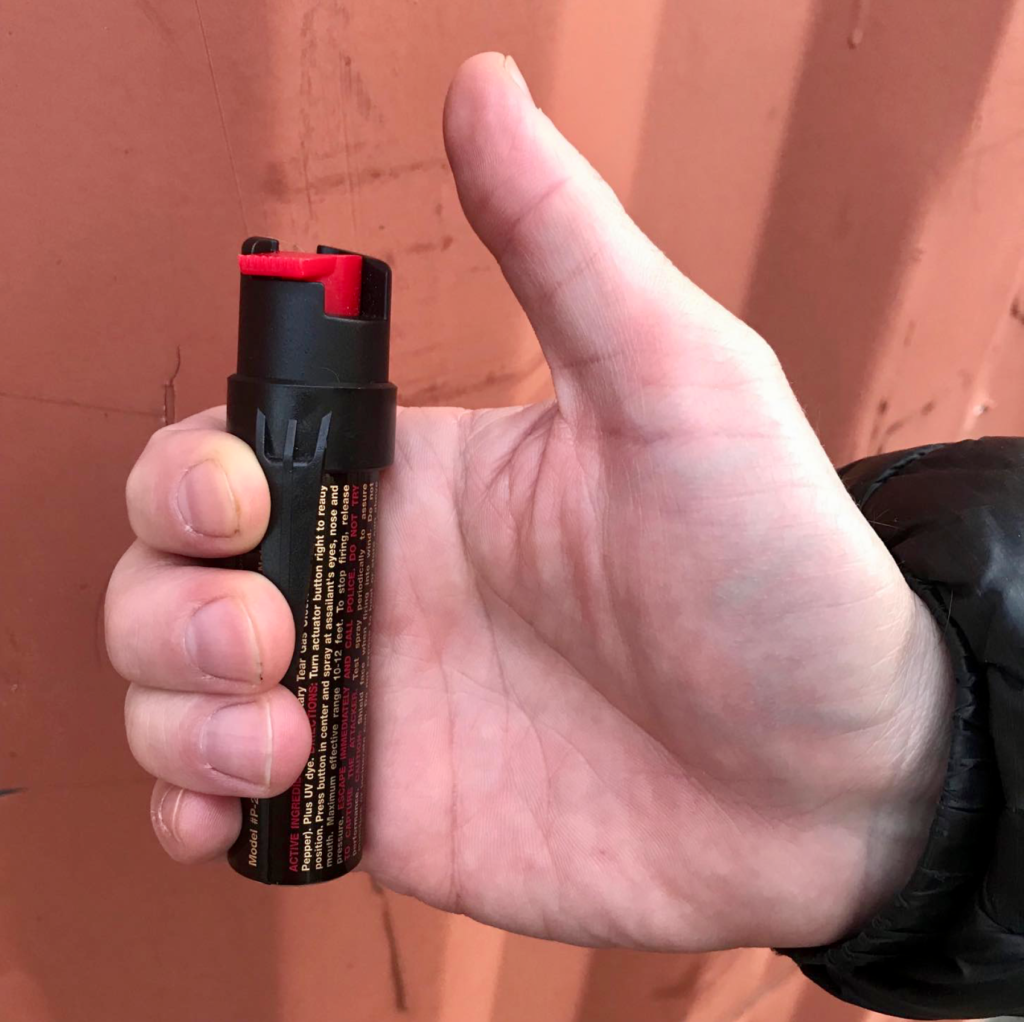 I've found that I generally keep all four fingers and my thumb wrapped around the can when it is in my pocket.
Due to the placement of the "safety" (the rotational tab on the actuator) I can quickly flip my thumb off, rotate the safety, and be ready to deploy. I like depress the actuator with my thumb because, to once again borrow from Chuck Haggard's witticism, we aren't putting on hairspray here.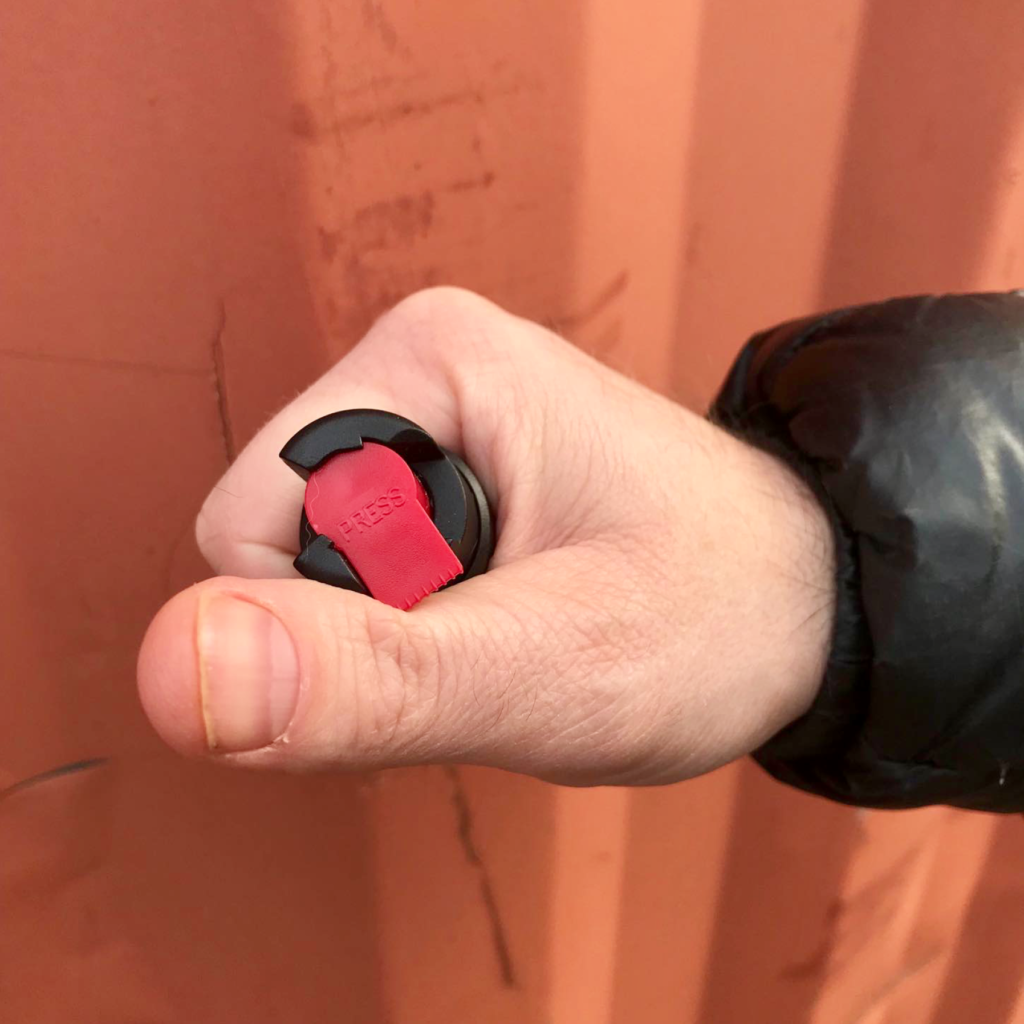 One thing that will aid massively in rapid and effective deployment is practice. Sabre Red offers inert practice canisters. I have purchased a couple and would highly recommend you do the same. Like a firearm, effective deployment requires practice.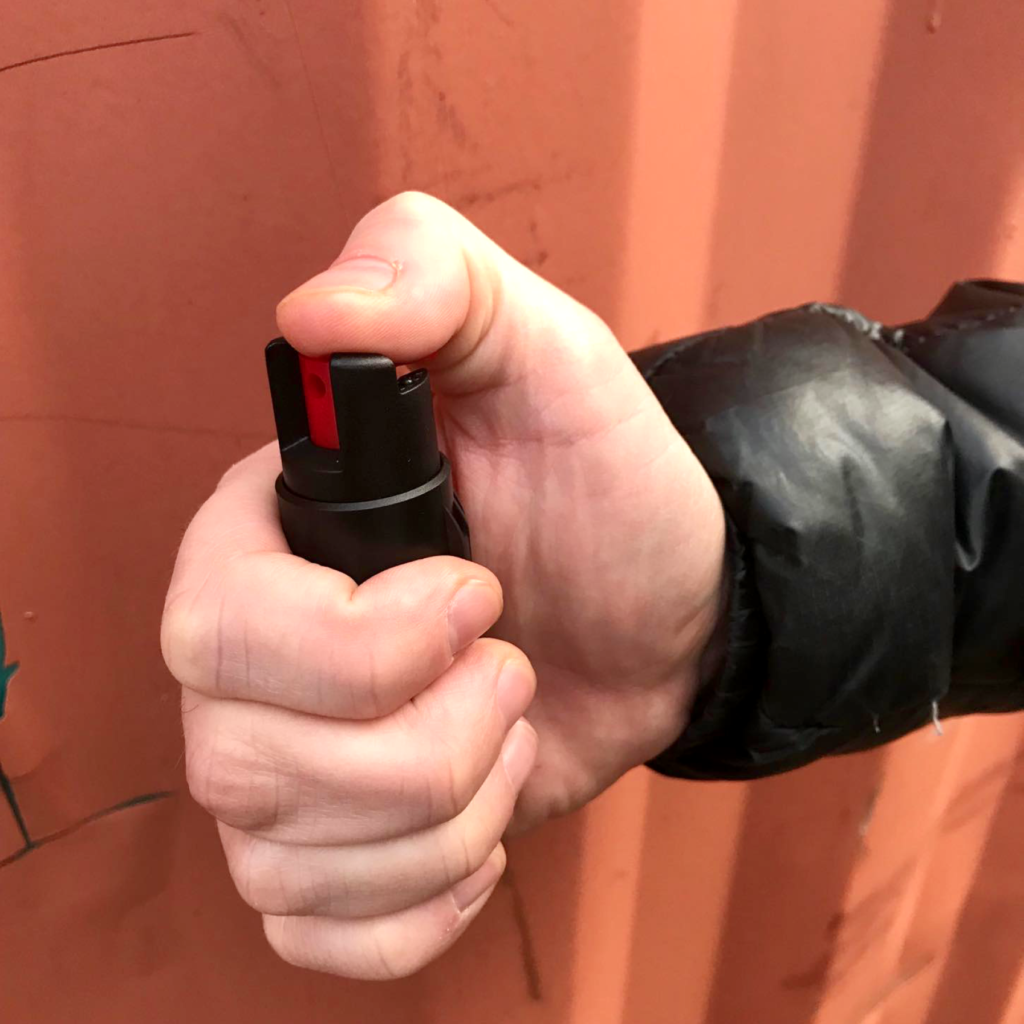 The Bottom Line
Pepper spray is not a substitute for a firearm and I wouldn't attempt to convince you it is. There are some problems that can only be solved with deadly force. However, there is a massive spectrum of grey between the black and white distinction of shoot/don't shoot. I like having a tool to deal with these much more likely scenarios, and I encourage my readers to have one, too. Secondly, there are many places that I can go with this tool where I can't arm myself with a firearm. Believe it or not, I don't feel unarmed with "just" pepper spray.
There's also a ton this article didn't cover. You can go down a huge rabbit hole on can size and form-factor, formulation, spray patterns, mist vs. gel, and some other variables. I feel good with a compact can of Sabre Red but I'm not the expert. A man who is, Chuck Haggard, recently published an article about "spicy treat" selection in Recoil's Concealment. Fortunately, you can read this article online HERE. I highly encourage you to do so.
I know I sound like the convert that needs to tell everyone about this great new thing that he just "discovered." That's OK. This is a vastly under-represented topic and for now I'm happy to evangelize. Get some pepper spray. Practice with it. Carry it.
Liked it? Support RevolverGuy on Patreon!