"It has been said that history repeats itself. This is perhaps not quite correct; it merely rhymes."
-Theodor Reik
RevolverGuy readers with a little white in their hair could be forgiven if recent events in the realm of Second Amendment politics evoked strong memories of an earlier era, because history does indeed "rhyme."
A familiar story
In the last several months, the House Committee on Oversight and Reform has been "investigating" the firearm industry in the wake of vicious crimes committed by insane and evil persons at an elementary school in Uvalde, Texas, and an Independence Day parade in Highland Park, Illinois. Sensing an opportunity to capitalize on these emotional tragedies, the members of the Committee invited several Chief Executive Officers (CEOs) of firearm companies to appear, so they could "blame and shame" them, and attempt to "prove" a false link between lawful commerce in arms, and the spike in criminal violence that America has suffered for several years.
What is the Committee's goal in this charade? First, to shift the blame for the violent chaos that was ushered in by their own, progressive, soft-on-crime, anti-law enforcement policies, and second, to create the necessary pretext for imposing restrictions on the law-abiding industry they hate so much. A third, and significant, reason is that the committee's chairwoman has been fighting a tough primary race (that she eventually lost, earlier this week) and was hoping to get some positive press for her crusade against the industry.
Not playing along
In a bold and unexpected move, Smith & Wesson CEO and President, Mark Smith, declined the Kangaroo Court's invitation to serve as a political punching bag.
In a powerful and pointed public statement, Smith laid the blame for violent crime where it belongs, and adamantly refuted the Committee's notion that companies like his bear responsibility for the criminal misuse of their products. Furthermore, he vigorously defended our God-given, Constitutionally-protected, right to keep and bear arms, and made it clear that Smith & Wesson stood with the American people.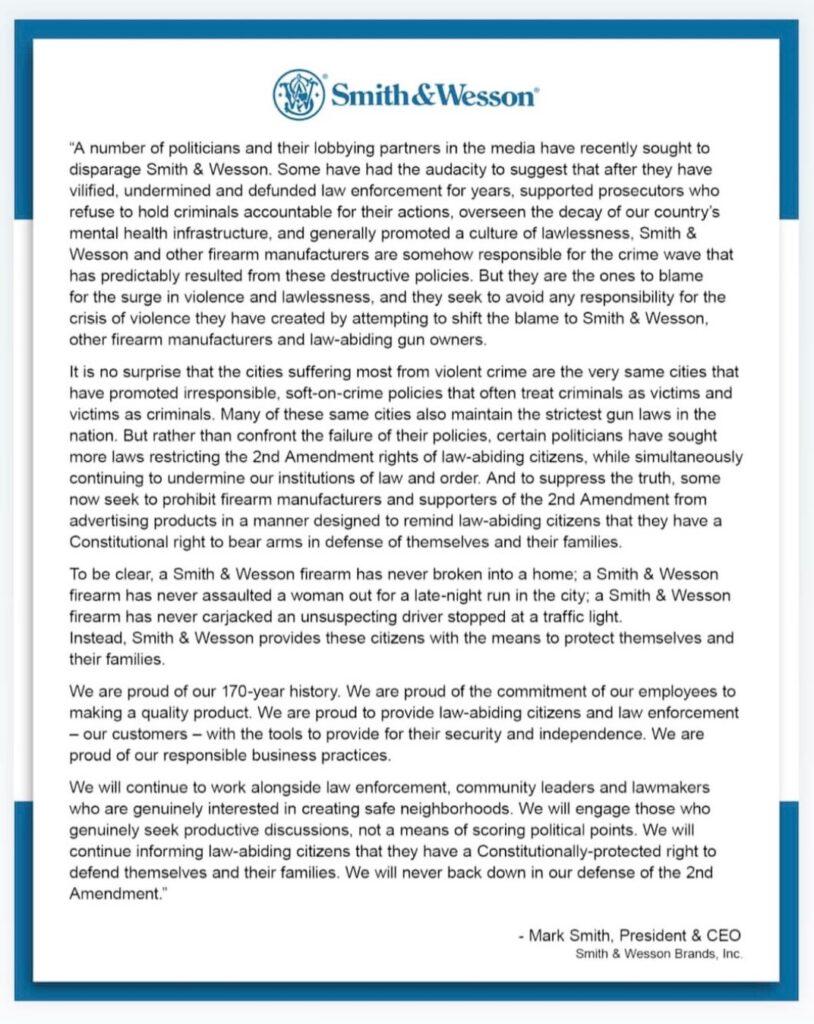 Righting a wrong
The strong reaction from today's Smith & Wesson stands in stark contrast to the betrayal that occurred a generation before, when the British owners of Smith & Wesson broke ranks with their fellow firearms manufacturers, and signed an oppressive agreement with the Departments of the Treasury and Housing and Urban Development.1
In that March 17, 2000 maneuver, the British caretakers of the iconic American brand not only turned their back on their stalwart colleagues and their loyal customers, but may have actively colluded with the forces looking to curb gun rights and harm the shooting industry. In a breach of trust with companies like Glock and Beretta (who rejected the so-called, "HUD Agreement"), information surfaced that indicated the management of the British-owned company shared confidential communications from industry meetings with the feds, in an attempt to ingratiate themselves with their new masters, and receive favorable treatment.
It was an ugly time for the industry and the defense of the Second Amendment.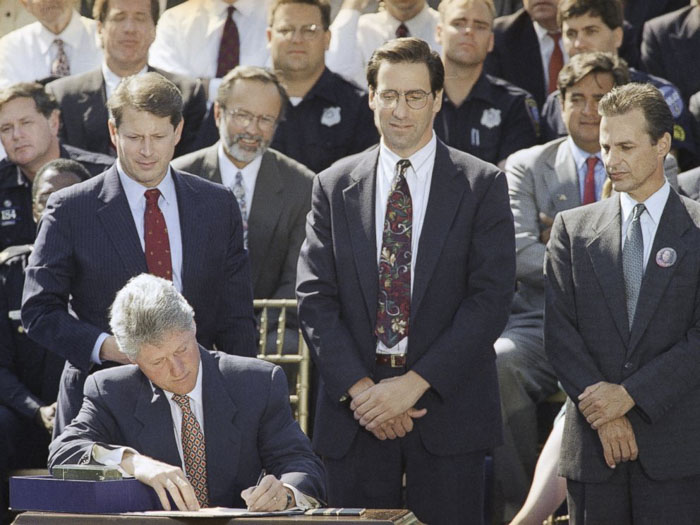 Fortunately, this latest confrontation between government and industry has played out differently. We knew the former British owners of Smith & Wesson have been gone for over 20 years, chased away by angry consumers, but it was awfully heartening to see a rejection of their tactics and values by the current, American stewards of the brand. The courage, integrity, and patriotism displayed by Smith & Wesson's current leadership would always be welcome, but is even more appreciated, given the failures of the past. In a way, CEO and President Smith's latest action has helped to heal the old wounds that were suffered in 2000, and which still fester, decades later.
Under assault
Smith's display of corporate courage is even more powerful, knowing that the company is under assault from all corners, and has been for many years.
Despite their diligent and earnest efforts to comply with a dizzying array of state, federal, and international laws, regulations and policies which restrict commerce in arms, Smith & Wesson has been the target of punitive investigations and audits, political assaults, and baseless legal challenges, intended to interrupt and handicap their operations, and bankrupt the company.
A small sample of these efforts would include the following:
In light of the comprehensive and unrelenting attacks on the company's livelihood, CEO Smith's powerful defense of the company and American values appears even more courageous. Many executives would be tempted to adopt a compliant, nonconfrontational profile, in the hopes they could appease their attackers, but this is not the Smith & Wesson of 2000.
The full measure
Despite our admiration of CEO Smith's action, and our support of his message, we'd be remiss if we didn't discuss the 21 year old elephant that still remains in the room, the internal lock.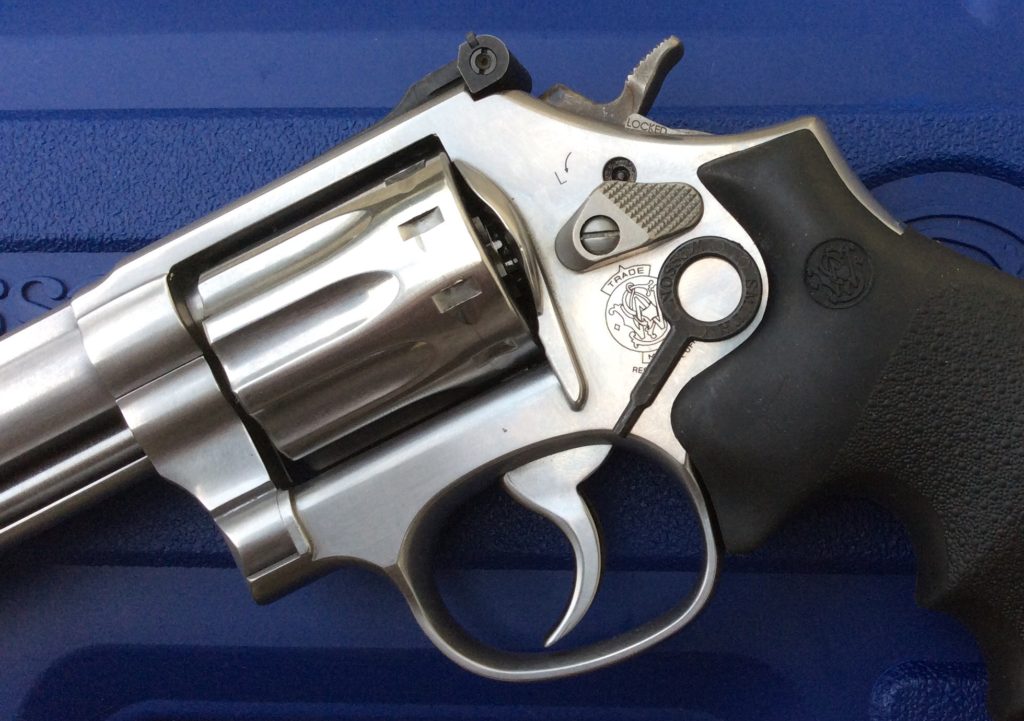 The internal lock was mandated by the 2000 HUD Agreement, and found its way into Smith & Wesson revolvers in 2001.  It's the legacy of, and victory symbol for, the anti-gun forces within the Clinton administration that forced the Agreement's unconstitutional restrictions on the American people, with the help of the company's British owners. It's a divisive and unpopular remnant of a dark period in the company's history, and is inconsistent with a rejuvenated, American-controlled, Smith & Wesson that values our right to keep and bear arms.
A large and influential part of the market has spent 21 years struggling to accept this unsightly offense on Smith & Wesson's revolvers, but CEO Smith's principled stand makes the challenge even more difficult. With Smith & Wesson firmly planting a flag in opposition to the government's anti-gun efforts, despite the obvious peril of doing so, the continued presence of the lock becomes even more conspicuous.
We think it's time for the company to break from the policy of capitulation embraced by the previous, foreign management, and erase this stain on the company's history.  It's time for Smith & Wesson to bring back an expanded catalog of non-lock alternatives.2
Not a stretch
We've previously made the case for why it's reasonable to return more non-lock models to the catalog, and won't belabor it in detail here. Instead, we will simply note:
There's no consumer demand for it. Most consumers ignore and live with it, and a large number actively hate it, but we have yet to hear any consumers actually demand the lock. Virtually nobody uses it, either.  In the 21+ year history of the internal lock, the RevolverGuy team has never met a single shooter who actually uses the internal locking system, and has never met a trainer, gunsmith, armorer, writer, or other industry professional who encouraged its use. The vast majority of owners couldn't locate the key  that came with their gun if they were asked to, because it's never been used. There may possibly be a few folks on the margins who use the lock, but they represent the smallest minority—likely less than 5%–based on our experience in the industry;

It's not an essential safety feature. Smith & Wesson has continuously sold a small number of revolvers that were not equipped with the lock, since the lock was first introduced in 2001. If the lock was an essential safety feature (alternatively, if a no-lock gun was "unsafe"), Smith & Wesson would not assume the risk and liability of selling non-lock SKUs, or marketing them as premium products that warrant a higher sticker price.3 At best, the lock can be viewed as an optional security feature, but it is not a  necessary safety feature, and the firearm is eminently and tacitly safe without it. In fact, there's a good argument, based on documented inadvertent lock failures, that the guns are safer without them installed.4
We think Smith & Wesson should continue to offer lock-equipped models to satisfy the minority of consumers who want them, but it's bad business to force them on the majority of consumers that see no need for them, and would prefer to purchase a revolver without the lock. It's also bad business to chase paying customers away to other companies that offer guns without the unpopular lock.
As such, we encourage CEO Smith to reassess the company's offerings and consider an expansion of no-lock SKUs, in the same spirit of independence and freedom that his recent statement embodied.
Not over yet
CEO and President Smith is not off the hot seat, yet. The Committee has subpoenaed him to appear before them, and he risks a contempt of Congress charge if he does not comply. He may be compelled by law to sit there and get smeared–as his  counterparts at Ruger and Daniel Defense were–by anti-gun hypocrites who accuse him, his employees, and his law-abiding customers of sins they are not guilty of.
However it plays out, we support him, his company, and his industry partners, Ruger and Daniel Defense.  We appreciate the role they are playing in the defense of our industry, our communities, and our liberties. We encourage our readers to show their support for these companies by engaging their legislators, and being good consumers of Smith & Wesson, Daniel Defense, and Ruger products.
We're all in this fight, together! These companies might be taking the Committee's arrows right now, but make no mistake—we, The People, are the actual target of their efforts.
Be safe, be strong, and God bless America!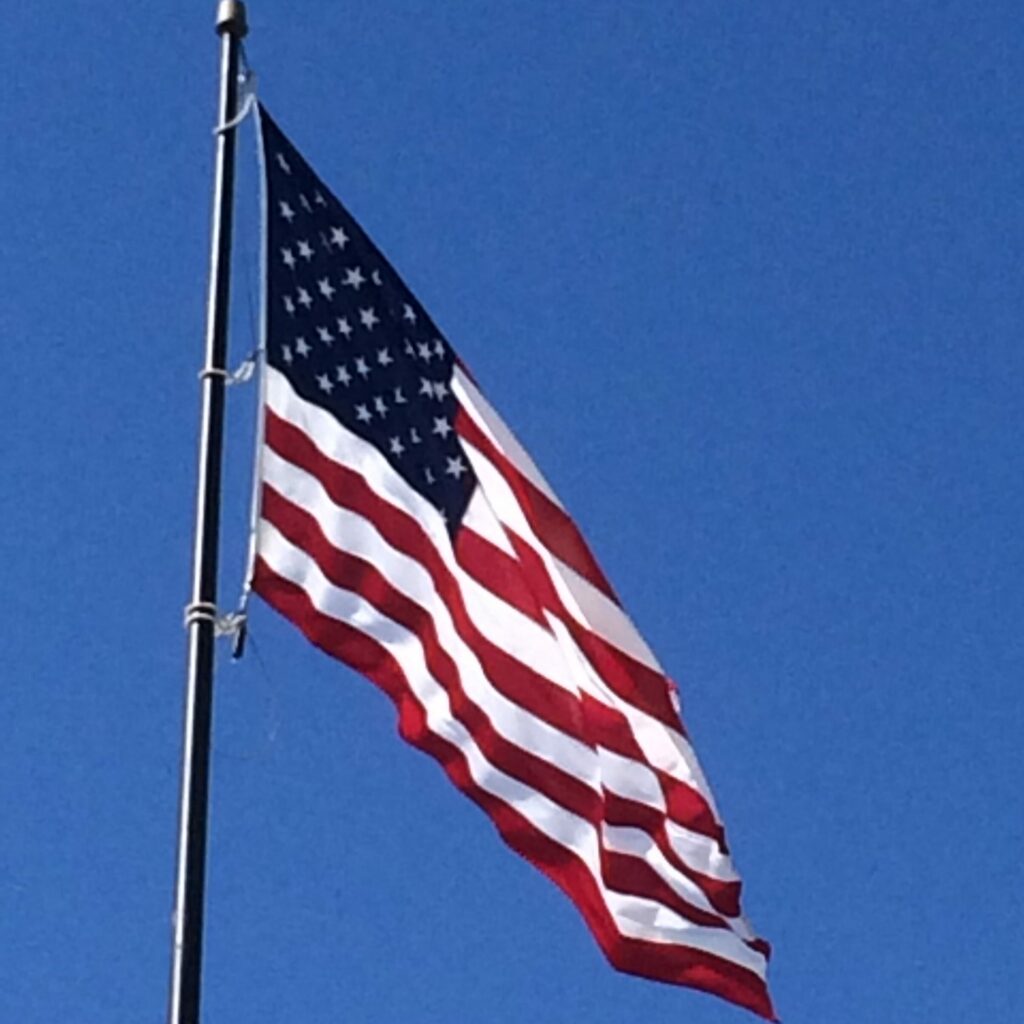 *****
ENDNOTES
To their everlasting discredit, the British owners of Smith & Wesson signed the "HUD Agreement" on 17 March 2000. The agreement mandated broad and sweeping changes in technology, handgun "safety" features, product testing, sales and distribution agreements, records reporting to BATFE, advertising, and consumer purchase restrictions.
Among a long list of demands, the agreement mandated investment in "smart gun" technology, prohibited S&W from manufacturing new designs that could accommodate grandfathered magazines (under the new Clinton ban) that held more than 10 rounds, pressured dealers to share more of their sales records with BATFE than the law required, mandated magazine disconnects and loaded chamber indicators, mandated a dealers "Code of Conduct" that required (in part) background checks on every transaction (even when not required by law), mandated a prohibition on persons under 18 in gun stores without an adult being present, and limited handgun sales to one every two weeks. It also required Smith & Wesson to install internal locking devices on their handguns within 24 months of the agreement being signed.
For a more complete account of the HUD Agreement and the history of this episode, readers are encouraged to visit our article on The History and Future of The Smith & Wesson Internal Lock.
We would be inclined to advocate for a total elimination of the lock, but we recognize there might be a small minority of consumers who actually desire them. As such, we think the best course would be to offer more non-lock choices in the catalog, and let market forces take care of the rest. Smith & Wesson will figure out pretty quick if there's any true demand for the lock, when they offer non-lock options to choose from.
Since a lock manufacturing company (Saf-T-Hammer) purchased S&W from the British, and incorporated the lock into the catalog, there may still be hidden financial incentives to retain the lock, but it's our personal experience and professional judgment that the lock is still suppressing sales of S&W revolvers, even two decades later. That's especially true in today's market, which pits S&W against new players like Kimber, returned players like Colt, and expanding players like Ruger and Taurus, who offer plenty of no-lock guns. There's an opportunity cost associated with the lock, that should not be overlooked at S&W;
Several Pro Series and Performance Center guns are sold without the lock, as part of an upgrade package that demands a higher MSRP. It's clear that S&W doesn't view these guns as less safe or unsafe, without the lock. A similar situation exists in their autopistol catalog, where some guns are offered with magazine safeties to comply with state laws that require them, while others remain unmolested. It's understood that the lack of a magazine safety does not make otherwise identical models, that are sold in the majority of states, "unsafe."  If they were, then S&W would obviously be required to include this feature on all versions of the gun;

A self-defense firearm that runs the risk of a known, but unpredictable, malfunction that makes the gun inoperative in a moment of crisis is inherently unsafe, by any reasonable definition.