I sat down next to Peter Caroline at a big round table during breakfast in the SHOT Show media room several years ago. Peter has one of those super friendly demeanors that we often find in the gun world. We introduced ourselves and chatted as we ate. While we waited for the main show floor to open, we became aware of our shared interest in vintage firearms.
Peter enjoys saving odd make and model pistols and revolvers and getting them shooting again. He's worked for most of the major firearms manufacturers and some of the smaller and defunct ones too. Peter is a writer, through and through, whether back in the day coming up with advertising and catalog descriptions for the gun companies or penning his enjoyable brand of wordsmith for The (Dillon) Blue Press. His sense of humor makes you smile with every paragraph and a nicer gentleman you could not come across.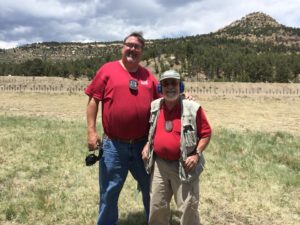 The Email
Each year upon my return to Las Vegas I found myself looking forward to sitting down with Peter. Then I received an email from him in 2015 that caught me totally off guard. Peter offered to sponsor me to attend the Shootists Holiday at the NRA Whittington Center in Raton, New Mexico.
I'd read about the Holiday for decades, but never thought I'd ever attend. Notable sixgunner John Taffin and some of his close friends came up with the idea of getting together for a shooting holiday. What began as a sort of joke in an article where Taffin told his buddies they could only bring two firearms to a week-long range get-together turned into an annual extended range session that included some of the most prominent people in the firearms industry. Since 1985, the Shootists have grown and the holiday moved to the Whittington Center where it is held every year in June.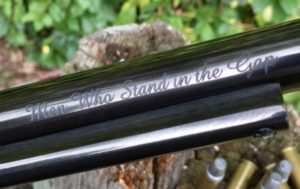 Peter's email informed me that I first had to submit a biography and photo to be submitted to the board. The board would then vote yay or nay on my invitation. Peter jested that he was only brought into the fold as comedy relief so he wasn't sure if his sponsorship would really mean anything. Apparently it did as I received an invitation the 2016 event.
I was still working full time as a police officer and my vacation leave was already scheduled for the year, but luckily my status as most senior officer meant I should be able to get the week off I needed in June. My problem was that I didn't have enough vacation time saved up to add another week off. But there was no way I was going to miss this opportunity. Peter put himself out there for me, so how could I say that I couldn't go? I worked overtime and earned time instead of money as compensation. I needed to amass forty extra hours of time off to attend the Shootists Holiday.
On My Way
Six months later I was driving westbound from northern Illinois through Iowa and Nebraska, turning left before the Colorado Rockies to head due south toward the Land of Enchantment. I arrived right on time at 8 a.m. on a Monday for the morning safety meeting. I saw familiar faces from the gun magazines and online pages shaking hands with old friends. After a prayer and the safety talk, tickets for the raffle prizes were sold (three tables could barely contain the assortment of firearms and related goodies) and Peter introduced me around.
The Shootists utilize a "home range" at the Whittington Center but many head out to several of the other ranges, most notably the long-range rifle range that features a full size steel silhouette of a buffalo. Painted white with a center gong, the White Buffalo is stationed 1123 yards from the shooting line. I hit it on my third shot with a mid-1970s Interarms Mark X .30-06 topped with a matching vintage steel Weaver (when they were Made in the USA) 3-9×38 scope. I was only holding around 9 feet high and never would have made the shot so quickly if not for the assistance of Shootist Jared Schmidt (who knows a thing or two about long range marksmanship).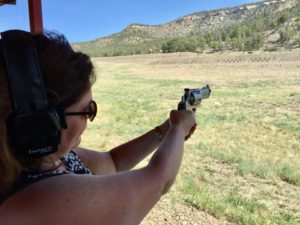 I truly enjoyed the company and the shooting at my first Holiday. The following December I received a letter from the board which invited me back for 2017. I made sure I was able to attend a return trip. I was told very little about how the process works for becoming a Shootist. I guess that's part of the initiation…not knowing. I only knew that the board's vote had to be unanimous for return invitees to be inducted. I was taken aside by board member Jeff Quinn on the night before the banquet and advised that I had been voted a Shootist. He joked that it was a close vote but he pushed for me because my wife was nice.
I returned to New Mexico for a third time this past June and I am proud to be a member of The Shootists. Arriving at the Melody Lane Motel each year, I am greeted by this group who I would be proud to "ride the river with" and who are certainly "men who stand in the gap." While the Melody Lane is a functioning example of a many decades old motel, their proprietors have no problem with their guests gathering each evening in the center court and passing firearms around for a sort of show and tell. Try that at a Hilton. The nighttime singing, guitar playing, and whiskey sipping bonds this group as much as their appreciation of fine firearms.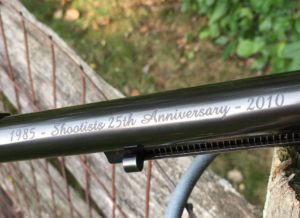 Every five years, a custom handgun has been created by the Shootists to commemorate their anniversaries, beginning with the 10th. For the 25th anniversary in 2010, Ruger produced a limited run of 100 .44 Special Blackhawk Bisley models with 7 ½" barrels. These single action revolvers were high polished blue with "1985 – Shootists 25th Anniversary – 2010" engraved on the left side of the barrel and "Men Who Stand In The Gap" engraved in script on the right side. A Belt Mountain base pin with the number 25 stamped on its end was added (the original Ruger base pin was also included, still in the box) and the stocks were oxblood wood laminate with Ruger medallions. Serial numbers were SH25-XX. An oversight by Ruger made ninety-four similar revolvers with standard serial numbers. They realized their slip-up before the barrels were custom engraved and sold off the guns and re-made the proper 100 guns with the correct serial numbers and engravings.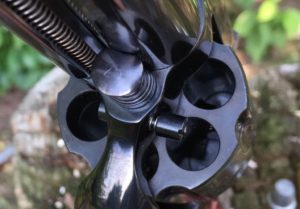 As a devotee of the .44 Special cartridge, I knew of these rare Shootists Bisleys but I was seven years late with the ability to order one. I also missed out on the 30th anniversary Ruger .45 caliber 1911 Shootists custom pistols from 2015. But then one of the Shootists offered up an extra 25th anniversary gun on the Shootists Facebook page. I had to scrape the money together, but I bought this unfired, new in the box Ruger for the price they cost eight years earlier. I'm still a bit stunned I could be so lucky.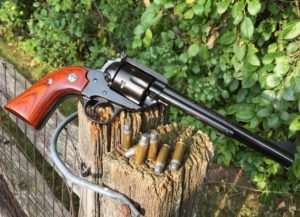 When it arrived, I marveled at the high luster blue finish, definitely better than the standard Ruger blue (which is still pretty good). The oxblood colored handles look magnificent to my eye, so unlike most factory grips, they're staying on the gun. The Belt Mountain base pin gives that little custom touch in addition to keeping the cylinder's base pin from walking out under heavy .44 loads. The long 7 ½" barrel gives proper balance to the gun and it's the only Blackhawk Bisley .44 Special made with this long tube.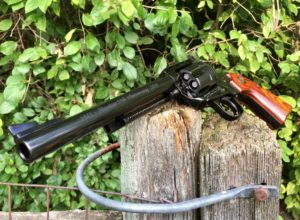 The engraving on both sides of the barrel is well executed and the motto "Men Who Stand In The Gap" is especially well done in script. It really stands out in the sunlight and is very pleasing to the eye. Sights are Ruger's rugged, fully adjustable rear and standard front post. Many of the Shootists have stated that handloads need to be worked up to hit to point of aim at 50 yards and those loads need to be rather hot so they don't hit low.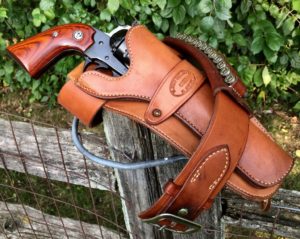 The action is typical Ruger in that it is perfectly functional with a good trigger pull, but an action job or at least lighter springs would help. Some shooter's hands are not made for the Bisley grip dimensions while others absolutely love it. I fall in somewhere in the middle. It feels good and the lowered hammer spur is right where it needs to be for me to reach it with my thumb while gripping the more vertical Bisley style grip. Ruger's version is much different that Colt's Bisley (named after the Bisley Camp shooting range/competition in England) single action revolver, which has a more curved grip. The Colt Bisley doesn't work in my big hands at all. It feels uncomfortable and my middle finger's knuckle gets rapped every time I shoot one. The Ruger is better for me, but I still get the occasional smack on my knuckle and it can hurt. Standard Colt and Ruger single actions don't cause me this pain.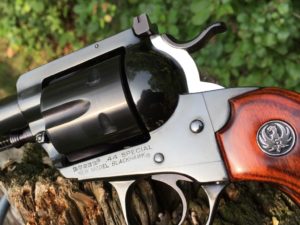 For these reasons, my Shootists 25th anniversary .44 may stay unfired. Another reason is that I bought one of my grail guns just before buying this Ruger and that was a Colt New Frontier .44 Special with the 7 ½" barrel. They're similar, but different guns. I've been shooting the Colt and even brought it with me to the Holiday in June. Knocking down steel pigs at 50 yards was all kinds of fun as my 200 grain .44 Special reloads hit with gusto and loud clangs, knocking the pigs over instead of pushing them over.
There is only one gun in my safe that hasn't been fired and it's this Ruger Bisley. I've had other guns that I didn't think I'd fire, which eventually did see hot lead spew from their muzzle. That may still happen with this Bisley but for now, my review ends without range time.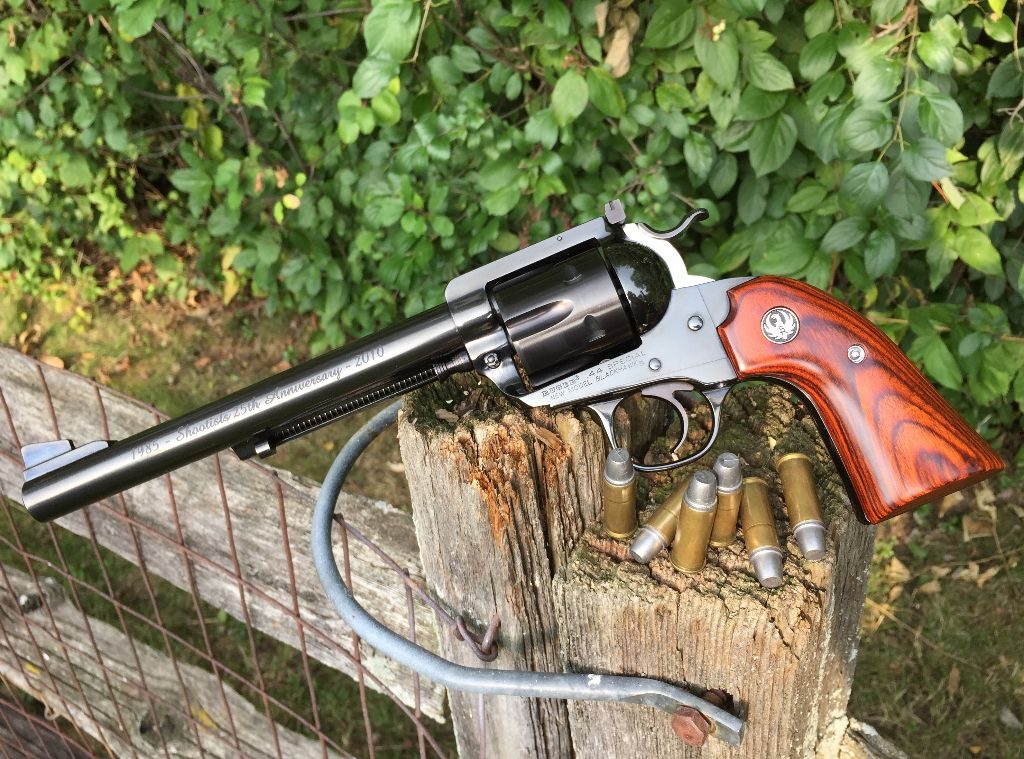 The people are the best part of the Shootists, but the guns are certainly a close second. For any RevolverGuy, it's obvious that single and double action wheel guns are the preferred handguns of this organization. There were plenty of semi-automatics blazing away at the ranges too (mostly of the 1911 persuasion), but the engraved or custom stocked revolvers were numerous.
Everyone is also more than happy to share as well. A comment of, "That sure is a handsome looking sixgun." is more than likely to be followed up with, "Thanks, would you care to shoot it?"
Liked it? Support RevolverGuy on Patreon!