RevolverGuys are usually pretty savvy, and do a good job of selecting their equipment, but there's one gear issue that tends to raise its head with frequency amongst handgunners, and it seems that RevolverGuys are not immune to it. That issue is selecting an appropriate belt for carrying a handgun.
If I had a nickel for every time that I've seen a handgun hanging on a belt that wasn't up to the task, I wouldn't have to pay range fees for the rest of my life. I don't know if folks are using up all their mental energy on the gun, ammo, and holster selections, so there's none left for choosing the belt, or if they just don't think the belt is important, but I've seen some pretty pitiful straps out there being pressed into service as gun belts.
Now, we can't expect all that much from all those bottom-feeding autoloader heathens, but there's no excuse for a RevolverGuy to go about with his pants and his hogleg drooping around his hips, so let's see if we can't fix that for our wayward brethren.
I should probably clarify that in this case, I'm talking about a belt that's going to be threaded through your belt loops and used to hold up your pants, in addition to your gear. There are other considerations for duty Sam Brownes, competition belts, or western rigs that go on top of your pants belt that we won't address here. For this conversation, think about a belt you would wear for concealed carry, range duty, and the like.
Gun Belt 101
I suppose the first thing we need to talk about is how you're going to carry your gun.
It's been my experience that guns carried outside the waistband (OWB) need a stiffer belt that won't sag or torque under the weight of the gun, but when you carry inside the waistband (IWB), you are often better served with a less rigid belt, or even a "soft" one.
A softer belt is useful for IWB carry because more of the gun's weight is carried at or below the belt line, usually. This lower center of gravity helps to reduce the tipping effect we see when guns carried above the belt line (as you'll commonly see in high ride OWB scabbards designed for concealment, instead of open carry) lean away from the body as a result of placing the center of gravity up high, at the end of a long moment arm.
The softer belt also helps to snug the IWB holster up against your body a little more effectively than a rigid belt does. Because a stiff belt doesn't conform to your body shape as readily, it can bow out, and simply doesn't do as good a job of pulling the IWB holster in.
For guns carried OWB, however, stiffer belts are necessary to prevent tipping with guns that are carried above the belt line, and they also help to prevent the gun from sagging too much (which is less of a concern with IWB holsters, because the holster has better support, since it's sandwiched between the body and belt).
Materials
Leather is the traditional favorite of course, but we need to accept the fact that not all leather is created equal. Some grades of leather are soft and supple, while others are more rigid and inflexible. The softest leathers work great for gloves or dress shoes, or even for keeping your jeans about your waist, but don't perform as well when you're trying to hang several pounds of gear on them.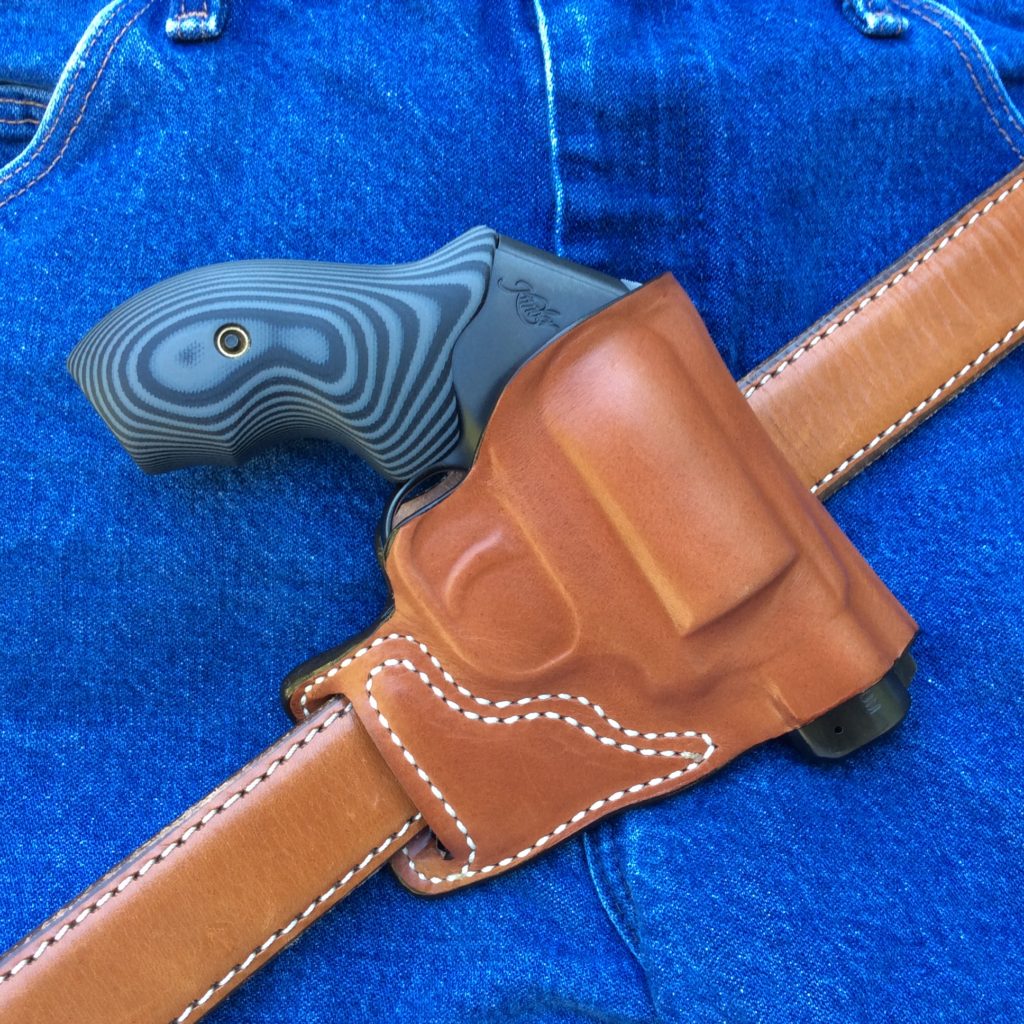 The leather we need for a gun belt is more robust than that. It needs to have some weight and rigidity to provide support, and it needs to be a cut that will resist stretching and breaking down too quickly. The leather used for a good gun belt (particularly when carrying OWB) is often the same quality cow or horse hide that we want to use for a good holster. You're unlikely to find a belt made of this stuff in any department store, and will need to shop the places you get your holsters to get a belt of this quality.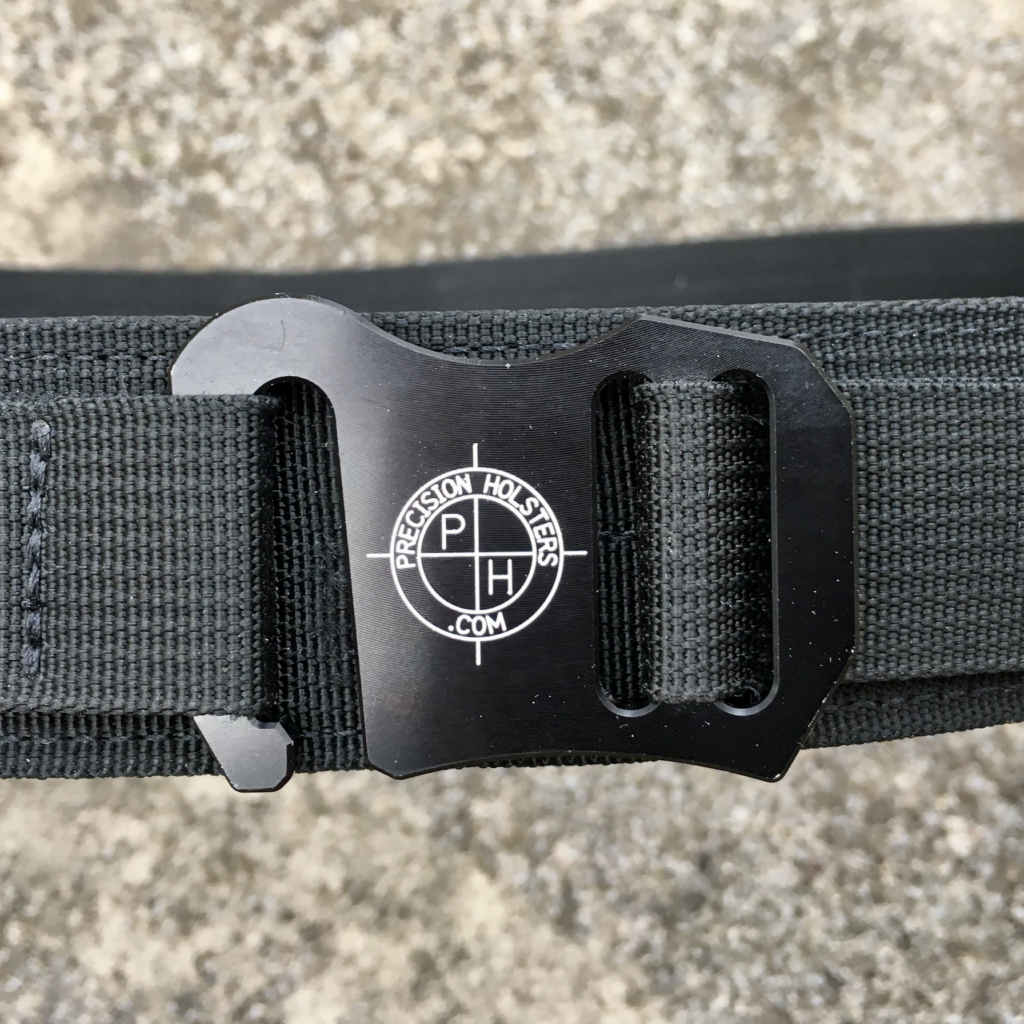 There are some fine synthetics that can be used for a gun belt as well, and I think we're at the point now where fabric gun belts have actually superseded leather in popularity. The same warning applies, however—not all synthetics are created equal, and not all grades of synthetics are suitable for use as a gun belt. Nylon belts and the like usually need several layers of premium material (and frequently a stiffer material at the core) and careful stitching to make them sufficiently robust for the job, particularly for OWB carry.
Rigidity
We've hit on the fact that an IWB belt can be less rigid than an OWB belt, but we should take a closer look at this quality.
Rigidity is important because you don't want the belt to sag excessively under the weight of your gun. If the belt sags, this can create a pressure point that will become uncomfortable, and for concealed carriers it will also cause a telltale asymmetry in the way your pants hang that can betray your armed status to someone who knows what they're looking for. Additionally, if the belt is flimsy enough to allow the gun to sag, then it will also allow it to shift around during activity. When you reach for your gun to draw it, it might not be where it's supposed to be.
So, a belt with sufficient rigidity will spread the weight of your equipment across a larger portion of the belt, and not allow it to concentrate in one spot. Furthermore, it will keep your gun exactly where it should be.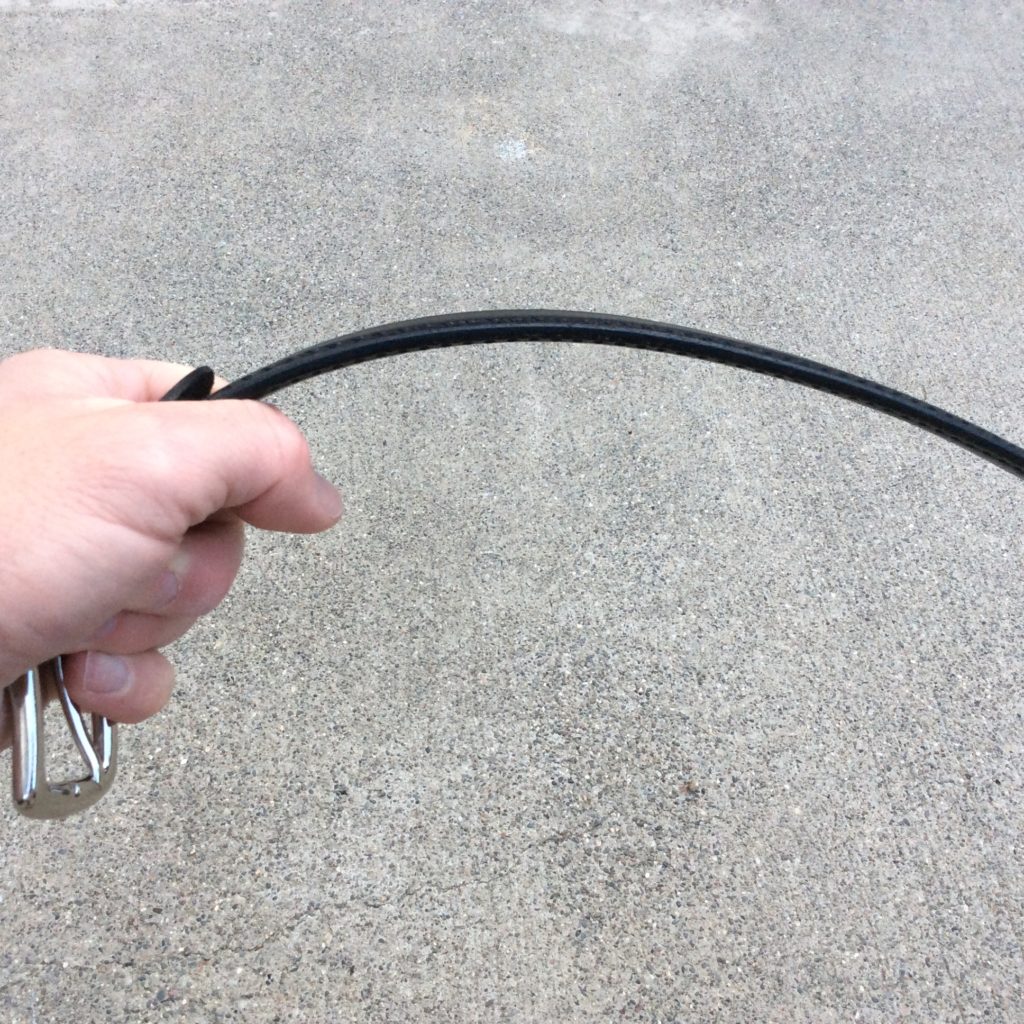 Now, rigidity is important, but you also have to balance it with comfort. You can get a belt that's so stiff that it feels like you're wearing an iron ring around your waist. The hard edges on some stiff belts (particularly the bottom edge) can dig into slender hips without much natural padding, so  the trick is to find a belt that's sufficiently rigid without it becoming a torture device.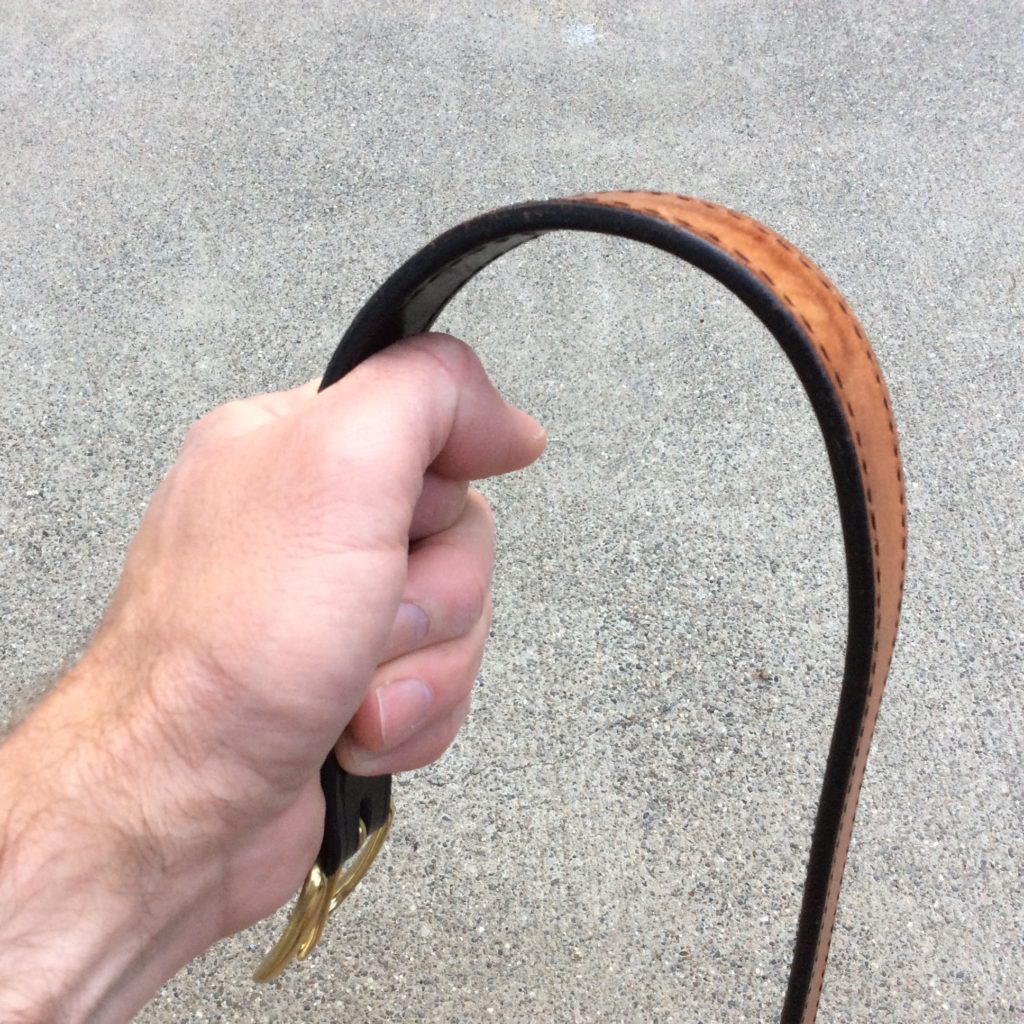 One thing that can help in this regard is to get a belt that's cut on a curve. If you look at an old, worn leather belt, you'll see that the belt has taken on a slight upward curve over time. This curve is a function of the way your hips flare out, and when the belt takes a set like this, it's more comfortable to wear. Many holster makers offer leather belts that are cut on a curve, instead of straight, to help make them more comfortable from the very start.  A belt like this will require less "break in" time before it feels good around the hips, particularly for female shooters with wider, curvier hips.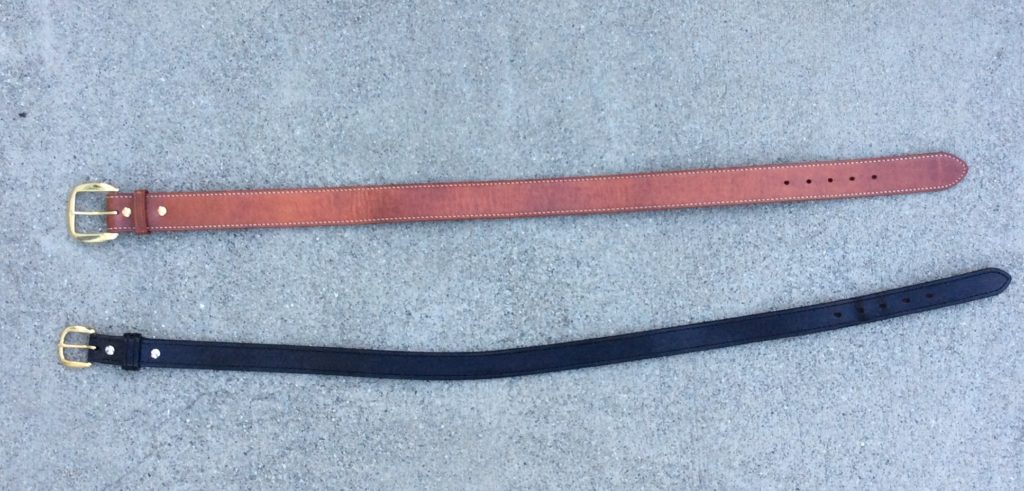 Measuring
Back when I started carrying guns, all gun belts were made of leather and used traditional buckles. Adjustable buckles with slides and the nylon, "rigger" style of belt hadn't been born yet, so you had to pay close attention and order the proper size. Honestly, getting the right size is a little harder than you might think, which is one advantage of the newer, fabric styles over leather gun belts. The fabric belts also require less "break in" to feel comfortable.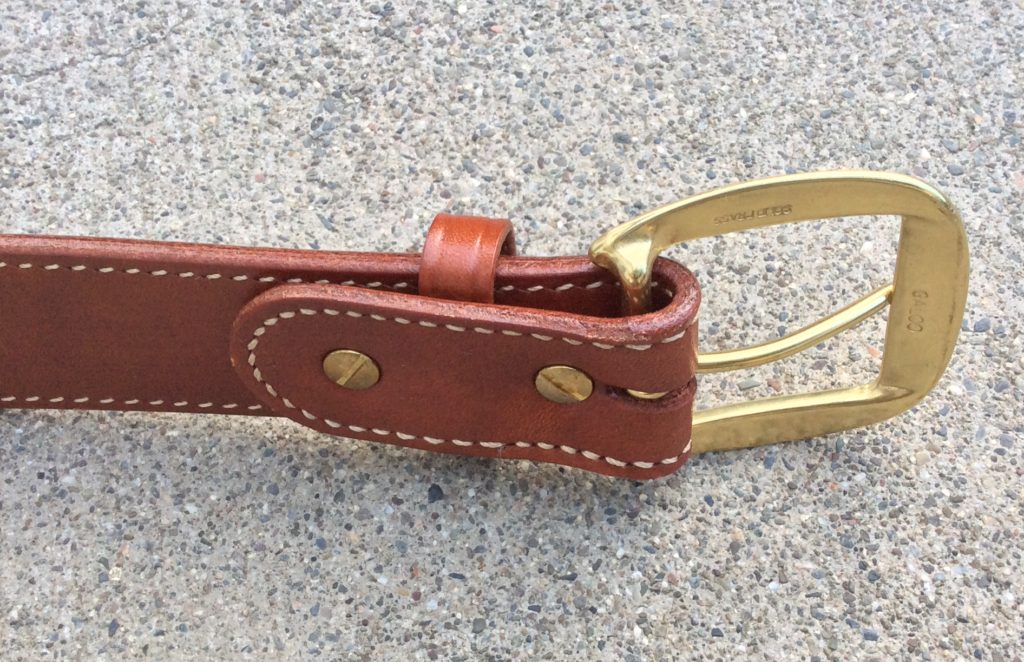 It's traditional for holster and belt makers to advise that you should order a leather gun belt that's two inches longer than your regular pants belt, to make up for the length that's "lost" because of the gun and holster. The idea is that you'll need a little extra length so the belt can thread through the holster loops of an outside the waistband (OWB) holster, or go over the top of a gun worn inside the waistband (IWB), and still be long enough to buckle up properly.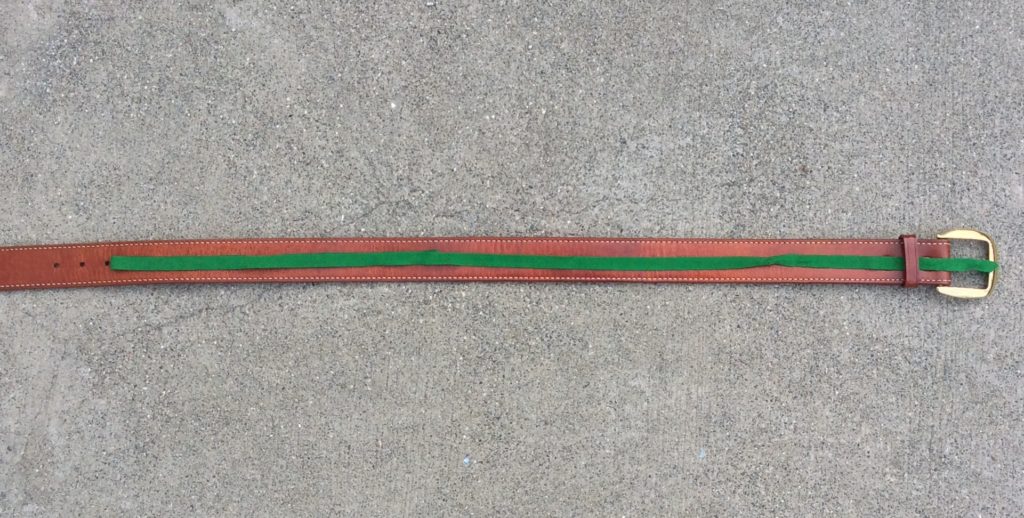 Over the years, I've found that two inches can be too much. A lot of it depends upon the style of holster and where the gun is worn. For instance, an OWB holster with a simple tunnel loop on the back won't take up any extra length at all, but an OWB holster with fore and aft loops (like a "pancake" style) will eat up a little bit as the belt snakes through the loops and behind the pouch.  Similarly, an IWB holster worn from about 3 O' Clock to 5 O' Clock (or 9 to 7 for you southpaws) will eat up some length, but an appendix IWB holster often won't change a thing, because the holster simply fills a hollow, and doesn't add to the distance around your waist.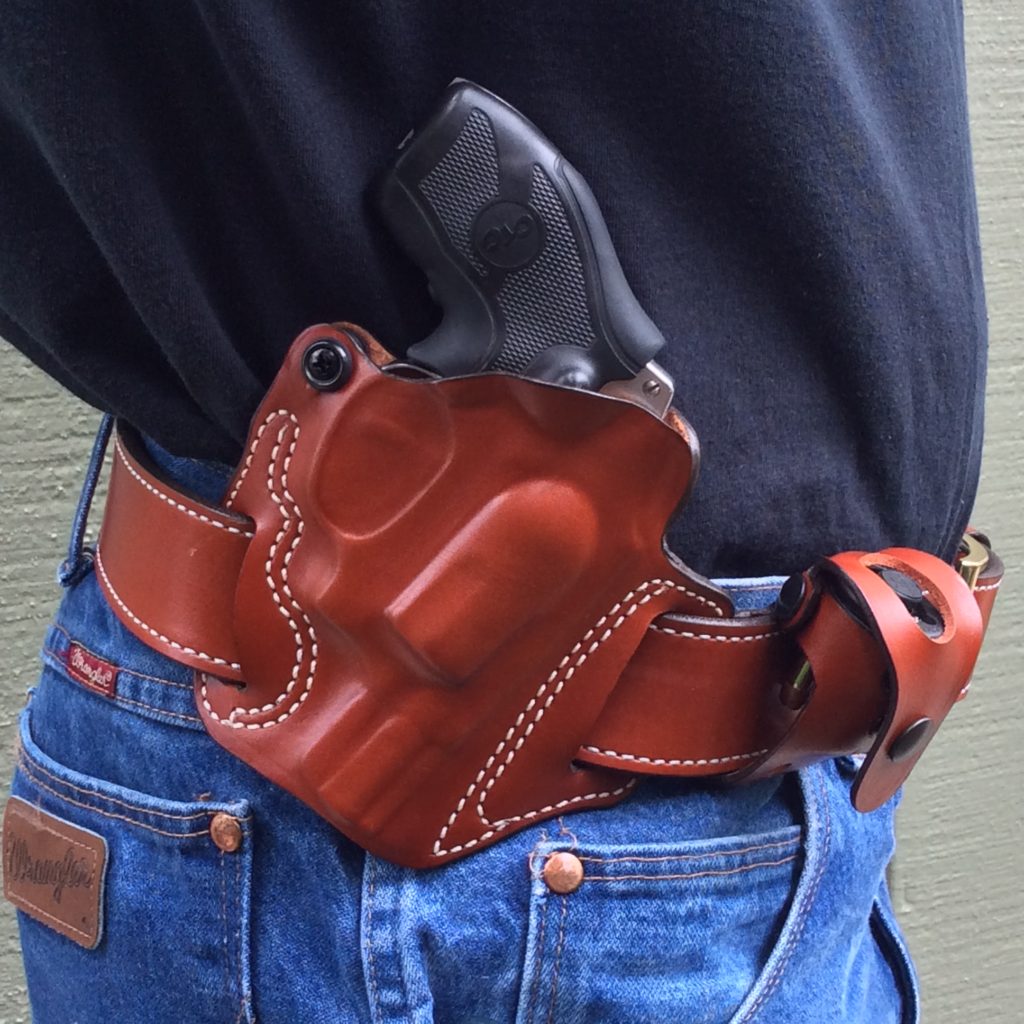 Another factor to consider is how tight you like your belt. I like to wear my pants belt a little on the loose side when I don't have a holster on, but when I'm carrying a gun I like to wear the belt tighter, to keep all the gear from flopping around and shifting. Between that and the fact that I favor the appendix position for carry, I often don't need to bump up a size when I buy my gun belts.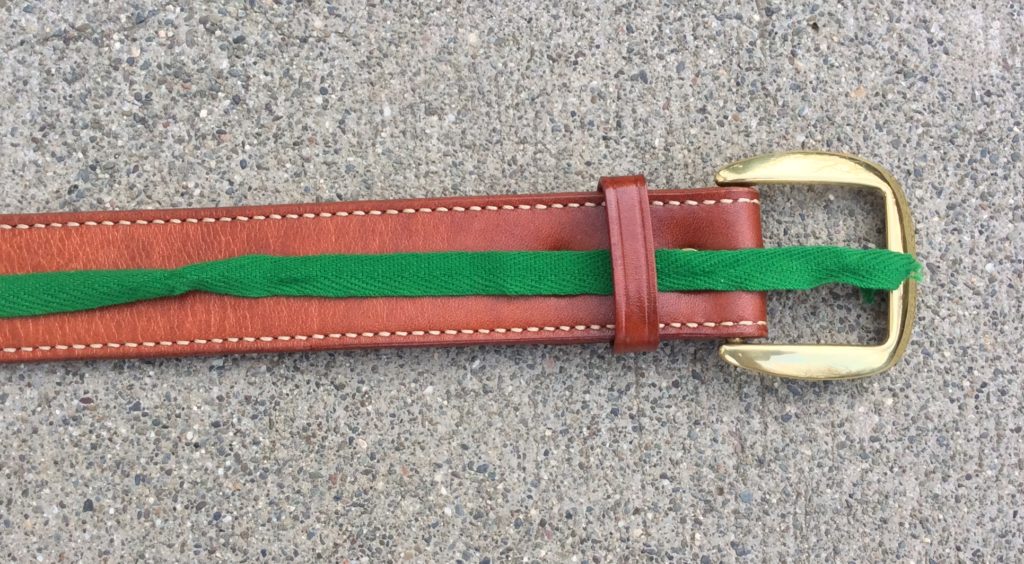 If you have a gun belt that fits you well already, your task of picking the right size just got easier. With a soft tape measure or a piece of string, measure the distance from the tip of the fork on your buckle to the hole that you use in your current belt. That's your desired size. New leather belts are sized so that the length is measured from the tip of the fork on the buckle to the middle hole on the belt, so get the one that's closest, realizing that you might have to go in or out one notch on the new belt to match it, especially before the new belt breaks in.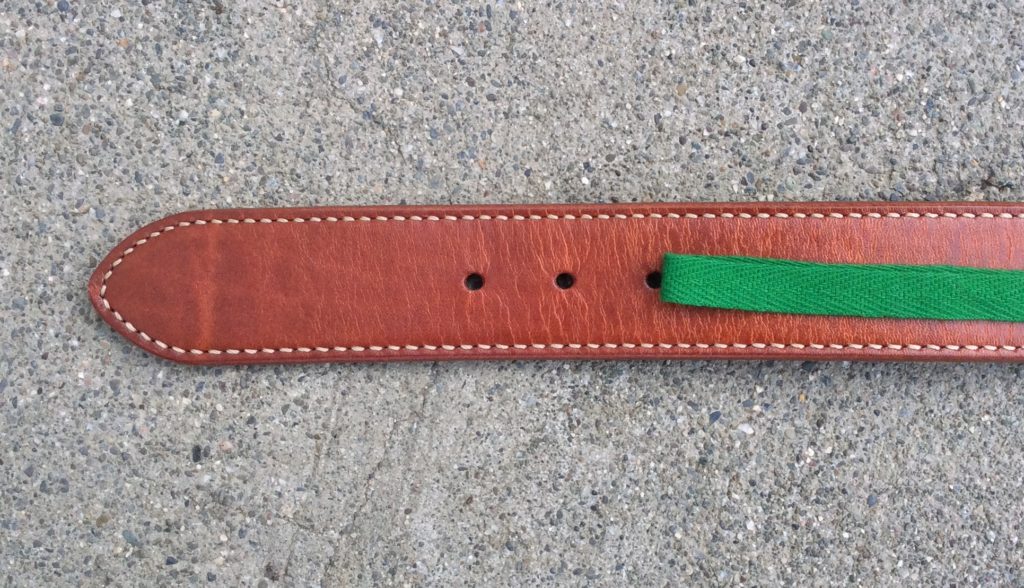 Width Matters
One critical factor that lots of folks overlook is selecting the proper belt width. The first thing to realize is that you want the width of the belt to match the width of the belt loops on your holster. An undersized belt will allow a holster with bigger loops to rock back and forth on the belt, constantly changing the angle that the gun butt is presented to your hand. It will also permit the holster to slide fore and aft easily.  This unpredictable movement will complicate and slow your draw.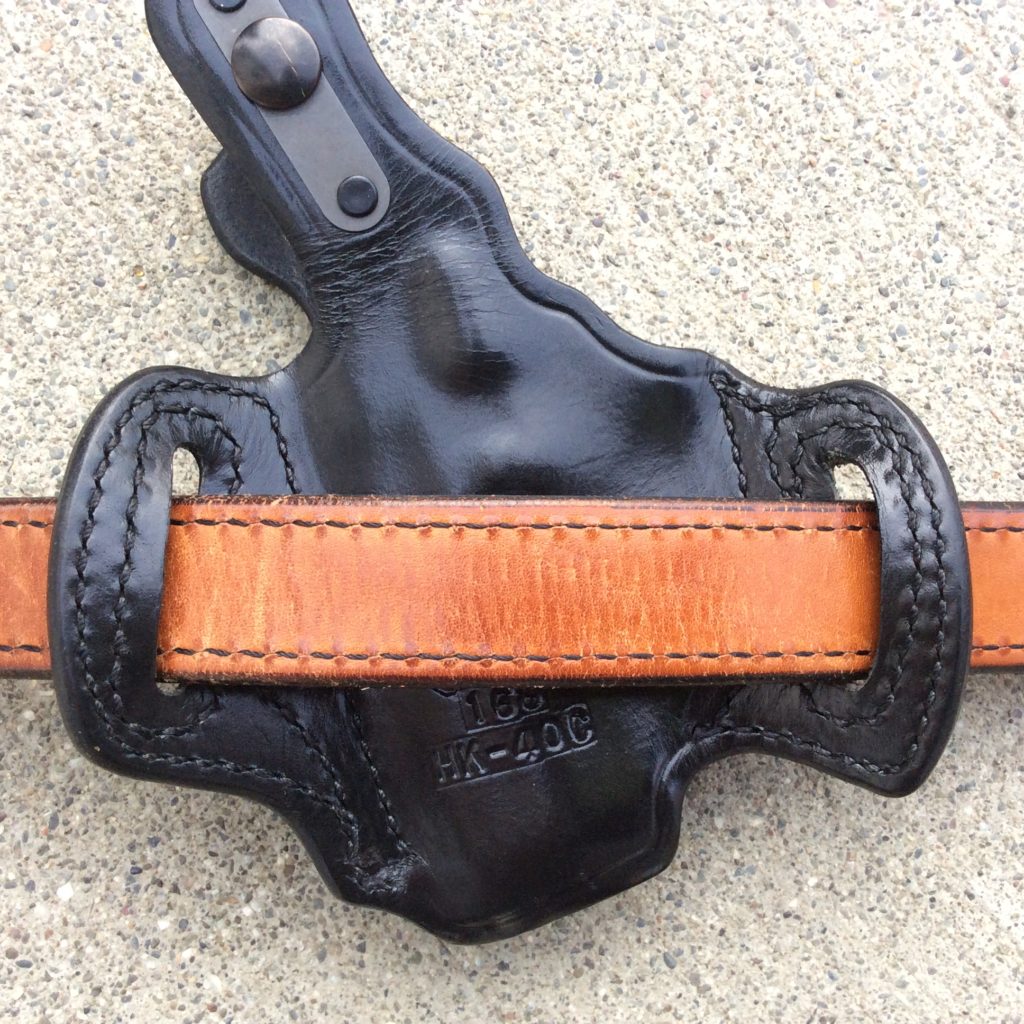 Additionally, the style of holster and the gun that you're wearing must be considered when choosing the width of your gun belt. When the center of mass of your gun starts to ride appreciably above the belt line, then the belt width needs to increase to make the package stable.  A high center of mass, combined with a narrow belt width, will result in the holstered gun tipping or rolling outboard, away from the body, which compromises comfort, concealability, and speed of draw. This gets exacerbated if the belt is made of materials that lack rigidity, as previously discussed.
For example, if you have a short barreled gun in a high riding OWB holster on your strong side, the center of mass is going to be well above the belt line. If you put this combination on a 1.25" width belt, or even a flimsy 1.75″ belt, it's probably going to twist and allow the gun to tilt away from the body, because the belt isn't wide or sturdy enough to keep the gun upright and tight against your side. A package like this requires a 1.75" width belt made of appropriate materials for the best stability.
That same setup might work better with a gun that has a longer barrel. A gun with a 4-5 inch barrel might ride OK on a narrower belt, because the center of mass will be lower, and the longer barrel will press against the side of the body and prevent the grip and frame from levering outwards. A 1.75" width belt would still be the best choice, but you might be able to get away with a 1.5" width belt in this OWB application.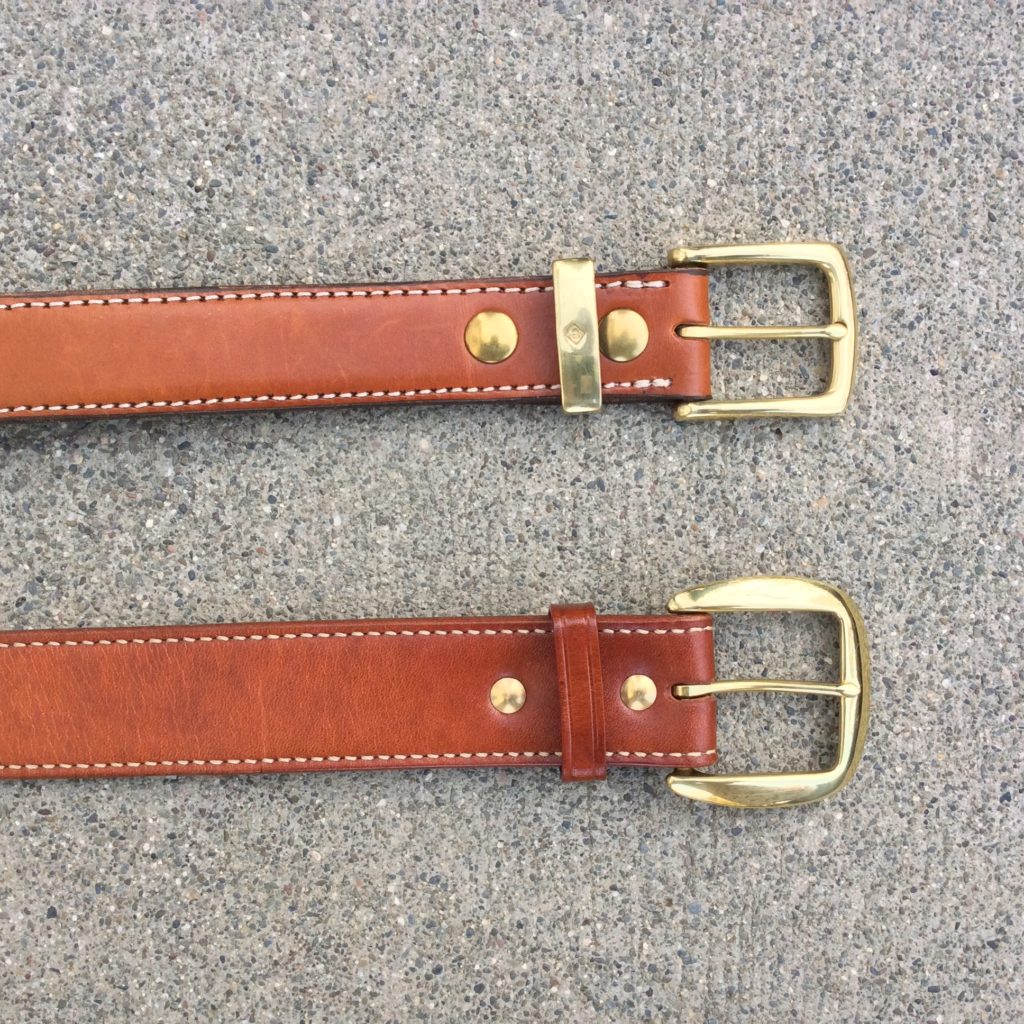 If you put the short barrel gun in an IWB holster, the center of mass is going to ride closer to the belt line. This lower ride height, coupled with the inward pressure of the belt going over the outside of the holster, may allow you to get away with a thinner width of belt. In my experience, a 1.5" belt is the smallest I would want to use, but you might be able to get away with a sturdy 1.25" gun belt, especially with a longer barrel on the gun.
One last thing to consider is the thickness of your belt. Many makers offer gun belts with dual layers of leather, which makes them stiffer and more resistant to twisting. Sometimes you can get away with using a thinner width of belt, by increasing the thickness of the belt to support the load and oppose the torque. This can be helpful in applications where you have to wear pants with smaller loops that may not accommodate belts over 1.5" wide, such as men's suit pants or most women's fashions.
Everything's a Compromise
As I mentioned earlier, you may have to trade some capability for comfort. A wide and stiff gun belt will do a superior job of carrying your equipment and keeping it in place, but may prove to be too uncomfortable for extended wear, or incompatible with your clothing.  Alternatively, the belt that feels most comfortable may not provide enough stability and support for your equipment. You're going to have to experiment a little bit to find that happy medium that works for your body shape, your choice of gear, your carry style, your clothing, and your tolerance for discomfort.
Just remember what your objectives are. If you're carrying a gun, you want it to be secure and you want to be able to access it quickly in the event of an emergency. If you're carrying concealed, then it needs to stay hidden as well. Choose your gear with these priorities in mind, and you'll be in good shape.
Resources:
Aker Leather
DeSantis Gunhide
Galco Gunleather
Liked it? Support RevolverGuy on Patreon!