One of my favorite things about RevolverGuy is the sense of community we have here. I'm proud of the fact that we've created a place where revolver enthusiasts can gather to share their interests and ideas, and enjoy some great fellowship.
I've enjoyed sharing some of my revolver knowledge with the audience, but it certainly hasn't been a one-way street. I've learned as much as I've shared about revolvers, courtesy of our highly-experienced readers, who have helped me graduate to a higher level of understanding about these great guns and their history.
I owe the inspiration for this article to one of our fellow RevolverGuys (and contributors), Greyson, who brought this company and their products to my attention. In a comment to another post, Greyson mentioned his fondness for Chig's Grips, and since it was a name I didn't recognize, I went in search of them right away. After just a few minutes of browsing the website, I knew I'd have to place an order!
Ruger specialist
Chig's Grips specializes in making custom grip panels and grips from a wide variety of beautiful woods. While owner Chad Robinett's work is largely focused on grip panels for Ruger SP101 and GP100 revolvers, and grips for Ruger single action revolvers, he also does beautiful work on custom grip panels for 1911 automatics.
Chad uses many different types of wood for his grips and grip panels, to include Ironwood Burl, Macassar Ebony, Black Walnut, Bocote, Box Elder Burl, Turkish Walnut, Claro Walnut, Maple Burl, Oak, Fiddleback Maple, Cherry, Poplar, and many others. Customers can select from a constantly-changing inventory of completed grips on the website, or choose a blank of wood from Chad's collection, which he will carefully craft into a beautiful set of grips.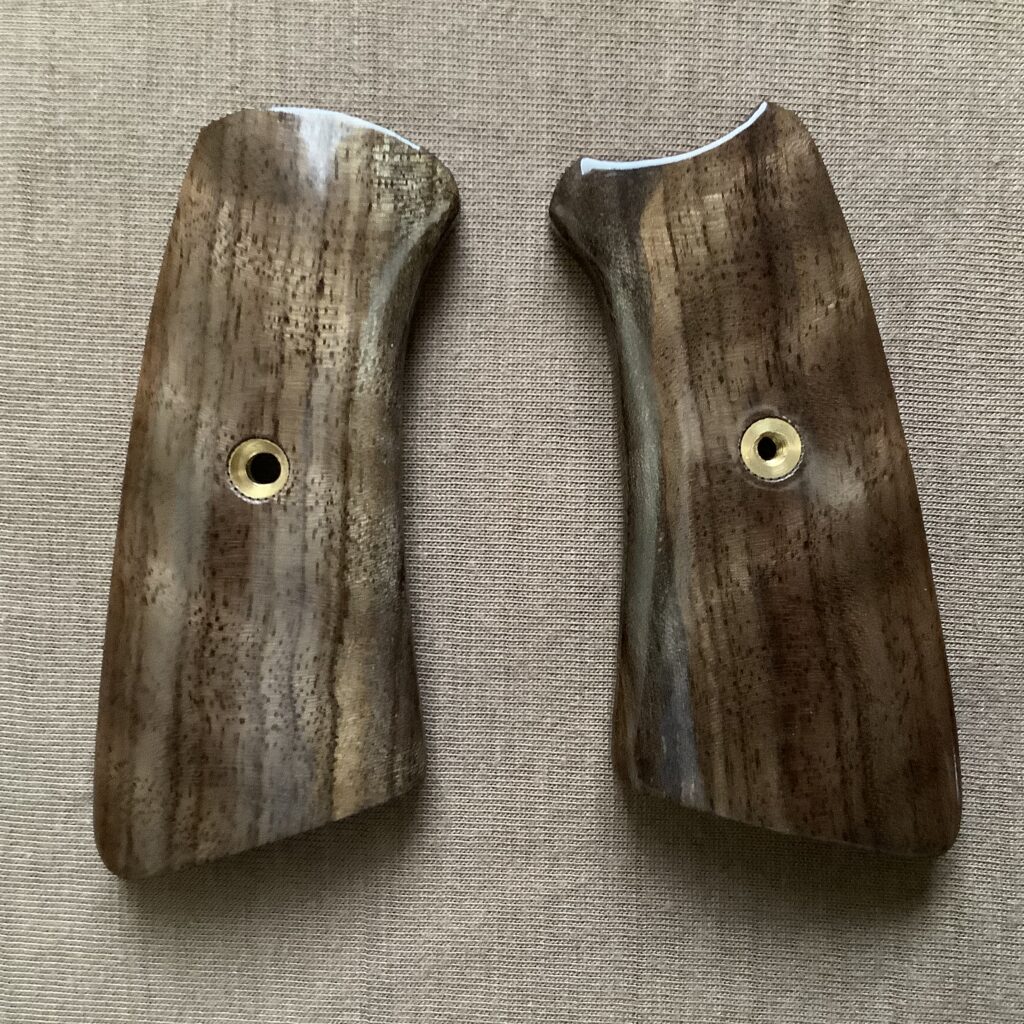 At the customer's request, Chad can add a Ruger emblem to the grips, and can put a satin finish on them, in lieu of the standard, glossy finish.
Customizing my GP100
When I purchased my GP100, it came with a rubber Hogue Monogrip installed.  This is a fine and practical grip, but I have always preferred the look and feel of the larger, OEM rubber grip with wood inserts.  These grips put rubber in all the right places, to cushion the hand from recoil and improve your control of the gun, but still add a touch of class with the wood panel inserts. I appreciate the lack of finger grooves, and like the fact that they comfortably fill my large hand.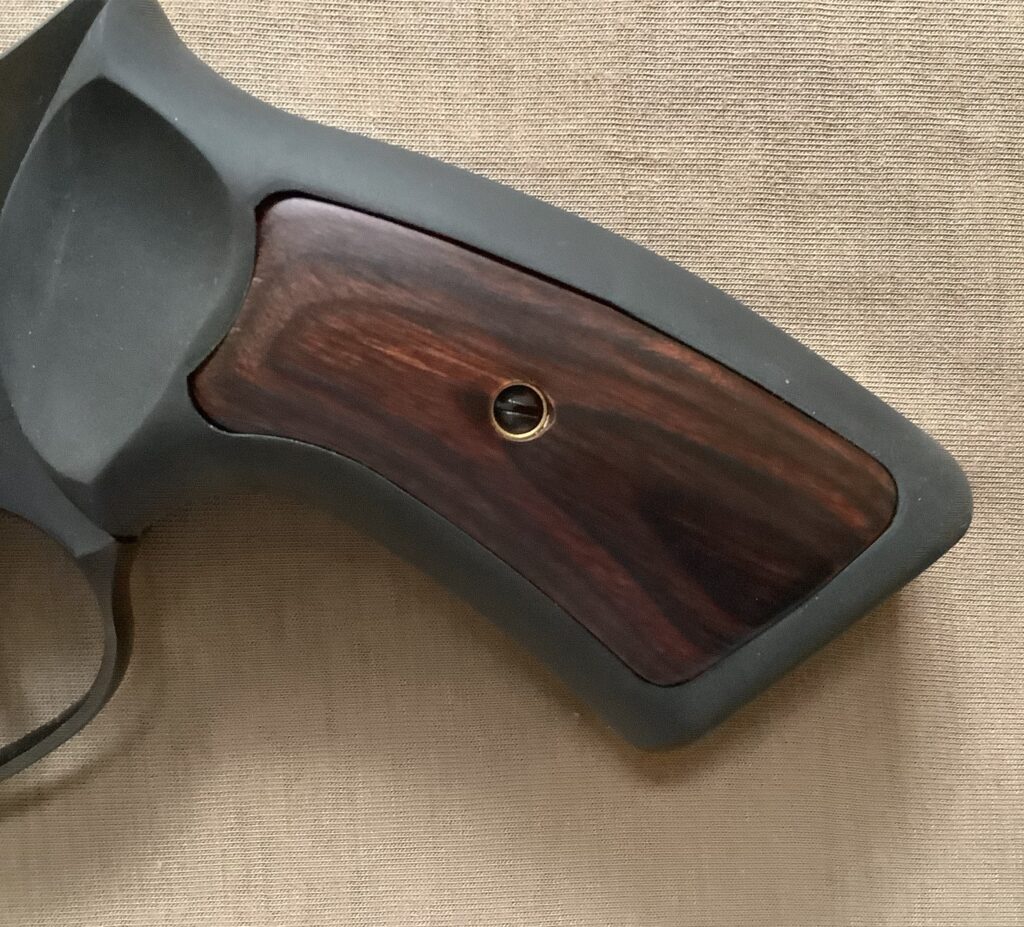 So, when the gun came home from the store, one of the first tasks was to remove the Hogues and replace them with the original style grips. The wood inserts on my grips are made from Rosewood, and I have always found them very attractive, but after just a few minutes on the Chig's Grips website, they suddenly looked very plain! I knew I'd have to replace my grip panels with some new ones from Chig's.
Since I was looking around the holidays, the ready-to-ship inventory was limited, but I found several sets of Black Walnut inserts for the GP100 that really caught my eye. I waffled back and forth about which set to purchase, because each had its own personality, with beautiful figure and color, which is one of the main selling points of these custom grips, after all.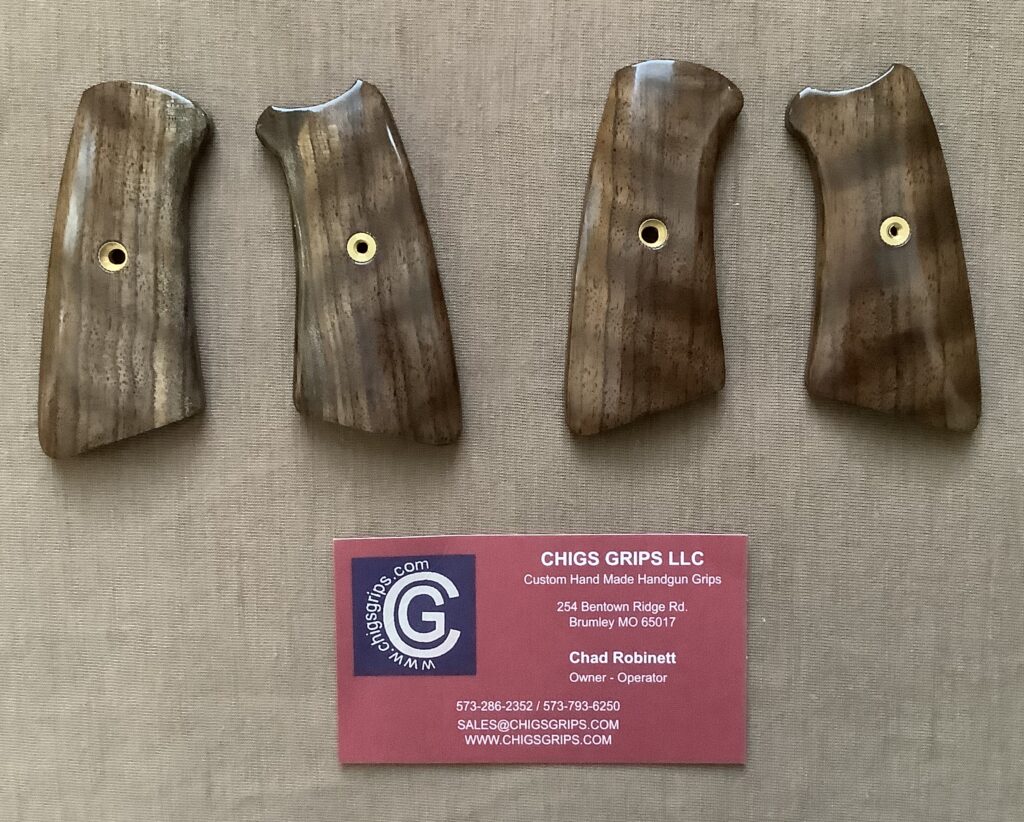 I finally decided that I'd purchase both sets I was looking at, because they were very affordable (at $30 per set) and I could give the extra set to a dear friend who not only has a GP100, but also an allergy to Rosewood.  The Black Walnut inserts would not only look great on his gun, but would allow him to shoot it again without wearing a glove!
Installation
I received the grips from Chad very quickly, just days after placing my order online. In my excitement and rush to place my order, I overlooked his very generous offer of free shipping for Veterans, but his rates were reasonable anyhow and I didn't mind supporting this craftsman's work.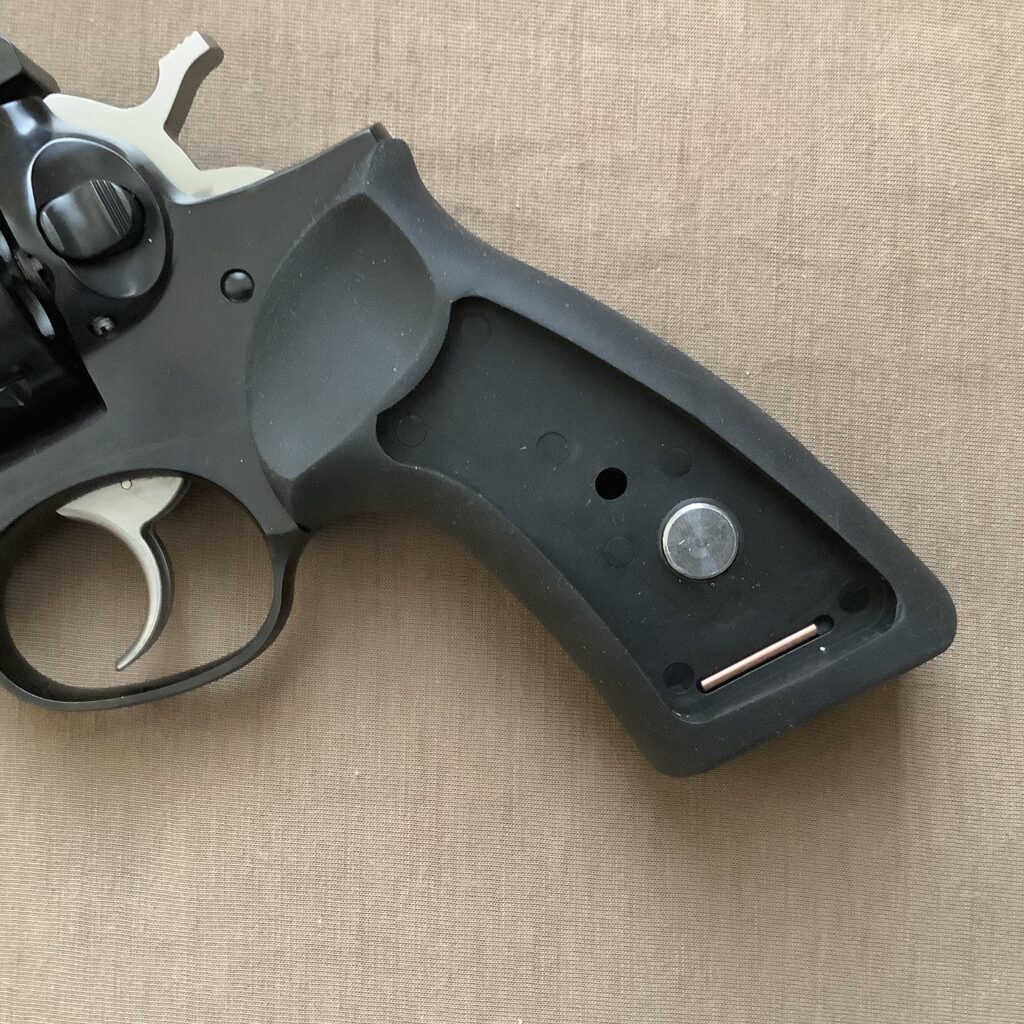 Installing the grip panels on my GP100 was super easy, and they fit very nicely in the hollows of the factory rubber grip. The grip panels are properly relieved for the centering pin that runs through the grip peg on the GP100, and fit exceptionally well on the gun. Chad provides a screw for securing the grips that fits very nicely.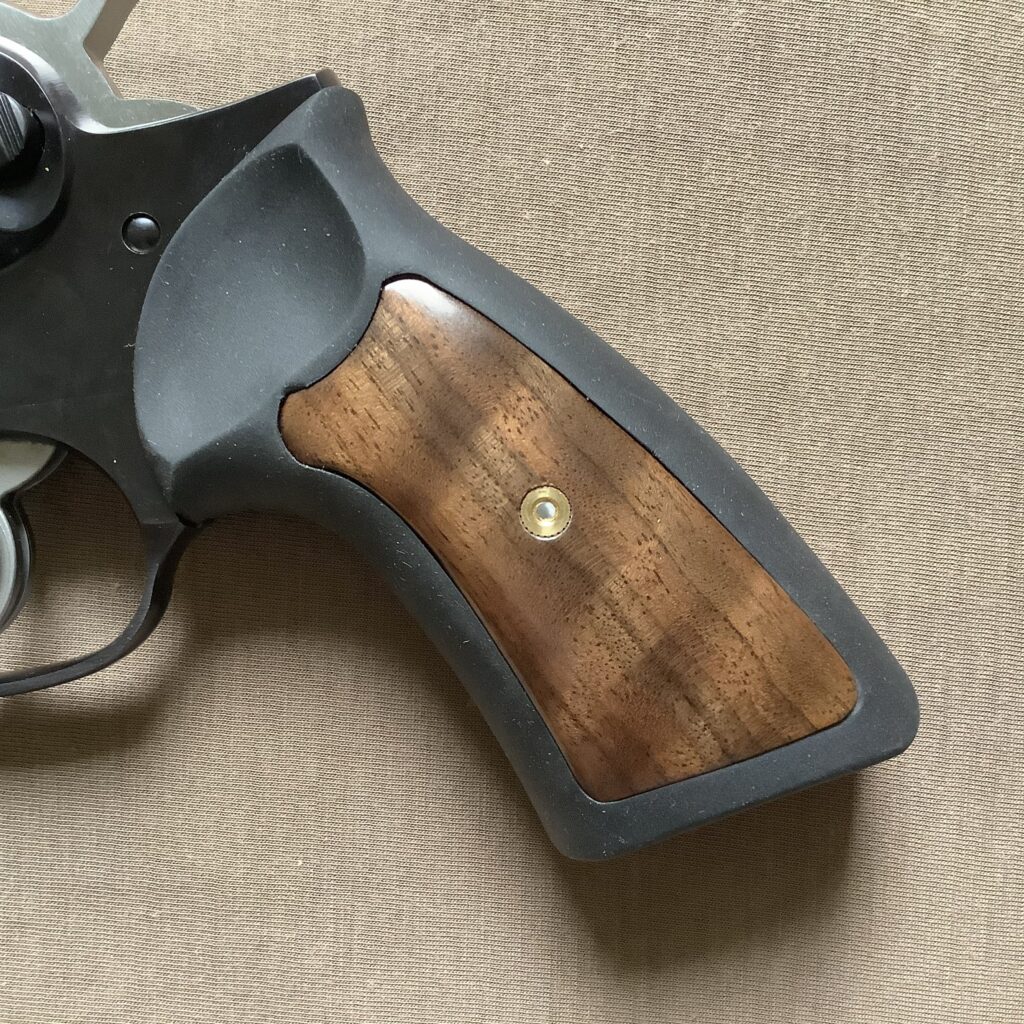 If you look very closely, you'll note some minor deviations in the fit between the wood inserts and the rubber grip in the photos, but the factory inserts were like this too, in places. There are a few spots where the rubber grip stands a little proud of the surface of the wood inserts, but there's no gaps between wood and rubber, and I can't feel any of these areas when I'm gripping the firearm. The small variances simply don't detract from the feel or cosmetics of the gun, and they don't bother me in the least. Honestly, I think it would be impossible to get a 100% match between the wood panels and the rubber grip, because the grips have a lot of variation by virtue of the soft and pliable material, and production tolerances.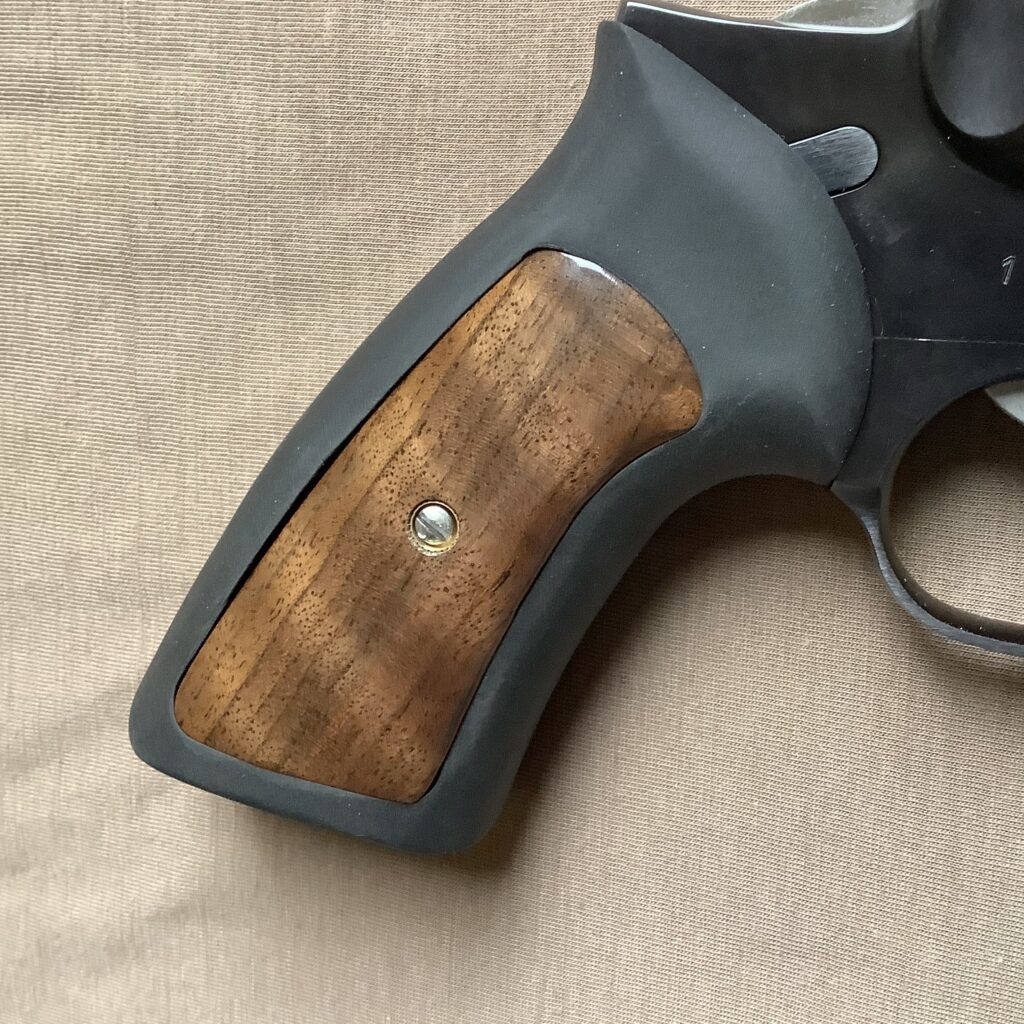 I tried both sets of Chad's grip panels on my GP100, and I was really impressed with how they fit, and how they looked.  The solid wood panels were smooth, glossy and quite attractive. Chad notes on his website that he fills the grain on the wood to provide a smooth finish, and I was really pleased with his efforts. My only concern with these grips was trying to decide which set I would keep for myself, and which set I would send to my buddy!
Future business
After getting a chance to see Chad's work in person, I'm excited to contemplate the possibilities for outfitting my single action Ruger revolvers with more of his beautiful grips. I know they'll add great beauty to these wonderful and cherished sixguns.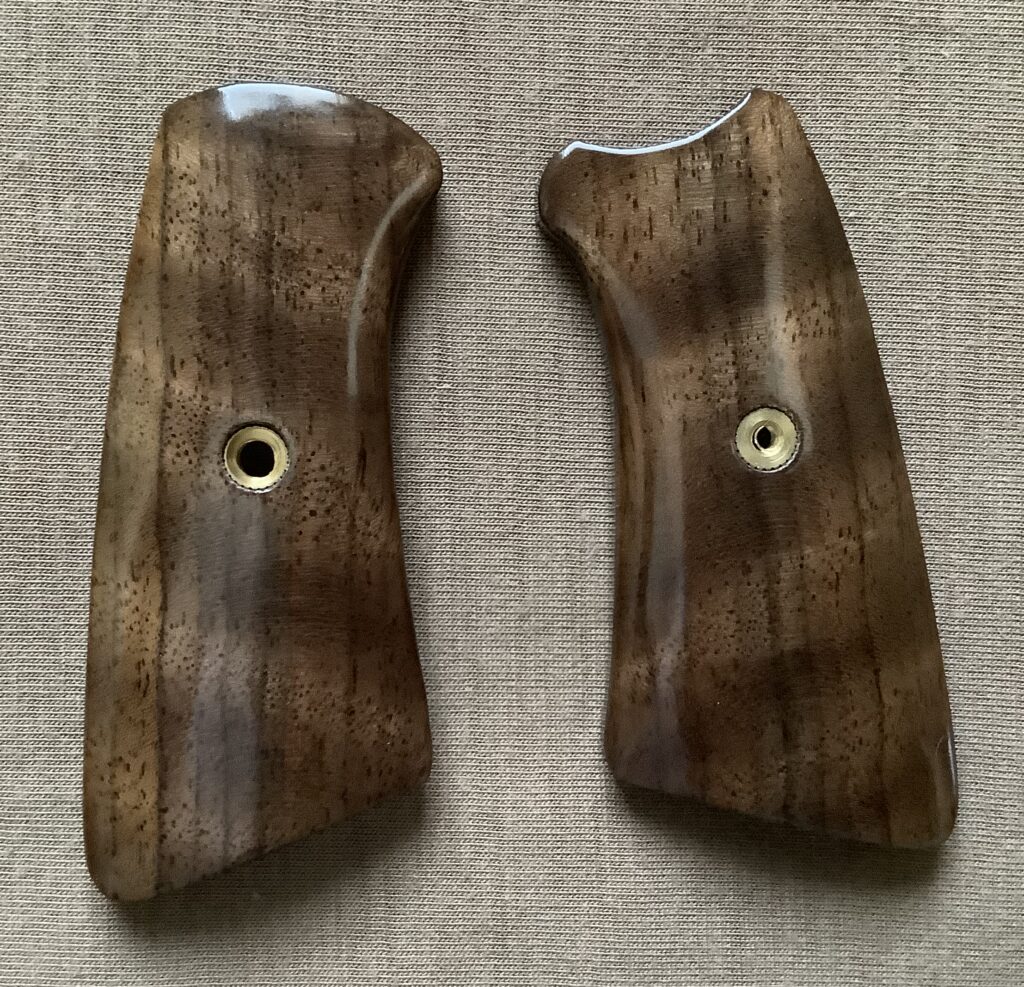 The last year has been a real kick in the teeth for a lot of small businesses across America, so it felt really good to support a small business being run by a true craftsman. If you give Chig's Grips a try, I know you'll appreciate not only Chad's great work, but his excellent customer service.
So, if you're a Ruger revolver fan, or even a 1911-guy (don't worry, we love them too!), make sure to check out the Chig's Grips website and explore the beautiful options for personalizing your guns. As Chad notes, "no two sets will ever be identical," so if you want to make your gun stand out from the crowd, this is a great way to do it. Make sure you tell them that Greyson and RevolverGuy sent you!