We all enjoy a good, "do it yourself" success story, and when it involves classic gun leather, that makes it even sweeter for us RevolverGuys. Trust me–if you love leather holsters, this one is gonna knock your socks off!
The Call
Good friend Dean Caputo recently approached me about salvaging a special holster that was looking a little rough. As he described the condition over the phone and his unsuccessful attempts to correct the problem, it occurred to me that the best course of action would be to consult RevolverGuy friend–and Ace Holstorian–"Red" Nichols for help. After all, who better to advise us on the way to restore this old favorite than one of the world's foremost holster designers and authorities on gun leather?
The Suspect
The holster in question was an uncommon Hoyt breakfront model that Dean had commissioned back in the early 1980s. Since Dean was carrying his duty gun in a Hoyt on patrol, he thought it would be a good thing to have a light duty holster that worked the same way for his turns at "riding pine" as the front desk duty officer. A high-ride breakfront that mirrored his normal duty holster would be just the trick for those days when he didn't have to wear the full Sam Browne.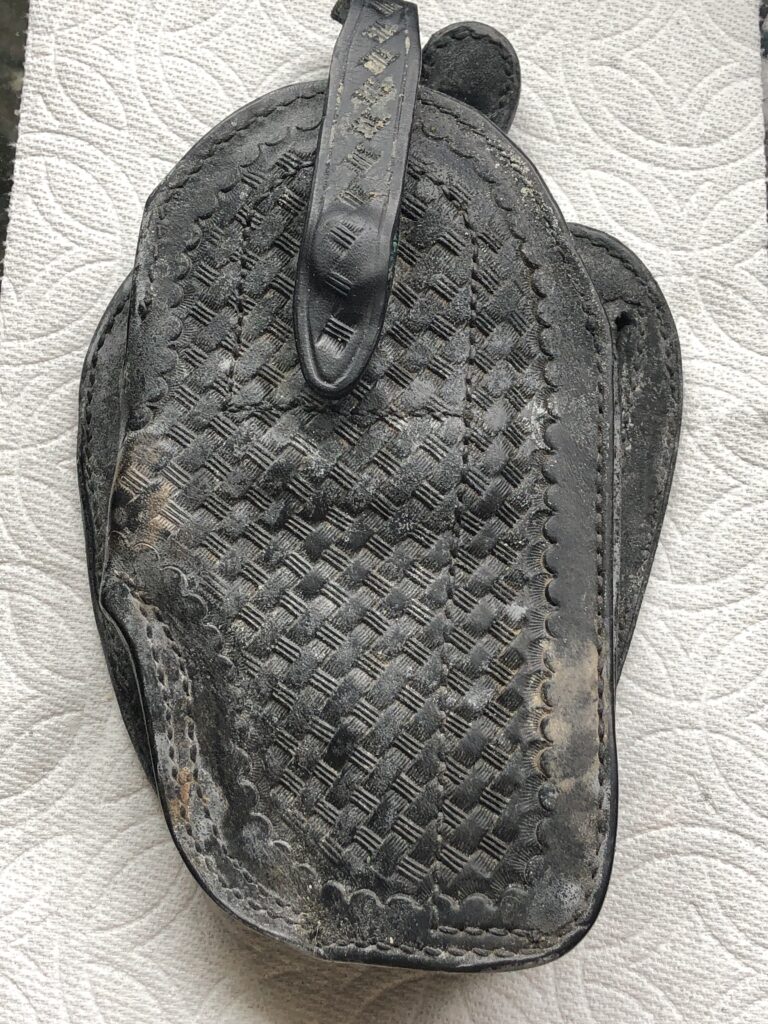 While it was technically a catalogued item, the Hoyt Holster Company didn't get a lot of requests for such a beast, and particularly not for a 4" gun (most were for the shorter, 2.5" Model 19s). So, this would be a specialty job for Woody Hershman, the husband of Dick Hoyt's granddaughter, Carol, and the man who inherited the work bench from Dick when he retired. It took a little bit for the odd job to make its way to Dean from Hoyt's Coupeville, Washington address, but the end result was just what Dean wanted and it gave him great service.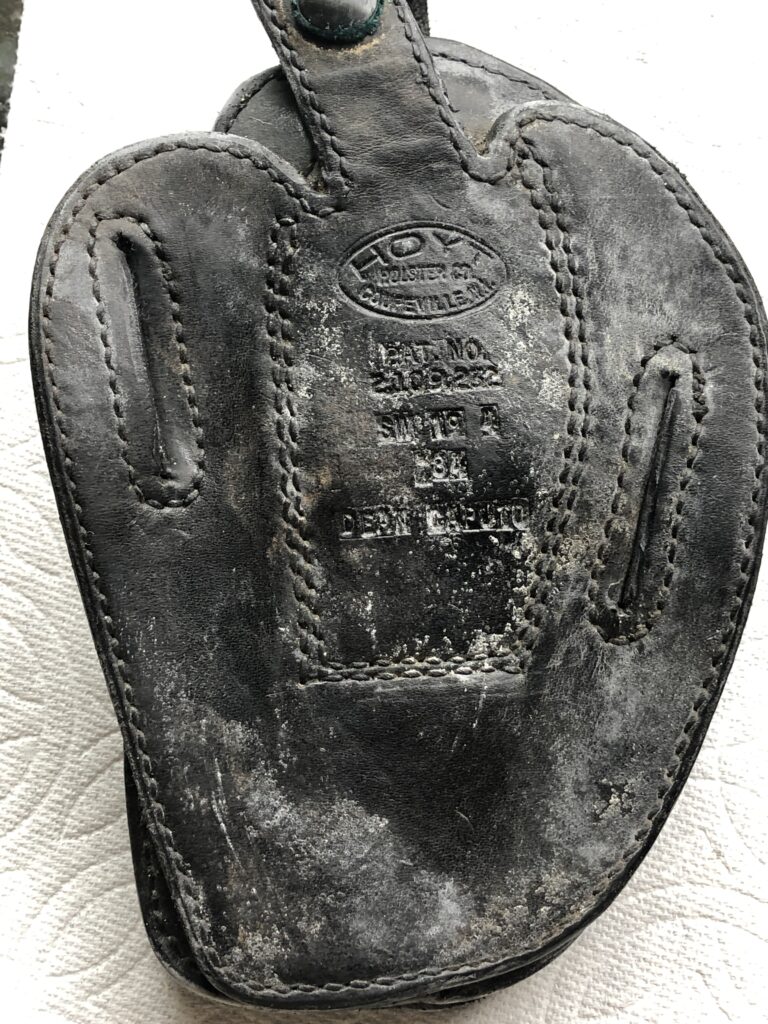 Time passed, and the holster was phased out of service as Dean went to carrying a 5" Government Model on duty.  It went into that proverbial "box o' holsters" that all of us RevolverGuys are always working to fill, and it didn't come out for a number of years.
The Misdemeanor
When it did surface again, the surface was . . . moldy. A fine mildew had formed on the leather, leaving the black basketweave looking like someone had spilled a glass of milk on it, and left it out to dry.
Dean wanted to get the unique old holster in good shape again, but didn't know the best procedure for doing so.  Fortunately, Red Nichols knew what to do, and he even went to the effort to illustrate the procedure in a post on his must-read Holsterguys Blog.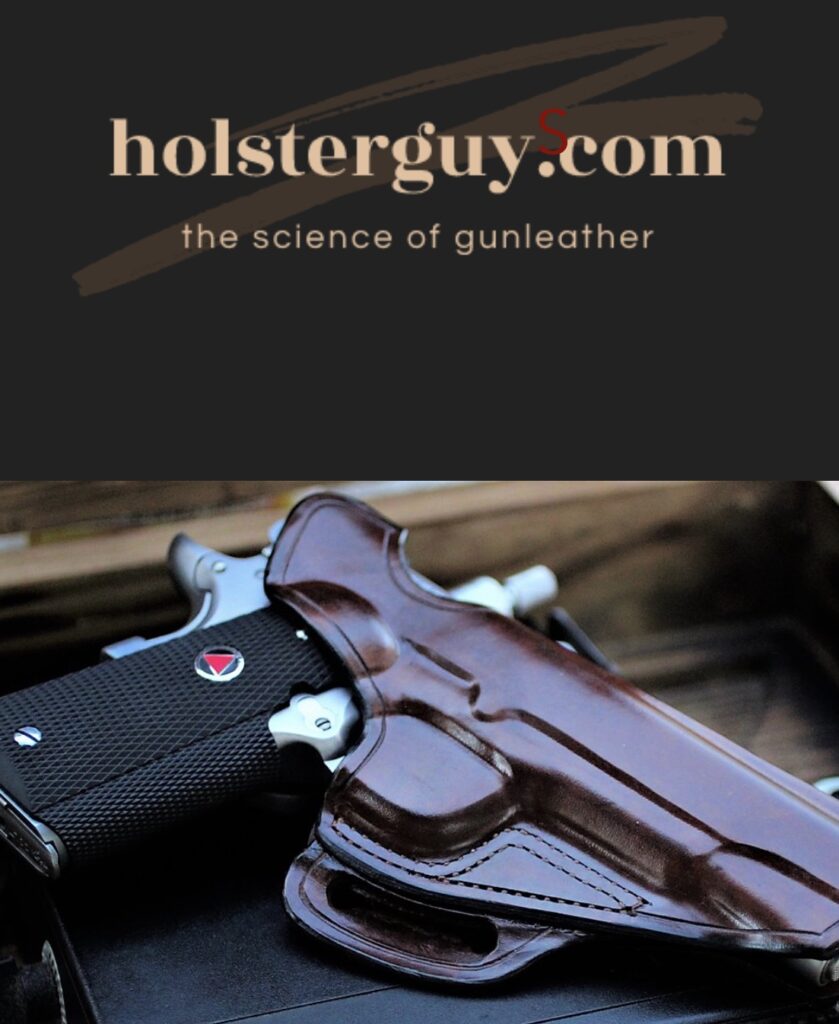 Armed with this knowledge and a shopping list of supplies specified by Red, Dean got busy.
The Felony
When Dean started his restoration work, though, he didn't start with the Hoyt. Instead, he started with another holster that, in his words, he'd already "written off as a loss."
A few decades back, Dean had put the holster in a plastic tub with some other stuff, and stored it in the garage. Unfortunately, it managed to collect some moisture along the way, and began to mold very badly.  When he came across the holster later, he was shocked to see its condition.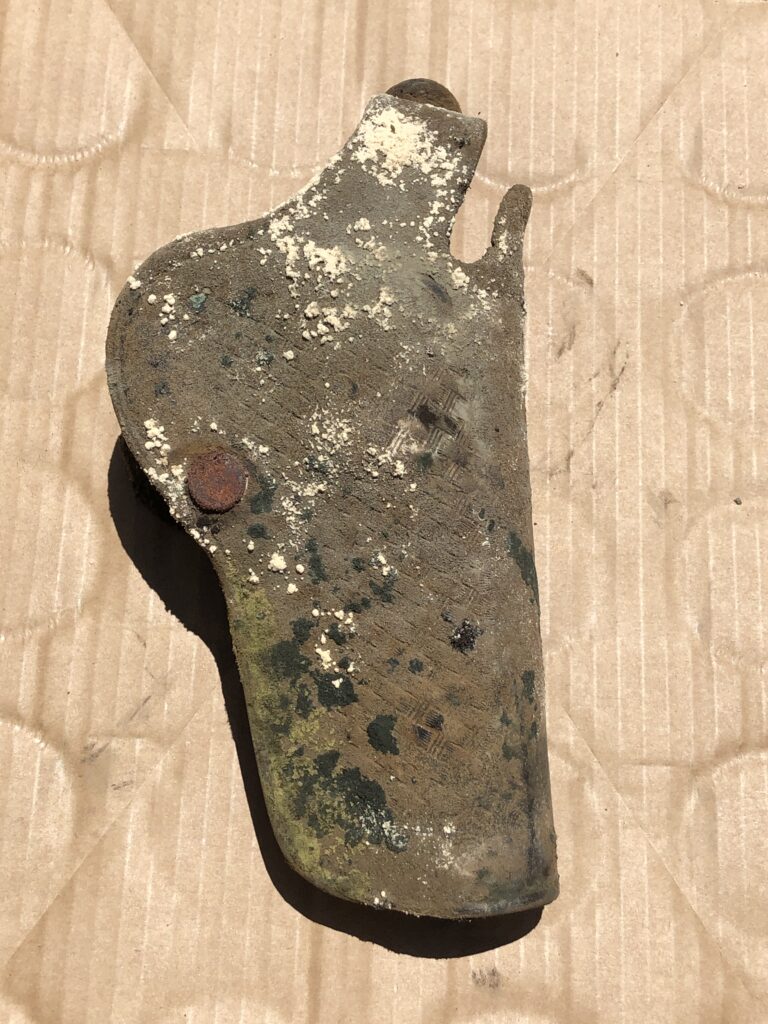 The holster was an absolute mess–hardly recognizable as a piece of leather at all. It had once been a custom job from his friend Gordon Davis, who ran a successful holster company that focused on building leather holsters for law enforcement. This particular holster was a high-ride thumb break, cut for a 4" Smith & Wesson N-Frame, which wasn't a common request. Gordon had built the holster for his friend, and it gave him excellent service on duty before it was retired in the switch to another duty gun. Although Dean knew it was junk now, he couldn't bring himself to throw it away because of the sentimental connection. He set it aside for another year, trying to get the courage up to throw it in the trash, where he sadly knew it belonged.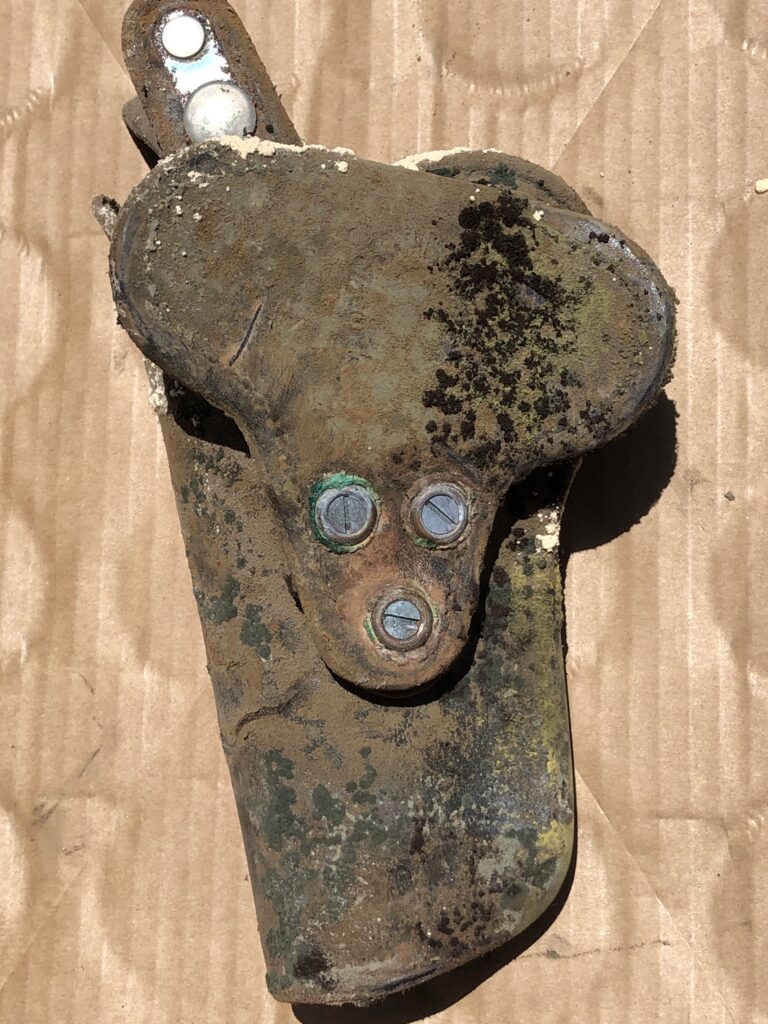 Fortunately, he didn't, and his delay would pay off now.
Knowing it would help to get some practice on an item that could be sacrificed, Dean decided to try Red's restoration advice on the Davis holster, first. He figured he could make his mistakes and learn the technique on the trashed Davis, before he started working on the prized Hoyt. "I knew it wasn't going to work, but I thought I'd try anyways, for the experience," said Dean.  He got his new supplies all arranged, and got busy.
Corrections
The first step was to start brushing the big crud off with a dry shoe brush. Dean said he was amazed at how much of the garbage came off the holster with the brushing, and within a short time there was a cloud of mildew dust that threatened to block out the sun. "I probably should have used gloves and an N95 mask," he joked with me, but doing the job outdoors and monitoring the winds kept him out of trouble for the most part. Still, I won't be surprised, if a week from now, we start to hear reports about a new pandemic sweeping through the nation, caused by a mutant spore with a mysterious Ground Zero origin in Dean's Zip Code.
Stock up on toilet paper right now. COVID-20, the Caputo Virus, is in the wind.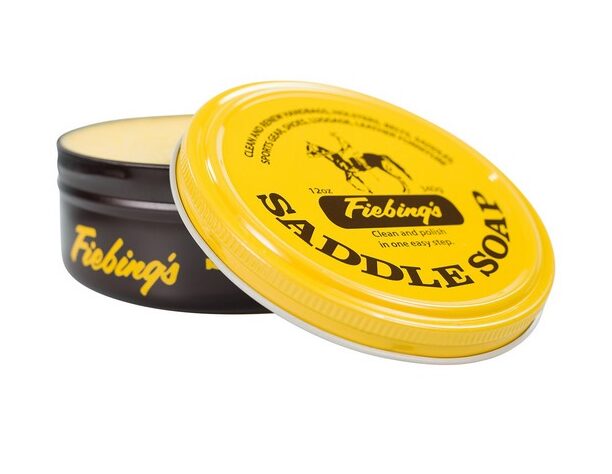 Following Red's directions, the holster was next cleaned with a damp sponge and saddle soap. It was tough to get into all the cracks and crevices of the basketweave pattern, and work in the tight areas near the belt loop seams and on the inside of the pouch, but with some elbow work and a tool to get the sponge into the tight spots, Dean got everything cleaned off. He said he was really amazed at the magnificent job the saddle soap did on the leather, noting that it did 90% of the restoration by itself. Dean told me that he probably could have put the holster back into service without doing anything else to it, after he was done cleaning it off with the saddle soap.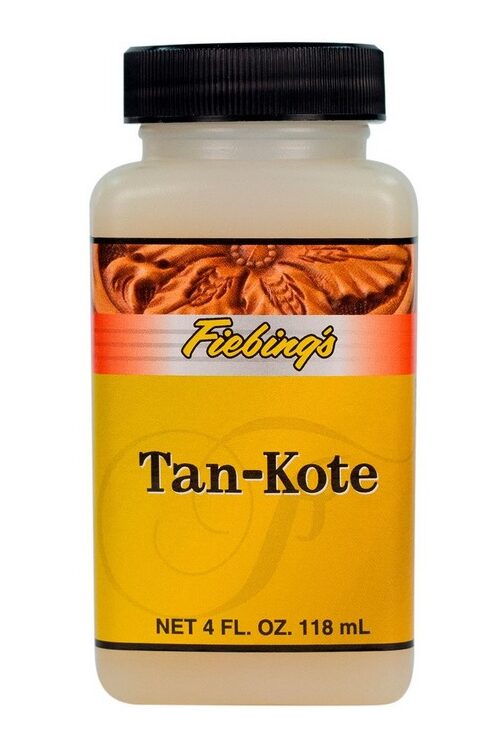 After a short drying period (which didn't take long in the 105 degree ambient heat—particularly with a box fan blowing the hot air on the holster), it was time to apply the Fiebing's Tan-Kote product that Red recommended, with some wool daubers and a wool mitt. Dean used the gumball-sized daubers to get into the crevices and tight spots, and to hit the stitches, and he used some Q-Tips to get into the holes in the leather that were left behind by the hardware that was removed. The mitt got all the big surface areas after that.  Dean noted that he applied two coats of Tan-Kote to the Davis, and "it really soaked it up," perhaps because it was in such bad shape.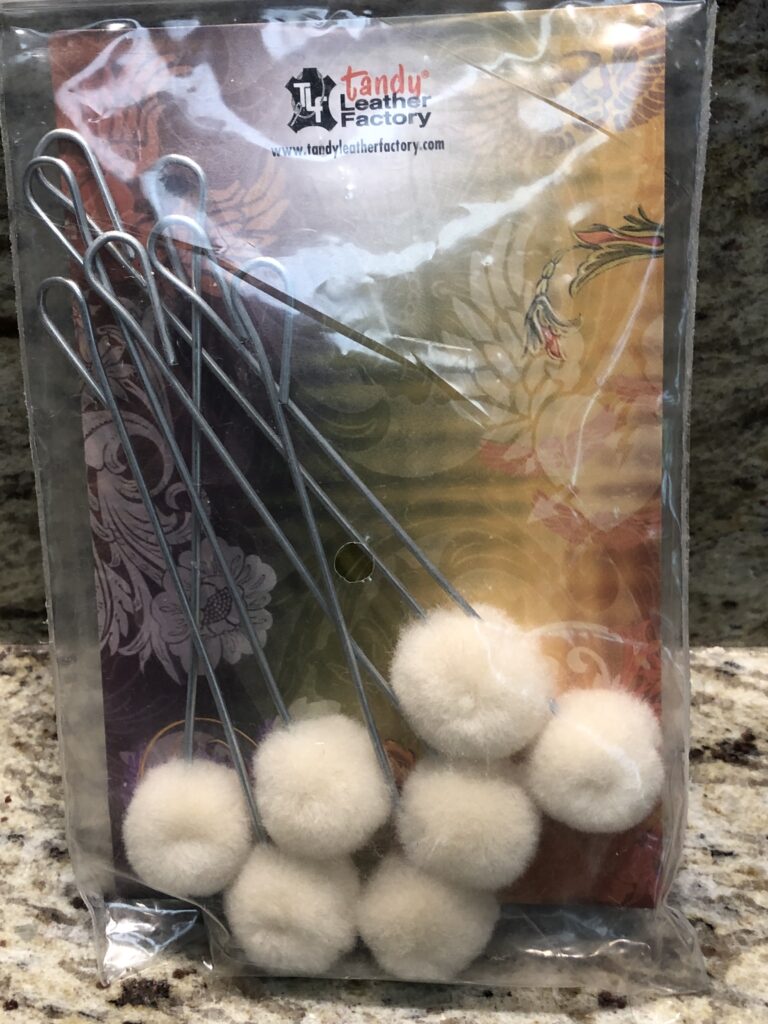 Dean was really pleased with how good the holster looked after the application of Tan-Kote. "That stuff is amazing," he said, remarking at how it nourished the neglected leather. The Fiebing's website says that Tan-Kote is a "resin-based formula," that's "good for use as a top finish," but Nichols cautions that a little can go a long way. "One coat is good, two coats is OK, but three coats is bad, and you may have to start over," says Red, because the Tan-Kote has a lacquer-type component and it can start to build up on the leather. Dean confirmed that Red's warning about Tan-Kote drying really fast was spot on, so use caution in application.
The hardware on the holster was soaked in a solvent and cleaned up with a toothbrush before it was reinstalled. Dean said he could have done a little polishing on his wheel to make the hardware (especially the tension screw) look really good, but he was so excited to finish the job that he didn't take the extra time to do it. Maybe he'll go back and do it later.
The holster looked so good after the Tan-Kote that Dean almost didn't apply the spray lacquer that Red suggested, but he gave it a go anyhow, after the Tan-Kote had dried for an hour.  By keeping the spray lacquer can moving, and fogging the leather from a little bit of a distance, he was able to get a good coat without any drips.
Rehabilitation
When the drying was complete, and the hardware was reinstalled, Dean was just stunned.
"I couldn't believe it worked. I just couldn't believe it."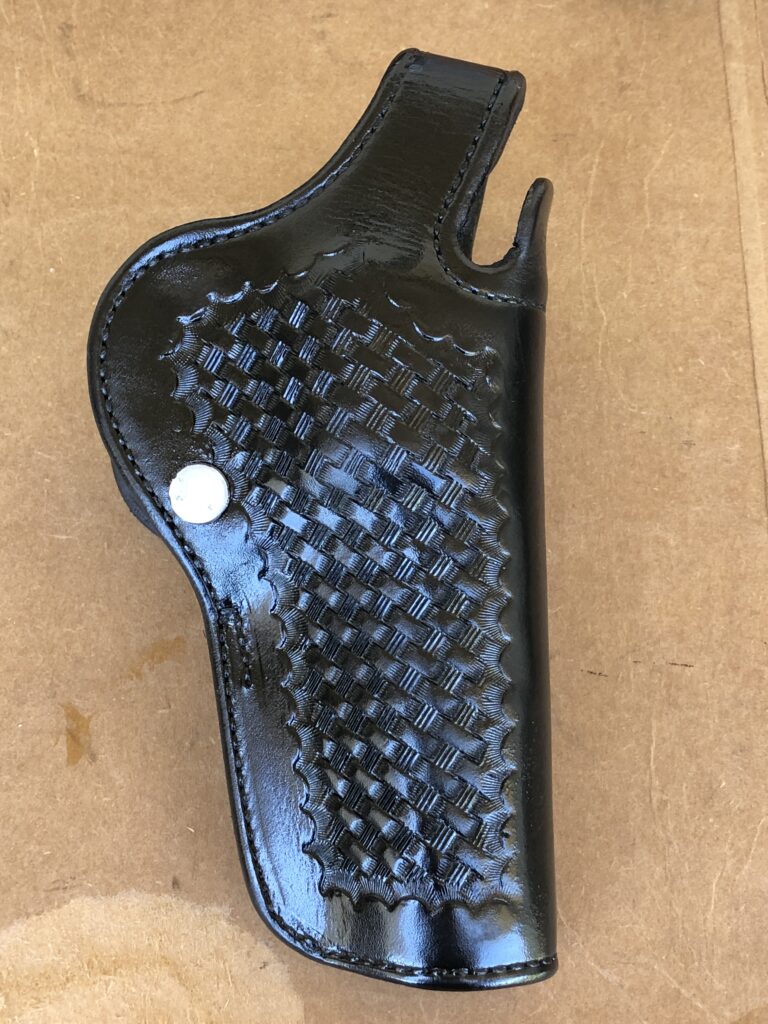 The write-off holster that looked like a rock which had been dredged from a radioactive, primordial swamp, was now looking like it was fresh off of Gordon's workbench.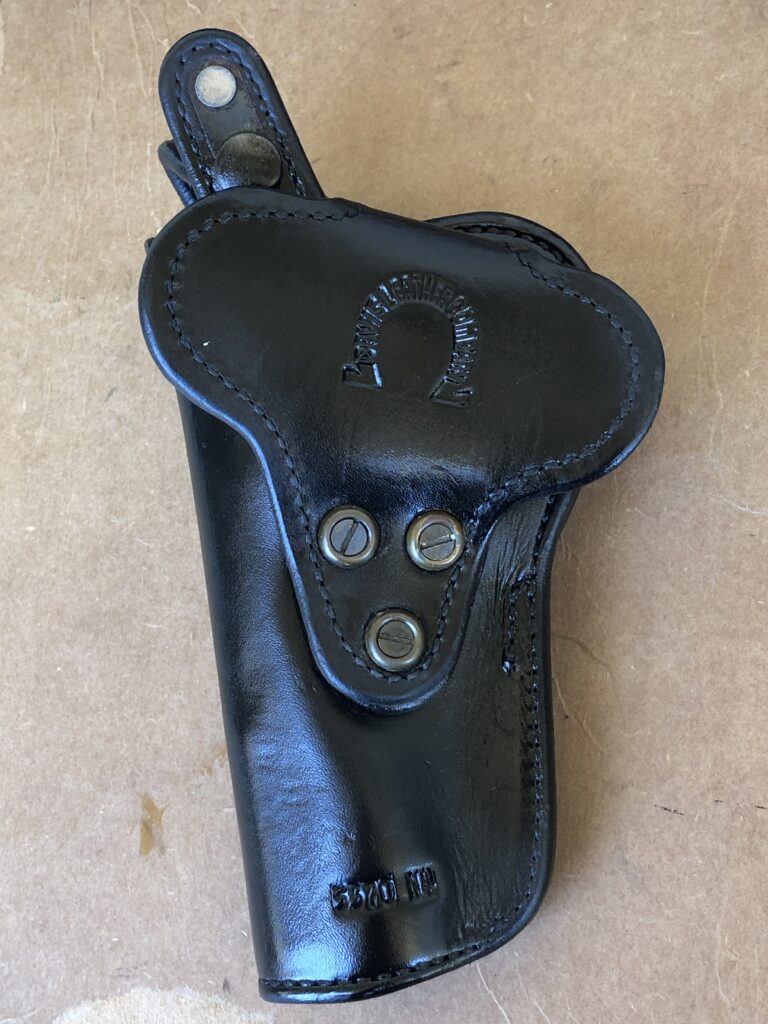 It had taken Dean about an hour's worth of labor (not counting the one hour drying time, in between the Tan-Kote and the spray lacquer) to restore the leather, and another 15-20 minutes to clean up the hardware on the Davis rig, and the results were beyond anything he expected. "I really thought I'd be throwing that holster away," he said, "but now it's looking almost brand new."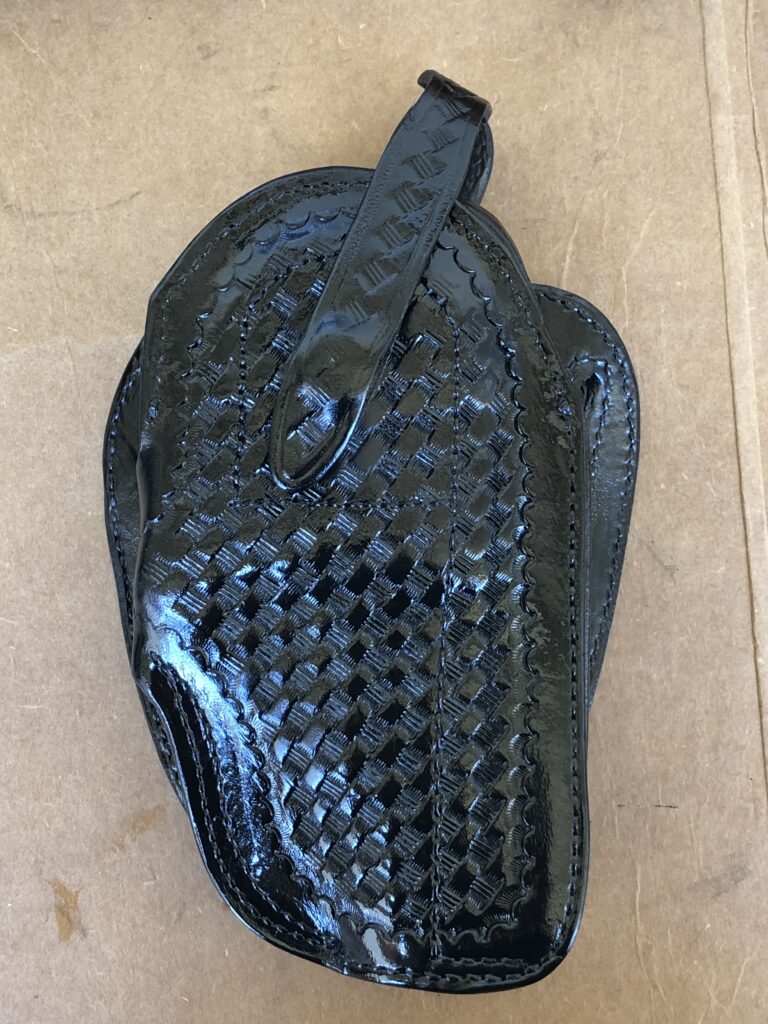 Buoyed by his success on the Davis holster, Dean ran the Hoyt through the same process and restored his old favorite to like-new condition as well. Everything worked great, but the lacquer on the Hoyt took a little longer to dry than on the Davis. "I never thought they would turn out this well. I'm just dumbstruck," he said.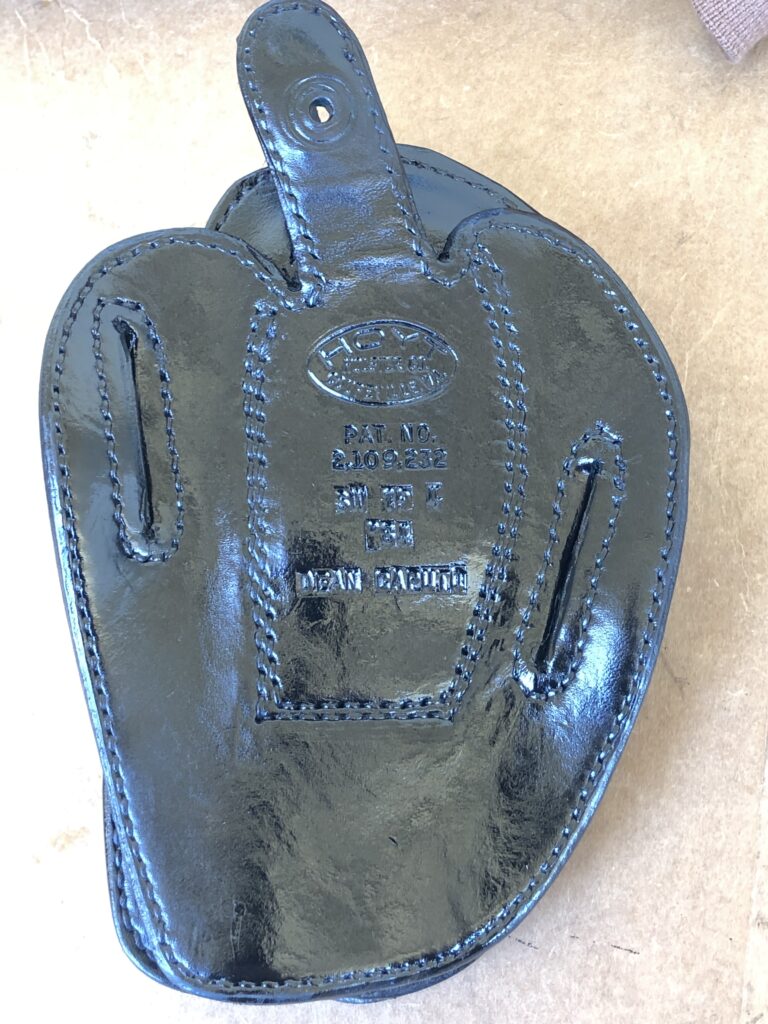 Happy Ending
In an era when most new holsters are plastic, and coming out of molds and dies on an assembly line, it's especially nice to handle a leather holster made by a craftsman, and appreciate the skill that went into designing and building it.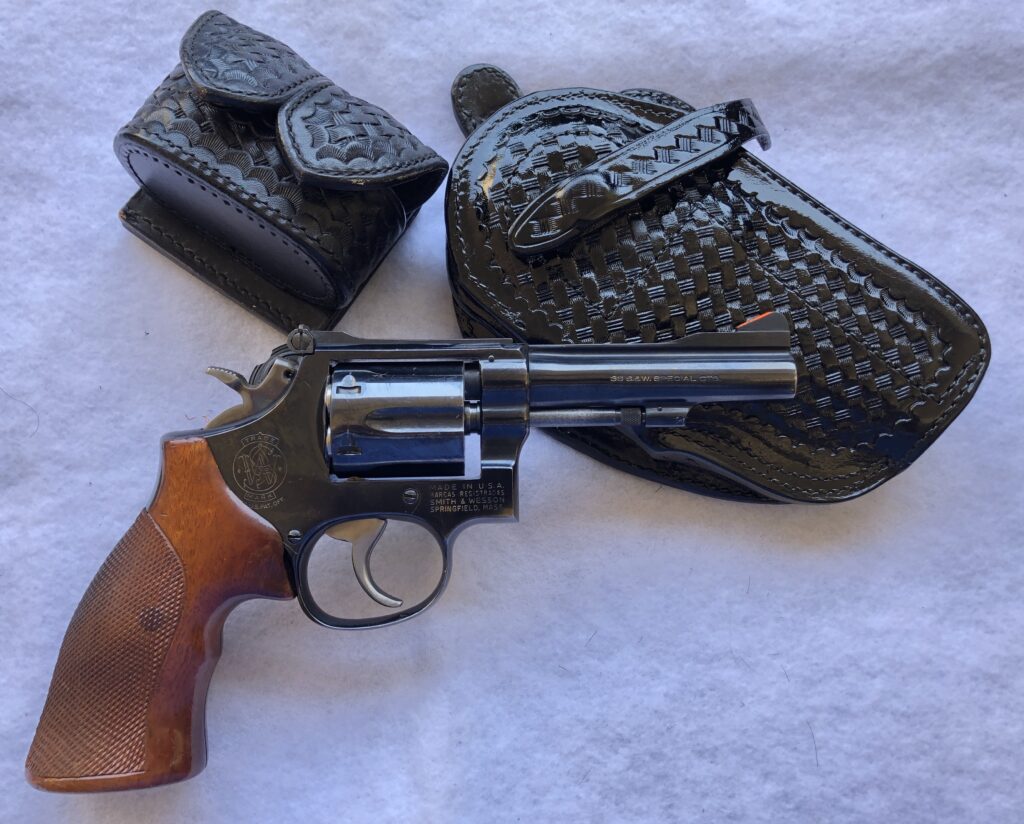 It's even more satisfying to handle a vintage holster from a maker who is no longer with us, and know that you're holding part of his legacy, which still lives on in the leather.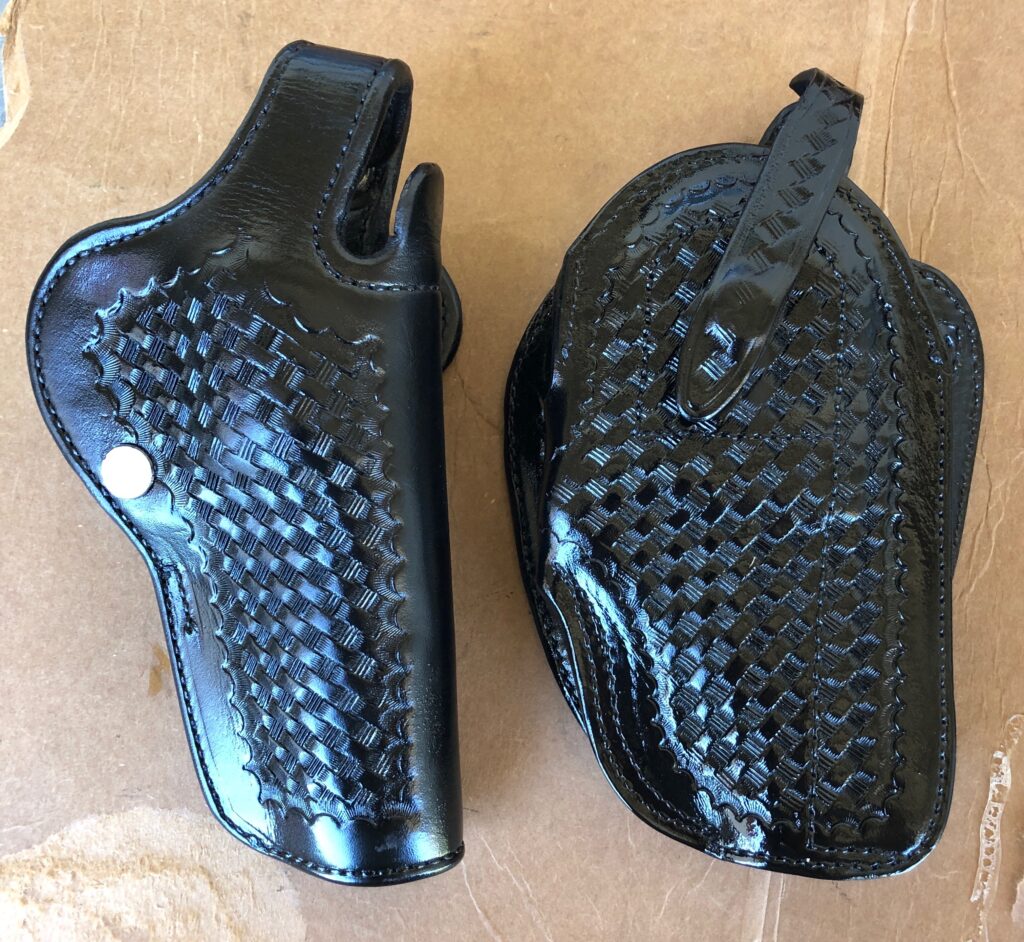 But when you can salvage what you once thought was lost, and restore a custom piece built by the hands of a departed friend, it's even more special. Almost magical.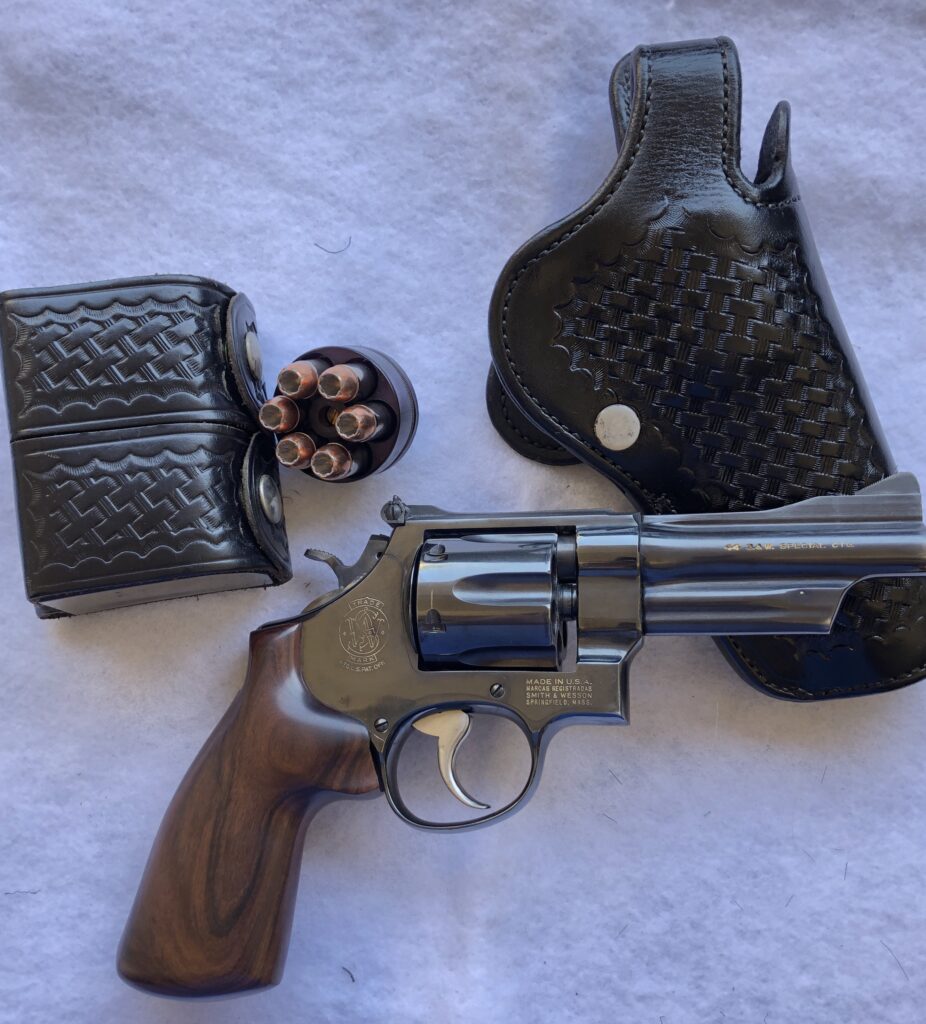 So, it's with a tip of the hat that RevolverGuy would like to thank both Red and Dean for the roles they played in bringing these great holsters back to life, and for letting us get a front row seat to watch the show.  Enjoy your "new" holsters, Dean, and thanks Red for showing us the ropes!