The .41 Remington Magnum has been with us for nearly 60 years now. When it was introduced, several people in the industry felt they deserved credit for the idea of the new cartridge. It's generally accepted that Elmer Keith was the driving force in making the concept a reality.
Keith wrote in his Guns and Ammo column in the early sixties that he had been approached by many in the law enforcement community about the need for a better police cartridge. Bill Jordan was one of them, suggesting a forty-caliber revolver round launching a 200-grain lead semi-wadcutter (SWC) at around 1,200 fps. In Jordan's opinion, that would be the end-all of police cartridges, superior even to the .357 Magnum he had championed for the Combat Magnum in the 1950's.
Keith was in complete agreement. Although he thought the .44 Magnum was the ultimate fight stopper, he acknowledged that the .44's recoil could be problematic for lots of officers. Keith and Jordan decided to act on their thoughts at the 1963 NRA Members meeting in Washington DC.
SELLING THE .41
They spoke with leadership from S&W, Colt, Ruger, and Remington about the concept. By that time, Keith thought that the cartridge should be offered in two levels: A cast or swaged (plain lead or copper coated) SWC moving at 1,100 FPS for urban law enforcement use, and; A jacketed soft point (JSP) loaded to 1,400-1,500 FPS for rural and anti-vehicle applications.
It's an indication of the status that Keith held in the industry that he could secure verbal commitments from these companies to make the project a reality. S&W agreed to chamber the new round in its large (N) frame and look at the possibility of a five-shot, medium (K) frame variant. Ruger was on board with their Blackhawk single action, Colt thought the proposed round would be a natural fit for its .41-framed Python. Remington promised to develop ammo if the gun companies made the revolvers. Keith predicted that S&W would release the heavy frame gun with a full contour bull barrel in 4- and 5-inch lengths for police use, and a lightweight tapered barrel version (like the 1950 Target Model) for sporting use. He thought the .41's sales would eclipse those of the .357 and .44 Magnums.
THE NEWEST MAGNUM
The .41 Magnum was introduced shortly thereafter. It had grown from the .400 diameter that Jordan had envisioned to .410. Keith had suggested increasing bullet diameter to prevent the round from chambering in old .41 Colt revolvers, and Remington agreed. The .41 Magnum's operating pressure had a top end of 43,500 CUP, and firing one in a Colt Thunderer would likely convert it into a fragmentation grenade.
The pressure and dimensions of the new cartridge drove the size of the guns that would fire it.  The size of the cartridge and the pressure it generated likely convinced Colt to pass on chambering their Python for the new round.  Smith & Wesson declined to pursue the five-shot K frame, introducing the .41 Magnum as the bull-barreled, N frame Model 57 in February of 1964. The N frame Model 58 followed soon after.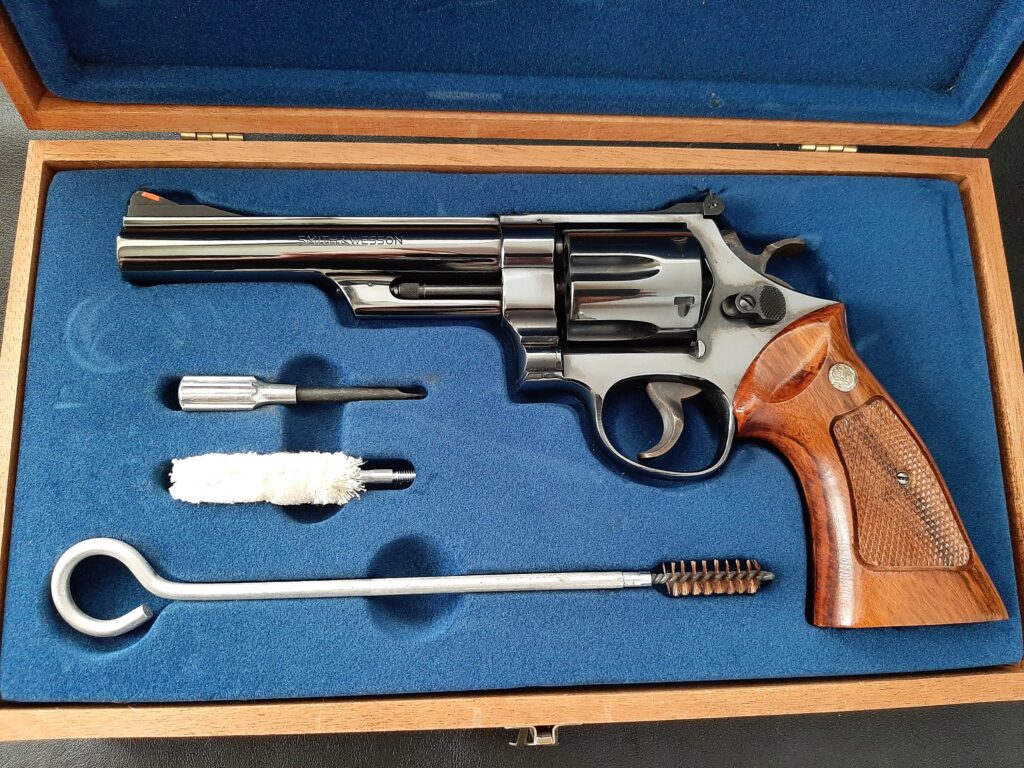 The Model 57 was a dead ringer for a Model 29, except for the smaller bore and charge holes. It was offered with 8 3/8", 6" (as opposed to the 6 ½" barrel of the Model 29), or 4" barrels.  The Model 57 was a deluxe revolver, it came in a velvet lined wooden presentation case. It shipped with Goncalo Alves target stocks and had a wide target trigger and hammer. It was equipped with a red ramp front sight and white outline adjustable rear sight.  The N frame was serrated with 10 grooves front and rear, and the sideplate was affixed with three screws.  The barrel had a raised serrated rib, and the gun could be had with a blue or nickel finish.
The first two guns made were blue 4" versions and were shipped directly to Elmer Keith (a good indication of whom S&W felt was primarily responsible for the new round). The guns arrived an hour before Keith was departing for a polar bear hunt in the Arctic. He took the 57's with him along with a partial box of the new Remington 210 grain soft points that S&W had sent. Keith shot five Caribou with the Model 57's from ranges of 60-400 yards. A respectable maiden voyage for the heavy load, especially considering the subzero temperatures. The terminal performance impressed Keith and he found that it shot flatter than his trusted .44 Magnum.
THE MAGNUM M&P
The Model 58 debuted at the NRA Convention in Los Angeles, in July of 1964. Its no-frills design stood in stark contrast to the fancy Model 57 that preceded it.  The .41 Military & Police was purpose built as a sidearm for police use. A square butt, three screw, N frame, it came with a fixed rear sight cut into the top of the frame and a 1/8-inch serrated ramp front sight.  Like the Model 57's, the cylinder was fluted and had counter sunk chambers. It could also be had in either a blue or a nickel finish. The fore and backstraps lacked serrations and it shipped with service-style, "Magna" grips. The extractor rod was non-shrouded, the 4" bull barrel had a matte finished flat top rib.  It featured a thin service hammer and a thin serrated trigger. It was a unique departure from the N frames that S&W was producing at that time, with its spartan features and fixed sight bull barrel.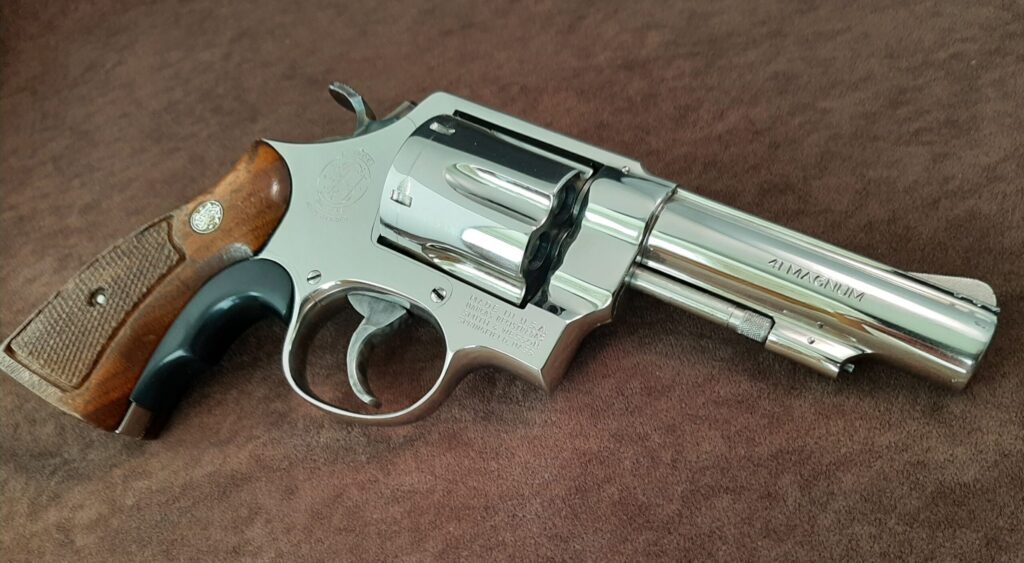 The .41 Magnum created a stir in the law enforcement market and was adopted by several police departments. Amarillo and San Antonio, Texas issued Model 58's soon after their introduction. The Nevada State Patrol issued Model 58's from 1965- 1969. Although it's hard to fathom now, San Francisco PD issued Model 58's for a while, too.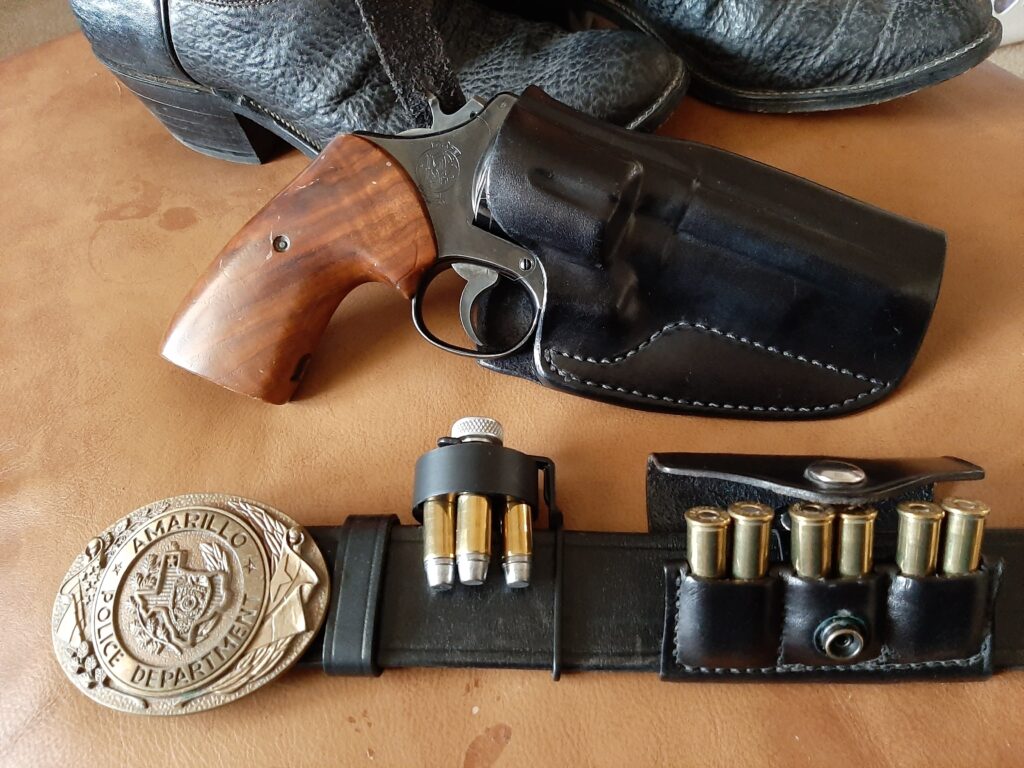 It's rumored that Louisville, Kentucky issued .41 Magnums, as well as the Mobile County Sheriff's Office in Alabama. An online forum reported that Blackhawk County, Iowa issued Model 57's with the full-house 210 grain JSP. I read about at least twelve other agencies from Illinois, Virginia, North Carolina, Oklahoma, California, New Jersey, Ohio, and Maryland that likely issued .41 Magnums. If you are aware of others, please let us know in the comments.
IN POLICE SERVICE
The cartridge earned a solid reputation as a fight stopper. Keith heard from several agencies having good results with .41's in gunfights. He even received a few reports from U.S. troops in Vietnam carrying .41 Magnums acquired from "unofficial" supply chains. Their experiences with the .41 versus "man targets" were completely satisfactory.  The ballistics were impressive, even if they were a little shy of what Elmer wanted. The Police load ran 1,050 fps from an 8 3/8" barrel, around 985 fps from a 6" tube, and over 900 fps from 4" guns. In contrast, the 210 gr. JSP was close to 1,500 fps from the long barrel, 1,340 from a 6" Model 57, and 1,250-1,275 fps from a 4" duty barrel.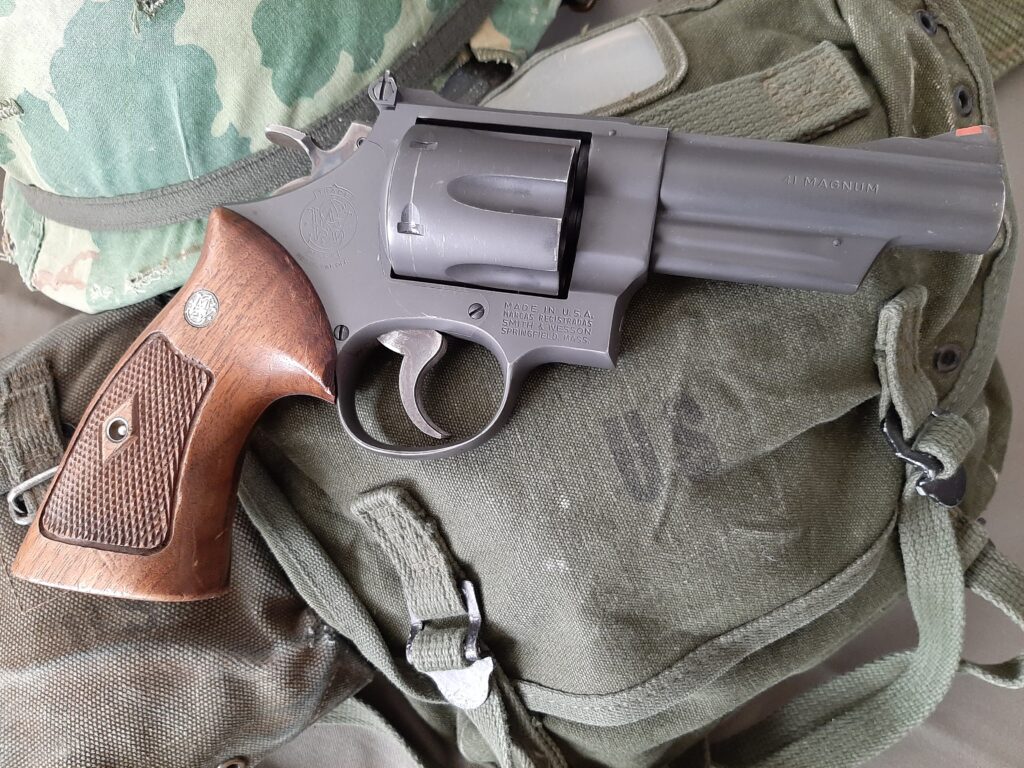 Smith & Wesson referred to the Model 58 as the ".41 M&P" in the advertising campaign that launched the gun, and called the Remington swaged load the "city" loading. They referenced the 210 JSP as the "Magnum" round to be used when penetration was desirable, and ranges were longer, useful for highway and open country patrols. It's interesting that S&W avoided the magnum terminology with the Remington load–likely to avoid making nervous urban department heads and big city governments uncomfortable.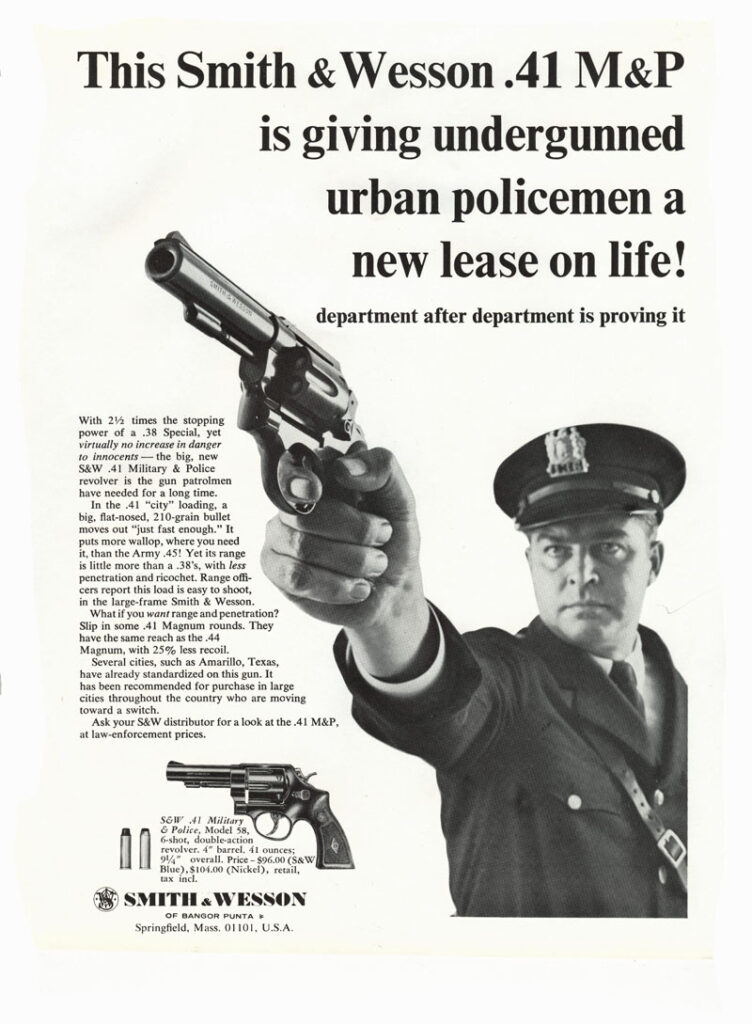 The .41 Magnum's performance came at a price. The .41 Police load was a big step up for officers in the mid-sixties who were used to the recoil produced by standard velocity, 158 grain lead .38 Specials. The soft, swaged lead SWC used by Remington leaded barrels to varying degrees, and some agencies switched to the JSP load because of leading issues. The JSP load produced a whole new level of recoil though, even for seasoned pistol shooters. Shooting that round through the Model 58 with Magna grips made achieving proficiency quite difficult for most cops.
Another strike against the Model 58 was its weight. It was a big, heavy bruiser with its bull barrel. The smaller diameter charge holes and bore made it even heavier than a .44 or a .45 of the same size.  Large officers and dedicated shooters likely didn't mind the weight of the hefty N frame, but it was a challenge for smaller statured officers to carry it and learn to shoot it well.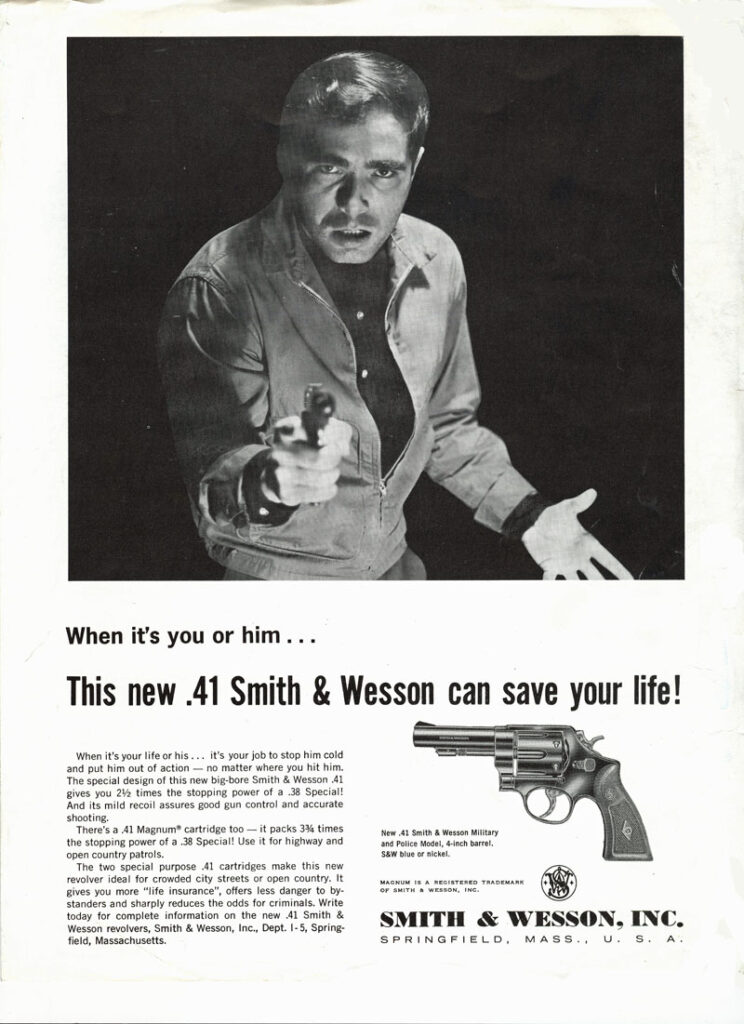 When the novelty wore off, things gradually went back to "business as usual" in American law enforcement. Medium frame S&W's and Colts in .38 Special and .357 Magnum found their way back into most cops'holsters.
There were exceptions though, with Evan Marshall being one of them. Marshall was a cop in Detroit in the 1970's and he described The Model 58 as a dream come true. The Remington Police load earned a stellar record of one shot stops in the Motor City. Marshall greatly preferred the Model 58 over the issue 5" Model 10 and .38 Special ammo of the day.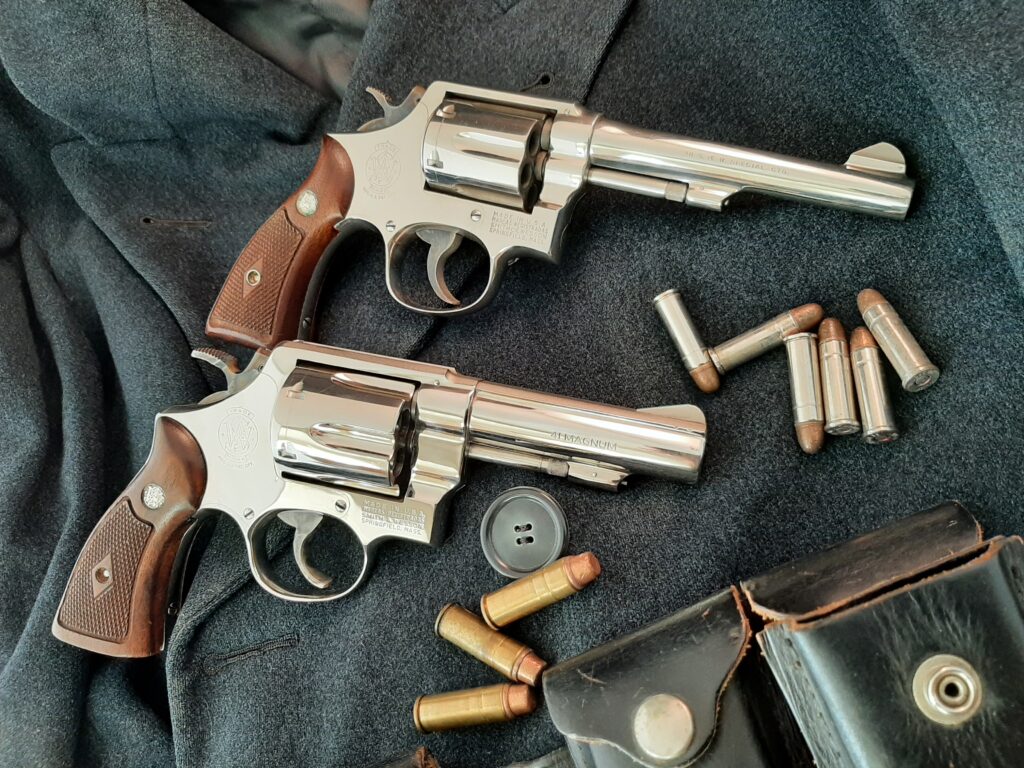 The .41 Magnum had made believers out of many officers, but it didn't take over the LE market like Keith predicted.  Sales of the .41 M&P tapered off and Smith and Wesson discontinued the Model 58 in 1977.
IN THE FIELD, ON THE RANGE
The first rounds Keith fired from those original Model 57's showed the way for the next chapter of the .41.
It earned respect as a handgun hunting cartridge. When loaded to its potential, it was closer to the .44 Magnum than the .357 Magnum, in performance. It shot a bit flatter and had a little less recoil than the .44 Magnum, but delivered similar terminal performance on all but the largest critters.
The .41 Magnum became known for accuracy and gained favor with long range metallic silhouette shooters. It had the energy to reliably topple 200-meter rams and other companies (Dan Wesson, Freedom Arms) began building guns for the cartridge.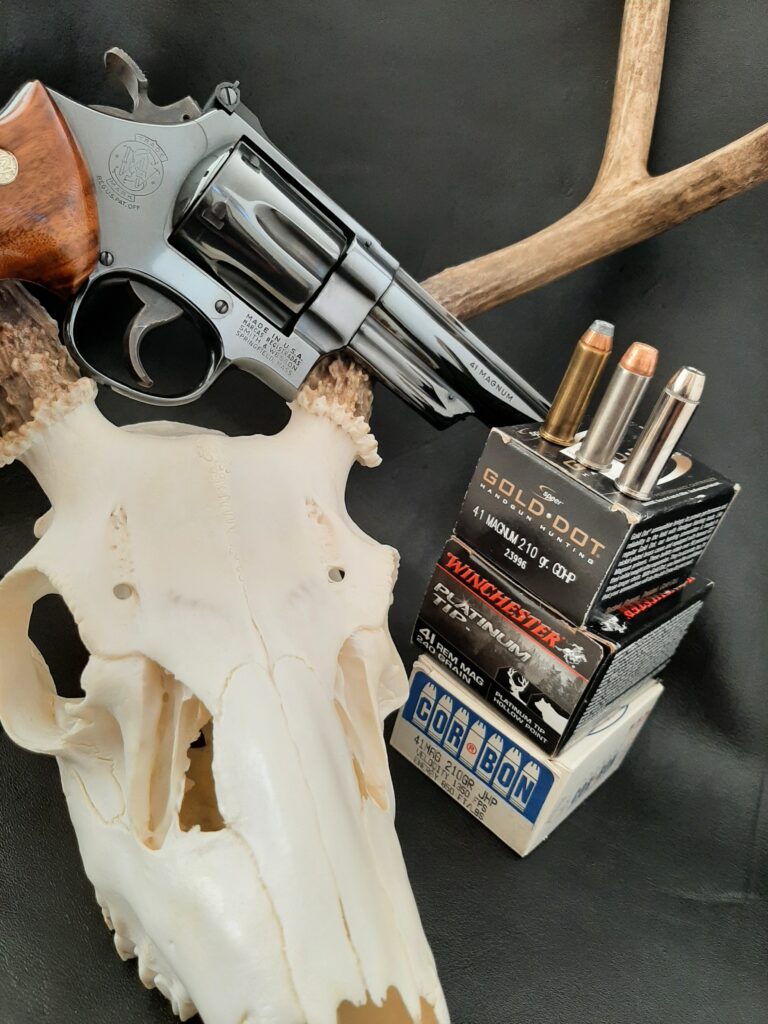 Advocates of the .41 Magnum claimed their choice was more accurate than other straight-walled revolver cartridges. The .41 Magnum's bore and throat specifications were set from its inception, and varied little–chamber throat diameters ran .410" to .411", and bore groove diameters were consistently cut to .410" on modern machinery. Jacketed bullets measuring .410" and cast bullets sized to .411" to .412" suffered minimal tilting or deformation when fired. The eight S&W .41 Magnums I had access to for this article were manufactured from the early 1970's to around 2010. Bore and throat measurements fluctuated little from the oldest to the newest gun–all were exactly where they should be, at .410" to .411". Compared to .45 Colt guns that have dimensions all over the map, and .44's with large throats and small bores, the .41 was more mechanically accurate than its' contemporaries.
The swaged Remington Police Load was dropped from production as the demand for more powerful hunting and silhouette loads increased, and LE interest subsided. There were no choices at the low-to-middle end of the power spectrum until Winchester introduced its Silvertip in that caliber. Early on, Keith designed one of his proven bullets for the cartridge that weighed between 205-220 grains, depending on the alloy content. It gave exceptional performance across the cartridge's velocity envelope, and was adopted by legions of the faithful.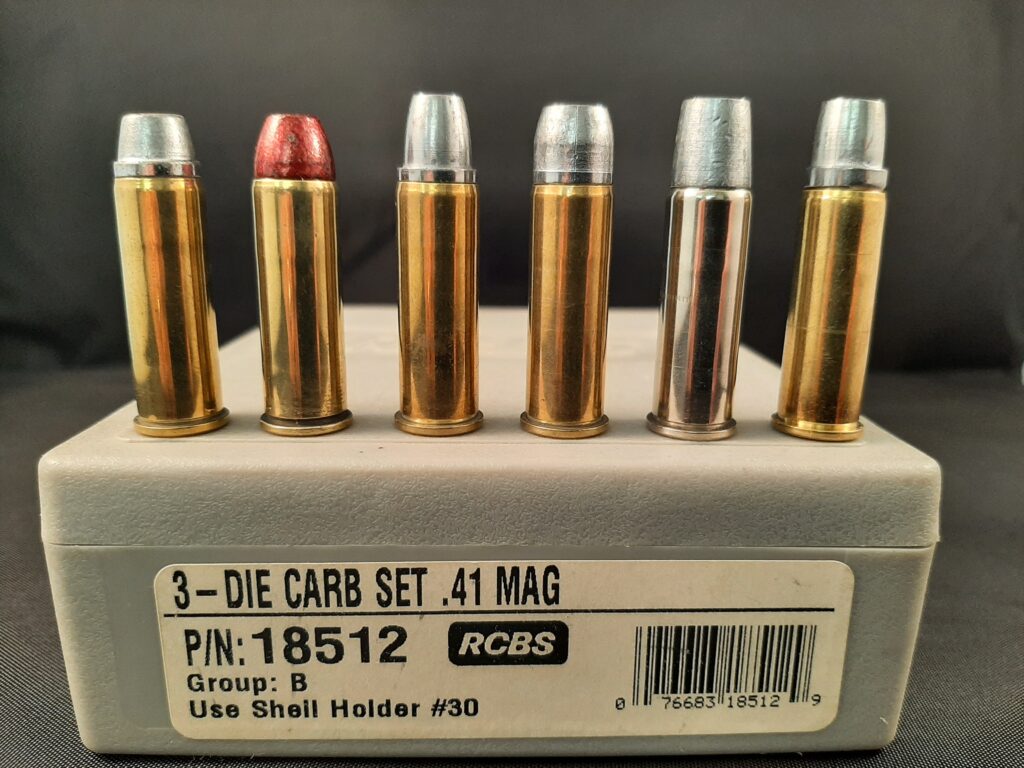 More so than any other cartridge, the .41 Magnum benefited from handloading because of the lack of diversity in factory ammo. The Police Load could be duplicated with commercially cast 210-215 grain SWC's for shooters who didn't cast their own bullets. Doing so provided an easy shooting and accurate practice round that allowed these guns to be shot for enjoyment.
MODELS
S&W ceased production on 4" and 8 3/8" barreled Model 57's in 1992. The 6" Model 57 was retired in 1993. The 657 came along in 1986 and remained in production into the new millennium, with a focus on longer barrels for handgun hunters. The 4" 657 was only made for two years.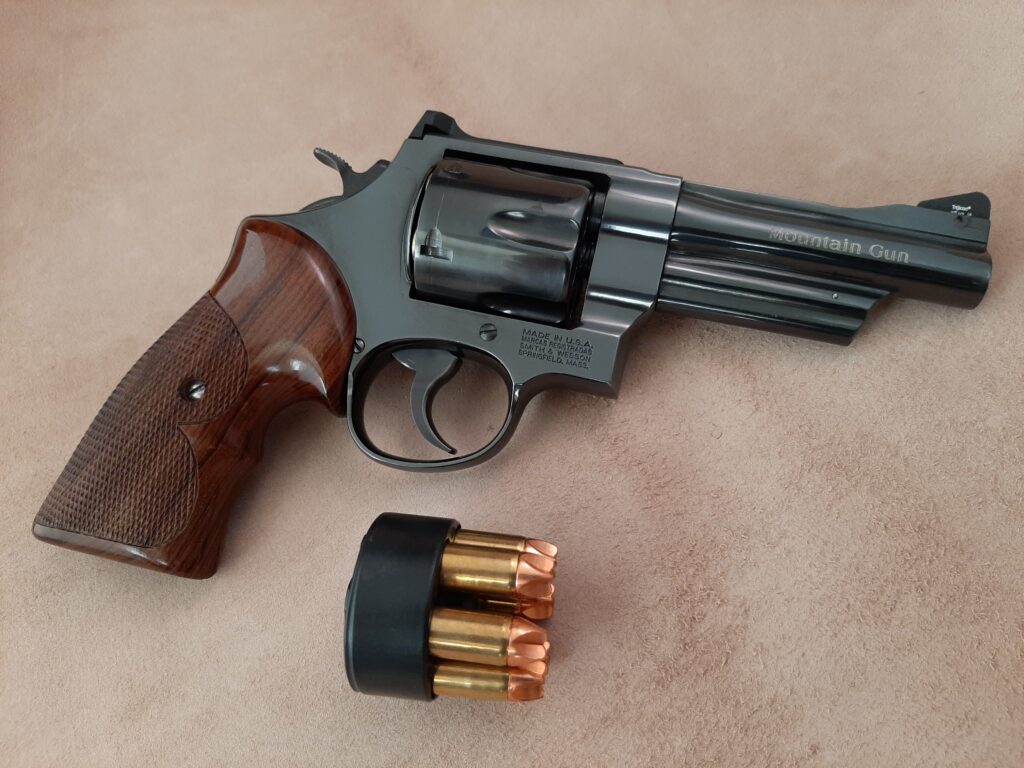 After that, S&W only sporadically made carry-friendly .41's. It took 34 years longer than Keith predicted, but they finally released a "pencil"-barreled gun with the stainless Mountain Gun in 1998. A blue version followed in 2005. S&W built a .41 Mag version of the ultralight 329 .44 with a scandium frame and titanium cylinder (357PD) for a few years, too.  It was a joy to carry, but physics dictated that most owners seldom shot them.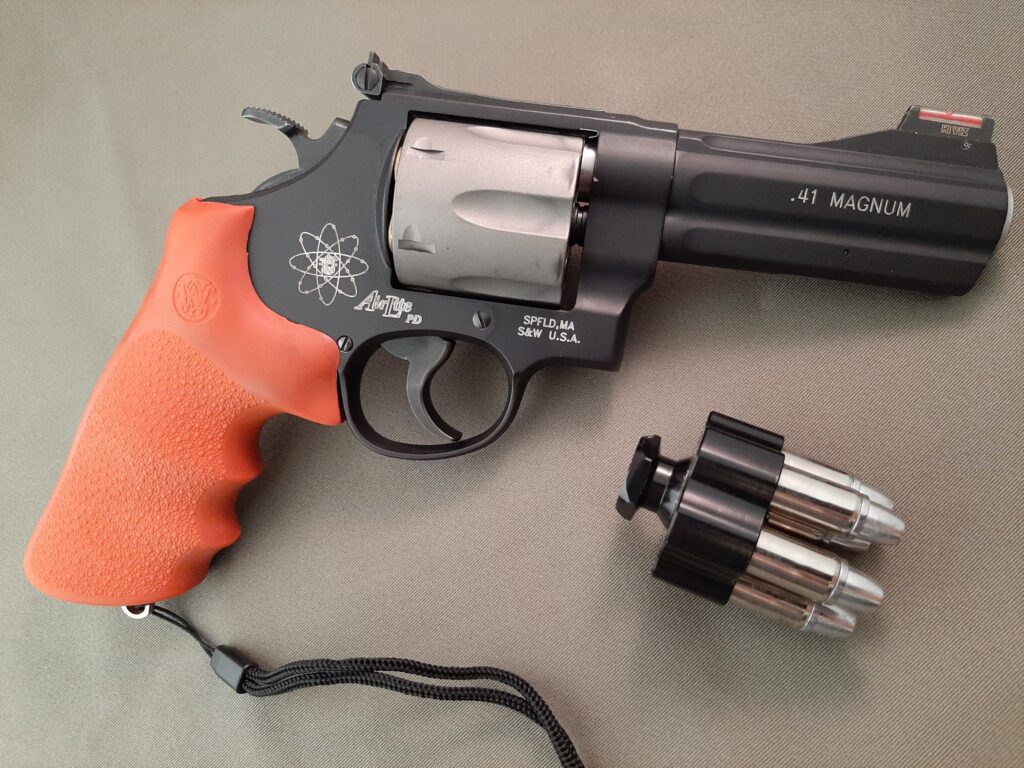 Smith & Wesson offered a 2.5" barreled .41 Magnum in their Night Guard series as well. Like all Night Guards, it was only available briefly. There has been a snub nose Performance Center 657 with a flat-sided 2 5/8" barrel and unfluted cylinder, and a run of Classic Model 58's in blue and nickel. The only .41 Magnum S&W currently produces is the Classic Series Model 57 in blue steel with a 6" barrel.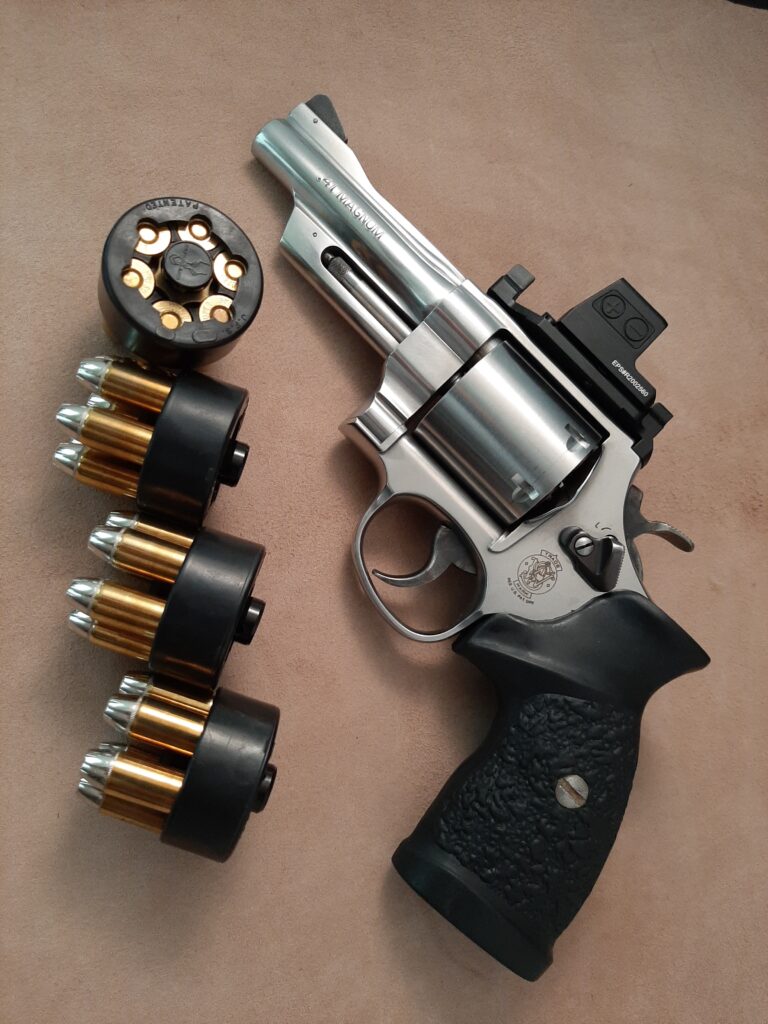 UNFULFILLED PROMISE?
I used to believe that if the .41 had been offered in a cartridge just powerful enough to achieve the ballistics Bill Jordan originally hoped for, it would've been much more successful.
Picture a rimmed version of the 10mm Auto with a slightly longer case. Colt would have likely chambered Pythons and Troopers for it. Smith & Wesson might have come out with the L frame earlier than they did, likewise Ruger and the GP-100. The size and weight of the L frame / GP-100 class of guns seemed like the perfect vehicle for the round Jordan wanted!
When Ruger introduced their 10mm GP-100 Match Champion in 2018, I had to have one. It's hard to get there with factory loadings, but you can handload 200 grain cast bullets to Jordan's 1,200 fps. The recoil that load generates in a 37-ounce gun is noteworthy and becomes unpleasant after very few cylinders' worth. If you shot as much heavy artillery as Jordan or Keith did, it wouldn't be unmanageable, but it's more recoil than the average police officer or sportsman is willing to tolerate.
Maybe they had it right by chambering the .41 Magnum in the N frame, to begin with.
NOT DEAD YET
Every few years, someone writes about cartridges that need to be eliminated or have outlived their usefulness. The .41 Magnum is always on those lists, but somehow refuses to go away.
I was tickled when I read that Chuck Haggard and Mark Fricke shot the .41 Mag Silvertip through a Model 58 during their ballistic gel tests at the 2022 Pat Rogers Memorial Revolver Round up. It penetrated 22.25" and expanded to .520" to .547" after traversing four layers of denim. It's a formidable defense load, as are 170 gr. JHP's or 180 grain Barnes XP solid copper HP's.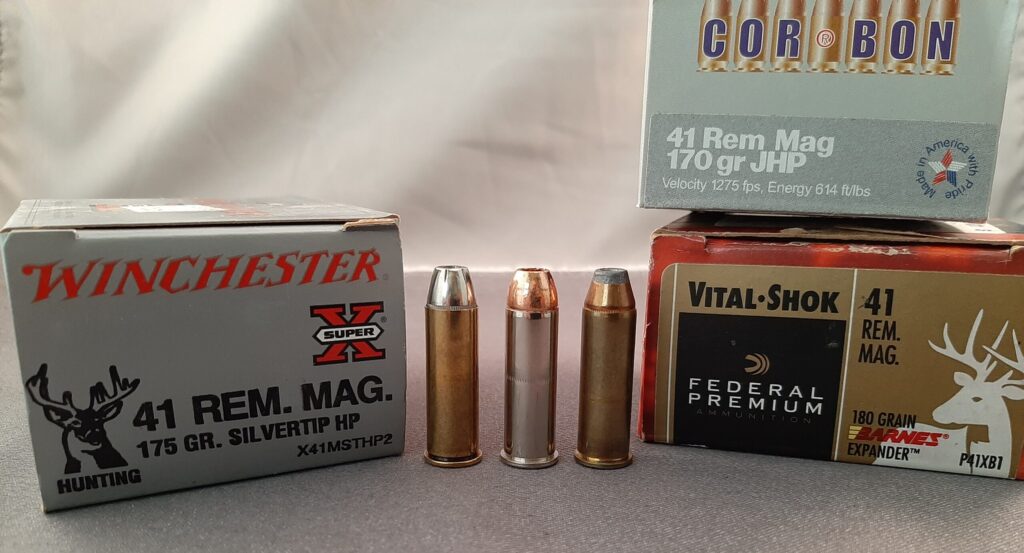 If you find yourself sleeping outdoors far from streetlights, the .41 Magnum is a comforting choice. Factory loads with hard cast, flat nose bullets, weighing 230-300 grains, from outfits like Buffalo Bore, shine in this capacity. These heavyweights can also be handloaded to lower velocities than factory offerings (900-1,000 FPS) and still penetrate deep and straight, without battering the shooter.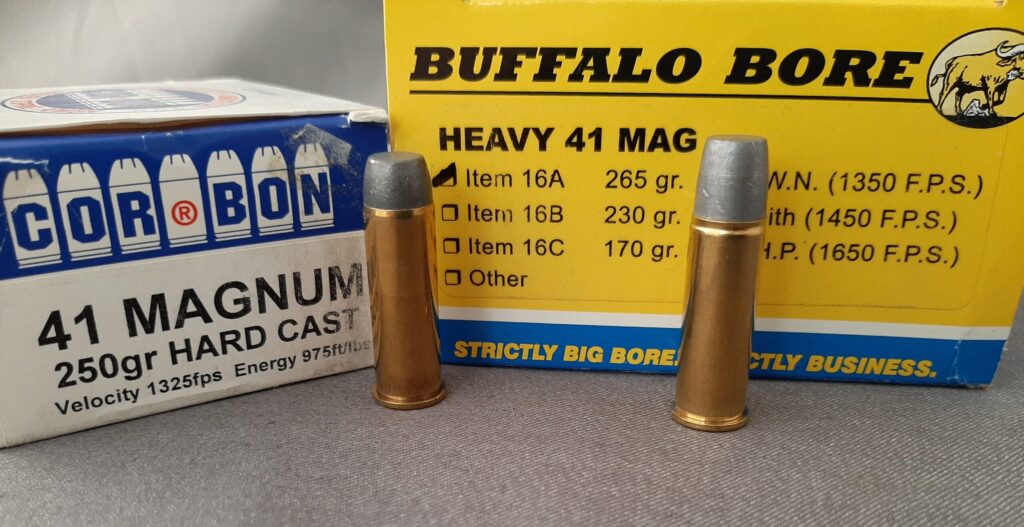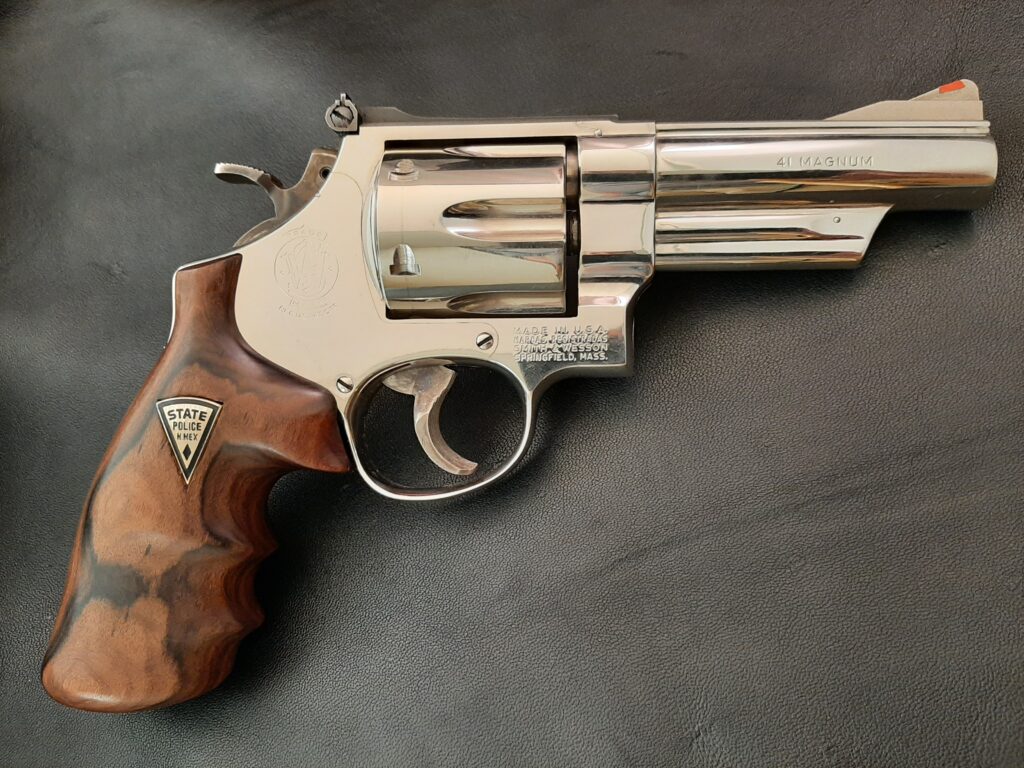 The .41 Remington Magnum tackles the role of two- and four-legged predator defense as good as–or better than–any handgun round. You aren't likely to see one in a police officer's holster these days, but the .41 Magnum has certainly earned the right to stick around.
*****
All images courtesy of the author, Kevin McPherson.