If you're like most shooters these days, your interest in the revolver as a defensive weapon centers around small frame guns that are easily carried and concealed. While a medium or medium-large frame revolver is still an incredibly effective gun for self-defense inside and outside the home, it's the smaller "snubby" that gets called on the most for concealed carry and law enforcement backup needs.
Unfortunately, the main feature that makes the snubby so attractive as a carry gun is the same that robs the gun of some of its power. The nominal two-inch barrel that hangs off the end of most snubs helps to make the gun disappear nicely in a waistband, pocket, or ankle holster, but it also exacts a penalty on bullet velocity and energy. The service-length guns, with their four-inch and longer barrels, can generate more velocity and energy with the same cartridge than the shorter snubs do.
How much?
How much more? That depends. We know that some individual guns are "faster" or "slower" than their peers, based on variables like barrel-cylinder gap or bore dimensions, but in general the difference between a 1.875" barrel on a Smith & Wesson 642 and a 4" barrel on a Smith & Wesson 686 can account for about 75-150 feet/second (fps) of velocity, and at about 40-80 foot-pounds (ft-lbs) of energy in a cartridge like the .38 Special.
That may not sound like much, but the difference can have a very significant effect on the terminal ballistics of a hollowpoint handgun bullet, because it can take the bullet outside of its designed "operating window."
Flowers and Fungi
To explain, hollowpoint bullets are designed to expand by virtue of the pressure that is generated inside their hollow nose cavity. The mechanical or hydraulic forces which build up inside the cavity exert outward pressure on the inner walls of the cavity, and force the bullet to open up, or expand.
If the bullet is pre-stressed with cuts in the cavity walls and jacket (called "skives"), the bullet will ideally open up along those fault lines and the final bullet shape will resemble a flower with multiple petals radiating out from the core.  If the bullet cavity is not pre-stressed, then the soft lead walls will ideally curl back and the final bullet shape will resemble a mushroom cap, of sorts.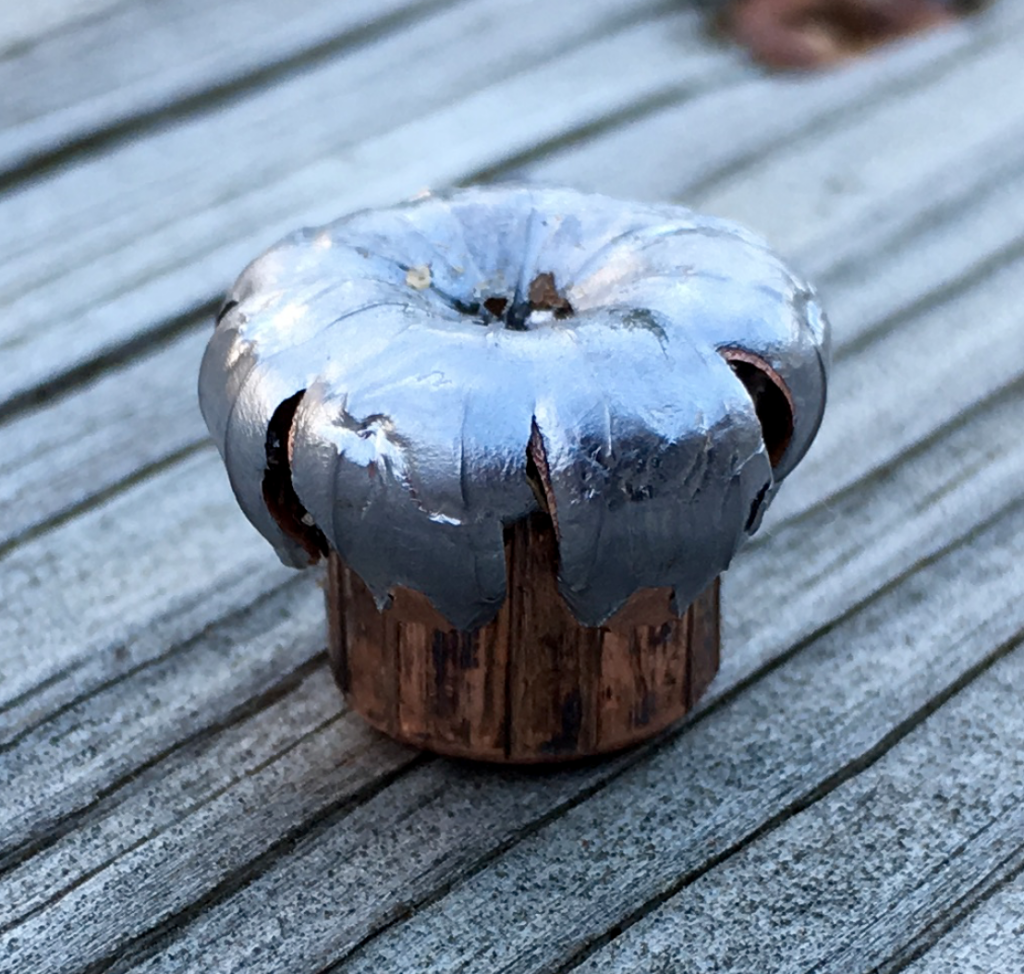 The key here is that a certain energy threshold must be reached to begin this expansion. If the minimum threshold is not met, then the pressure within the hollowpoint cavity will not be sufficient to initiate and promote expansion. Bad things can also happen if the pressure exceeds design values, but we won't concern ourselves with that now—the most critical extreme, for our purposes, occurs on the low end.  If we can't meet the minimum threshold for cavity pressure, then the hollowpoint won't open up and the slug's ability to create damage along the wound track will be reduced, by virtue of its smaller frontal area.
The Rub with the Snub
The difficulty we face in making defensive ammunition selections for snubby revolvers is that the shorter barrels on these guns can steal enough velocity from a hollowpoint bullet that it's difficult to achieve the minimum energy required to initiate or promote bullet expansion.
Consider, for example, a hypothetical cartridge whose hollowpoint bullet needs to be travelling at least 750 fps (I'll just use this for the sake of comparison—please don't read more into it than that) to generate the hydraulic force necessary to reliably initiate cavity expansion, and continue expanding to its planned diameter (current industry standards favor bullets that expand to at least 1.5 times their initial diameter, so that's a common goalpost for ballistic engineers) as it slows in the target.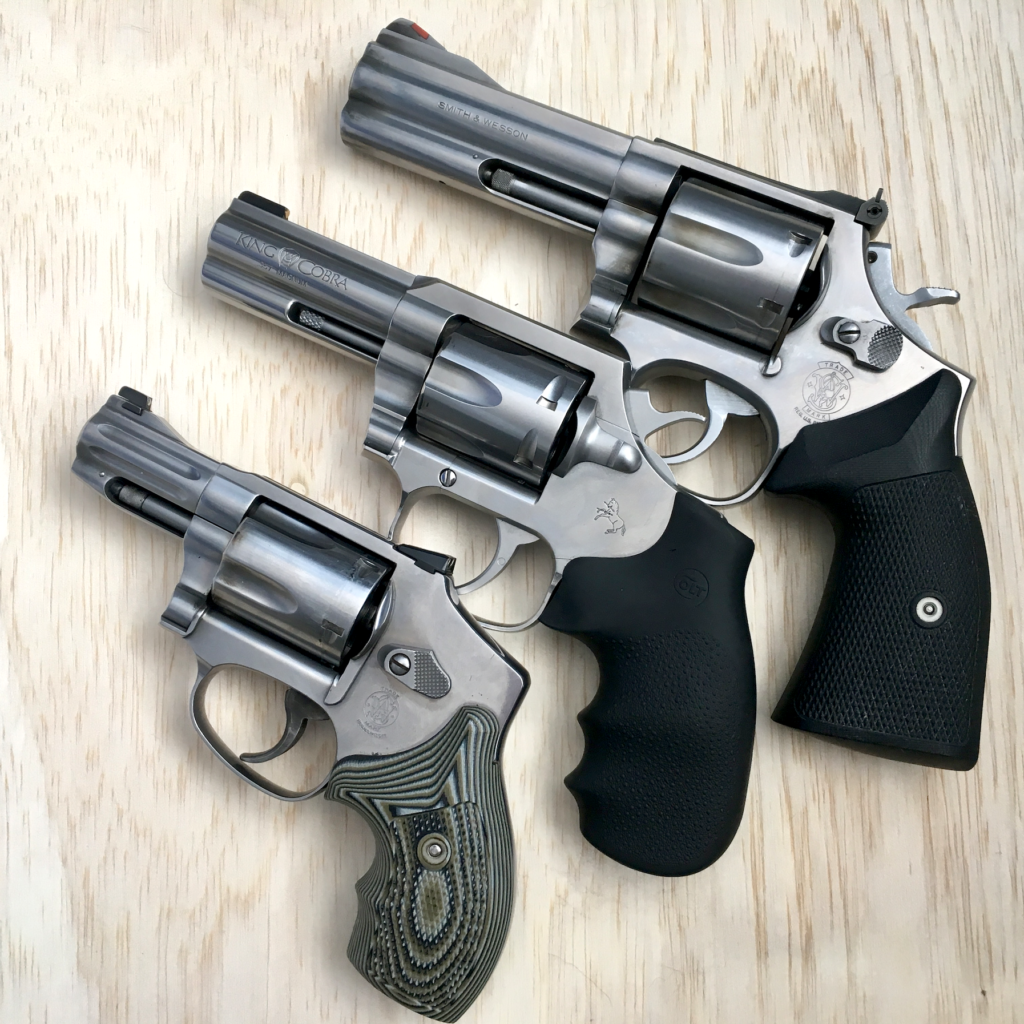 If we shoot this cartridge in a service-size revolver with a 4" or 6" barrel, we can be reasonably assured that the bullet will strike in excess of this minimum velocity, and achieve the necessary energy to expand as desired. From these longer tubes, the bullet will probably hit something close to 1,000 fps at the muzzle, and even as it slows inside the target, it will still be traveling fast enough to generate the cavity pressure necessary to promote expansion.
If we shoot this cartridge in a snubby revolver with a 1.875" barrel, however, we can't necessarily expect the same results. The shorter barrel might rob 150 fps worth of velocity at the muzzle, leaving us with an initial impact velocity of only 850 fps.  While this velocity is enough to start cavity expansion, our theoretical bullet will rapidly slow in the target and the forces inside the cavity will drop off quickly, curtailing expansion. The same bullet which opened up so nicely out of the gun with the longer barrel may barely expand at all out of the shorter gun, leaving a slug that is much smaller in diameter, and potentially less damaging.
Lower the bar?
Why not lower the bar, then? If our theoretical bullet needs 750 fps to expand, and a snubby can't deliver that with reliability, why not lower the minimum threshold to 550 fps?
We could do that, but we might create some new problems. First, if we made a bullet that readily expanded at the lower velocity, it might be too fragile to stay together.  To get the bullet to open at low velocity/energy, we would have to weaken the structure, and if we weaken the structure too much, then we risk having the bullet explode and break apart on impact, or have large segments shear off as it expands.
When a bullet sheds weight, it decreases the energy of the bullet, and it may not retain enough energy to penetrate to an appropriate depth. This risk is increased if we fire a fragile bullet from a gun with a longer barrel, generating a higher velocity and greater impact forces.
A second risk is that a bullet designed to open at low velocity/energy can run out of steam too fast. When a bullet opens up, the additional drag slows the bullet down quickly. If the bullet didn't have much energy to start with, it won't go very far after opening. Once again, we're left with a bullet that's a shallow penetrator.
Expansion is good, but a bullet that doesn't penetrate deep enough is of little use to the defender. Bullets that expand too quickly and shed weight, or expand too quickly and slow down too fast, won't reach the vitals. They create nasty, but shallow wounds, and fail to reach the structures that must be damaged in order to stop the aggressor.
There has to be an adequate balance between expansion, penetration, and retained weight, and if we lower the threshold of expansion too much, we upset that balance.
I feel the need
Over the years, there have been several ways that engineers have tried to address the problem of creating a bullet with a larger "operating window," that will continue to expand and penetrate as velocities drop off.
The most popular method has always been to push the bullet faster from the start. A bullet with a higher muzzle velocity will have a greater surplus of energy to do work, and even as the velocity of the bullet bleeds off (due to shorter barrels or drag in the target), there will still (ideally) be enough energy to promote sufficient expansion and penetration.
One strategy to achieve this has been to reduce bullet weight, since a lighter bullet can easily be driven to higher velocities without exceeding pressure limits, particularly if different powders are used.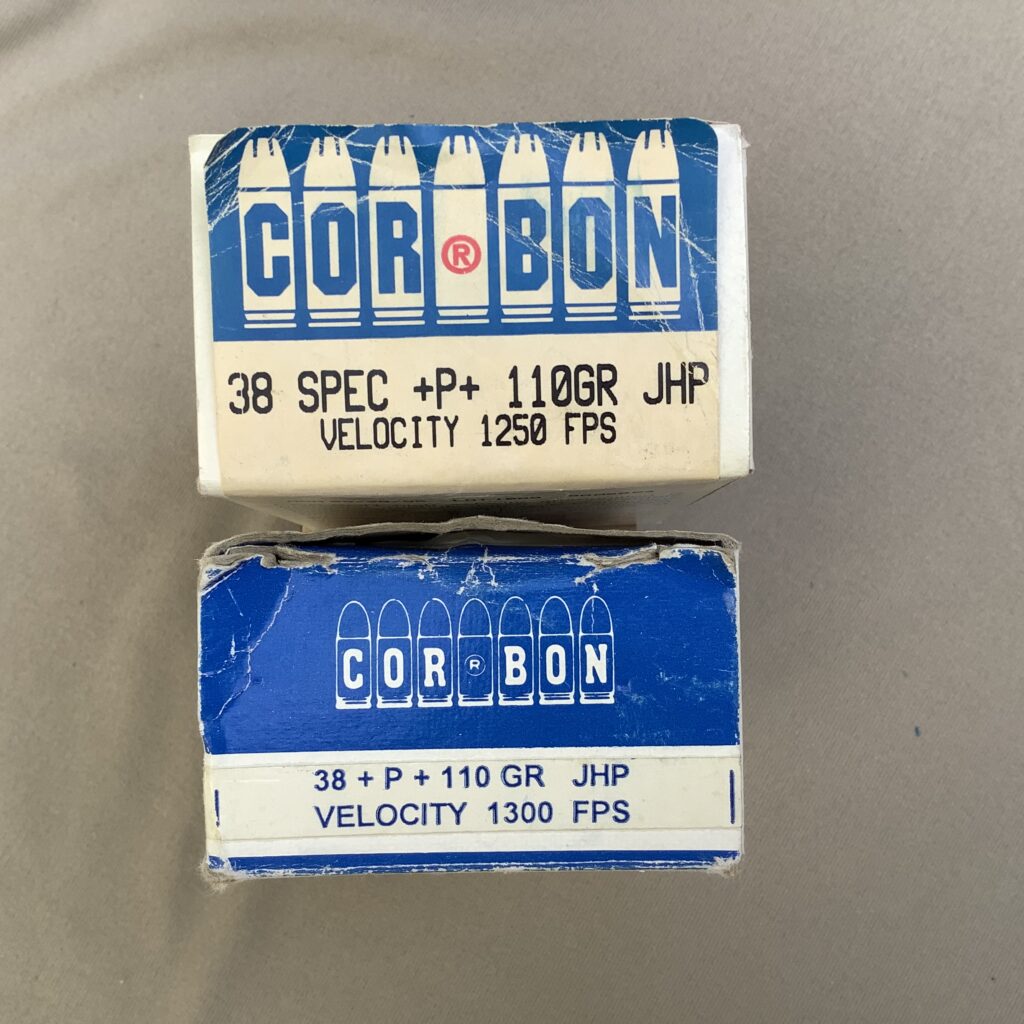 Another strategy to boost velocity has been to increase internal cartridge/chamber pressures beyond normal Sporting Arms and Ammunition Manufacturers' Institute (SAAMI) standards for the caliber, venturing into a new category of elevated, SAAMI "+P" pressures. In some cases, manufacturers have even disregarded the enhanced SAAMI +P limits, and loaded cartridges to their own "+P+" pressure limits that went beyond any published industry standard—SAAMI or otherwise.
These higher pressures deliver higher velocities, but they come at the cost of increased wear on both the gun and shooter. Shooting "+P+" ammunition increases recoil, can rapidly accelerate gun wear, and almost always violates the terms of a manufacturer's warranty agreement. The same can often be true of shooting ammunition loaded to SAAMI +P standards—even if the manufacturer allows the use of +P ammunition, it will recoil more and it frequently accelerates wear on your gun.
More Workarounds
There's a number of other methods that don't rely on boosting velocity to solve the problem of expansion.
One method has been to change the properties of the bullet's material.  In some cases, the antimony has been reduced to create a softer lead that would expand more readily, while in other cases, the shape, thickness or hardness of the bullet's jacket was tailored to increase or decrease the resistance it offered to bullet expansion. Some projectiles have even been machined from solid copper, allowing engineers to carefully control expansion in ways they can't (or, at least not as easily) with lead projectiles.
A more difficult approach has been to engineer the shape of the hollowpoint cavity for better results. Rather than using a simple, cylindrical-type cavity in the bullet's nose, engineers have applied the principles of fluid dynamics to create shapes that more efficiently harness and direct energy to promote expansion. These more advanced cavity designs are often combined with pre-stressed cores and jackets to control the separation and expansion of the bullet's petals.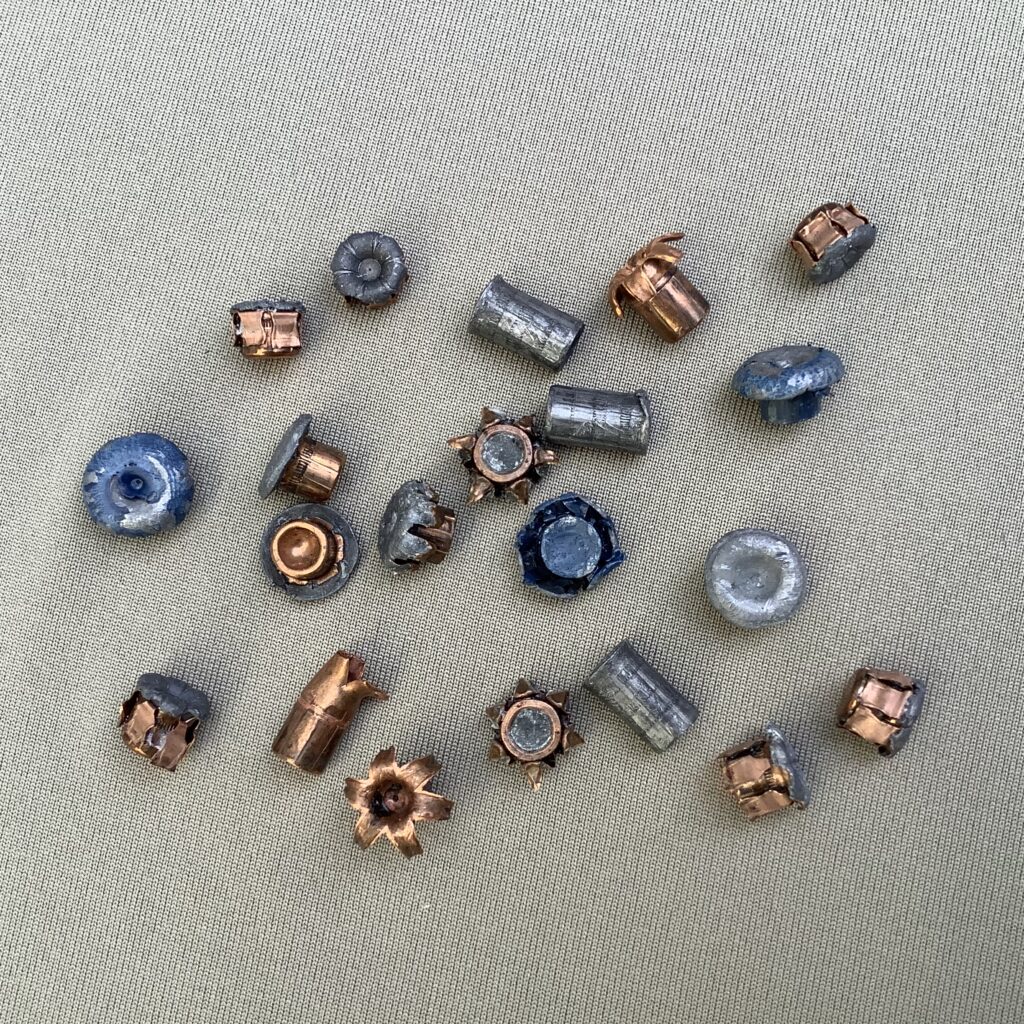 Some increasingly sophisticated attempts at managing expansion have involved the use of polymer plugs in the nose cavities of bullets, which exert mechanical, rather than fluid, pressure on the inside of the cavity walls when they are compressed. The elastic properties of the plug can be managed to generate the necessary force to start expansion, and open the cavity far enough for building fluid pressure to complete the task. The plugs work to open the bullet even when intermediate barriers (like clothing, bone, or other obstructions) might otherwise clog the cavity and defeat expansion, and they also help to reinforce the cavity to prevent it from collapsing when robust intermediate barriers (like auto glass or steel) are encountered on the way to the target.
Of course, any of these various techniques can be used in combination with each other to achieve the best performance possible for the bullet, and that's what most manufacturers are doing now—at least in their premium products. The best bullets are always a sum of small changes in each of these areas–design, materials, construction, powders, pressures . . . the whole gamut of variables available to an engineer.
What's special about the Special?
It's a difficult task for ballisticians to squeeze much juice out of a cartridge that doesn't have a lot of energy to play with.
This is a particular problem with the most popular snubby cartridge of them all, the .38 Special. First designed as a black powder cartridge, the .38 Special suffers from a maximum average pressure (MAP) limit of only 17,000 psi.  Even in its boosted +P form, the cartridge is still capped at only 20,000 psi MAP.  By contrast, the standard pressure 9mm Luger and the .357 Magnum each operate at 35,000 psi MAP, giving engineers a lot to play with.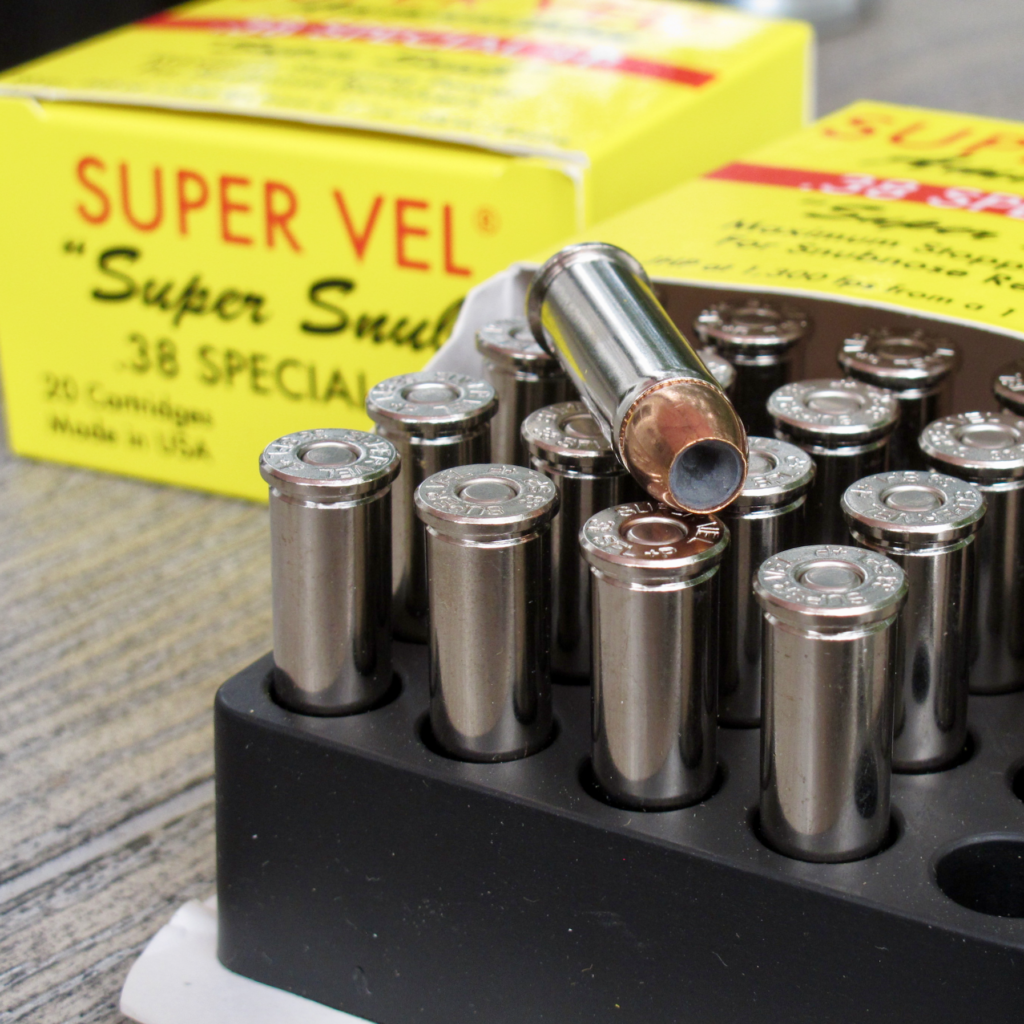 There's only so much you can do within those physical limits. You can only push a bullet so fast while keeping the internal pressure safely under 20,000 (or 17,000) psi.  You can only tweak a cavity shape or play with materials so much before you run into practical limitations. You can only lower a bullet's weight so much before you sacrifice the momentum necessary to guarantee penetration.
As such, the .38 Special is one of those cartridges (like the 21,500 psi MAP .380 ACP) that just doesn't give ballisticians a lot of breathing room. In a cartridge like the .38 Special, the shooter often has to choose between expansion or penetration.  You can get a little of both, but if you want more of one, you'll probably have to sacrifice some of the other.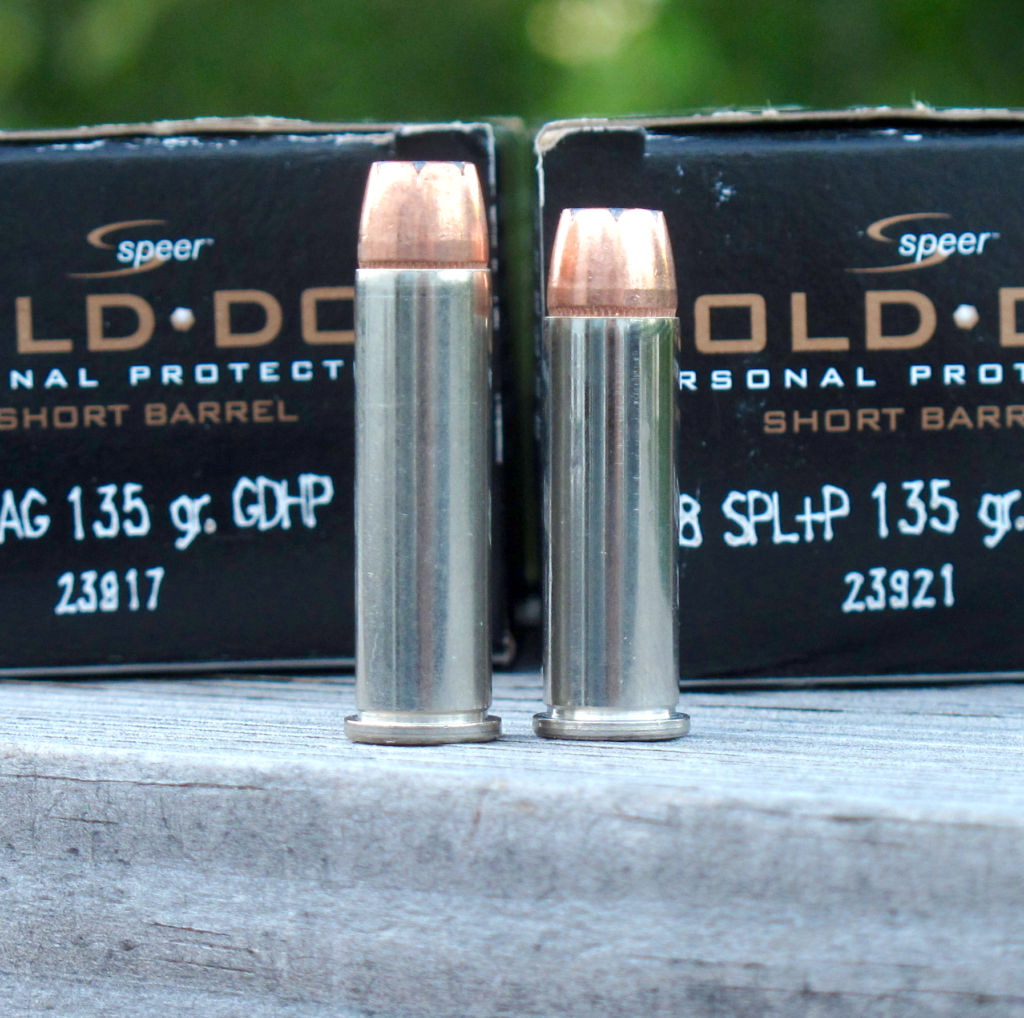 If you truly want to have it all, you've got to step up to a high energy cartridge like the .357 Magnum, with all of the attendant penalties in recoil and blast that come with loading the same bullet at twice the MAP.
Jello Shooters
In August of 2019, I had the opportunity to work with friends at Hornady Manufacturing on a project that evaluated the suitability of a new, clear synthetic gelatin product for ballistics testing.  Our task was to compare the results obtained from shooting a variety of 9mm loads into both the synthetic product and calibrated organic gelatin, to see if the two test mediums were comparable.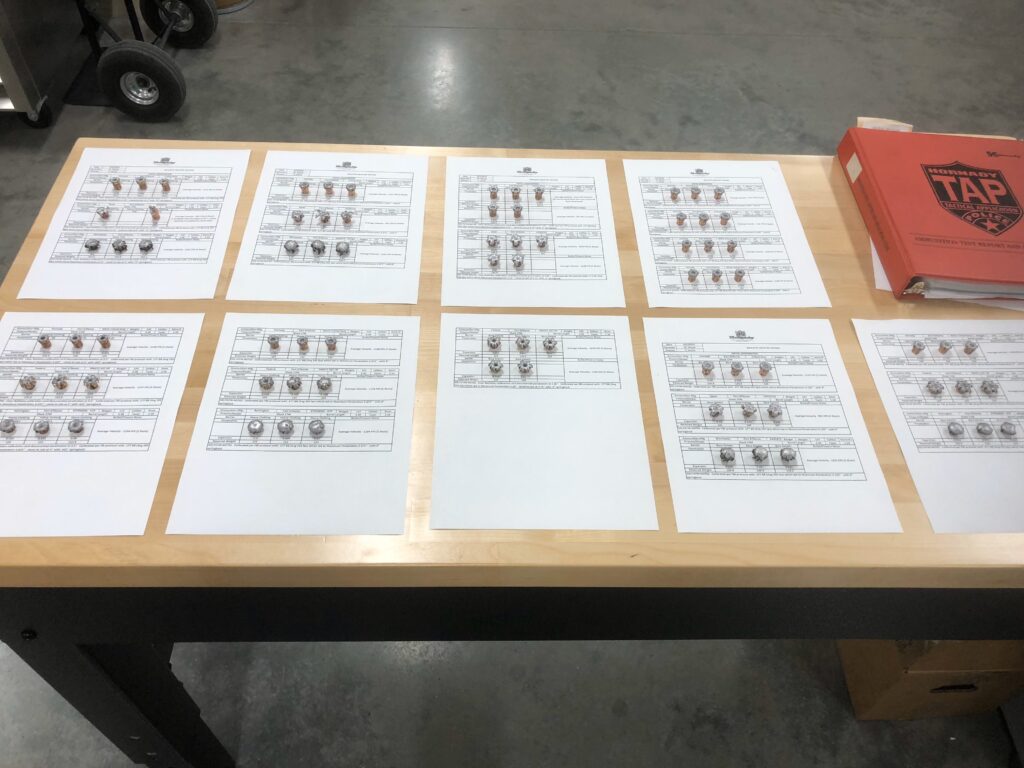 You can read the results of that test in a three-part series of articles that were published in my column at Police1.com here, here, and here. There's a lot of good information about ballistics testing standards and protocols in that series, and I think you'll find the test results very interesting, but for you bottom-line folks out there, here's what we learned:  While the clear synthetic gelatin offered many advantages and conveniences, bullets fired into the product tended to underexpand, and overpenetrate, in comparison to the same bullets fired into calibrated gelatin.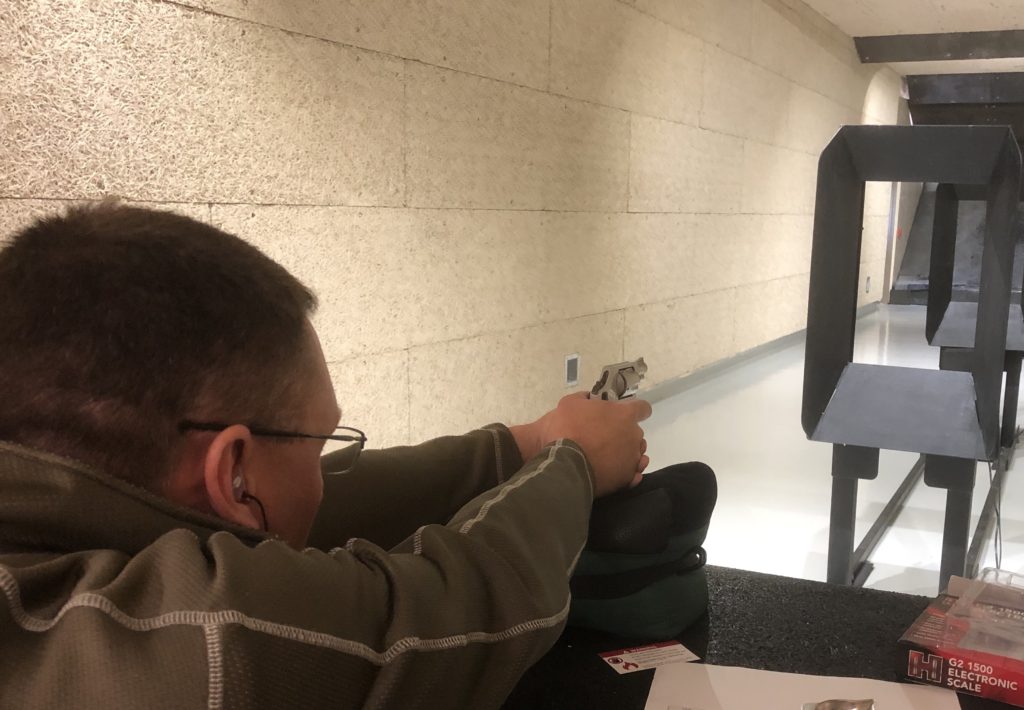 At the completion of the test protocol, we still had a bit of calibrated ordnance gelatin and a little more range time available, so I took advantage of the opportunity to test a small selection of .38 Special loads in the bare gelatin. I regret that I didn't bring a greater variety of loads to test, and acknowledge there are some unfortunate gaps in the selection of bullets we tested (I really wish I'd had some 158 grain +P LSWCHP, some Gold Dot, and some of the new HST to test), but we were still able to generate some interesting data for a cross section of old favorites and new loads.  I think the results will help to illustrate some of the concepts we've talked about here, and may help you to understand how different .38 Special loads achieve a balance between expansion and penetration.
Technical Details
The tested .38 Special loads were fired into bare, (nominal) 10% calibrated ordnance gelatin blocks, that were calibrated with a 0.177" BB fired at 592 fps to depths ranging from 3.125 to 3.375 inches into the gelatin (FBI specifications call for 590 +/-15 fps, penetrating to a depth between 2.95-3.74 inches).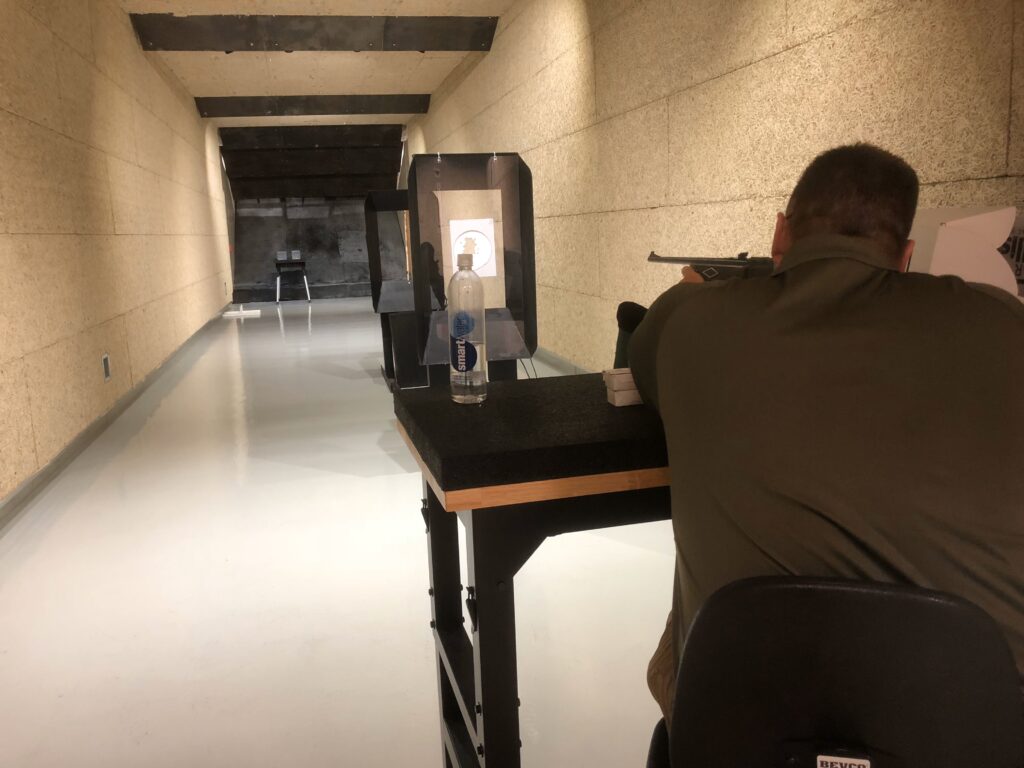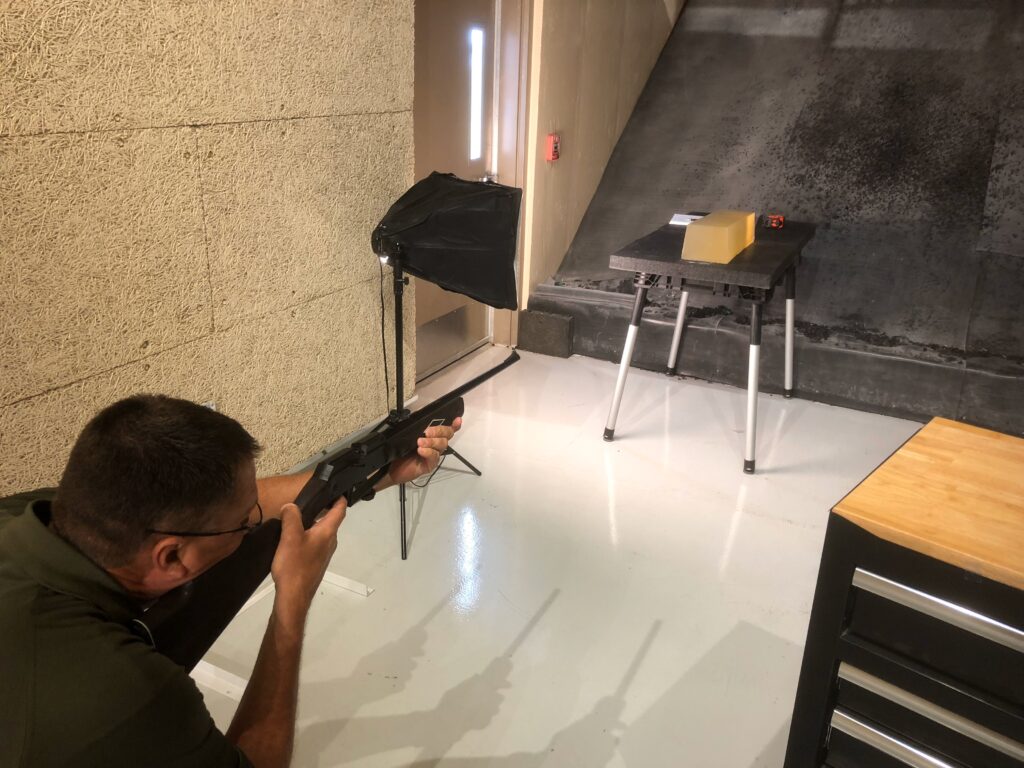 Regrettably, I didn't have enough ammunition, time or gelatin to repeat the test with FBI standard "Heavy Clothing" in front of the gelatin, but the bare gelatin results gave the bullets the best chance to expand.  Putting heavy clothing in front of the gelatin would likely have plugged up a lot of the hollowpoint cavities, retarding or preventing bullet expansion. That would have been useful data too, but I'll have to schedule another test in the future to capture it.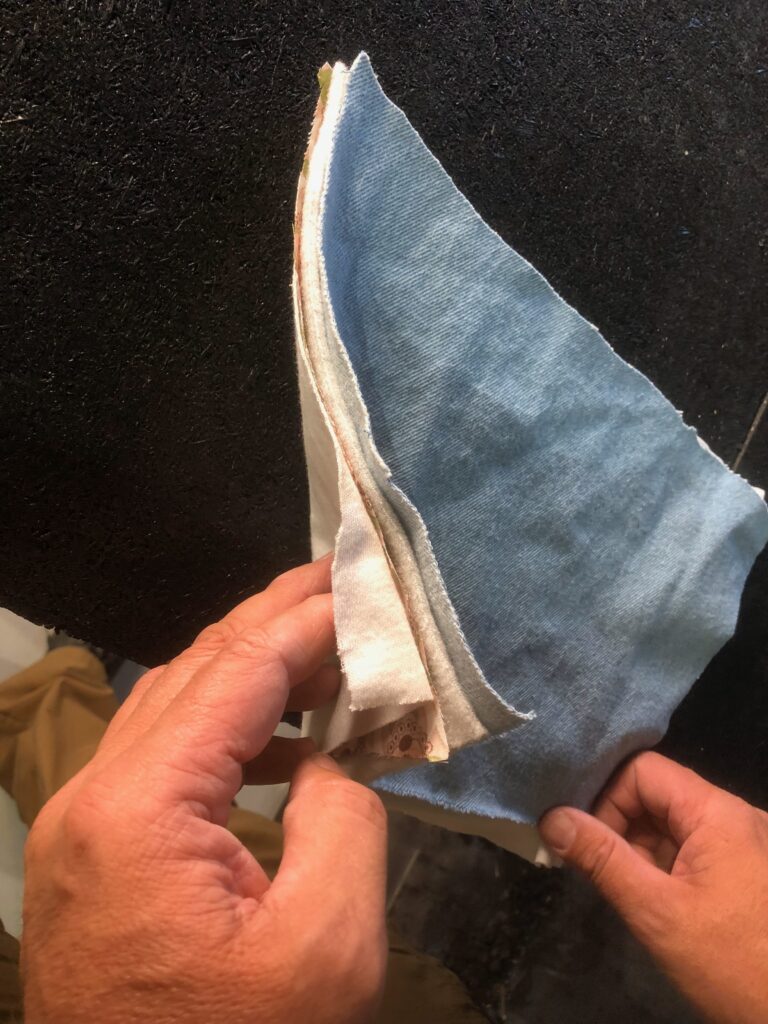 A Smith & Wesson Model 638 revolver (1.875" barrel) from Hornady's reference library was used to make all the shots from a measured distance of 10 feet. Because we were rushed for time, we did not chronograph the rounds fired in this test. I wish I'd had more time to set up the chrono, but this was a real push to get everything done by closing time.
Although industry standards usually call for five rounds, we only fired three rounds of each load into the gelatin because we didn't have enough time or gelatin to do more. This smaller sample size could potentially make the numbers we are about to discuss look a little different from the data derived from a full, five-round protocol, but I saw enough consistency from the bullets in the three-round test that I don't believe it would have changed things appreciably. I only mention it to be thorough and transparent.
With that out of the way, let's take a brief look at the results, and what we can learn from them.
Federal Nyclad
The Federal Nyclad is a discontinued bullet, but it was popular from the late 1970s through the early 2000s as a carry load for guns that were not rated for +P pressures.  The standard pressure Nyclad (there was a 158+P in the early S&W days, and I seem to recall a 125+P in the Federal days, as well) offered a 125 grain JHP bullet with a blue-colored nylon coating in lieu of a copper jacket, and developed a reputation as a soft-shooting cartridge.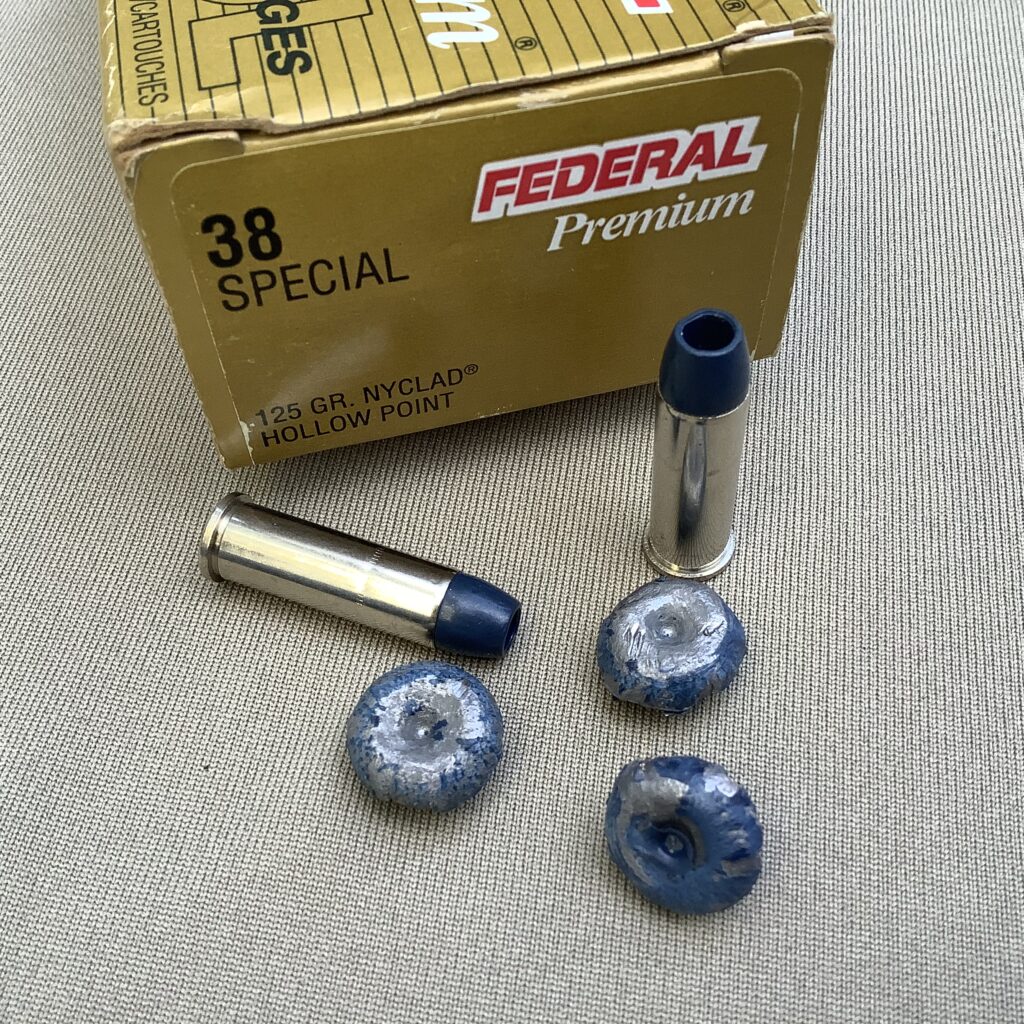 The Nyclad was originally designed by Smith & Wesson as a target shooting round, and the nylon coating was intended to reduce lead fouling in guns and airborne lead in indoor ranges. The design was later purchased by Federal when S&W ceased to manufacture ammunition, and it was under the Federal banner that it achieved its greatest notoriety as a defensive round.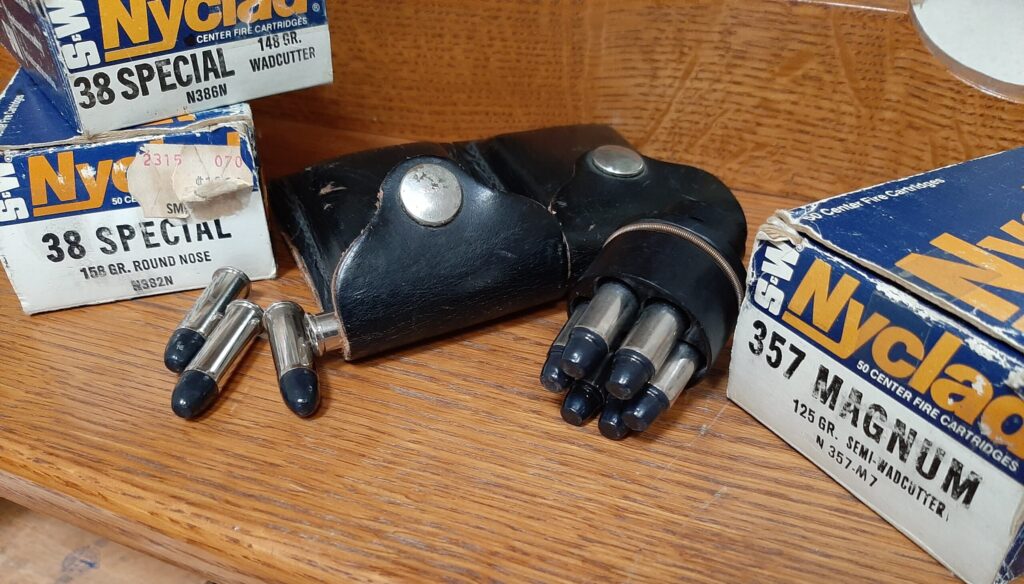 Law enforcement users found that the softer nylon coating and softer lead alloy allowed this bullet to expand to large diameters, even when fired at standard pressure. In our test, the round did indeed mushroom to some impressive diameters (0.653" average for three rounds), but it also failed to penetrate very deep into the gelatin, going only 7.16" on average.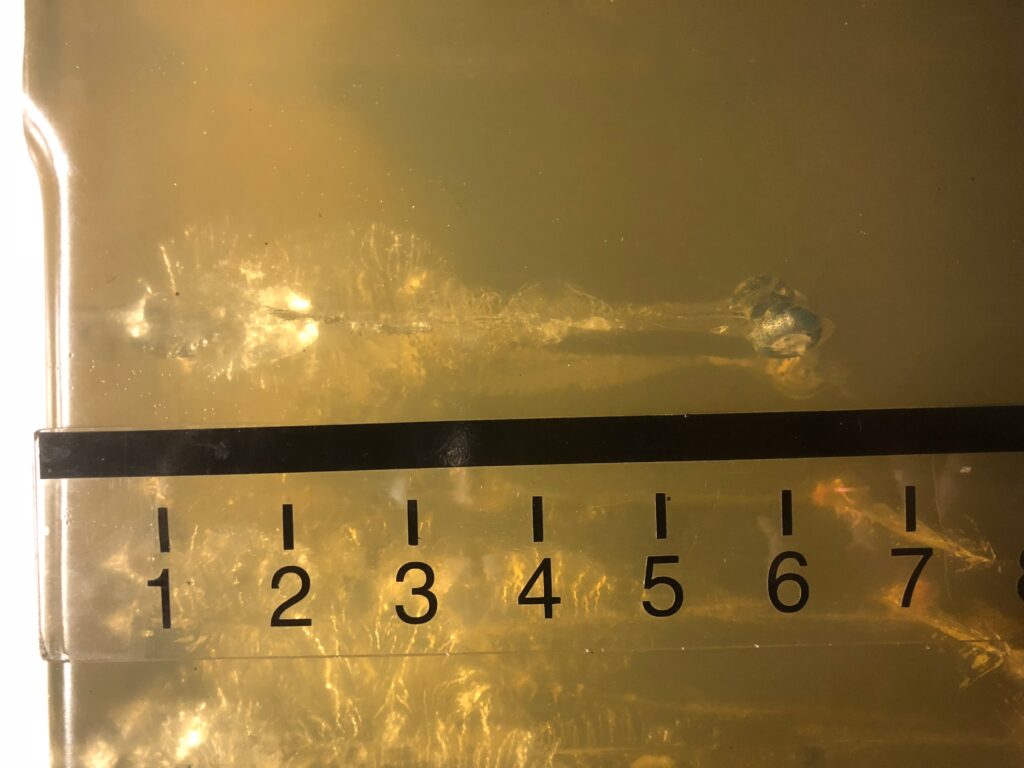 The newly-released Federal Syntech Defense load follows the Nyclad model in some ways (and even retains its traditional blue color), but fans of the old Nyclad should be aware that the new bullet works very differently. The Syntech Defense bullet (only offered in auto chamberings, as of this writing) is a pre-segmented hollowpoint, which is designed to break up into pieces upon impact. After it expands, the three nose segments break off and are thrown out radially from the main path, to form additional wound channels that run about six inches deep in calibrated gelatin. Meanwhile, the reduced-weight core plows straight ahead, seeking deeper penetration than the nose segments–about 12 to 18 inches in calibrated gelatin.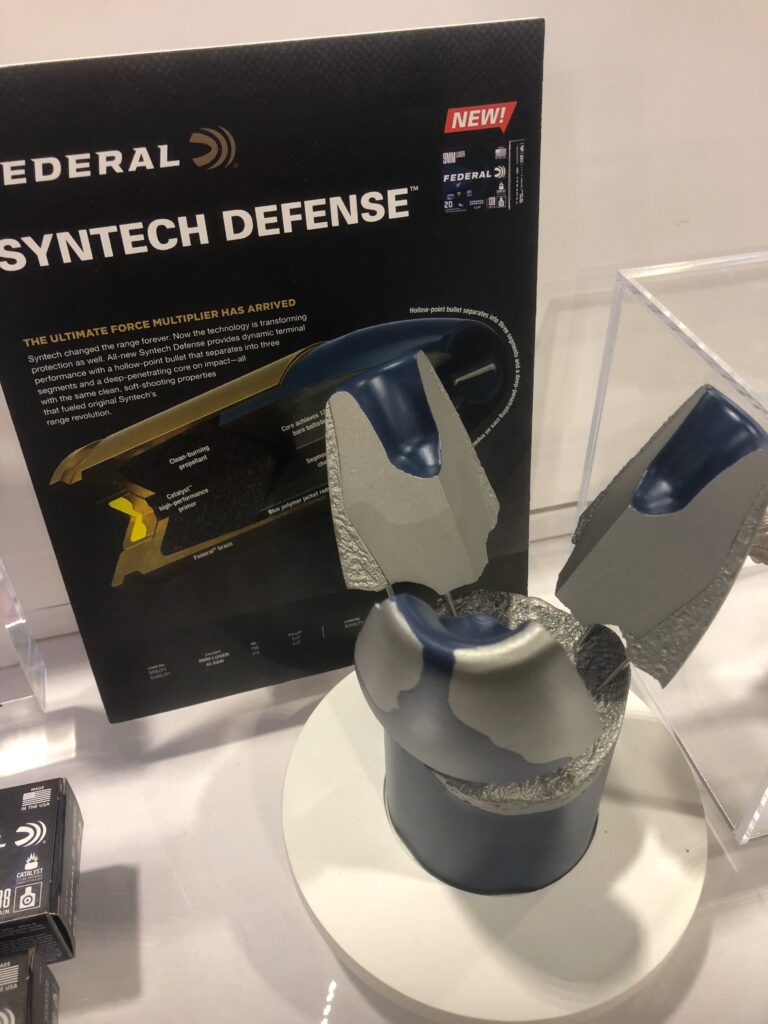 The upshot? The new Syntech Defense might look like a Nyclad, but it doesn't act like one. Actually, it's a much better bullet in almost every respect, because the core penetrates deeper than the Nyclad ever did. Unfortunately, Federal has not built a .38 Special Syntech Defense cartridge, but you could use the 9mm version in a gun like the Ruger LCR 9mm if you desired.
Don't give up hope, though . . . I happen to know that Federal is due to release another .38 Special option that will be very exciting. I've talked to Federal about this load in detail, and know you'll be impressed with it. More details to follow, when the embargo is lifted!
Winchester "Treasury Load"
The Winchester Q4070 (later Q4169) load was adopted by the U.S. Treasury Department in the early 1970s and by the California Highway Patrol in 1976, along with many other agencies throughout the nation. A competing product from Federal (their 38F-TD load) was generally loaded to slightly lower pressures, but was similar in form and function.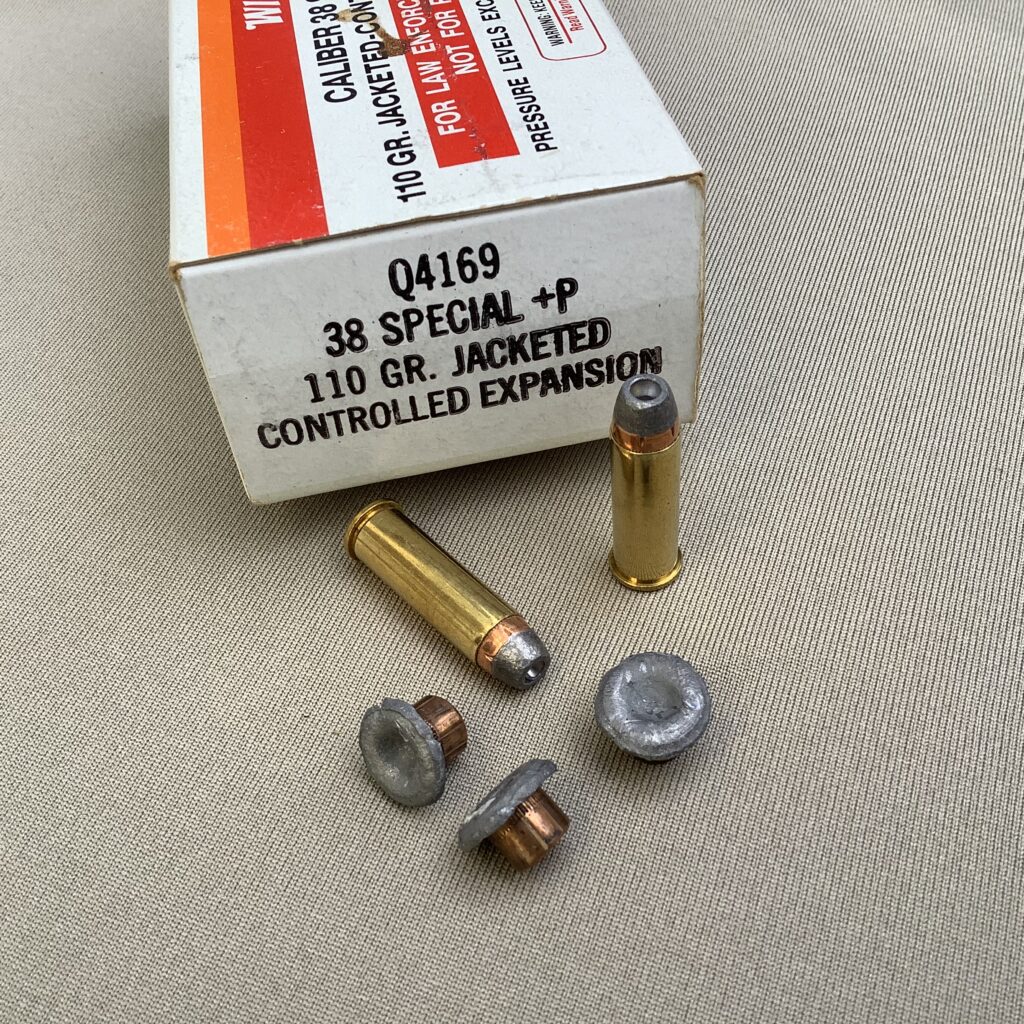 Whereas the Federal Nyclad sought to achieve expansion through the use of a softer lead alloy and the absence of a jacket, the Treasury load relied on raw energy to expand its semi-jacketed bullet. A simple cavity in the exposed lead tip was forced open by virtue of very high impact velocities, achieved by loading the cartridge to pressures in excess of SAAMI +P standards.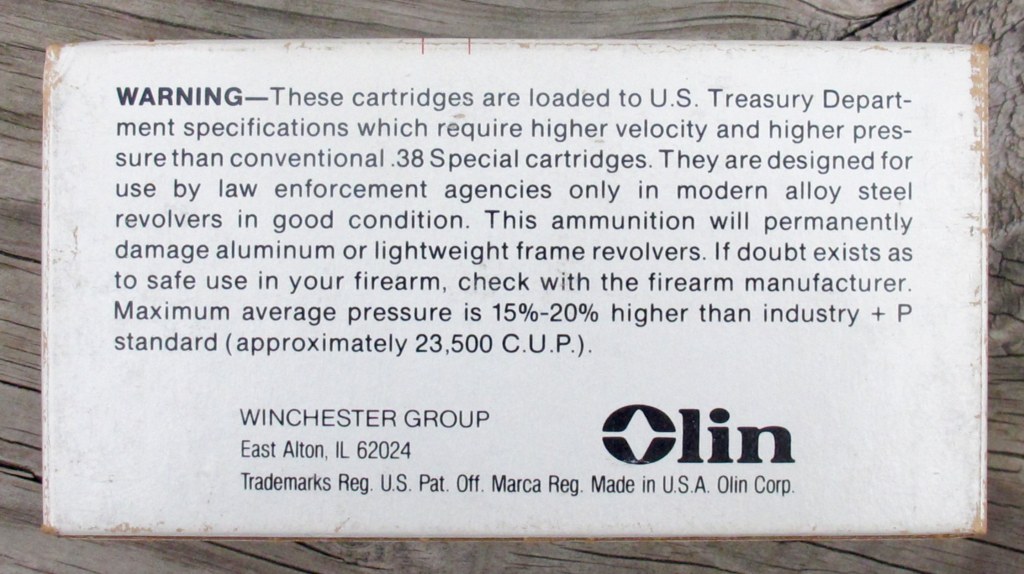 At the time, SAAMI used a non-linear unit of measurement known as a "copper unit of pressure" (c.u.p.) to evaluate internal case pressures (now superseded by the more precise pounds per square inch, or p.s.i.).  Standard pressure .38 Special was capped at around 18,900 c.u.p. and the higher pressure .38 Special +P was capped at about 22,200 c.u.p.. However, even the +P limit was insufficient to achieve the desired velocity for the little 110 grain bullet, so Winchester and Federal took the unprecedented step of loading their cartridges in excess of the SAAMI +P standard, going into uncharted, "+P+" territory. In the case of the Winchester product, the cartridge was loaded about 15% – 20% above SAAMI +P standards, or around 23,500 c.u.p..
All that pressure leads to large amounts of flash and blast. Muzzle rise isn't too bad, by virtue of the lighter bullet, but the muzzle flash and the blast are excessive, and can contribute to the perception of increased recoil. This is especially true in a gun with a shorter tube, because the powder charge hasn't fully burned before it exits the shorter barrel, and there's a big fireball that comes out of the gun.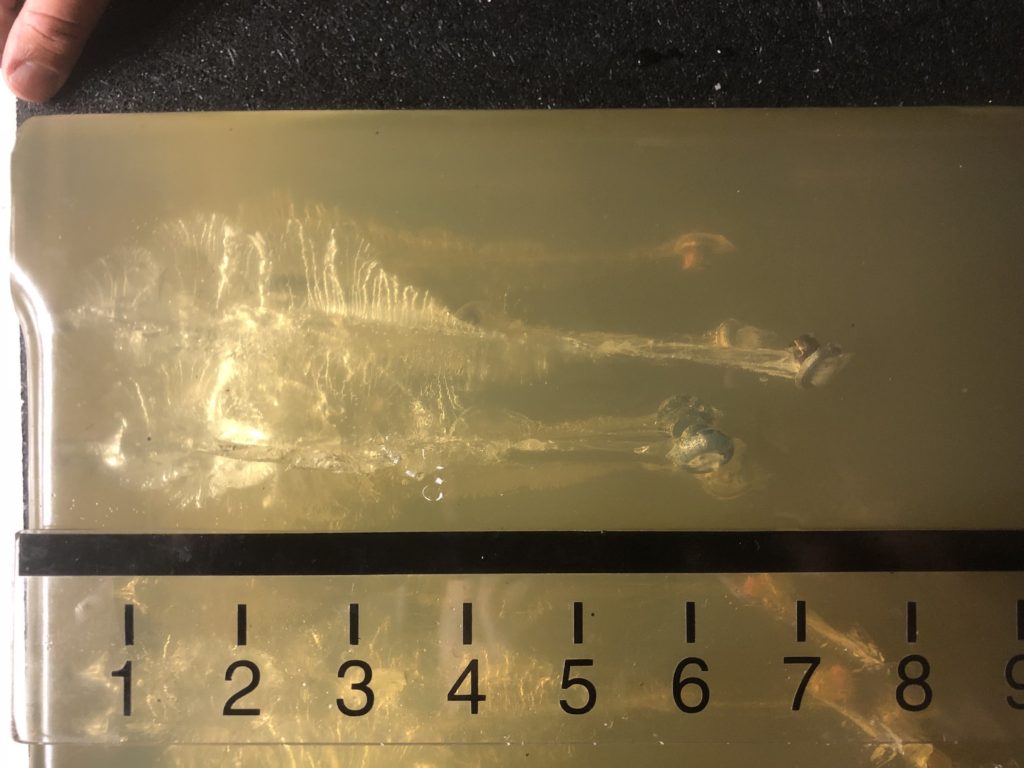 The cartridge offers good expansion, but also limited penetration. In our test, the round opened up to 0.597" (average of three rounds) and penetrated to 7.83", on average. That's pretty good performance from a .38 snub, but it's interesting that the standard pressure Nyclad expanded 9% more and only penetrated 9% less, without the harsh blast and the excessive wear generated by the +P+ load. The temporary cavity of the Treasury Load is much larger than the Nyclad's, but the expansion and penetration were very close between the two.
CorBon DPX
The CorBon DPX line of ammunition is based around highly-engineered, hollowpoint bullets that are made from 100% copper.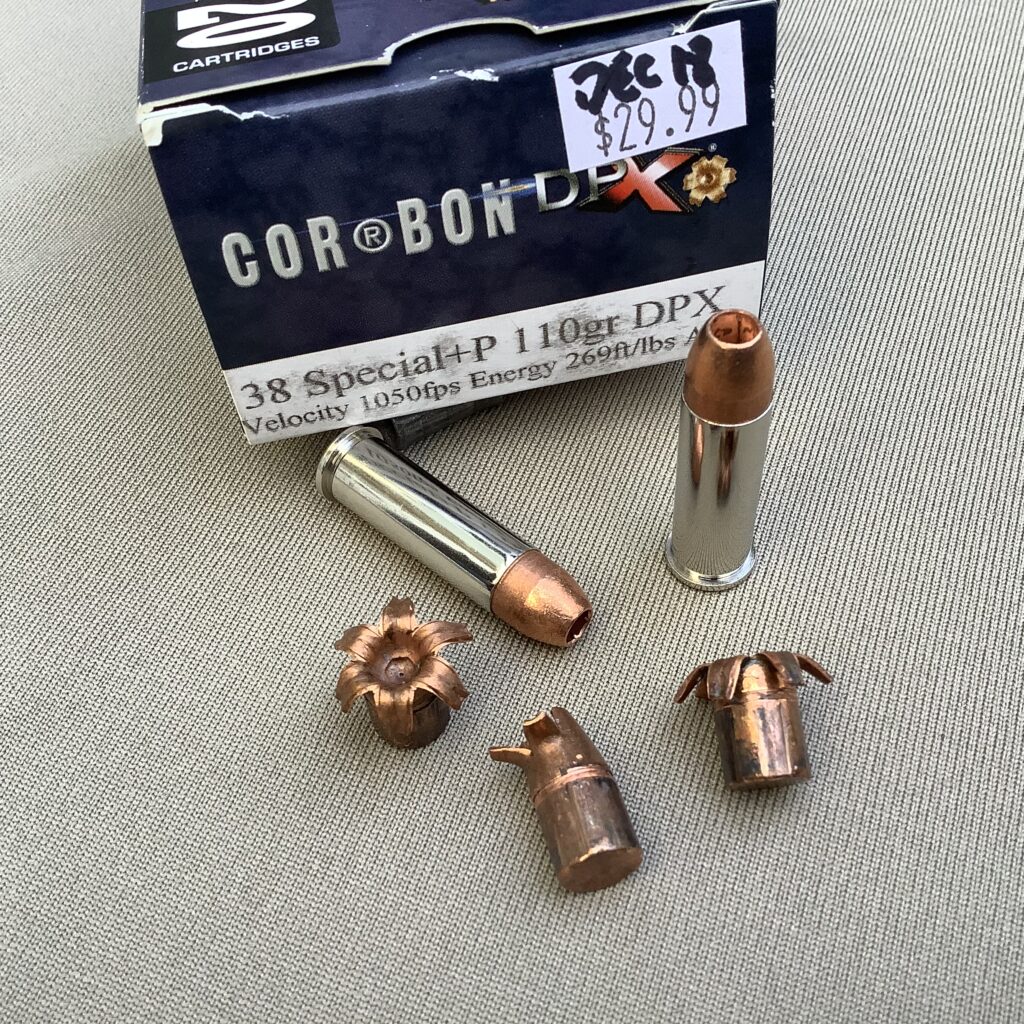 Making a bullet from pure copper offers several advantages. Since copper is a harder metal than lead, it's much less likely that segments of the expanded bullet will break off, robbing mass and energy from the core of the bullet, which helps to guarantee adequate penetration.  Additionally, the increased strength of copper allows the manufacturer to create larger hollowpoint cavities, because less material is needed in the walls for structural integrity. This, in turn, helps to ensure expansion, even after penetrating through intermediate obstacles (clothing, building materials, etc.) that could plug up a reduced volume cavity.
Engineers can also "program" all-copper bullets to expand to a desired size and stay there. This is more difficult in lead projectiles, as expanded segments can often curl back and flatten along the side of the core, reducing the frontal area of the bullet, but an all-copper bullet can be more easily designed to expand and hold a larger diameter.
On the downside, an all-copper bullet is very expensive to make, and the reduced density of copper compared to lead results in bullets that are generally towards the lighter end of the spectrum. The lighter weights can cause sight regulation issues (where point of impact does not match the point of aim for fixed sights) and may also influence penetration depths.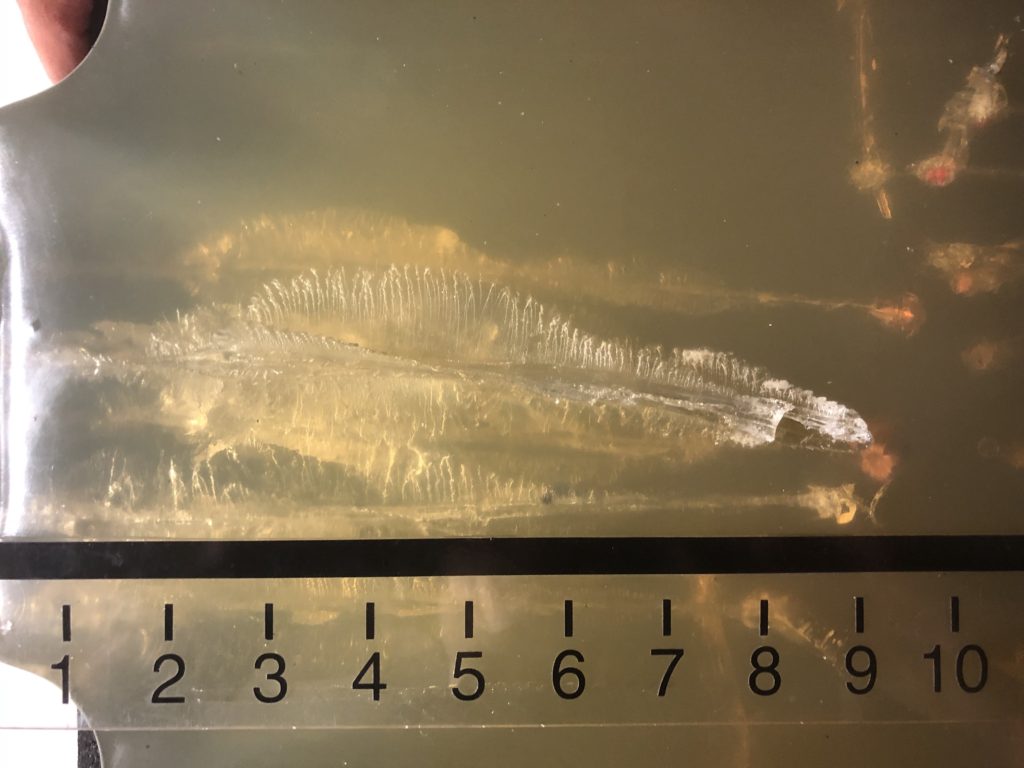 It appeared from our test that the engineers who designed the .38 Special +P version of the DPX did an excellent job of balancing requirements. The .38 +P DPX expanded to 0.572" (disappointingly, one of the three bullets significantly underexpanded and brought the average down—the average of the other two was 0.647") and penetrated to 10.83" on average, garnering the deepest penetration of the hollowpoints we tested in the little snubby.
Winchester Ranger Bonded
The Winchester Ranger Bonded (formerly Ranger T Bonded) is the lineal descendant of Winchester's infamous Black Talon bullet, which was a refined, second generation hollowpoint design.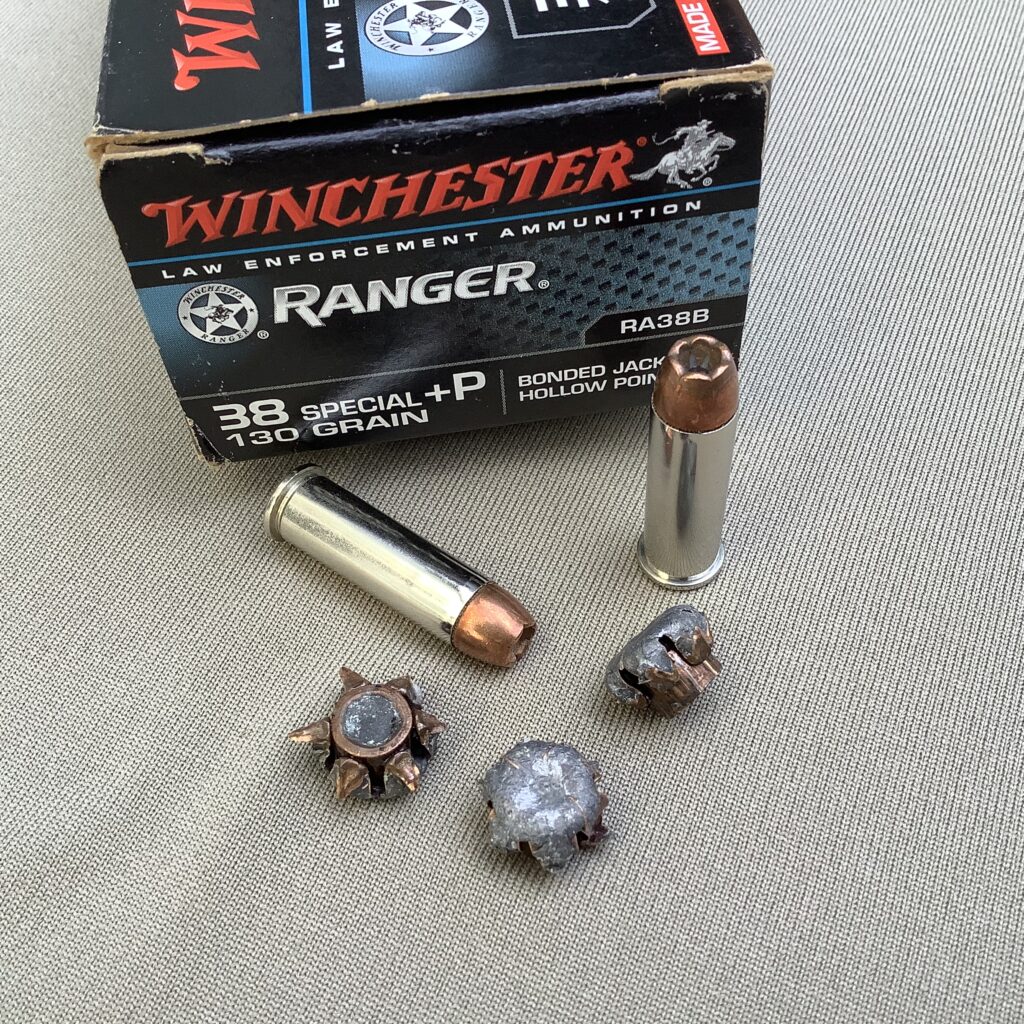 The Ranger Bonded is a jacketed, bonded lead hollowpoint in which fingers of the copper jacket pour over into the hollowpoint cavity. When the pre-stressed, petal-like segments of the core and jacket begin to expand, these copper jacket fingers help to control expansion and keep the lead segments connected to the main body of the bullet, for weight retention.
Because the jacket fingers terminate in a triangular point, they give the appearance of sharp talons, hence the original namesake. As the lead core petals curl back, the jacket fingers remain extended, to cut through tissue and provide the greatest frontal cross-section for the bullet.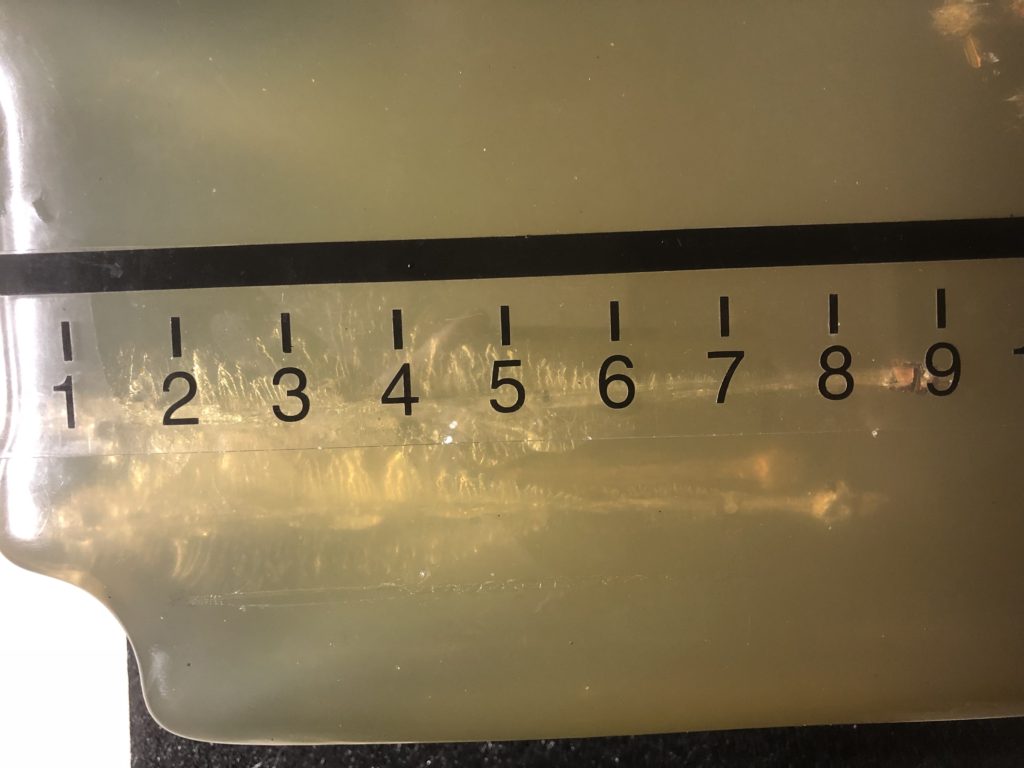 In our testing, the 130 grain, .38 Special +P Ranger Bonded expanded to 0.642" on average, and penetrated to a uniform 9.25" depth, giving Nyclad-type expansion but with much greater penetration. The all-copper DPX beat the Ranger's penetration and (in 2 of 3 bullets, at least) expansion, but it's also more expensive and it doesn't hit as close to the sights as the 130 grain Ranger bullet does.  In the author's S&W 640, the lightweight DPX hits several inches low, while the 130 grain Ranger hits where you aim.
The Ranger Bonded (RA38B) is sold as a law enforcement product, and is not found in the commercial catalog. The Winchester Defender (formerly PDX1 Defender) cartridge is the same technology, offered in commercial packaging.
Hornady FTX
The Hornady FTX bullet is loaded in their Critical Defense line of cartridges and incorporates a polymer plug in the nose cavity to initiate and promote expansion. Hornady engineers designed the FTX bullet for maximum reliability, creating a projectile that would give consistent expansion regardless of clothing barriers.  Many other bullet designs can fail to expand after their hollowpoint cavities get plugged with clothing fibers, but the polymer plug in the FTX ensures reliable expansion, no matter what kind of clothing is worn.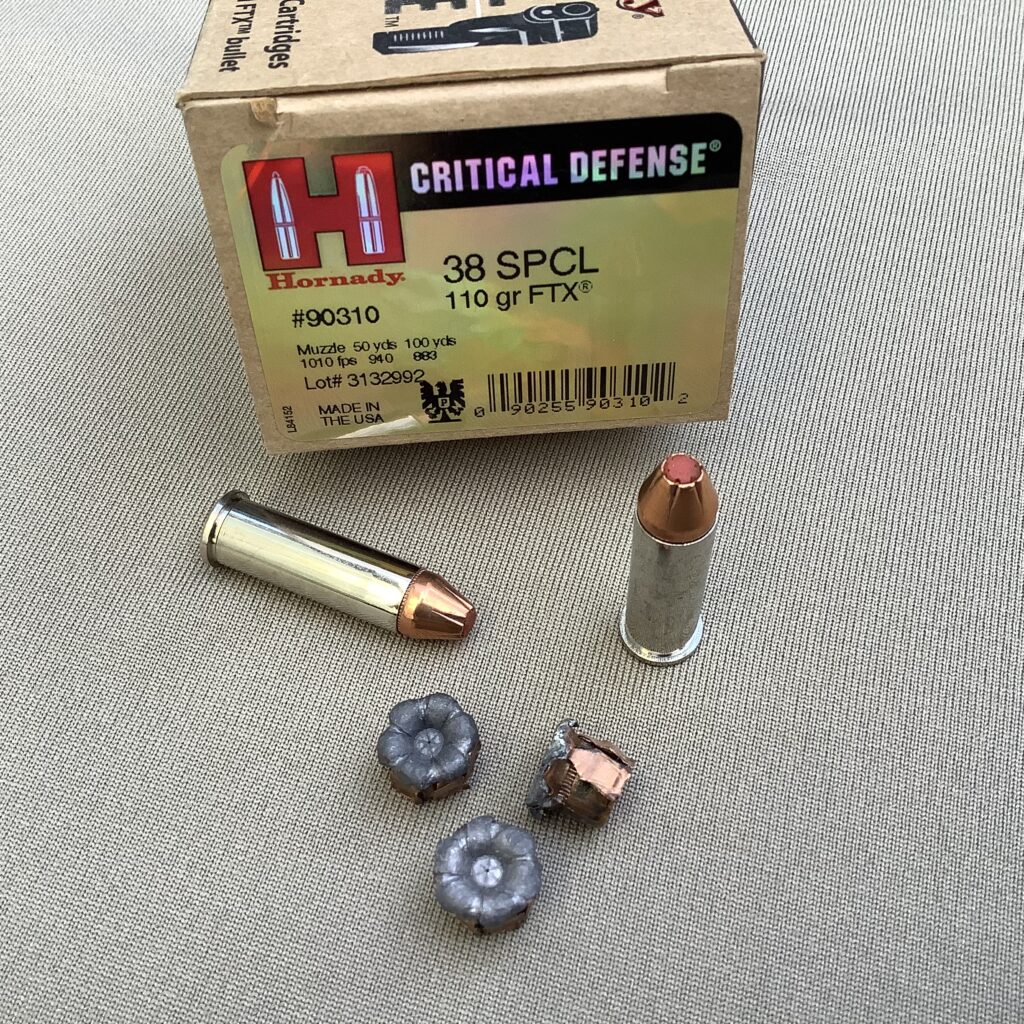 This enhanced reliability comes at the cost of expansion, however. The FTX bullets, regardless of caliber, tend to expand less than premium hollowpoints from other makers. When they work as designed, the other bullets will usually expand more, but they also carry a greater risk of not opening at all. Hornady figures that consistent and reliable expansion outweighs the amount of it.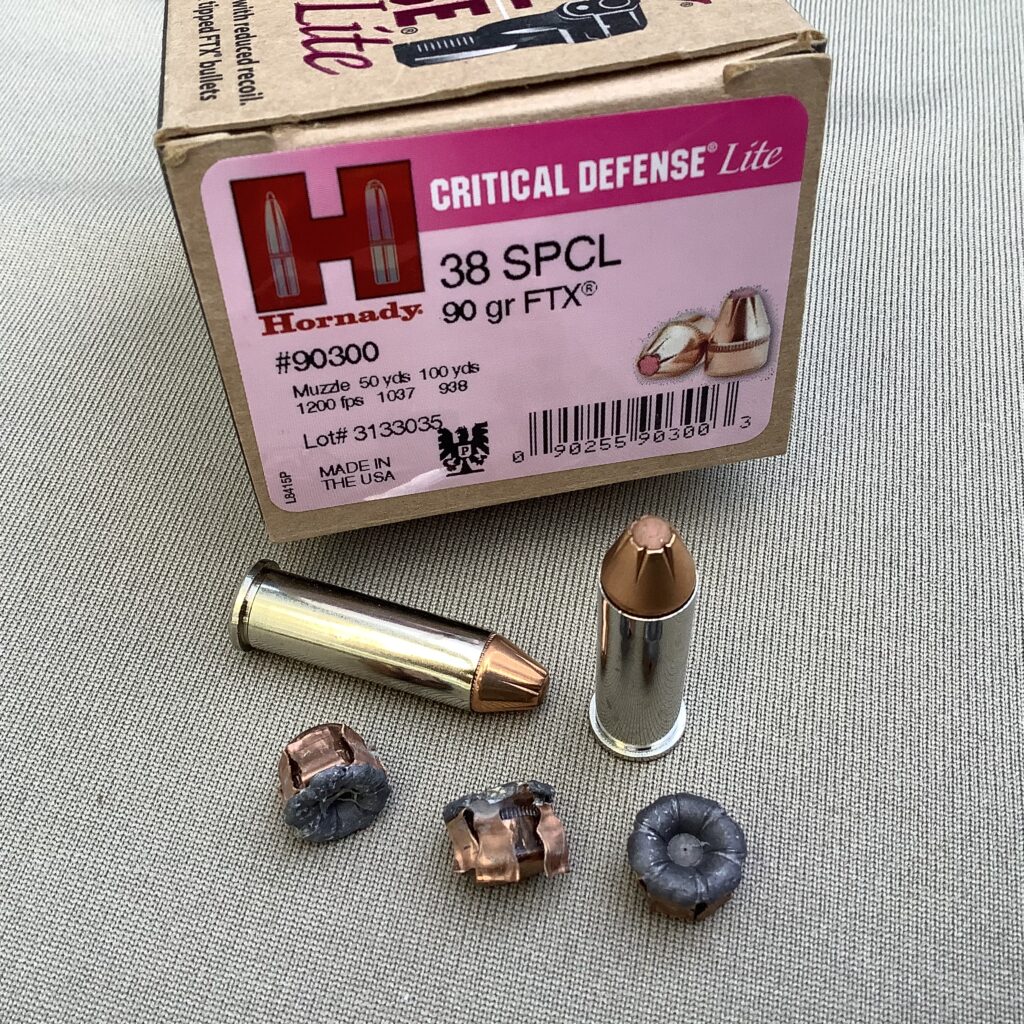 Hornady offers two bullet weights in the .38 Special caliber, with a 90 grain, standard pressure, Critical Defense Lite load for recoil-sensitive shooters, and a 110 grain, standard pressure Critical Defense load for those wanting a heavier bullet. There is also a +P loading of the 110 grain Critical Defense available for shooters who want a faster version, which gives about 80 fps and 40 ft-lbs of extra energy at the higher pressure.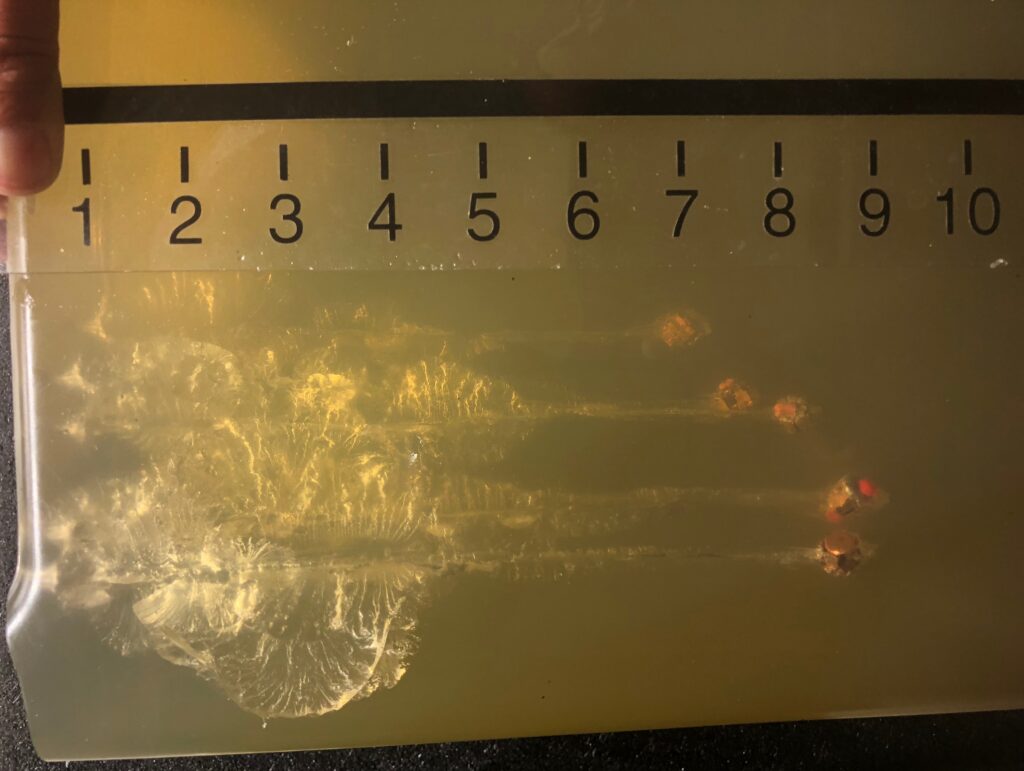 We shot the standard pressure 90 and 110 grain bullets because I was interested to see what kind of difference 20 grains and 190 fps made (the lighter bullet is faster). I was rather surprised to see that the difference was minimal. The 90 grain Lite load expanded to 0.500" and penetrated to 8.75" on average. In contrast, the 110 grain standard pressure load expanded to 0.497" and penetrated to 9.75" on average—basically the same expansion, but 1" greater depth.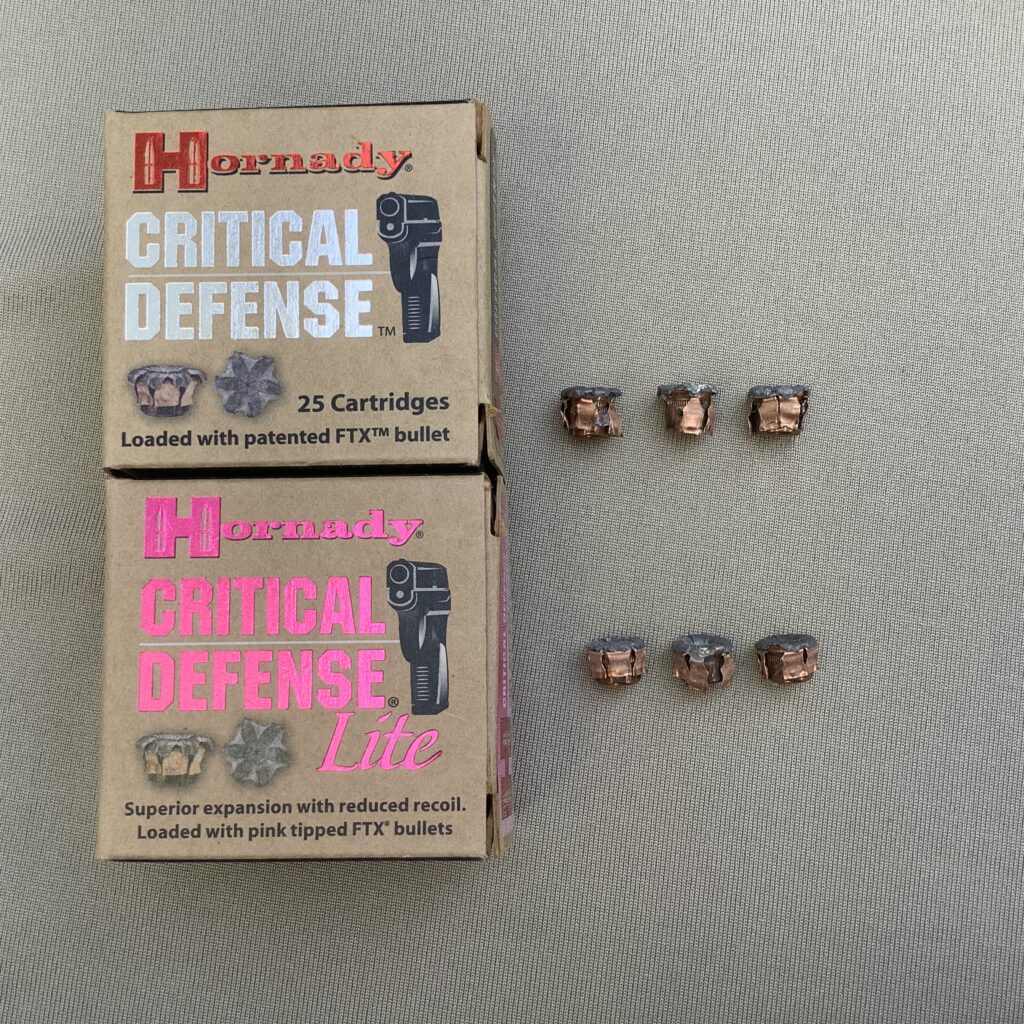 Although I didn't shoot it, I suspect the +P version would expand more, and penetrate less than the standard pressure 110 grain load. Hornady's testing seems to bear that out, as well.
Winchester Wadcutter
The last load we tested out of the snub was a 148 grain, lead wadcutter. This one was loaded by Winchester, and it represents the classic target load in the .38 Special, designed to cut nice clean holes in paper for easy scoring.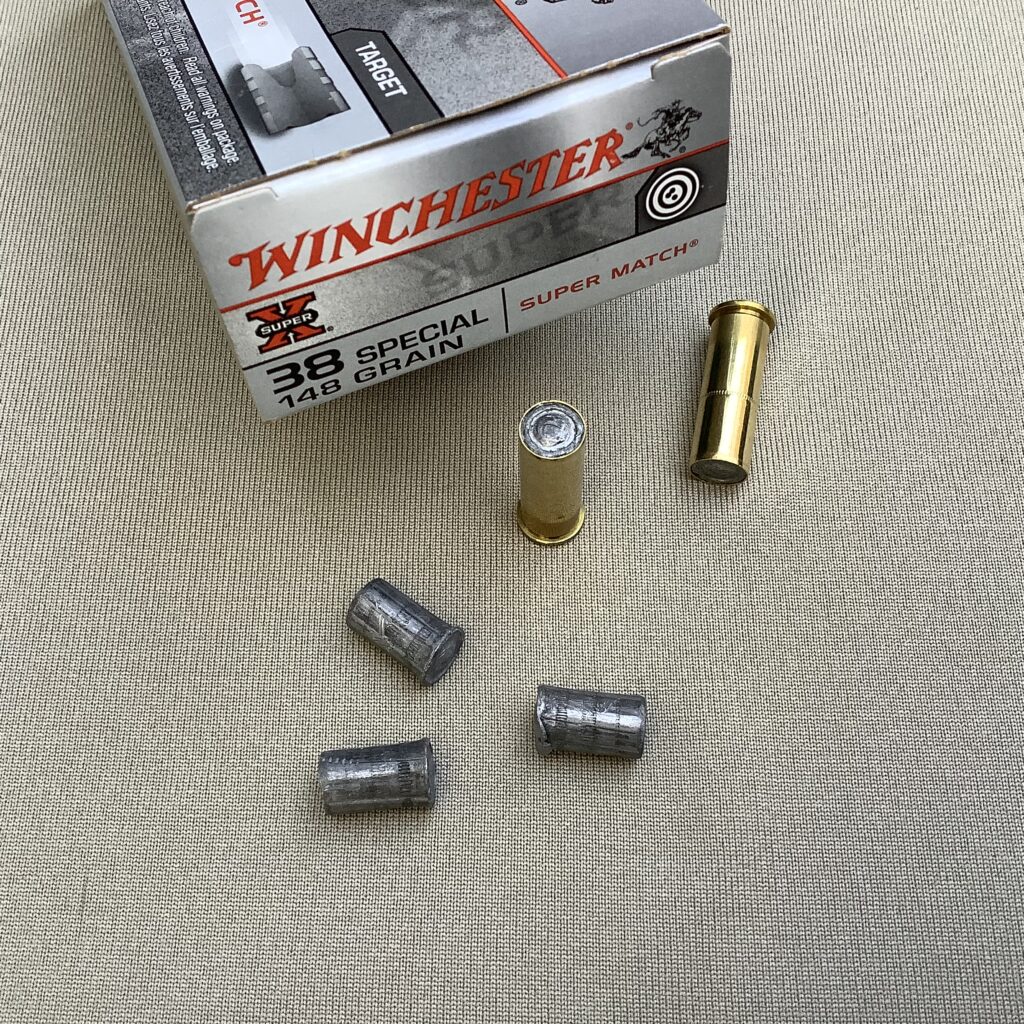 The 148 grain lead wadcutter is a low energy, non-hollowpoint load that produces very little recoil, and it seems to hit right to the sights of most fixed sight guns. Those are nice features for target shooting, but why would a defensive shooter want to load up with such a low energy, solid bullet?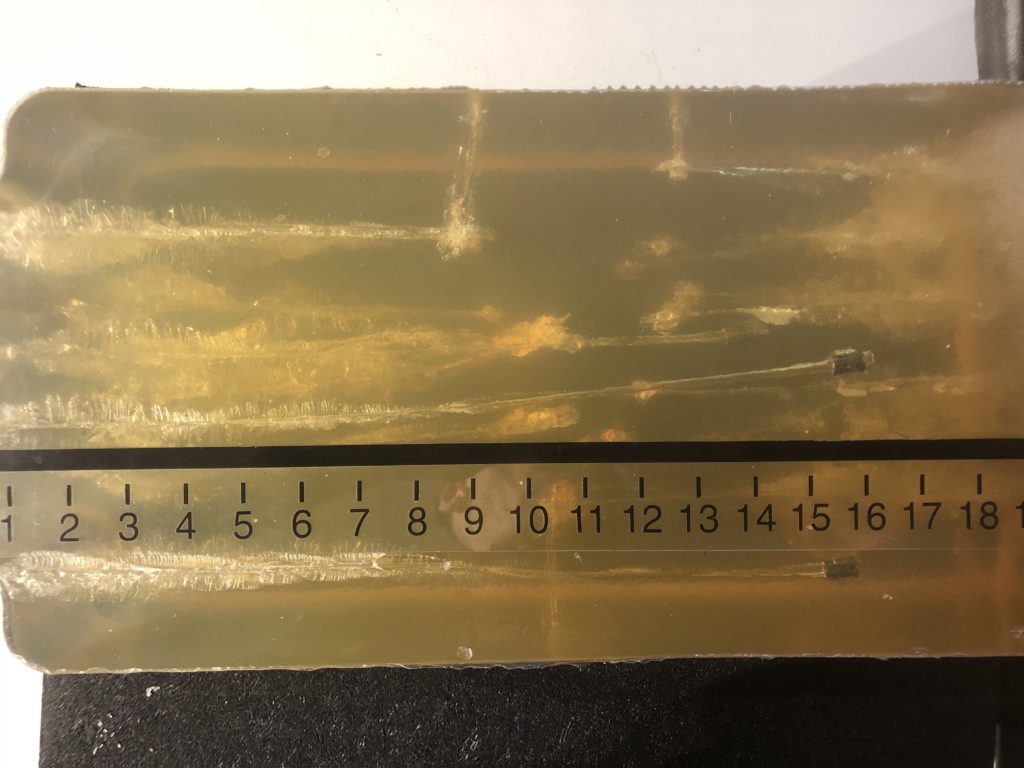 It comes down to penetration. As we've seen, many .38 Special hollowpoint bullets simply don't penetrate very far. The .38 Special lacks sufficient energy to both expand and penetrate deeply–particularly out of snubbies–so ballisticians and shooters are left to find an appropriate balance between the two. In the lead wadcutter, a shooter knowingly sacrifices expansion for penetration, figuring that a small bullet that reaches the vitals is better than a larger bullet that does not.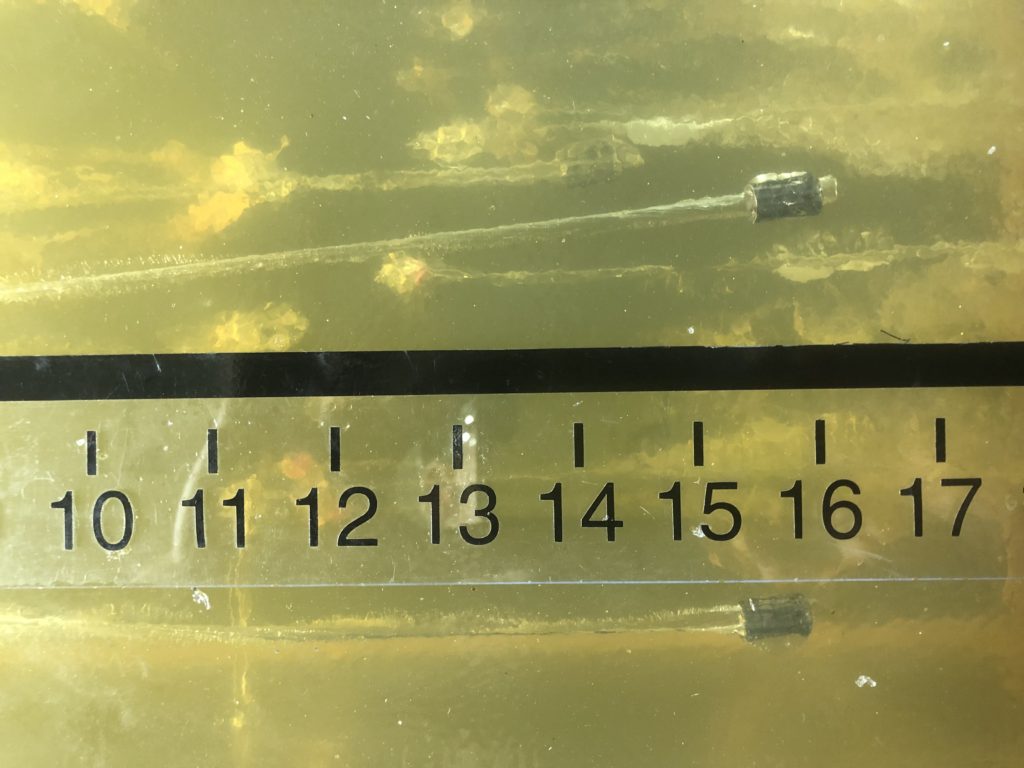 In our test, the Winchester 148 grain Super-X Match wadcutter expanded to 0.397" and penetrated to 15.83" on average in bare gelatin out of the snub. It was the best penetrator in our test, by far.
The Winchester Super-X load is sedate, clocking only 710 fps out of a factory barrel (and probably less out of a snub), and the lead is soft.  There are other companies, like Buffalo Bore and Underwood, which are loading hard cast wadcutters to higher velocities (in the vicinity of 1,000 fps, advertised) in an attempt to provide an even more useful defensive round, and these would be better choices than the Winchester target load we tested, for those inclined to carry wadcutters.
Summary
This may have been a deeper dive than some of you anticipated, but I think it's important to understand how the unique qualities of the snubby revolver can influence your ammunition choices. It should be obvious by now that all .38 Special loads are not the same, and those differences can really be exaggerated when you're launching them from a short barrel.
Recoil, point of impact, expansion, penetration and retained weight are all factors that you have to take into account and balance when you're choosing the best load for your snubby. There's no free lunch in ballistics, and that goes doubly so for .38 Special snubby loads, so do your homework, make an educated choice, and be safe out there.