One of the advantages of Ruger's .327 LCR is its versatility, thanks to the plethora of cartridges it chambers.
Pre pandemic, factory ammunition could take care of any conceivable snubby chore by just changing cartridges. Need barn burning magnum power? The .327 Federal Magnum had you covered. A controllable but effective self-defense round? The .32 H&R Magnum hits the sweet spot there. An easy shooting, accurate plinking round? The .32 S&W Long has done that for well over a hundred years. Normally, this gun doesn't benefit as much from handloading as lots of other guns/calibers do, but these are not normal times, and it's hard to find ANY factory ammunition.
cobwebs on the shelves
A web search last night revealed slim pickings. Buffalo Bore showed heavy loadings for the .32 H&R and .327 Federal using 100 grain JHP's and 130 grain Keith bullets (that .327 100 gr. JHP leaves a 3" barrel at 1315 fps, a little more horsepower than I need from the LCR). They also had 100 grain hard cast wadcutters and 115 grain flat noses in .32 S&W Long. Their ammunition is premium, and the price reflects it.  Midway USA had Lapua .32 Long wadcutters at 1.28 a round. That was it. Nothing in .327 or .32 H&R Mag. Selection is slowly getting better, but it's still not good if you're looking for affordable practice ammo or self-defense stuff with lighter bullets.
loading in .32 H&R cases
Over the last six months, I secured some Starline .32 H&R Mag brass and a few different bullets by checking internet sources frequently. It paid off to check them diligently and often, because items would show up and sell out quickly. Experimenting with the .32 Long a while back left some bullets in my inventory, too. Fortunately, I had a stash of small pistol primers and powder that would suffice for the .32- these items are scarce. The ammo shortage has bled over to components and even reloading dies.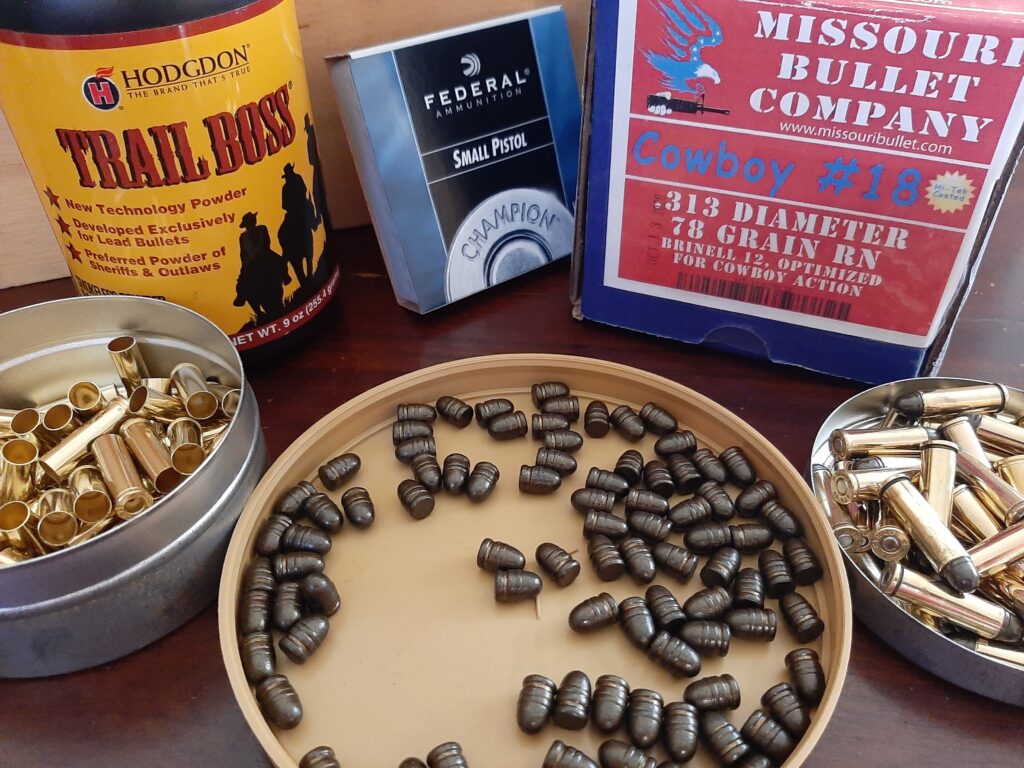 I'm in the habit of loading cast bullets of roughly the same weight as carry projectiles for practice ammo in the revolver calibers I shoot. Hodgdon Trail Boss powder is the go-to for this type of ammo. It was developed for launching lead bullets at modest velocities for cowboy action shooting. It works great in double action revolvers, too. It's odd-looking stuff, like fluffy little green doughnuts. It operates at low pressures, and you can't fit enough of it into a pistol case to create an over pressure situation. As a bonus, Trail Boss produces virtually no flash.
I use coated bullets for this purpose when I can find them. The advantages of the baked-on polymer coating are many. It totally covers exposed lead, making bullets indoor range friendly and subjecting you to less lead exposure while handling them. It makes bullets slick and easier to load in cases. The coating acts as bullet lubricant and eliminates or reduces lead fouling in barrels. Combined with clean burning Trail Boss, these bullets extend the round count before cleaning is required. I can keep a DA revolver running smoothly longer with homemade cowboy loads than with factory cast bullet ammo.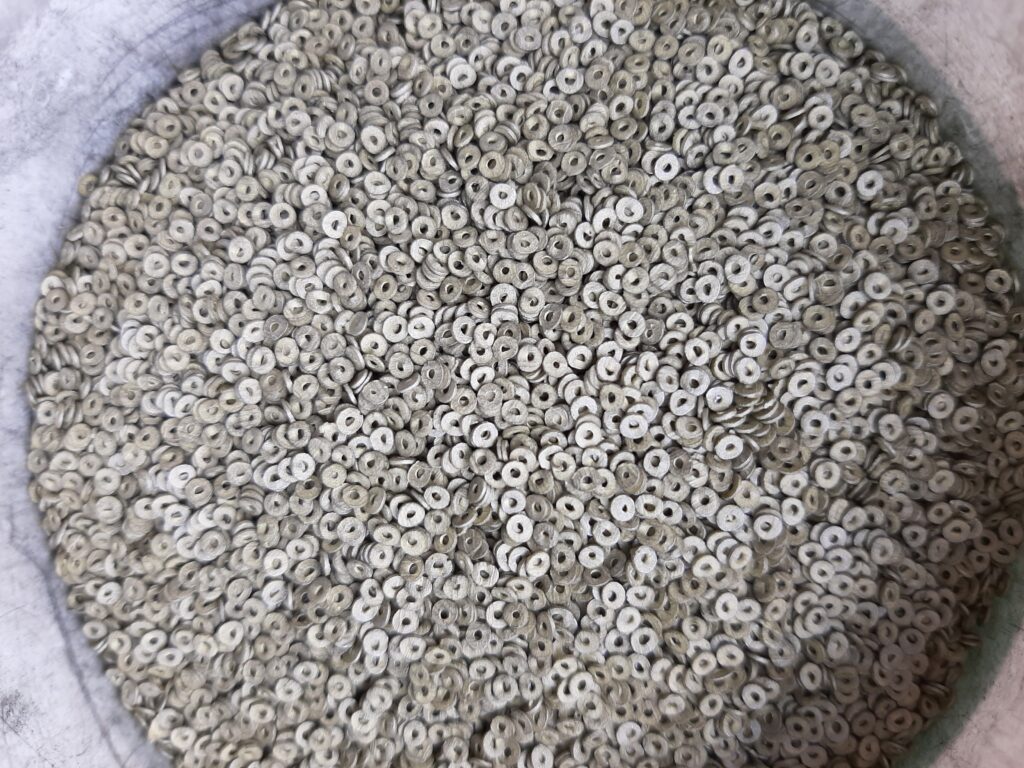 I've had good luck with coated bullets from the Missouri Bullet Company. Thankfully, they offer them in .32 caliber. I scored some of MBCs' Cowboy #18 bullets from Midway USA (I found a thirty-minute window when they had some in stock).
The #18 is a 78-grain .313 coated RN. I could find no data on this bullet with Trail Boss in the .32 H&R Mag. A good rule of thumb is measuring where the bottom of the bullet will sit in the case and fill to just below that point, leaving a little air space between powder and bullet. Trail Boss gives more consistent velocities when it's not compressed. So loaded, the charge is about 3.4 grains (Trail Boss is the only smokeless powder that can be handled liked this- measure powder charges when using conventional smokeless powders). It averages 806 fps from the LCR and hits basically to the same point as Hornady's .32 H&R Critical Defense. It makes for economical and enjoyable training ammunition.
more recipes
You can use .32 Long or .327 Federal cases to build similarly performing loads. I use H&R cases so my practice load handles like my carry ammo. If you use .32 Long cases, make sure to inspect chambers after firing for a carbon ring from the shorter round that can make chambering magnums difficult.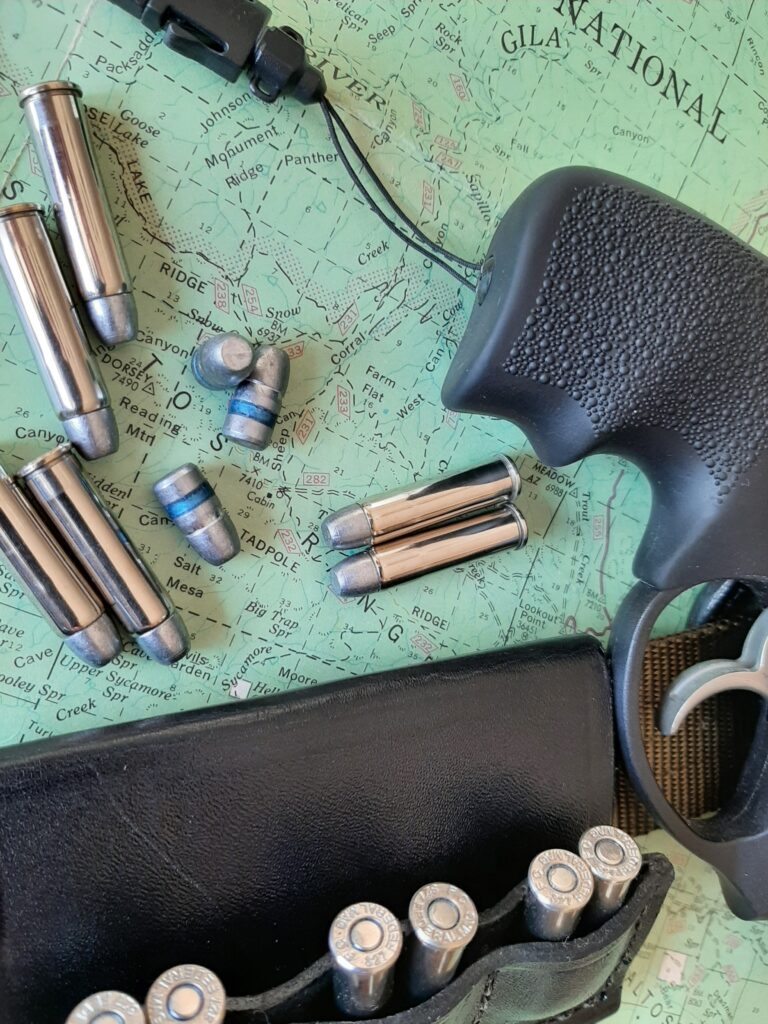 I loaded some 115 grain round nose flat points (RNFP's) into the small pile of once fired .327 cases I'd generated. Sitting on 5.4 grains of Alliant Power Pistol, they clocked a consistent 992 fps from the LCR, grouped well, and (curiously) also hit to the sights at 10 yards. Recoil and blast were not a factor with this load. It would make an exceptional choice for the LCR if you chose it for a backpacking trip and wanted deep, straight line penetration against critters. Gas checked versions of this bullet are currently available on-line. The gas check allows for pushing bullets faster without leading the bore. Adding a gas check on a commercial bullet also adds to its expense. Heavy for caliber plain base FP bullets provide through and through Sasquatch penetration at the velocity that I have them loaded. Additional velocity improves long range trajectory but isn't needed for an LCR in a tackle box.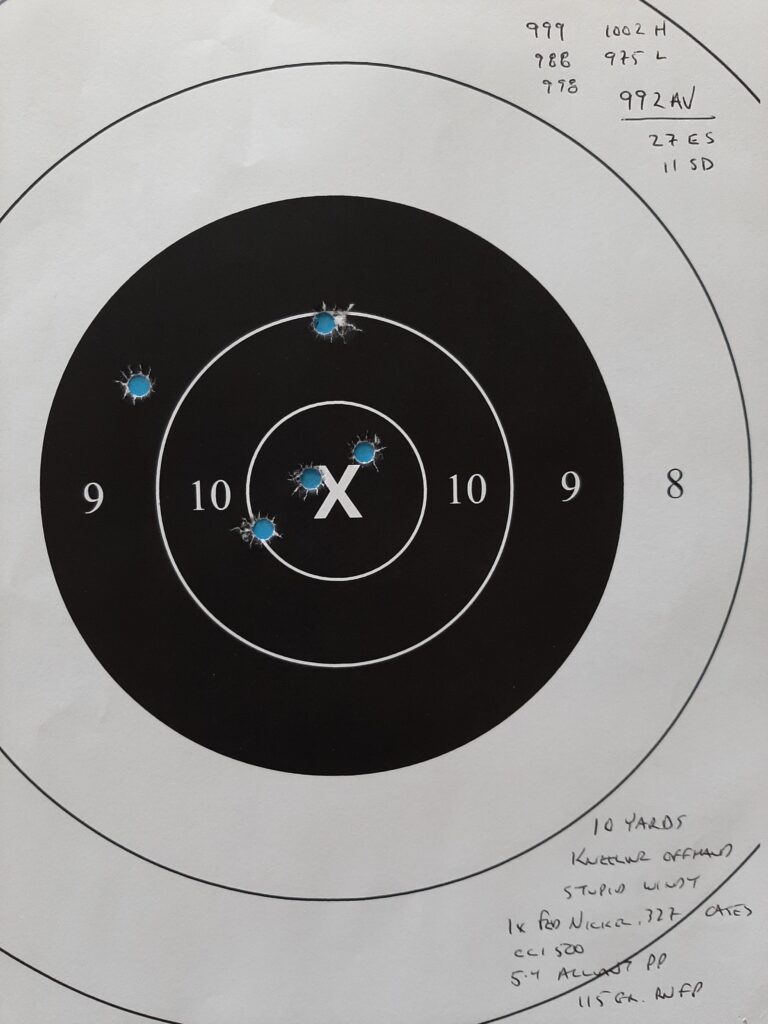 I had a stock of Hornady's 85 grain XTPs left over from the .32 S&W Long, and I bought the last two boxes Cabela's had locally right before supplies dried up. I have not seen any since then. Loading that bullet on a maximum charge of 12.0 grains of Hodgdon Lil' Gun produced excellent results in the LCR. Thusly loaded, Lil' Gun produces notably lower pressure in the .32 H&R Magnum than other propellants. The 2021 Hodgdon Reloading Manual shows that combination to be producing only 16,800 CUP, yet it yielded the highest listed velocity in their test gun: 1263 fps from a 5" barrel. It averaged 1106 fps through the LCR, and while velocities fluctuated more than I like, the load grouped well and hit to the sights. Almost equaling the .327 Federal Low Recoil Hydra-Shok, it demonstrated better accuracy with less blast. This load is what the boys from Federal envisioned when they came up with the .32 H&R Mag.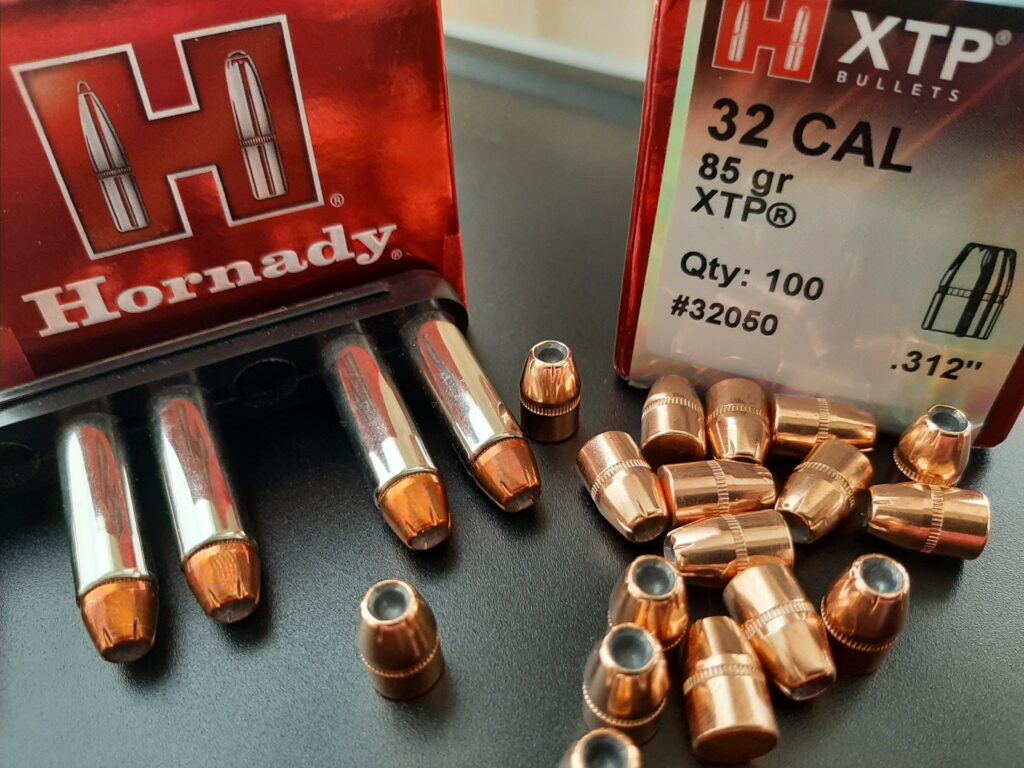 The other bullet I was able to purchase from Midway USA was Lehigh Defense's 75 grain Xtreme Defense monolithic copper projectile. Supplied Data from Lehigh shows 5.5 grains of Alliant Power Pistol to be a max charge with this bullet. They recorded 1210 fps from a 5.5" barrel. I loaded the max charge in virgin Starline .32 H&R Magnum cases, it averaged an extremely consistent 1064 fps. It hit just a tad low of sights but was easy shooting. This is the same bullet Black Hills uses in their "Honey Badger" line, but they don't offer it in a .32 caliber.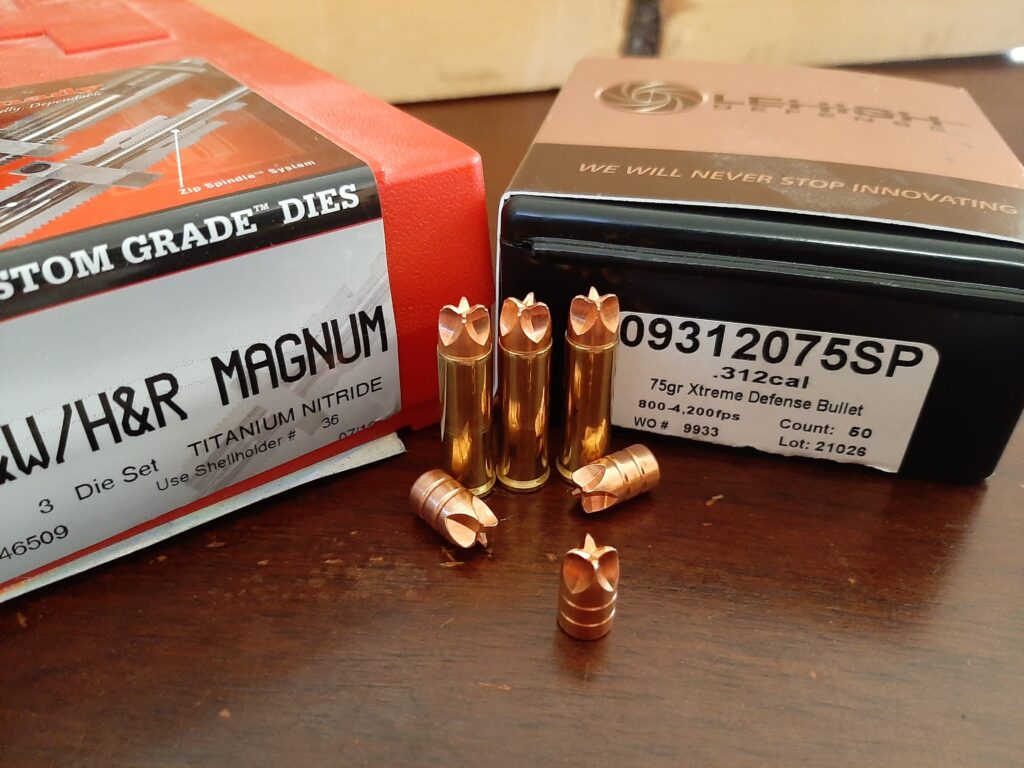 These last two handloads would work well if the ammo scourge continues and defensive ammo can't be purchased. The original specification for the .32 H&R Mag called for an 85-grain bullet at 1100 fps from a short-barreled revolver. The SAAMI limit of 21,000 psi made that spec realistic, but the H&R Revolvers produced in 1983 did not. Original Federal factory ammo was mellowed a bit to accommodate those revolvers.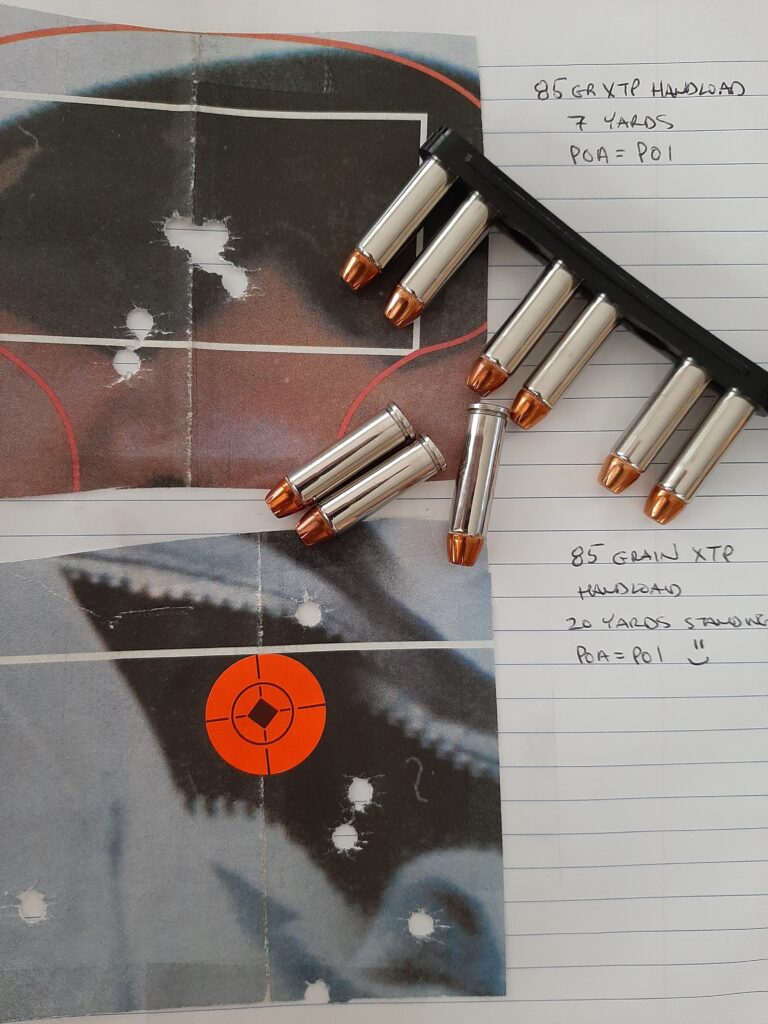 The strength of the .327 chambered LCR (45,000 psi) permits loading .32 H&R Mag ammunition to its full potential with plenty of cushion. Ammunition in that power range strikes a good balance of controllability and power in the LCR.  The strength of the .327 chambering makes shooting max loaded .32 H&R Mag ammo like shooting .38 +P rounds through an L frame .357 Magnum. You're not going to accelerate wear on the gun, and the weight of the steel framed LCR makes them easy to shoot.
Loving the LCR
The LCR was a joy to handload for and produced outstanding results. Alliant's Power Pistol and Hodgdon's Trail Boss and Lil' Gun performed exceptionally with the bullets used. I was able to brew up a high-volume practice load that impacts to the same point as carry loads, a practical trail gun load and two defense loads that were completely satisfactory.
This little .32 continues to impress!
*****
Note: This handloading data is provided for informational purposes only. Neither the author nor RevolverGuy assume any liability for using these handload recipes. The recipes discussed by the author may perform very differently in your personal firearm, even if it's the same make and model. Readers should follow the instructions in the loading manuals provided by powder and bullet manufacturers, and use appropriate caution in the development of their handholds, monitoring closely for signs of excessive pressure or other dangers.