Ruger's LCR is proven and deserves its place as one of the top choices in a snubby revolver. It has been well documented here at RevolverGuy, and comments on Mike's articles confirm a large and loyal following.
The LCR solves a lot of the problems that arise from carrying a small revolver as a primary fighting gun. Heavy triggers, mediocre sights, minimal capacity, and excessive recoil are common with this class of revolver. The sights on most are poorly regulated for preferred weights of carry ammunition, too.
The LCR takes care of the stout trigger pull and offers surprisingly good sights for a little gun. Additionally, the version under examination here, chambered in .327 Federal Magnum, allows the cylinder to hold six rounds, making it even less of a compromise.
The .32 Family Tree
There must be some gnarly old dudes that love snub guns working at Federal Cartridge. In the 1980's they partnered with Harrington and Richardson, hoping to provide a new round that would equal the .38 Special's performance with less recoil. They understood the benefit of that extra round in a J-frame-sized gun. They were successful, even if the .32 H&R Magnum didn't take off like it should have.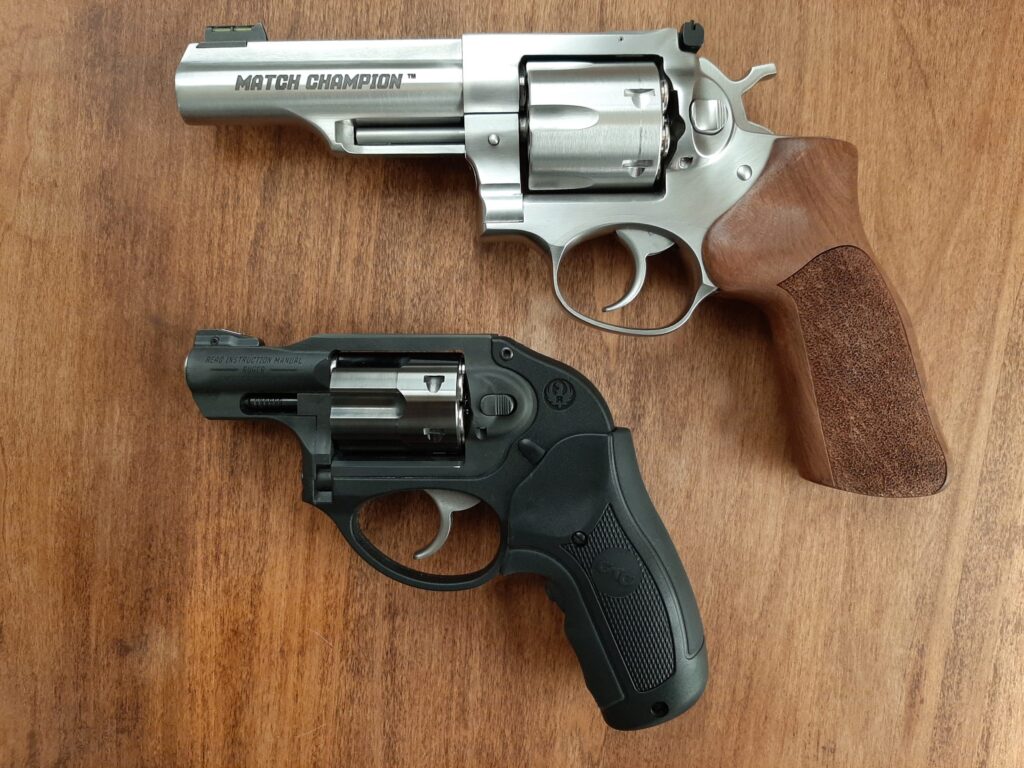 They stepped up again when they saw the proliferation of five-shot .357 Magnum revolvers in the 1990's, that got ever-lighter in the new millennium. This time Federal teamed with Ruger, introducing the .327 Federal Magnum, in 2008.  Like the .32 H&R Magnum, the .327 Federal Magnum was another attempt to duplicate the terminal ballistic performance of larger cartridges with less recoil. The .327 was a legitimate Magnum, with a SAAMI pressure ceiling of 45,000 psi! By comparison, the .357 Magnum has a maximum average pressure of 35,000 psi, and the hot, .357 Sig has a maximum average pressure of 40,000 psi.
The .327 Mag LCR
Ruger launched the new Magnum cartridge in a 27-ounce SP101 that held six rounds, as opposed to the .357 version's five. When Ruger debuted the LCR in .327, they utilized the steel upper receiver like they had on their other high pressure chamberings, the .357 and 9mm. This brought the six shot, .32 caliber LCR's weight to 17 ounces compared to 13.5 ounces for the original .38 Special LCR.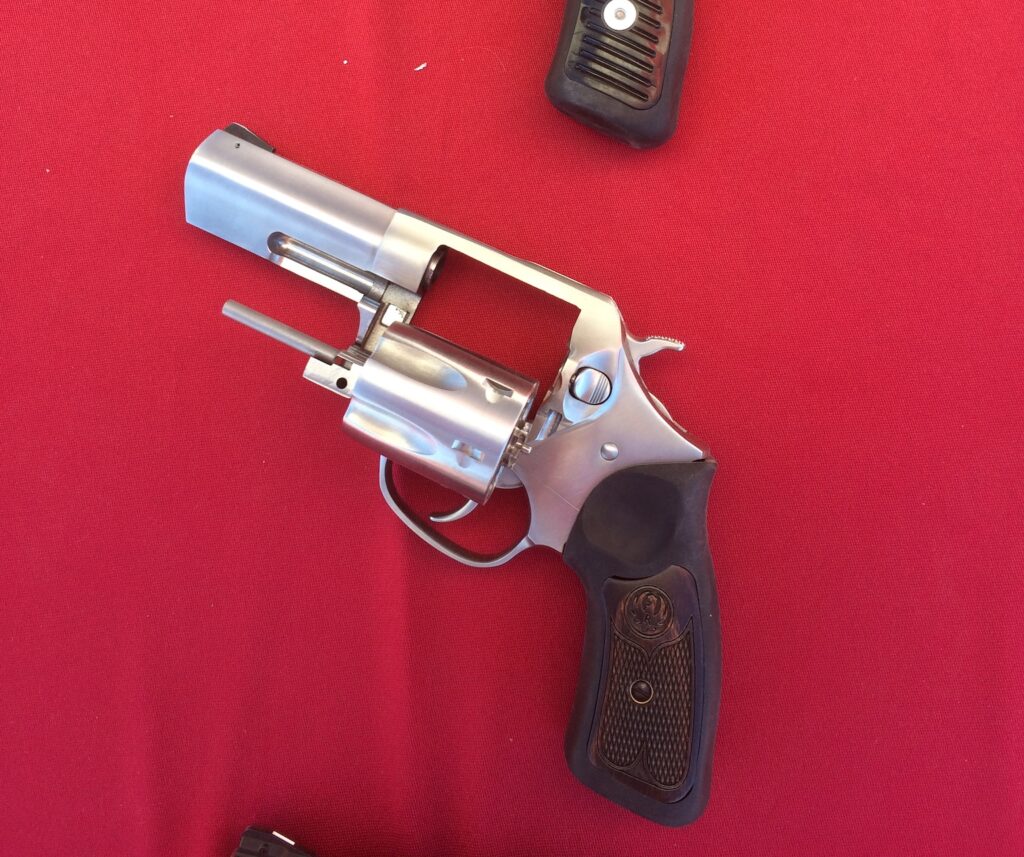 The .327 chambering made the gun a garbage disposal for straight-walled .32 handgun rounds. It will also chamber .32 H&R Mag, .32 S&W Long (.32 Colt New Police), .32 S&W, and the semi-rimmed .32 ACP. The first three rounds are by far the most useful, but it's nice to know you can shoot the .32 S&W and ACP in a pinch.
I bought a lightly used .327 LCR in a local shop during the height of the COVID scare last September. It surprised me to find it, but the oddball chambering helped in this case. At a time when you couldn't find a box of .38 Special anywhere, I was able to outfit the .32 pretty well. The place I bought it had a good supply of .327 fighting ammo, and a few boxes of .32 H&R Magnum. I found 80 grain, .32 H&R Hornady Critical Defense ammo at one local shop and Federal 95 grain lead SWC at another. Two big box stores had .32 S&W Long LRN and wadcutter ammo for sale.
Accessories
The level of industry support for a .32 caliber revolver was a concern, but fortunately, a few companies have stepped up.  5 Star Firearms makes a speedloader for the .327 LCR (the J2 variant, which doesn't seem to be listed on their website  yet, as of March) that works great. I had originally ordered an R6 for a J-Frame/SP101 and it was a no-go. 5 Star gets high marks for customer service, since they told me to send the R6 back and immediately shipped the J2 out to me. Compact and reliable, it works well with the LCR. SpeedBeez and Pachmayr also catalog a speedloader for the .32, but they are marketed for competition and I have no experience with them.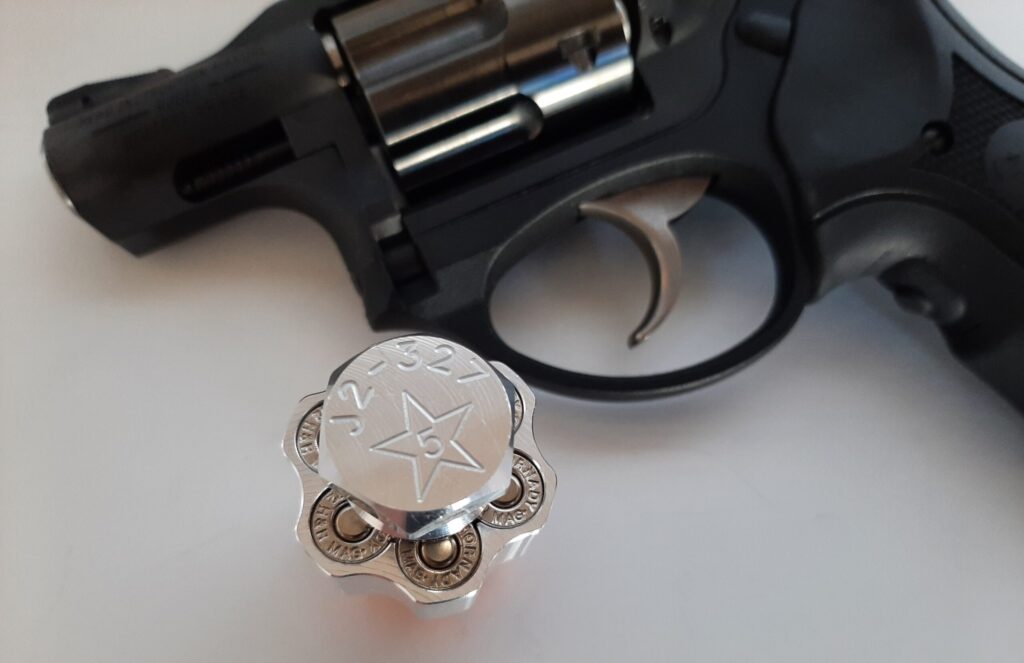 If you shoot a revolver in a caliber other than .38, you're probably familiar with Tuff Products. They make loading strips for less popular rounds- including six and eight-round quick strips for .32 caliber handguns. Quick Strips have faced criticism that they are too stiff and tend to tear with use. I have experienced this with some older ones for bigger calibers. However, Tuff Products is now advertising a new, "more supple" formula. They nailed it; the new ones are great. Cartridges load into them easily and the rubber flexibility is just right. The eight-round .32 strip, loaded with six rounds, creates gaps for more positive handling, and is only about ½" longer than a six-shot .38 strip.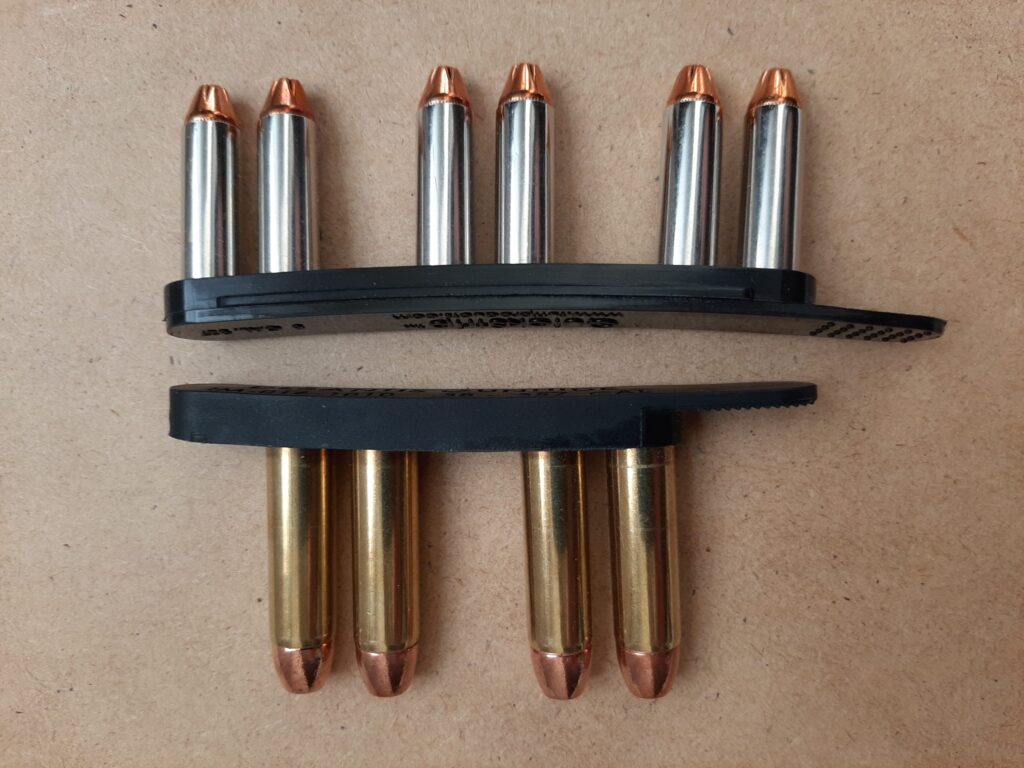 I typically carry a 2x2x2 pouch when carrying a revolver. My plan was to coerce a buddy into custom making one for the LCR, as I was betting nobody sold one. Checking with the big shops (Galco, DeSantis, Don Hume) produced nothing. On a lark, I visited Simply Rugged's website, being a fan of their holsters. I confess to a most unmanly squeal of joy, upon discovering that their 2×6 pouch was available for .32 rounds. It was very reasonably priced, arrived quickly, and was well made, like everything from Rob Leahy's shop.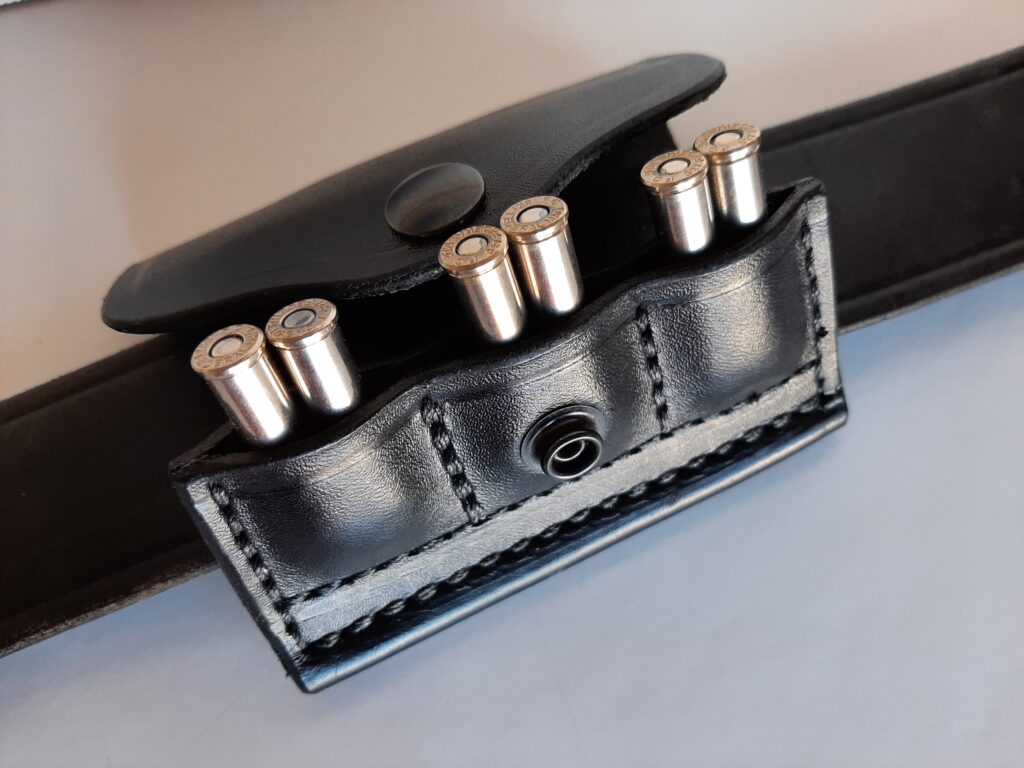 Ballistic comparisons
The first time I shot the LCR was on an indoor range with a pile of old .32 S&W Long reloads and Hornady's .32 H&R Mag Critical Defense load.  Bullets weighing from 78-85 grains were basically impacting to point of aim from 3-15 yards. The 80 grain Critical Defense was pleasant to shoot in the LCR (not just tolerable, but truly pleasant), hit to the sights, and grouped well. It had minimal report and low flash.
To contrast the ballistic potential of this load with a .38 Special, I turned to Chris Baker's Handgun Self-Defense Ammunition Ballistics Test over at Lucky Gunner (thanks to him, for the data). Chris fired both the .32 H&R and .38 Special Critical Defense loads into Clear Ballistics gel as part of his test, providing some useful numbers for comparison:

I calculated the kinetic energy using his measured velocities, for consistency. The numbers demonstrate that the .32 is close enough to the .38 that you actually get more "energy per cylinder" with the 6th round the .32 provides. Using the penetration and expansion values obtained in the Clear Ballistics gel for comparison, the bullets perform similarly. Of course, gel results and kinetic energy don't guarantee incapacitation, but good hits win gunfights. A 17-ounce LCR with 80 grain .32's is easier to shoot well than a 13.5-ounce LCR with .38 Specials, and you get one more of them. The .32 H&R Critical Defense load is controllable and delivers respectable terminal performance from the short barrel of the LCR. It also takes care of that last nagging issue we hate about snub guns, by hitting to the sights!
Rounds downrange
I ponied up for a set of Crimson Trace LG-415 Laser Grips for the LCR. The factory Hogue Tamers are great for recoil control and shooting comfort, but the lack of finger grooves on the CT grips help to get a proper grasp, rapidly. The hard polymer sides minimize the tendency for concealment garments to catch on them, while still offering a little firm cushion on the backstrap. The added length on the butt still hides adequately with a proper AIWB holster. There are lots of scenarios where that red dot can be helpful on a gun like the LCR.
Shooting .327 Federal through the LCR was interesting. I pondered swapping the laser grips back to the factory grips to better handle recoil, but in the rush to get to the range, that didn't happen. I fired five Federal .327 Low Recoil 85 grain Hydra-Shoks across the chronograph screens. They averaged 1137 fps and were consistent, but the muzzle blast was significantly more than anything fired through the LCR to that point. The little gun bucked in my hand and I became aware of the hard polymer laser housing rapping the back knuckle of my trigger finger on about round #3. While not initially painful, it was distracting. My group was a little low and wider than I would've hoped.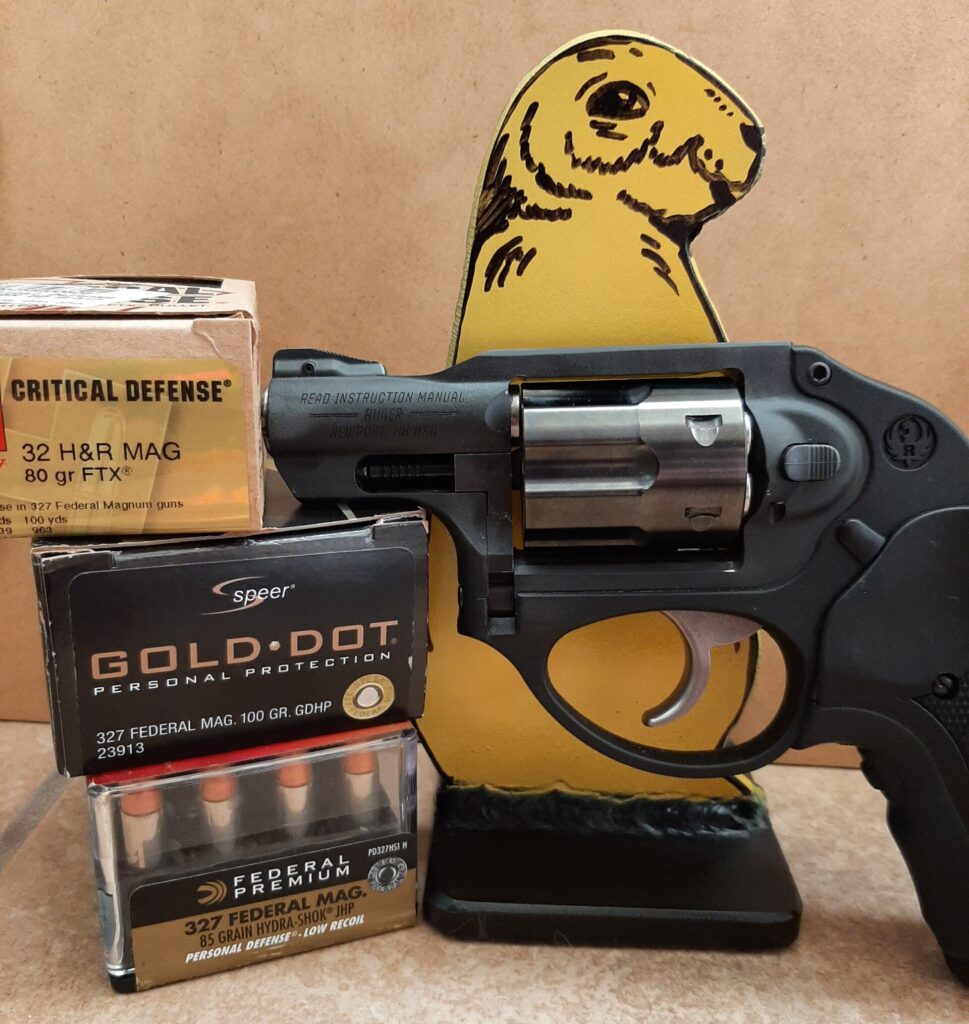 I then fired five Speer .327 100 grain Gold Dot HP's. After the first round, I made a conscious effort to apply more grip strength. Recoil was sharp, and the muzzle blast was harsh. It reminded me of shooting full-house 125 grain .357 Magnums out of a 4" Model 19 and wondering if your gun was slightly out of time. Each shot peppered my face with what must have been unburned powder. After those five rounds, I noticed that the skin on the web of my dominant hand had been removed. It wasn't cut, the recoil had just pushed the skin away. This happens when firing a 4" Model 29 .44 Mag with factory grips that leave the backstrap exposed, but I wasn't expecting it from the LCR! The Gold Dot is serious medicine in a small package, averaging 1262 fps through the short barrel.  Oddly, the heavier Gold Dots hit to point of aim at 10 yards with one flyer.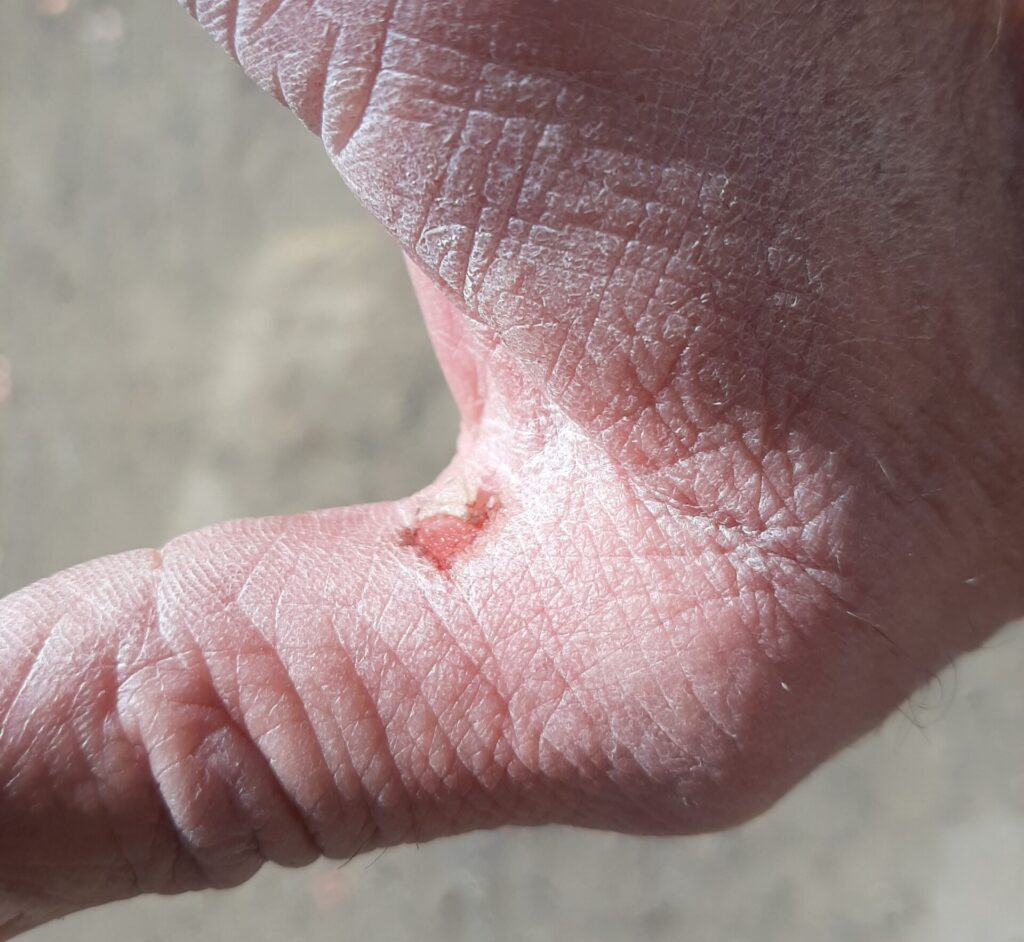 I decided to conduct an informal test with the LCR. I fired an impromptu variant of the 5x5x5 drill from the low ready at five yards. On a timer's buzzer, I acquired a sight picture and fired five rounds on a 3 ½" diameter circle, first with the Hornady .32 H&R Critical Defense, and then with the Speer .327 GDHP. My group was much tighter with the .32 H&R and I shot it 1.45 seconds faster than with the .327 load. I felt myself physically prepping for the recoil that I knew was coming with the .327–my hits suffered, and so did the speed that I could deliver them.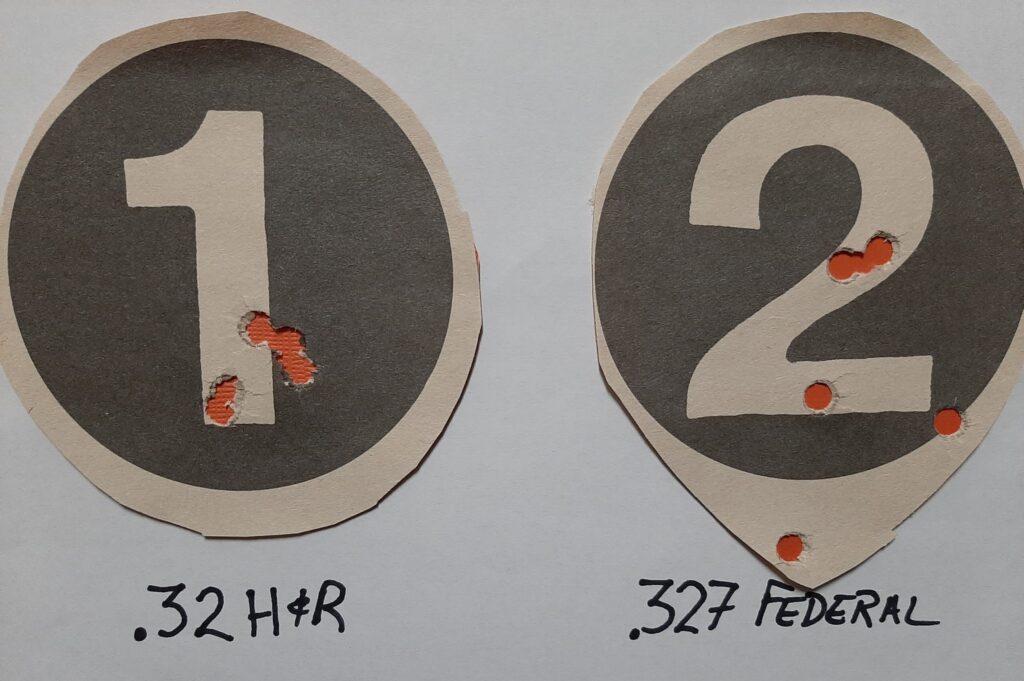 Lessons
There is a reason the .327 was introduced in a 27-ounce steel revolver. Less recoil is a good thing, and everybody, regardless of skill level or experience, benefits from it. The LCR, loaded with .32 H&R defensive ammunition, is adequate for any reasonable task a snubby can be expected to perform.
Maybe those revolver guys at Federal in the 80's got it right.