With modern autoloading handguns, the viability of the revolver as a defensive weapon may fairly be called into question. Any thoughtful individual considering arming him or herself with a revolver should reflect on this question. After having spent the last year using revolvers exclusively, I have reached some conclusions, and one of them is: there are a lot of reasons you probably shouldn't rely on revolvers for defensive purposes.
Why the Revolver might not be Viable
I don't want to open this blog with disingenuous or shallow arguments about why revolvers are somehow "better". As much as it pains me to write this, revolvers probably aren't right for most people. I admit that even I have considered jumping back into the mainstream when I really think about the options available today. I want to take an intellectually honest look at what the pros and the cons of these guns are.
Capacity: The most damning fact about them: revolvers are severely capacity-limited. The most commonly carried revolvers today are five-shooters, while the vast majority of the revolvers on the planet hold only one more. Some newer models hold seven or eight centerfire rounds, but this is still only half the capacity of a modern semi-automatic. To fire an equivalent number of rounds as a Glock 19 with a full magazine would require a J-Frame revolver shooter to carry a full gun and reload TWICE.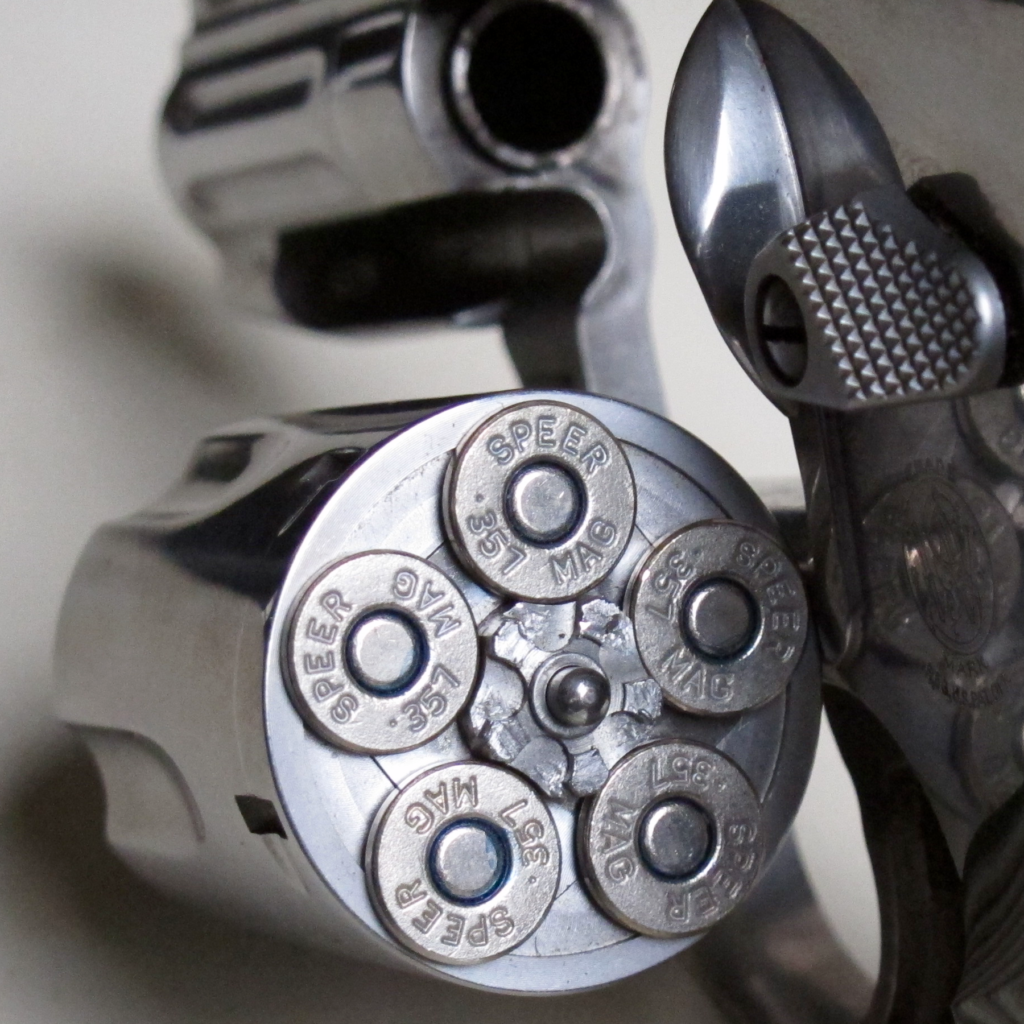 Compounding the matter, revolver reloads are complicated – much more complicated than reloading a semi-automatic handgun. You aren't moving a pre-loaded box of ammunition into the gun (i.e. the magazine), you're aligning five or six cartridges with a corresponding number of charge holes and letting gravity pull them in. Because gravity plays such a crucial role (even if you're using spring-loaded speedloaders) you have to get the gun vertical to reload it. There's a awful lot that can go wrong.
Making this matter trickier still is the fact that the best revolver speedloaders are hard to carry. They are large, round objects that don't lend themselves well to pocket carry. Many revolver shooters will rely on the "six is enough" school of thought, or carry reloads in the flatter, easier packing speed strips. While they carry more easily, they are much slower to use.
Bulk/Width: The limited capacity of revolvers can be improved upon. Smith and Wesson offers .357 Magnum revolvers holding up to eight rounds. Unfortunately, each round added also adds an increase in the girth to the cylinder. This is not a problem if the gun is to reside in a nightstand, but a major one if you intend to carry it. The round, thick cylinder resides right under the belt if you carry IWB. This is not a problem that is strictly limited to "hi-cap" wheelguns, either. The cylinder on a medium-frame revolver is dangerously close to 2″ in diameter.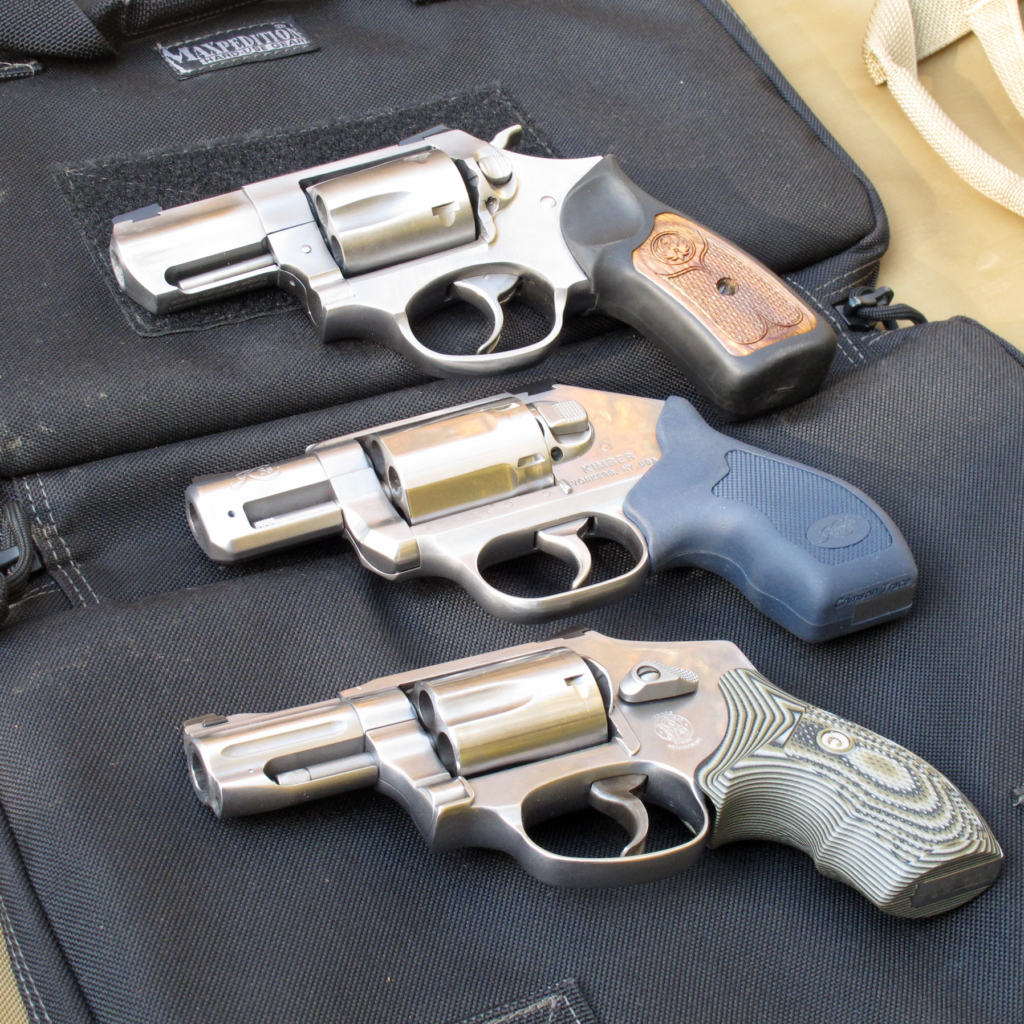 Malfunctions: When revolvers go down, they're down hard. You've probably read that revolvers don't malfunction. Having witnessed and experienced a few, I'll tell you different. If yours hasn't malfunctioned, it's because you haven't shot it enough. On the other hand, though, so do semi-autos. The difference is, when revolvers malfunction, it's not generally something that you can clear on the spot with nothing but your two sandwich clamps. The exception to that rule would be the light strike (which I've personally experienced in at least a half-dozen different guns over the years). The malfunction clearance drill for a light strike is simple and instictive: pull the trigger again. If you still don't get a bang it's probably time for a reload.
Expense: This is a purely practical consideration that really has nothing to do with the revolver or its mechanics. However, it is also a very "real-world" consideration that most of us can't overlook. Today's semi-autos are about as affordable as they've ever been. Take a look at a Smith & Wesson M&P Shield, for instance. If you shop around this gun can be had for under $400.  You'd be hard pressed to find a new or used high-quality revolver from a reputable manufacturer for this price.
There is also the cost of ammunition to consider. The cost of 1,000 rounds of 9mm is far below that of comparable quality bulk .357 Magnum or even 38 Special. Though it may not seem like it, this is a serious consideration. Training takes ammunition, and the ability to buy more of it means you can spend more time on the range. If you don't have much experience with revolvers, you should plan to invest in a pretty considerable quantity of ammunition to develop your skill.
Why the Revolver might be Viable
On the other hand, there are also a lot of good things going for revolvers.
Revolvers don't require magazines. A couple of advantages are inherent in that fact. First, it means you don't have to purchase dozens of magazines. Magazines are expendable items – once they don't work, they don't work. Any prudent gun owner with a box-fed repeater should own at least a half a dozen if replacements are readily available, and more if not. This also means that if you don't have magazines – because of loss, damage, unavailability or whatever other reason – a semi-auto is reduced to being a really fancy single-shot. This is one reason my "hell or high water" handgun is a revolver. There are no magazines to stock, carry, or maintain, and I don't have to worry about losing them.
Magazines are also the most common cause of malfunctions in semi-auto handguns. There is also a lot of (maybe overblown) anxiety about keeping magazines loaded too long, changing carry magazines, etc. This is one less consideration in my mind when using revolvers.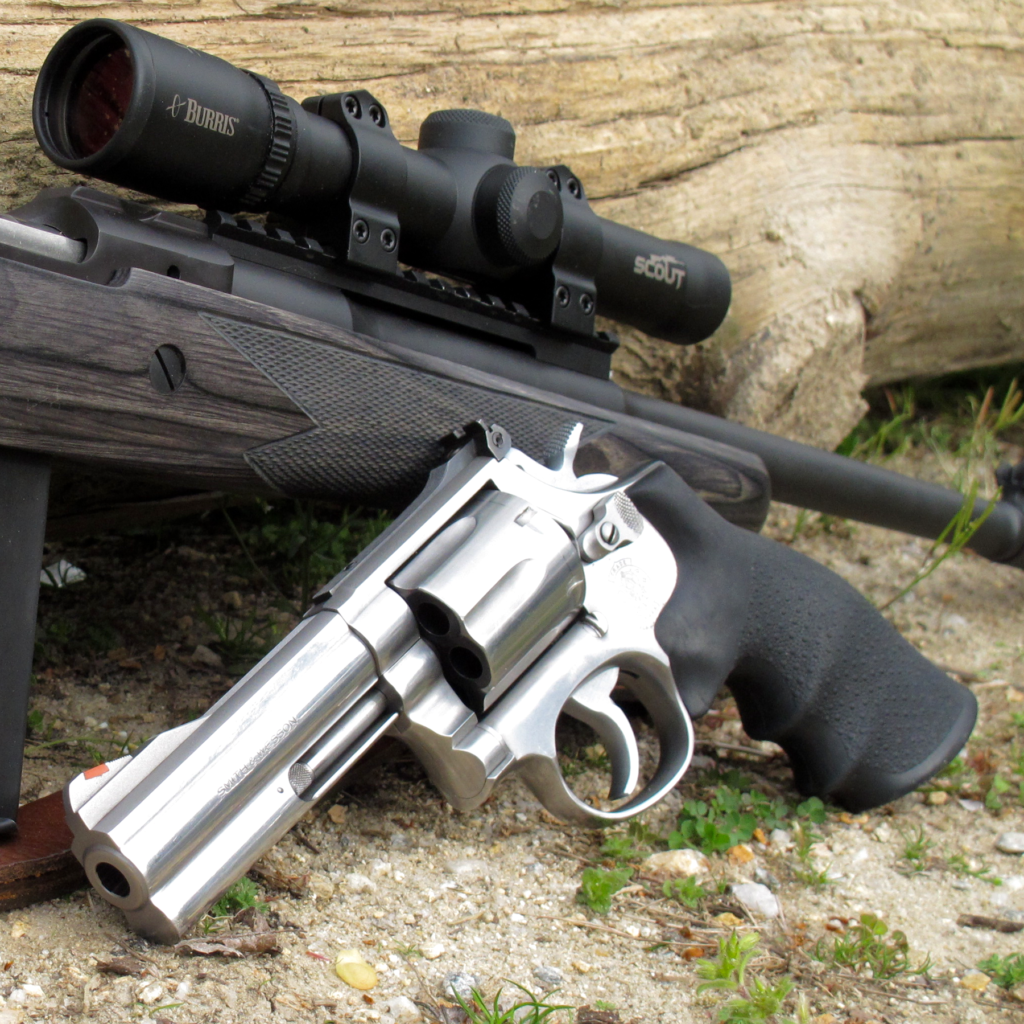 Revolvers are reliable. I know this is at odds with what I said earlier in the "cons" list. When revolvers go down, they are really down but the good news is, this doesn't happen very often. If you have a six-shot revolver, you can pretty much count on six shots going off without any fuss. Of course this requires maintaining your revolver and keeping an eye on little things so they don't become big things. I'll address this in a future post.
I should point out that this point is pretty much a draw. Most modern, high-quality semi-automatics from Glock, H&K, Sig Sauer, Smith & Wesson, and the like are also incredibly reliable. I honestly can't remember the last time I had a malfunction with a Glock or M&P (1911s are a different story). Provided the gun is well-maintained and is loaded with a decent brand of ammunition that has been tested in the gun it will almost certainly work reliably.
Revolvers don't suffer from ammunition sensitivity. Pick your bullet shape, from rounded-ogive FMJ to yawning JHPs to clunky wide-flat noses or full-on wadcutters. It doesn't matter, because they don't have to feed. Because your revolver is mechanically powered, you can also choose your power level. This can range from (literally) blanks to bleeding-edge magnum loads. If your revolver is rated for it, it can shoot anything up to that level. This lends a level of versatility that is extremely uncommon in autoloading handguns.
Revolvers are legal anywhere you are. If you can legally possess a handgun there, it can almost certainly* be a revolver. Revolvers aren't limited by hi-cap bans, assault weapons bans, or any similar nonsense. This might not be a big deal for all of you, but for the millions who live in states with such laws it is. It also is for me because I travel a great deal and need to be able to pass through states that restrict hi-capacity magazines.
*I say "almost certainly" to leave myself a little wiggle room. I don't pretend to know the laws in every jurisdiction.
Revolvers are very neglect-tolerant. You've probably read that you can load a revolver, stick in the nightstand, and forty years later it will still fire. As long as the action hasn't corroded shut and the ammunition hasn't been damaged this is on the money. Compared to the their reciprocating-slide counterparts, revolvers are fairly well-sealed against dust, dirt, grit, and grime. A properly cleaned and lubricated revolver can lay quietly in wait for decades.
They're cool. Ok, this isn't really a benefit, but this is one reason I've chosen to arm myself with wheelguns – there's just something about them that I really like. And ultimately that is what this article boils down to: if you want to go with revolvers, cool. I'm not pushing revolvers on anyone. In fact, I think semi-automatics are probably a better option for most people. But if you are willing to train hard and take the time to truly learn the platform and – for lack of a better term – develop a relationship with the gun, revolvers might be for you, too.
So, is the Revolver viable for self-defense?
Depending on who you talk to, revolvers are either experts' guns or the perfect entry-level piece. I think there is merit to each side of this argument with some important caveats. First, I think a larger (K- or L-Frame, GP100) revolver is a fine nightstand gun for most. As Chris Baker of the Lucky Gunner Lounge points out in this excellent article, a mid-sized revolver is well suited to casual gun owners who are primarily concerned with home defense and don't train a lot. The logic: it is easy to ascertain whether a wheelgun is loaded or unloaded. The gun will survive years of neglect. There are no safety mechanisms to negotiate, no slide to pull back, no controls, buttons, or levers that seem complicated to the uninitiated.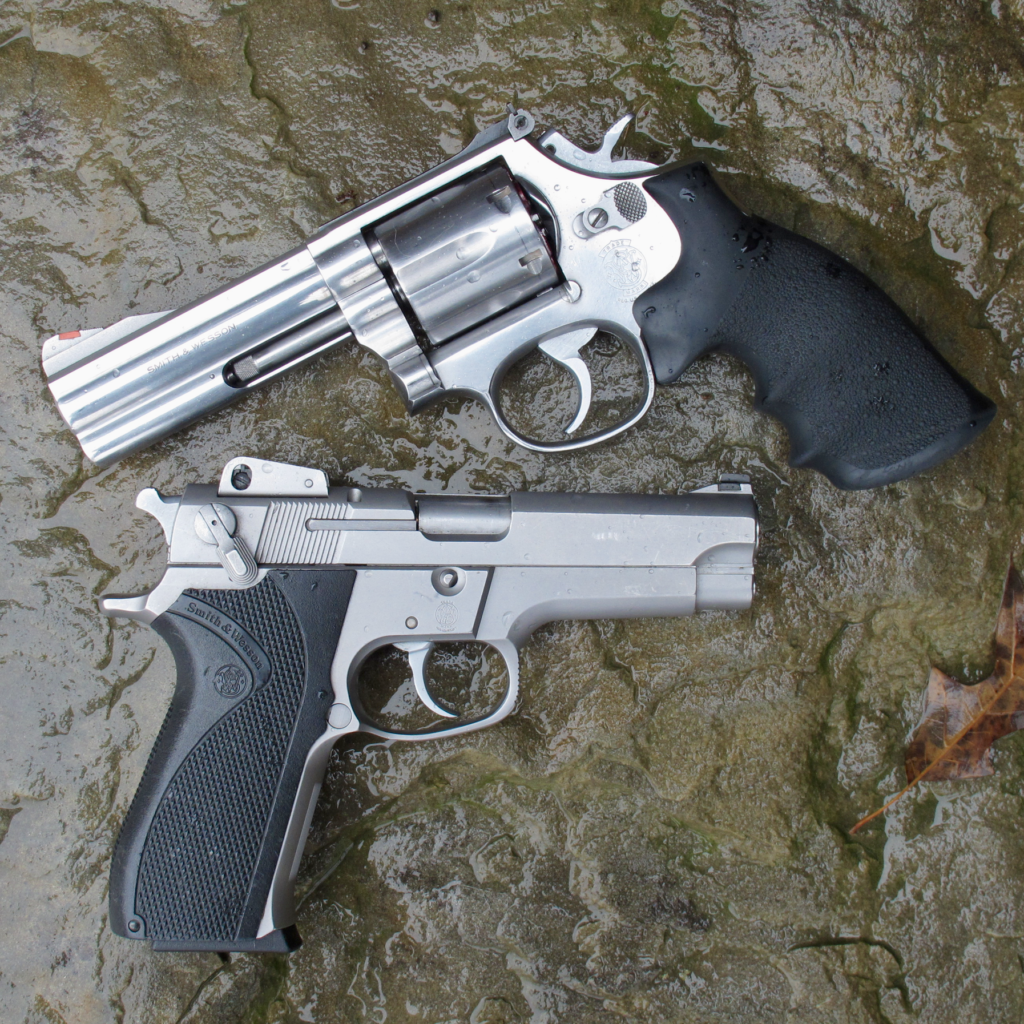 However, I think small revolvers like the Smith & Wesson J-Frames are poor choices for most users (especially in the ultra-lightweight configurations). These revolvers are difficult to master for a variety of reasons including heavy triggers, tiny sights, small grips, pronounced recoil, and intense muzzle blast. These guns are, in my opinion, best reserved for the experienced or those with the determination to become experienced through regular training.
The bottom line, after all my equivocation is this: can you defend your life and those of your loved ones with a revolver? Absolutely. Revolvers have been defending lives for a very long time. Are there better options out there that are less expensive, more easily carried, and hold more ammunition? The answer again is absolutely. This is an intensely personal decision. Choose what you are confident in and comfortable with. If that choice is a revolver, you haven't made the wrong decision.
Liked it? Support RevolverGuy on Patreon!