I can hear the chorus of self-proclaimed "operators" now . . .
"But, but, but . . . you'll get kilt! Are you crazy?"
Well, I might be, but not because I think a snub makes a good home defense gun.
Confluence
There's a couple things that got me thinking about using snubs for home defense, recently.
The first was an email from a reader, expressing his frustration with a collection of assorted trainers who discouraged him from relying on a snub revolver for defense, and particularly home defense. The "experts" seemed to be of the opinion that a five-to-six-shot gun just wasn't up to the task, and he needed something with more capacity. In his words:
I think you may be the first trainer whom when I mentioned that not only is my EDC a J-Frame and my primary HD-handgun they didn't immediately tell me I was crazy more or less and encourage me to get a high-capacity pistol . . . their immediate reaction was I couldn't possibly be protected with merely a J-frame.
Hmm . . .
The next thing that got me thinking about it was an experience I had last week, running a group of avid shooters through simulated home defense scenarios, as part of a training day for our gun club. The role-playing shooters were "armed" with my SIRT pistol, and were required to respond to a variety of unknown contacts and odd situations at the "front door" of their home. Some of the scenarios escalated into lethal force confrontations, while others turned out to be non-threatening.
Some of the issues that crept up during the simulations had me thinking back to the letter from our frustrated RevolverGuy friend, and I wished he'd been there to see how his snub would have been a pretty good solution to the problems I'd observed.
Why the snub?
The snub isn't necessarily the first gun we'd think of, when we're imagining a "home defense weapon," but it's really not a bad pick, at all. Like every gun, it has its strengths and weaknesses, but I think, on balance, it has a lot going for it as a home defense tool.
"Like what," you ask? Well, here's four reasons that make a pretty good argument for the snub, in my opinion: Accessibility; Concealability; CQB Performance, and; Safe Stowage.
We'll take a look at these, one-by-one.
Accessibility
Gunsite alumnus Mark Moritz is often credited with establishing the "first rule of gunfighting," which is, "have a gun." One of the greatest attributes of the snub is that it's easy to carry, and this dramatically improves the odds that you'll actually "have a gun" when trouble strikes at home.
I'd venture to say that most people who carry guns don't make a habit of carrying them in their homes, but there's really no better way to ensure you'll have access to a firearm in an emergency. Trouble can arise and develop quickly, and leave you no time or opportunity to fetch a gun from another location. Even if you're lucky enough to get to a stored gun, the time you'll spend getting to it can't be used for other important tasks, before the threat attacks–like warning, rounding up, and moving family members, calling 911, or moving to a position of cover or tactical advantage.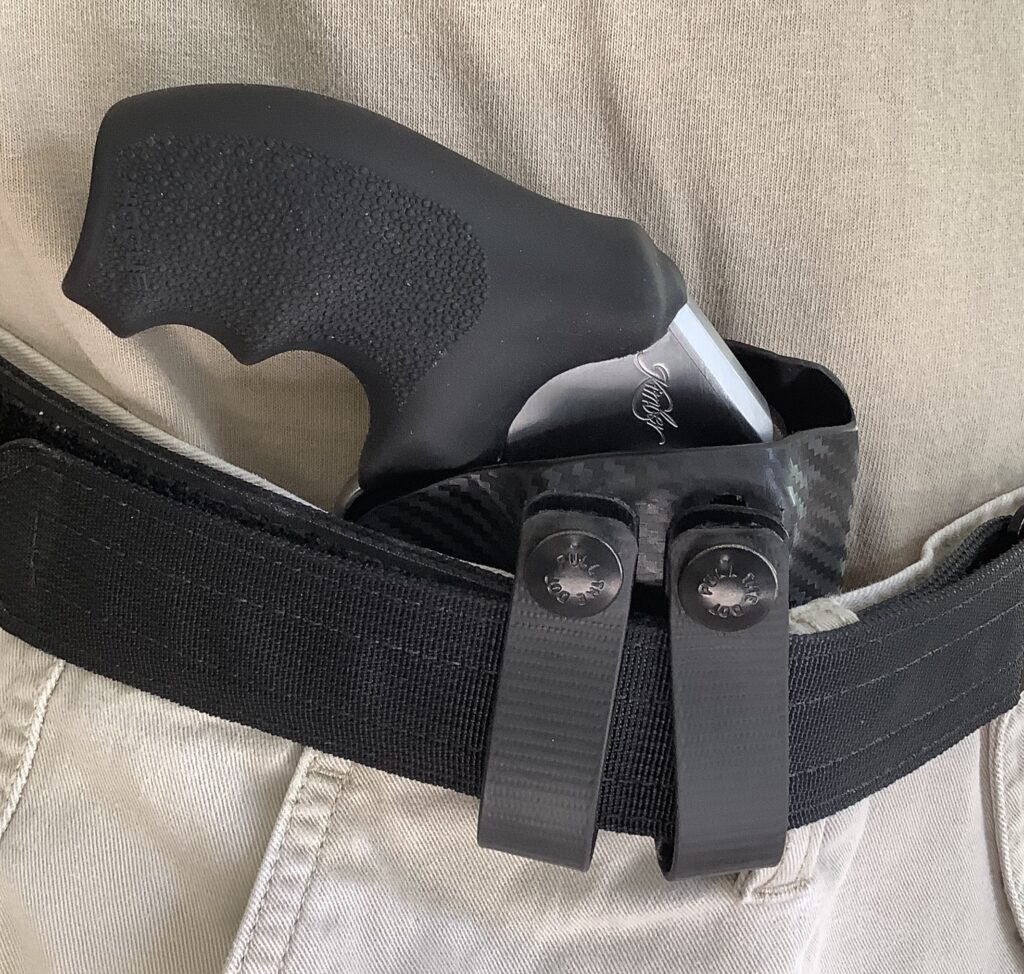 In one of the simulations I ran for my fellow club members, I put the gun in a "lockbox" that was stored about five yards away from the door, where they were positioned at the start of the role play. It was interesting to see how some of the role players struggled with whether or not they should leave the problem at the door to go arm themselves (which involved a panicked and bleeding neighbor, desperately asking for entry/help, with the role player unsure of the circumstances that led to the injury). I could see their mental struggle play out in physical terms, as they began to move towards the stored gun, then changed their mind and quickly returned to the door (only to repeat the aborted attempt again, in some cases).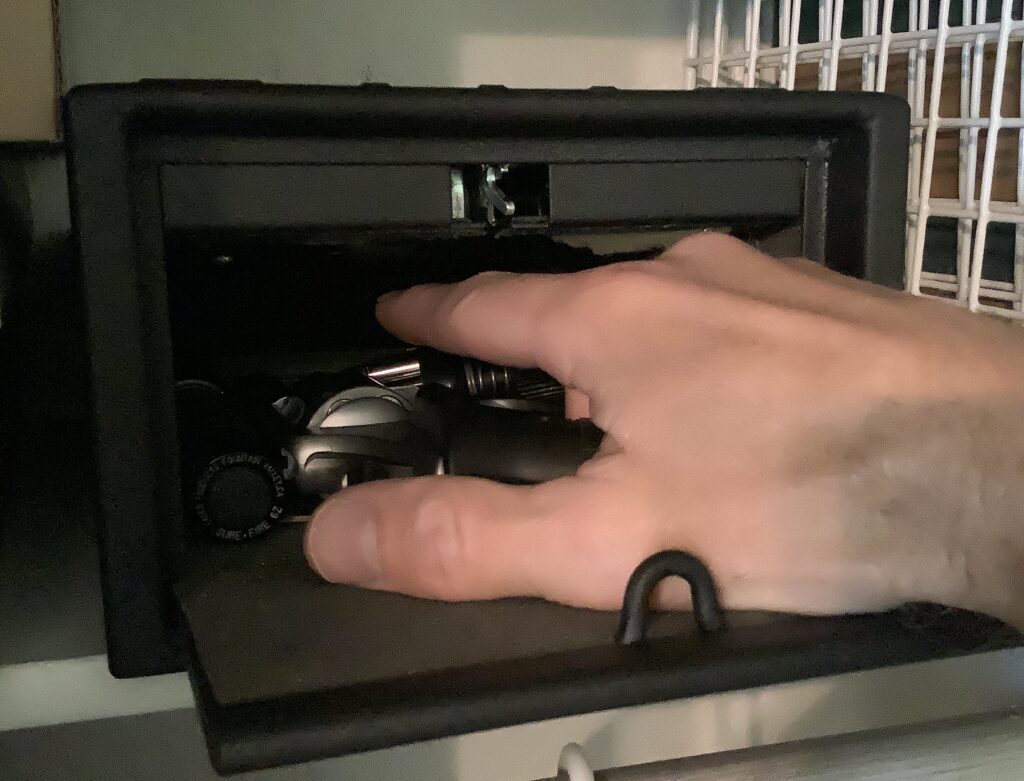 Indeed, 38% of my role players elected to handle the potentially dangerous problem unarmed, because they felt like circumstances prevented them from leaving the door.  This happened to work out for them, this time, because I had previously determined that I would "branch" this scenario into a no-threat (with the neighbor seeking help from a nasty kitchen knife cut), but it could easily have gone another way, had the injured neighbor been fleeing from a knife-armed attacker that was soon to reappear, after the door was opened.
The students didn't know what they were dealing with, when they opened the door, and you wouldn't either, in a real-life scenario. We never get all the information we'd like, before we have to choose in circumstances like these.
Carrying a gun on your person makes you better prepared to deal with challenges like that, and might allow you to be armed in a situation where it's not possible to get to a stored gun. And what gun (of reasonable utility) is easier to carry than a snub?  The small size and light weight of the snub enable you to carry it comfortably all day long, giving you no excuse to be unarmed, even when you're just loafing around the house in shorts and a t-shirt.
Score one, for the snub!
Concealability
There's a number of "front door" scenarios where it would be wise to approach the door with a gun on your person, or even in your hand, but you wouldn't want it to be readily visible.
Since a number of push-in, or home invasion robberies begin with an innocent-looking ruse to get you to open the door (or at least get you near the door), it's wise to treat unknown and suspicious contacts with great care.  The first and best tactic, of course, is to not open the door, and deal with the person by speaking to them through the closed portal, but in the event that you're compelled to open the door, or the contact decides to force the door, you'll probably want your gun on your person, not halfway across the house.
But what if the person really is a FedEx deliveryman with a package you didn't expect, or an upset, teenaged girl whose car just broke down, or a scruffy young man looking for his lost dog? How about a police officer at Zero-Dark-Thirty, looking for a fleeing suspect that hopped a fence and might be in your yard? You certainly don't want to greet them with a gun in your hand, out where they can see it through a side window, or such. There's no good that can come of that.
So, we have to temper access with discretion. We want the gun close, perhaps even in our hand (because the fastest draw starts with the gun in the hand, right?), but we don't want it in plain sight, where it will offend or scare an innocent. That kind of mistake can make a situation go from bad, to worse, very quickly.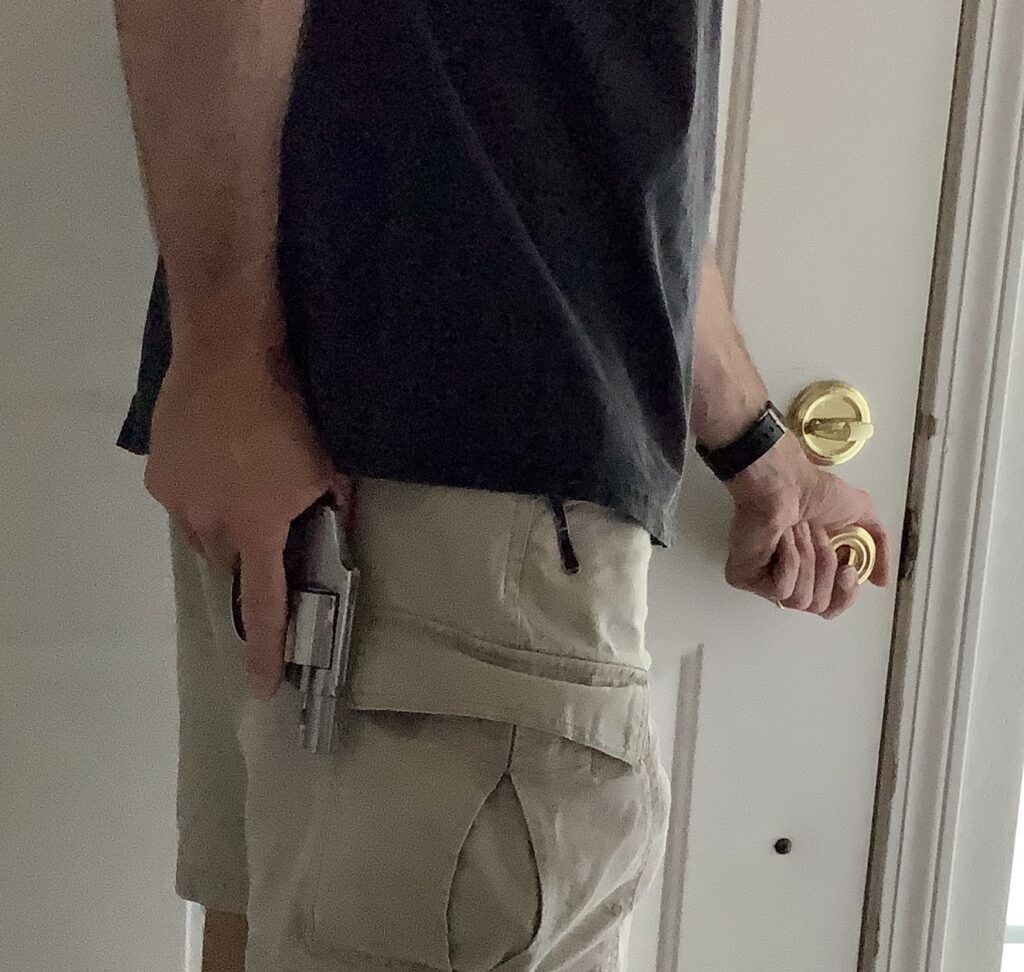 Placing the gun in a holster underneath your clothing is a good tactic, and offers a lot of advantages, but may slow your access. Holding the gun behind a leg or your back is also a useful tactic, and improves your presentation speed, but it's less discreet, and you completely lose the use of that hand for other tasks, until you find a safe place to put the gun away.
What if you could already be "at grip" on your gun, using normal body language that doesn't look threatening, and be able to quickly release the gun and use the hand for something else if the situation turned out to be non-threatening? Wouldn't that be neat?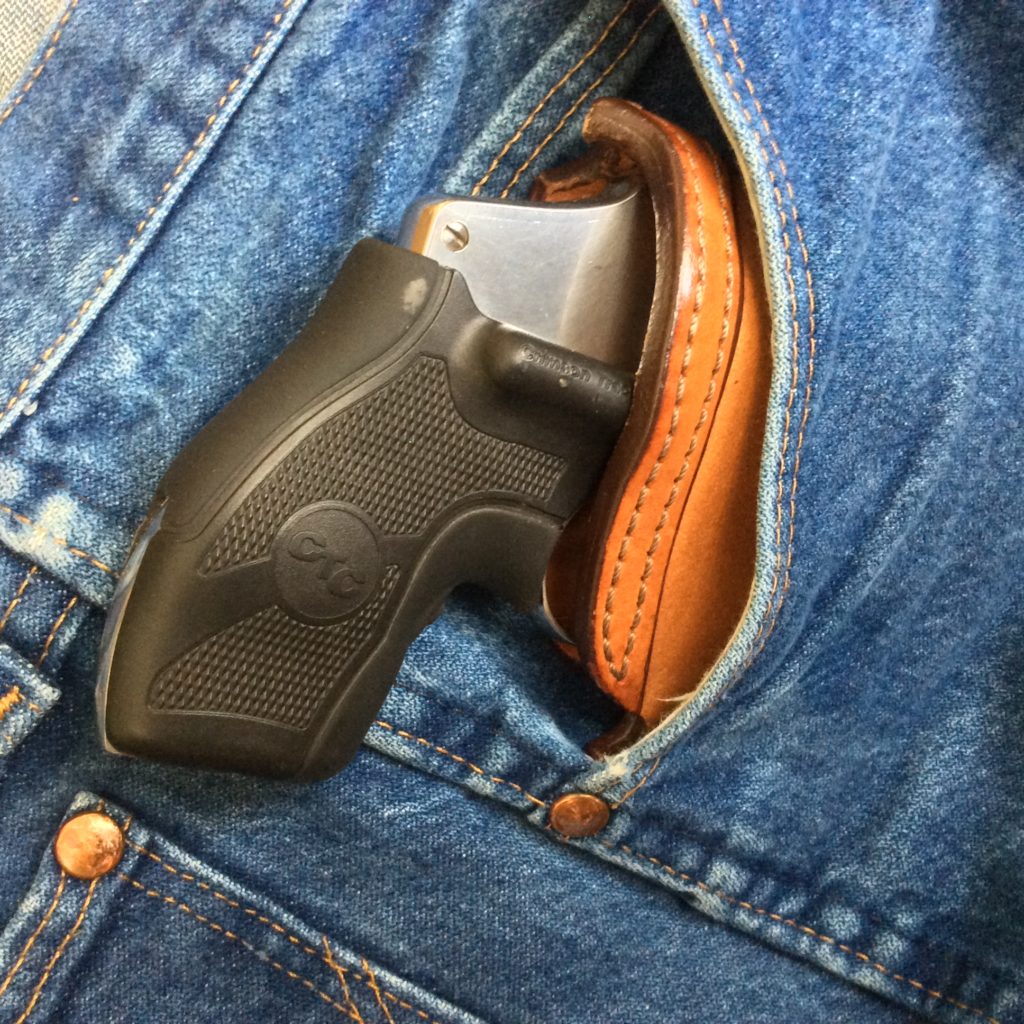 Meet the snub, carried in a pocket holster. The snub allows perfect concealment, normal posture while you're "at grip" (who doesn't walk around or stand with a hand in their pocket?), and makes it easy to transition to and from "grip" without anybody noticing.
Slick, and, as an extra bonus, it also helps to meet that "accessibility" requirement we talked about, since it's easy to carry a snub around in a pocket holster all day.
Score two, for the snub.
CQB Performance
I almost hesitate to use a military term like "CQB" here, because it's not an exact fit, but Close Quarters Battle is a useful way to describe the close-proximity, potentially-entangled fight that is likely to develop when a fight breaks out between two people in the threshold of a door.
In a fight like this, a small and compact weapon, which doesn't rely on a reciprocating slide to operate, has a great advantage.
Long barrels generate velocity and energy, and generally improve your ability to hit distant targets with precision, by virtue of the improved sight radius, but in a close-quarters fight, a gun with a long snout can be a detriment.  A long barrel is more easily deflected, and is easier to "get inside of." It also offers a lot more for your opponent to hang onto, and provides him increased leverage, when he's trying to wrest it from your grasp.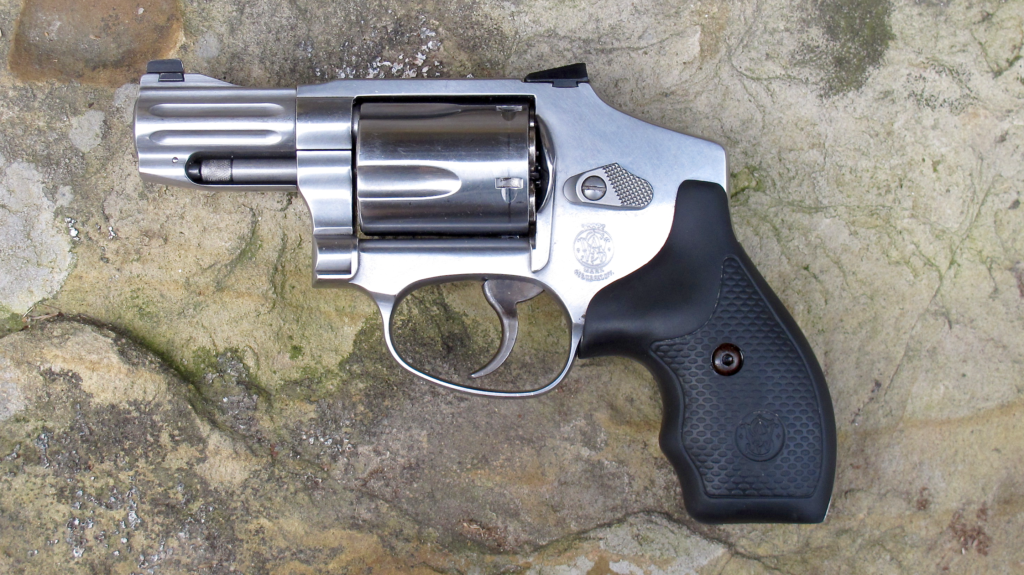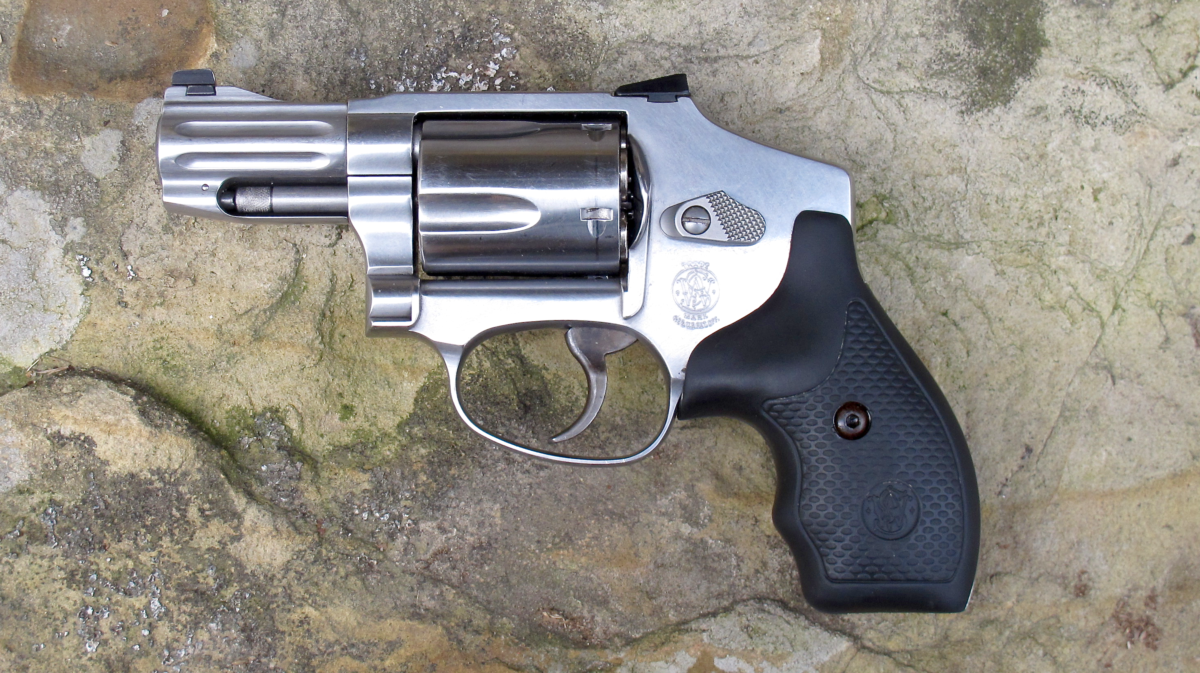 A snub revolver is harder to dodge and harder to get your hands on, as an attacker. It's also harder to take away from its rightful user, because the user has more gun to hang onto than you do.
The revolver's operating system also offers significant advantages in close range fights. A savvy (or lucky) opponent can certainly prevent a revolver from operating if he gets his hands on it, but the revolver is much more resistant to malfunctioning from accidental contact, or an unstable firing platform (poor grip, unlocked wrist, etc.), than a semiauto pistol. The pistol's slide must be allowed to operate freely in both directions, without interference or energy theft, to make the gun capable of firing the next shot–which can be difficult to guarantee, when you're within reach of your attacker.
As another plus, the revolver is much more likely to work again, after a contact shot is fired. You can jam the muzzle of an autopistol into a target and fire one shot, if you're lucky enough not to push the slide out of battery, first, but it's somewhat unlikely that the pistol will properly cycle and allow you to make a follow up shot in that scenario. If the actual contact with the target doesn't interrupt the proper cycling of the slide, it's very possible that the bodily matter which erupts from the wound, or bits of the target's clothing, may interrupt the free travel of the slide, back into battery.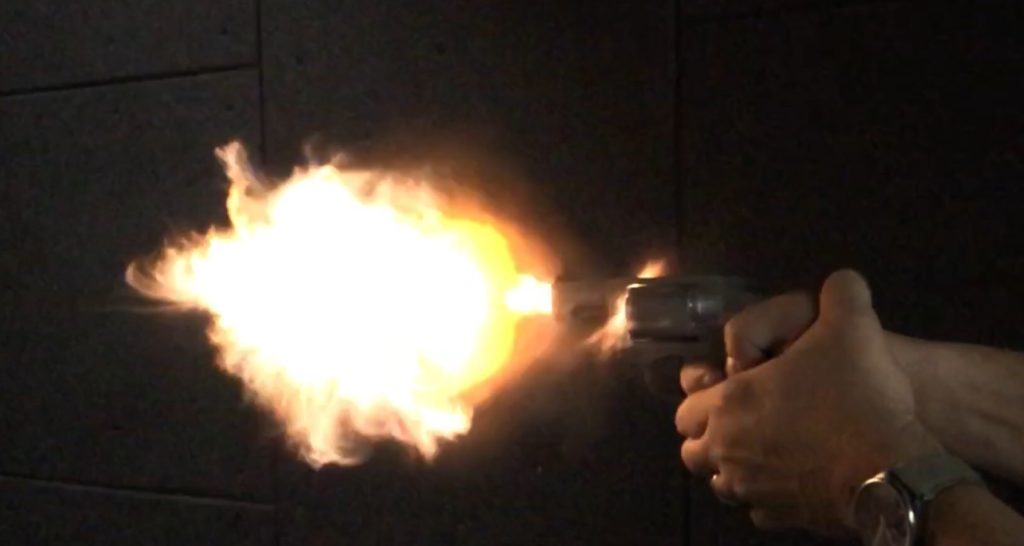 A revolver is much more resistant to these effects. Pressure on the barrel will not disable the gun's action. Additionally, the barrel acts as a "stand-off" between the target and the moving bits of the gun's action, keeping them from getting entangled in the target or its clothing. As a result, the probability of making a follow-up shot, after a contact shot, is quite high with a revolver, and, as an extra bonus, the jet of gas which propels the bullet out of the muzzle will dramatically increase the wounding and stopping potential of the gun, when a contact shot is fired. That makes the snubby hit much harder than you'd normally expect it to.
Less dramatically, but no less important, the snub revolver is also quick to present, out of a holster. A snub revolver will "clear leather" (or the edge of a pocket) much faster than a gun with a longer barrel, and this might allow you to get that first shot off sooner, and gain a crucial, tactical advantage.
Score three, for the snub.
Safe Stowage
As we've previously noted, there are situations where it might be prudent to bring a gun to the front door, which could later evolve to make the gun unnecessary, or undesirable. Under these circumstances, the home defender will need a way to safely stow the gun.
The best place to put the gun, of course, would be in a suitable holster.  However, it's unlikely that the defender will have a holster, unless the gun was already being worn. A gun that is recovered from off-body storage will likely be brought to the door in hand, without a holster.1
Consider one of the scenarios that I gave my students. A distraught and bleeding neighbor appears at your doorstep, seeking help. You get your gun from storage, and respond to the door with it in hand, because you don't know if there's a threat out there to be concerned with. Later, however, you determine that it's safe for you to open the door, and provide medical assistance to your neighbor.  The question is, what will you do with the gun, before you open the door?
Some of my students chose to stuff the gun inside their waistband, or into a pocket, in this scenario. The problem with this course of action, is that the gun is relatively unsecured, and could easily slip out and fall as you do other things (like render aid). Additionally, stowing the gun where it's still visible may present a problem, if you didn't want the other person to see it.
Perhaps most importantly, it's not safe to shove a gun like a striker-fired pistol into your waistband or a pocket, because it's too easy for the unprotected trigger to be inadvertently pulled, causing injury. Please don't do this with your Glock 17.
Some students in the scenario chose to simply put the gun down, to free up their hands. The problem with this course of action is that the gun is no longer in your immediate control, and it can easily be accessed by an unauthorized person (like the injured neighbor's young child, who followed Mommy to your home), who may–due to stress, unfamiliarity, or stupidity–negligently fire the gun while handling it. It could also "walk off" with someone who accessed your home in the commotion. 2
So, the best course of action seems to be to safely stow the gun on your person, where it's under your immediate control, is not visible to other parties, and is still accessible if you need it later. If only there was a gun that made this an easy task . . .
If you said, "the snub," then give yourself a pat on the back.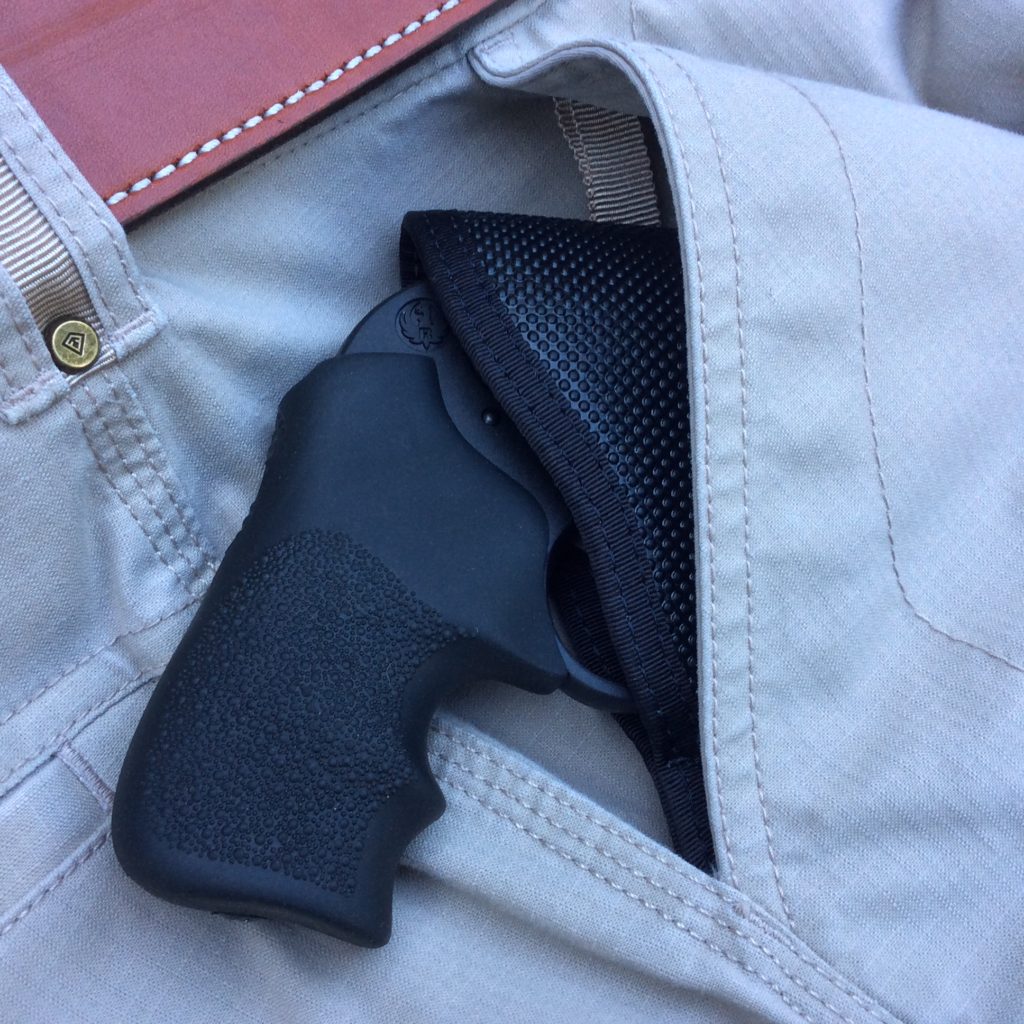 Most pants and jacket pockets are big enough to hold and conceal a snub that you don't want to have in your hands right now, and while we'd always insist on a good pocket holster for routinely carrying a snub revolver, you can put them into a pocket without one, in an emergency, with an acceptable level of safety (as long as the gun's external hammer, on models so-equipped, is not cocked). The relatively long and heavy double action trigger of a decocked, or double-action-only, revolver would be difficult to pull by accident (as long as there were no foreign objects in the pocket, like keys, which could work their way into the trigger guard), and provides a sufficient level of safety for exigent circumstances.
Of course, as we mentioned before, a snub carried in a pocket holster wouldn't even have to leave the pocket, to start with.  You could just leave it there, if it wasn't needed, and nobody would be any wiser.
Score four, for the snub!
Wrap up
Now, please understand that I'm not saying the snub is necessarily the best all-around choice for home defense, only that I think it's a good choice, and there are many benefits to considering one. It's certainly not as bad a choice as our RevolverGuy friend's trainers had led him to believe it is.
Admittedly, if the Mongol hordes were battering my door down, I'd probably want something with more power and capacity than a snub.  Actually, I'd want some concertina, a bunch of emplaced claymores, some close air support, and a bunch of armed friends, but it's what you get that makes you fat, not what you want, so I'd probably have to settle for my shotgun full of Federal FLITECONTROL.
But the snub will get me through most of the scenarios I'm likely to face, and would be a heck of a lot more useful than the scattergun for many of them. It might not demand a lot of respect from the tacticool crowd, but the snub sure deserves it.
It's a real strong choice for home defense, and it will likely do the job if your mindset, tactics and skills are up to snuff.
In truth, they're more likely to be deficient than the gun, eh?
Be safe out there.
*****
Endnotes
This brings to mind a potential suggestion. If you're going to store a gun off-body, perhaps it's a good idea to store that gun with a holster that can be quickly donned, regardless of the type of clothing you are wearing? Doing so might allow you to put the holstered gun on, and respond with your hands free, or at least give you an option for safely stowing the gun if it proves to be unnecessary. An inexpensive, clip-on holster, pocket holster, or fanny pack holster, could be worth a fortune in a case like this. Just a thought;

A better alternative might be to safely unload and clear the weapon, before setting it down. In this fashion, it couldn't be fired without taking deliberate action to load it, first. It still wouldn't do anything to protect the firearm from "growing legs," and walking off with an unauthorized person, but at least it would be less dangerous, sitting unattended—not "safe," just less dangerous. Of course, it would also be less useful, if the situation evolved and you needed a gun, again;