If you've been hanging around RevolverGuy for a while, you probably recognize the company name, TK Custom. We featured TK Custom as part of our Gunsmith Roundup series last year, but even before that, Justin was writing in these pages about their excellent moon clips and tools, which really set the standard for RevolverGuys who shoot auto cartridges out of their round guns.
We're big fans of the work that gunsmiths Tom Kilhoffer and Eli Johnson are doing at TK Custom, and were very excited to get our hands on one of their latest new products, a spring kit and replacement firing pin for the Kimber K6s revolver.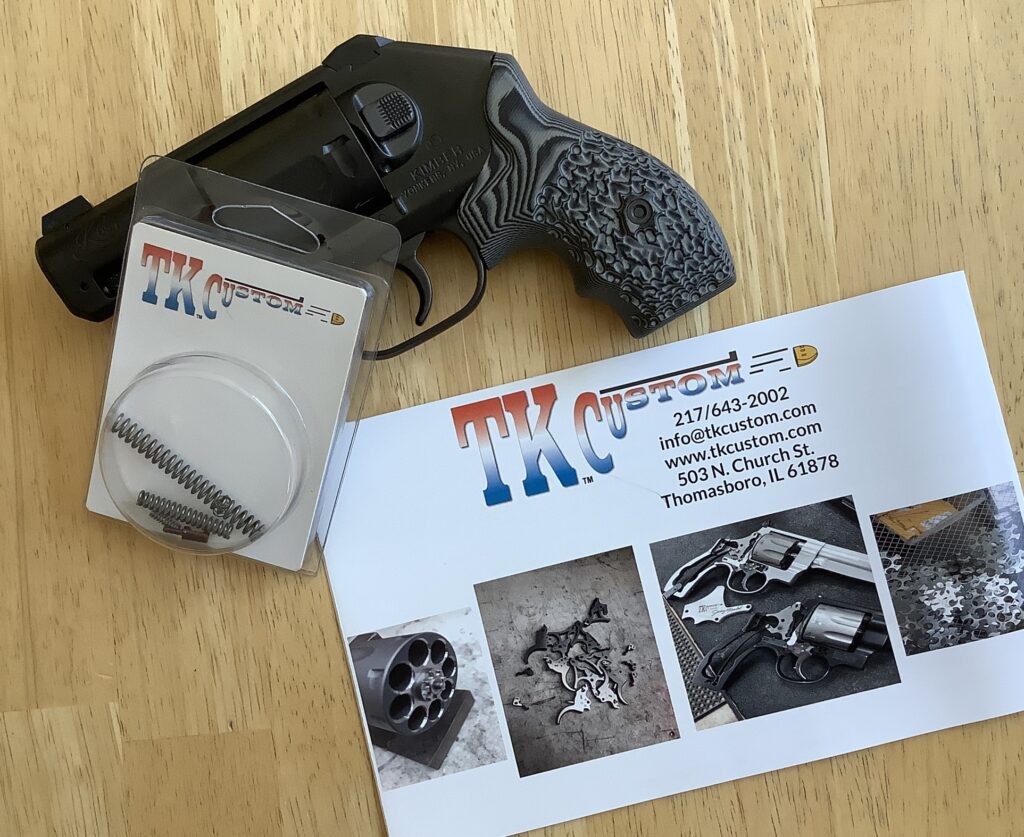 The "What if?" Game
We've done a lot of coverage of the Kimber K6s here at RevolverGuy. We wrote the most in-depth articles on the development and inner workings of that gun that you'll find in print, and also ran a very detailed field test of the K6s, that highlighted both the pros and cons of the revolver.
While there's a lot to like about the Kimber, one of the things that concerned us was the early reports about firing pin failures in the gun, several of which happened to a member of our test team. We had detailed conversations with Kimber about that, and they got to work on a fix, which partly involved changing firing pin materials from titanium to steel.  The new design, steel firing pin was incorporated into all K6s models (both DAO and DASA variants) in the 2019-2020 timeframe, to remedy the issue.
That's excellent news for new buyers of this gun, but those of us with older guns were still left a little unsettled. While it appears the older, titanium firing pin failures were a rare event, and it was unlikely most of us would ever have a problem with our guns, there's still that nagging doubt that can be hard to dismiss. You can live with a recreational gun that might have a hidden flaw inside, which can pop up without notice, but you can't go heeled with a gun that you don't have 100% confidence in.
TK To the Rescue
Well, worry no more, brothers and sisters, because TK Custom has the solution to our problem. With their new spring and firing pin kit for the K6s, you can now swap out your OEM titanium firing pin for a TK Custom extended firing pin, made from 17-4 heat treated stainless steel, and put your mind at ease.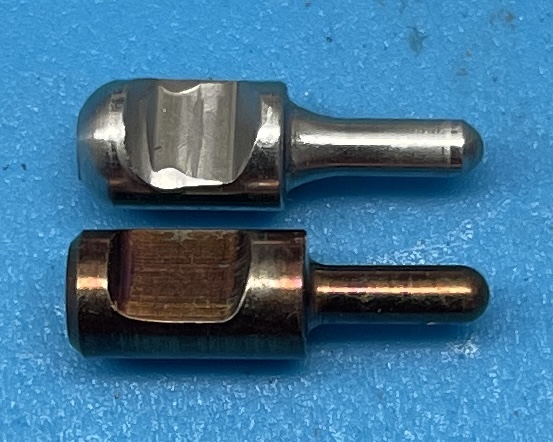 Rest assured that TK Custom is rolling their own firing pin—this is not a part being purchased from another vendor. We know that other outfits are offering replacement firing pins for Smith & Wesson revolvers that are similar, but the TK firing pins are not a repurposed S&W part.  TK Custom gunsmith Eli Johnson advises that the TK firing pins were specifically designed for the Kimbers, and have a few thousandths of tolerance to ensure they'll work in all Kimber revolvers, since there's some variance in the factory specs. With over 500 of the kits already sold at the time of our interview with Eli, he hadn't received a single complaint about the firing pin fit, and our samples worked great, too.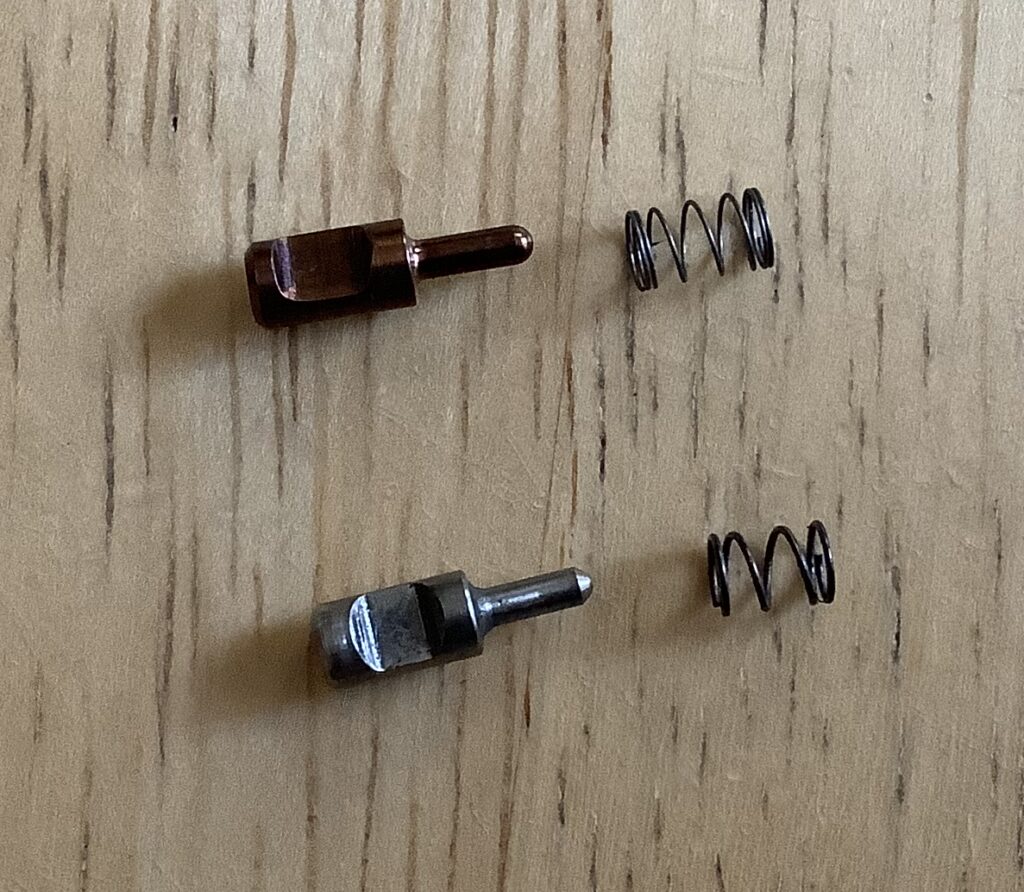 Springs and things
At the same time you're replacing your firing pin, you can upgrade the springs in your gun with TK Custom springs that will reduce the factory weight of pull down to about 9 pounds.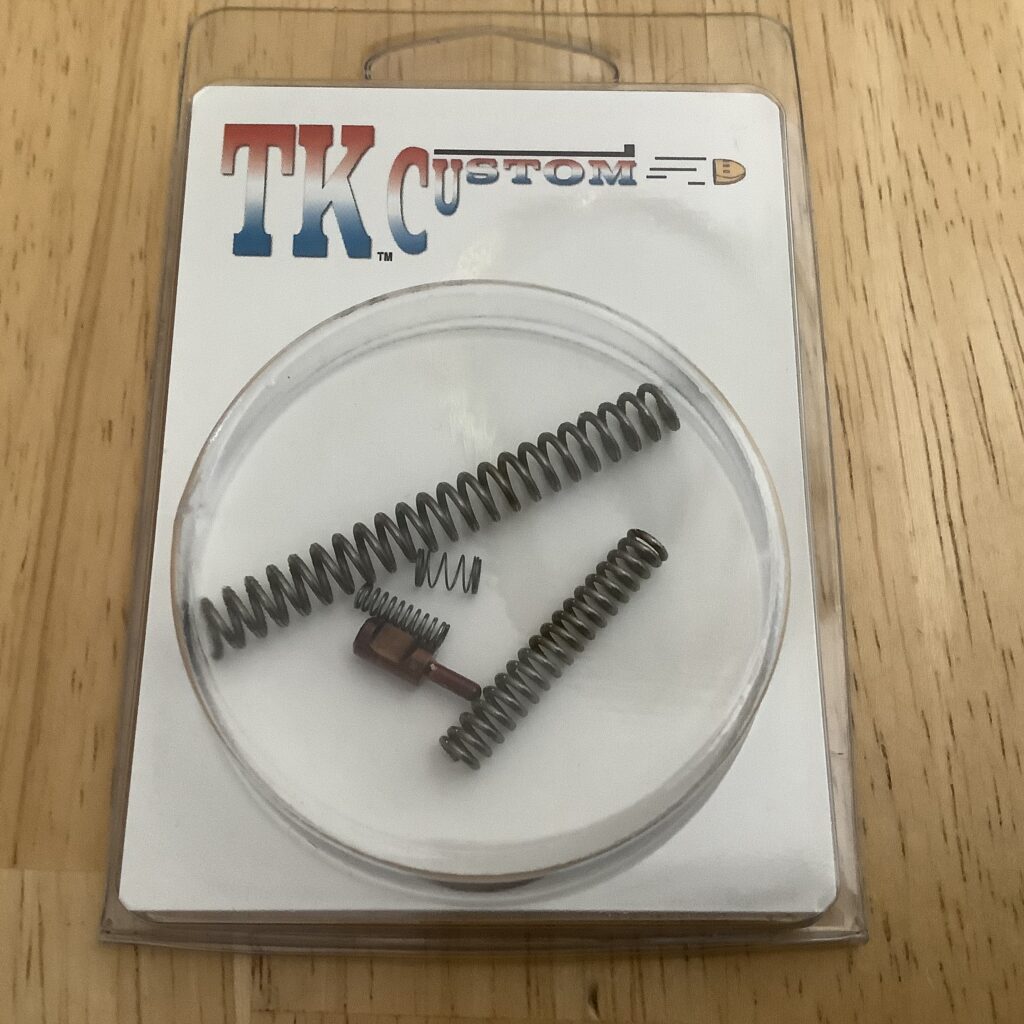 The TK Custom spring kit includes four different springs: A firing pin spring; A mainspring; A rebound slide spring, and; A cylinder bolt spring. Comparing these to the OEM springs reveals that the TK firing pin, rebound slide and cylinder bolt springs are longer than their factory counterparts, while the mainspring is slightly shorter.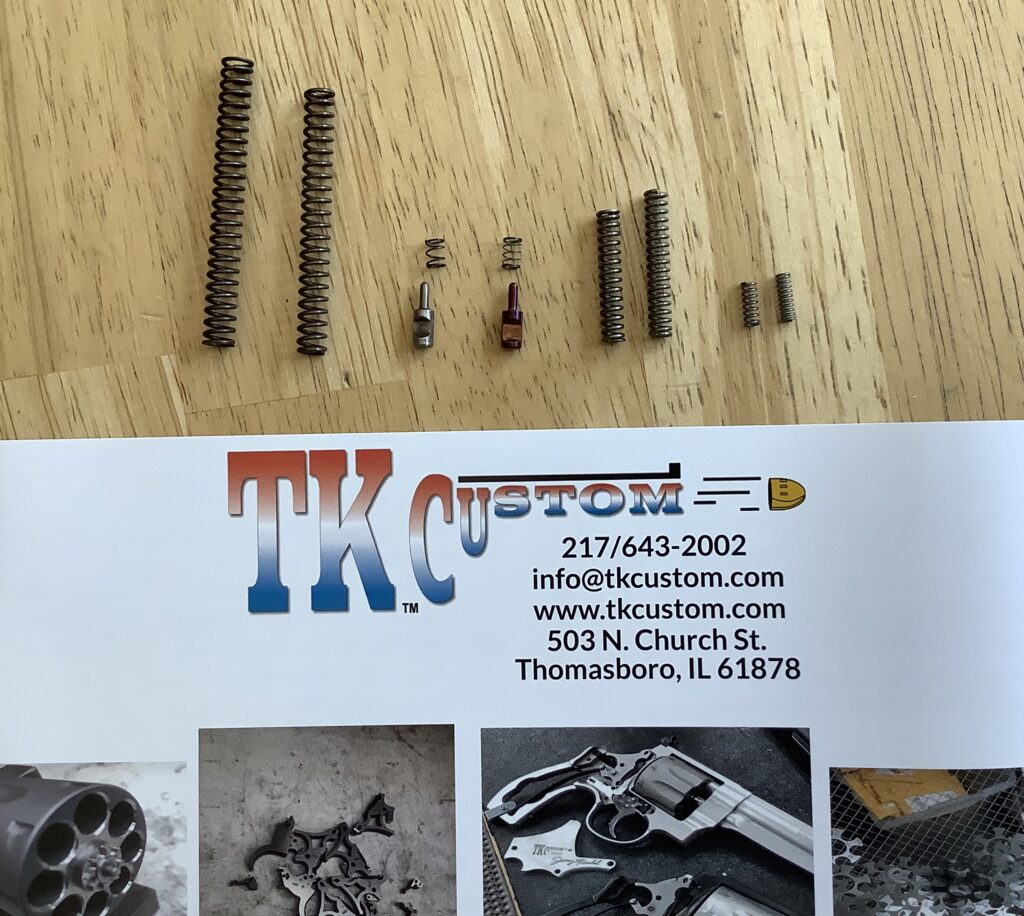 Eli advises that the greatest reduction in the trigger pull weight comes from the TK rebound slide spring, not the mainspring. He said that using the OEM mainspring would probably give about a quarter pound more pull weight than the TK replacement part, but their rebound slide spring is what really makes a difference. We'd agree with that assessment, based on our experience with the kit.
Interestingly, Eli told us that he feels the OEM cylinder bolt spring places too much tension on the bolt, which causes it to drag excessively on the cylinder, as it rotates. As a result, he includes a lighter spring in his kit, to help alleviate this. He reports no issues with the reduced spring rate failing to hold the bolt in place, when it's time to lock up the cylinder.
Installation
If you know your way around the inside of a Smith & Wesson already, it will be a cinch for you to install the TK Custom spring kit in your Kimber K6s. If you're not comfortable with taking the sideplate off and getting under the hood, then it won't take your favorite gunsmith long to change everything over for you.  The gang at TK Custom will be happy to do the job for you, too, if you want to send your gun to them (and take advantage of their other custom services, while you're at it—machining, barrel venting, chamber honing, refinishing, etc.).
The following pictures will show the major steps in the disassembly, for those who are curious. Of course, before you do any work on your gun, you need to safely unload it, then check it again!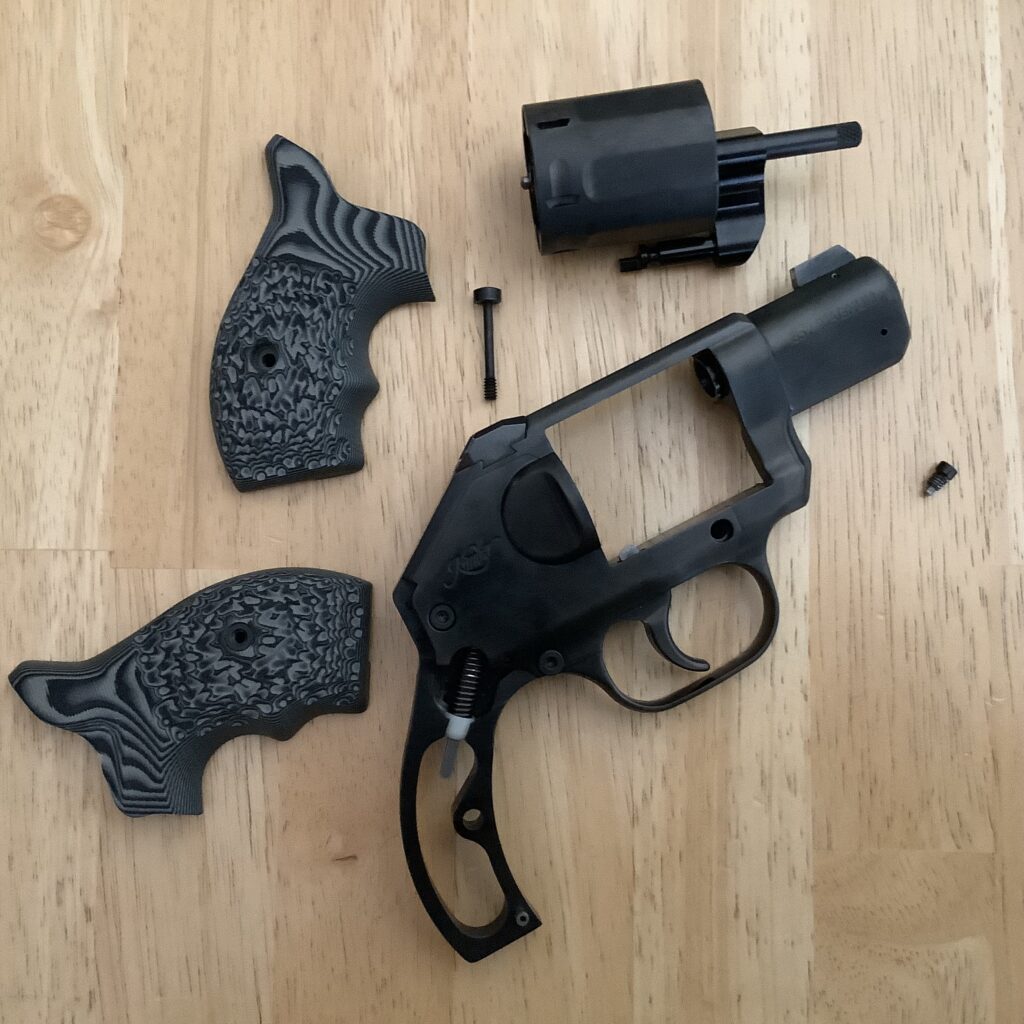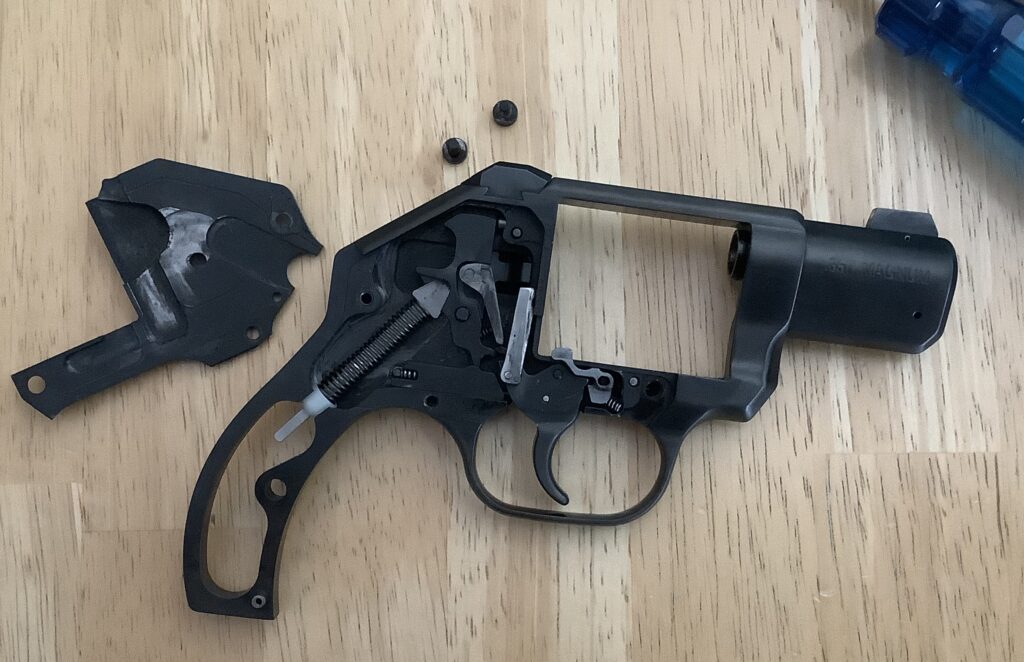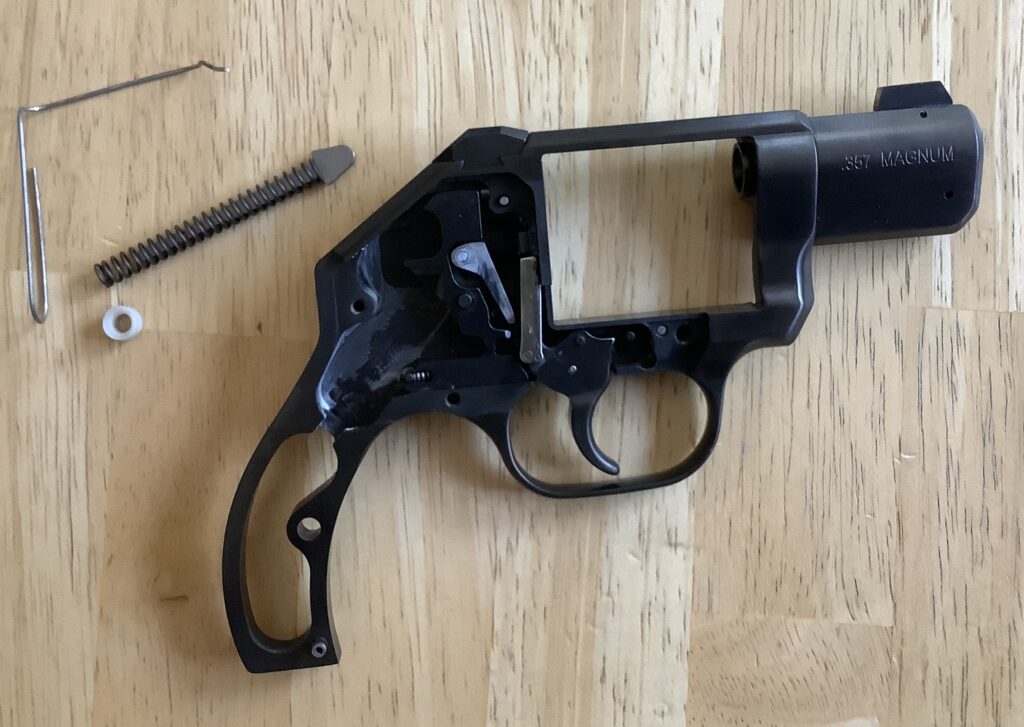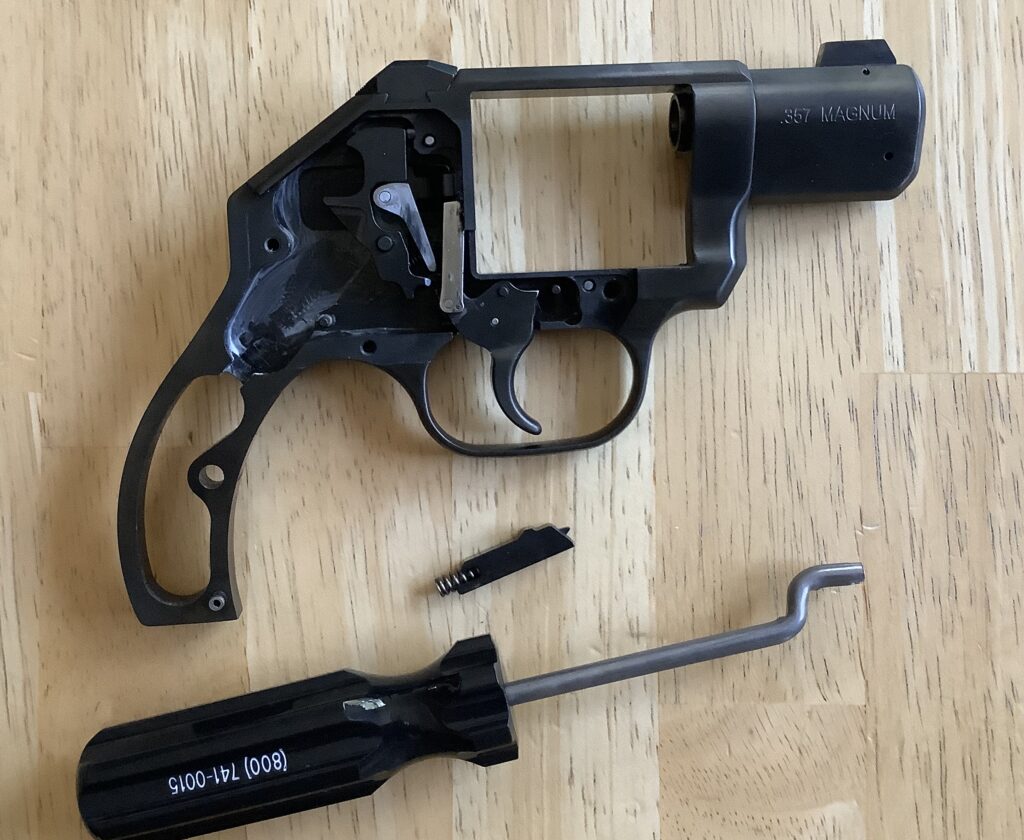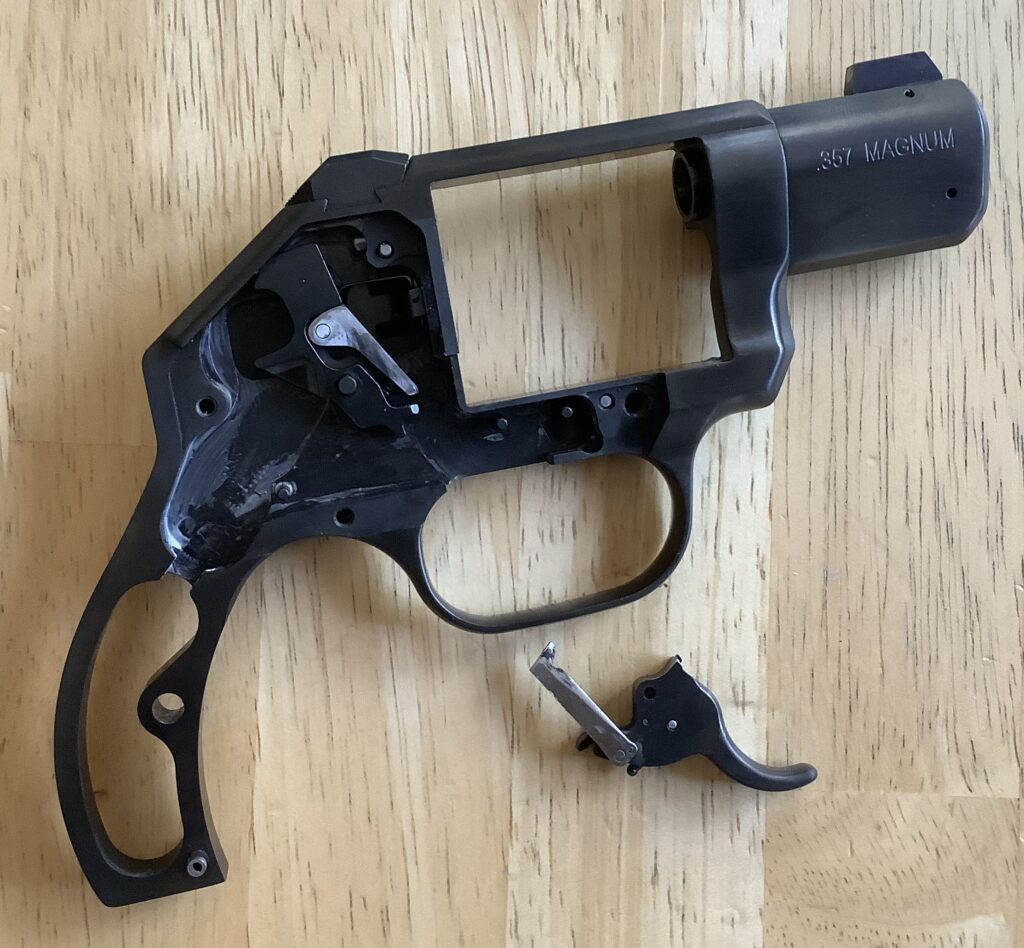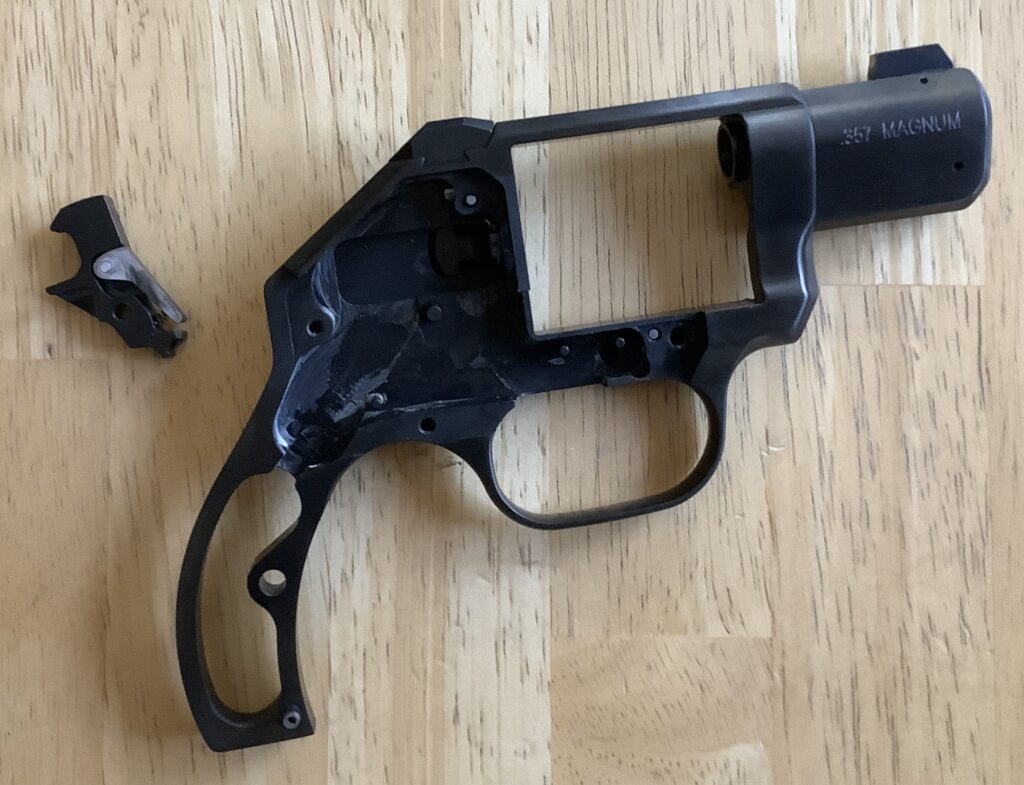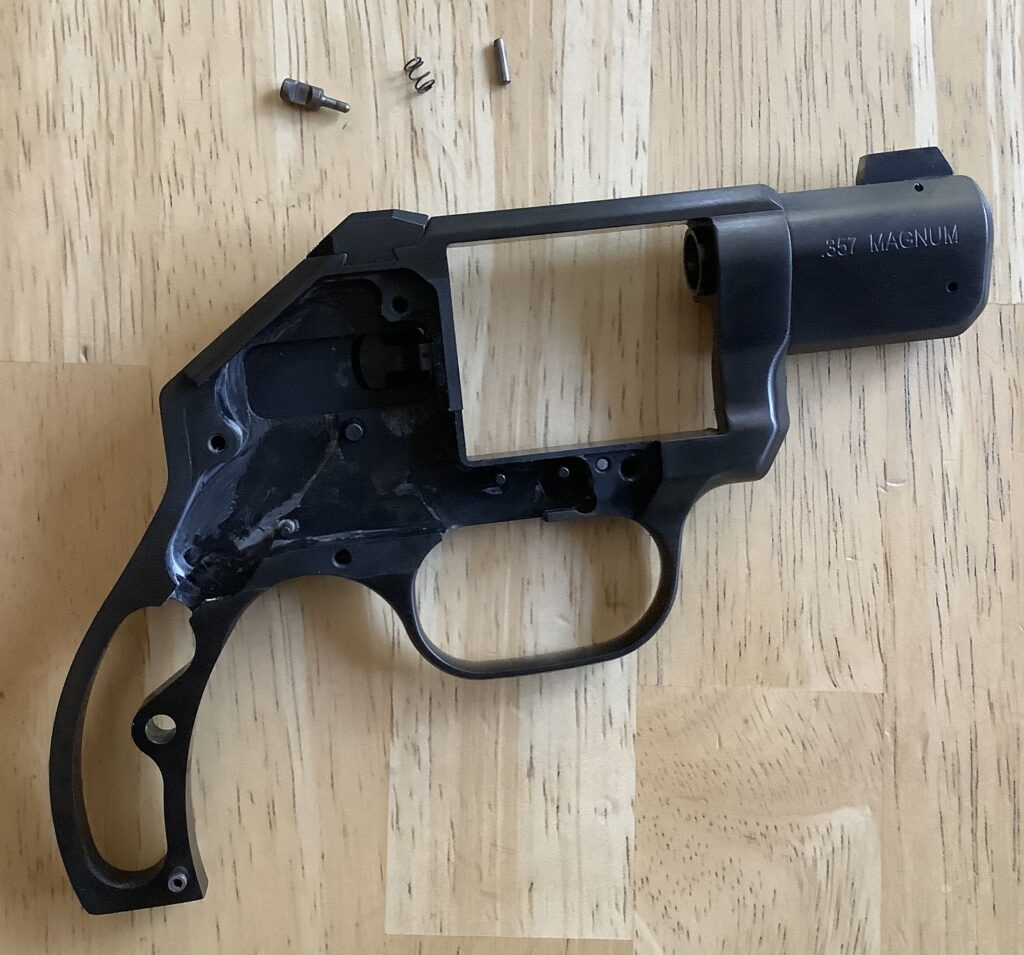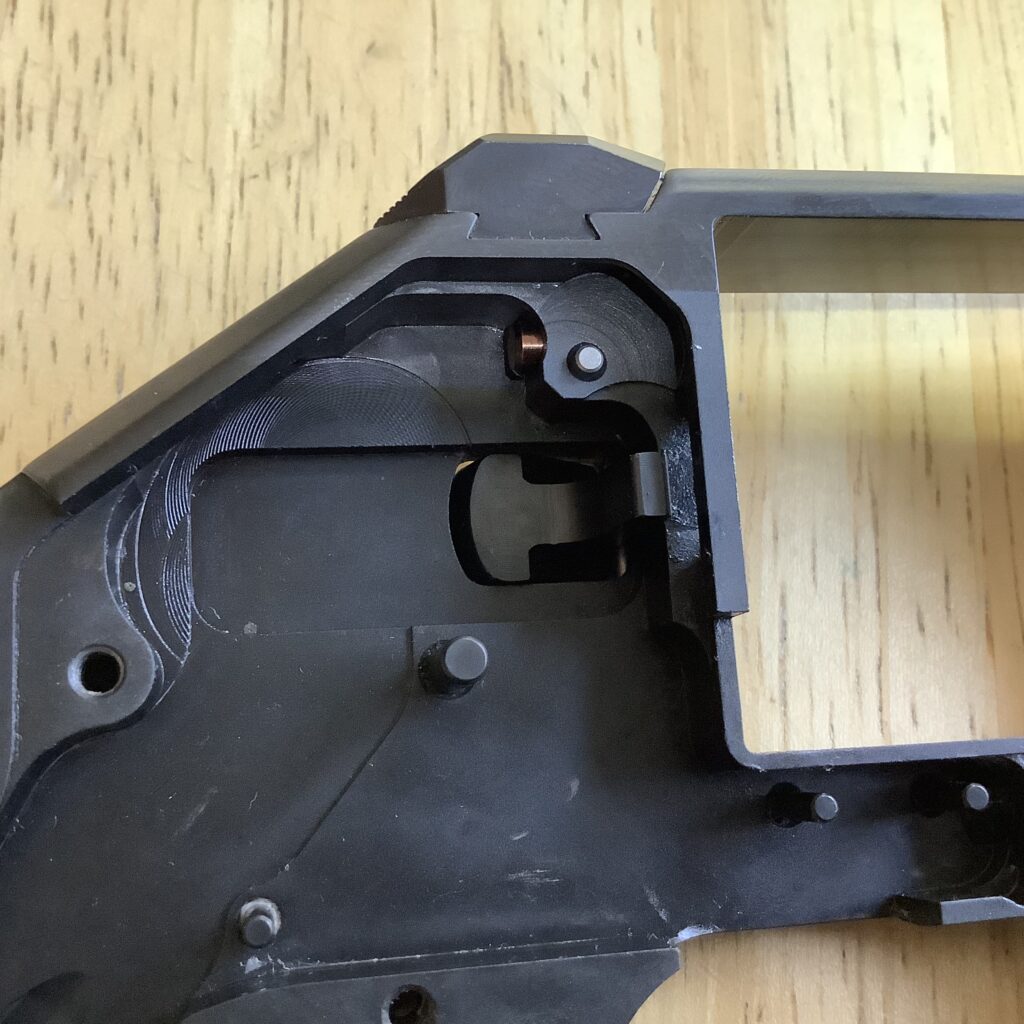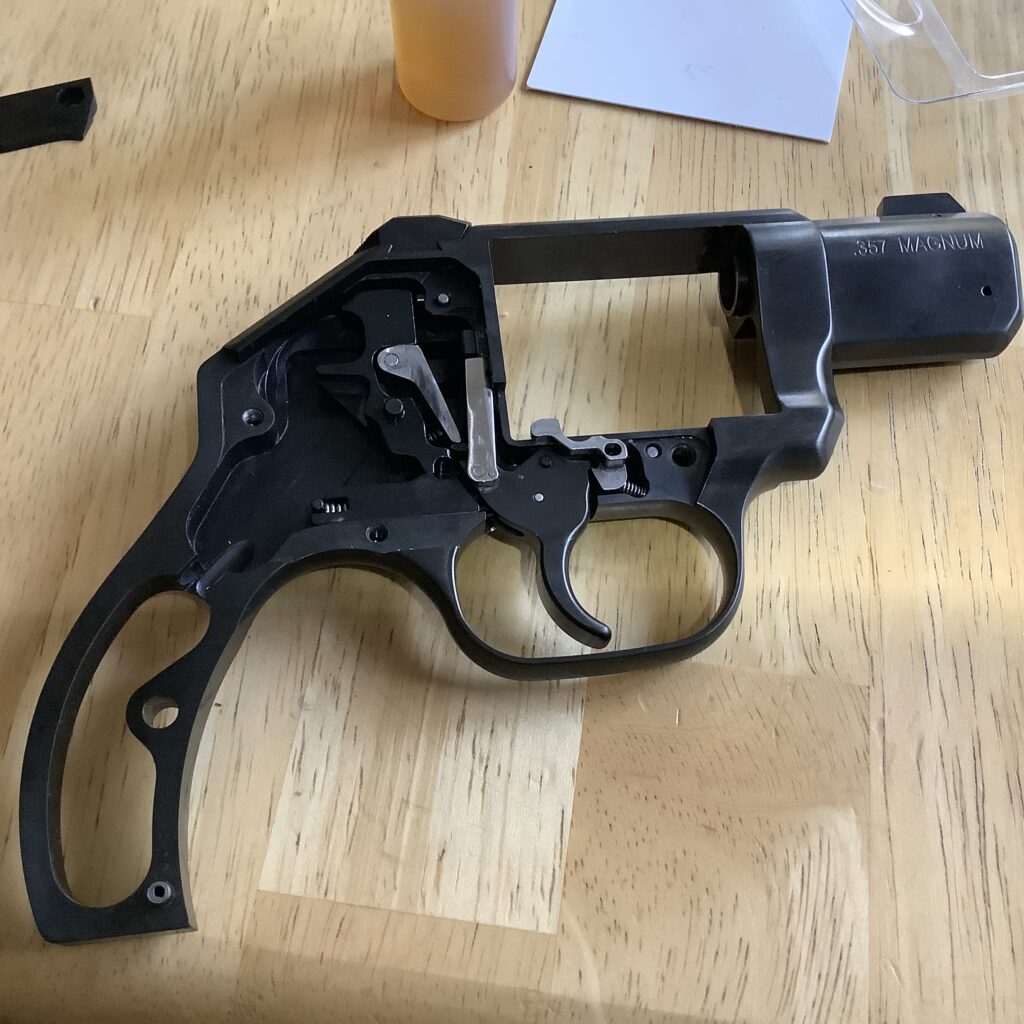 I had no issues at all with replacing the OEM parts with the TK Custom parts, which all fit perfectly in both my 3" Stainless and 2" DC model guns. I only had to do the "Gunsmith's Prayer" twice in the course of installing two kits—both times when I launched the tiny cylinder bolt spring out of the gun.  Fortunately, I heard and saw where they went, and found them quickly, but I might suggest that you remove and install the cylinder bolt with the gun inside a large Ziploc bag, to contain any flying parts.  That's a favorite trick (which I think I learned from Roy Huntington, if I'm not mistaken), and it would have saved me a little trouble if I hadn't been too lazy to use it, this time. Whatever you do, though, you HAVE TO wear your safety glasses when you're doing this kind of work, because a small spring like that could lead to a big injury if it shoots into your eye.
Results
My two K6s revolvers had factory trigger pulls that were just over 13 pounds, a piece, as verified by my ultra-sophisticated trigger pull measuring device—a water bucket!
There's several popular trigger pull measuring devices out there, some mechanical, others digital, but they all have this maddening limitation where they only measure up to 12 pounds. If you're working on single action guns, that's plenty, but if you work with double action guns, you can get over 12 pounds pretty quickly, and it's frustrating when you don't know how far over 12 pounds you really are.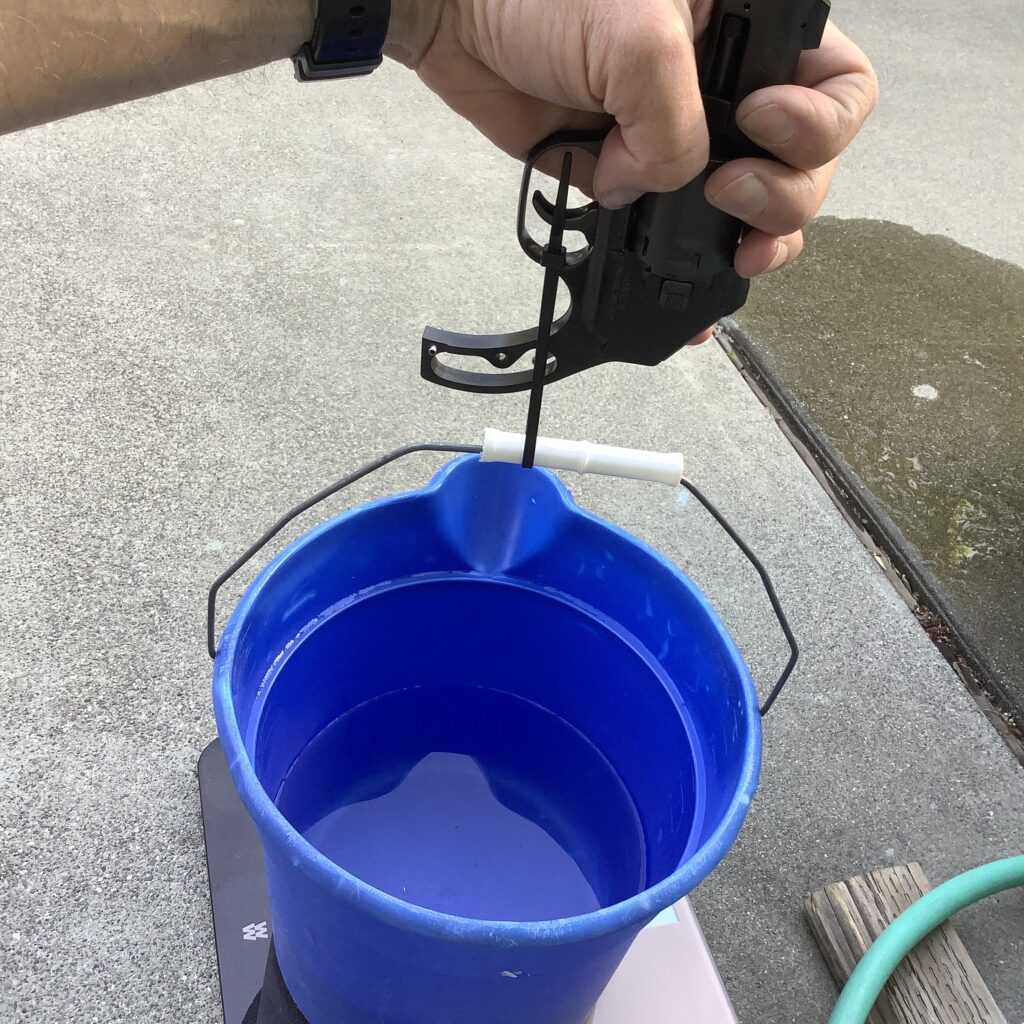 To work around this, I filled up a water bucket and ran a zip tie through the handle and the trigger guard of my gun. I carefully attempted to lift the water bucket off the ground by slowly and smoothly pulling up on the UNLOADED (checked TWICE!) gun, against the weight of the bucket. Each time I failed to lift the bucket without pulling the trigger, I poured a little more water out and tried again. Through some trial and error, I finally reached the point where my gun's trigger would support the weight of the filled bucket, and lift it off the ground without cycling the action.
Using a scale, I measured the weight of the filled bucket to get a feel for how heavy my trigger pull was. Now, I don't presume a high level of precision with this method, but it gets me close enough for my use, and what I found was both guns had double action pulls measuring in the 13-pound range. One of them was about 13.1 pounds, and the other was right behind it.
After changing out the springs with the TK Custom kit, my results were right at 9 pounds a piece with my fancy bucket system.
Using a more precise Lyman trigger pull gauge, RevolverGuy Dean Caputo tested his (heavily dry-fired) K6s, and measured the trigger at 10 pounds, 12 ounces before installing the TK Custom spring kit, which brought it down to 9 pounds, 15.5 ounces, afterwards.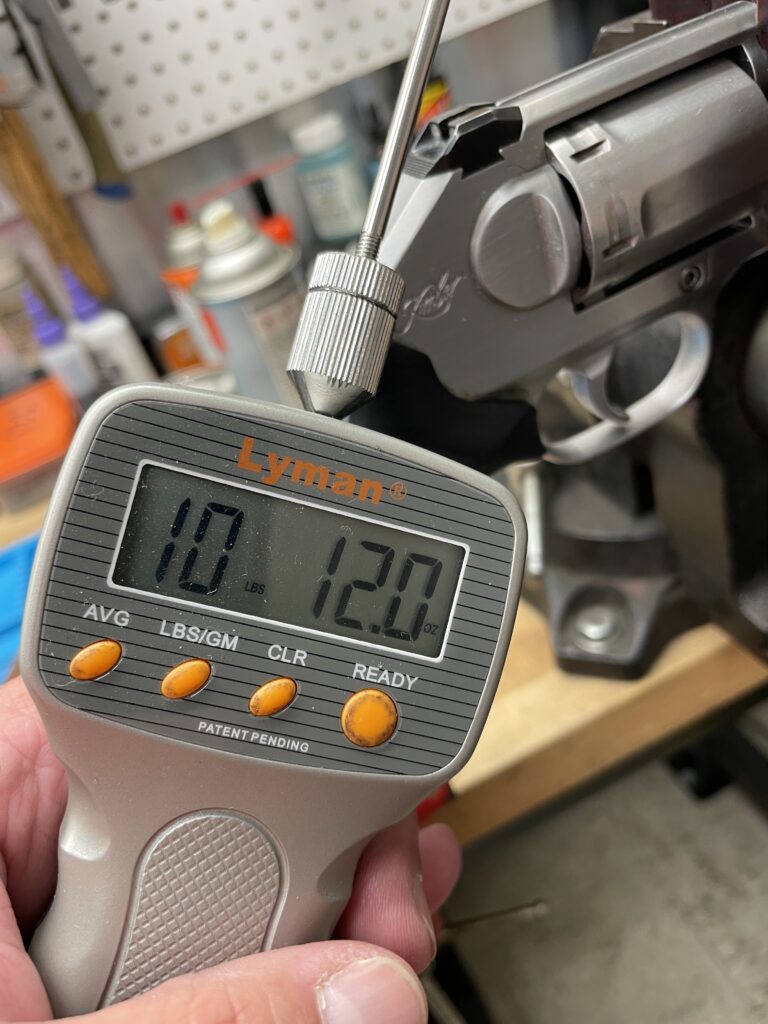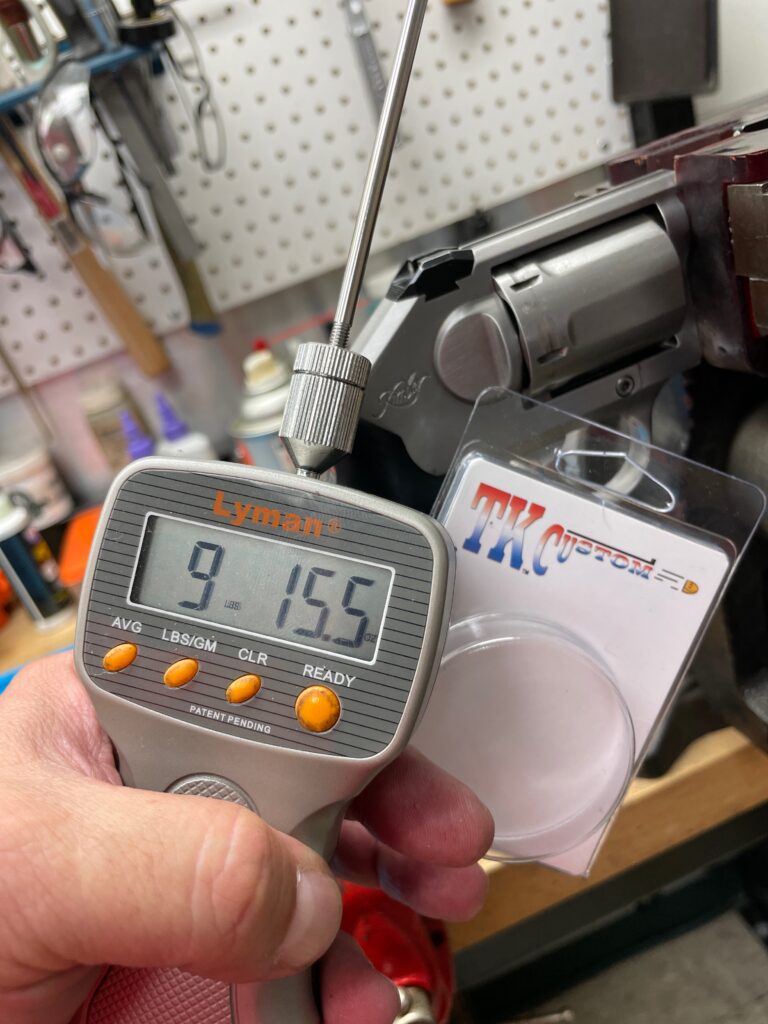 So, the three kits brought the trigger pulls down to circa 9 pounds, right where Eli said they would be, when I talked to him.
Magic.
Bench test
I'll be honest, and admit that I didn't detect a whole lot of difference in the trigger pull weights, at first, between the OEM and TK triggers. You'd think that a four-pound reduction would make such a significant difference that I'd really be wowed by it, but I guess my trigger finger isn't as calibrated as I thought it was (or the scale I weighed my bucket on wasn't as precise as I thought it was). I certainly noticed some difference, as my trigger finger didn't get fatigued as quickly with the TK springs installed, but I couldn't tell the pull weight had been reduced by about a third, just playing with it at the bench.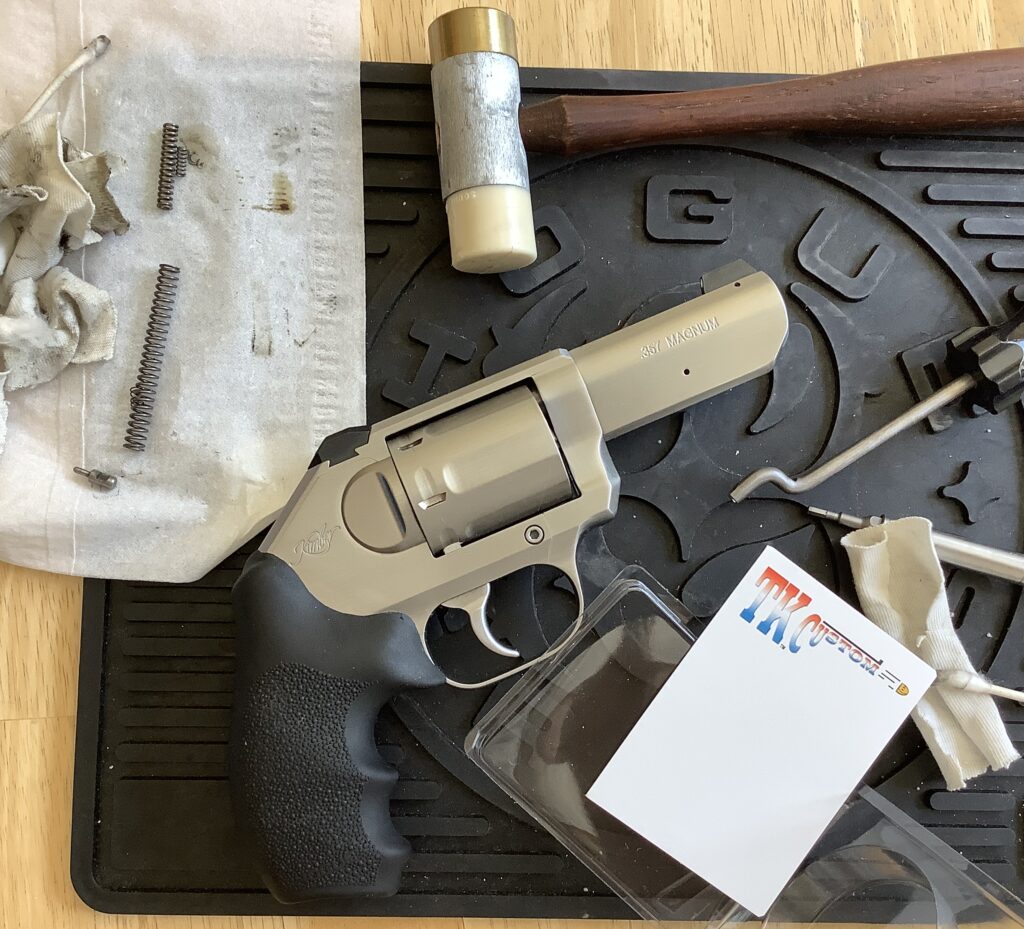 I'm always concerned about having a smooth trigger pull, but the weight seems less important, within reason. I didn't find the nominal-13-pound trigger pulls of the OEM parts to be objectionable, because the pulls were  pretty smooth, but the scale tells the truth–the TK triggers are lighter, without sacrificing any of the smoothness.
However, I did detect a less powerful trigger return with the TK rebound slide spring installed. This wasn't a surprise, since the rebound slide spring was the focus of TK's pull reduction effort, but I was a little nervous about the reduction because a weak return can interrupt your shooting rhythm and also encourage short-stroking.
I had experienced this when I first started shooting the Ruger LCR revolvers, because they use a very light return spring on that design, and I was hoping that the modified Kimbers wouldn't do this.
Shots Fired
I shot my 3" Stainless and 2" DC K6s revolvers with factory Winchester loads, and some commercial reloads, and had no failures to fire with the new spring kit. RevolverGuy Dean Caputo had the same experience with his gun, which popped all his factory-loaded Speer primers without any troubles.
I was also happy that I didn't encounter any short strokes when I fired the 2" DC K6s in some rapid-fire drills.  The trigger returned as fast as I needed it to, and I didn't notice it being a problem when the shooting tempo picked up.
Wrap Up
If you're struggling with the OEM trigger pull weight on your K6s, the TK Custom kit will safely and reliably lower that pull down to about 9 pounds, which is probably the sweet spot for a double action revolver—light enough that you won't get fatigued, but heavy enough that it won't sacrifice the reliability or safety that's inherent to a double action trigger.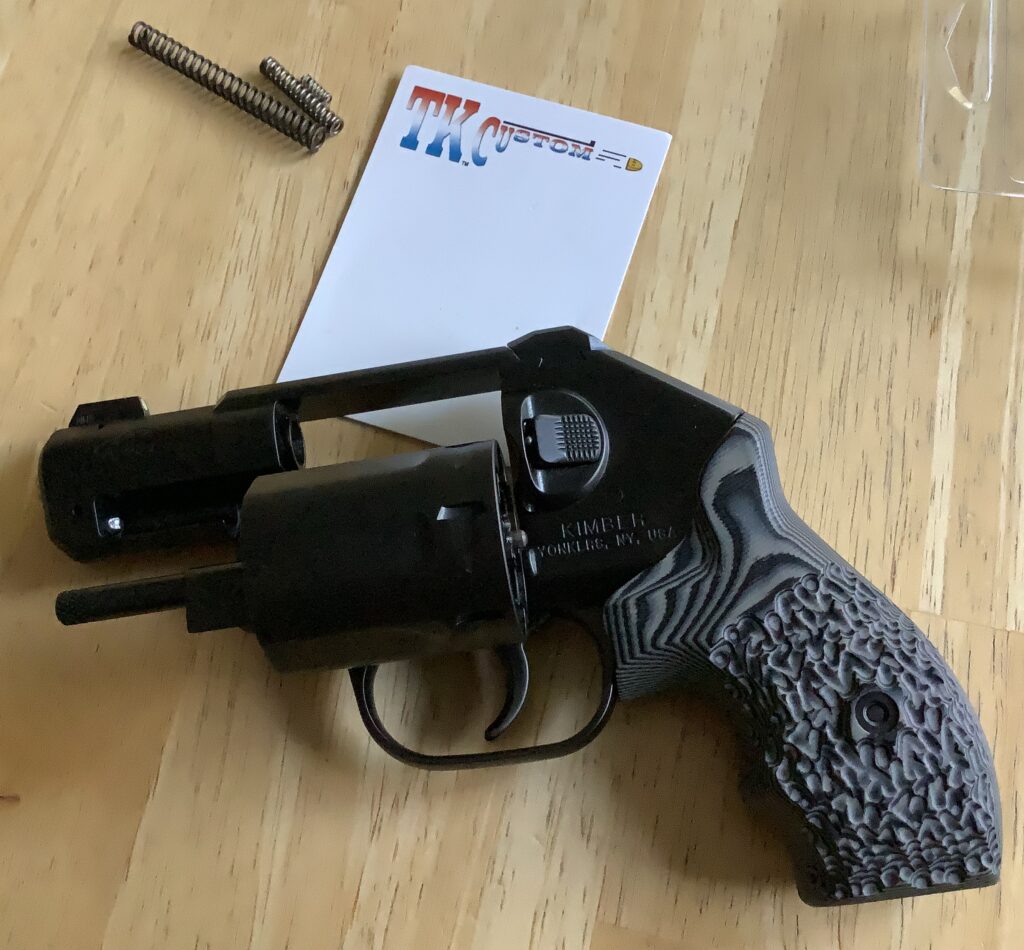 While I enjoyed the trigger that resulted from the TK kit, it was the replacement firing pin that really won the day for me.  Neither of my OEM titanium firing pins had given me an issue, but I always had a nagging doubt about them that I just couldn't shake.  Replacing them with the all-steel, TK Custom firing pins bought me some peace of mind and increased my confidence in the guns. Be advised that TK Custom sells just the firing pin, too, if you're only interested in that.
When you look at the kit on the TK Custom website, make sure you spend a little time looking at all the other great products and services they offer. If you shoot anything with moon clips, they've got you covered, and if you're interested in action jobs, machining, refinishing, barrel venting, or other custom gunsmith services, they can take care of that, too.
Make sure you tell them that RevolverGuy sent you!