When conducting my field test of the Colt King Cobra, I neglected to carry this revolver for want of a holster. This is a pretty common problem with firearms that are new to the market. Leather workers and Kydex benders need a little time to catch up to new designs. Though Kramer Gunleather didn't list a model for the King Cobra, I reach ed out to them anyhow. I lucked out, and they offered to send us a Kramer Belt Scabbard.
Kramer Leather
I reached out to Kramer because I've had one exceptionally good experience with them. The first "serious" holster I ever purchased was from Kramer. That was  back in about 2004, and it was an IWB rig for a 3″ S&W Model 60†. I had read all about Kramer Leather in the gun magazines as a kid, and I knew a couple buddies that had Kramer holsters, so I gave them a shot. Fifteen years later my dad still has that IWB rig and it's still going strong.
Kramer was founded in 1983 and became famous not only for manufacturing extremely high-quality holsters. They're also famous for their medium: bark-tanned horsehide. Kramer still claims to be the only manufacturer working primarily in horsehide, with others offering it only as a custom option. Horsehide is more dense than cowhide, and according to many is the superior material. Horsehide is said to last longer, and withstand more abuse than comparable cowhide. Though – limited as my experience with horsehide is – I can't personally vouch for this, I can say that it's hard to overstate what a fine holster the Kramer Belt Scabbard is.
The Kramer Belt Scabbard
The Kramer Belt Scabbard is a pancake, OWB design with a mild forward (FBI) tilt and a fairly high ride. As is the case with all standard Kramer holsters, it is made from horsehide. The Kramer Belt Scabbard is lock-stitched, in double rows, with black nylon thread. On many holsters I enjoy seeing the rows of white stitching contrasting against the tanned leather; on the Kramer I equally enjoy not seeing them. The edges of the Kramer Belt Scabbard are hand burnished. The holster is hand-finished with paste wax and the finish is simply astounding.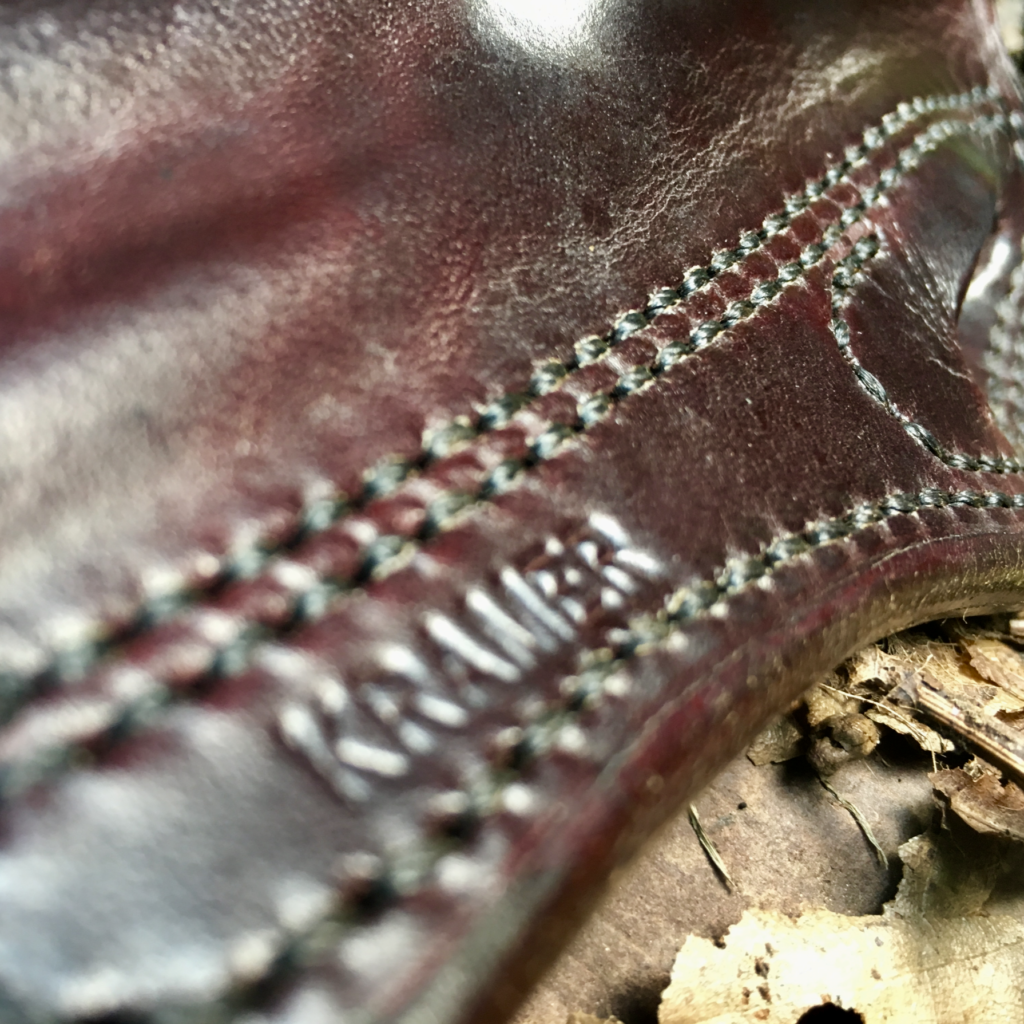 This holster differs from other holsters in some other ways. It is extremely stiff, and this is by design. The holster is molded around the gun with the intent of providing passive retention. In this respect the holster performs admirably. Along with an Aker holster that will be the subject of a future review, this holster provides one of the tightest fits I've ever seen.
In addition to functionality, this is one of the most beautiful holsters I've had the opportunity to work with. The finish is glass slick and the mahogany tanning is deep and dark. I'm afraid photographs just don't do it justice. The contours of the Kramer Belt Scabbard flow perfectly, and despite my best efforts, I've yet to find an imperfection in finish. My girlfriend has commented multiple times on the beauty of this holster, a point upon which she and I are in total agreement.
Kramer Belt Scabbard + Colt King Cobra
I have taken to wearing the Kramer Belt Scabbard/Colt King Cobra combo around the house. During normal outdoor chores the King Cobra is a near perfect companion: lightweight, compact, powerful, and incredibly accurate. The Kramer Belt Scabbard is the perfect ride for this revolver, holding it tightly, and keeping it close to the body.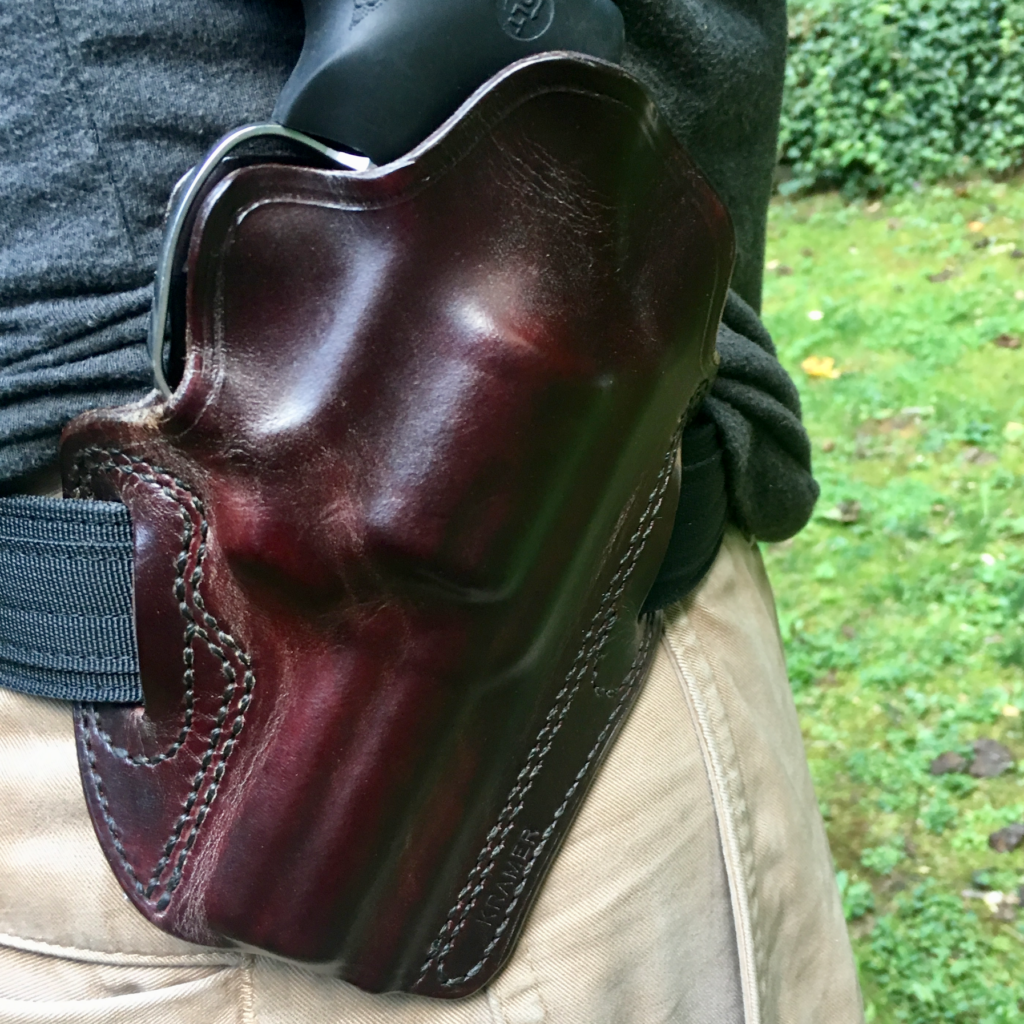 Concealment: I have carried the King Cobra outside the house, as well. Now, I'm a pretty slim guy, so strongside OWB carry makes concealing just about anything difficult in my normal apparel. The King Cobra is no different – the butt of the grip gives me away. With a shorter grip I believe I could pull it off but I don't want to sacrifice any of the ergonomics of the little Colt.
Instead, I'll dig out my loosest t-shirts, which will do well enough for a run down to the hardware store or local feed 'n seed. In dressier – or bulkier – attire, concealment is not an issue at all. Guys who are a little bigger (in build, or around the waist) than me will have no problem concealing this duo.
Drawing: The Kramer accomplishes what we expect most "good" holsters to do these days. First, it permits a full firing grip, a design feature that Kramer proudly incorporates into all their holsters. This particular model is cut very high up on the gun. This cut covers the hammer, preventing it from snagging on cover garments, while leaving the full grip exposed.
Next, this holster provides both strong passive retention, and a speedy draw. The Kramer Belt Scabbard places the revolver's cylinder directly over the belt. When tightened, the belt and cylinder place pressure upon each other, holding the gun in tightly. Despite the excellent passive retention this offers, the interior of the holster is slick and gives up the gun readily to the draw. . . after a few draws. The sight track on the holster is ample, and I've yet to have a problem scraping leather with the front blade.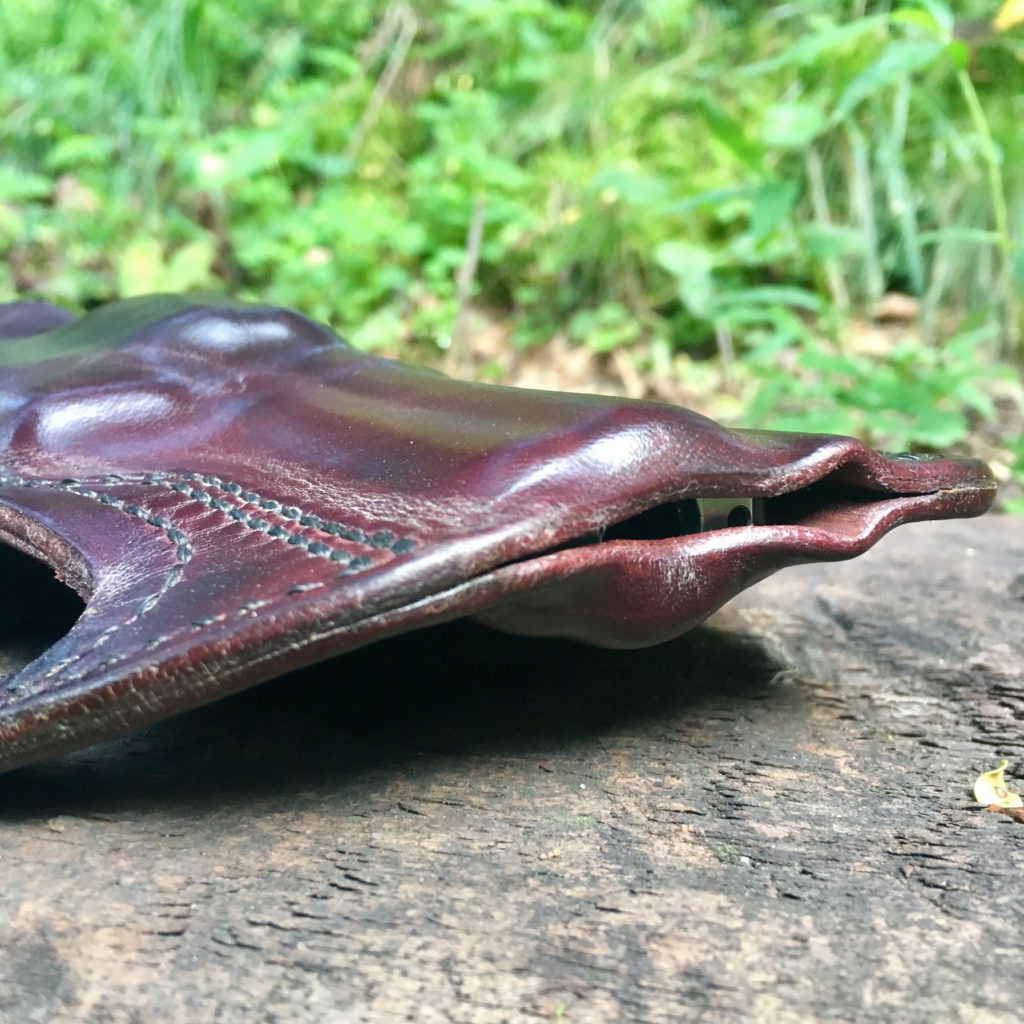 The stiffness of horsehide is a boon to holstering, too. I've heard it said that some call horsehide the "Kydex of leather." I'm not sure if that's true…but this stuff is stiff. Though the mouth of the Belt Scabbard isn't reinforced, it stays open. Getting the gun in the holster without a lot of fumbling, assistance from a second hand, or muzzling oneself is easy.
Comfort: All-day carry of the King Cobra in Kramer's Belt Scabbard is extremely comfortable. The holster is molded to curve around the body which doubtlessly aids in concealment, but also helps with comfort. Usually by the time I sit down on the couch at the end of the night, I'm ready to shuck my 1911 and set it on the nightstand. With the rounded contours and rubber grip of the Colt's revolver I have no such compulsion. This revolver/holster combination carries exceptionally well.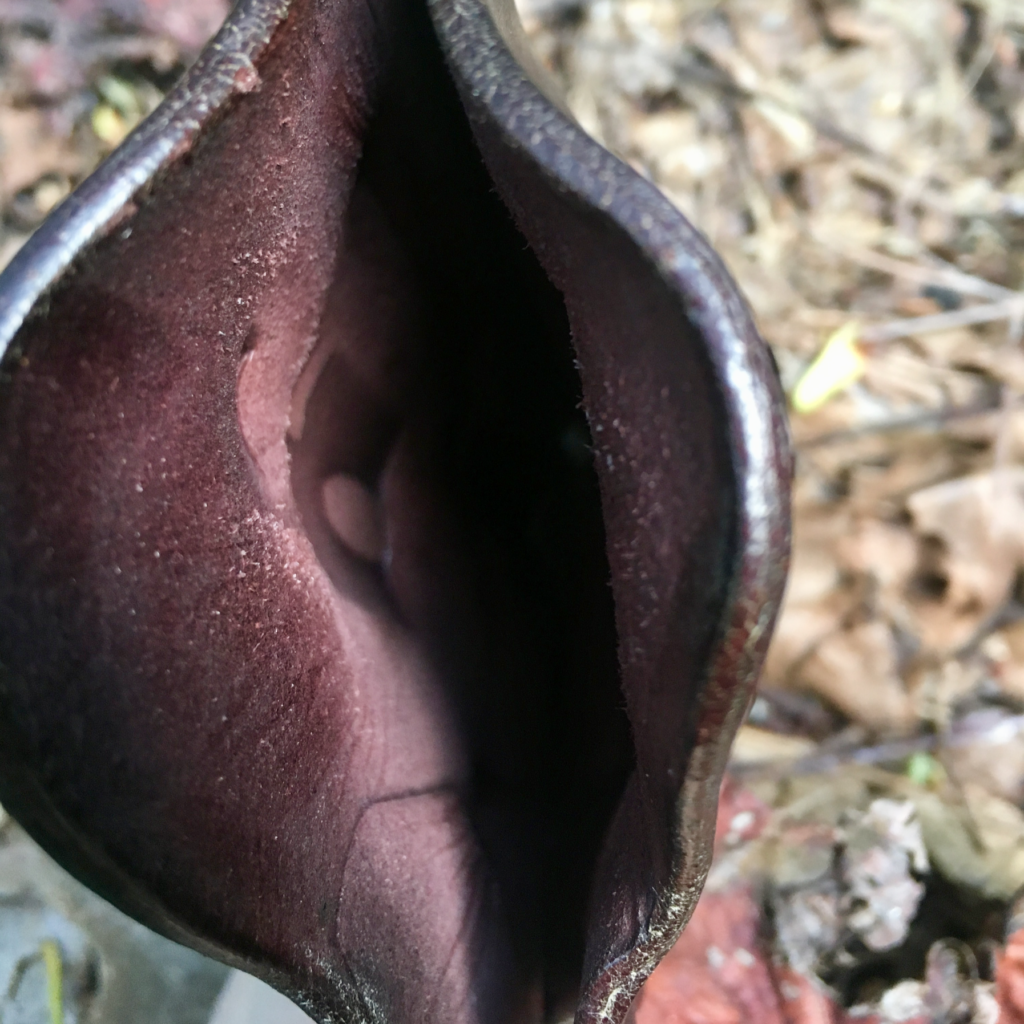 Kramer Customer Service
Something really interesting happened while I was working on this article. I received the holster from Kramer. I noted that it was pretty loose on the King Cobra (but not so much so that it didn't work). I messed with it a little bit, then sat it aside to work on other, more pressing projects. Before I was able to get back to this article and complete it, I got an email from Greg Kramer.
Several weeks after I had received this holster, Greg had reached out to me, completely unsolicited. To tell me that he had sent me the wrong holster. The model he sent was molded around the old King Cobra. This explained the loose fit! Greg immediately began working on a holster for the new King Cobra and shipped it out to me just a few days later. Fortunately for me, it arrived about the time I was getting ready to begin work on this article.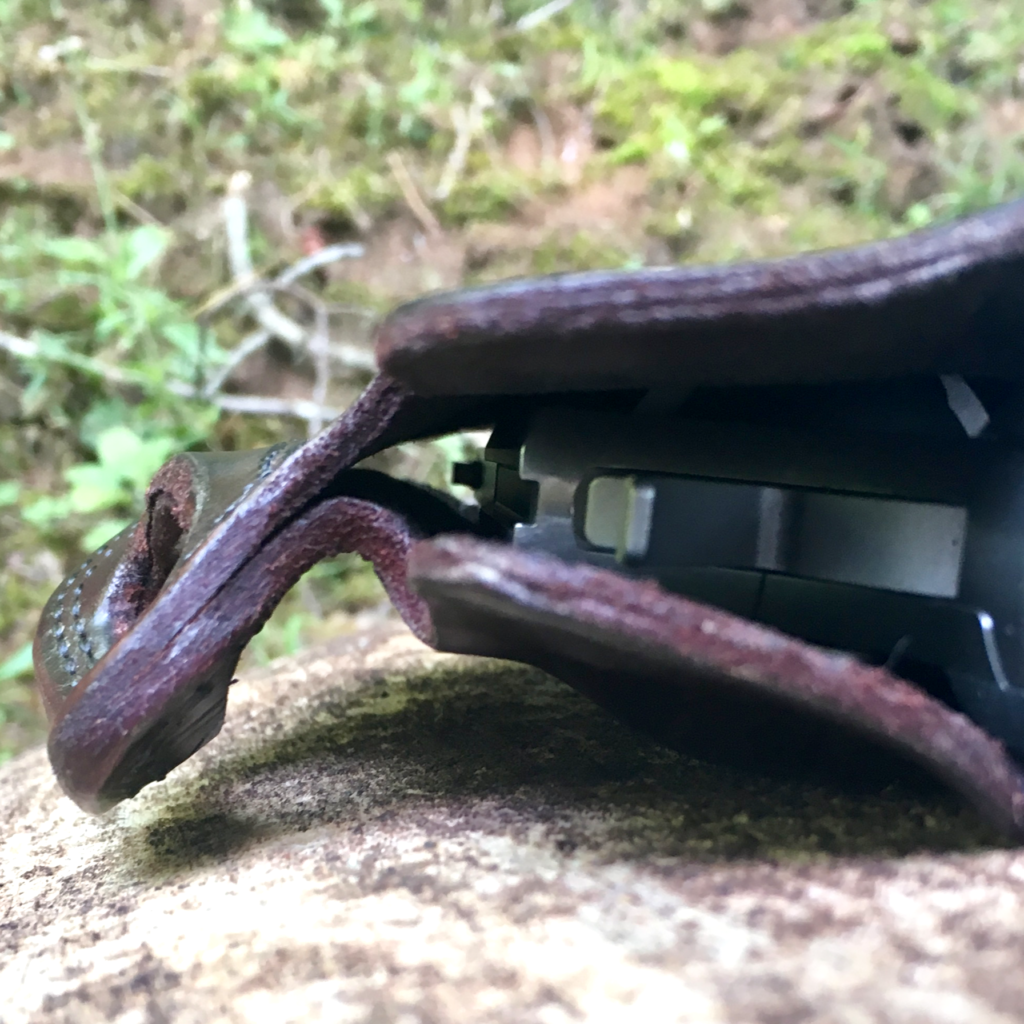 I know if I had contacted just about any company and told them they sent the wrong holster, they'd make it right. I don't know that most companies would have contacted me and told me they sent the wrong holster. I don't know many companies that would even remember they sent me a holster. That is the mark of a craftsman and this little mistake and its outcome tells me everything I need to know about Greg and Kimmie Kramer, and their company. They can expect my business in the future. If you're looking for an absolute top-quality leather holster, send them yours.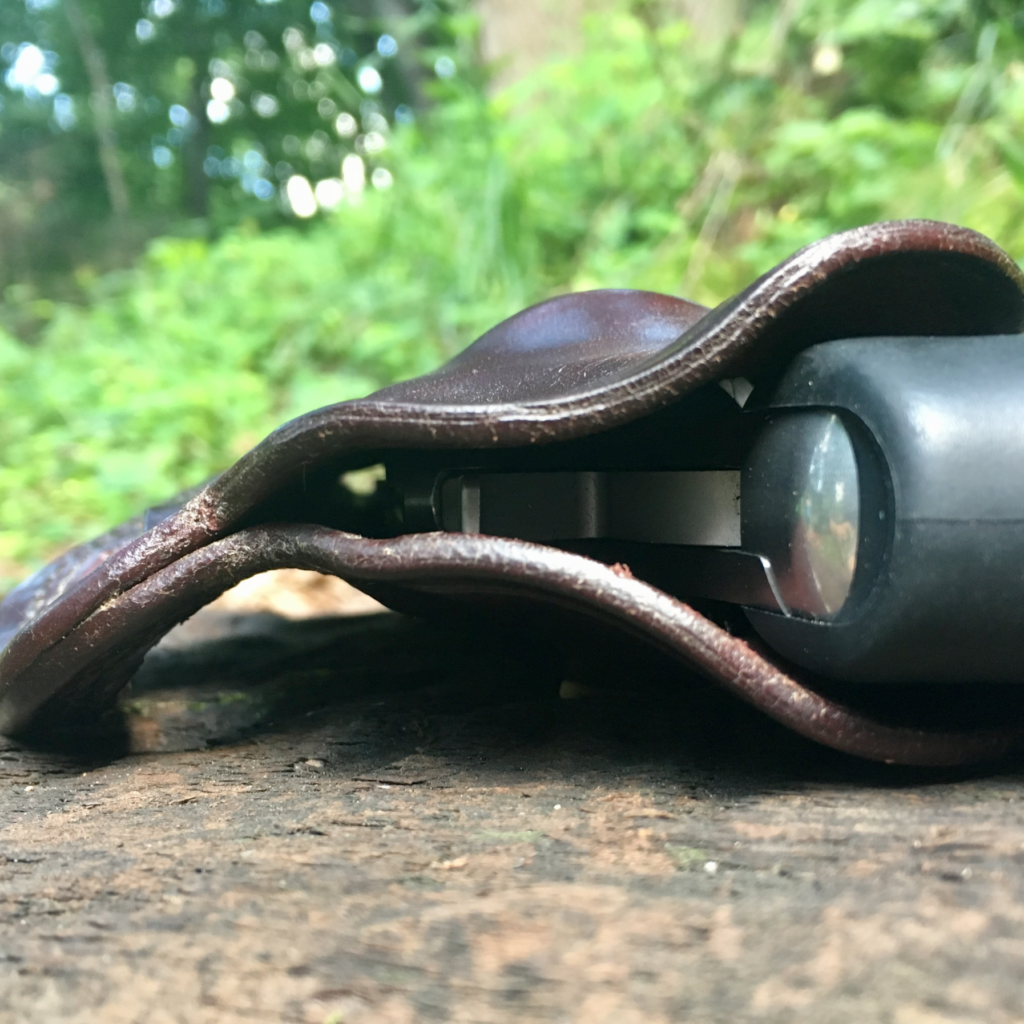 I contacted Kramer and asked if they'd like the original holster back. Greg told me to keep it, so I'll throw it to you guys on Patreon. If you're a Patreon member and you'd like a brand new Kramer Belt Scabbard for a 3″, pre-2019 Colt King Cobra, message me on Patreon. If there's more than one of you, I'll do a drawing and send it out to the winner, free of charge.
The Bottom Line
Based on my initial impressions of the first holster Kramer sent, I thought I was going to have some complaints. I was going to talk about the loose fitment. I was also going to mention how creaky the holster was. Turns out both of those problems originated with carrying a gun in a holster that wasn't meant for it. Without those two, I don't have a single negative point on the Kramer Belt Scabbard.
The Belt Scabbard comes in two colors: black and mahogany, and for a small cost savings it can also be had in cowhide for $118. It is available for nearly every gun under the sun, and is cut-to-size for belts from 1 1/4″ to 1 3/4″ wide. If you don't see your particular gun or barrel length, you can also reach out to Kramer for a custom fit.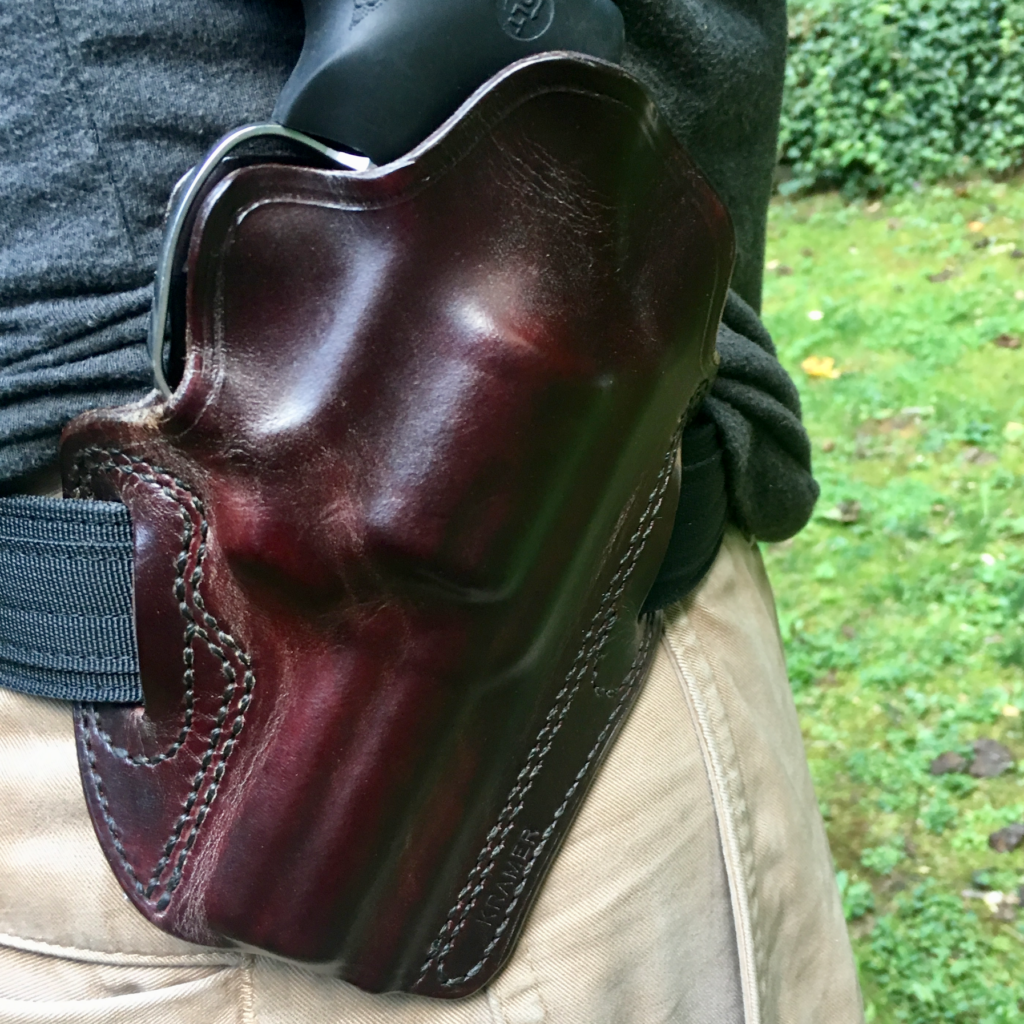 This isn't an inexpensive holster. The Kramer Belt Scabbard runs $126, but you get what you pay for. In this case you get a working work of art (I may very well purchase one to compliment my Nighthawk 1911). It carries my revolver comfortably and securely, and sacrifices nothing on the draw. It is hand-crafted from rugged materials, and it is finished into the most visually appealing holster I currently own. Though Kramer provided this holster to us for review, I've bought Kramer leather in the past, and would do so without hesitation in the future, and I'll happily recommend them.
---
†I know that was supposed to be a project gun for 2018, but other things got in the way and time got away from me!  I still plan to do some work with that gun, so stay tuned!