I have been accused by some of you of ignoring the New York Reload. Honestly, this criticism is totally fair. I haven't written about it and I don't think about it very much. However, this is a technique that should be addressed. If you know me, you know I'll address the good, the bad, and the ugly of everything, including the New York Reload, so let's get started.
This article originally appeared only about nine months after starting this blog. The thing I maybe failed to make clear the first time out is why I wanted to look at the New York Reload critically. It's not because it has no merit. In some – maybe many – cases it does have merit. The reason I wanted to call it out then, and want to hit it again now, is that it is frequently throw out kind of thoughtlessly as the "answer" to any capacity-related question.

Carrying a second gun introduces a lot of potential problems that need to be worked through before it's a viable solution. This article details a lot of those: the need to purchase a second gun, learning two draw strokes, the bulk and weight of carrying a second gun.  I don't often see these pitfalls acknowledged by those advocating the carry of a second gun. My point isn't to throw hate at anyone carrying a second gun, it's just to encourage some thoughtfulness around some of these topics that often get presented as "end-all, be-all" solutions. 
Bottom line: if you carry a New York Reload, I ain't mad at you. I freely admit that it works extremely well for some and is an occupational imperative for others. However, I'd ask that you consider that it's probably not a viable, one-size-fits-all solution for everyone.
Though I have learned an awful lot over the past couple of years, I'm sort of surprised to see that I stand by almost all of what I originally said in this article. I've also added several points here, included putting the "fastest reload" against the timer. Enjoy!

The New York Reload
Though most of my readers already know, I should probably explain what the New York Reload is. I will let official RevolverGuy.com Historian Mike Wood address the etymology of this term, but it refers to carrying a second gun. Upon running out of ammunition the first gun is dropped, the second is retrieved, and the situation is re-addressed.
Several of the comments in my "Revolver Equation" piece a few weeks ago suggested the New York Reload as a solution to my capacity issue. Though anyone can carry a New York Reload, I'm going to focus this discussion around revolvers and the people that carry them. That is to say, I will make the assumption that anyone reading this is considering a backup to their primary revolver. If you are carrying an LCR as a backup to your Glock 17, disregard. If, however, you are carrying (or thinking of carrying) a pair of rotators, read on.
The Great
There are some good reasons the New York Reload still gets brought up. It has some big benefits that are impossible to ignore, aside from being "just" a reload.

A second gun. Run out of ammo? Cylinder locked up? Did your barrel just fall off? It doesn't matter what the problem is because the answer for all-of-the-above is the same: drop it and grab another one. Though we think of the NYR as a "reload" it's much more than that. It's also a hedge against malfunctions, likely or unlikely, hard or soft. To me, this is the single biggest benefit of having a second gun on your person.
Another benefit is that you can serve as a "walking holster" for someone else. Should you need to, you can arm a trusted companion. Though I think the need to arm someone else is about as unlikely as it gets (most of the people I trust with a firearm are already going to be armed), I can conjure scenarios where this would be a good thing. If your (competent) buddy is visiting and can't carry in your state, you can have a gun handy for him. If you need to leave your significant other behind while you go assess a safe avenue of escape it would be reassuring to leave her (or him) with a means of self-defense.
The Good
Guns in two locations. If you utilize the New York Reload you have some placement options. The second gun can be carried on the support-hand side, the ankle, or in a jacket or pants pocket. This gives some serious flexibility depending on your situation. In a spot where things are getting tense but you aren't justified in drawing a gun yet? No problem – just put your hand in your pocket and grip that "second" revolver. Did you just get tackled and your arm is pinned in an odd position that makes getting your primary revolver out? That second one might still be within reach. Sitting at a restaurant table when things go south? That one on your ankle might be faster than the one in your hip pocket.
A faster reload…sometimes. Maybe. There is a reason this is listed last among the benefits. Though I disagree that producing a second handgun is "the fastest reload," I will concede it is faster than reloading a revolver. Usually. This depends on a number of factors, including where and how the second revolver is carried.
Added 03/07/2020: Not content with vague statements, I actually put the New York reload on the clock. Is it really the fastest reload?  I went ahead and made the assumption that my range would not let me drop a revolver to test the NY reload, nor did I have much interest in repeatedly dropping one of my revolvers on a concrete floor. Instead, here's what I did: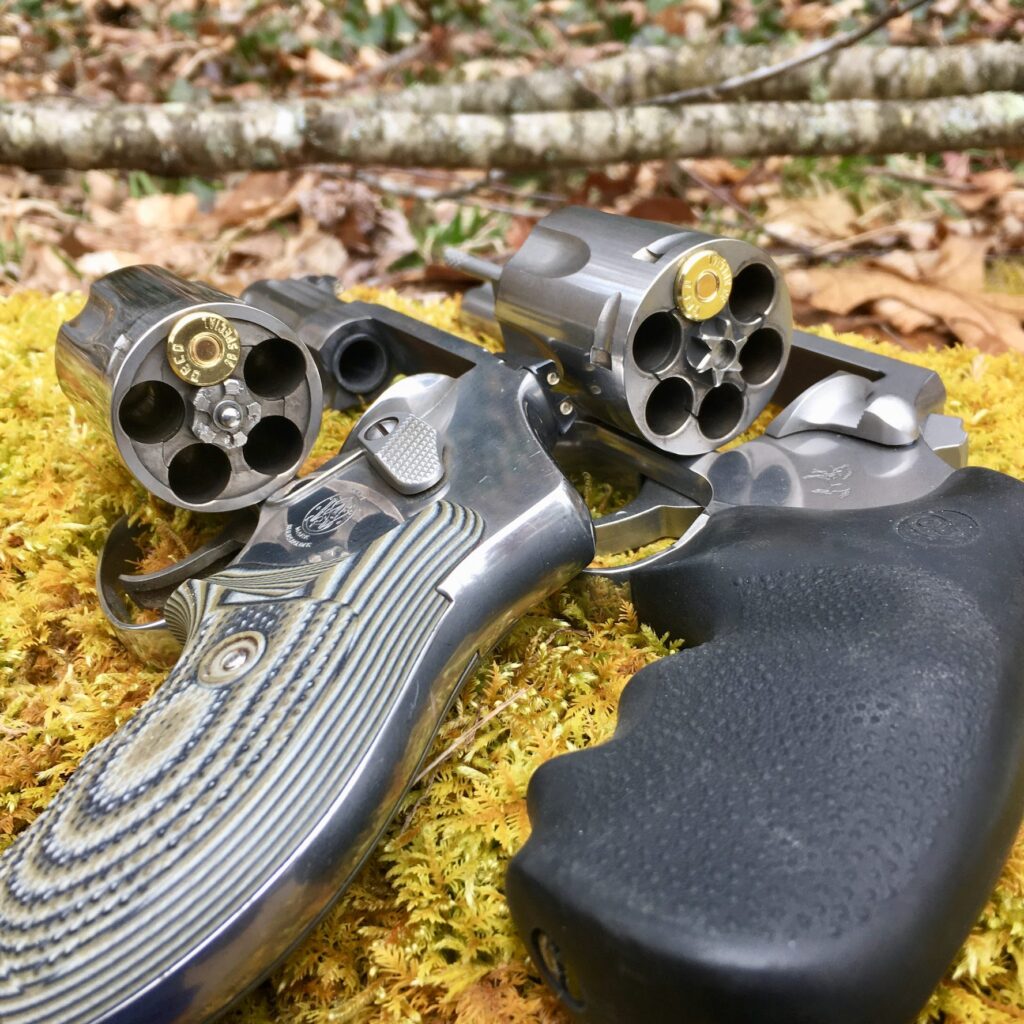 In my backyard, I set up a target at 3 yards. Directly in front of my firing position I placed a dog bed, with a fluffed up Woobie on top of it. I loaded two revolvers, a Colt King Cobra and a S&W 640 Pro with a single round each. I placed the 640 Pro in my right front pocket, with nothing else. I fired the Colt King Cobra, dropped it (hence the dog bed and blanket), and retrieved the 640 Pro as fast as I could. I  fired and measured the split between to the two shots.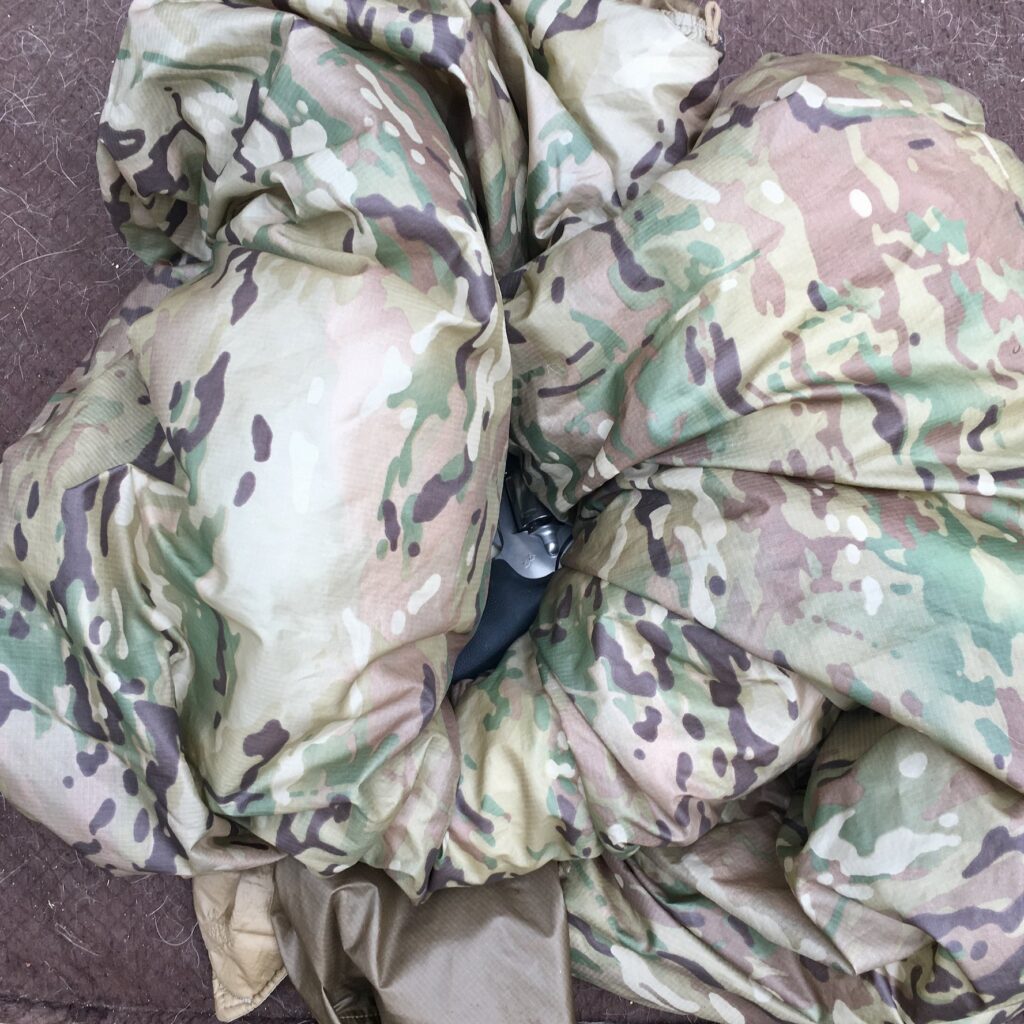 Honestly, the results weren't terrible. Out of ten iterations the average was 2.744 seconds. The fastest time was 2.46 seconds, and the slowest was 3.13 (run #6). By comparison let's look at the numbers from my speedloader comparison article. The average time with a 1911 was 2.13 seconds, and the average time with the fastest speedloader (the S.L. Variant) was 3.684 seconds. The New York Reload comes in somewhere between a good semi-auto reload time and an excellent speedloader reload time.
So there is some truth to this one. The New York reload can be faster than reloading a revolver. Still, I would have a hard time calling it the "fastest" reload. Keep in mind I was carrying the second revolver in the best possible position. Were I carrying it on an ankle, on my left side, or in a jacket pocket – or had I been sitting – my time would likely have been somewhat slower. On the other hand, keep in mind that I have thousands of hours practicing reloads; I don't have that much time practicing New York Reloads (and for a reason, as you'll see later). What I would encourage you to do is get the timer out and find out for yourself.
The Bad
For all of the criteria that follow, I'm sure there are some people that are willing to prove me wrong. Generally speaking, though, I think I'm right more than I'm wrong on each of these points. There are some problems with the New York Reload, and I won't gloss over or ignore them.
You have to carry a second gun. If you carried two of the lightest revolvers available (two .38 Special LCRs) you'd be carrying 30+ ounces of gun (loaded), plus the additional weight of a second holster. That's more than the loaded weight of a M&P9 Compact or Glock 19. Both of these autoloaders hold more ammo than two (or maybe even three) revolvers, are easier to shoot, and you only have to carry one of them.
Carrying a second gun means you have to find a place for it that is reasonably accessible but still concealed. This is tough for me. With my 32″ waist I have a very finite amount of beltline real estate, and an equally finite amount of pocket space with which to work. Oh, and don't forget I have to carry other self-defense stuff, like a non-lethal option, knife, and a flashlight. And for that matter, regular stuff, like phone, keys, wallet. I straight up don't have the room for a second gun.
The second gun is often a downgrade. This one varies from shooter to shooter, but it is very possible to carry a smaller, light, lower-capacity firearm as your New York reload. This means that upon "reloading" you are coming back into the fight with a less-capable weapon. While your reload might be faster, you're potentially giving up range, accuracy, and speed. This is a huge factor that is easy to overlook.
You have to purchase a second gun. Many people reading this probably have half a dozen handguns or more. But here's the thing: a lot of folks don't have that kind of money. I have a lot of family members for whom a single, big-name handgun is the result of many months of saving. You probably know some people like that, too. Again, just thoughtlessly throwing out, "carry a second gun" doesn't take people like that into consideration.
Practice is difficult. I doubt many of you are carrying a dog bed to the range to catch your dropped handgun. Because you have to drop a gun to practice the New York Reload, there's something of a disincentive to practice this technique frequently. Again, I'm sure some of you practice heavily, but even the number of ranges allowing you to repeatedly drop a firearm makes this more difficult to practice.
The Ugly
You have to learn two draw strokes. To bring the second gun into action, you have to get to it. There is a modest handful of holsters online that hold two guns side-by-side (like those by Bell Charter Oak), but these probably aren't how second guns are typically carried (it's also worth pointing out that many of these holsters also carry the guns topstrap-to-topstrap – not a great arrangement in my opinion). This means that some percentage of your time has to be divided mastering two completely different draw-strokes.
The biggest problem with the New York Reload? It's not as fast as pulling the trigger again. It's common to hear the adage that "the fastest reload" is pulling a second gun. My take: that statement is bullshit. It should be, "the fastest reload is not reloading." There's nothing out there that says we have to carry revolvers. There is also no shortage of high-quality, viable carry options that carry more ammo than two or three revolvers put together.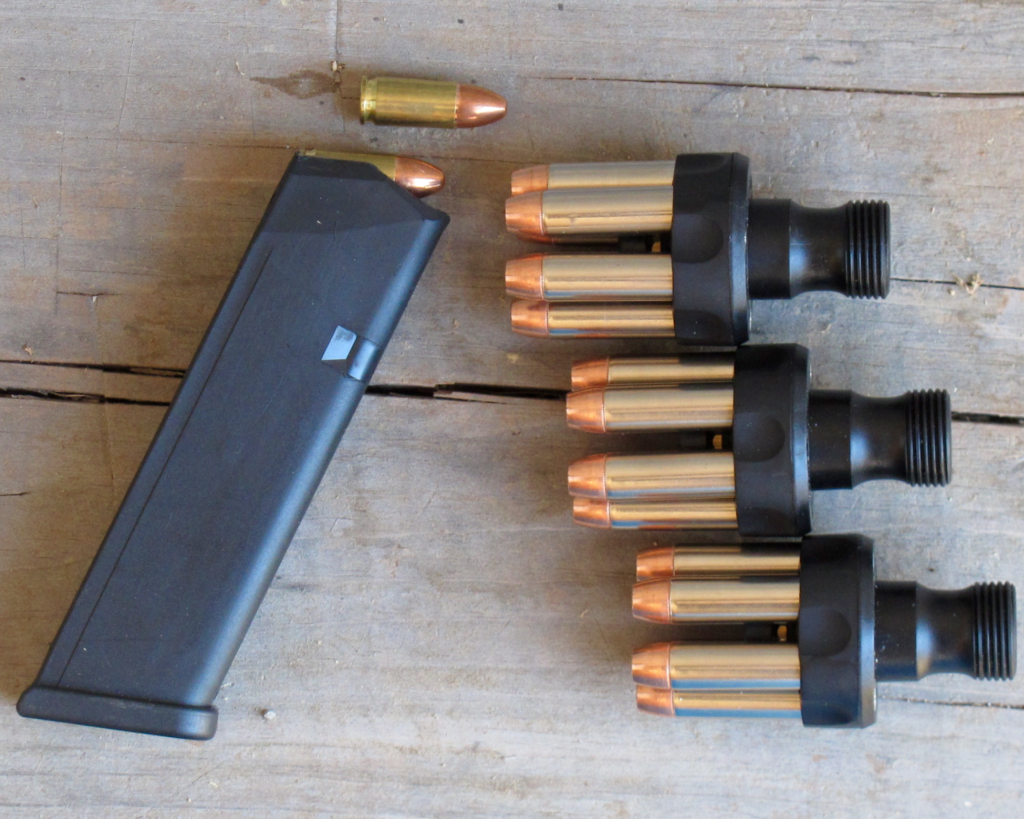 Take the Glock 19 for instance; I'm not a fan but a lot of people are. If you can hide two revolvers, you can probably conceal a Glock 19. And guess what? It holds more ammo on-board than three J-Frames or LCRs, and you can skip that pesky pause every five shots while you fish out another gun, because you don't have to fish out another gun. That Glock (or Beretta or Ruger or S&W or Sig) is also easier to shoot quickly and accurately than any small revolver I've ever used.
The Bottom Line
Don't get me wrong – I love revolvers. I carry them on a daily basis sometimes, shoot them a lot, and think about them constantly. In fact, I even started a blog about them! But I'm not going to carry two of them at a time. If I were a member of a police outfit charged with stopping armed robberies in progress, I would carry a backup revolver (but then again, I'd also be wielding a long gun, wearing body armor, and my first handgun would hold 17+1), but I'm not.
The New York reload is right for some. If you're a cop, you should probably carry a second gun (I'll leave the distinction – which I do acknowledge – between "NY Reload" and "backup gun" alone for now). If you already carry a decently-sized pistol or revolver (let's say Glock 19-class autoloader or K-Frame-class revolver) and want to carry a New York reload, go for it! But if you think carrying a backup revolver makes your J-Frame just as capable as a bigger gun…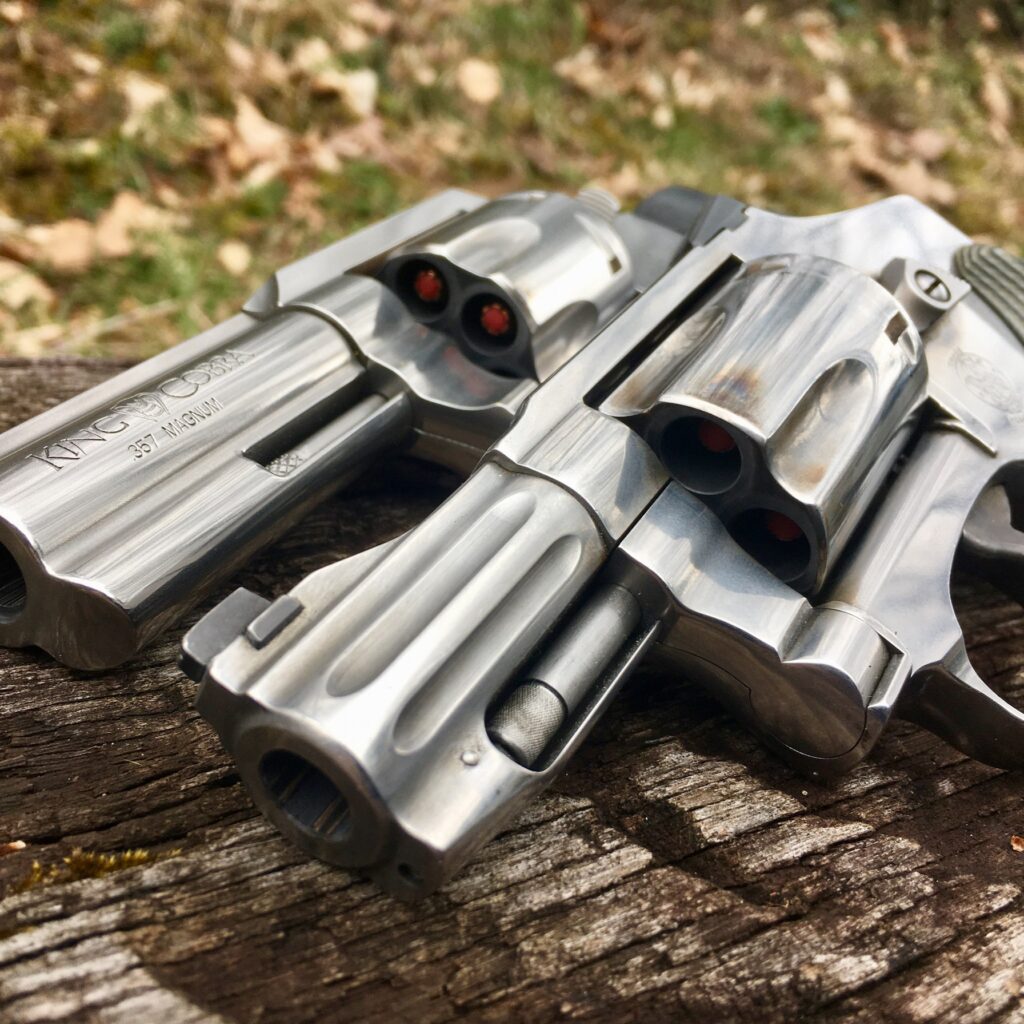 What you end up carrying is two small guns that are difficult to shoot, take up more room, and are just as heavy as a single, larger gun that is much easier to shoot. You get a couple of phenomenal benefits in return for this inequity, but the math on this one just doesn't add up for me. Rather than add a second gun, I think I'd prefer to improve the first, ending with a more capable gun and one that's easier to carry. Ultimately, though, it's up to you to do that math for yourself!
---
Liked it? Support RevolverGuy on Patreon!