I attended a state-mandated refresher class to renew my CCW permit last week, and had the opportunity to see about sixty "regular folks" (versus hardcore gun enthusiasts, like us) complete a basic qualification test with their chosen gear.
Ugh.
We've already covered some of my concerns about the greater shooting public in the past, so I won't belabor them now, but I did want to comment about a few revolver-related things that might be interesting to the crowd, here.
Minority Status
We know that revolver shooters are the minority these days, but just in case I had any doubts, it didn't take long at the class to confirm it, and to see the autopistol bias that exists in today's popular gun culture.
I got my first whiff of it early on. After the attendance and registration chores were complete, the friendly, colorful, and humorous gent who would serve as the Rangemaster for the day's shooting activities polled the group to see if anyone would be shooting a revolver.  Actually, that makes it sound a little too businesslike. What actually happened, was he teasingly asked (with a big, dramatic eye roll, and matching "why?" hand motions), "is there anyone here who just had to bring one of those revolvers with them, today?" When four of us (out of about sixty shooters) raised our hands, he playfully said, in a mocking tone, that we'd have to go last, after everyone was done shooting all the "normal" guns, which drew some chuckles from the crowd (and me too, honestly, because I appreciate good snark).
Since my state requires citizens to qualify with each weapon that is listed on their permit (yeah, they actually restrict you to the listed guns, otherwise it's a crime—don't get me started), the auto-revolver disparity was actually a little worse than the headcount would suggest. Most everyone there had the state-permitted maximum of three guns on their permit, so revolvers only accounted for about 4 of the 160-ish guns present, or about 2.5% of the total.
A distinct minority, indeed.
Are you choking?
I had an autopistol to shoot in addition to my revolver, so I shot that one first, and spent the rest of my time helping other shooters load their mags, policing brass, and observing the festivities, as I waited my turn to shoot my revolver, at the end.
Boy, did I get an eyeful.
Now, in case you're new to the blog, and haven't become accustomed yet to my smart-alecky sense of humor, I need to explain that while I occasionally enjoy ribbing the guys who shoot the "bottom feeders," and sometimes take a jab at the "square guns," in the spirit of writing a revolver-centric blog, I'm a legitimate fan of the autopistol.  I own them, I train with them, I teach them, I carry them frequently, I recommend them, I enjoy them, and I appreciate them.  So, don't dismiss the following as the prejudiced rantings of a revolverphile.
This qualification event was quite remarkable, as I've never seen so many failures to fire in one setting.  It was honestly, breathtakingly, shocking!  I must have seen three dozen failures to fire across the 60 shooters and 160+/- guns that attempted the course, and I probably didn't even catch all of them. I've never seen so many malfunctions in a group of shooters before.
The course of fire required shooters to load five rounds in their magazine for each of the ten strings of fire, and I saw several shooters who were lucky to fire one or two of those five successfully, on some strings, with the other three or four winding up on the ground.
It was hard, from my vantage point, to determine the reason for all of these failures.  Most of them appeared to be shooter-induced failures. I saw a large number of slides that did not go into battery, and while some of these stoppages may have resulted from equipment or maintenance issues, I'd be willing to bet most of them were caused by a weak grip/platform, or by riding the slide when the first round was chambered. I also suspect that errant thumbs and fingers interfered with the free travel of the slide in many cases, especially on the smaller guns. A couple rounds looked like they were jacked out when typically-ignored safety levers inadvertently worked their way into the ON position, and deactivated the trigger, prompting the confused shooter to cycle the slide in an attempt to remedy the problem.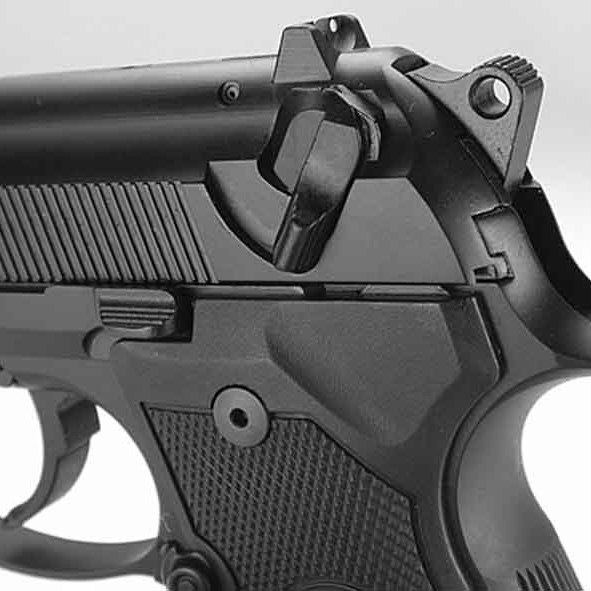 I was actively policing the brass between strings, and got the opportunity to inspect a lot of the unfired rounds that had been manually ejected by the shooters as they attempted to fix their pistols.  There were a few duds in the mix, that didn't go off with a solid primer strike, and I actually witnessed a handful of these as they happened, but they didn't account for more than about 10% of the unfired rounds.
A majority of the unfired rounds had clean primers. It's possible some of these rounds were out-of-spec (an increasingly common problem during ammunition shortages, like the present one, as quality control standards slip), but they all looked good to me (no reversed primers, no case or bullet deformities, proper length and sizing, etc.), and I suspect almost all of them worked properly on a second try, after I returned them to their owners. These rounds were probably on the ground as a result of operator error.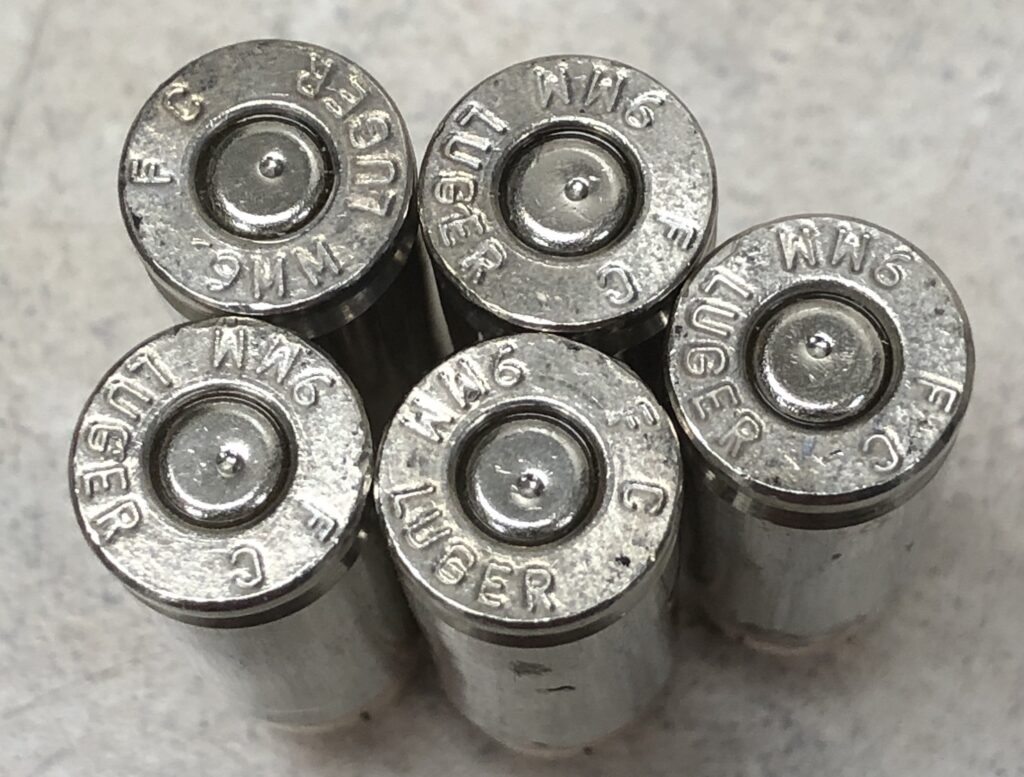 About a third of the rounds had light primer strikes, and these were probably the most concerning of all. These light strikes hinted at a mechanical problem with the gun, such as a broken firing pin/striker, or a firing pin/striker that was "glued" in place by a buildup of excess solvents, lubricants, and debris—a condition which is entirely avoidable, given proper maintenance practices, but appears to be distressingly common, particularly in law enforcement circles, where firearms maintenance doesn't always get the attention it deserves. It's also possible that the ammo could have been a problem (improper dimensions, resulting in too much headspace, or a particularly robust primer), but again, my brief visual inspection of these recovered rounds didn't suggest it. The ammo looked good, outside of the light primer strikes.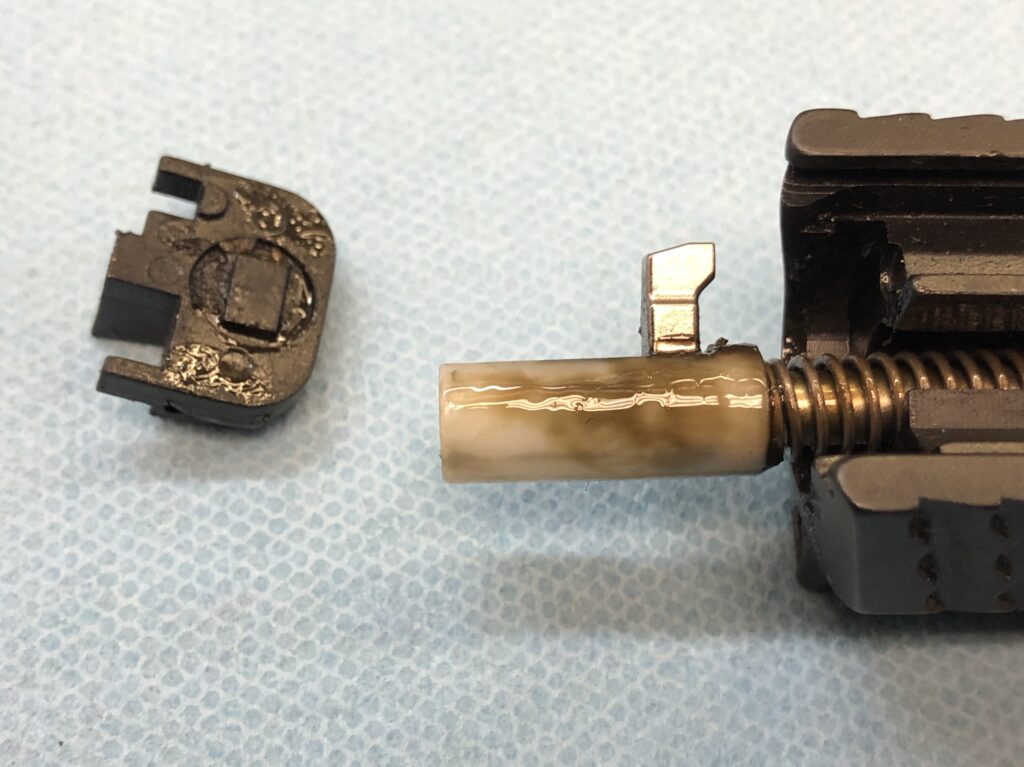 It's interesting that the "problem guns" were rather diverse. I personally saw a Sig Sauer 938, two different Ruger LC380/LC9-pattern guns, and a 1911-pattern gun of unknown make deliver light strikes, among others. I saw several Glocks (including one I could identify as a Glock 30, and another as a Glock 19), that Sig 938, and a different 1911 (this one, some kind of shortened Kimber) fail to go into battery. The stoppages were pretty well-distributed among the various makes and designs.
For what it's worth, I didn't see a single person do their immediate action properly. I saw a lot of "RACKs," but no "TAP-RACKs."
Training!
Missing Something?
While I was policing all that brass, I found an ejector rod for some kind of revolver.  The darned thing had unscrewed, and was just sitting there on the deck.  Oops. Someone was in for a bad surprise.  Hopefully they figured it out before the gun was placed back into service.
It was a good reminder for all of us to check screws and ejector rods during our normal maintenance and function checks. Screws really do back out under recoil, and every RevolverGuy should have a properly-fitting screwdriver in his cleaning kit.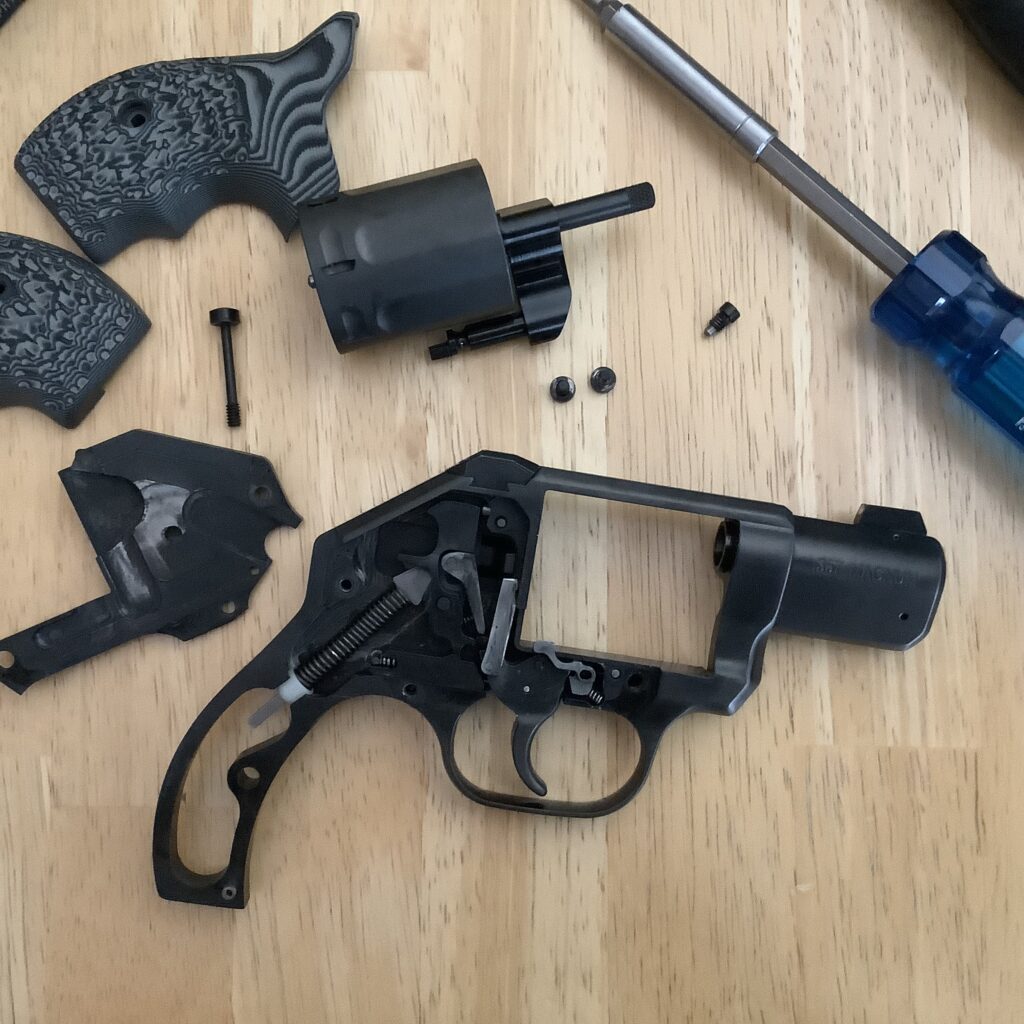 Our Turn At Bat
When the rest of the crowd cleared out, and it was finally time for the revolver shooters to hit the line, the Rangemaster playfully hassled us for our choice, again. "Why in the world would you choose a revolver, when you could carry a gun like a Glock with more rounds," he asked?
It was an opportunity I couldn't miss. "You're gonna ask me that, after I just watched a collection of various autos choke for the last two hours?"
"Good point," he said.
Alas, it turns out that all was not well in revolver-land, either. As we loaded our cylinders for the first string of fire, I saw the shooter to my right point his gun at me, as he attempted to load the gun using the most . . . creative, method I'd ever seen.  If you can imagine, this shooter had the gun lying flat on its right side, with the grip pointing towards his belly and the barrel pointing to his left (at me!). He held the gun by pinching the top strap between the thumb and index finger of his left hand, while his right hand tried to feed the chambers by sliding rounds into them from right to left, parallel with the deck.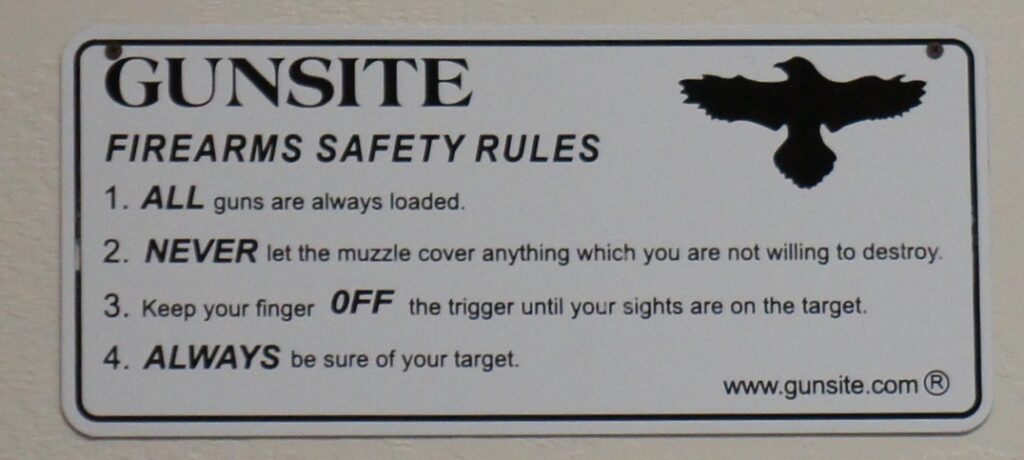 After I pushed the gun away and told him to keep it pointed downrange, he apologized and explained the obvious—that he didn't have any experience with the gun.  We took a time out and I showed him how to accomplish the task safely and properly, and things went uneventfully after that.
It proved an important point, though.  Revolver shooters are a minority these days, and well-trained revolver shooters are even more scarce. There was a time, in the not-too-distant past, when the revolver was the baseline–the handgun everyone grew up with, the handgun that dominated the shooting sports, the handgun that most institutional training programs were based upon–but that time has passed.  It's an autopistol world now, and the "institutional knowledge" of the revolver in the greater "gun community" is at a low.
As much as it might shock us, as revolver enthusiasts, there's a lot of shooters out there who simply have no experience with a revolver, and don't know how to safely operate one. They grew up with guns like the Glock as their baseline, and, believe it or not, the revolver confuses them.  We joke about the folks who can't figure out how to open a revolver's cylinder, but there's a lot more of them out there than you'd think, these days. Even though the revolver is frequently cited for its "simplicity," that doesn't mean its operation is inherently obvious to all those who handle one, even so-called "gun guys" of the modern flavor.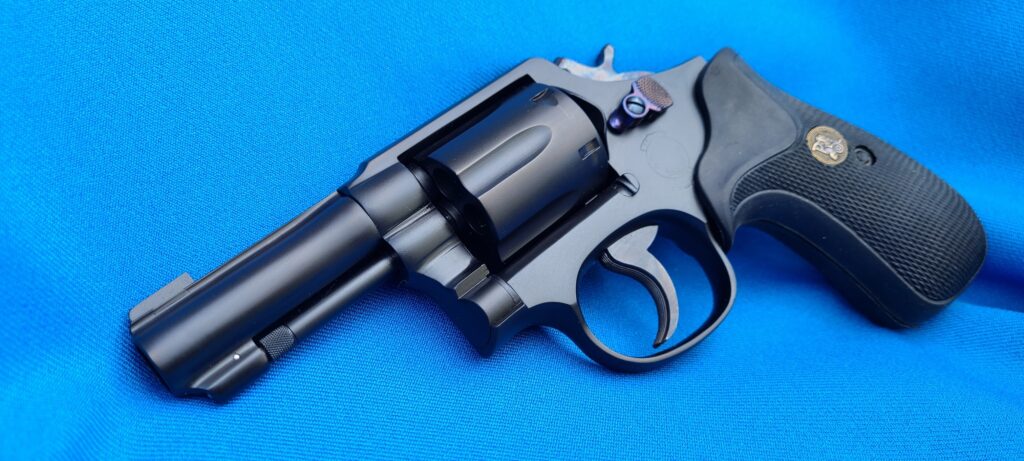 That has a few implications for us.  The first is, you can never assume. Never assume that the other guy knows what he's doing with a revolver, just because he's familiar with other types of firearms.  Second, be prepared to lend a hand, and do some teaching. As knowledgeable RevolverGuys, we're in the best position to teach a newbie the ropes, and get them off to a good start with the round gun. It's a little too dramatic to say we're the last repository of knowledge for a dying art, but there's no discounting the fact that a lot of what used to be "general knowledge" about the revolver is no longer generally known!
Enough
That's probably enough rambling and ranting, for a Saturday, but I do want to leave you with one thing.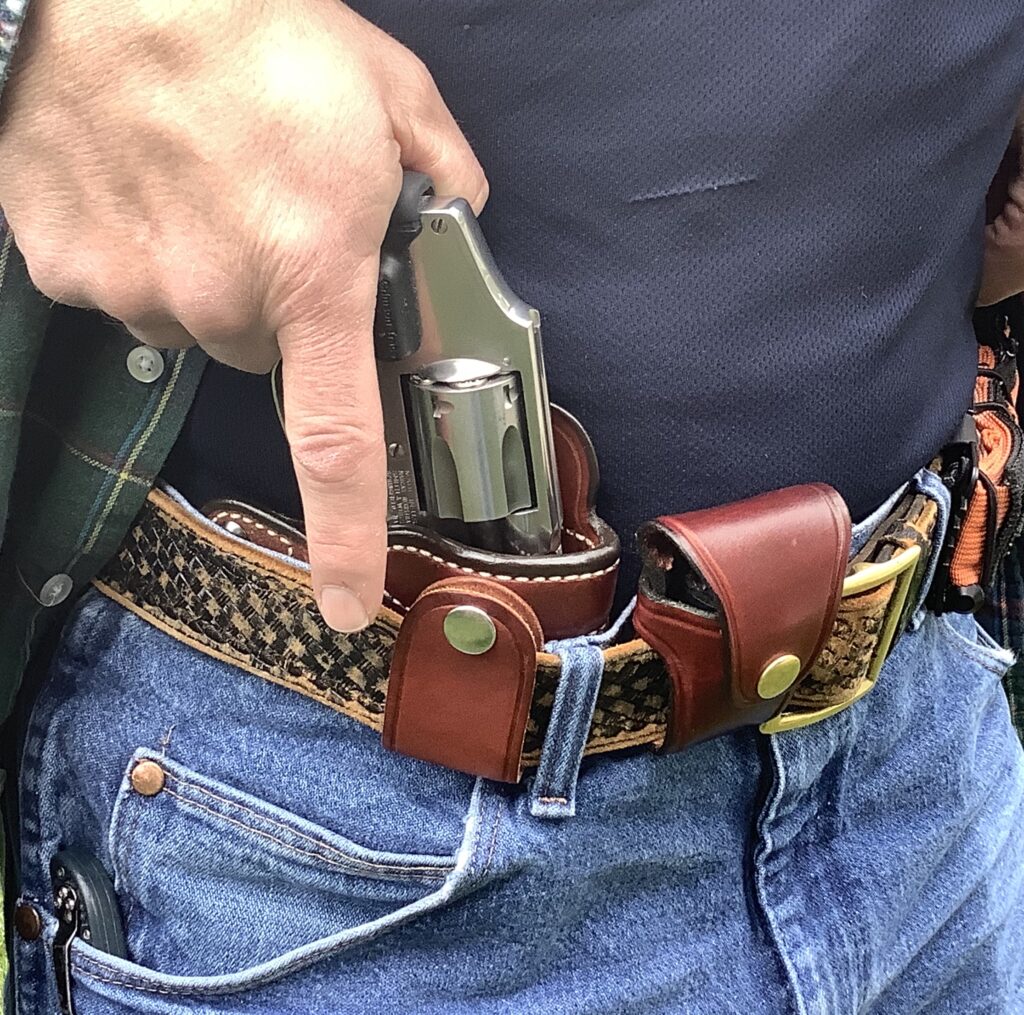 After I was done shooting the qualification course with my 640, the Rangemaster joked that, "I've changed my mind—Mike gets to carry a revolver if he wants to, but the rest of you have to carry Glocks."  We all chuckled about that, but it did illustrate a point that we've made repeatedly in these pages, about the shooter being more important than the equipment.
The highest survival priorities are mental awareness and preparedness, decision making, tactics, and your skill at arms, in that order. If these things are the focus of your training efforts, then you'll be well prepared to defend yourself, even if you're "just" carrying a revolver.
So, put the first things, first, guys.  Train hard, ignore the noise, and be safe out there.