I recently had the opportunity to test two (relatively) new guns from Rock Island Armory. One was the AL22M in .22 WMR. The other, and the subject of this review, is the RIA AL3.1 .357 Magnum revolver.
First Impressions
The RIA AL3.1 is a chunky, snubby, .357 Magnum sixgun in stainless steel. For those unfamiliar, RIA's AL-series revolvers are made by Alfa-Proj in the Czech Republic. They are more expensive, and much more well-made than the very budget-friendly, Philippine-manufactured M200-series guns also imported by RIA. Kevin previously reviewed the cousin of this gun, the AL9.0, a 3-incher in 9mm Luger. Alfa-Proj is creating some very interesting revolvers, and we've had pretty well-rounded coverage of them here at RG.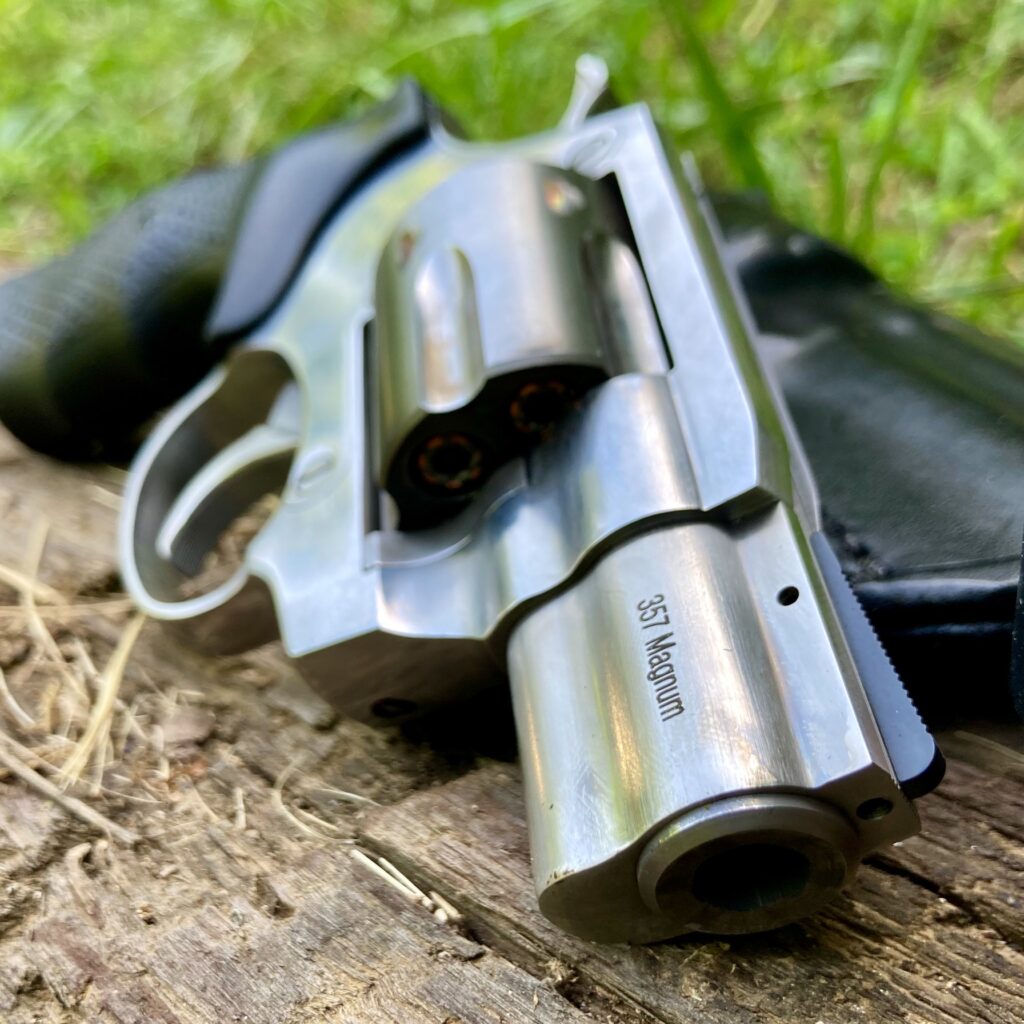 Still, I yawned when I opened the plastic case this gun came in. Another snubby .357? Big deal! Not to mention this isn't the  most balanced looking revolver I've ever seen. The 2″ tube looks misplaced on the roughly K-sized frame, and is a mismatch with that long grip. Once I got to the range it surprised me, though, and I did a quick about-face on this big snubby.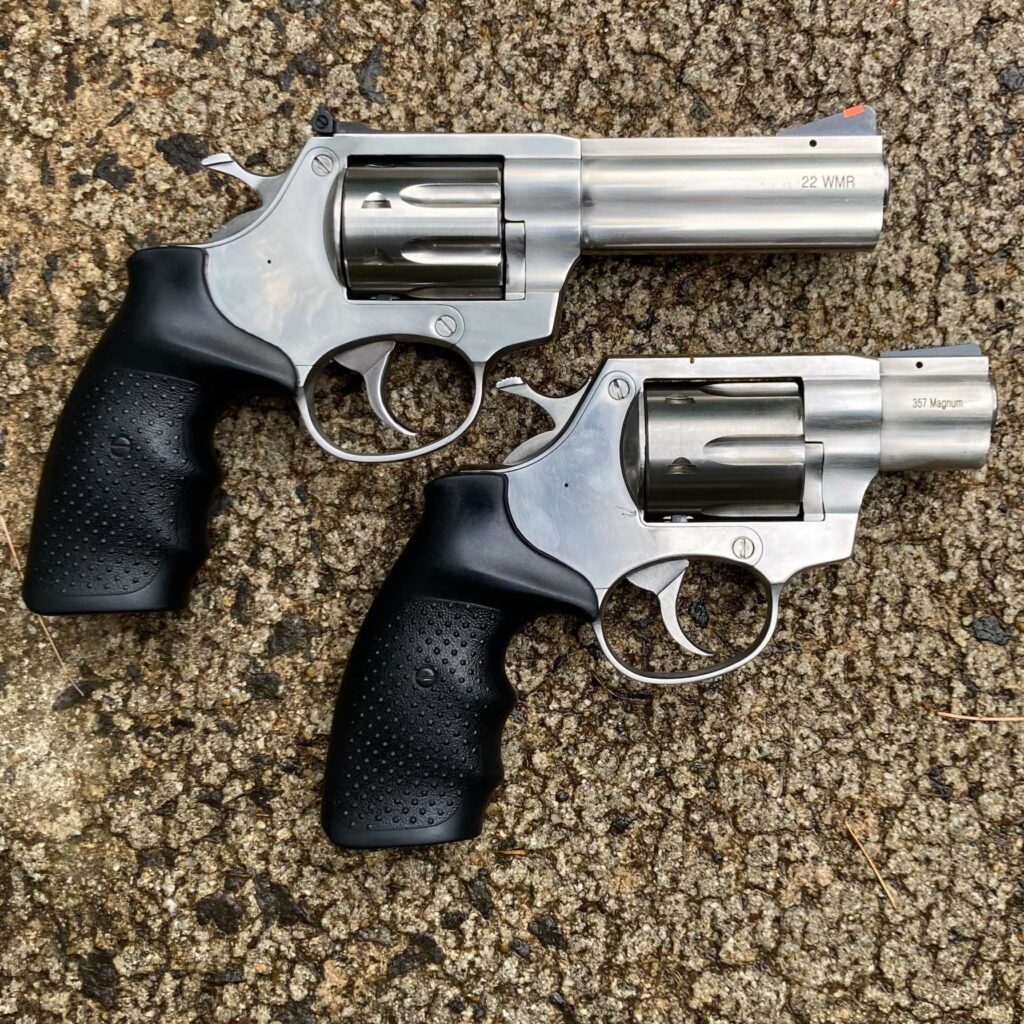 Closer inspection makes up for outward appearances, too. The fit and finish of the of the RIA AL3.1 is excellent – on par with what I would expect from a S&W, Colt, or Ruger.  This is a really nicely-built revolver and some thought clearly went into its design. I also think Alfa-Proj missed the mark on a couple minor points, but not in a way that really impacts performance. Let's get into the nitty-gritty of the RIA AL3.1.
Barrel & Sights
The barrel on this gun…well, there isn't too much to say about it. It's a 2″ tube but almost a third of that length is consumed by the frame so it looks really, really short. It has a full underlug, which is almost entirely consumed by the ejector rod. The right side of the barrel is marked "357 Magnum" in very tasteful text.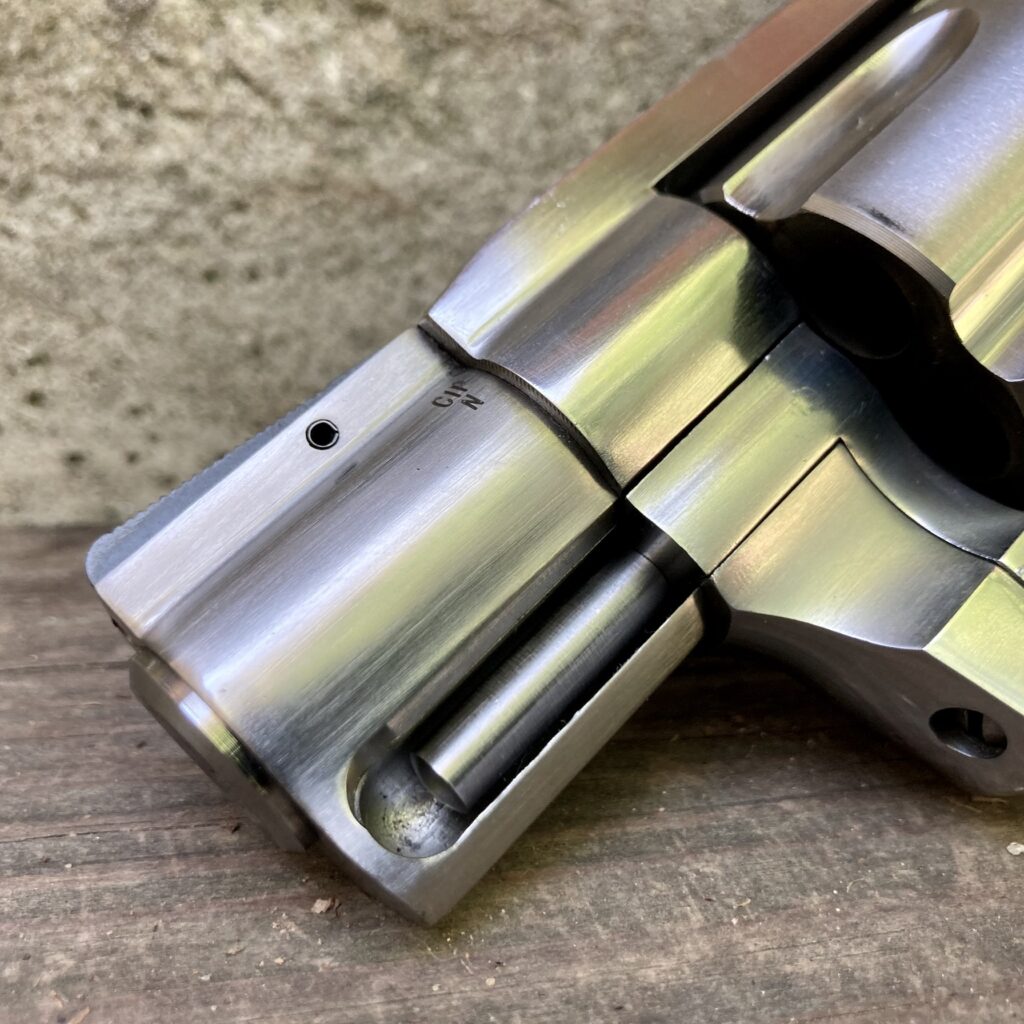 In contrast to the magnificent, adjustable sights on the AL22M, the sights here leave a lot to be desired. The front sight is a very low blade. While not uncommon on snubby revolvers this one seems exceptionally short. I was able to make decent use of it under good lighting conditions but it is neither fast-acquiring nor given to very precise shooting.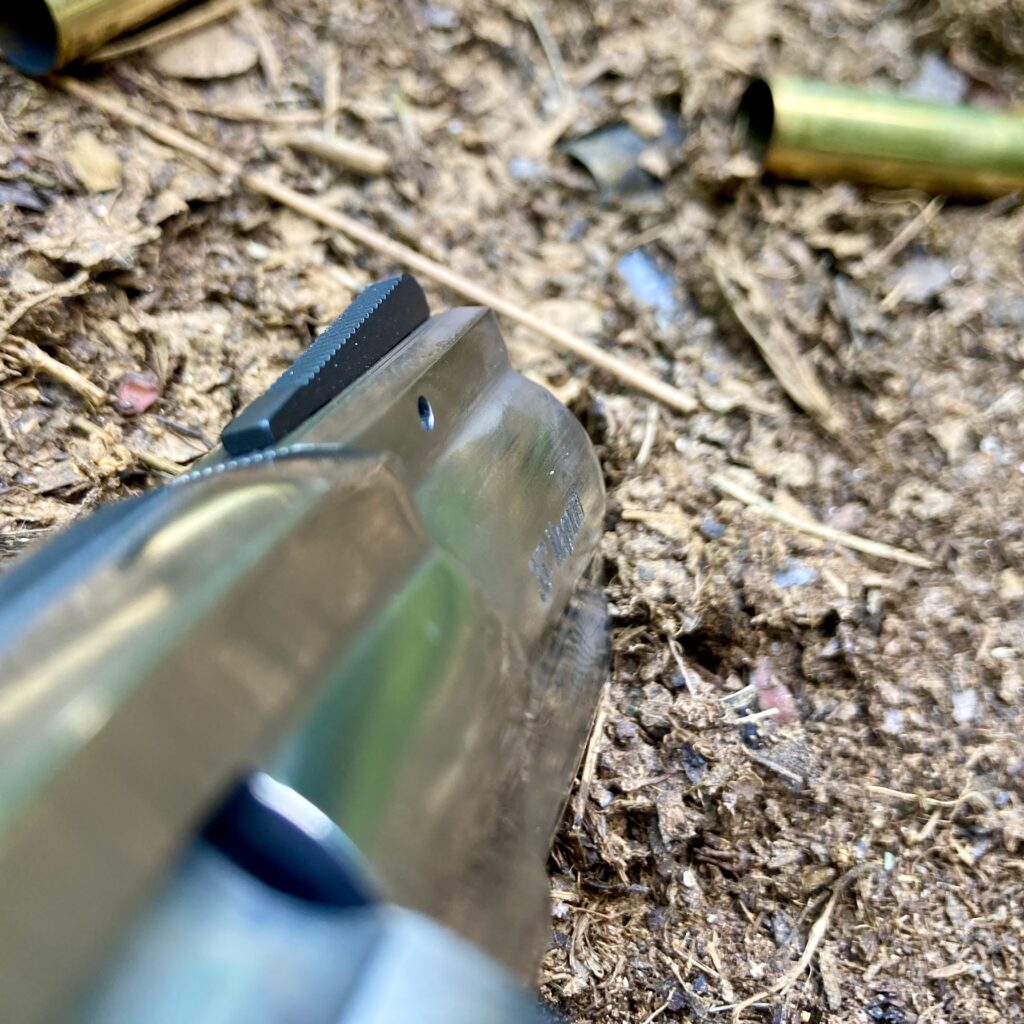 The front sight is mated to the traditional "trench" rear sight so common on snubby revolvers. Though I don't prefer it, I had very little issue with this sight until my last range session. On my third session with the RIA AL3.1 I was at my local outdoor range. The sun was behind me and reflecting off the rear "sight" so badly that I had difficulty seeing the front sight.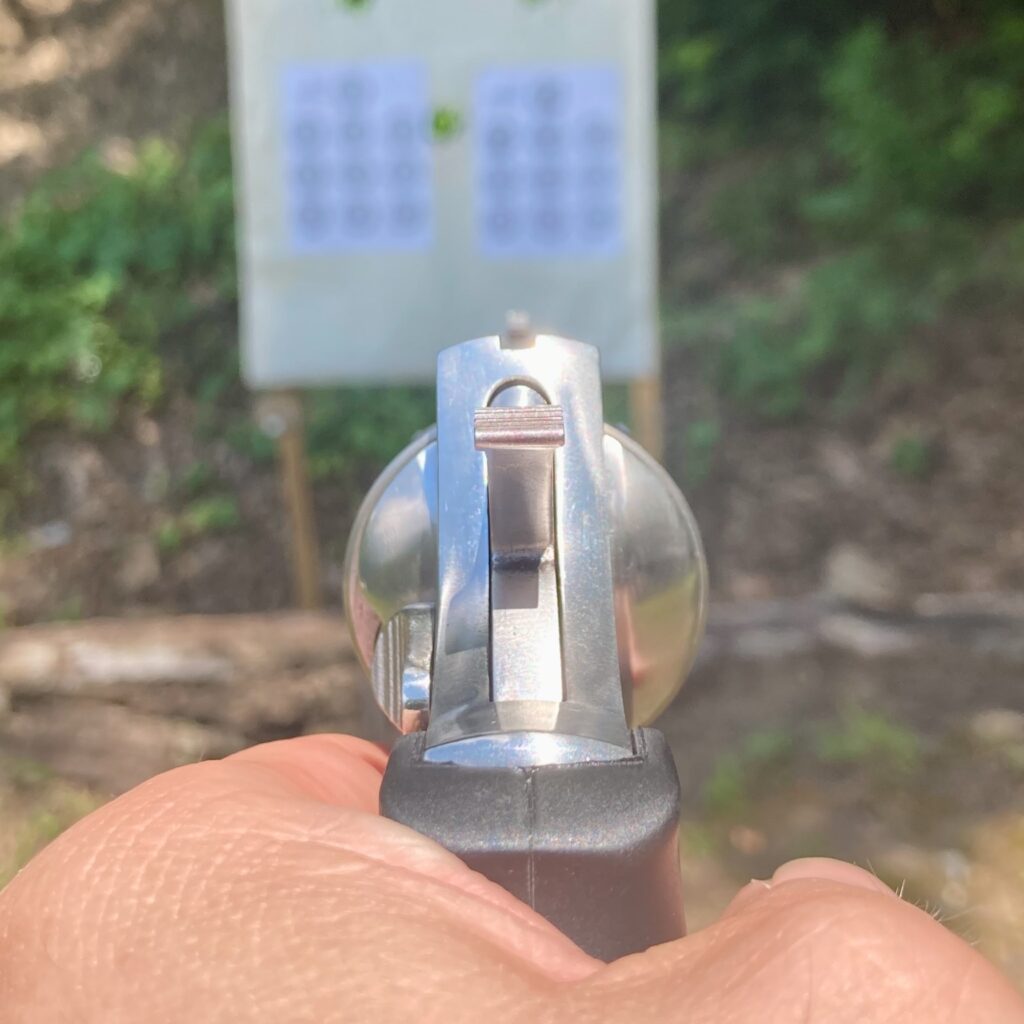 Sighting Lesson Learned
Which brings up a pretty important training point, applicable to any defensive firearm. If you only ever shoot indoors, you should probably make an effort to get outdoors on occasion, and vice-versa. Those sights that work just fine indoors might do poorly in outside lighting conditions. Those fiber optics that are so amazing outdoors may do next-to-nothing in dim indoor conditions.
If you are forced to use deadly force I can't tell you much about how it will go, but I can promise you that you'll get very little say over when and where it occurs. So test your gear in all conditions. Rant out, back to our review!
Cylinder Stuff
The fluted cylinder holds six rounds of .357 Magnum or .38 Special ammunition. Unlike all my S&W revolvers, the RIA AL3.1 has recessed chambers. I am unreasonably happy about that – there is just something about recessed chambers that really appeals to me.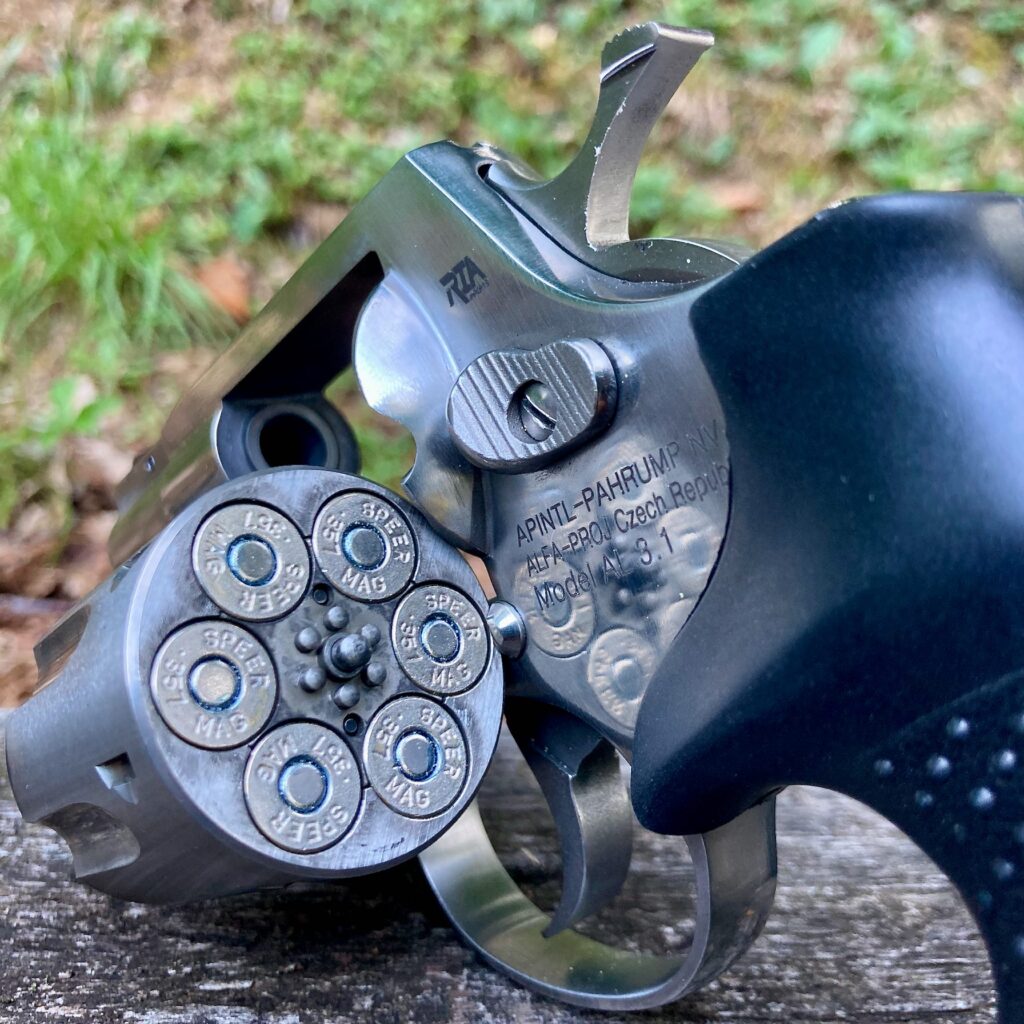 With what appears to be a pretty healthy dose of S&W lineage, the cylinder locks up at the rear. The extractor star is pretty standard and does a good job of clearing empties. The ejector rod is exceptionally well-designed. It is is solid, a little thicker than it needs to be, has a comfortable, rounded tip, and provides plenty of throw to clear empties. I can't say enough good things about it!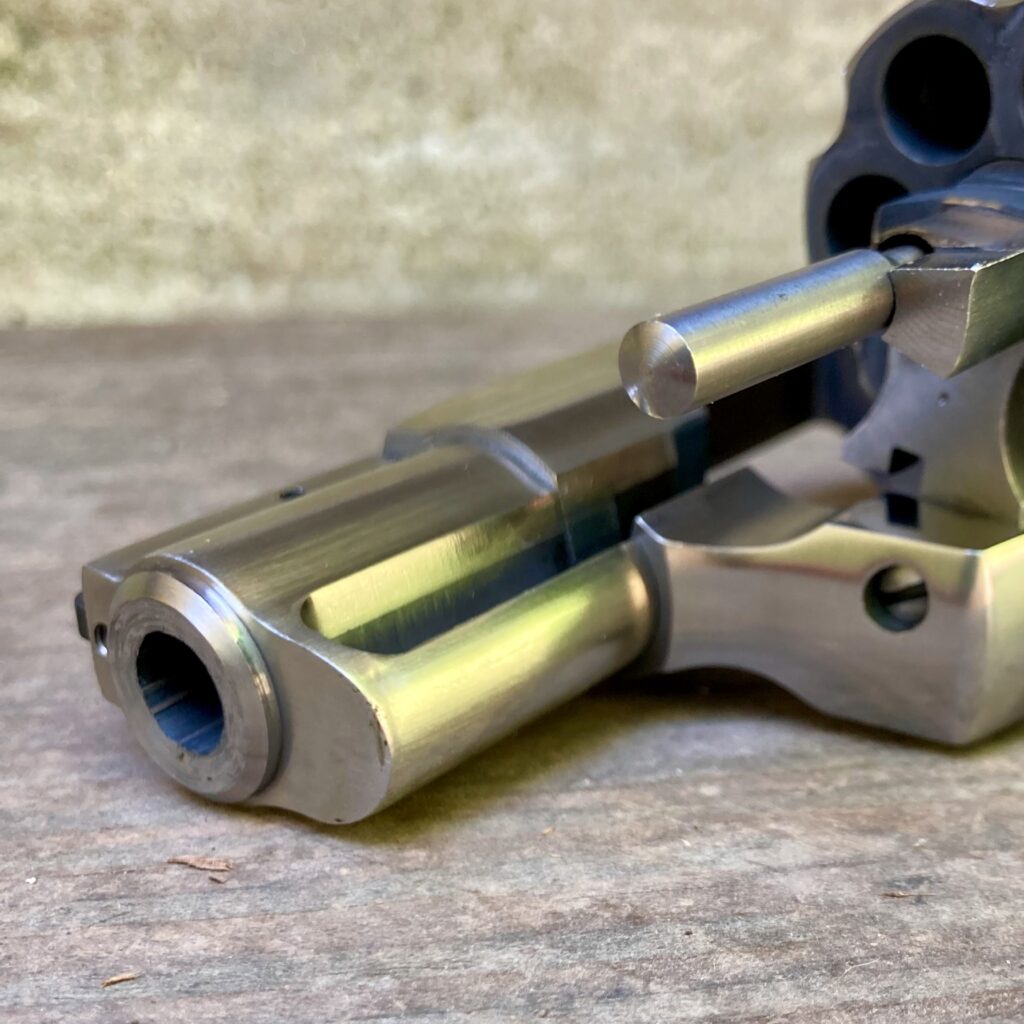 The cylinder release latch is serrated. It has a nice lip to catch the user's thumb, and is actuated in the S&W fashion (push it forward). While not as visually pleasing as a checkered S&W latch, it functions well, which is what really matters.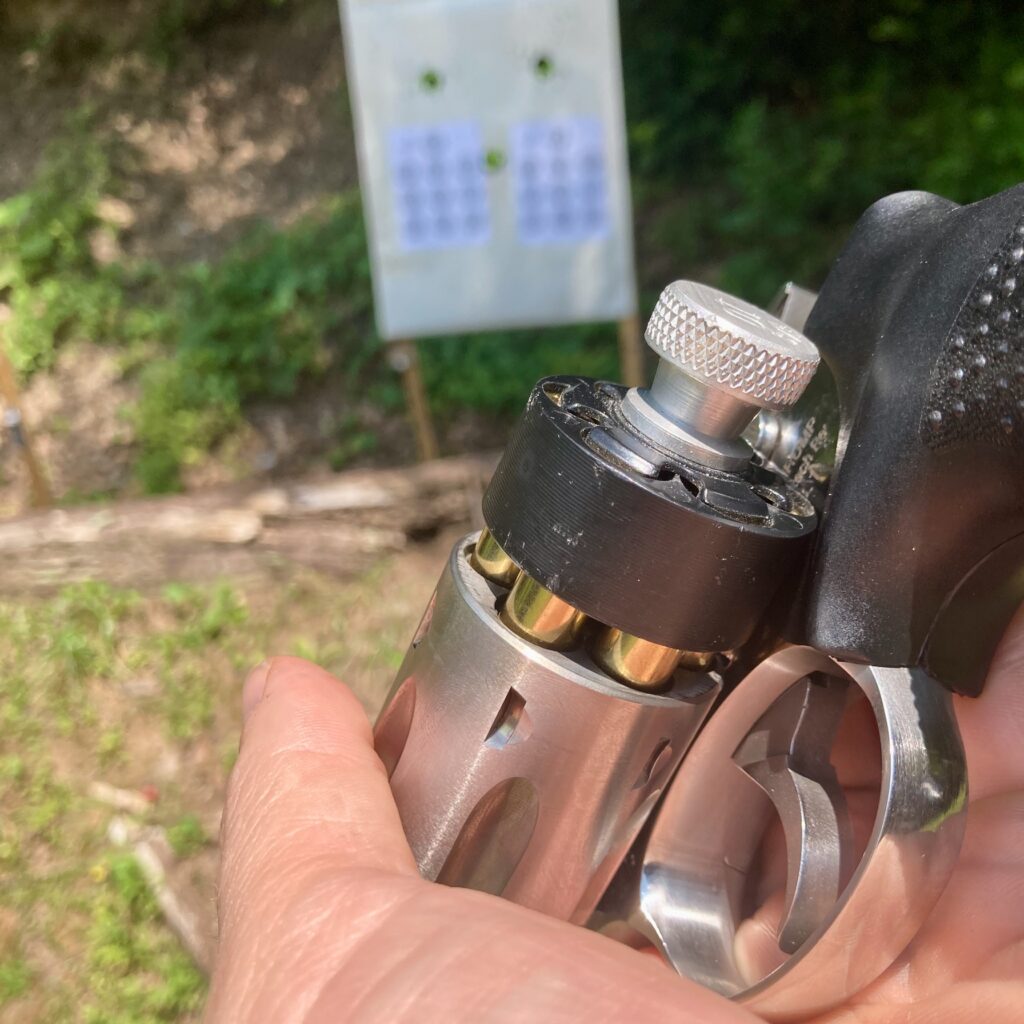 While we're talking about the cylinder it's a good time to point out that the revolver works perfectly with K-Frame speedloaders. Since I mentioned that, it's also worth mentioning that the RIA AL3.1 also fits well in K-Frame holsters. I think Alfa-Proj made a really smart move in designing this series to be compatible with K-Frame support gear.
Trigger and Hammer
Considering the defensive nature of the RIA AL3.1, I consider this a DA-only revolver, despite its ability to be fired in single-action. So I only tested the DA trigger, and all shooting throughout my evaluation was done in double action. The trigger shoe itself is serrated. This is not ideal for a "combat" trigger, but I didn't find it to be terribly distracting or uncomfortable.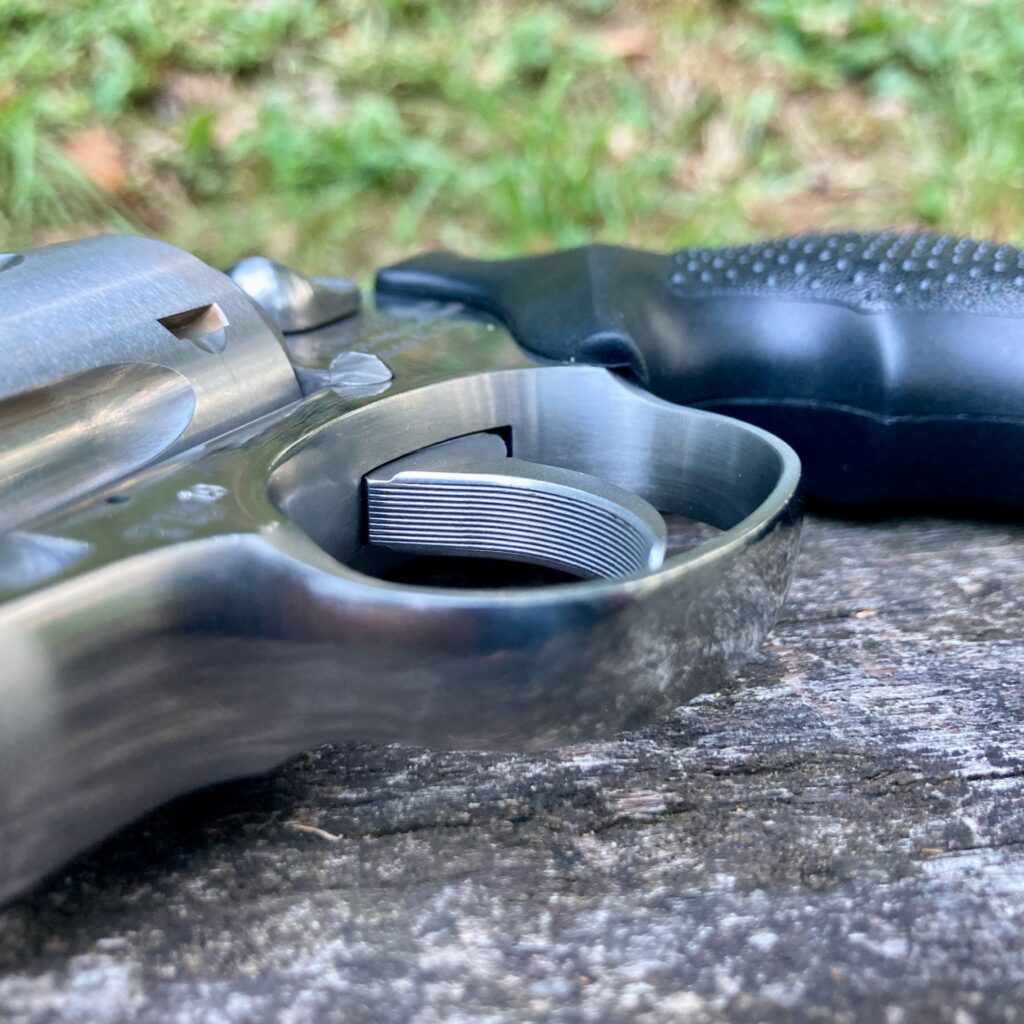 The double-action trigger pull is very heavy. Out of the box I found it to be a little north of 13 lbs. This was also the case on the rimfire AL22M, but I left it alone on that revolver; rimfire ammo can be a bit more finicky to ignite and lightening the trigger doesn't usually help matters. On a centerfire revolver I found this to be overkill, though. Fortunately, the trigger pull  (or "strength" as it is described in the owner's manual) is adjustable.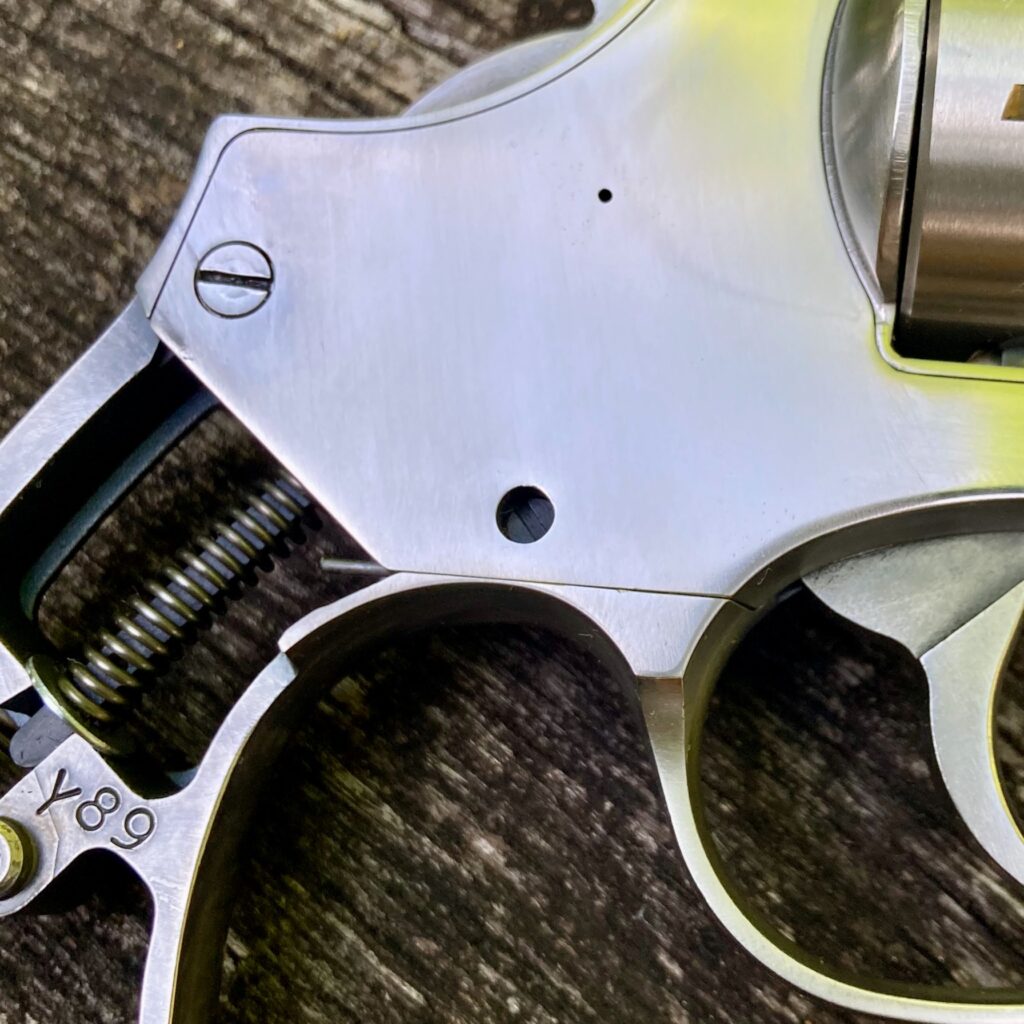 To adjust the trigger weight one need remove the grip. This reveals an "eccentric" (again, in owner's manual-speak) screw just behind the trigger on the right side. Adjusting this screw counter-clockwise lowers the trigger pull weight. I was only able to get the weight down to about 12 lbs, but this was an improvement.
Ergonomics
The grips on the RIA AL3.1 aren't bad. They are hard rubber with raised dots. Although finger grooves are present they are somewhat shallow and aren't awful (in case you can't tell I don't love finger grooves). The grip is removable, but unfortunately it doesn't attach like K-Frame grips, meaning aftermarket selection is probably going to be pretty nil.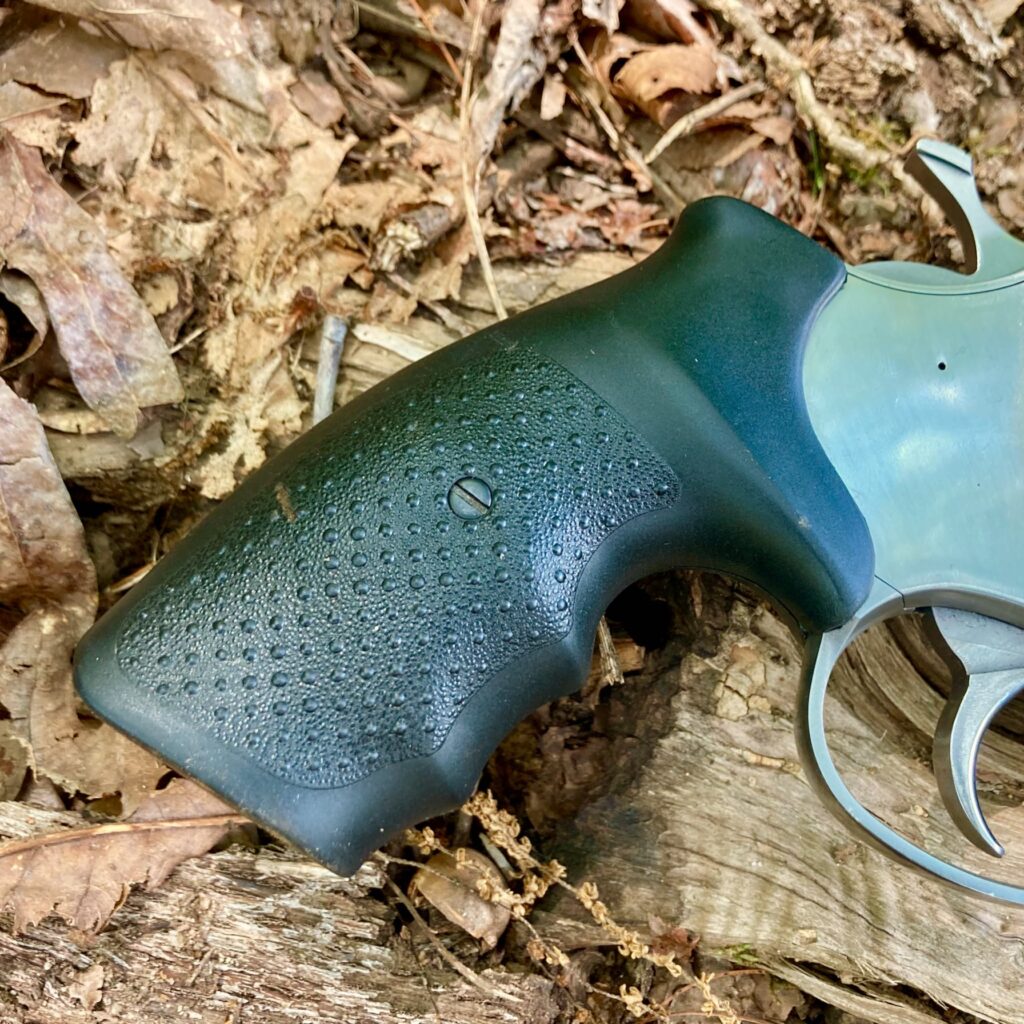 Again, the existing grip is very comfortable for shooting, and is mid-sized and should fit most shooters reasonably well. Since this revolver is clearly intended for carry, some smaller boot grips would be nice, as would grips of different materials. To remove the factory grip, two screws must be removed – one on each side. Each screws into a threaded post, a needlessly complex arrangement in my opinion.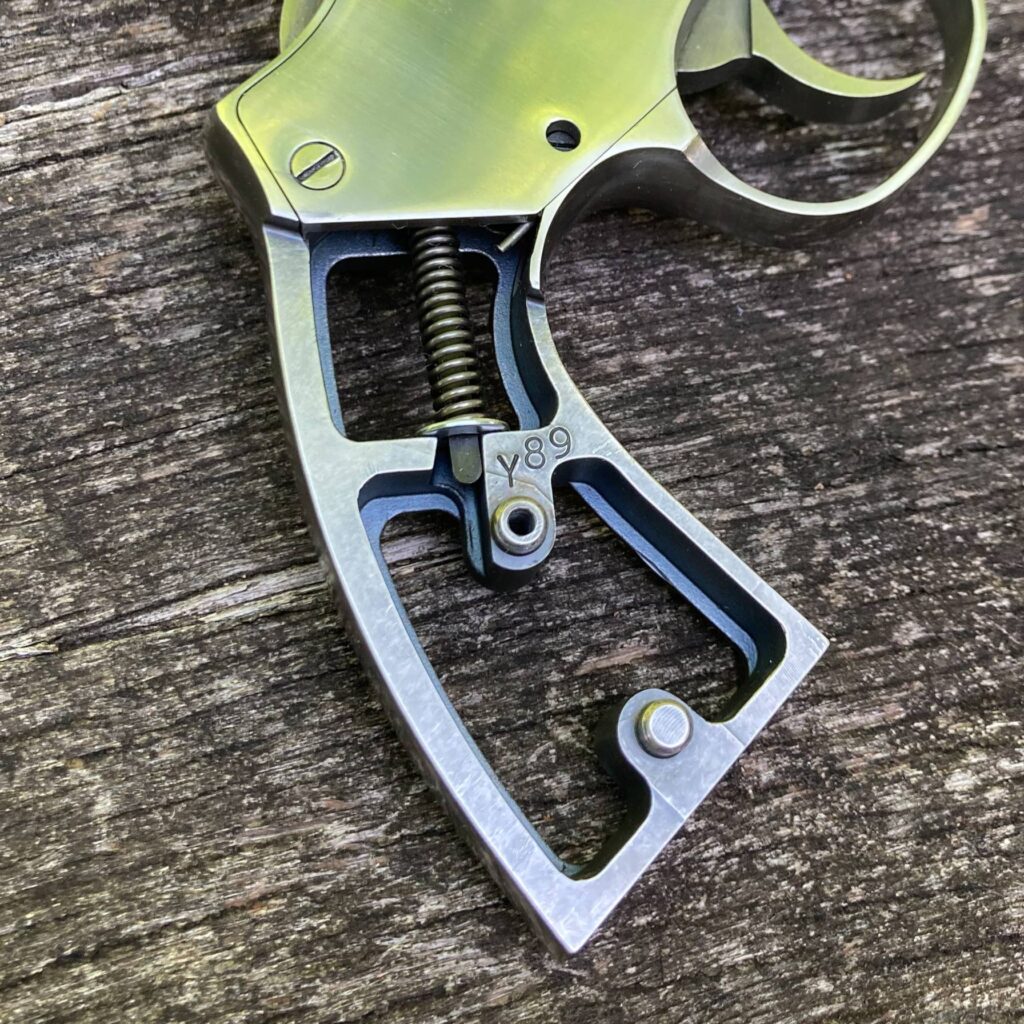 This isn't a bantam-weight firearm. According to my kitchen scale it comes it at 30.5 ounces. That extra weight is surely appreciated on the range as the RIA AL3.1 is a very comfortable shooter, if not the lightest-carrying revolver.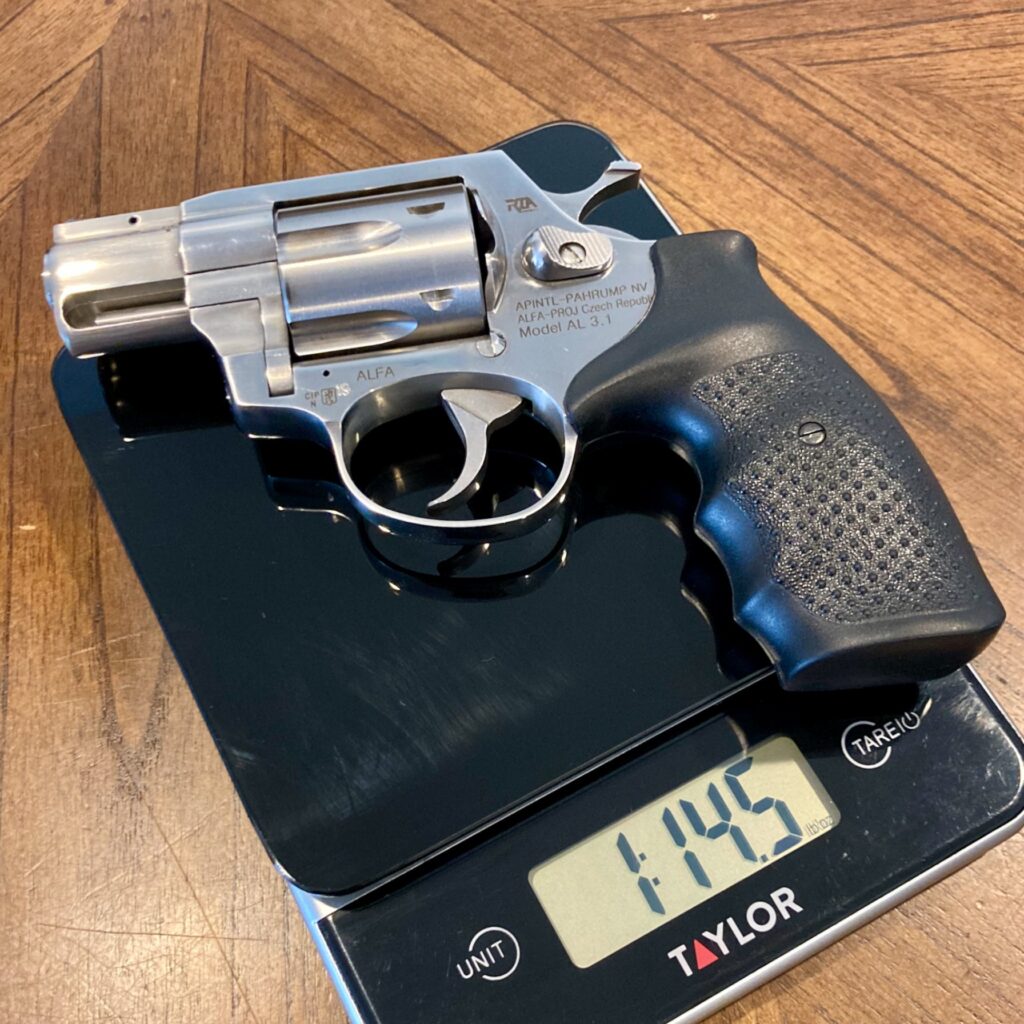 The RIA AL3.1 At the Range
I did three range sessions with this revolver. Due to the cost of .357 Magnum and .38 Special ammunition (it is still running close to twice what 9mm costs) I didn't fire a full 500 rounds in accordance with our Field Report testing SOP. Over the course of three range visits I fired 260 rounds of .357 Magnum and .38 Special: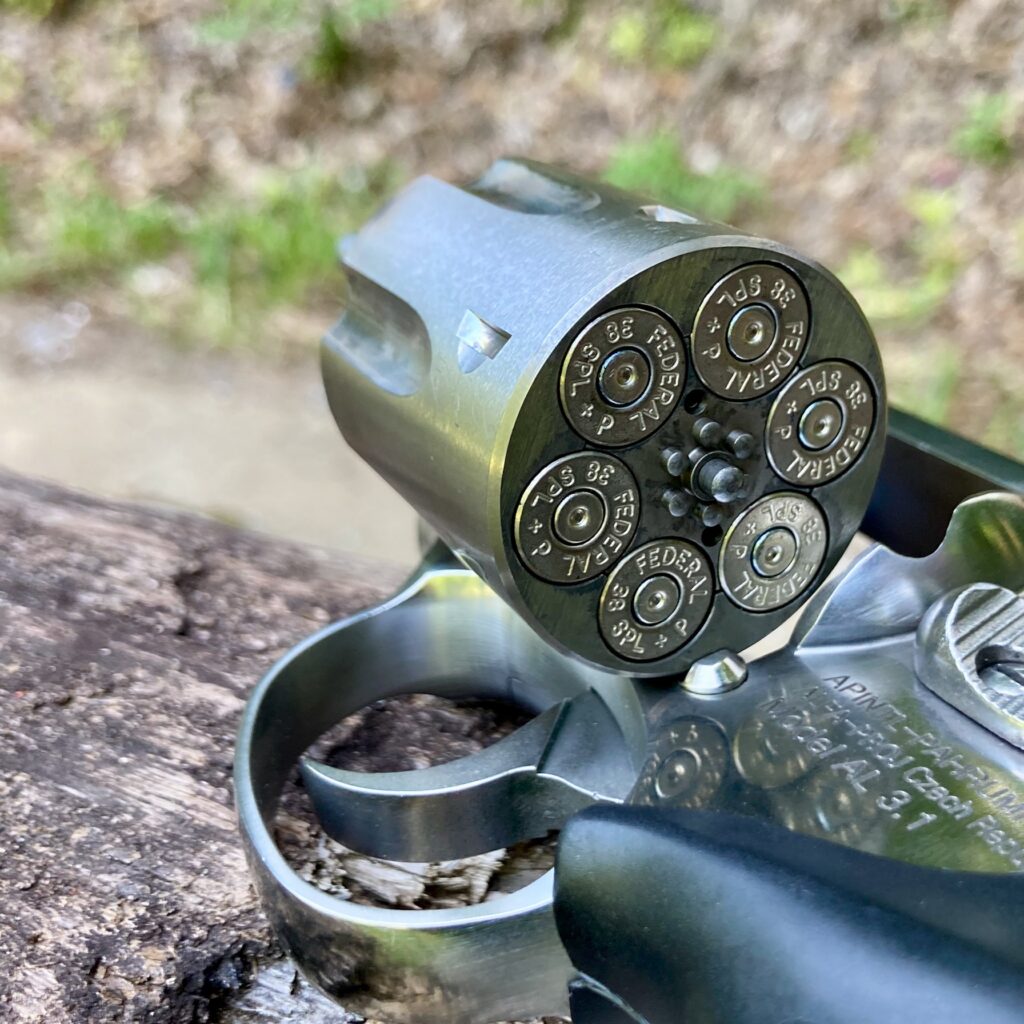 100 rounds .357 Mag Armscor 158-grain FMJ
12 rounds .357 Mag Remington 110-grain SJHP
6 rounds .357 Mag Speer 135-grain Gold Dot Short Barrel JHP
6 rounds .357 Mag Remington 125-grain Golden Saber 125-grain JHP
100 rounds .38 Special GECO 158-grain FMJ
24 rounds .38 Special Super Vel Super Snub 90-grain JHP +P
6 rounds .38 Special Winchester Defender 130-grain JHP +P
6 rounds Federal .38 Special 125-grain JHP +P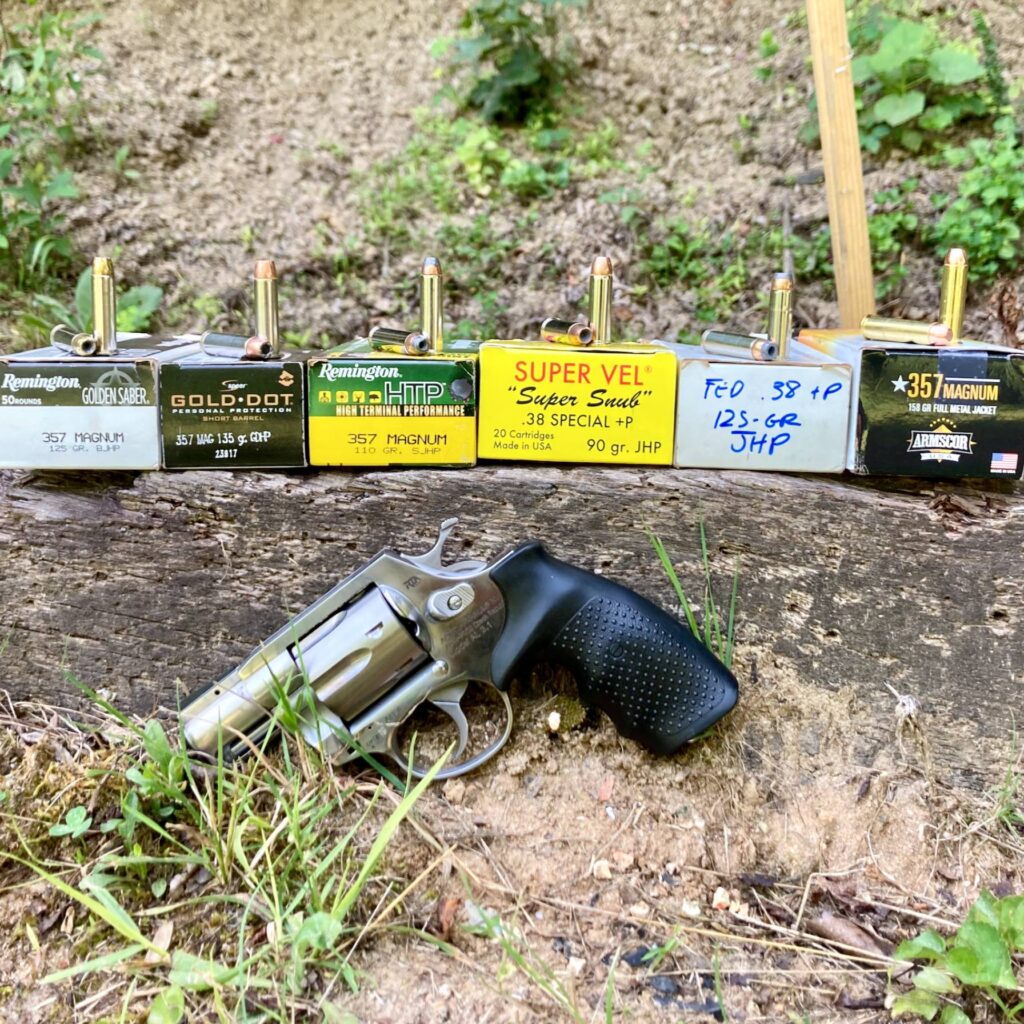 The RIA AL3.1 surprised me. It was a surprisingly pleasant revolver to shoot. I guess I shouldn't have been surprised – the combination of weight and the full-length grip really helped tame recoil – but I was. Even with magnum ammunition this wasn't a bruiser, though the Magnums I shot were probably on the lower end of the spectrum.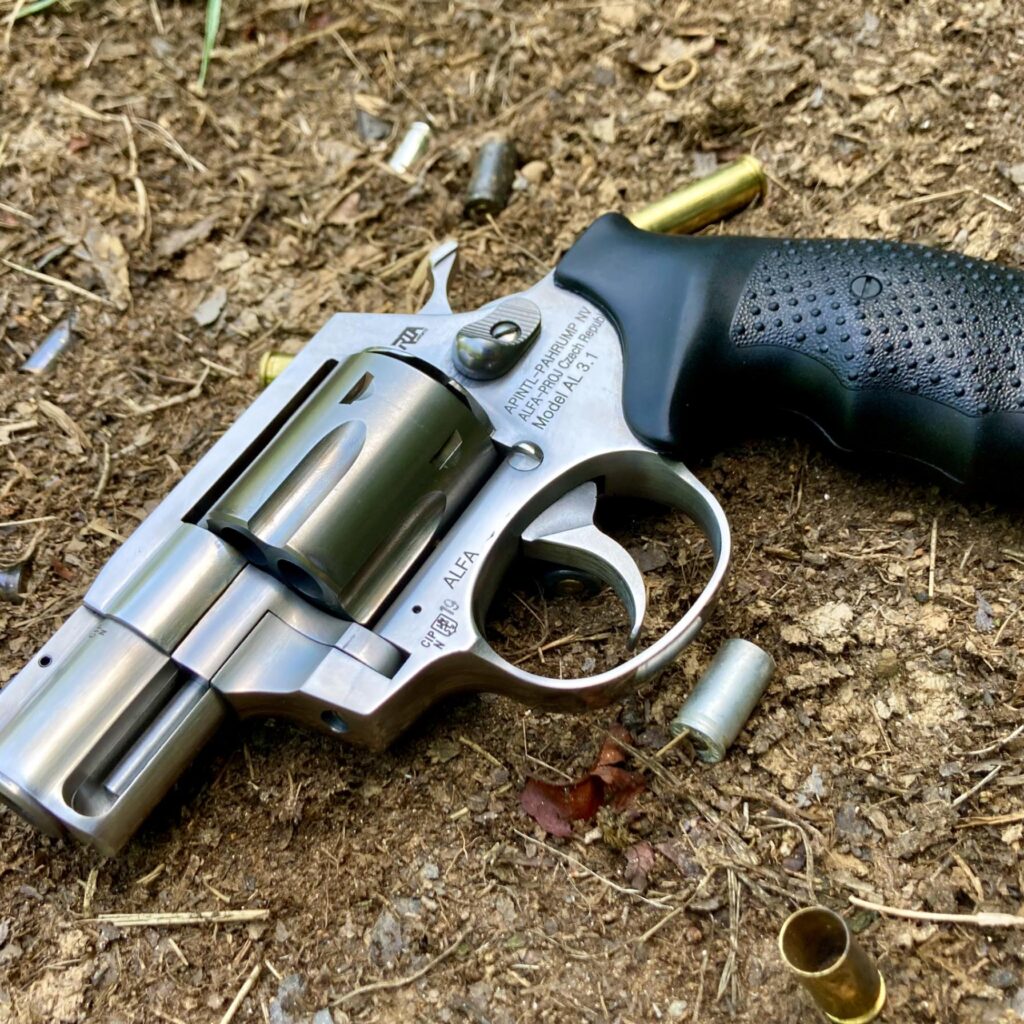 Function was 100% throughout. I didn't have a single light-strike, under-the-star malfunction, stuck case, or anything else to complain about.
Accuracy
I grouped several loadings at 10 yards to get an idea of what this snubby was capable of. Here's what I managed to pull off.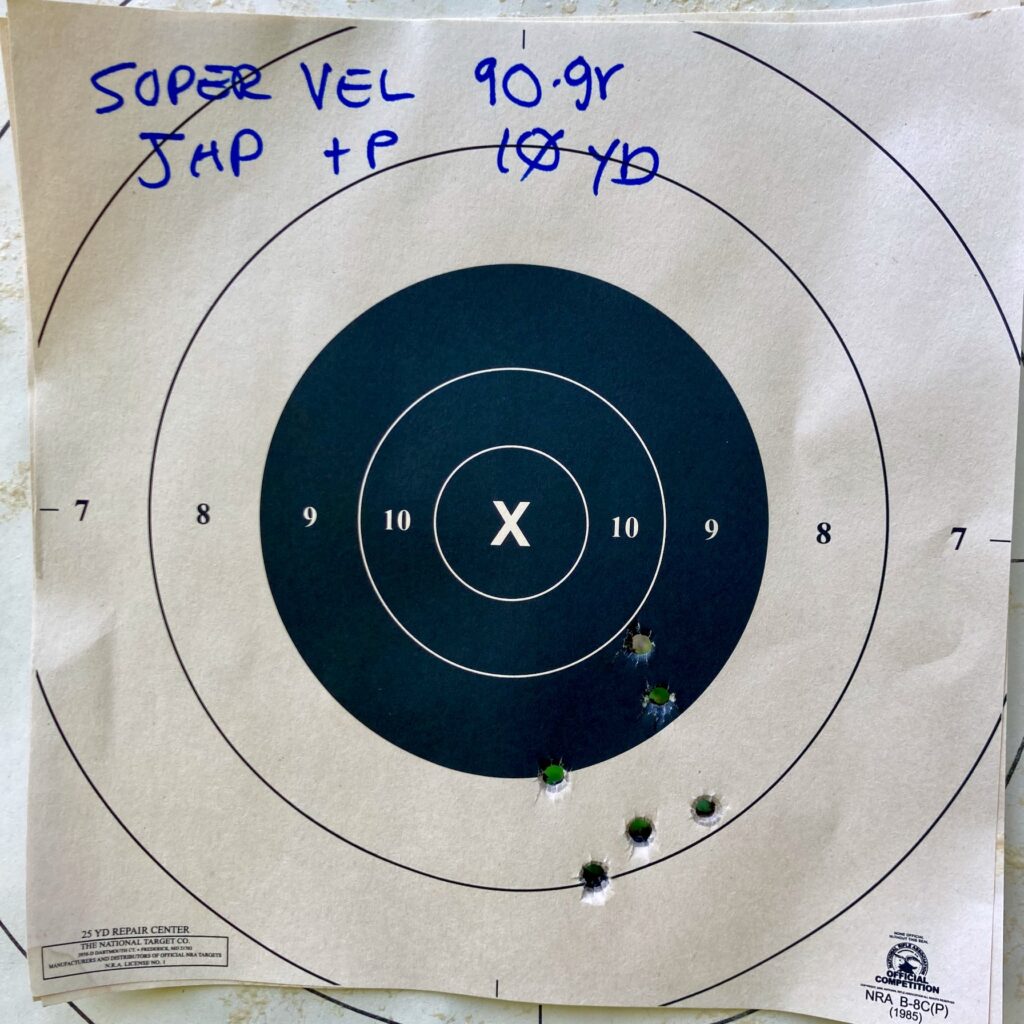 The RIA AL3.1 seems to be well-regulated for standard .38 ammo at 10 yards. The faster .38 stuff (I'm looking at you, SuperVel) and .357s tend to print a little bit low, as is to be expected. Still, there are four loads out of the five shown here that I'd be happy to load up and carry if need be.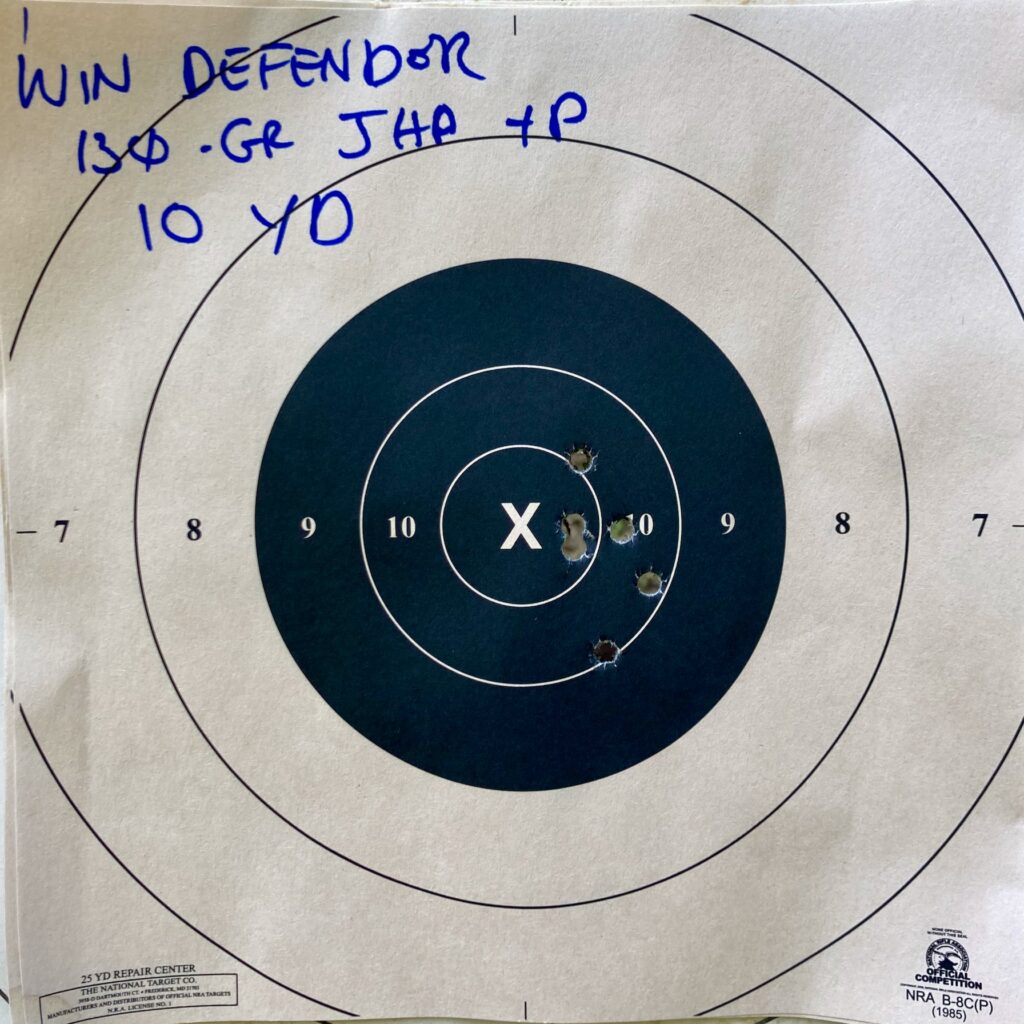 You'll also notice most of these groups favor to the right. I strongly suspect that this is due to the heavy trigger and its serrations. In dry practice I notice some horizontal movement of the sight picture each time I work the trigger.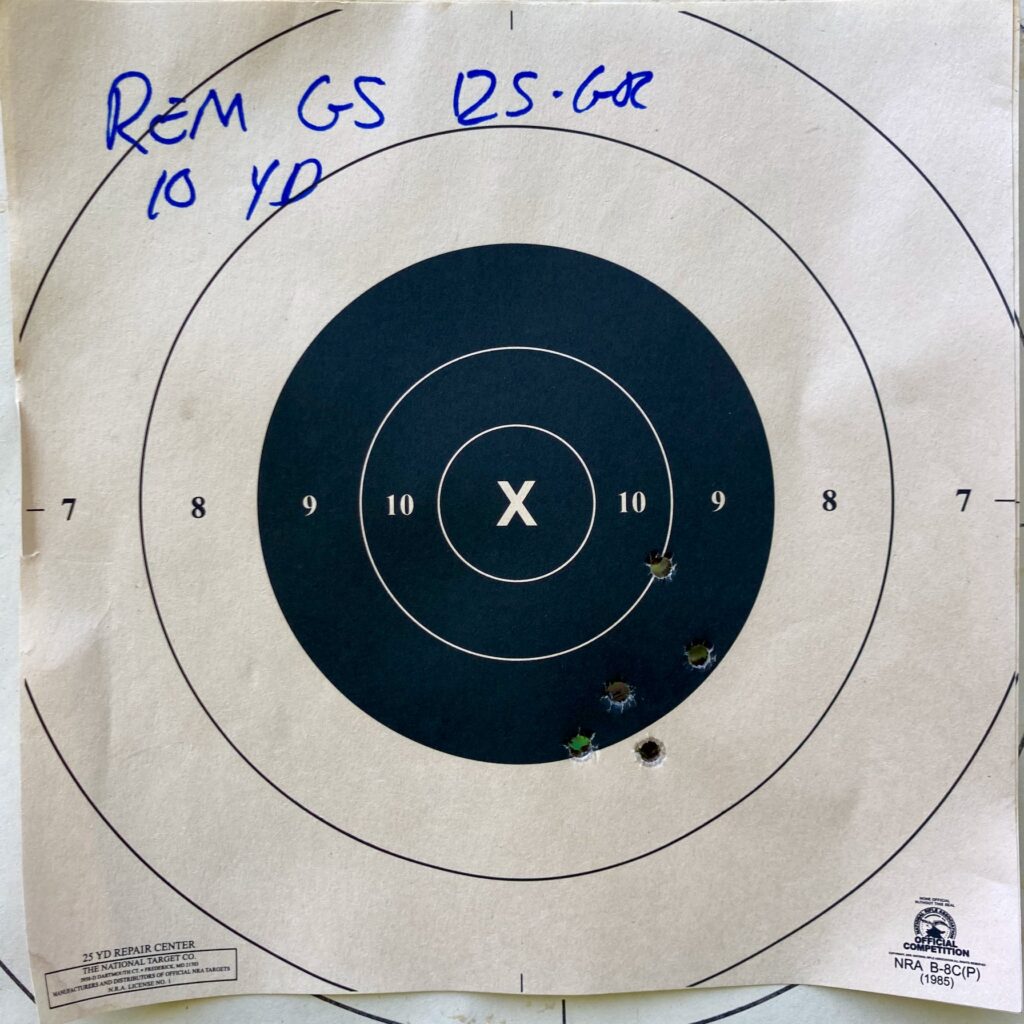 I also shot several drills with this revolver. The first six rounds of my second session with this revolver were consumed shooting a Bill Drill. The Bill Drill is six rounds, from the holster, at 7 yards. I managed a 4.67 clean run on my first attempt. That's not great considering I shot a cold 3.05-second clean run with a Glock 48 just prior to that.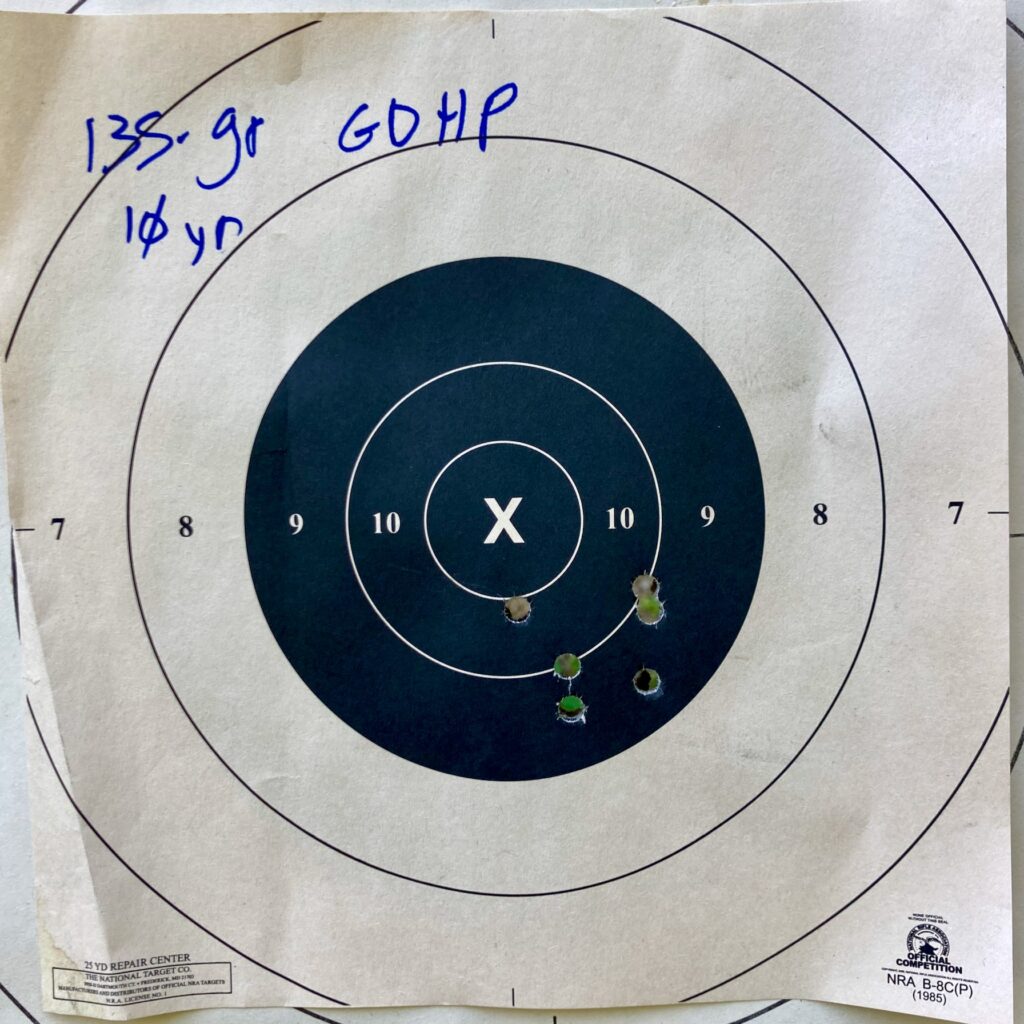 Next I shot the Super Snub test with the provided 158-grain .357 ammo. I fired it from concealment and managed a 138 – a pretty respectable score.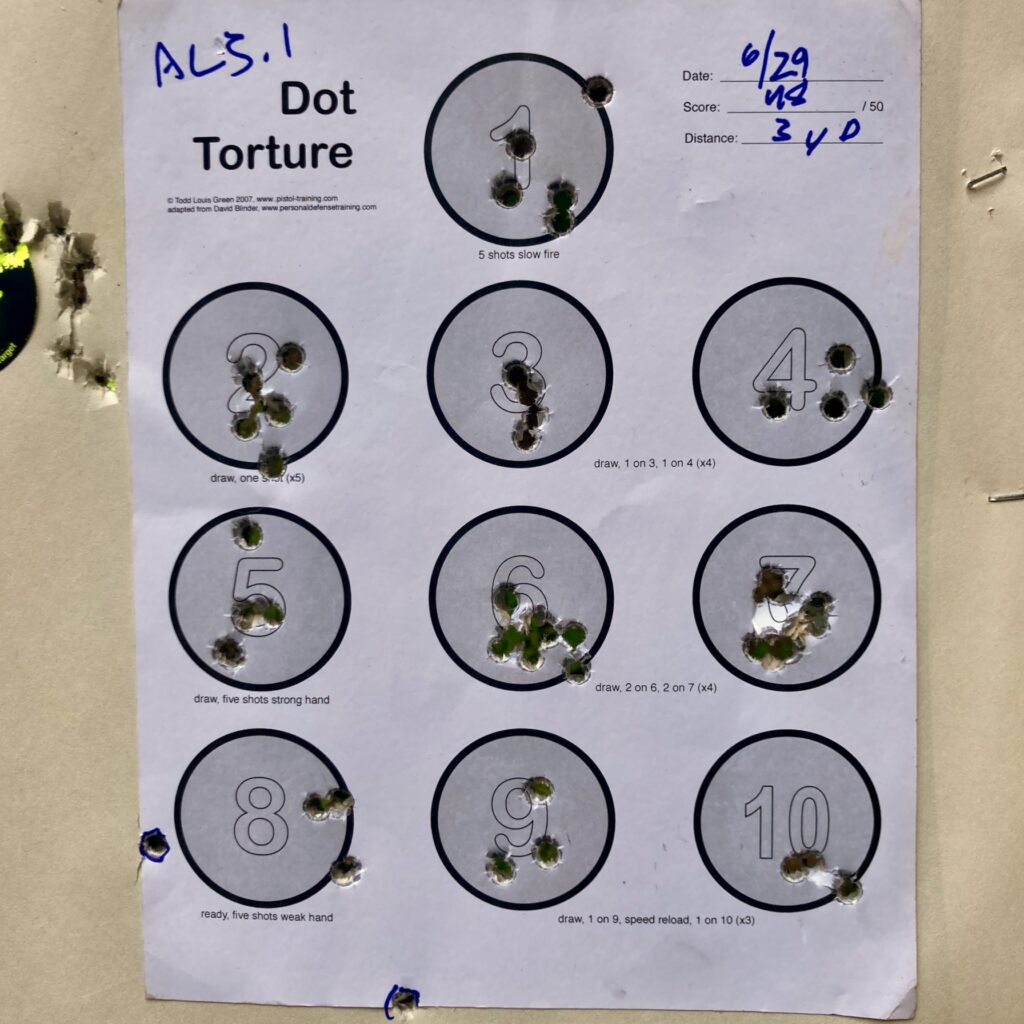 The last drill I fired was on my last session. I shot Dot Torture the one and only time it was fired with this revolver and pulled off a 48/50. I would have been OK but the sun was causing terrible glare. When I canted the gun on the weak-hand-only stage, the glare was so bad I seriously had trouble seeing the sights, accounting for two misses.
Closing Thoughts
Though I'm mostly happy with the AL3.1, I will submit a bit of a wishlist to RIA/Alfa-Proj here. Mainly, I'd love to see the AL-series evolve as a cogent product line. I wish the 9mm AL9.0 was available in stainless, I wish the AL3.1 was available with a 3″ barrel and adjustable sights, and I wish all of them were compatible with K-Frame grip panels. All that said, the RIA AL3.1 .357 Magnum revolver is an outstanding example of a snubnose revolver.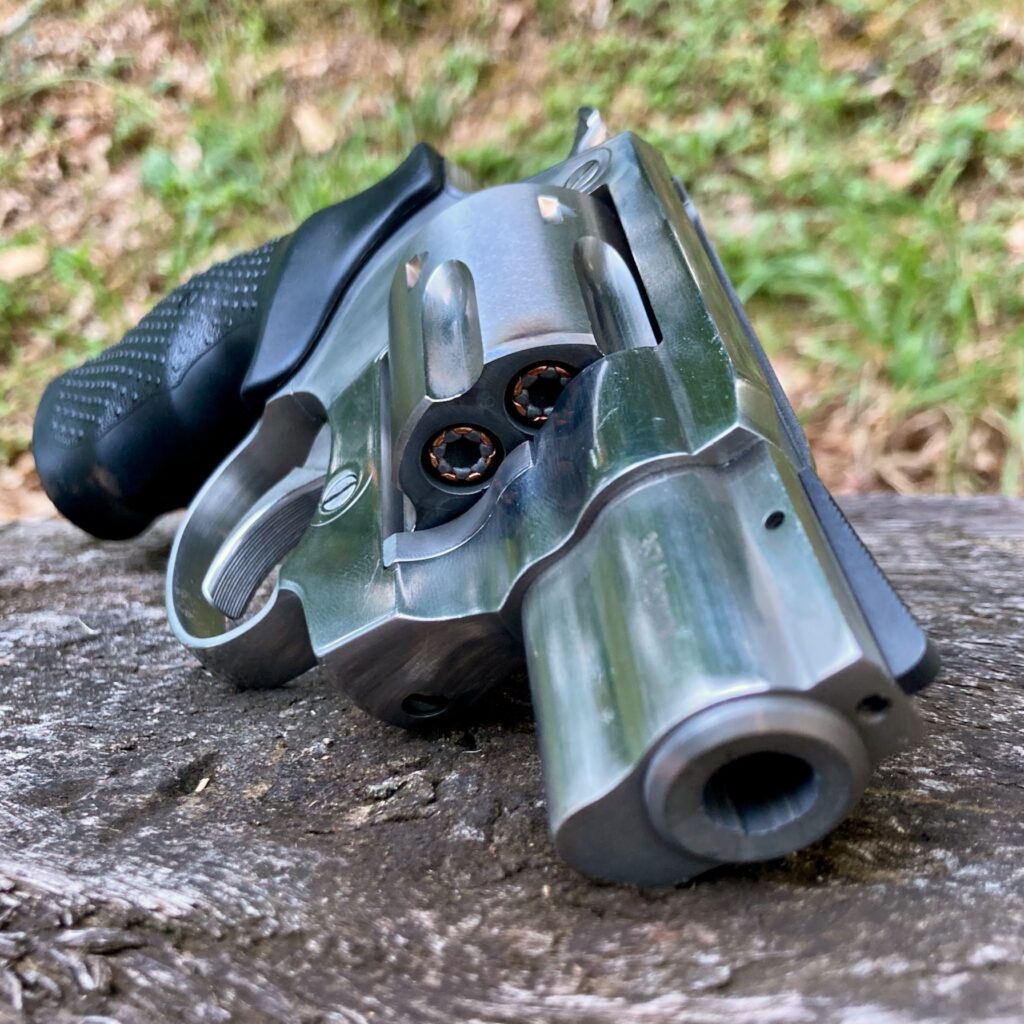 Sure, it's missing a few features – namely bigger, better sights – but overall it's a pretty damn decent revolver. If you're considering a snub for home defense the weight and sixth round in this gun make it a mighty attractive candidate. Do you have a yen for a snubby range toy but don't want it to beat you up? This would make a fine one. If you want to carry a snubnose revolver but don't mind some heft, this wouldn't be a bad choice.  With new S&W 66s retaining for close to $1,000 the street price of the RIA AL3.1 of around $600 doesn't hurt, either.