Every RevolverGuy needs a .22 caliber revolver. Rimfire ammo is much less expensive than any centerfire cartridge and the result is the same for practice or target shooting. .22s are a great way to train and gain experience that transfers directly over to centerfire shooting. Plus, plinking with .22s can be incredibly fun and they're excellent choices to introduce new shooters to firearms.
Many years ago, I traded into a Smith & Wesson Model 686 No-Dash .357 Magnum revolver with a 6-inch barrel. I discovered that my double action shooting abilities were subpar and .38 Special ammunition was an expensive endeavor for practice, let alone full powered .357 Magnums. Instead, I lucked into a S&W Model 617-5, six shot, 6-inch barrel for sale by a friend who never fired it and was only asking the very reasonable price of what he paid for it new several years earlier. This Model 617 .22 was a fraternal twin of my 686, so the deal was made.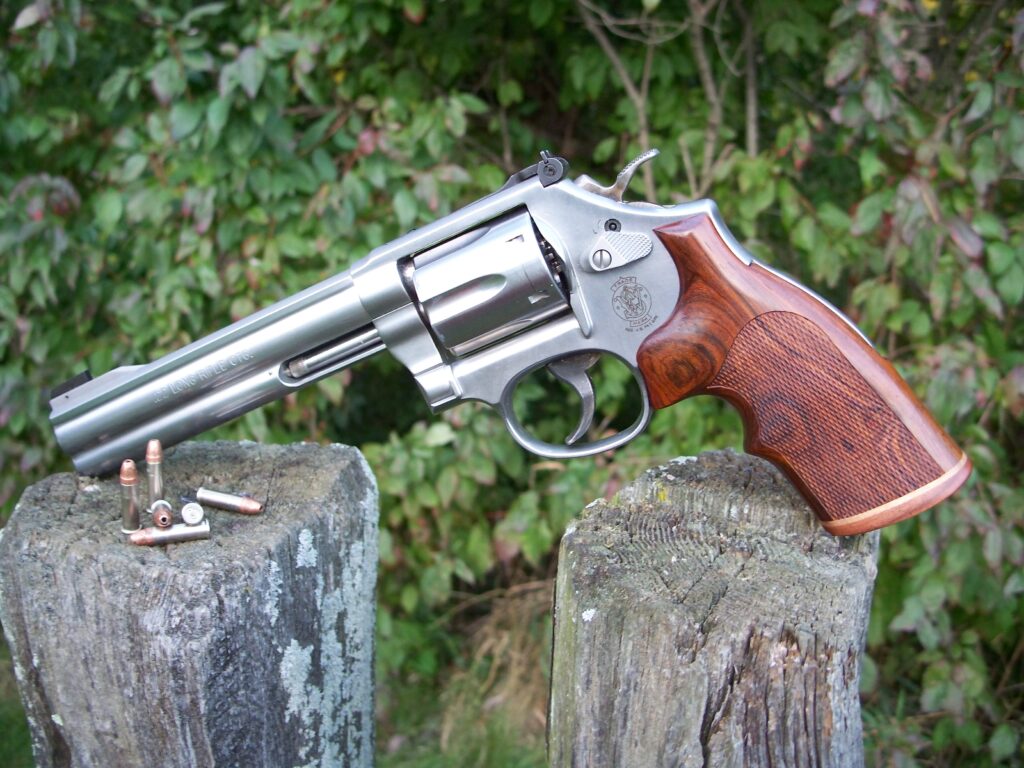 I practiced double action shooting with my 617 and improved my technique to where I was satisfied with my competency. The 617 was an inherently accurate revolver with its long sight radius (the result of its 6-inch barrel). The trigger was very good in both double action and single action modes from the factory and its target sights were outstanding.
Then I made the mistake so many of us do.
I sold it. I didn't shoot it for a few years and felt I'd made good use of its attributes to improve my double action trigger control. The relatively inexpensive .22 long rifle ammunition had allowed me to shoot a lot and shooting a lot (while paying attention to the sights, trigger control, breathing, grip, and stance) is the way to better your shooting. I didn't see any further need for the big .22 and a different gun was financed with the 617's sale.
I Could Use that Gun Now
Years later, I retired and my wife and I eventually moved to rural west Tennessee. Our log cabin is on sufficient enough land to allow me to shoot more than I ever thought I would. This newfound lifestyle keeps me pinching myself, hoping to never wake up from this wonderful dream. It also makes me miss that S&W .22 a whole lot, now that I have a place to shoot it more often.
Copperhead and cottonmouth snakes keep me on my toes. They're not common, but I've had to dispatch several over the last three years. Beavers cause our lake's drainage to dam up and they take down way too many of our trees. Armadillos dig up the acreage and make it look like it was bombarded by hundreds of tiny explosive missiles. Lots of game animals abound that a long barrel .22 would be a perfect match to take…squirrels, bunnies, and bobcats when in season.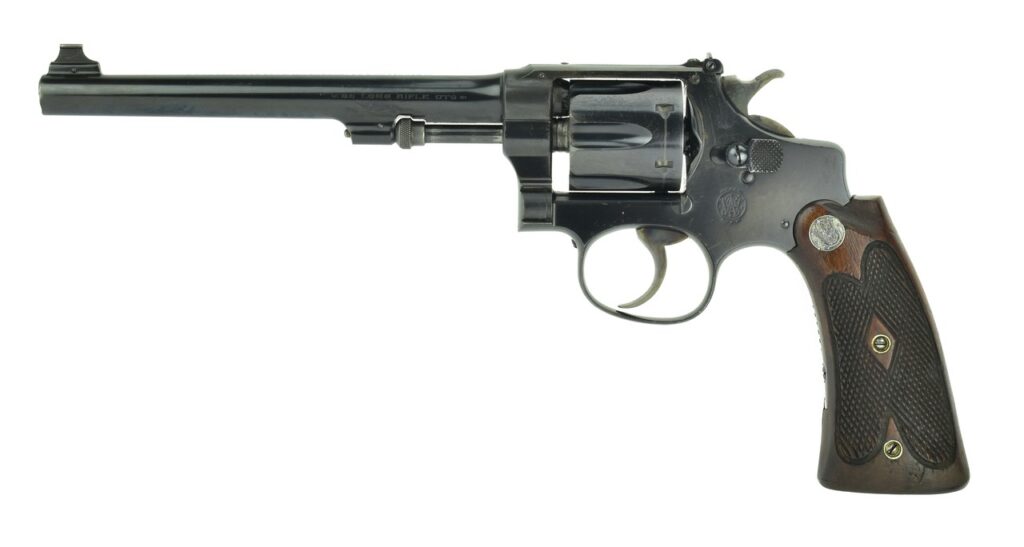 I considered trying to buy another S&W. Perhaps an old Bekeart 22/32, as I've always found them uniquely attractive. But realistically, their small frame (even with the oversize grip) would be a poor match for my large hands. While I sure liked the 617 I had sold, it was a kind of "been there, done that" sort of deal. What other .22 would satisfy my itch while still being new ground compared to where I'd already been?
I've always been more of a S&W kind of RevolverGuy, but I did have two Colt Fitz-style snub nose wheel guns that I really enjoy. Hmmmm, what about a Colt double action revolver?
The double action trigger on Colt revolvers is quite different than the S&W's. The S&W trigger has seemed smoother, more consistent, and all around better in my opinion. A Colt .22 would help me gain a better appreciation for the Colt double action through more shooting. More shooting! Yes! This excuse…I mean reasoning…makes perfect sense!
A Brand New Colt? Not Yet!
Colt's recent reintroduction of double action revolvers surprised many in the shooting/ collecting world. I remember reading post after post on a Colt Message Forum that the company would NEVER bring back the Python, let alone any double action revolvers. Well that certainly turned out to be dead wrong. Currently Colt offers their Cobra, King Cobra, Python, and Anaconda double actions, but no .22 caliber double action. One has to wonder if a .22 may be on the horizon, ready to see daylight sometime soon?  (Editor's Note: At the time Steve wrote the article, Colt had not released their King Cobra Target .22 LR, yet. They must have heard he wanted one!)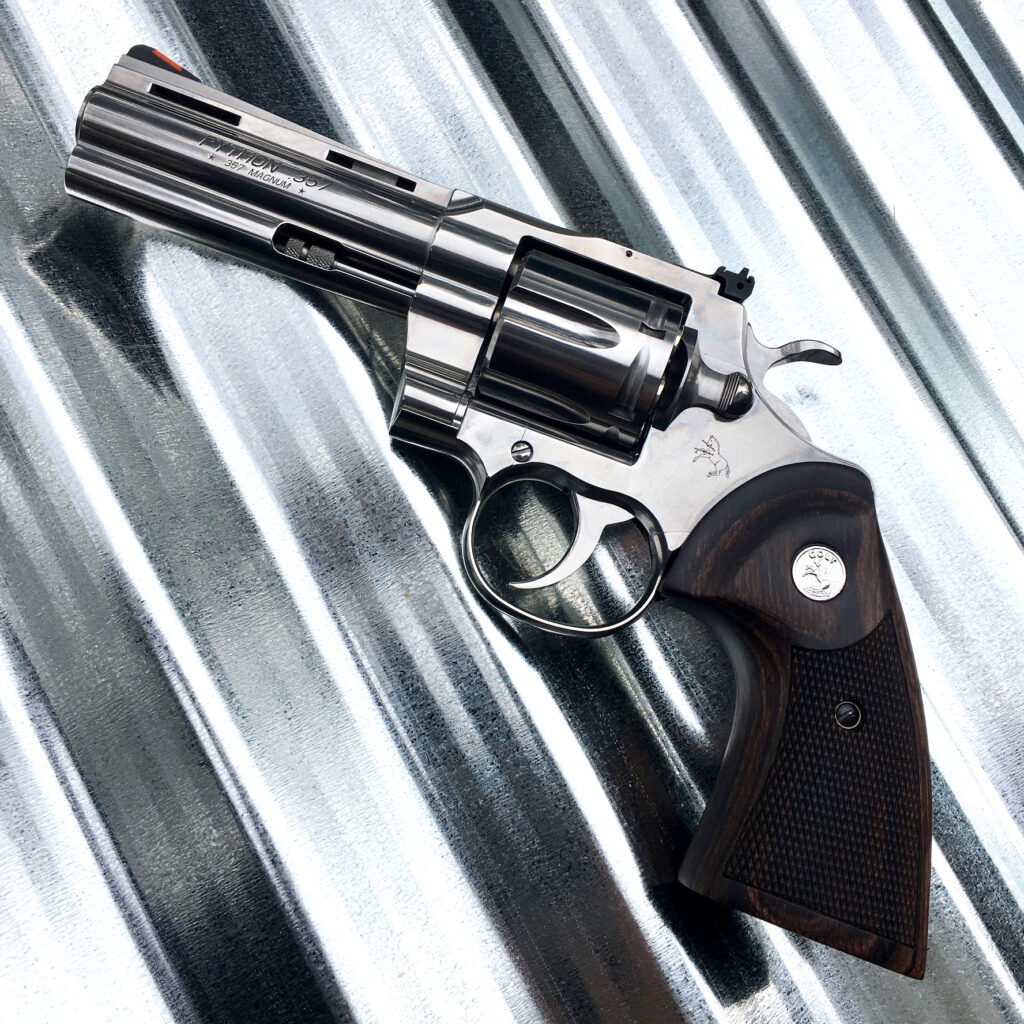 I've always liked older firearms anyway, so I started browsing the internet gun auction sites and decided rather quickly that a 6-inch barreled Colt Officers Model Match that came with target sights would be just what my trigger finger was itching for. The Colt Officers Model Target .22 was introduced in 1927. It had been preceded in 1904 by the Colt Officers Model (not called Target), which was available only in center fire calibers. The Officers Model Match came out in 1953 and ran until 1969. This particular version is considered by aficionados as the Fifth Issue. A Sixth Issue called the Officers Model Match Mark III came out in 1969 and changed to a hammer transfer bar system.
My decision was made to search out a Fifth Issue with the firing pin actually in the hammer. I mentioned to my best friend from high school that I was going to try and find one on Gunbroker. He happened to be at the local gun shop in Florida he frequents the next day and he texted me a photograph of just the revolver I had been telling him about. He handled it and inspected it and even got the price down a bit. I figured having my trusted friend go hands-on with this Colt was better than me buying one online with only photos and the seller's description as my guide.
New to Me
The Colt was transferred through my local FFL here in Tennessee and it turned out to be in excellent mechanical condition, with only some holster wear on the barrel and muzzle. The bore was bright and shiny and looked like new after I gave the entire handgun a thorough cleaning.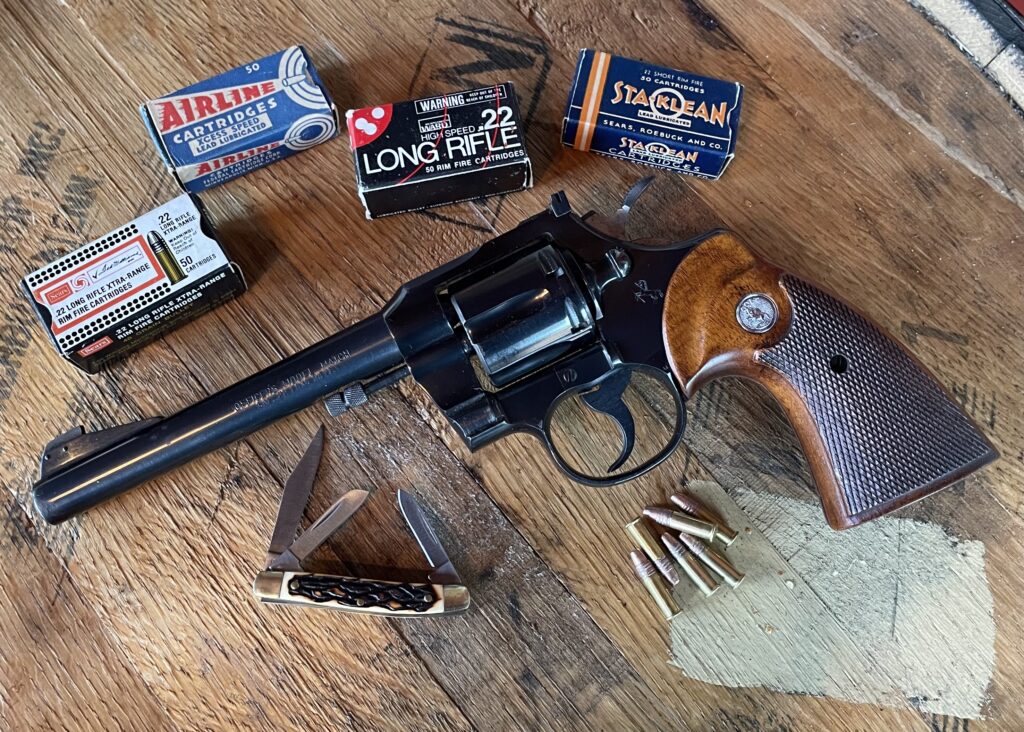 This particular gun's serial number dated it to 1968. That was a time when Colts were expertly hand assembled and finished by skilled craftsmen. The deep, dark blueing on this revolver is truly blue and not black when gleaming outside in the sunlight. The factory target walnut stocks fill my hands for an excellent grip and their checkering was still sharp. The Accro fully adjustable sights are big and easy to see as target sights should be. They give plenty of distance from front to rear, mounted atop the tapered, long barrel.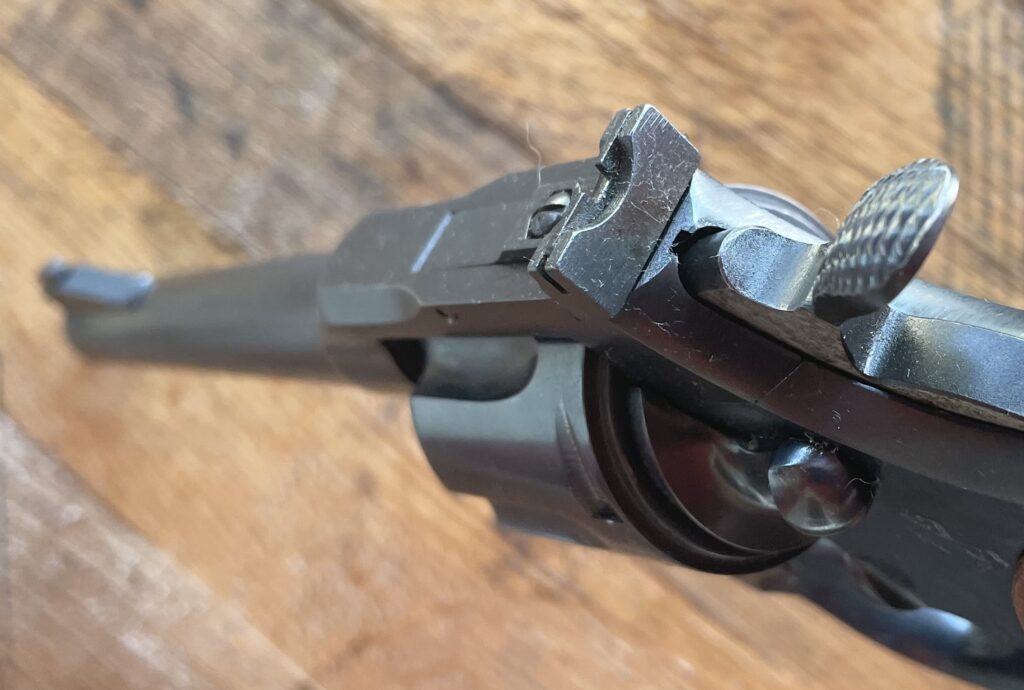 The hammer on this Fifth Issue was changed by Colt to the wide, diamond checkered target hammer much like the Python's. It's easy to cock with your strong hand thumb as its reach does not require a change in shooting grip.
The double action trigger pull on vintage Colts takes some getting used to, especially if you're used to S&W revolvers. The Colt trigger "stacks" a bit. That is to say, the weight/pressure required keep the action moving feels like it's becoming heavier, as you pull the trigger. It's not a lot, but it doesn't stay even or get lighter toward the end of the pull. It stacks up and feels like it is harder to pull the trigger as it reaches its last amount of travel before dropping the hammer. Mind you, this isn't a huge amount of pressure. It's small, but still noticeable.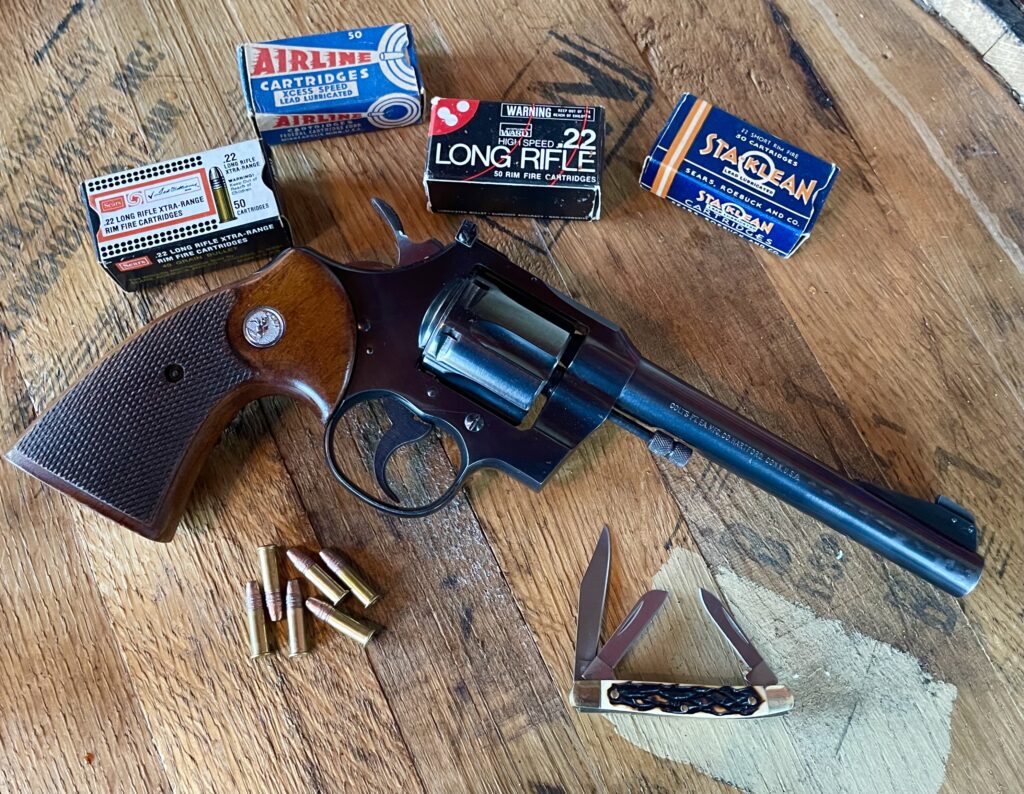 The Colt's trigger pull is smooth, without hitches and stops and restarts and clicks and slams and clutches. But it is also almost impossible to stage like a S&W trigger. The S&W double action trigger pull locks up the cylinder well before the hammer drops. With practice, the trigger can be staged and brought to the point where the cylinder has turned and locked up in line with the barrel and then paused momentarily. This pause can allow precise sight alignment before the trigger is pulled, almost in a single action kind of mode, as if the hammer had been manually cocked, before letting off the shot.
It's almost impossible to do this with a Colt. The hammer appears to be falling as the cylinder is still rotating before locking into place, aligning a cylinder chamber with the barrel. I say, "almost impossible" because experts with lots of experience with Colt double action revolvers are excellent shots. There are those who fancy the Colt double action over the S&W style and will explain the complicated mechanical reasons at length why the Colt is superior. All I know is that for me, the Colt is more difficult to shoot accurately in double action than the S&W.
Single action is easy and phenomenally accurate with my Colt Officer Model Match. Cocking the hammer is easy with the big, wide hammer and the trigger pull breaks at 3 pounds of pressure. That's perfect and as long as I keep the sights properly lined up, this Colt hits its mark every time.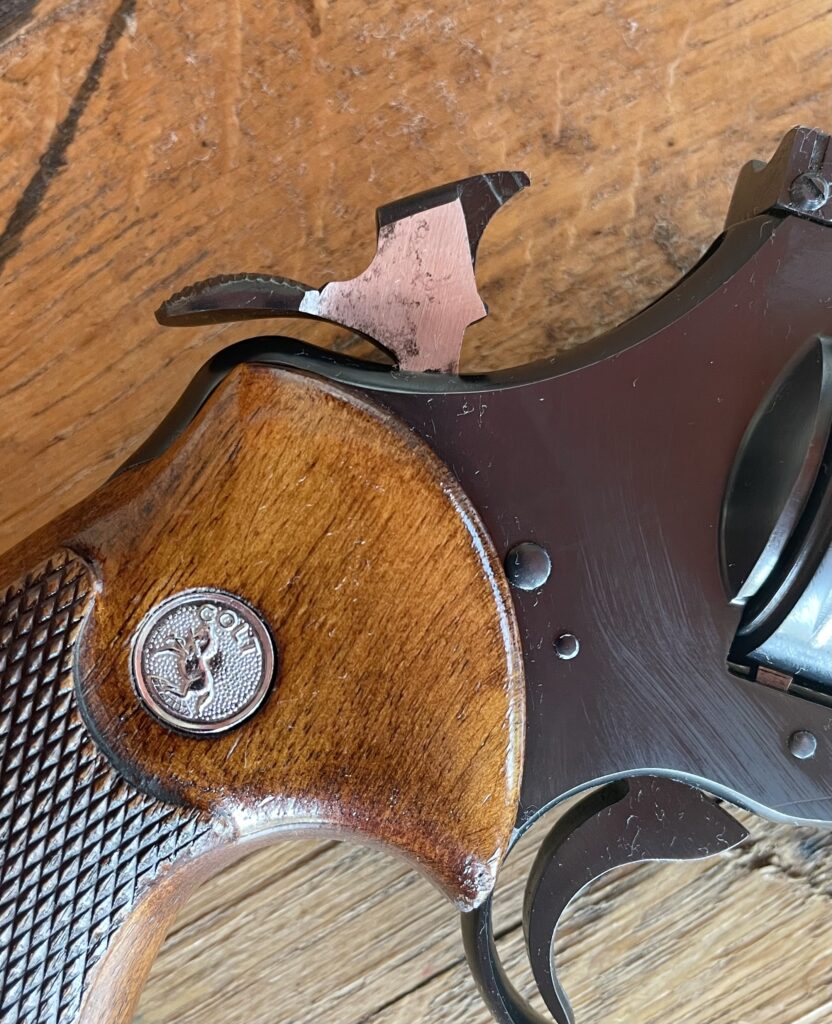 I've practiced with this Colt in double action mode on my steel targets out on my range, transitioning from target to target between shots. I like to shoot two shots on the right target, two shots on the center target, and two shots on the left target. As a right handed shooter, I have faster target acquisition moving from right to left than from left to right. The gun in my hand blocks my view moving left to right, so I prefer right to left if it's left up to my discretion.
As time went on, I found my abilities with the Colt on par with my abilities with the S&W. I would not go so far as to say I have mastered the Colt double action trigger pull, but within my abilities, I am able to get it to work very well. At the beep of my timer, firing the first two rounds at the steel target is quick enough to satisfy me. I noticed that as I transitioned to the center target, my trigger finger was pulling the trigger, cocking the hammer, and rotating the cylinder so that when the target arrived in my sight picture, I was very close to finishing the trigger pull/press and hitting my mark.
While I would stage the trigger on a S&W between targets, I found I was doing a very close approximation of the same thing with Colt, even though the cylinder wasn't locking up prior to my sights' arrival on target.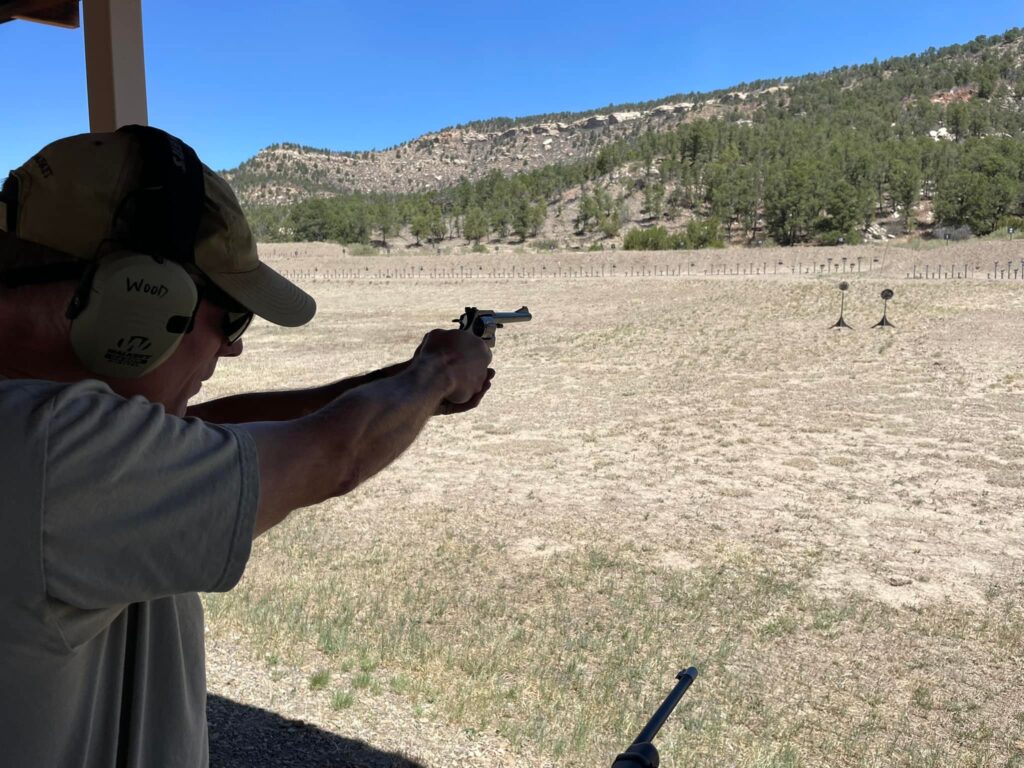 I'm still shooting the Colt Officers Model Match regularly and I've found it to be an ergonomically outstanding revolver with its big oversize match target stocks. It's sights are excellent, being big and easy to see. The fit and finish are superb and I adore the polished blue surfaces outside in the sunlight. Several new shooters have fired it and the lack of recoil and natural ability to hit combine for a pleasurable first experience.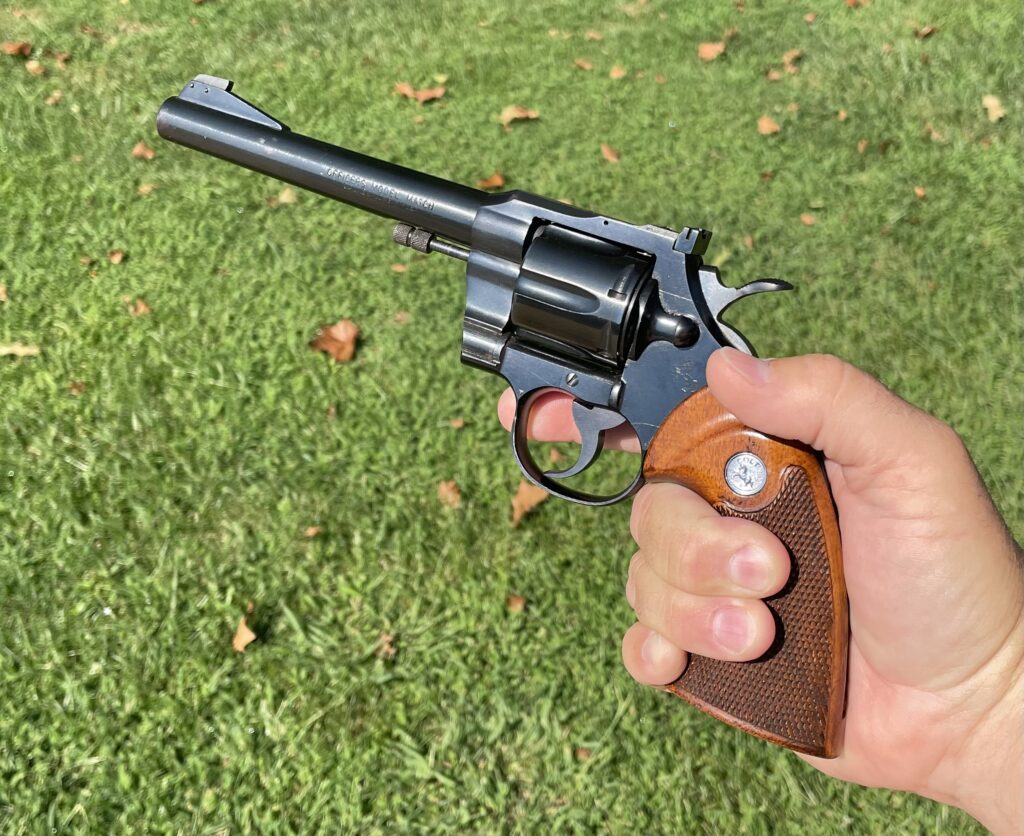 I'm very happy with this Colt Officers Model Match .22 and consider it to have been a good choice instead of purchasing another S&W like I already had. I've fired my Colt 1917 .45 ACP again since shooting my Officers Model Match and the work with the .22 translated well to the bigger, bolder, and badder .45 revolver. I was able to manage the trigger better on the snubby big bore than I had before all the .22 practice.
Used Guns
Properly taken care of used guns can last practically forever. Used guns can also be a good deal. "Old" used guns in good condition may be the last refuge of the investment dollar. It used to be said that you couldn't go wrong in real estate, but that's no longer true. Gold is certainly not a guaranteed investment. Even classic cars have wained and gained without confidence. But quality collectible firearms still haven't gone down in value. Buying this neat old Colt .22 has provided fun and less expensive practice and entertainment. I'm pretty sure that several years from now I could sell this Colt and not lose any money. Actually, I believe it's more likely I'd see a profit.
But I learned my lesson with that S&W 617…I'm not selling this Colt Officers Model Match .22 revolver.