I recently spent some time carrying a bigger revolver than I normally carry, and the experience reminded me how small details can make a big difference—often out of proportion to their size.
Instead of my normal J-Frame snub, I was carrying what I call a "compact service revolver," and it didn't take long to notice the benefits this type of gun had to offer. Since I haven't written a lot about guns in this size and weight class, I thought it might be worth a detour to talk a little about the advantages of these fine revolvers.
Love the snub
First, by way of background, I should probably define some terms.
Those of you who have been around RevolverGuy for a while, will remember reading my thoughts on defining what a snub is. While I freely admit that the term "snub" is open to wide interpretation, and your definition may be very different than mine, it's my personal view that the defining characteristic of the snub, which sets it apart from all its brethren, is its emphasis on concealment, first, over things like power, handling qualities, and performance.
Because concealment is the priority, I think a snub has to be small, to fit in tight spaces. This means a small frame, abbreviated grips, and a sub-three-inch barrel, to work in pockets, ankle holsters, and other out-of-the-way spots. You might define a snub differently, and that's OK, but that's where I draw the lines and it's my point of reference for the discussion that follows.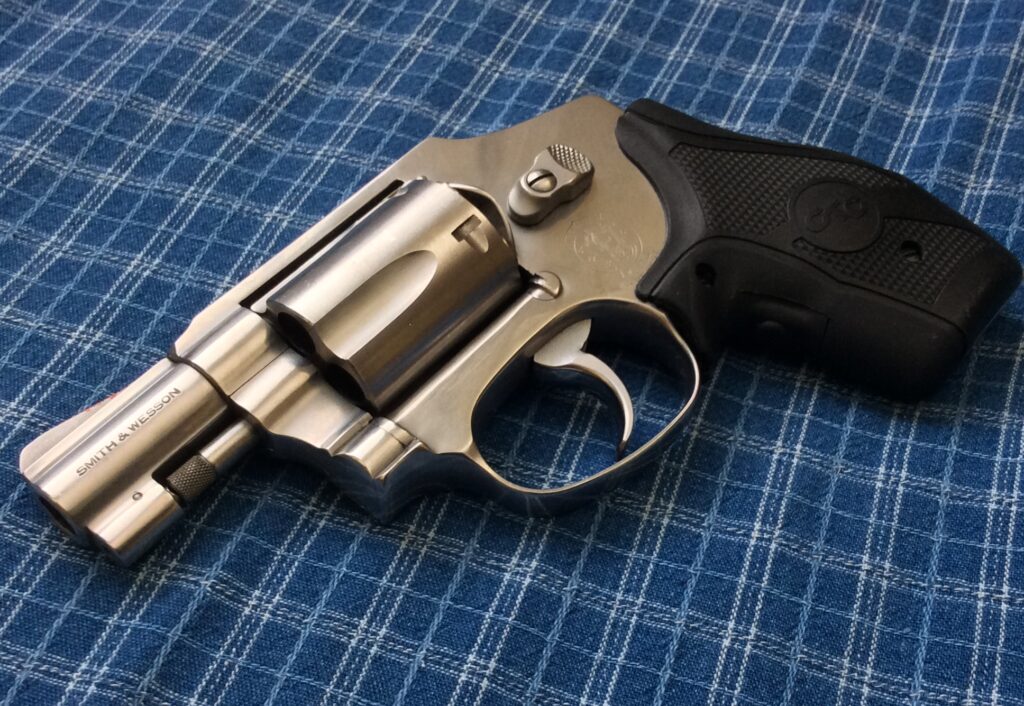 Now, the snub has a lot of things going for it, and does some things better than any other gun, but I have always considered it a compromise. If you could carry a larger, more capable gun, then you would, right? Perhaps you'd carry something that's easier to draw, easier to shoot with precision, packs more punch, or holds more rounds, but the guns that can do those things have their own set of drawbacks, don't they? They may be too big, too heavy, too uncomfortable, or too difficult to carry and hide in some circumstances.
So, we choose the snub. Not because it's the best gun, but because it's the best gun for the job, when concealment is the prime consideration.
Next, please
One step up from the snub, in my model, is the compact service revolver, which is a reduced size, reduced weight version of . . . you guessed it, the service revolver!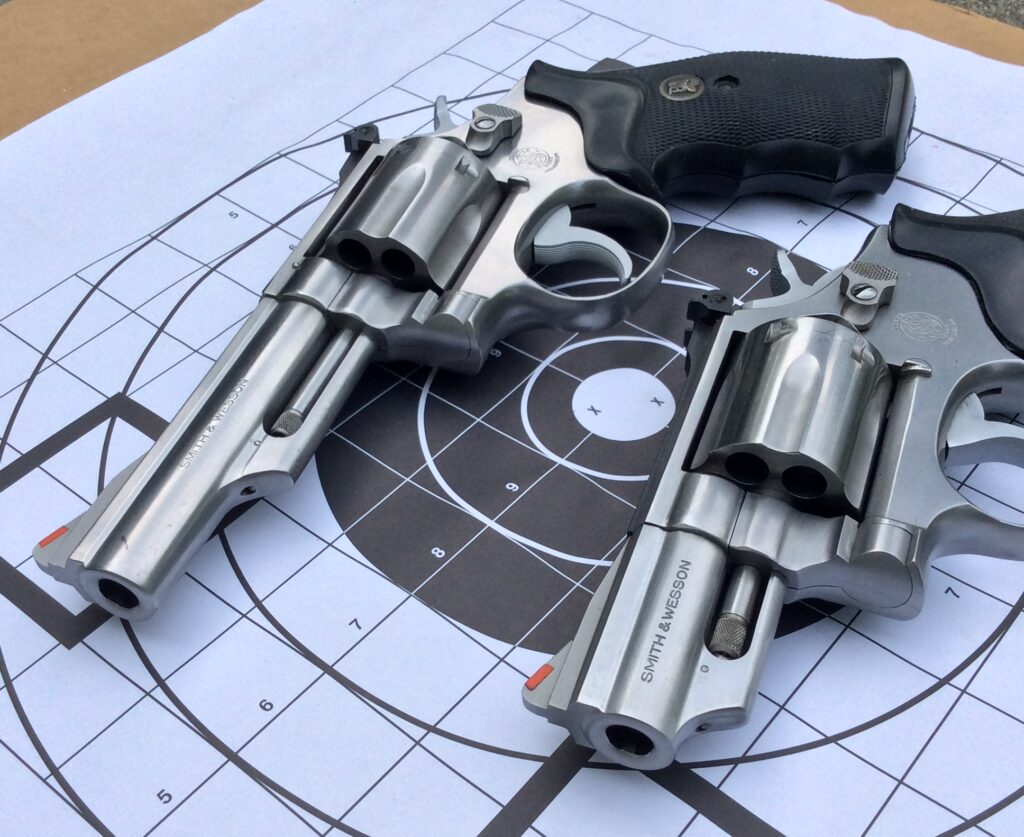 What sets the compact service revolver apart from the snub, in my opinion, is that concealability takes a back seat to the other factors. Concealability is still a priority, which is why we go to the effort of making the service gun smaller and lighter, but the compact service revolver places things like power, capacity, handling qualities, and "shootability" ahead of concealability.  This makes it different than the snub, where concealability is always the first consideration, and we're willing to sacrifice some of those other qualities to achieve it.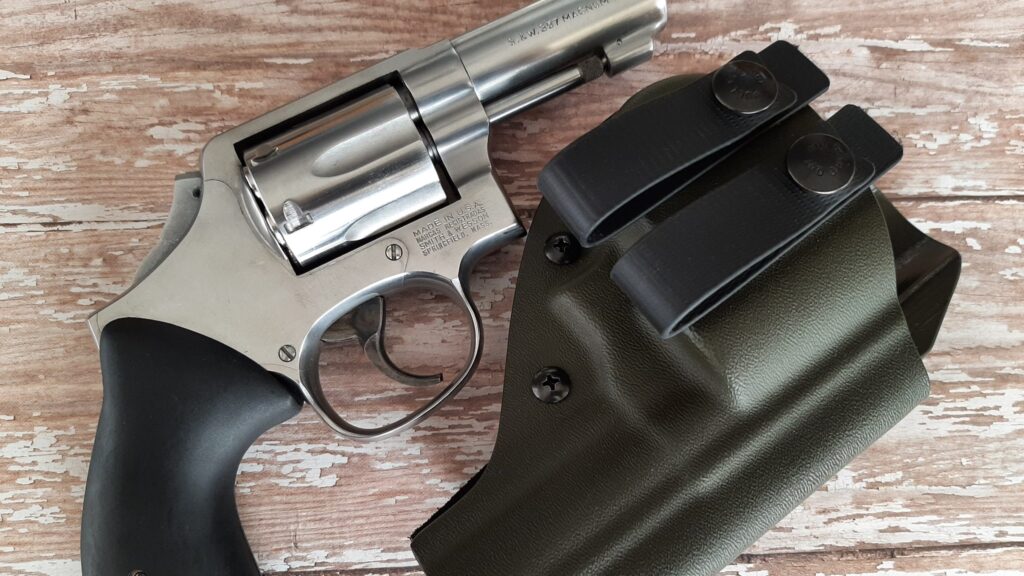 To further illustrate the difference in my mind, it's helpful to consider how I'd carry these guns. As true concealment or backup guns, my snubs usually ride in pocket and ankle holsters, but rarely on my belt. You could certainly carry a snub routinely on the belt (and I understand why many RevolverGuys do, because it's a convenient and capable option), but if my circumstances allow me to carry on the belt, then I can usually get away with carrying a bigger gun, and don't need to shrink it down to snub size.
That's where a gun like the compact service revolver shines. It will give you more capability than the smaller snub in those circumstances where your situation, environment, clothing and concealment needs permit you to carry the bigger gun.
Different missions, different guns, different modes of carry.
The standard bearer
In my mind, the classic example of the compact service revolver is the short-barreled, Smith & Wesson K-Frame, in all its blued, stainless, fixed sight, and adjustable sight versions.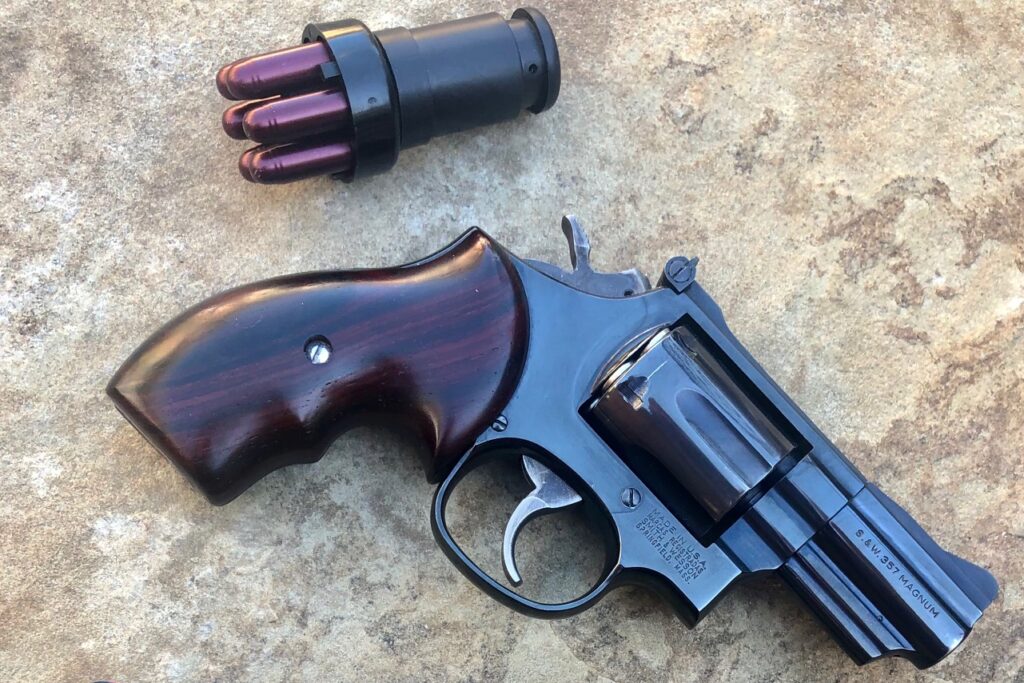 A K-Frame with a two-to-three-inch barrel, round butt, and compact grips defines the role for me, by combining service gun power and performance with enhanced concealment. You get the good sights, the six-shot cylinder, the hand-filling grip, and all the other service gun goodness, but it's easier to hide than its big, service gun brother.
Not just Smiths
Of course, the compact K-Frames aren't the only contenders in the compact service revolver category.
Perhaps the toughest alternatives on the market today are the shortened versions of the Ruger GP100. While they're built on a heavier frame than the compact K-Frames, the 2.5-inch and 3.0-inch GP100s strike a pretty good balance between service gun capability and concealment.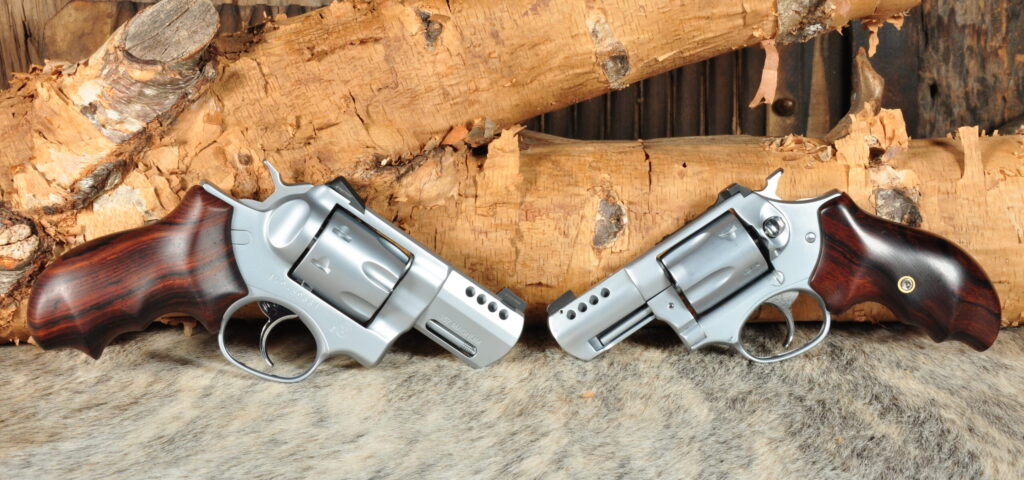 They're still a little beefy in factory trim though, and make me long for the more-slender Speed Six of days past. I sure wish Ruger would bring that excellent gun back, as well as its square-butt, Service Six and Security Six brothers.1 If not that, then maybe a redesigned (again) six-shot SP101? Hope springs eternal . . .
Bucking tradition
The traditional way to build a compact service revolver is to start with a full-size, medium or medium-large frame service revolver, then trim it down, but these days, it's increasingly common to take the opposite path, by making a smaller gun slightly bigger.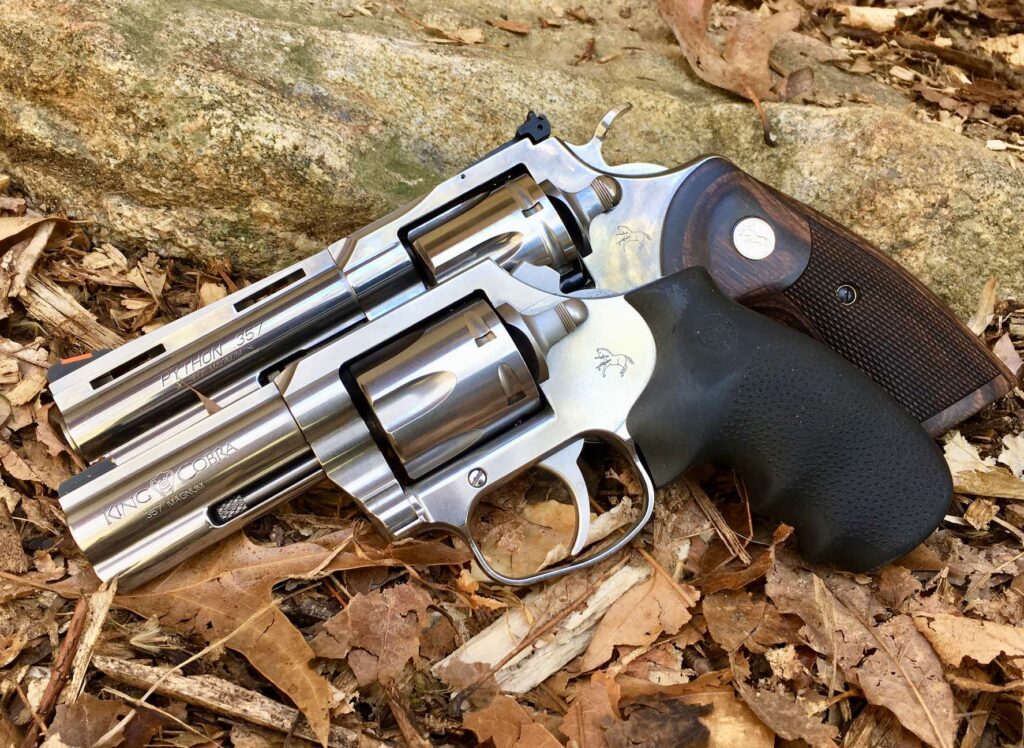 That's the path that Colt has taken with their (new-2019) King Cobra, an excellent example of the compact service revolver in its modern form.  The (new) King Cobra has its roots in the small-frame, (new-2017) Cobra action, but differs from that snub in important ways.  The (new) King Cobra has a heavier, reinforced frame, a three-inch, full-underlug barrel, and is chambered in .357 Magnum—qualities which push it into the compact service revolver category, in my mind, despite the fact that it's not derived from a larger, medium frame, service gun.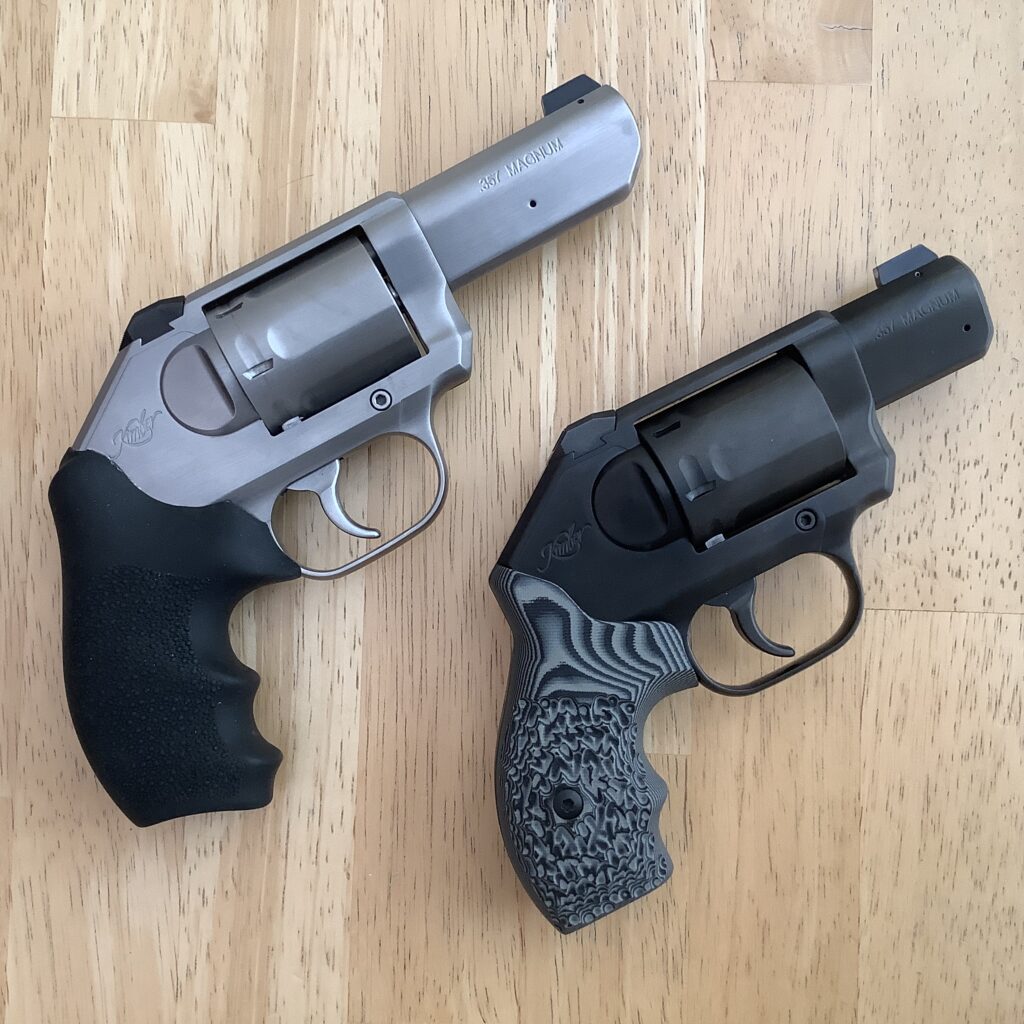 A similar gun is the three-inch, Kimber K6s Stainless that I've been writing about in these pages, recently. While it's not a bobbed, medium-frame gun, the Kimber's six-round, .357 Magnum cylinder, three-inch barrel, full size grip, and high-profile sights make this gun shoot like one. The three-inch barrel and large grips are what really push this gun into the compact service revolver category, according to my yardstick. The shorter, two-inch, boot-gripped version of the K6s qualifies as a snub in my book, but putting a three-inch barrel and bigger handles on the same gun moves it up a class, in my admittedly subjective view.
Advantages
So, with all the definitions and boundaries established, what are the factors that make carrying and shooting the compact service gun so different than the same experience with a snubby?
For me, they include the following:
The full-size grip is the key to the whole thing, in my book. Since concealment is the primary factor for a snub revolver, all of mine wear abbreviated, boot-style (h/t Craig Spegel) grips that are flush with the bottom of the frame, to keep things trim. You could certainly put a larger, extended grip on a snub if you wanted to, but it would increase the overall size of the package, and make it harder to conceal, carry and access in a pocket or ankle holster.2  As such, all of mine wear the shortened stocks, in sync with my philosophy of use.  The way I see it, if I'm going to go to the effort of concealing a large grip (and we all know the grip is the hardest part of the gun to hide), then I want it attached to a large gun, so I can benefit from the advantages it offers over the snub.
Besides the size of the grip, there's an issue of frame dimensions to consider. You can put an oversized grip on a small frame gun like a J-Frame, but it won't change certain critical dimensions, like the room between the front strap and the rear of the trigger guard, or (often) the trigger reach. A medium or medium-large frame can relieve crowding, allow your finger to comfortably land in the right place on the trigger face, and do a better job of accommodating a larger hand than a small-frame gun with a big grip attached.
I think the bigger frame and grips on a compact service revolver really improve the handling qualities of the gun, compared to a small frame snub with boot grips. It's easier to get a good grip on the gun, which makes the presentation from the holster more consistent, more secure, and faster. The full-handled (or nearly-full-handled) gun is also easier to shoot with speed and accuracy, by virtue of the added control afforded by the hand-filling grips.
Going back to the difference in frame dimensions, one of the things I enjoy most about the larger frame of the compact service revolver is the fact that there's more room between the top edge of the belt and the leading edge of the grip, when the gun is carried in an inside-the-waistband holster.  This really makes it easier to get a good grip on the gun, and perform an efficient draw. Sometimes, the middle, ring, and pinky fingers on the gun hand can get a little squished in this area, when you're working with a small-frame revolver (or most autos, incidentally, because their general profile tends to place the front strap closer to the top edge of the belt), and you have to dig or lift the gun out of the holster a bit, before you can get a solid, firing grip on it. This slows the presentation and makes the grip less consistent.
I think the larger frame and grips are the most important features of compact service revolvers. The full-size grip is the biggest reason why it's easier to get good hits with a compact service revolver, compared to a snub, and it's the biggest advantage of this class of gun, as far as I'm concerned;
Because they're usually derived from service guns, the sights on the compact service revolver are usually a cut above the average set of snubby sights.
Most traditional snubby sights are fixed and small, and offer a pretty miserable sight picture that may or may not coincide with the point of impact of your chosen ammunition.
In contrast, many compact service revolvers share the same high-profile, adjustable sights worn by their service revolver brethren. These larger, easier-to-locate sights often incorporate contrasting colors or outlines to aid in acquiring a good sight picture, and their adjustable regulation is a tremendous aid to accurate shooting.
Even the fixed sights on compact service revolvers are an improvement over those typically found on snubs, with larger blades and notches that enhance the shooter's ability to put rounds on target quickly. The longer barrels on some compact service revolvers also help to reduce issues with sight regulation, by providing a point of impact that more closely matches the performance from a service-length barrel.
Manufacturers like Kimber have put more thought and effort into snub sights in recent years, while others, like Smith & Wesson, have offered select models with improved sights. As a class, however, they generally lag behind their compact service gun competitors, which is a significant advantage for the bigger guns.
As a J-Frame guy, my snubs have always been five-shot guns in .38 Special. Until the new Colt and Kimber products came along, there really weren't many realistic, six-shot options available in the caliber.  You could try to find an older Colt Agent, Cobra or Detective Special, but they were less common, more costly, and more difficult to keep running, because there's a shortage of parts and skilled gunsmiths to work on them.
As a result, the easiest way to get a .38 Special with more capacity was to move up to a compact service revolver. The compact K-Frames all offered six rounds, and if you were willing to step up to the larger L-Frame (or Ruger GP100 equivalent), you could get seven rounds.  If you were a big enough guy that you could hide one, you could even go for the large N-Frame (or Ruger Redhawk) guns, which would give you eight shots of .357 Magnum on tap.
Although the math tells us that a six-round cylinder only offers a 20% increase in capacity over a five-round cylinder, there's just something about that extra round that delivers confidence, way out of proportion to the numbers.  From a statistical standpoint, it shouldn't make  much difference, but I think it feels a LOT different to carry a six-round gun, versus a five-round gun.  Somehow, six feels whole, and five feels a bit incomplete. It feels like I'm giving something up, or making a compromise, with the five-round gun, but the six-round gun doesn't give me that feeling—perhaps because six rounds was the service gun standard for most of the 20th Century.
There's also the fact that the larger, six-round cylinders (and the speedloaders made for them) are a bit easier to manipulate during reloading.  The cylinders on these larger guns have more clearance from the side of the frame, which makes it easier to charge them than the tiny snubs, with their frame-hugging cylinders (especially with a loader like the HKS, with its full-profile body). While this doesn't change the on-board capacity of the gun, it does make it easier to get it back to full capacity in a hurry, which is the next best thing.
Again, the difference between five and six rounds shouldn't be as significant as it seems to be, but I've come to accept it, even if I can't explain it. As such, the increased capacity of the compact service revolver is one of its most important advantages, in my view.
That's especially true when the cartridges in the compact service revolver are more potent than the cartridges in the snub.
My favorite J-Frame is a Model 640 Centennial chambered in .38 Special, and I've always been happy with the balance of power and control that the cartridge affords in guns of this size.
In 1995, Smith & Wesson changed the Model 640 frame to accommodate a longer .357 Magnum cylinder (1.59" in length, compared to 1.53" in the Special), and added a longer, heavier profile, 2.125" barrel to the gun. While the new "Magnum J" was warmly received by many consumers, I have always preferred the earlier .38 Special version, for its reduced size and its chambering.
I've found the .357 Magnum cartridge to be a little stout in the all-steel, Magnum J-Frames, even with reduced recoil loadings, like Speer's excellent .357 Magnum Gold Dot Short Barrel load. I can shoot the all-steel, Magnum Js well enough in slow fire, but the recoil is more uncomfortable, particularly with abbreviated grips and full-power loads, and it's more difficult to control the gun as the shooting pace accelerates.
Of course, in the Scandium alloy-framed guns, which entered the S&W catalog in the early 2000s, shooting the .357 Magnum is downright painful, and control really suffers, to the extent that most shooters will be unable to fire a well-aimed, follow-up shot in any reasonable amount of time.
So, for me, the snub has always been a .38 Special +P proposition, and I've reserved the .357 Magnum for larger, heavier guns, with larger grips.
This is where the compact service revolver comes into play. It's much easier to shoot .357 Magnum in a compact service revolver, with its full-size (or nearly full-size) grip, heavier frame, and typically-longer barrel, than it is to shoot it in a small frame snub with boot-style grips. While medium-sized guns, like the shortened K-Frames, aren't intended to digest a steady diet of Magnums (as we've previously discussed), they do a much better job of launching the occasional Magnum slug with acceptable levels of accuracy and control, compared to their snubby brethren.
A recent comparison is useful, here, to help illustrate the point. In October, while working with a brace of Kimber K6s revolvers, I had the opportunity to fire Fiocchi 158 grain, .357 Magnum JHP ammunition through a two-inch-barreled snub with boot-style grips, and a three-inch-barreled gun with larger Hogue Bantam grips. Shooting the two-inch gun with the full-power Magnum loads and short, open back, G10 grips wasn't particularly pleasant, and I felt like the cartridge was a little too powerful for the combination.
In contrast, the softer Bantam grips on the three-inch gun filled my hand better and allowed a full, three-finger grip on the gun.  This, combined with the additional weight and sight radius afforded by the longer barrel, made a dramatic difference in comfort, control, and accuracy (groups with the three-inch gun were an inch-plus smaller at 10 and 15 yards). The bigger gun, as outfitted with the Bantams, was incredibly effective at taming the recoil of the full-power .357 Magnum, to the point that it didn't seem reckless to load with .357 Magnums for carry. In contrast, I felt the two-inch gun was better suited for .38 Special +P, to retain an acceptable balance between power and control.
I'm not going to engage my inner bullet nerd and dive into a detailed discussion about terminal ballistics at this point, but I will say that experience has shown there's a notable difference between .38 Special +P and .357 Magnum performance that cannot be ignored. RevolverGuy readers know about my affinity for the .38 Special, and understand that I don't suffer from "Magnumitis," but there's just something about the .357 Magnum that engenders confidence, isn't there? I've never known anyone who carried a .357 Magnum who fretted about whether he was "carrying enough gun," and I think it's a definite advantage of the compact service revolver that it brings controllable Magnum Force to the table in a way that most true snubs can't.
You don't have to load Magnums to take advantage of the effect, either. The compact service revolver will do an equally good job of taming .38  Special +P loads, as well. Those 158 grain +P Saint Louis loads, that give your hand a good thump in the J-Frame, will be a lot easier to control in an abbreviated K-Frame.
Putting it together
For me, the sum of all these factors is increased confidence in the gun and my ability to get the job done with it.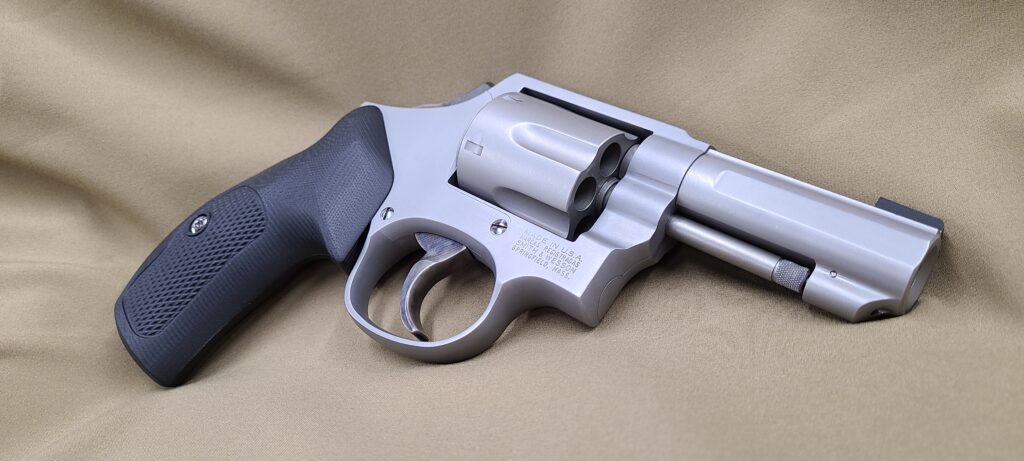 Please understand that I appreciate the extraordinary capabilities of the humble snubby, and think it's the ideal combination of size, weight, power, controllability, and effectiveness when concealability is the primary consideration. The truth is, I carry a snub revolver more frequently, but the enhanced qualities of the compact service revolver really set this class of gun apart from the snub, and make it a better choice when concealability is an important factor, but not the most important factor.
For those jobs where shooting and handling qualities, power, capacity, and performance take precedence over concealment, the compact service revolver is the one to beat.
The wheel turns
These days, you're more likely to see those kinds of jobs done by compact semiautomatic pistols, and if the Glock 17 is truly "the Model 10 of the 21st Century," then the Glock 19 is the modern incarnation of the round butt, 2.5" Combat Magnum—a polymer-framed, semiautomatic version of the classic, compact service revolver.
A young or new shooter who was raised in The Polymer Age might (understandably) be uncomfortable at the prospect of carrying a gun with single-digit capacity, a relatively slow reloading capability, and a caliber that isn't measured in millimeters, but I share no such reservations. While I'd feel very well armed with a Glock 19, and often carry one, I wouldn't feel any less prepared for the scenarios I'm likely to face with a properly-stoked K-Frame on my belt.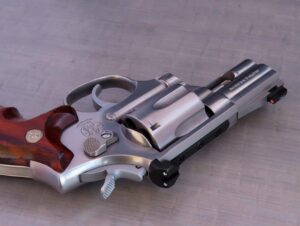 Perhaps that's a function of the fact that I was raised in a time when the six-shot revolver was still the standard sidearm for law enforcement officers and armed citizens across America, and remained standard issue in my branch of military service for several years after I took the oath.
Economists will tell you that when you enter a market for the first time, the prices you discover  become the baseline that you will use for all future comparisons—that is, everything will be measured against those figures, from that point forward (which is why I think a box of 148 grain wadcutters "should" cost me about $6 or $7, and a brick of .22s "should" cost me about $9 or $10!). Well, I think there's something similar to that, working here. Six rounds of .38 Special or .357 Magnum in the gun was enough for many generations of American cops, servicemen, and armed citizens, and it was the service gun baseline in my formative years.  I grew up shooting guns like this, and I don't feel particularly naked with carrying a gun that "only" has six rounds in it.
priorities
More importantly though, I understand that while equipment is an important element of our defensive preparation, it's not the most important element.  As we've talked about before, your mindset, awareness, tactics and training are all much more important to your successful defense, than the gun you're carrying. The revolver, in any of its various forms, will do the job if you are capable of doing the job.
Friend  Evan Marshall once remarked about this, in his own inimitable style, when he said:
If they told me I had to go back out on patrol with a six-round revolver, backed up by a five-shot snub, my first question would be, "what's for lunch?"
I think that captures it perfectly!
Proven winner
While there's certainly an aspect of familiarity involved, that gives me as much confidence in the compact service revolver as one of the modern, plastic, wünderpistolen, I think there's an even more important factor to consider–they just plain work!
It's silly to think that something as serious as defensive firearm selection could be influenced by popularity or fashion, yet I've seen the cycle play out so many times that it just doesn't surprise me, anymore. Firearms trends come and go, and what's hot this week, is old news next week, when the latest hot rod blaster or darling caliber hits the newsstands (did I just betray my age? Should  I have said, "mobile devices," instead?). Sometimes, it can be a little dizzying, trying to keep up with it all.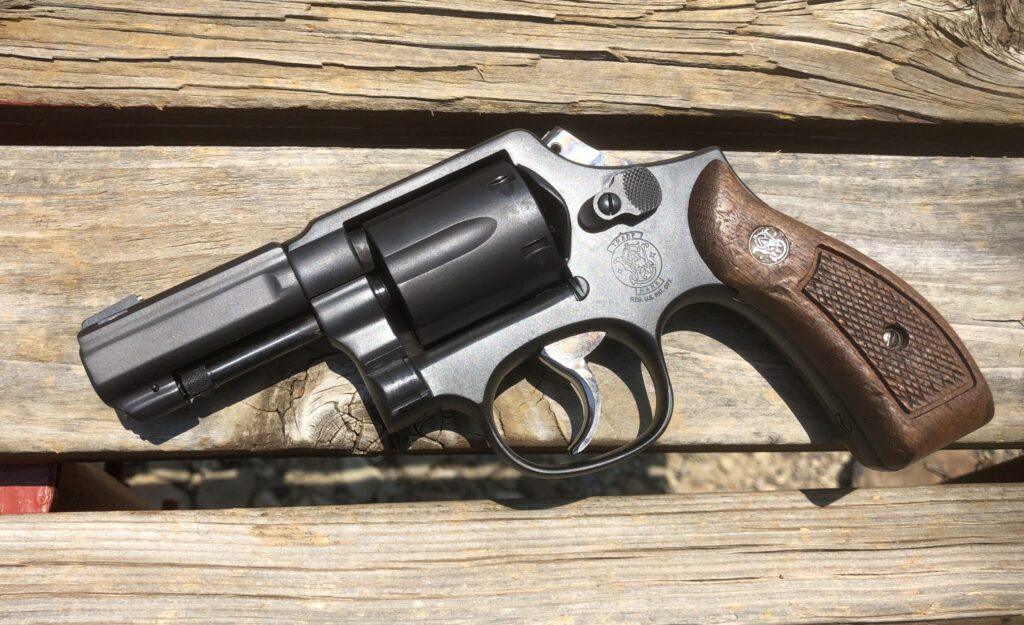 But, if you take away all the distractions and noise, you'll understand the job of the carry gun is to put effective, first rounds on target, and despite having a little gray in its beard, the compact service revolver does that really well in trained hands. It's quick out of the holster, points well, shoots straight, and hits hard . . . just like it did in your grandfather's, or great-grandfather's era, when the men and times were tough.
The wheel has turned a few times since they were young men, but the compact service revolver is still up for the job, if you are. This is why they continue to sell so well, and why custom makers like Marc Morganti, Dave Lauck, Nelson Ford, Milt Morrison, Karl Sokol, and Dave Laubert keep so busy, building them for serious men and women who clearly understand their needs, and know how to use their tools.
The compact service revolver isn't going anywhere, anytime soon, and actually seems to be experiencing a bit of a resurgence, based on what I'm seeing in the market, and what's being reported by the industry professionals (including trainers, holster makers, gunsmiths, and gun manufacturers) that I associate with.
That sure brings peace of mind, and a smile to the heart of this RevolverGuy!
****
Endnotes
For those late to the game, the excellent (and sorely missed) Speed Six was a medium-frame, six-shot, .357 Magnum (normally, although .38 Special and 9mm versions were chambered) revolver with fixed sights, a round butt, and an abbreviated, 2.75 inch barrel (in my favorite version, although a four-inch model was also catalogued). While Ruger has done their best to fill the void left by the discontinued Speed Six with similar models from the small frame SP101 and medium-large frame GP100 series, they just haven't filled the Speed Six's shoes, in my opinion. They're fine guns, and I'm particularly fond of the abbreviated GP100s, but the SP's reduced capacity and the GP's extra size and weight handicap them in comparison to the older Speed Six, in my view;

That's not to say that you can't make bigger grips work in these roles. Friend Dean Caputo has told me several times that Pachmayr Compacs work pretty well on J-Frames in ankle holsters, based on his experience, and we all know the story of how John "Fitz" Fitzgerald carried his specially-modified, Colt New Service revolvers in his hip pockets. With a big enough pocket, or a wide-enough pant leg, you can make bigger grips work, but the smaller grips will always be easier to hide than the bigger ones.  I can fit my boot-gripped Model 640 in the hip pocket of my jeans, for example, but there's no way I could do it with a set of Compacs mounted. Similarly, I can make the same gun work in an ankle holster, wearing a pair of straight-legged jeans, but a longer grip would foul the draw.

Additional info from Marc Morganti on the custom GP100 featured above: This is a WCGP100 . . . (which) utilizes our 2.250" Ultimate barrel that we custom machine from Krieger large OD barrel stock, along with a set of our medium length Exotic Wood grips. We can custom make our grips even shorter if desired, but these two items certainly help to minimize the large capacity magnum revolver to near small frame dimensions. We can go even shorter on the barrel too, by nearly 0.500", but this customer wanted 2.250". This makes a fantastic medium frame, high capacity magnum revolver that carries like a small frame magnum. All WCGP100 Rugers are configured with the excellent Novak Lo Mount rear sight as well as Novak front sight, We upgrade these to a Novak three dot night sight configuration. That's about as "Combat" magnum as you are ever going to find. Real sights on real revolvers with 7 rounds of .357 magnum. That's a great combination.
About the Featured image:
This S&W Model 64-2 started life as a four-inch service gun, but talented Gunsmith Dave Laubert shortened its barrel to three-inches, added a 14K gold bead sight, polished the thumbpiece to remove sharp edges, and converted the action to DAO, creating a beautiful, compact service revolver. Dave is known for these excellent conversions, and RevolverGuy readers are encouraged to check out his fantastic work at http://www.defensivecreations.com/. Image courtesy of Dave Laubert and Defensive Creations.