I recently ran across a blog that listed some revolver recommendations for women. I scanned through the article and found most of the recommendations to be based on superficial factors like the color of the frame. Yep, – I kid you not –  pink.  The other key factors seemed to play right into the old size stereotype. According to this article, the J-Frame reigned supreme as the ideal revolver – or possibly even the ideal handgun – for women. Today I'm going to submit my thoughts on the best revolvers for women.
I've had this article in the queue for a while, and was waiting for the right opportunity to run it. This week I was spurred into action. Greg Ellifritz responded to an article about guns for women. Go read his article, and the article that prompted it. Still, unbelievably, there is a lot of bad information about "guns for women" floating around out there.
Revolvers for Women
Curious, I searched for a few more articles of this ilk and consistently found the same themes over and over: pink guns, tiny guns, guns that are "easy to operate" or "user-friendly"
I ran the idea of "revolvers for women" by my girlfriend. This was at least partially spurred when we were in a gun shop and she noticed pink and purple snubnose revolvers. . . and was not amused (she's a pre-lock Smith fan, after all!). We chatted about the idea for a while, and I came to some conclusions. It seems that an awful lot of articles about "[fill in the blank shooting product] for women" are based on poorly considered criteria.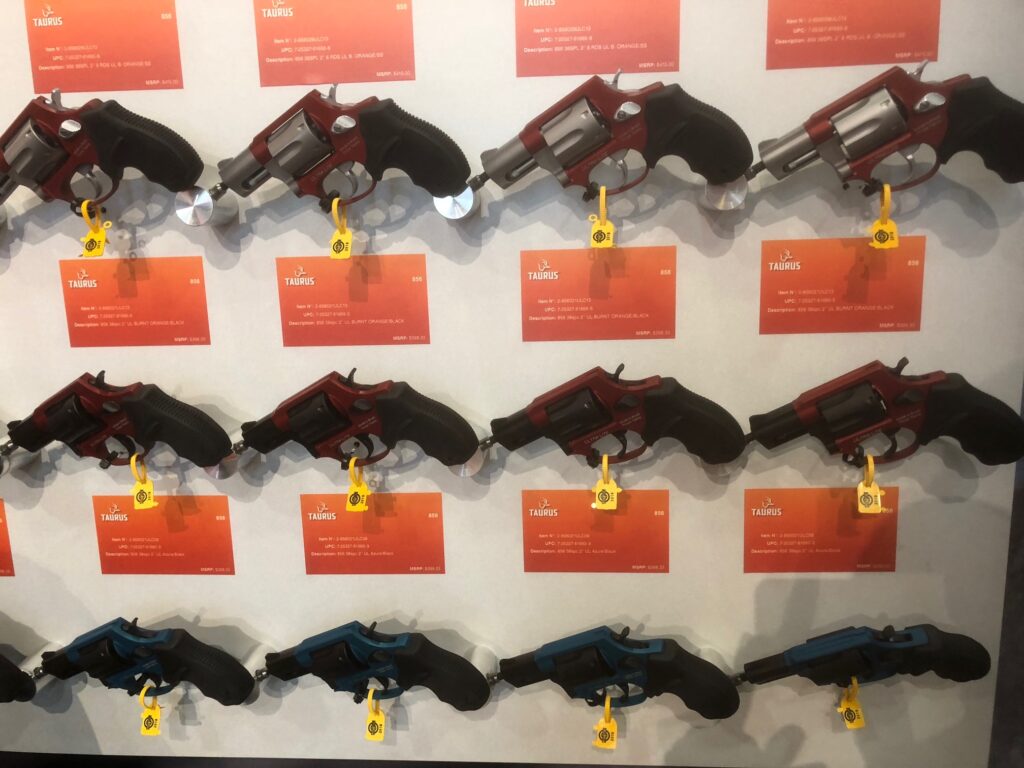 One huge reason for recommending revolvers to women: simplicity. Revolvers seem to be upheld as the ideal carry/defense gun for women because they have a very straightforward manual-of-arms. This assumes that women are incapable of learning and cannot be counted on to train or practice. This assumes they can't (or won't) become proficient on a system with a more complex manual-of-arms.
I think the assumption is accurate, but only in the exact same way it is accurate for men. Sorry men, but most of you (and by most, I mean something like 99%) will never seek training beyond basic, state-mandated minimums for your concealed carry permit, if you even bother to seek that level of training. This means a gun with a simple manual of arms shouldn't be a gendered firearm; people advocating revolvers for women on the basis of simplicity should probably be pushing them on their male customers, too encouraging customers of both sexes to train more, regardless of what they purchase or carry.
Unfortunately, despite being popularly considered a gun that requires no skill, small revolvers are recognized by experts as the domain of the expert. All other things being equal, a smaller revolver will be more difficult to shoot than a larger one (obviously up to a point). To answer the question, "is a J-Frame (or equivalent) the best revolver for a certain woman?" we should first ask another question: "what is the woman's current level of competency and/or is she willing to practice and seek training?" If the woman in question is willing to seek knowledge, invest in training, and commit to some practice, a small revolver might just be the perfect firearm. Or it very well may not be.
More Bad Criteria

Another criteria common to most of the revolvers recommended to women seems to be size. In articles, gun stores, and family discussions, small revolvers are often recommended to women. Does the majority of the female market want small guns? Maybe, and I really can't answer that. However, even if the female market desperately demands small revolvers that still doesn't speak to their suitability.
Secondly, because a woman happens to be female doesn't automatically mean her hands are small. I absolutely loathe the knee-jerk "woman = small hands = small gun." Consider the variability of the human form. I have fairly small hands for a man. I have a good buddy who is is about six inches taller than me and has a very muscular fifty pounds on me. His hands, however, are much smaller than mine. I've also dated at least two women whose hands were larger than mine.
Better Criteria
Let's assume you are a woman who is interested in owning/using/carrying a revolver. What makes a good revolver for you? I have compiled some objective criteria that I think make a good revolver. I will recommend a few specific models further down in the article, but understanding what makes a good revolver is more important than specific recommendations. The things that make a revolver well-suited to nearly any purpose, be it defense, training, fun range sessions, or whatever, are these: high quality, an excellent trigger, good sights, and sufficient grip surface.
Criteria 1: High Quality
Any firearm that is relied on for life-and-death defense should be of high quality. This is a problem I see with many of the pink/purple/pastel guns on the market: most of them are from second-tier manufacturers. These guns will usually work (I was impressed with the Taurus I recently reviewed) but there is probably a reason they use marketing gimmicks like a broad range of color options to sell guns. I would recommend sticking to one of the top-tier manufacturers. Ruger is a good example – I'd almost hands-down recommend any of their revolvers. These guns will be far less likely to have problems from the factory. If cared for they will last several lifetimes. None of their revolvers, to my knowledge, come in pink or purple.
There's another benefit here, too. Popular, high-quality revolvers from top tier manufacturers will usually give you access to the generous aftermarket support. It is very difficult to find holsters, speedloaders, replacement grips, and other accessories for some of the lower-end revolvers unless they are direct knock-offs of larger manufacturers. This is not always true; if you're purchasing a very new model support may still be limited.
Criteria 2: An Excellent Trigger
One of the most important criteria in a revolver is its trigger. All double-action revolver triggers are going to be long, but there are other qualitative differences. Triggers can be smooth or gritty and light or heavy. Choosing a gun with an excellent trigger will go a long way toward making you accurate with the gun. A rough, gritty trigger can smooth itself out over time; a heavy one will not lighten perceptibly over time.
Smith & Wesson factory revolvers will have a sub-optimal trigger when they are brand new. This can be somewhat corrected with lots of use, both at the range and in dry practice (both of which have other, obvious benefits). The components of the trigger smooth with use. Triggers are not going to get much lighter through use, though. The S&W J-Frames are perennial favorites as "purse guns," but their triggers are notoriously heavy. This can be corrected with the addition of an Apex Duty/Carry Spring Kit or TK Custom's J-Frame Spring/Firing Pin Kit, but there are also excellent options available out of the box.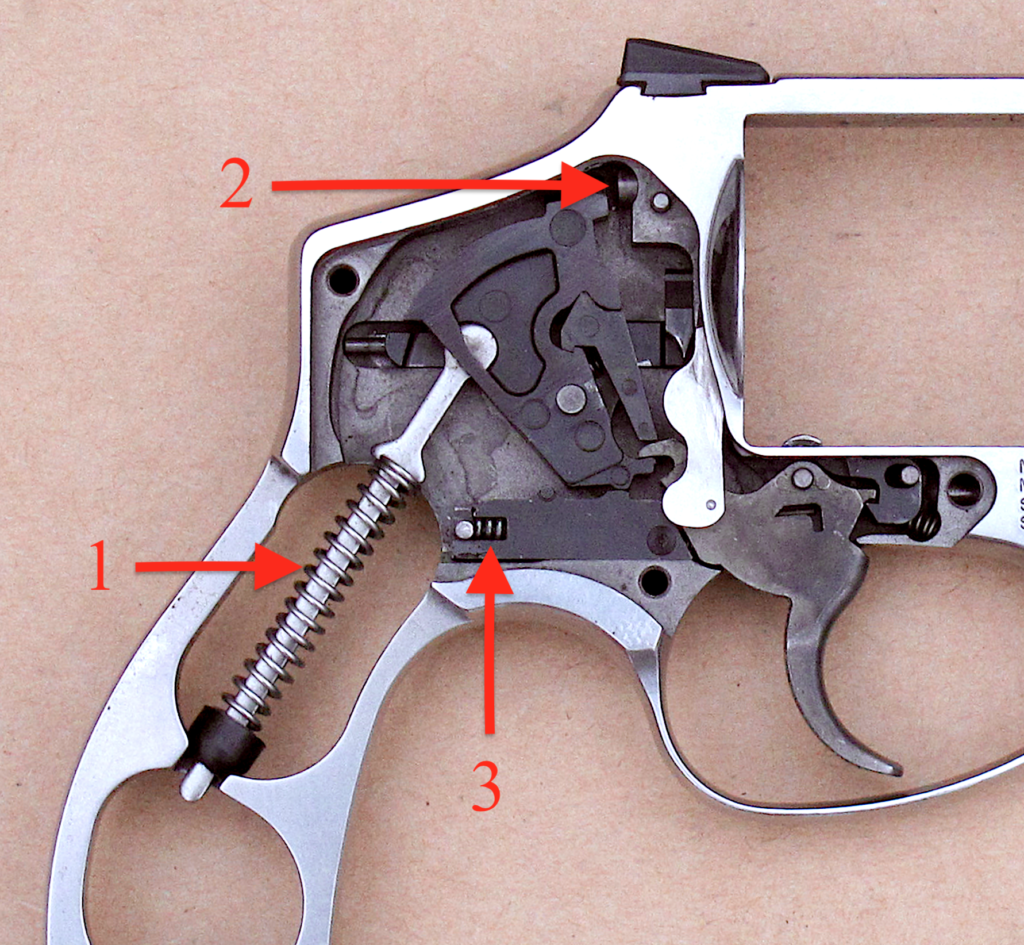 The Colt Cobra and  King Cobra both have a different trigger mechanism than the S&W J-Frame and a lot of its direct competitors. While the trigger is known for "stacking" (becoming heavier throughout its travel) the triggers on these guns is far lighter (and I would contend, far smoother) than Smith & Wesson triggers. The  Kimber K6s and Ruger LCR were designed from the ground up to have substantially better triggers than S&W's J-Frames, as well.
Criteria 3: Good, Visible Sights
I'm also a fan of revolvers with the best possible sighting situation. Preferences vary based on the shooter. For some, good sights might simply mean a plain blade with some pink or orange nail polish or model paint applied. For others it might be a fiber optic front or a set of night sights.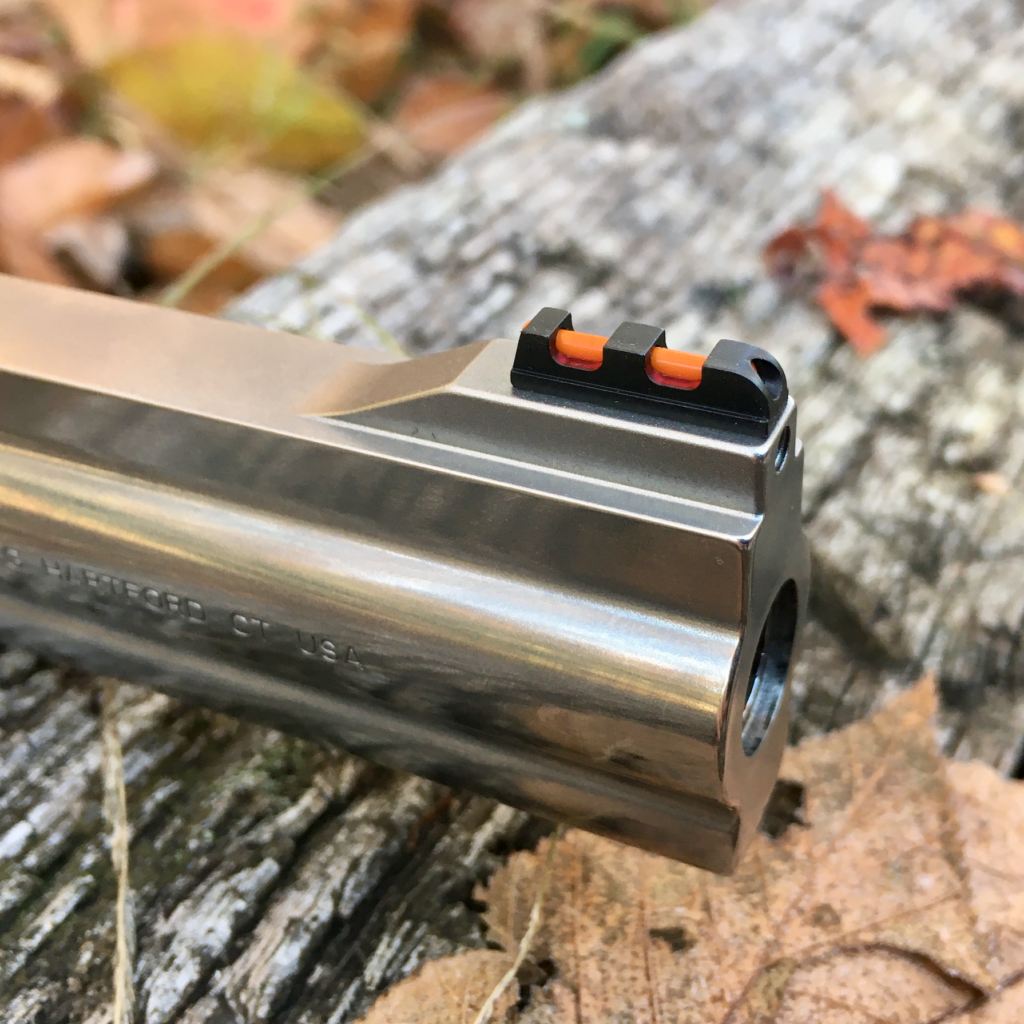 Generally revolvers with front sights that are pinned in place (rather than milled directly onto the barrel) allow for the interchange of the front sight. Some, though certainly not all, revolvers allow for the replacement of the rear sight, as well. All other things being equal, I would probably be biased toward revolvers with interchangeable sights. Maybe the best current-production example of this is the Kimber K6S, which has interchangeable front and rear sights, and both fiber-optic and night sight replacement options available directly from Kimber. The Colt Cobra/King Cobra and Ruger LCR both have pinned front sights; Ruger provides variety of factory replacement options for the LCR.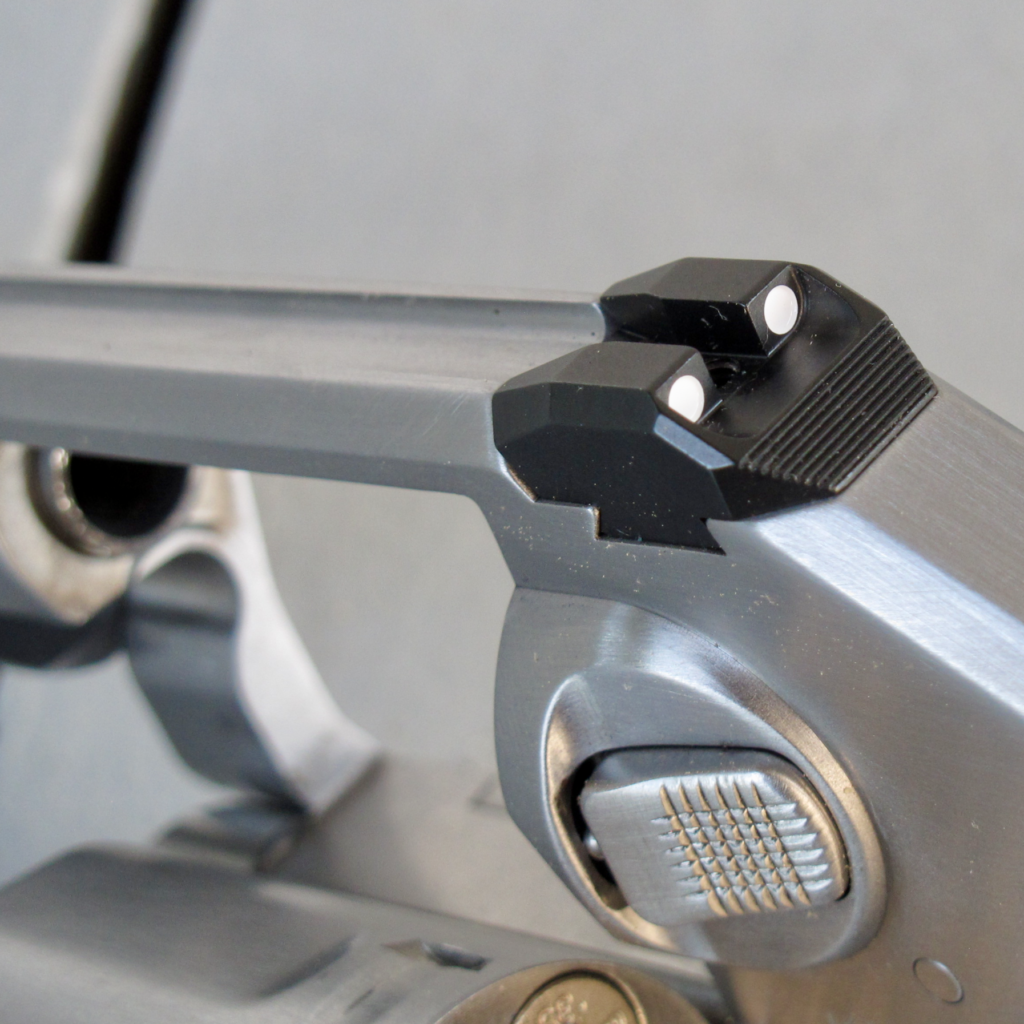 Criteria 4: Sufficient Grip Area

This one is easy! Most revolvers have a hugely variable grip area. One of the beautiful things about a revolver is the huge range of grips that fit popular makes and models. A revolver that is ideal for a man with huge hands can also be idea for a woman with smaller hands (and vice-versa). Grips can be changed to accommodate varying needs and preferences in regards to lengths, diameter, material/surface texture, and more. Realizing this lets you take size out of the equation of focus on factors that are actually important.
the Best Revolvers for Women
So what do I think are the best women? Basically, the exact same revolvers I'd recommend for men. A good revolver is a good revolver, and all other things being equal, it doesn't matter whose hand its in. I'm going to keep this to a very short list, so if something doesn't appear here it's not because I'm denouncing it. Instead I'm just offering this as a "best in class" list.
Compact Revolvers: The Ruger LCR
The LCR is maybe the most shootable subcompact revolver on the market today. It comes in plenty of flavors; the version I would probably recommend to most would be the .357 Magnum. The steel upper on this gun adds weight that makes it quite a bit more shootable than the ultra-light .38 Special LCR. For all users, irrespective of sex, I would recommend loading even the .357 Magnum LCR with .38 Special ammunition. If recoil is still an issue, using wadcutters as your primary ammunition should make this gun comfortable to shoot by almost anyone.
I wouldn't rule out LCRs in other chamberings, either. The LCR also comes in an 8-shot .22 LR and a 7-shot .22 Magnum. The .22 Magnum cartirdge seems to perform surprisingly well and has virtually no recoil. Be advised, though: the triggers on rimfire revolvers are generally much heavier than those on centerfires.
The .327 Magnum LCR loaded with .32 H&R Magnum (or even .32 Long) ammunition is attractive, too. It holds an additional round over the .38/.357 versions and .32 H&R Magnum recoils a bit less than .38 Special. The high cost of ammunition and difficulty finding it should figure into your budget if you're thinking about this one, though.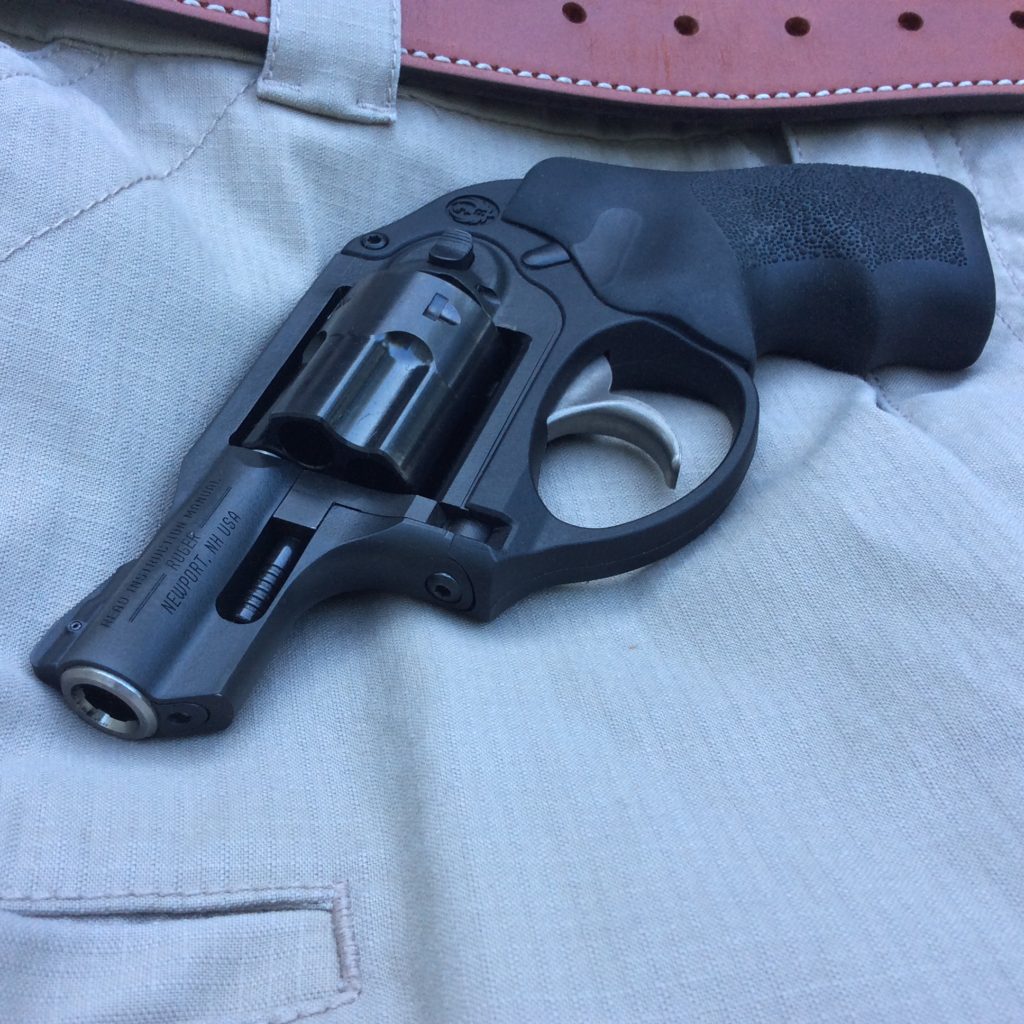 The LCR checks all the boxes above: it is a high-quality gun, the trigger is fantastic, and while the sights could be better, they're not bad and the front blades can be swapped out. A ton of grip options are available for the immensely popular LCR. The LCR is also the most affordable gun on this list.
Honorable Mention: worth mentioning are the Kimber K6S and the Colt Cobra. I have no personal experience with the .38 Special-only Cobra, but reports seem to be generally good, and I do have quite a bit of experience with other revolvers in Colt's revived wheelgun lineup. If the trigger in Colt's other guns is any indication, the Cobra trigger should be excellent, and it is a six-shot gun, giving it a slight advantage over the LCR, at the cost of a bit more size.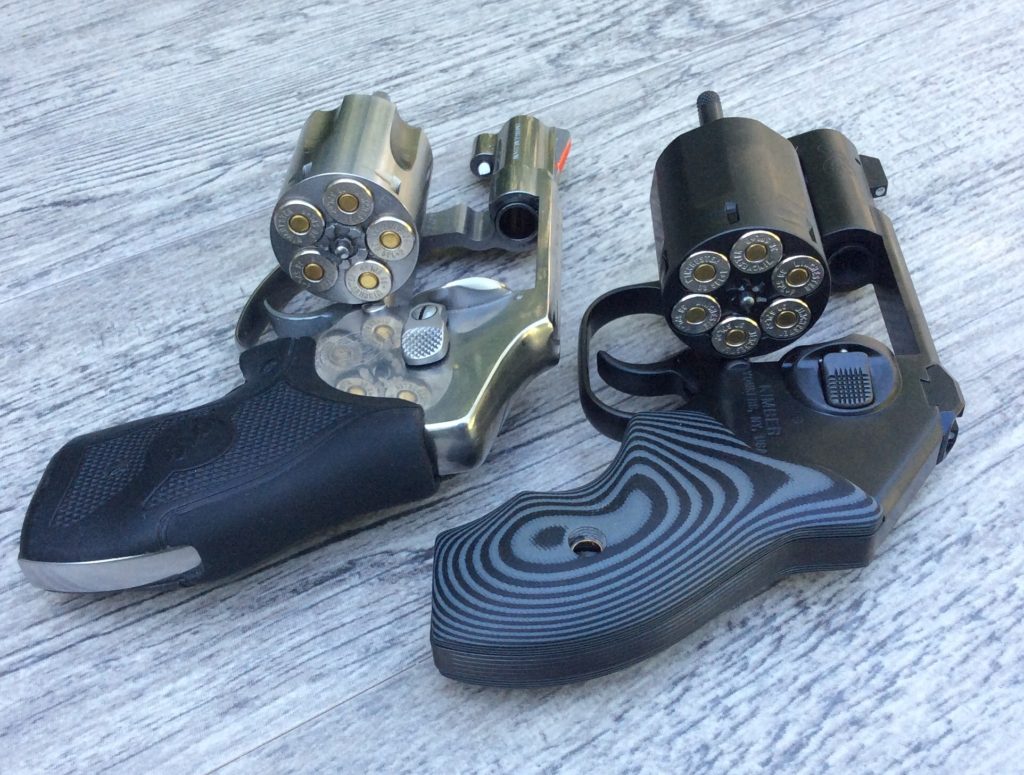 The 6-shot Kimber K6S is also worth considering here. It is heavier than the LCR, which is a mixed bag. On the on hand it's easier to shoot, but on the other, it's modestly more difficult to carry. It has a very good trigger, highly visible sights, and is available in 2″ and 3″ versions (and now 4″, though those veer outside the "compact" designation). My only reservation in recommending the K6S wholeheartedly is a growing number of reported firing pin breakages.
Mid-Sized Revolvers: Colt King Cobra
Moving up the size/weight scale just a bit, the 3″ King Cobra would be my next recommendation. My exemplar is absolutely one of the finest revolvers I've ever shot. Though the sights aren't outstanding, they're not bad. Additionally the King Cobra's size, weight, and excellent grip make this an extremely shootable revolver.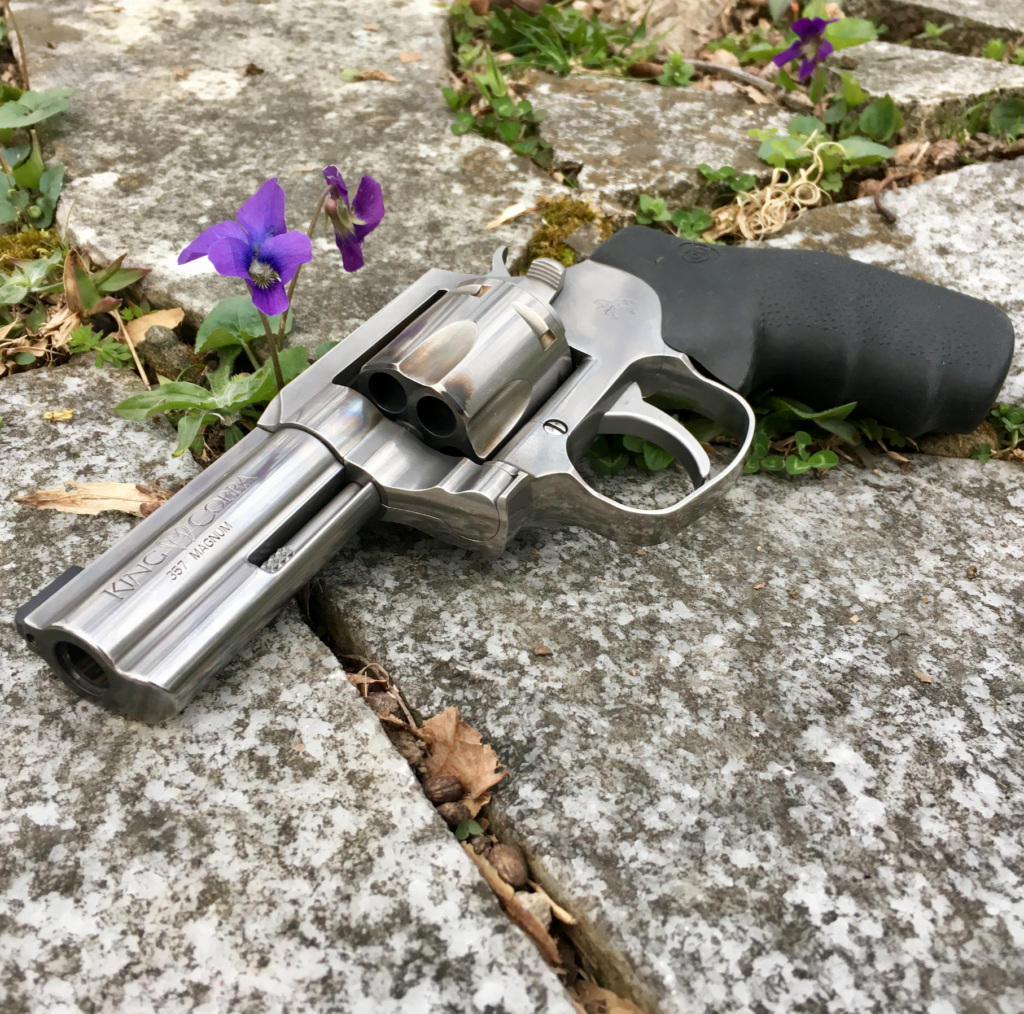 Equally important is the trigger. It is very light (~9 pounds), and very smooth. If you're looking for a revolver that can do double-duty as a carry gun and as a strong home defense gun, you should definitely check this one out. This revolver is on a very short list of revolvers I regularly employ for self-defense.
Honorable Mention: the Ruger SP101 and used S&W K-Frames. I really want to like the Ruger SP101. It's a nearly bombproof gun and it has an enviable track record. The triggers on them are quite a bit rougher than anything recommended thus far, and in .38/.357 you're again down to five rounds. But its extra weight makes it an easy gun to shoot a lot, and an easy one to shoot well.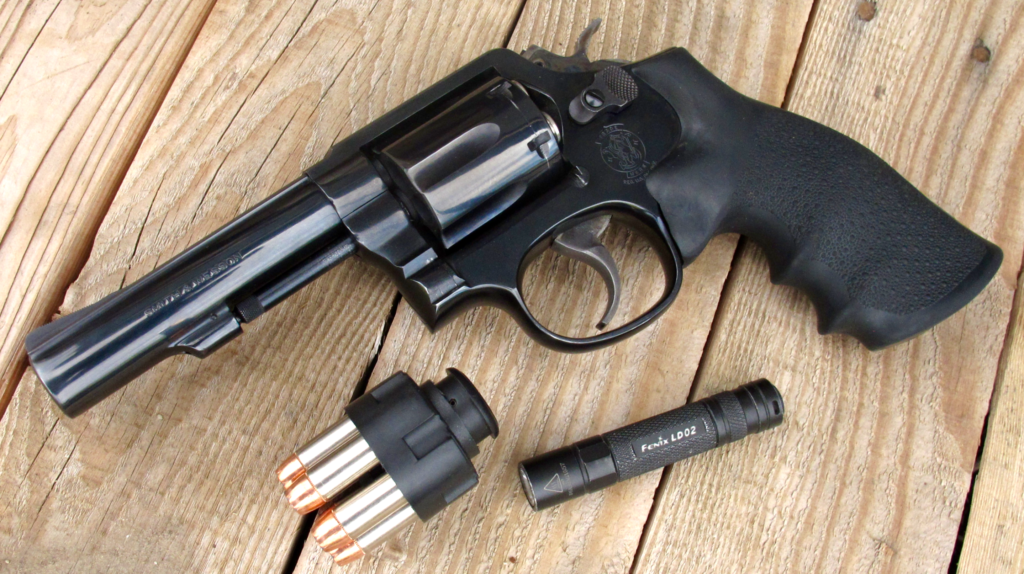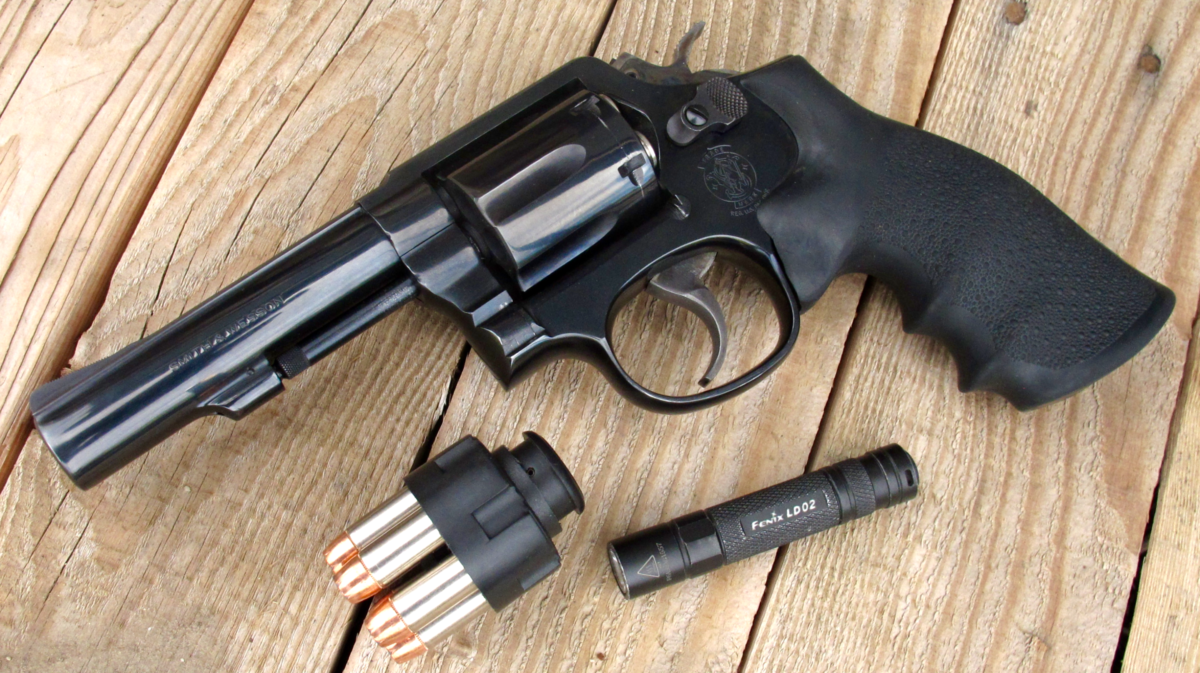 If you can lay hands on a used, pre-lock S&W K-Frame revolver you probably won't be disappointed. These were made in a variety of barrel lengths. I'd probably shoot for a 3″ tube, but be willing to settle for a 4″ (if buying for home defense) or 2 or 2.5″ (if planning to carry). The K-Frames' trigger design is completely different than the J-Frames' coil spring. As a result they're triggers are generally much lighter.
Full-sized Revolvers: The Ruger GP100
If you're in the market for a full-sized revolver, my unhesitating recommend would be the Ruger GP100. I have had the opportunity to put a lot of rounds through both the .357 Magnum and 10mm Match Champion versions. Both impressed me far more than similar current offerings from any of Ruger's competitors. I've also had the opportunity to fire some non-Match Champion GPs lately, and they've been just as impressive.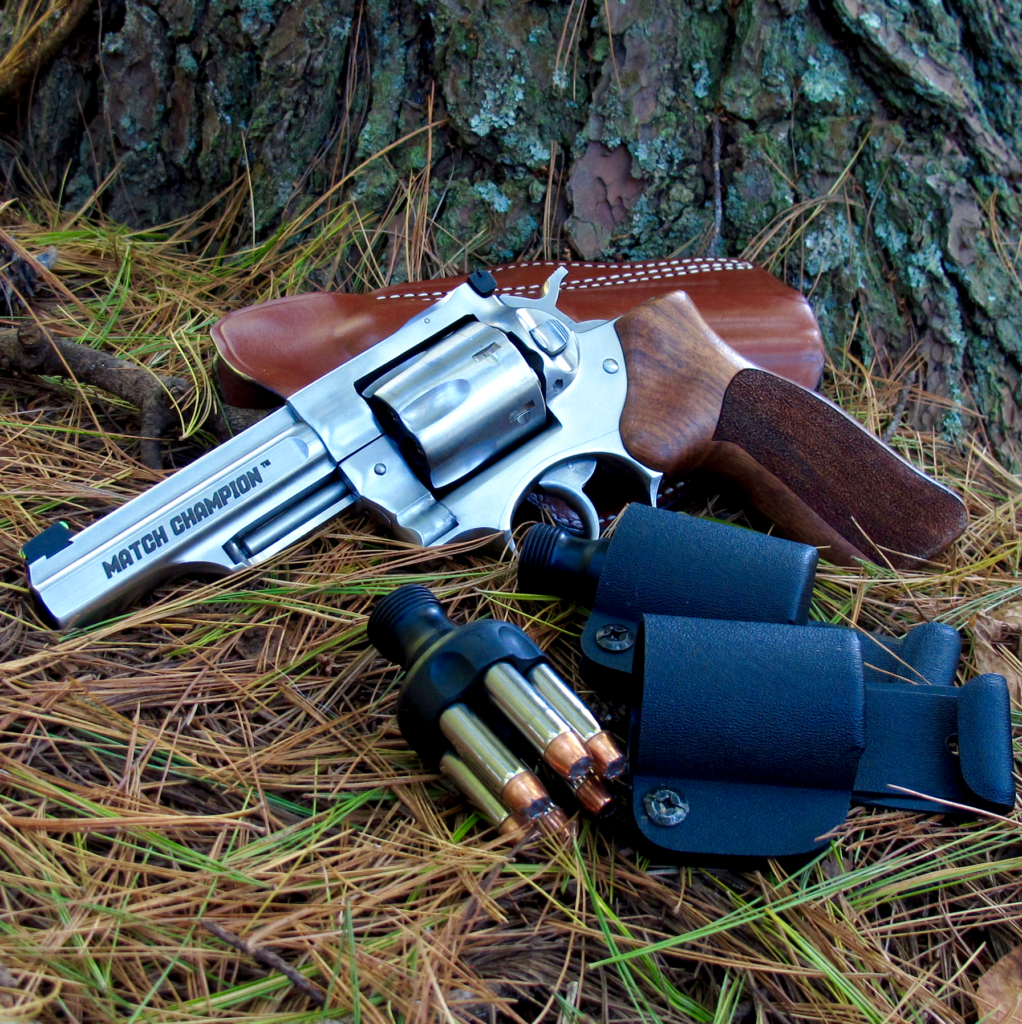 The GP100 is a bit bulkier and, subjectively, a bit more homely than a similarly-sized S&W revolver. But it will work. And work, and work, and work. The GP100 is no lightweight but it's weight soaks up recoil like crazy, and helps stabilize it for accurate shooting. Also, Ruger's peg-style grip frame supports a much broader array of grip sizes.
Personal Anecdote
Just one more thing: the point I'm making here is not, "use this guide to go out and buy your wife/girlfriend/whatever a gun without their input." Would you want someone going out and buying a gun for you with no input, handing it to you and saying, "here's what you're going to carry"? Probably not. The woman in your life probably doesn't want that either. She might put up with it, but I doubt she appreciates it very much.
Having a gun purchased for you based on intuition, wives' tales, gun shop lore, or ingrained prejudices is not the best way to acquire a handgun with which you will be highly effective. It's a recipe for getting something you don't want or care about. It takes the recipient completely out of the decision process, which is not a good way to get someone take ownership of their own safety and security. The situation is even worse when the firearm chosen for you absolutely sucks to shoot. That can take someone from 'disinterested' to 'interested in having nothing to do with that thing!' For something so critically important – and potentially dangerous – I simply cannot understand this mindset.
I generally shy away from holding myself up as a good example of much of anything. Today, though, I'm going to compare and contrast myself and my girlfriend with a family member and his wife. I'm going to leave them nameless for a modicum of plausible deniability.
Me: my girlfriend is more than willing to go shoot. As regular readers know, she has attended Chuck Haggard's Practical Revolvers and can actually shoot pretty well. She outshot some of the men in that class. But she's still not super interested. I'm not going to run out and buy something for her until she says, "this. This is what I want." At that point, the world is her oyster. Until then we have guns that she can run.
What is her favorite gun? What gun does she exhibit, by far, the best performance with? Despite having shot my Shield, Nighthawk 1911, the Kimber K6S, and several other smaller guns, her hands-down favorite is still my full-sized, "too big for women" S&W 686. So, the 686 is what gets left out of the safe when I travel. Her least favorite to shoot? My S&W J-Frame. Now, let's look at the other side of the coin.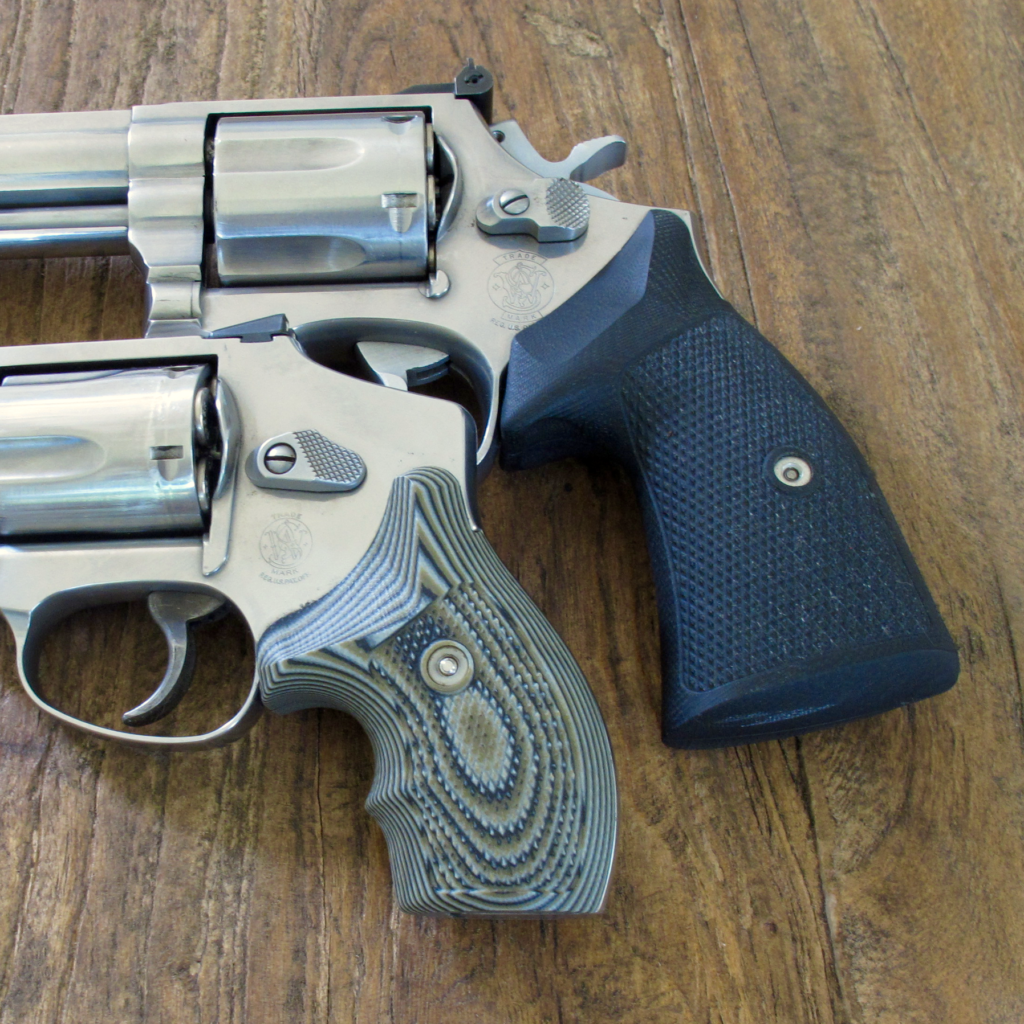 Family member: purchased his wife an Airweight, 1 7/8″ .38 as their home-defense gun and subscribes to the theory of "let her practice with the light stuff, then load it up 'for real 'cause she won't notice if she has to use it!" I am absolutely, 100% serious. He also loads the cylinder with interesting combinations of FMJ and JHP and probably at least sometimes, shotshells. Sadly, I'm still totally serious.
Neither he nor his wife have ever attended any handgun training whatsoever. They do not practice regularly, and are the people for whom a case of ammo would be considered a "lifetime supply." Yet he is considering purchasing another Airweight revolver – this one hammerless – for her for carry. He is choosing some of the most difficult possible guns to shoot well. Why is he choosing these sub-optimal guns?
Because he doesn't know what he doesn't know. At least twice I have recommended checking out the M&P Shield or the Glock 42/43 (now I'd probably recommend the M&P EZ .380, too). His answer: "her hands are too small." I confirmed with him twice that he has never taken her to the range or gun store to actually handle either of these options, so I'm unsure how he knows, but he KNOWS. If he took her to the range, let her practice with a few guns, and measured progress in some meaningful way, his opinions might change…or maybe not. With this mindset what absolutely won't change is his wife's proficiency in operating her own firearm.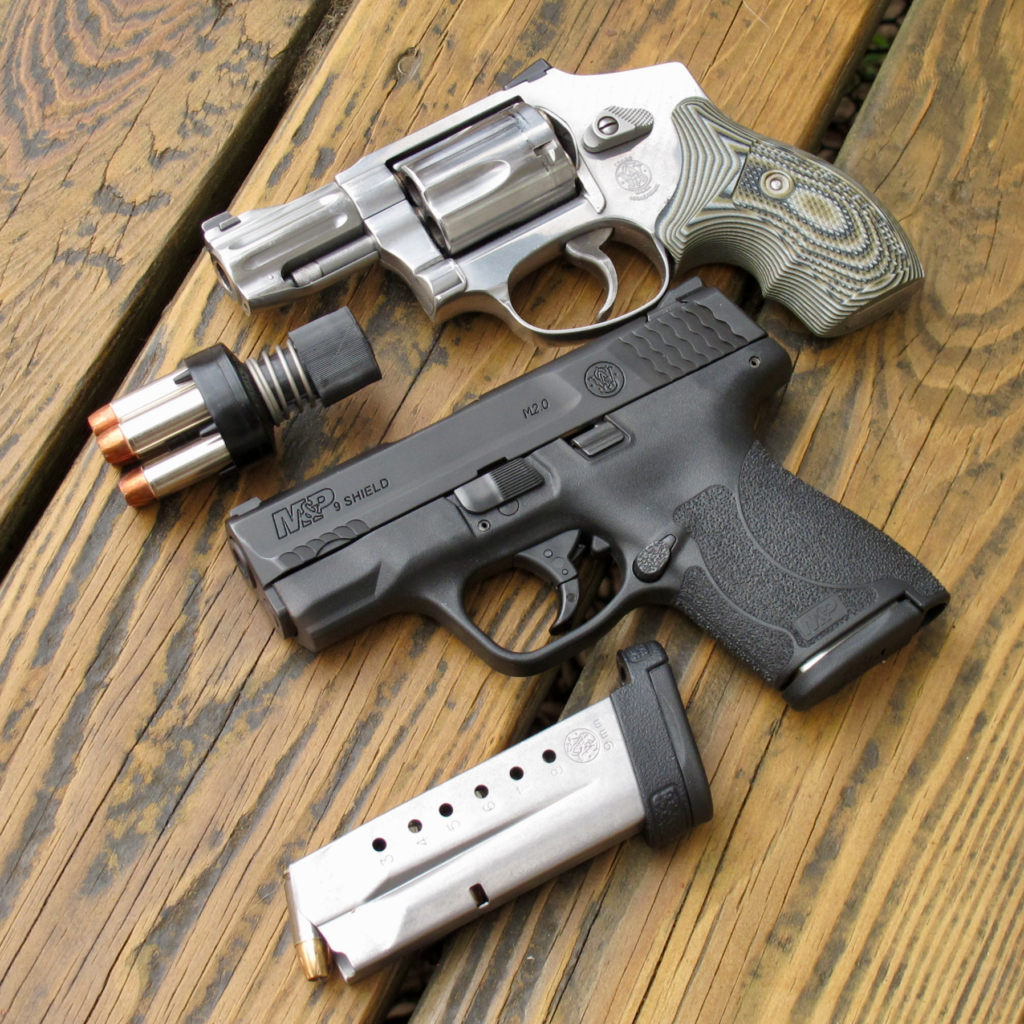 The Bottom Line
This article has felt a little more "ranty" to me than I wanted, but I hope it didn't come across that way! There is really no such thing as "women's revolvers" and if there were, I probably wouldn't be qualified to write that article. Go back and re-read that list. This article could just as easily have been called "Revolvers for People" or "Justin's Revolver Recommendations." Choosing one's self-defense firearm is incredibly personal, and that person should be involved in that decision, or making it for him or herself.
---
Holiday Schedule
First, I'd like to thank everyone for our third fantastic year here at RevolverGuy! Though I was planning on skipping a holiday break this year, life conspired to make me take one. It might be one week, it might be two weeks, but rest assured we'll be back, early in the new year.
We've got a lot of exciting stuff planned for 2020! I have two T&E guns that I'm wrapping up reviews on now (one might be out in 2019 if I can get my butt in gear!). I have another T&E gun on the way, and Mike is all set for a trip out to fabulous Las Vegas, Nevada for SHOT. Stay tuned, and happy holidays and whatnot!
---
Liked it? Support RevolverGuy on Patreon!